There is plenty of information on the web about planning a trip to Italy, but most of it focuses on what you should do.
We even have an Ultimate 10 Day Italy Itinerary that tells you what to do and how to plan.
But this Italy travel guide is different. This is going to tell you what you should AVOID doing when Italy vacation planning.
Planning your trip to Italy last minute?
Make sure to book your hotels and tours in Italy in advance to ensure availability! Here are our top picks for your trip!
Tickets you MUST book in advance:
Top picks for places to stay in Italy:
Don't worry, it isn't all as scary as you may think. Italy is an easy-going country to visit, but there are a few things to keep in mind when planning your Italy itinerary.
We have been to Italy countless times at this point and have made countless mistakes. This [unfortunately] has given us first-hand knowledge of what you should NOT DO when planning a trip to Italy.
Italy was one of the three countries we visited on our first trip to Europe ever [along with France and Ireland] and we have since been back many times.
From the prettiest islands in Italy to the villages of Cinque Terre, these Italy travel planning tips will help improve your vacation!
Now, here are some tips on how to plan a trip to Italy!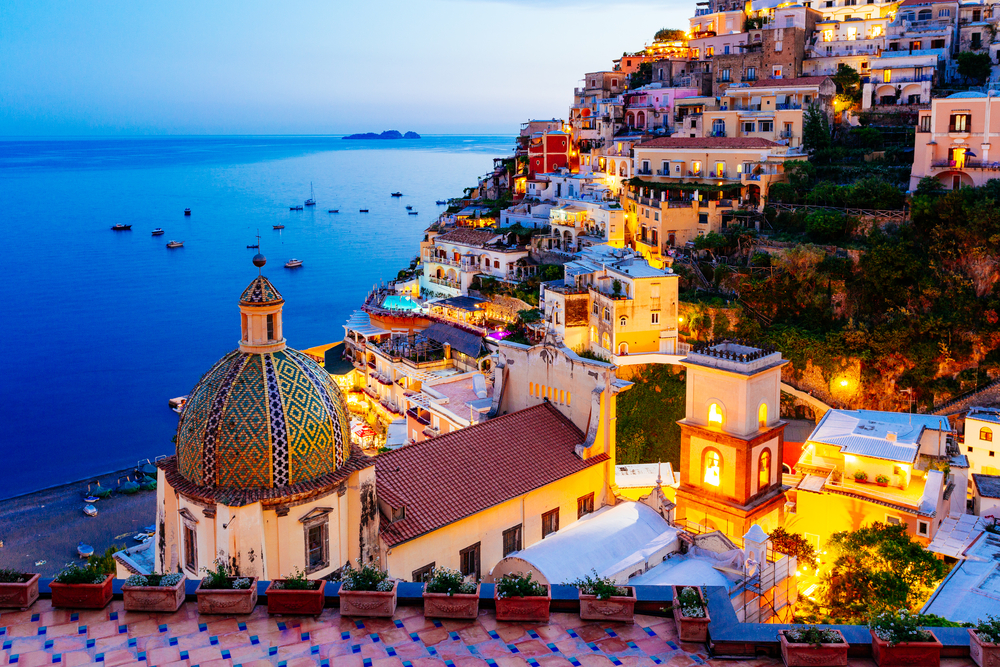 Planning a Trip To Italy: 9 Big Mistakes To Avoid
Mistake #1: Spending Too Much Time In Rome
Don't get us wrong, Rome is an absolutely amazing city to see.
When we were planning a trip to Italy for the first time, we were warned not to spend too much time in the city. Did we listen? Of course not! We spent four days in Rome and it was bordering on too much.
There is a TON to see and do in Rome like all the famous monuments and the Vatican City.
However, some people plan to spend between 5-7 days in Rome and sacrifice seeing some of the other best things to see in Italy!
Spending too much time in Rome is a common mistake people make when planning a trip to Italy.
Rome can feel quite touristy very quickly if you aren't careful. If you have a shorter amount of time in Italy, we beg you not to spend half of your trip in Rome.
Go for a quick introduction then head out to see the rest of what Italy has to offer. At the very least, take some day trips from Rome.
When working on your Italy trip planner, consider spending between 2-3 days in Rome for a good first-time experience without feeling too rushed.
Whether you are planning your 10 days in Italy, have a bit more time and are spending 2 weeks in Italy, or renting a car and doing an Italy road trip, we do recommend seeing Rome, but not for a super long period of time!
If you do choose to spend your 1-3 days in Rome, we recommend the below hotels. We also have a complete list of where to stay in Rome by area.
Where To Stay In Rome:
Near Vatican: Domus Porta Angelica. Check Rates: Booking.com
Mid-Range: B&B La Scalinatella. Check Rates: Booking.com
Upscale: The Westin Excelsior Rome. Check Rates: Booking.com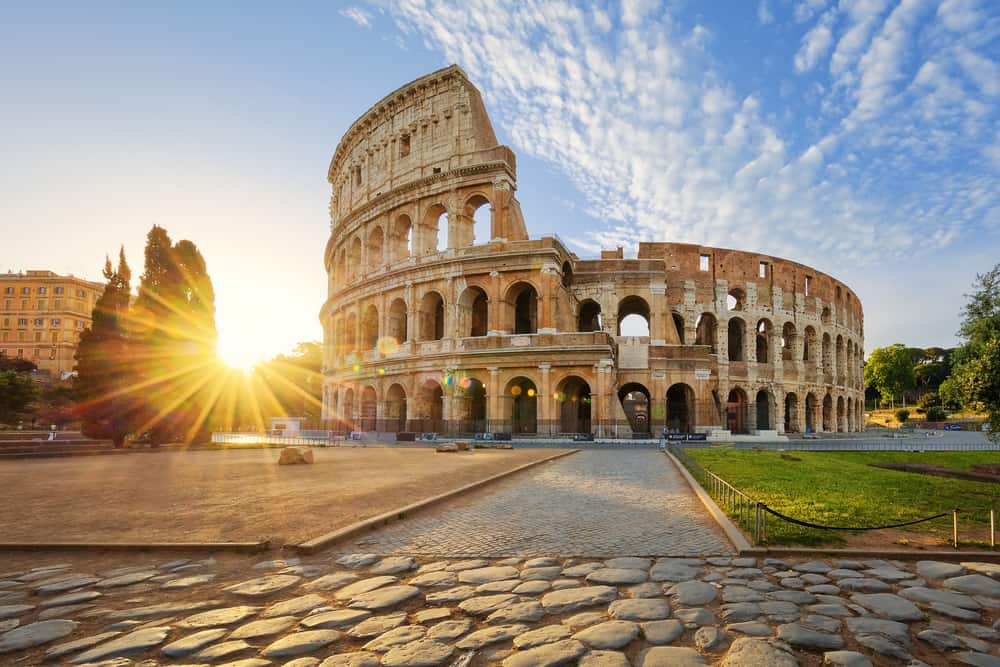 Mistake #2: Trying To Do Too Much In One Trip
Another of the top mistakes in Italy people make is trying to pack in too much during one trip.
Again, how do we know this? Because we did it too and constantly see others doing the same thing.
Italy may look small on the map, but it is actually quite big when you have to explore the whole thing.
There is also so much to see and do. This is why we have been back to Italy so many times! We have never been able to experience all we want in one trip so we have to go back.
When making Italy travel plans, we highly recommend NOT burning out.
By burning out, we mean trying to do way too much in a short amount of time.
We recommend choosing a few things to do and spending longer at those things rather than choosing a lot of things to do and only getting a few hours at each.
Of course, whatever type of trip you want is completely up to you, but slower travel will really let you know more about Italy and it will be much more enjoyable.
While you are planning your trip to Italy, we recommend choosing your highlights and then going from there.
Choose the places you must see and make those a priority. If they are all spread throughout the country and you have only a short amount of time, you may want to rethink your Italy itinerary.
Sometimes it is better to do the top half or the bottom half of the country if you only have a short time, say, 5 days.
If your main reason to visit Italy is to see fantastic scenery, then make that your priority. Don't try to fit in the beach, museums, and wineries all in a few days.
This will make you feel burnt out and at the end of the day, you really won't enjoy the nature you traveled all the way to Italy to see.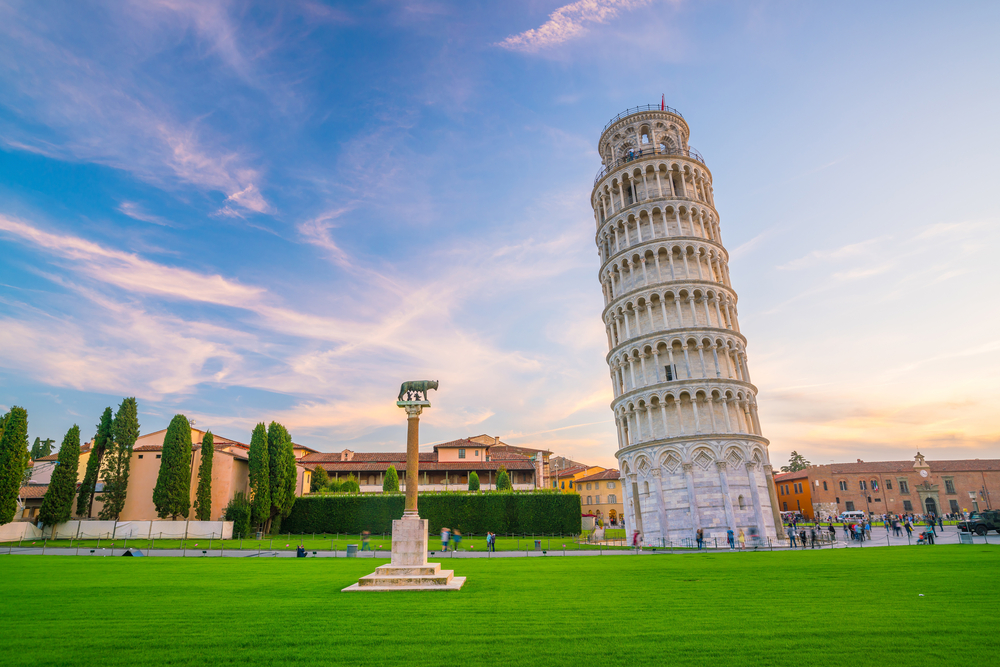 Mistake #3: Being Scared To Use/Not Understanding Public Transportation
Many Americans planning a trip to Italy are very confused about the Italian public transportation system.
We are from Florida and public transport here are some crappy buses that don't run on time.
The best experience many people in North America get with public transportation is seeing it in a big city such as New York City or Toronto.
This makes people like us not understand what public transportation is all about in Italy.
When planning a trip to Italy on a budget, public transportation is widely available and affordable!
On our first trip to Italy, we took the train all the way from Rome to PARIS! That is really far in case you didn't know, and it didn't cost that much.
We stopped in a few cities along the way but the point was to show you how connected Italy really is.
Let's say you fly into Rome. There are affordable public transportation options to get you from the Rome airport into the city center.
When you are in Rome you can either take the bus or the metro [subway] around the city.
When it is time to head to say, Florence/Venice/Naples/wherever, don't worry! You will catch a local bus/metro to the larger train station.
You will find your train and ride it to your destination. Once you arrive at your destination such as Florence, you will walk out of the station and there will be local public transportation HERE for you too!
Even the smaller towns in Italy have great local transportation options and are very affordable.
When planning a first trip to Italy, keep this in the back of your mind, especially if you live somewhere that doesn't rely on public transportation for transit.
You will not show up at a train station and then be left with no option to connect you to your hotel or the city center.
Italy isn't like North America and this country is well-connected!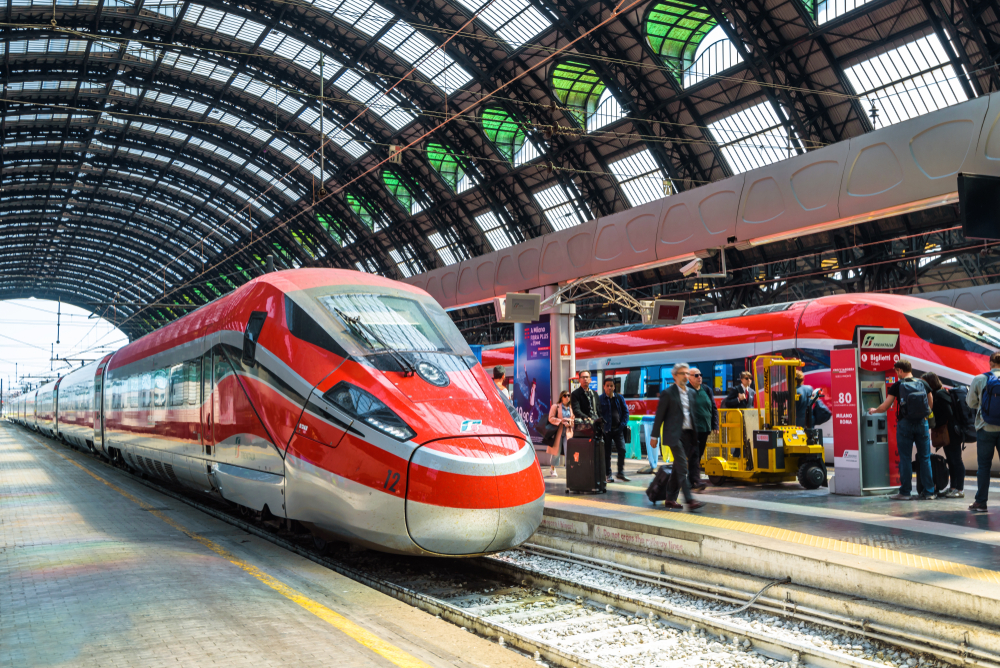 Mistake #4: Spending Too Much Money On An International Cell Service Plan
Luckily, with Sprint and T-Mobile, we get free international data and text messages so we don't have to pay for a pricey international plan like others who have AT&T or Verizon.
If you have a phone carrier with an expensive international plan, DO NOT GET IT when traveling to Italy on a budget!
You don't need it. Spending too much money on a pricey international cell phone plan is one of the biggest mistakes people make when planning a trip to Italy.
We were spared from making this mistake because our plans had it included, but know many people who don't know this simple trick we are about to share.
We highly recommend getting a LOCAL sim card in Italy.
You can simply take out your sim card from your phone and pop in a local one. This allows you to use local 4G networks just like the local Italians.
We love using sim cards from local countries as they allow you fast, easy, and affordable network connection.
When buying a sim card, you can usually purchase one in the airport or in any downtown metro area.
The best network for sim cards in Italy is TIM. This sim card costs around $25 for 30 days of usage and comes with 4G speeds and 15GB of data usage.
This is a WONDERFUL deal and oftentimes much cheaper and faster than using your own plan's international data.
Plans such as Verizon don't really exist in Italy which will cause your experience to be frustrating and slow.
Plans such as TIM do exist and are the main network used in the country so you can be sure to have an enjoyable and affordable experience.
WORD FROM THE WISE: Make sure that your smartphone is "unlocked" for International SIM card usage.
This involves calling or tweeting your cell carrier to ensure that it is unlocked for SIM additions.
Simply tell them you are traveling abroad and want to get an international SIM and that you need your phone unlocked.
This is one of the easiest tips we have for you when planning a trip to Italy because it makes getting around so much easier.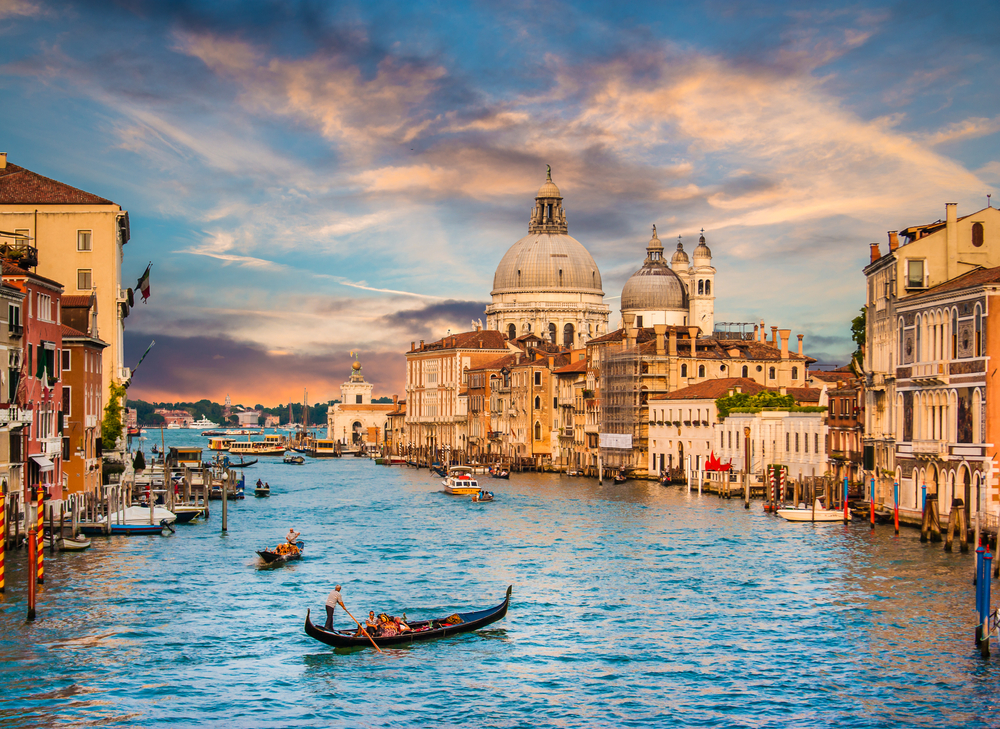 Mistake #5: Only Traveling To Italy In The Summer
Most people think they can only plan a trip to Italy during the summer.
Why? Because that is when it will be the best weather and when the experience will be most enjoyable.
We are here to tell you that this isn't exactly true.
You can plan a trip to Italy any time of year, and we highly recommend visiting during the off-season.
During the summer or warmer months, the entire island is crowded with locals off work for holidays and the heat made hotels without air conditioning unbearable.
When visiting Italy in the off-season, we had a fantastic time every single time we visited.
The weather was cool and pleasant, the tourist season was low, prices were cheaper, and we didn't need AC in the hotel.
We recommend checking out Skyscanner to find the best and most affordable time of year to visit Italy. Use this tool to discover the best flights for your trip and easily compare rates.
We also suggest booking your Italy itinerary on a travel credit card so you can earn points toward future travel! These are the travel credit cards we personally use!
We planned a trip to Italy once in the early spring and the experience was just great. The weather was beyond fantastic and there were hardly any other visitors.
On the other hand, when we visited in mid-June, we were fighting with crowds of tourists and everything was overcrowded and super hot.
However, if you are planning a trip to Italy and want to head into the Dolomites/Italian Alps, then the winter/spring will not be the best time for the experience.
The mountains will be buried in snow. Perfect if you want to ski, though!
If you want a lighter tourist time to visit the Dolomites in Italy, consider visiting at the end of summer or during early fall.
You will still get the same stunning experience but it won't be nearly as busy as visiting during peak season.
Just don't try and visit the Dolomites in early spring and expect them to be free of snow!
If summer is the only time you have when planning a trip to Italy then please, feel free!
But we just want you know summer isn't the ONLY time you have to plan your trip.
Italy is essentially a year-round destination. We have had great experiences visiting when the air is cooler and more pleasant outside.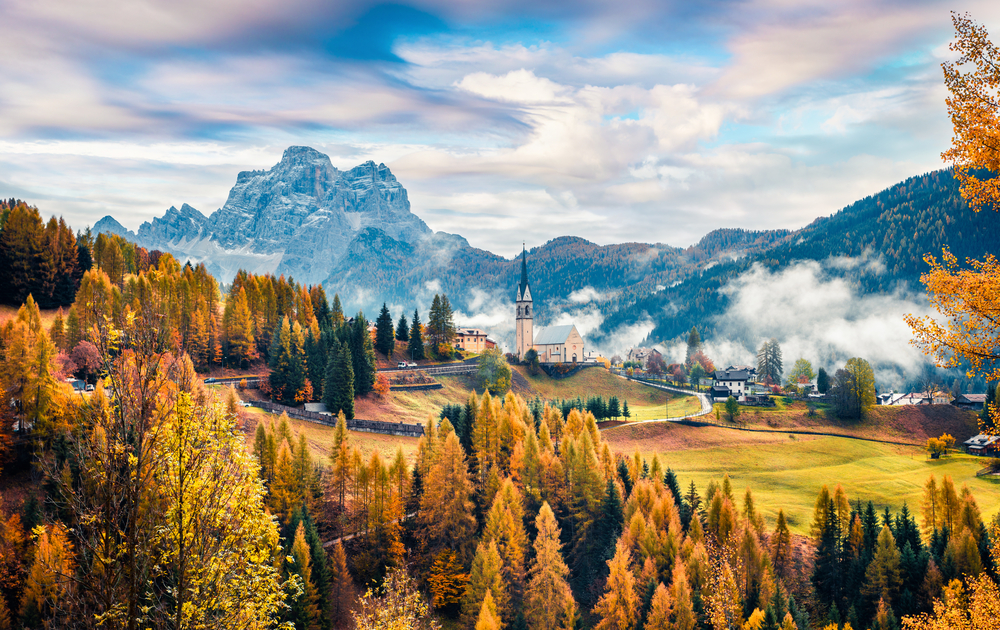 Mistake #6: Completely Writing Off Renting A Car In Italy
Another mistake people make when planning a trip to Italy is completely writing off renting a car.
This is a HUGE MISTAKE for Italy trips because renting a car will provide you with so much freedom. It is the best way to tour Italy!
If a guided tour is more your style then that is totally fine. There are some great tours in Italy that will take you around with ease if you are only in Italy for a few days.
As we mentioned above, Italy has some FANTASTIC public transportation you should 100% use. But great public transportation can only take you so far.
We suggest checking out AutoEurope.com to find the best and most affordable rate when renting a car in Italy.
It allows you to compare rates across a variety of popular car rental websites including Hertz, Sixt, Europcar, Alamo, Dollar, Enterprise, and more.
This way, you can see a bunch of different prices without skipping around through a bunch of different websites.
Make sure to check out the larger cities such as Rome and Milan for the best deals on car rentals in Italy!
We personally love renting a car as often as possible! From Iceland and Peru to Alaska and Ireland, we have rented cars all around the world and love the freedom they provide.
We have often used public transport in Italy and while it is great, you still must stick to a schedule and the buses and trains only take you so far.
We are photographers and hikers and love getting deep into the landscape and renting a car in Italy allows us to do just that.
For example, when we rented a car in Trentino in the Italian Alps/Dolomites, we spent 5-6 hours a day driving up to the tip-top of the mountains, seeing quaint villages, driving past cliff-side vineyards, finding random castle ruins, and more.
A WORD FROM THE WISE: While renting a car in Italy can be affordable, some tolls are steep! We are talking $25 a pop.
If you choose to rent a car, budget at least $200 for tolls, especially if you are driving anywhere out of Milan.
Some parts of Italy have more expensive toll roads while others are much more affordable.
Of course, we understand that renting a car in Italy isn't for everyone!
If you are going to Italy for the first time, and you just want to see the highlights such as Rome, Florence, and Venice then you really won't need a car because the trains and buses are great.
If you are looking for an Italy road trip planner, we have a great itinerary for a road trip in Italy.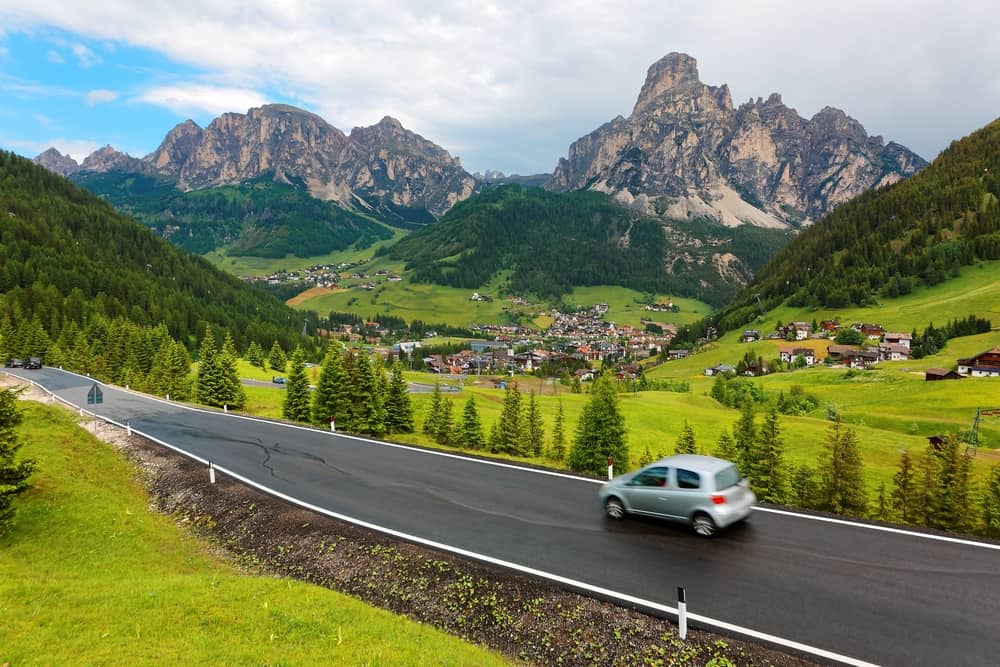 Mistake #7: Only Visiting The Tourist Hot Spots And Nowhere Else
We will be the first to say that we LOVE touristy locations. Why? Because they are usually touristy for a reason such as the Vatican in Rome or the canals in Venice.
That being said, a huge mistake people make when planning a trip to Italy is ONLY visiting these touristy locations and nowhere else!
How do we know? Because that is exactly what we did on our first trip to Italy!
Since then, we have been back additional times and have purposefully done a blend of famous and lesser-known spots. This was a much better mix that allowed us to get a feel for "real" Italy.
So, what is touristy in Italy? Cities like Rome/Florence/Milan/Naples/Pisa are tourist hotspots for obvious reasons.
While we would never suggest you plan a trip to Italy without visiting at least one of these cities, we highly recommend getting out and seeing different parts of Italy.
For example, if you are planning on visiting Florence, consider taking a look at this Tuscany Road Trip Itinerary and go visit a sleepy Florentine town.
There are so many amazingly quaint towns just 30-45 minutes away many people planning a trip to Italy miss.
While the large tourist meccas are popular for a reason, we highly recommend taking the time to visit smaller towns or natural places in Italy that not everyone visits.
Even if you choose to skip a HUGE tourist center for a smaller tourist area that is okay as it still takes you to the small towns in Italy you may have missed.
Not seeing the hidden gems of Italy IS indeed a big mistake. You will miss out on some of the best parts of the country!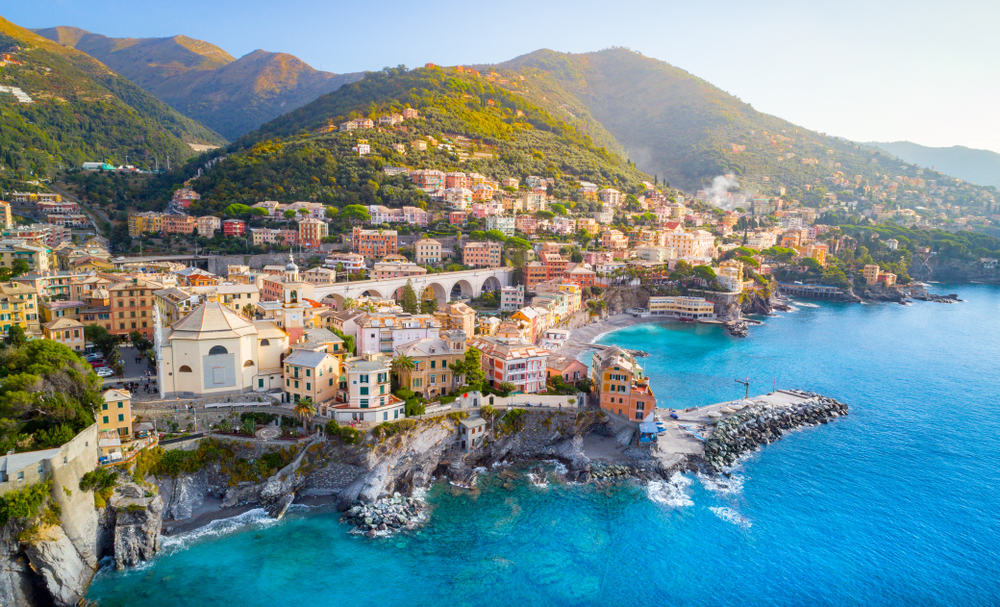 Mistake #8: Not Planning a Budget in Advance
Planning a budget is important for any trip, including Italy. Things can really add up and get expensive if you do not have a plan ahead of time.
If you are planning a trip to Italy on a budget, don't worry. We have a full, comprehensive article that covers the cost of a trip to Italy.
The article breaks everything down based on how much you are willing to spend.
First, keep in mind the big expenses like flights, hotels, and rental cars.
Then, plan a daily budget for food and activities. You can easily save money by grocery shopping and exploring free things to do.
If you know in advance the average cost of meals, transportation, lodging, and activities, you will know what to expect and how to plan your spending.
Whether you are traveling to Italy on a budget or plan on going all out for a honeymoon in Italy, you will still have a fun and memorable time!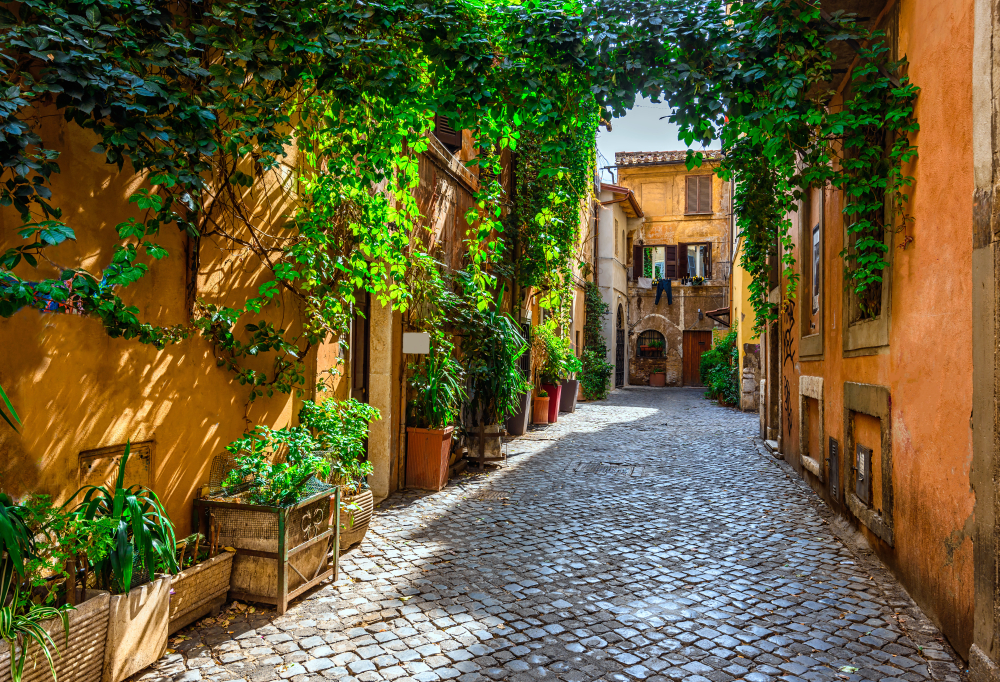 Mistake #9: Not Booking Some Activities in Advance
Because Italy is such a big tourist destination, many of the most popular attractions can book up fast.
This includes things like vising the Colosseum in Rome or touring the Duomo in Florence.
Once you have your Italy itinerary set, you should book your top activities ahead of time to secure a spot on the day you want.
Sometimes, you can also save a little money when you book things online in advance.
Consider booking major experiences like wine tastings and day trips beforehand as well.
Having your must-see attractions and things to do booked in advance takes away the stress of getting tickets at the last minute, waiting in line, and possibly missing out on activities.
Below is a list by city of some of the top attractions you should consider booking in advance to make your trip smoother.
Rome:
Book Here: Vatican: Museums & Sistine Chapel Entrance Ticket
Book Here: Colosseum, Roman Forum & Palatine Hill Entry Tickets
Florence:
Book Here: Accademia Gallery Priority Entry Ticket
Book Here: Cathedral, Duomo Museum, and Baptistery Tour
Book Here: From Florence: Tuscany Highlights Full-Day Tour
Venice:
Book Here: Grand Canal by Gondola with Commentary
Book Here: Doge's Palace Reserved Entry Admission Ticket
Naples:
Book Here: From Naples: Pompeii Ruins & Mount Vesuvius Day Tour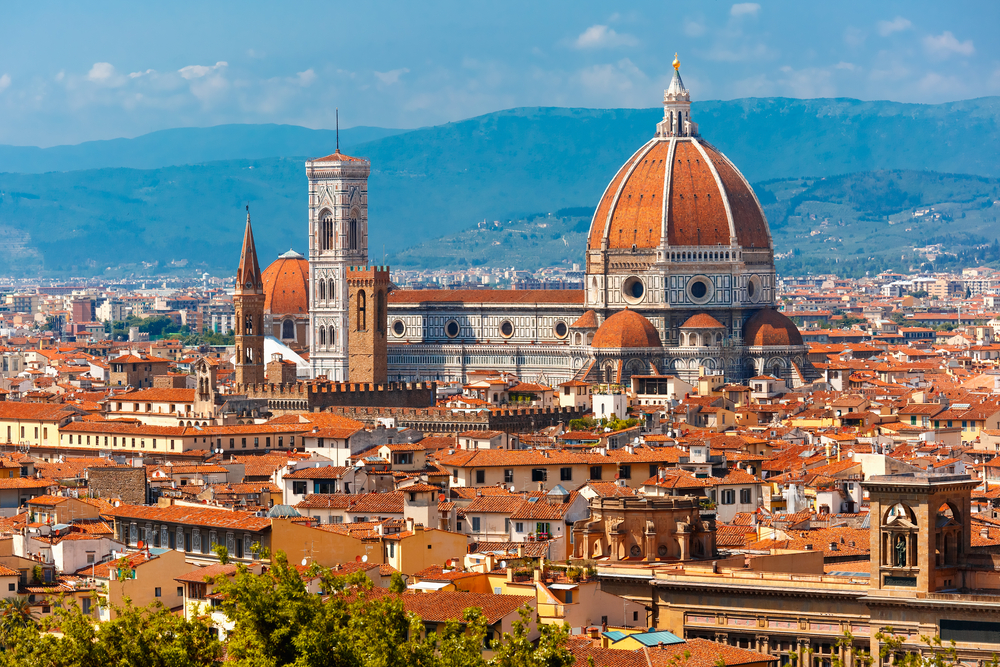 Packing Tips For Your Trip To Italy
Here are some of our favorite items that you should consider packing for Italy!
These are essential travel items we use and love, and you should make sure to consider them for your travels.
A concealed travel pouch may be one of the most important items you bring with you!
This unisex RFID-blocking concealed travel pouch is lightweight and comes in several colors.
It has lots of organization to give you peace of mind. You can keep your most valuable documents safe and secure next to your body.
If you have a pouch already you may not want to or need to invest in a new one. If it does not come with RFID protection, these RFID sleeves would be handy to prevent identity theft.
This configuration comes with enough passport and credit card sleeves that the entire family would be protected.
They are slim too, so they will easily fit into your current pouch or wallet. These are the kind our family uses not only when traveling but at home as well.
If you have a camera on your packing list, you need to add additional memory cards to your list as well.
Unless you are packing a computer for your trip, you will not be able to upload photos and clear your existing memory card.
Purchasing additional memory cards cost under $20 and take up no space in your luggage. Having a backup can have the potential to save you a lot of heartache if something goes awry!
There is nothing worse than coming across that perfect moment and then finding out you don't have enough space to capture it on your camera!
Similarly, if you are planning to capture your trip on a smartphone, we beg you to bring some way to back up your memories.
The best way to do this is with a portable smartphone flash drive. A flash drive is a small storage device that you can connect to your smartphone and then safely and easily download photos onto this device.
If you are planning on taking a lot of pictures with your phone you will definitely want to consider an external charging battery.
This Anker high-speed phone charging battery is the exact one we carry with us on all of our trips. It can be used on a variety of phones, not just an iPhone like we have. And wow is it fast!
We like that it holds its charging capabilities for several uses so we do not have to worry about it while out and about. And if we forget to recharge it at night, it will still be good to go the next day.
My mom was never a fan of packing cubes until she tried them out! Now she is sold. These Bagail packing cubes are the exact ones she uses whenever she travels and she travels a lot.
She cannot believe how much more organized she is now! And she will never leave without them anymore.
We never leave home on a trip without our Bobble filtration bottle. The 18.5-ounce size is perfect for travel. It will fit nicely in the pocket of a backpack or your purse.
Also when filled with water, it is not too heavy to carry. And the Bobble carbon filter ensures fresh clean water whenever and wherever you fill the Bobble. You can find filter replacements here.
Perhaps you are traveling a long distance and packing space is a premium. Then this set of collapsible silicone foldable water bottles would work well for you.
Would not take up much space in your suitcase at all. And you will be receiving a set of two.
You will want to bring a backpack or daypack with you to store snacks, your water bottle, phone, extra clothes, etc.
This foldable water-resistant backpack would be great. It is very affordable and is available in many color options for you to choose from. The fact that it folds down into a zippered pouch will make it easy to pack.
Perhaps you need a more substantial backpack for your international travel.
This antitheft backpack has a charging port, is water-resistant, and can comfortably carry up to a 15.6″ laptop. It comes in a range of colors to choose from and it is inexpensive as well.
We all need to protect our eyes from the sun's harmful UVA/UVB rays. These unisex polarized sunglasses come in a lot of lens colors and frame designs and are extremely affordable too.
If you are fond of the aviator-style of sunglasses these polarized aviators may interest you.
We like polarized sunglasses because they remove the glare of the water and help you to see things more clearly.
Don't forget to bring along a universal power adapter if you are traveling abroad. This worldwide power plug is a great example and will charge your phone at the end of your busy days.
And this world traveler adapter kit can charge several devices at the same time.
This is what you will need when there are several people traveling in your group. Or if you bring several electronic devices on your trip that require charging at the same time.
We hope this post helped you learn how to plan a vacation to Italy.
Italy is one of the first places that we visited abroad and remains one of our favorite countries without fail.
We can't wait for you to experience it and we hope that these tips help you when planning your Italy itinerary.
They aren't meant to scare you, but to make you "think" about a few alternative mindsets as you write your trip planner for Italy!
Pin this post: