Christmas in the USA is a magical time and you can find magical places to discover all over the country!
From the bright Christmas lights of Las Vegas to the wonder of Disney to the laidback Nantucket and Seneca Falls, add some holiday spirit to your festive season.
There are so many Christmas things to do in the United States, so you will never be bored!
Whether you like Christmas traditional with all the trimmings, dream of snuggling up in front of a log fire, or prefer something a little different, we have you covered.
Our list includes the best Christmas things to do in the USA! There are so many amazing light displays, Christmas markets, ice skating rinks, and towering Christmas trees to check out!
Sit back, relax with a hot chocolate, and let us walk you through the best Christmas vacations in the USA.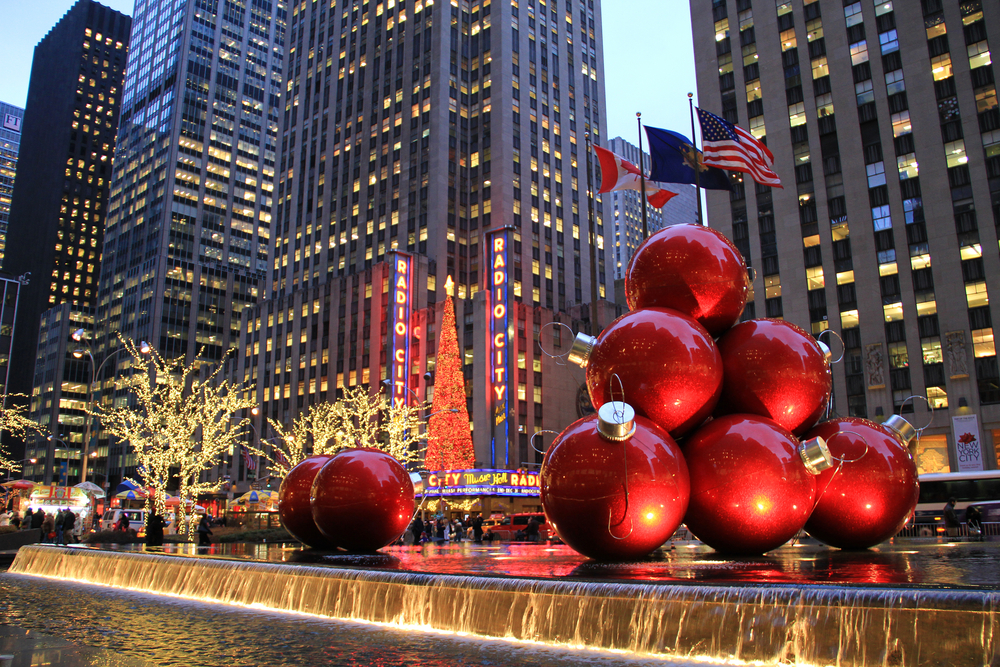 23 Best Places For Christmas In The USA (Festive Vacation Destinations!)
Disney World, Florida
No one knows how to do Christmas better than Disney!
I'm sure Disney World in Orlando, Florida, tops most people's lists of the best places to go for Christmas in the USA. It's all the Christmas fun and joy with good weather to boot.
From the candlelit processions to the Christmas parades, you will be swept away in the magic. Be prepared before you go and plan ahead because the parks can get very busy.
Disney will make the holiday season unforgettable for the whole family!
Get prepared for Disney World at Christmas by taking a look at our guide to Christmas at Disney. We also have the Ultimate Guide To Visiting Disney In December.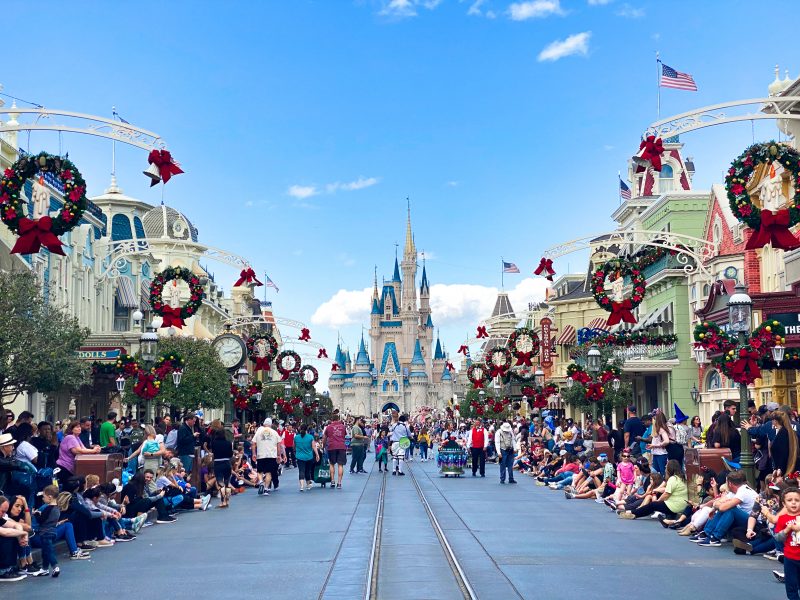 McAdenville, North Carolina
From December 1st to December 26th, McAdenville in North Carolina changes its name to Christmas Town USA. The tradition dates back to 1956, and the town knows how to do Christmas right!
If you are thinking of spending Christmas in America then a trip to this amazing town has to make your list. The best time to visit is Monday through Thursday to avoid the crowds.
The town transforms into a Christmas spectacular and with over 375 trees and red, green, and white lights adorning anything that stands still. It really is a sight to behold!
Don't forget to check out the Yule Log Parade
It's busy and there will be lots of traffic but it's worth it! We think the place could even melt Scrooge's heart.
This is definitely one of the best Christmas vacations in the USA! Check out our North Carolina road trip itinerary for more NC activities.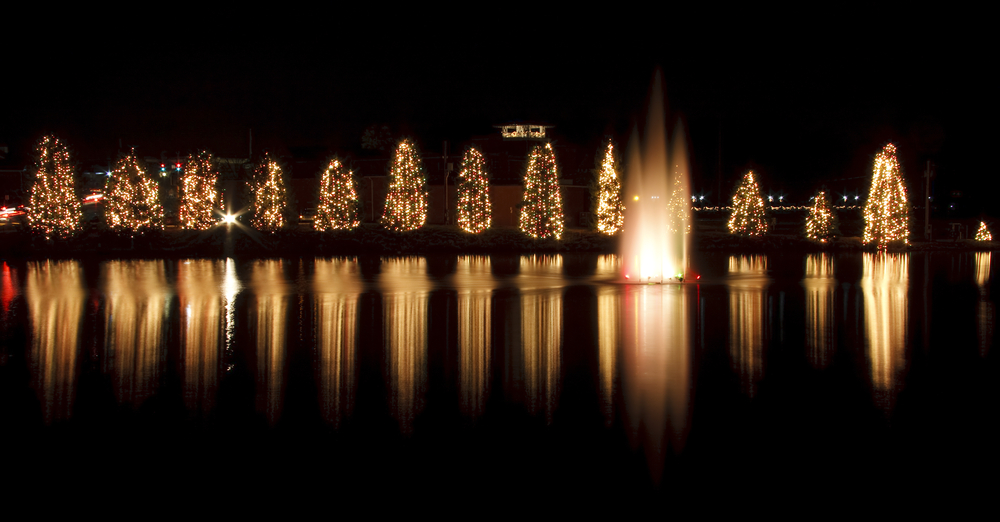 New York City, New York
No post on the best places to spend Christmas in the USA would be complete without New York City.
After all, it is the setting for lots of Christmas films that have left a mark on us including Home Alone 2: Lost in New York, Elf, and Miracle on 34th Street.
The great thing about New York City at Christmas is that it really has something for everyone all wrapped up with that legendary New York style.
Think ice skating in front of the Rockefeller Center, a carriage ride through Central Park, the laser show at Grand Central Station, or the Christmas Spectacular at Radio City Music Hall.
New York City has everything for your Christmas in the USA trip!
For more ideas on Christmas in New York visit our Ultimate 4 Days In New York Itinerary.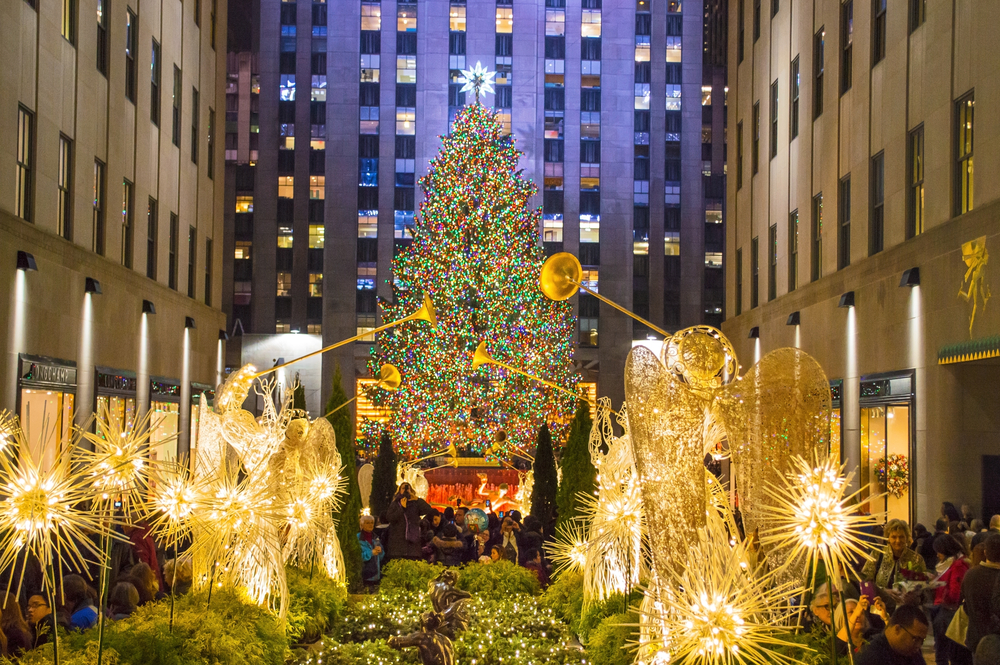 North Pole, Alaska
Anywhere with a name like North Pole has to make it into an article of best Christmas destinations in the USA!
This small Alaska town boasts such street names as Snowman Lane, Saint Nicholas Drive, Holiday Road, and Santa Claus Lane.
It's also famous for the Santa Claus House, and the town post office gets flooded with letters to Santa every year. Snap a family photo in front of a giant statue of Santa.
Whether you are nostalgic for that childhood Christmas feeling or want to take your children to a magical place, North Pole is for you.
North Pole is located near Fairbanks in central Alaska.
Want to extend your Christmas in Alaska? Read our Ultimate Alaska Road Trip Itinerary.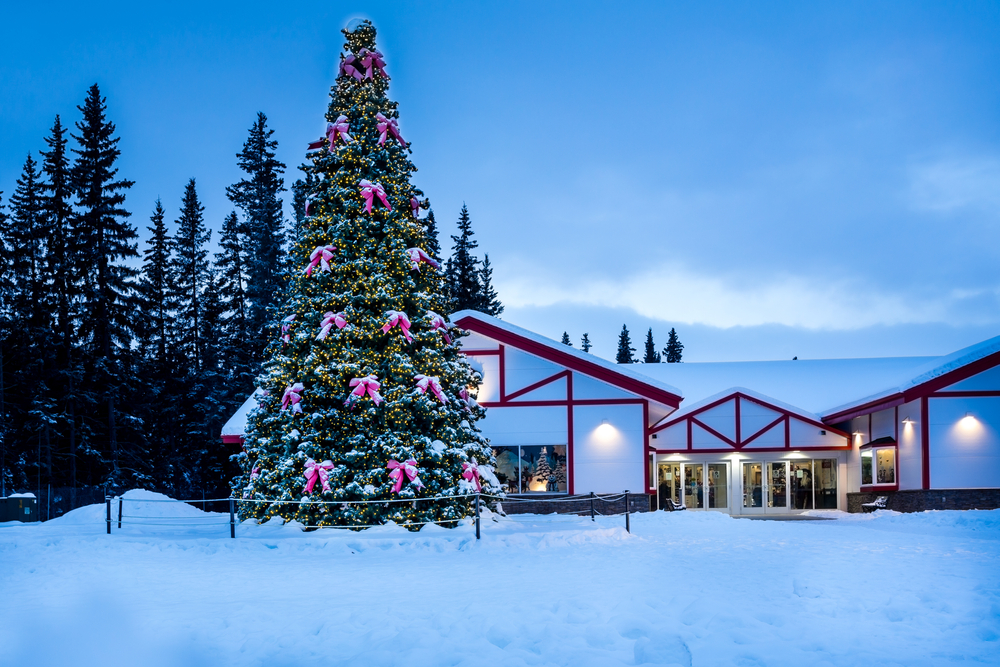 Chicago, Illinois
When it comes to embracing the Christmas spirit, Chicago has its own charm that makes it one of the best Christmas vacations in the USA.
With a giant tree, lights galore, and a European-inspired Christkindlmarket, Chicago makes a great Christmas getaway.
Don't miss the ZooLights at the Lincoln Park Zoo, a 2.5 million holiday light display, the incredible tree lights at the Morton Arboretum, and ice skating at Millennium Park.
Just call the Windy City the city of lights and jazz up your Christmas in the USA with a trip to Chicago.
This is truly one of the best Christmas Towns In The USA you should visit!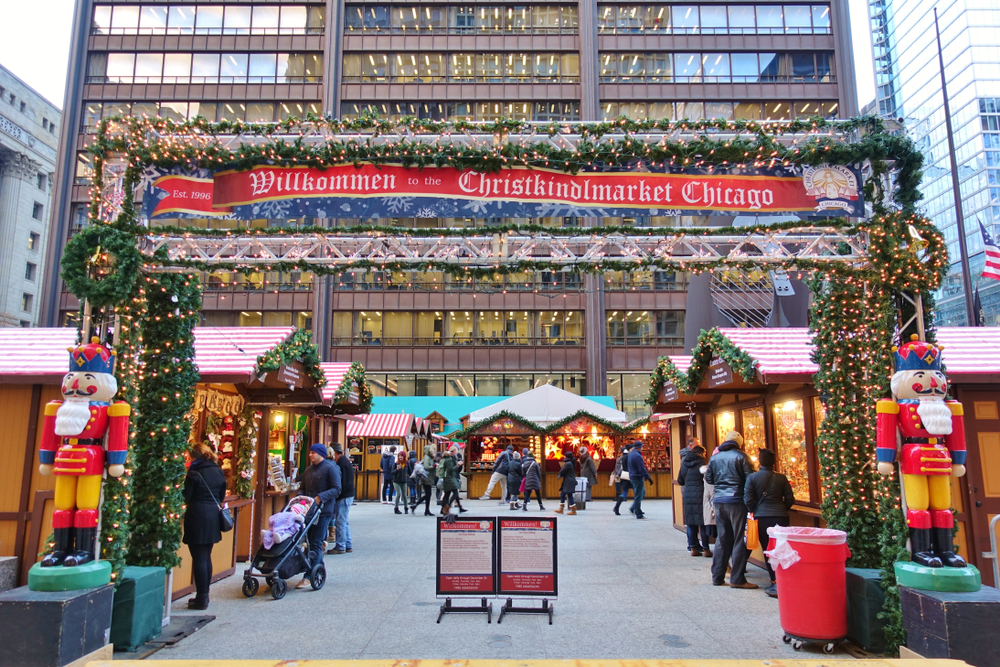 Asheville, North Carolina
A Christmas gem in the Blue Ridge Mountains, Asheville transforms itself into a Christmas wonderland during December.
There are so many things to do in Asheville all year and winter is an amazing time to visit.
If you like your Christmas in America more sophisticated this might be the place for you. Stroll the town adorned with lights as you shop and check out local breweries.
The North Carolina Arboretum transforms with over a million lights to create Winter Lights This spectacular open-air light display is sure to leave you awed. There is a reason it is listed first on our Asheville itinerary!
You must stop by the opulent Biltmore Estate! The mansion becomes completely decked out with holiday decor and gorgeous Christmas trees. At night, the property dazzles with candlelight.
Asheville really is one of the best places to go for Christmas in the South USA.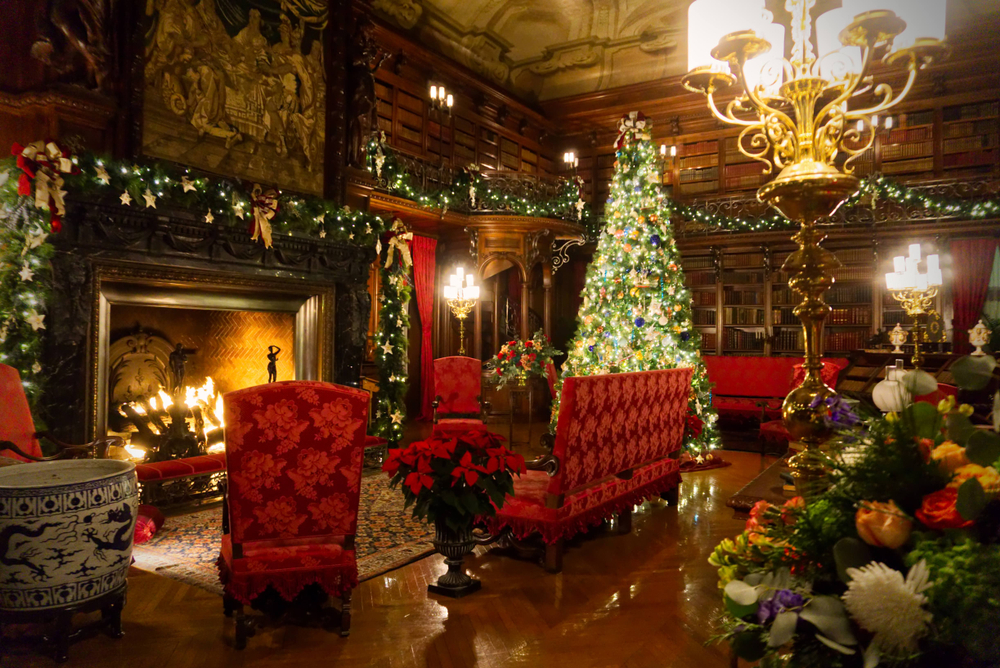 Austin, Texas
If you like your Christmas vacation more on the warm side then this one might be for you.
Austin, Texas, proves that you do not need snow for an amazing Christmas. There are so many fun activities to enjoy in this hip down.
The Trails of Lights in Zilker Park is a mile-long, walkthrough light display. Grab a hot chocolate and admire the lights.
For the best holiday shopping, stop by the Armadillo Christmas Bazaar. Shop local art and listen to live music.
Also worth a visit is the Gingerbread Village at the Four Seasons Hotel, ice skating on the roof of Whole Foods, and the Holiday Singalong and Downtown Stroll.
Overall, this is one of the best cheap warm places to visit for Christmas in the USA! If you fancy extending your Texas winter vacation, check out our Texas road trip.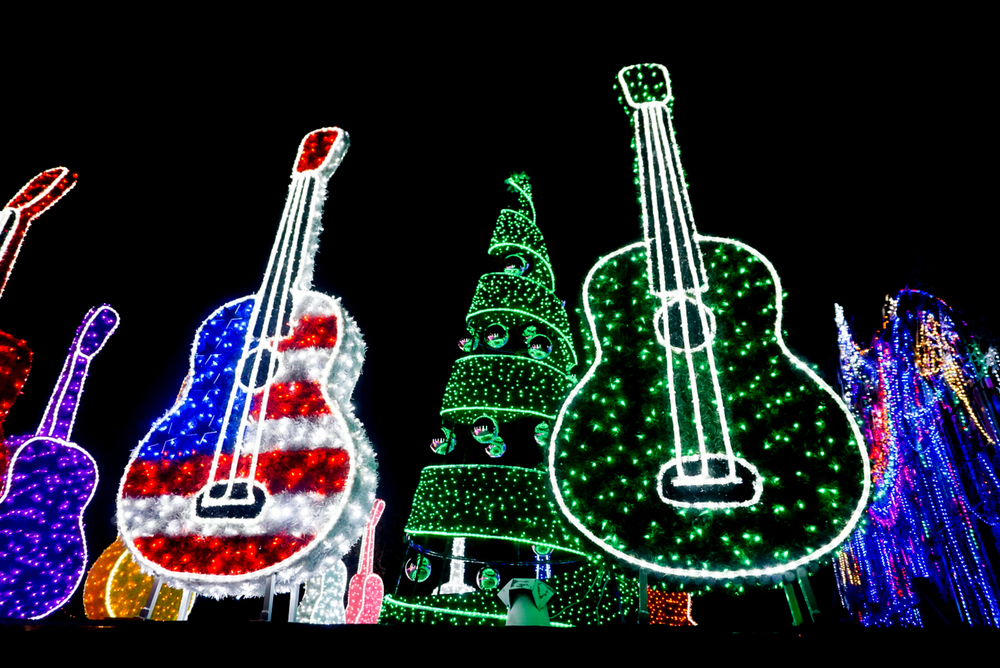 New Orleans, Louisiana
When you think of Christmas in the USA, New Orleans may not be the first place that springs to mind. But no place knows how to party like New Orleans and at Christmas, it does it so well.
You'll be awed by the streetcars and steamboats decked out and lights around every corner. The French Quarter and Garden District mansions open their doors for holiday home tours.
It is clear that New Orleans is just full of Christmas cheer! New Orleans has tons to offer the Christmas traveler, all served with a helping of jazz.
Want to see what else New Orleans has to offer? Visit our Ultimate 3 Days In New Orleans Itinerary.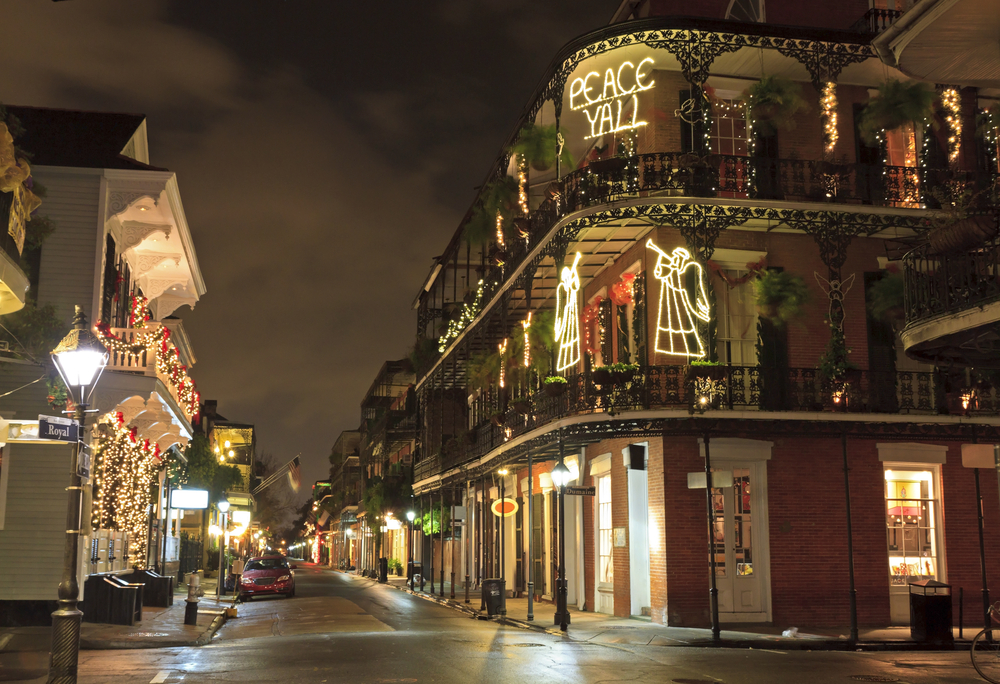 Park City, Utah
This former Olympic city is one of the best winter vacations in the USA if you like Christmas wonderlands with a side of skiing and dog sledding.
With torchlight parades, an eclectic parade, and the historic Main Street, Park City has a lot to offer. Oh, and look out for Santa who spends Christmas Eve on skis!
For a scenic ride, hop aboard the Heber Valley Railroad's North Pole Express. During the 90-minute ride, you'll enjoy cookies and hot cocoa and receive a gift from Santa.
Discover more of Utah with our Ultimate Utah Road Trip Itinerary.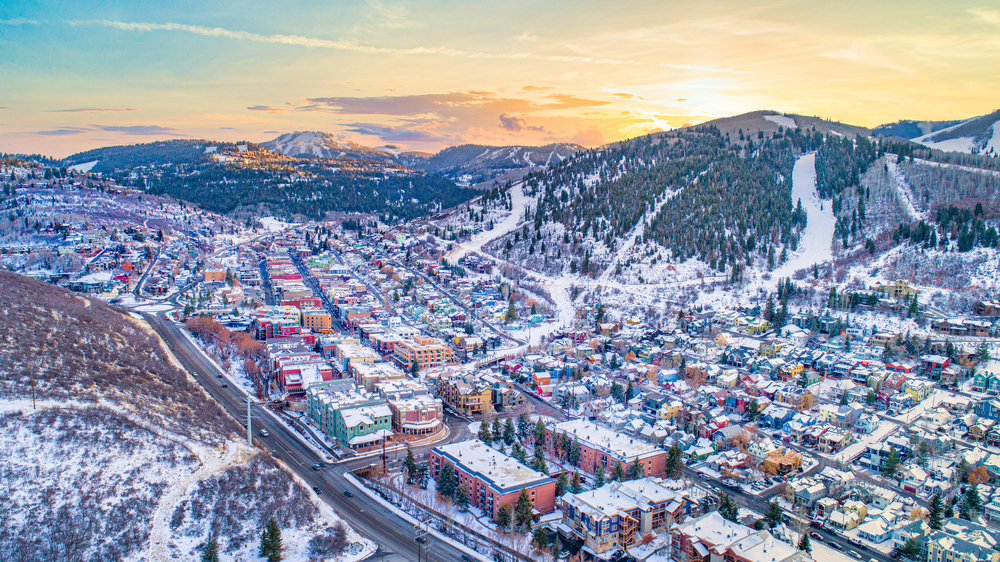 Vail, Colorado
Looking for a white Christmas? Vail should be high on your best Christmas vacations in the USA list!
Think snowflakes, the warm glow of street lights, and Christmas charm. With lots of things to do and a backdrop of snow-covered mountains, it really is one of the best Christmas getaways in the USA.
With concerts, parties, a tree lighting, and the Kris Kringle Market, Vail will meet all your winter wonderland dreams and then some.
Of course, Vail is one of the top skiing destinations in the country. Is there a better way to spend the winter holidays than hitting the slopes?
Colorado is one of the most fun states to visit during Christmas! Want to explore more? Take a look at our Perfect Colorado Road Trip Itinerary.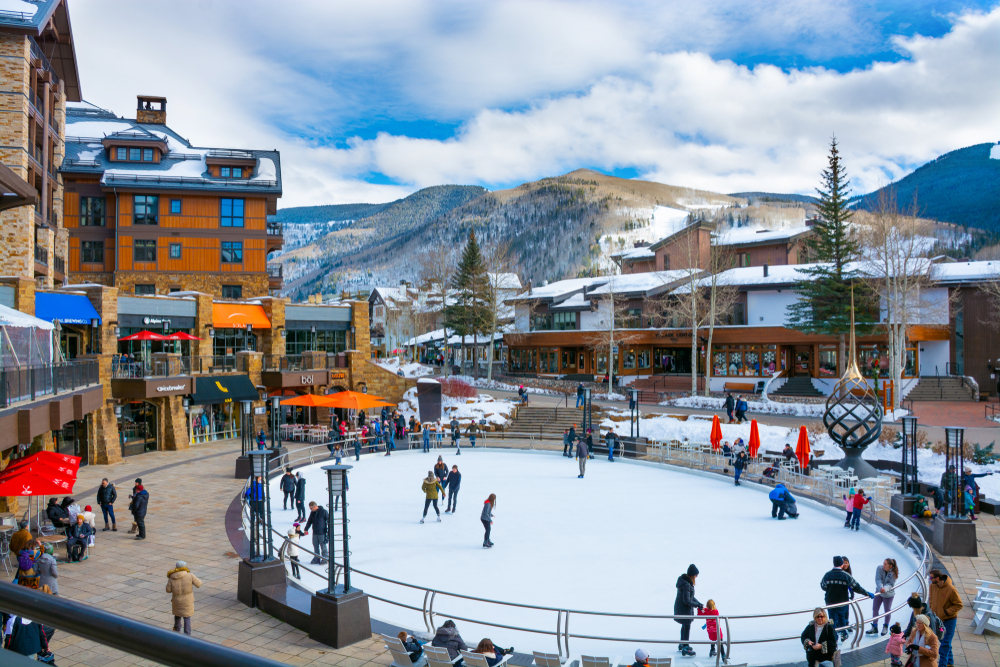 Santa Fe, New Mexico
Santa Fe makes a great alternative to the norm for your best Christmas travel ideas in the USA. A trip here allows you to view Christmas through the lens of Pueblo and Hispanic cultures.
Celebrate a midnight mass at the Cathedral Basilica of St. Francis de Assisi. Discover the GLOW light display at the Santa Fe Botanical Garden.
Pick up some unique gifts at the Winter Santa Fe Winter Indian Market. There are also many music and dance performances to check out. The lanterns adorning the rooftops on Christmas Eve are a sight to behold as well!
Santa Fe has more to offer the Christmas traveler than you would think! Activities, traditions, candles, and lights all make this a unique offering. Enjoy sipping hot chocolate while watching the winter sunsets.
Of course, you can see more of the state on a New Mexico road trip.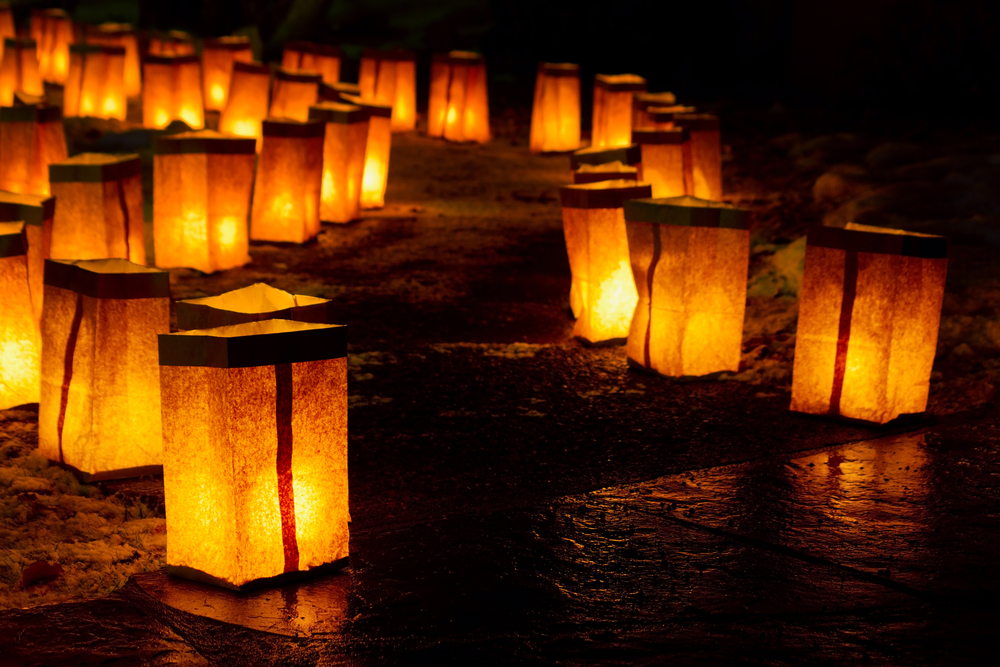 Las Vegas, Nevada
If you like your Christmas loud and over the top then Las Vegas may be right up your street. The entire strip transforms into a winter wonderland that takes Christmas to the next level.
Full of festivals, events, and dazzling hotel Christmas displays, Vegas does Christmas bigger and better than anyone.
If you need a little charm after all that glitter take some time out at the Fountains of Bellagio which has special Christmas performances.
Be warned though, it's busy and prices can double during the festivities.
This is an alternative for those who like Christmas in America to be big and bold. You will love all the best Christmas activities in the USA available in Vegas.
Helen, Georgia
A Bavarian Christmas in the USA? Yes, it is possible and Helen in Georgia serves it up for you with the snow-capped Blue Ridge Mountains as a backdrop.
Helen is one of the cutest small towns in the South, and it only gets more adorable during Christmas!
You can drink Glühwein, visit the Christkindlmarket, marvel at the architecture, and all without having to leave the USA.
Helen has to be one of the best Christmas vacation spots in the USA. If you can, try and get to the lighting of the village and the annual Christmas parade.
For a Bavarian Christmas, Helen really offers something different when it comes to the best American Christmas vacations.
Check out some of the other best things to do in Georiga!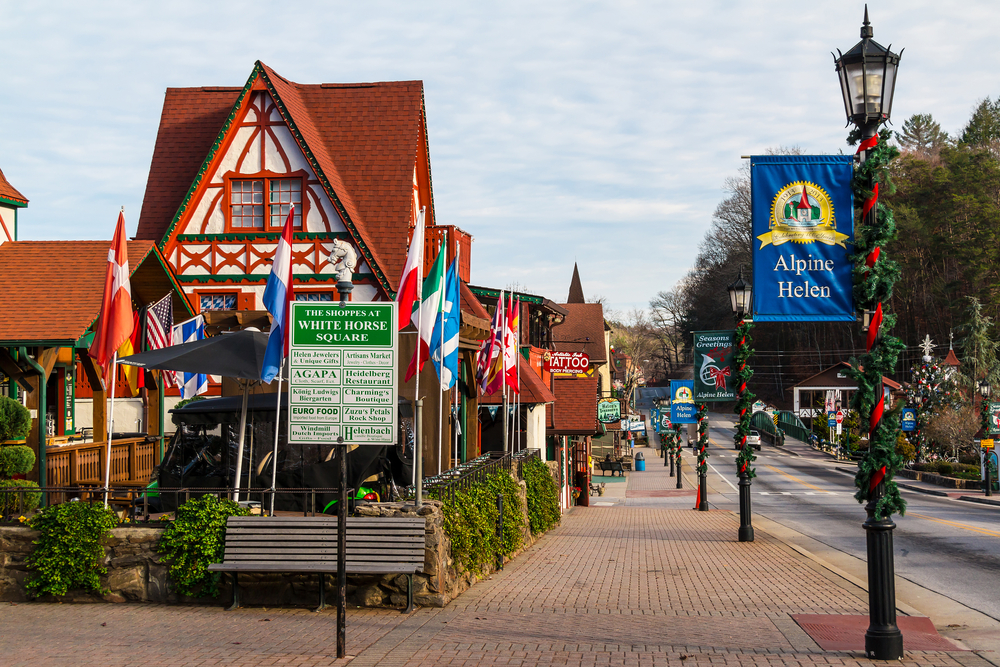 Key West, Florida
Key West is one of the most popular Christmas vacation destinations in the USA for anyone who wants to escape the cold and snow.
There is a reason that this is one of our favorite places for Christmas in Florida!
The holiday celebrations here are as unique as the location. With sparking boats and bikes adorned with lights, Key West knows how to do Christmas.
Christmas kicks off in Key West with the annual Hometown Holiday Parade and carries on with Conch Train Light Tours, a Lighted Boat Parade, a classic car show, and a bike parade.
If you are looking for the best places to celebrate Christmas in the USA that are a little different, Key West might be the place for you.
Extend your stay and see more of Florida with the Perfect Florida Road Trip Itinerary.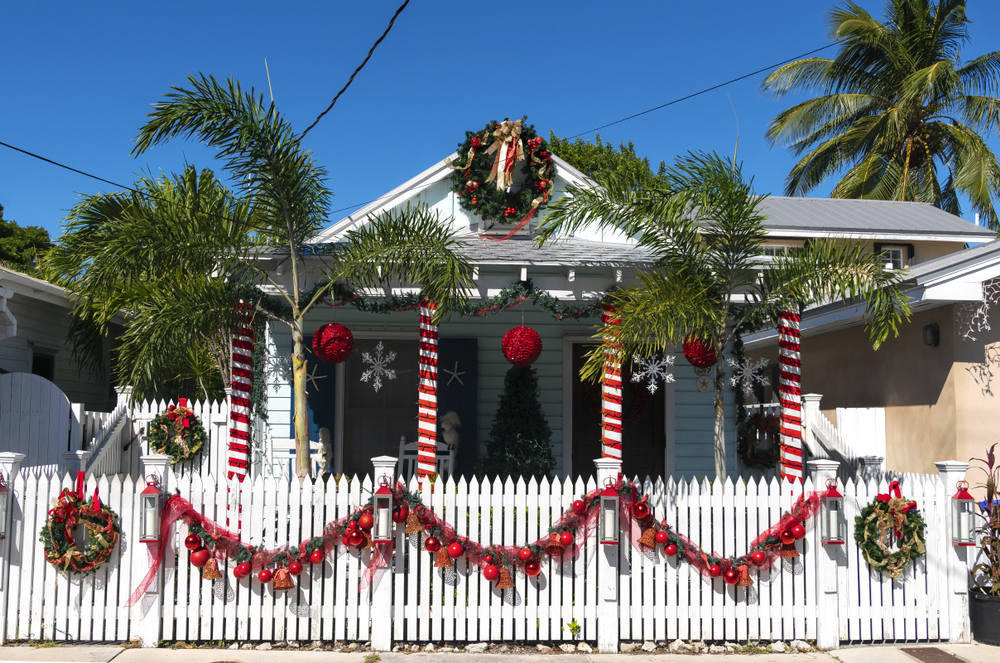 Jackson Hole, Wyoming
Country Living magazine has named Jackson Hole one of America's "20 Best Small Towns for Christmas."
With snowy sleigh rides, regular Santa sightings, and herds of elk, it's not hard to see why Jackson Hole is one of the best places to spend Christmas in the USA.
For one of the best Christmas resort destinations in the USA, book a room at the Jackson Hole Mountain Resort. There are a ton of family activities here and Santa arrives on Christmas Eve on the Aerial Tram.
If Christmas for you is snow, roaring fires, toasting s'mores, and the true winter wonderland experience, Jackson Hole may just provide everything you need.
Extend your Christmas in America by taking the Perfect Yellowstone Road Trip.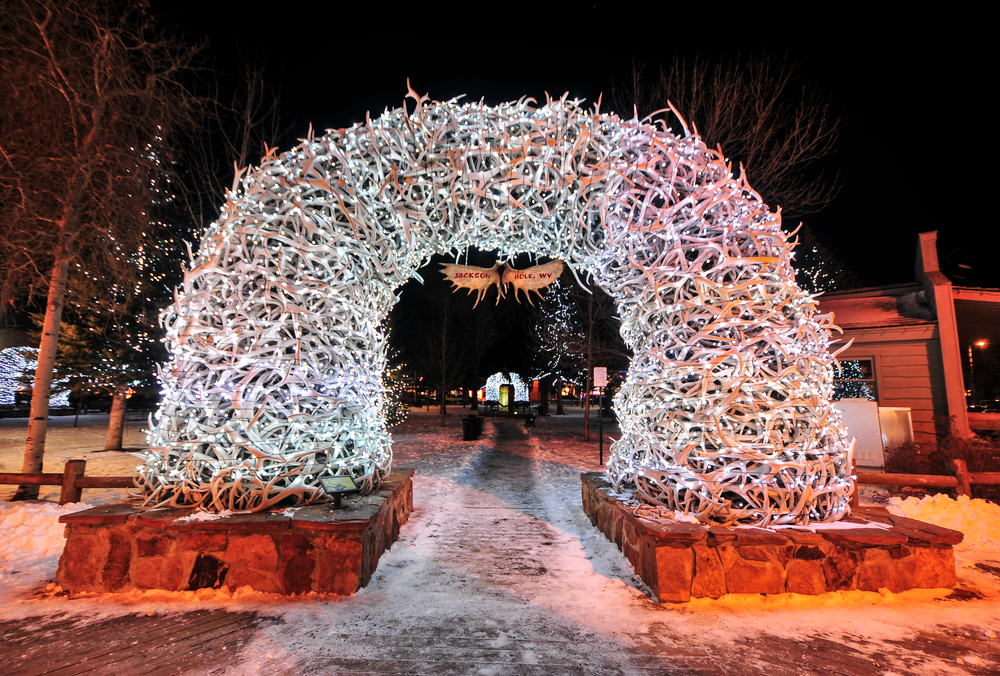 Portland, Oregon
Portland may not make everyone's list of the best Christmas vacations in the USA but we think this charming and cosmopolitan city has a lot to offer.
There really are so many fun, festive things to do in Portland, OR.
Here, you will find some of the best events and Christmas festivals in the USA. These include the Christmas Ships Parade, the Providence Festival of Trees, and the Pittock Mansion Christmas.
Make sure to check out the Pioneer Courthouse Square Tree Lighting, the Oregon Zoo's ZooLights, and America's largest Christmas Bazaar as well.
Extend your stay with the Ultimate Oregon Road Trip Itinerary!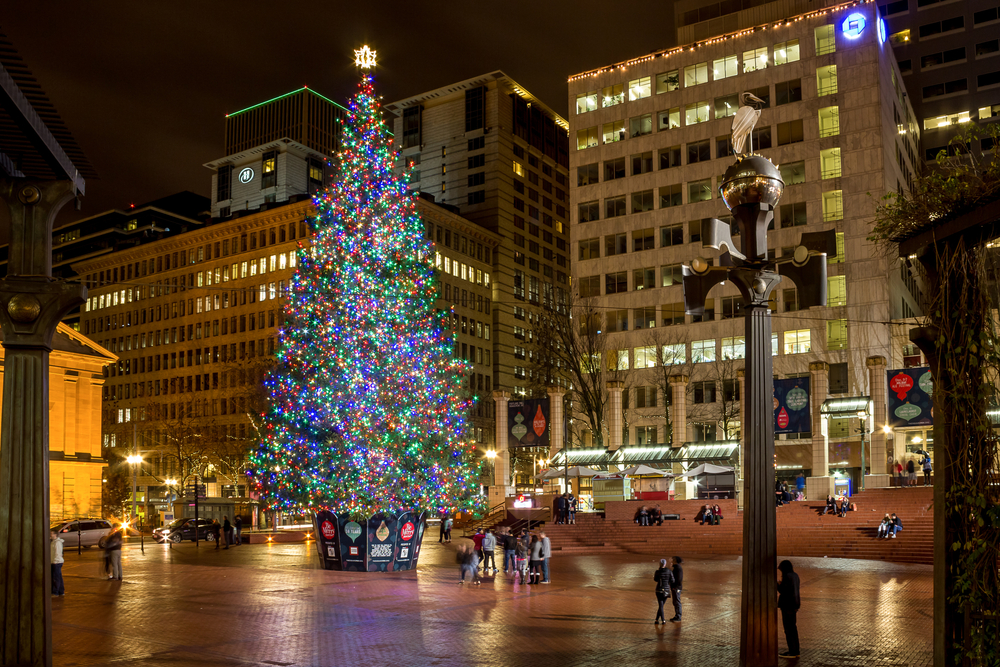 Nashville, Tennessee
With millions of twinkling lights, storytime with Mrs. Claus, and a 100-foot Christmas tree, Nashville is definitely a contender for the best Christmas destinations in the USA.
If you like your Christmas vacation with a side of the country then Nashville delivers.
Make sure you visit the Gaylord Opryland Hotel because the decorations there are spectacular. There are over three million lights, ice skating, and the chance to meet Santa.
The Cheekwood Lights are also a must. Wander the 55-acre botanical garden and a historic mansion as you admire beautiful lights and amazing decorations.
Other Christmas things to do in Nashville include driving through the Dancing Lights of Christmas, seeing The Nutcracker at the Tennessee Performing Arts Center, and attending the Christmas at the Ryman concert.
Take a Tennessee road trip to see more of this Southern state during Christmas.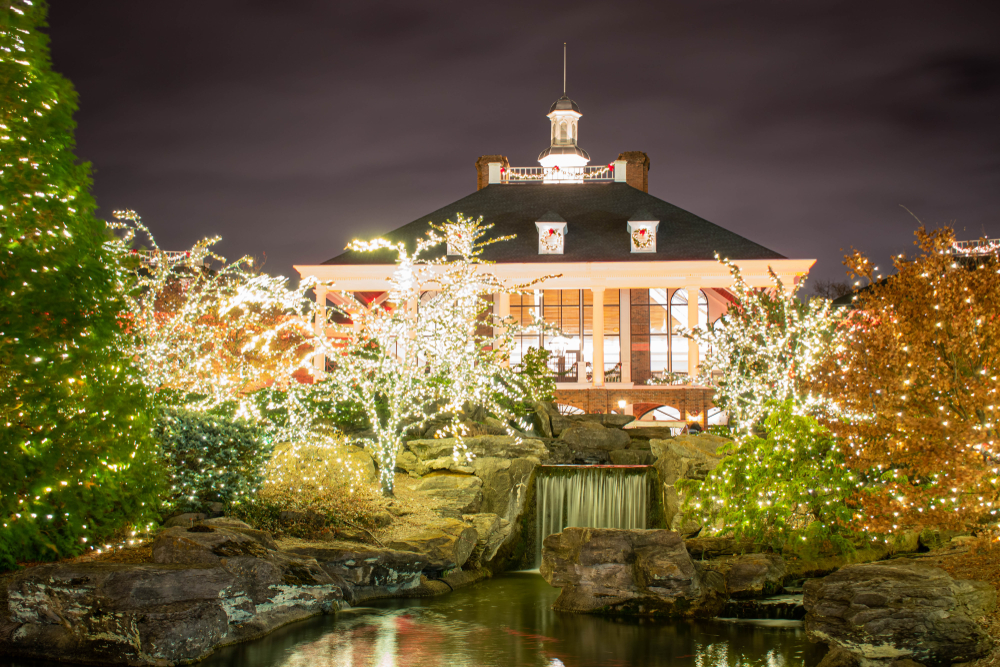 Nantucket, Massachusetts
If you want the perfect New England Christmas then Nantucket is the place for it.
It all kicks off with the annual Christmas Stroll where you can sip mulled wine, listen to carols, and shop in the boutique shops.
Make sure you check out the Nantucket Whaling Museum as it transforms into a winter wonderland for the Festival of Trees. You'll find over 80 Christmas trees with really unique decorations.
This town has holiday spirit to spare and just explodes with seasonal cheer. It's a traditional Christmas charm with bells on.
Nantucket is a must-see when doing an East Coast road trip!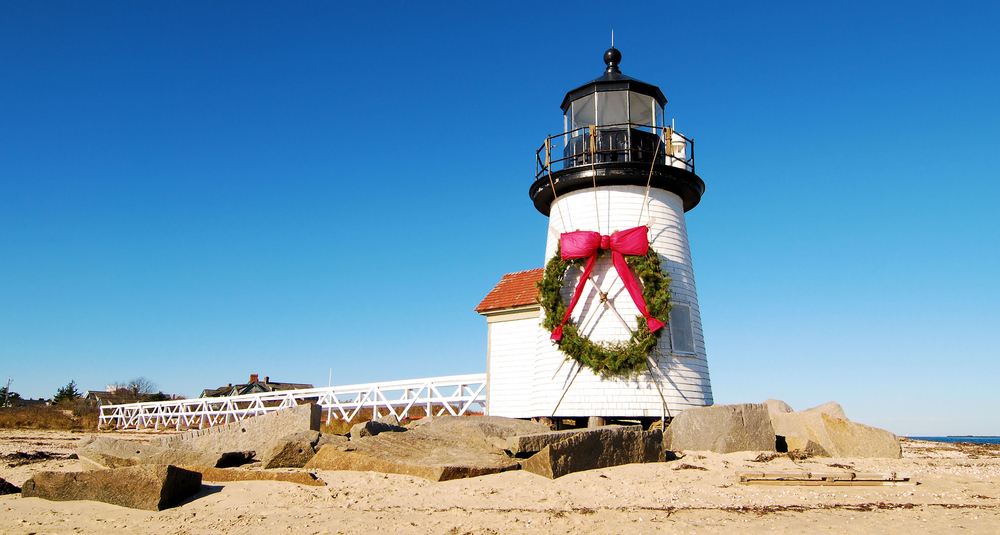 Washington D.C.
Perhaps a more sophisticated Christmas than most, Washington D.C. does Christmas in a way few other places can compare
The National Christmas Tree alone is an astonishing sight! Set near the White House, the lighting of a tree here has been a tradition since 1923.
For another epic tree, check out the U.S. Capitol Christmas Tree on the West Lawn in front of the Capitol Building. It reaches up to 75 feet tall with over 10,000 ornaments. We have the perfect weekend in Washington DC itinerary if you are looking to plan your visit for the holidays!
Make sure to take a visit to the National Zoo for ZooLights. The Georgetown GLOW features a unique exhibition of light art. For a beautiful candlelit tour, head to George Washington's Mount Vernon.
Top it all off with a boat parade and plenty of places to do all your Christmas shopping.
You've got to add the capital to your USA at Christmas bucket list!
Seneca Falls, New York
If you want your Christmas to resemble a Hallmark film set then perhaps Seneca Falls is for you.
Seneca Falls has long believed itself to be the inspiration for Bedford Falls in the 1946 classic It's a Wonderful Life. It goes without saying that Christmas here is truly magical.
With the "It's a Wonderful Bonfire" event with a Christmas twist, special film screenings, bake sales, and light contests, Seneca Falls knows how to deliver an old-time Christmas like no other.
When it comes to the best places to go for Christmas in the USA, this has to be high on the list.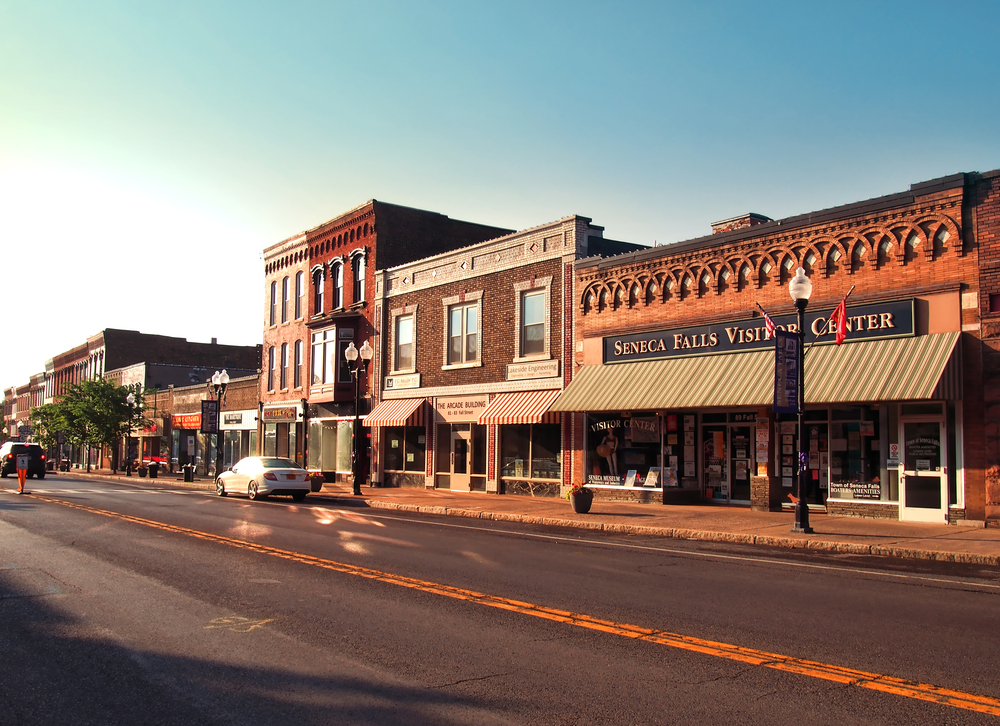 Seattle, Washington
Seattle just oozes with activities, twinkly lights, and hustle and bustle all topped off with a Christmas tree atop the Space Needle. This Washington city really offers plenty to do!
It's also home to the world's largest Christmas light maze and market, Enchant Christmas, which includes an ice skating trail and Santa's landing.
But Seattle has much more to offer including Wild Lights at Woodland Park Zoo, Pike Place Market, the Christmas Ship Festival, and the Sheraton Grand Seattle Gingerbread Village.
Seattle has some of the best Christmas celebrations in the USA and is a real gem to visit.
Don't forget to explore some of the other things to do in Washington State!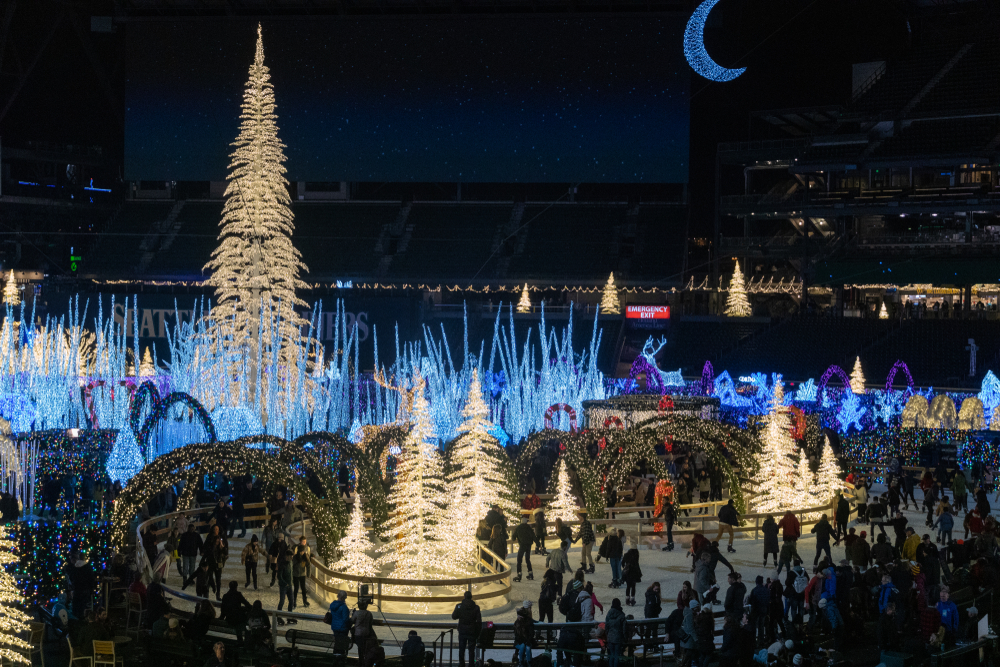 Kansas City, Missouri
Kansas City is truly one of the best cities to visit in the USA during Christmas! There is so much to do to get you in the holiday spirit.
At night, head to the Country Club Plaza for an incredible light display featuring over 200,000 lights spanning fifteen blocks. This tradition has been happening since 1925. The historic buildings and dazzling lights are sure to amaze anyone.
For some Christmas shopping and more lights, Crown Center is the place to be. Walk among trees strung with golden lights and admire the 100-foot-tall Mayor's Christmas Tree.
Crown Center also has a fantastic ice skating rink!
Another must-see spot is Union Station. With trees and walkthrough lighting displays, this is a great place to get out of the cold and celebrate with family.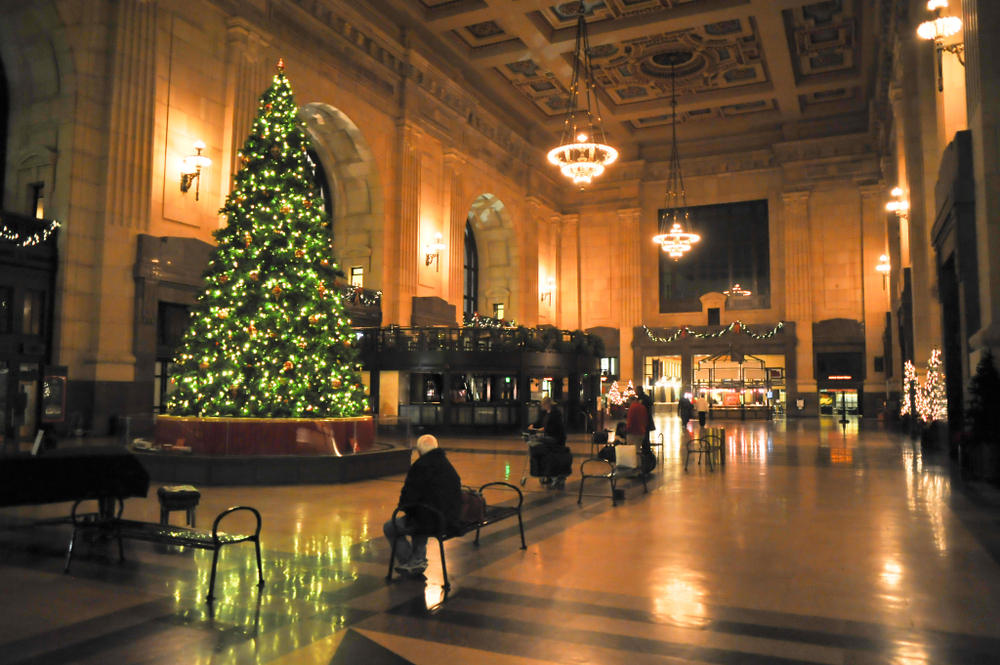 Frankenmuth, Michigan
Known as one of the "Most Christmassy Towns in America" according to TIME Magazine, Frankenmuth, Michigan, is one of the best holiday travel destinations in the USA!
In this darling town, you will find Bronner's Christmas Wonderland, the largest Christmas store in the world! It is open year-round and is the perfect place to buy decor, lights, and personalized tree ornaments.
On Main Street, you can take a horse-drawn carriage ride. This is a great way to witness Michigan's Little Bavaria and see the inspiration of German immigrants.
From the end of November through mid-December, you can also get some shopping done at the Frankenmuth ChristKindlMarkt. Listen to live music and drink hot spiced wine as you shop from local vendors.
Other things to do during Christmas include ice skating in Zehnder Park or listening to a 40-foot sing tree perform the Spectacular Musical Tree Show.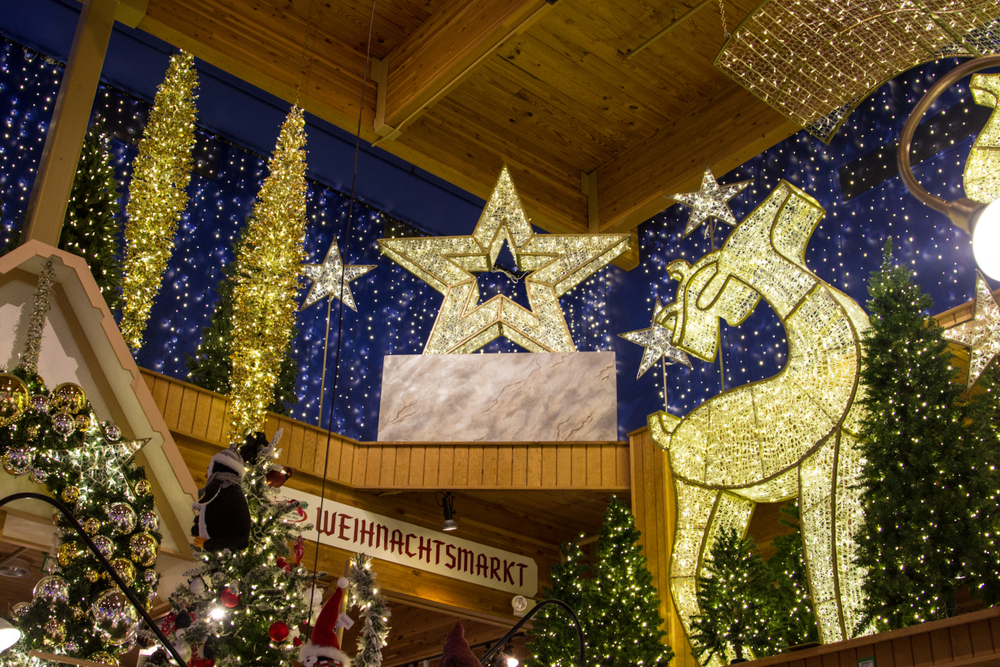 When it comes to Christmas in the USA there really is so much to choose from!
We have it all: hot, cold, traditional, and unique. America at Christmas is as varied as the people who live and visit here.
We hope you found the best place to spend Christmas in the USA and have a happy time wherever you spend the holidays this year.