There's no better way to see the wealth of natural beauty that North Carolina has to offer than by taking a North Carolina road trip.
With so many picturesque sites, impressive pieces of architecture, and historically rich cities, it can be overwhelming to try to put together a North Carolina itinerary. But this 15-stop guide will help with your planning and will ultimately take you on an unforgettable adventure around the state.
Whether you're marveling at the grandeur of the Biltmore Estate, eating delectable BBQ and donuts in Durham, or are soaking in the jaw-dropping views from the Mile High Swinging Bridge, your North Carolina road trip is sure to be thrilling.
So pack your bags and bring a big appetite for food and adventure among the mountains, forests, and cities of North Carolina.
Save money on your trip to North Carolina! Get a FREE $55 Airbnb coupon by using our code when you book!
The Perfect North Carolina Road Trip Itinerary
Getting To North Carolina
North Carolina offers a number of different airport options both regional and international, however, Raleigh-Durham International Airport and Charlotte-Douglas International Airport will be your best bet as they offer the largest variety of flight options.
Raleigh-Durham International Airport is particularly convenient as it provides easy access to The Triangle, a region that includes Raleigh, Durham, and Chapel Hill as well as their respective universities. For purposes of the North Carolina itinerary we've mapped out for you, you'll be flying into Raleigh-Durham and out of Charlotte or vice versa.
You can of course alter this itinerary however you see fit. In fact, if you're coming from one of the destinations that have non-stop flights to Asheville Regional Airport you might consider adjusting your trip to fly in and out of Asheville.
Don't forget to check out some of the Coolest Airbnbs In North Carolina before you go!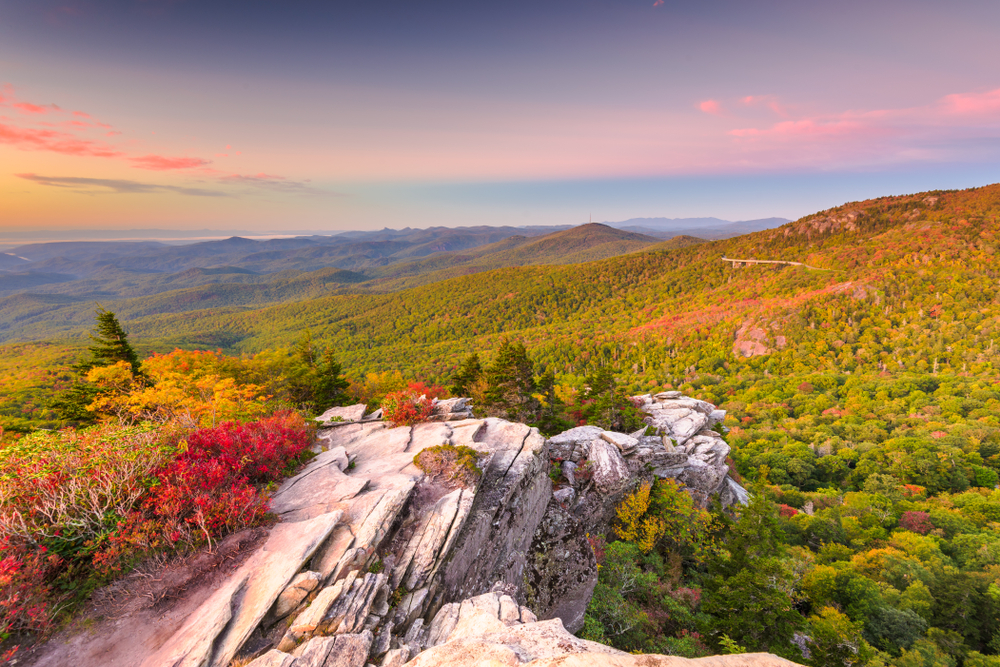 Getting Around North Carolina
You will definitely need to rent a car for your North Carolina road trip. Though you'll be spending time in and passing through major cities, you'll also be driving through the mountains and national forests.
You have plenty of options when renting a car from either the Raleigh-Durham or Charlotte airport including Alamo, Avis, Budget, Hertz, etc., and can book a car online ahead of time and hop on the car rental shuttle to pick up your car when you arrive.
If you'd prefer to take the bus during the initial leg of your journey while you're still in The Triangle region, you do have the option of using the GoTriangle bus service. Though this is an option, we highly suggest using a rental car even within the bigger cities so as to maximize your time and ability to alter plans in each place.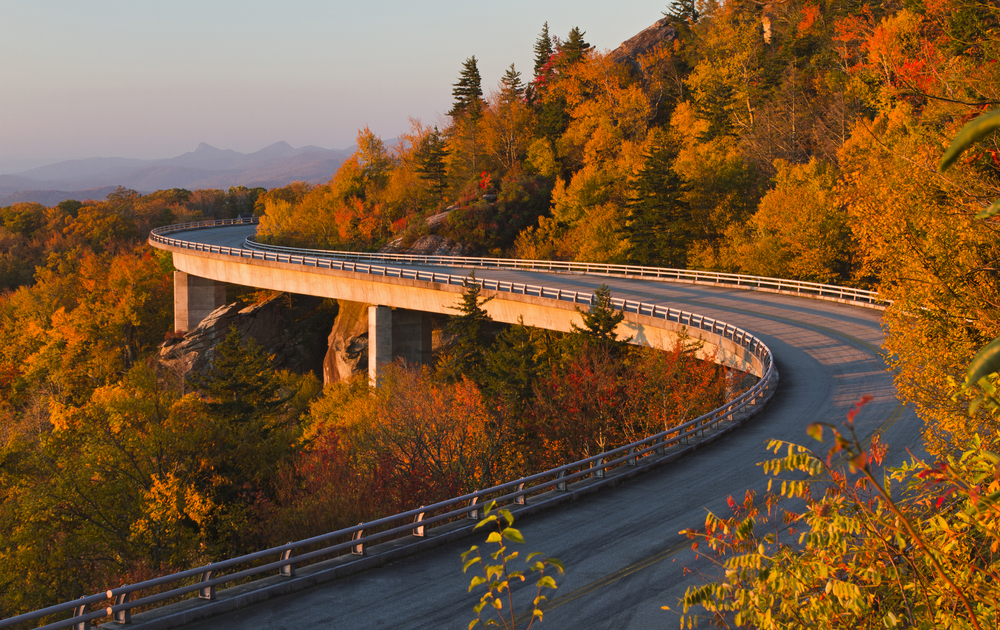 Stop 1: Enjoy Duke University's Gothic Architecture In Durham
Since you'll be flying into the Raleigh-Durham airport, Durham is a natural starting point for your North Carolina road trip. Durham offers a little bit of everything including architectural masterpieces, locations rich with history, beautiful natural landscapes, and delicious food to fuel your adventures.
Durham is home to Duke University and its stunning Gothic architecture. Besides the architectural beauty of the campus you'll also find beauty at the Sarah P. Duke Gardens, a perfect place to take an afternoon stroll. It is one of the best photography spots in Durham!
Bennett Place in Durham holds particular historical significance as the site where the largest surrender of a Confederate troop occurred during the Civil War. The reconstructed farmhouse is now a museum where you learn more about the waning weeks of the war. You can learn some Facts About North Carolina with all the historical places you will see!
Natural beauty is found just a short drive from downtown at Eno River State Park. 30 miles of hiking trails take you beside the shallow river, and if you can find an area deep enough for kayaking, you can enjoy a day out on the water.
When you get hungry from your adventures, grab a delicious BBQ dinner at the Q shack and finish it off with irresistible donuts from Monuts or Rise Biscuits & Donuts. And to complete your exciting day, grab tickets to the National Tour of a Broadway show at the Durham Performing Arts Center (DPAC).
Where to stay in Durham:
Affordable: Charming modern house close to Duke/RTP/Downtown. Check rates: Airbnb.com
Mid-range: Modern Tiny House in the Trees. Check rates: Airbnb.com
Stop 2: Hike The Trails At Hanging Rock State Park For Excellent Views and Lacy Waterfalls
Hanging Rock State Park encompasses over 7,000 acres of outdoor paradise in the Sauratown Mountains. From hiking and swimming to waterfalls and caves you'll have more than enough to keep you busy during your time at the park.
We suggest starting at the visitor's center, which is the rough access point for a number of hikes/sites including the park's namesake, Hanging Rock. A 2.6-mile moderately difficult round trip hike will take you up to Hanging Rock where you'll be met with spectacular views.
Though the waterfalls in Hanging Rock State Park aren't particularly magnificent, they are beautiful despite being small and are much-appreciated rewards for the minimal hiking efforts required to get to them. A .4-mile round trip hike beginning just outside the visitor's center will take you to Upper Cascade Falls.
To continue seeking out the falls within the park, hike .8 miles round trip to Window Falls and Hidden Falls or hike .4 miles round trip to Tory's Falls with the added bonus of Tory's Den, a small cave.
Summer lake days are irresistibly fun for everyone in the family whether you're swimming, taking a canoe or rowboat rental out on the water, or picnicking on the lake's edge. To complete the ultimate outdoor experience, bring along your tent and set up camp in the park or stay at one of the family cabins.
Where to stay near Hanging Rock State Park:
Luxury: Cabin with incredible views 15 min to Hanging Rock. Check rates: Airbnb.com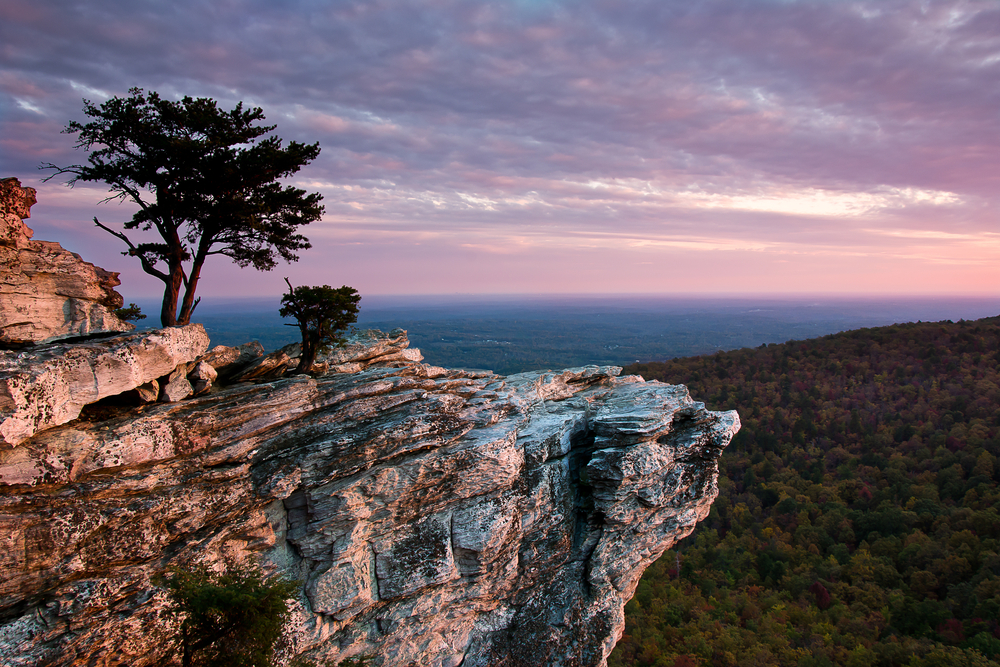 Stop 3: Soak In The Views From The Blowing Rock In The Blue Ridge Mountains
Small but mighty, the town of Blowing Rock in North Carolina's High Country, offers immense natural beauty as one might expect from a town along one of the most scenic drives in North Carolina, the Blue Ridge Parkway.
A North Carolina road trip stop at Blowing Rock would not be complete without a visit to the actual Blowing Rock itself. Take a short walk to the edge of the cliff 4,000 feet above sea level that hangs over John's River Gorge.
Spectacular views of the mountains and forests beyond await you from The Blowing Rock, as well as an unusual upwards wind that sends light objects right back in the direction they came from. This upwards wind is thought to be the result of a legend in which a Cherokee brave who leaped from the rock was blown back up to his lover by the Great Spirit.
Back in town you can continue your exploration of Blowing Rock's natural beauty with a hike into the New Years Creek Gorge on the Glen Burney Trail. A 2.7-mile hike will take you to three waterfalls including The Cascades, Glen Burney Falls, and Glen Marie Falls making for a very worthwhile expedition.
Just outside of Blowing Rock is Moses H. Cone Memorial Park and the Flat Top Manor, the summer home, and estate of Moses and Bertha Cone all open for your exploration. Take a tour of the manor, hike the carriage trails within the estate, or fish in the lakes if you have a fishing license, and enjoy the blissful beauty of the area.
Where to stay near Blowing Rock:
Mid-range: Gorgeous Gorge. Check rates: Airbnb.com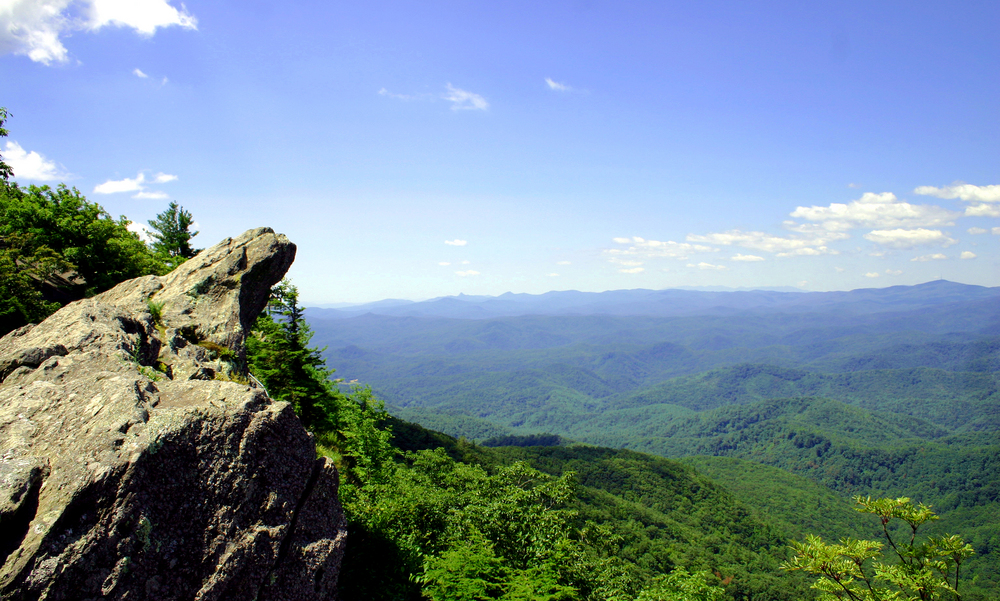 Stop 4: Walk The Mile High Swinging Bridge At Grandfather Mountain
For breathtaking views of North Carolina's High Country, you'll continue your North Carolina road trip with a stop at Grandfather Mountain and the Mile High Swinging Bridge. A drive to the top of the mountain gives you easy access to this remarkable suspension bridge (the highest suspension footbridge in the United States), and its 360-degree panoramic views of the surrounding landscape.
Though walking the suspension bridge is certainly a highlight of Grandfather Mountain, you'll also want to visit the wildlife habitats that allow you close encounters with elusive animals in a habitat more natural to them than in a zoo. You can also visit the nature museum to learn more about the natural history of the mountain or go hiking through the striking landscape instead of just gazing at its beauty from afar.
There is an entrance fee to Grandfather Mountain, however, if you're an avid, fit hiker you can choose to access the mountain from backcountry trails within Grandfather Mountain State Park. These trails are notoriously difficult however, often requiring the help of cables and ladders, and the often vicious wind and weather conditions of the area add to the challenge.
If you decide you're up for strenuous, adventurous hiking, you might try tackling the Grandfather Trail starting at the Swinging Bridge Parking lot and continuing on 2.4 miles to Calloway Peak. It can be an out and back hike or you can return on the Underwood Trail to create a loop.
If you happen to be starting your North Carolina road trip in July, be sure to check if you'll be in town for the annual Grandfather Mountain Highland Games in McRae Meadows. Whether you're watching the Caber Toss or are dancing along to a fiddle and drums, this impressive event in celebration of Scottish heritage and tradition is full of entertainment you won't want to miss.
Where to stay near Grandfather Mountain:
Luxury: Misty Mountain Manor. Check rates: Airbnb.com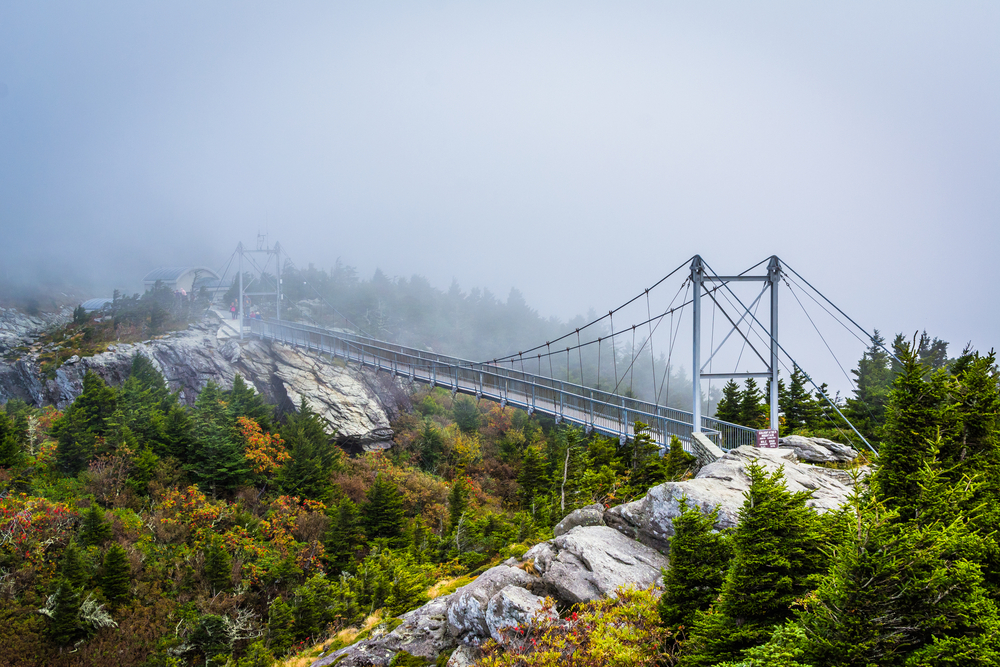 Stop 5: Hike To Viewpoints Where You Can Admire The Three-Tiered Linville Falls
You'll see quite a few waterfalls during the course of your North Carolina road trip, but Linville Falls is at the top of the list. You'll find these beautiful falls at around Mile Marker 316.4 along the Blue Ridge Parkway. It's proximity to one of the most famous scenic drives in North Carolina certainly adds to its appeal.
You can view the three-tiered falls from a couple of trails of differing difficulty levels.
A moderate 1.6-mile round trip hike on the Erwins View Trail will take you to four different lookout points great for photographing the falls from different angles. Roughly .7 miles into the hike will be your first chance to see both the upper and lower falls in all their glory.
For a more challenging, steeper hike, take the Linville Gorge Trail that has you descending down into Linville Gorge for an up-close and personal look at the base of the waterfall. The striking gorge has been nicknamed the "Grand Canyon of the Southern Appalachians."
Though you're not allowed to swim in the pool at the base of the falls, it's a serene spot to relax, take a moment to soak it all in, and maybe even have a picnic. If you plan to end your day at the falls you can even pitch a tent and camp along the Linville River, a beautiful place to spend the night and bask in nature's beauty.
Where to stay near Linville Falls:
Mid-range: RetroModern in the Woods Steps from Linville Gorge. Check rates: Airbnb.com
Stop 6: Hike Through Rhododendrons and Gnarled Trees At Craggy Gardens
Though driving the Blue Ridge Parkway is often associated with soaking in the vibrant red and gold of the fall leaves, summer wildflowers at the Craggy Gardens are equally spectacular. This Natural Heritage Area is home to an abundance of rhododendrons in the summer that spread across the Great Craggy Mountains.
The visitor's center, picnic area, and hiking trails are all located between Mileposts 364.1 and 367.6 along the Blue Ridge Parkway. Whether you're seeking the rhododendrons at the height of their season in June, enjoying the many other blooming wildflowers of the area, or are looking for the most impressive views, you'll be happy to know the Craggy Gardens Trail and the Craggy Pinnacle Trail offer all of the above.
The Craggy Gardens Trail will take you .3 miles through lush forest, rhododendrons in June, and berries in late summer, to a trail shelter at Craggy Flats at which point you'll head to the left down a spur trail to an overlook. Back on the main trail, another .5 miles will lead you to the picnic area where you can settle in for lunch or relax in a nearby gazebo.
Even more impressive is the 1.4-mile round trip hike on the Craggy Pinnacle Trail through rhododendrons, an abundance of other blooming wildflowers, and gnarled sweet birch trees like something out of a fairytale story. At the pinnacle, you'll have 360-degree views of the Blue Ridge Mountains, perfect for watching sunrise or sunset.
Where to stay near Craggy Gardens:
Affordable: Yome Away from Home. Check rates: Airbnb.com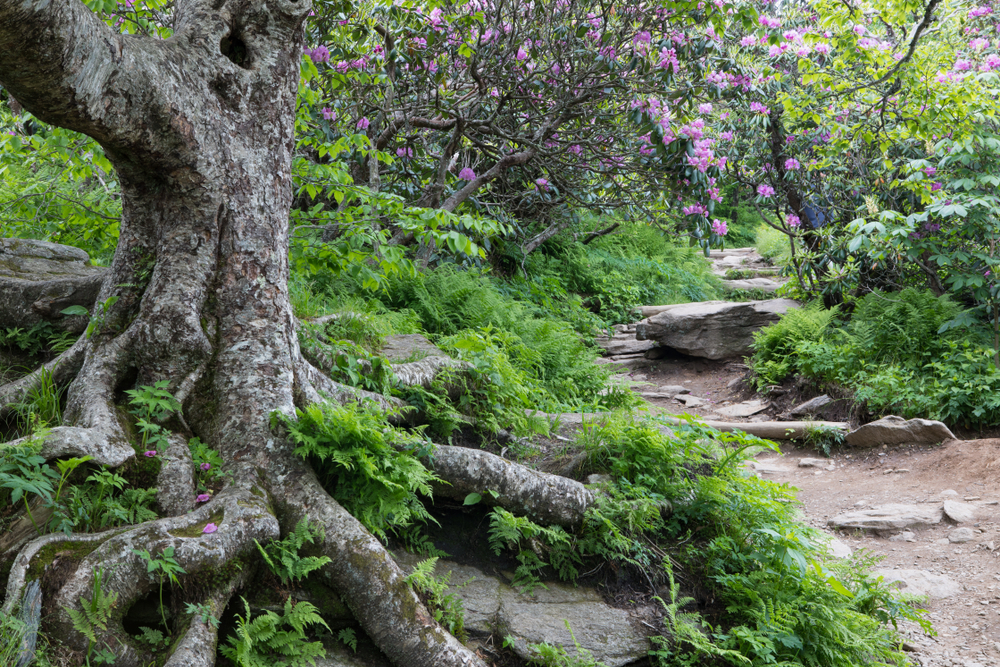 Stop 7: Tour The Biltmore Estate and Working Artist Studios In Asheville
A trip to the Blue Ridge Mountains is not complete without a visit to the art-centric, beauty of a town, Asheville. Beer, great food, museums, a mansion, and landscapes that will have your jaw on the floor await you.
The Biltmore Estate, owned by the Vanderbilts, is at the top of our list of things to do in Asheville. America's largest privately-owned home and the 8,000-acre estate can now be enjoyed by visitors looking to get a glimpse of the majestic grandeur of the mansion with its 250 rooms, Renoir paintings, impressive library, 16th-century tapestries, and more.
Beyond the house, itself is a magnificent, blooming garden and many miles of hiking and biking trails. Wine connoisseurs will also enjoy a tour of the Biltmore's winery and vineyards followed by wine tasting.
When you're done exploring the grounds of the Biltmore, head to the River Arts District in town for a unique experience visiting the working studios of artists creating everything from jewelry and pottery to furniture and clothing. Check out a map of the River Arts District to guide you from studio to studio as you watch artists at work, buy their creations, participate in classes, and intersperse it all with stops at the excellent eateries and breweries along the way.
For another wonderfully unique Asheville experience, head outdoors for the No Taste Like Home foraging tour where a knowledgeable guide will lead you through the forest giving tips for how to safely pick the correct kinds of mushrooms and other edible plants. Following the tour, you'll head to a restaurant where a chef will take your findings of the day and prepare a delicious meal for you to eat!
If you don't mind splurging a bit on accommodations, book a room at the historic Omni Grove Park Inn, listed on the National Register of Historic Places. You'll be greeted with breathtaking views and a first-class spa and golf course perfect for a luxurious vacation of relaxation and good times.
Where to stay in Asheville:
You will want to check out our blog post on the Best Airbnbs In Asheville for our specific suggestions! But if you want a few quick suggestions, here are some top picks!!
Mid-range: Gashes Fluss Haus. Check rates: Airbnb.com
Mid-range: Eclectic and Stylish Simplicity in a Rustic Setting. Check rates: Airbnb.com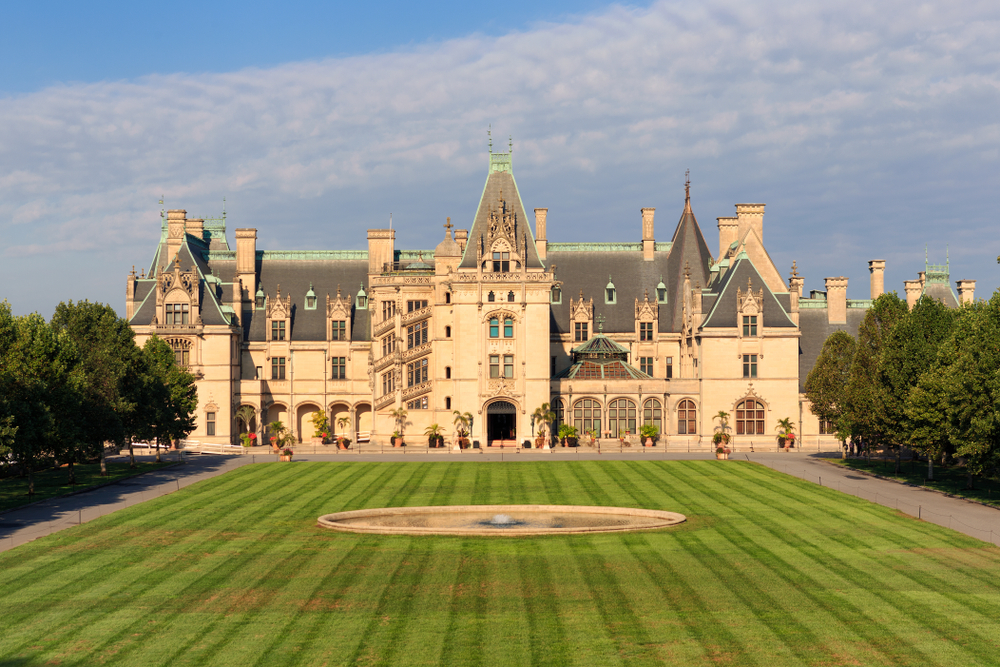 Stop 8: Hike Waterrock Knob For Great Views And An Eerie Plane Crash Site
As you continue following your North Carolina itinerary you'll find yourself enjoying the highest elevation visitor center along the Blue Ridge Parkway at Waterrock Knob. The views from the visitor center alone are reason enough to stop here, as well as the perfect setting it provides for watching spectacular sunrises and sunsets.
If you're in a hiking mood however or are determined to reach the highest point along the Blue Ridge Parkway, we highly suggest taking the 1.2-mile round trip Waterrock Knob Trail to the summit. Though the hike isn't particularly long, the steep nature of the trail makes it challenging.
Though the views from the top of Waterrock Knob are worthy of your time, a continuation of the hike holds additional intrigue in the form of the hidden wreckage of a small plane crash. A spur trail will take you across to Browning Knob where you'll find the crash for a total of roughly 2.5 miles round trip.
The plane crashed in 1983 carrying only the pilot and one passenger, neither of whom survived. The site is eerie and the hike isn't easy, but it's worth the extra mileage to survey the wreckage.
Where to stay near Waterrock Knob:
Mid-range: Keaton Cottage. Check rates: Airbnb.com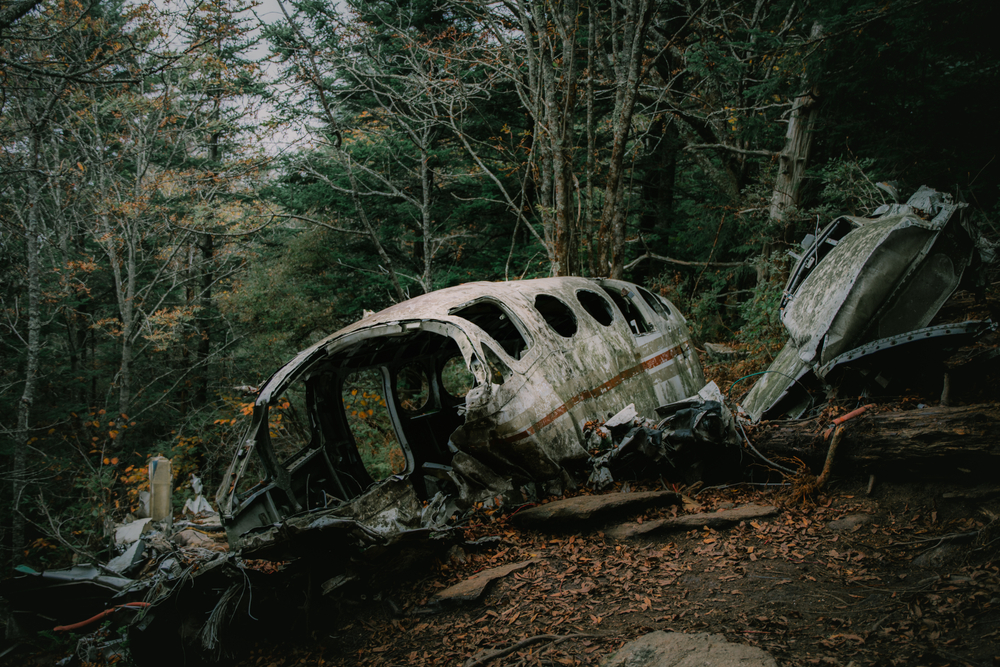 Stop 9: Explore Waterfalls, Historic Sites, and Breathtaking Landscapes At Great Smoky Mountains National Park
For purposes of this North Carolina road trip, we'll be focusing on the south side of Great Smoky Mountains National Park as the rest of the park actually lies in Tennessee. This is one of the most visited National Parks in the United States and with free entry and astounding natural scenery it's no secret why.
Chasing waterfalls never gets old and the North Carolina side of Great Smoky Mountains National Park has waterfalls galore. A hike in the Deep Creek area will allow you to see three waterfalls at once.
Multiple trails loop around to hit each of the waterfalls creating a minimum 2.4-mile round trip route that can be extended if you wish. Along the way you'll see Juney Whank Falls, Tom Branch Falls, and Indian Creek Falls.
The waterfall tour doesn't have to end here, however. You can tackle a 4.2-mile hike to beautiful Mouse Creek Falls via the Big Creek Trail, or you can venture just outside the park for a .4-mile hike to Mingo Falls, one of the tallest waterfalls in the Southern Appalachians.
You'll want to spend some time in Cataloochee Valley as well as touring the valley's historic school, churches, barn, and homes surrounded by imposing mountains. If you're trying to catch a glimpse of elk during your trip, the Cataloochee Valley is also the best place to spot the elk herd that was reintroduced into the park in 2001.
One of the most scenic drives in North Carolina is located right within the Great Smoky Mountains National Park allowing you to see the spectacular beauty of the area (particularly in fall when the leaves change color), from the comfort of your car. Lakeview Drive (also known as "The Road To Nowhere") leads you 6 miles down scenic roads with views of Fontana Lake and the Appalachian Mountains before dead-ending due to the fact that the road was never completed.
Where to stay near Great Smoky Mountains National Park:
Mid-range: Cottontail Creek *hot tub*fireplace*AC*Gated*WIFI. Check rates: Airbnb.com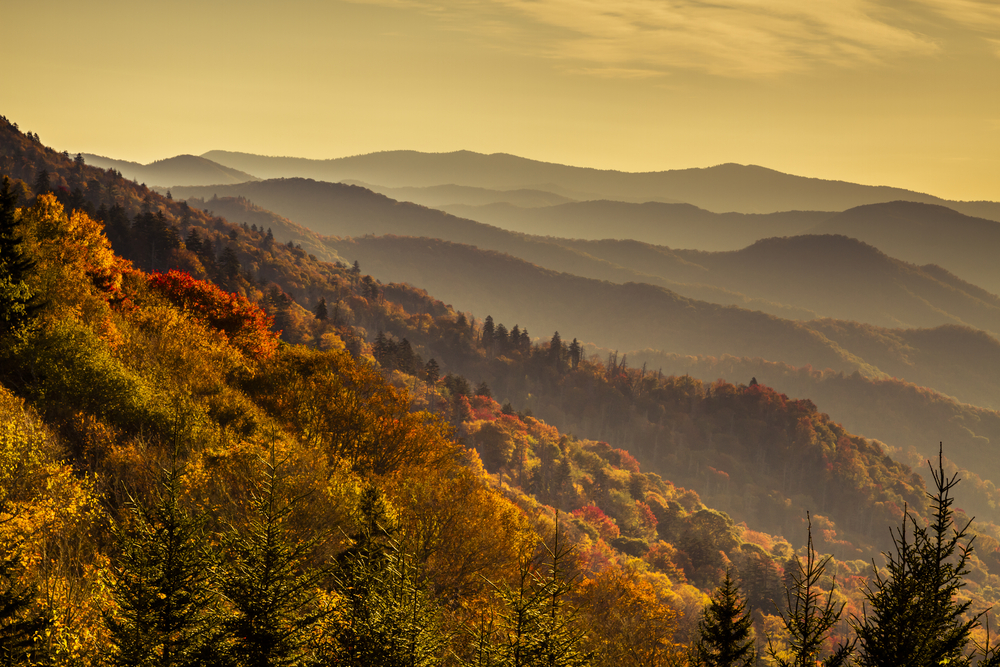 Stop 10: Swim Or Rent A Boat For A Fun Day On The Water At Fontana Lake
A 29-mile long lake surrounded by the Great Smoky Mountains? It's as picturesque as it sounds.
There are a number of marinas you can rent boats from to travel down the lake and experience parts of the Great Smoky Mountains National Park in a remarkably unique way. You can rent anything from a Pontoon boat to a kayak depending on the kind of experience you're looking for when exploring the lake.
Swimming is another popular way to experience the lake with plenty of public access points along the lake. Bring a picnic along and enjoy lunch at one of the picnic areas when you're done swimming.
Though most people choose to spend their day on the water, it's also possible to hike sections of the trails near the lake. The famous Appalachian Trail passes by the lake as well as the 35-mile Lakeshore Trail that ends at The Road to Nowhere.
The lake exists thanks to the construction of the Fontana Dam during World War II to generate electric power. While visiting the lake, go ahead and park at the Visitor's Center and take a stroll across the dam for some magnificent views.
Where to stay near Fontana Lake:
Mid-range: Cozy Creekside Cabin. Check rates: Airbnb.com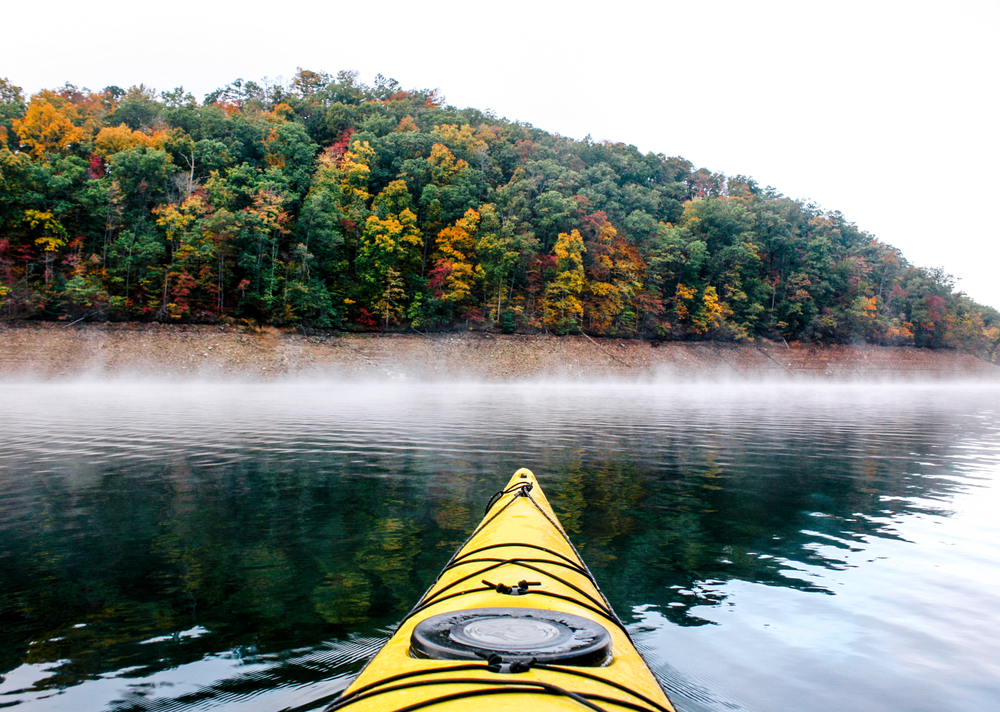 Stop 11: View The Cascading Whitewater Falls From Two Different Overlooks
Whitewater Falls holds the title of the highest waterfall east of the Rockies, so naturally, this stunner is on our North Carolina itinerary. You'll be visiting the 411 ft. Upper Whitewater Falls.
There are two viewpoints providing excellent views of the Upper Falls, and the first viewpoint can be easily reached through a wheelchair-accessible walkway. Descending 154 steps will lead you to a lower lookout point with equally impressive views.
If you're in the mood for a hike, a half-mile spur trail will take you to the Whitewater River and connect you with the Foothills Trail, a 76-mile trail that crosses over into South Carolina. Lower Whitewater Falls is located across the border in South Carolina so continuing a short distance along the Foothills Trail will allow you to reach the Lower Whitewater Falls.
When exploring Whitewater Falls be sure to stay on the trail at all times because venturing off the trail onto the wet, rugged terrain can prove fatal. There are plenty of great views to be enjoyed safely, so enjoy soaking in the beauty of the cascading falls.
Where to stay near Whitewater Falls:
Mid-range: Sapphire Daze. Check rates: Airbnb.com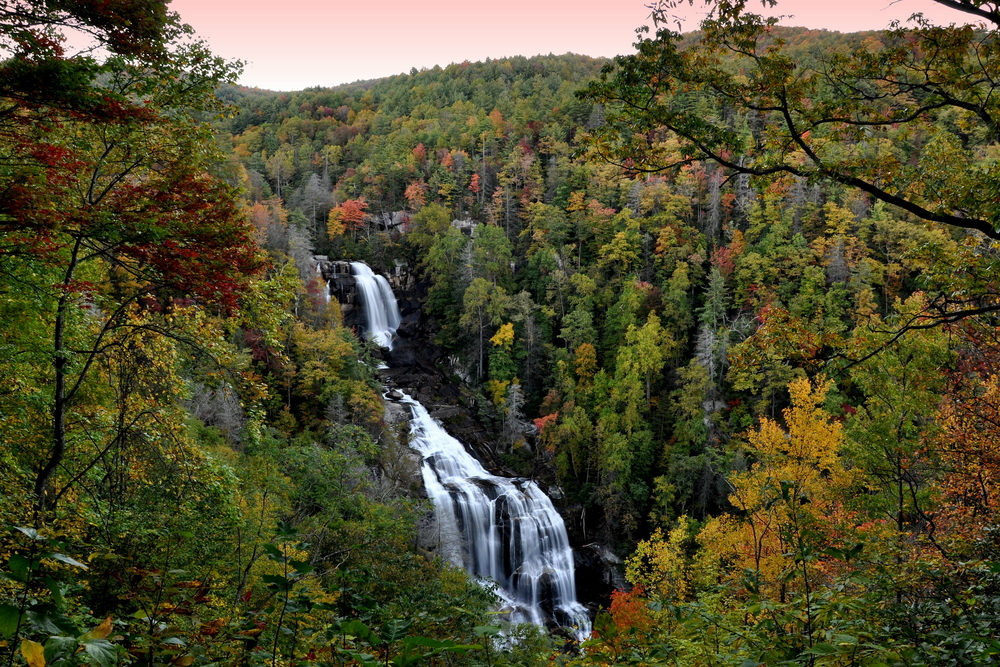 Stop 12: Enjoy The Views Of The Blue Ridge Parkway From The Top Of Looking Glass Rock
Driving along the Blue Ridge Parkway you'll spot the iconic Looking Glass Rock seemingly exploding through the forest canopy. Though it's imposing and worth a look from afar, you can get up close and personal by hiking to the top of the sheer white-granite rock face and soaking in the world below and beyond.
6.2 miles of moderately difficult hiking and many switchbacks will take you up past the summit and the campsite to Looking Glass Rock and back down again. Spectacular views of the Pisgah Ridge and the Blue Ridge Parkway await you.
Be sure to exercise a healthy dose of caution when enjoying the views from Looking Glass Rock, particularly if you're with children who might wander around. The rock is slick and steep and particularly dicey in the winter when a thin layer of ice coats the rock creating a mirror-like effect (how the rock earned its Looking Glass name).
As you continue on to Sliding Rock, make sure you make a quick stop for a view of Looking Glass Falls, which is just a short walk from the side of the road. Enjoy the beauty of this popular Pisgah National Forest waterfall or take a dip in the pool at its base on a hot day.
Where to stay near Looking Glass Rock:
Mid-range: Brevard Bike House. Check rates: Airbnb.com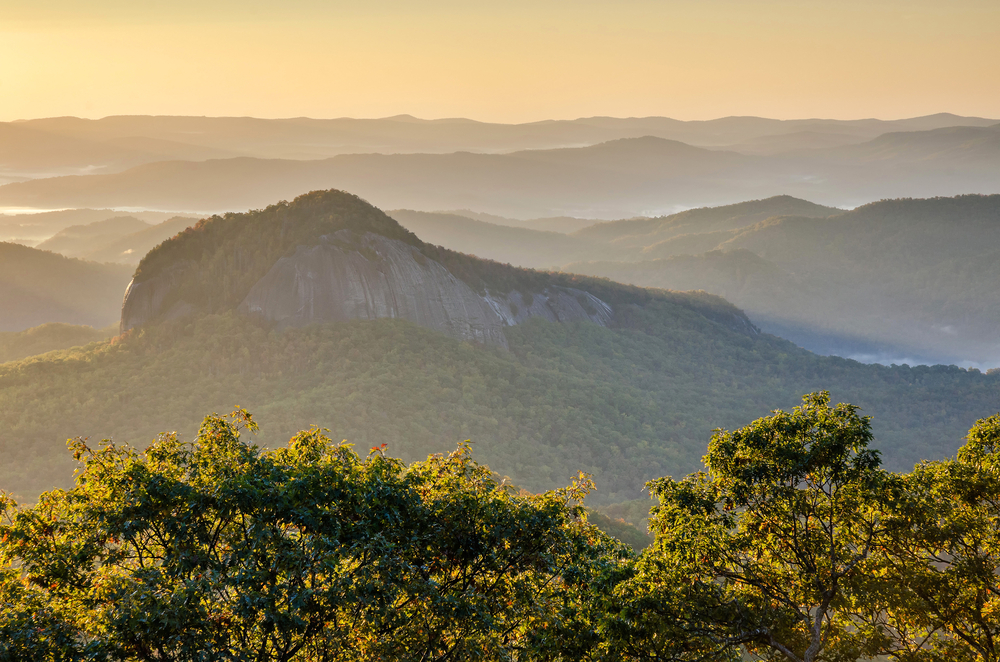 Stop 13: Cool Off At Sliding Rock By Sliding Down The Rock Face Into A Plunge Pool
The enjoyment of North Carolina's natural beauty continues at Sliding Rock, a 60-foot water slide designed entirely by nature. You'll slide down the sloping rock face in the Pisgah National Forest into a cold 8-foot plunge pool (so be sure everyone in your group can swim).
There are few things more refreshing on a hot summer day than riding this natural slide on repeat. Be aware that this is an incredibly popular attraction so you'll likely be waiting your turn in a long line, however, the experience is worth the wait.
A $3.00 entrance fee gets you into this thrilling family-friendly attraction, though you are welcome to visit for free in the off hours if you're ok with the bathrooms being closed and not having a lifeguard on duty. You'll want to wear old jean shorts and old tennis shoes you don't mind getting chewed up as sliding down rock is bound to do some damage.
There are a number of observation decks for people to hang out and watch the sliders, however, once you see how much fun everyone's having you likely won't be sitting on the sidelines for long.
Where to stay near Sliding Rock:
Mid-range: West Lane Cottage in Downtown Brevard. Check rates: Airbnb.com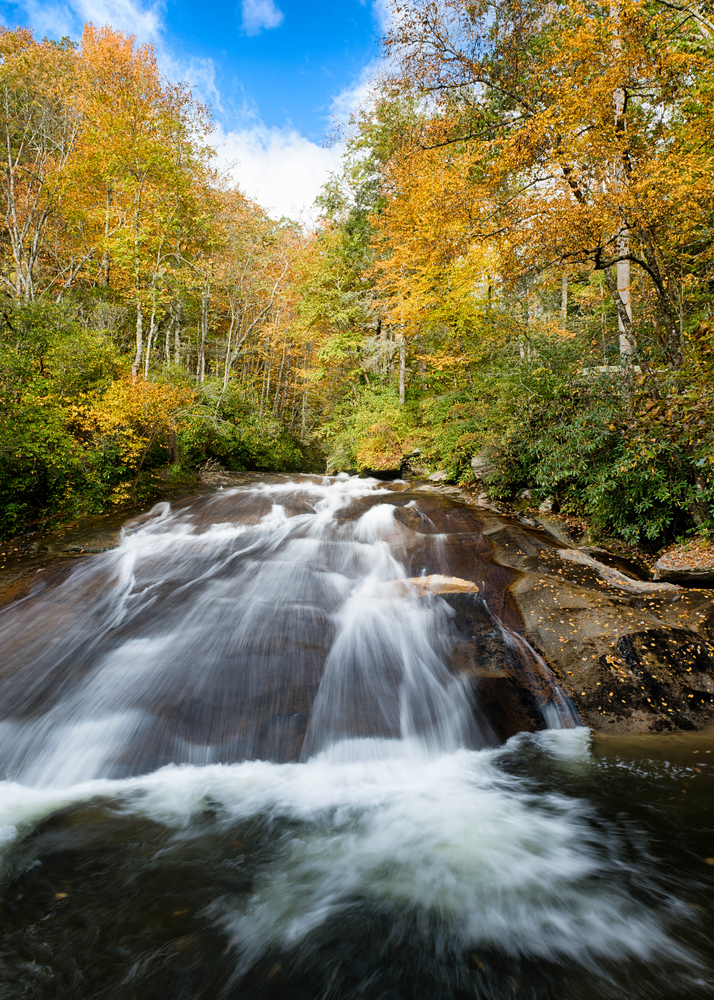 Stop 14: Soak Up The Views From Chimney Rock Before Swimming In Lake Lure
North Carolina trips just aren't complete without a visit to the iconic Chimney Rock with its sweeping panoramic views. North Carolina has no shortage of impressive viewpoints, and Chimney Rock is among the best.
The 315-foot monolith is reachable through a combination of an elevator ride and an additional 44 steps to the top. For those looking to sweat a little extra for the jaw-dropping views of Hickory Nut Gorge and Lake Lure, we suggest taking the Outcroppings Trail that consists of roughly 500 steps and multiple other viewpoints along the way.
Chimney Rock is the feature attraction of Chimney Rock State Park, however, the rest of the park offers plenty of adventures as well. You might go hiking to the base of Hickory Nut Falls or all the way up to Exclamation Point, the park's highest peak.
As you continue along your North Carolina road trip towards Charlotte, we highly suggest making a pit stop at Lake Lure, less than 10 minutes down the road from Chimney Rock State Park. Though the views of the lake from Chimney Rock are spectacular, why not experience the lake too, relaxing on the beach or swimming and kayaking in its waters.
Fans of the movie Dirty Dancing will particularly appreciate a visit to Lake Lure as the area provided several filming locations for the movie. Today you can attend the Dirty Dancing Festival each September and take part in watermelon races, dance lessons, the lake lift competition and so much more.
Where to stay near Chimney Rock:
Affordable/Mid-range: Sophie's Cabin. Check rates: Airbnb.com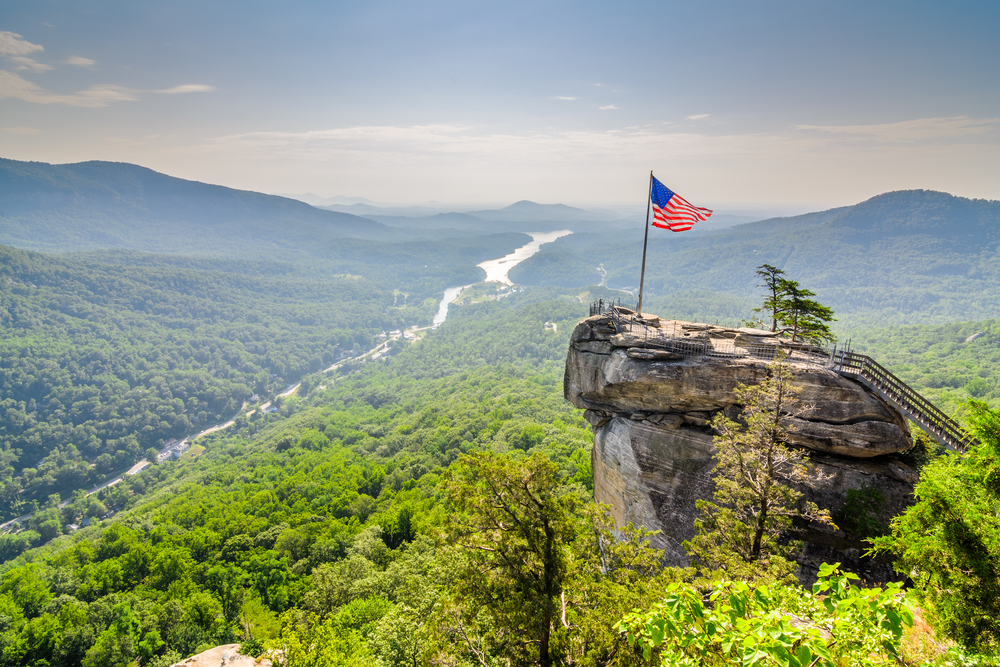 Stop 15: Satisfy Your Adrenaline Pumping Needs And Food Cravings In Charlotte
The final stop of your North Carolina road trip will lead you away from the lakes and mountains, back to city life in Charlotte. With major sports, amusement parks, museums, theaters, gardens, southern food, and breweries, Charlotte has something for everyone.
Freedom Park is the park to visit during your time in Charlotte. With a 7-acre lake, sports facilities, trails, a playground, and plenty of green grass, it's the perfect spot to relax, set up camp for a few hours, and enjoy a picnic.
For adrenaline-pumping outdoor fun head to the U.S. National Whitewater Center, an Olympic training center where you'll find endless activities waiting for you on and around the world's largest man-made whitewater river. Activities include rafting, kayaking, zip-lining, rock climbing, adventure courses, and more.
There's no better place to continue your outdoor adventures than the Daniel Stowe Botanical Garden with its interesting exhibits, events and festivals throughout the year, fountains, beautiful visitor's pavilion with a stained-glass dome, impressive orchid display, and festive Christmas lights in the winter. Take your time wandering the garden's pathways and enjoy the beauty of the blooming flowers.
When you're ready to take a pause in your activities for a food break, a trip to the 7th Street Public Market will have you eating well and eating local. This is the perfect way to support local businesses, eat delicious, fresh, reasonably priced food, and have a wide variety of options from sushi to crepes all in one place.
Before flying home, you might also consider catching the National Tour of a Broadway show at the Blumenthal Performing Arts Center, hopping on a rollercoaster at Carowinds Amusement Park, or delving into the history of NASCAR at the NASCAR Hall of Fame.
Where to stay in Charlotte:
Affordable: Queen City Flat. Check rates: Airbnb.com
Affordable/Mid-range: Duplex on Quiet Street in Heart of Art District. Check rates: Airbnb.com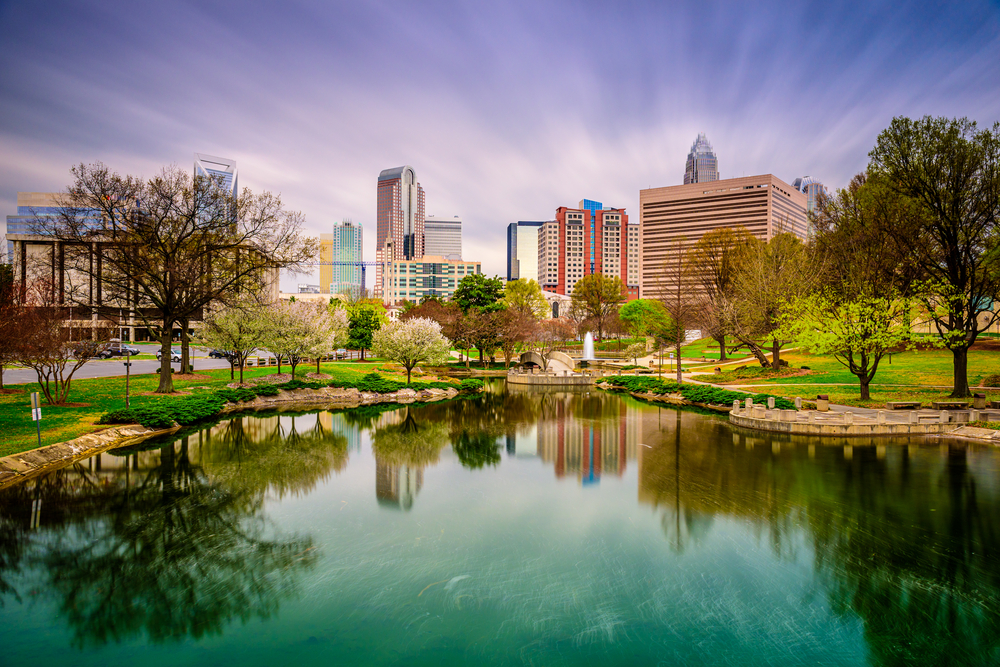 We're thrilled you've decided to embark on a North Carolina road trip. The views are astounding with majestic mountains, vibrant fall colors as far as the eye can see, and an abundance of cascading waterfalls.
North Carolina trips are magical, and it's a special day when you get to experience it for yourself first hand. So pack your bags, get ready to enjoy this outdoor paradise, and if you have any questions as you prepare, feel free to let us know in the comments below!