Looking for the best things to do in Portland, Oregon? You have come to the right place! Portland is a popular vacation destination with tons to see and do. There are so many quirky and unique things to do in Portland.
We've made this list of the coolest things to do in Portland to make sure you you have a great time in the City of Roses. Portland is famous for its roses (seriously, they even grow on highway underpasses in the city) its amazing food, and its funky, laid back atmosphere.
Portland has long had a reputation for being counterculture and hip. The unofficial slogan of the city is "Keep Portland Weird!" so get ready for an adventure like no other!
Portland is a must see on any Pacific Northwest itinerary or West Coast road trip. One of the great things about visiting this city is that there are lots of free things to do in Portland.
A lot of Portlanders (and tourists) navigate the city entirely on bicycles. Portland has been named the best city in the United States for biking. Whether you get there by bike, car, or public transportation, we know you will love this list of the best things to do in Portland, Oregon!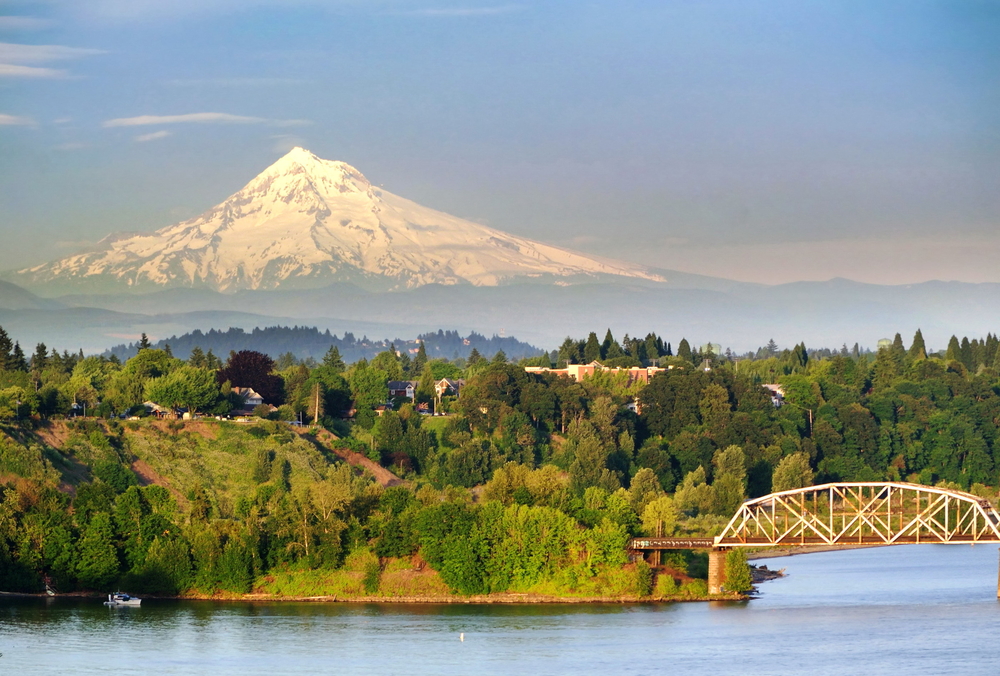 15 Coolest Things To Do In Portland, OR
Powell's City of Books
Don't miss your chance to explore the largest independent new & used bookstore in the world! Known as the "City of Books" their main location on Burnside St. is 68,000 square feet of literary wonder. Wandering Powell's is one of the best free things to do in Portland on a rainy day.
Picture a whole city block filled with dreamy floor to ceiling bookshelves, complete with those cool library ladders to reach the treasures on the tippy top shelf. Follow your nose through the maze of bookshelves to discover a delicious coffee and pastry shop. Head to the top floor to experience a museum like selection of rare books.
Because they sell used books as well as new you can come out with armloads of amazing tales without breaking the bank. Be sure to check the dates that you're coming to Portland to see if Powell's is putting on any special events. They are known for hosting amazing writers workshops and are a frequent stop on famous author's book tours.
Portland's Thrifting Scene
No list of things to do in Portland would be complete without thrifting! Some travelers come to Portland with an extra suitcase or backpack to fill with their vintage clothing finds.
If you're in the mood to thrift all day long, we recommend a visit to the Sellwood neighborhood. Their main street (SE 13th) is packed full of excellent antique stores that have rooms full of timeless fashions, waiting to find new life in your closet.
If you want to experience Portland's signature quirk and magic in a thrift store, visit Psychic Sister in the Alberta District. Their curated thrifting experience is packed with fashion miracles, and the space also doubles as a funky crystals & tarot card shop.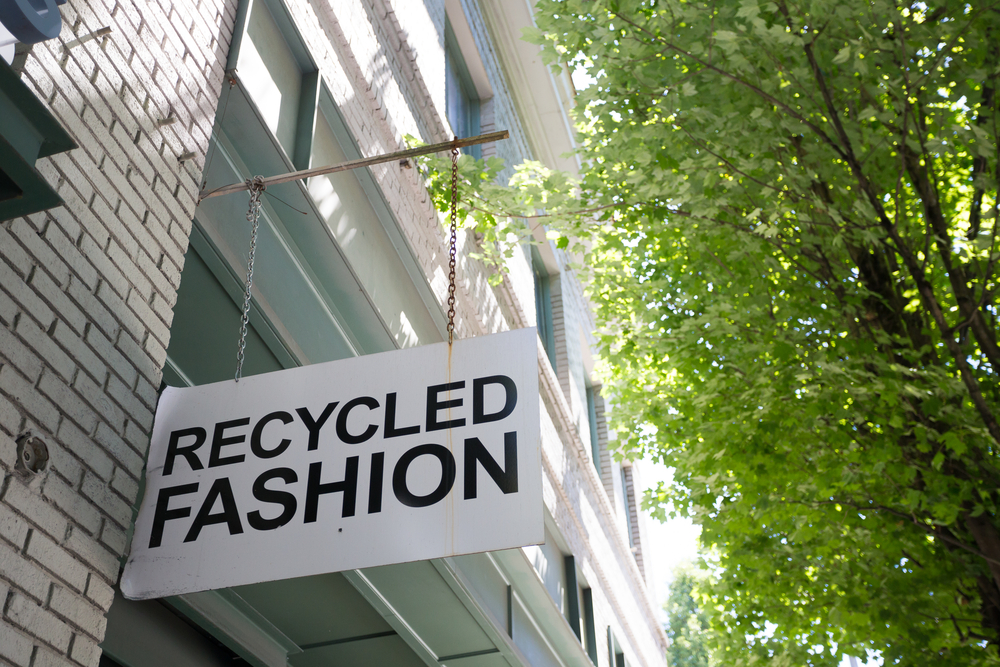 Witches Castle in Forest Park
One of the fun, weird things to do in Portland is visit the Witches Castle. This picturesque ruin is located in Forest Park. Built around 1850, the stone structure is steeped in spooky legends of murder. If you're in to ghost stories, definitely google the story of this house's original owners!
Now left to the elements, this overgrown stone building makes a very picturesque backdrop for your travel photos. A pleasant half mile hike through Forest Park will take you to this beautiful mossy ruin.
Forest Park has over 80 miles of trails and is a lovely way to spend a day in Portland. You can take in in 5,200 acres of pristine Pacific Northwest forest without leaving the city limits.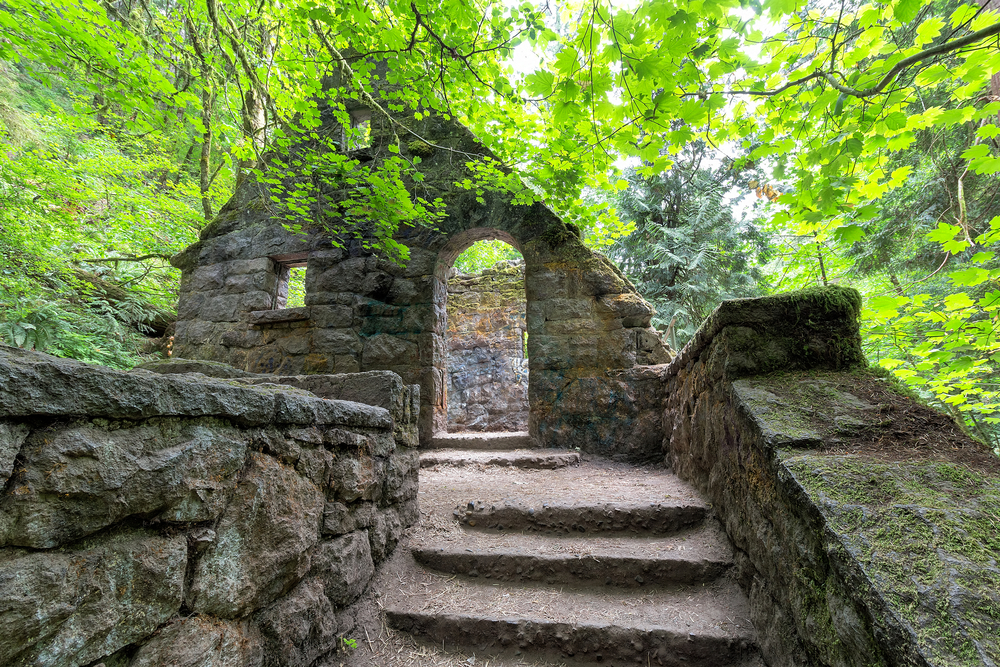 Food Trucks
Be sure to bring your appetite when you visit Portland. This city is home to over 600 food trucks and food carts! With a plethora of farm fresh foods in Portland, these tiny mobile kitchens create meals that rival some of the best brick and mortar restaurants in other cities.
There is a food truck for everyone, including many that are exclusively vegetarian or vegan. Get ready to try lots of funky fusions you never would have imagined! The trucks gather together in thoughtfully constructed outdoor courtyards with many picnic tables, so it's easy to sample many cuisines and styles at once. Locals refer to these food truck groupings as "pods" and everyone has their favorite neighborhood pod.
The city of Portland has made a helpful food truck pod guide page so that you can make the hard decision about which pod to try out first. Eating at as many of these food truck pods as possible is one of the most fun things to do in Portland, Oregon. You may even want to take one of the foodie tours in Portland!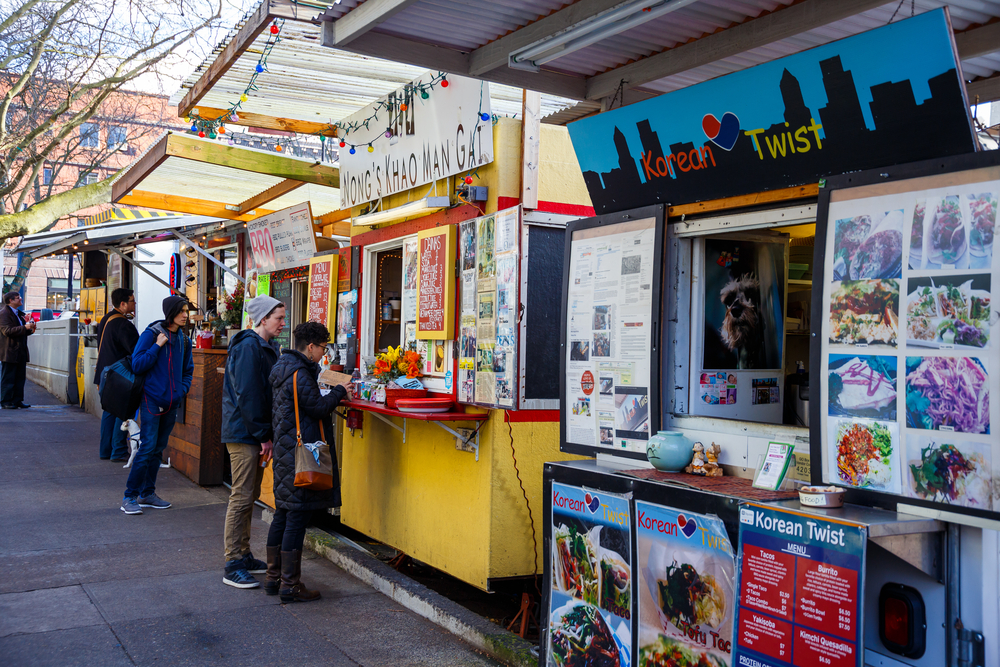 Doughnuts
When looking for the best things to do in Portland it's very important that you save room for dessert! The city is packed with kooky and wild confections to suit all tastes. However, the city's most famous dessert is certainly its doughnuts.
If you are on the hunt for Portland's best doughnut, one choice is Voodoo Dougnuts. Their famous pink boxes and glazed doughnuts dipped in things like Captain Crunch breakfast cereal and grape dust have made them a touristy staple in Portland. Bonus: their flagship downtown location is located right across from the iconic "Keep Portland Weird" mural if you want to take photos with that!
Many locals argue that the best doughnut in Portland is actually Blue Star doughnuts. You should probably try both and compare it to Voodoo! Blue Star is known for it's more "grownup" flavors like Passion Fruit Cocoa Nib, Raspberry Rosemary, and Blueberry Bourbon Basil.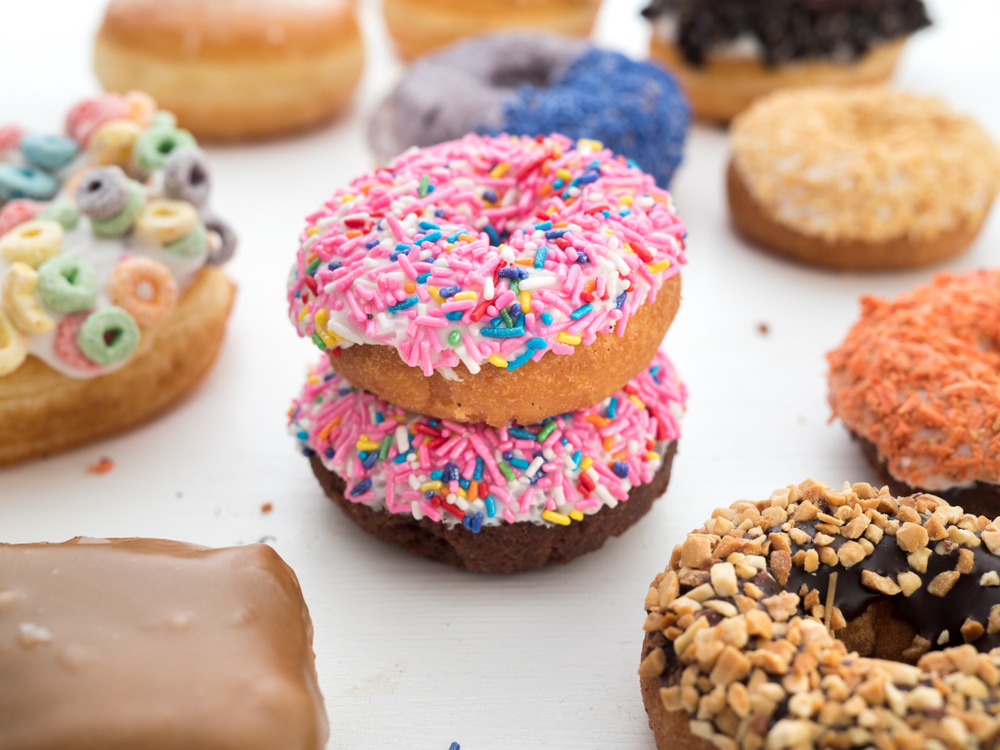 Alberta Arts District
You won't want to miss visiting this artsy corner of Portland! The Alberta neighborhood has prioritized art in all forms, from hosting some of the best art galleries in town, to being the home of some of Portland's most striking street art and murals.
In the Summer the Alberta District hosts a street fair called "Last Thursdays." On Last Thursdays Alberta closes its main street so that it can be filled with booths by local artists. The city's musicians and performers flock to Last Thursdays, so you're sure to get an amazing show!
The Alberta district also boasts many amazing restaurants and thrift shops like Psychic Sister, so you'll want to be sure to include exploring it on your list of fun things to do in Portland.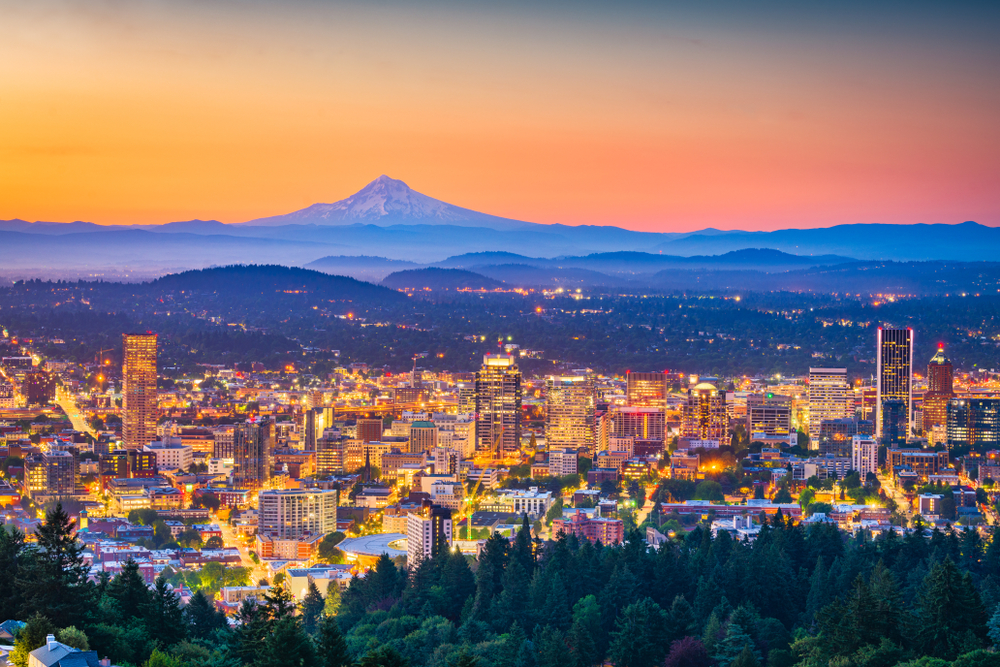 International Rose Test Garden
Your nose will thank you for making this a stop on your list of things to do in Portland. This garden is one of the largest collections of roses in the U.S. Because Portland has such an ideal climate for growing these delicate blooms, exciting new varieties of roses are "test planted" here to see how they grow.
The International Rose Test Garden is located high up on a hill overlooking the city. It is unbelievably picturesque and a favorite location for photography in Portland. Founded in 1917, there is over 100 years of roses flooding this stunning park. You'll see colors and shapes of roses you never dreamed existed. Meandering through the International Rose Test Garden is one of the best free things to do in Portland.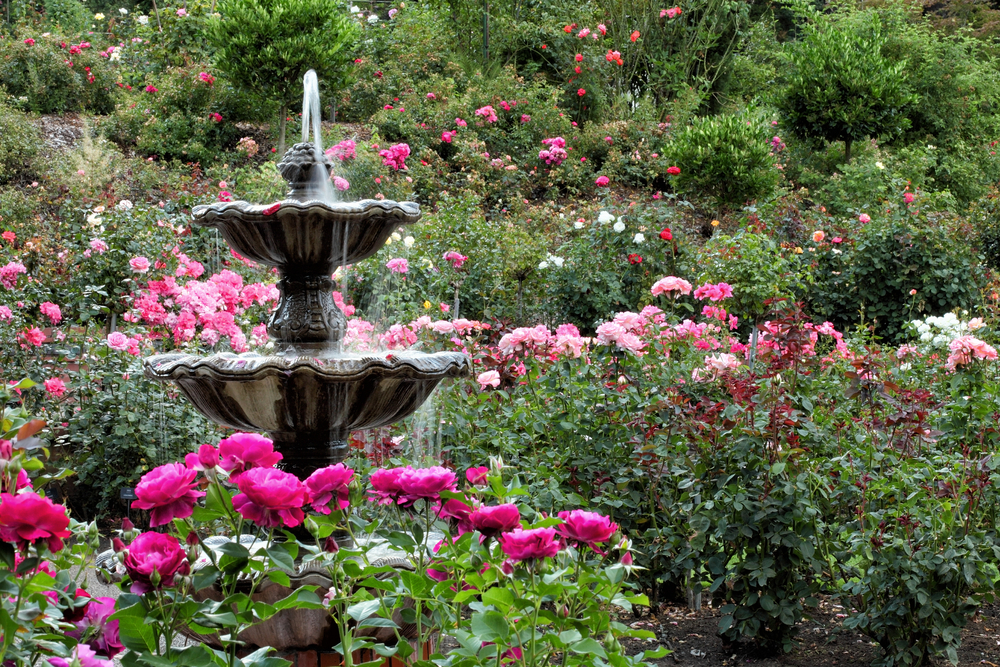 Hoyt Arboretum
Another thing to add to your list of free things to do in Portland, Oregon is visiting the Hoyt Arboretum. This arboretum was founded in 1928. Its mission is conserving trees and educating the public about Oregon's forests. Located very close to the International Rose Test Garden, it is easy to hit both of these Portland attractions in one day, soaking up lots of botanical splendor.
The Hoyt Arboretum is home to many rare species of trees. It is one of the only places outside the state of California where you can see majestic Redwood Trees! The Hoyt Arboretum has 12 miles of hiking trails that take you through 2,300 species of trees hailing from 6 different continents.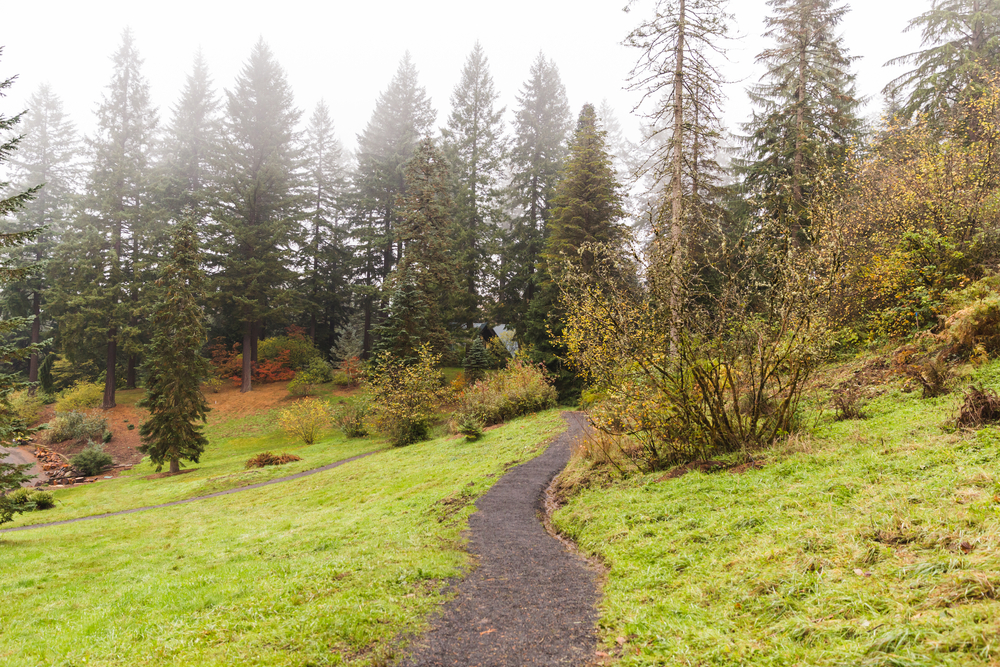 Craft & Farmer's Markets
As you have definitely noticed from this list of the best things to do in Portland, Portlanders love to be outside. They've taken that love of the outdoors to a new level by making sure their city has year round outdoor markets and street fairs.
There is an arts and crafts market every Saturday from February to the end of December downtown at Tom McCall Waterfront park. Here you can browse unique art, chat with amazing artisans, hear street musicians, and sample a curated selection of food trucks.
Portland is surrounded by some of the most lush farm country in the West. Oregon has its many volcanoes and volcanic soil to thank for nourishing all the delicious produce grown in and around Portland. The year round abundance of delicious farm fresh produce means that the Farmer's Markets are not just a summer occurrence in the City of Roses.
There is a Farmer's Market every Saturday at Portland State University. Other amazing Farmer's Markets to visit include North Portland's Kenton neighborhood on Wednesdays (June–Sept.), Northeast's King neighborhood on Sundays (May–Nov.) and Southeast's Lents neighborhoods on Sundays (June–Oct.)
More neighborhoods are adding Farmer's Markets every year, so make sure to check and see if there is one you can walk to from where you're staying.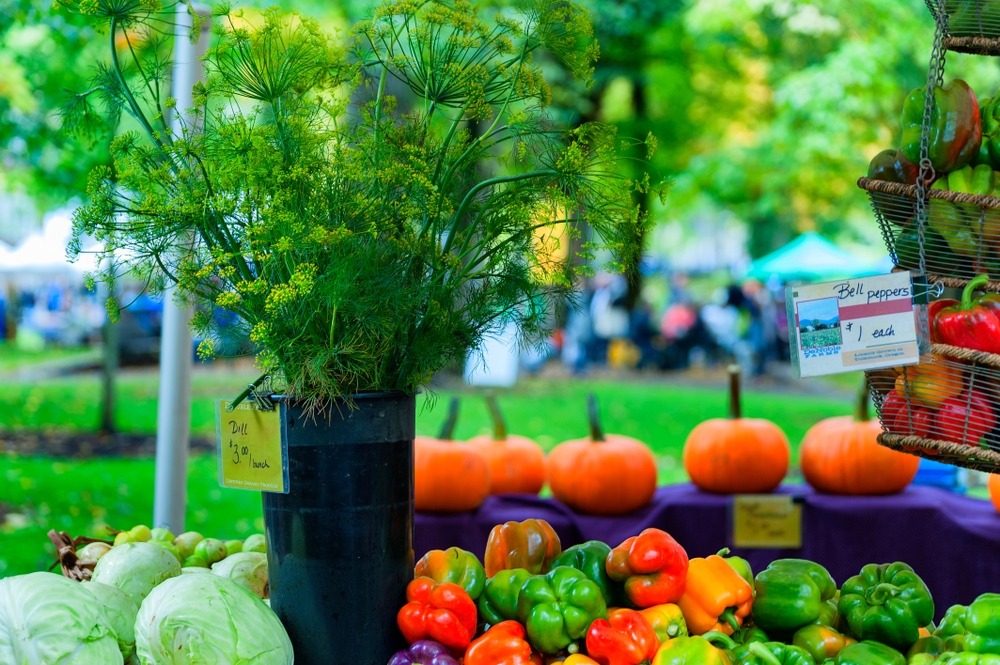 Freakybuttrue Peculiarium
Looking for weird things to do in Portland? This museum should top your list. The Freakybuttrue Peculiarium was established in 1967 and has been mystifying and intriguing tourists and locals alike ever since.
A self proclaimed "store dedicated to learning and terror" this museum is definitely one of a kind! The Peculiarium contains novelties, ephemera, and one of a kind oddities to delight and frighten folks. Make sure to stop by the snack bar, which is famous for selling all kinds of edible insects.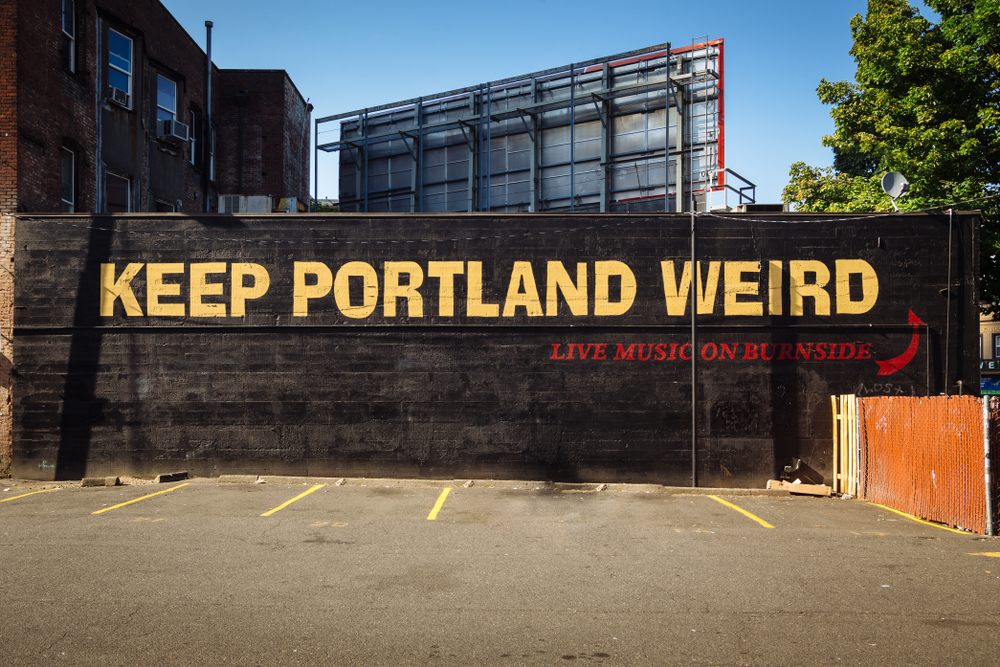 Japanese Garden
"The most beautiful and authentic Japanese garden in the world outside of Japan." – Nobuo Matsunaga, the former Ambassador of Japan to the United States
Perched high up on a hill with astounding views of the city of Portland and the surrounding mountains, the Japanese Garden easily tops the list of best things to do in Portland. This iconic garden was designed in 1963 and is truly breathtaking.
Buy your tickets in advance online to avoid long lines or being turned away because the garden is already at capacity. Once you're in, you're sure to enjoy wandering the expertly manicured garden. Say hello to the friendly and enormous koi fish, marvel at the precisely raked zen gardens, cross the stunning Moon Bridge, and enjoy tea in the traditional Japanese tearoom.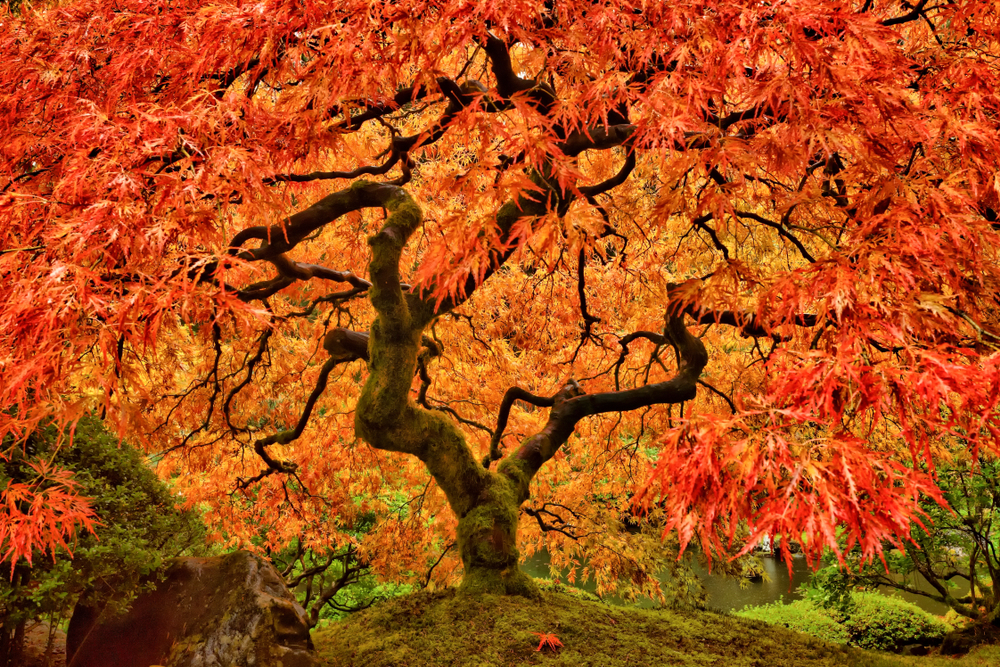 The Smallest Park in the World
A quirky stop for your tour of Portland is Mill Ends Park also known as the smallest park in the world. This park is certainly minuscule compared to the other famous parks that have topped our things to do in Portland list, but the size is part of the fun.
How small is the smallest park in the world? It is only two feet across! The park is home to one small tree, and if the locals are to be believed, a family of leprechauns.
The park was declared the smallest in the world by the Guinness Book of World Records and has proudly held that title since 1971.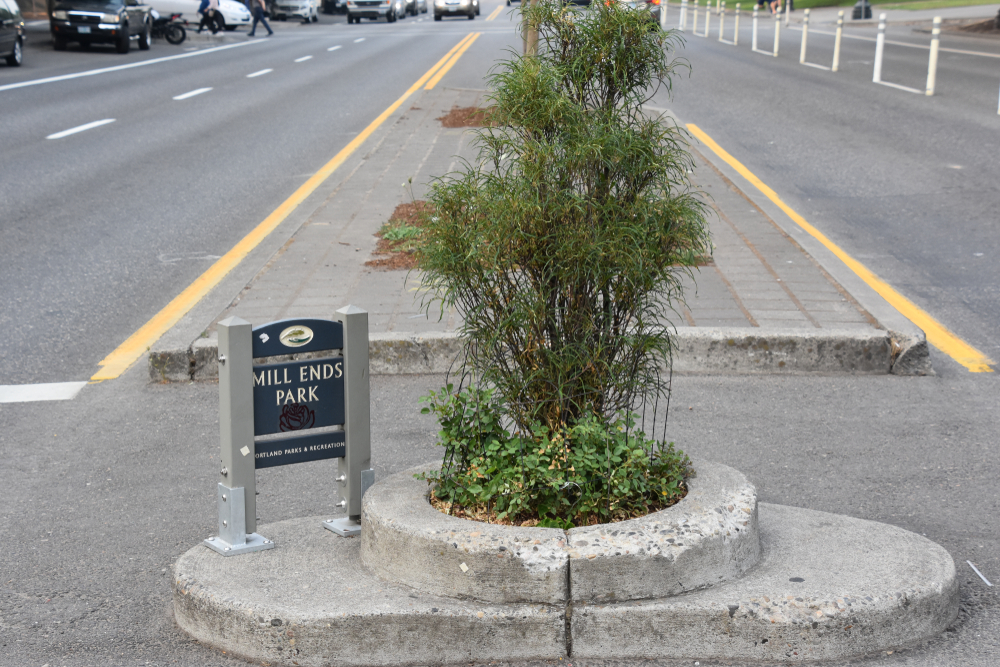 Oregon Museum of Science and Industry (OMSI)
Tourists and locals alike flock to the OMSI. In our opinion exploring this museum is one of the most fun things to do in Portland.
If you love an interactive museum experience this is the museum for you! The OMSI prides itself on letting you experience its exhibits (which have titles like "Earth Lab, Paleontology Lab, Physics Lab, and Chemistry Lab) with your own two hands. The OMSI also boasts one of the best planetariums in the Northwest, so come ready to stargaze!
Check the dates that you are coming to visit Portland to see what rotating exhibits you get to look forward to experiencing at the Oregon Museum of Science and Industry.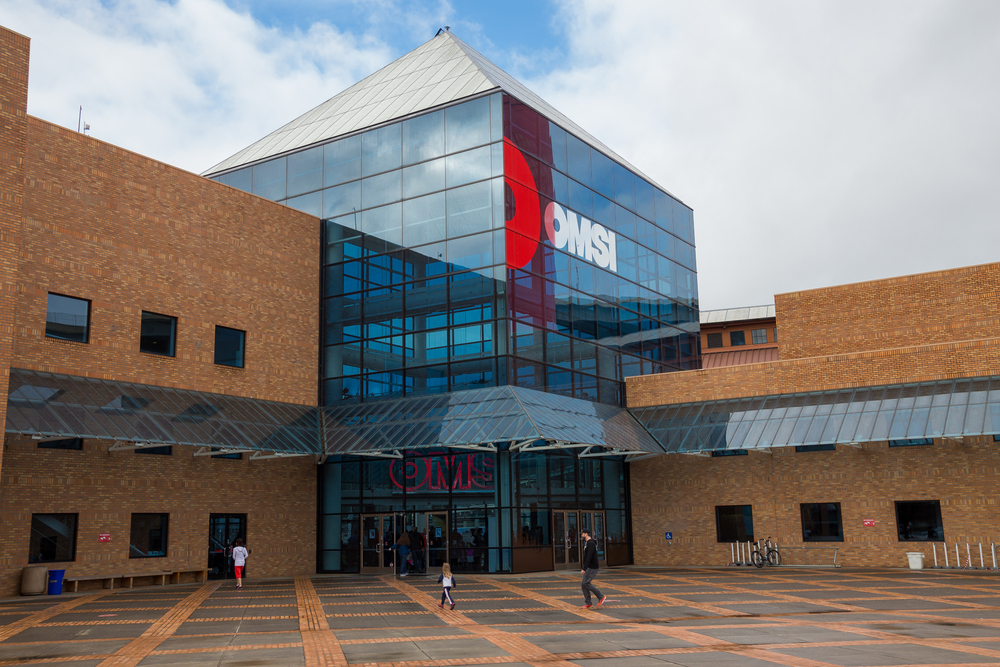 Sauvie Island
Need a break from the hustle and bustle of downtown Portland? 10 miles to the north of the city is idyllic Sauvie Island. The island is accessible by public transportation from the city center.
This pastoral island is covered in small farms where you can go berry or pumpkin picking, depending on what's in season. There is also wine tastings and lots of opportunities to taste farm fresh cuisine. Savuie Island is home to some of Portland's most important wildlife refuges, making it a haven for bird watchers and nature lovers.
The island has several miles of pristine sandy beaches where you can swim in the Columbia and Willamette Rivers. These beaches are a great spot to take a break from your busy itinerary of things to do in Portland and soak up some sun.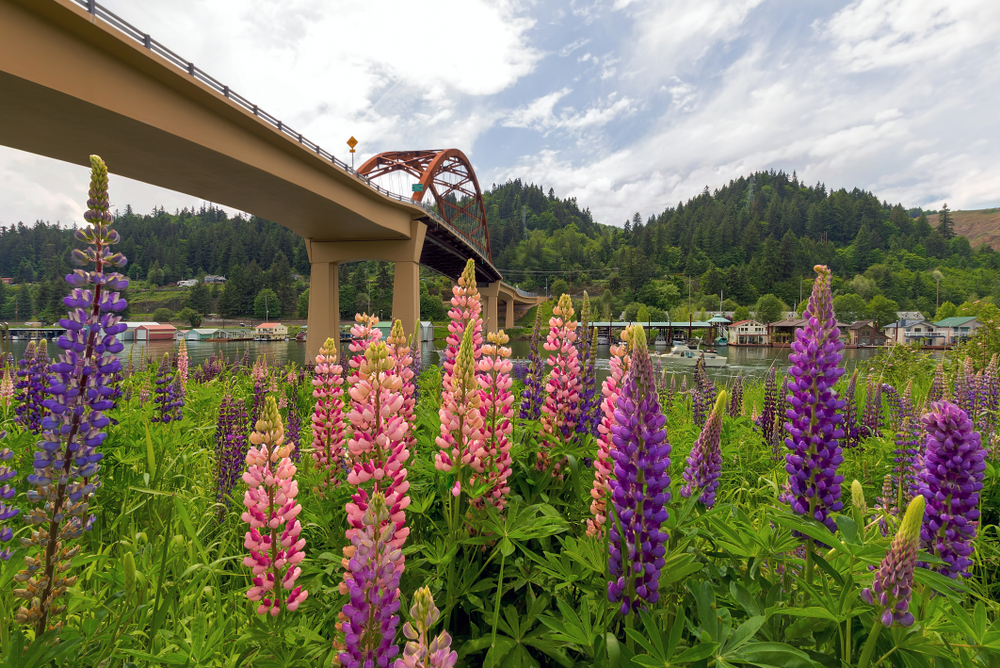 McMenamins
One of the things that makes Portland so quirky and cool is it's many McMenamins properties. McMenamins is a business that buys old buildings and converts them into unique and fascinating restaurants and hotels.
So many of McMenamins properties make the coolest things to do in Portland list. You can visit a pub built into an old chapel, stay in a hotel that is in a transformed old schoolhouse complete with blackboards and desks still in the rooms, dance the night away at Portland's iconic vintage Crystal Ballroom, or catch a movie at the opulently restored Bagdad Theater.
Anywhere you see the McMenamins name in Portland is sure to be a beautifully restored piece of local history, and a really good time.