Planning to spend 4 days in New York? We've got you covered with this New York itinerary that can be adapted to fit your schedule. New York City is full of fast-moving people, flashing lights, honking cars, and skyscraper buildings. It may seem overwhelming, but it's also thrilling.
Terrence is a local who lived in New York City for almost two decades and continues to go back to visit quite often. Though Victoria has never lived there, she has visited many times.
As a result, we have a lot of experience with the city and unique perspectives gained from our time there. There's so much to do in this towering city of skyscrapers, from admiring artwork at museums to being emotionally moved by a Broadway show, you're sure to find something there that draws you in.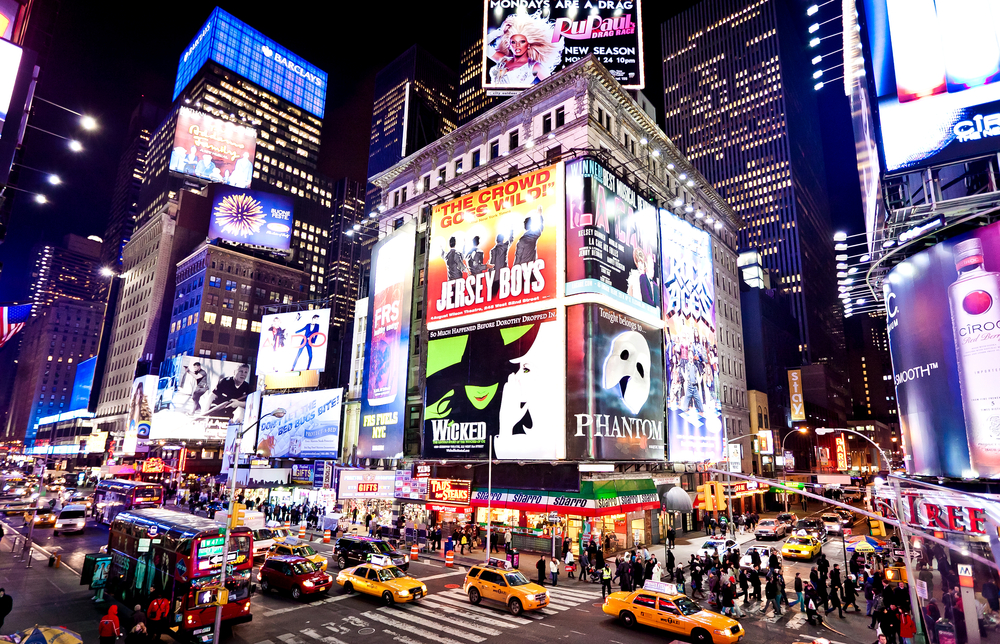 The Ultimate 4 Days In New York Itinerary
Getting to New York
There are a number of airport options when flying into New York. John F. Kennedy International (JFK) and Newark Liberty International Airport (EWR) are the two most common as they have both domestic and international flights. You might also fly into LaGuardia Airport (LGA) in New Jersey.
Regardless of which airport you fly into to begin your 4 days in New York, it can be a real headache to get into Manhattan particularly during rush hour. More often than not, your best option will be taking an Uber as they're usually cheaper than taxis, and they'll get you there faster than the subway or airport shuttle. If you're not in a rush though, the subway or airport shuttle can be great options.
If you live closer to New York City and won't be flying in, your best plan of action is to take the train using one of Grand Central Terminal or Penn Station's railway services including Amtrak, Long Island Rail Road, Metro-North Railroad, NJ Transit, and Port Authority Trans Hudson. You might also be able to take a bus from a handful of companies such as Greyhound.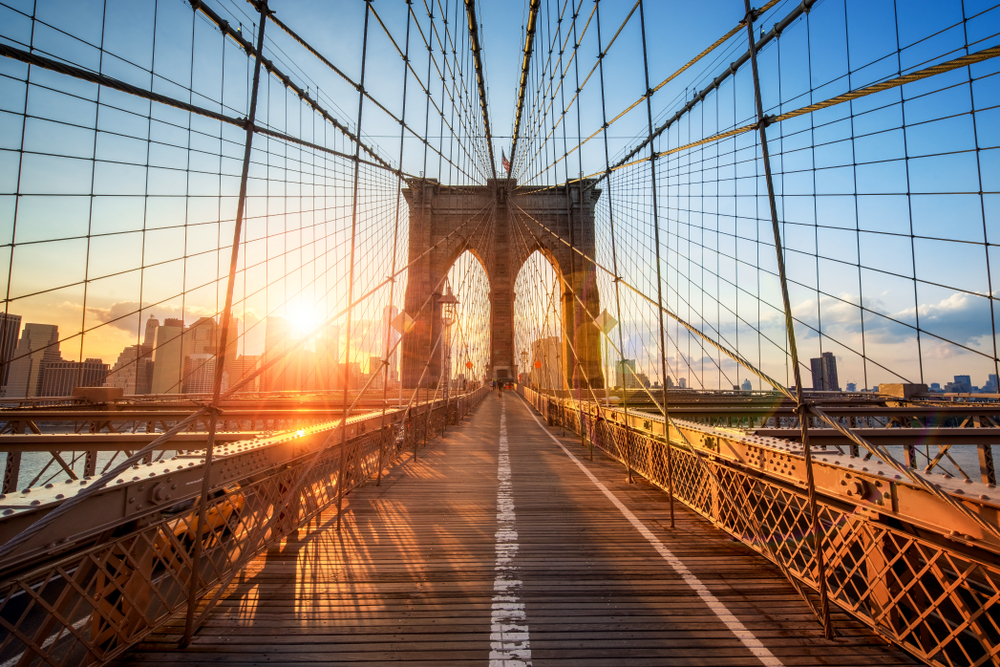 Getting Around During Your 4 Days In New York
Depending on where you stay during your 4 Days in New York you might be able to walk to the majority of your destinations. This is one of the advantages of being in a compact city. If you're trying to access locations that are much farther away, taking an Uber is also an option.
We highly suggest using the subway however. With such an extensive underground network you can easily get anywhere you want in the city for a very reasonable price.
If you plan to use the subway continuously for your whole trip, you might want to invest in the unlimited weekly Metrocard. Otherwise, you can pay $2.75 per ride as long as you load $5.50 or more onto the card.
Either way you'll pay for your rides at the automated ticket machine or you can go to an employee at any ticket booth. Download the NYC subway app on your phone prior to arriving so you have access to it at all times as you explore New York in 4 days.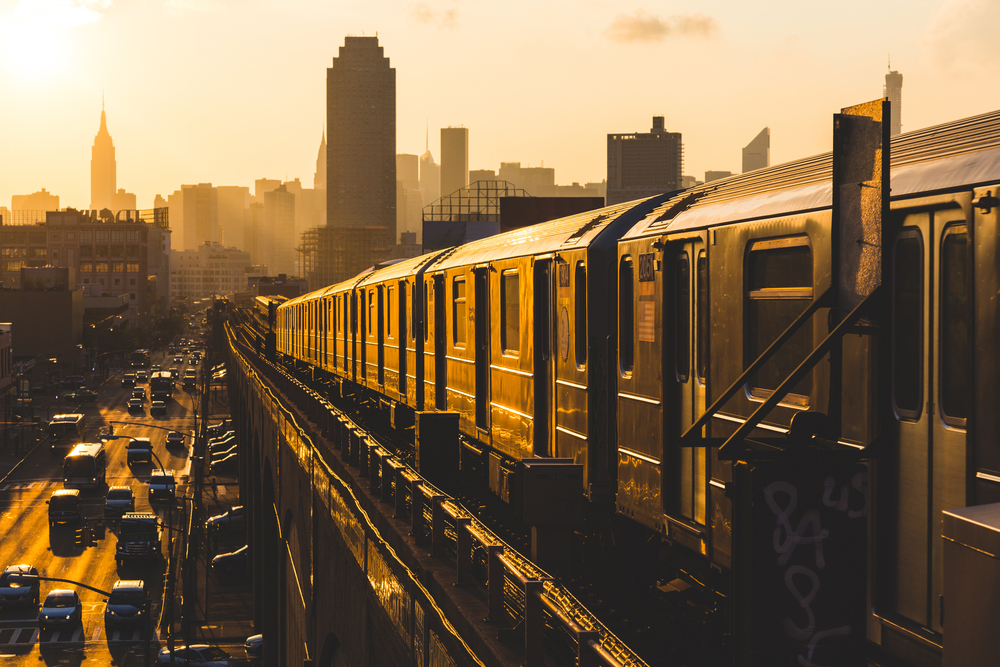 DAY 1: Visit The Iconic Landmarks and Museums In Midtown Manhattan Followed By Your Favorite Broadway Show
Stop 1: Take A Fascinating Guided Tour Of The MoMA Before The Museum Opens
The Museum of Modern Art houses some of the most stunning and diverse pieces of modern art. You can easily spend half a day walking through the well-thought-out layout of paintings, sculptures, prints, film and more. With such a vast array of artwork, you're sure to find something in this museum that inspires you.
If you choose to explore the museum on your own without a tour guide, you can pay $25 for an adult ticket, or visit during the UNIQLO Free Friday Nights. Ticket lines are always busy, especially on Friday nights, but it can be a great way to experience the museum if you're trying to save money.
To maximize your museum experience we suggest dishing out the money for a VIP: Mornings at MoMA Ticket. This not only gives you a dedicated tour guide for your small tour group, but also allows you to be in the museum prior to it opening, which we can tell you makes a huge difference. The guides are incredibly knowledgeable and their abundance of background information combined with their own unique interpretations of the artwork allows you to see the museum pieces in a way you might not have otherwise considered.
After the guided tour, they let you loose on the 5th floor of the museum where you'll find some of the more famous pieces of artwork. By the time you've circled back around you'll find a line winding out the door for the chance to take a quick picture of the famous Starry Night painting you saw up close and personal all by yourself just half an hour ago. This museum is one you won't want to miss during your 4 days in New York.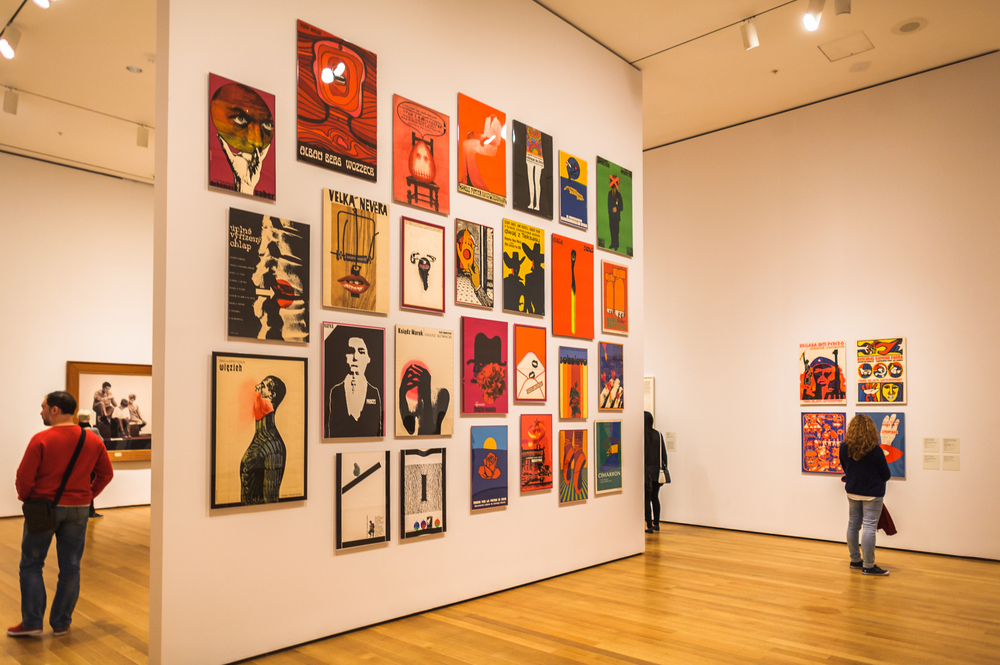 Stop 2: Relax In The Grass Or Go For A Stroll Along The High Line
The 1.4 mile long High Line is New York City's most creatively designed park. Located high above the crazy city streets below, the High Line is a beautiful creation born out of railroad tracks that had been abandoned since the 80's.
Rather than destroy the tracks, the Friends of the High Line nonprofit group formed in an effort to preserve the history of the area and turn the tracks into something wonderful that could be enjoyed by the public. The surrounding neighborhoods thrived as a result. The High Line is accessible at a number of different points including quite a few that have elevator or ramp access.
Everything is more peaceful up at the High Line. The park bans pets and bikes and it's really not a kick a soccer ball or go for a run kind of park, but it's perfect for a casual stroll, picnics in the grass, indulging in Chelsea Market food treats, observing artwork, people watching, and general enjoyment of the outdoors in a city filled with high-rises and bright lights.
The High Line is best enjoyed in the spring or summer when the weather is nice, the grass is green, and the flowers are blooming. Even the winter is beautiful though when hearty winter plants thrive and art installations pop against their snowy white surroundings. You're sure to enjoy this somewhat hidden sanctuary.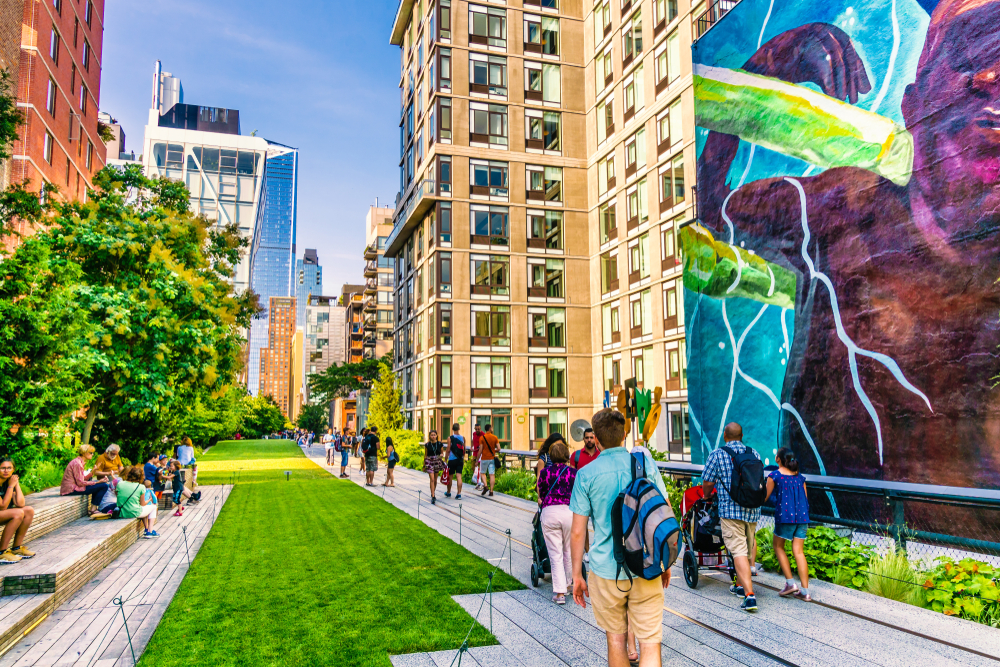 Stop 3: Take In Spectacular 360° Views From The Top Floor Of The Empire State Building
Heading to the top of the Empire State Building for an incredible look at the New York skyline is a classic tourist activity. And though it's popular and on most people's itineraries, that doesn't make it any less spectacular. When you're standing on the 102nd floor observation deck taking in the views for yourself, you'll see why.
The Empire State Building actually has two observation decks. The first is an open-air deck on the 86th Floor that circles the building, and the other is a newly renovated indoor viewing deck with 360° views on the 102nd Floor (the building's top floor) with huge glass wall panels.
From both decks, you can see all of New York's iconic landmarks including the Statue of Liberty, Brooklyn Bridge, and Central Park. On a clear day you can even see well beyond that up to a distance of 80 miles.
Throughout your visit, even in the elevator, you'll learn more about the building's history and construction process. The Empire State Building beat the Chrysler Building to earn the title of the tallest building in the world, however it would eventually lose out to the first World Trade Center tower. Though other great viewpoints have popped up in New York over the years, the Empire State Building views never get old.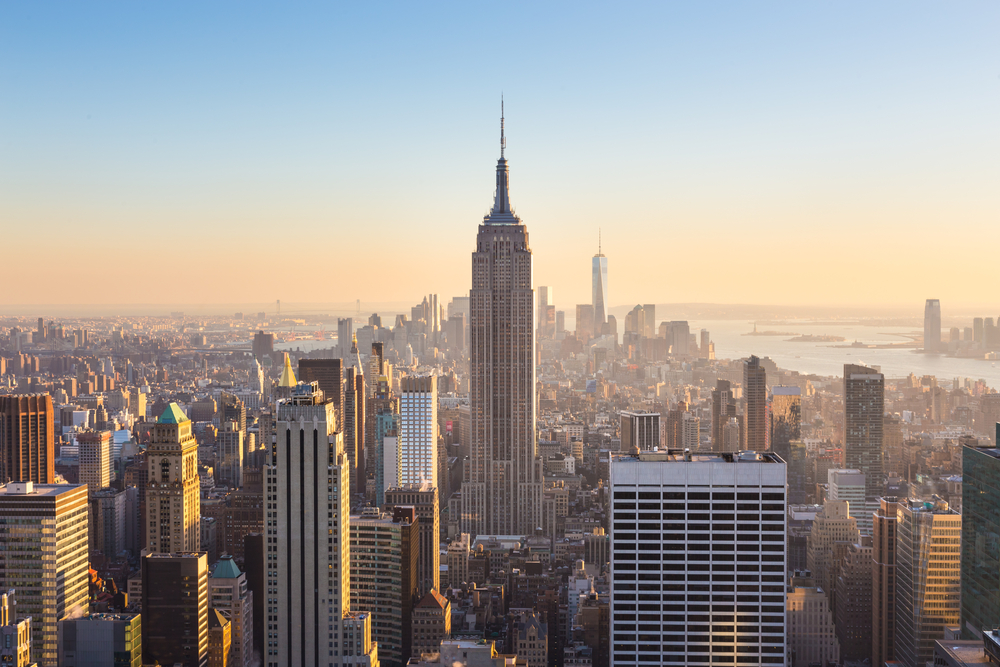 Stop 4: Enjoy More Wonderful Views From The Top Of The Rock
Speaking of great 360° viewing decks, the Top of the Rock is one of the best. Tickets are $38 for adults and an extra $10 during designated sunset hours. Though it's sometimes possible to get unscheduled tickets at the Box Office, it's in your best interest to book ahead and get a timed ticket so you can know for sure when you'll be visiting the Top of the Rock.
There are three observation decks at different levels you can look out from with the best of them being the 70th floor open-air deck. From here you can see spectacular views of Manhattan.
Besides the Top Of The Rock, there are many things to do at Rockefeller Plaza particularly in the winter when the famous magical skating rink graces its center. The Rockefeller Christmas tree is also erected and lit every winter adding to the beauty of the area.
There are plenty of shops and restaurants to stop by as well. It's one of the many iconic New York City spots and is worth a quick stop at least during your 4 days in New York.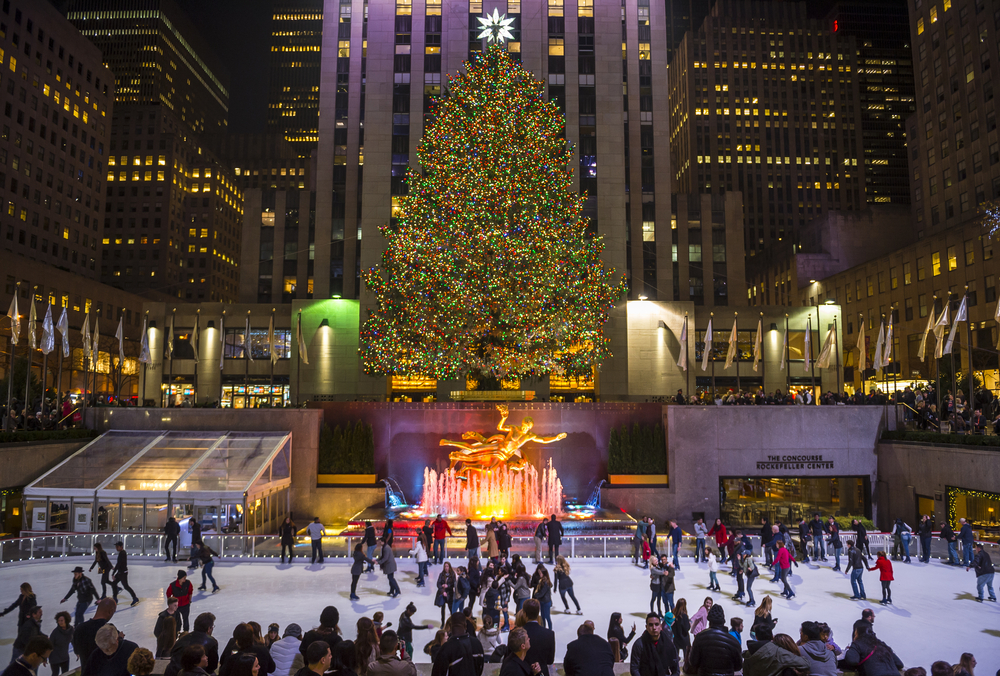 Stop 5: Soak Up The Sights And Sounds Of The Iconic Times Square
Times Square is what most people think of when they hear New York City. It's an iconic tourist destination worth at least a brief stop if only to see the lights and people watch. Locals tend to avoid its congested, tourist-filled streets, but if you're spending 4 days in New York City and not in a rush to go about your day, Times Square can be a thrilling experience.
Being in the middle of Times Square is a sensory overload with brilliantly lit billboards, impatient yellow taxi cabs, a stranger dressed as Elmo approaching you for a picture, people playing all kinds of instruments, and all of the overwhelming street smells of New York in one compact space. There are hotels, restaurants and shops including multi-level Disney and M&M stores, and if you're in Times Square on New Year's Eve you'll experience the famous New Year's Eve ball drop.
Located right next to the Theatre District, it's often convenient to walk through Times Square on your way to a Broadway show if you're not keen on spending a considerable amount of time there. The billboards are even more exciting at night when they truly light up the night sky. Times Square stays populated well into the night, so even on your way home from a show you'll be navigating through thick crowds.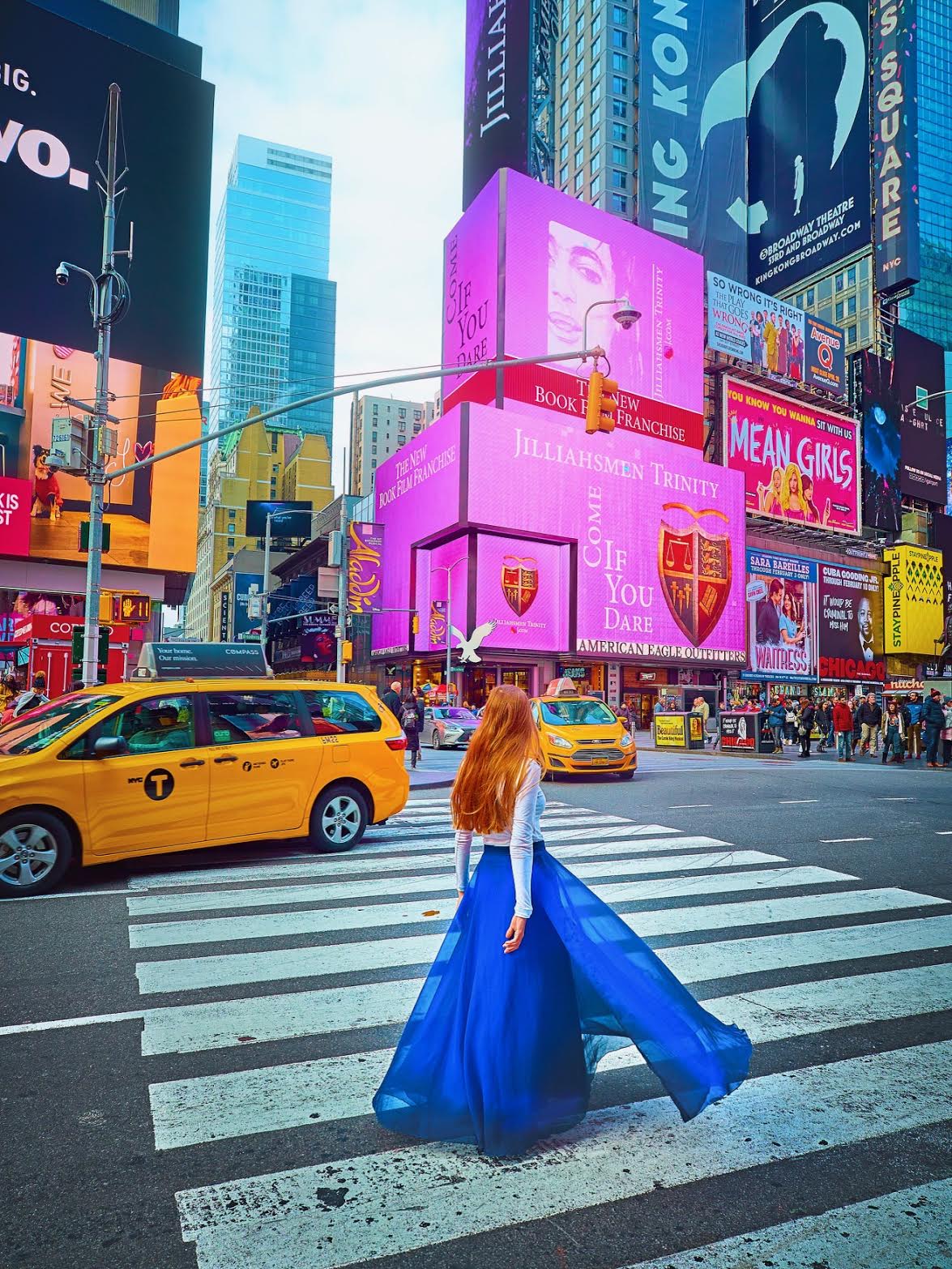 Stop 6: Immerse Yourself In The Magic Of Theatre At A Broadway Show
For theatre lovers, there are few things better than seeing a Broadway show in NYC, whether it's a long running classic like Phantom of the Opera or a new instant hit creating tidal waves like Hamilton. Theatre transports you to another world and makes you feel and experience everything so intensely. The beauty of Broadway theatres is that they are incredibly intimate unlike the theatres that house National Tour productions of the musical where you have to be sitting in the first few rows to capture the full range of emotions and acting intricacies.
If you want to guarantee you'll have tickets to the Broadway show of your choice during your 4 days in New York, we suggest buying your tickets online at full price ahead of time. With your ticket in hand you can fully enjoy your evening and have a nice sit-down dinner before the show without any stress.
If you don't mind waiting hours in line or taking a gamble on getting tickets, you have a couple of other options. The first is to stand in the often very long line at the TKTS Booth in Times Square to get discounted tickets.
Another option is to sign up for a particular show's lottery in hopes you win and score cheap tickets that way. A longer running show like Phantom of the Opera might have a few at the door tickets that will be slightly less than their original price, but for the majority of shows it will be near impossible to get day of tickets at the door.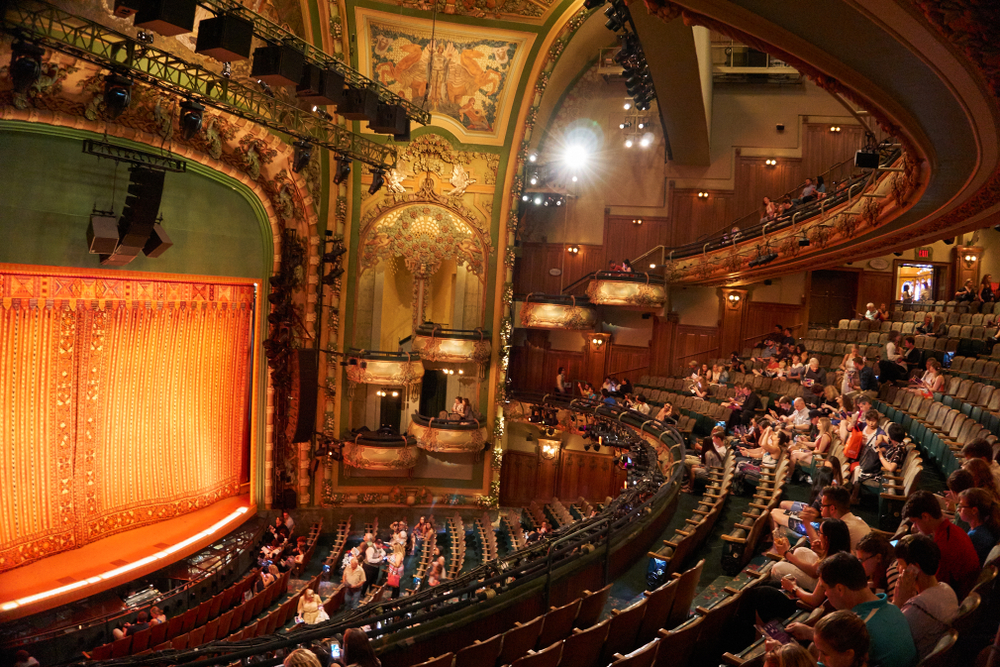 DAY 2: Spend A Quiet Morning At Museums and Bookstores Before Heading Back To The Heart Of The City
Stop 1: Enjoy The Charming Architecture, French Books and Culture Found At Albertine
New York City is home to a number of impressive bookstores including the famous Strand Bookstore, however we suggest heading to the more unusual Albertine Bookstore, the charming French bookstore located in the historic Payne Whitney mansion alongside the Cultural Services of the French Embassy. If you happen to be looking for a wide selection of French books, you've definitely come to the right place. The bookstore is filled with two floors of English and French books and translations.
On the second floor you'll find a particularly beautiful night sky scene painted on the ceiling. There's even a replica of a Michelangelo statue at the entrance of the building. The whole store is a unique and special piece of French culture.
It's also cozy and is the perfect refuge from the cold in the winter. If you check their website you'll find a number of authors each month that come for readings or discussions about their books. These events are open to the public and can be really interesting if your 4 days in NYC trip coincides with one of the dates.
Even if you don't understand French, the bookstore is the perfect place to learn about and appreciate French culture through a literary lens. So grab a coffee, settle into a big lounge chair and find yourself an intriguing book!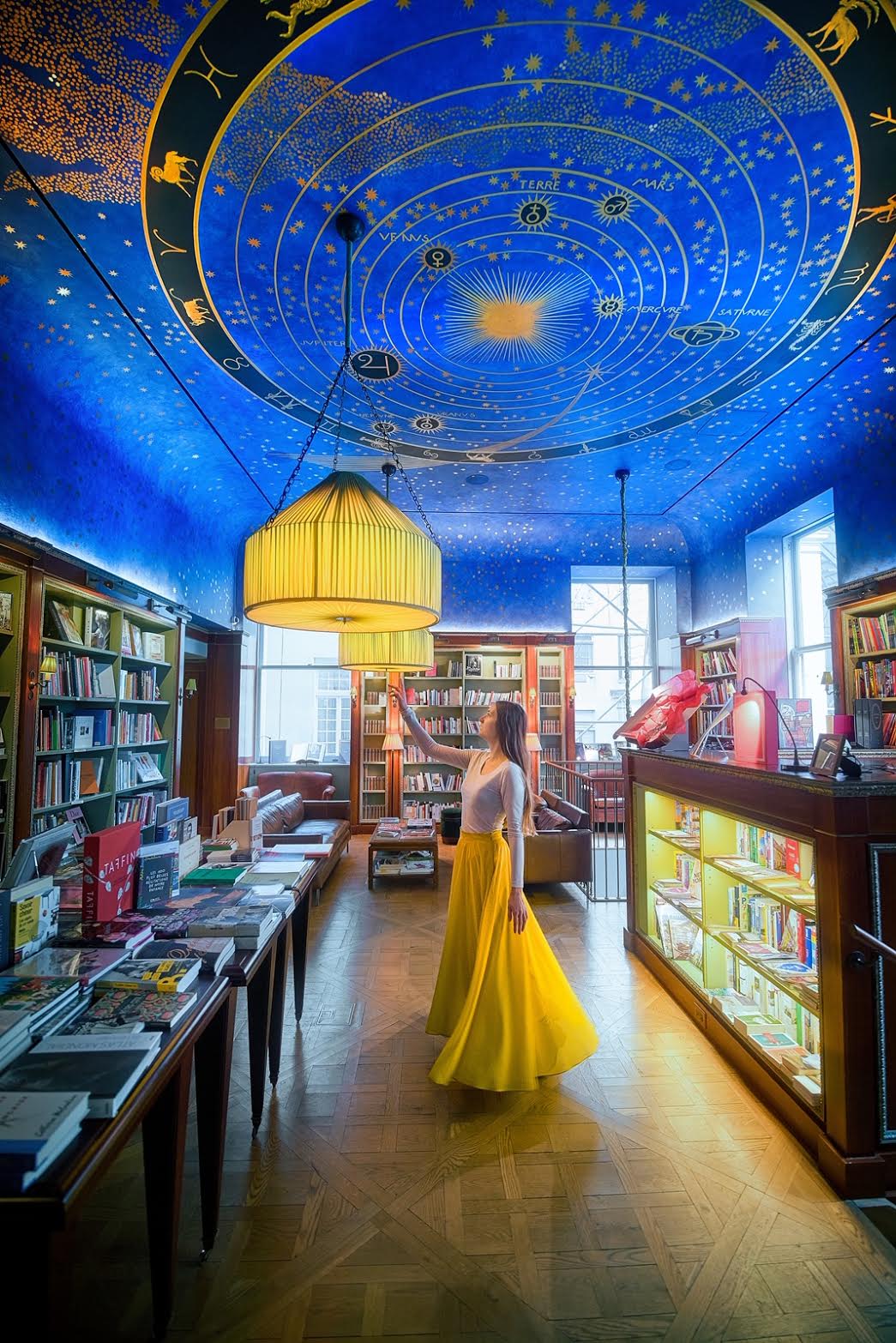 Stop 2: Get Lost In the Fascinating Exhibits At The Metropolitan Museum Of Art
The MET (Metropolitan Museum of Art) is actually 3 separate locations, The Met 5th Avenue, The Met Breuer and The Met Cloisters. For this 4 days in New York itinerary you'll be headed to The Met 5th Avenue, the largest of the three, covering an impressive two million square feet. The sheer volume of artwork and artifacts throughout the museum can be overwhelming, but The MET is heaven for art and history lovers.
You could easily spend a full day at the MET and still not see everything. There is something for everyone here from an Egyptian collection and famous paintings from Picasso and Van Gogh, to a Medieval Wing and Greek statues.
You'll find classics you always dreamed of seeing and inspirational modern art. Not to mention the museum itself is a beautiful piece of architectural work.
We suggest tackling the museum one section at a time. Find an area or exhibition that draws you in and start from there.
Admission to the MET is $25 for adults (good for 3 consecutive days at all 3 MET locations) and pay what you wish for New York residents and NY, NJ, and CT students (good for same day admission to all 3 MET locations). There is also a free cloakroom for dropping off your bags and/or coats. You'll be glad you experienced this colossal fascinating museum.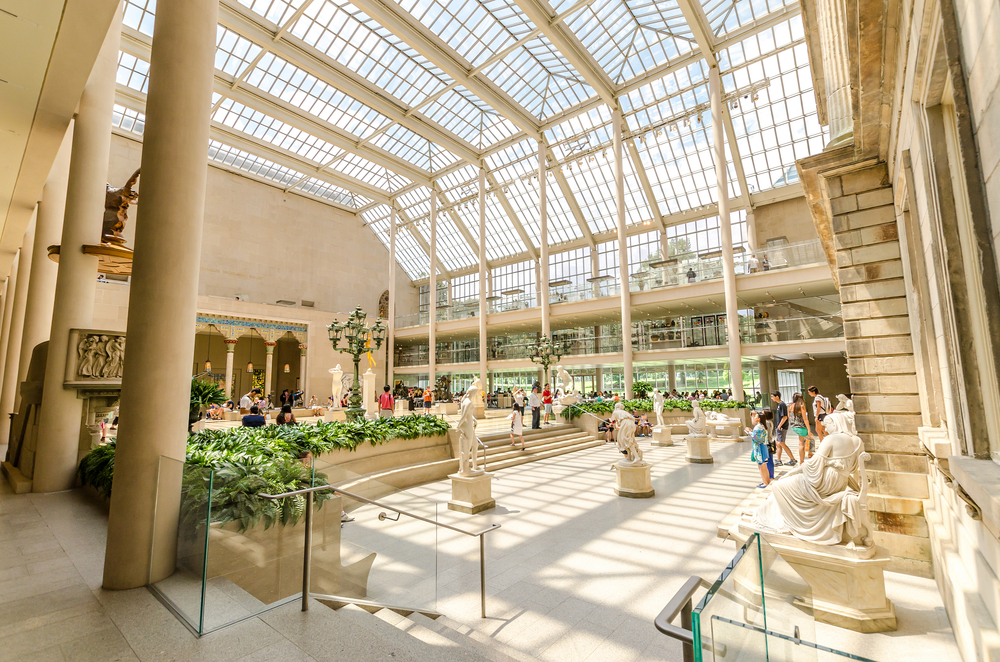 Stop 3: Escape The Skyscrapers and City Streets In The Beautiful Central Park
Central Park is an 8,430-acre welcome expanse of beauty right next to the towering skyscrapers and the crowded hustle and bustle of the city streets. The park is the perfect place to relax, soak up the sun, go on a romantic date, and so much more.
If you want to join the locals for a sun tanning session or a picnic on the lawn, Sheep's Meadow is the place to be. Or perhaps you'd enjoy a dreamy rowboat ride across the lake, in which case we suggest booking in advance with The Loeb Boathouse to rent a boat you can steer peacefully through the water. You can also head to the Strawberry Fields garden and find the Imagine circle, sit along the edge of the beautiful Bethesda Fountain, pick your favorite horse to ride on the carousel, go for a skate at the iconic Wollman Rink, or even take a slightly touristy, yet charming carriage ride through the park.
As we mentioned before, the Metropolitan Museum of Art also expands into the park making a trip to the museum and the park perfect back-to-back activities. For families traveling with children or anyone who loves a good zoo, you'll be happy to know there's a Central Park Zoo that continues to be renovated and improved.
The park is also the perfect place to go for a run, bike ride, or even just a nice casual stroll. Time slows down a little bit here in this oasis.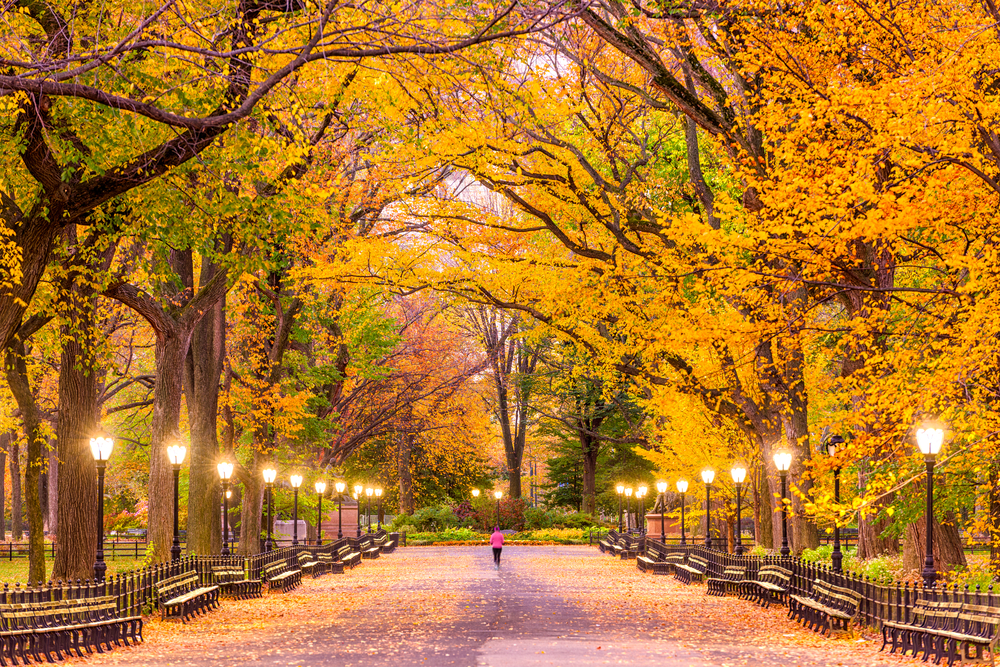 Stop 4: Spend Time Appreciating The Unusual Frank Lloyd Wright Architecture Of The Guggenheim
Even if you've never been to the Guggenheim, you'll likely recognize the famous spiral architectural design, one of the many masterpieces of architect Frank Lloyd Wright. You'll find this art museum located right next to Central Park, keeping it away from the busiest and noisiest New York City streets.
The building itself is as much an attraction as the modern and contemporary artwork you'll find inside, and you'll find many people visit just for the architecture alone. The spiral walkway inside is an unusual though intriguing way to view art. The installations are often very interesting, though if your goal is to visit an extraordinary art and/or history museum you'll probably find the MOMA or MET to be more satisfying.
Because the museum's greatest attraction is the building's architecture, we suggest visiting on a Saturday evening if it works with your schedule. From 5-8pm on Saturday's you can pay what you wish with a suggested $10 ticket price. The usual ticket price is $25 for adults.
We also suggest checking ahead of time to see if there are any renovations being done during the time you'd like to visit. Renovations often close down large parts of the museum sometimes including parts of the spiral walkway, which can greatly affect your experience.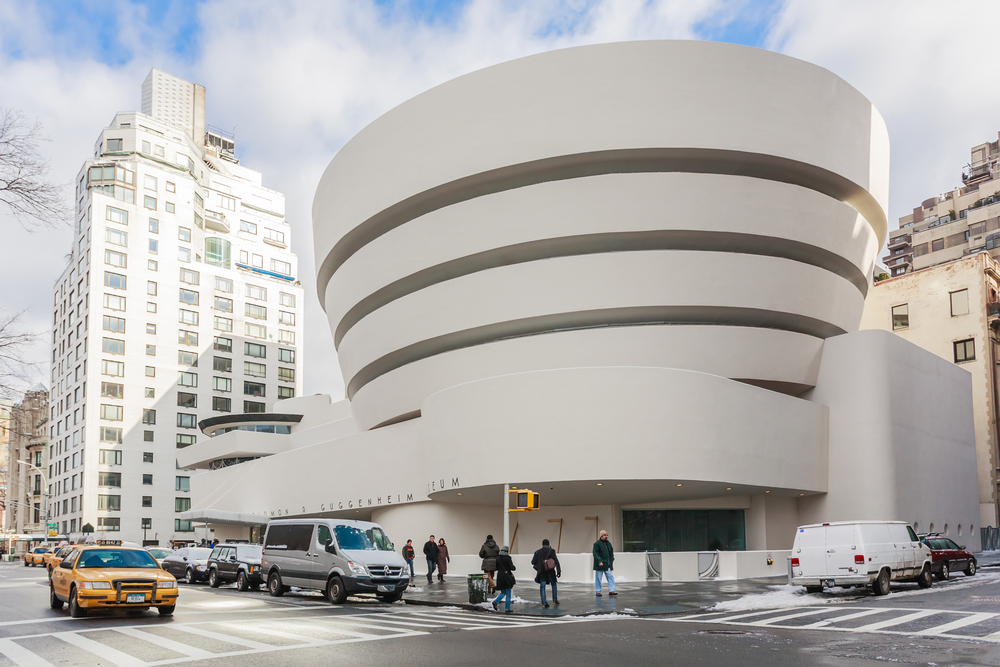 Stop 5: Admire The Beauty Of New York Public Library's Shwartzman Building
The main New York Public Library building you'll be visiting during your 4 days in New York is the Shwartzman Building on 42nd Street and 5thAvenue by Bryant Park. To get the most out of your visit, we suggest joining one of the free, guided building tours leaving at either 11am or 2pm Monday-Saturday. As you make your way through the library you'll see the majestic marble of Astor Hall, the enormous Rose Main Reading Room, the murals of the McGraw Rotunda and the overwhelming Map Collection Room.
The library also has a charming Children's Center that is home to the original Winnie the Pooh stuffed animal along with his friends. Whether you come to the library to read, to marvel in its architecture or to wander around, you'll enjoy a peaceful escape from the bustling streets outside.
If you wish to get a library card you can do so without even being a New York resident. U.S. residents are eligible for a 3 month temporary New York Public Library Card. Even foreigners can apply for a 3-month card with a photo I.D. and proof of your permanent address.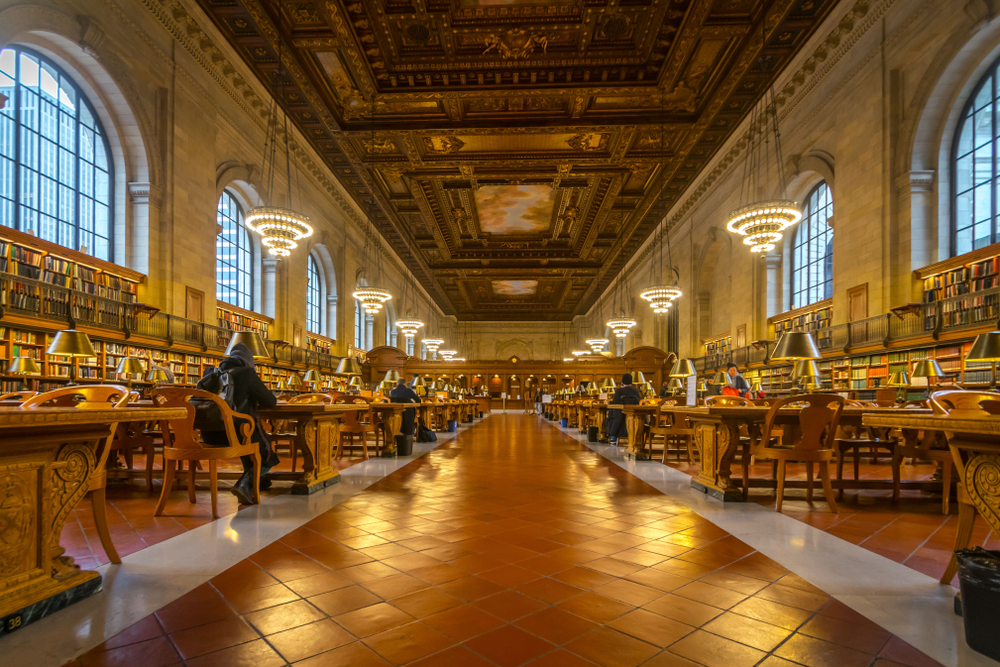 Stop 6: Join The Hustle and Bustle Of Grand Central Terminal
Grand Central Terminal can be a brief stop, but its history and importance as a transportation hub, and beaux-arts architectural style make it worthy of a visit. For some, Grand Central Terminal is a necessity for travel, for others it's a place to shop, people watch, and escape the cold.
Inside, you'll find the iconic, always-accurate clock by the information booth in the main concourse, which people often use as a meeting place, and the gold leaf constellations painted on the main concourse ceiling. There's also a whispering gallery, an oyster bar, food courts, and a market.
The building itself is beautiful and grand, as the name would suggest. So grab a bite to eat, sit back, and watch the fast-paced people pass you by.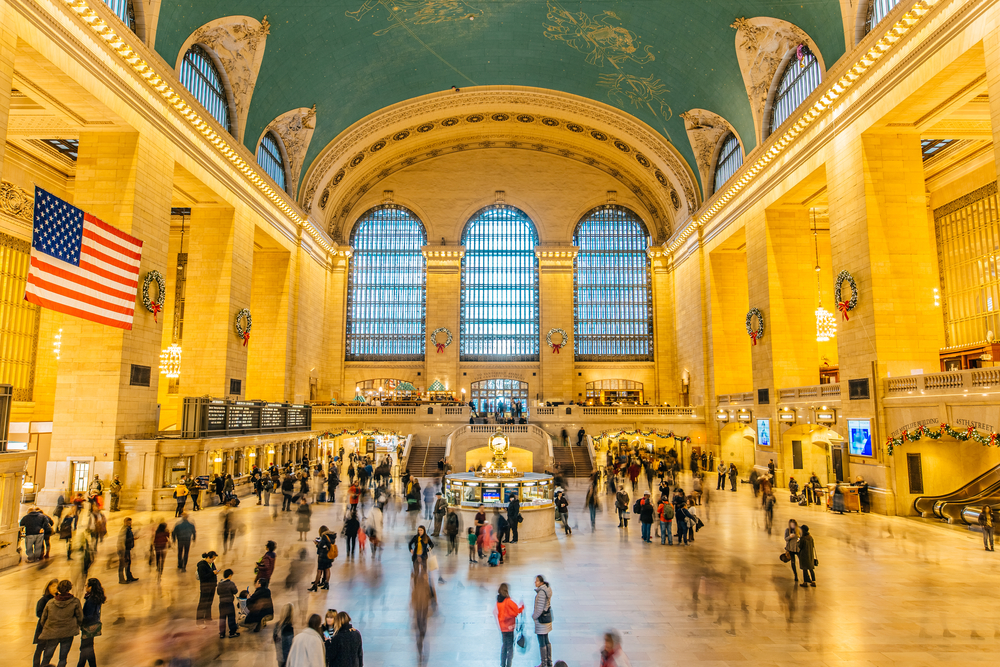 DAY 3: Ride The Ferry To The Statue of Liberty and Ellis Island Before A More Introspective Visit To Trinity Church
Stop 1: Ride The Free Staten Island Ferry By The Statue of Liberty
Get your cameras out and ready and be prepared to experience the best views of the Statue of Liberty. The best part? It's free!
There are the occasional scammers who try to sell you tickets onto the Staten Island Ferry if you're giving out a tourist vibe. Ignore them. Because New Yorkers use the Staten Island Ferry as a commuting resource, the ferry leaves at pretty regular intervals throughout the day (roughly every 30 minutes) so you shouldn't have to wait long.
There are multiple levels to the ferry and indoor and outdoor space. For the best views we suggest taking in the sights from outside assuming the weather cooperates. Keep your eye out for the Statue of Liberty.
Even though the Staten Island Ferry doesn't take you to Liberty Island where the statue actually resides, you'll be hard-pressed to find better views than the one you'll see from the ferry. If you don't want to stay on Staten Island you can get off the ferry and get right back on to head straight back to Manhattan. Enjoy the Manhattan skyline views on your return trip.
Though we made this the first stop of the day, you should feel free to take the ferry at any time of day. It will take you about 25 minutes each way so it's not a particularly time consuming activity, and with the ferry running so regularly you'll have plenty of opportunities to catch it.
If you wish to actually go to Liberty Island and explore the statue up close, the best way is to buy an $18 round trip ticket through Statue Cruises. You'll catch the ferry from Battery Park in Manhattan.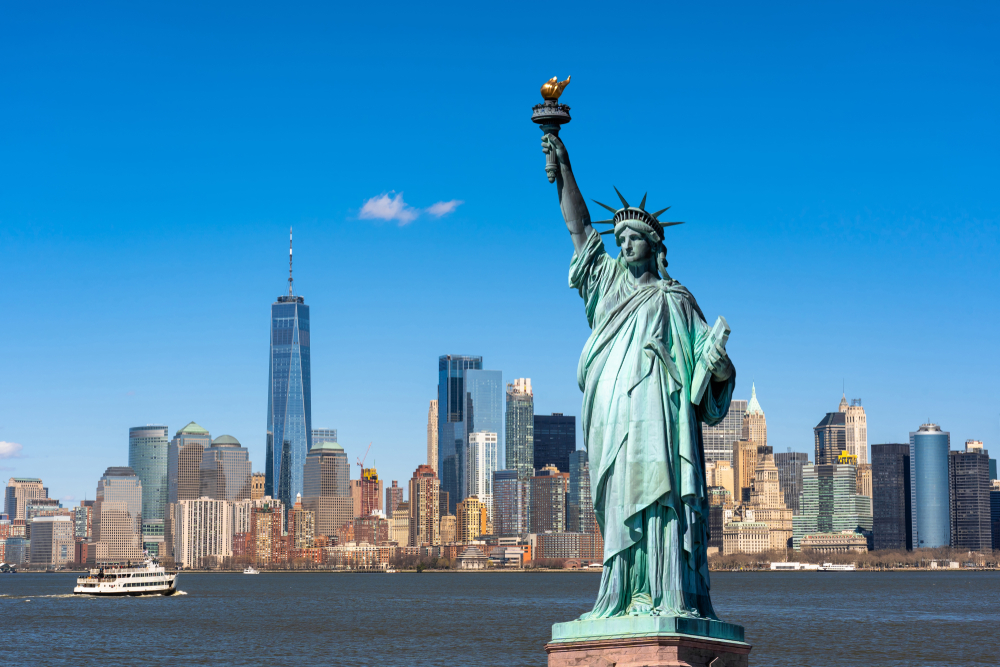 Stop 2: Hear Immigrant Stories At The Ellis Island National Museum of Immigration
To get to Ellis Island you'll also need to take the $18 ferry from Battery Park. The $18 covers admission to both Ellis Island and the Statue of Liberty. Once again we urge you to avoid street vendors and only buy tickets from Statue Cruises so you avoid being scammed.
Visiting the Ellis Island National Museum of Immigration is a fascinating and sobering experience particularly for people who had ancestors who arrived in America through Ellis Island. The museum tells the stories of the immigrants who passed through and provides information about the immigration station itself. Learning about the immigrants' stories makes the experience so much more personal and moving.
Many of them had numerous hardships, and you start to get a feel for the challenges they faced trying to enter the country as many hopeful immigrants were detained or deported for discriminatory reasons. In addition to the information provided throughout the three floors, a free audio guide is provided as well. The museum is incredibly educational and well worth a couple hours of your day.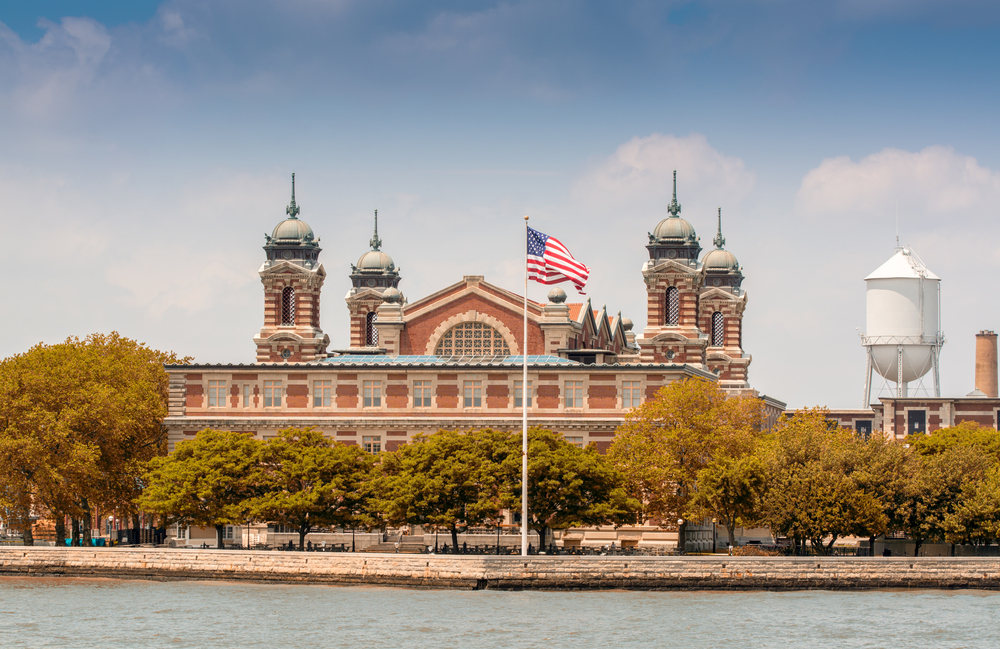 Stop 3: Visit Alexander Hamilton's Burial Site At Trinity Church
Trinity Church is a beautiful historic church at the intersection of Wall Street and Broadway. The particular building that stands today is the third version of the church, though all three buildings were located at the same site. The current church is a Neo-Gothic architectural building designed by Richard Upjohn with particularly dazzling stained glass windows.
Both George Washington and Alexander Hamilton worshipped in Trinity Church. Hamilton was also buried in the churchyard along with his wife Elizabeth Schuyler Hamilton, their son Philip Hamilton and Hamilton's sister-in-law Angelica Schuyler Church.
Hamilton's gravesite continues to be frequently visited by tourists today. The church and churchyard are open from 7am-6pm every day and visitors are always welcome.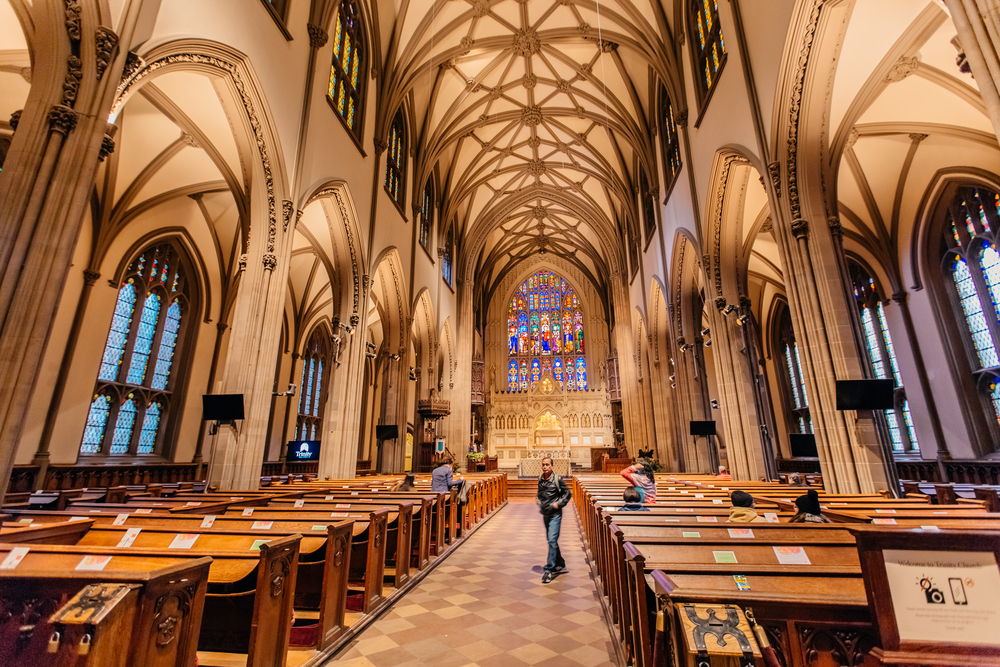 Day 4: Follow Up A Sobering Look At The Events Of 9/11 With a Walk Across The Brooklyn Bridge
Stop 1: Learn About The 9/11 Tragedy And Those Who Were Affected At The 9/11 Museum And Memorial
Visiting the 9/11 Museum and Memorial is an activity for which you definitely have to be in the right headspace. The subject matter, as you would expect, is heavy on the heart, but if you're willing to put yourself through the emotional experience, we highly suggest making this a part of your New York itinerary.
One of the best ways to experience everything is though the 9/11 Memorial & Ground Zero Tour with Optional Skip-the-line 9/11 Museum Ticket through Tripadvisor. Through the tour, you are put in a small group and given a tour guide that has a personal connection to 9/11.
It is an incredibly informative tour and the personal connection adds a welcome layer to all of the information regarding the events of that day and beyond. Besides a brief walk through the white dove-shaped Oculus building, the tour is done entirely outside, so if you are visiting in the winter, make sure you dress warmly.
If you've added the museum ticket to your experience (which we suggest doing), you'll have immediate access to the museum after your tour. Bypassing the entry lines is a huge plus.
The museum part of the experience is self-guided. Take as much time as you want or need in the museum.
There are timelines taking you through the minute-by-minute, hour-by-hour events of 9/11, timelines of the search for and capture of Bin Laden, audio clips from people who lost loved ones on 9/11 or as a result of 9/11, pieces of the destroyed building, and so much more. There's a lot to take in and a lot to digest.
After the museum and memorial, you might want to consider paying to go to the One World Trade Center Observatory as well where you'll learn a bit about the construction of the tower and of New York City in general. Its largest appeal however is the spectacular 360° views of the city from the 102nd floor.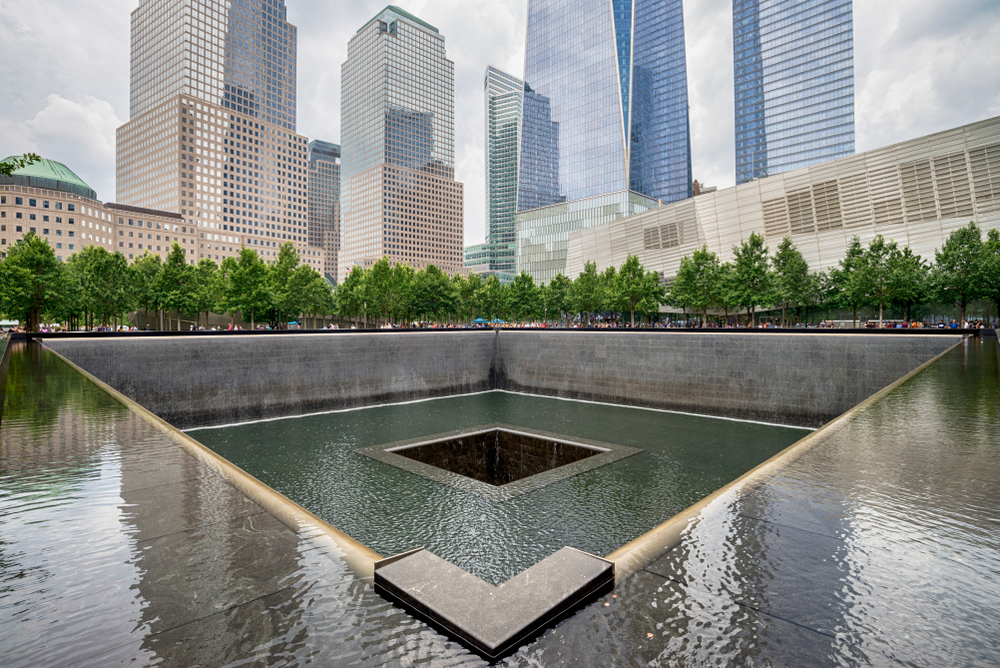 Stop 2: Walk The Brooklyn Bridge And Take The Iconic Photo of The Manhattan Bridge From DUMBO
The Brooklyn Bridge is an iconic New York landmark, just as The Golden Gate Bridge is in San Francisco. As long as the weather is nice, walking across the Brooklyn Bridge is a great activity at any time of day. It is particularly spectacular at sunset as the sky lights up and the city lights become more apparent.
Plan to spend at least 30 minutes crossing the bridge. It might take you longer if you're taking a lot of pictures. Some of the best views will be on your way back when you can see all the Manhattan skyscrapers backing the bridge.
If you're planning to walk the length of the bridge to the DUMBO neighborhood and all the way back to Manhattan again, you might want to consider reserving it all for the daytime. Though the bridge is fairly safe at night, you might not want to be trying to find your way through city streets in the dark.
If you have the time you should definitely continue your walk into DUMBO for the iconic photograph of the Manhattan Bridge with a glimpse of a very distant Empire State Building peeking through the bottom of the bridge's framework. You'll find this special place at the corner of Washington and Water Street.
Expect to be joined by a large number of tourists seeking out the same shot as it has quickly become one of the most photographed spots in New York. When you're done with your photoshoot, you'll head back across the Brooklyn Bridge into Manhattan to finish up your 4 days in New York.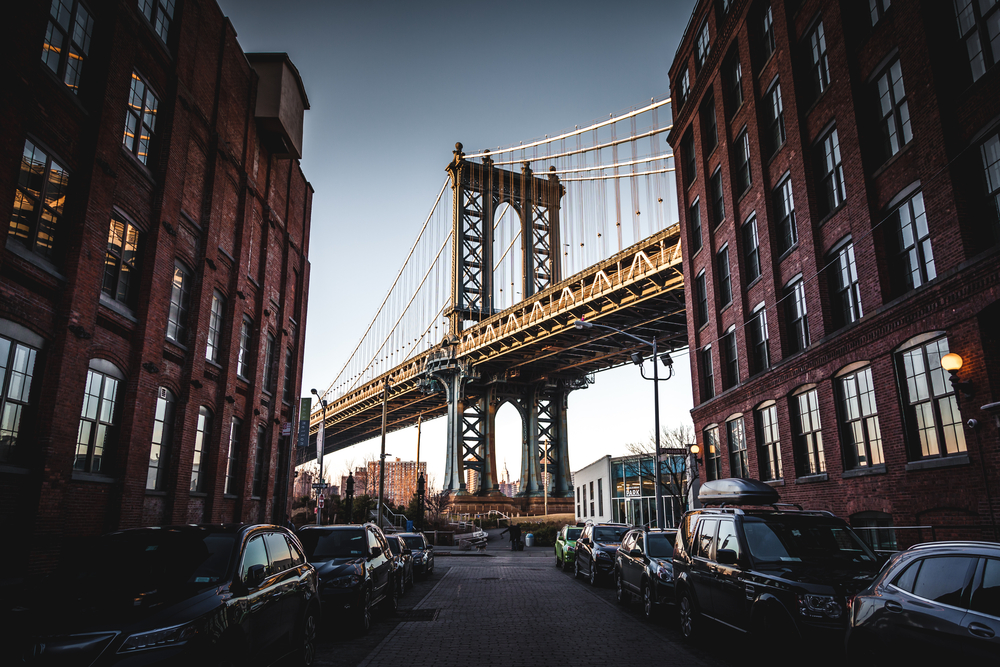 Where To Stay In New York:
Affordable/Mid-range: Row NYC. Check rates: rownyc.com
Luxury: Casablanca Hotel by Library Hotel Collection. Check rates: Booking.com
Luxury: The Lexington Hotel, Autograph Collection. Check rates: Booking.com
Luxury: The Pearl Hotel. Check rates: Booking.com
We're thrilled you've chosen to spend 4 days in New York City. It is such a happening, vibrant place that you can't help but get swept up in its charm. And there's more than enough to do to keep you coming back for more. If you have any questions or have stories about your own New York travels, feel free to leave a comment below.