Christmas in New York City is the stuff dreams or at least the stuff that movies are made of. If you are thinking of spending Christmas in NYC then this article is for you. We have covered everything you need to know about spending Christmas in New York City, things to do in New York in December, and how to see the New York Christmas tree.
There is something about Christmas that just makes us nostalgic; it's a time for coming together, enjoying ourselves and remembering the magical and things don't get more magical than New York City. Twinkly lights, Christmas decorations, shopping, and the hustle and bustle of the big city, what could be better? Spending Christmas in New York is the top of most people's bucket list and whether you stay for a few days or a few weeks we know you will have an amazing time. It's one of those vacations where memories will be made that will last you a lifetime.
We hope you enjoy our article dedicated to inspiring you on how to have the best time you can while spending Christmas in New York City. We hope you find it informative and helpful! We have covered things that free and things that cost money, things to do if you are just staying a few days and things to do if you are staying longer. Think about what you want to get out of your trip and pick the ones that align most with that. If you are there for the shopping we have you covered, a romantic Christmas getaway we have ideas for you or just soaking up the holiday atmosphere we have included things that you will love too.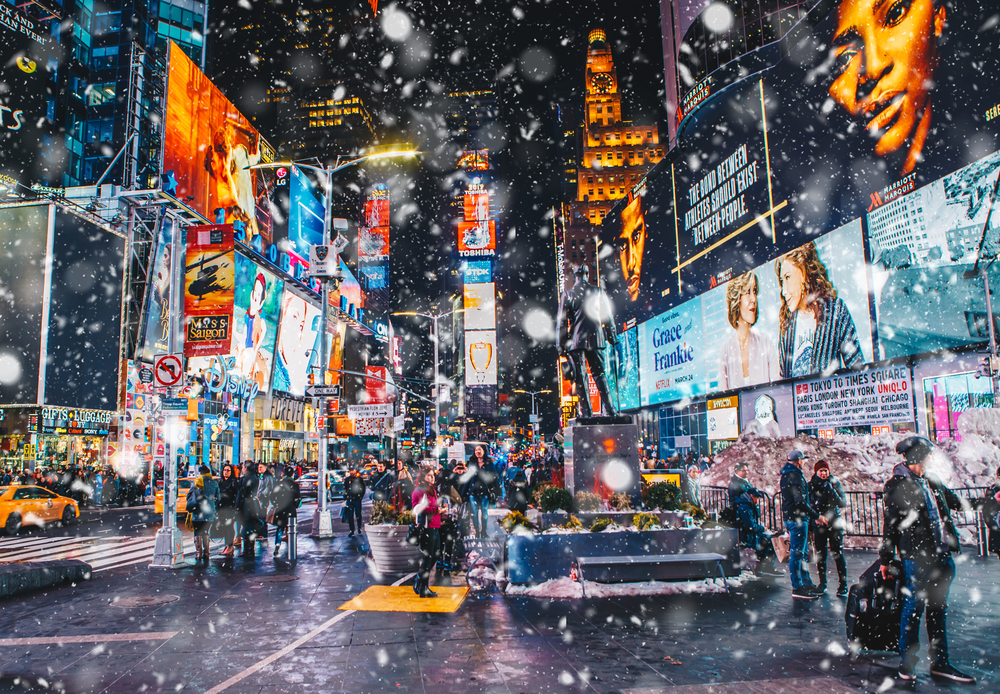 Is Christmas A Good Time To Visit NYC?
So while anytime is a good time to visit NYC there is a special something about visiting in the holiday season.
It's almost as if the city comes alive; let's just say New York knows how to do Christmas.  You will find storefronts decorated with lights of all colors, Christmas performances, and cute Christmas markets. It is also one of the best places for Christmas parades in the USA!
And who hasn't dreamed of skating at the Rockefeller Centre, the annual tree lighting and seeing all the Christmas lights from way up on the Empire State building? Christmas in New York is where memories and dreams are made. It's hustle and bustle, mixed with all the New York magic and an added sprinkle of Christmas joy.
It is the perfect time of year to spend a Weekend Getaway In NYC!
Average weather temperatures during Christmas in NYC
The average temperature in New York City ranges between 0 and 7. So layer up and be prepared for temperatures lower and higher than this.
Does It Snow In NYC In December?
On average it snows in New York City 2.3 days and is regularly 4.8 inches.  So you may get snow if you are lucky. What we suggest is that you plan days you will be doing things inside and day you will be doing things outside, that way you don't have to carry big coats around inside with you. When you are doing things inside you can put a lighter coat on and then make sure you wrap up warm for the days you are outside.  And if you are going to the top of the Empire State Building remember it can get very cold and windy up there.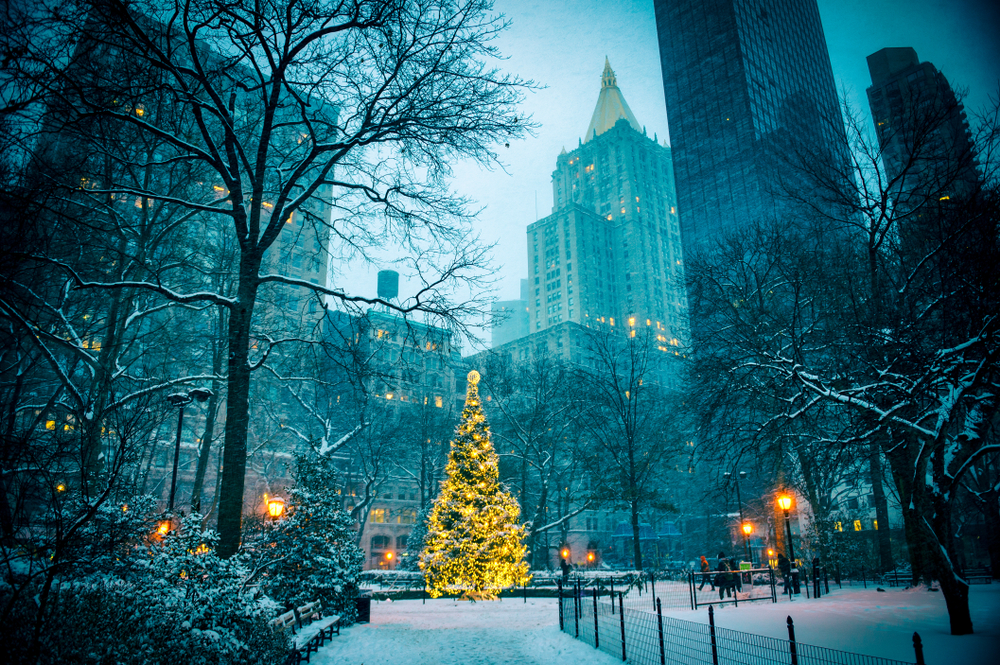 19 Festive Ways To Celebrate Christmas In New York City
Watch the Rockettes Christmas Show
 Since the 1930s The Rockettes have graced Radio City Music Hall with their high kicks and Christmas festivities. And the Christmas show has moved on a lot since the '30s, now featuring singers, figure skaters, and  3D effects, making this 90-minute spectacular an entry on anyone's Christmas In New York City list. A Christmas tradition for many and make sure you pre-book tickets.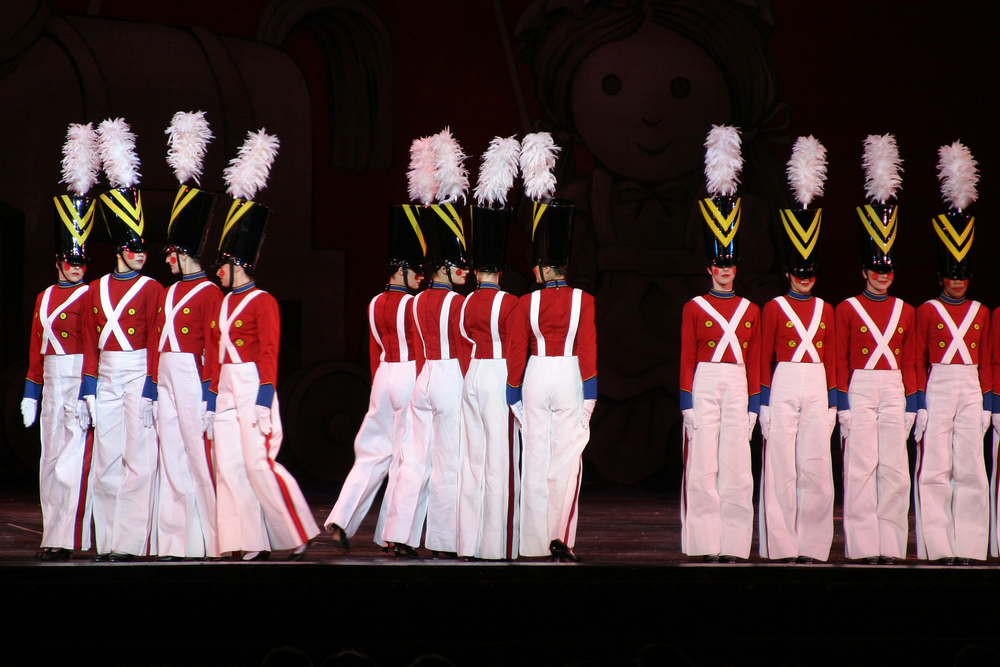 Eat at Rolfs
This German restaurant located in the Gramercy Park neighborhood knows how to do Christmas. You will dine surrounded by hundreds of dazzling decorations, drink German beer, eat Wiener Schnitzel, and have the time of your life.  The decorations are said to have cost over $65,000 and stay up all year round but visiting at Christmas makes it extra special. The menu contains such items as Sauerbraten, Red Cabbage and Mashed Potato and mains are upward of $30 so it's not cheap. Also, make sure you have photo I.D. as I have heard some people have been refused entry without it.
Visit a Christmas Market
Most people seem to agree that the best market is Union Square's holiday market. You will find local goods, seasonal gifts, and holiday food, all with that added New York atmosphere. Located in the heart of the city, it's more than a market, it's a destination with warming stations, a kid's art studio, and individual sections like Little Brooklyn.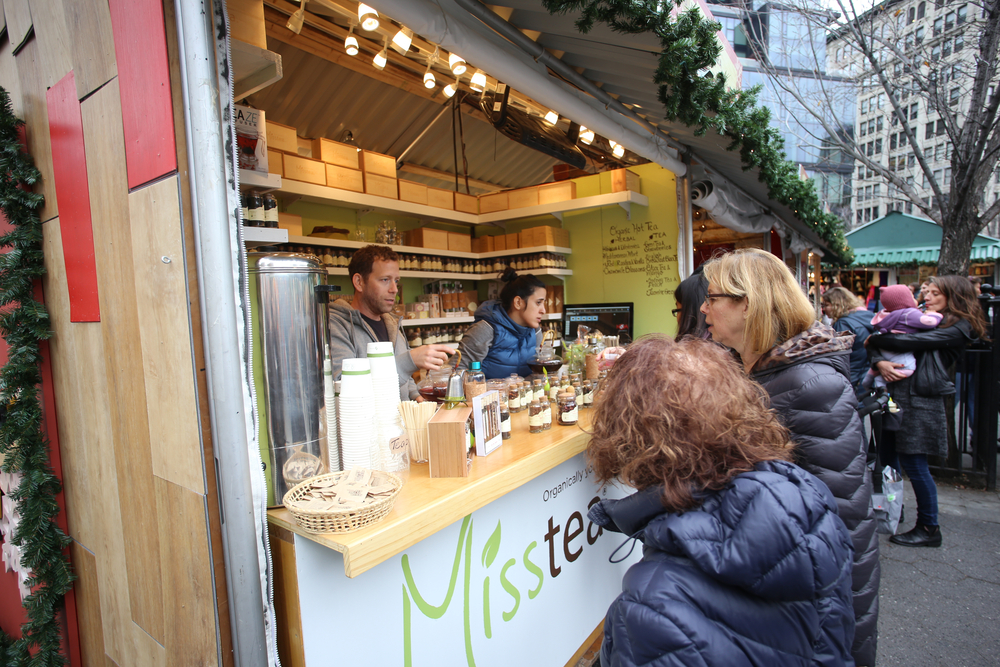 Shop at Grand Holiday Bazaar
If the weather isn't on your side then take a trip to the Upper West Side and look around the indoor market while enjoying the more laid-back atmosphere of this area.
Opening on November 24th through to December 22nd with unique gifts and 150+ hand-picked independent local artisans and dealers, it's well worth a visit.
Stroll around Central Park
Would Christmas in NYC be complete without a trip to Central Park and if you are really lucky, Central Park in the snow?
You can take a carriage ride which has to be one of the most romantic things to do but please make sure the horses are well looked after and you do your research.  Or just stroll around taking in that New York City atmosphere. If your trip is on the more romantic then spending some time in central park is a must.
This is truly one of the best Christmas Towns In The USA you should visit!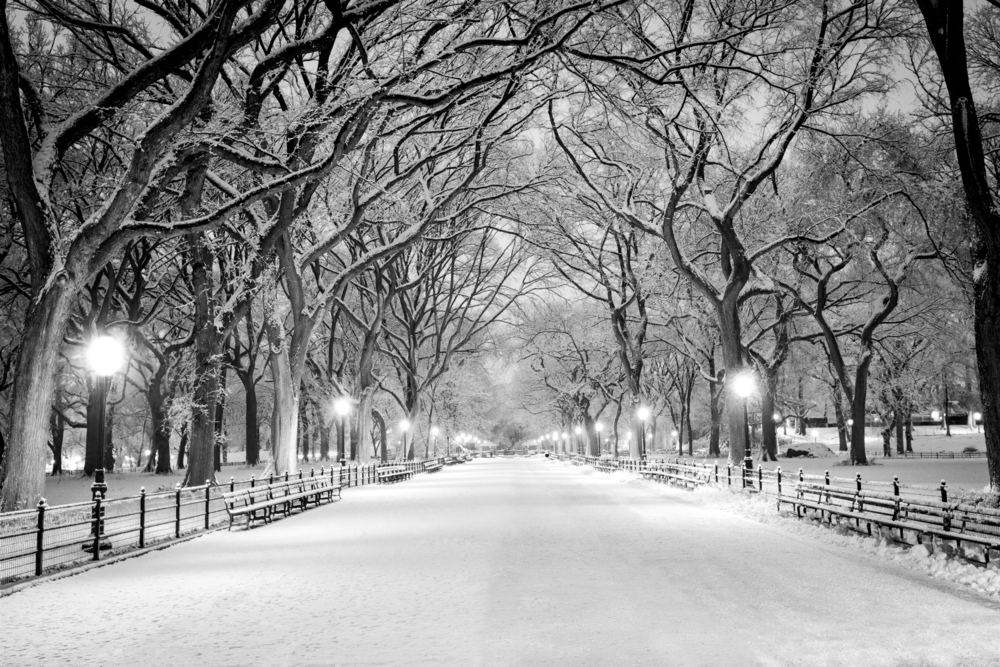 Visit Santa
Macy's' iconic Santaland has to be on anyone's list no matter their age. The 13,000 sq foot indoor wonderland is located inside the Herald Square Macy's. It is complete with reindeers, snowmen, all the Christmas spirit you could wish for, and of course Santa himself. Santa land opens on 29th November, admission is free and Macy's run a reservation system that tells you what time to check in with an elf. The wait tends to be shortest Monday to Wednesday and the closer it is towards Christmas Eve the longer you may have to wait.
Macy's Santa has a long history beginning in 1926, and almost every year since, the arrival of Santa has been the finale of the Macy's Thanksgiving Day Parade. And Macy's Santa was of coarse the star of the film a Miracle on 35th Street.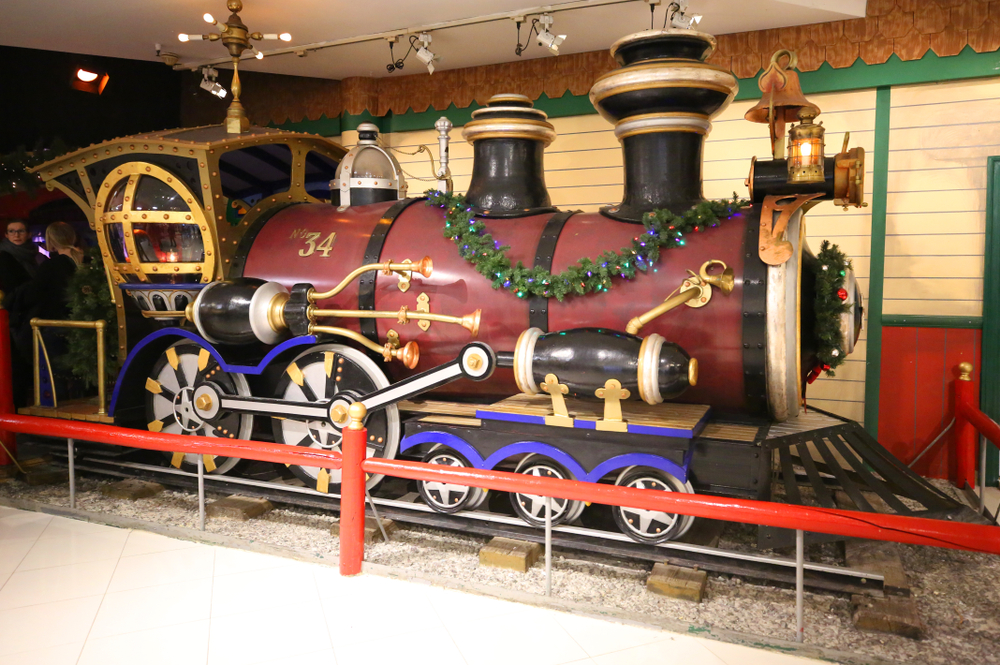 Drink Frozen Hot Chocolate at the Famous Serendipity 3
Made famous by the 2001 movie of the same name, the Serendipity cafe is the perfect stop-off. While the film pulls the crowds in the frozen hot chocolate is what keeps them coming back and at Christmas, it comes in mint flavour.
You can find this famous restaurant on 225 E 60th St and be prepared to wait for a table.
Go Ice skating
While most people rush for The Rink at the Rockefeller Center the slightly lesser-known Wollman Rink at Central Park offers an incredible view of the New York skyline and has shorter lines.  Make sure you check the times as it can close early on some days. Sessions cost $12 for adults and $6 for under 11, this rises to $19 and $5 at the weekend. Skate rental is $10. Please note they only accept cash.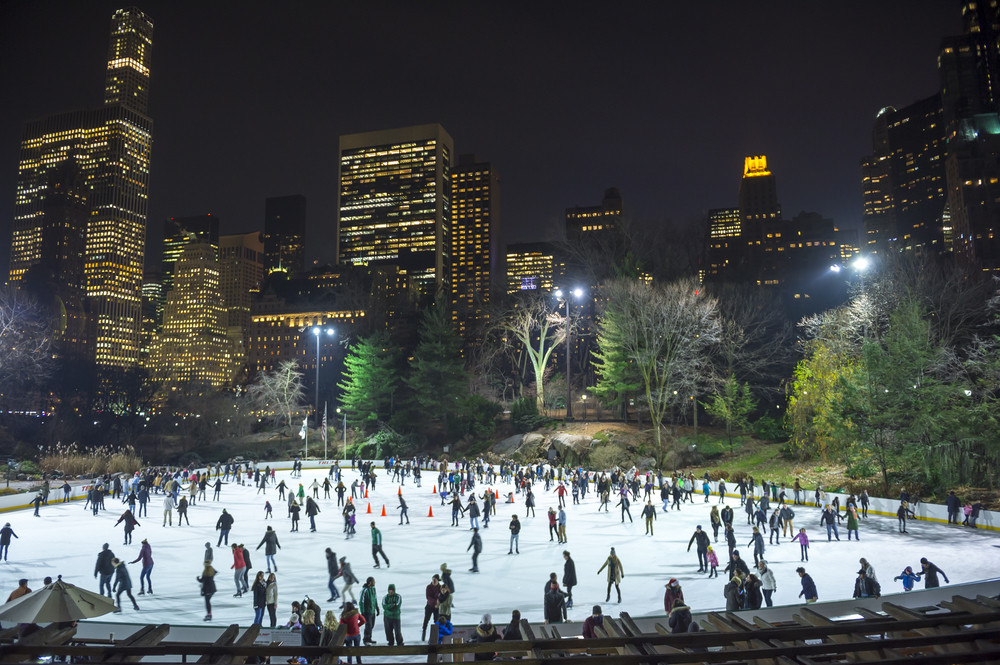 Marvel at Window Displays
The most spectacular window displays can be seen on Fifth Avenue and the most iconic is Bergdorf Goodman. These window displays have become part of the Christmas culture in the city and they really are a sight to see. The streets are likely to be busy so if you are pushed for time and want to be more focused we recommend Bloomingdales, Saks Fifth Avenue, and Bergdorf Goodman.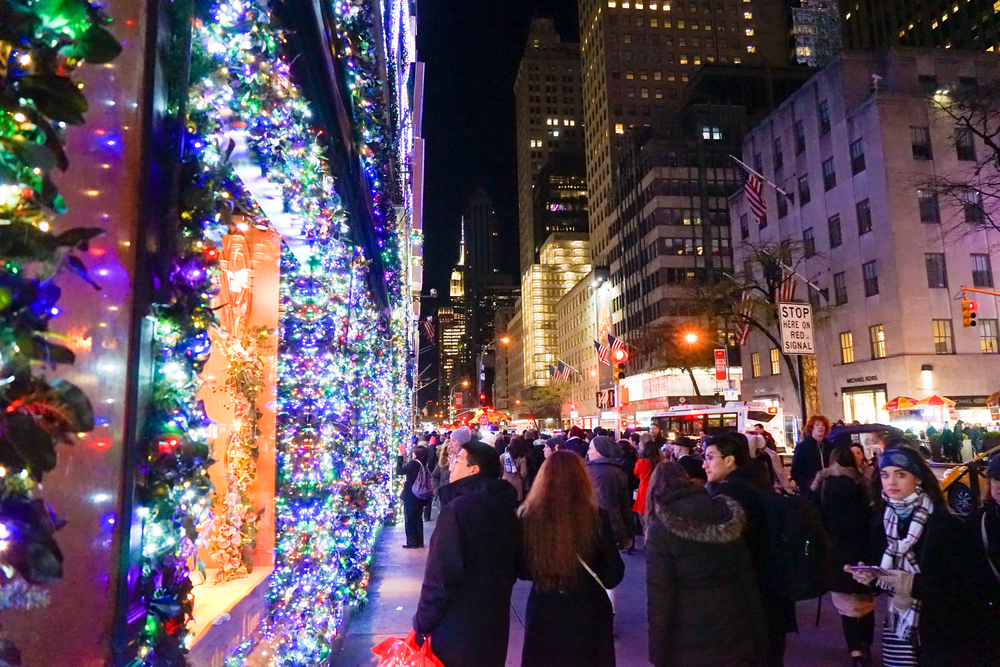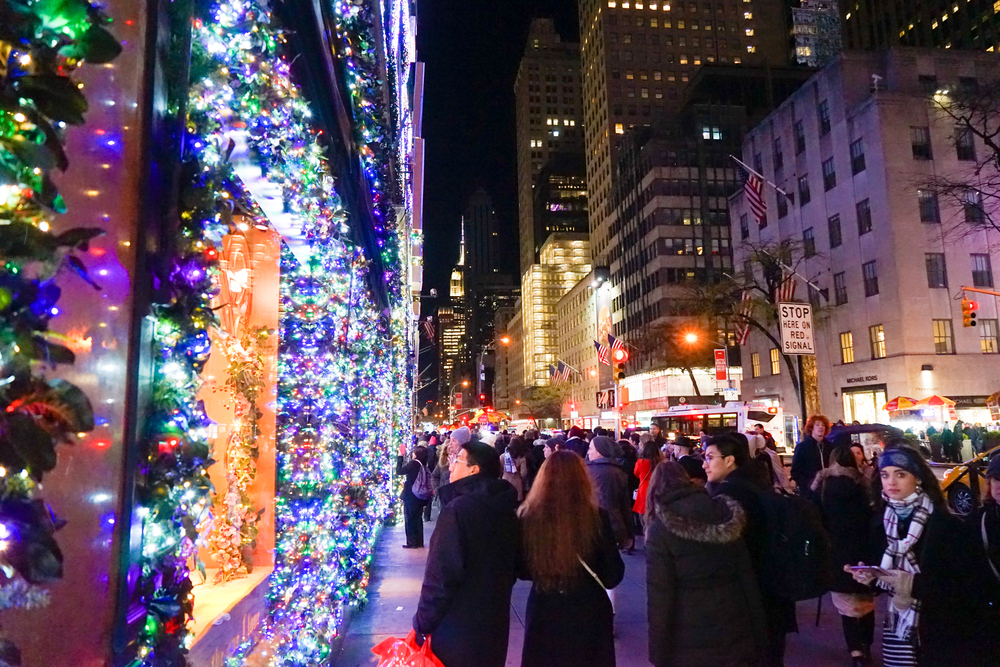 Buy Unique Gifts at Bryant Park Winter Village
If you are spending Christmas In New York City for shopping then you won't want to miss this one off your list. The open-air village has artisan shops selling everything and you can pair your visit with skating at the village rink, check out the giant Christmas trees and enjoy the hot beverages and Christmas treats for the stalls.
The village normally opens towards the end of October.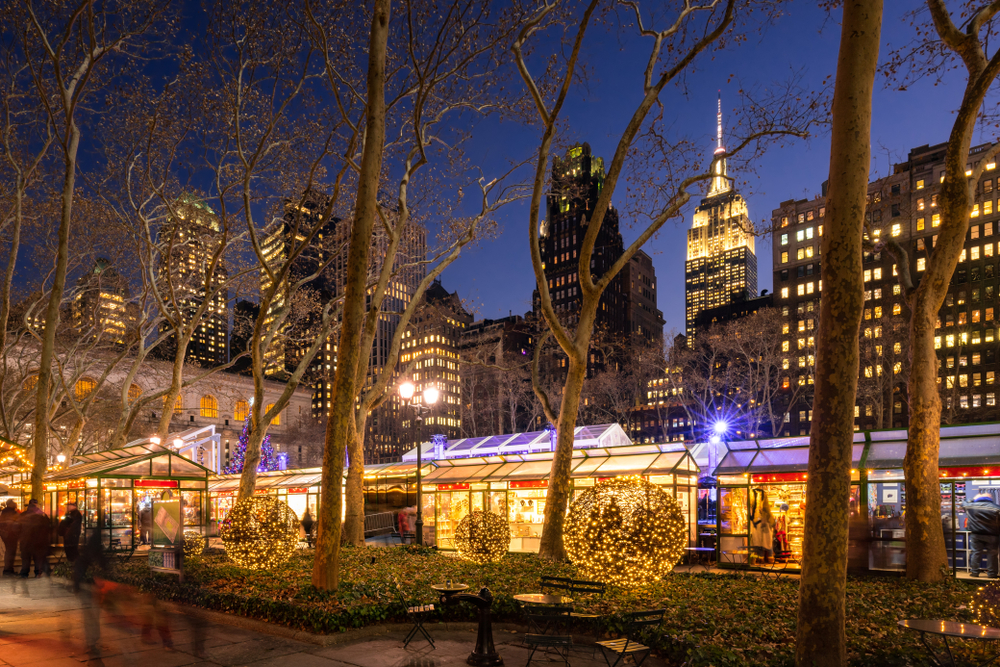 Relive your Childhood at The New York Botanical Garden Holiday Train Show
The Holiday Train show showcases over 150 replicas of landmarks and the mini trains zip around nearly half a mile of track. It really is an incredible intricate sight to see, and this isn't the train set up you would expect, it's more like nature mixed with trains. Think miniature trains but very high class.  It opens 23-Nov-2019 – 26-Jan-2020 and is approx $20 to get in.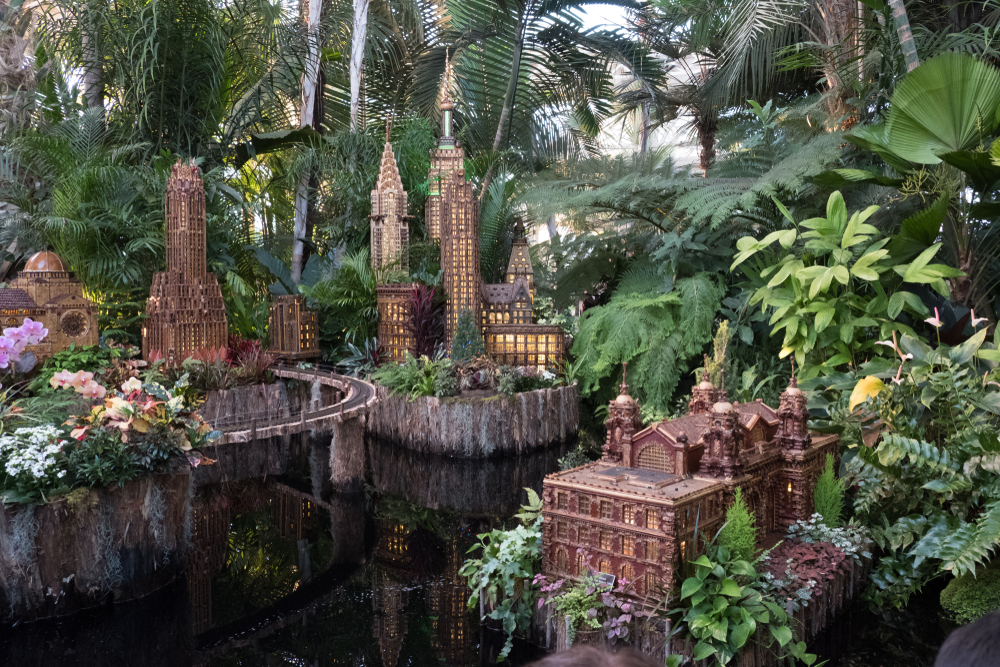 Go on a Movie tour
If Christmas In New York City conjured up countless movies then going to see the iconic Christmas movie sight coupled with the Christmas lights might be the thing for you.
You can see the apartment where Buddy the Elf stays with his Dad in Elf, relive a Home Alone Christmas moment outside the Rockefeller Center and enjoy a photo-op in front of the Lincoln Center Christmas tree
If you stuck for time this might be a great tour to get a lot in.
See the Lights at Dyker Heights
If Christmas lights are your things then you need to visit Dyker Heights. With every house trying to outshine the other Christmas makes this place a destination to visit and make your own mind up who did best this year.  The Dyker Heights Christmas Lights truly shouldn't be missed.
It really is a destination that you can walk and ride around to your heart's content.  They have become so popular you can get tours from the city that also stop off at The Brooklyn Bridge.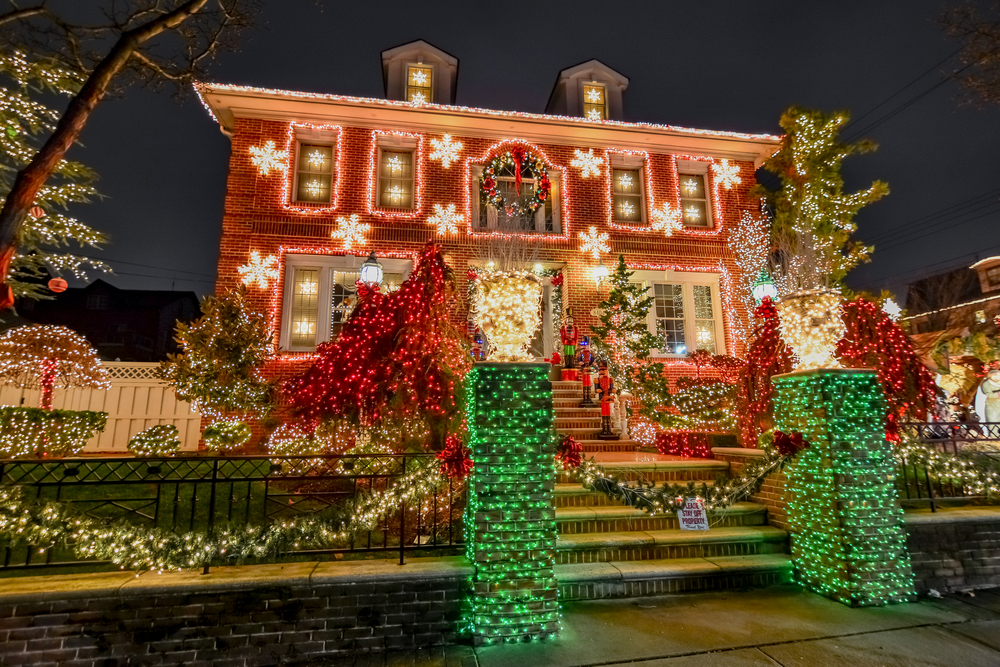 See The Met's Christmas Tree
Each year the Metropolitan  Museum displays a 20 foot blue spruce in it's Medieval Sculpture Hall and it's a tree with a an eighteenth-century Neapolitan Nativity scene at its base. And just to add to the Christmas cheer the installation is set in front of the eighteenth-century Spanish choir screen from the Cathedral of Valladolid. A Christmas tree with a real difference.
Entrance is £25 for adults and children under 12 go free.
Admire the View
While the view from The Empire State building takes some beating. Top of the Rock (the top of the Rockefeller Center) allows you to see the lights of the city but also the red and green-lit Empire State building which is spectacular. Adult tickets are approx $38 and $32 for children.
And if you want to add in another view there is the movie iconic view from the Brooklyn Bridge. From the waterfront, you can see several camera-worthy views to take, so have your best poses at the ready.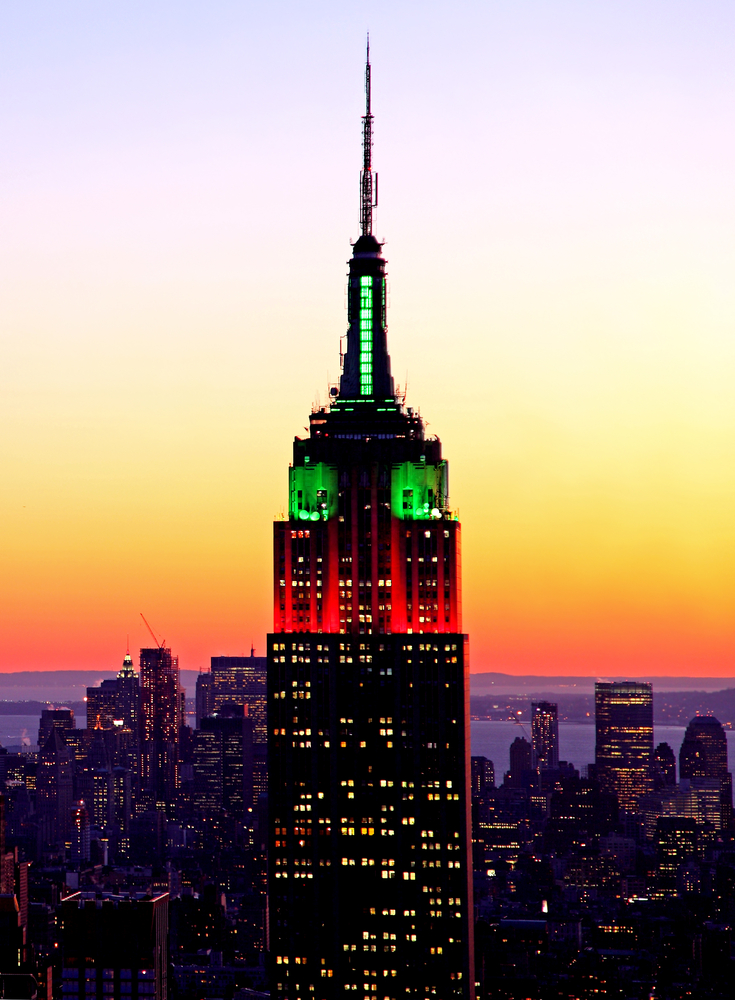 Experience the Ride
Only in New York can you board a bus decked out like a theatre. The ride has floor to ceiling windows and you face outwards towards all the action.
An interactive 75-minute bus ride and see New York from an entirely unique perspective. It's more of an experience than a ride and while it's pricey at $52 per person, it really is unique.
And at Christmas, this experience is just that little bit extra special.
See the Rockefeller Christmas Tree
You cannot spend Christmas in NYC without visiting the Rockefeller Center and seeing the tree.  Going in the morning or later at night might mean you miss the crowds and in the evening you will also see the Christmas tree lights in all their glory.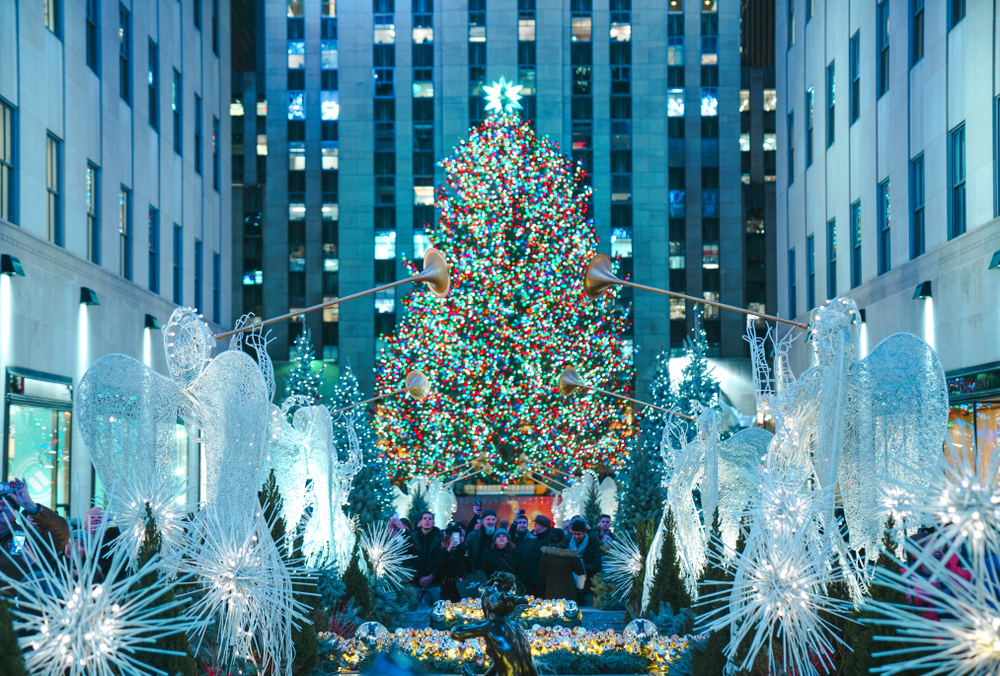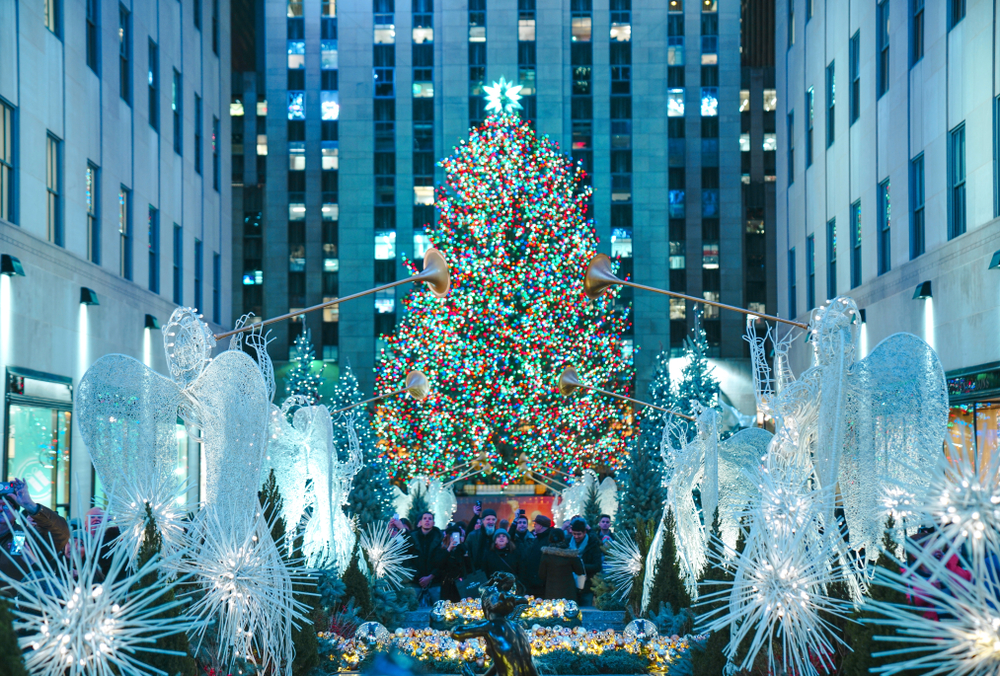 All Aboard a Vintage Subway.
Every holiday season the New York Transit Museum places their vintage 1930s R1-9 train cars in regular service every Sunday between Thanksgiving and New Year's.
Make sure you check where the stops are as the route can change and travel in style all for the price of normal travel.
Watch the Nutcracker
New York, the nutcracker and the New York ballet at the Lincoln Center; does Christmas get any more special than this?
If you want to watch though, make sure you grab your tickets in advance.
And you will also find the Opera House and Geffen Hall where the New York City Philharmonic plays.  So if culture is your thing make sure to take in this show.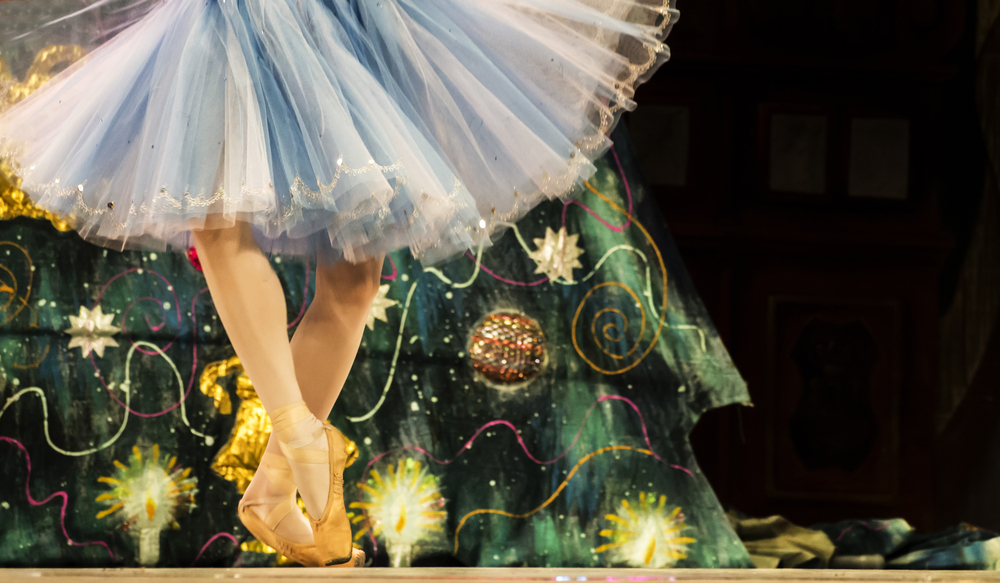 Spending Christmas In New York City is so special and we hope with this list of things to do in New York in December we will make your visit that extra bit special. Whatever you do we hope you have an amazing time and Happy Holidays.
Other Articles to help you plan your trip.
The Ultimate 4 Days In New York Itinerary 
What Are The Most Romantic Things To Do In NYC?