As a very happy resident of the Sunshine State, I think Christmas in Florida is simply magical! The juxtaposition of a winter holiday on the beach is so surprisingly fun! Some people need a white Christmas, but us Floridians prefer a white-sand Florida Christmas!
A huge benefit to being in Florida in December is escaping the cold weather that a lot of the United States is experiencing during that time of year! The average temperature in December throughout the state is 64-76°F (18-24°C). The warmest temperatures are in Key West hovering around 80°F. A lot of East Coasters, known as snowbirds, head to Florida for the colder months!
There is a reason that I choose to live in Florida and I don't move to any other state or country I've visited and a big reason is winter! And yes, many of these places appear on my master list of the Best Christmas Vacations in The USA!
I can't wait to have you here for the Christmas light displays in Florida, the boat parades, and everything else you could want for the holidays (except snow)! I have gathered together the best Christmas things to do in Florida and I am really excited to share them with you!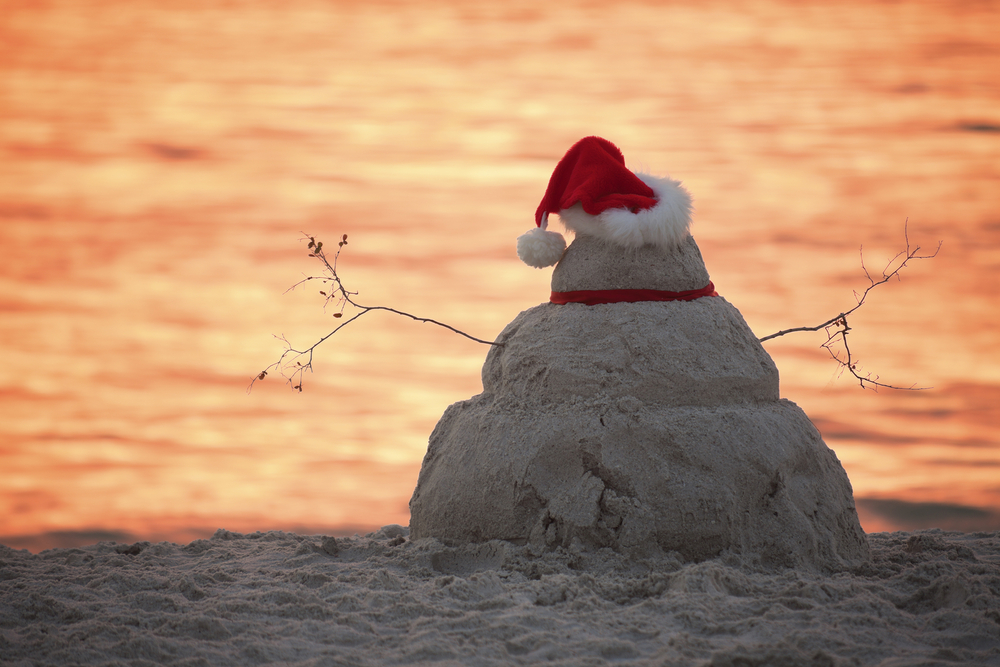 12 Best Ways To Celebrate Christmas In Florida
Night of Lights in Saint Augustine
For the best Christmas lights in Florida, I always make a trip to the Night of Lights in Saint Augustine. This amazing event begins around mid-November and lasts through the end of January so you have plenty of time. Make sure you don't miss it!
I grew up going to Saint Augustine multiple times a year with my parents and I will always have fond memories of this event.
The Night of Lights is where the whole downtown of Saint Augustine is awash with holiday magic! Decorated with millions of tiny white lights that create a magical atmosphere in the Nation's Oldest City, this event makes Saint Augustine of the best Christmas towns in Florida! From top to bottom, downtown absolutely glows!
You can see this spectacular display in several ways. There is a trolley tour, train tour, and boat tour! Climbing the 219 steps to the top of the St. Augustine Lighthouse and Maritime Museum is one of my favorite perspectives. Make time for the Night of Lights in Saint Augustine because it is truly magical!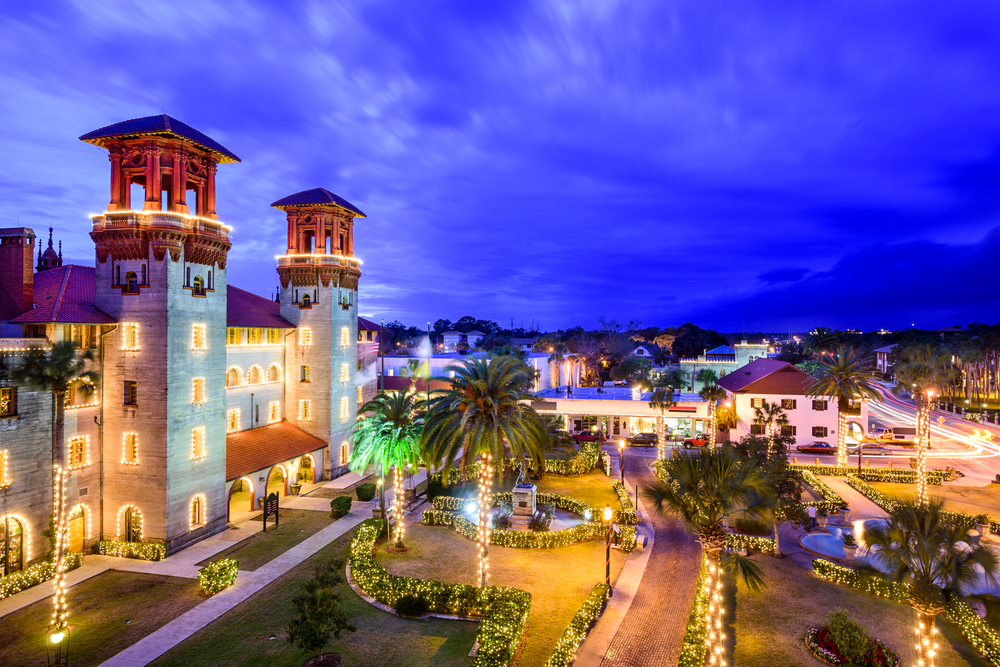 Christmas, Florida
With a name like Christmas, it is a done deal to be one of the best Christmas towns in Florida! This rural community has really embraced its name with streets named after some of Santa's reindeer: Comet and Cupid for example. They also have religious street names like Matthew Street and Luke Street. I mean, it is no wonder that this is one of the best Christmas Towns in the USA as a whole!
One of my favorite Christmas activities in Florida is sending my holiday cards and packages from the Christmas post office and getting that Christmas, FL postmark stamp! Santa is even known to make stops at the post office during the holiday season!
If you are not there during the holiday season, Christmas has you covered with a decorated tree up all year long! I definitely recommend a trip to the town of Christmas in Florida because it is so festive and fun!
Christmas Tree Stroll at Disney Springs
I am an annual passholder for Disney World and one of my favorite places to see Christmas decorations in Florida is Disney Springs! Before you worry about buying tickets, this is a free event! The trees are up from early November till the end of December.
There are usually around twenty trees and they are all perfectly decorated. Each tree is decorated based on a different character, ride, film, or attraction. The decor at Disney is unparalleled in general, but the Christmas Tree Stroll is a real razzle-dazzle type of event! The backdrop of the tree stroll is the beautiful Disney Springs with shops and restaurants, some themed and some not. It is a guarantee that everything is magical.
Come to Disney Springs Christmas Tree Stroll for dinner and then emerge from the restaurant as the Christmas trees are being lit up. This is one of the top Florida Christmas light displays!
Boat Parades
Throughout the month of December, many coastal towns have boat parades and it is a site to see! A boat parade, in case you have not seen one, is when people decorate their boats with Christmas lights and decor and then they parade through the water! This is such a fun way to experience Florida Christmas lights!
No matter where you are in Florida, there is sure to be a Christmas Boat Parade close by. Some of my favorite boat parades are in Clearwater, Destin, or Fort Lauderdale! Some are sponsored by the yacht clubs and some are sponsored by the local harbors. Last year, there were over fifty boat parades in the state!
When it comes to Christmas events in Florida, boat parades are a great option! Get a fun beverage like hot chocolate! Then settle in and enjoy all the decorated boats of all shapes and sizes!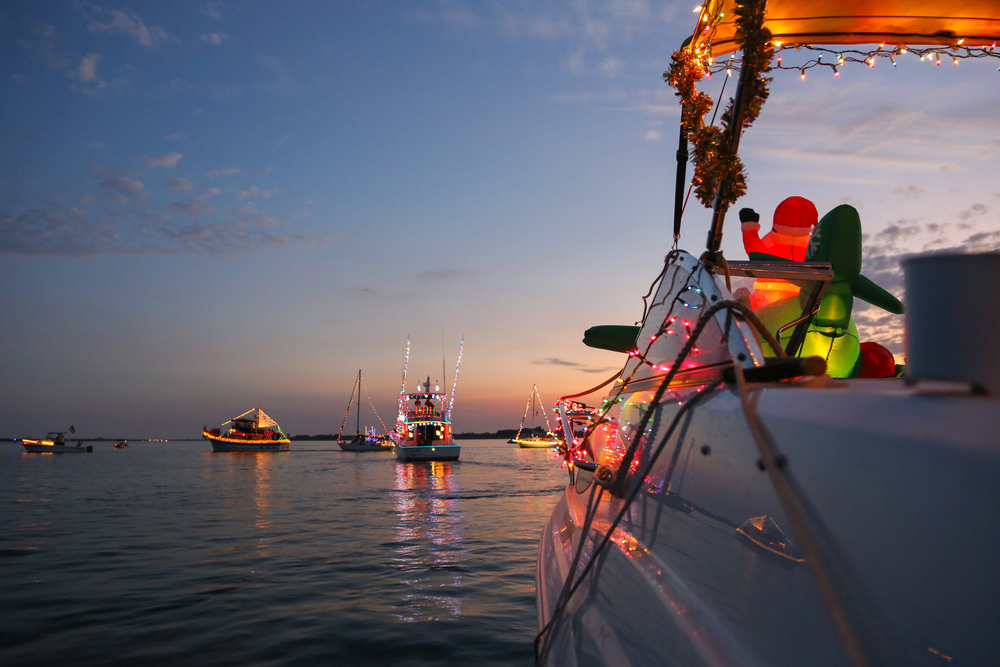 ICE at Gaylord Palms
One of the best parts about Christmas in Florida is a visit to ICE at Gaylord Palms! World-renowned carvers create various holiday-themed sculptures out of two million pounds of ice! In 2022, they did Dr. Seuss' How The Grinch Stole Christmas! In 2023 it will be A Charlie Brown Christmas!
The arena is kept at 9 degrees, but don't worry, the Gaylord Palms resort gives you a cozy blue parka to keep you warm! If you will be in Florida during Christmas, this is a great event for all ages! There will be frozen slides to ride down and awe-inspiring tunnels! Do not forget to visit the gingerbread decorating corner! We love this arena in Florida at Christmas because there is also a Cirque: Spirit of Christmas show.
With so much to do, the ICE at Gaylord Palms in Kissimmee is a must-stop if you are spending any part of late December in Florida!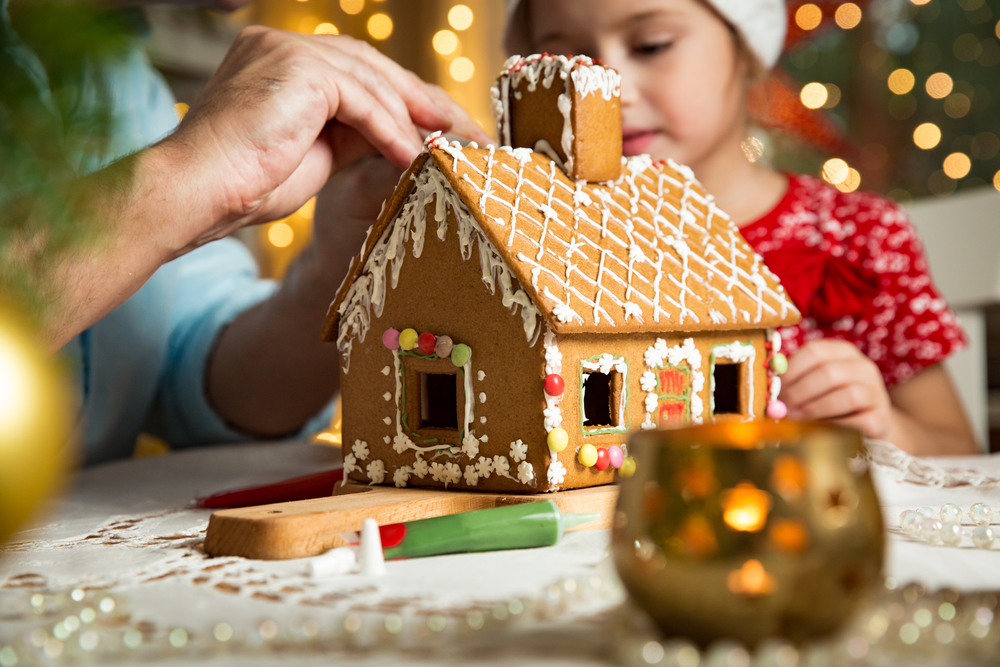 Lights at Lake Eola
In my opinion, one of the best places to see Christmas lights in Florida is Lake Eola. Located in downtown Orlando, this free event is sure to put you in the holiday spirit! Early December, there is a tree-lighting ceremony at Washington Plaza with the mayor and they always encourage Central Florida residents and visitors to attend! This is a party! There are also performances at the Walt Disney Amphitheater, food trucks, and a holiday market in case you want to start that holiday shopping!
The Eola Wonderland 72–foot Christmas tree comes alive every night with a light show and synchronized music! At the weekend holiday market, you can enjoy snowfall in Florida! There are also over thirty local vendors and you can even visit Santa! You must come and check out one of my favorite Florida Christmas light displays!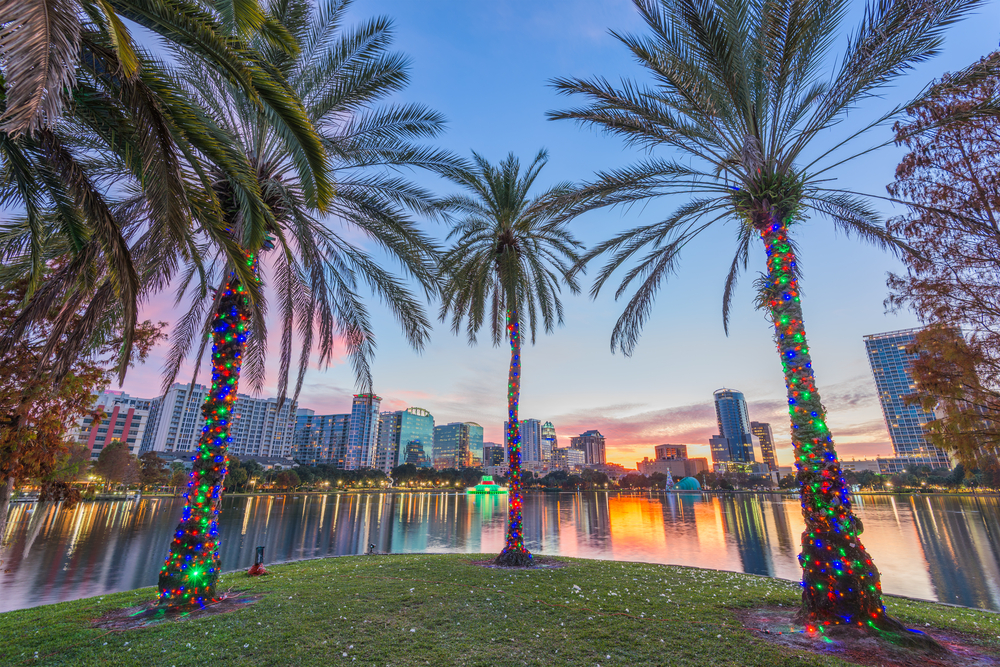 Key West – The Christmas Town
For being the Southernmost part of Florida, you would not expect to Key West to specialize in Christmas as well as they do! Key Westers love the holiday season think it is the place to be in Florida in winter! There are so many events and fun things to check out so I am just going to highlight a couple!
The Harbor Walk of Lights is a beautiful way to see some of the best Christmas lights in Florida! The harbor is decorated as well as the boats within the harbor. With the backdrop of the moon reflecting on the water, you can't beat it!
The event also honors the maritime history of the area! You can charter a private catamaran for a Champagne sail at sunset to enjoy the lights from the water! The Hometown Holiday Parade gives small-town America feelings with a beachy twist, and of course, Santa makes a special appearance!
There are boat parades, pet pictures with Santa, holiday concerts and so much more! Winter in Florida is not complete without a trip to Key West!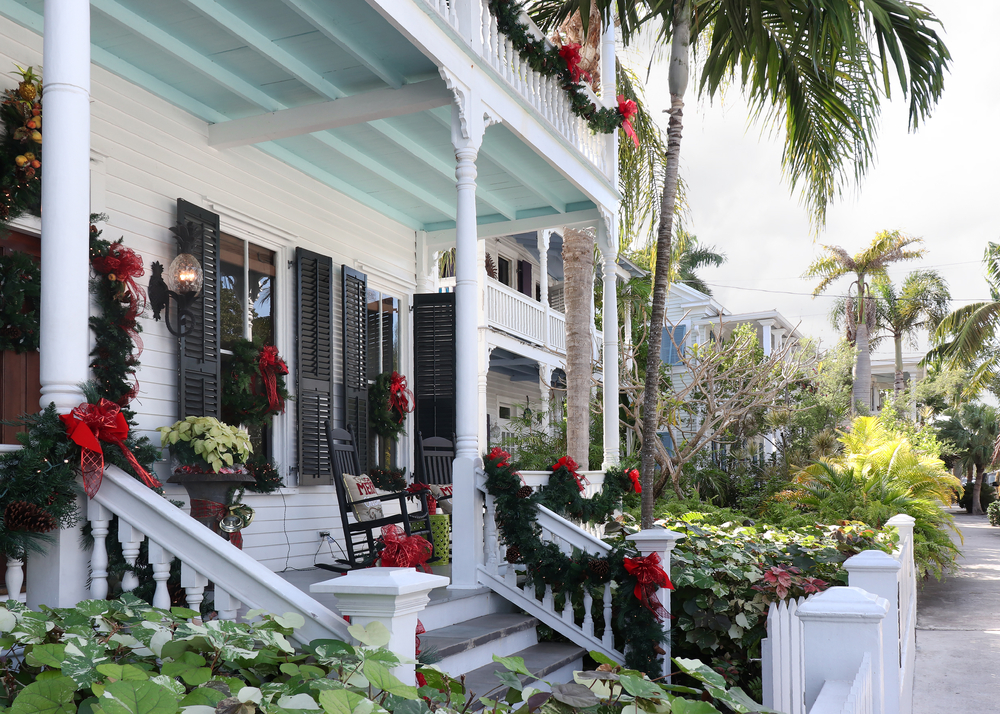 Busch Gardens Christmas Town
Christmas in FL needs a trip to Busch Gardens Christmas Town! I have been going here ever since I was a kid and although most popular in the summer, Christmas is my favorite time to go. The whole park is decorated in twinkling lights and the yuletide cheer is almost palpable. My favorite event is their longest running classic holiday show, Christmas on Ice! The world-renowned ice skaters' performances are set to holiday classics!
If you are more drawn to music, the Three Kings Journey and Christmas with the Celts events are a must see! For the kids, Elmo's Christmas Wish is a favorite show to see as well as Storytime with Mrs. Claus! The best way to end the night is the Holiday in the Sky Fireworks Show! Busch Gardens Christmas Town has a lot of the best Christmas events in Florida, all in one place!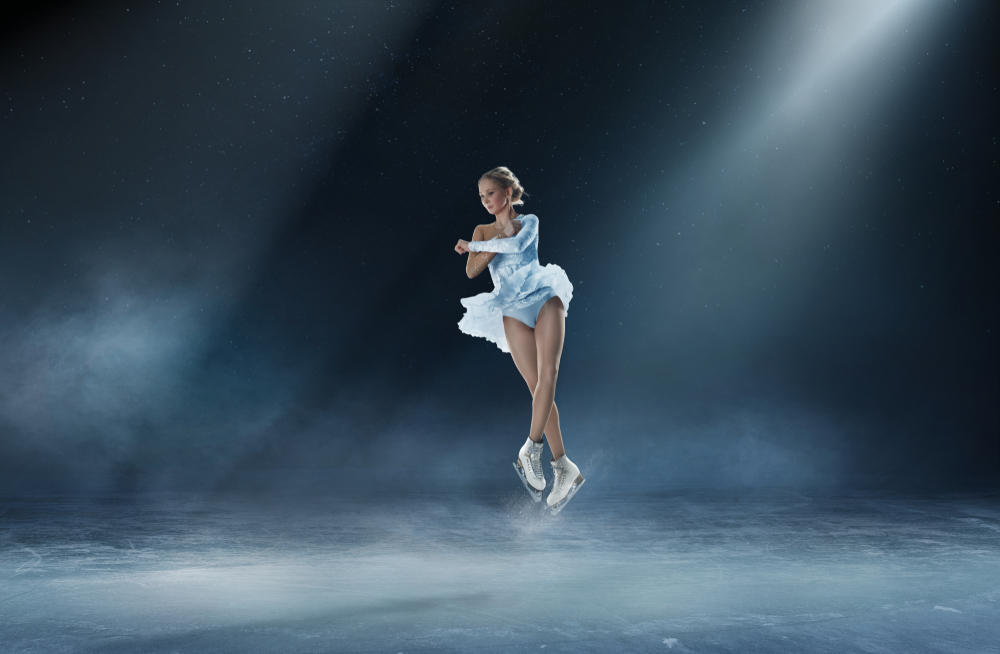 Enchant Christmas St Petersburg
Enchant Christmas at St Petersburg is one of my favorite Christmas things to do in Florida! This event turns Tropicana Field into a Winter Wonderland from the day after Thanksgiving until New Years Eve! The light maze is an enchanting journey through rows and tunnels of Christmas lights with surprises and hidden bells.
The Village has storefronts featuring artisan vendors, specialty crafters, and boutiques. This is the perfect place to grab a warm beverage and find the perfect unique gift for everyone on your list! Unlike the standard rinks, this ice skating offering is a trail taking you through a dazzling forest of Christmas lights!
For the kids, a visit to Santa's Landing to meet Santa and then stopping at the Little Elves Play Place for activities for the little ones away from the hustle and bustle! For various Christmas light displays in Florida, all in one place, Enchant Christmas is where you want to be!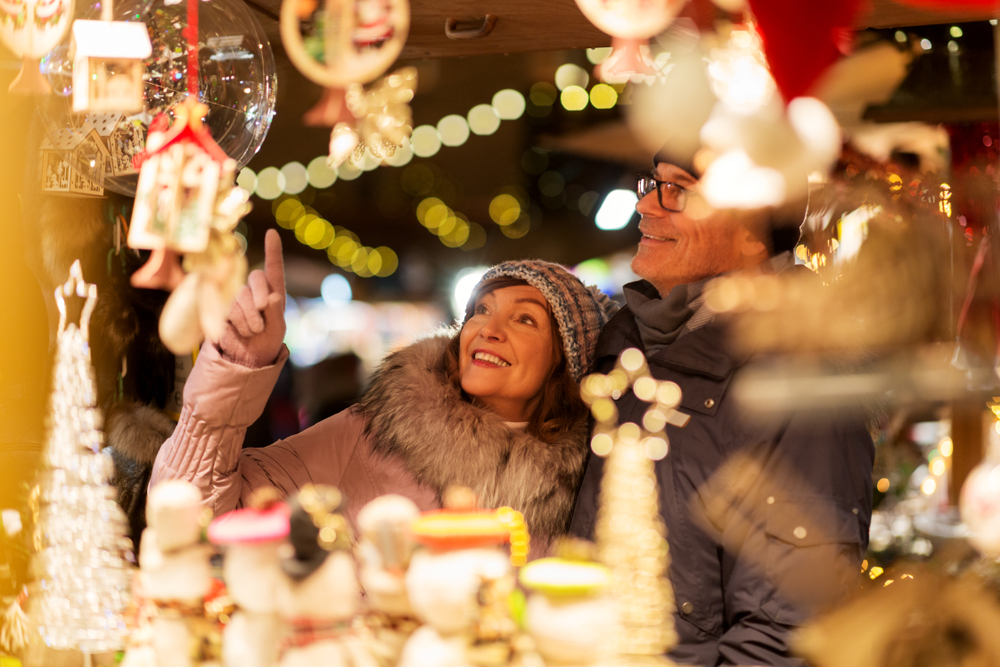 Polar Express Train Ride
One of the most fun Christmas events in Florida is the Polar Express Train Ride out of Miami! Set to the soundtrack of the movie, guests are whisked away on a train ride to the North Pole! This one hour trip includes a meeting with Santa!
You and your family will get the full experience. The car hosts will punch your golden ticket and dancing chefs will serve hot chocolate and shortbread! Then there is a read-along of the classic book we all know and love: The Polar Express, by Chris Van Allsburg.
Santa and his elves then board the train and everyone is given their first gift of the season — a silver bell! Throughout the ride, there is caroling and other onboard entertainment! Whether you are taking the family or doing a date night, this is a fun way to spend Christmas in Florida!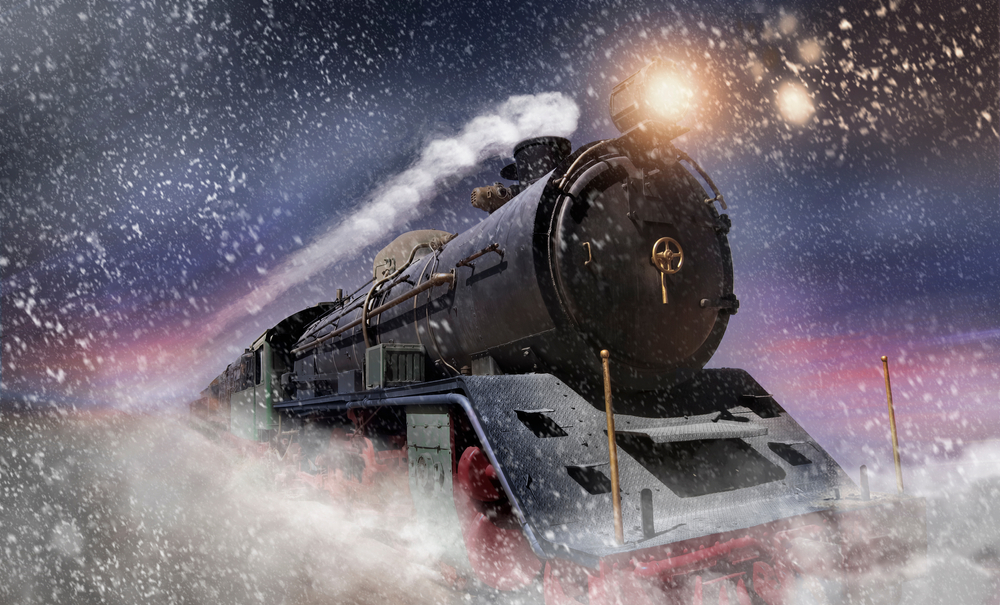 Holiday Festival of Lights at Coconut Creek
Coconut Creek's Holiday Festival of Lights has the best drive-through Christmas lights in Florida! Opening just before Thanksgiving and running through New Years Day this is a must see if you are in Florida in winter! This is South Florida's most popular drive-through light display!
The three miles of dazzling lights include animated light shows as well! This event tends to get busier the closer we get to Christmas, and will tens of thousands of visitors making the journey, we recommend going earlier in the season. Since this is a drive-through, we also recommend grabbing some fun drinks like spiced cider and Christmas cookies to really make an evening of it! Coconut Creek is one of the best places to see Christmas lights in Florida!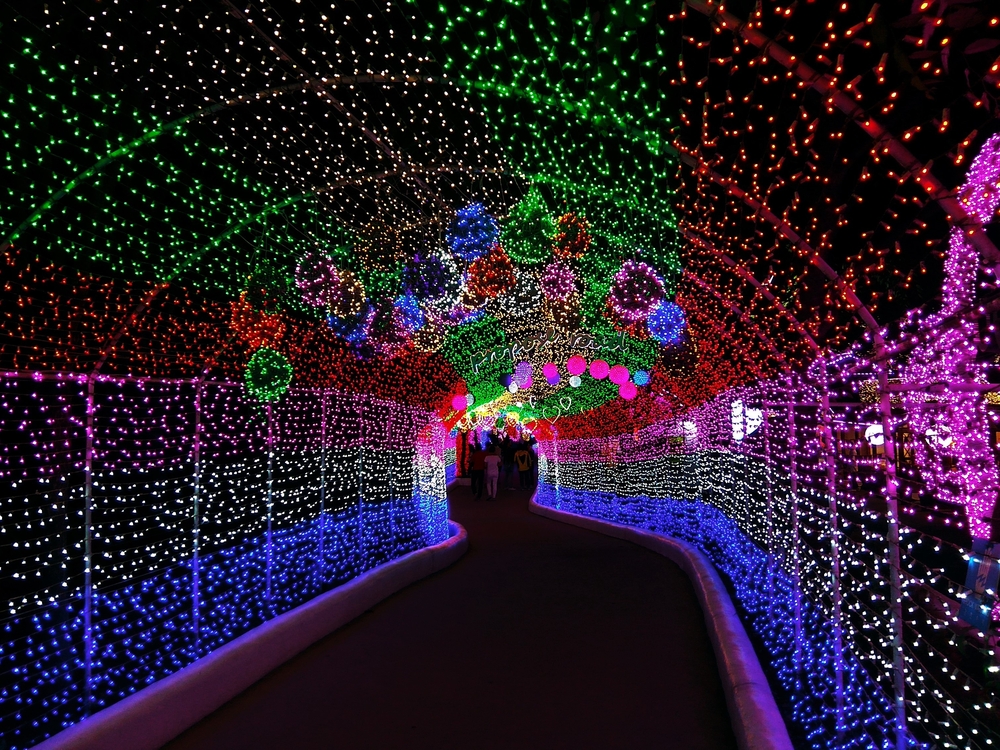 Amelia Island
Amelia Island takes the cake for the best Christmas decorations in Florida! This adorable town in North Florida is great to visit anytime, partly because of the adorable downtown with Victorian-style architecture. During Christmas, the shop windows are decorated and there are elaborate light displays throughout the town!
The Ritz-Carlton also hosts a lighting of their seaside tree with admission costs going to local charities! My favorite event is the Holiday Homes Tour where you are led on a tour of historic family homes lavishly decorated by local florists and interior designers. Dickens on Centre is a Victorian-themed Christmas street festival and very popular among locals and visitors alike.
Perhaps the most fun event is the Parade of Paws. That's right, a parade of our furry friends! Amelia Island has so many fun Christmas activities in Florida!