Are you ready for an exciting weekend in Asheville, North Carolina? I love this beautiful western North Carolina town and it is the place to be for exploring the Blue Ridge Mountains and enjoying hip city life as well.
We absolutely love this town and are excited to share all of the best things to do in Asheville!
I am obsessed with Asheville and this part of North Carolina. There is nothing better than the Blue Ridge Mountains! There is a reason this tops my list of the best North Carolina weekend getaway ideas!

Asheville is one of the cutest small towns in the USA. The vibrant art scene, the historic Biltmore Estate, and the historical sites in town make Asheville one of the best North Carolina mountain towns to explore.

We hope this three-day itinerary acts as the Asheville trip planner you need as you start to plan your time in this beautiful mountain town.
You will see the best that the town has to offer, including the best streets, restaurants, boutiques, places to eat, places to stay, hiking trails, and more when you use this guide. If it's your goal to see and do as much as you can in only three days, this Asheville itinerary will help you do just that.

Let's get started!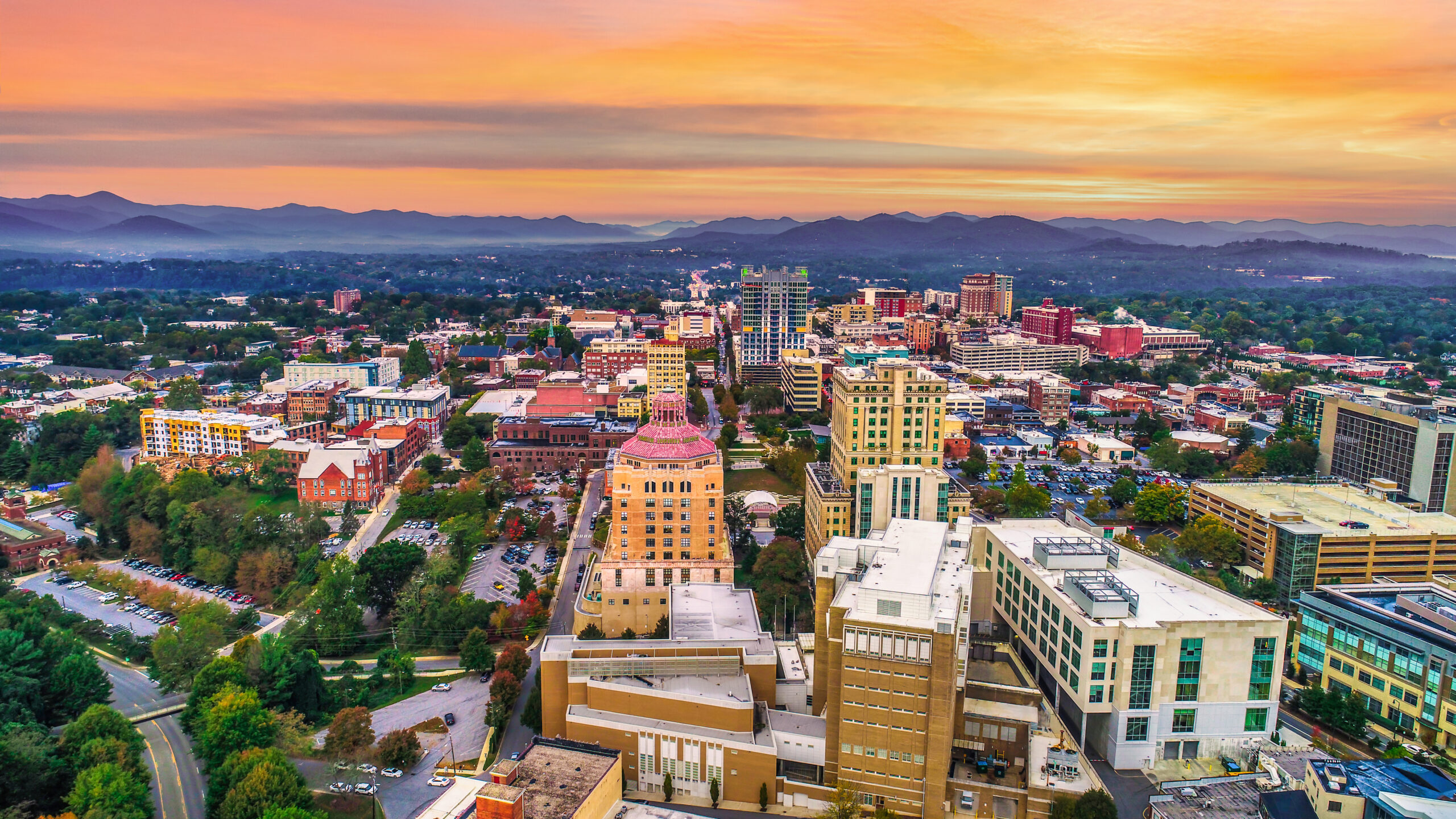 The Ultimate 3-Day Weekend In Asheville Itinerary
Day 1: North Carolina Arboretum, Biltmore Estate, Brewery Tours and Foodie Exploration
Stop 1: North Carolina Arboretum
If you are spending 3 days in Asheville, a great start to day 1 of your weekend in Asheville is at the beautiful North Carolina Arboretum. It is nestled into the Appalachian Mountains, offering acres of carefully cultivated gardens and well-groomed trails that feature some of the most botanically diverse plants that you can find in the region. You can easily spend a couple of hours here exploring the grounds!

If you like to hike, you will love that the arboretum has more than ten miles of hiking and biking trails that range from easy to moderate and difficult. There are also other activities here like rotating science, art, and educational exhibits, family-friendly nature activities, an EcoLab with live reptiles and amphibians, a bistro, a gift shop, and of course, gardens to explore.

Some of the gardens here that you can check out include the Bonsai Exhibition Garden which was established in 2005 and is home to up to fifty specimens at a time, the National Native Azalea Collection which represents almost all of the species that are native to the United States, and the Quilt Garden which is designed to look like a traditional mountain quilt.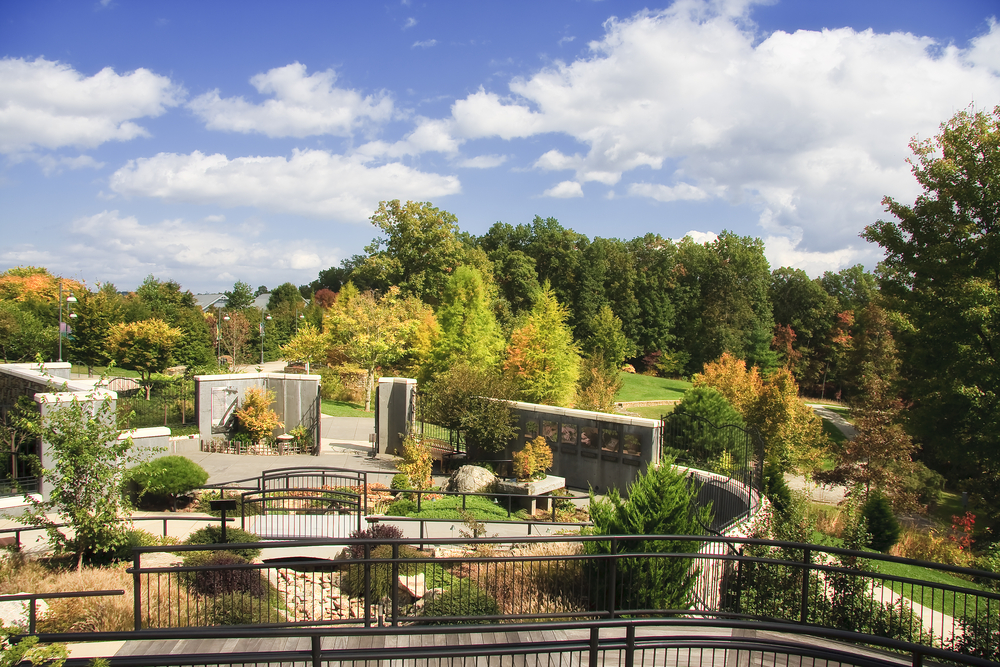 Stop 2: Biltmore Estate
Next on your weekend in Asheville itinerary is the stunning Biltmore Estate. This is definitely one of the city's defining attractions as it is the largest home in America and more than a million people visit each year. More than just a historic home, the Biltmore Estate has a lot for you to see and do when visiting.

Even if you only have 2 days in Asheville, I suggest making time for the Biltmore and its many attractions! At the estate, there is an 8,000-acre backyard to explore. The meticulously cared-for gardens and green spaces create a beautiful environment around the home. There is a reason this place is on my USA Bucket List!

There are nearly twenty-two miles of hiking trails and more than twenty miles of biking trails that are free for all guests to enjoy. You can rent bikes here, no reservations are needed, so no worries at all if you aren't traveling with a bike of your own.

Visiting Asheville just wouldn't be complete without a trip to the beautiful Biltmore. When it comes to outdoor activities, there's much more than just hiking and biking trails to check out. River Float trips, horseback and carriage rides, fishing opportunities, archery and clay shooting, naturalist talks, GeoChallenges, and falconry all take place on the estate.

If relaxation is one of the main reasons for your weekend getaway, you will be happy to hear that the estate has a spa as well with everything from deep tissue massages and scalp treatments to aromatherapy and facials. There's a winery, shopping, and dining options for you too!

When it comes to the house itself, you can explore the mind-blowing architecture and beautifully arranged rooms. If you visit Asheville around the holidays, the beauty of the Biltmore is even greater as the rooms are filled with twinkling white lights, Christmas trees, garlands, and bows. It is easy to see why visiting the Biltmore is among the best ways to experience Christmas in Asheville.

With so much to do here, you can easily spend an entire day enjoying all of the activities and sights that the estate offers. For the sake of this itinerary, plan to spend less than four hours at The Biltmore to ensure you have enough time for everything else on day one.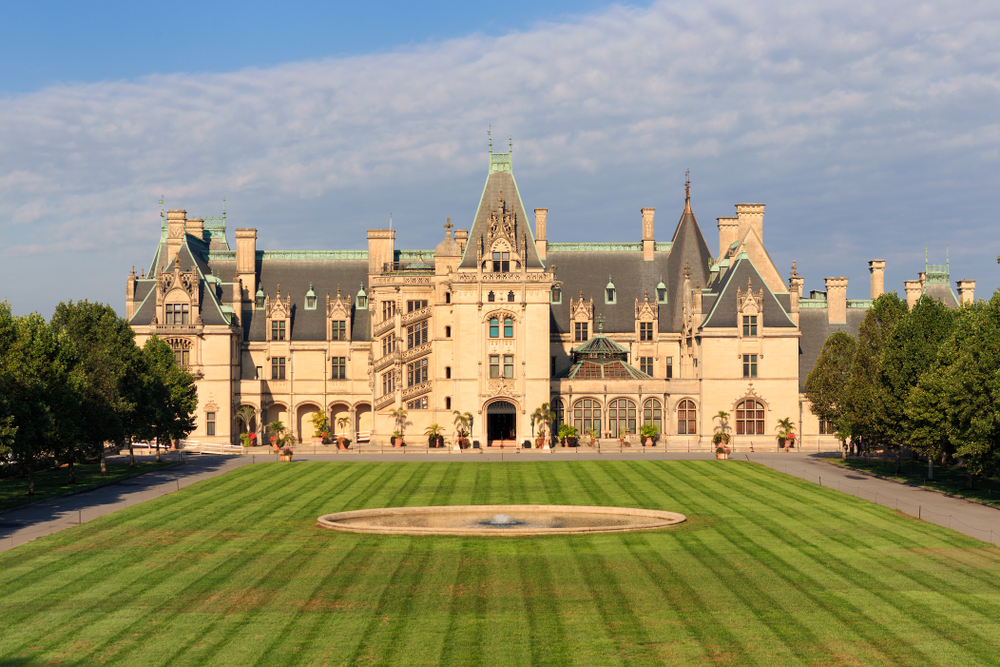 Stop 3: Take a Brewery and Food Tour
Don't let your Asheville weekend itinerary go without a brewery tour. Asheville has a booming craft brewery scene. From Asheville Brewing Company and Burial Beer Co. to Green Man Brewery and The Funkatorium, there is so much to explore when it comes to the beer and foodie attractions in town.

Burial Beer Co is one of the most popular breweries in Asheville so if you are going to be exploring the breweries in town on your own, consider swinging by Burial! The rustic charm, the way they excel at nearly every style of beer, their mainstay Surf Wax beer, and their impressive line-up of stouts draw locals and visitors in in swarms.

You can easily spend hours brewery hopping on your own. However, if you prefer to take a tour, you may be able to hit up more breweries in a smaller amount of time which is ideal for someone with just a weekend in Asheville. There is a fantastic 4-5 hour tour that hits up some of the best breweries and includes dinner. You can check it out below!

Book Here: Asheville: Guided Craft Brewery Tour with Lunch or Dinner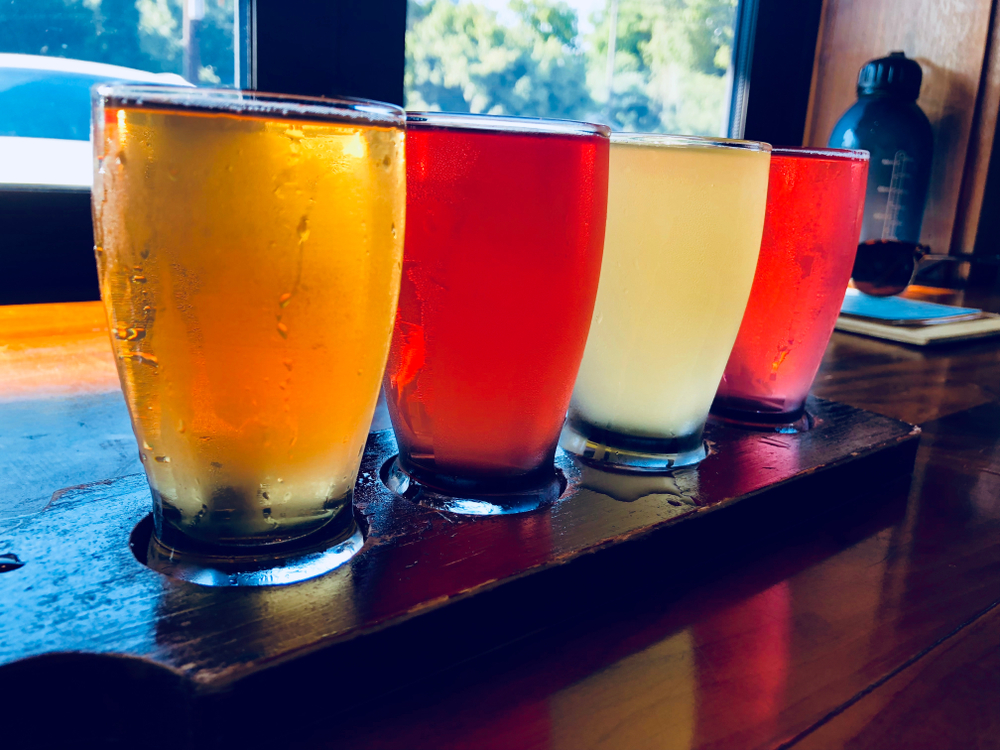 Day 2: Blue Ridge Parkway
Stop 1: Breakfast at Biscuit Head
On your itinerary for Asheville day 2 is a delicious start to your journey along the Blue Ridge Parkway. At Biscuit Head, you can find seriously mind-blowing breakfast options served in true Southern fashion. Dishes like the fried green tomato biscuit pulled pork biscuit, country ham biscuit, Asheville Benedict, fried chicken biscuit, and fried bologna Benedict are all there for you to choose from.

Biscuit Head is among the best places for breakfast in Asheville!

There are a few locations in Asheville. The locations on Haywood Road and Biltmore Avenue will likely be more convenient locations to start your day if you are staying in the River Arts District or downtown Asheville. However, the Hendersonville Road location may be more convenient if you are staying further south. Your next stop will be at the Blue Ridge Parkway Visitors Center, so plan to visit whichever location works for you!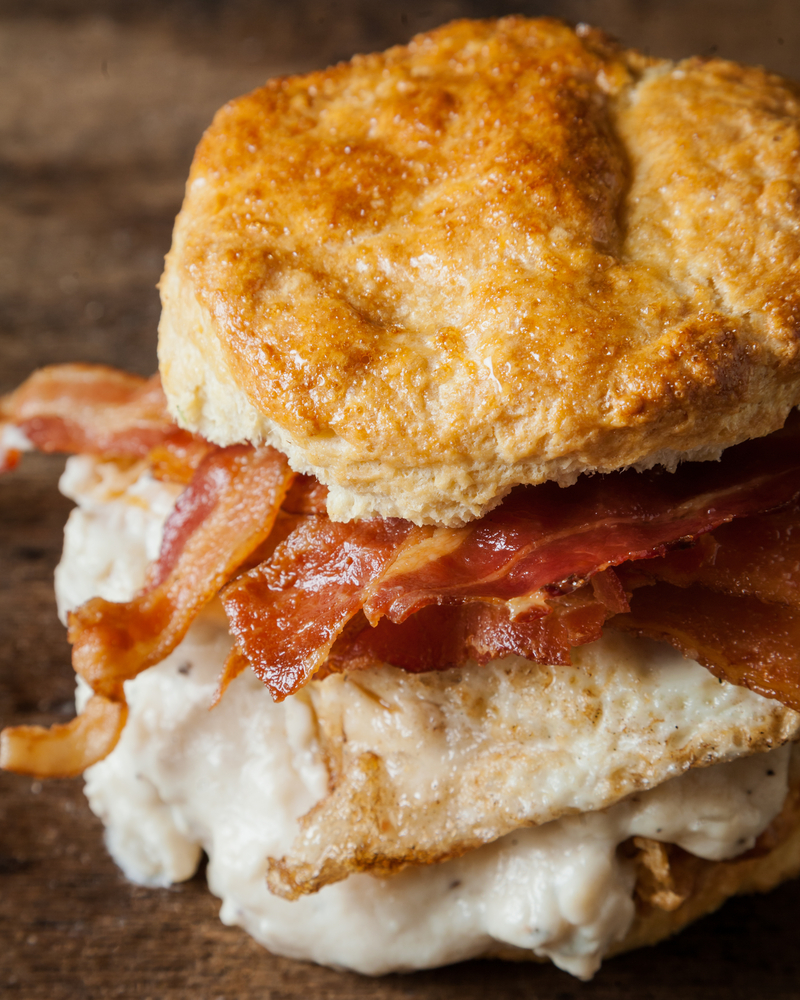 Stop 2: Hop onto the Blue Ridge Parkway and Visit the Blue Ridge Parkway
Day 2 is all about spending time around the Blue Ridge Parkway. A drive on this iconic highway through the Blue Ridge Mountains is a must for anyone visiting North Carolina. The hiking trails, waterfalls, and views are breathtaking! If you plan on modifying this itinerary and seeing Asheville in 2 days instead of three, I really recommend taking one day to drive the Blue Ridge Parkway.

Any Asheville 3-day itinerary that is lacking a Blue Ridge Parkway drive is seriously missing out. You will start your drive on the parkway at the Blue Ridge Parkway Visitors Center. This is a great place to start, especially if you have never been on the parkway before. You can find maps, talk with an employee to gain valuable information, shop for souvenirs, and learn about the history of the area while there.

Since you will be spending most of the day on the parkway, you may want to consider stocking up on snacks, a picnic lunch, and plenty of water before stopping at the visitor's center. Remember to always bring more water than you think you will need. This is especially true if you are going to be hiking several trails and if you are visiting at the peak of the summer.

Driving the Blue Ridge Parkway is one of the best road trips in the USA and you won't want to miss out on everything that it has to offer during your weekend in Asheville!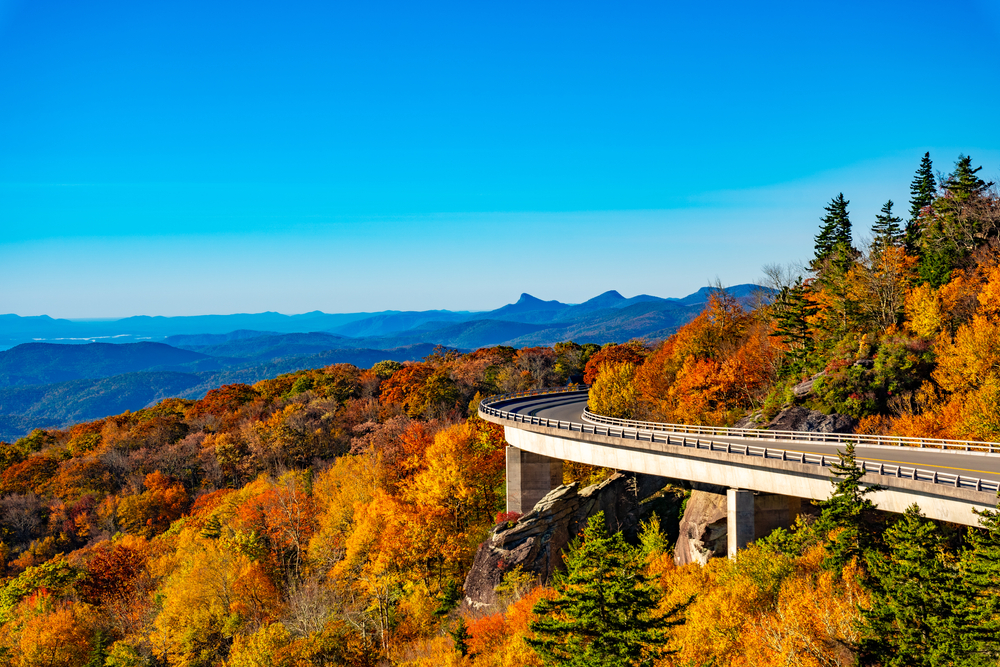 Stop 3: Craggy Gardens Trail
Next up on your weekend in Asheville itinerary is Craggy Gardens. You will pass many overlooks on your way to Craggy Gardens. It is a roughly forty-minute drive between the Blue Ridge Parkway Visitors Center and the Craggy Gardens Visitors Center where you will park for the Craggy Garden Trail.

The Haw Creek Valley Overlook, Tanbark Ridge Overlook, Bull Creek Valley Overlook, and the Lane Pinnacle Overlook are all great places to take pictures. You'll pass through a couple of tunnels as well. Once you get to the Craggy Gardens Visitors Center, you can leave for the trail from the parking lot, just follow the sign for the hike.

The trail is 1.9 miles round trip. You will walk under the low forest canopy, by the beautiful Rhododendron, and across the high-elevation meadow with views of the rolling mountains around you. If you visit in mid to late summer, you can see thick blueberry bushes along the trail.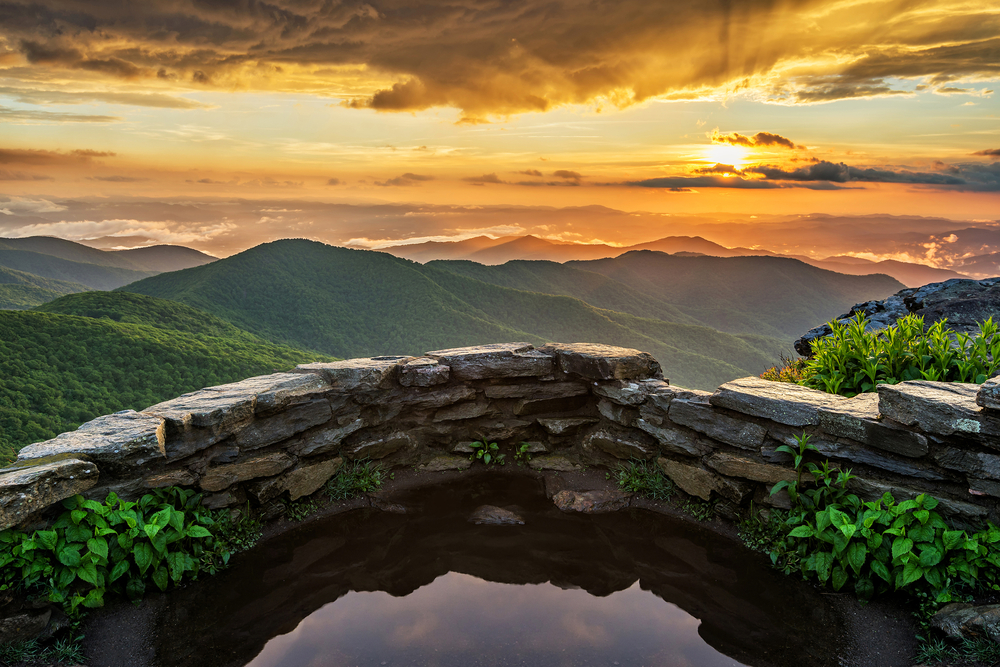 Stop 4: Crabtree Falls
Next on your Asheville trip itinerary is Crabtree Falls. From the Craggy Gardens Visitor Center to the Crabtree Falls parking lot it is roughly a fifty-minute drive. You will pass many more overlooks and opportunities to pull off of the road to enjoy the natural beauty.

The trail begins at the parking area. (There is a restroom here as well.) This trail is rated moderate to strenuous and takes around 1.5 to 2.5 hours to complete. You will be hiking through an oak and hickory forest and thickets of Rosebay Rhododendron on this trail.

The hike to the waterfall is truly spectacular as it showcases the natural beauty and vegetation that this area is famous for. When you arrive at the waterfall, you will be greeted by a massive cascade that stands at sixty feet high. You won't want to skip this beautiful waterfall during your weekend in Asheville.

It is so relaxing to sit below the falls and enjoy the atmosphere. Ferns, trees, wildflowers, and other vegetation thrive near the waterfall. If you are looking for a nice place to take pictures or simply want to enjoy the vibe in the dense forest with the sound of the waterfall in the background, this is the place to be!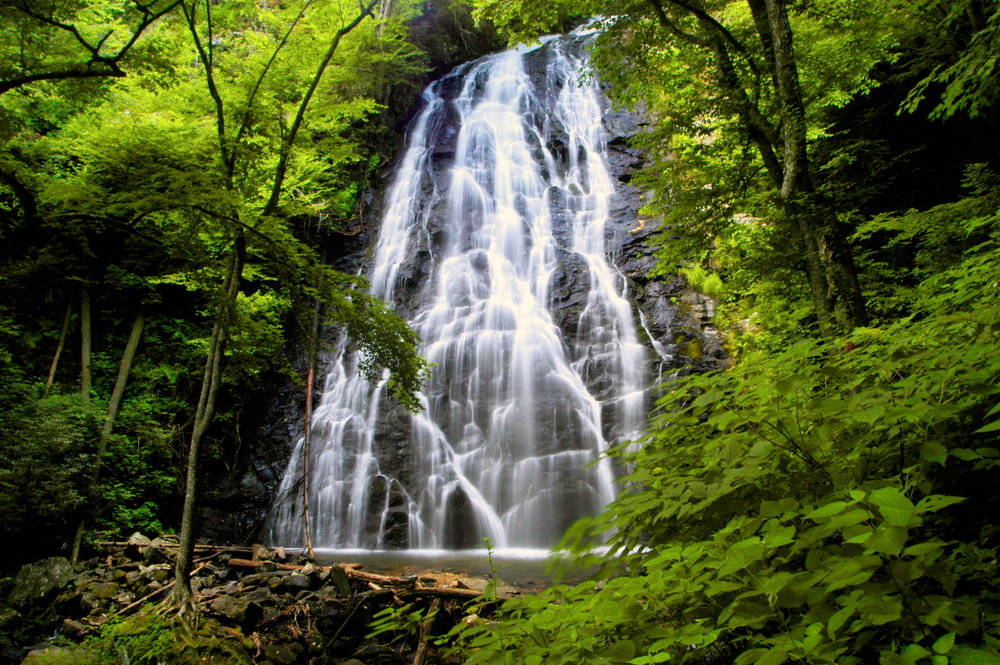 Stop 5: Little Switzerland
Little Switzerland is next up on your weekend in Asheville travels. It is a ten-minute drive from Crabtree Falls. There is a lovely little bookstore here, an art gallery, as well as a cafe and general store. The bookstore in particular is well worth the stop in Little Switzerland.

The store as an incredible aesthetic that bookworms will enjoy. You can buy souvenirs here, grab a muffin or a quiche, try a unique soda, and pick up a book set in the Blue Ridge Mountains while you are in the shop.
This place is so freaking cute!!! I love it and think it is more of a hidden gem in North Carolina.

Also, nearby is the North Carolina Museum of Minerals which is just five minutes from Little Switzerland. This museum has something for travelers of every age. While it is very informational for adults interested in the geology of the area to little ones who are just excited to see some cool rocks, this museum has everyone covered.
Stop 6: Linville Falls
One of the top things to do in Asheville in a weekend is Linville Falls, which is where you are off to next! This breathtaking waterfall can be reached from Little Switzerland via a thirty-minute drive on the Blue Ridge Parkway. This stunning waterfall drops a dramatic ninety feet into the Linville Gorge where the cliffs tower above the river.

This is a highly photographed photograph in The Tarheel State as it is one of the best waterfalls near Asheville. And it is easy to see why! From the visitors center, there are two trails that you can take to various overlook of the water fall. At the visitors center, there are also picnic tables, an information center that is open from May to October, and restrooms.

From the visitors center you can take the Erwins View Trail which is a 1.6-mile round trip to four overlooks that each give you beautiful perspectives of Linville Falls. The second option is the Linville Gorge Trail which is more challenging. However, for adventurers, it may be worth the challenge as the tail takes you closer to the waterfall than the Erwins View Trail.
This is also a great place to see Fall Foliage in North Carolina. I am obsessed with NC in Fall so make sure to check it out if you are in Asheville!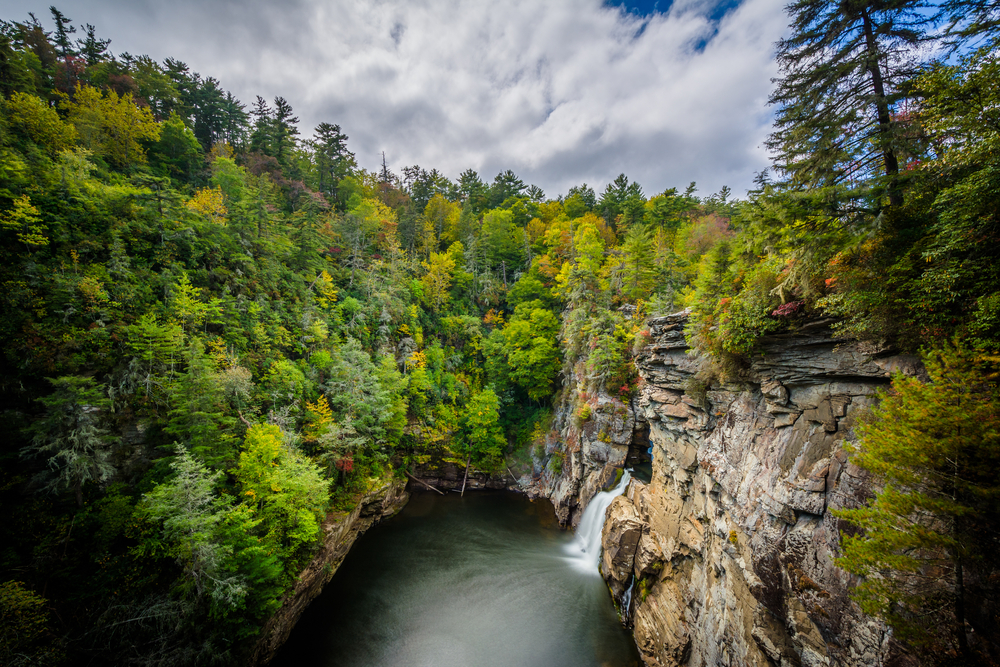 Day 3: History, Art, and Helicopter Tour
Stop 1: Historic Sites & Top Points of Interest
You can start the last day of your weekend in Asheville exploring the top points of interest in town and learning about the history of the area. Like with any new city you visit, some of the best things to see in Asheville in 3 days are the top points of interest and historical sites that give you insights to the early days of the city and the way it came to be what it is today.

You can of course drive around and see them yourself, but another really nice option is to take the Asheville Historic Highlights tour. This is a super budget-friendly tour! You download the Action Tour Guide app and pay the small tour fee and you can take a self-guided walking tour of the city.

This tour will allow you to admire the excellently preserved historic architecture while enjoying tons of art, history, and more. The highlights of this tour include the Asheville Urban Walking Trail, the Appalachian Stage, sculptures, the Basilica of St. Lawrence, Thomas Wolfe locations, and more.

You'll learn about the Civil War, the history of beekeeping in Asheville, the Gilded Age in the city and the role it played in the fight against Tuberculosis, African-American gospel history in Asheville, and much more! The tour ends at the Grove Arcade.

Book Here: Asheville Historic Highlights
Stop 2: River Arts District (RAD)
A River Arts District & Downtown Mountain Mural Tour is just what you need during your weekend in Asheville. The founding of the district came out of necessity. Artists needed large spaces to rent for cheap so that they could create art and this industrial zone was perfect.

When you are in the RAD, there is more to do than take a tour of the murals. You can take classes, visit artists at work, purchase artwork to act as both a souvenir and home decor, attend a workshop, explore the foodie scene, grab some of the best coffee in Asheville, take a gallery walk, listen to live music, and more.

If you don't want to take a group tour, you can utilize the free trolley rides to see as many studios as possible while you are there. The trolley route spans twenty-three buildings over two square miles.

Some of the best restaurants to check out while you are in the River Arts District include The Bull and Beggar where you can enjoy high-end American cuisine and Baby Bull where you can enjoy hearty burgers and other American food in a classic diner-esque style dining room.

Book Here: River Arts District & Downtown Mural Tour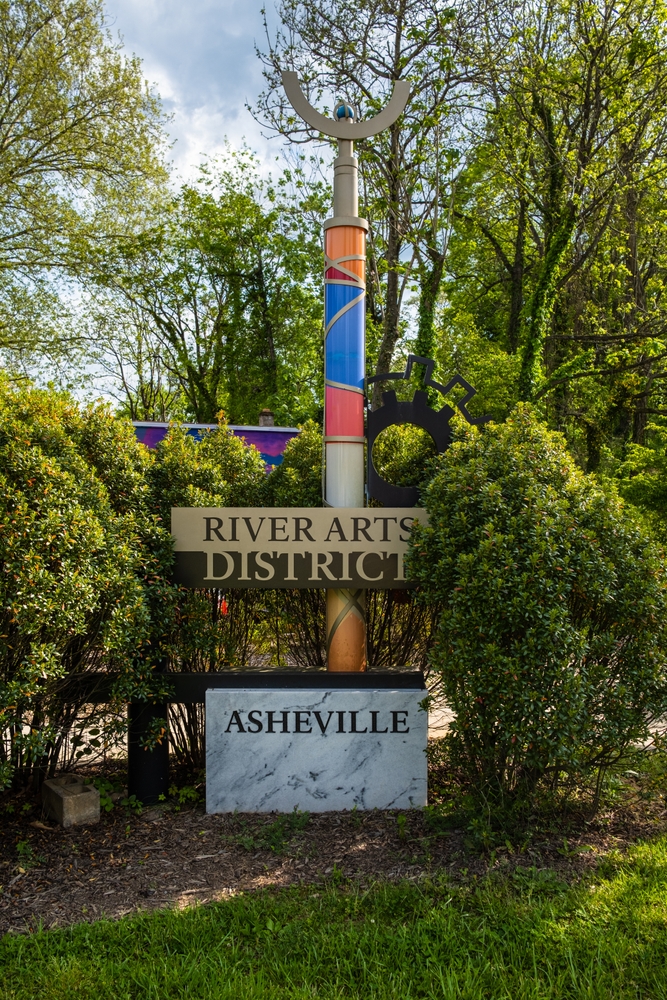 Stop 3: Scenic Helicopter Experience
One of the most exciting activities on your last day in Asheville is the Scenic Helicopter Experience. You will need to drive roughly twenty minutes south of downtown Asheville to reach the Signature Flight Support Building where you will park for your helicopter ride.

A few things to know before you helicopter tour; you'll be given a headset to communicate with the pilot during your flight, you will be required to be weighed before your flight, and booking the tour does not include souvenir photos and tips.

Rides require at least two passengers and allow you to enjoy the thrill of flying through the clouds as you take in views of the French Broad River, downtown Asheville, Biltmore Estate, and the Blue Ridge Mountains. Seeing western North Carolina from above is the perfect activity for your weekend in Asheville!

Book Here: Scenic Helicopter Experience
Stop 4: Luella's Bar-B-Que
Finish the last day on your Asheville trip itinerary at Luella's. On the drive back towards Asheville from your helicopter ride, you can stop at Luella's for an incredible southern meal. There's nothing like a memorable meal to end your weekend in Asheville!

We love the menu here! They have a wide selection of meat, sides, and drinks for you to choose from as your craft your perfect tray of food. You can choose from chopped pork BBQ, pulled free-range chicken, chile-rubbed beef brisket, smoked turkey, and more.

Next, pair your BBQ meat of choice with incredible sides like collard greens, green beans, fried okra, spicy slaw, baked beans, and more. They also have salads and loaded baked potatoes here as well. The Buncombe BBQ baked potato is worth a try! Throw back a beer with your meal and then finish with a mind-blowing banana pudding once you finish with your barbecue.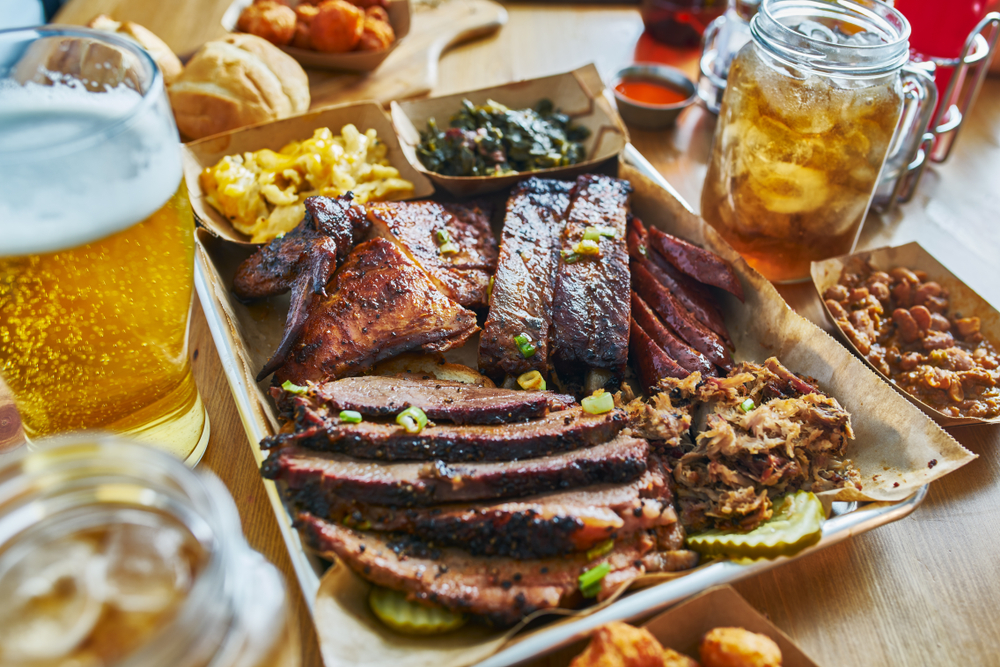 Getting To And Around Asheville NC
The two best options for getting to town for your weekend in Asheville are car and plane. The Asheville Regional Airport is the closest airport for those who plan on flying into town. However, the largest and busiest airport in The Tarheel State is the Charlotte Douglas Airport. So, if you find yourself flying into Charlotte, you can rent a car at the airport and enjoy the beautiful two-hour drive to Asheville through western North Carolina.

The second option is to drive to Asheville. If your starting point is in the southeast, this may be the most convenient and cost-effective method as you can leave at whatever time works for you and it is a little easier on the budget as well since you won't have to rent a car upon arrival in Asheville.

When it comes to getting around once you are in Asheville, there are a few options. Taxis and Uber are both there for you to use while you are in town. Getting around town on foot and by bike is also both possible. You can get a hotel in an area where there are a lot of attractions and restaurants within walking distance and rent an electric bike for points of interest that are a little further away.

Overall, having a car is the best option as driving the Blue Ridge Parkway is such an iconic experience in the area. However, you can also get around town via the Asheville Rides Transit (ART.) The ART provides a bus service throughout the city of Asheville and to Black Mountain as well. For ART, rides are just one dollar each and you can save money by buying a ticket book which gives you two rides for free.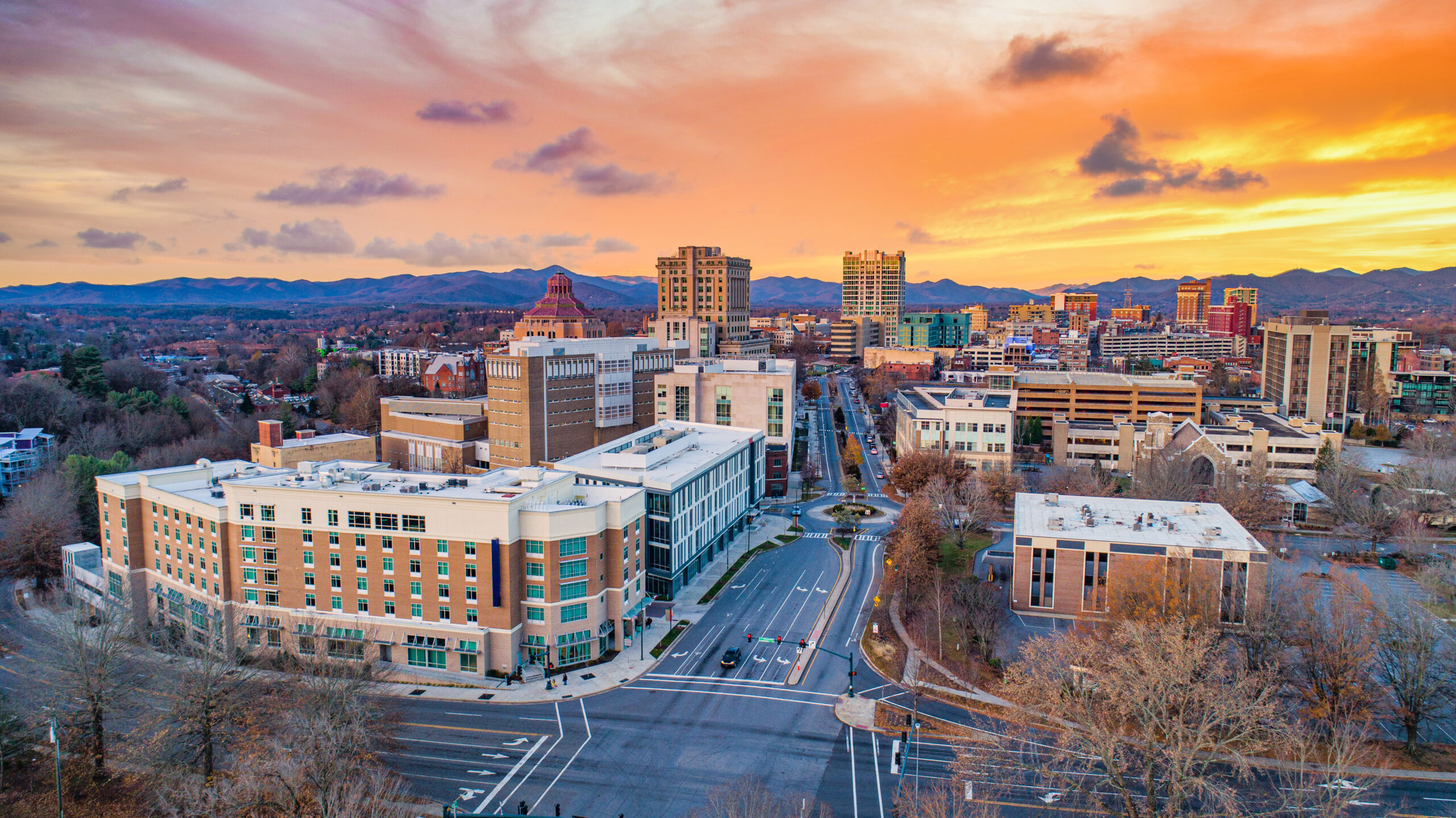 Where To Stay on your Asheville itinerary
Hotel Indigo
If there is one thing you need for an awesome and memorable Asheville weekend trip, it's a fantastic place to stay. Hotel Indigo is an awesome choice for those looking for a place to stay downtown for their weekend in Asheville. The hotel gives you easy access to Interstate 240 and they have a fantastic on-site bar and restaurant, so you can rest assured that you will be comfortable here. We love that the restaurant here serves fresh organic dishes for breakfast, lunch, and dinner!

The location truly could not be more desirable for someone wanting to see as much of Asheville as possible. In fact, you can find many of the best things to do in downtown Asheville within walking distance. The Grove Arcade, the Asheville Pinball Museum, Harrah's Cherokee Center, The Thomas Wolfe Auditorium, The Asheville Visitors Center, and tons of restaurants are all within a five-minute walk from the hotel.

Check Prices Here: Booking.com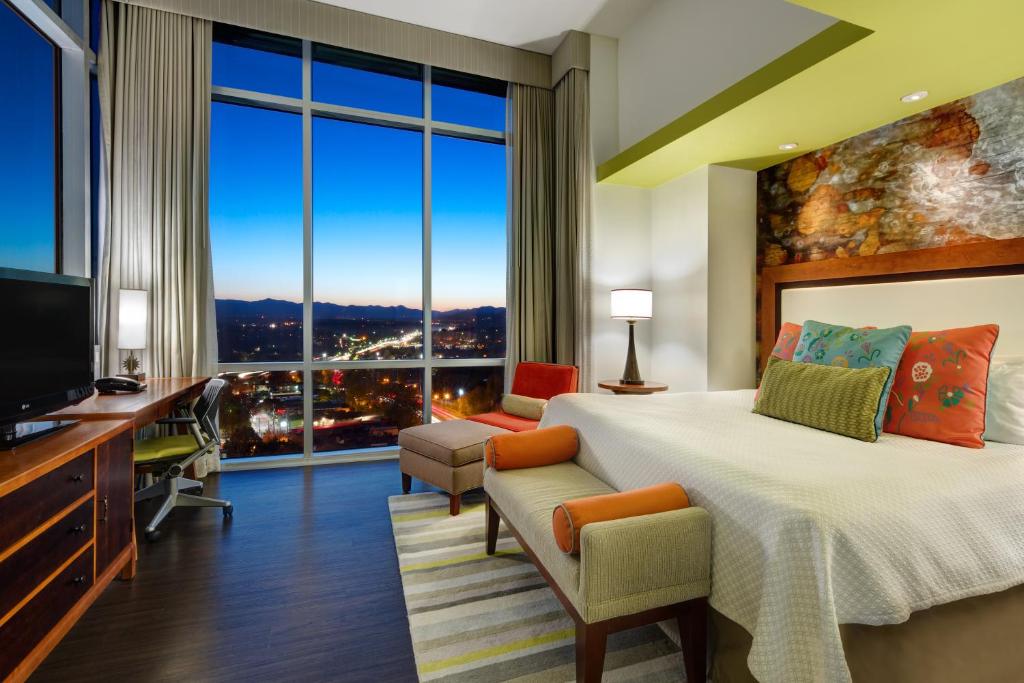 Elevation Lofts Hotel
One of the nicest hotels for your weekend in Asheville is the Elevation Lofts Hotel. Located just 5.5 miles from the iconic Biltmore Estate, Elevation Lofts Hotel has a lot to offer guests as it is among the best boutique hotels in Asheville! The location is ideal, the interior design and vibe is spectacular, and the amenities are all you could ask for and more.

Skiing, hiking, cycling, shopping, eating, and exploring are all possible from this hotels location. Some of the top spots to check out around the hotel include Lexington Glassworks, The Asheville Art Museum, Old Europe Pastries, the Thomas Wolf Memorial, and the Asheville Science Museum.

While you are at the hotel, you will have a fully equipped kitchen that comes complete with a dishwasher. You'll also have a walk-in shower, a washing machine, and other comforts of home. Keep in mind that if you are flying into town, you will be about twelve miles from the Elevation Lofts Hotel.

If you prefer rentals to hotels when you travel, you can check out the best Asheville Air BnBs or as an alternative, the Elevation Lofts Hotel is quite similar and offers a fantastic location.

Check Prices Here: Booking.com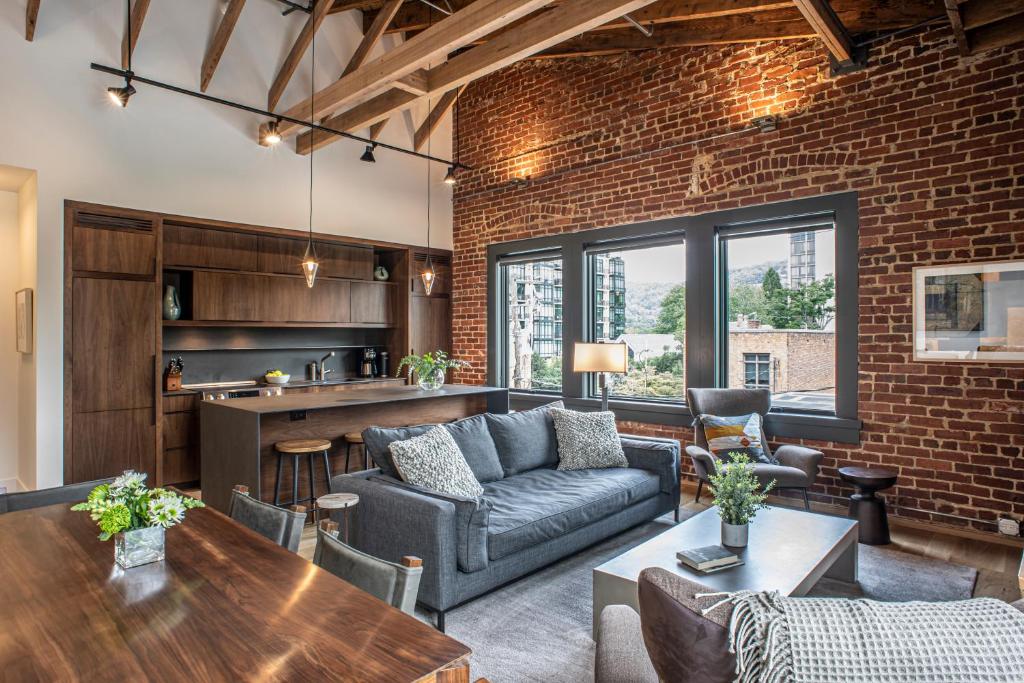 The Residences at Biltmore
One of the best places to stay during your weekend in Asheville is The Residence at Biltmore.
The hotel is located in Biltmore Village and is an all-suite aparthotel that offers one-, two, and three-bedroom suites. There's a lovely outdoor pool and hot tub, and you will be less than a half mile from the Biltmore Estate.

Other amenities here include a fitness center and an optional service where the concierge will arrange massages, chocolates, flowers, and champagne in your room for a fee. For couples spending a weekend away in Asheville, this is a dream!

Check Prices Here: Booking.com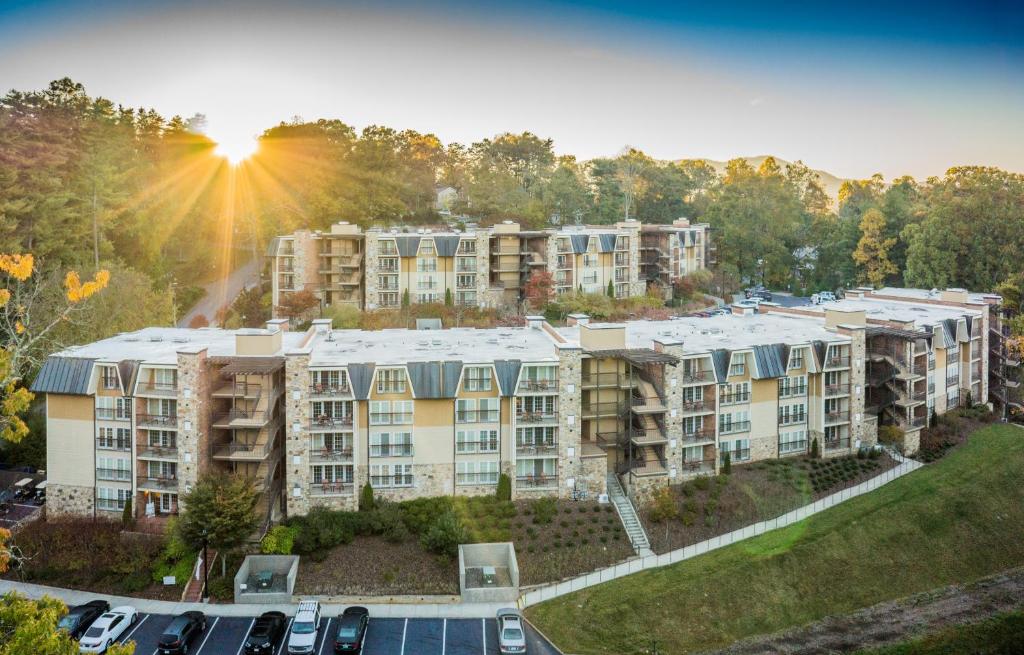 Where to Eat During Your Weekend in Asheville
12 Bones Smokehouse
One of the best places to eat during your weekend in Asheville is 12 Bones Smokehouse in the River Arts District. This restaurant is perfect for anyone looking for a barbecue in the arts district. 12 Bones has baby back ribs, salads, and mind-blowing sandwiches.

You can chow down on a smoked turkey, pulled pork, or BLT while you're there. Better yet, consider ordering the Hogzilla which comes with sugar bacon, pulled pork, bratwurst, and more! Keep in mind the menu changes and they offer different specials weekly. (If you are veggie or vegan, no worries, as there are options for you as well. Gluten-free too!)
Twisted Laurel
For those looking for a place to eat in downtown Asheville, Twisted Laurel offers classic American cuisine and Italian dishes as well. You can indulge in mouthwatering stone hearth pies, handheld delectables, and entrees like seared scallops, grilled salmon, chicken piccata, Tuscan braised brisket, pasta, and more. There are gluten-free and vegetarian options at Twisted Laurel if you prefer.

Cocktails like the Drunken Mule which is Ketel One, Domaine De Canton, and house ginger beer are available on the menu. Other cocktails include the Jalapeno Rosemary Paloma, the House Old Fashioned, and the Kanela Margarita. Refreshers, seltzers, bottles, and cans are there for diners to choose from as well.

The outdoor seating at the Twist Laurel is perfect. We love the shaded seating and hanging lights that make lunch or dinner here all the more enjoyable. Twisted Laurel has a very rustic industrial theme that diners love so be sure to consider adding it to your itinerary for your weekend getaway to Asheville.
East Village Grille
If you are looking for a place to eat during your weekend in Asheville near the Blue Ridge Parkway, check out the East Village Grille. Here you can get hearty pasta dishes, sandwiches, and other filling options. They also have fantastic starters like jalapeno poppers, Tiger shrimp, and fried onion rings.

This restaurant is ideal for someone who is hungry from a day of hiking on the trails off of the Blue Ridge Parkway and is ready for a big meal to recover. If you believe there is nothing like a cold beer after a long day of hiking, East Village Grille is where you will want to be! They have Sierra Nevada Hazy Little Thing IPA, Highland Gaelic Ale, and many others on tap.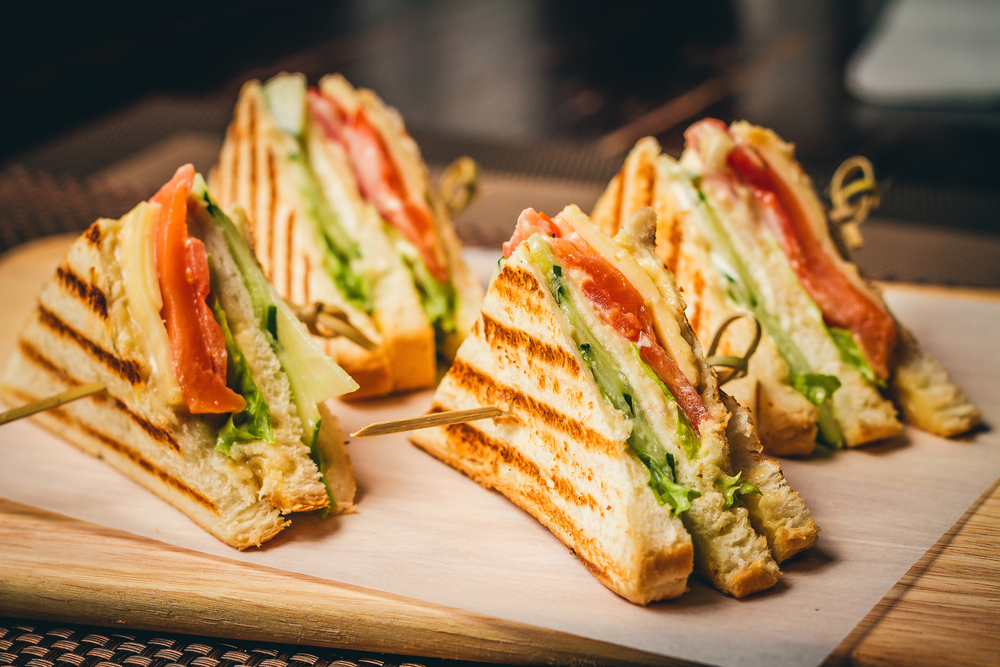 From the Blue Ridge Parkway and stunning waterfalls to the Biltmore Estate and River Arts District, Asheville rarely disappoints! The breweries, foodie hotspots, artsy hang outs, historical sites, and outdoor adventures in this dreamy town make it one of the best places to visit in the south and one of the top weekend getaways in the USA!

Just planning a trip to Asheville is an experience in itself and while it can be hard to do everything you want to do when you are visiting Asheville in 3 days as opposed to the week that you could easily spend exploring the area, you can still see all of the top attractions and points of interest during your weekend trip to Asheville.

Now that you have taken a look at this spectacular three-day Asheville itinerary and learn about how to get around town, where to stay, and some of the best restaurants in Asheville, we hope that you feel ready for an exciting weekend in Asheville!