If you are looking for a getaway itinerary for a weekend in New Orleans, we have you covered. Check out our guide and use it as your Ultimate New Orleans trip planner!
I love this city, there is so much to see and do. As someone who has been exploring the Southern USA for the last three decades, I have some strong opinions on what you should do for the best trip!
Whether you have 3 days in New Orleans, 2 days in the city, or just 1 day in NOLA we have you covered with planning a trip to New Orleans! It is easy to see why I think it is One of the best weekend getaways in the USA!
Regardless of what time of year you visit, there is always something going on in this vibrant city that comes alive after dark! New Orleans is full of history, museums, parks, cemeteries, gardens, music, and more to explore! So pack your bags and get ready for the ultimate getaway itinerary to New Orleans!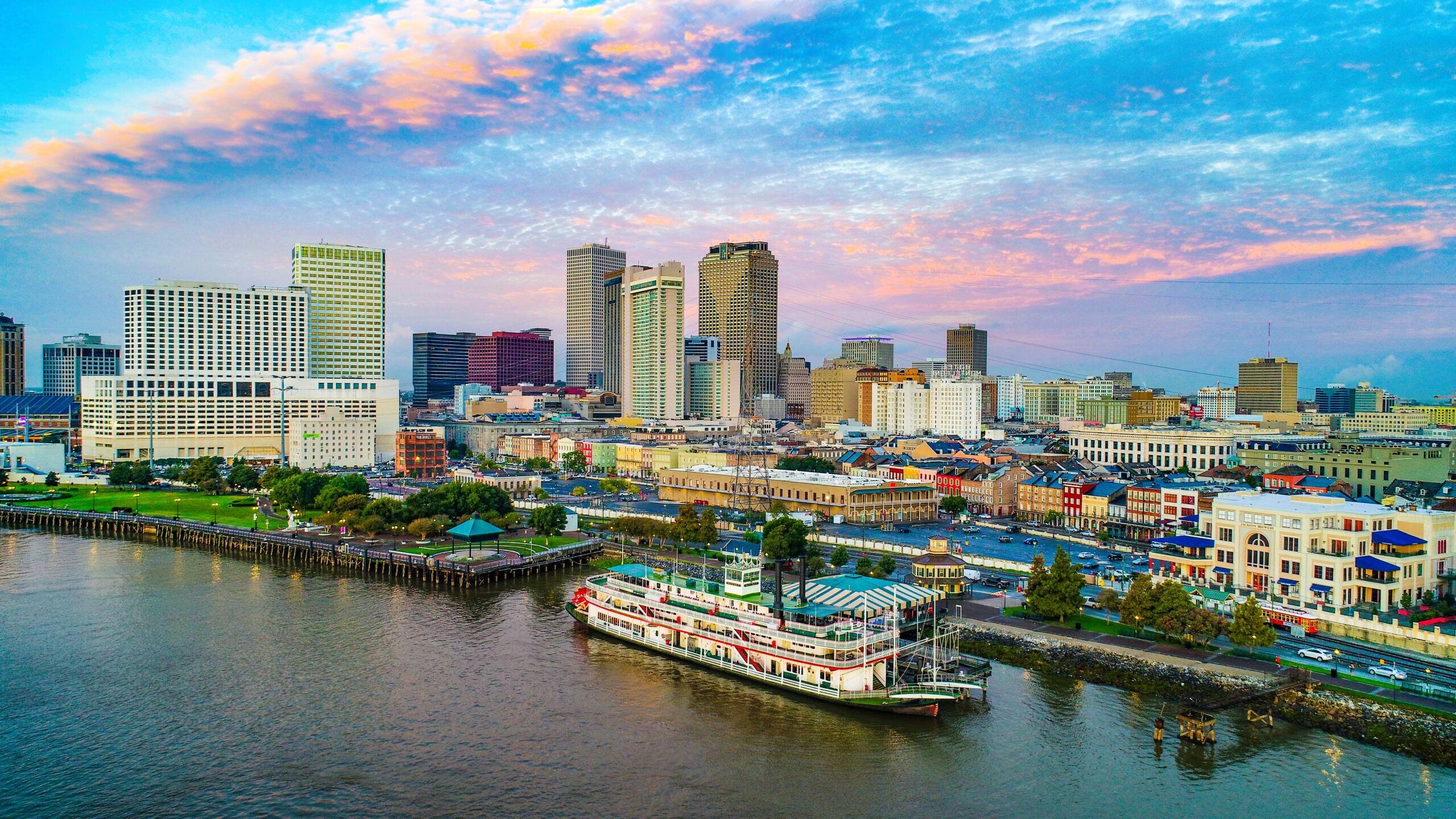 Getting To And Around New Orleans
Are you at the beginning stages of planning a trip to New Orleans? For those looking at flights, the Louis Armstrong New Orleans is located 11 miles west of downtown.
This is where I fly into when I visit.
If you have extra time during your weekend in New Orleans or just want to be budget-conscious the 202 bus is under $2 a ticket. However, the bus only leaves a few times per day. So make sure to plan your flights around the bus schedule if you are looking into this option. Taxis and Uber are easily available and average around $35 to the French quarter.
For those driving into the city, or renting a car, please note that most of the hotels do charge a nightly parking fee.
Once in the city, it is an extremely walkable city to get around. Or why not hop on one of the famous red streetcar lines? Download the "le Pass" app and you can preload money for your $1.25 rides (or $9 for a 3-day pass). I personally love to use the street car lines to sightsee, one of my favorite routes is out to the Garden District.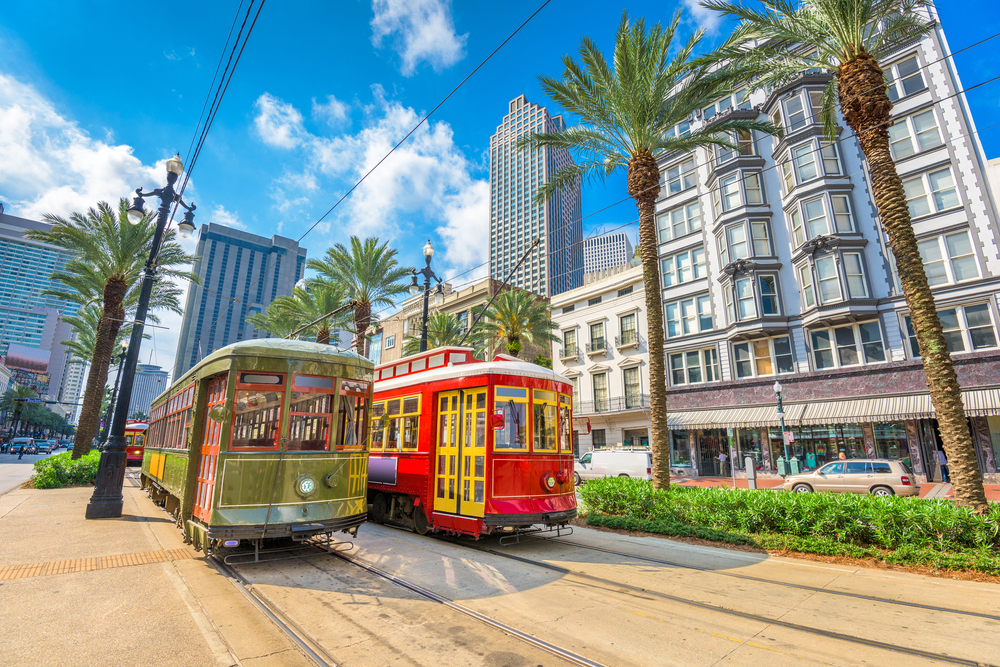 Best Time To Visit New Orleans
New Orleans is one of those cities that can be visited year-round if you are prepared! If you want to experience the Mardi Gras parade in New Orleans you will want to plan a weekend in New Orleans for February. One of my favorite times to visit is between March and May when the weather will be cooler ( from the 60's to 80's) with fewer crowds.
If visiting New Orleans in 3 days in the summer the weather will be HOT, and often more crowded as families are on summer vacation. However, if you are a foodie, Restaurant Week is held in June. In the summer months, the temperature can climb to 90 degrees.
Late summer and early fall are Hurricane season, consider this when planning a trip. From October through November, you will have cooler weather and fewer crowds. Another of my favorite times to visit the city is over the holidays. New Orleans is magical during the holidays as it is decorated, and just feels more special. Plus as a foodie, the prix-fixe Reveillon menu event takes place during December. The weather is still warm too in the 60's and 70's.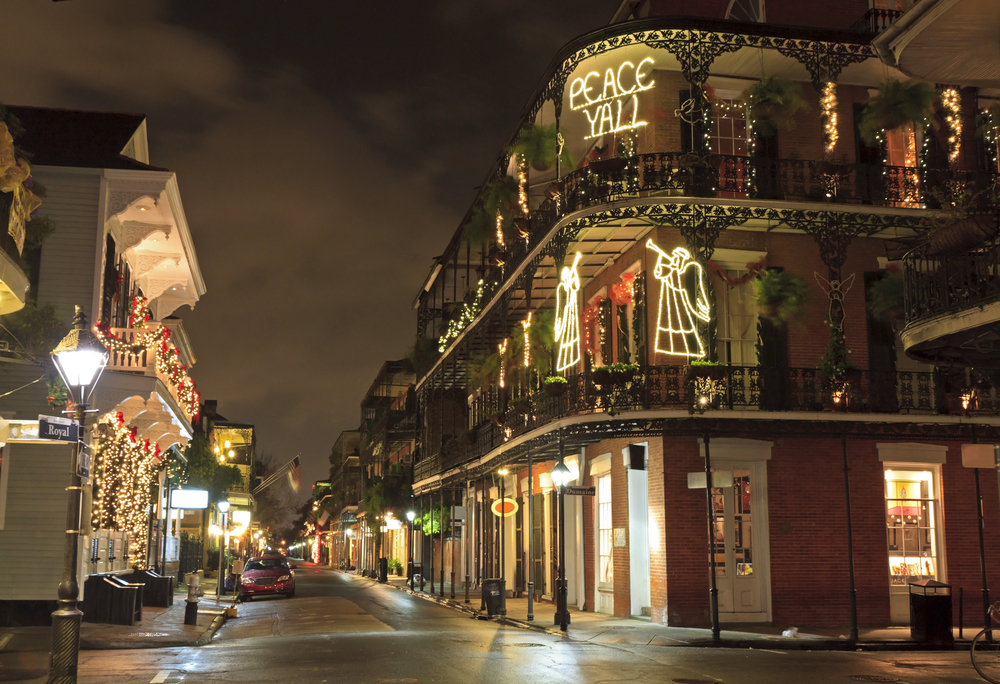 3 Day Weekend In New Orleans Itinerary
Day 1
Day 1 of your New Orleans weekend itinerary will be jammed pack! I like to hit the ground running first thing in the morning to take full advantage of being in one of my favorite southern cities! This 3 days in New Orleans itinerary will take you to all of the popular spots as well as some new places worth exploring!
Stop 1: Breakfast at Cafe Du Monde
After many trips to this popular breakfast spot, I want to share a trick we learned for skipping the long lines. When you walk in the door on the left-hand side is a small room with open seating. Meaning if you see a table you can just sit down and order. This is one of our favorite tricks for getting in and out of Cafe du Monde!
The beignets are perfectly fried, pipping hot, and topped with powdery white sugar and pair perfectly with a cup of coffee or orange juice. We think this perfect spot for starting your day when planning a trip to New Orleans!
If you are a foodie, I highly suggest booking this food and cocktail tour of New Orleans! On the tour, you will visit all the iconic eateries of New Orleans!
To Book: Food and cocktail tour of New Orleans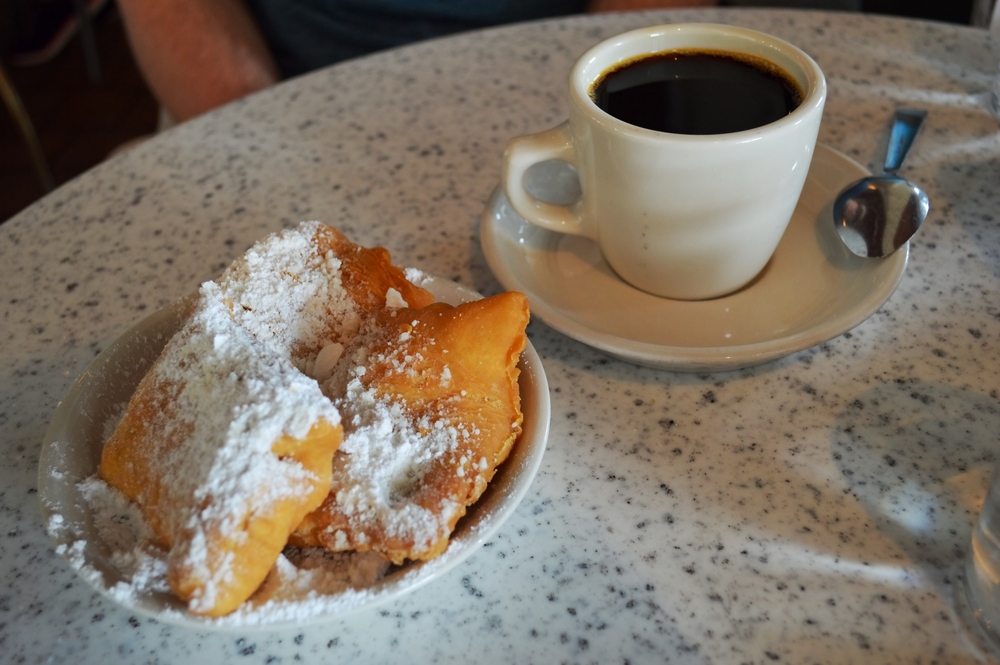 Stop 2: Jackson Square
Before heading across the street to the square, take the steps up to Cafe Du Monde to get a photo of the entire Jackson Square and the cathedral in the background.
This is one of my favorite spots to take a picture!
Now, if you are visiting New Orleans during a holiday such as Memorial Day weekend or Labor Day weekend, this square may get quite crowded, so make sure to go earlier in the morning or later in the evening!
Next, head across the street into the square where St. Louis Cathedral is located. Make sure you make time to enter the Cathedral to see the beautiful stained glass windows and frescos, it will transport you to Europe. There are often live musicians performing in the area if you prefer to get your beignets to go!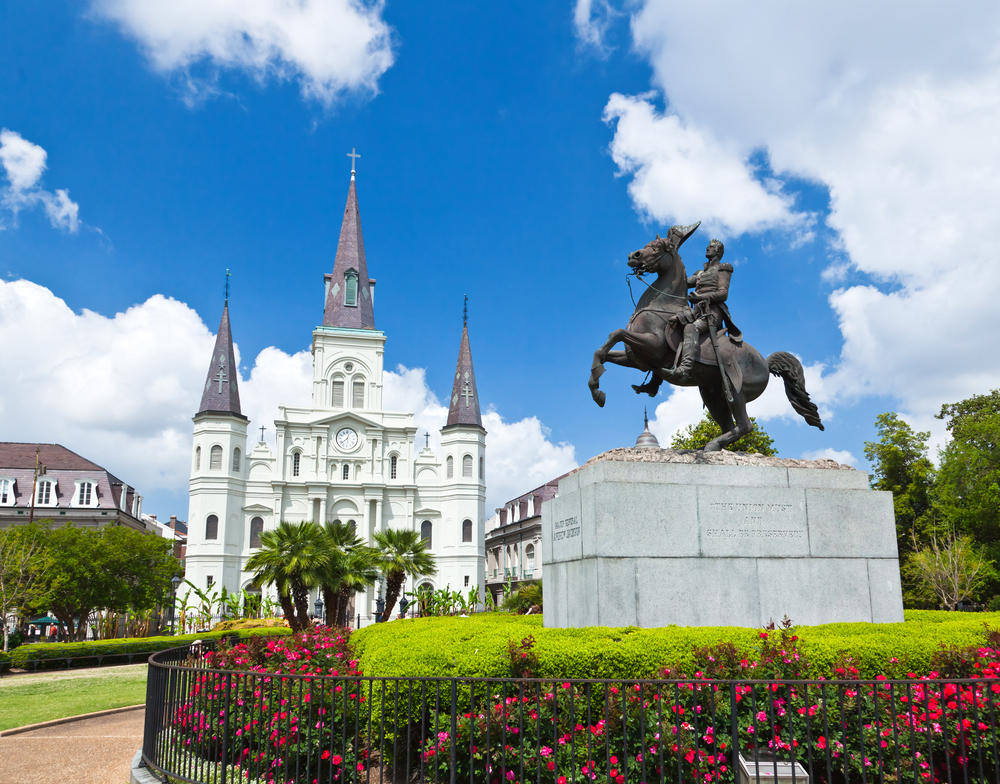 Stop 3: Wander the French Quarter
The French Quarter is one of the most iconic neighborhoods in New Orleans. All New Orleans trip planners will tell you to come here! And trust me, it is one of the places I return to again and again! I love to wander while admiring the architecture, live music, people-watching, and shopping. It really is an electric atmosphere.
If you are looking for the best things to do in New Orleans this weekend, you can rest assured the French Quarter will always be a fun time. Of course, there is always Bourbon Street, which is a crowd favorite.
If you are coming to New Orleans for Mardi Gras, Bourbon Street is where it is at, but there are also other Mardi Gras activities all around other parts of the city too.
If you enjoy a more structured tour instead of wandering, I suggest signing up for this guided tour which is a 2-hour, story-filled stroll through the French Quarter.
For those up for wandering, I think that Royal Street in The French Quarter is easily the prettiest street. It is also one of the best streets to go antiquing. There are tons of stores catering to collectors who urge visitors to come in, explore, and see what they can find! These shops range from affordable to more vintage and expensive finds.
To Book : 2 Hour French Quarter Walking and Storytelling Tour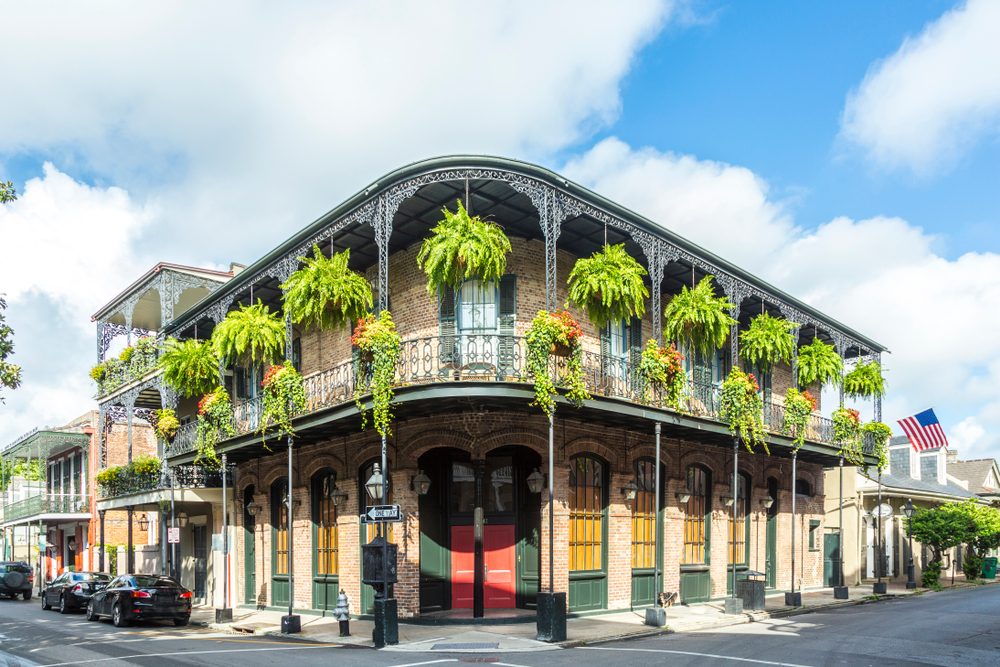 Stop 4: Sazerac Museum
One of my favorite places that I add to every itinerary for New Orleans is the Sazerac Museum. Sign up online for a complimentary tour, where you will learn all about the drink's history in New Orleans! Did I mention you get to taste the famous drink while going through interactive exhibits?
I love the New Orleans museums in this city!
This is a cool and unique thing to do on your weekend getaway itinerary for couples. Who doesn't love free things?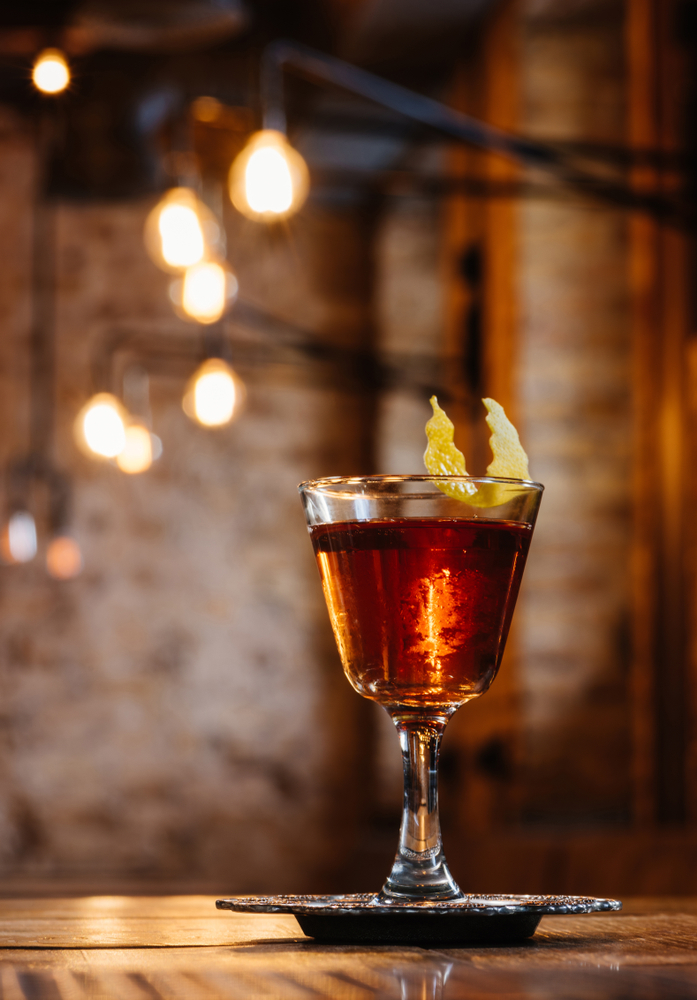 Stop 5: Hotel Monteleone – Carousel Bar
We usually like to end our evening in the French Quarter with a visit to the Carousel Bar inside the Hotel Monteleone. Since 1949, this unique bar with its Carousel theme with a rotating bar also serves up delicious drinks and light bites with live music.
Be prepared to wait for one of the bar seats if coming on a weekend night at prime time. There is also a large lounge area if you don't want to wait. The drinks here are delicious. My suggestion would be the Sazerac – the cocktail of New Orleans, the Pink Fizz with gina and lemon juice. For something less sweet the Old Fashions are also delicious.
Pair your drinks with the blue crab and corn beignets, white truffle fries, or duck confit wontons! This is the perfect place for drinks if celebrating a bachelorette party ) If traveling on a group trip we think this Private Cocktail Tour (for up to 12) will guide you through the city's best drinks and bars around the city!
Book Here : Private Cocktail Tour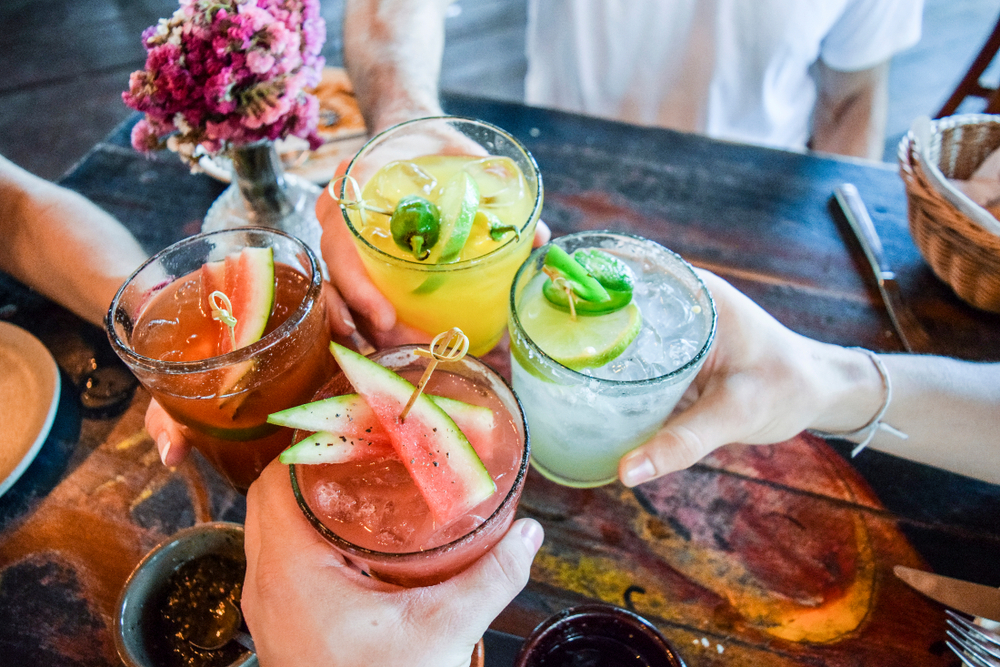 Stop 6: Night Walking Tour
The New Orleans: Ghosts, Vampires, & Voodoo French Quarter Tour leaves on the hour from 4 pm to 8 pm and is a 2-hour walking tour after dark! On this tour, you will journey through New Orleans' haunted history. If you are an American Horror Story fan, you will pass by the LaLaurie Mansion one of the most haunted buildings in New Orleans, and the inspiration for the show! Learn all about the dark side of New Orleans with stories all about witches, ghosts, vampires, and Voodoo practitioners!
Book here: The New Orleans: Ghosts, Vampires, & Voodoo French Quarter Tour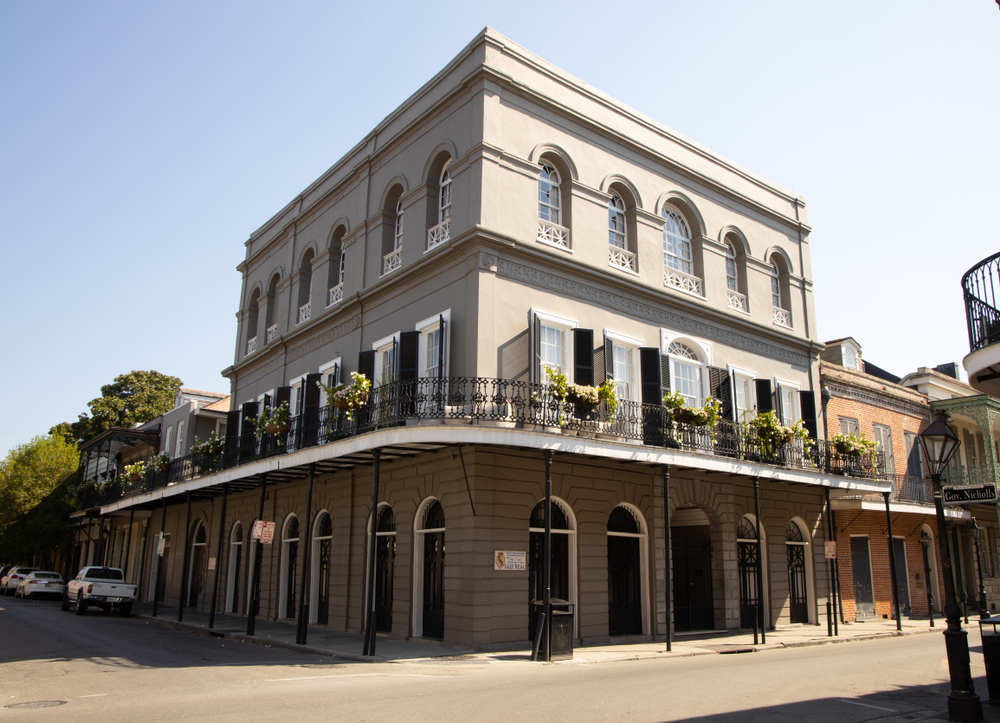 Day 2:
You can pack so much in when visiting New Orleans in 2 days! On day 2 of your weekend in New Orleans itinerary, we have different options to start your morning continue on to a museum and finally head out to the city park! While most visitors stay in the French Quarter on Day 2 we will have you exploring different areas of the city, that are worth the trek!
Stop 1: Walk along River Front
The French Quarter River Walk is a 1.3-mile trail along the mighty Mississippi River. The paved waterfront path is one of my favorite ways to start the second day of my weekend getaways to New Orleans. I love to grab a coffee and stroll align listening to street performers and people watching.
There is a new interactive museum VUE Orleans needs to be on your New Orleans itinerary. This interactive 4-D museum guides visitors through the history, music food, and culture that makes up New Orleans in a fun and interactive way! After the museum be sure to head up to the 360° Outdoor Observation Deck for a view of the entire city!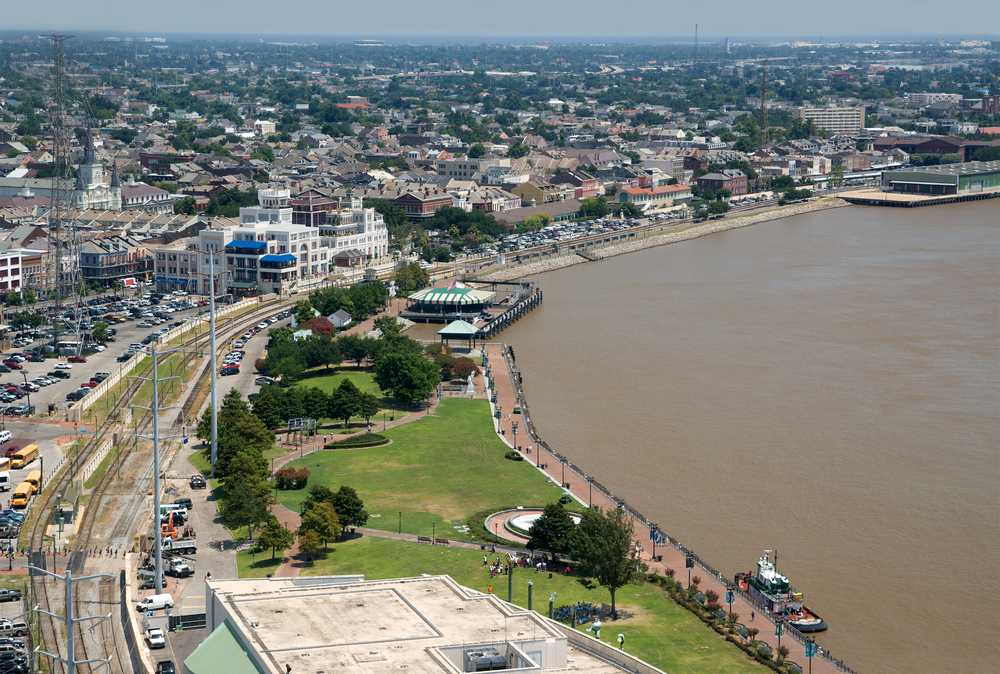 Stop 2a: New Orleans: Creole Queen Weekend Morning Jazz Cruise
On step #2 of your second day, hop aboard the Creole Queen for a weekend morning Jazz cruise. You can choose between having brunch on the boat or just enjoying a relaxing river cruise. 
The 1.5-hour tour has you sailing down the river with views of New Orleans and the French Quarter while being serenaded by live Jazz music. You can order a cocktail and take a walk on the deck while sailing down the Mississippi River.
For those choosing the brunch option, the menu is seasonal with fruits, baked goods, eggs benedict, shrimp and grits, sausage, and more!
To Book : Creole Queen for a weekend morning Jazz cruise.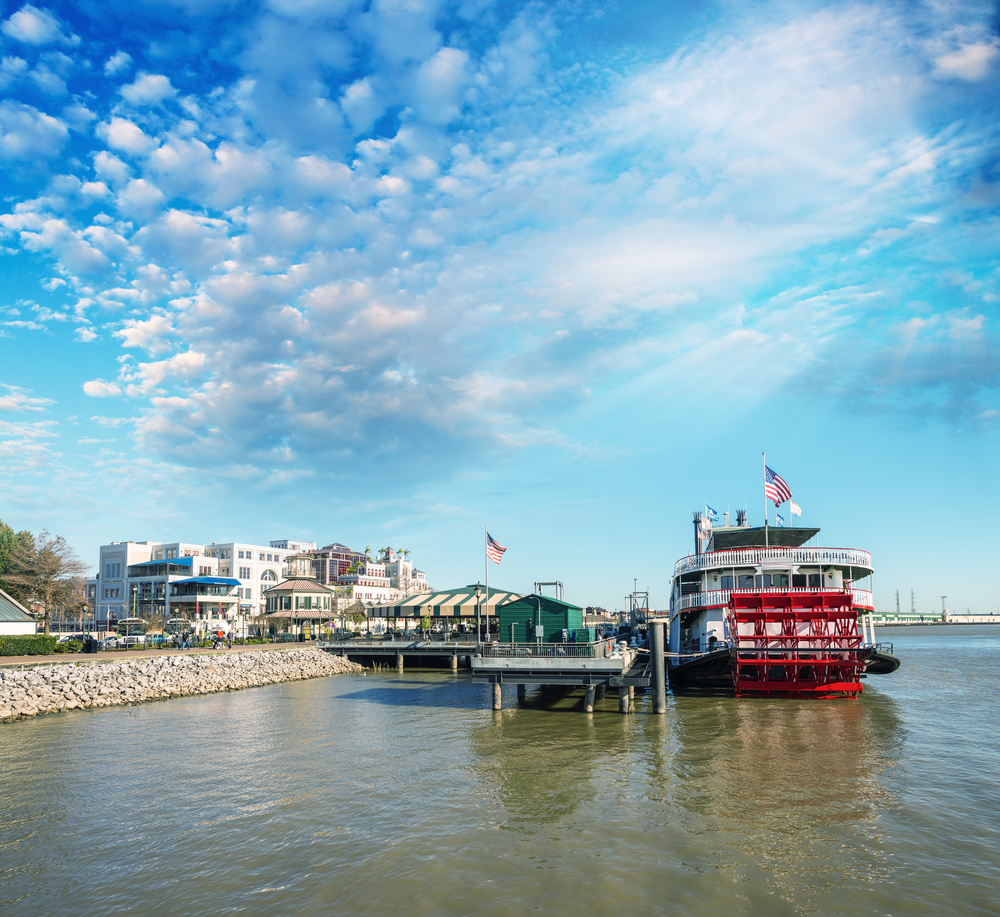 Stop 2b: New Orleans: 2.5-Hour City & Cemetery Tour by Bus
For those who do not want to take a cruise down the Mississippi River, your day two's 2nd stop will be this tour! No trip to New Orleans is complete without visiting at least one of the city's cemeteries. 
This tour is perfect year-round, as you will be transported around the city in an AC bus! Be prepared to tour through over 300 years of history, as you travel through the Treme to the Garden District, the 9th Ward to the back streets of The French Quarter.
You will stop at the famous Cities of the Dead St. Louis Cemetery # 3. Learn about burial practices in New Orleans as well as stop at one of the most scientific parks in New Orleans. You will even have time to grab beignets and a frozen coffee at this less-packed Cafe Du Monde location!
To Book: New Orleans 2.5 hour City & Cemetery Tour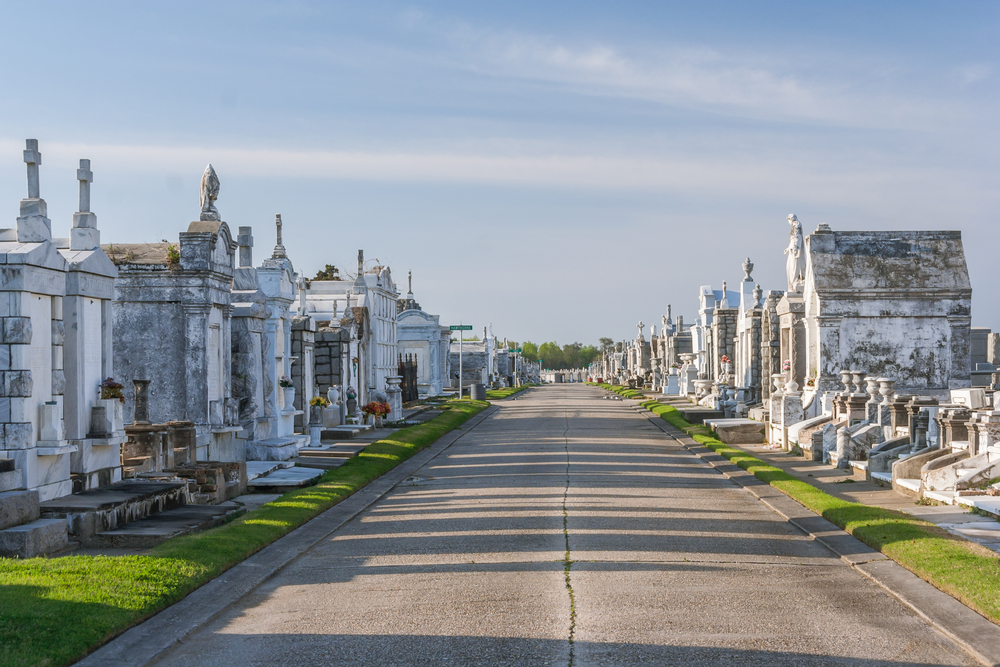 Stop 3: World War II Museum
If you are a history buff like myself, I highly recommend adding this museum to your New Orleans trip itinerary! First, jump on the streetcar and head to the Central Business District. You will want to get off at Howard Ave. at Carondelet and then it is just a 5-minute walk to the museum.
Next, I highly recommend purchasing your tickets ahead of time, you can do so here. The museum walks visitors through the story of WWII through personal accounts, artifacts, exhibits, and film. For history buffs this one of the best things to do in New Orleans in a weekend!
To Book: WWII Skip the Line Ticket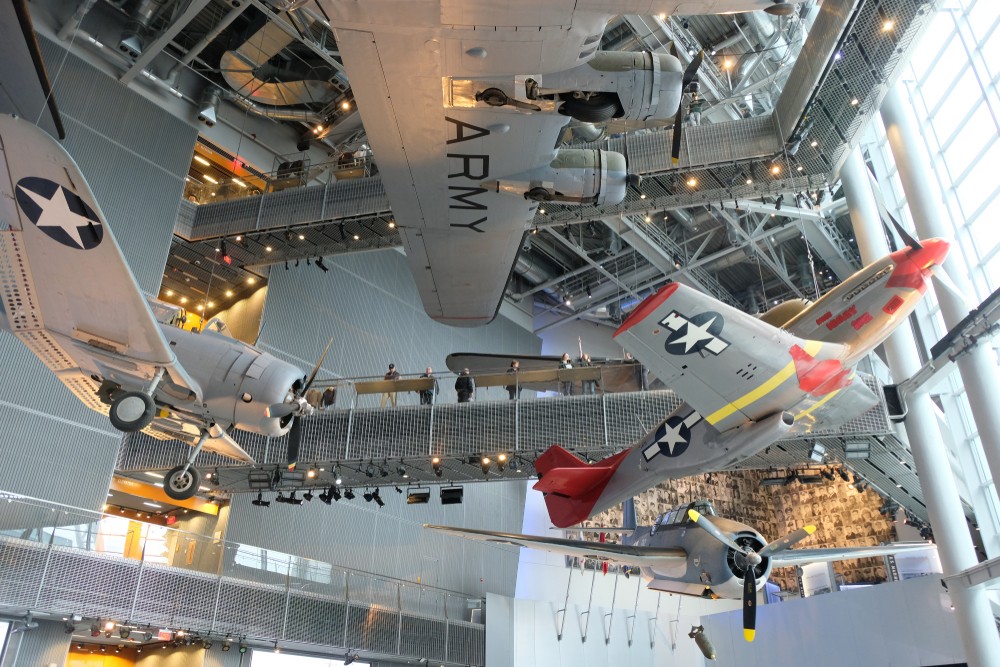 Stop 4: Afternoon at City Park
If you choose not to take the city tour in the morning, the City Park has something for everyone! One of my favorite ways to spend a Saturday afternoon, if the weather is nice and you are looking for outdoor things to do in New Orleans on a weekend.
Both bikes and boats can be rented. Renting a paddle boat on Big Lake is sure to be a highlight of your trip. For those couples on a romantic getaway or honeymoon, why not book a private 50-minute Gondola tour?
Furthermore, for those with children, the Louisiana Children's Museum is located here. There is also a Storyland playground and the Carousel Gardens Amusement Park. The Art Museum, Botanical Gardens, and a Golf course also call the park home! Plus, there are several restaurants and cafes in the park to choose from if you get hungry!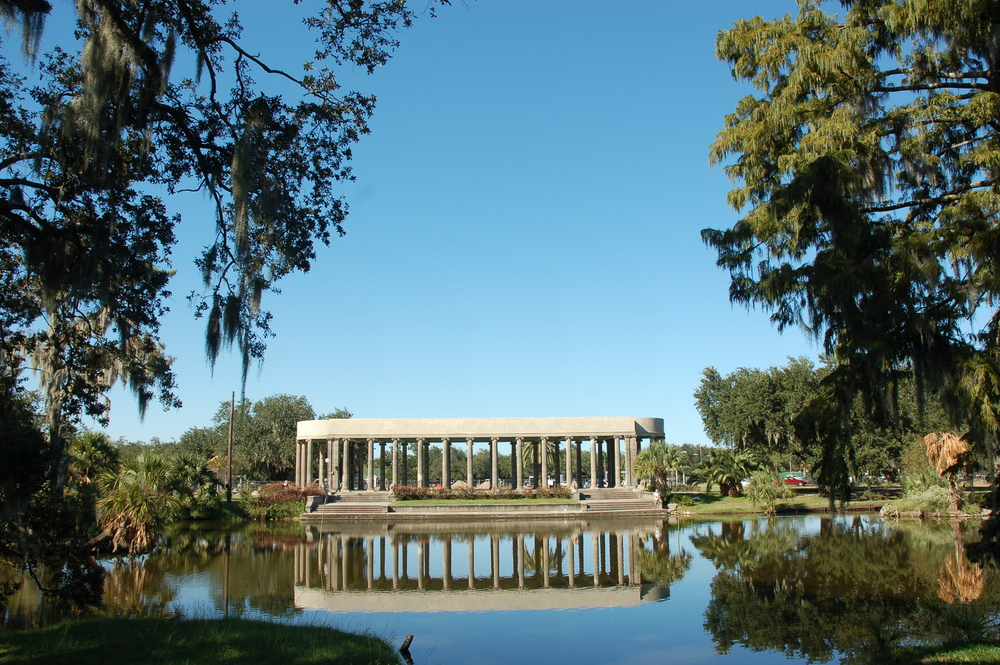 Stop 5 : Bourbon Street
No New Orleans weekend trip would be complete without a visit to the popular Bourbon Street. Even if you do not drink, you have to experience the famed New Orleans party street.
The neon-lite street runs 13 blocks through the French Quarter and embodies the party atmosphere of the city! Known for its iconic bars, live jazz performances, and more it easy to see why this is a popular Bachelorette and Bachelor party destination.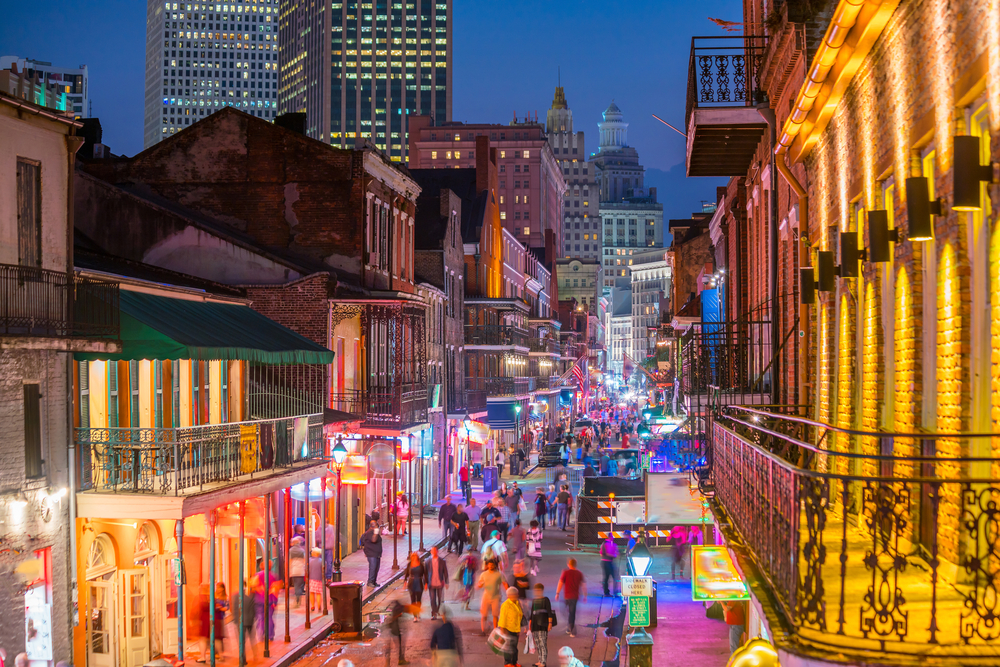 Day 3:
The Garden District is a great option for those on a New Orleans long weekend trip! It is one of my favorite places to spend a lazy Sunday. And should really be on your list of things to see in New Orleans in 3 days!
My favorite way to get here is by jumping on the dark green historic St. Charles Streetcar! This area is where you will find Commanders Palace, one of the fanciest restaurants in the city! Just be sure to reserve well ahead of your trip.
Stop 1: Breakfast and shopping
For stop one on the third day of your weekend in NOLA trip head to Magazine Street! This is where you will find all the popular shops and restaurants! Start with breakfast at Surrey's Cafe and Juice Bar, Ruby Slipper, or Slim Goodies Diner! And for those starting their day a little later, the Rum house is one of my favorites for lunch!
After breakfast, there are tons of boutiques and shops to keep you busy as you stroll through this gorgeous area. It is known for its large antebellum mansion homes along St. Charles Avenue.
However, for those who want a more structured morning, we suggest taking this Garden District Walking Tour.
To Book: Garden District Walking Tour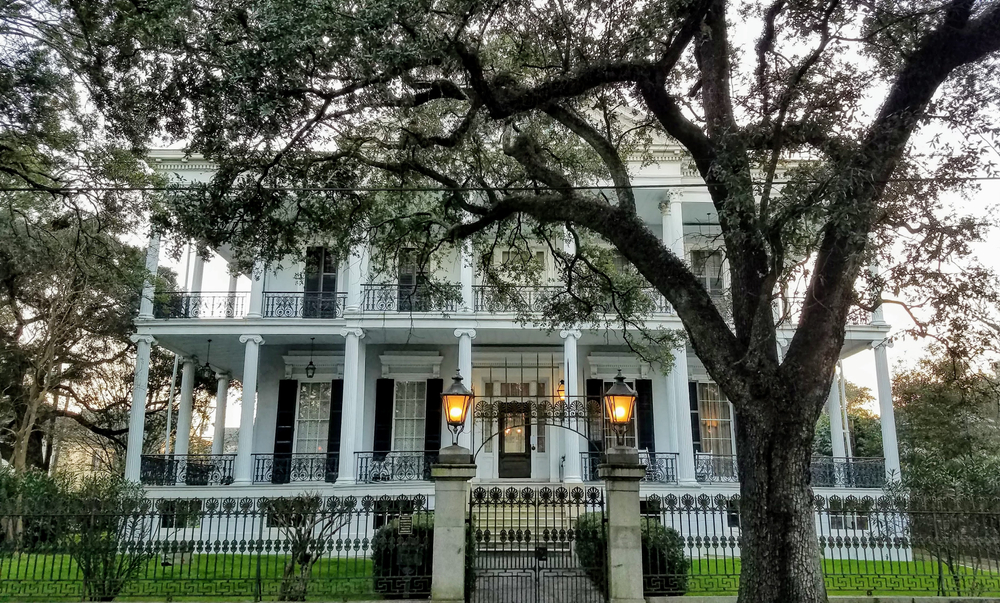 Stop 2 : Lafayette #1 Cemetery
The gothic Lafayette #1 Cemetery is located in the Garden District of New Orleans. It is worth a stop on your weekend in NOLA itinerary! Known for its family style mausoleums it contains over 1100 families and over 7000 people. It is the oldest of the cemeteries and one of my favorites due to its gothic style and the perfect spot to visit if you have 3 days in NOLA.
Stop 3: New Orleans: Guided City Sightseeing Tour by Bus
New Orleans is a city known for its connection with Voodoo and is called City of the Dead! If you have had your share of walking and your feet are sore, try a guided sightseeing tour by bus! Sit back, enjoy the AC and be guided around the city.
First, on this tour, you will learn about the historical importance of the cemeteries around New Orleans. Next, head inside the walls of the oldest cemeteries and burial grounds to see the resting place of historical New Orleans figures.
The knowledgeable tour guide will guide you through several cemeteries with entertaining stories over the 2-hour tour!
To Book: New Orleans: Guided City Sightseeing Tour by Bus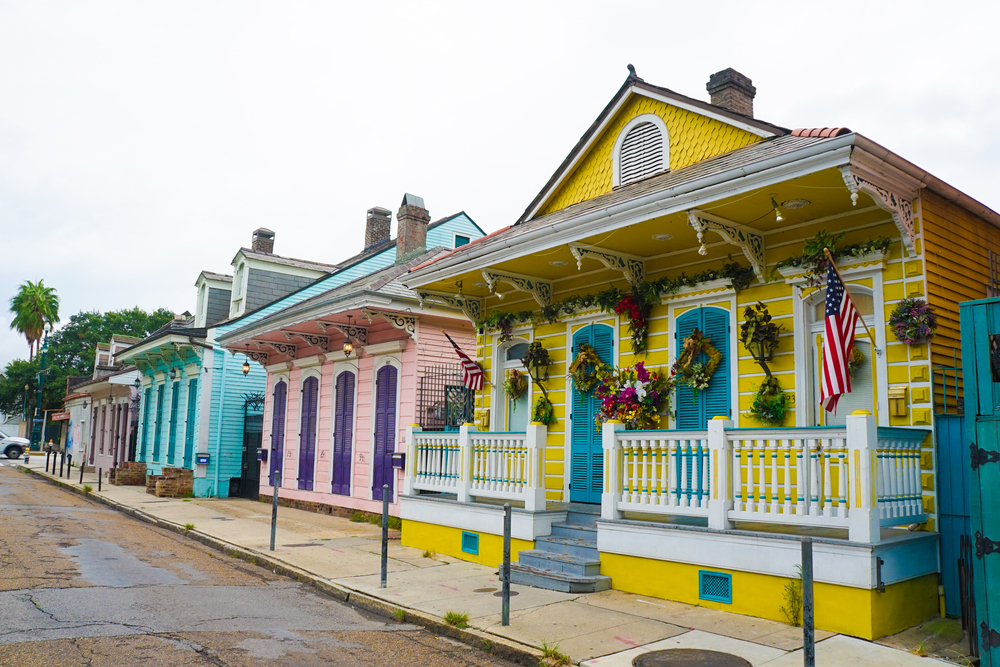 Stop 4- Airboat Swamp Tour
For those looking to get out of the city an airboat ride through the Bayou needs to be on your list of things to see in New Orleans in 3 days! So grab your sunscreen and head outside the city to zip around on an airboat through the swamp! Keep your eyes out for alligators and other wildlife.  
Finally, on this swamp tour, you will zip through the water at up to 35 mph! These airboats feature stadium seating which means everyone has a great view!
To Book: New Orleans: High Speed 16 Passenger Airboat Ride
Where To Stay on your New Orleans itinerary
Cambria Hotel New Orleans Downtown Warehouse District
On our last trip, we stayed in a new area of the bohemian artsy Warehouse District and absolutely loved the location. You are still central to all the major attractions! The Cambria hotel has a luxurious artsy vibe, with a lively bar and lobby area. 
To Book: Click HERE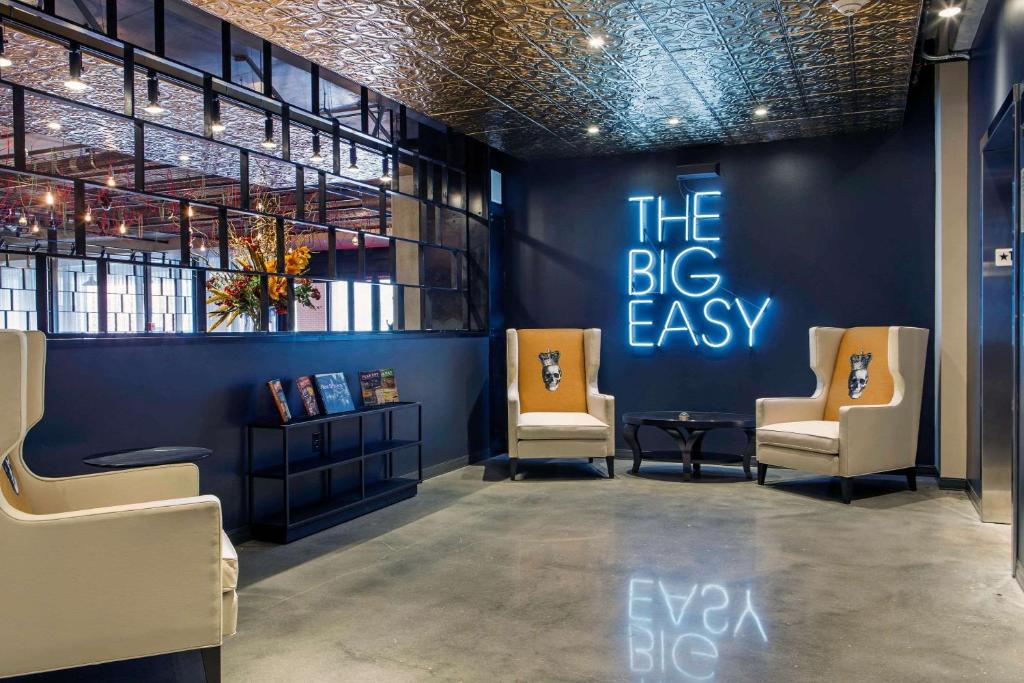 The Roosevelt New Orleans, A Waldorf Astoria Hotel
For those looking for an upscale trip to New Orleans, I highly recommend a stay at the Roosevelt New Orleans. Especially if you are staying during the holiday season, as the hotel is decked out with trees and lights, Plus, check out the famous Sazarac bar – the birthplace of the Sazarac cocktail.  I think it is such a fun place to stay especially for a girls trip to New Orleans! Did I mention we think New Orleans is one of the best bachelorette party destinations in the US?
To Book: Click HERE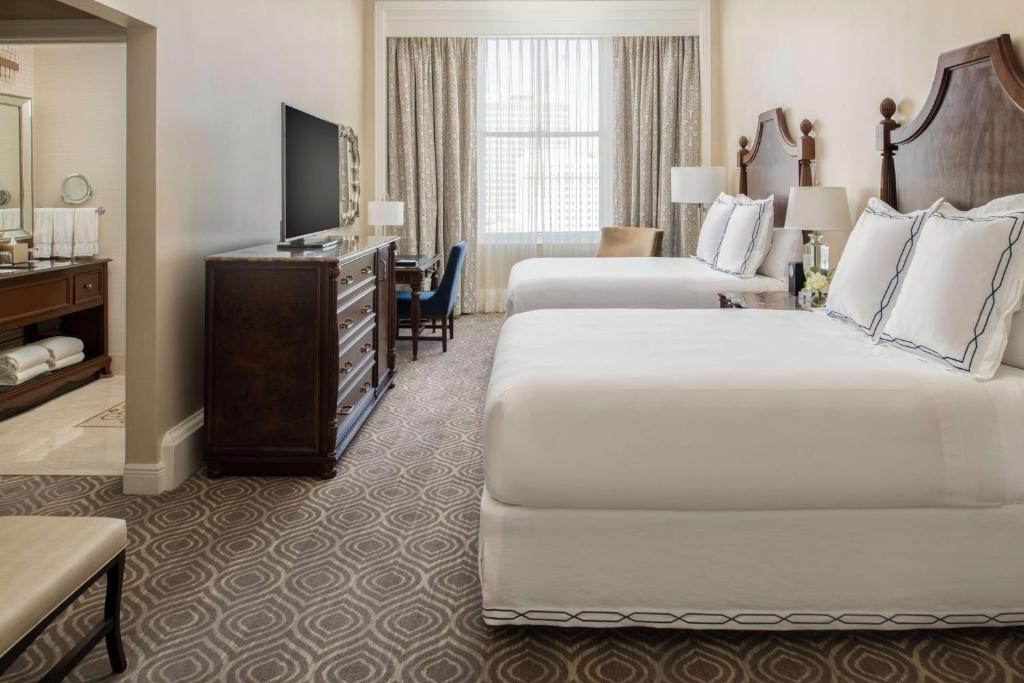 Crowne Plaza New Orleans French Quarter, an IHG Hotel
For those looking to be in the heart of the French Quarter and just a minute's walk to the famous Bourbon Street, the Crowne Plaza should be on your list. From the rooftop pool deck, you look down onto Bourbon Street and the main Canal Street is right in front of the hotel. For those wanting to go out during a weekend in NOLA, this hotel is the ideal location.
To Book: Click HERE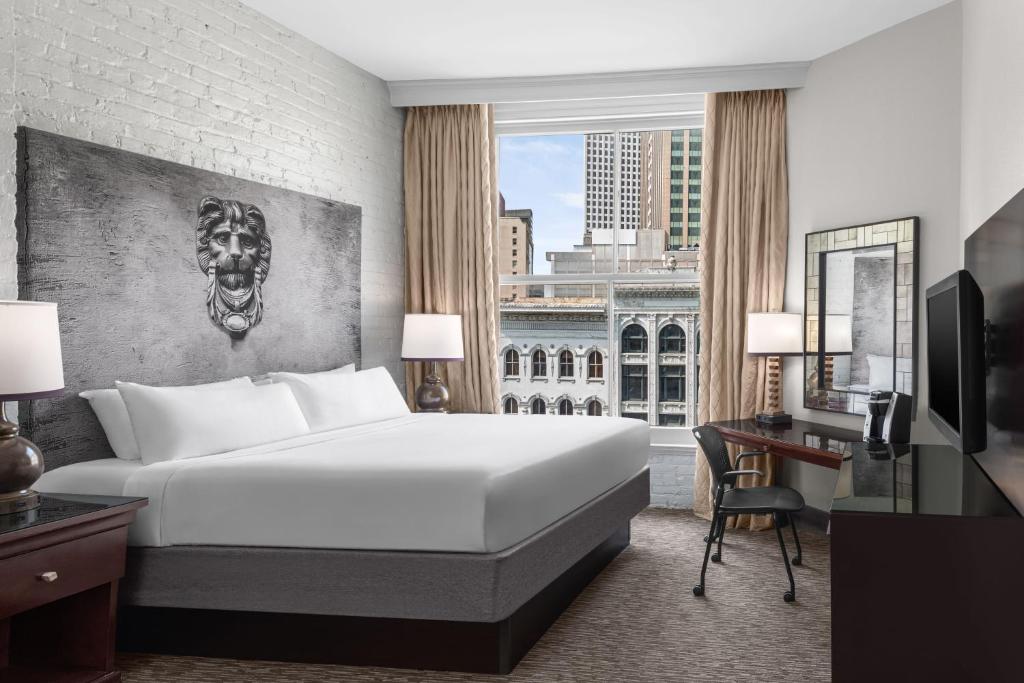 Where to Eat During Your Weekend In New Orleans
Napoleon House
For those who plan ahead, the Napoleon House needs to be on your list of where to dine in New Orleans. This restaurant has been a staple of New Orleans for over 200 years!
We think the Coolinary Lunch menu at $25 is a steal! Start with the seafood gumbo or house salad, and follow up with a main entree of a Reben or shrimp and lobster roll!
Finally, you know it is good when locals flock here for the Italian Muffuletta sandwich and Po-boys! Pair this with a cocktail like a Pimm's #1 or try a twist on the Pimm with a Pimm's Watermelon or English Pimm's with Bombay.
Gumbo Shop
If you want to try traditional Creole food, one of my favorites is the Gumbo Shop! Gumbo is a blend of cultures much like that of New Orleans, and is a stew made with celery, pepper, onions, and other meats or shellfish! They have won the award for best Gumbo since 1999!
First, choose from my favorite the chicken andouille gumbo or try the seafood okra gumbo or the jambalaya. They also have a vegetarian dish of the day served Creole style.
Are you interested in trying a variety of dishes – order the combination platter with shrimp creole, jambalaya, red beans, and rice? Located right in the French Quarter, we always ask to sit in the open courtyard if the weather is nice!
Surrey's Cafe and Juice Bar
Brunch is a staple in New Orleans. I usually head here on a Sunday morning and then explore the Garden District after! They are open Thursday to Monday from 8 am to 3 pm. I love that this restaurant has freshly squeezed juices, as well as breakfast favorites. The Bananas Foster French toast is to die for if you like something sweet. While the Corned beef hash and shrimp and grits are perfect for those who love something more savory!
Best of all, both breakfast and lunch are served all day. For something more hearty the lunch menu offers sandwiches like a roasted veggie po-boy, grilled tofu avocado pesto, Cuban, or carnitas. It is a great spot to start your Sunday of your weekend getaway to New Orleans!