Do you wait all year for Christmastime to come around and love visiting Christmas markets in the USA? Well, we love them too and cannot wait to share with you the 15 most festive Christmas markets in the USA. Get ready to hear all about markets with outdoor ice skating rink, the best homemade crafts and goods, and the ones that have the most attractions included.
We will share all you need to know about what the markets have to offer and what to expect. We will also tell you if there are other local attractions that are a must-see during the holidays. What better way to get into the holiday spirit then taking a road trip and visiting some of the best Christmas markets in the USA?! You get to travel a bit, have tons of fun, and maybe even get some Christmas gifts marked off of your shopping list too!
15 Festive Christmas Markets In The USA
Bank Of America Winter Village At Bryant Park (NYC)
The Bank of America Winter Village at Bryant Park is located in New York City and it makes our list of Christmas markets in the USA because it is centrally located in New York, has free admission, includes ice skating and has over 100 vendors.
The holiday market surrounds the outdoor ice rink and really makes you feel like you are in a snow globe of happiness. The vendors include winter clothing, jewelry, baked good, Christmas decorations, crafts, and more. There is also a large bar and food hall that serves a variety of snacks and food options.
Special holiday events include a Christmas Tree Lighting Skate-acular, cozy igloo knitting sessions, bumper cars on ice, photos with Santa, story time for kids, broomball on ice, and live music at the Lodge bar. You might find yourself wanting to extend your Christmas visit to NYC, so here are 19 festive ways to celebrate Christmas in New York City.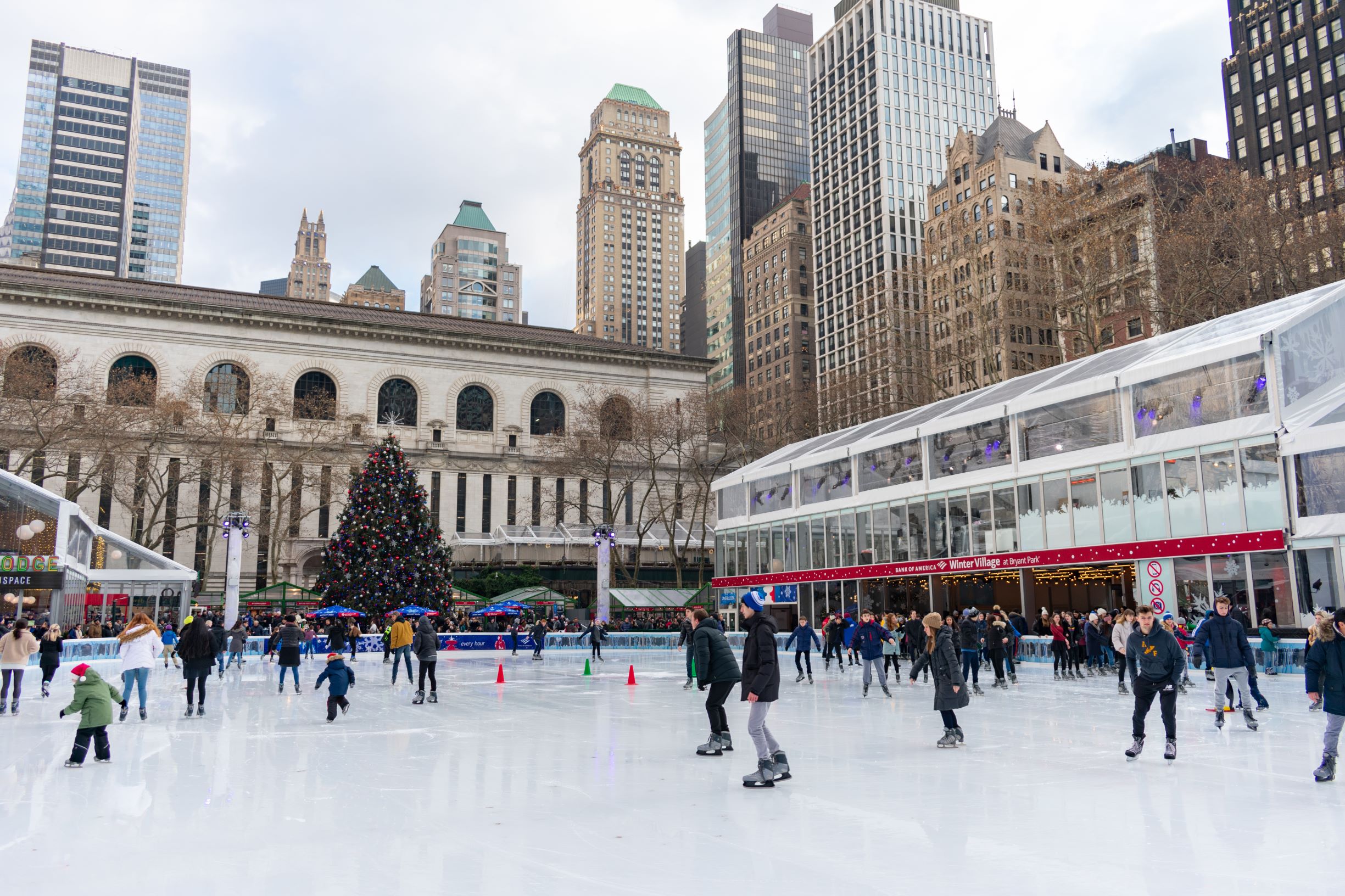 Downtown Holiday Market (Washington, DC)
Located close to the Smithsonian American Art Museum and National Portrait Gallery, the Downtown Holiday Market is Washington's pride and joy of the holiday season. Featuring more than 100 regional artists, craftspeople, and small businesses, it is a fantastic Christmas market in the USA to find a unique gift for anyone on your list.
It is a free outdoor market, so it is perfect for bundling up and sipping on hot cocoa while you shop and enjoy Christmas music. Different performers are scheduled each weekend and provide a fun and special experience each time you visit Washington DC at Christmas.
Known for having fresh empanadas, hot mini donuts, and authentic German food vendors, this is definitely one the of best Christmas markets in the USA for foodies. Other festive holiday attractions include the National Zoo Lights, the National Christmas Tree Lighting, and ice skating at Washington Harbour.
This is truly one of the best Christmas Towns In The USA you should visit!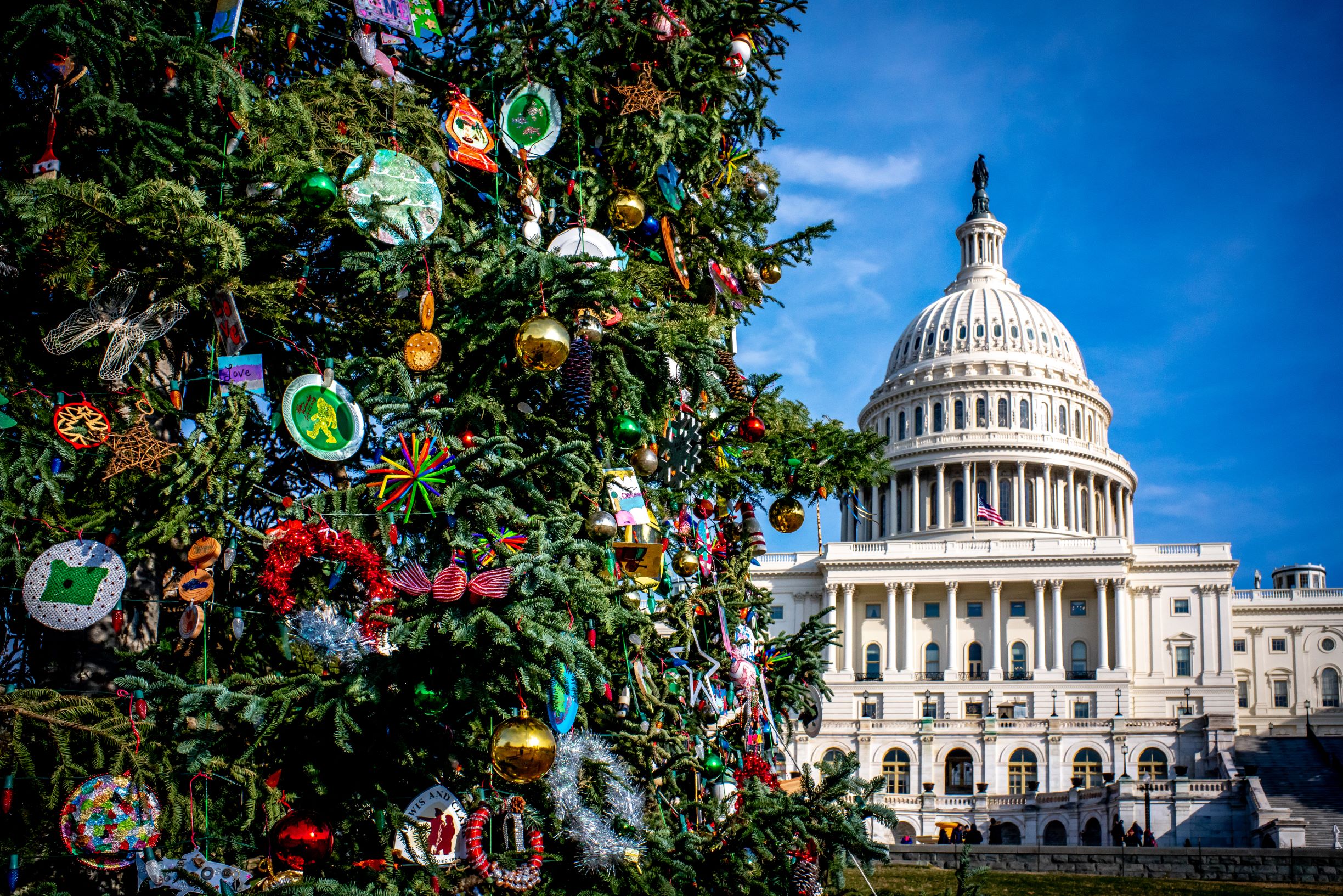 Christkindl Market (Denver, CO)
Skyline Park is located in Downtown Denver and every year it is transformed into a German village where Bavarian musicians play Christmas carols and vendors serve mulled wine, sausages, baked apples, and gingerbread. German gifts are available including cuckcoo clocks and large elaborate beer steins.
Skyline Park also features an outdoor ice skating rink for even more festive fun! If you are looking for more Christmas attractions, you should check out the Denver Botanic Gardens Winter Gift Market and the Grand Junction Holiday Art and Craft fair.
Christkindl Market stands out among the Christmas markets in the USA because it is not only Christmas themed to the max, but it also has a fabulous secondary theme of celebrating German culture. If you decide to stay a little longer, here are 12 fabulous weekend getaways in Colorado that you should check out!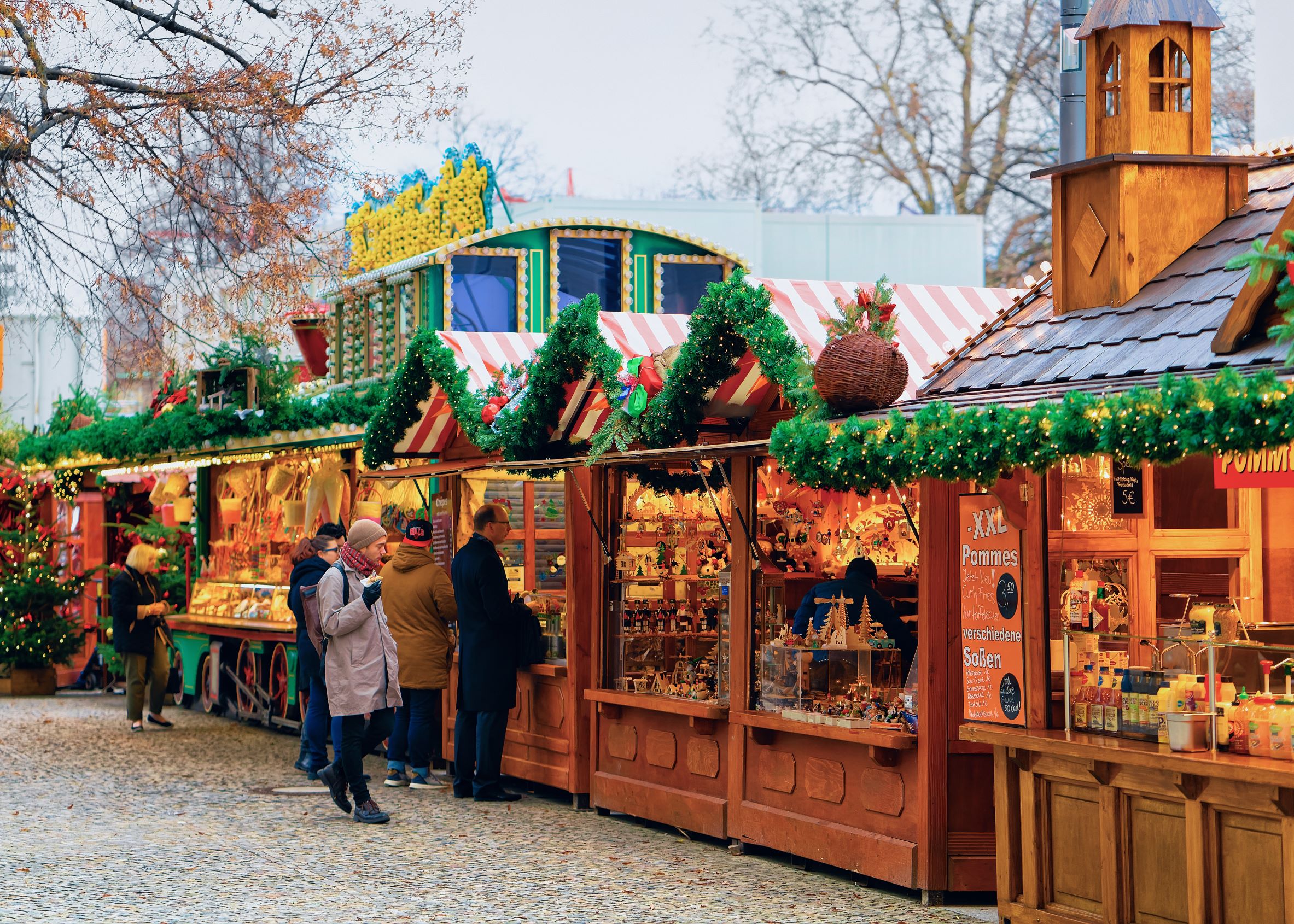 SoWa Winter Festival & Holiday Market (Boston, MA)
The SoWa Winter Festival & Holiday Market features holiday DIY workshops, galleries, artist studios, and over 130 vendors. In addition to all of those amazing attractions, they also have live ice sculpting! Get an up-close view of artists making delicate sculptures out of large bricks of ice.
For a real treat, professional carolers can be heard on weekend days. SoWa is the area south of Washington Street in the South End and it is well-known for its delicious restaurants and lively bars. Boston at Christmas is truly magical!
If you don't want the fun to end, you can check out Christopher Columbus Waterfront Park that features over 50,000 blue lights,  see the Boston Pops Orchestra, or see the Boston Ballet perform the beloved Nutcracker at the Boston Opera House.
Christmas Village (Baltimore, MD)
Christmas Village is one of the Christmas markets in the USA that has the unique combination of indoor and outdoor attractions. The festival tent is heated and features more than 50 different vendor booths and is has free admission!
Plenty of Christmas decorations, lights, and charming German-style wooden huts provide a very magical ambiance that is filled with Christmas spirit! As you walk around and shop, the smell waffles and gingerbread will fill the air.
Other local attractions include The Holly Jolly Trolley which takes visitors throughout the city to view the holiday lights and decorations, Baltimore Mayor's Annual Christmas Parade, and A Christmas Carol performed by the Chesapeake Shakespeare Company.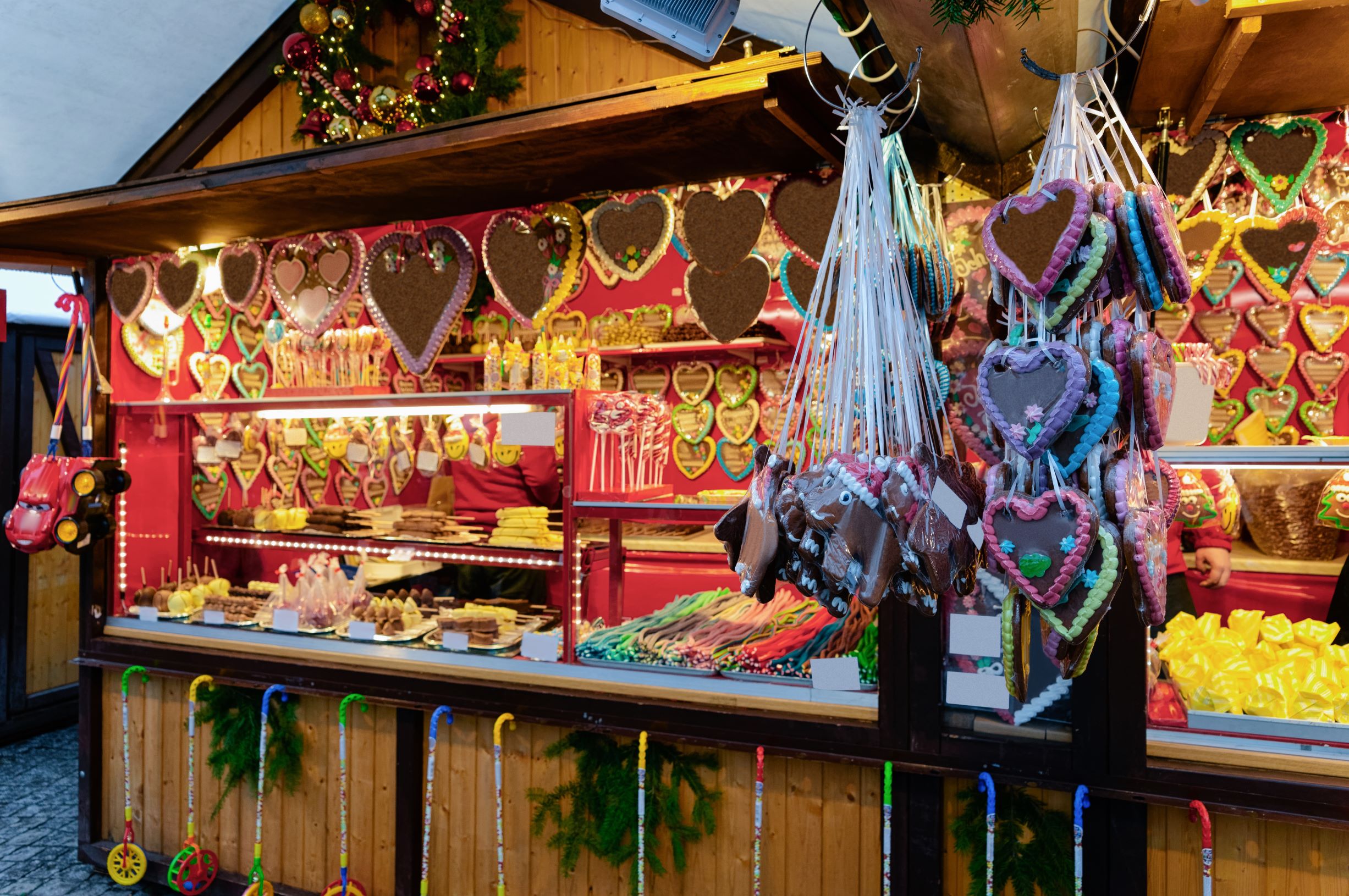 The Great Dickens Christmas Fair (San Francisco, CA)
The Great Dickens Christmas Fair is one of the Christmas markets in the USA that takes you back to Victorian London. It is located in San Francisco and comprises 3 acres of land. If you love A Christmas Carol, then this is the place for you!
You will experience more than just the usual holiday fare as this event features over 100 costumed characters that sing carols, dance, and recreate parts of A Christmas Carol. Admission is around $30 for adults and $15 for children, but well worth the cost as you get a fully immersive experience.
Gourmet chefs are on-site and provide authentic English food including bangers, fish and chips, delicious desserts. The fair also includes 5 authentic pubs offering craft ales from local breweries. Other local attractions include ice skating in Union Square, SantaCon, and the Fairmont Hotel Gingerbread House.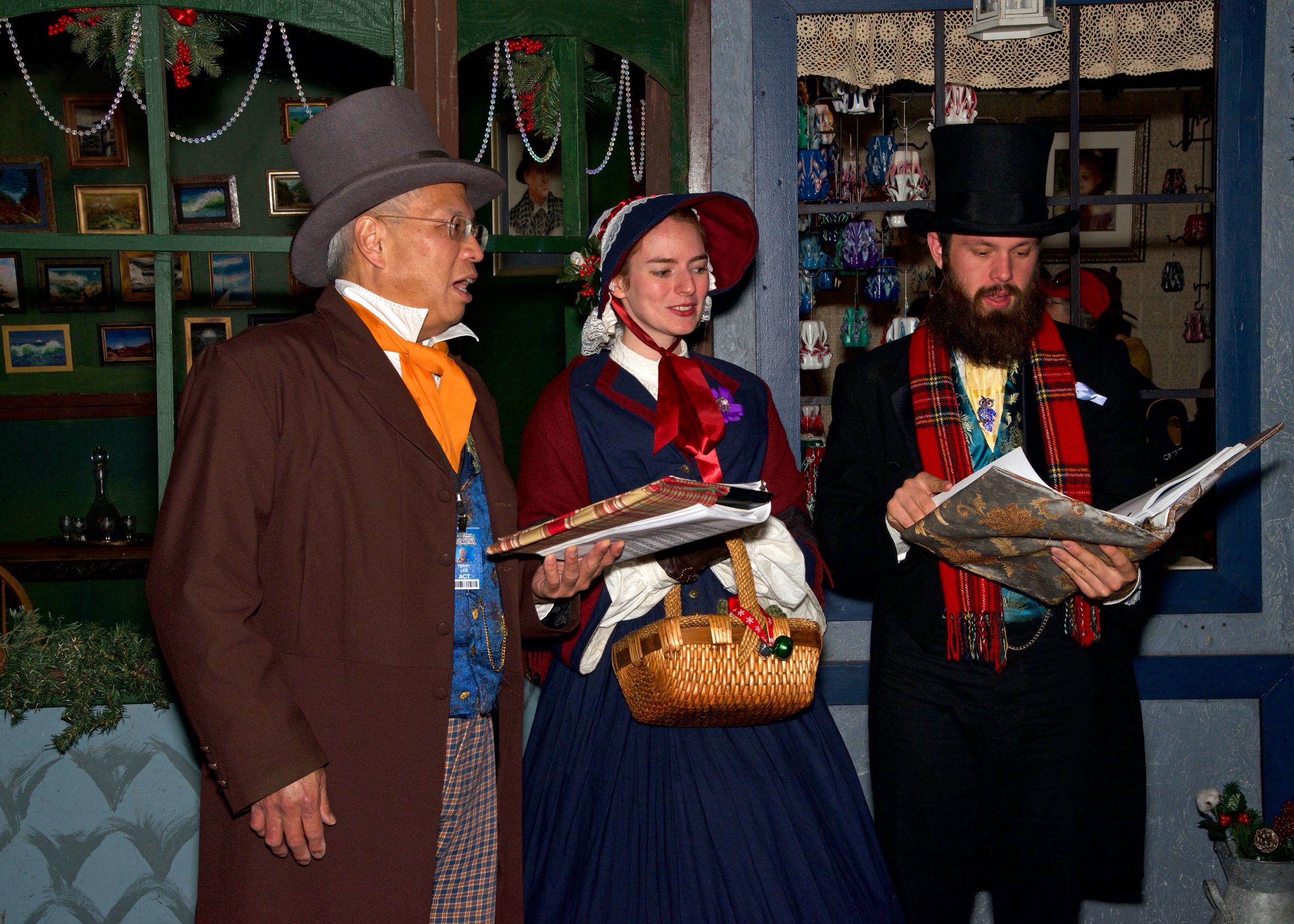 Christkindl Market (Arlington, TX)
Christkindl Market in Arlington, Texas is well-known for featuring homemade soap, clothing made from alpaca wool, Austrian pottery, and Polish pottery. Kids and adults love the petting zoo, lantern parade, and Santa's Haus. All of this and there is no charge for admission!
Christkindl Market in Arlington is one of the special Christmas markets in the USA because it features a Christmas Toy Shop puppet show with dancing snowmen, tumbling and flipping elves, and a teddy bear that can juggle candy canes.
Create your very own puppet at one the DIY Puppet Workshops or get your picture taken with Santa at Santa's Haus. Other local attractions include Six Flags Over Texas, Arlington Music Hall Spectacular Christmas, and Symphony Arlington Holiday in Vienna.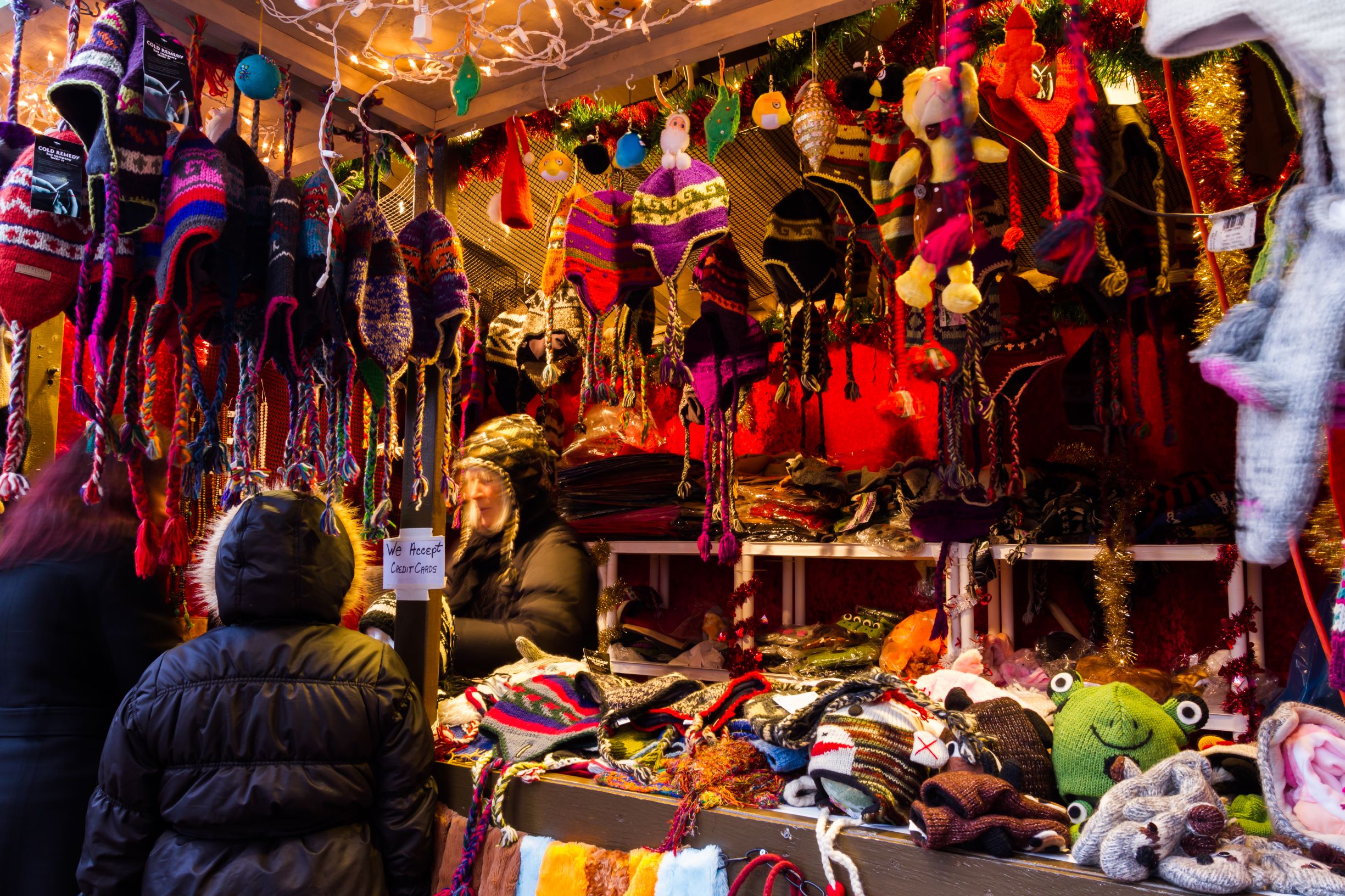 Old World Christmas Market (Elkhart Lake, WI)
At the Old World Christmas Market in Elkhart Lake, you can expect to find gingerbread houses, winter clothing, German crafts, and nutcrackers all under a large heated tent. The market also includes Czech blown-glass ornaments and Russian nesting dolls.
Guest can enjoy apple strudels, potato pancakes, dumplings, and more! Tickets for guest over 14 years of age are less than $10 and guests under 14 are included for free with the purchase of an adult ticket.
Special attractions include breakfast with Santa, horse-drawn wagon rides, holiday workshops for children, and a special buffet at The Osthoff Resort on Christmas Day. Other local attractions include ice skating, snow shoeing, and the Big Band Music Revue at the Shore Club.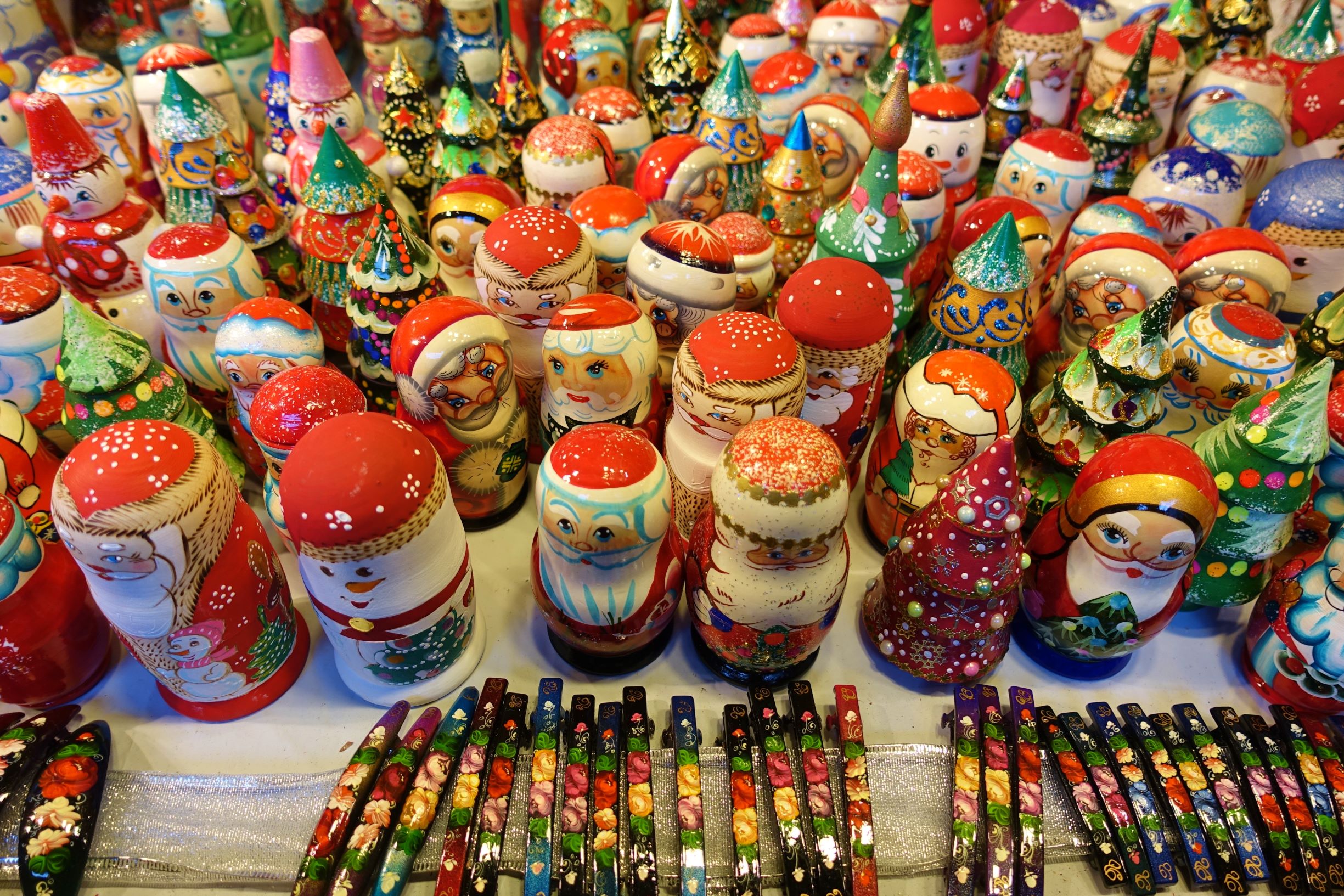 Christmas Village (Philadelphia, PA)
Christmas Village is one the the best Christmas markets in the USA that is located in Philadelphia and features over 100 wooden vendor booths. Kids will absolutely adore the lights of the large carousel and have so much fun taking a ride on it.
Enjoy a huge Bavarian pretzel with a cup of hot cocoa as you revive your holiday spirit! With so many interesting vendors, you won't have any issues picking up the perfect gift for friends or family.
Live music and other dance performances are scheduled every weekend. Other local attractions include the Holiday Light Show at Fashion District Philadelphia, holiday tours at One Liberty Observation Deck, and LumiNature at the Philadelphia Zoo.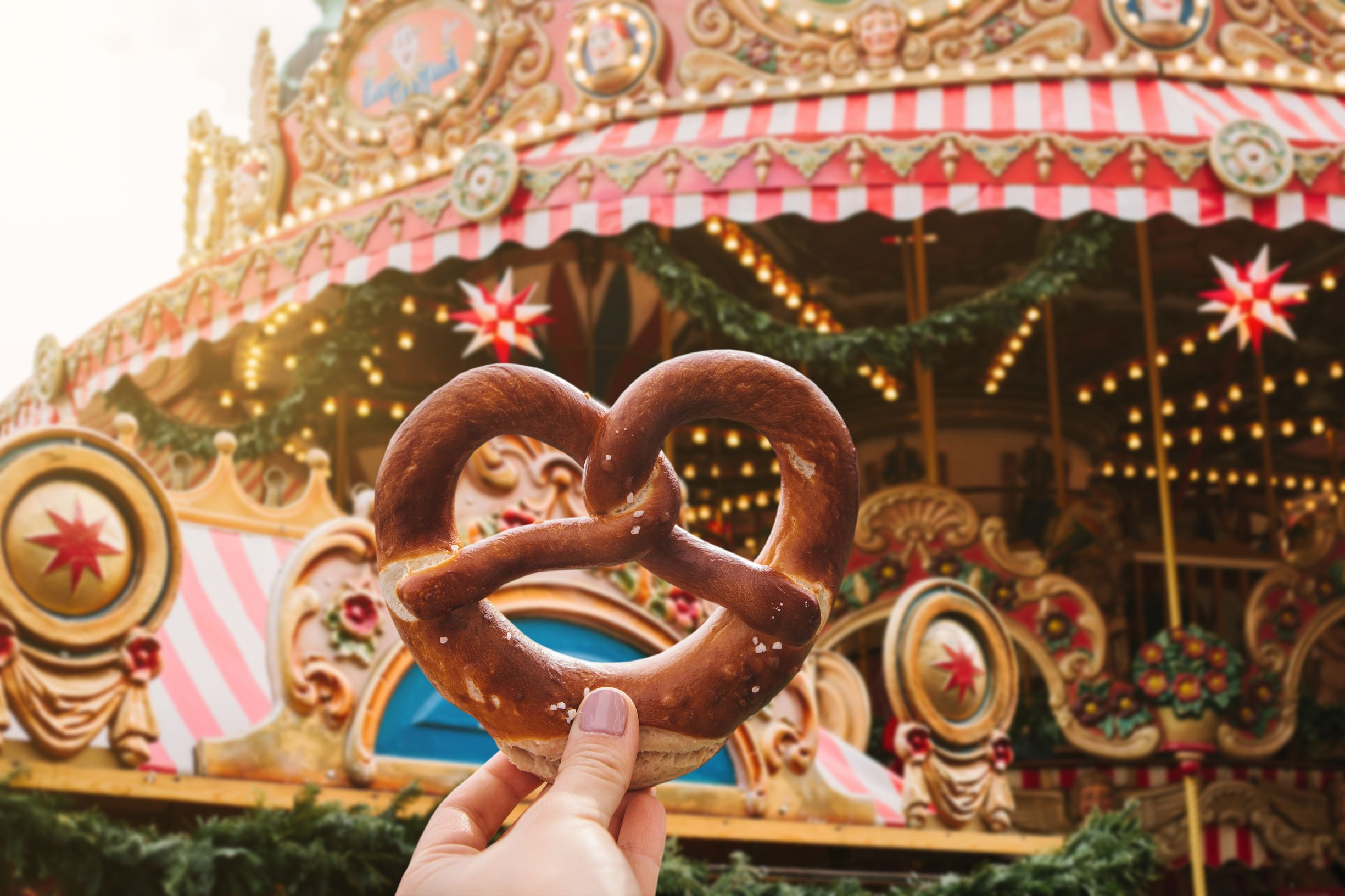 Holidazzle (Minneapolis, MN)
Holidazzle is a Christmas extravaganza that is located in Minneapolis and it features festive entertainment for all ages! Holidazzle is another one of the free Christmas markets in the USA and it is a fabulous way to celebrate the holiday season with friends and family.
Holidazzle includes an abundance of vendors, an outdoor ice skating rink, movie nights, heated tents, and musical performances by bands and choirs. Tasty treats include cinnamon roasted nuts, local BBQ, pierogis, pretzels, gyros, and paella.
Other local attractions include Macy's Minneapolis SantaLand, Grand Avenue Christmas Tree Lighting in St. Paul, and the Como Park Holiday Flower Show.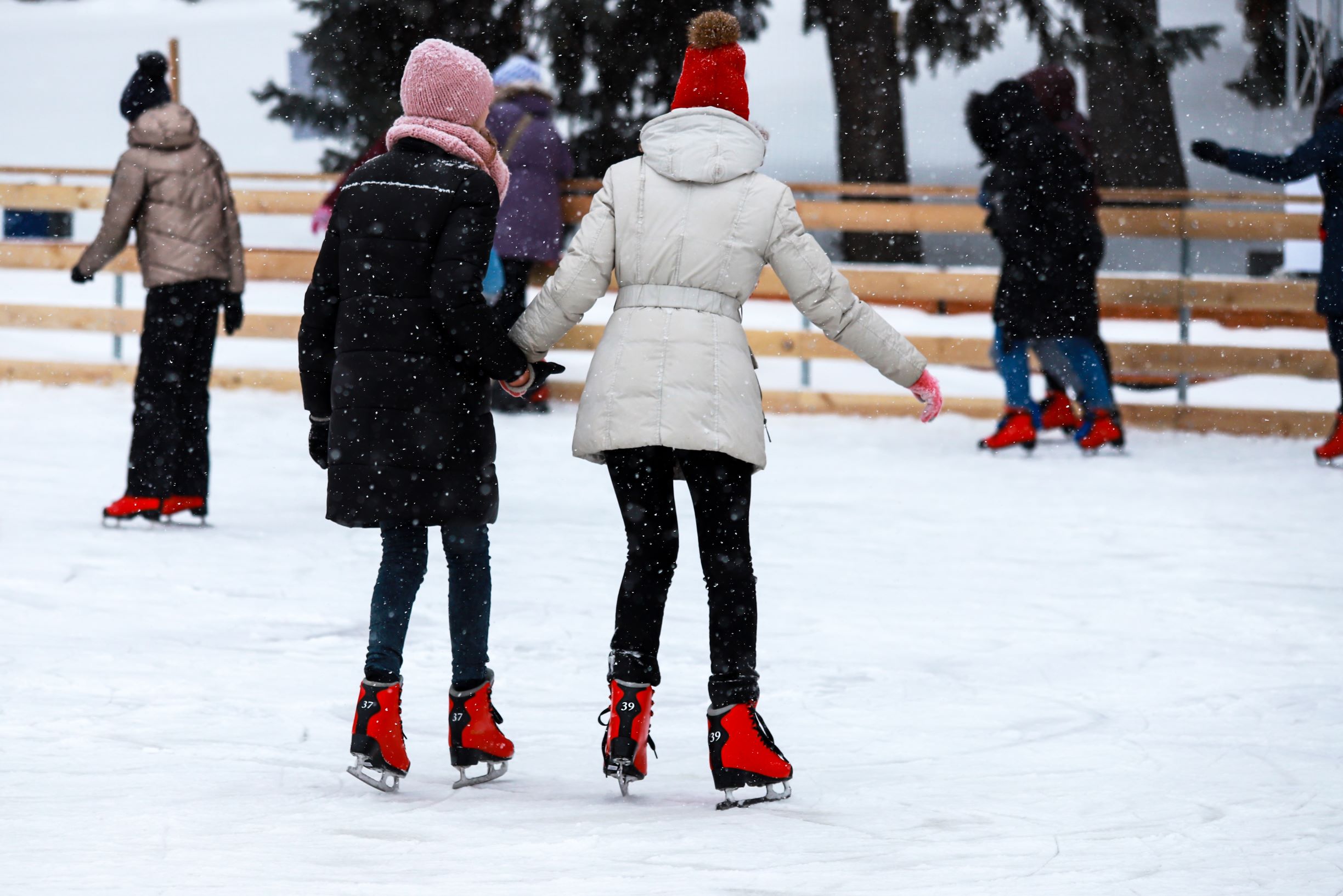 Charlotte Christmas Village (Charlotte, NC)
The Charlotte Christmas Village is located in uptown and features live entertainment, a plenitude of vendors, delicious food, photos with Santa, and the annual Tree Lighting Ceremony. Charlotte is a very warm and friendly city that is ready to spread their holiday cheer with you.
It is a free event and also pet friendly! Get ready to have a great time while you shop and enjoy all of the sights and sounds of a cozy Christmas village. Maybe buy a new ornament, they make a great souvenir that you get to revisit each year when you decorate your tree.
Other local attractions include ice skating at Uptown's Holiday on Ice, shop vintage gifts at the Vintage Charlotte Winter Market, or walk the light trail at the U.S. National Whitewater Center.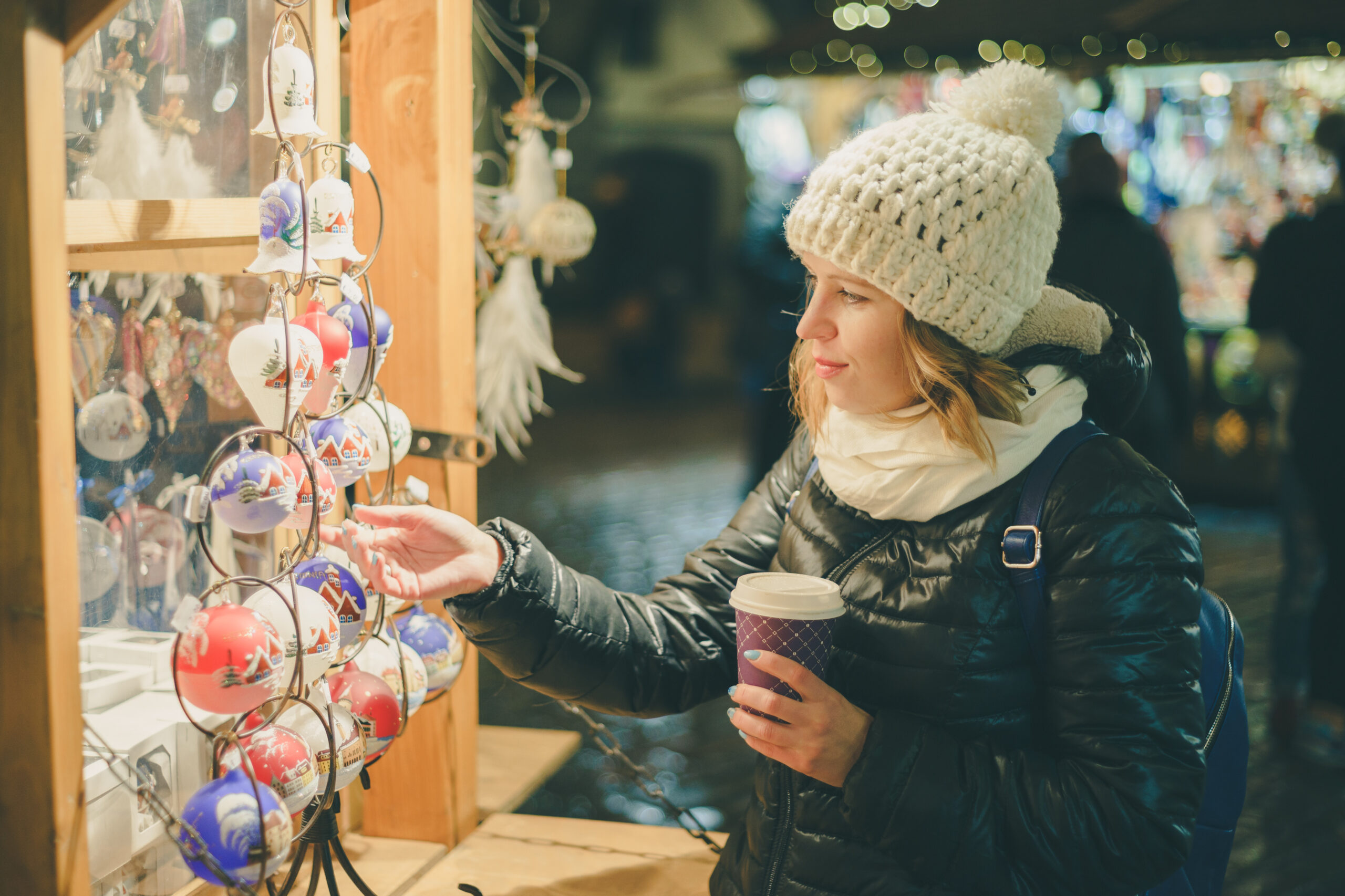 Christkindl Market (Chicago, IL)

This holiday tradition has been coming to Chicago since 1996 and features tons of holiday festivities to be enjoyed by all! Vendors from all over are set up in wooden store fronts with cute awnings, Christmas lights and wreaths. This is another one of the Christmas markets in the USA that has free admission.
Stunning glass ornaments, decorative beer steins, and classic holiday nutcrackers are just some of the things you will find at this market. The fun thing about Christkindl Market is that each location is slightly different based on the city that creates the backdrop.
Some people make it a tradition to visit different Christkindl Markets and collect souvenirs from each one. Other local attractions include The Great Tree at Macy's Walnut Room,  The Joffrey Ballet's The Nutcracker, and ZooLights at the Lincoln Park Zoo.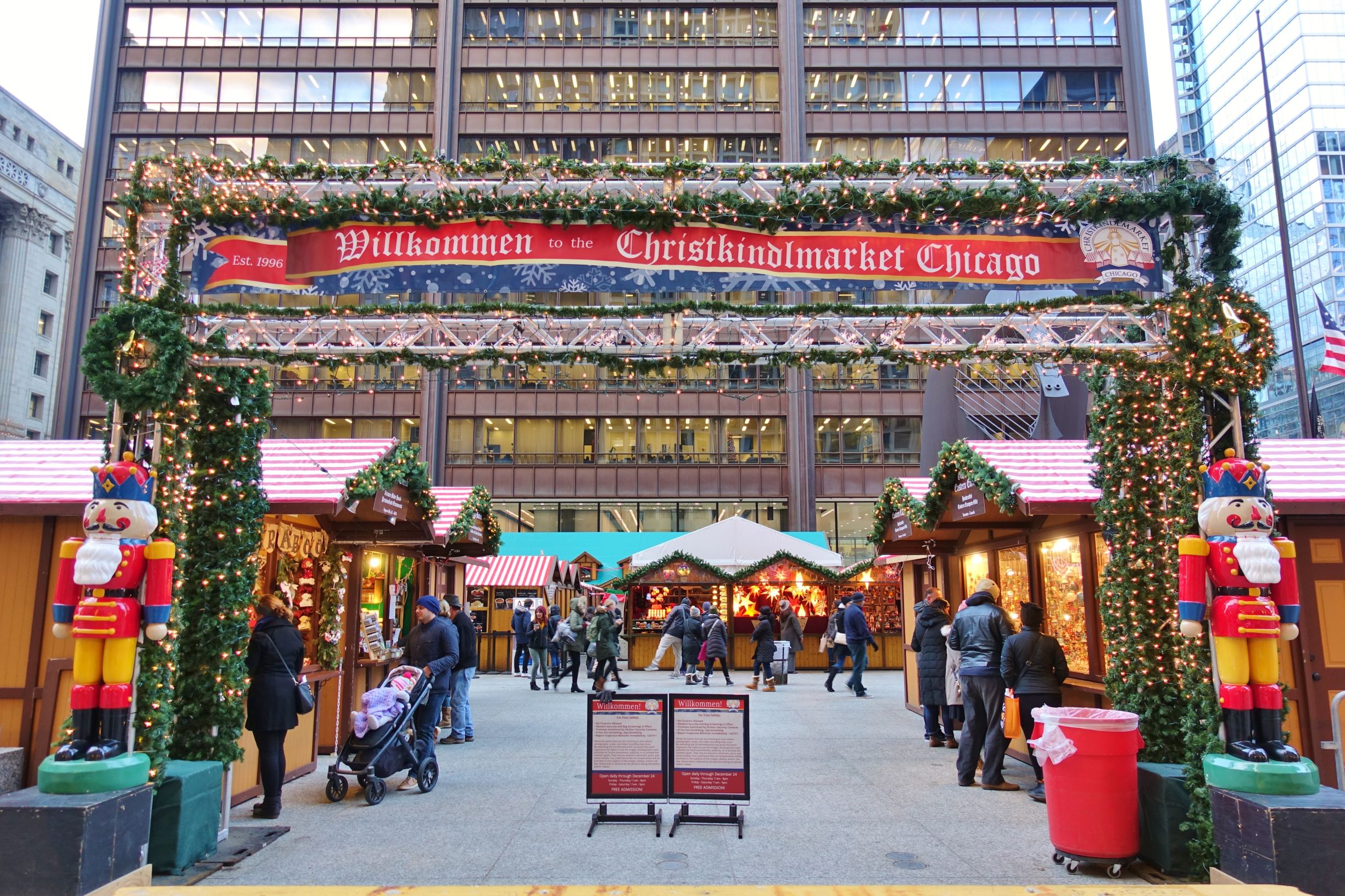 A Victorian Country Christmas (Puyallup, WA)
Located in Puyallup, WA which is about 35 miles south of Seattle. A Victorian Country Christmas is one of the Christmas markets in the USA that features over 500 shops with several concerts and other entertainment. Complete with Santa's Village and a singing Nativity.
Other festivities include Selfie with an Elfie, horse drawn sleigh and carriage rides, a Christmas Carousel, Santa Tram rides between buildings, face painting, balloon animals, and hands on arts and crafts stations.
Tickets cost around $10 with children under 5 gaining free admission. Military and senior discounts are available.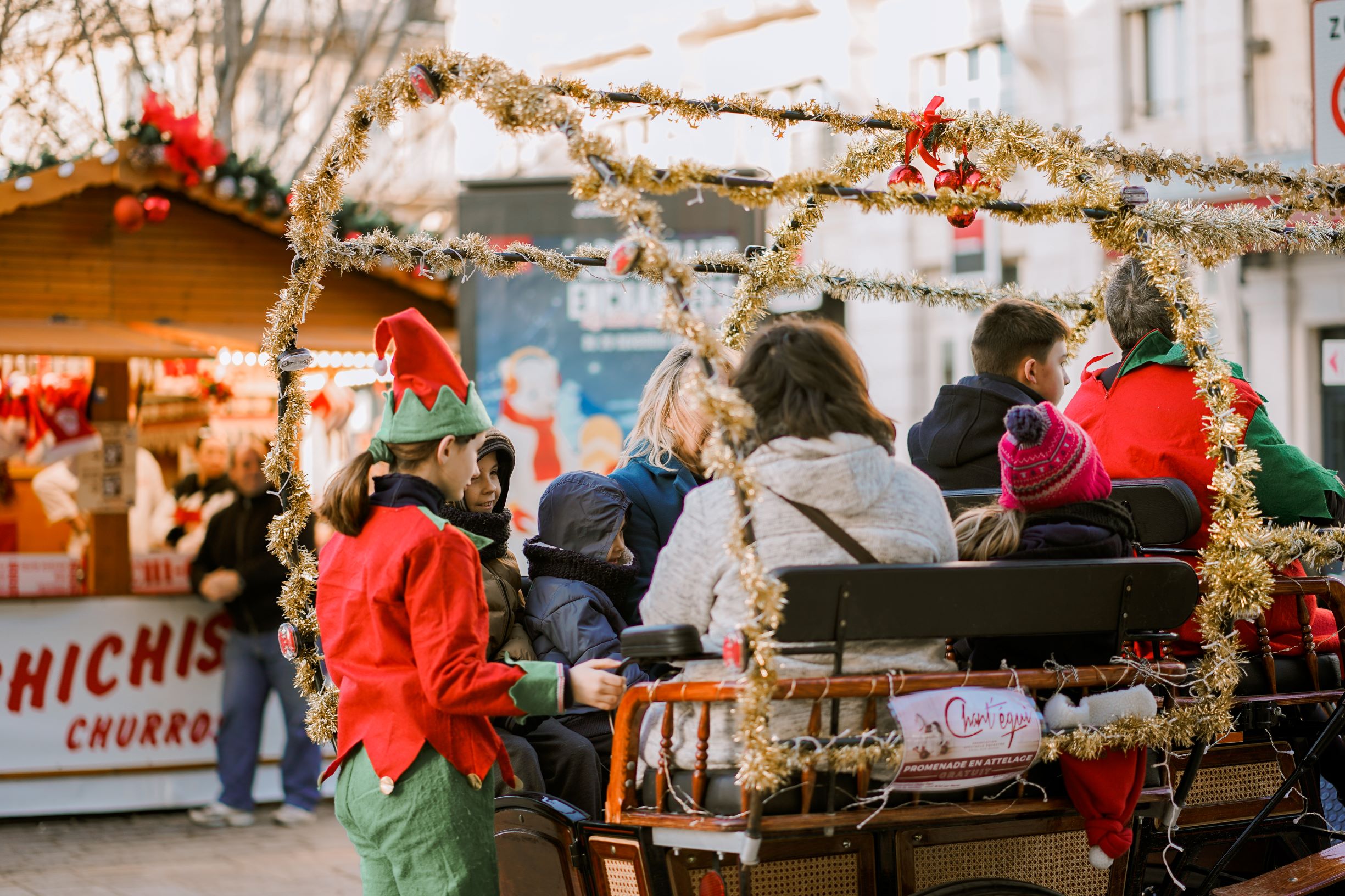 Christmas Village Festival (Birmingham, AL)
The Christmas Village Festival is located in Birmingham, AL and it offers southern charm and rustic gifts. Both locals and visitors attend this holiday event every year and always find a new gift to buy or tasty new treat to sample.
They offer a special VIP day for those extremely serious Christmas shoppers out there that want to beat the crowds and be the first to see the goods. Other local attractions include choral singing at Christmas at the Alys, the Holiday Spectacular at the Red Mountain Theatre, and the City of Birmingham Tree Lighting Ceremony.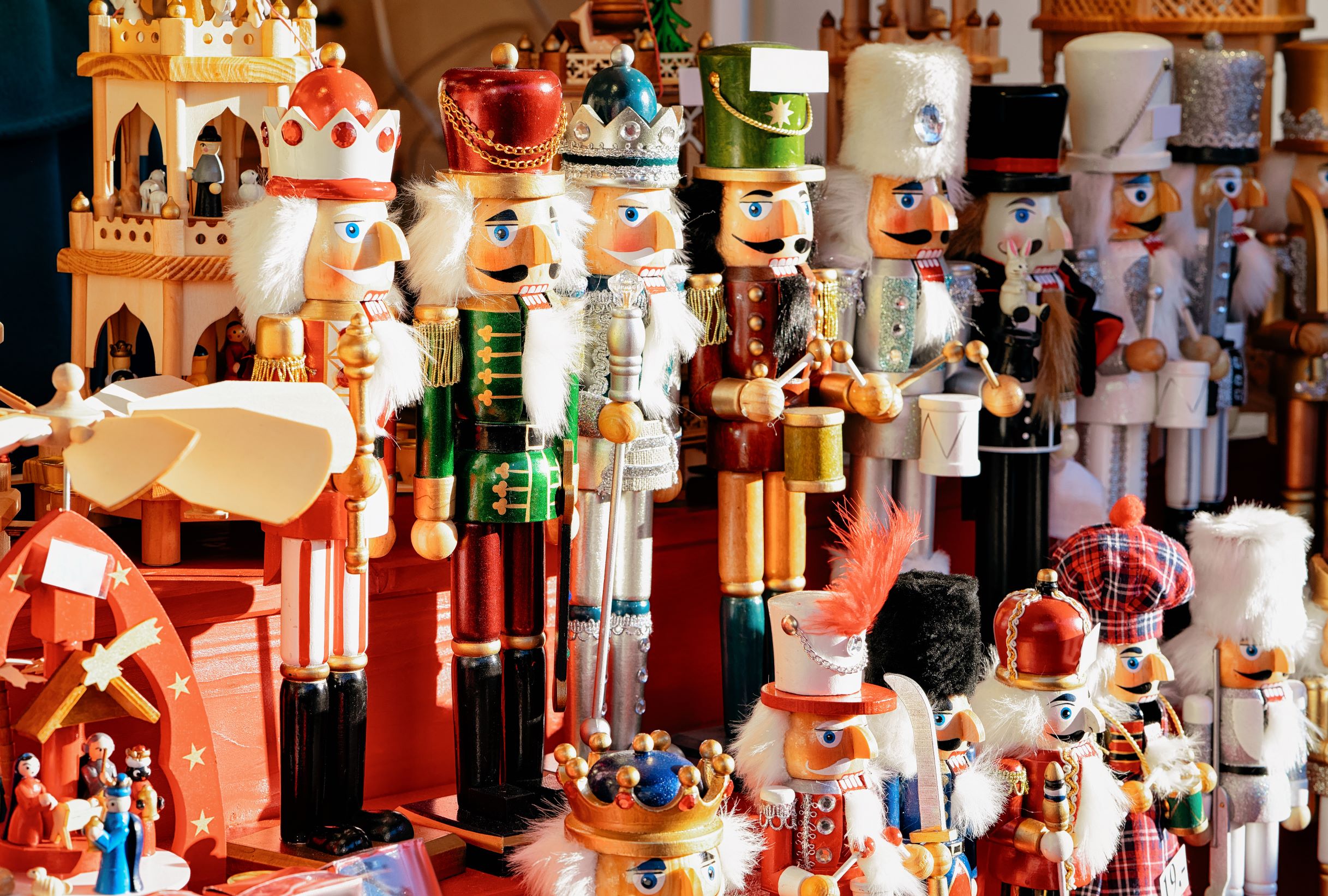 Arkansas Craft Guild Christmas Showcase Extravaganza (Little Rock, AR)
The Arkansas Craft Guild Christmas Showcase Extravaganza has been an annual tradition since 1978 and features contemporary and traditional art, handcrafts, and gourmet food. The work of over 100 artists is available for purchase and include glass, photography, jewelry, pottery, woodworking, and fiber art.
Admission is just $5 per person and well worth the opportunity to view the work of many talented artists. Other local attractions include the Little Rock Trail of Lights, Christmas Tea at the Capital Hotel, and Christmas Carols at the Old State House.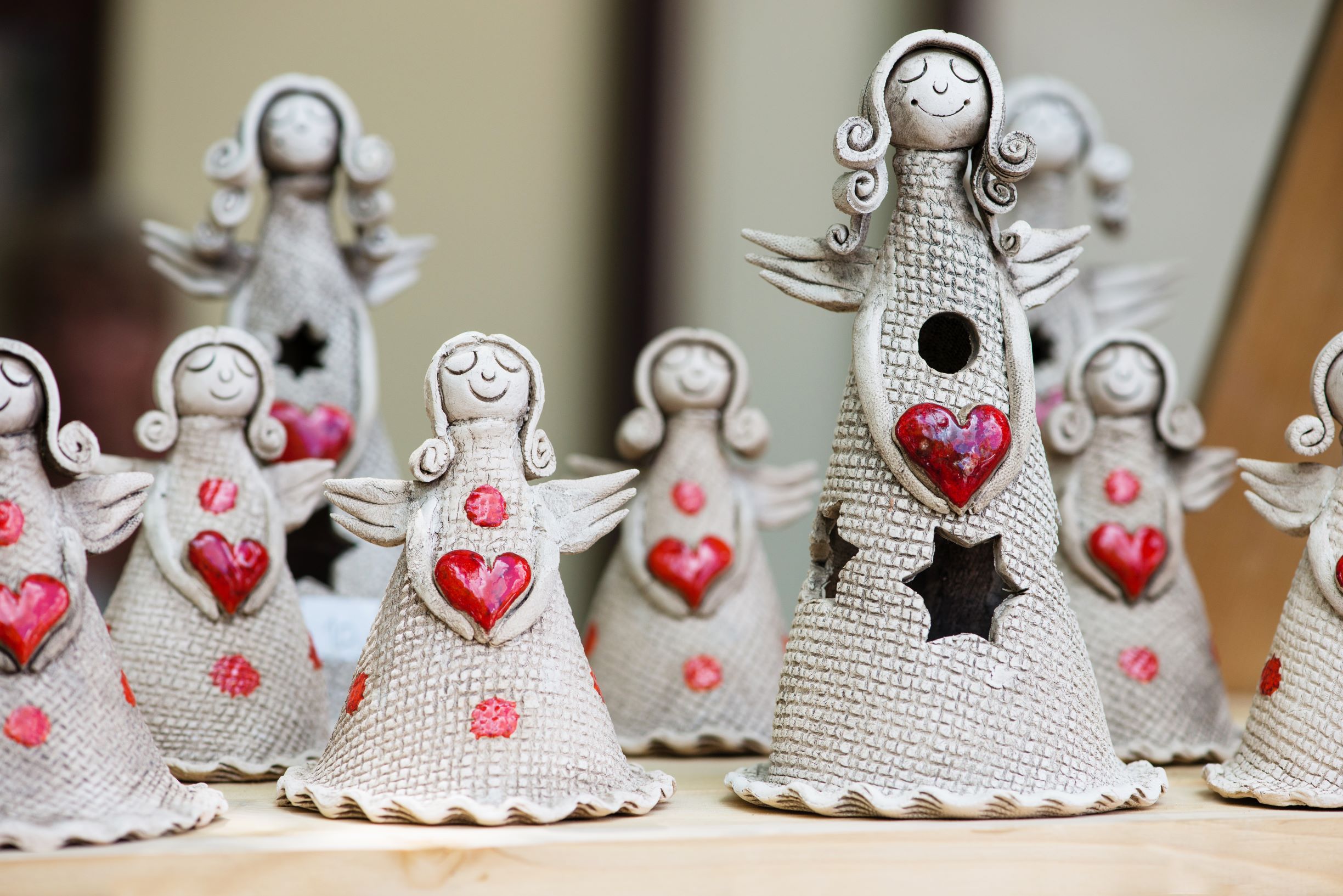 Well, as you can see there are several incredible Christmas markets in the USA. How much fun would it be to travel to a new one each year?! Jump start the Christmas spirit, shop, and also get to explore a new city? Sign us up! It sounds like a perfect plan for those of us out there with the travel bug!
We hope you've enjoyed touring all of these amazing Christmas markets in the USA and we wish you a wonderful holiday season!