Are you looking for the BEST things to do in Georgia? We have you covered with what to see in Georgia and all the best activities in Georgia you need to add to your list!
Whether you like big cities, small towns, or outdoor adventures , you can find it all at one of the many attractions in Georgia. From stunning Bavarian inspired tows, to historic Civil War sights, beaches, waterfalls there are endless things to do in Georgia!
From quick day trips fom popular cities, to weekend getaways, to llonger road trips we have you covered. On our list is also includes some of the best places to stay in Georgia that need to be on your bucketlist!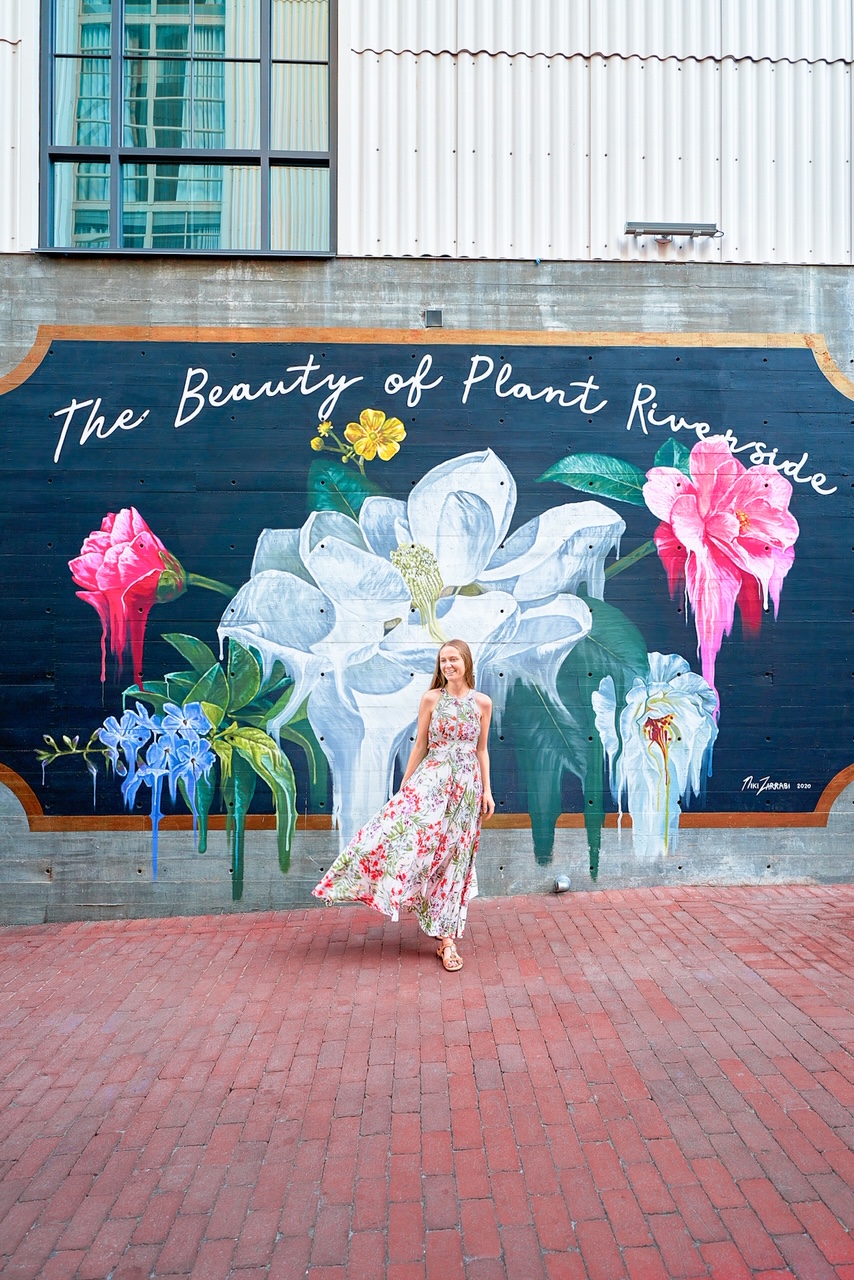 15 Best Things To Do In Georgia For Your Bucket List
Providence Canyon State Park
About 30 minutes from Columbus, Ga you will find Providence Canyon State Park. This "Little Grand Canyon" is a must see in Georgia. The park features many canyons and gullies, the deepest of which is 150 feet down.
With plenty of hikes and camping options, it is easy to see why Providence Canyon is one of the amazing places to visit in Georgia. You can even camp here overnight.
There are over 10 miles of trails to enjoy during your visit. All trails start at the Visitor's Center, and after walking down into the canyon, guests can choose which canyons to explore from there. The walk down is pretty easy but can be steep going back up. One of the most popular trails is the 2.5-mile Canyon Loop Trail.
While those looking for views should head to the rim trail. Experience hikers should try the 6-mile Backcountry Trail that includes rugged terrain that is off the beaten path.
The entry fee is a $5 parking fee, which is standard at all Georgia state parks. The hours vary depending on the season.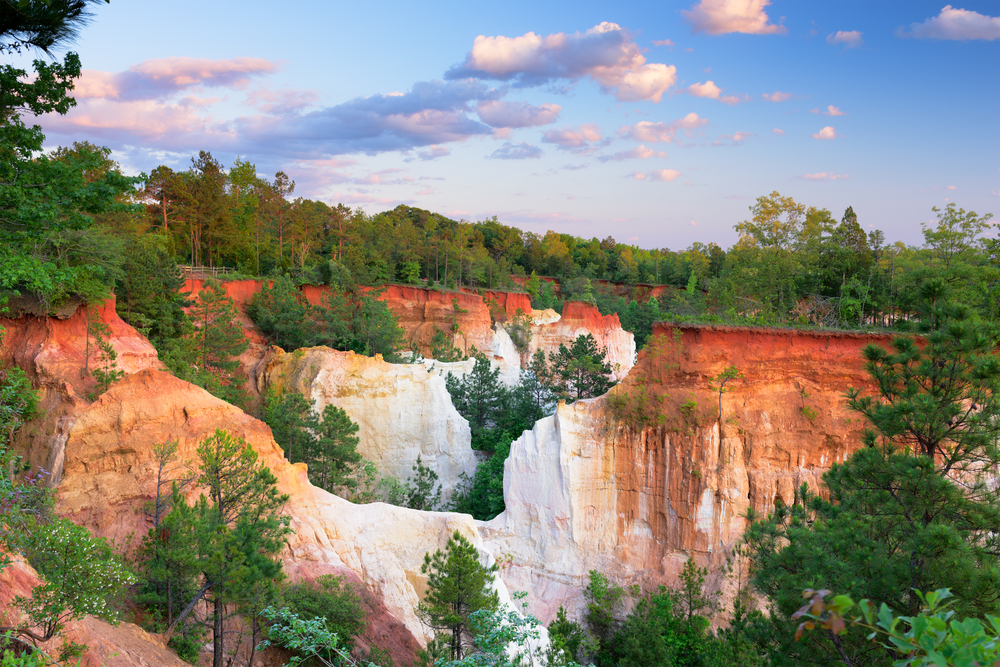 Helen
A trip to Helen has to be on your Georgia bucket list! A visit here will transport you to an Alpine Village without leaving the US. This Bavarian-themed small town in the North Georgia mountains is as picturesque as you would imagine and our vote is one of the BEST things to do in GA!
Are you looking for Georgia vacation activities? Helen has it all! From unique shops and German-themed restaurants to tubbing down the Chattahoochee River (children 3 and up are welcome).
Why not hike the Appalachian Trail? Or visit Habersham Winery & Vineyards serving delicious wines And did we mention there is a coaster in the middle of town open 7 days a week? There are endless Georgia activities to be found here!
For those looking for fun things to do in Georgia, head to Unicoi State Park and choose from activities like zip lining, archery, fly fishing, and paddle boarding. Chase waterfalls in the nearby parks.
Have a trip planned in October? You will experience a true German Oktoberfest! It is also one of the best Christmas vacations in the USA.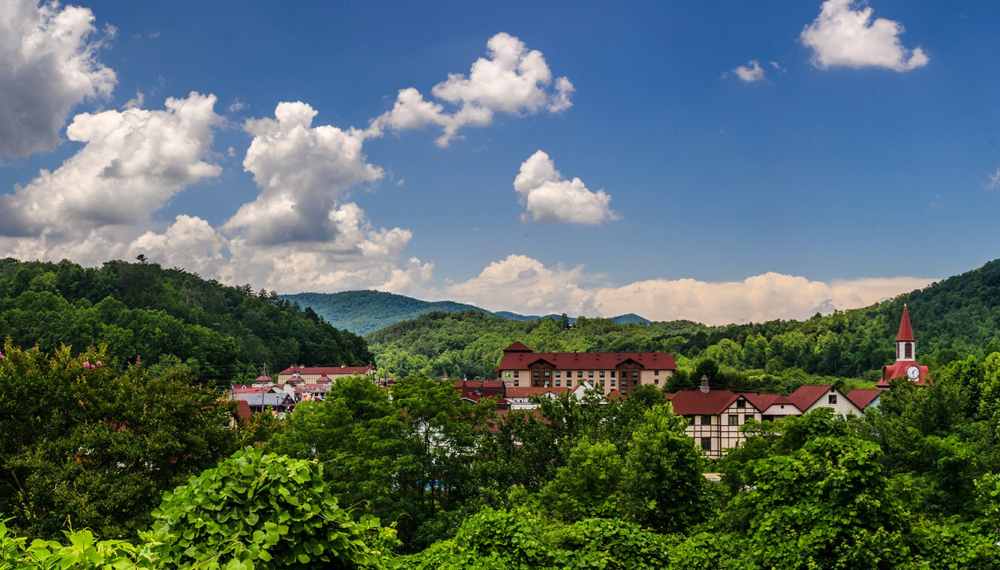 Georgia Aquarium
One of the best things to do in Georgia with kids is the Georgia Aquarium. While in Atlanta the whole family will enjoy over 11 million gallons of exhibits to explore. This is just one of the activities to do in Georgia in Atlanta.
The country's largest aquarium features thousands of sea creatures. Expect to see whale sharks, beluga whales, manta rays, penguins, and sea lions! You will not want to miss the daily penguin Waddle Walk!
Here you can explore all the wonders of the Ocean. There are immersive interactive touch tanks, daily animal presentations, shows, and more. Plus, your ticket admission includes the dolphin and sea lion encounters!
Open 9 am to 9 pm daily, admission is required for those 3 and over. For those looking for something unique, try one of Georgia's must-see attractions at the Behind the Aquarium tour.
River Street Savannah
River Street area has transformed once historic warehouses into the most lively neighborhood in Savannah. We think it is one of the best areas to stay in Savannah for first-time visitors and families with young children.
One of my favorite hotels and one of the Best Resorts In Georgia is also located on River Street (JW Marriott Plant Riverside!)
Are you looking at things to do in Georgia at night? We think the River Street nightlife area is one best things to do in Georgia for adults. With tons of nightlife and bar options, with open carry, you can enjoy a beverage while walking along the river.
This area has it all. Take a cruise on a charming Savannah Riverboat, hop on a horse-drawn carriage to take in the sights, or soak up the stunning views from a rooftop bar.
There are tons of shops, restaurants, and galleries to explore along the cobblestone streets of the waterfront.
Plus, the landmark homes and famous attractions in the historic district like Forsyth Park are just a short walk away. We think this is one of the fun places in Georgia to visit for a weekend getaway in the USA.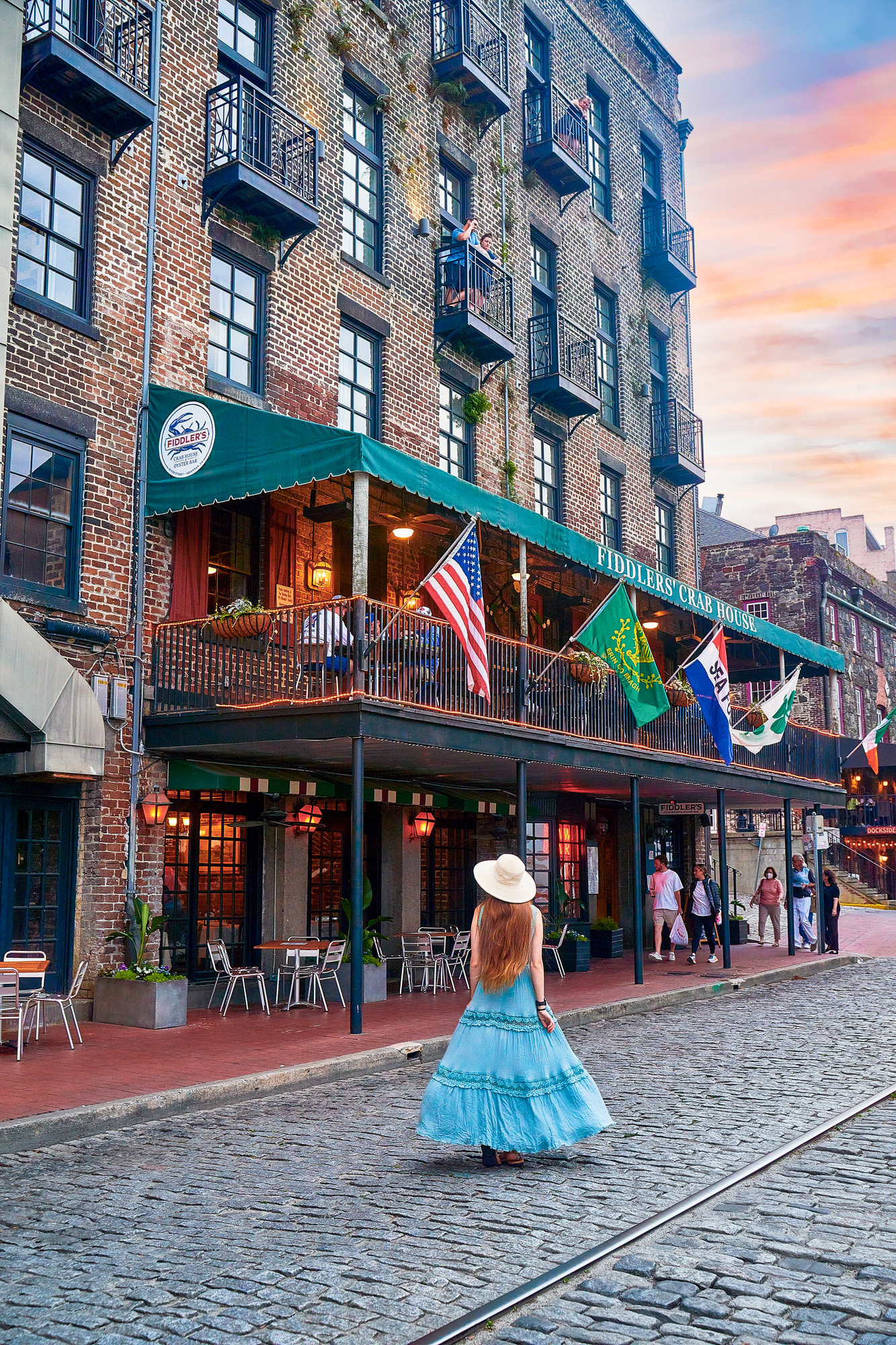 Chasing waterfalls at Ruby Falls
Ruby Falls is truly one of the most gorgeous waterfalls in Georgia! This Georgia waterfall will make you take out your camera for a complete photoshoot! Making it one of the best activities in Georgia for outdoor lovers!
Ruby Falls is near Helen, Georgia, on the Smith Creek Trail within Unicoi State Park. While making your way through the trails to Ruby Falls, you will see endless wildflowers and mossy creeks.
The hike is just under 9 miles and rated as a more difficult hike compared to others on this list. Worth the extra effort for couples looking at romantic things to do in Georgia!
Once you reach Ruby Falls, the long hike will be worth it! Ruby Falls is more than just one beautiful waterfall, it is a double waterfall that will have you staring in awe as you rest before your hike back down.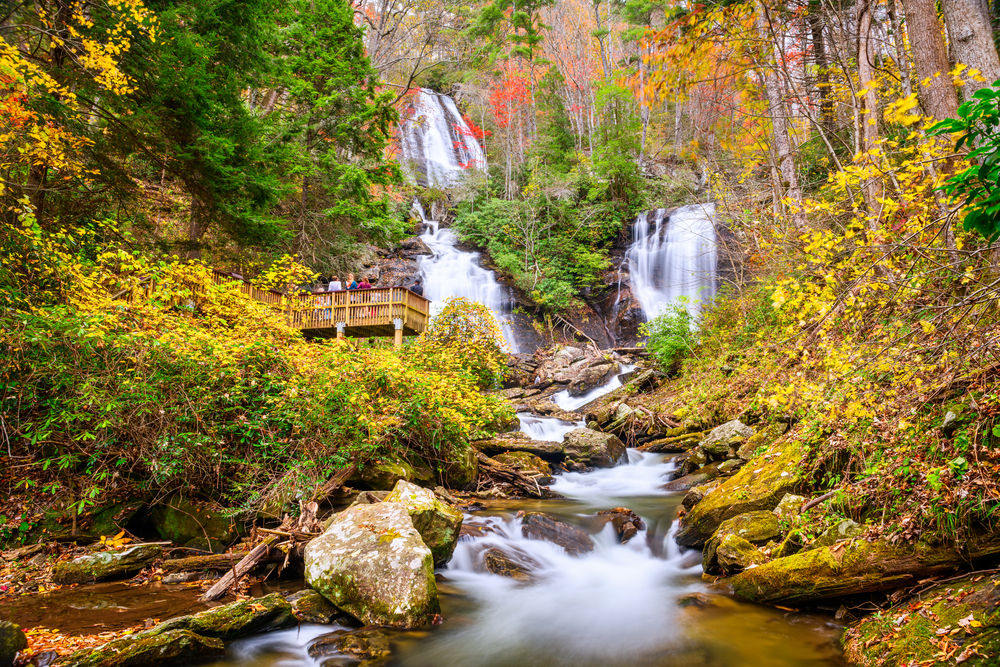 Fall Foliage
Are you looking for free things to do in Georgia during fall time, why not explore fall foliage? The colors of Fall in Georgia are truly breathtaking, trust us when we say get your cameras ready.
Those iconic bright red and orange colors make the trees seem like they are on fire. While the subtle yellows and golds are just as special.
Fall in Georgia is that the weather is extremely comfortable with highs in the 70s and lows at night in the 50s.
We have put together a list of the 10 best places in Georgia to see fall foliage here! From state parks, to waterfalls, mountains, and even cities all come alive during the wall time.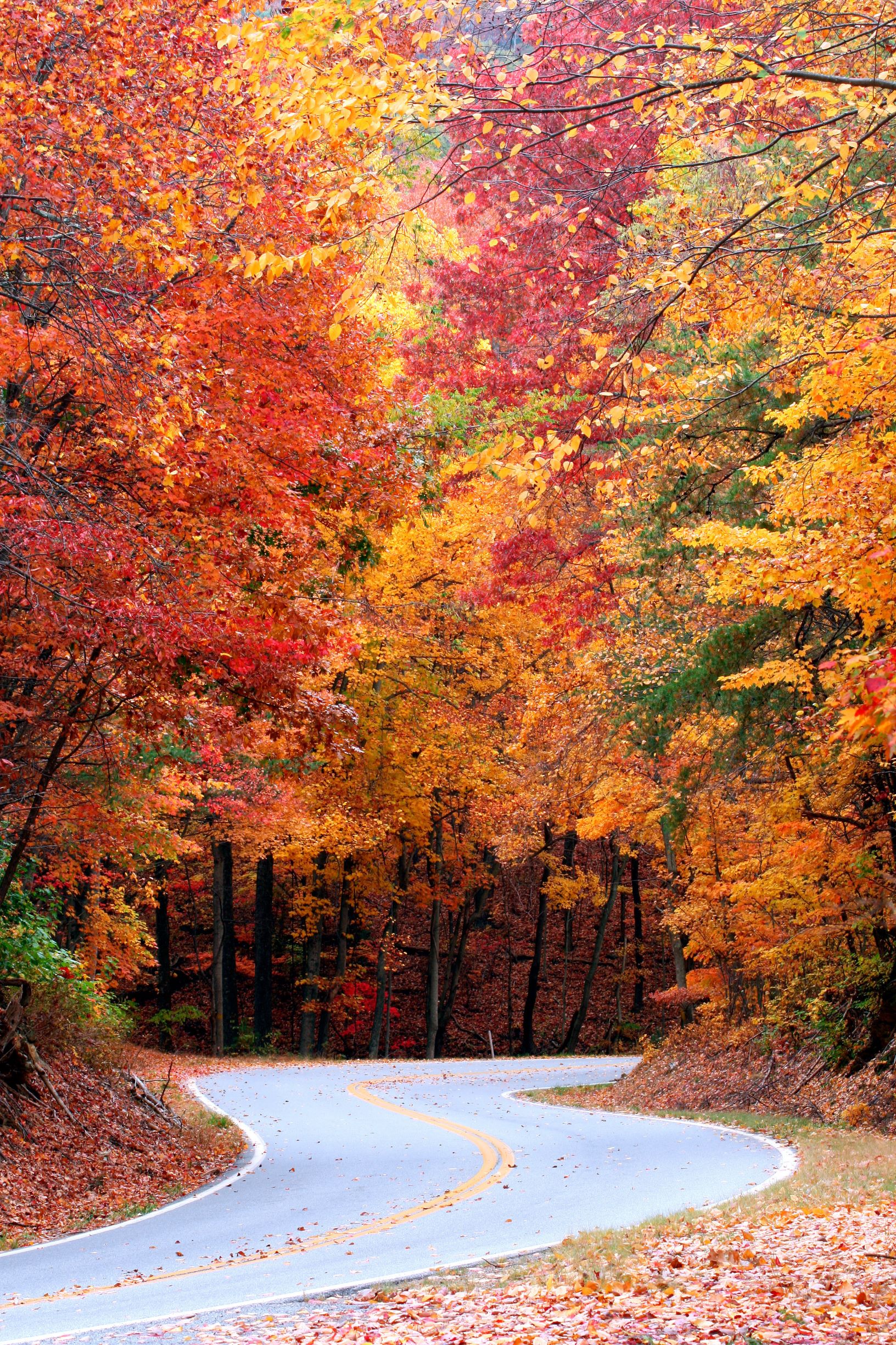 Relax and unwind at the Château Élan Winery & Resort
The Château Élan Winery & Resort is one of the most luxurious and romantic things to do in Georgia for couples. Tucked into the North Georgia hillsides is the perfect blend of elegance and Southern hospitality.
Château Élan offers an expansive spa mansion, and a culinary studio with cooking classes, and we saved the best for last the winery.
The winery offers both tours and tastings open to the public even if you're not staying at the resort. Enjoy a tour of the entire process from grapes to glass and then sample the wines with a tasting.
Plus, the golf courses offer 45 holes of golf with each course being unique for a new experience. For more outdoor time you can also enjoy the pool and tennis courts.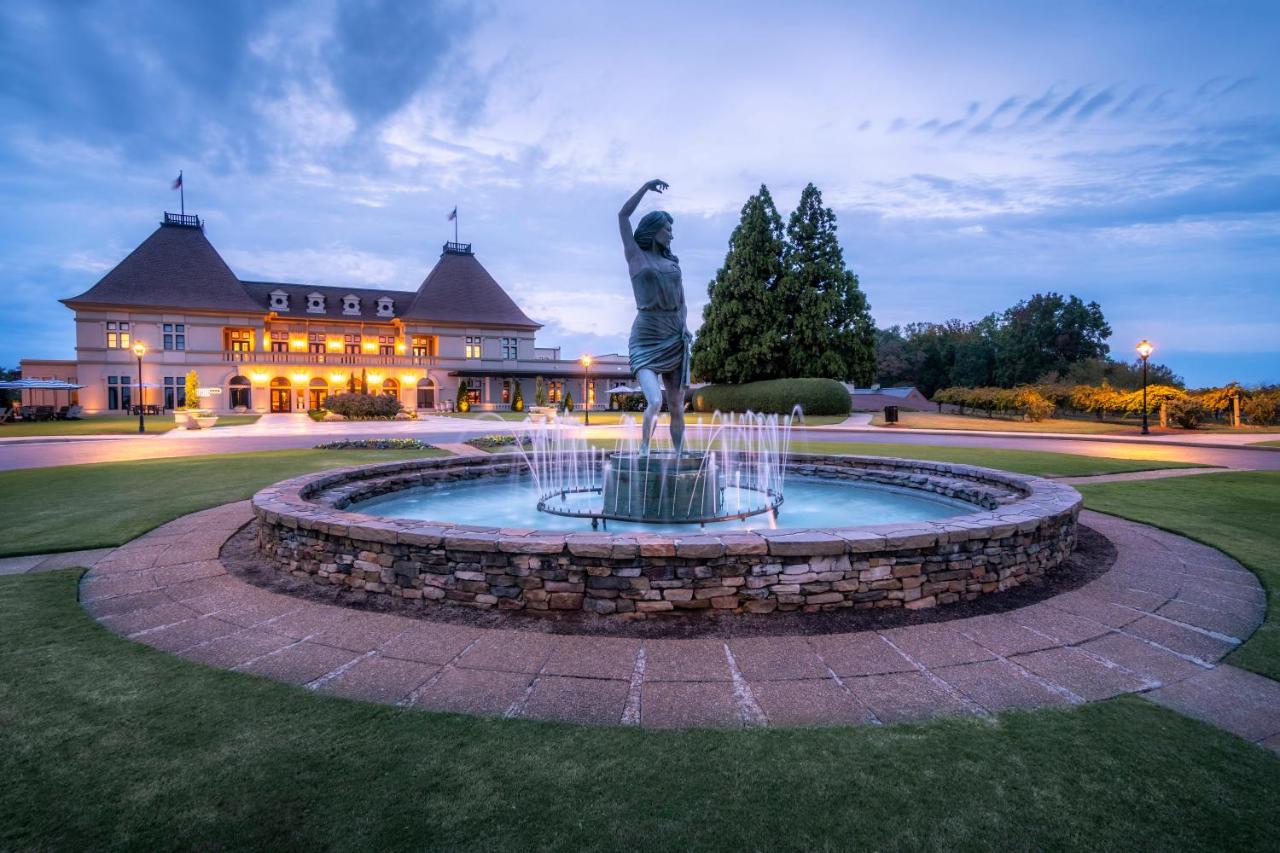 Tybee Island Day Trip
If you're looking for Georgia bucket list trips Tybee Island is worth adding to your list. This small coastal community offers something for everyone and is one of the BEST things to do in Georgia for beach lovers.
Tybee Island features two big icons, the Tybee Lighthouse on the north end of the island, and the Tybee Pier on the south end of the island. At the lighthouse museum, you can learn about the history of the island. Or take a sunset cruise to watch the amazing sunset from the water.
While this island might be small, it is the perfect day trip from nearby Savannah (just 20 minutes across the bridge). Known for its big white sand beaches come here for an afternoon or spend all day exploring the whole island.
You'll find tons of boutiques, amazing restaurants, and plenty of coastal charm!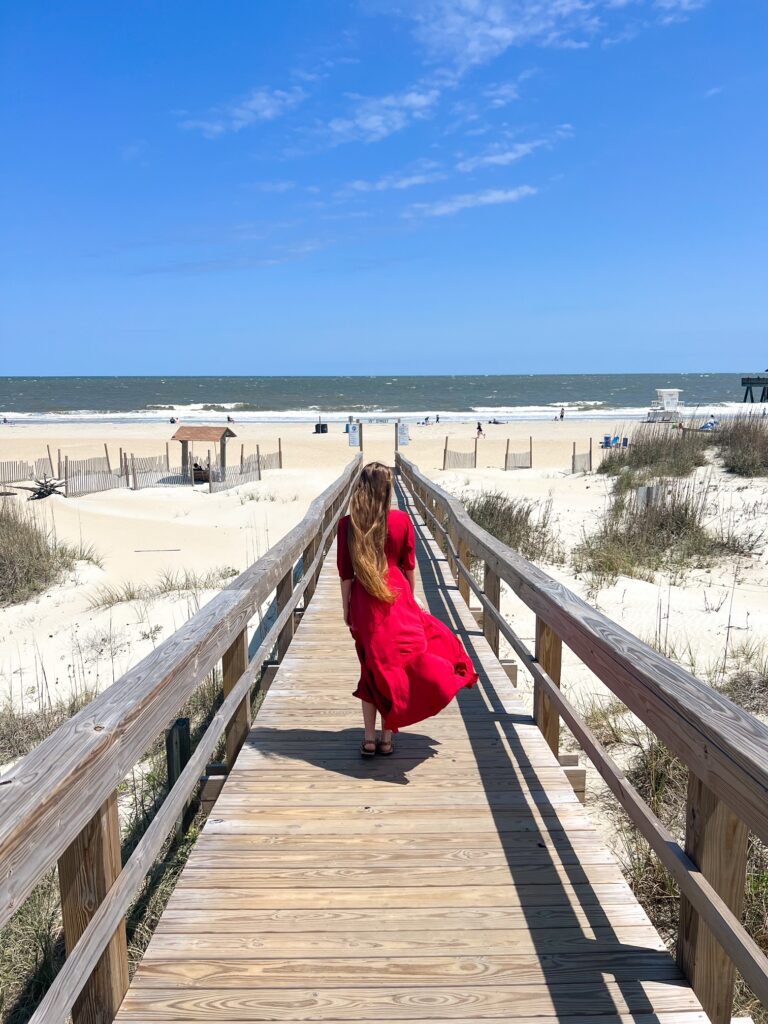 Enjoy the beaches of Jekyll Island
Jekyll Island is another beautiful beach that makes our Georgia bucket list. The beach is part of the Golden Isles area of Georgia, which awards visitors with stunning ocean vistas and sandy beaches perfect for collecting seashells.
When looking for things to see in Georgia on Jekyll Island, a stroll along the famous Driftwood Beach is a must! All along the sandy shore, you'll find large pieces of washed-up driftwood that create a really beautiful deserted island landscape.
Besides the iconic beaches, the island features Spanish moss-covered trees, historical sites, and adventurous opportunities. Enjoy the fresh-caught seafood and other delicious southern staples after you have explored the island!
Jefferson Davis Memorial State Historic Site
Are you looking for historical sights that are a must-see in Georgia? If so, Jefferson Davis Memorial State Historic Site should be on any history lovers' list! Also home to one of the Civil War museums that are must-see in Georgia!
A perfect day trip from Atlanta, Fitzgerald, GA, is just under a 3-hour drive! It is one of the BEST things to do in Georgia for those looking at educational or historical excursions.
This area marks the spot where Confederate President Jefferson Davis was arrested on May 9, 1865, and subsequently held for the last 2 years of the Civil War.
This 13 acres area has become one of the most popular locations for history buffs to come and explore the trails.
Please note there is a small admission fee of $2.75 to 4.00 to enter and is open daily from 9 am to 5 pm. Pair with other fun east coast USA road trip destinations!
Stay in Treehouse
Are you looking for unique and fun things to do in Georgia? What is more fun than staying in a treehouse? Whether you are looking for a luxurious glamping experience, an off-the-grid experience, or something close to town you can find it in Georgia.
Climb up into the trees where you're rewarded with 360-degree views of nature with all the comforts of home – Wi-Fi, AC, running water, kitchen, beds, and more!
There is even an urban treehouse just minutes from Downtown Atlanta where you can escape to a whole other world while still being close to town.
Or choose a more primitive tree house to escape from the hustle and be one with nature. While some offer no running water, it is a step up from camping with beds and walls!
Treehouse stays ranked high on our list of fun places in Georgia that you need to experience.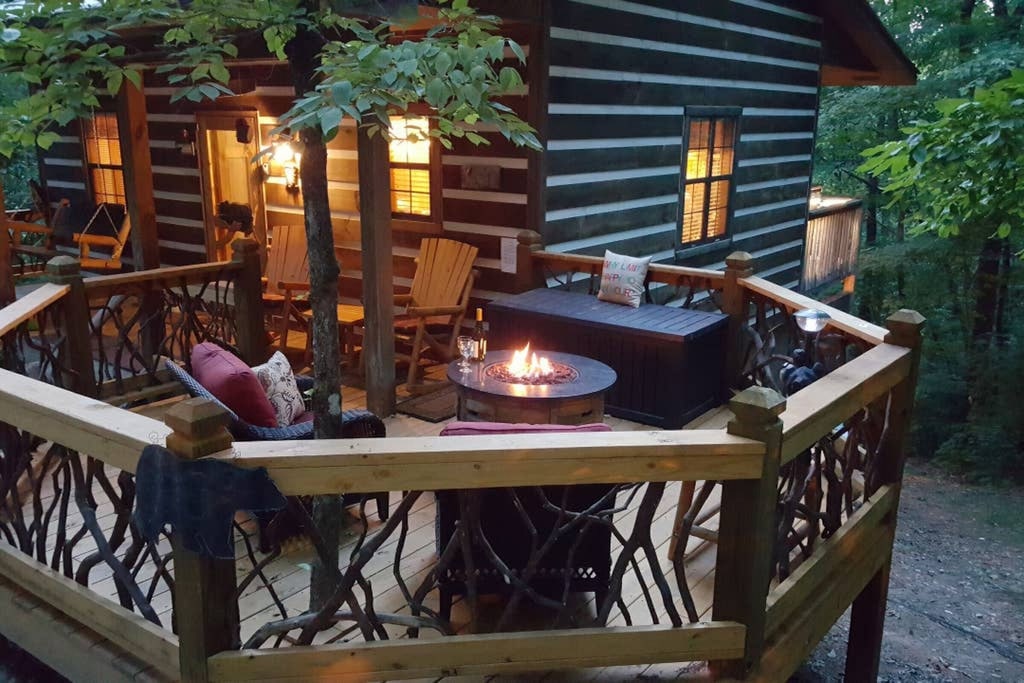 Apple Picking in Ellijay
Apple Picking is among the BEST things to do in GA if traveling from August to October. Ellijay hosts the annual Georgia Apple Festival that features live music, crafts, and all the delicious mouthwatering apple-centered foods.
There are tons of family-owned orchards to explore in the area. Each offers the ability to U-pick in the orchard while snacking on tasty treats. Many also offer fun Georgia activities like zip lining, petting farms, games, and wagon rides through the orchards.
For those who would rather purchase fresh produce and baked goods many offer a farm stand to do so. And a few like Mercier in the Blueridge even feature a winery and cider for those 21+!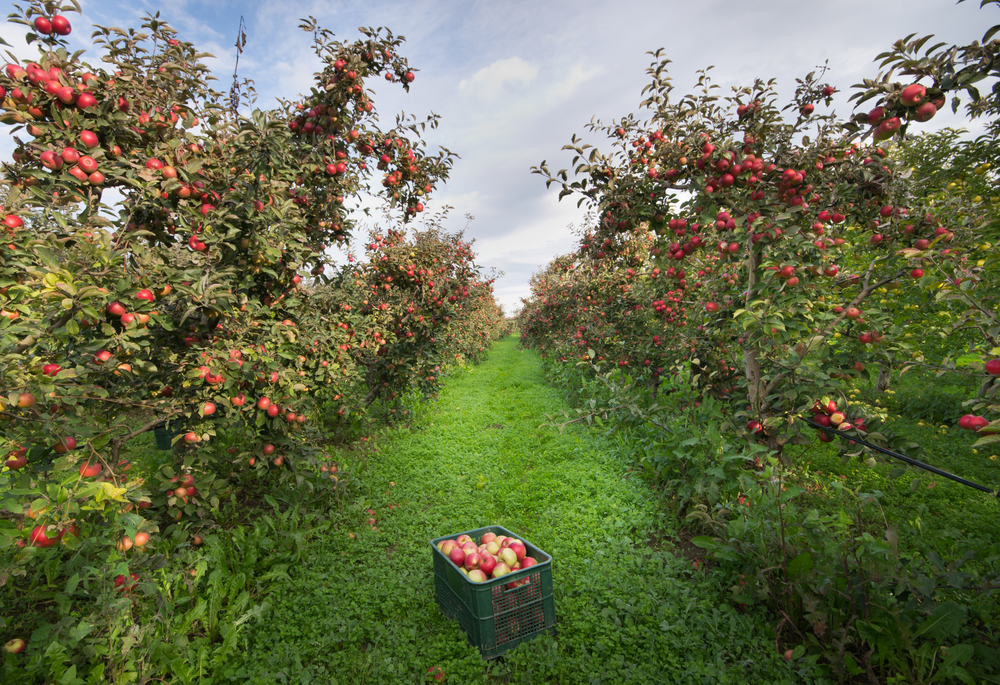 A Weekend in Atlanta
Looking at what to do in Georgia for a weekend? Head to Atlanta for a fun-packed weekend on the go with all the top Georgia must-see attractions!
There are so many great spots to explore from the Georgia Aquarium mentioned earlier to the family-friendly World of Coca-Cola. Or explore Centennial Olympic Park the site of the 1996 Olympics!
To the Atlanta Botanical Garden where you can explore over 30 acres of plants, statues, and fountains. Or if you're looking for more outdoorsy and historical sights head to the Martin Luther King Jr. National Historical Park.
But whatever you decide to do in Atlanta, it is home to so many great attractions in Georgia! There is something for every type of visitor to Atlanta. It is also the perfect start for a road trip to Georgia.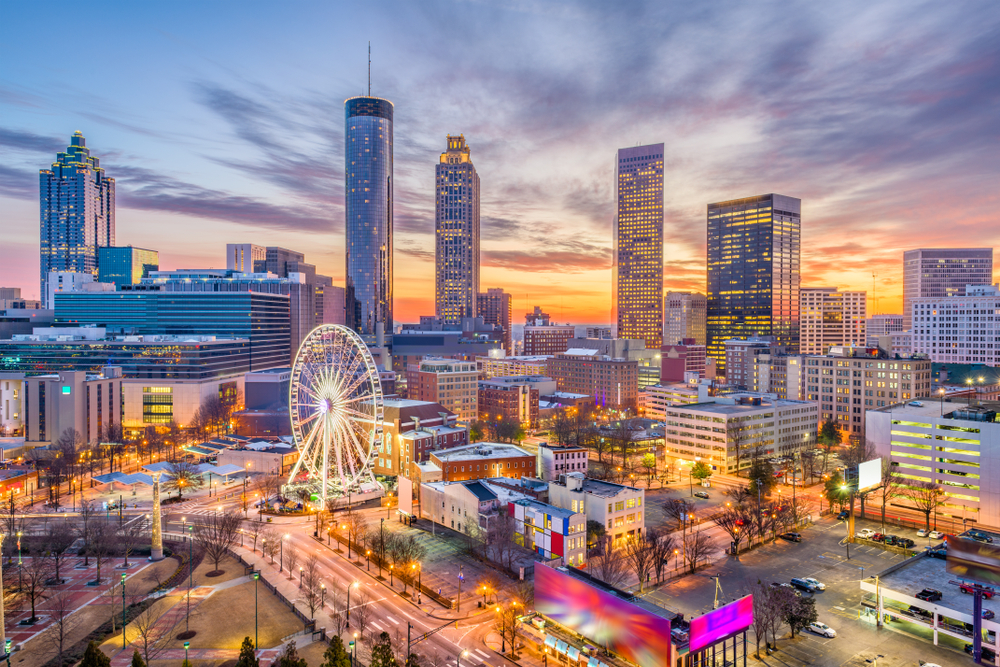 Hotel Simone, Saint Simons Island
This lovely little boutique hotel in Georgia is one of the adults-only resorts in America. Making it one of the BEST things to do in Georgia for couples looking at romantic getaways.
Hotel Simone is known for its laid-back coastal vibe that is both understated and charming. While the service here is anything but understated!
The 24 island-themed suites many with private balconies provide a private oasis for visitors to retreat to after exploring the property.
There is a rooftop pool, complimentary beach bicycles, a beach valet, and a fitness center. Did we mention you will be just 350 yards from East Beach?