Are you looking to spend 3 days in Paris? If so, we have you covered with an amazing itinerary for your weekend in Paris!
I have been to Paris countless times and have still scratched the surface! We have put together an amazing 3-day itinerary so that you don't have to be stressed out with planning your trip! I made this itinerary to help ease your planning. Paris is one of the top destinations in the world, and there are limitless places to visit! It's actually one of our favorite destinations!
So, whether this is your first trip or your 10th trip to Paris, there is always something new to discover. We did all the planning for you so you just need to pick your dates, book your tours, and pack your bags! This guide features all the monuments, museums, and historical sites, along with some hidden gems.
We are here to help and to make your special Paris weekend trip fun and effortless! If you are planning a trip to Paris in 2024, please note that due to changing security laws, you will be required to apply for special authorization approval from the European Travel Information and Authorisation System and pay a fee of €7.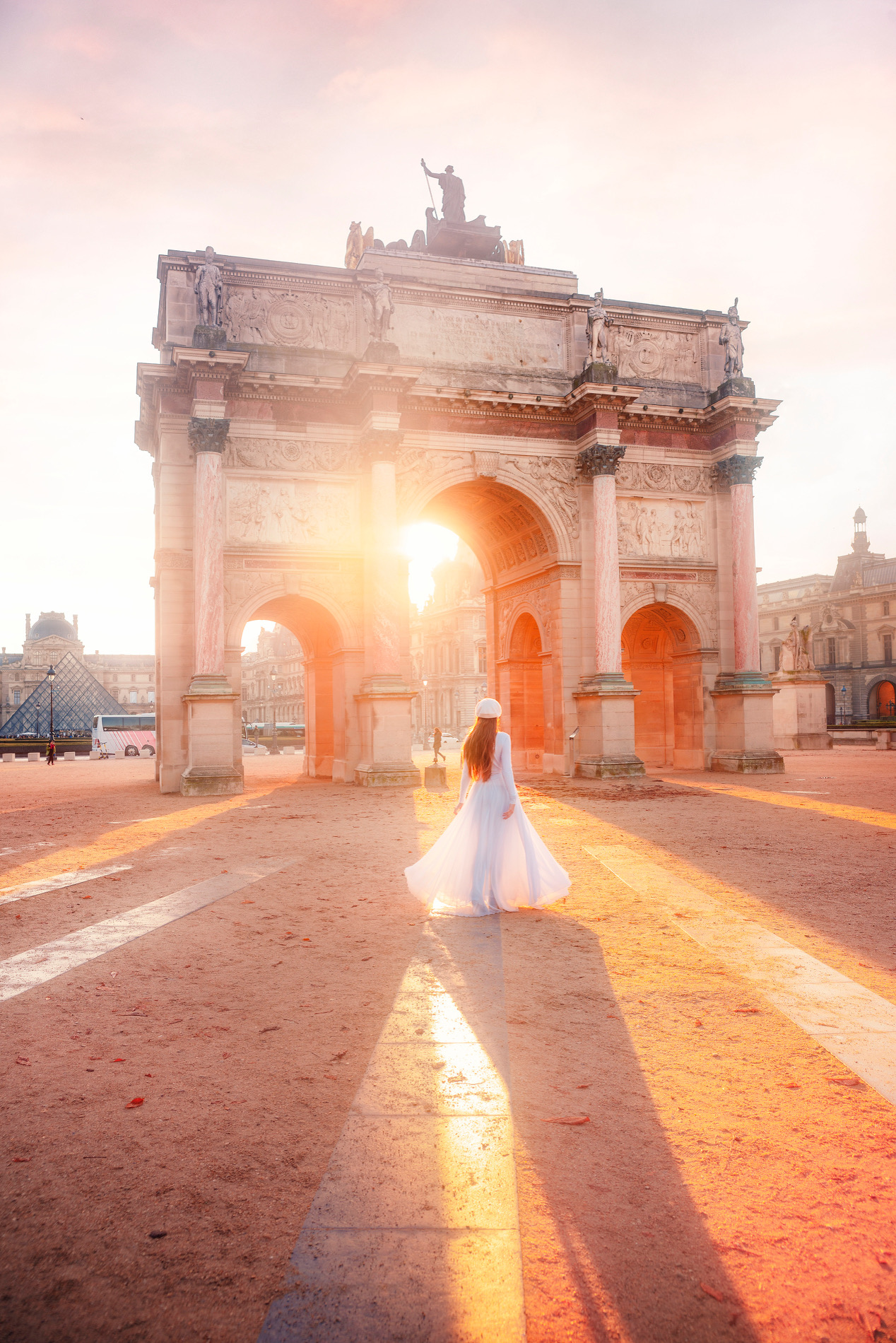 Getting To And Around Paris
Paris is quite a large city that is separated by a river! However, once you understand the arrondissements (neighborhoods), it is quite easy to get around! Think of the city as a spiral going clockwise from 1 to 20, starting on the left bank of the river!
One of my favorite ways to get around the city is to walk. The French have a saying, "Flâneur" which means to wander! And I really think this is the best way to see any city, but in Paris, it is my favorite mode of transportation.
With that being said, the metro is extremely easy to navigate and will take you anywhere for only $30 a week. However, you can also purchase a "carnet" or 10 packs of tickets for Metro rides.
I almost always only use public transportation when flying into either airport (there are two here: Charles De Gaulle and Orly). However, Taxi's, Uber, and the French equivalent Le Cab are all readily available.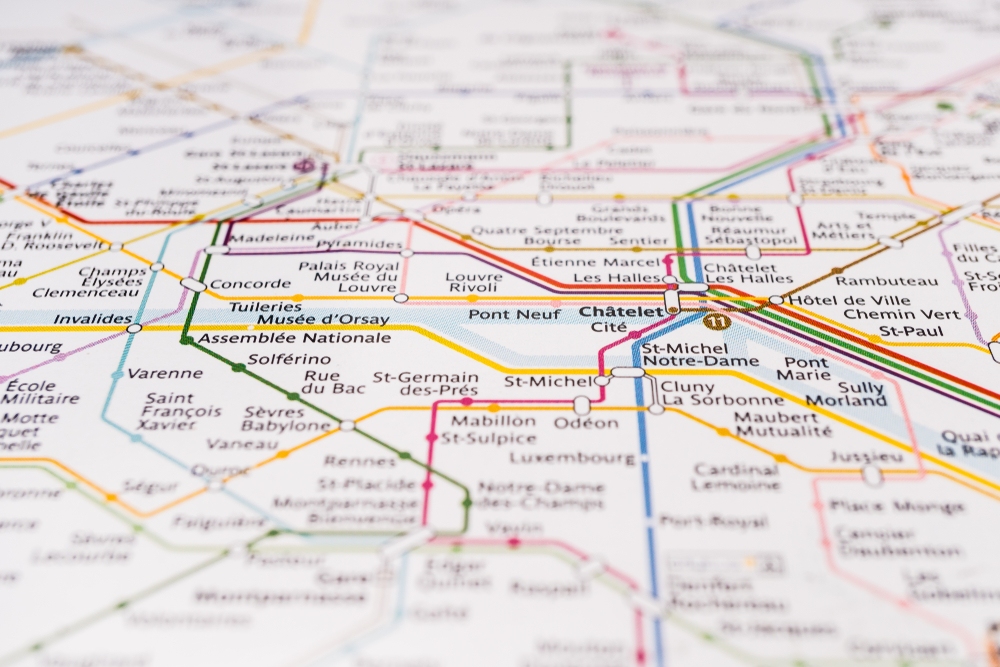 Best Time To Visit Paris
You might ask yourself, What is the best time of year for planning a trip to Paris? I think Paris is a great idea ‌year-round. I have visited during every season, and each is special in its own way! And if this is your first time in Paris, then here is a Paris Packing List, for your 3 day itinerary for Paris.
Just like every popular destination, Paris has its peak season and off-season. But, honestly, the best time to visit comes down to preference. We have an entire article on the best times to visit and why, which is the perfect start to your Paris trip planner!
Paris in the Spring will award you with good weather, longer days, and fewer tourists than in the busier summer months, so if you can look to visit between March and May.
For those looking to travel in the offseason but still have wonderful weather, September and October will be the best time of year to travel to Paris!
Summer is definitely the tourist season. With that said, it is one of my favorite places to visit for a European summer holiday! The city comes alive with events like Paris Plage (where they turn the banks of the Seine into a beach). Another of my favorite things to do is visit public pools in France. Look up Cente Sportif Emile Anthoie if interested in spending a day at the pool on your 3 days in Paris.
But there is something magical about visiting during the winter holidays! The beautifully decorated city and the cold and crisp weather keep me coming back to the city every December! Some of my favorite Christmas markets are Notre Dame Christmas Market, Le Village de Noel at Les Halles and Eiffel Tower, Marche de Noel at St. Germain du Pres, and Hotel de Ville Market ( my personal favorite with the stunning hotel in the background).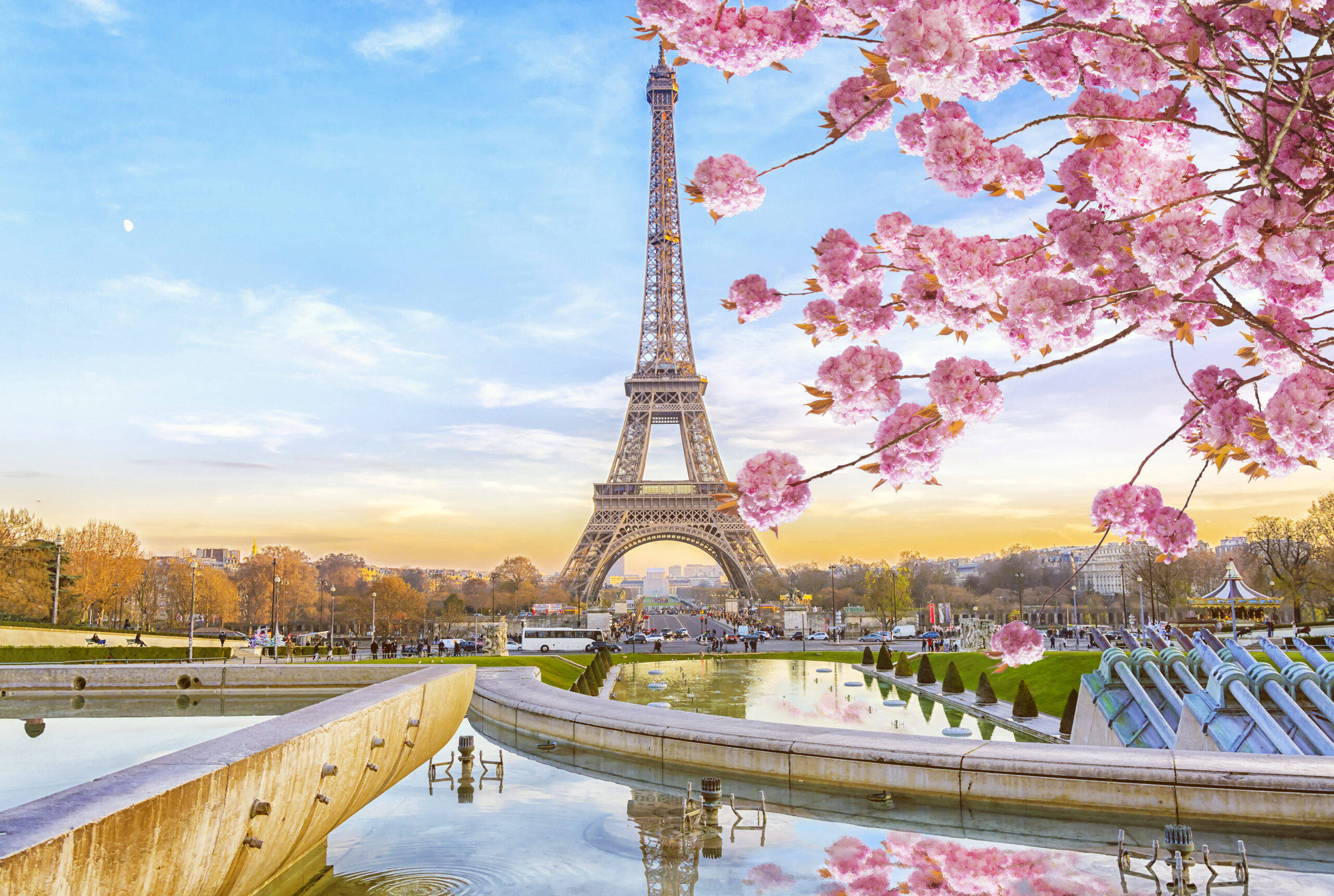 Weekend In Paris: An Epic 3 Days In Paris Itinerary
If you are thinking, is 3 days in Paris enough? The answer is yes! Even if you can visit Paris for a day on a layover, you can take full advantage of visiting the city of lights! While I will pack my days with activities, my take on vacation is to explore everything while I am in a new city.
You could live in Paris for a year and not see everything, so don't put off a trip if you only have a few days to visit. We have crafted a great itinerary for Paris in 3 days.
Day 1
If you are arriving in Paris from the US, you will most likely land early in the morning. Most flights land at CDG airport, and I think the easiest way to get into the city is on the RER B line. On day 1, I like to stay busy and hit the ground running to avoid the dreaded jet lag. While most hotels won't have your room ready at 10 a.m., you can drop your bags and hit the ground running!
Stop 1 – Breakfast
Let's be honest, that plane breakfast probably didn't cut it. So after dropping your bags, look for boulangerie! Grab a pan au chocolate, a croissant, or, my favorite, a pain au chocolat aux amandes (chocolate and almonds) and a cup of coffee
Some of my favorite bakeries I highly suggest stopping in. From Petite Ile Boulangerie, Maison Eric Kayser (a chain but way better than Paul), Sain, Maison Landemaine, and Boulangerie Artisanale Paris! But in your 3 days in Paris, you will find your own favorite bakery!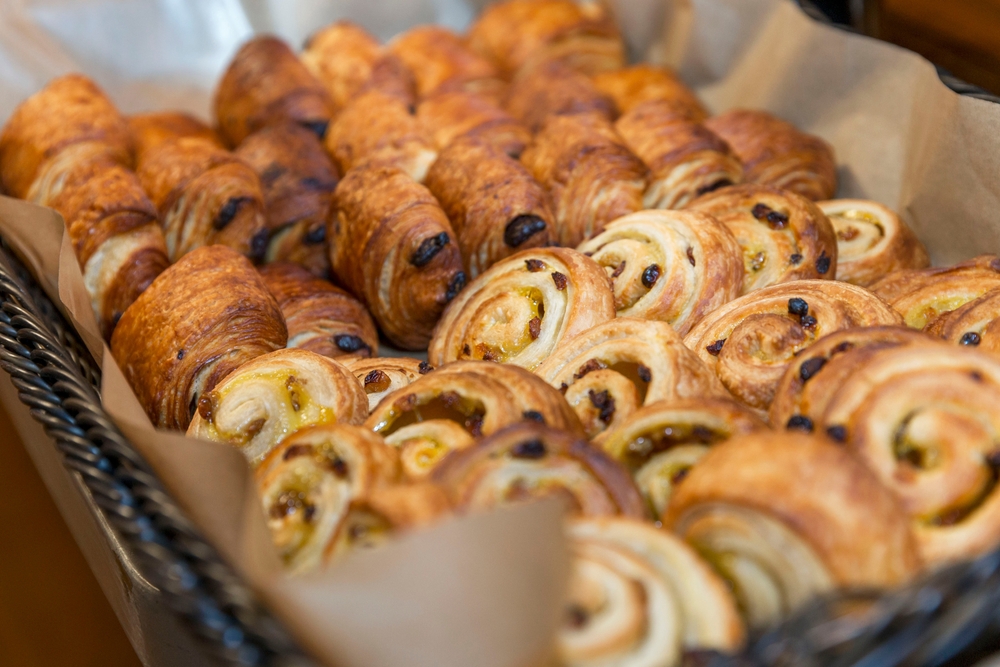 Stop 2: Covered Passageways and Palais Garnier
Paris has some hidden gems that tourists would otherwise just walk by. The covered passages of Paris are some of my hidden gems to explore. Especially during the cold or rainy season. They are home to shops and restaurants and are architecturally stunning, especially in the early mornings before the shops open.
One of the oldest covered passageways is "Passage des Panoramas", which was built in 1799! Look up at the gorgeous stained dome glass ceiling! Another one of my favorites is Passage Vivienne, an elegant and breathtaking passage with mosaic flooring and glazed glass decor. For those wanting to explore more covered passages, book a covered passageway tour! Or check out our guide to the 10 best-covered passageways in Paris.
The journey from the covered passageways is worth the 7-minute walk back to the Palais Garnier (Opera House). For those wanting to visit the inside, it is open from 10 a.m. to 5 p.m. daily, and you can take a self-guided tour of this masterpiece, one of the greatest opera houses of the 19th century! For theater lovers, I highly suggest booking a ticket for one opera show. Book your advanced ticket entry here!
Click Here to Book : Paris: Covered Passages Audio-Guided Walking Tour
Click Here to Book : Paris: Opera Garnier Entry Ticket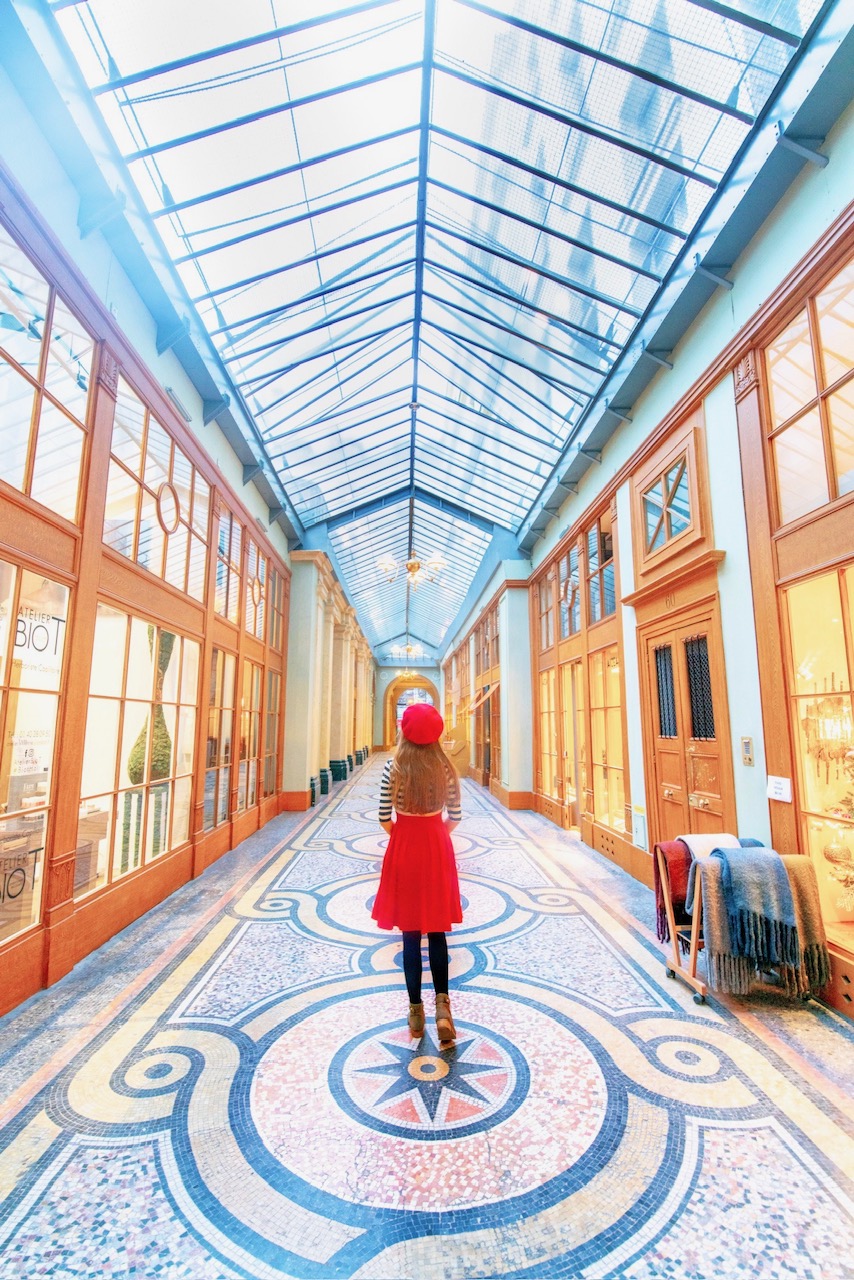 Stop 3: Tuileries Garden and Musee de L'Orangerie
The Tuileries Garden is perhaps my favorite place to visit in Paris. There is just something so calming to me about waking up on the gravel, tree-lined paths and sitting around the fountain and just people-watching!
It is also one of the best places for children, as during the summer there is a carnival with rides and a carousel, as well as a park. During winter, there is a Christmas market with rides and a carousel. Ride the giant carousel for amazing views of Paris on a clear day!
This park, regardless of the time of year, is always buzzing with activity. If visiting during the winter, I always stop at Angelina's for a cup of the best hot chocolate on Rue Rivoli before crossing into the park.
Located inside the Tuileries Garden, this is my favorite museum in Paris. The Musee de L'Orangerie features three of Monet's water lily paintings in two rooms. (If you are looking to save money and coming from October to March, save this for Sunday as it will be free!) I could sit for hours staring at some of my favorite Impressionist paintings. If not, why not book a tour with the L'Orangerie complete with a river cruise on the Seine?
Click here to Book : Paris: Orangerie Museum Entry Ticket and Seine Cruise Ticket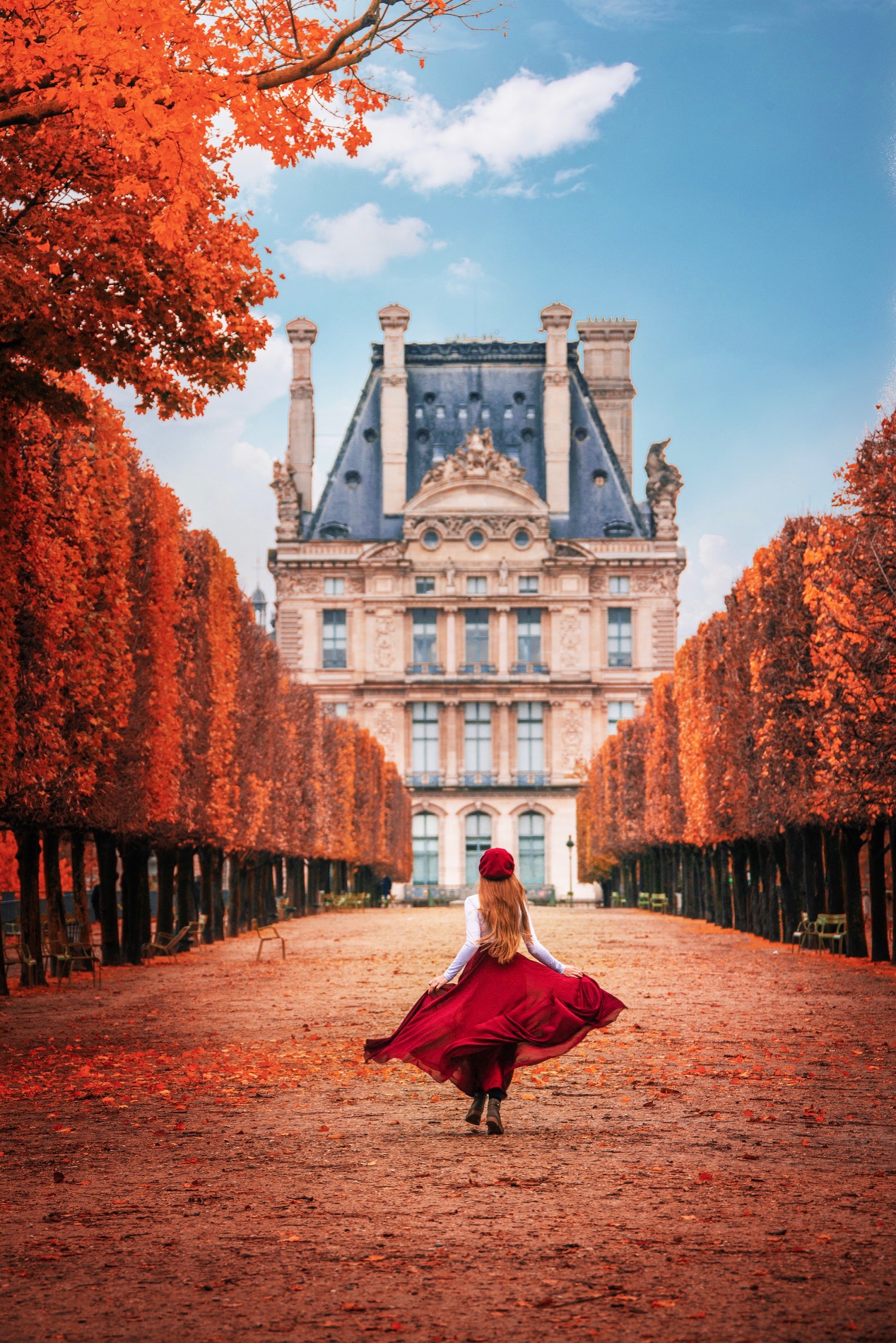 Stop 4: Louvre
From the Tuileries Garden, it is just a short walk to the Louvre! Walk along the river for some amazing views. This is one of the iconic museums you must make time to visit during your trip! No need to spend all day here; even an hour is worth it! Or you can spend all day making this itinerary your own. Don't forget to head upstairs to the glass pyramids for some pictures!
If your day 1 is a Friday in Paris, and you are looking to save money and don't mind waiting in line head to the Louvre after 6 p.m., and you get in free. For those who hate waiting in line, as much as I do, purchase your skip-the-line ticket here! My biggest tip is to enter underground versus entering on street level.
Spend the evening wandering around one of the most popular museums in Paris. The Mona Lisa is a must, as is the Venus de Milo; however, my favorite rooms to wander are the sculpture garden and the impressionist paintings! You could visit the Louvre for a week straight and never see it all! So plan and research what interests you, or just hit the highlights! Make sure to book your tickets in advance, as the entry is timed.
If you are looking for a skip-the-line ticket, with a guide to all the masterpieces, I highly suggest booking this tour!
Click Here to Book: Paris: Skip-the-line Louvre Ticket with Host for Mona Lisa
Click Here to Book : Paris: Louvre Museum Timed-Entrance Ticket
Click Here to Book : Paris: Skip-the-Line Louvre Museum Masterpieces Guided Tour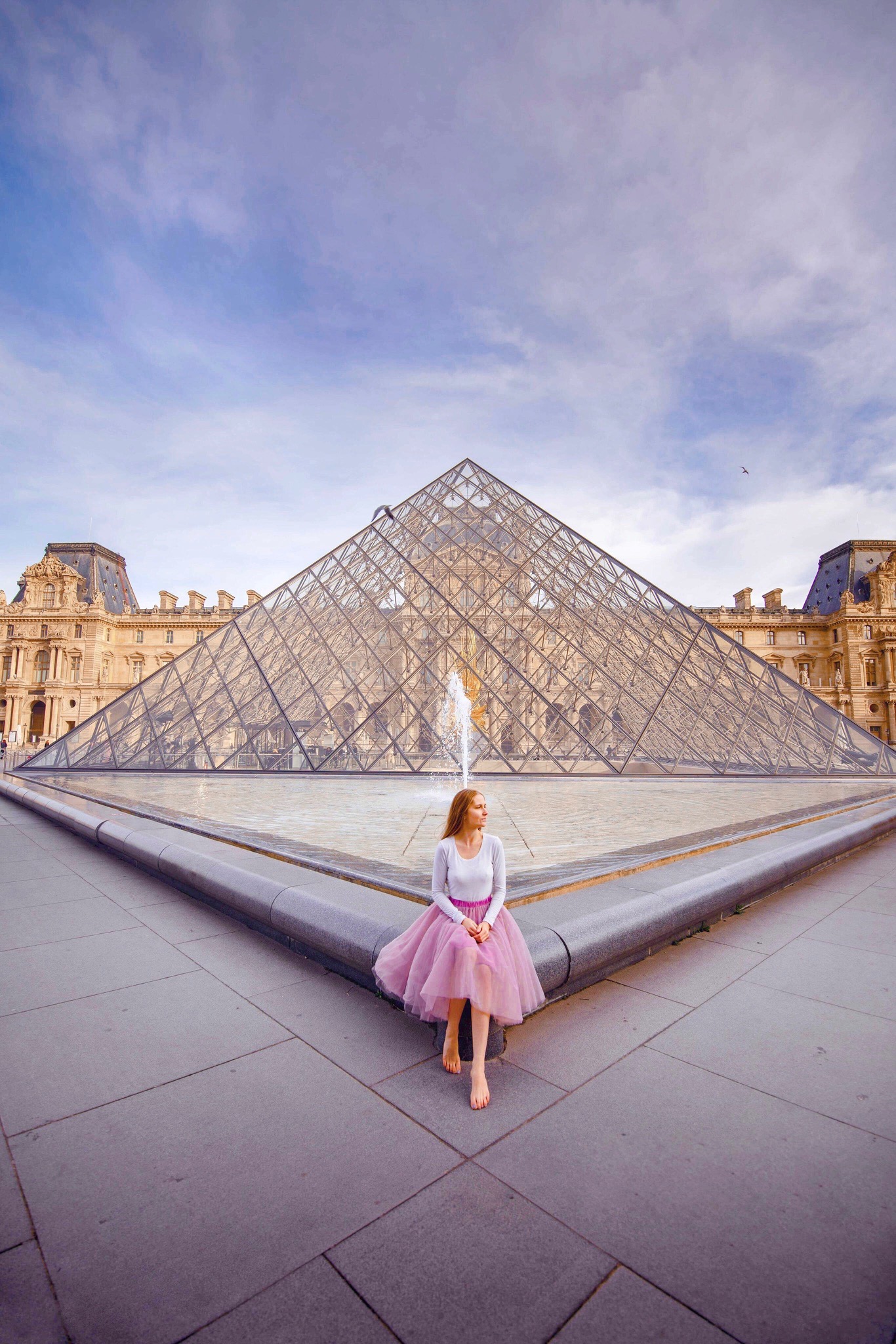 Stop 5: Lunch
Continue your day one, by either renting bikes (Velib – think Uber for bikes) or walking along the Seine River towards Notre Dame. You will end up walking towards the Marais! This is the perfect spot to stop for lunch!
Off of Rue Ecouffes you will find tons of options. Choose from L'As du Fallfal, and other French bistors. Whereas, if you cross the river from the Louvre you will end up in St. Germain du Pres with tons of options. Some of my favorites are Le Loulou, Le Relais de L'Entrecôte. Le Breziah Cafe. As well as the famous bistros of Le Deux Magot and Cafe de Flour. There are tons of cute cafes in this area!
If you want to try macarons, I highly recommend Maison Mulot!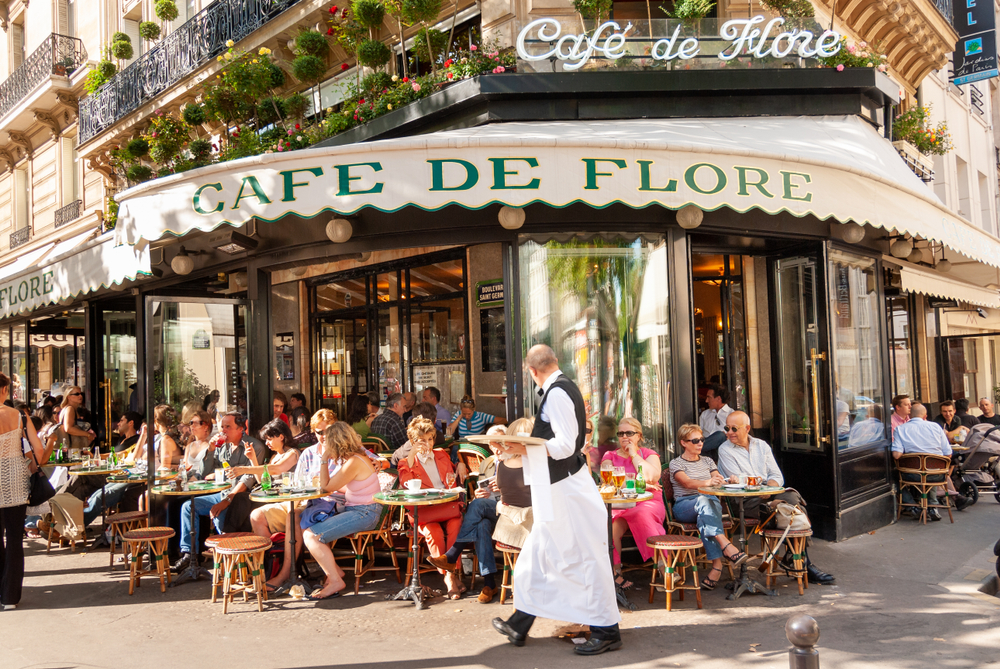 Stop 6: Notre Dame
While Notre Dame is currently under construction because of the fire of 2019, it is still worth visiting to see the exterior (the interior is currently closed). My favorite spot for a picture is walking over the bridge before getting to the church. For those looking to enter the crypt and also want a walking tour of the area, this tour combines both of these things!
If you love bookstores, head to Shakespeare and Co., just across the street. This is also a great area to pick up touristy souvenirs. I enjoy shopping for them on the first day to get it out of the way! Wander around the Latin Quarter, grab a crepe, or an afternoon coffee at a cafe!
If your budget for Paris allows, I think this walking tour of the Latin Quarter that takes you to all the highlights over 90 minutes is well worth it!
Click Here to Book: Paris: Notre Dame Outdoor Walking Tour with Crypt Entry
Click Here to Book : Paris: Latin Quarter Walking Tour with Local Guide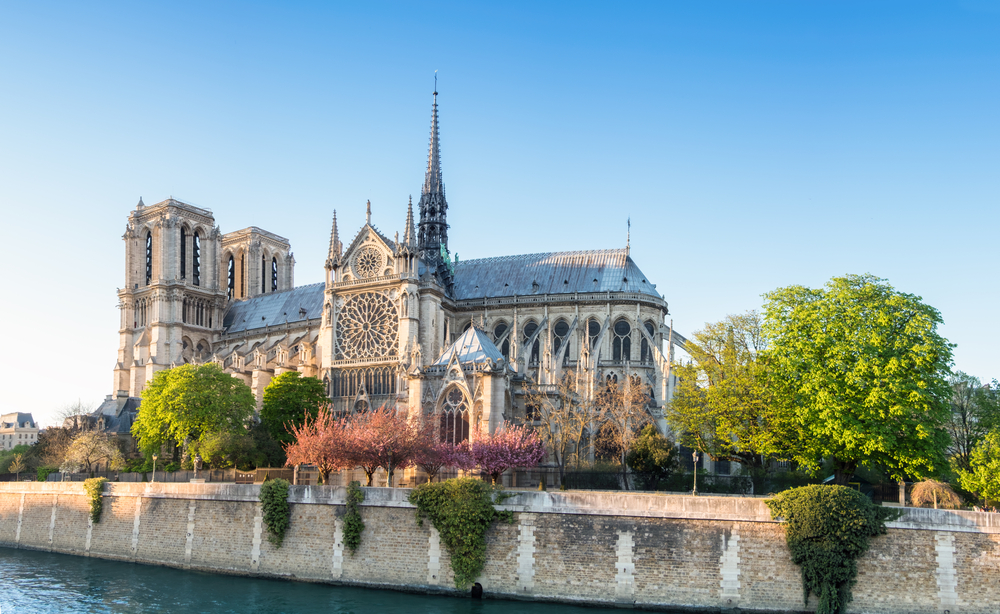 Stop 7: Coulee Vert Rene Dumont and Promenade Plantée
If you have been to New York and walked the High Line, the Promenade Plantée is similar. It was the first elevated parkway that opened in 1993 and overlooks Coulee Vert Rene Dumont Park. It starts at Rue de Lyon and Avenue Daumesnil​​. This garden oasis is the perfect place to stroll or sit and enjoy people-watching for an afternoon. There are always flowers, water fountains, shaded benches under tree arches, and a wooden path overlooking some amazing views of Paris streets down below.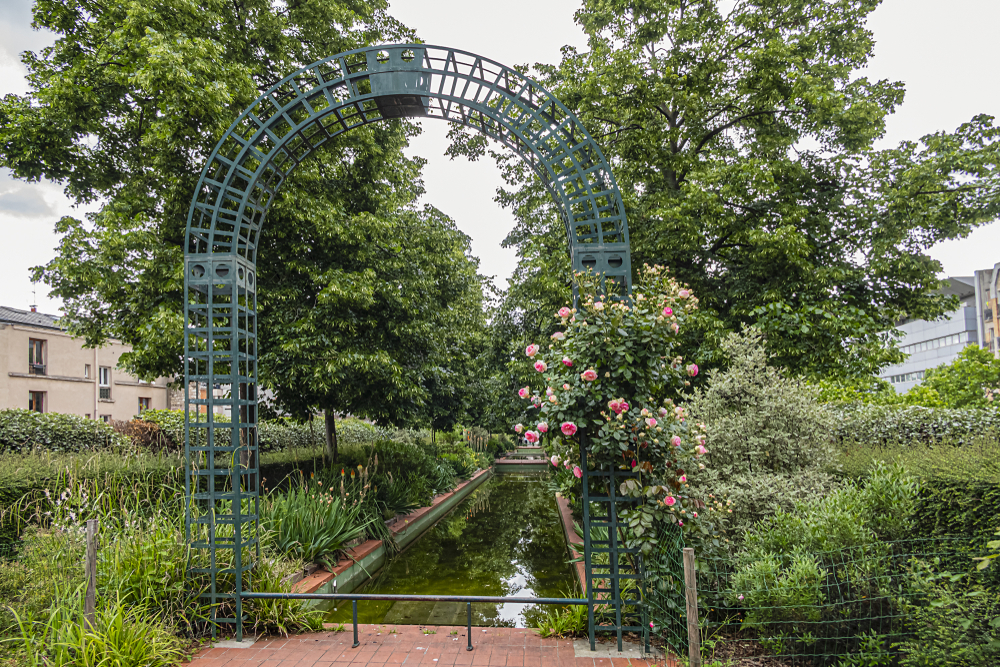 Stop 8: Eiffel Tower
The last stop on your night one itinerary for Paris is the Eiffel Tower! Jump on the 6 line, where you will have the iconic view of the Eiffel Tower as you cross the river, and get off at the Trocadero metro stop.
My favorite thing to do is grab a beverage (usually some champagne) and some pastries and head up the steps to the Trocadero Plaza to wait for the sparkling to begin It happens every hour after dusk. A truly Magical end to your first night of your weekend getaway to Paris!
If you want to have the plaza area to yourself, taking Paris sunrise pictures is the thing to do in Paris for 3 days that you will not regret!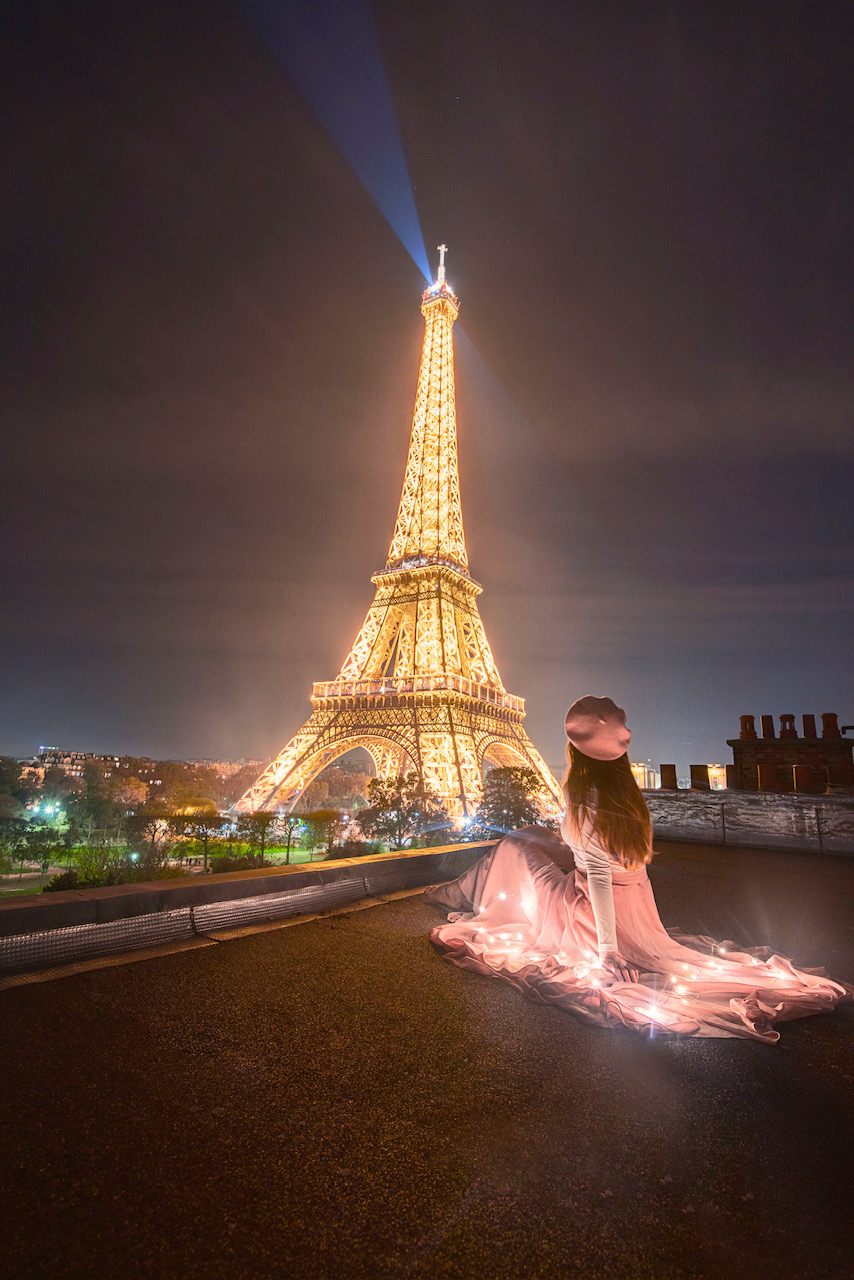 Day 2
After a good night's sleep, I am sure you will be ready to explore more of the city! Today is another day full of exploring on day 2 of your Paris trip itinerary.
Stop 1 – Breakfast
Head to the Abbesses metro stop in the Montmartre area for breakfast. Off of Rue Abbesses you will find tons of cute and popular restaurants. One of my favorites is Le Vrai Paris. Not only is the breakfast (and lunch) delicious, but it is also one of the cutest bistros in the area. If you are just looking to grab a coffee, The Beans on Fire is delicious.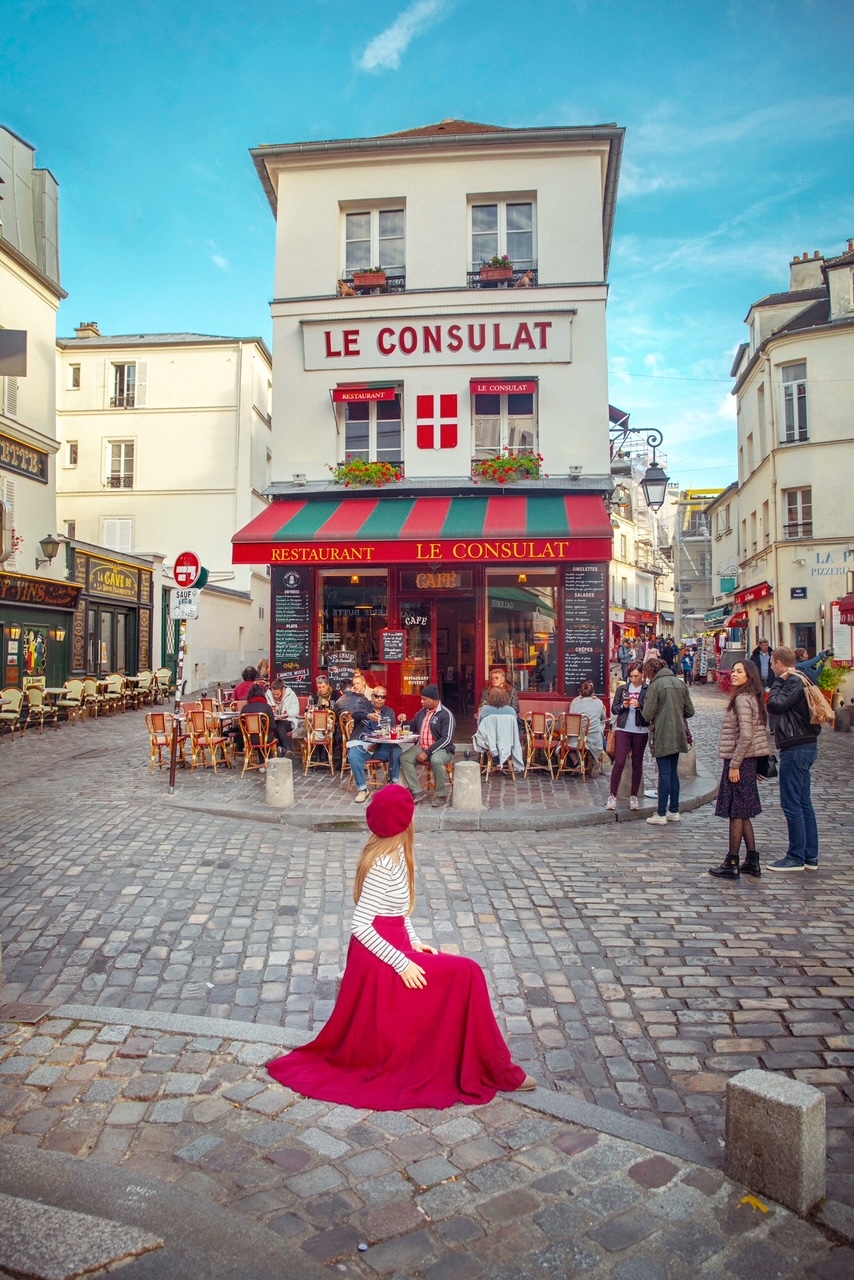 Stop 2: Sacre Coeur and Montmartre
My favorite way to get up to the Montmartre area, unless you want to climb the stairs is to take the funicular ride ( can use your metro pass), from the Anvers Metro Stop! The quick trip takes less than 2 minutes! It is open starting at 6 a.m., perfect for those who wake up early with jet lag. Watching the sunrise over Paris is truly spectacular.
The Basilica of Sacre Coeur opens at 6:30! This iconic white "monument" allows you to go inside to church area, the ceiling is the largest mosaic in all of France. Outside, it awards visitors with stunning vistas of the city below. Visitors can also visit the dome where you have 360-degree views of the city.
Don't make the mistake most make and do not visit the backside of the Sacre Coeur. You will get stunning pictures with almost no crowds. This walking tour of the Sacre Coeur and Montmartre area is perfect for those who want to explore the rich history of the area with an English-speaking guide. For the more food-centric visitors take this Montmartre Cheese, Wine & Pastry Guided Walking Tour!
Here you will also find Clos Montmartre.The only vineyard left in the city! After coming down the hill, stop by Moulin Rouge! You will instantly recognize the iconic red windmill.
Click Here to Book : Paris: Montmartre and Sacré-Coeur Walking Tour
Click Here to Book : Paris: Montmartre Cheese, Wine & Pastry Guided Walking Tour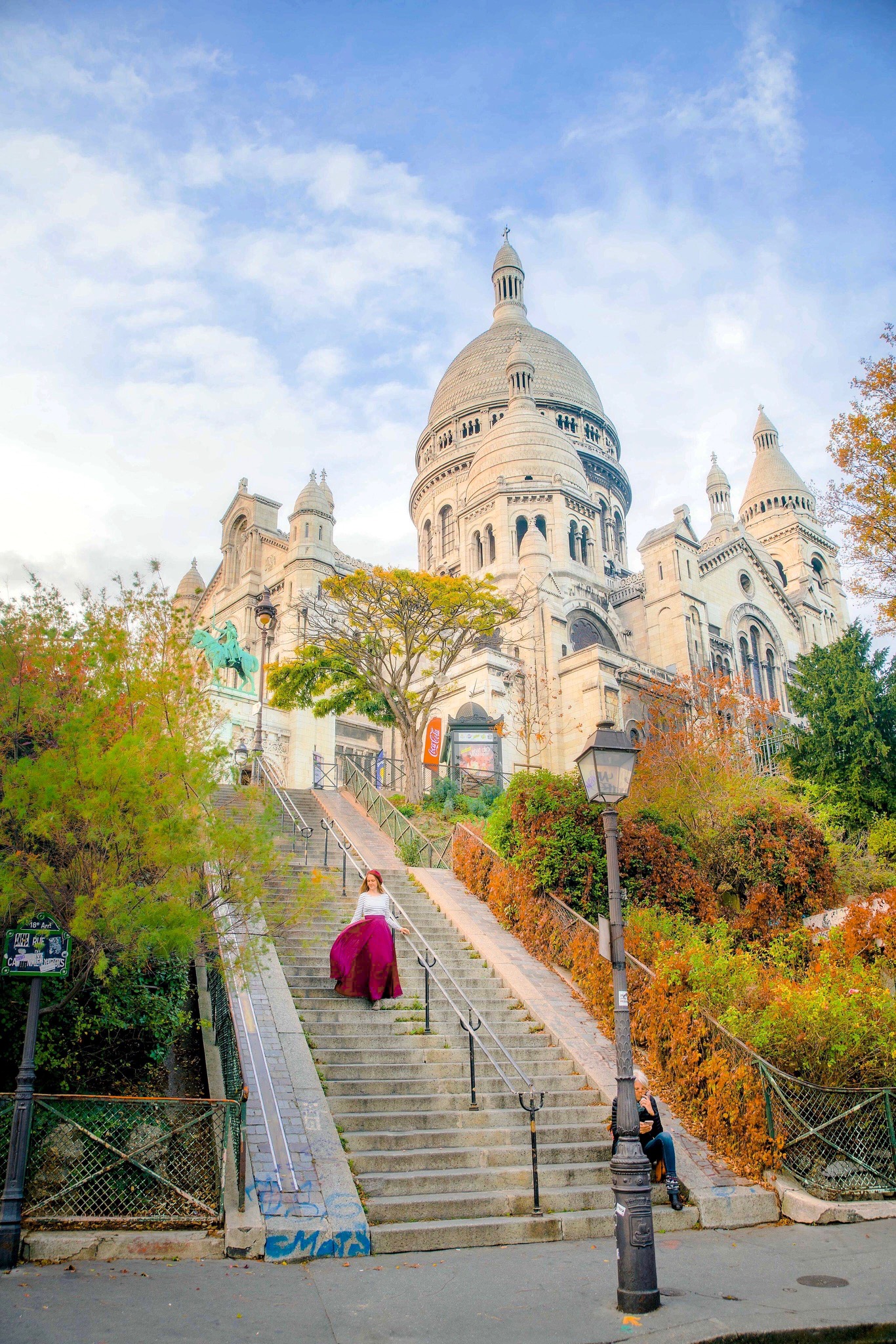 Stop 2: Arc de Triomphe and Champs-Élysées
Go up top for a stunning view of the city. This is my preferred spot, as you get views of the Eiffel Tower, the Sacré-Cœur, and the Louvre! Plus, the lines are way shorter. If you are an earlier riser, please note it does not open until 10 a.m. Book your tickets here!
For those looking for free things to do in Paris on a weekend and still want a view of the city, head up to the Galleries Lafayette Haussman rooftop viewing area. It is actually one of my favorite views. You can see the Eiffel Tower, Sacre Coeur, and various other sites from this free viewing platform. During the holiday season, head downstairs to see the Christmas tree display under the large glass dome ceiling. Another free viewing area for Paris sunsets is the free rooftop bar at Printemps Department Store in Paris.
Stroll along the Champs Elysee, or head down Avenue Marceau and in about 30 minutes you will be at the Eiffel Tower! If you would rather view the sites by car, why not book this Private Guided City Tour in a Traction Avant or DS 21!
Click Here to Book : Paris: Arc de Triomphe Rooftop Tickets
Click Here to Book : Paris: Private Guided City Tour in a Traction Avant or DS 21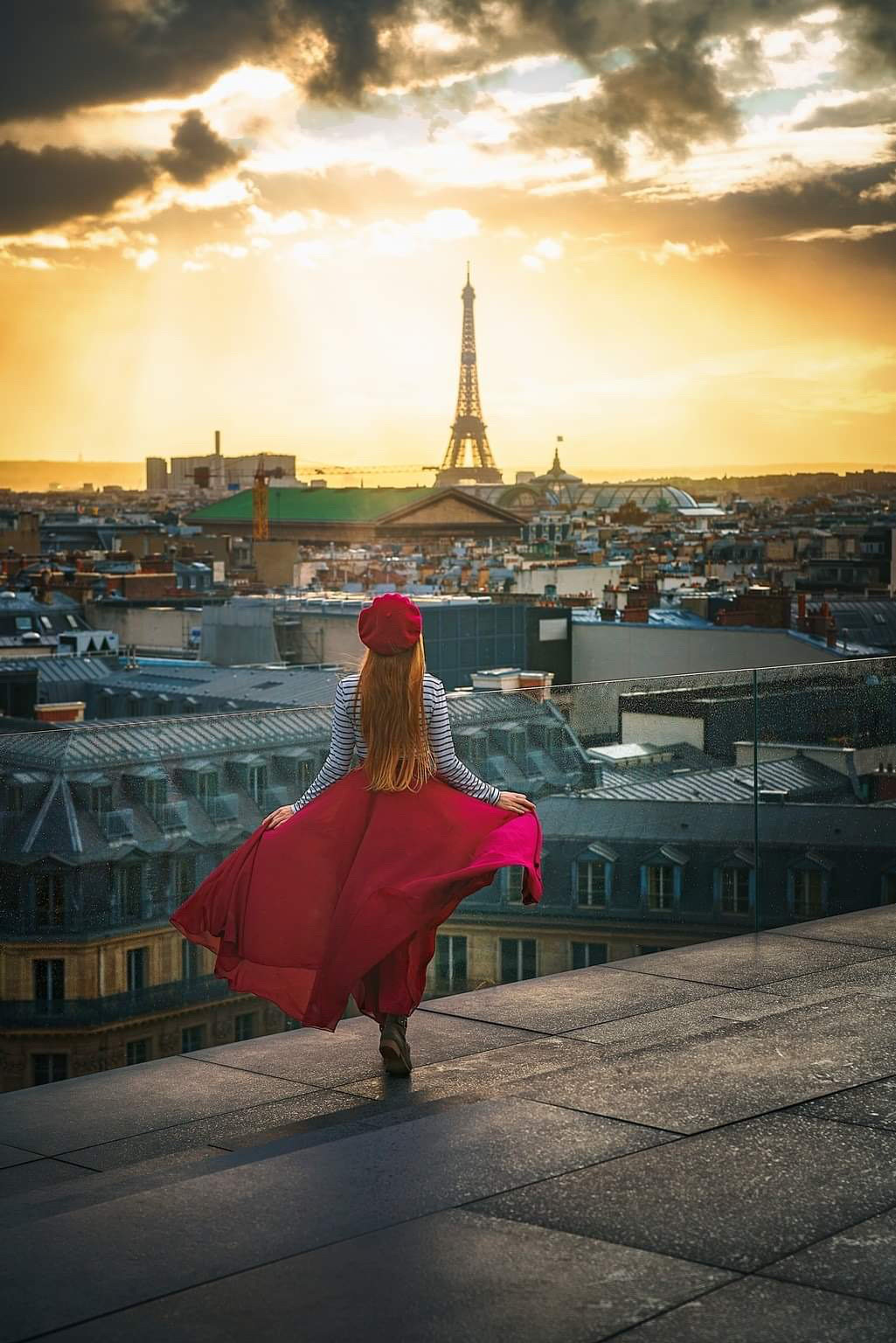 Stop 3: Eiffel Tower
If you are a first-time visitor, go see the Eiffel Tower, even if you do not go to the second level or the top. Please make reservations as far in advance if you want to go up! You can either take the stairs or the elevator.
I think one of the best ways to save time, is by booking a guided tour of the Eiffel Tower! Not having to wait in the long queue is such a timesaver on shorter trips. If your budget allows, or you are celebrating a special occasion, what better way to experience the Eiffel Tower than by having lunch above the city on this tour that comes with a 3-course meal at Madame Brasserie? Or if dinner is more your style so you can see the city lights below book this tour!
For pictures, head to Av de Suffren for amazing pictures of the tower; it is one of my favorite spots! For those looking for a leisurely lunch, head to the grocery store and have a picnic on the grass!
Click Here to Book : Paris: Eiffel Tower Guided Tour by Elevator
Click Here To Book : Paris: Eiffel Tower's Madame Brasserie 3-course lunch 12:00
Click Here to Book : Paris: Eiffel Tower's Madame Brasserie Dinner at 6:30 PM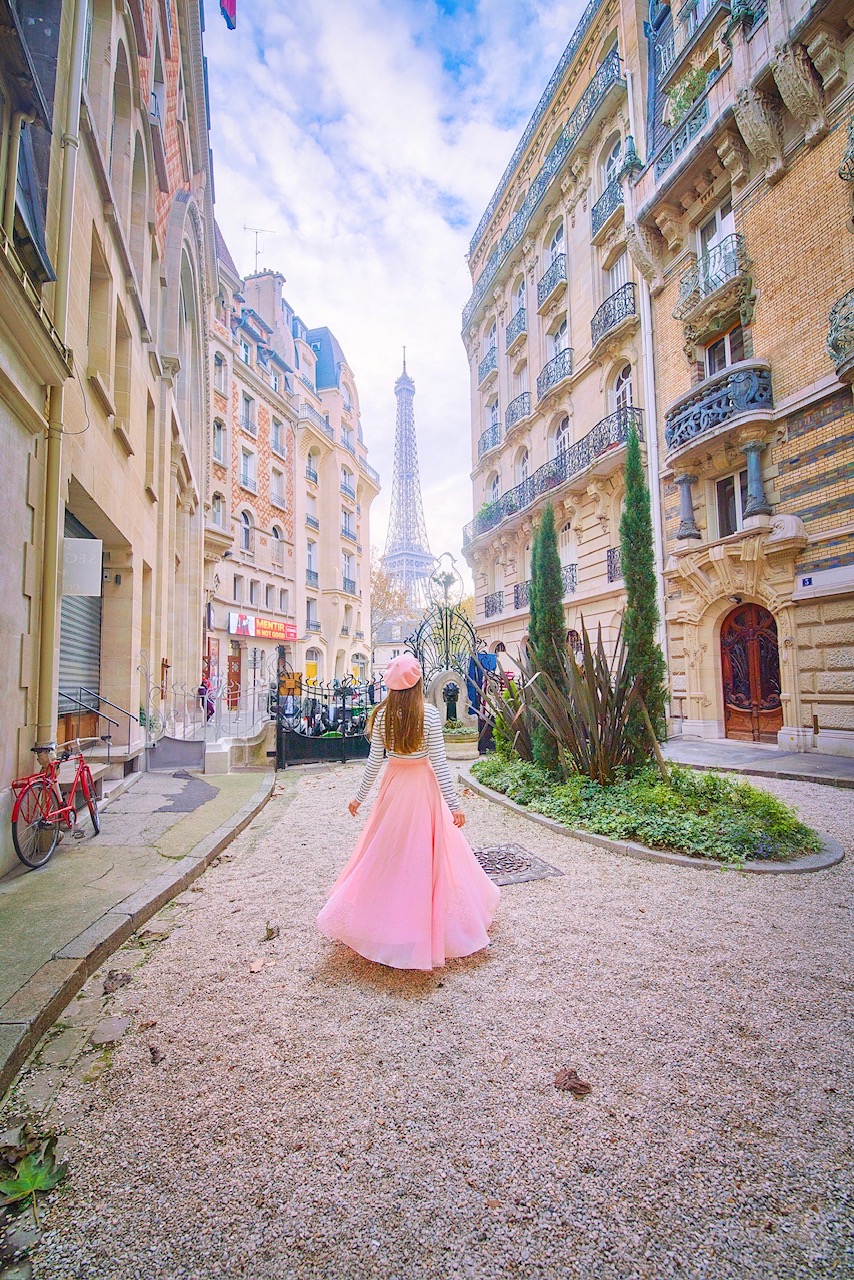 Stop 3: Rodin Garden
If you are looking for almost free things to do in Paris, the sculpture garden at the Rodin Museum costs just 1 euro! Whether visiting during the summer or winter, the gardens are an incredible place to spend an hour. Flowers blooming in the gardens will greet you year-round.
For those wanting to visit the inside museum, most of Rodin's works live inside the museum. Best of all, if you purchased a museum pass, it can be used here. If you have chosen not to purchase a museum pass, you can book tickets here.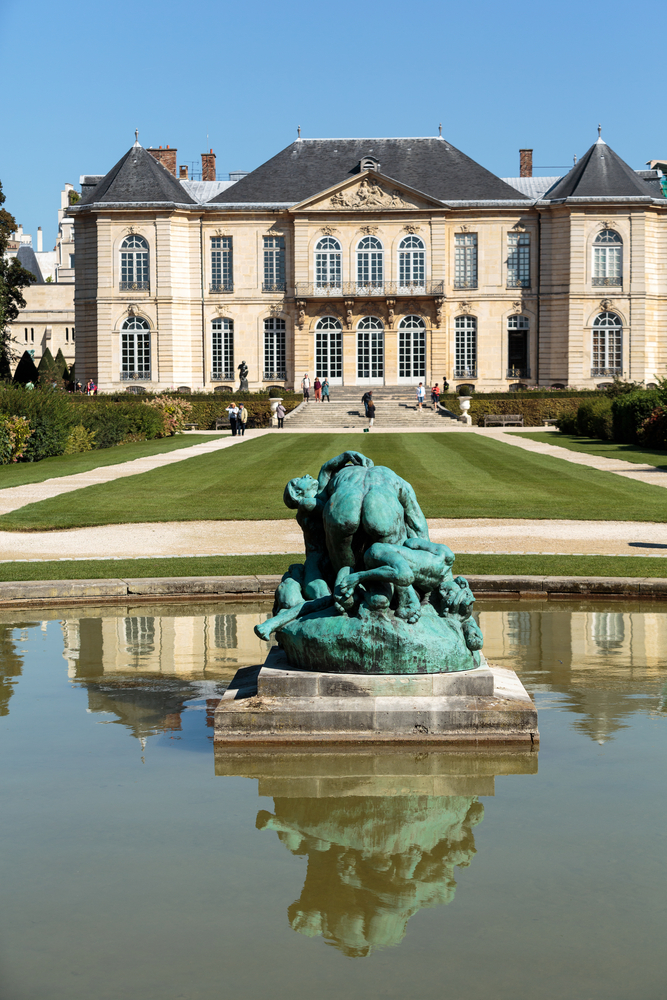 Stop 4 : Lunch at Bouillion Chartier
Bouillion Chartier is another of the restaurants I keep coming back to trip after trip. This old-school French bistro complete with white tablecloths, constantly has a line thanks to its delicious yet very affordable food!
I always order vegetable soup (only 1 euro), snails, steak and fries, beef bourguignon, or duck confit depending on my mood. For dessert, I choose from the chocolate mouse or ice cream. They also have daily specials and the restaurant's atmosphere is iconic!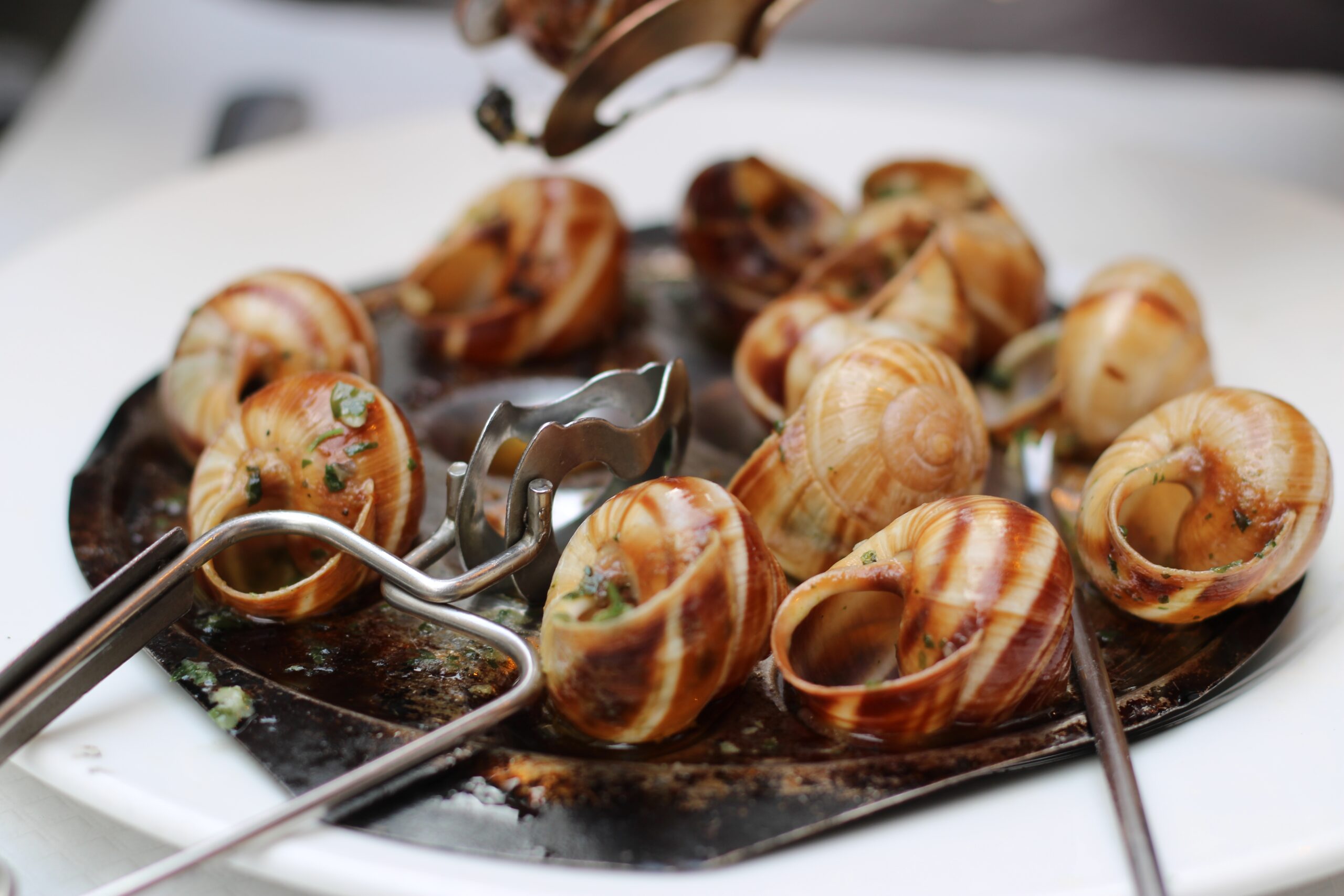 Stop 5: Luxembourg Gardens
Luxembourg Gardens is another must for me on every trip! This manicured park, with statues, and a pond is the backdrop to the Luxembourg Castle. There are plenty of benches under the shade to take a rest. Or if cravings a sweet treat head to Angelina's bakery, the hot chocolate during the winter is one of my favorite things!
For those wanting to stick to a budget-friendly weekend trip to Paris, head to a grocery store and have a picnic lunch in the park! A visit here is a visit back in time to the castle grounds. Surrounded by flowers, statues, and gravel paths, it is almost as if you stepped into a Bridgerton-era set.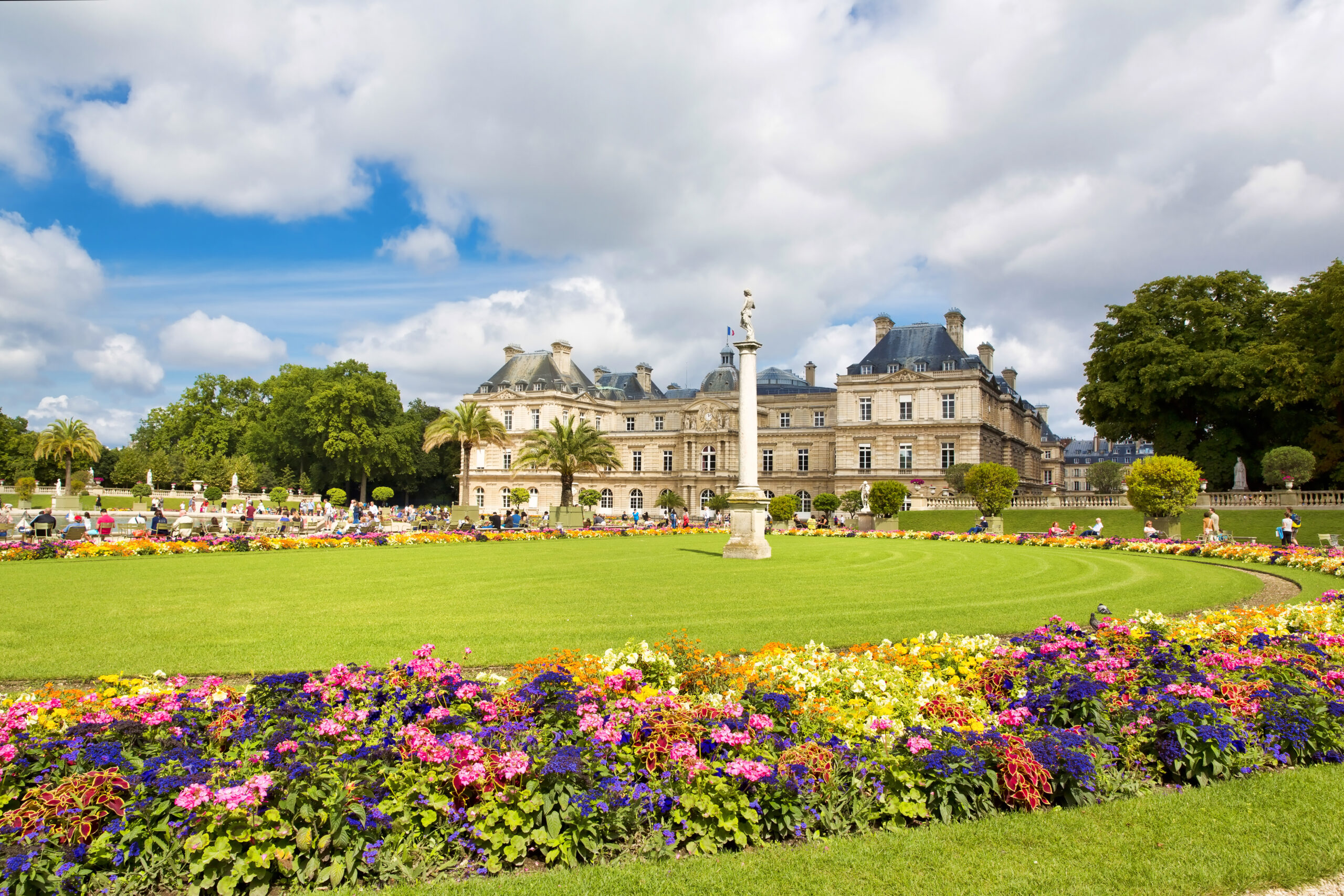 Stop 6 : Catacombs
Catacombs is one of the unique things you will do on your 3 days in Paris. Make sure to book your tickets online 7 days in advance. You will head 131 steps under the streets of Paris, back to 18th-century Paris, where the city transferred the cemeteries underground for public health and safety. When it first opened, the site was transformed into a decorative rearrangement of the skulls into monuments. We think this special skip-the-line access tour is complete with areas that you can't normally see as a tourist.
While it is eerie to visit, it is very interesting to see the displays. If you are looking to explore more of the dark history of Paris, this Dark History walking tour is for you!
Click Here to Book: Paris Catacombs: Skip-the-Line Special Access Tour
Click Here to Book : Paris: Dark City Secrets Walking Tour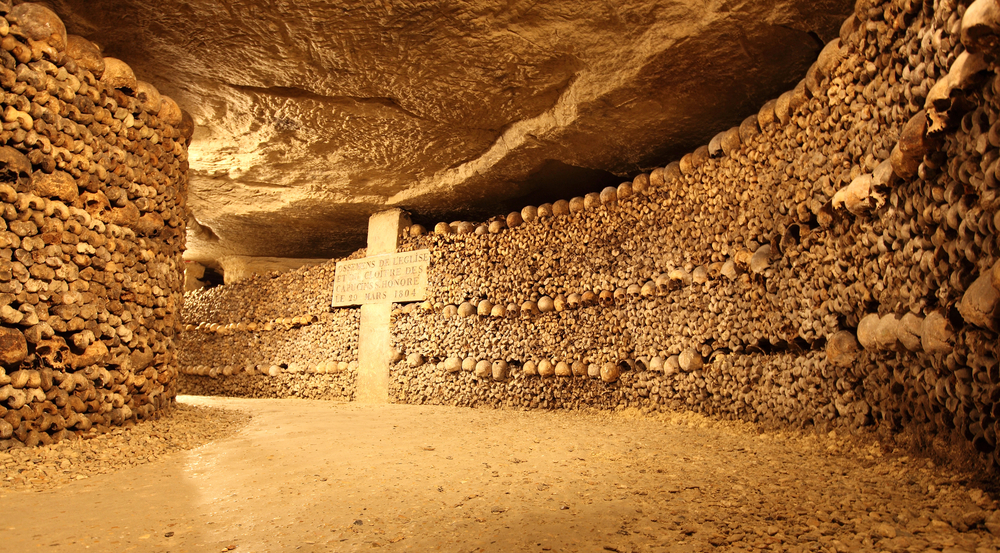 Stop 7: River Cruise down the Seine
The options for this one depend on what you have set aside for your weekend in Paris cost. For those looking for a more budget-friendly option, take a 1-hour sightseeing cruise along the Seine. You will see the sites from a different vantage point while relaxing on a boat. For those with a larger budget, you can take a river and dinner cruise, this tour includes champagne a 4-course menu, and live music while setting sail on a river for a 2.5-hour tour!
For those not waiting for their night to end, pair your river cruise with a Moulin Rouge show! Enjoy the iconic after-dinner show, where can-can dancers put on a spectacular performance in a cabaret-style show. If you are looking at what to do with 3 days in Paris after dark, this was a highlight of my Paris nightlife experience.
Click Here to Book : Paris: Dinner Cruise on the Seine River at 8:30 PM
Click Here to Book : Paris: Champagne at the Moulin Rouge & Seine River Cruise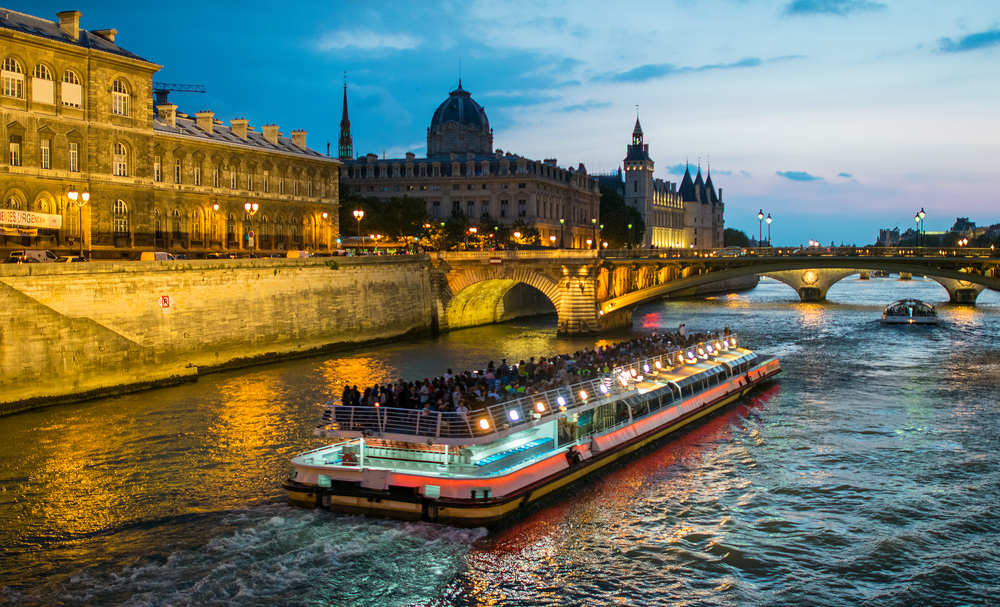 Day 3
On your last day, if you only have three days in Paris, I highly suggest a trip outside the city to see Versailles. during the morning, while the afternoon will bring you back to Paris. If you have more than 3 days in Paris, why not try a planned day trip from Paris to places like Giverny to see Monet Waterlilies or Disneyland Paris? We Have put together a list of all the best day trips from Paris for you to explore!
Stop 1 : Versailles
Day three of your 3 days in Paris brings you outside Paris for the first time. Just one hour outside the city, jump on the RER C to the Palace of Versailles. Built in 1623, it is one of the greatest achievements in French 17th-century architecture.
Entry here grants you access to the palace itself and the gardens and grounds. You can easily spend an entire day roaming around the palace, the gardens, and the multiple associated buildings. Make sure not to miss the incredibly well-known Hall of Mirrors, which I'm sure you've seen hundreds of pictures of! But you can also just spend a morning here and save the afternoon that is on your Paris itinerary.
Click here to Book : Versailles: Skip-the-Line Tour of Palace with Gardens Access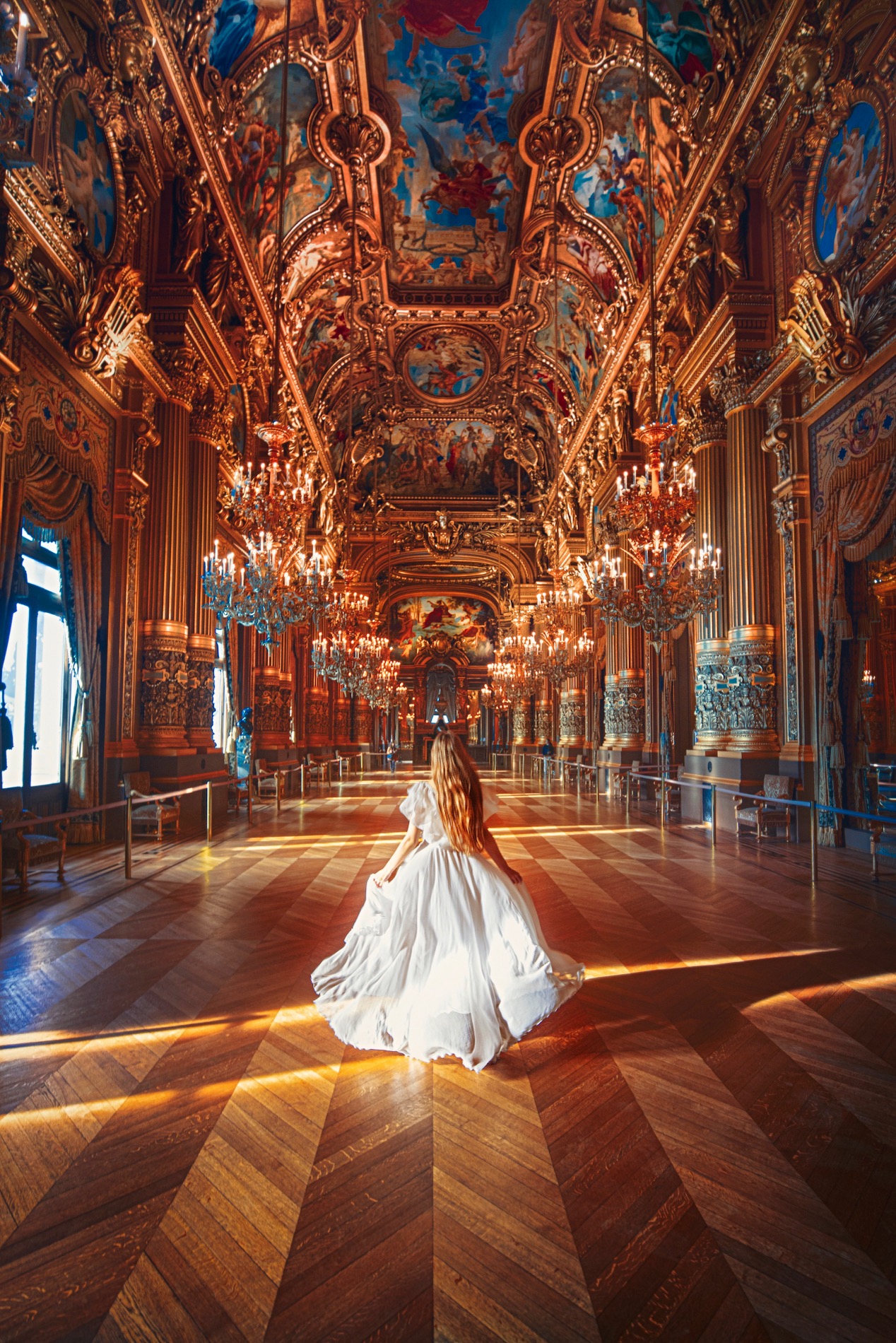 Stop 2: Rue Cremiux
Considering it's one of the most charming streets in Paris and certainly the most colorful, we are in love with Rue Cremiux.
This adorable little residential street is lined with houses painted in an array of cute colors, which gives it one of the most aesthetically pleasing atmospheres in the city. We think it is one of the most beautiful areas in Paris.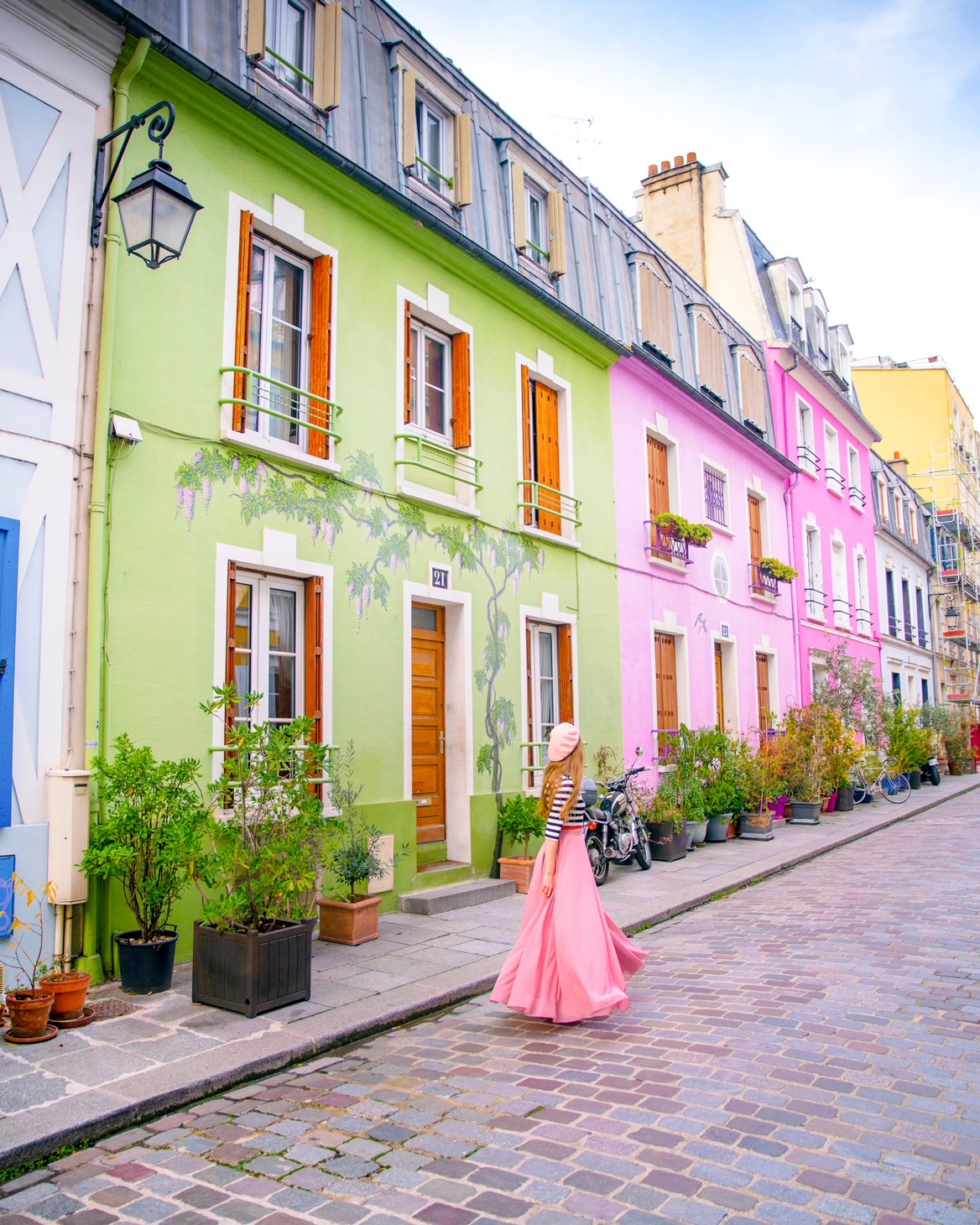 Stop 3 : Musee D'Orsay
Another of my favorite things to see in Paris in 3 days is the Musee d'Orsay. I find this museum much more manageable than the Louvre for first-time visitors. Housed in an old railway station, the galley-style museum houses a large collection of French art, sculptures, and paintings. Best of all, it is free to all visitors on the first Sunday of every month. This is a great museum option for your 3 days in Paris if looking to save money.
If you head to the outdoor area, you can get magnificent views of the Seine River and the Louvre across the street. They include this museum in the 4-day and 6-day museum passes.
Book your tickets here which also includes a Seine river cruise, for those of you yet to take a river sightseeing cruise! Or why not book a skip-the-line guided tour through the museum to learn all about the French artist's work displayed here?
Click Here to Book : Paris: Musée d'Orsay Entry Ticket and Seine River Cruise
Click Here to Book : Paris: Skip-the-Line Musée d'Orsay Ticket and Guided Tour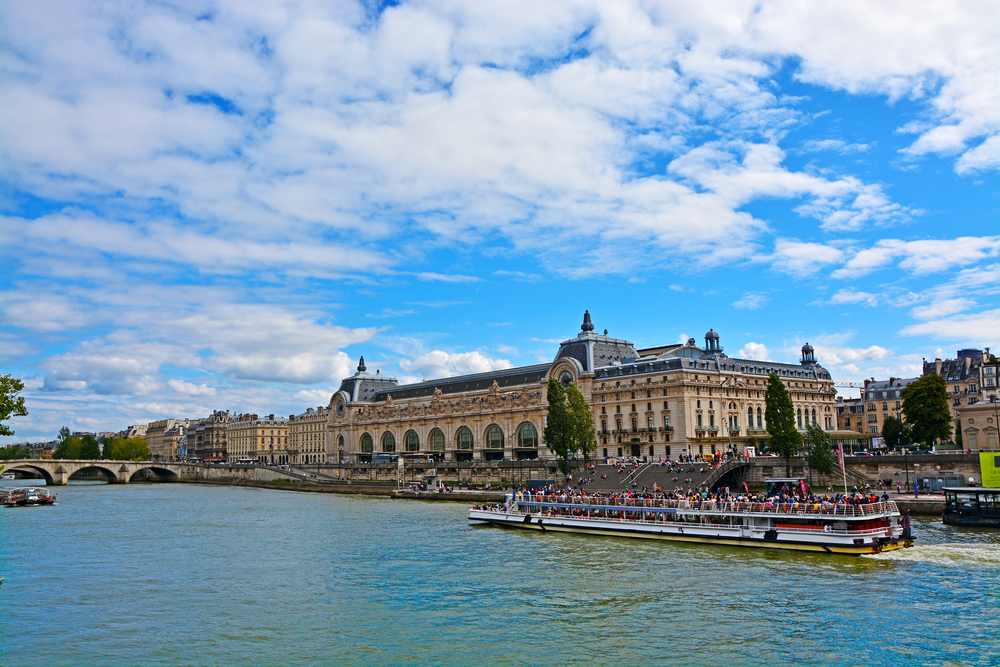 Stop 4: Sainte Chapelle Church
St. Chapelle Cathedral was constructed in the 11th century, and is a wonder to behold! St. Chapelle was designed in the Gothic style and is considered to be one of the biggest achievements of the Rayonnant period. But, visitors come here mostly to marvel at the stained glass windows.
This historic landmark is not to be missed. Tickets cost around 10 euros, a small price to pay for the breathtaking beauty you see inside this stunning cathedral. Book your tickets here.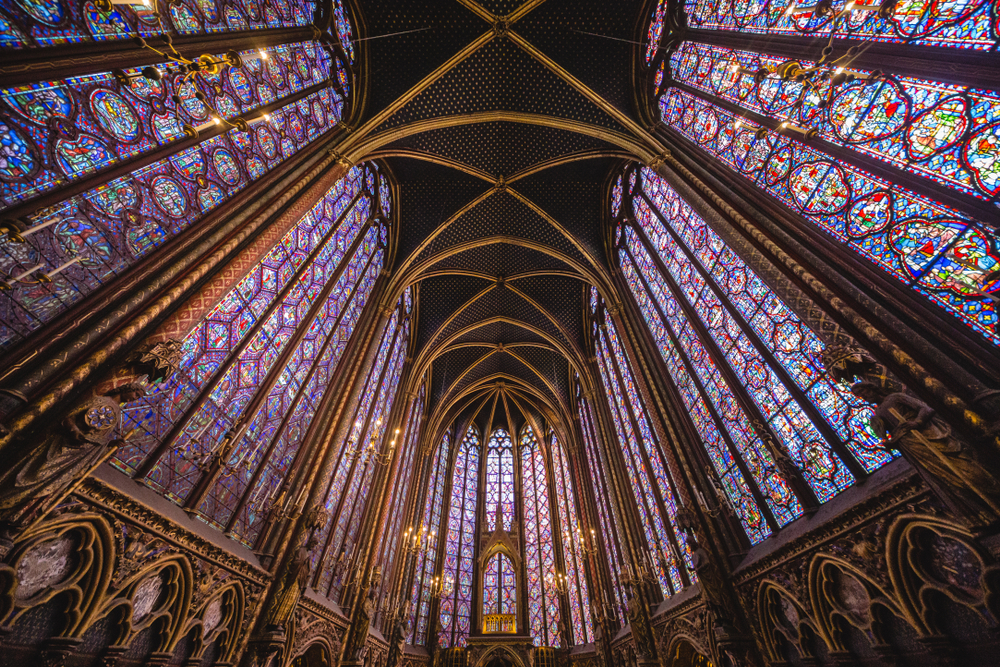 Stop 5. : Cave du Septime
On every trip to Paris, I head to one of my favorite wine bars. If you love natural wine, let this be the last stop of your 3 day in Paris weekend trip. It is the casual sister restaurant of the legendary Septime and Clamato restaurants.
Come solo or with friends, and try one of the 10 different natural wines being poured that day. The waitstaff is incredibly friendly and welcoming, and they also offer a small menu of bar snacks that are equally as good.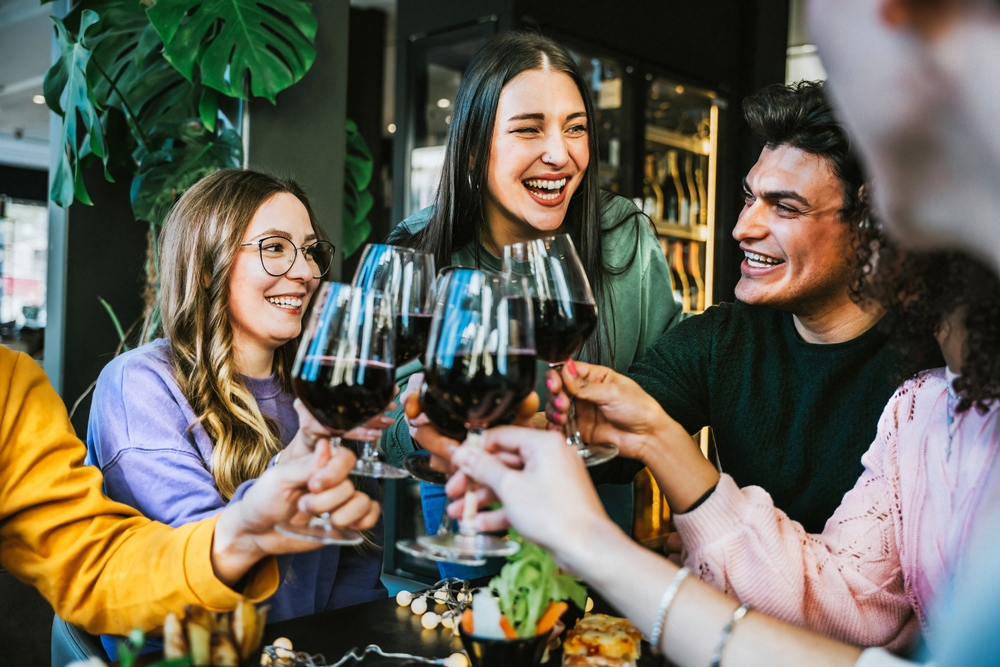 Where To Stay on your Paris Itinerary
Don't forget to check out our complete guide on where to stay in Paris! And for those who want to see the iconic Eiffel Tower outside their window, check out our list of the best Paris hotels with a view of the Eiffel Tower. Check out our guide to all the best places to stay in Paris!
Asotel
Whenever anyone is going to Paris and looking for a relatively inexpensive hotel in Paris, I always recommend the Asotel brand for a hotel in Paris! They have 17 hotels spread through the city's different neighborhoods and are all 3- and 4-star hotels that are highly rated and for good reason!
One of my favorites is Hotel Malte! The rooms are modern; there is fast Wi-Fi and a free mini bar with drinks in the room! They also offer free non-alcoholic drinks and snacks at any of their properties you visit from 2 p.m. to 2 a.m. Trust me, it is so nice to pop into any location and cool down with a cold beverage ( if you are on a budget, this is helpful!)
I have also stayed at Hotel George and Hotel Joke when visiting Paris! I highly recommend any of their hotels, and it comes down to preference on neighborhood and price points for your Paris weekend trip!
To Book Asotel Hotel Malte – Click Here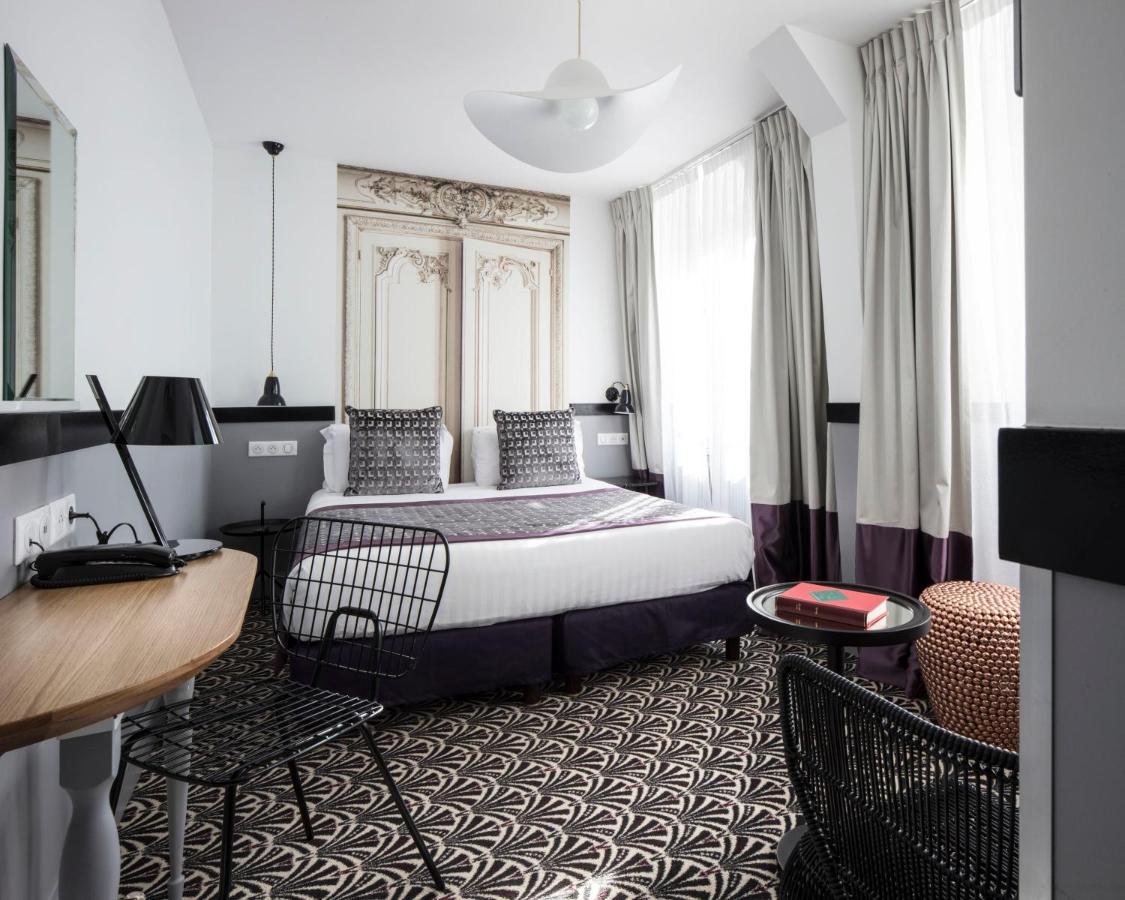 Yuna Les Halles – Serviced Apartments
Yuna Les Halles is in one of my favorite Paris neighborhoods the Marais. The area has tons of restaurants, and bars, in a thriving, fun area close to everything! Serviced apartments have increased in popularity in recent years, and I think it is the perfect place to stay for a weekend getaway to Paris!
These studio apartments feature a fully equipped kitchen for those who want to save money by staying in to cook or just keep snacks! The bathrooms are fully stocked! The apartments have a dining area and private bathroom, as well as Wi-Fi, AC, and heating! The ideal place to stay for a 3 day weekend in Paris
The reviews all rave about the apartments being spotlessly clean, with elevators and concierge services. For those with family, they have a one-bedroom apartment that sleeps 4 people.
If you are looking for Airbnb's check out our guide to the best Airbnb's in Paris. I think apartments and Airbnb's are perfect for those wanting a budget-friendly 3-day weekend Paris trip!
To Book Yuna Les Halles- Serviced Apartments – Click Here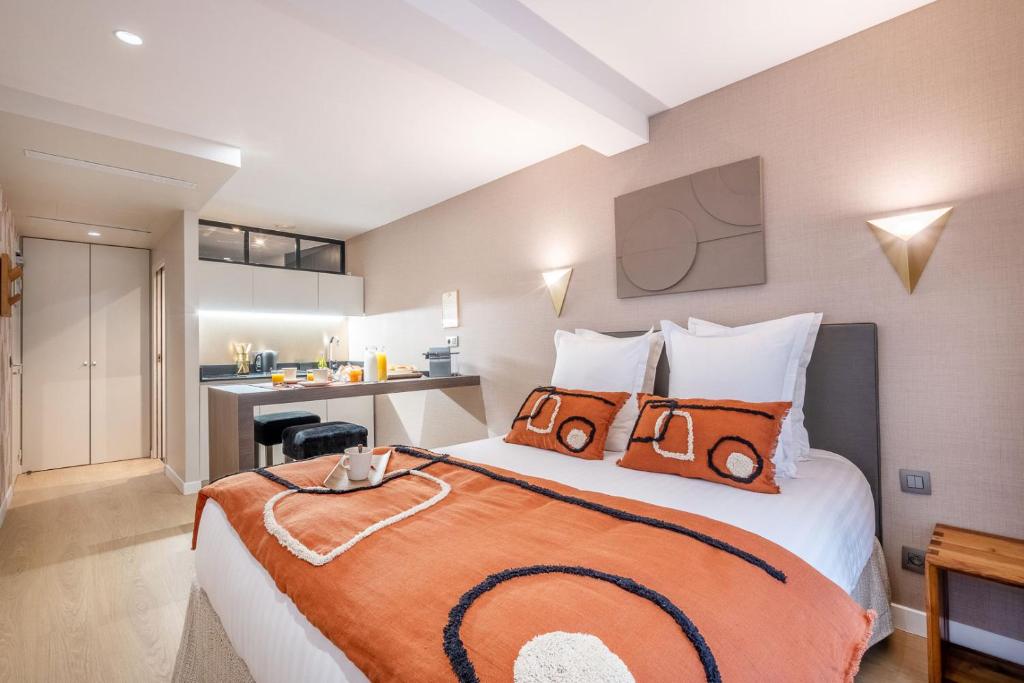 Park Hyatt Vendome
One of my favorite places to stay in Paris when celebrating a special occasion is the Park Hyatt Vendome. This 5-star hotel is in Place Vendome, which is close to the Opera, Palais Garnier, and Tuileries Garden. 
The hotel is opulent and even features a pool and spa on the basement level. For those who collect hotel points, this is a perfect place to redeem them! I love staying here during the holidays as they decorate the Vendome area for the holidays, and it is super close to all my favorite spots!
The rooms are pricy, but the hotel service and amenities are worth it for a splurge stay! If you are looking for an ultra-luxury experience for a honeymoon in Paris, stay here and try one of the many Michelin restaurants that make my mouth water just thinking about them! Head down the street to the Ritz bar. The drinks are pricy, but the atmosphere is vibey, and drinks come with complimentary bar snacks!
To Book Park Hyatt Vendome – Click Here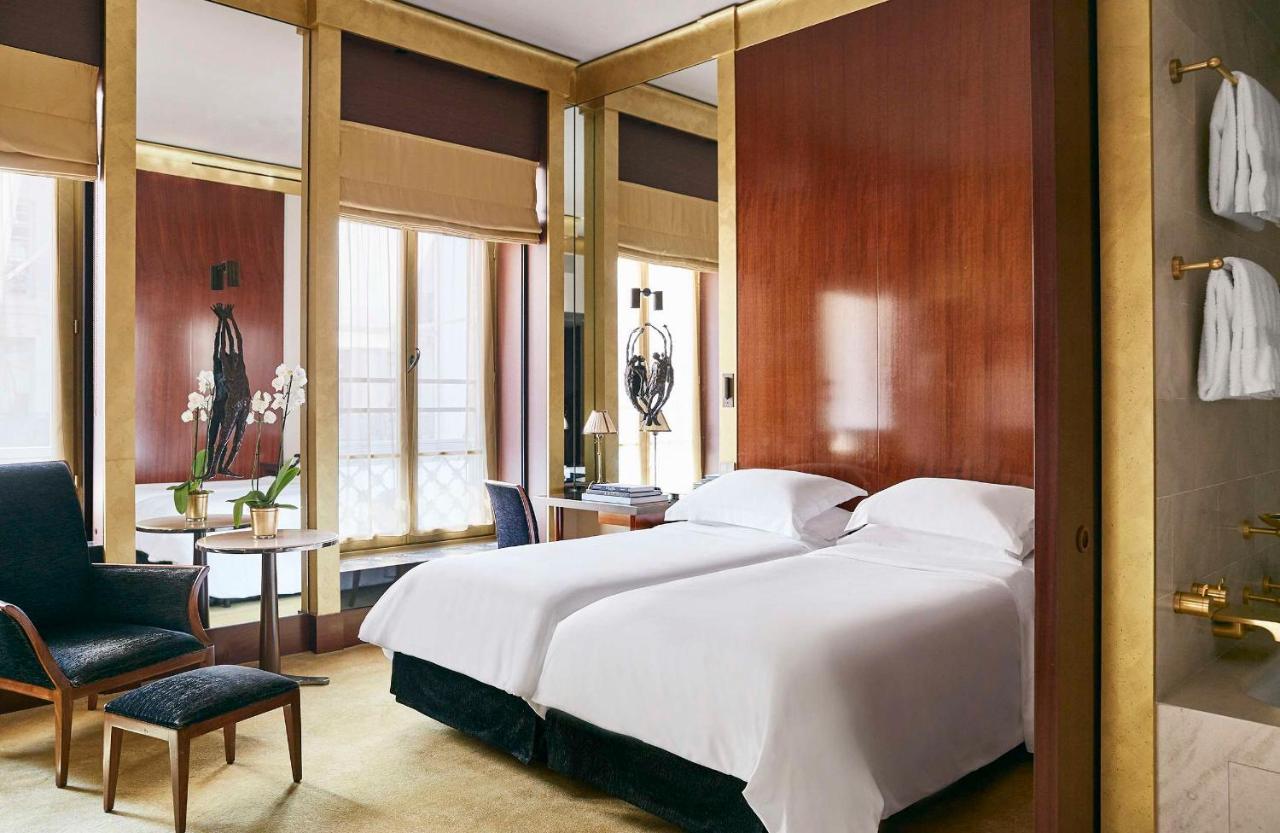 Where to Eat During Your 3 Days in Paris
Le relais de L'Entrecote
If there is one place I recommend over and over to friends and‌ family visiting Paris who will wait in line, it is Le Relais de L'Entrecote! Known for its traditional Steak Frites (steak and fries) the line is worth it once you taste the melt-in-your-mouth steak, perfectly crispy fries, and that walnut-covered salad. Did I mention a second helping is free?
There are two locations of this Parisian bistro, one in St. Germain du Pris and one in Montparnasse. Please note this is not a menu here; only steak, fries, and salad are served. You can choose from different desserts and beverages!
Girafe
I am sure you have seen this restaurant all over your social media page while researching where to eat in Paris! If you are looking for an upscale, special occasion, or a date nightspot in the city of Love, I highly recommend Girafe.
I have been with both friends and on a couple's date night and the vibe was 10 out of 10! Let's start with the views of Trocadero Plaza you have amazing views of the Eiffel Tower from the terrace. I have also sat inside, and the vibe was also spot on.
While pricy, the food is delicious. If you love seafood, this is your place, but they also have beef dishes and salads! Plus, the drinks are delicious. The Carrington is delicious if you like whiskey, while the Frida is for tequila lovers.
Ask your hotel to book your reservation as soon as you book! Or download the Paris Society app for bookings! If you still can't snag a reservation, head to the sister restaurant, Cafe de l' Homme.
Breizh Cafe
You can not come to Paris without trying crepes‌ in my opinion! I am biased, but love a Breton-style crepe. For those not familiar with a crepe it is a French pancake stuffed with either savory or sweet fillings (galettes), and the menu here is larger than normal.
Found in the Marais, this is one of my favorite neighborhood spots! Pair your crepe with a cider from Brittany. Choose from typical ham and cheese or try one of the more unique pairings like smoked salmon. Save room for a dessert Galette, such as Nutella and strawberries, or pair with ice cream!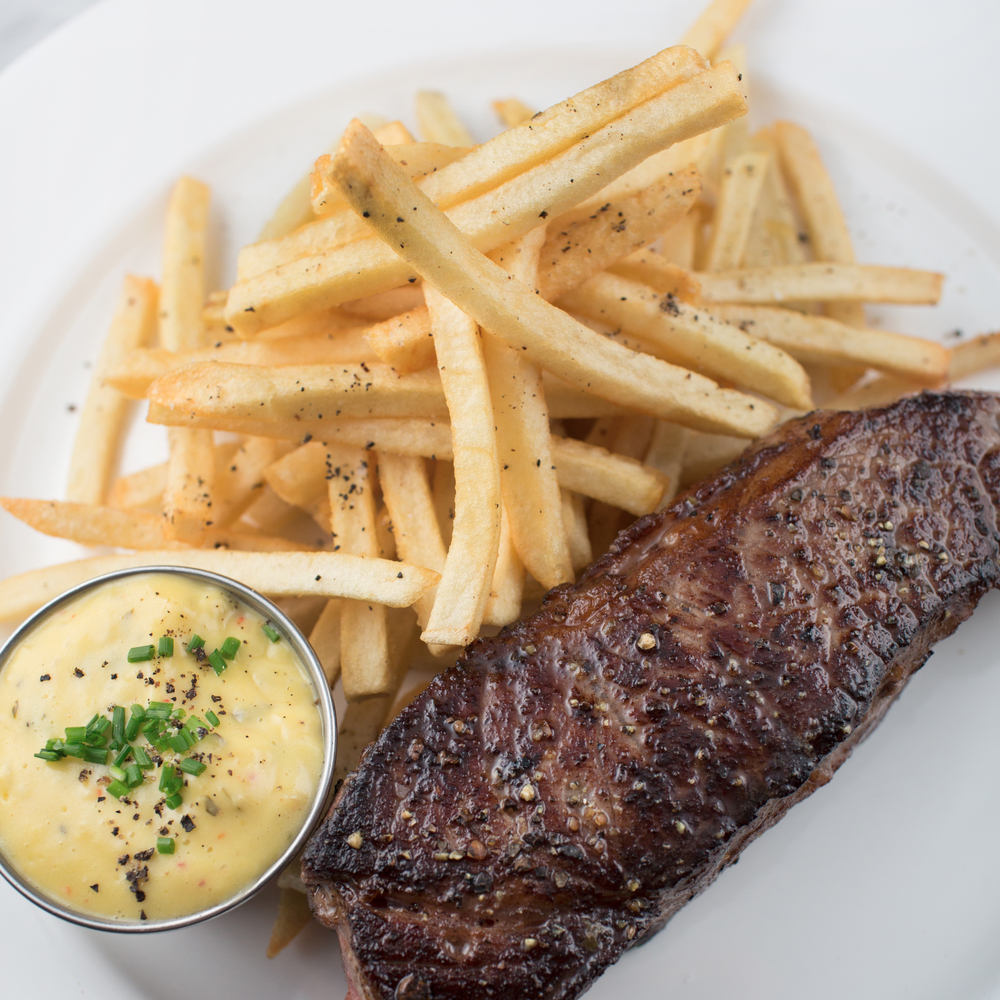 Insider Tips For Your First Trip To Paris
Navigo Decouverte Pass –
I have been using this travel pass for almost a decade! The card costs $5 to purchase, and you must bring a small photo (1 x 1.25 inches) of yourself, but the card is good for 10 years!
If you are coming for a 3-day weekend Paris trip, tickets purchased Thursday before midnight can be used the same week until Sunday. While tickets were purchased on Friday, they began on Monday the following week!!
It works for all zones 1-5 (including CDG airport) and pays for every trip as the cost ($30 for a week) is less than a round-trip train ticket into the city! You can purchase right at the airport train station which includes metro, RER trains—for example, trips out to Versailles or Disney, and buses!
Beware of pickpockets
Pickpockets in Paris are a real thing! You need to be aware, especially in touristy areas like the Sacre Coeur, and the Eiffel Tower. But, especially on the metro, I have seen many tourist's phones snatched right out of their hands at the station. Don't make these mistakes!
The ring scam and signing my petition used to be popular, but I have not seen it as much in recent years. I have been to Paris many times and have never been picket-pocketed so just be aware of your surroundings and keep your valuables safe while in public.
Keep change for public restrooms
You will want to keep some euro change coins to pay to use public toilets across the city! I know you are probably thinking, what do I have to pay to use the restrooms in Paris? YES! My other tip is to go into luxury hotels to use the restrooms as they are clean and free.
Paris Pass vs the Museum Pass
If you are looking to explore for 3 days in Paris, France, look into getting either the Paris Pass or the Museum Pass, depending on what your budget allows. For those interested in seeing as many museums and monuments as you can while in the city, the Paris Museum Pass is for you. Choose between 2-day, 4-day or 6-day pass!
For those who are interested in adding on experiences such as the Eiffel Tower, hop-on bus tours, wine tastings, and cooking classes the Paris Pass is for you. You can book a 2-day, 3-day, 4-day, and 6-day!
The best thing about purchasing these passes is you can make advanced reservations when planning your trip to Paris.
To Purchase your Museum Pass: Click Here
To Purchase your Paris Pass: Click Here
How to adjust this Paris itinerary
For those who have visited before, use this itinerary as a guide. Adding things you have not done before to your old favorites. I visit the same places repeatedly on trips back to Paris, but there are always new places to explore.
Based on which days you will visit or what tours you are interested in, you can adjust this 3-day weekend in Paris itinerary and make it your own. Swap out a night cruise on the Seine for a mid-day break during the hot summer months, for example! Or head to the Louvre first thing in the morning if you want to avoid lines and have purchased an advanced ticket!
The options are endless to switch up this guide! If you are not into walking or have limited time or mobility, book a 1 to 3-day Discovery bus tour of Paris?
Click Here to Book : Paris: Tootbus Hop-on Hop-off Discovery Bus Tour
How to do Paris on a budget
If you want to do a budget weekend trip in Paris, that is totally doable! There are plenty of hostels that are centrally located if you don't mind sharing a room! Instead of fancy meals out, head to the grocery store to pick up items for a picnic at some of Paris's most iconic sites!
For those booking an Airbnb, choose to cook dinner at home! It will surprise you how inexpensive stores like Carrefour, Super U, Monoprix, and Franprix are. A baguette costs less than $1 at boulangeries and grocery stores to grab some jam and have a French breakfast. We have everything you need to know about Paris grocery stores here!
If you are looking for more of a splurge grocery store, one of my favorite places to wander around is the Grand Epicerie, trust me it is worth a visit if only just to browse.
Another tip for those visiting during the first Sunday of the month from October through March is that museums are free!! There will be a line, but for those interested in saving money, this is big. Check museum websites; for example, the Louvre is free on Friday evenings after 6 p.m.
And last take advantage of all the free sites within Paris. Or try a free walking tour in the city just be sure to bring cash for a tip!
We have an entire guide on what a trip to Paris costs! Check it out for a full breakdown of costs!
Learn a Few Phrases
One of the biggest tips, I give who are checking off a Paris bucket list trip or really any foreign country is to learn a few words or phrases in the local language!! This makes a huge difference in how the French will interact with you as a tourist! It is all about making a little effort. Start with "Bonjour" instead of Hi, or Merci instead thank you!
Customize this Guide
Depending on how much time you have planned for your trip to Paris, this guide can be customized. If you only have one day, look through this guide and hit the highlights! For those on a long layover, take a hop-on-hop-off bus tour to see the highlights, or just carefully plan your stops using this itinerary as a guide to your must-see places!
Likewise, if you have additional days, why not plan day trips from the city? For those looking at where to head outside of Paris, if spending more than 3 days in Paris I will give you some of my favorite cities to visit and why.
For those champagne lovers, add Epernay and Reims France to your list. Getting here is easy, it is just under a 2-hour train ride to the home where Champagne is made, and you can visit all the various Champagne houses!
For architectural lovers, Rouen, France needs to be on your list. Located 2 hours northwest, of Paris this stunning city in Normandy is known for its gothic cathedral that impressionist Claude Monet based his work on. I love visiting here as it feels worlds away from Paris.
Chartres is another small town in France that we visit every year. Located just an hour west of Paris by train. The city puts on a lights festival nightly from April to January that is projected onto the Cathedral. The show is stunning!
If you are looking for longer itineraries check out our suggestions of how to spend one week in Europe!