Are you looking to stay at an Airbnb in Paris, but you're not sure which ones are the best? Well, we are here to relieve all of your stress and present you with the most fabulous Airbnbs that Paris has to offer! We will feature Airbnbs that have amazing views, perfect locations, and special amenities. 
Planning your trip to Paris last minute?
Make sure to book your hotels and tours in Paris in advance to ensure availability! Here are our top picks for your trip!
Top experiences and tours in Paris:
1-Hour Seine River Cruise (Super fun/affordable! We loved it!)
Hop-On Hop-Off Bus Tour (Great way to see the city)
Tickets you MUST book in advance:
Top Hotels In Paris:
Hôtel des Arts Montmartre (Good location and moderate price)
Le Katorze Hôtel (Budget option with 4 star rating)
Hôtel D'Aubusson (Luxury central location with pool!)
Get ready to have the trip of a lifetime in one of the most romantic and beautiful cities in France. Staying at an Airbnb gives you a more "at home" vibe, privacy, and typically more money in your budget for food and entertainment. We will make sure to include affordable options as well as a few luxury choices.
It will be easy to select the right one for you based on what's most important to you when it comes to traveling. Do you want to be right in the center of a lively neighborhood? Is a scenic view #1 on your list? Or do you just want the most budget friendly option? We will share all of the details and make sure to highlight the unique attributes for each Airbnb in Paris on our list.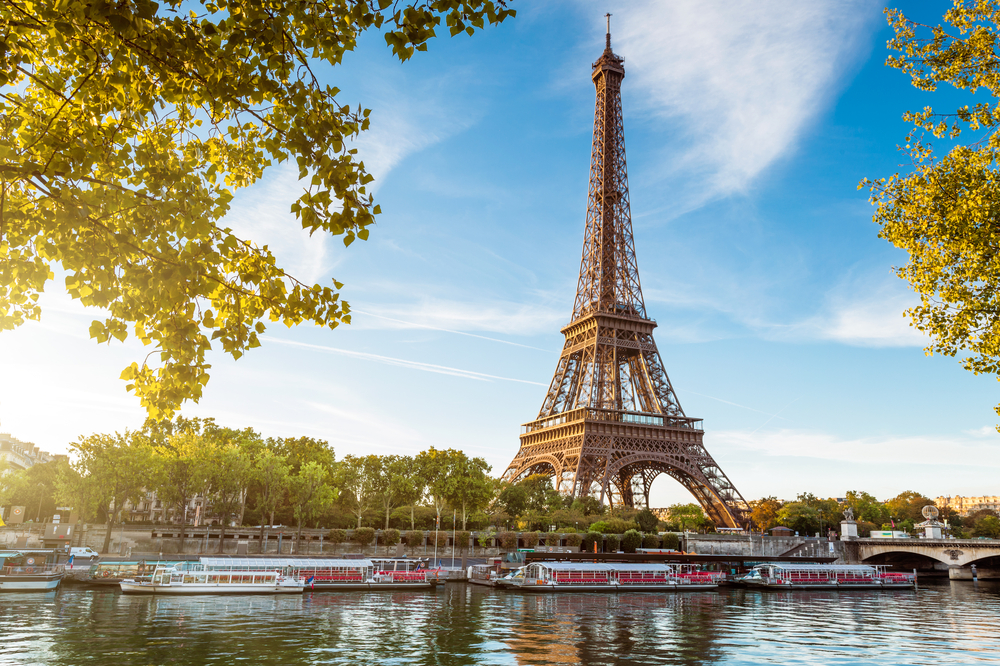 What Are A Few Things I Should Know About Traveling To Paris?
Paris is divided into 20 Arrondissements or neighborhoods, so you'll want to explore what each of them has in store for you. Each Arrondissement in Paris has its own unique charm and character, so we encourage you to venture out to see at least a few of them. One of the really great things about Paris is that the Arrondissements are very well connected by the Paris Metro so you'll be able to get around with ease.
You won't have to struggle to find plenty of things to do in Paris as there are several beautiful places in Paris that you must visit! Don't stress about packing, check out our list of items that you won't want to forget to bring to Paris.
Paris is quite stunning during the day, but there are also a lot of locations that you should save for visiting at night! Do you love people watching or relaxing with a cup of coffee? Paris has some of the most charming cafes that are perfect for early morning coffee or an afternoon snack.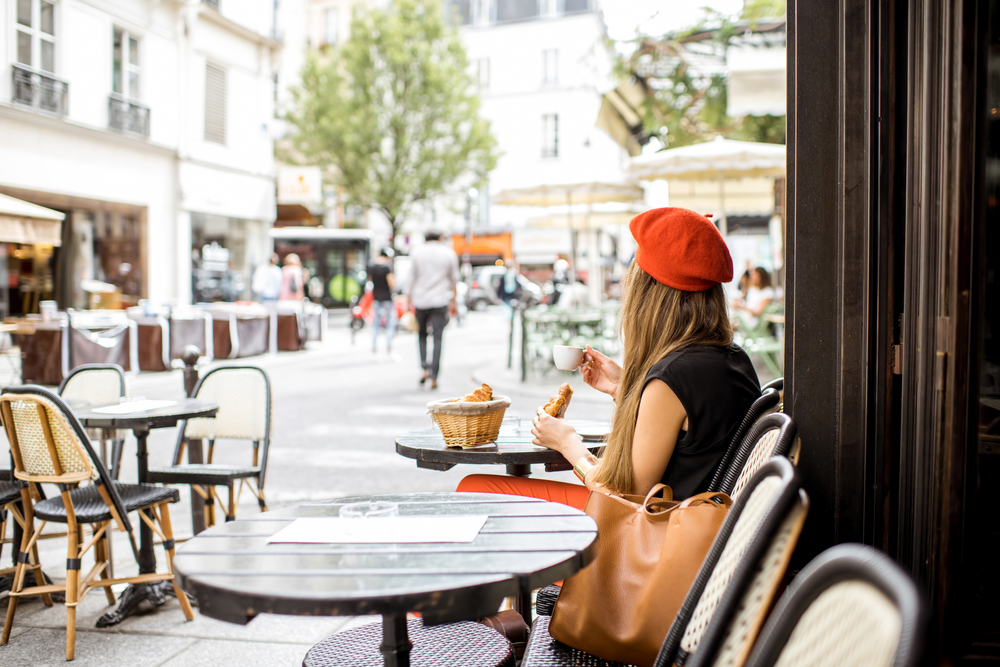 18 Best Airbnbs In Paris
Eiffel Tower Luxury Flat
Let's start off with the quintessential Paris experience! Can you get much better than your own personal view of the Eiffel Tower?! Imagine having an evening cocktail on your private balcony all while taking in the breathtaking glory of the illuminated Eiffel Tower. Once it is morning there is no better view for your morning coffee and croissant.
It can all be a dream come true when you stay at this amazing Airbnb in Paris. This luxury flat has been fully renovated and has lots of quintessentially Parisian charm. The decor is light and very modern throughout the flat's living room, kitchen, bedrooms, and bathrooms. This VRBO can sleep 6 guests in 2 bedrooms. It has 2.5 bathrooms.
Located in the Left Bank, you'll have only a short walk away from multiple public transit options. The Left Bank is a very lively neighborhood with many shops, restaurants, markets, and cafes.
Having this spectacular view of the Eiffel Tower also means that you are just a short 10-minute walk from seeing it up close. This is definitely one of our splurge options, but absolutely worth it! You're sure to have the trip of a lifetime with this lovely VRBO in Paris as your home base.
Check Rates: VRBO.com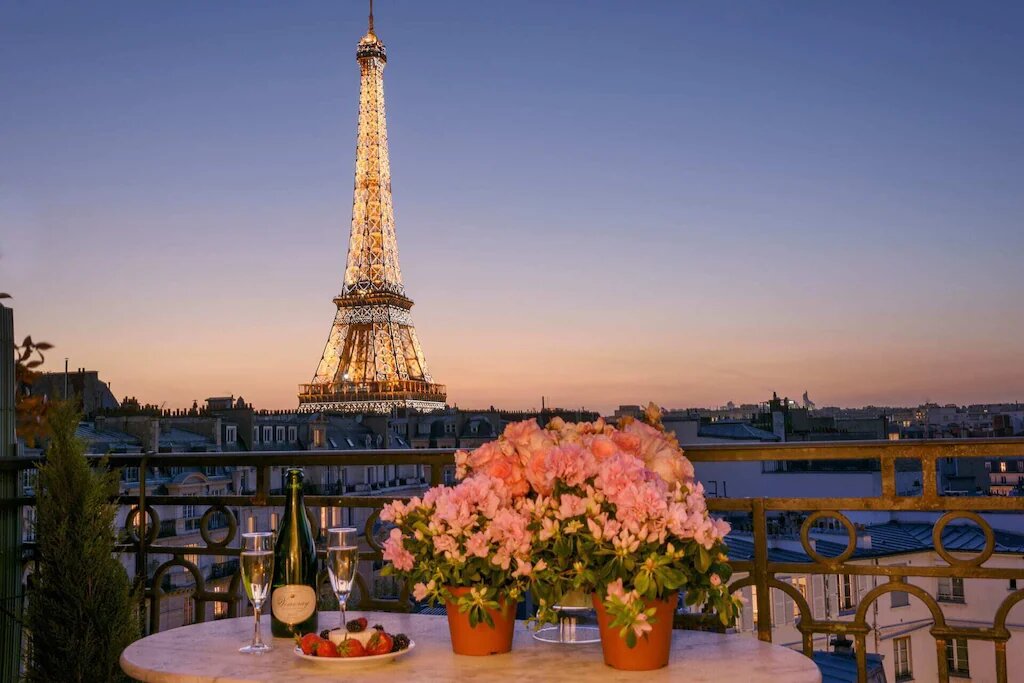 Parisian Garden
If your ideal vacation includes a garden space to lounge in, this is the vacation rental in Paris, France for you! The reviews of this place are all gushing about how rare it is to find such a quiet and tranquil place in Paris.
You should definitely jump on the chance to have your own secret garden in Paris. This luxury apartment has lots of modern touches, wait till you see the gorgeous kitchen and soaking tub!
This 2 bedroom 2 bath VRBO can accommodate 6 guests. The apartment is 1000 square feet, unusually large for being so close to the city center! It is less than a 10-minute walk to the Eiffel Tower and is located near a subway station, so you'll be able to explore the whole city with ease.
Check Rates: VRBO.com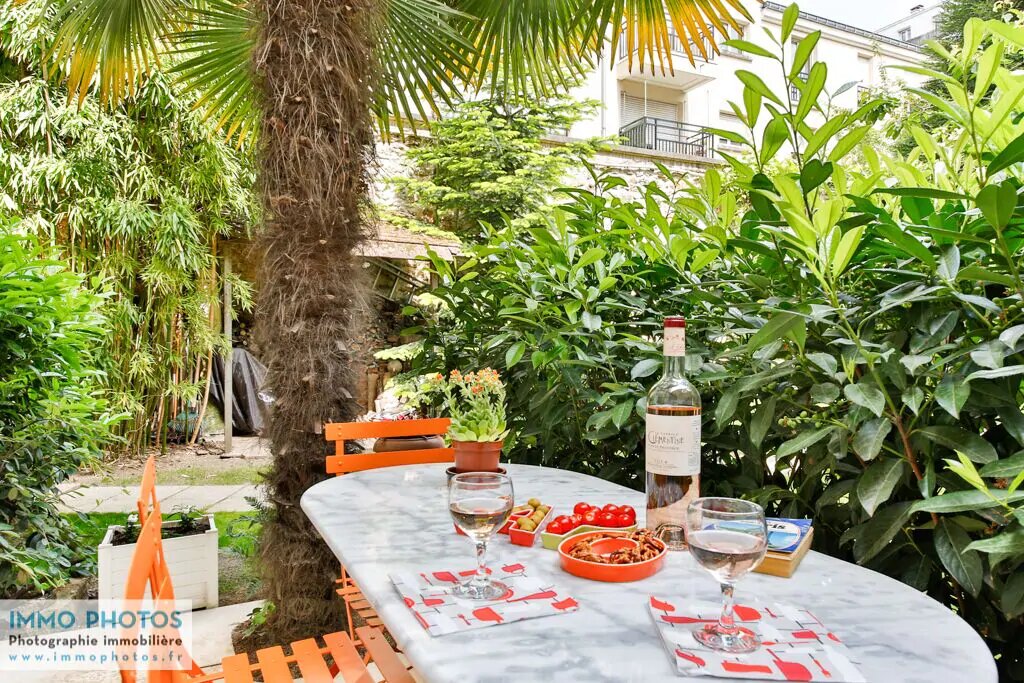 Elegant Studio by the Louvre
If the Louvre is your favorite Paris attraction, this is the airbnb in Paris for you. Beat the crowds by staying right next door to the world's most famous art museum! You're sure to feel like royalty staying in this studio nestled between the Louvre and the Palais Royal Gardens.
This artsy studio packs everything you need for a great stay into 323 square feet. It can accommodate two guests. This building was constructed in 1785 and the hosts have lovingly maintained a lot of old-world charm in the design of their vacation rental. Even though it is a historic building this unit does have an elevator, making it perfect for travelers who can't do stairs!
Check Rates: VRBO.com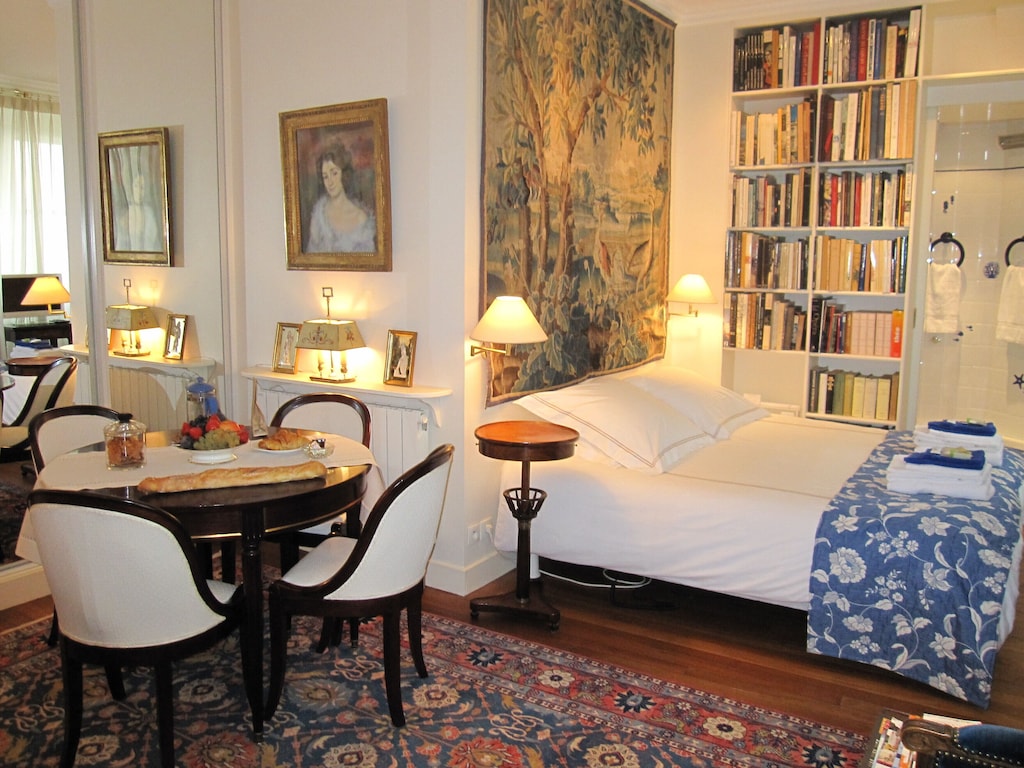 Luminous Upper-Level Historic Loft
If you're passionate about Parisian history, you've got to check out this vacation rental! Located in the 2nd Arrondissement, this historic loft Airbnb in Paris is very close to the center of the Capitol. It is conveniently close to all of the popular Paris tourist attractions but also has its own special gems within walking distance.
Staying in this historic loft gives you a completely unique experience with a great mix of textures and phenomenal architecture. Cathedral ceilings with exposed wooden beams give this apartment so much character.
This apartment includes 1 bedroom with 1 bed, 1.5 baths, kitchen, living room, dining table, washer and dryer, and a private balcony. There is a playful blend of patterns, colors, and eclectic furniture. A little more on the pricey end, but this charm and location can't be beaten!
Check Rates: Airbnb.com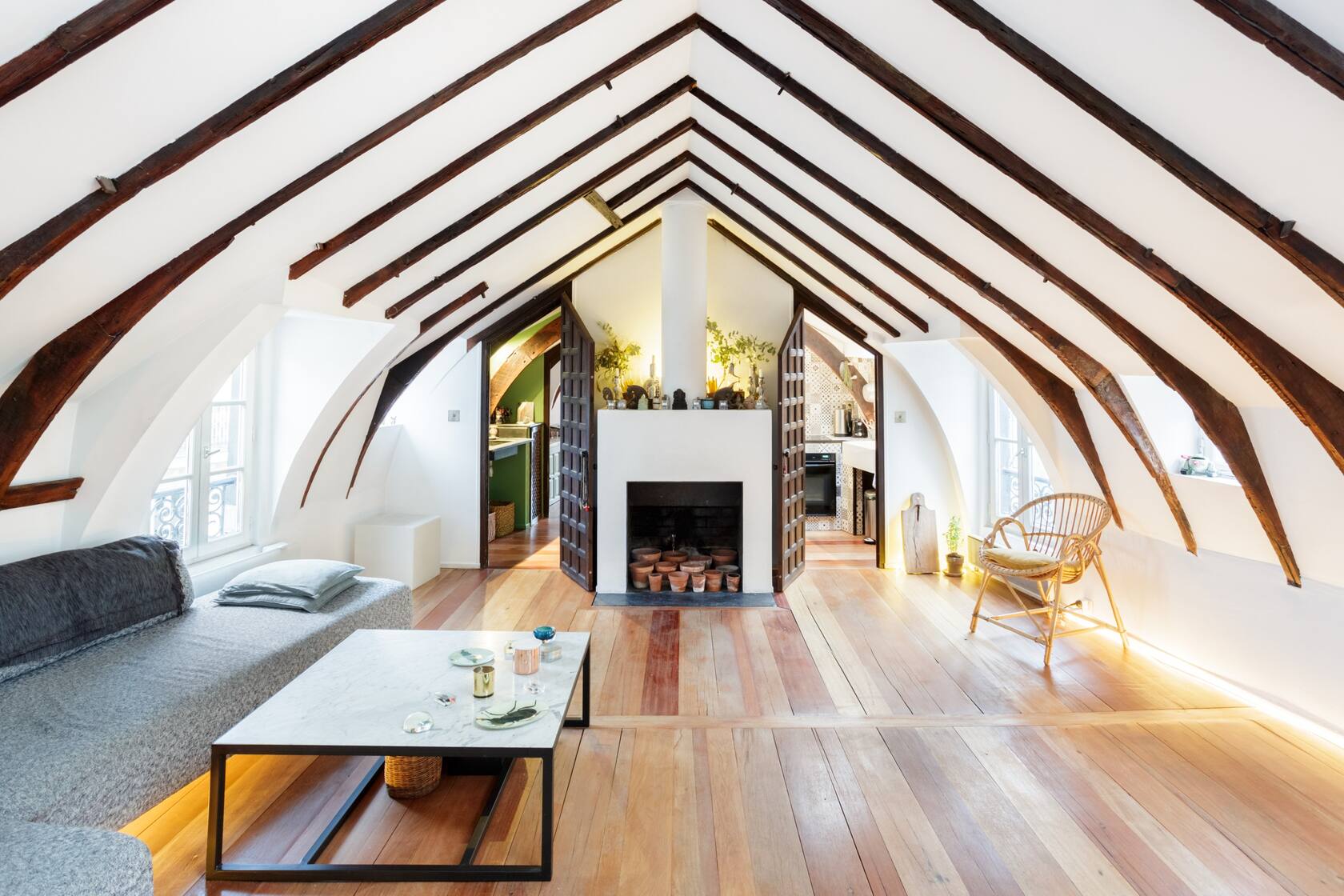 Magnificent Loft Apartment In The Latin Quarter
The 5th Arrondissement, also known as the Latin Quarter, is home to our next stunning Airbnb in Paris. Are you planning on staying for an extended period of time or are you traveling with a large party? Then, this loft apartment in the Latin Quarter just might be the ideal Airbnb in Paris for you!
This is a massive loft apartment that can accommodate up to 6 guests with 3 bedrooms, 3 beds, 4 baths, a living room, a dining room, 2 recreational areas, 2 common spaces, a full spacious and equipped kitchen, and a patio. The decor is incredibly modern, elegant, and inviting. Splurge on this amazing loft and you won't ever want to go home!
The Latin Quarter is one of the oldest parts of Paris it has a very artsy and bohemian vibe. The top attractions in this neighborhood include the Panthéon, Eglise Saint-Sevérin Saint-Nicolas Church, and Eglise Saint-Étienne-du-Mont Church.
Check Rates: Airbnb.com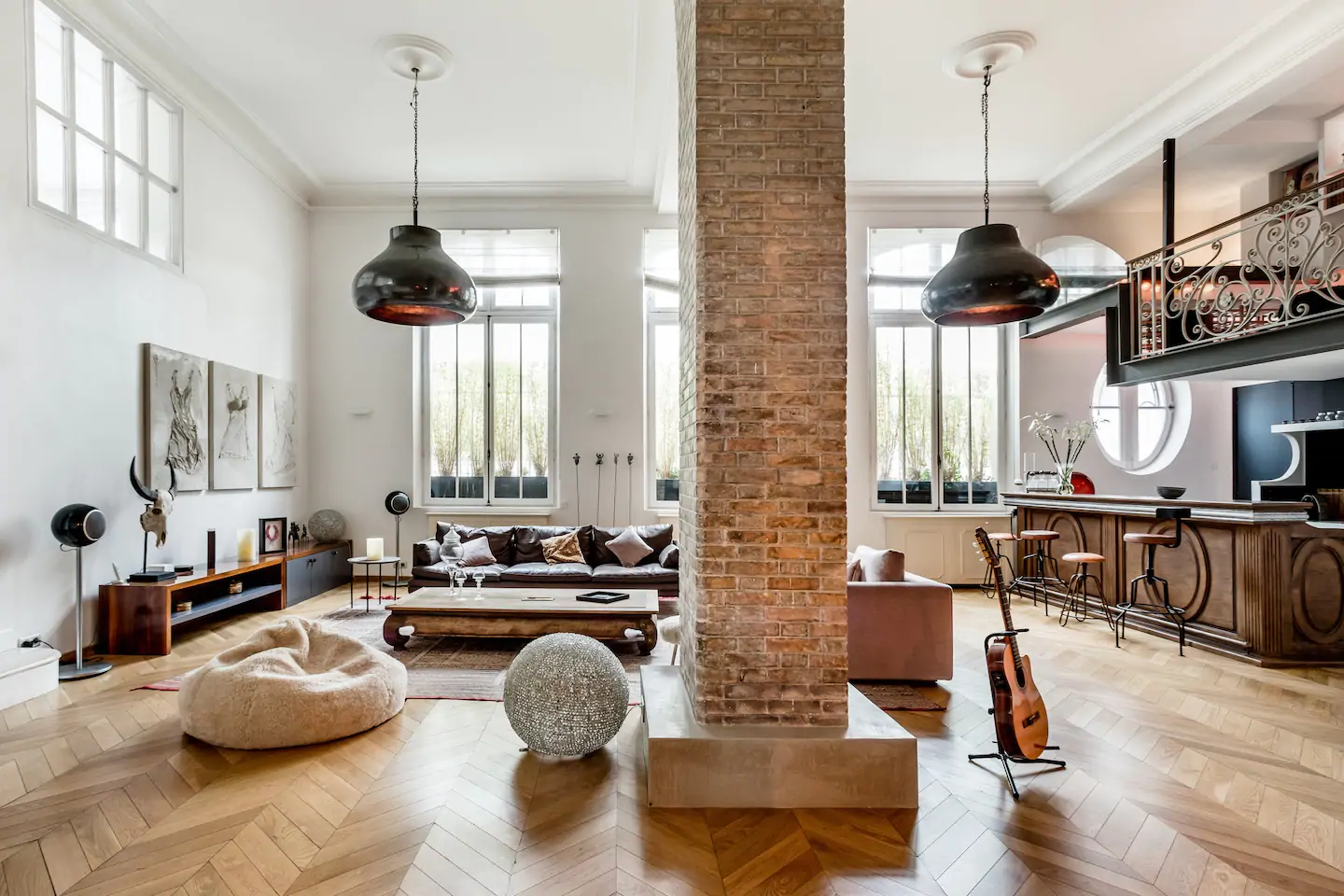 Tranquil Garden Apartment
If you'd like a quiet place to recuperate after a busy day in Europe's largest city, this is the ideal Paris VRBO for you! All of its reviews mention how quiet and soothing this apartment is.
Decorated in a light, bright, and modern style, this apartment is a real gem. This is a 1 bedroom 1 bath that can accommodate 4 guests. It is 823 square feet. Every square foot has been thoughtfully used, I personally love the way the stairs are incorporated into the kitchen. It is an apartment with garden access, furthering its tranquil and restful feel.
The lovely apartment is also in a fantastic location, only a short walk from the Eiffel Tower, Champs Elysées, and Fondation Louis Vuitton. It is also located on a transit line that goes directly to Versailles!
Check Rates: VRBO.com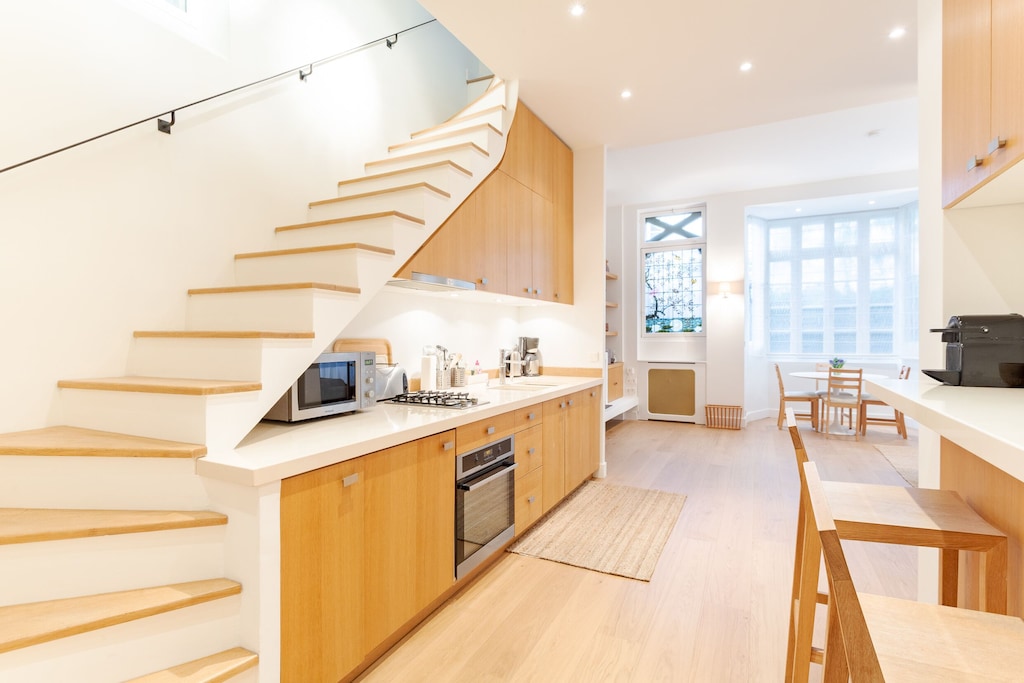 Artsy Suite
If you adore a very colorful and fun environment, then this Artsy Private Suite Airbnb in Paris is perfect for you! The decor is an explosion of art, bright colors, and patterns.
This private apartment can accommodate 3 guests with 1 private bedroom, 3 beds, and 1.5 baths.
Located in the 7th Arrondissement, it is located near the Eiffel Tower and Champs de Mars. This apartment is right in the center of Paris, so you will have easy access to many attractions, restaurants, cafes, and boutiques.
A fun bonus to this apartment is that the host is a professional photographer. He offers vacation photoshoots for guests upon request. What a great way to capture your memories in Paris!
Check Rates: VRBO.com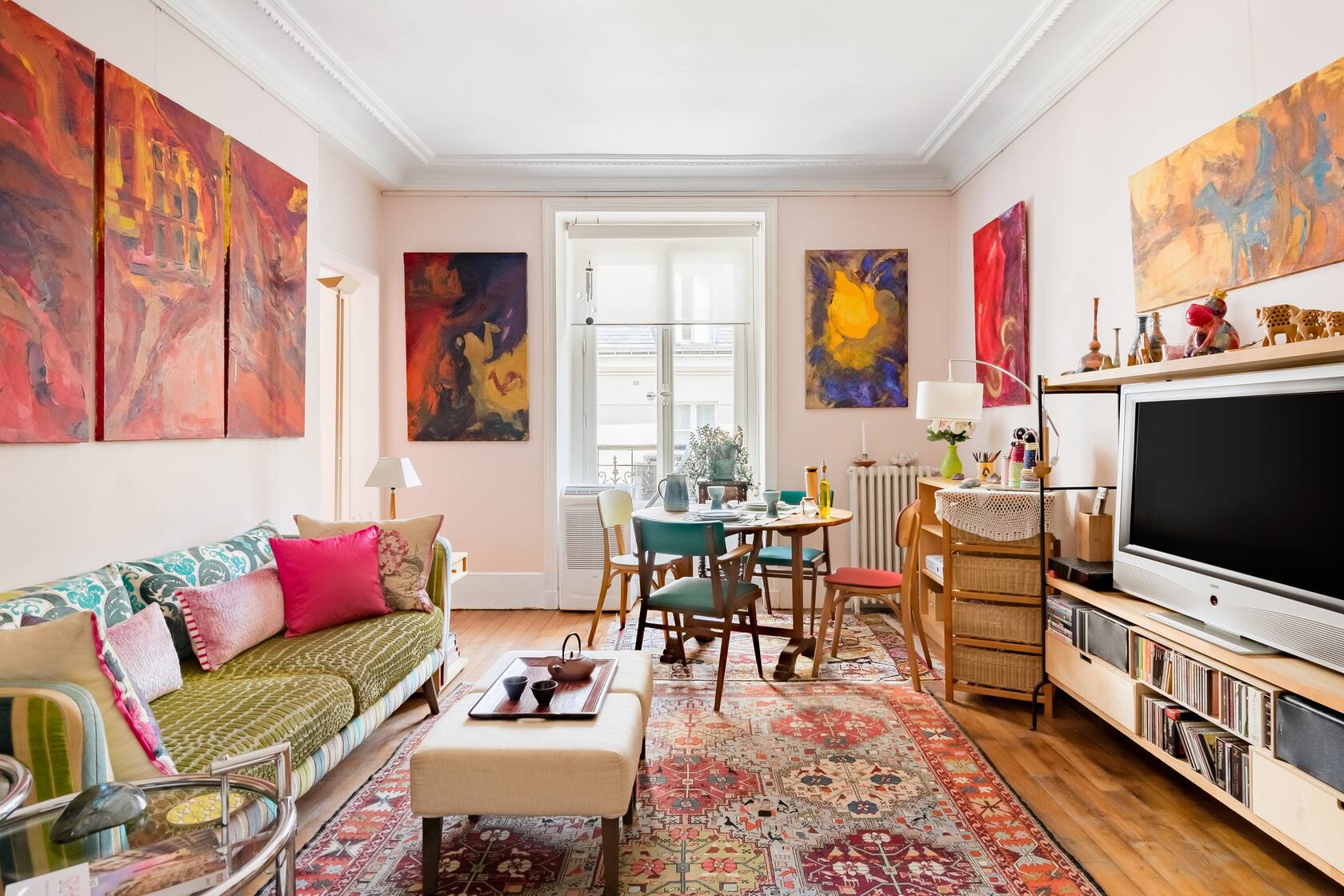 Budget Friendly Studio
Our next Airbnb in Paris is a charming studio that makes for a budget-friendly option! Built in 1910, this building is full of beautiful Art Nouveau touches. Despite the age of the building, there are two elevators, so this is a great choice for travelers who don't like stairs.
Perfect for couples or single travelers as it accommodates up to 2 guests. The thoughtful layout and brightly colored design make this a fun studio for your Paris stay.
Located near lots of public transit options, this will be an easy spot to explore the whole city from. The local outdoor market is also excellent, check out the listing photos to see it in all its colorful glory!
Not a lot of bells and whistles at this Airbnb in Paris, but it is in a great location and won't hurt your budget!
Check Rates: VRBO.com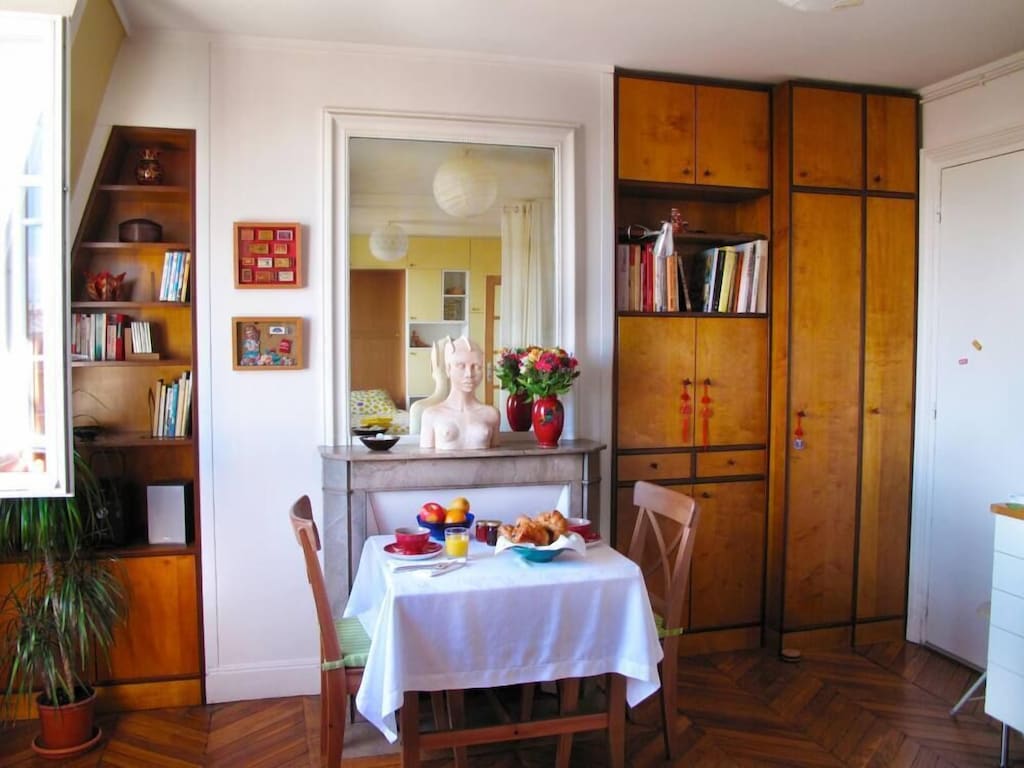 Wraparound Balcony with Eiffel Tower Views
Here is another airbnb in Paris option if you're looking for that iconic Eiffel Tower view. This apartment has a wraparound porch so you can enjoy every angle of your amazing view!
The apartment can accommodate 6 guests. It has 2 bedrooms and 2 full bathrooms. It has a very spacious kitchen by Paris standards, perfect for cooking up your fresh finds from the local outdoor markets! Can you imagine getting to enjoy a delicious dinner on the balcony with this sweeping Eiffel tower vista?
Check Rates: VRBO.com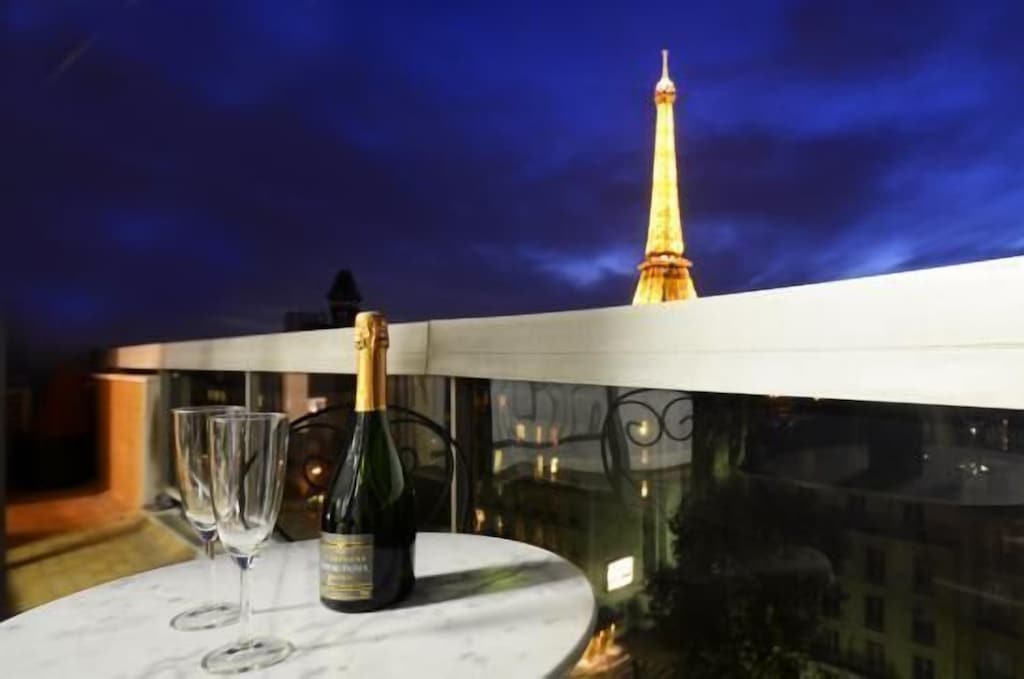 Romantic Loft On The Champs-Élysées
Let's bring on the romance!! This is a wonderful loft on the Champs-Élysées in the 8th Arrondissement that has a very intimate ambiance. Perfect for a couple that is looking for a sexy getaway retreat.
The entire loft is yours at this Airbnb in Paris and it accommodates 2 guests with 1 bedroom, 1 bed, and 1 bath. The decor is fun and very classy with subtle touches of Art Nouveau and the Roaring Twenties used throughout. It is a very beautiful loft set a moderate rate.
The bathroom is the true highlight as it features an amazing Jacuzzi and a striking black and white color palate. Other amenities include a small fireplace, breakfast nook, full kitchen, and living room. There are many local shops, cafes, and restaurants. You can also take a 15-minute walk to the Arc de Triomphe.
Check Rates: Airbnb.com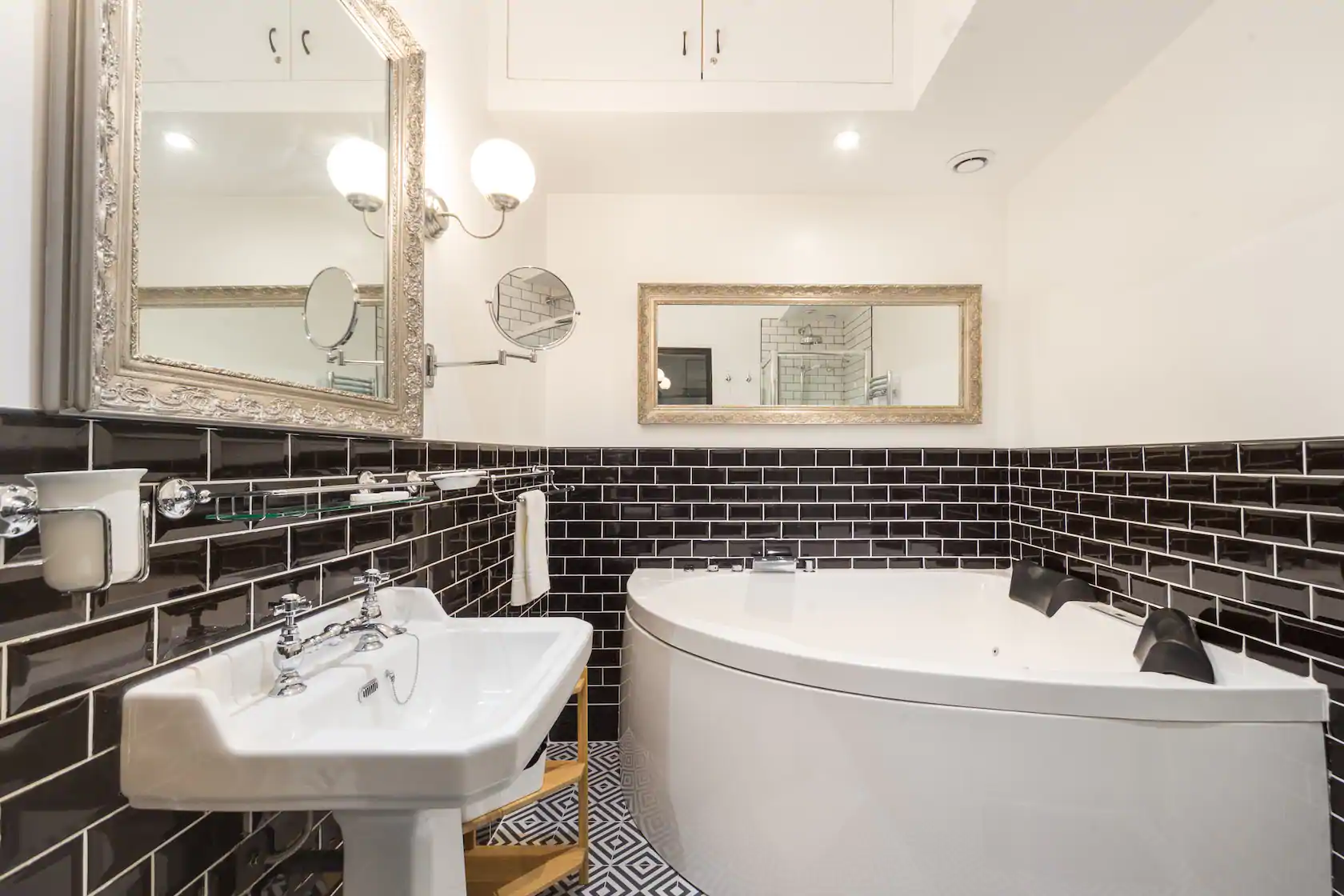 Walk To The Louvre
Can you imagine walking to the Louvre from a really cute flat in Paris? Well, you don't have to daydream about it, you just have to book this adorable moderately priced apartment! It can accommodate 5 guests with 1 bed, 1 bath, a kitchen, and a seating area.
The epic art feel from the Louvre will follow you home when you stay at this VRBO. The apartment is thoughtfully decorated with lots of large scale art and sumptuous colorful carpets.
In addition to walking to the Louvre, you can also check out the Rue Montorgueil street market and several boutiques in the area. This spectacular location is a short walk from Madeleine, Rue Royale, Place de la Concorde, Place Endome, and Montorgueil/Marais. A foodie tip- check out the ramen scene along the nearby Rue Sainte-Anne.
Check Rates: VRBO.com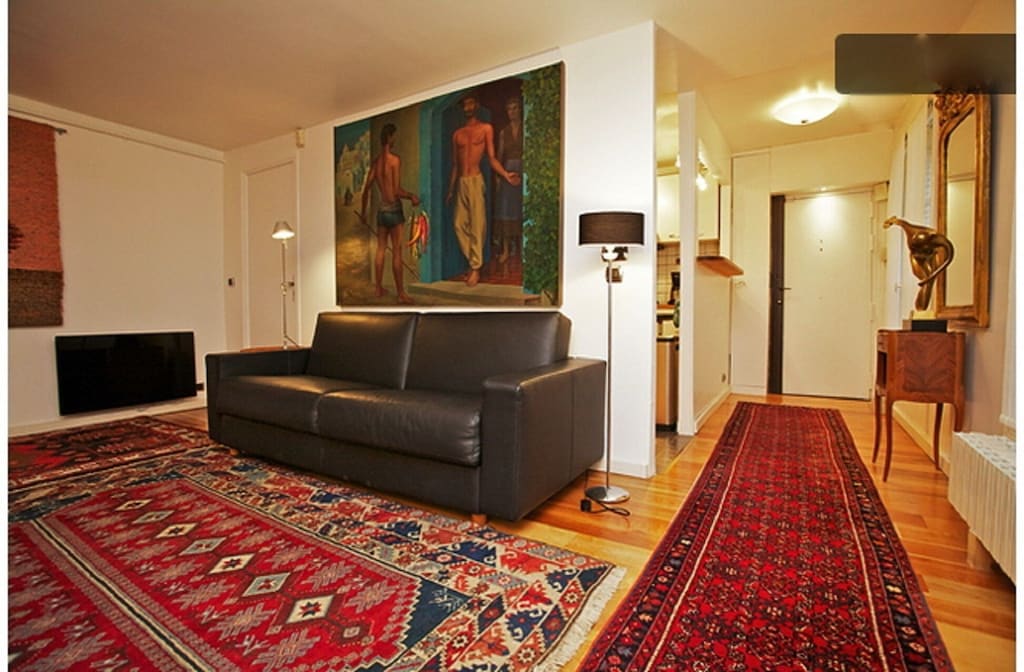 Central Historic Studio
This is a very moderately priced loft that can accommodate 4 guests in its 552 square feet. It is a spacious and open concept with a great flow. It has one bathroom with a luxurious jetted tub. You'll love the classic Paris exposed wood beams and gorgeous floors. This is an 18th-century historic building with lots of old-world European charm!
This central location is perfect for walking to the Opera, the Louvre, and the Wednesday & Saturday open-air markets. It is conveniently located near public transit stops so you'll be able to branch out to the rest of Paris with ease. Check out this lovely loft for your next stay in Paris!
Check Rates: VRBO.com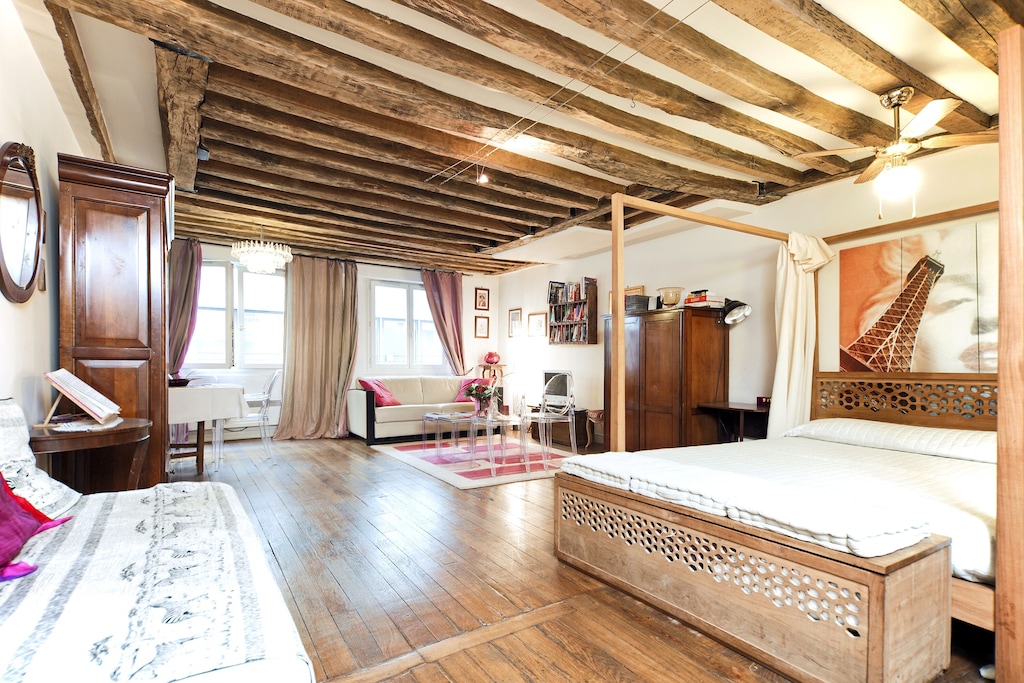 Latin Quarter Chic
This light and bright 2 bedroom is a perfect Airbnb in Paris to choose if you love the Latin Quarter. The Latin Quarter is a highly sought-after neighborhood in Paris. It is one of the oldest and liveliest neighborhoods in Paris. Many say that Rue Mouffetard is the most picturesque street in the city, and when you stay here it will be right outside your apartment!
There's a lot to love about this flat. It has an extremely spacious kitchen by Paris standards. It has huge windows and a lovely view of the tree lined street below. Every detail of this place is welcoming and well thought out. It even has the modern conveniences of air conditioning in the living room and an elevator.
Come stay at this VRBO in Paris if you want to take in the same neighborhood that inspired great writers like Victor Hugo and Ernest Hemingway.
Check Rates: VRBO.com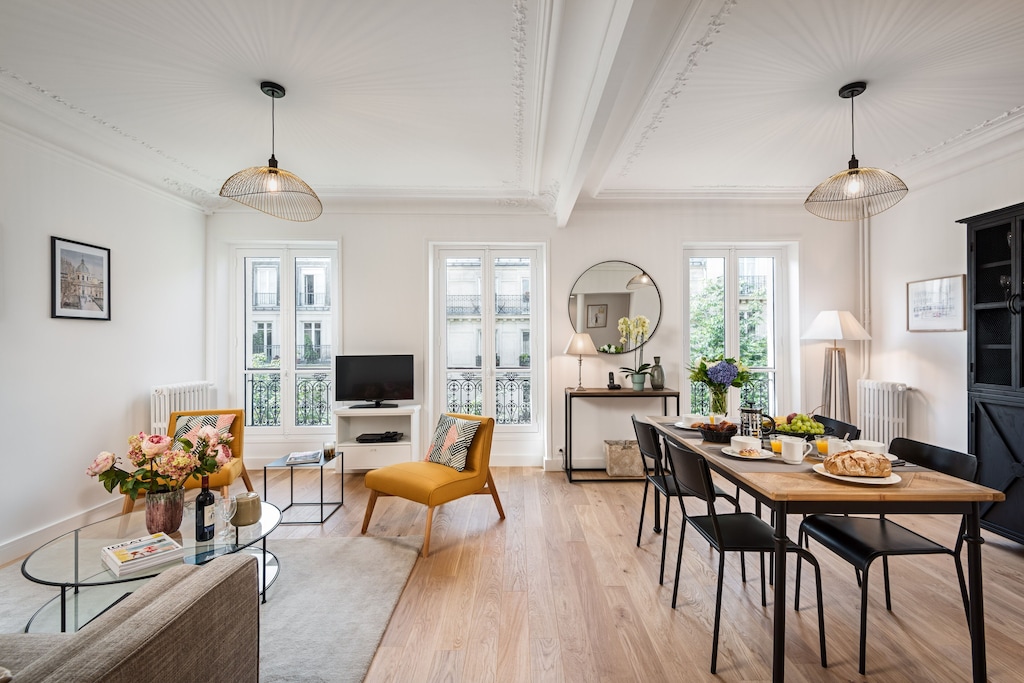 St. Germain Studio
This studio is in a great location. The St. Germain neighborhood is nicknamed "the soul of Paris" and has lots of arts and culture for you to enjoy.
The studio is beautiful but on the small side. Don't worry, it has been meticulously designed to fit everything you need into its 237 square feet. Click through the gallery to see how they fit the amenities of a washer, refrigerator, microwave, coffee maker, toaster, oven, stove, tv, and more into this small but mighty Paris studio.
This studio is a great choice, it is budget-friendly, beautiful, and can sleep 2 guests. You'll love wandering the crooked cobblestone streets and historic cafes of the St. Germain district!
Check Rates: VRBO.com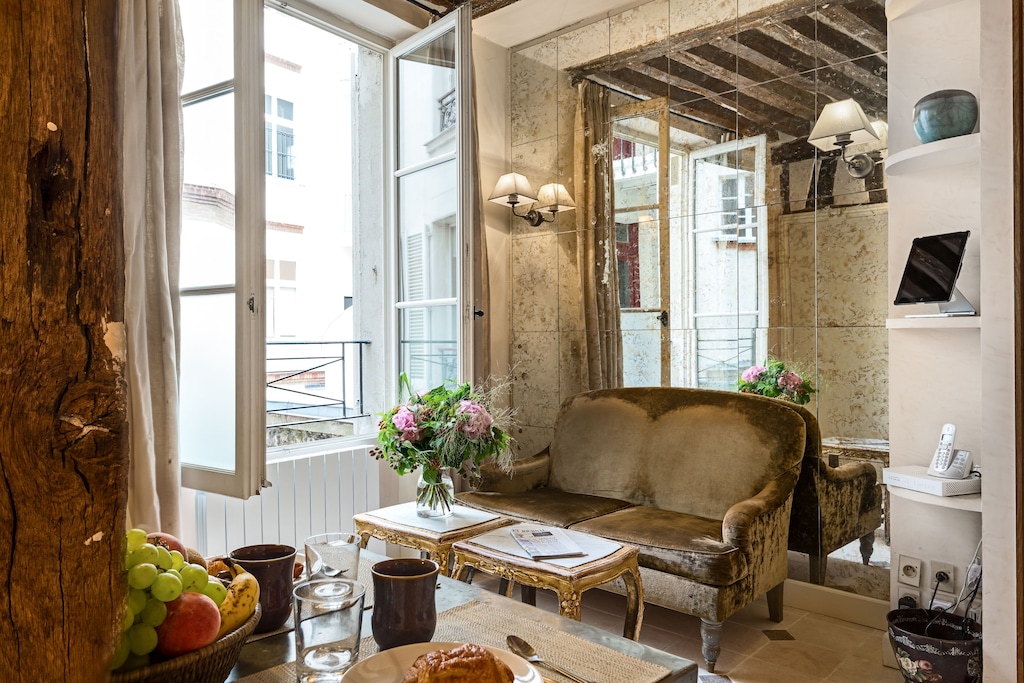 Budget Eiffel Tower View
If you're longing for an Eiffel Tower View without breaking the bank, this is the entry on our list of Airbnbs in Paris for you! This reasonably priced 1 bedroom 1 bathroom has a stunning Eiffel tower view from its balcony.
The apartment can host two guests and has rave reviews about its vintage decor. The building was constructed in 1902 so you're definitely getting a historic Paris feel by staying here.
It is located in the 16th Arrondissement, so it is within walking distance of the Eiffel Tower. This neighborhood is home to foreign embassies and famous museums, including the Fondation Louis Vuitton and the Palais de Tokyo. It is also very close to the Metro Station to get to other locations.
Check Rates: VRBO.com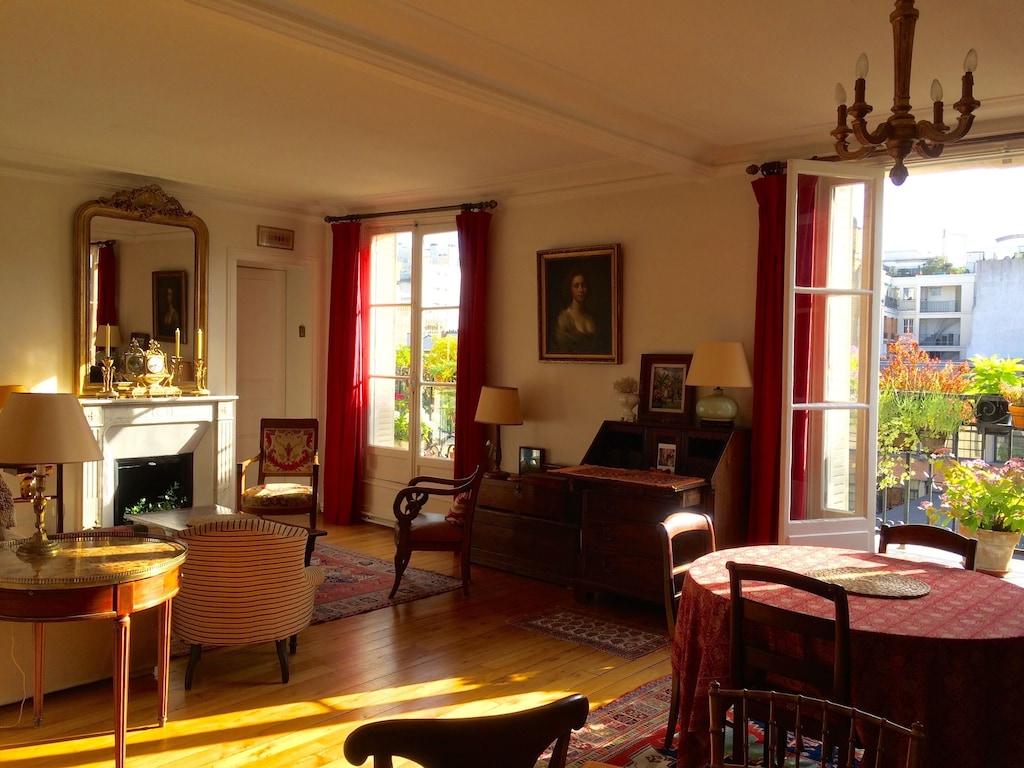 Unbeatable Eiffel Tower View
If you want the Eiffel Tower to be the first thing you see when you open your eyes every morning in Paris, this is the entry on our best airbnbs in Paris list for you!
You cannot beat this apartment's Eiffel Tower view. Click the link and look through the gallery to see the view from all the windows and at all times of the day. I love the sunset photos! This is a 1 bedroom 1.5 bath apartment. It can host 2 guests in its 600 square feet.
This apartment has lots of modern amenities including central air conditioning! This is a real rarity in Paris. It also has all modern appliances and an updated kitchen.
Of course, you'll be able to step outside and easily get to the Eiffel Tower from here, but you're also near the attractions of the Champs de Mars gardens, Invalides, and the Trocadero Musee d'Orsay. Lots of nearby public transit means your Paris adventures will be a breeze. Can you imagine coming home to this view at the end of a long day exploring Paris? What a treat!
Check Rates: VRBO.com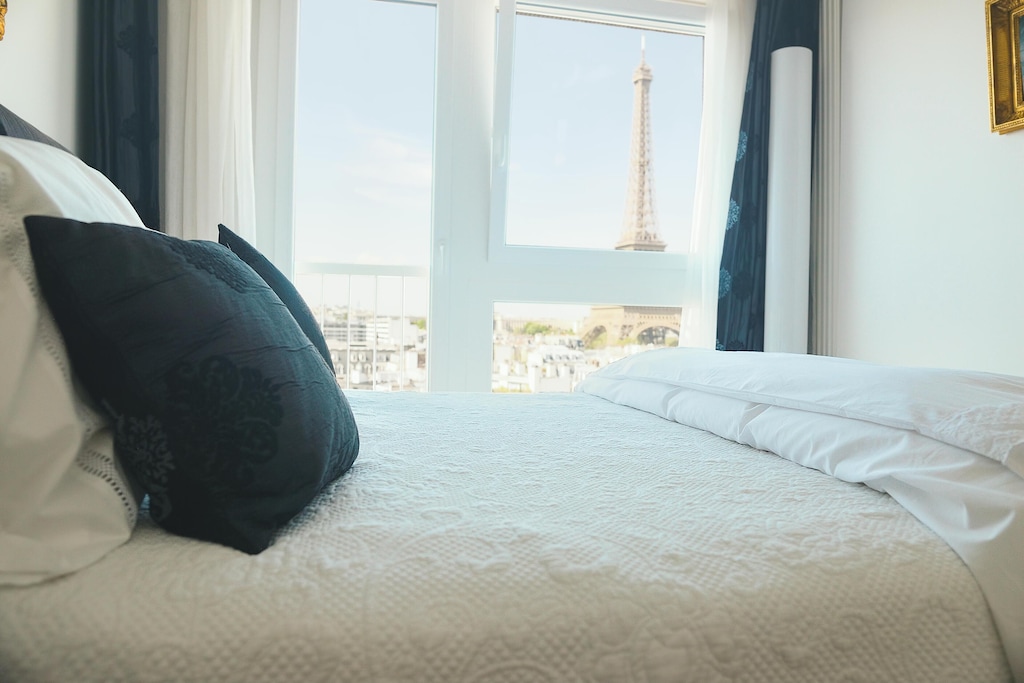 Bright Studio
This light and bright studio pack everything you'll need for your stay into an impressive 194 square feet. Great for travelers on a budget who want to see ALL of Paris, this studio is located near 4 metro lines and 8 bus lines.
I love the cozy lofted sleeping area of this studio. It has a skylight above so you can see the City of Lights above you as you drift off to sleep. The studio can accommodate two guests and has 1 nicely updated bathroom.
Tucked into a cool historic building, this little treat of a studio is not to be missed!
Check Rates: VRBO.com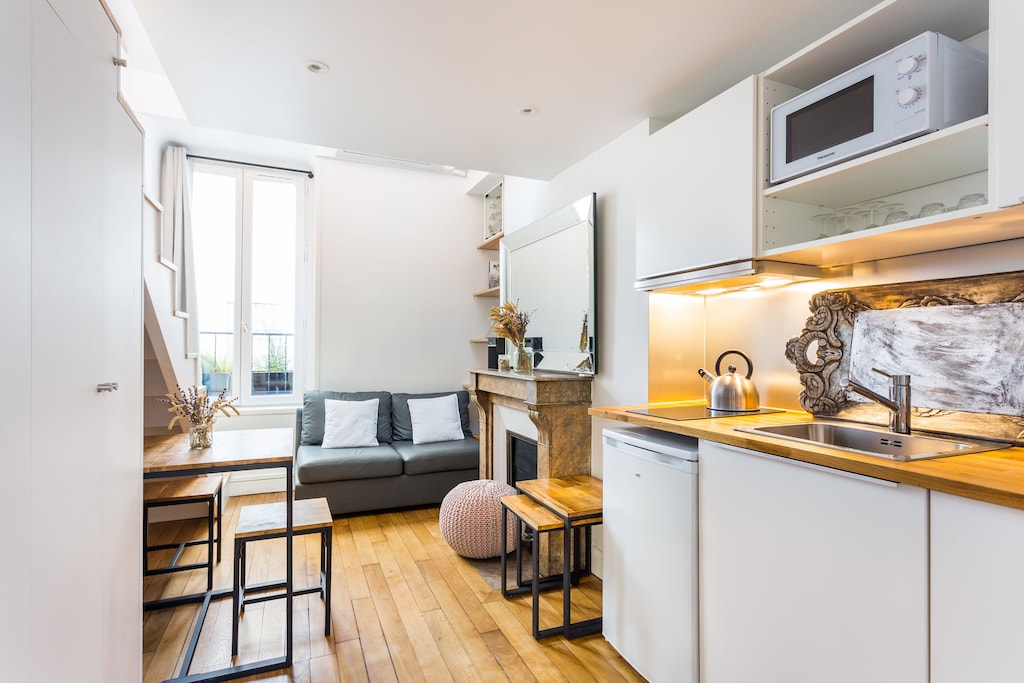 Paris Sky Dome
Closing out our list of the best Airbnbs in Paris with a truly special glimpse into the luxury this city can offer. Definitely click through the images of this one, you won't want to miss this peek into how stunning Airbnbs can be!
This Airbnb has a refined modern style full of outer space and astrological touches that is like nothing I have ever seen. The property can sleep 10 guests. It has 7 bedrooms and 4 bathrooms. The entire space is a piece of art and so fun to look at.
Built in 1896, there is a glass-enclosed rooftop courtyard that gives this unbelievable Airbnb its name. It might be hard to ever leave this absolutely epic Airbnb in Paris.
Check Rates: Airbnb.com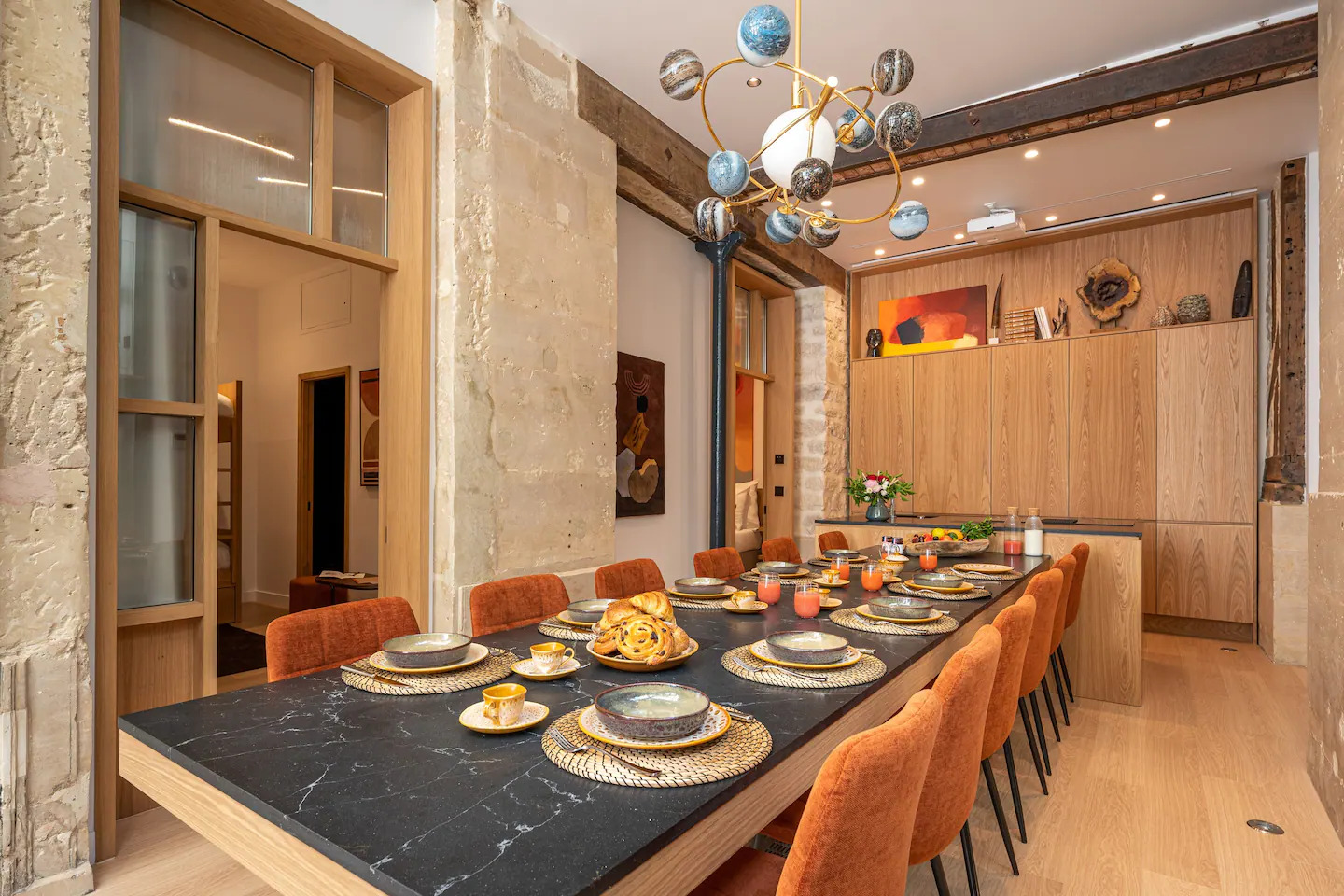 Well, as you can see there are so many exciting options when it comes to finding an Airbnb in Paris. The price range varies greatly depending on location, size, and special views, but it is easy to find a fabulous accommodation at any price point.
We have purposefully included several affordable, moderate, and luxury options to fit the needs of every budget. We hope that one or more of these amazing properties speaks to you and helps to complete your trip to Paris.