Are you looking for the best Christmas markets in France? If you have never been to a European Christmas market, you are in for a real treat! We love the Christmas holiday and there is nothing more magical than visiting the Christmas markets in France! Christmas markets are a wonderful way to enjoy the Advent season and get you ready for the big day on December 25.
Choosing the best Christmas markets in France is no easy task! It is not about how large or grand they are, but about the atmosphere and quaint vibe you get when visiting. The best part about Christmas markets in France is that there is a market for everyone. If you are only going to be in one area of France during the Christmas season, don't worry, there will most likely be a French Christmas market where you are visiting.
When planning your winter trip to France, make sure to stop by any one of these top Christmas markets in France. Afterall, France is one of the best Christmas destinations in the world! They are presented in no particular order so one is not necessarily better than the next! We know you will love Christmas markets as much as we do!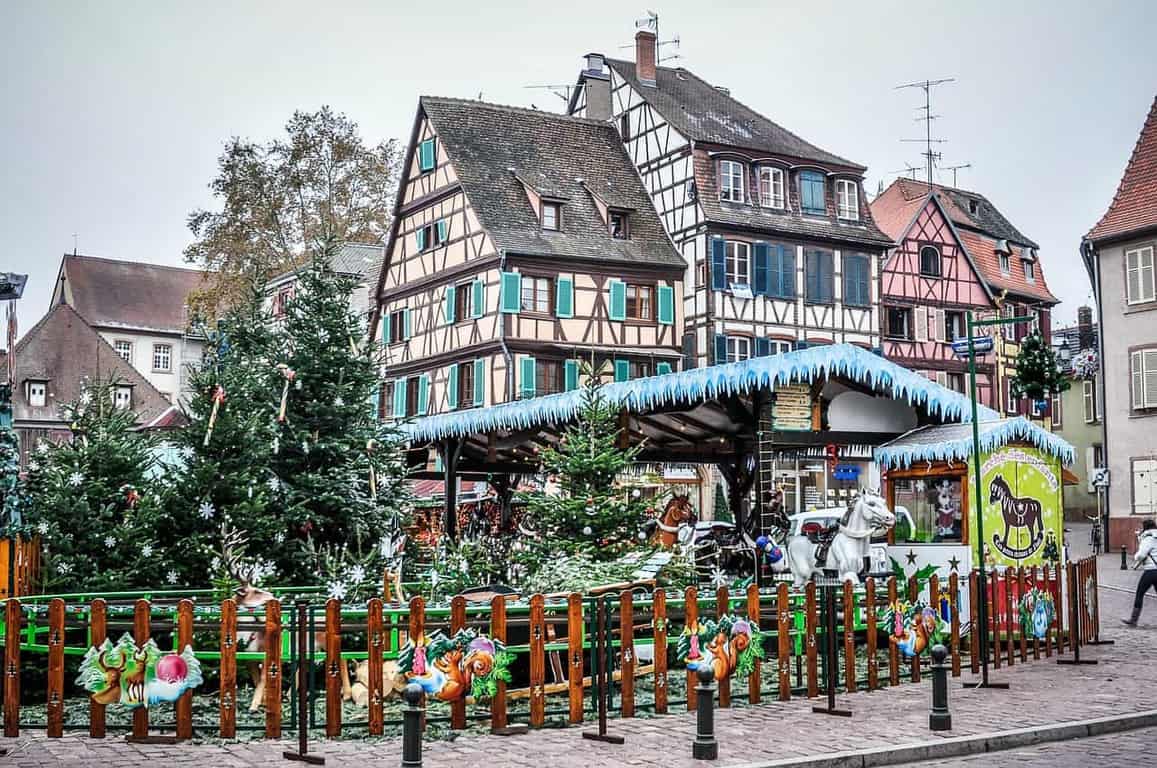 10 Magical Christmas Markets In France You Must See 
The Montpellier Christmas Market Is A Traditional Southern French Christmas Market
Suggested by A World To Travel
If you are looking for Christmas markets in France and will be in the southern region of the country, the Montpellier Christmas Market is the place to stop! From Thursday, November 29 to Thursday, December 27, 2018, the city of Montpellier will have its traditional Southern French Christmas market, called Les Hivernales. At Comédie square and the Esplanade Charles de Gaulle, over 160 local and regional merchants will offer visitors Christmas typical products such as sweets, oysters, mulled wine, Christmas decorations, toys, jewels, hot chocolates, confectionery and many other delicacies in over a hundred small wooden huts.
Santa will, of course, be at the heart of this Christmas market in France. A mailbox will be set up to collect all the children wishes and a hood of Santa Claus will collect donations for charity.  Fairy-themed parades will take place regularly and Santa Claus personally will pick up his mail and say hello to the attending children a few days before Christmas. Find it open every day from 10h to 21h, except Fridays and Saturdays until 22:30 (the market closes on Tuesday, December 25). This is a memorable Christmas market in France if you are visiting Montpellier and the surrounding regions!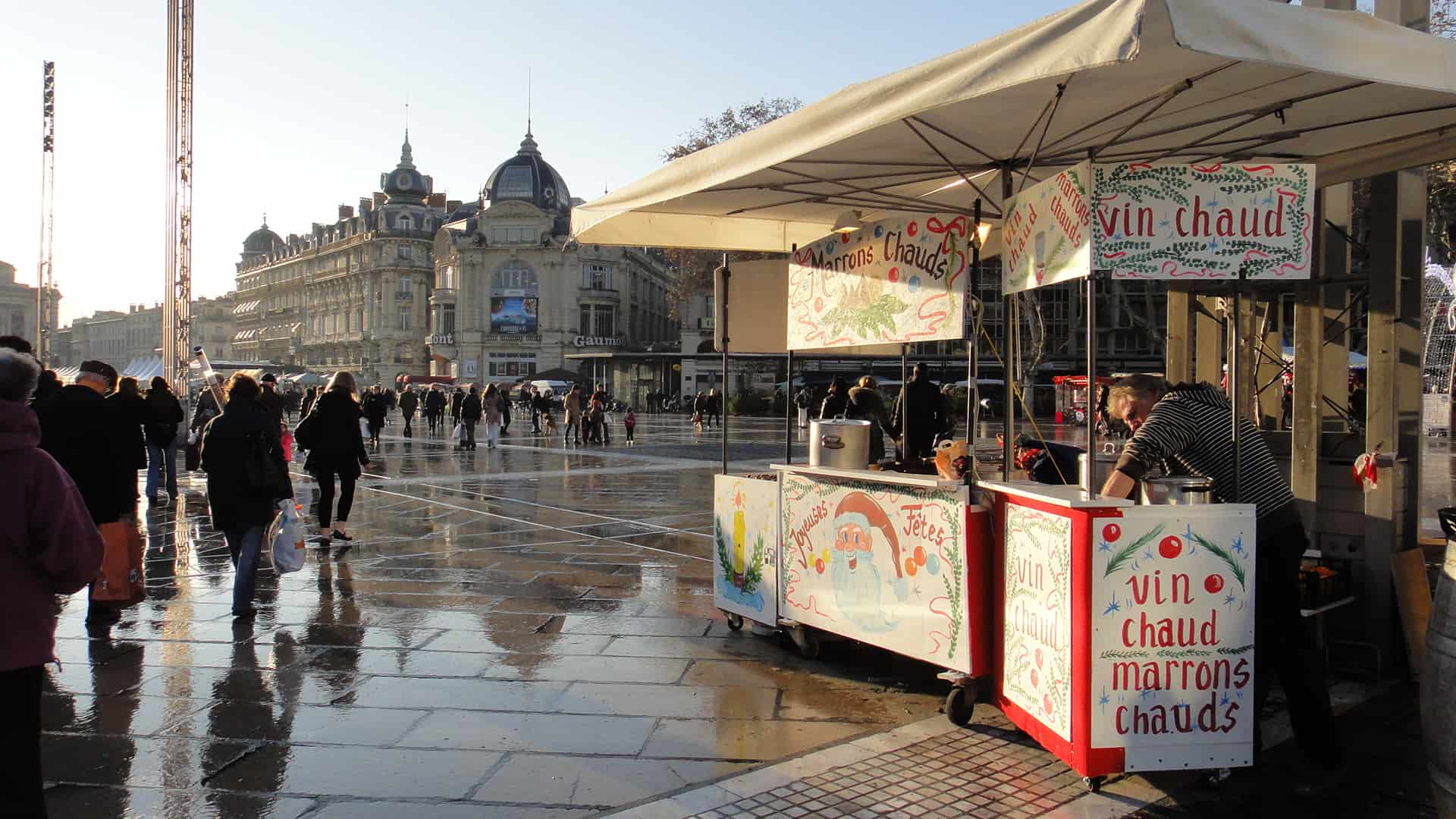 Visit Strasbourg For The Oldest Christmas Market In France
If you love history and old world charm, add Strasbourg to your list of the best Christmas markets in France! The oldest Christmas market in France, Strasbourg Christmas market dates back to 1577, and plays host to over 2 million tourists every year who flock to witness hundreds of miles worth of glittering Christmas lights, themed events, a giant ice rink, and the famous 100 foot 'Great Christmas Tree'.
Half-timbered houses sport giant red-and-white hearts; stars, angels, and snowflakes garland the cobbled streets. No wonder Strasbourg Christmas Market won the title of "Best Christmas Market in Europe" last year." Visitors have the chance to sample some of the regions finest food, including bredle Christmas cookies and Strasbourg's traditional spicy hot orange juice. If you are looking for an iconic French Christmas market experience and you really want to be transported to the days of yore, Strasbourg Christmas market will leave you in awe.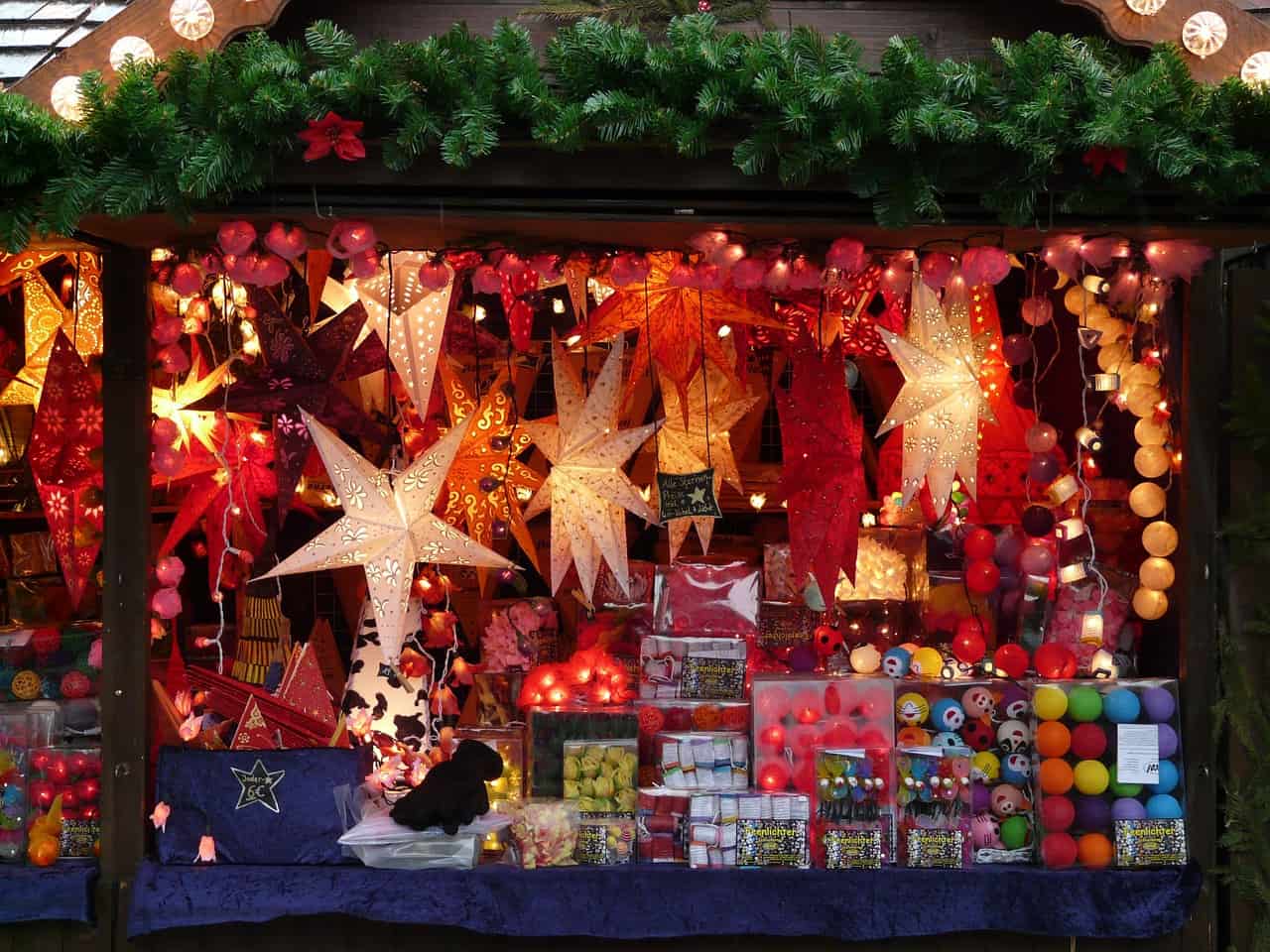 Visit The Nice Christmas Market For Christmas On The French Riviera
Suggested by Simpler And Smarter
The Nice Christmas Market is the perfect place to get in the Christmas spirit and one of the best Christmas markets in France along the Riviera. You can look through 60 stalls, eat or have a nice vin chaud (hot wine) or go ice skating.
It's one of the bigger markets in France with plenty of variety if you aren't in the mood for shopping. There are many activities as well as being able to visit the big man himself, Santa, in his Christmas workshop. There are rides and games as well including a big Ferris wheel (the photo below is taken from this) with views across to Nice's Old Town and the Mediterranean.
This Christmas market in France is perfect for all ages. It runs for a month around Christmas and new years, open during the day and evening and it's fun to visit at both times. There are lots of lights and fir trees to give it a Christmas feel even though it was sunny, blue skies and warm during the day when we visited. The Nice Christmas Market is in the perfect spot in Place Messina neighboring the Old Town and the waterfront. You can't miss it and it offers a truly different experience than other Christmas markets in France!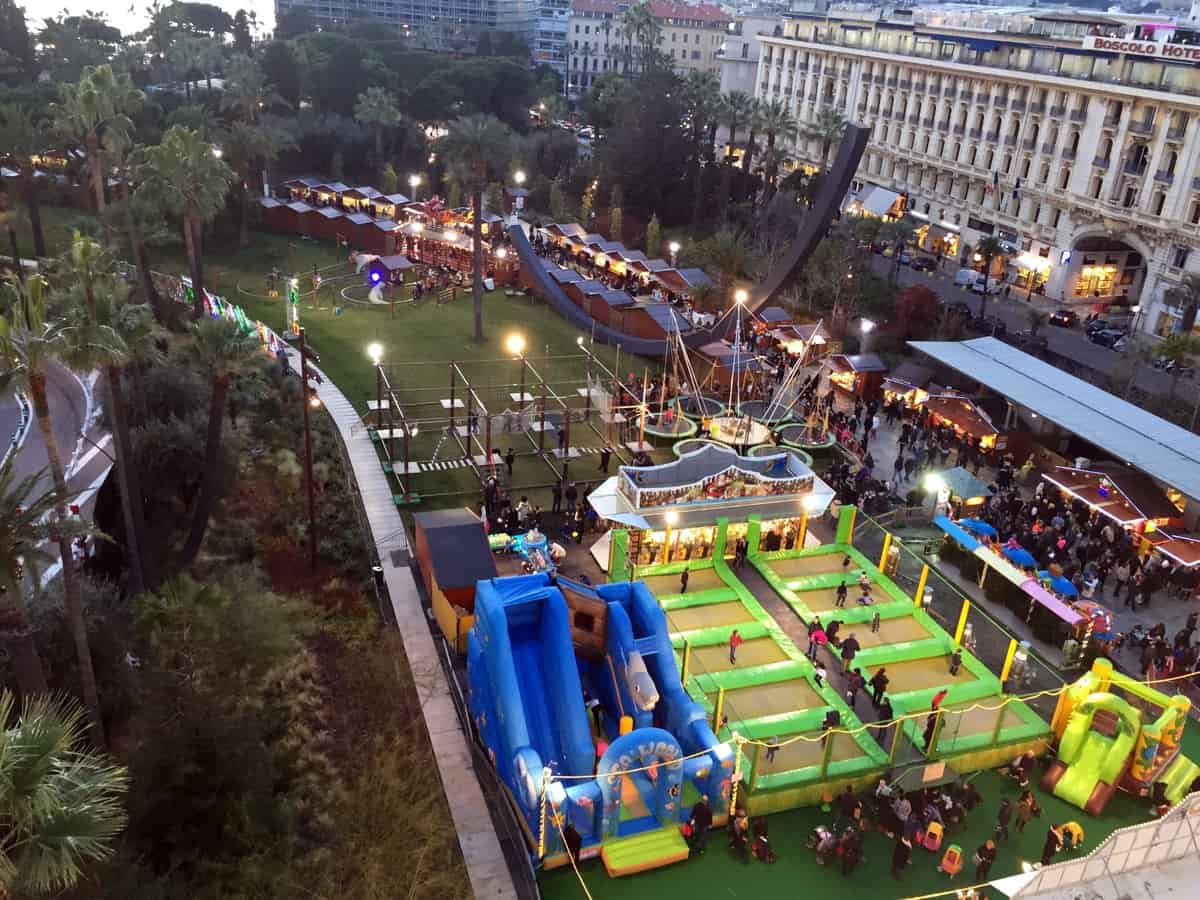 The Colmar Christmas Market Is Centrally Located To Other European Christmas Markets
Planning on visiting other Christmas markets in Europe such as those in Germany? Lucky you! Colmar is located only a few kilometers from the German border, so road trippers and river-cruisers may want to take an excursion across the Rhine to visit markets in Breisach and the Black Forest village of Breitnau in addition to visiting the Christmas markets in France!
With its Medieval half-timber houses and cobbled streets, the city of Colmar, France, is a setting straight out of a storybook. And each year when December rolls around, the Old Town is magically transformed with an added layer of glittering lights, vivid decorations, and five Christmas markets in Colmar. In 2018, Colmar was voted the best Christmas market in France and the second-best in all of Europe. One reason for Colmar's popularity is its location within the Alsace wine region.
While touring Colmar's markets, I sampled "vin chaud rouge," the French version of Germany's "glühwein," a steamy mulled wine sweetened with honey, orange, and cinnamon. Later, on my tour of French Christmas markets, I also enjoyed "vin chaud blanc," the equally-delicious white wine version.  No matter which drink you choose to taste, the Christmas markets of Colmar, with their wine-tastings, French delicacies, traditional toys, and quaint shops offer a perfect way to celebrate an old-world holiday straight out of a fairytale.
Visit The Rouen Christmas Markets If You Want To Enjoy Christmas By The Seine
If you have always wanted to enjoy Christmas by the Seine River, the Rouen Christmas markets are perfect for you! Rouen is the capital city of Normandy and always associated with Joan of Arc. Christmas is a magical time in Rouen and its city center Christmas market along with all its festive events adds a wonderful holiday sparkle to the season with its merry games, concerts, and music. Rouen's grand cathedral is the backdrop to the Rouen Christmas market which has offerings from near and far to sell in over 70 wooden chalets, including French mulled wine to take away any December chill. There is even ice skating if you want to give it a try!
The town square and the city is lit up so magically adding to the excitement and anticipation of Christmas. There's street entertainment and Santa even pays a visit! 2018 dates are November 23 until January 7th. If you are looking for Christmas markets in France that are easy day trips from Paris, Rouen Christmas market and Lille Christmas market [also mentioned here] are perfect options! The city goes all-out and this is a Christmas market in France is not to be missed.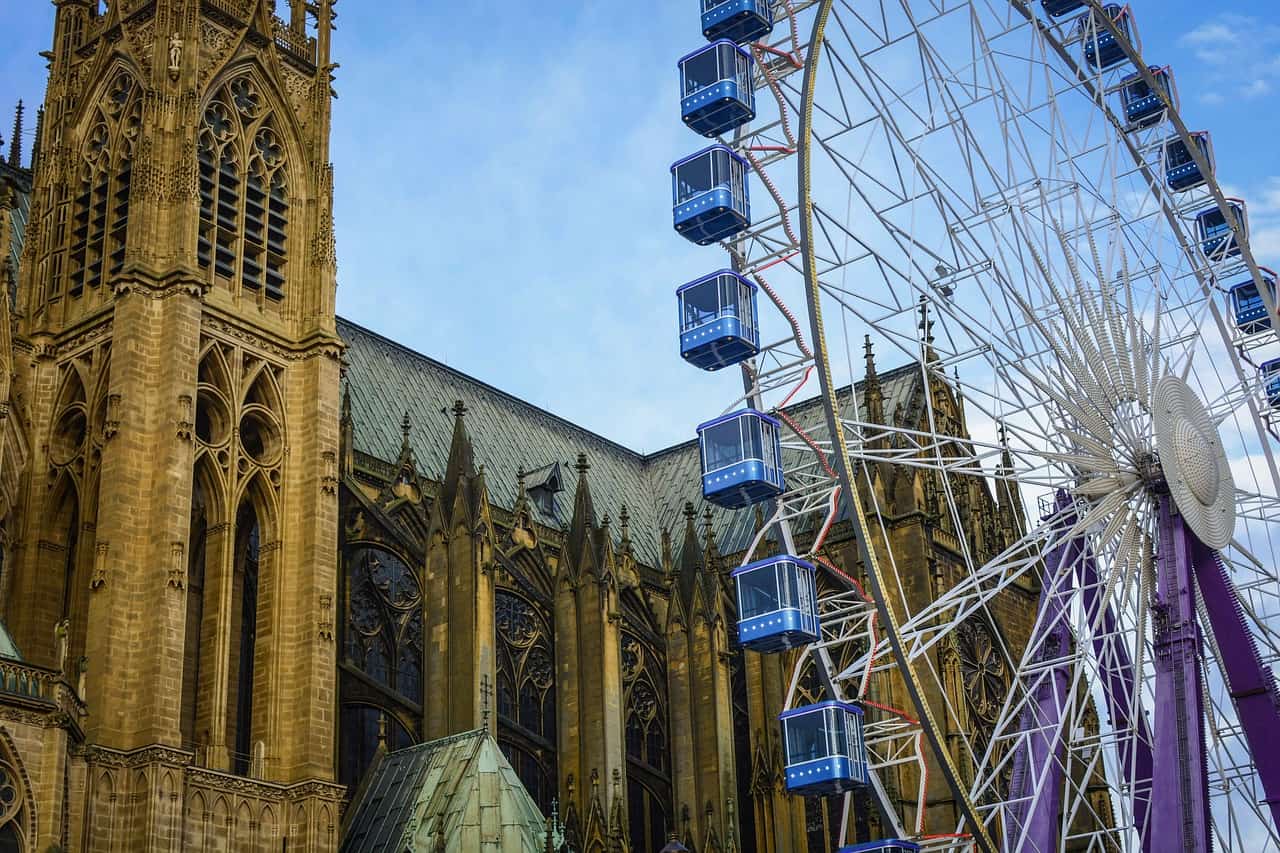 The Bordeaux Christmas Market Is The Best Christmas Market In France If You Are A Wine Lover
One of the most interesting and beautiful Christmas Markets in France is the one in Bordeaux. Every year, you can find more than 100 little Christmas-themed stables on the Allées de Tourny, in the middle of the town. Besides crafty products, you can find a lot of great food, drinks and delicacies around the Bordeaux Christmas Market. Our favorite was the mulled wine which provides some warmth during the cold Christmas market season.
As you have probably heard, Bordeaux is worldwide known for its amazing wine, so you can't leave without trying it – whether you try it warm or cold. One highlight of the Christmas Market in Bordeaux was a little stable that offered antique pictures of different cities. When asking them about my hometown (Goslar – a little town in Germany), they could even show me some pictures of it. Really cool! For everyone traveling with kids, there is another highlight waiting for you: the carousel. Here, your kids can have a lot of fun while you can enjoy some Christmas music. If you are a wine lover, consider visiting the Bordeaux Christmas Market to taste some famous wine with a little hint of Christmas spirit!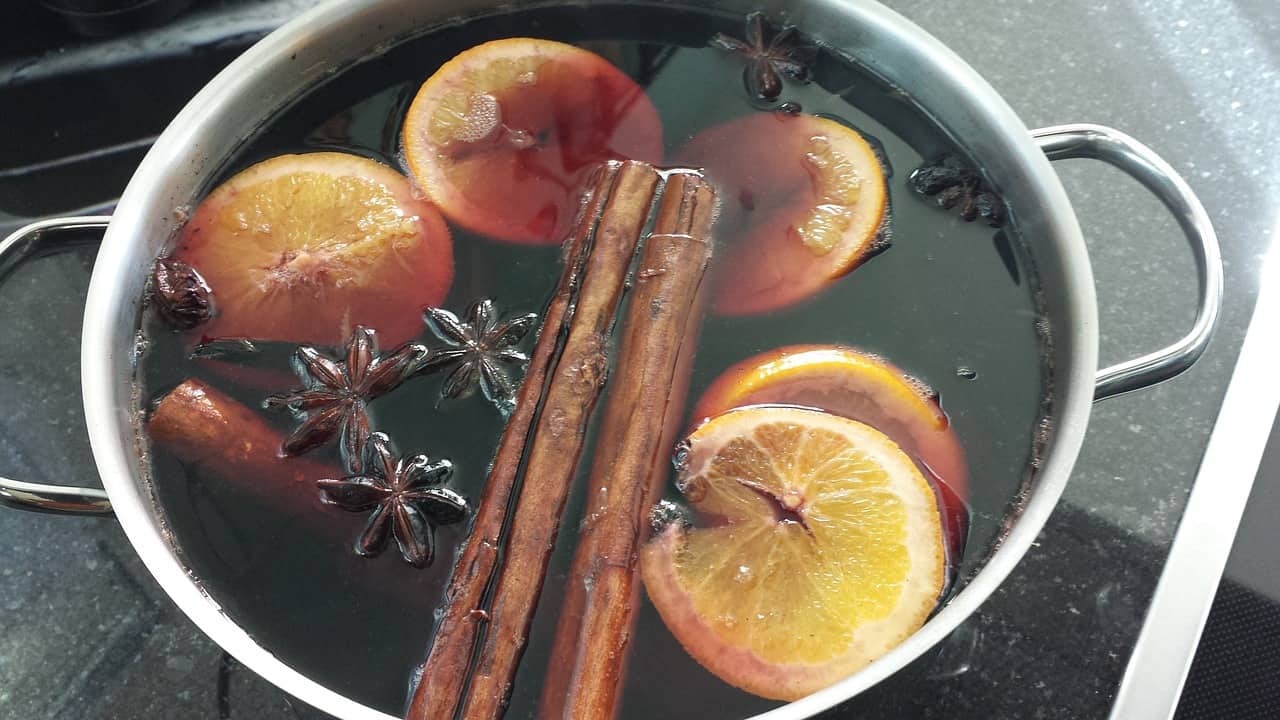 Visit The Paris Christmas Markets If You Love Options
Suggested by Trannetas Travels
If you are looking for Christmas markets in France but hate making a choice, you are going to love Paris! Paris is home to a variety of Christmas Markets so you don't have to choose and can easily visit multiple markets if you want! There are many of these markets in Paris during that time, there's the one at the Champs Elysees, Saint Germain des Pres, Hotel de Ville, Trocadero, la Defense.. and many others!
The most iconic Christmas market in Paris is, of course, the one at the Champs Elysées. Wooden chalets line up on both sides of the Champs Elysées from the Concorde to the Rond Point des Champs Elysées. They are complimented by the superb lighting of this magnificent avenue during that festive time! You'll find artwork, jewelry, crafts, toys, delicious sweets (chocolate!) and food, loads of food.
When visiting Paris in winter, the weather will be chilly so make sure to pack warm clothes and dress in layers. This is also more reason for you to indulge and warm up with some Vin Chaud (hot red wine) while walking around some of the best Christmas markets in France. Not a wine drinker? Try some yummy hot onion soup! You can never go wrong with some delicious French food and drink mixed with Paris Christmas markets.
While visiting the Champs Elysees Christmas market, go all the way down and climb aboard the huge Ferris Wheel at the Place la Concorde for a dazzling view of the city lights in the evening, and a superb view over the city of love in the morning. Whichever Christmas market in Paris you choose, you will not be disappointed at the magic they exude!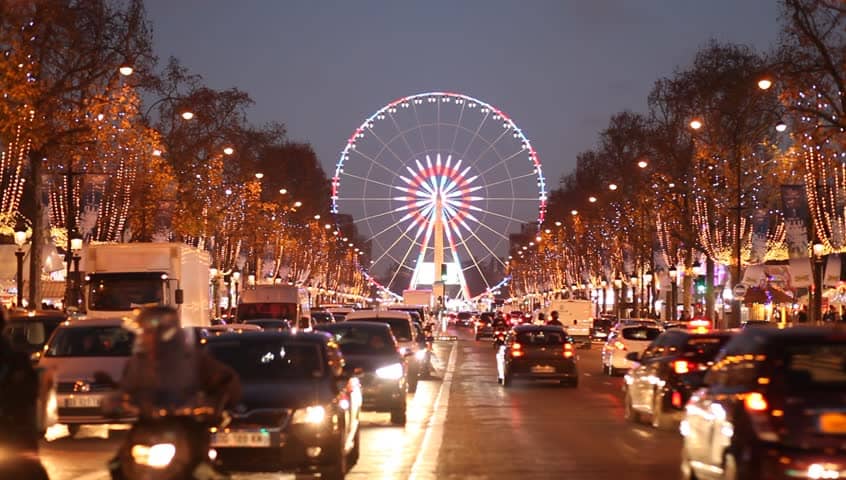 The Perpignan Christmas Market Provides A Wonderful Mix Of Cultures
Suggested by Surfing The Planet
Perpignan is one of the major cities in the Languedoc-Roussillon Region and the most important city with Catalan identity in Southern France. It's great to visit Perpignan around Christmas when the whole city is decorated with Christmas lights, and most importantly there's the lovely Perpignan Christmas Market on the riverbank. The market consists of nicely decorated wooden houses, just as if you were in a fairy tale.
In the Perpignan Christmas market, you can buy all kinds of handmade products from jewelry to household decoration. You can also get to taste local products of the region such as cheeses, sausages and sweets. The best thing to do at this lovely Christmas market in France is, of course, to enjoy the atmosphere, eat churros (Spain is very close) or crepes and drink mulled wine that will heat you up in the cold and often snowy weather. At Christmas time they usually set up a large Ferris wheel in the market from which you can have great views of the market and the city center. If you are looking for one of the Christmas markets in France that offers a mix of Catalonian and French culture with some Spanish infusion, the Perpignan Christmas market is perfect for you!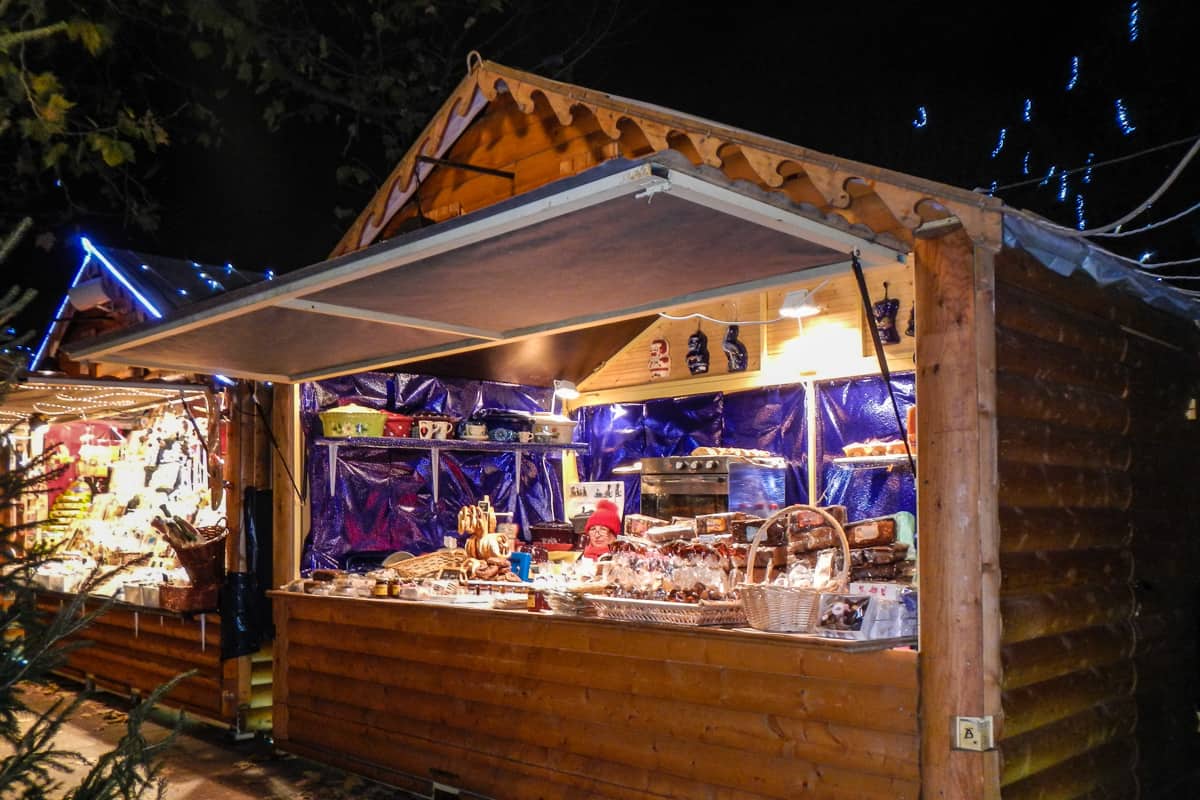 Visit The Lille Christmas Market If You Are Looking For A Unique Day Trip From Paris
Suggested by Show Them The Globe
The bustling French town of Lille offers one of the best Christmas Markets in France and makes the perfect day trip from Paris. Lille is home to one of the oldest Christmas market in France and the market is the largest in the region. Each year, as Christmas approaches, the entire town centre is draped in red and green garlands and a huge Ferris wheel is set up in Grand Place, Lille's main square.
Over 90 wooden chalets are dotted around the main square and the area known as Place Rihour is transformed into a Christmas Village and a winter wonderland. There is a huge selection of food and drinks, from delicious French bread and cheese to the more traditional hot dogs and mulled wine that you should try when visiting the Lille Christmas market. For those with a sweet tooth, French staples like macarons sit alongside mouth-watering Christmas candies.
The market runs each year from mid-November to the end of December and is open every day except Christmas day. Lille is easily reached in under 90 minutes by TGV from Paris and the Lille Christmas markets are a great day trip from the French capital.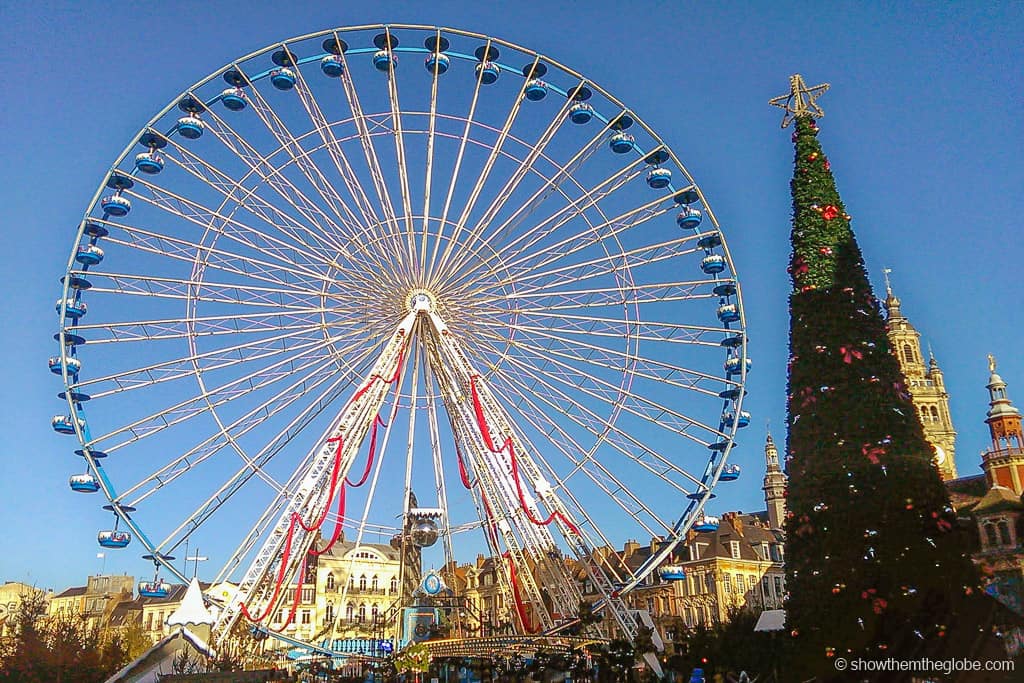 The Grenoble Christmas Market Is Where To Go When You Want To Experience Christmas In The Alps
If you can't think of anything more magical than a French Christmas market in the Alps, you would be right! Grenoble lies in a flat valley between the Belledonne, Vercors and Chartreuse mountains. During the latter quarter of November and right through December, up to Christmas Eve, the focus of the town is on the fabulous Grenoble Christmas markets.
There are four Christmas markets held in different locations through the city center. From rock music and Afro-Indian crafts at the Place Grenette to the artisan crafts market at Rue Félix Poulat and the main market with cheese, salami, wine, beer, hot wine and hot cider at the Place Victor Hugo the Grenoble Christmas markets truly are some of the most diverse Christmas markets in France!
The Grenoble Christmas market is open from about 10am until late – we visited during the week preceding the festive day and opening hours were 10am to 10pm. There were also live music events every night on the main stage at Place Victor Hugo. The markets are lovely to walk around. Mainly local, artisan goods on offer (unlike at the larger city markets). Locally grown walnuts are for sale too. My children always have churros whenever we go to a Christmas market, and they said the ones in Grenoble were 'the best ever'! If the sound of a French Christmas market in the Alps is appealing to you, the Grenoble Christmas market is calling your name!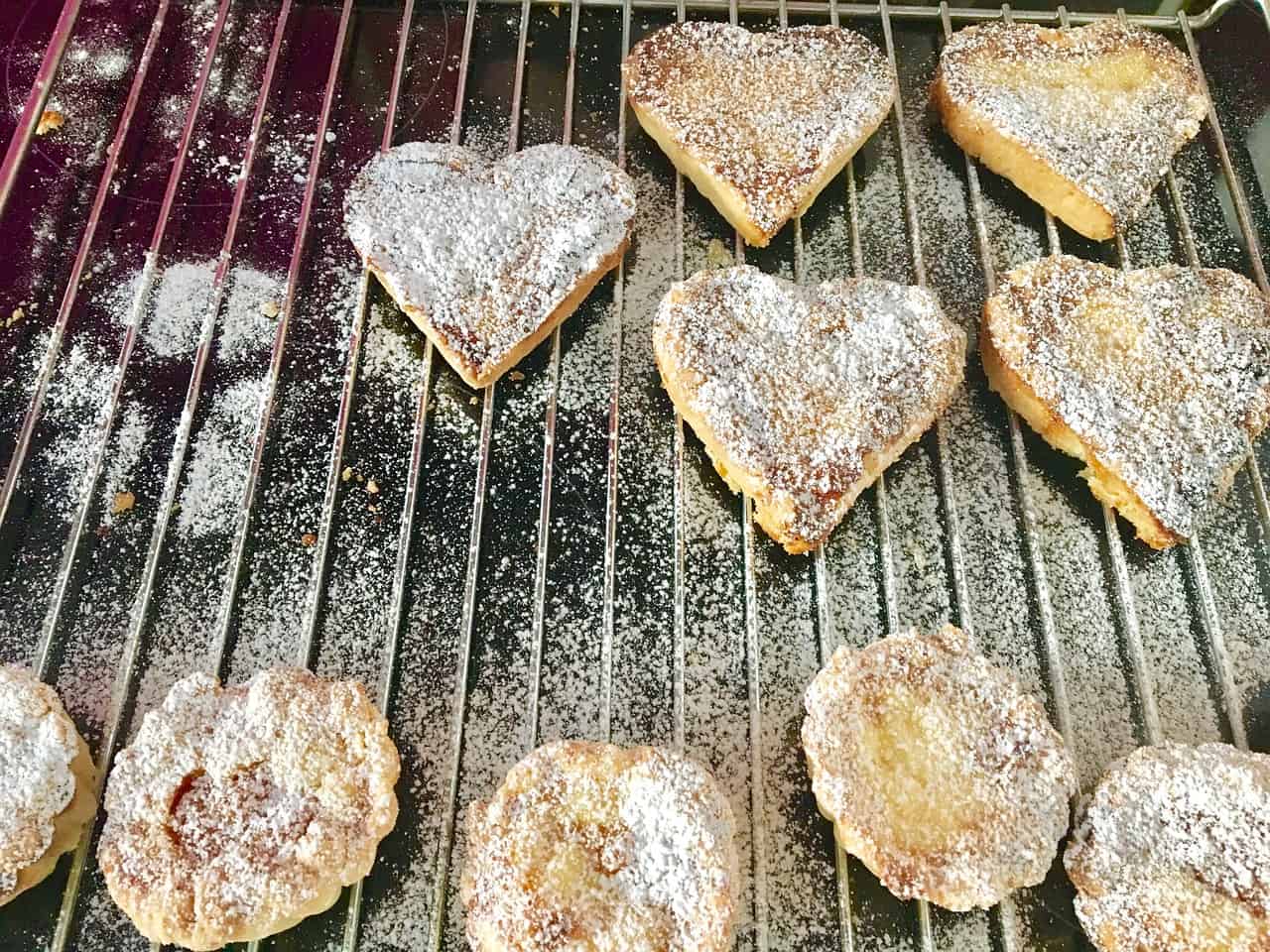 Packing Tips For Your Trip To France:
Here are some of our favorite items that you should consider packing for your trip to France! These are essential travel items that we use and love and you should make sure to consider for your travels.
A concealed travel pouch may be one of the most important items you bring with you! This unisex RFID blocking concealed travel pouch is lightweight and comes in several colors. It has lots of organization to give you peace of mind. You can keep your most valuable documents safe and secure next to your body.
If you have a pouch already you may not want to or need to invest in a new one. If it does not come with the RFID protection, these RFID sleeves would be handy to prevent identity theft. This configuration comes with enough passport and credit card sleeves that the entire family would be protected. They are slim too, so they will easily fit into your current pouch or wallet. These are the kind our family uses not only when traveling but at home as well.
If you have a camera on your packing list, you need to add additional memory cards on your list as well. Unless you are packing a computer for your trip, you will not be able to upload photos and clear your existing memory card. Purchasing additional memory cards cost under $20 and take up no space in your luggage. Having a backup can have the potential to save you a lot of heartaches if something goes awry! There is nothing worse than coming across that perfect moment and then finding out you don't have enough space to capture it on your camera!
Similarly, If you are planning to capture your trip on a smartphone, we beg you to bring some way to back up your memories. The best way to do this is with a portable smartphone flash drive. A flash drive is a small storage device that you can connect up to your smartphone and then safely and easily download the photos onto this device.
If you are planning on taking a lot of pictures with your phone you will definitely want to consider an external charging battery. This Anker high-speed phone charging battery is the exact one we carry with us on all of my trips. It can be used on a variety of phones, not just an iPhone like we have. And wow is it fast! We like that it holds its charging capabilities for several uses so we do not have to worry about it while out and about. And if we forget to recharge it at night, it will still be good to go the next day.
My mom was never a fan of packing cubes until she tried them out! Now she am sold. These Bagail packing cubes are the exact ones she use whenever she travels and she travels a lot. She cannot believe how much more organized she is now! And she will never leave without them anymore.
We never leave home on a trip without our Bobble filtration bottle. The 18.5-ounce size is perfect for travel and it will fit nicely in the pocket of a backpack or your purse. Also when filled with water, it is not too heavy to carry. And the Bobble carbon filter ensures fresh clean water whenever and wherever you fill the Bobble. You can find filter replacements here. 
Perhaps you are traveling a long distance and packing space is a premium. Then this set of collapsible silicone foldable water bottles would work well for you. Would not take up much space in your suitcase at all. And you will be receiving a set of two.
You will want to bring a backpack or daypack with you to store snacks, your water bottle, phone, extra clothes, etc.. This foldable water-resistant backpack would be great. It is very affordable and is available in many color options for you to choose from. The fact that it folds down into a zippered pouch will make it easy to pack.
Perhaps you need a more substantial backpack for your international travel. This antitheft backpack has a charging port, is water-resistant and can comfortably carry up to a 15.6″ laptop. It comes in a range of colors to choose from and it is inexpensive as well.
We all need to protect our eyes from the sun's harmful UVA/UVB rays. These unisex polarized sunglasses come in a lot of lens colors and frame designs and are extremely affordable too.
If you are fond of the aviator-style of sunglasses these polarized aviators may interest you. We like polarized sunglasses because they remove the glare off the water and help you to see things more clearly.
Don't forget to bring along a universal power adapter if you are traveling abroad. This worldwide power plug is a great example and will charge your phone at the end of your busy days. And this world traveler adapter kit can charge several devices at the same time. This is what you will need when there are several people traveling in your group, or if you bring several electronic devices on your trip that require charging at the same time.
There are so many magical Christmas markets in France to visit during your trip! From the largest city in France to the Alps and French Riviera, there truly is a Christmas market in France for every taste and travel style! If you have visited one of the Christmas markets in France before, we would love to know which one you would recommend on this list in the comments below! Have fun and have a Merry Christmas Season in France!
Pin this post: