Are you wondering when is the best time to visit Paris? You are in the right place.
In this article, we will walk you through the best time to travel to Paris so you can make the best decision for you.
Paris is literally my favorite place on earth so you are in for a real treat!!
There are so many beautiful places in Paris and honestly, whenever you visit you will have a fantastic time. Whether you are wondering what is the least crowded time to visit Paris or what is the best weather months in Paris this article will help you plan so you can ensure you get the most out of your Paris vacation.
I have been to Paris in all seasons and usually visit Paris every year for my birthday in November at the minimum. It is just a magical place and I will show you the way in this post if you are trying to choose your trip dates!
And if this is your first time in Paris then here is a Paris Packing List.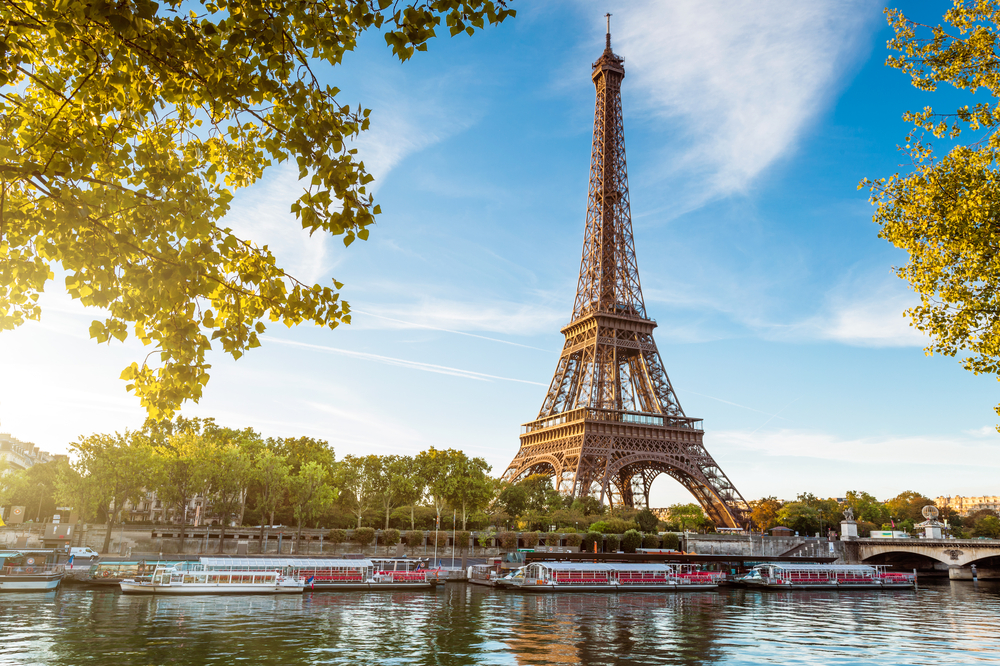 When is the best time to visit Paris?
There is no best time to visit Paris in our opinion but there are indeed times that are more optimal than others. The challenge is also that better is objective and it really depends on what better means to you so keep that in mind as you are reading.
Most agree that the best season to visit Paris is springtime, however, keep in mind that all four seasons offer captivating and charming aspects that lend a unique touch to your holiday
In Spring you have good weather, longer days, and fewer tourists than in the busier summer months so if you can look to visit between March and May for the best of all worlds. As a backup September and October are also considered the best time of year to travel to Paris.
The Worst Time To Go To Paris
Now as before keep in mind worst is also objective and as we have said before there are no bad times just only what doesn't work for you.
For us, we don't like crowds, and hot weather with no air conditioning so Summer is for us like maybe the worst time to go to Paris.
In the summer tourist numbers, surge reaches their peak in August and for some like us, the crowds are just too much.
If you are traveling in the Summer here are some hidden gems in Paris that might be less crowded.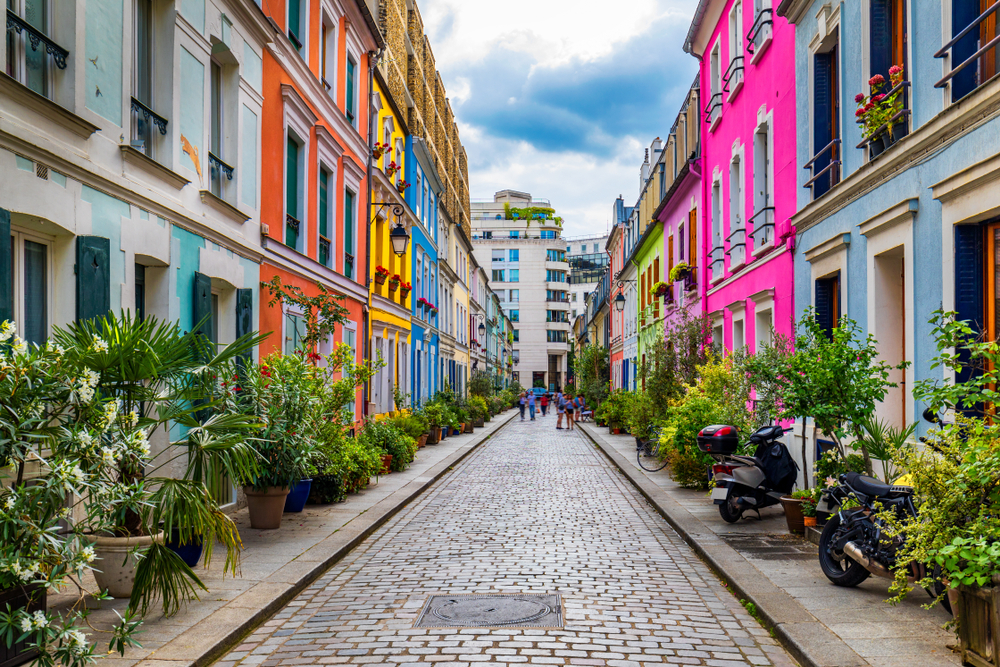 What Is The Cheapest Month To Travel to Paris?
Like most places, the cheapest time to visit Paris is to go off-season. The off-season in Paris tends to be November, February, and March.
During these months you are more likely to get a bargain especially if you book in advance. Late June and August tend to be the most expensive as do the Christmas and New Year periods.
Here is what a trip to Paris costs if you are looking to budget.
What Month Is The Best Weather In Paris?
The weather in Paris is fairly temperate so it never gets really hot or really cold so really it depends on what kind of weather is the best for you.
Most agree that the best weather months in Paris are the months that transition from spring to summer. Here you will have comfortably warm daytime temperatures and pleasantly mild evenings.
February is the driest month if you want to avoid the rain and if you love things to be hot August is the month for you.
December tends to be the wettest month so keep that in mind.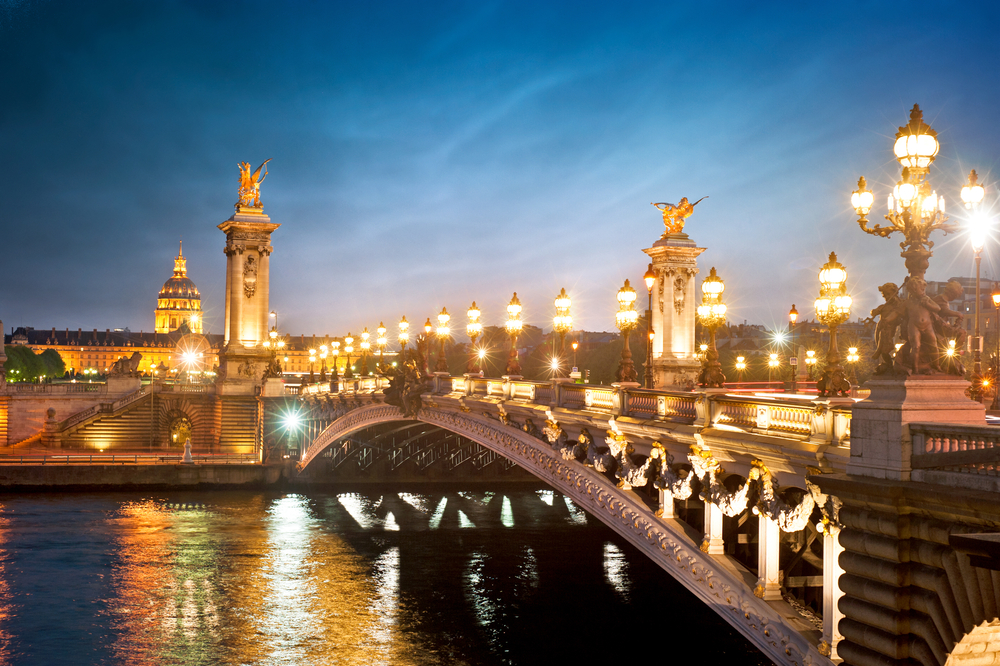 High And Low Season For Paris
As with most places, the high season in Paris tends to be the summer when the children are out of school. However, unlike other places, this also tends to cover spring so the Paris tourist season can run from March to August. Making the high season here much longer than most.
The low season in Paris spans December to February (minus Christmas and New Year). This tends to be the time you will find a bargain and find fewer crowds. You may also find a few of the tourist attractions not open but not many.
The colder season tends to run from September through November. During these months it's not as cold as December to February and there are fewer visitors but you might not find as much as a bargain as you will in the low season.
Visit Paris In Summer If You:
Want delightful weather and festivities then Summer is the time for you. The average temperature ranges from a high of 24°C/75°F to a low of 13°C/55°F and you will have more daylight hours.
The city buzzes in the Summer with many festivals and all of the tourist events and attractions are in full swing. The Tropical Carnival and the Fête de la Musique are not to be missed.
In Summer Paris is a happening place and takes on a vibrant energy that most love. This is the best time of year to go to Paris if you want good weather and a lively atmosphere.
Summer has the best weather months in Paris.
Here are some things to do with kids in Paris if you are there during the school holidays.
Visit Paris In Winter If you:
Looking for a quieter time where you can take long strolls wrapped up warm next to your loved one winter might be perfect for you. There is a certain beauty about Paris in the winter that is hard to describe.
If you are looking for great moody photos with few people in it's also a perfect time to visit with fog and mist often embracing the Paris attractions. if you are after snow this is when you are most likely to find it.
Winter especially near Christmas sees Paris transformed into a winter wonderland. From the window displays to the various temporary ice rinks and the festive markets it's kind of special.
January is also Paris Fashion Week so keep that in mind when booking. Personally, if you are after a romantic trip to Paris then winter might be the best time to book. This is the off-season in Paris and you find things a little cheaper.
Paris in winter really is glorious.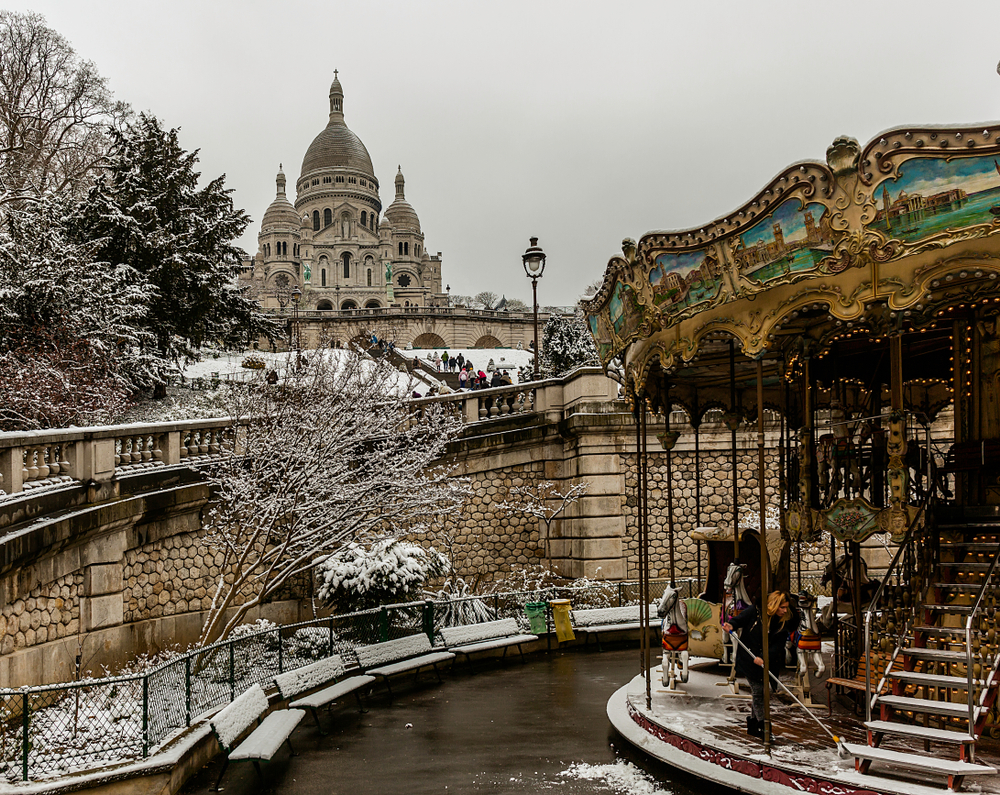 Visit Paris In Fall If You:
Want all the cozy vibes and less crowded streets but still good temperatures then Fall is for you. We love Paris in the fall it's just beautiful and charming.
The fall colors really add a pop to Paris and add a certain ambiance you don't get at other times of the year. There is a rather tranquil feel about the places and we feel it's the best time of year to go to Paris.
I love how the ivy turns red in Paris and there are some really nice places to visit during this time of year. My birthday is in the fall so this is often when I am here! Although I've been in all seasons.
The weather tends to be pleasant the crowd dies down and sightseeing is a pleasant experience rather than the stressful endeavor it can be in the summer.
The Nuit Blanche art experience is a must-see and the Beaujolais Nouveau is in full swing in November.
Fall is the best season to visit Paris. If you are planning a weekend getaway in Paris, you can't go wrong!
Visit Paris In Spring If You:
Most think springtime is the best time to go to Paris. It's fairly warm, the days are getting longer and while the crowds start coming it's nothing like the summer months.
Perhaps though the best thing about Springtime in Paris is all the flowers, they seem to be everywhere. Spring in Paris presents a unique allure, and the vibrant pops of color just add that extra sparkle. Jardin du Luxembourg and the Parc Rives de Seine are wonderful places to explore this time of year.
A highlight of this season, is the Foire du Trône, an extensive and historic funfair, with rides, gastronomic delights, music, and fireworks.
If you are not sure when to visit Spring is the best time to vacation in Paris for a bit of everything. We beleive it's the best season to visit Paris.
Paris in Spring is so perfect.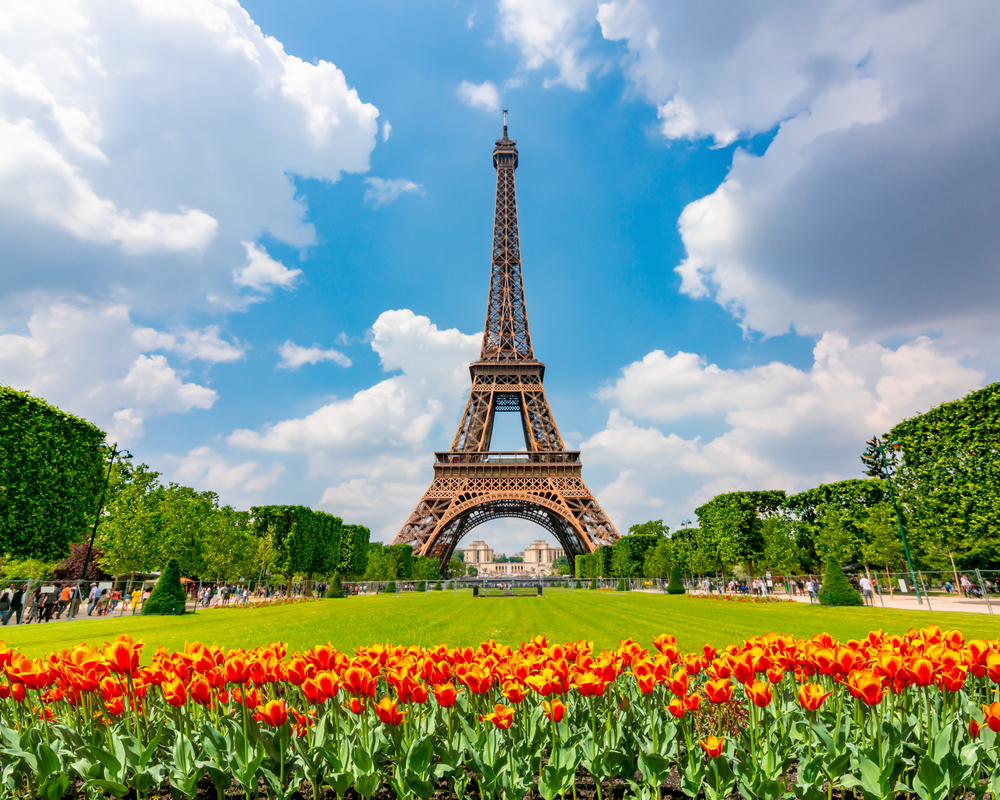 When To Go To Paris By Month:
Paris in January
While January in Paris can be crisp and rather chilly you are likely to find a bargain. Not only will your vacation be cheaper but your winter sales are in full swing for that extra special find.
While rain and snow are characteristic of January, you will find a quieter atmosphere that is perfect for enjoying cozy café culture.
Special events include Paris Fashion Week, Cirque d'Hiver Bouglione, Louis XVI Commemorative Mass, and Paris Cocktail Week.
Paris in January sees average Temperatures ranging from 7°C/44°F to 3°C/37°F. This is one of the least crowded times to visit Paris.
January is often the cheapest month to go to Paris.
Paris in February
February in Paris is pretty uneventful and while you might see snow it won't be a lot. The city does rev up a little for Valentine's Day but other than that it's a pretty quiet month.
Notable events include Rétromobile, Salon International de l'Agriculture the Chinese New Year, and of course Valentine's Day.
You will however be able to explore the sights without all the crowds and you will find discounted shopping and museum visits.
Paris in February sees average temperatures of between 8°C/46°F to 4°C/39°F. This is also one of the cheapest times to visit Paris.
If you are planning a special Paris trip with your special someone here are some of the best hotels with a view of the Eiffel Tower.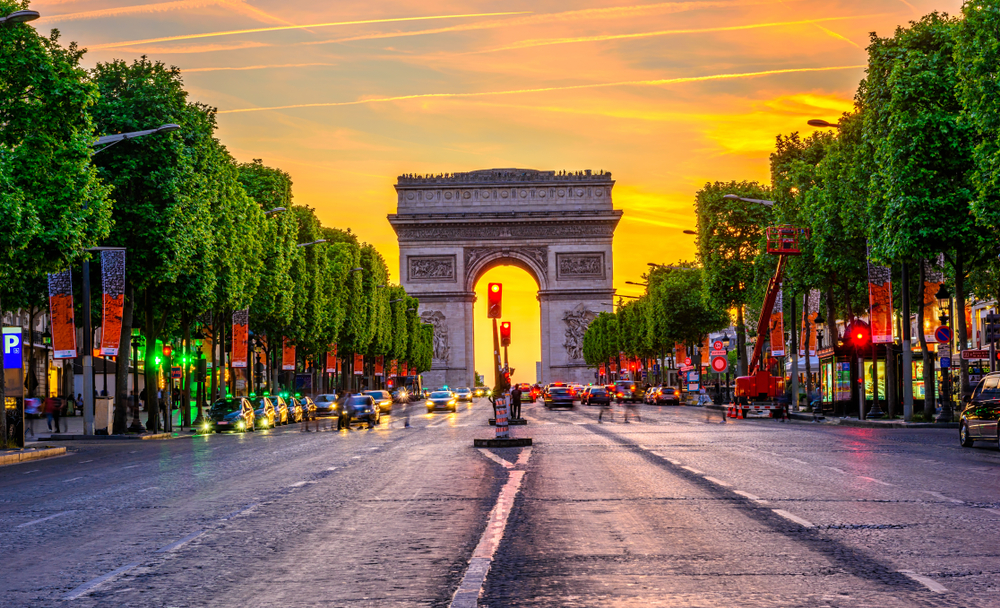 Paris in March
Average temperatures in Paris in March begin to rise and can get as high as 12°C/53°F and as low as 5°C/41°F. March in Paris seems to wake up a little with the parks and gardens beginning to bloom and festivities beginning to take place.
Noteworthy events include Livre Paris, Banlieues Bleues, La Verticale de la Tour Eiffel, Foire de Chatou, Cinéma du Réel, and La Fête du Cinéma. March in Paris also see Mardi Gras, Paris Book Fair, and Paris Half Marathon.
The weather can be changeable but if it's on the good side take a cruise down the Seine this is the perfect month for that. The city starts to get busier and there will be more outdoor events to enjoy. This is the best time to go to Paris if you wnat it warmer a little cheaper and less crowded.
Paris in April
Chesnut trees blossom and cafes begin to spill out onto the street, Paris has awoken from her slumber and is in full swing now.
April in Paris sees temperatures between 16°C/70°F to 7°C/44°F and everywhere you turn you will see flowers. Significant events include Salon du Running, Foire du Trône, Marathon International de Paris, Paris Beer Festival, and Foire de Paris. Also, the Paris Art Fair, Fair of the Throne, Color Run, and Easter celebrations are all to be enjoyed.
Most think Paris in April is one of the best times to visit.
Here is a list of the prettiest cafes in Paris if you want to enjoy that cafe culture.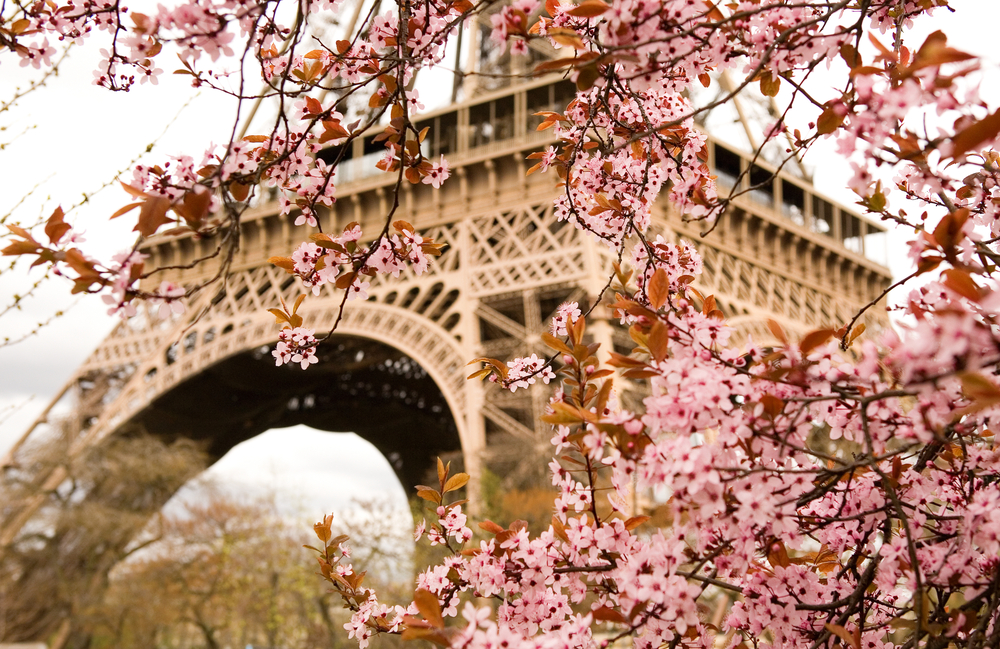 Paris in May
With average temperatures starting to rise from 19°C/66°F to 11°C/51°F, it's a popular month to visit and this is when the Paris tourist season starts to really heat up. Most think this is the best time of year to travel to Paris and we agree it is a great time.
The weather is pleasant all the attractions are open and the nighttimes start to loven up. Key events include La Nuit Européenne des Musées, Taste Paris, Portes Ouvertes des Ateliers d'Artistes de Belleville, and the French Open.
The Ist May is a holiday in France and you might find a lot of things closed so keep that in mind. Most think May in Paris is one of the most beautiful times to visit.
Paris in June
We are well and truly into the summer now and Paris is warm and bustling with outdoor events. Average temperates in June in Paris are 22°C/71°F to 14°C/57°F and expect longer daytime hours.
High tourist season commences so expect everythign to be much busier and crowded, and wait time with increase too.
Events worth visiting in June include Festival de St-Denis, Fête de la Musique, Marche des Fiertés (Pride), and La Goutte d'Or en Fête. Expect to see many more open-air events too including some amazing operas.
This is the best month to go to Paris if you wnat great weather and everything open.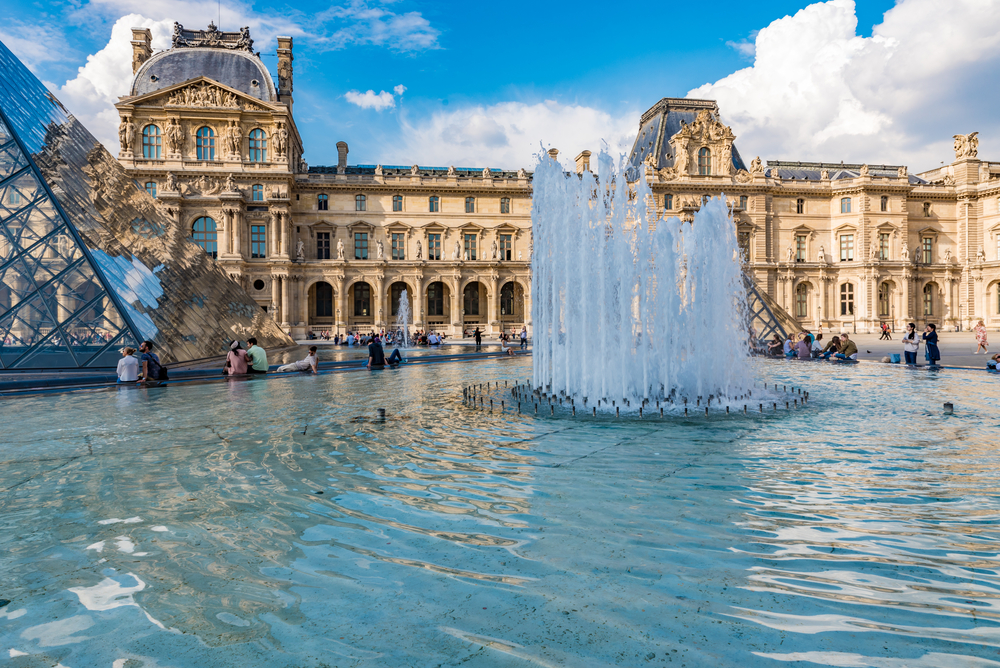 Paris in July
Paris in July can be one of the hottest months with temperatures ranging from 26°C/78°F to 16°C/60°F so if you like it hot this is the month to go. The banks of the Seine also transform into 'beaches' adorned with sunbeds, and shade umbrellas.
In July a lot of the locals will migrate to the south of France so expect to see some restaurants etc: closed but not many. Bastille Day the national day of France is also in July and you are unlikely to find a lot open then.
Key events include Paris Jazz Festival, Bals des Pompiers, Bastille Day, Paris Plages, Tour de France, and Cinéma En Plein Air de la Villette. Open Air Cinema and Atelier des Lumières are highlights for capturing the essence of a Parisian summer.
July in August is the best month to visit Paris if you really like great weather and a lively atmosphere. Paris tourist season is in full swing.
Paris in August
Most Parisians will escape the summer heat in August so you might see more closed shops and restaurants than you expect but Paris is in full tourist season so there be more than plenty to keep you occupied. The upside to the locals leaving is reduced traffic so it's a perfect time to grab a cycle and explore.
Key events include Classique au Vert, Rock en Seine, and Silhouette. The Rock en Seine festival and Gay Games also take place in August. It's the best time to visit Paris for the LGBTQ+ community as there are so many events.
Paris in August sees temperatures ranging from 26°C/79°F to 14°C/58°F. If you wondering when to go to Paris for great weather this is it.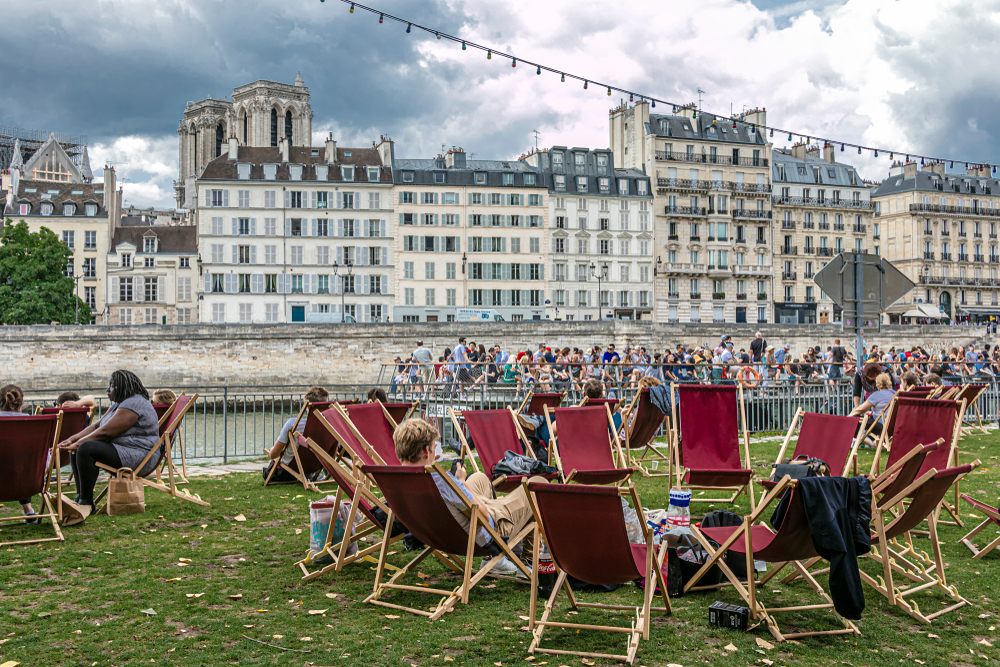 Paris in September
September in Paris sees an average temperature of 21°C/69°F to 13°C/55°F so it's still quite pleasant. Most Parisians will return from their summer breaks and the tourist season begins to die down.
The queues for attractions such as the museums will start to get shorter and the crowds will thin out a little. Classic music concerts and night fountain shows at Versailles are a real treat in September.
Other events include Jazz à la Villette, Festival d'Automne, Techno Parade, Journées Européennes du Patrimoine, and Journée Sans Voiture. Septemebr is also Paris Design Week.
This is the best time to vacation in Paris as it is still warm but less crowded. Paris in September is the perfect month.
Paris in October
As summer turns to fall the temperatures begin to drop and can be anywhere between 17°C/62°F to 9°C/48°F. Autumnal colors adorn parks and gardens, accompanied by clear days and cultural offerings it's a perfect month to visit.
A Seine cruise is perfect at this time and you get to see Paris in all her autumnal splendor. We beleive this is the best time of year to go to Paris.
Key events include Nuit Blanche, Fête des Vendanges de Montmartre, and Salon du Chocolat. Nuit Blanche illuminates the city and is truly wonderful.
October can be one of the cheapest time to visit Paris.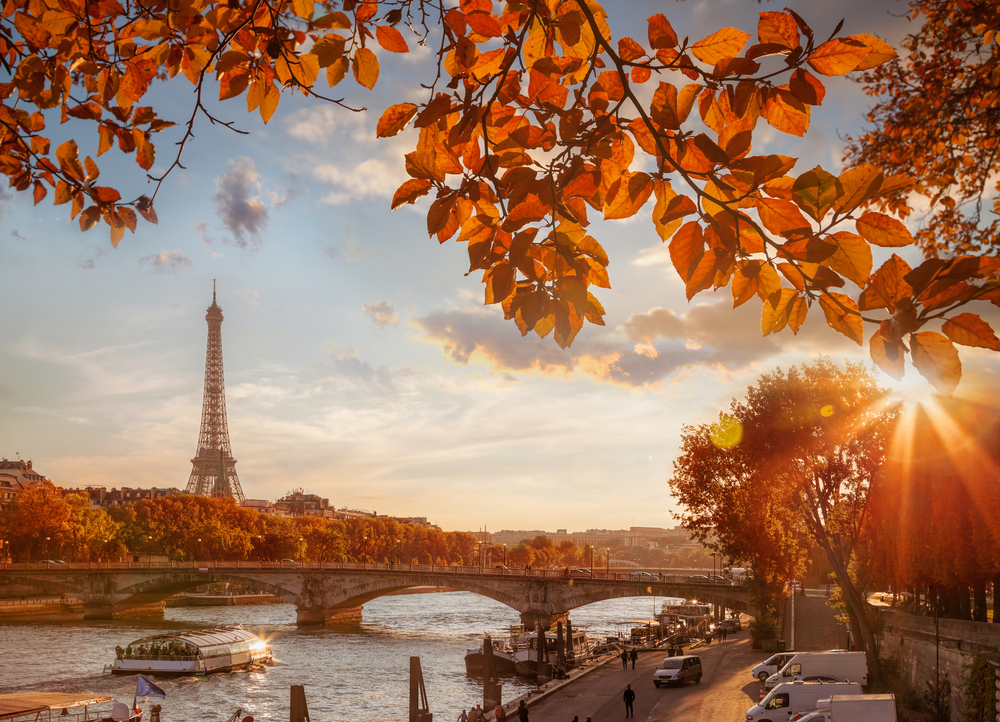 Paris in November
November in Paris sees dark and chilly days but with them comes a whole new atmosphere. Temperatures range from 12°C/53°F to 6°C/42°F. This is the best time to travel to Paris if you are looking for a bargain and quieter streets.
Outdoor events move to the indoors and cafes bring in their pavement tables as winter sets in. There is still lots to do though and this might be one of the months when the crowds are at their thinnest.
Key events include Africolor, Illuminations de Noël, and Beaujolais Nouveau. The Paris Photo and Paris Horse Show also take place in November.
The low season in Paris has its advantages.
Paris in December
December transforms Paris into a magical winter wonderland with festive lights, Christmas trees, and ice-skating rinks. Despite the cold, December in Paris offers a unique charm, with Christmas and New Year's festivities enhancing the spirit.
Events include Salon du Cheval de Paris, Christmas Eve Mass, Le Festival du Merveilleux, and New Year's Eve. The Christmas Village and Africolor Music Festival are all so worth a visit.
There is something rather enchanting about Christmas in Paris if you thought this city was beautiful before you wait until you see it at Christmas. Most believe this is the best month to go to Paris.
Paris in December sees average temperatures of between 7°C/44°F to 3°C/37°F.
If are some ways to spend Christmas in Paris.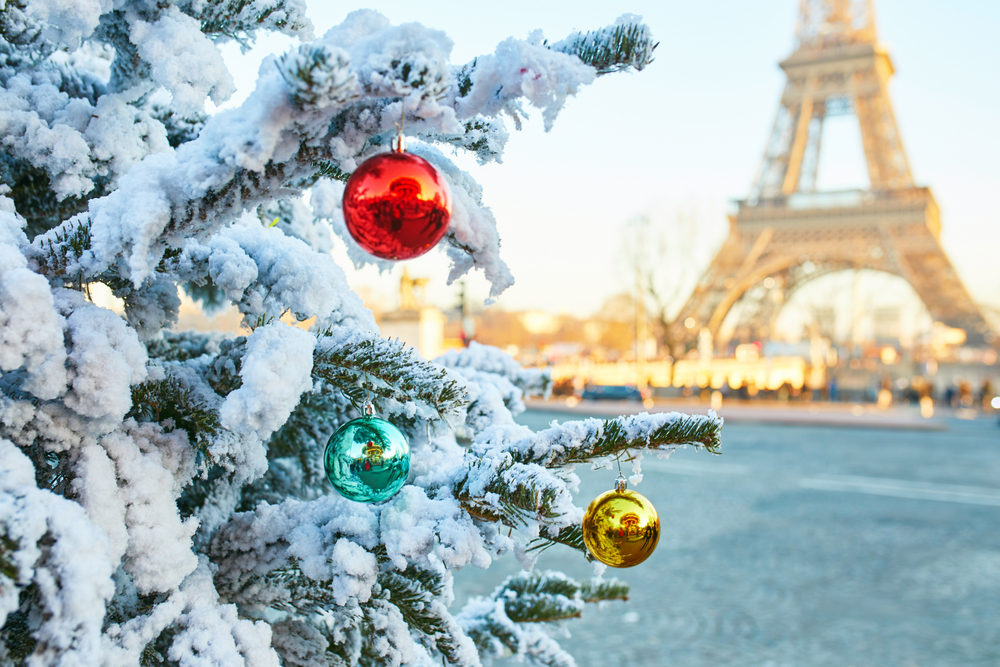 As you can see the best time of year to travel to Paris really depends on the kind of holiday you want. The cheapest month to go to Paris tends to be January and one of the least crowded times to visit Paris is November.
However, whenever you go you will have an amazing time there is no worst time to go to Paris. high season in Paris is glorious in certain ways as is low season. The best time of year for Paris is the best time for you.
Enjoy your time in Paris, we love it there and please come back and tell us all about it.