A trip to France is such a dream, and if you're looking for beautiful places in Paris; well, there are lots of recommendations! As the number one travel destination in the entire world, this amazing city definitely lives up to its expectations. Stunningly beautiful places in Paris are not hard to come by. From incredible gothic cathedrals such as the Notre Dame or the famous Eiffel Tower, you will have no shortage of must-see places to visit in Paris.
We have been to Paris multiple times, it's actually one of our favorite destinations as we are always amazed by the city regardless of how many times we have visited. Yes, you will be abundantly lost in beautiful places in Paris, but in this article, we are going to really get down to it and let you know the most incredible and the most stunningly beautiful places in Paris so you can make the most of your trip and be just as amazed as we always are!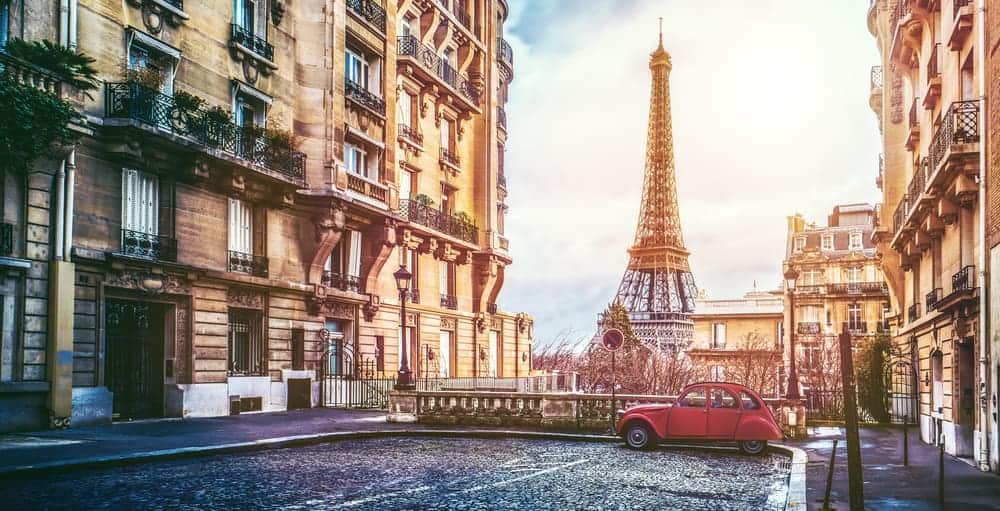 10 Stunningly Beautiful Places in Paris You MUST Visit.
The Eiffel Tower
Introduced in the 1884 World's Fair, The Eiffel Tower was described by one of its makers (Maurice Koechlin) as, "A great pylon, consisting of four lattice girders standing apart at the base and coming together at the top, joined together by metal trusses at regular intervals". More than one hundred years after it was erected next to Place du Trocadero, the Eiffel Tower is the most visited and most famous tourist destination in the entire world and Paris's most iconic landmark. Any travel article even involving Paris, much less an article about beautiful places in Paris is guaranteed to include France's leading lady, Tour Eiffel; it's just a given. Heck, we also happened to have featured Tour Eiffel as our number one spot on our perfect Paris itinerary!
You can take an elevator to the top for an unbeatable aerial view of Paris from it's the highest building, adventure around in the area surrounding the tower to marvel at beautiful locations with the added aesthetic of having The Eiffel Tower looming in the sky nearby, dine out at its own restaurant or the many other restaurants in the surrounding neighborhood. If you're feeling more laid back and casual, you can even picnic at the Champs De Mars field which is situated right at the massive tower's base. Whatever you decide to do, you will be without a doubt astounded by its grandiosity. It truly is one of the most amazing and beautiful places in Paris.
Yes, we are writing this article about the stunningly beautiful places in Paris, places which might not necessarily be the famous ones, but The Eiffel Tower truly is magnificent so including it is necessary and it also just so happens that it is the most famous sight in Paris.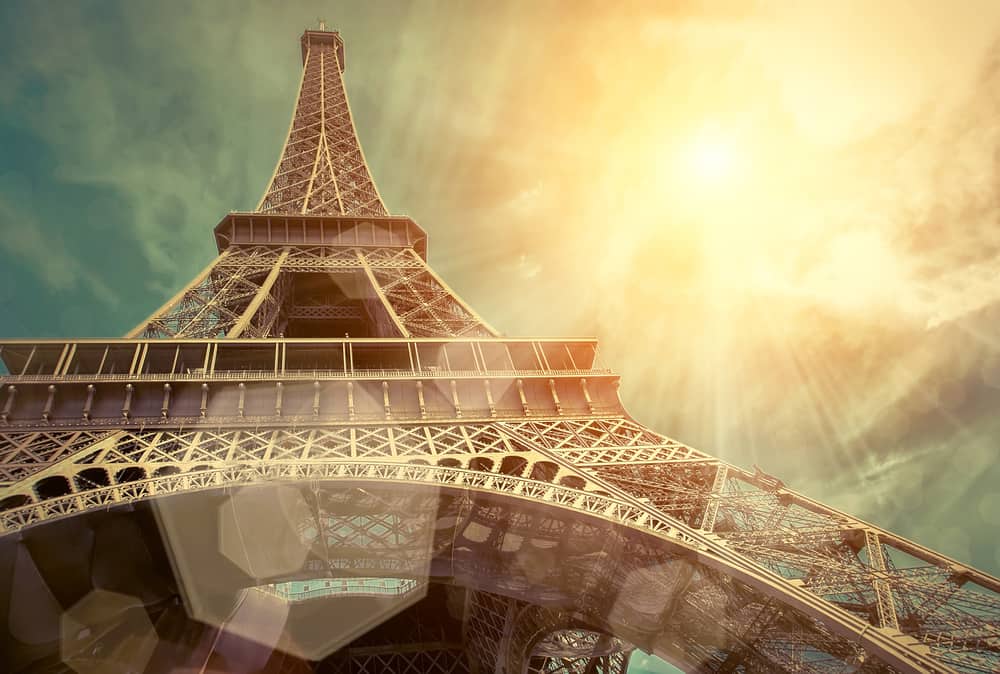 Sainte-Chapelle
Nestled in the center of what was formerly the royal palace of the King of France is a jewel box of a chapel. This unbelievably beautiful church is known by the French as, Sainte-Chapelle which translates to Holy Chapel in English. Since the year 1238 when construction began, Sainte-Chapelle has been considered one of the most beautiful places in Paris. It has retained this reputation to this day, almost 800 years later and it's obvious to see why.
There are two layers of this building to see. The first layer you will come into is called the Lower Chapel and while the Lower Chapel (With it's luxurious and regal aesthetic) is undeniably outstanding, this is not the main attraction, so just wait. Immediately you will feel the breath leave your lungs when you step into the Upper Chapel section and behold the amazing colors shining from the walls of divine stained glass. Considered the world's finest of their type, the outstanding glass is the most famous sight which the church is known for. At this moment, staring up at the utter magnificence before your eyes, you will understand why this location is on this list of the most beautiful places in Paris.
Another enticingly interesting feature of this chapel is a very important relic housed within its walls. This is none other than the crown of thorns Jesus Christ himself is said to have worn at the very moment of his death from crucifixion. This priceless artifact is pretty much the entire point of Sainte-Chapelle and perhaps the very reason it was built with such grand beauty in the first place. Jesus' crown of thorns is such an important symbol to the Christian religion and it's so cool being able to look at something with your own eyes that is so intensely treasured by millions of people to this day. So, maybe check it out so you can see why this beautiful place in Paris is one of THE most beautiful places in Paris.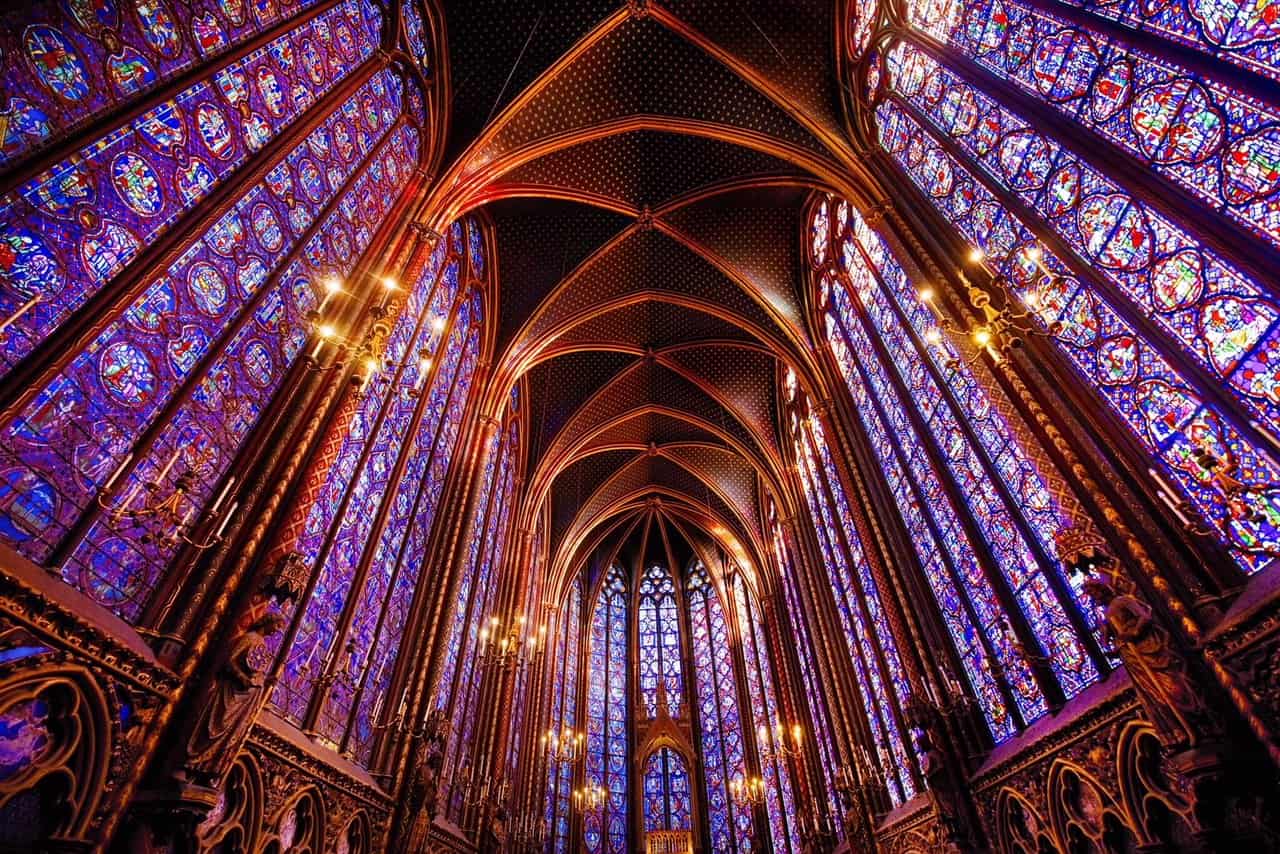 Palais Garnier
In Europe, there are incredible opera houses all over the place but Palais Garnier is by far one of the most amazing which lands it a spot right here on this list as a beautiful place in Paris you MUST visit. Finding itself on the same level as the Louvre or Notredame, Opera Garnier is an iconic stop in Paris.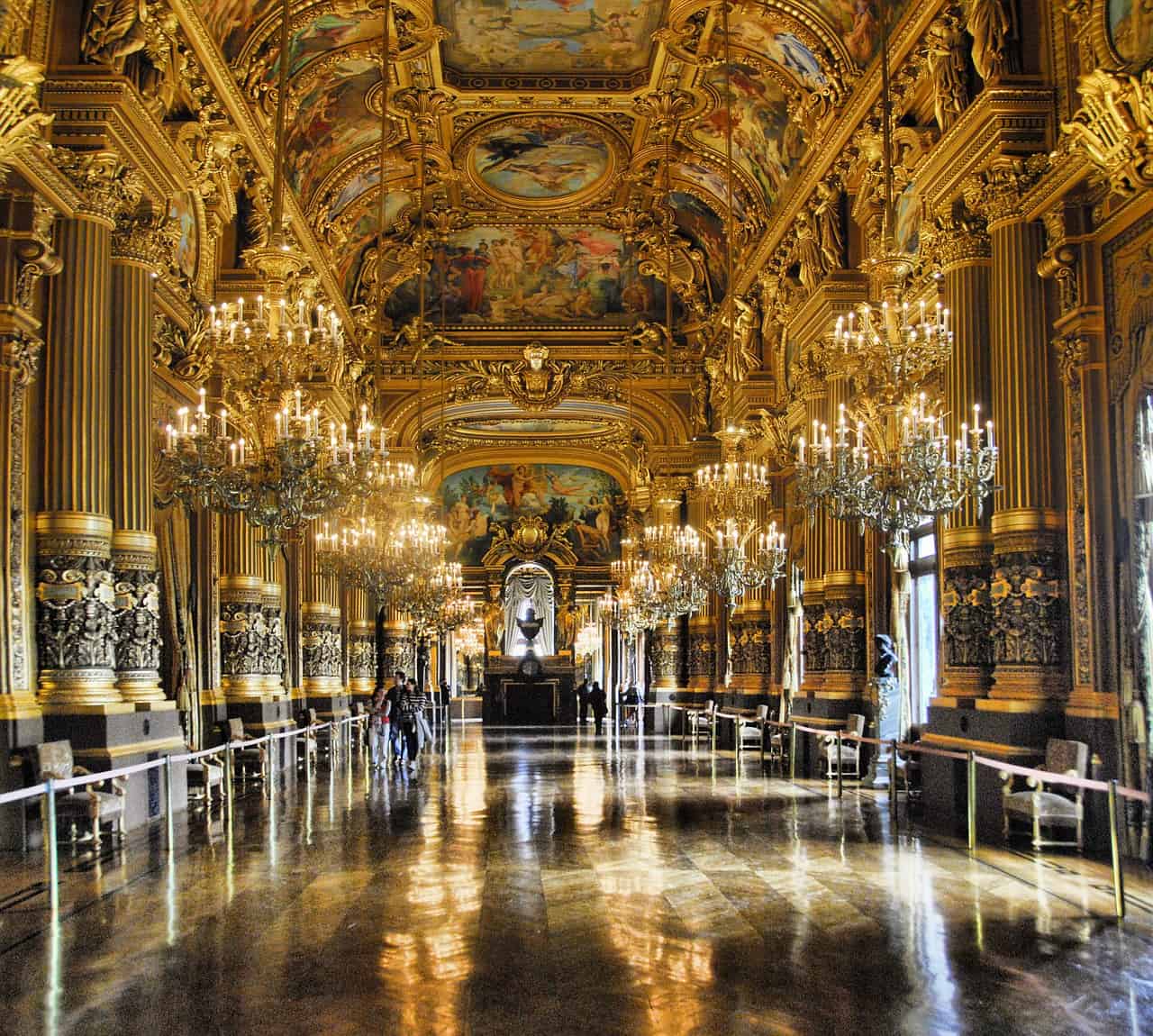 Also, a little extra fact about this renowned opera house is something lovers of literature, cinema, music, and theater (Well, obviously, but for a whole other reason this time) will go insane about. Palais Garnier is the very opera house which was the setting for the internationally famous novel "Phantom of the Opera" by Gaston Leroux. All of us here at Follow Me Away love this iconic story so we were quite astounded to walk through the same spaces which inspired the Angel of Music's home. A beautiful piece of Parisian literature for one of the most beautiful places in Paris, it's really quite understandable honestly.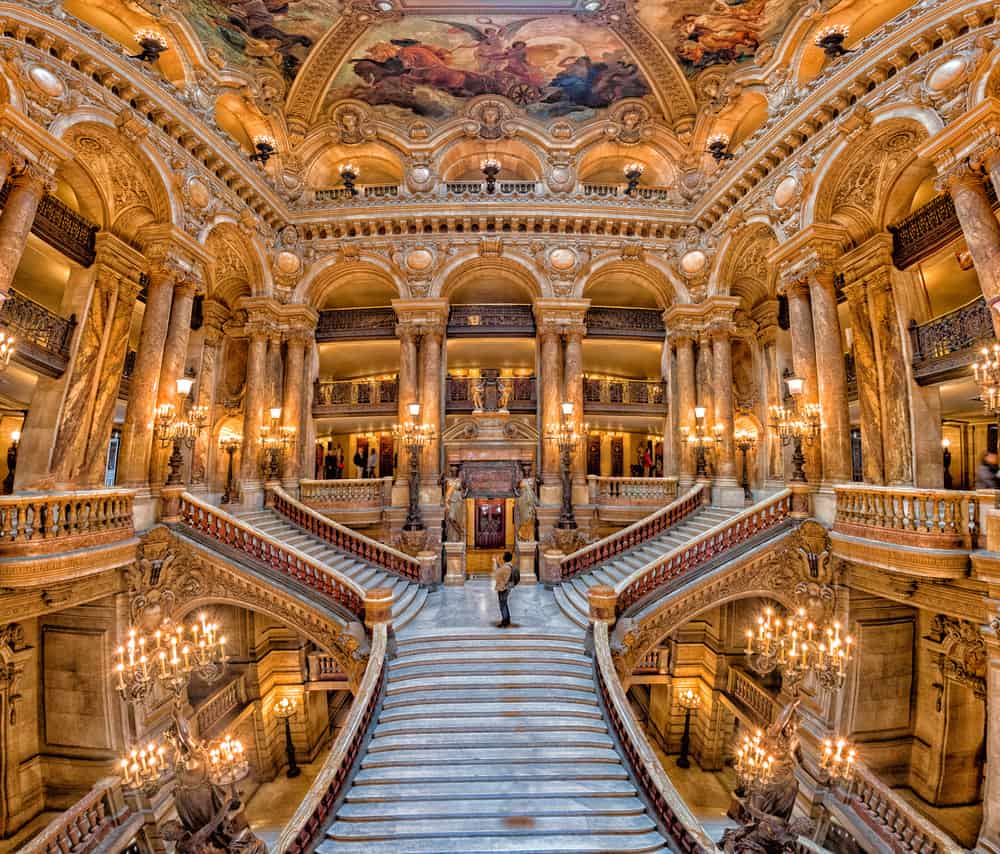 The Top of Arc de Triomphe
Easily the most unmissable sunset view of the Eiffel Tower is found right at the top of The Arc De Triomphe, a famous landmark and monument dedicated to the soldiers of the Napoleonic Wars. The Arc stands right at the center of the Place Charles de Gaulle which puts you right next to the Eiffel tower. A brisk climb to the top of The Arc offers you a perspective of the Eiffel Tower from about mid-height which allows for iconic photo opportunities. Especially during the sunset, this is one of the most beautiful places in Paris where you get to behold the most famous landmark of Paris while also standing atop another of it's most famous landmarks.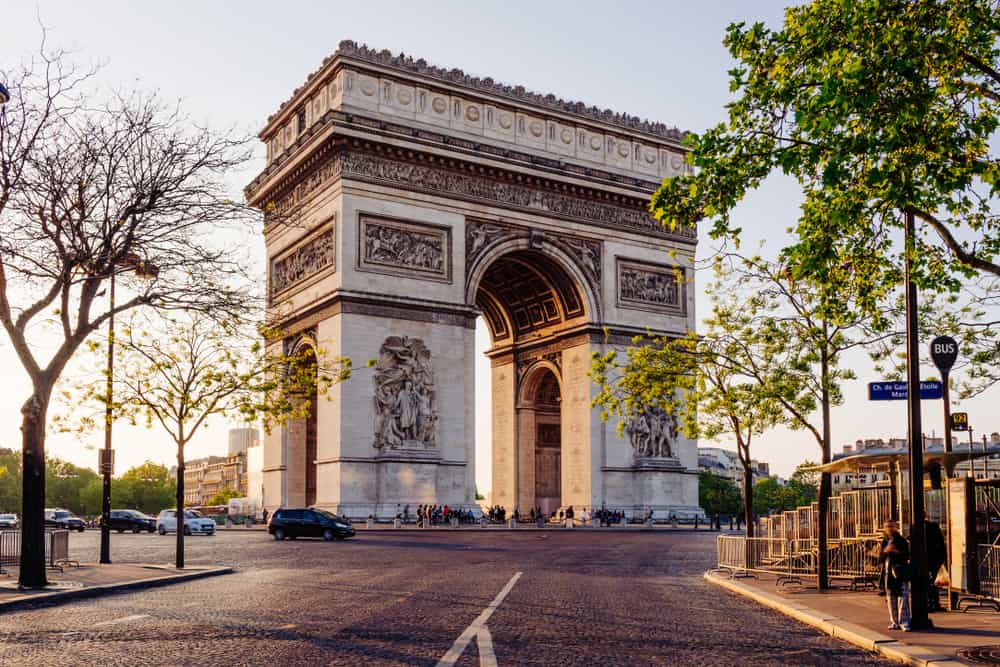 Sacre-Coeur
The Sacre Coeur or The Sacred Heart upon the hill of Montmartre (Hah, that rhymed) is one of the newer basilicas in the city and also one of the most stunningly beautiful places in Paris you can go. Regardless of its doors opening just a little bit over one hundred years ago, this particular site was a place of worship long before the church was opened in 1914. Sitting right at Paris' highest natural altitude, ancient pagans believed to be closer to the gods while standing there. It was believed that the higher you were on Earth and the closer you were to the sky, the closer you were to the Gods and the better they could hear your prayers.

Even before the grand basilica was built, it can be assumed that the towering heights of Montmartre has always provided a breathtaking view of the land below. Now, with the incredible Sacre-Coeur sitting at the helm of its peak adding even more to the grandeur of the view, it is one of the most beloved and stunningly beautiful places in Paris that you cannot miss. Walk around Sacre-Coeur for incredible views of the city, but climb to the top of the church to be simply amazed.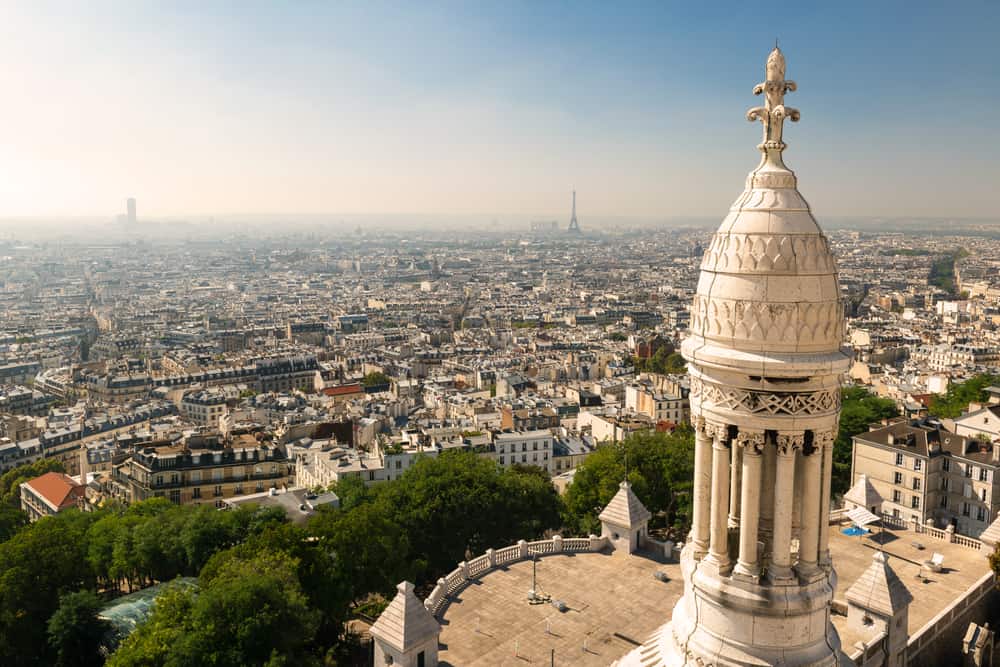 The Pantheon
The Panteon is a massive roman inspired mausoleum situated right in the Parisian Latin Quarter. When groundwork was first laid out on this massive and impactful building in 1757 it was destined to be a church but in today's world, it has retired from its religious ties and now serves as the lasting burial place for the most distinguished French citizens. Since it's marvelous enough for Paris' highest society to want to spend their eternity there, it's easy to develop high expectations of its beauty. You can see that it lives up to these implications because, well, here it is on our list of the most beautiful places in Paris!
Passing through an array of roman styled columns which adorn the facade, you will come into the magnificent building. Looking around, you will be amazed at how skillfully the architects combined the aesthetics of the popular gothic style with more ancient practices. Mixing these two styles together is what gives the Pantheon is unique, trademark look which is responsible for its place as one of the most beautiful places in Paris. Let us know if you loved this spot as much as we did!

Rue Cremiux
Considering it's easily one of the most charming streets in Paris and certainly the most colorful, we are in love with Rue Cremiux. This adorable little residential street is lined with houses painted an array of cute colors which give it one of the most aesthetically pleasing atmospheres in the city. Cremiux Road is definitely considered one of the most beautiful places in Paris and you will immediately see why when you visit. It's just so darling and one of the most Instagramable spots the mind could imagine.
However, we will warn you, with its influx in popularity with social media influencers who are itching to capture its intoxicating cuteness for their feeds, you might find it a more enjoyable experience in the morning. Just keep in mind that it's a residential street, so make sure to be respectful of the people who call Rue Cremiux their homes. As long as you do that, this destination will be memorable for sure! Rue Cremiux is so quirky, unique and truly one of the most beautiful places in Paris, so don't miss it!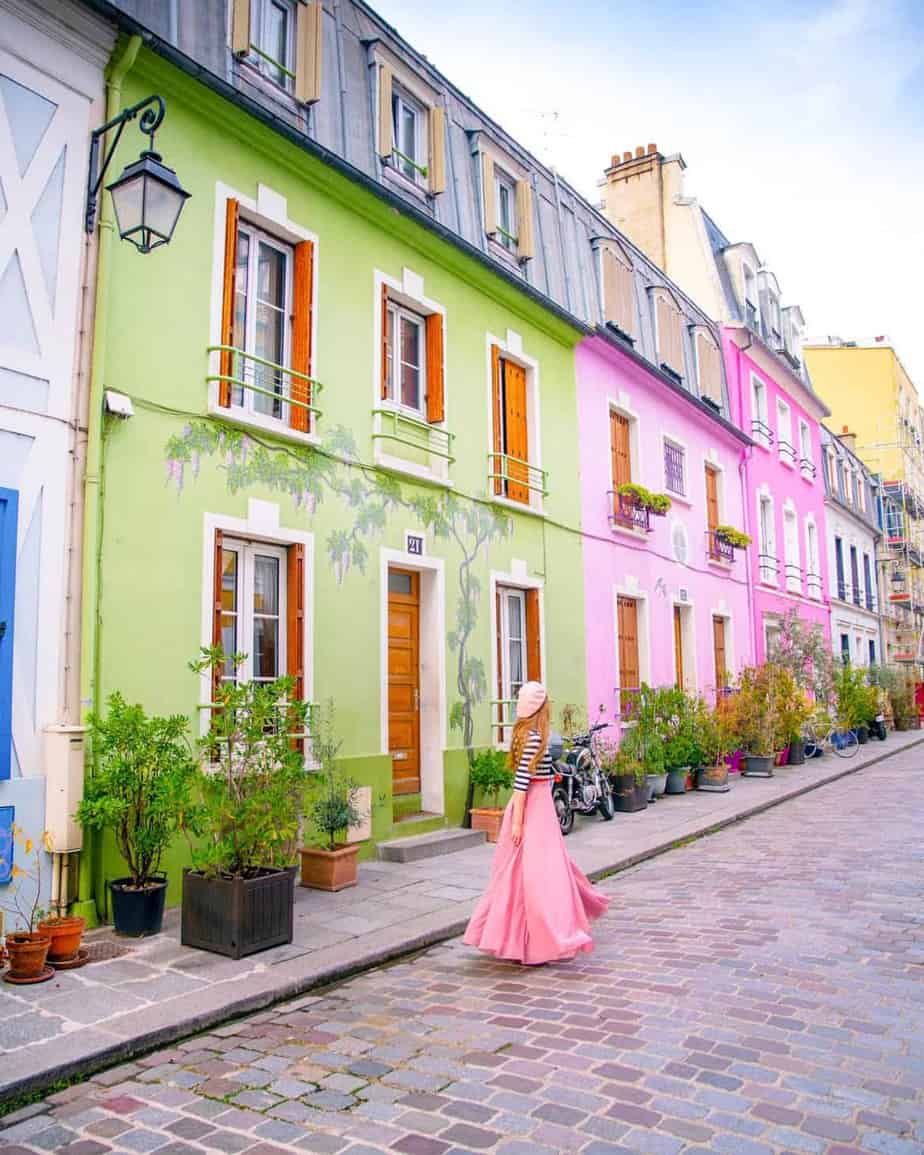 Galerie Vivienne
Galerie Vivienne is a lesser recognized destination yet still one of the most beautiful places in Paris and the perfect covered passage/shopping street to spend a rainy Parisian day. It's an exquisitely decorated walkway which makes for a lovely and luxurious stroll after a yummy brunch. Built in the year 1823 near the Palais Royal, Galerie Vivienne is a destination which is easily accessible from some of Paris's other landmarks making it an easy to fit in yet also highly recommended visit.
Not only is the Galerie Vivienne considered one of the most beautiful covered walkways in the city, but it's one of the most beautiful places in Paris period. It is a perfect example of the absolute magic of Paris with outstanding mosaic floors and ornate, vaulted glass ceilings, you will feel the romance of the city in every inch of intricacy.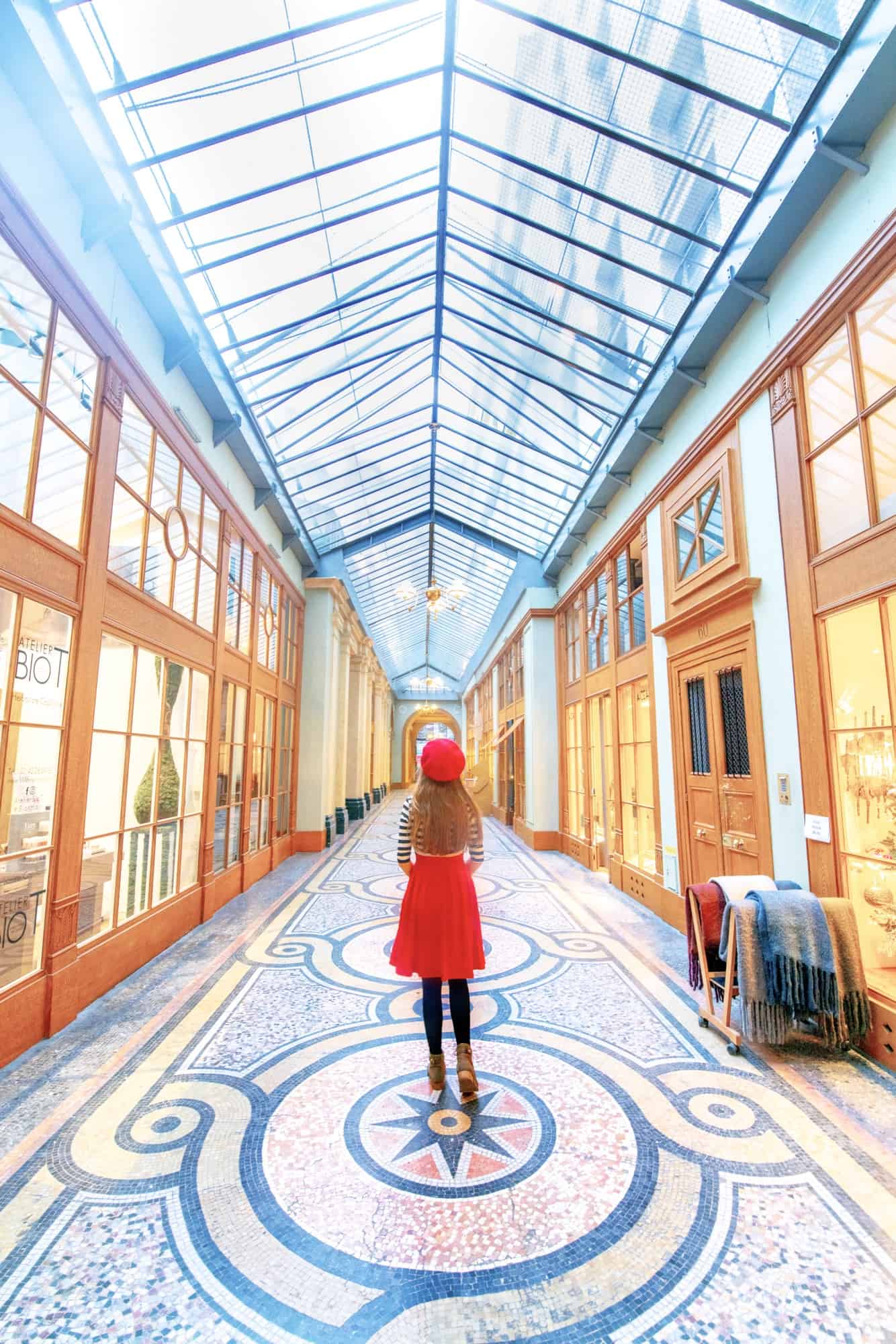 Jardin Luxembourg and Luxembourg Palace
It's easy to see how this destination got onto this list of the most beautiful places in Paris because as the former residence of King Henry IV's widow Marie de' Medici, it's a palace suitable for a queen. Marie de' Medici purchased the former Hotel de Luxembourg along with its vast land and then in 1612 she commissioned Salomon de Brosse to rebuild a new castle and garden modeled after that of the Pitti Palace in Florence Italy. Deep within the Renaissance and no stranger to the finer things of this era, Marie de' Medici wanted a glorious piece of luxury where she could live the rest of her years surrounded in beauty and fabulous decorations.
The gardens are the most famous attraction of this destination with inspirations in their creation stemming from the traditional, luxurious French style and also the English style which is actually considered quite wild. No matter how much time you wish to spend here, with over 60 acres of the garden open for exploration to the public there will always be something new to see to keep things interesting. You will undeniably feel like royalty walking around this gorgeous land while enjoying the quaint sensation of serenity for which it was designed to envoke. All these factors combined are what makes it one of the most beautiful places in Paris.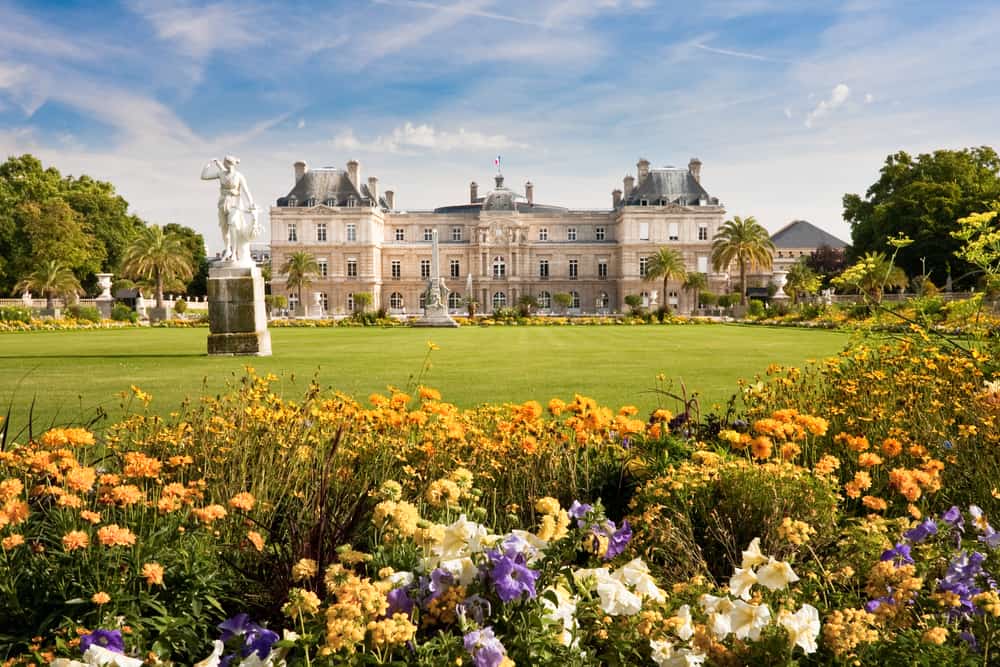 The Colonnes De Burren Installation
A photogenic art installation which has been standing since the mid-80s and a location we have now featured twice here on Follow Me Away (Because we are all obsessed with it) is The Colonnes De Burren Art Installation in the courtyards of Palais Royal. Back in January, we mentioned this particular location in our article about the perfect Paris photography locations and we had to mention it here too as a recommendation for beautiful places in Paris too because we can't get enough of this fun installation.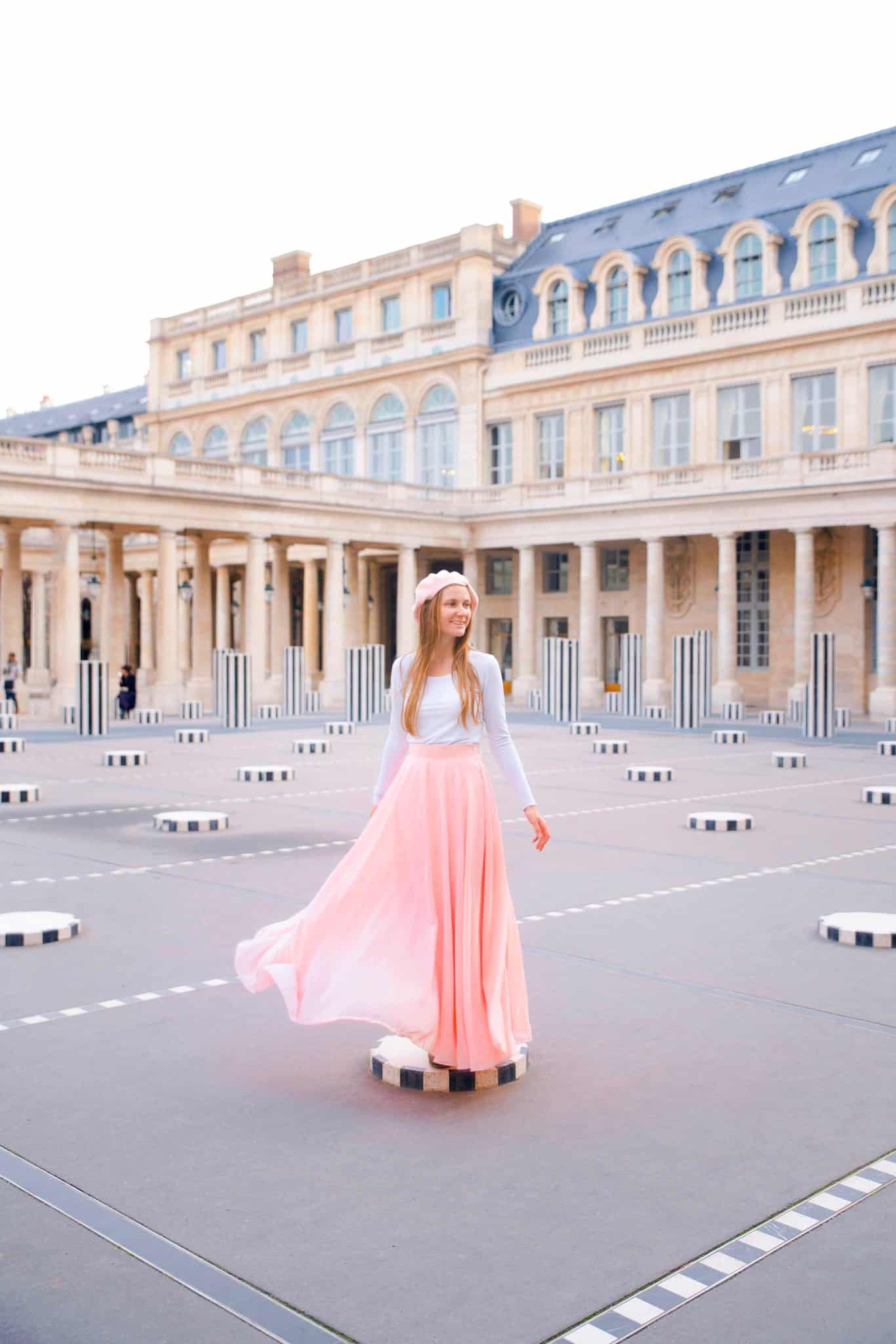 It's not hard to find beautiful places in Paris. The city drips magic and romance from every corner of its streets to the highest steeples of its many cathedrals. Visiting Paris is truly an experience that will make you a dreamer of idealistic thoughts, even if just for a little bit. It's important to make the most out of your trip and to do that, it's helpful to really know the top spots to experience so we hope you found this article helpful so you can make your Paris dreams come true and have the time of your life. As always, safe travels and we wish you a magnificent adventure. Eat lots of croissants for us!