Are you looking to plan the most romantic Paris honeymoon? You have come to the right place! First of all, congratulations on getting married and choosing to plan a Paris honeymoon.
Planning your trip to Paris last minute?
Make sure to book your hotels and tours in Paris in advance to ensure availability! Here are our top picks for your trip!
Top experiences and tours in Paris:
1-Hour Seine River Cruise (Super fun/affordable! We loved it!)
Hop-On Hop-Off Bus Tour (Great way to see the city)
Tickets you MUST book in advance:
Top Hotels In Paris:
Hôtel des Arts Montmartre (Good location and moderate price)
Le Katorze Hôtel (Budget option with 4 star rating)
Hôtel D'Aubusson (Luxury central location with pool!)
Paris is one of the most romantic cities in the world and the culture perfectly blends the old and the new. Whether this is your first time in Paris and you want to see all the major sites, or you have been many times and you are returning to old favorites, there is something for everyone!
You will enjoy sultry summer evenings or cozy winter days and Paris is a great place to connect with your spouse after the wedding.
We fell in love in Paris and it is our favorite city in the world. These are all of our personal recommendations and some hidden tips so you can plan the best honeymoon in Paris possible! We love it and we are confident you will as well. There is truly no better place to spend the days after your wedding.
From fantastic museums to the best restaurants in the world, Paris has so many options to choose for your honeymoon. You can honeymoon in Paris all year round so no matter what time you get married, the City Of Light will be waiting for you. This guide will show you exactly how to plan your Paris honeymoon, from what to see to where to stay and exactly what you shouldn't forget to pack! And once again, congratulations on your upcoming nuptials!
How To Plan The Perfect Paris Honeymoon
When To Honeymoon In Paris
There is no bad time to plan your honeymoon in Paris! The best part about Paris is the fact that you can visit at any time during the year, and it will still be beautiful. Paris is an all-year destination, which makes it perfect for your Paris honeymoon! However, this city is typically less crowded during the winter, especially in late fall and early winter. We personally love visiting Paris in the winter and it makes a grand time for a romantic honeymoon.
If you are planning on going to Paris during the summer, make sure to be aware that it will be crowded with summer tourists and travelers. The summer season also brings longer hours of daylight so there is more time for exploring. However, make sure to check to see if your hotel has air conditioning because the heat in Europe has been really bad for the past few summers and you don't want to be doing the bad kind of sweating on your honeymoon!
The shoulder season [not winter and not summer] is also PERFECT for planning a honeymoon in Paris. Fall leaves and spring flowers make for wildly romantic backdrops as you stroll down the Seine and into cute cafe after cute cafe!
Read next:
The Ultimate Guide To Visiting Paris In Winter
The Ultimate Guide To Visiting Paris In The Spring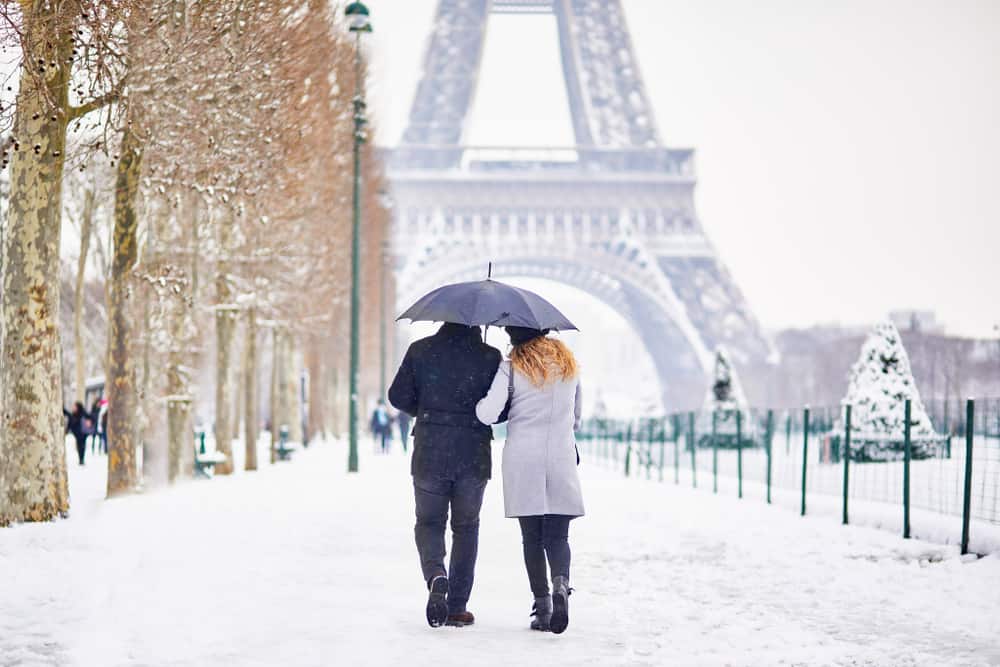 Understanding Paris Neighborhoods
Before you can choose where to stay in Paris for your honeymoon, you must understand the Paris Neighborhoods and how they are set up. This will help you understand what area is right for you and where each location is in a bit more detail when we are showing you the most romantic Paris honeymoon hotels below!
Paris is set up into 20 Arrondissements or neighborhoods if you find that word confusing to say. The Arrondissements being with Arrondissement 1 which is located in the center of Paris near the Louvre and unfurl across the city like a wheel or a clock. The Arrondissements "unwind" across Paris so to speak. We personally love the 7th district as we like to walk to the Eiffel Tower, but each of the honeymoon hotels here are in great areas!
Each Arrondissement in Paris has its own unique charm and character and this will depend on what you are looking for and what you want out of your trip. We are here to tell you that each and every one of the Arrondissements in Paris is pretty well connected by the Paris Metro so you don't have to worry at all! Having a basic understanding of how the city of Paris is laid out will truly help you when planning your honeymoon in Paris.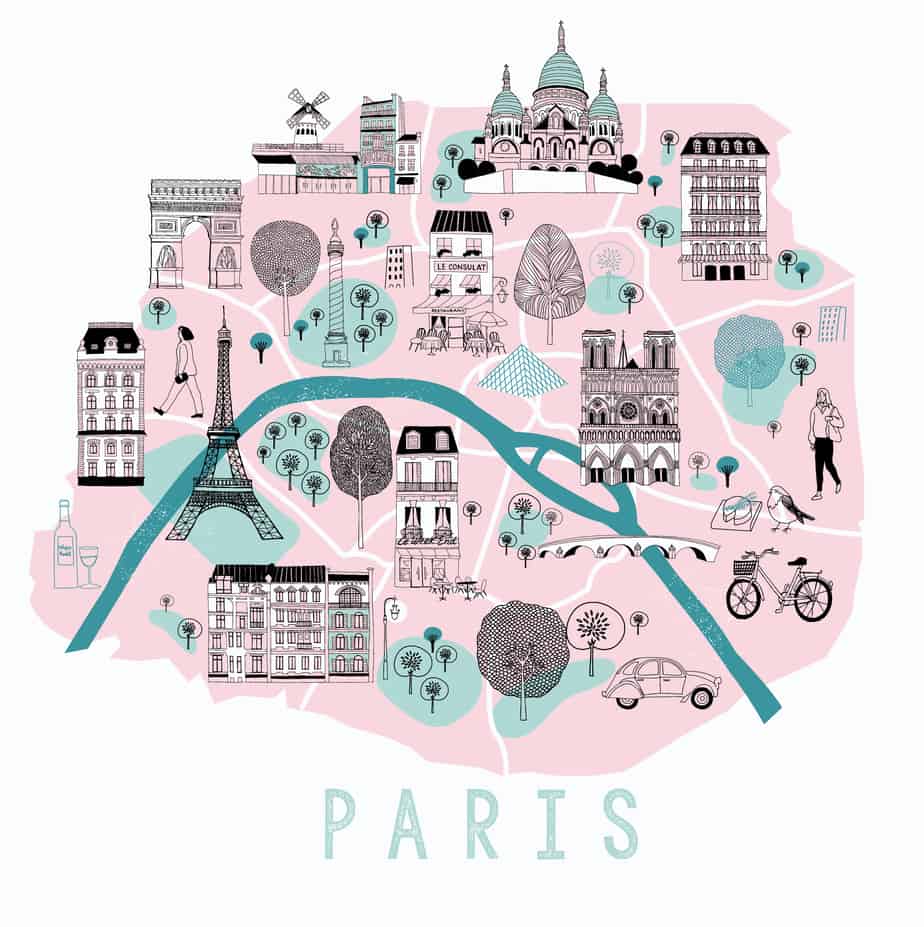 Most Romantic Paris Hotels
If there was ever an ultimate place to spend your honeymoon, it is in Paris!! Imagine this! Waking up to your own personal view of the Eiffel Tower. Strolling to breakfast at a nearby cafe. Exploring the city and then coming back to your dreamy hotel to see the Eiffel Tower sparkle in the distance as you enjoy the splendid views. There are so many options for where to stay on your honeymoon in Paris and these are some of the best hotels that you must consider!
If you want to see more:
10 Dreamy Paris Hotels With A View Of The Eiffel Tower
Hands Down, This Is Where To Stay In Paris
15 Best Boutique Hotels In Paris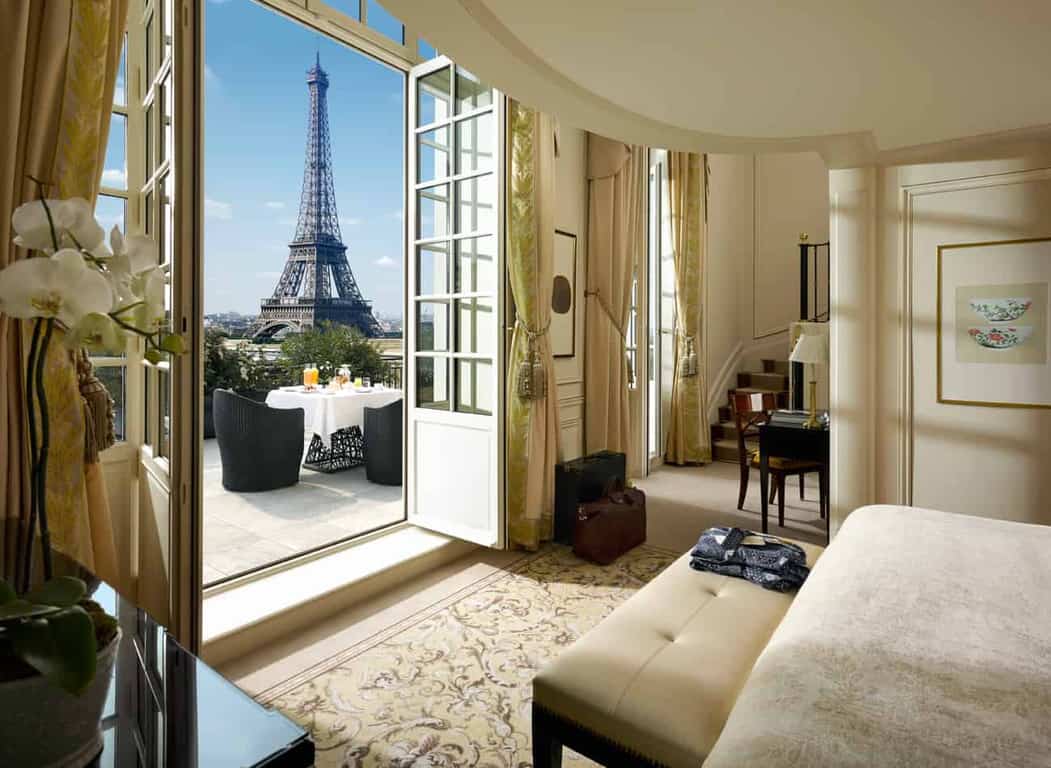 Hotel Relais Bosquet
The 7th district is where to stay in Paris if you want to be close to the Eiffel Tower! There are plenty of Eiffel Tower view hotels but the 7th is where to stay if you want to be super close! Hotel Relais Bosquet offers views of the Eiffel Tower and is located close to public transportation and Champs de Mars.
This is one of the best 5-Star Hotels In Paris! If you are looking for the best Paris honeymoon hotel with a view of the Eiffel Tower as well as walking distance away [less than 5 minutes] you have come to the right place!
Check Rates: Booking.com
Hôtel Regina Louvre
If you are on the search for romantic Paris honeymoon hotels and luxury hotels are what you are looking for, Hôtel Regina Louvre is the perfect place for you. This hotel in Paris is designed with classic Parisian design and decor so if you are looking for something stylish, this is one of the best places to stay in Paris! Our favorite part? The fact that some rooms have Louvre views! You really can't beat that for a hotel in the 1st district!
Check Rates: Booking.com
The Peninsula Paris
The Peninsula Paris is one of the top luxury hotels with a view of the Eiffel Tower on the market. If you are looking for the best of the best this is the place for you. Just steps from the Arc De Triumph, Peninsula Paris is one of the most sought-after properties for a honeymoon in Paris. If you want to stay here, you are going to want to check rates and availability immediately and book as soon as possible because it sells out quickly! This is THE place to spend your Paris honeymoon and you won't regret it!
Check rates: Booking.com | Hotels.com
Hotel Raphael
Many of the best hotels with a view of the Eiffel Tower are located near the Arc De Triumph and it is no wonder because the skyline views are just fantastic. Hotel Raphael is no exception and it is a gorgeous 5-star property right off the Champs-Elysee and one of the best Paris honeymoon hotels. It features a stunning rooftop terrace with sweeping views of the Eiffel Tower and is just a 2-minute walk away from the Arc De Triumph. What better way than to spend quality time with your love?
Check Rates: Booking.com | Hotels.com
Le Metropolitan
Le Metropolitan, a Tribute Portfolio Hotel is located in the 16th district of Paris which is where we stayed on our very first visit. It is a more upscale and less touristy area! Surprisingly, Le Metropolitan is one of the more reasonably priced 4-star honeymoon hotels in Paris with an Eiffel Tower view in Paris, especially for being located in such a fancy neighborhood. If you are looking for some Eiffel Tower balcony views make sure to request the "Eiffel View Suite" which features a little balcony and large living and sleeping spaces. This is truly the perfect honeymoon escape!
Check Rates: Booking.com | Hotels.com
Hotel Rivoli
When searching for where to stay in Paris, it is hard to go wrong with choosing Hotel Rivoli in the 4th district. Hotel Rivoli is a boutique hotel located in the heart of this fabulous area and is truly one of the best places to stay in Paris. Some of the rooms at Hotel Rivoli even come with a private balcony so you can overlook the city of Paris at your leisure. It is also located near transportation which makes getting to other parts of Paris easy. This is a great hotel for your honeymoon in Paris because it is affordable but still beautiful and offers great views!
Check Rates: Booking.com
Timhotel Montmartre
Many of the rooms at Timhotel Montmartre have sweeping views of the city! If you are looking for a great Paris honeymoon hotel with good views and good reviews, consider this stylish and modern hotel located in the 18th district. It is a very good price while still being nice and has lovely views of Montmartre and the city of Paris! The hotel is casual with free wifi and is located high above the city center of Paris. The rates are quite good for a mid-range hotel too!
Check Rates: Booking.com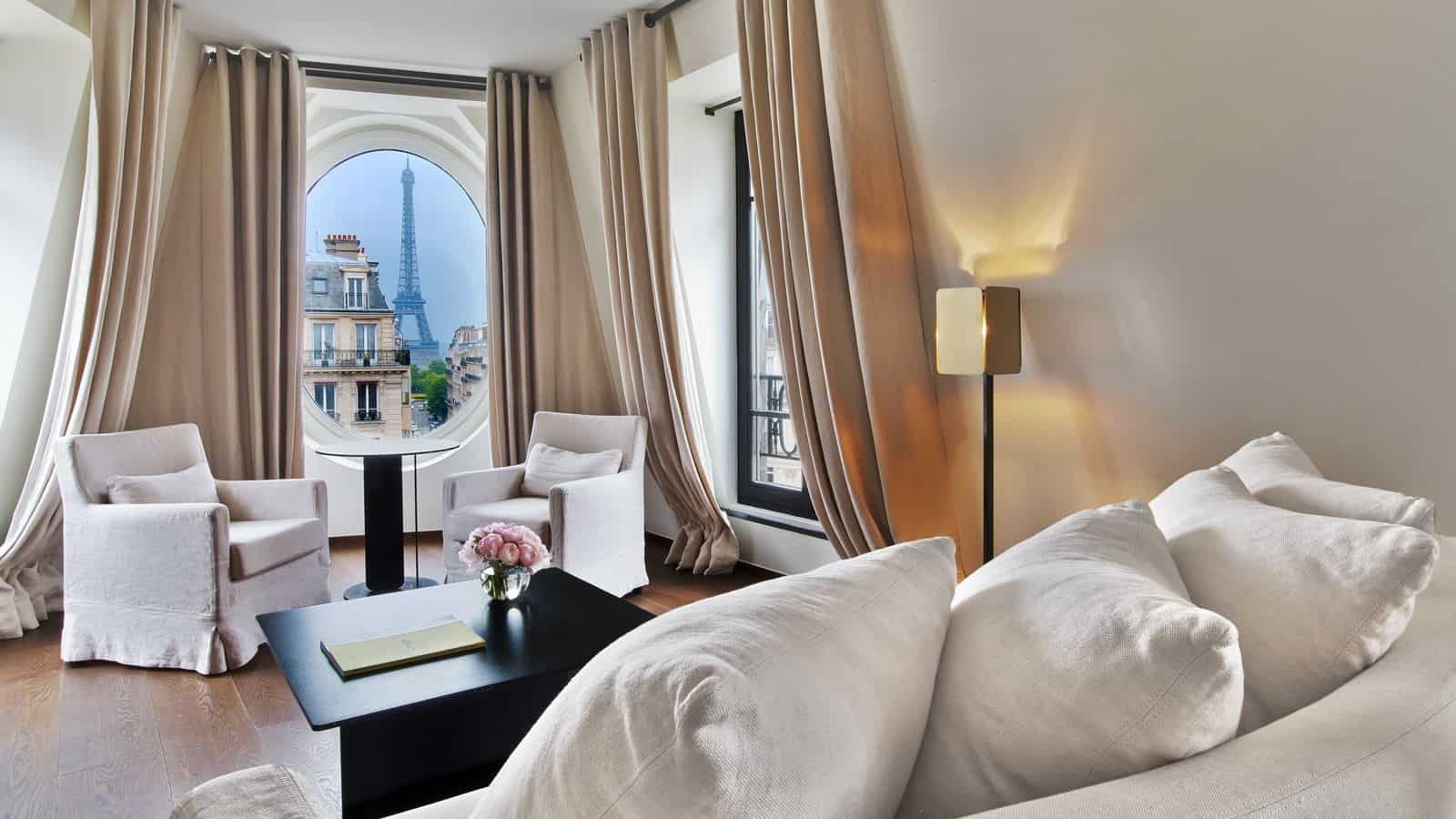 What To Do On Your Paris Honeymoon
There are so many things to do on your honeymoon in Paris! We visit Paris every year and we still never tire of it. There are so many fun things to see and do. If you are looking for romantic experiences and foodie favorites, you have come to the right place. Want to learn about history or get off the beaten path? Don't worry! Paris has you covered. From the lesser-known things to do in Paris to the highlights and must-sees, we are going to take you through exactly what you should do on your honeymoon in Paris!
Our number one tip is to BOOK IN ADVANCE and online! This will save you from standing in long lines which we can personally attest are as bad as they say. There is nothing more annoying than standing for an hour just to get your ticket. If you book online in advance you are able to save money and save time standing in line.
Take In Paris From Above On Top Of The Eiffel Tower
Just because it is cliche does not mean that you should forgo a trip up the Eiffel Tower. If you have never gone up the tower, don't skip it. Going up the Eiffel Tower on your honeymoon is a super romantic way to kick off your trip! There is a bar at the very top of the tower so you can toast to your new nuptials from the very top!
If you don't want to ride all the way to the very top, at least go up in the two floors of the base! You can eat at one of the restaurants there which we did for a birthday and loved it. The experience is so unique and a great way to eat dinner on your honeymoon in Paris. A word from the wise, BOOK IN ADVANCE!! You do NOT want to be stuck standing in an hour line [we know because we have done it!] during your honeymoon!
Skip the line by booking your Eiffel Tower entrance online:
Eiffel Tower Second Floor Priority Access
Dinner at 58 Tour Eiffel with Priority Lift Tickets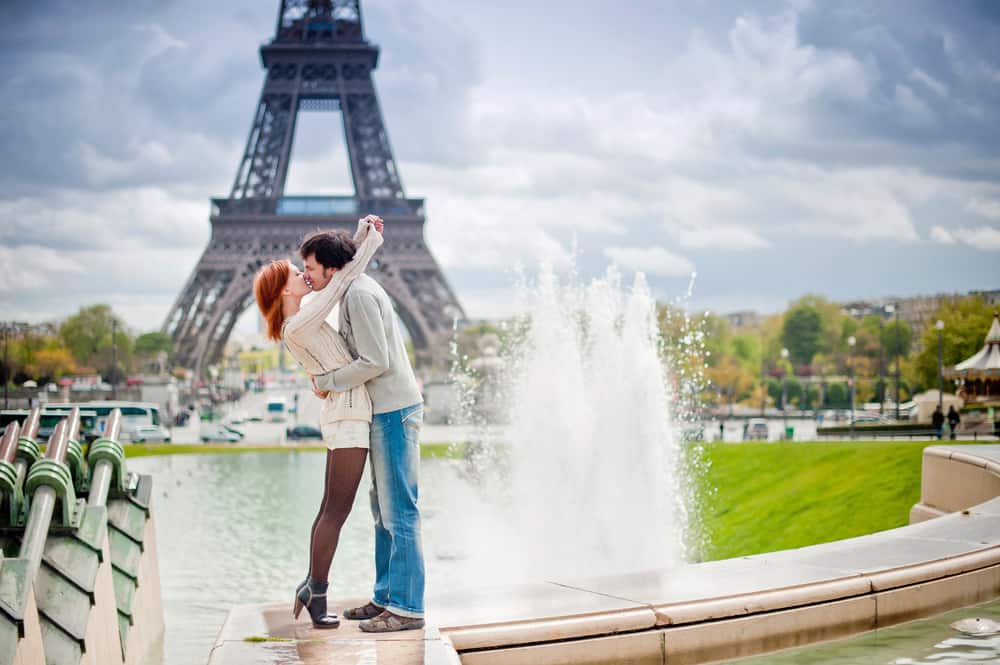 Catch Some Incredible Views from the Arc de Triomphe
Many people know about being able to go to the top of the Eiffel Tower to see some incredible views of the city, however, the Arc de Triomphe is our favorite as the view from the top includes the Eiffel tower in the city skyline. If your Paris honeymoon hotel is near the Arc De Triomphe, then you could do this every day if you wanted!
Who wouldn't want the Eiffel Tower in the pictures of the iconic Paris skyline? There is a charge to go to the top of the Arc de Triomphe putting you back anywhere from 9-12 euros and the last admission is 45 minutes before closing. There is an app you can download called "Affluences" for live updates on wait times, or you can check the Arc de Triomphe website. If your honeymoon in Paris falls on the first Sunday of the month then your admission is totally free!
Skip The Line And Get Your Arc De Triumph Tickets Online:
Skip The Line Arc De Triumph Rooftop Tickets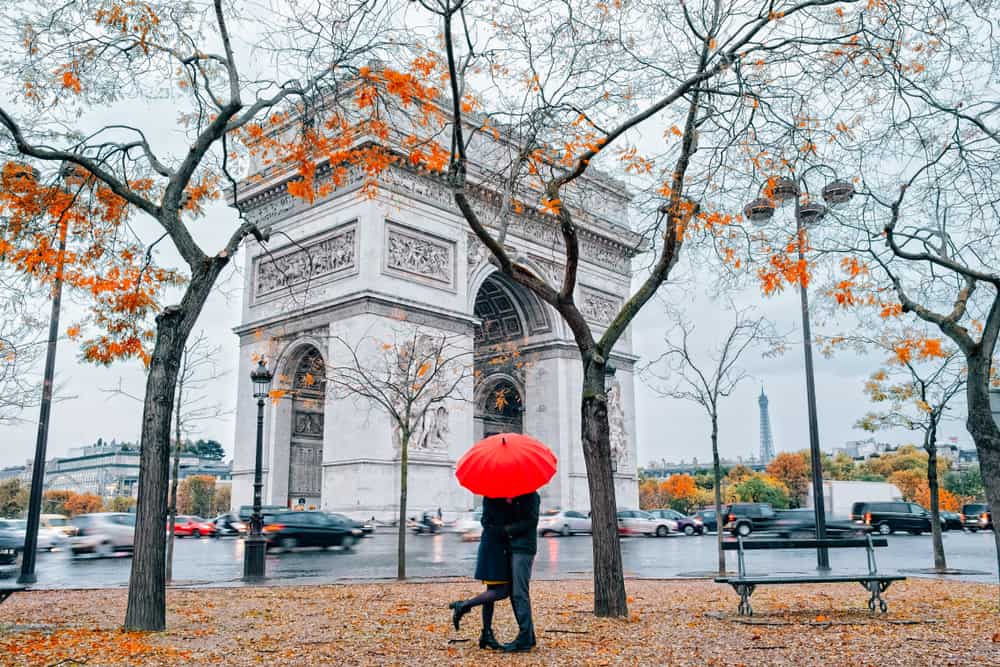 Shop Along The Champs-Elysées
While you did just spend a ton of money on a wedding, you should still go take a walk down the Champs-Elysees! There is nothing more magical than a walk along the Champs-Elysées on your honeymoon in Paris, holding the hand of the one you love! If you don't want to spend any money, that is okay! Just head to the street and walk along it and enjoy all of the lovely storefront windows! Take the Metro to either end of the Champs-Elysées and window shop your way up and down the streets! There are plenty of good places to eat if you need to refuel during your walk.
For you foodies exploring Paris on your honeymoon, there are several Michelin Star restaurants, many of them have terraces to sit out on while you are eating and enjoying your drinks in the French tradition. Among these Michelin Starred restaurants located along the Champs Élysées is Ledoyen, one of the oldest restaurants in Paris with classic French food that is quite pricey but definitely worth the experience.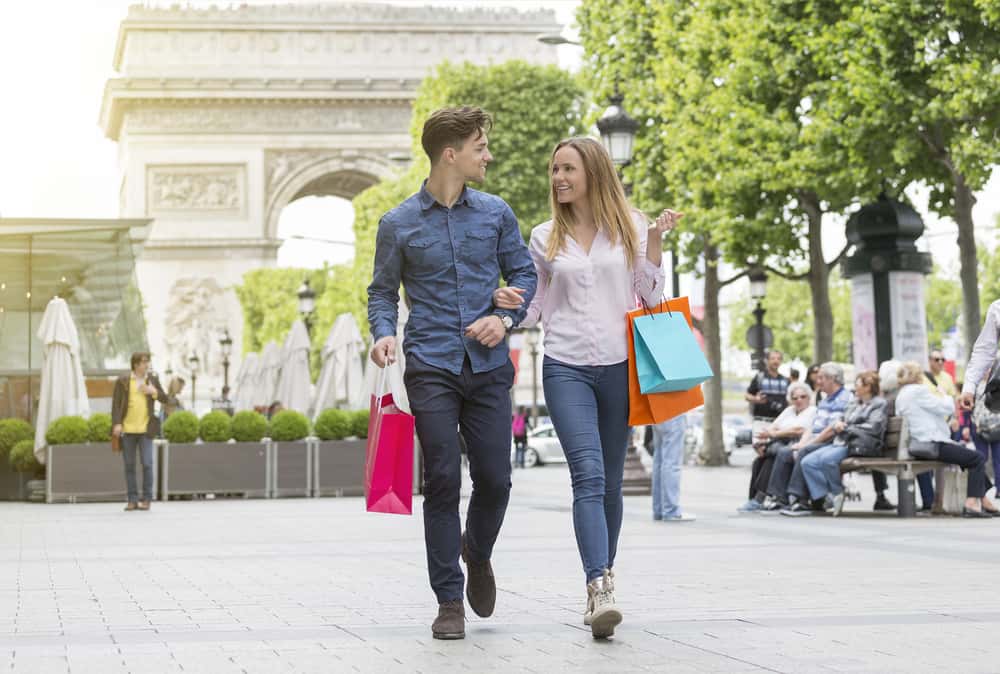 Take An Authentic French Cooking Class
You just got married and are building a life together! Why not take a cooking class and then use what you learned after your honeymoon in Paris comes to an end? This is a great way to make memories and to learn something you can use your entire life!
From delicious crepes to fluffy Macaroons, the food is truly out of this world. There are so many options for cooking classes, from learning the secrets of French pastries to learning how to bake local loaves of bread there is truly a Parisian cooking class for everyone! Make sure to discuss with your sweetheart about the type of class you are interested in taking so that you are both on the same page and you will have a great time learning something new!
Book here: Learn The Secrets Of French Pastry From A Parisian
Book now: French Macaroon Baking Class
Book here: 2-Hour French Bread Making Class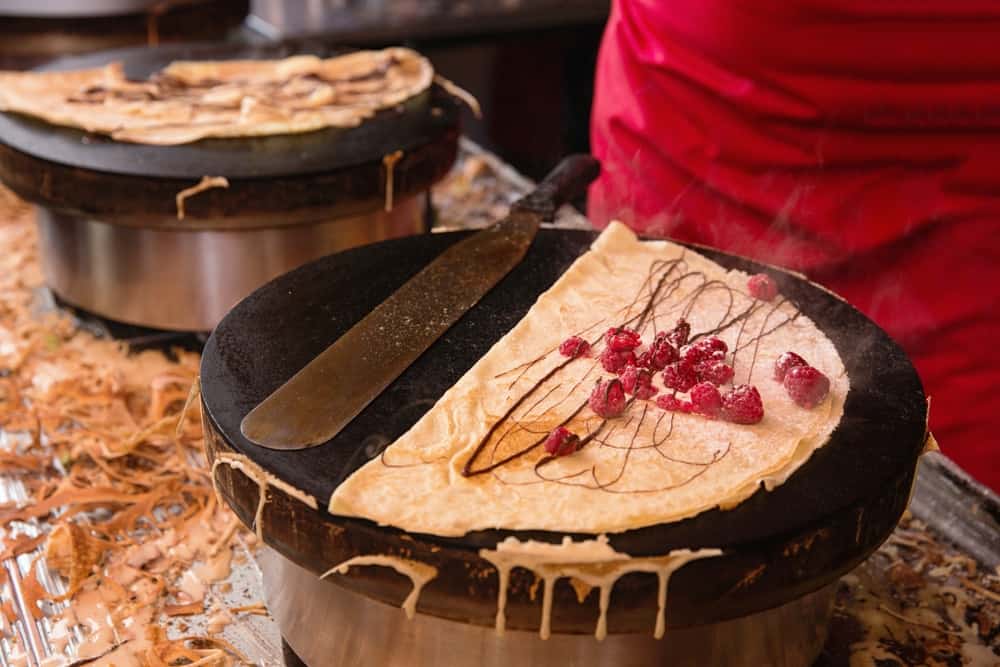 Explore The Louvre
The Louvre is a must-see during your honeymoon in Paris! You really shouldn't miss it and there is something to discover each and every time you visit! There is a seemingly endless amount of paintings, statues and more that you can visit at the Louvre museum. We would recommend buying your tickets ahead of time on the Louvre website (typically around 30 euros) as this allows you to enter the much shorter queue for pre-bought passes.
When you are walking up to the entrances, there are almost always several men that will walk alongside you in an attempt to sell you to tickets. THIS IS A SCAM. Do not buy your tickets from them! Buy them from a reputable company or better yet, from the official Louvre website.
You can buy a Louvre Entrance Ticket here and choose the time that you want to visit. Make sure to budget at least 4-5 hours at a minimum for exploring the Louvre during your honeymoon in Paris.
If you are able, head to the Louvre early in the morning for some incredible photo-ops. If you get there early enough, it can be relatively deserted, which makes for some epic photographs and a stunning sky with the sunrise. This is a wonderful way to make some Paris honeymoon memories you won't soon forget!
Skip the line by booking your Louvre Tickets online:
Book here: Louvre Skip The Line/Timed Entrance Ticket
Book here: Skip The Line/Louvre Scandals Tour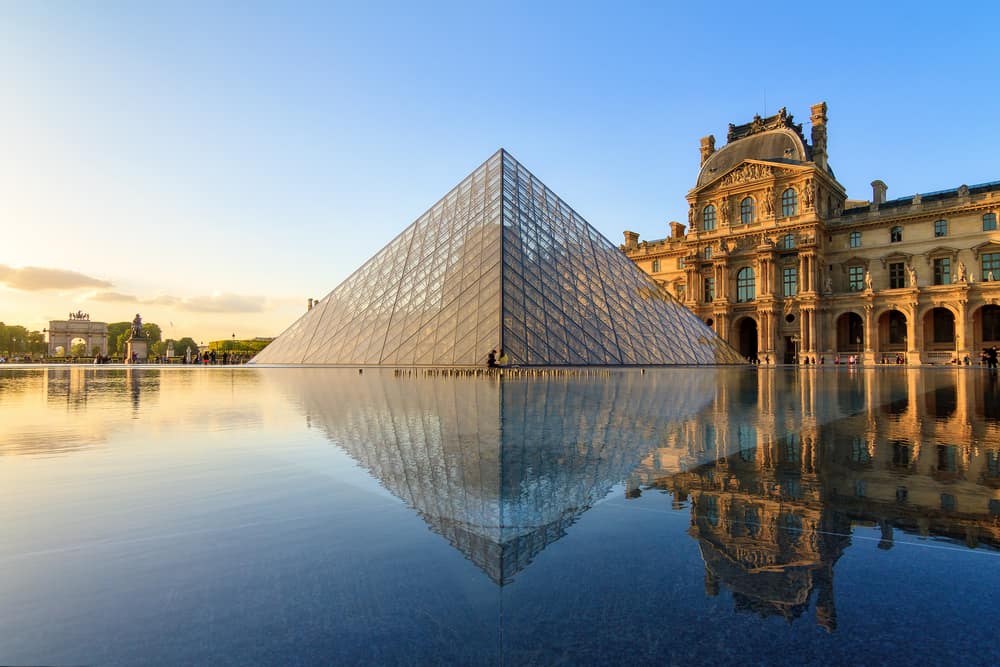 Stroll Down Cute Parisian Streets
This is one of the best free things to do on your Paris honeymoon! Check out the 10 Cutest Streets In Paris and then go for a visit! From huge shopping streets to tiny cobblestone streets, there is something adorable to visit for everyone! If you plan on waking up early during your honeymoon in Paris, go ahead and pick up a pastry and a cafe and go for a morning stroll. There is nothing better than seeing all the shop owners setting up for the day.
If you are looking for some colorful spots, we recommend Rue Cremiux but make sure to be respectful. It is a bit out of the way but it is still really colorful and pretty! We also LOVE Rue Dominique and it is a personal favorite for us! Make sure to check out the article on where to go and what to see!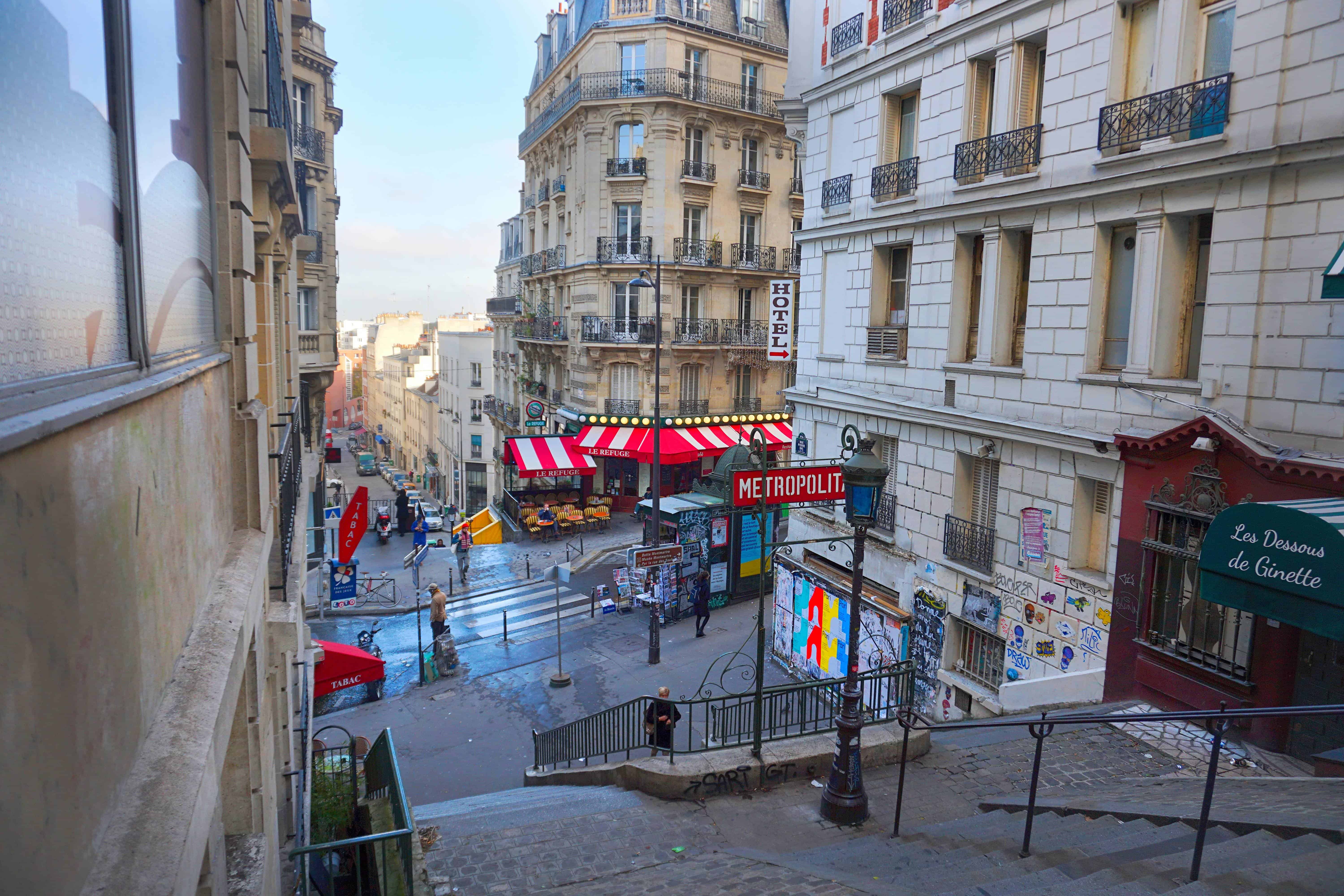 Don't Miss Montmartre
Montmartre used to be a less popular part of Paris but those days are long gone! Montmartre is one of the cutest areas in the city and you won't want to miss it during your honeymoon in Paris! Have you heard of the Moulin Rouge? This is the neighborhood where it resides! There are famous cathedrals and quaint cafes. There is even a vineyard and we know how much ya'll love wine!
If you want to get off the beaten path a little bit, make sure to visit Montmartre or even stay here! It is also the highest point in the city so you will have breathtaking views of the rest of Paris. This is a wonderful place to go for dinner and then watch the sunset. We also highly recommend a tour of Montmartre so that you really get deep into history!
Cool Tours Of Montmartre To Consider
Sacré-Coeur and Montmartre Tour with Expert Guide
Paris: Montmartre 2-Hour Walking Tour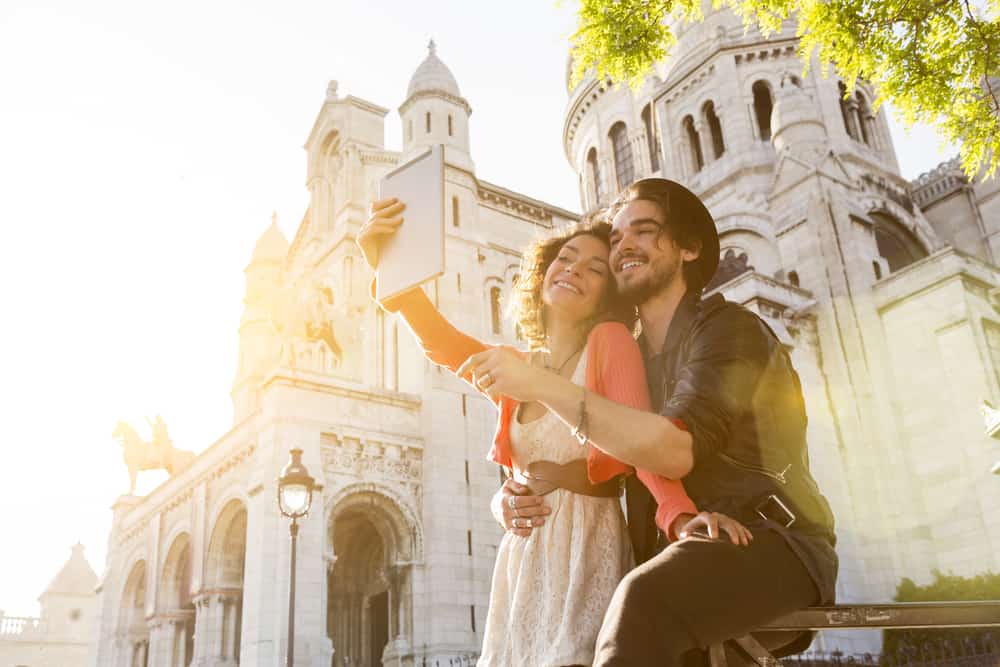 Discover The Covered Shopping Passages In Paris
This is something many people planning their honeymoon in Paris miss and it is a HUGE mistake! This is one of the coolest and most unique things to do on your Paris honeymoon. There are many covered shopping passages in Paris and they harken back to days past! We found the 10 Best Covered Passages In Paris but if you can only visit one we recommend Galerie Vivenne because it is the prettiest!
Galerie Vivienne is a lesser recognized destination yet still one of the most beautiful places in Paris and the perfect covered passage/shopping street to spend a rainy Parisian day. It's an exquisitely decorated walkway which makes for a lovely and luxurious stroll after a yummy brunch. Built in the year 1823 near the Palais Royal, Galerie Vivienne is a destination which is easily accessible from some of Paris's other landmarks making it an easy to fit in yet also highly recommended visit. If you want to visit something unique during your Paris honeymoon, you will love the covered passages.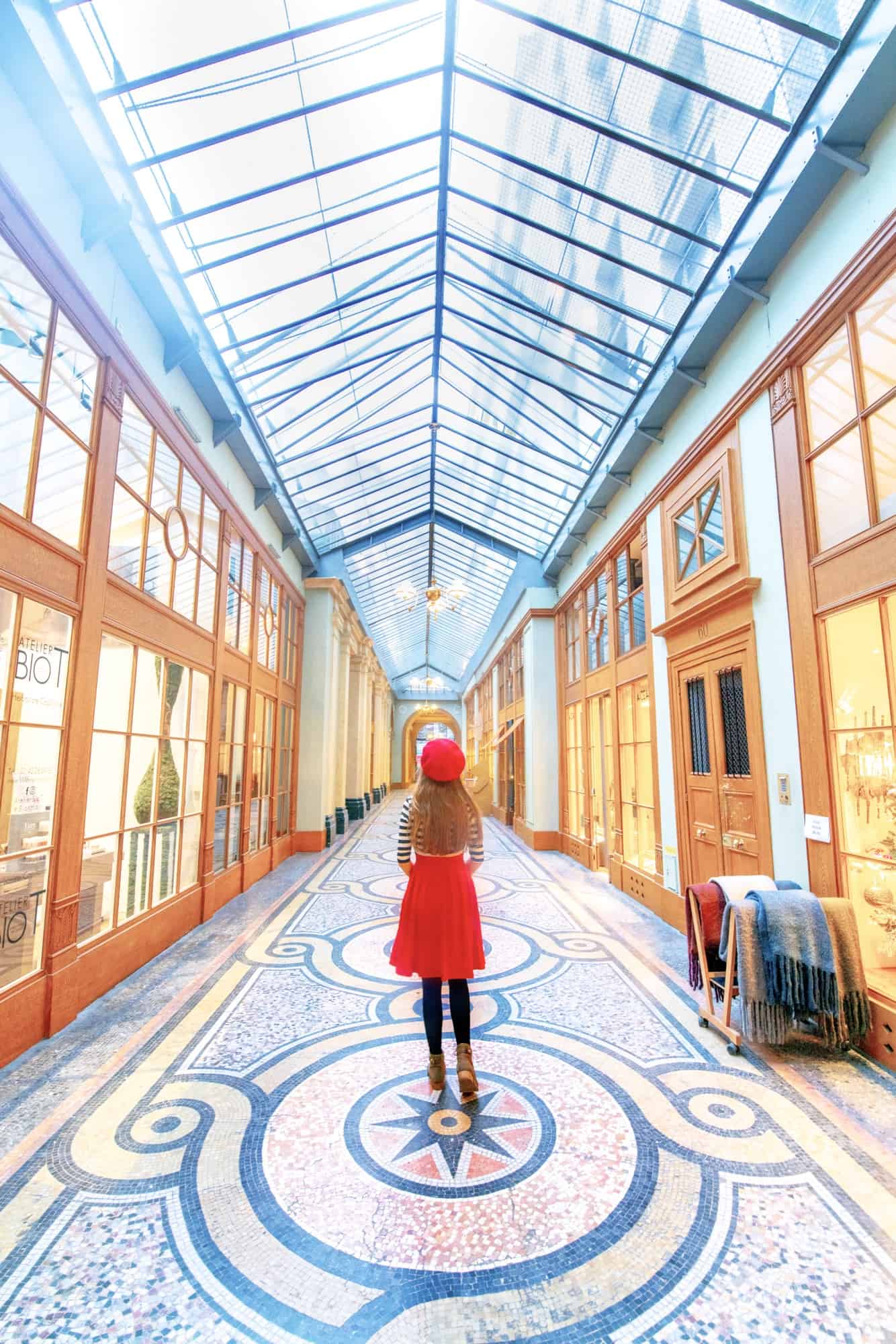 What To Pack For Your Honeymoon In Paris
#1. A Travel Adaptor Specifically Designed For French Outlets
Listen up folks: If you think you will travel to Paris for your honeymoon and your plugs will work in French outlets you may be in for some bad news. Depending on where you are from, you will not be able to plug into a French outlet from the moment you arrive in the country, especially if you are from the USA! Make sure to add a travel adaptor specifically designed for French outlets to your honeymoon packing list. You don't want to have dead electronics during your Paris honeymoon, so make sure to invest in an adaptor!
#2. Reusable Filtered Water Bottle To Save Time And Money
While the drinking water in Paris is considered safe, it will still be different than where you are from. As a result, if you have a sensitive tummy, you may pick something up when drinking unfamiliar water. And here is another hard truth: many restaurants in Paris CHARGE MONEY for a basic glass of water. This may come as a shock to anyone who isn't from Europe or a country that does this, so if you don't want to pay for water every single time you go out to eat, simply bring a reusable filtered water bottle and drink that while you dine. The last thing you want to experience on your honeymoon in Paris is a stomach ache from the water you aren't used to!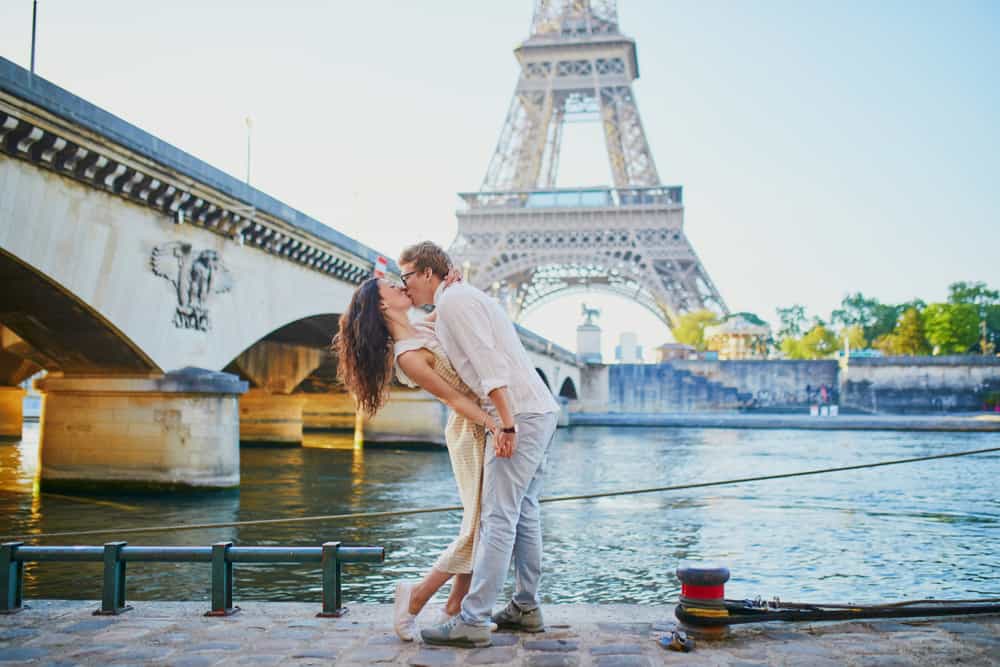 #3. Add A Poncho Instead Of An Umbrella
Oh my, this is one of the biggest things people forget on their packing list! Looking to save space but still stay dry when choosing what to wear? Add a poncho to your packing list instead of a travel umbrella! Unless you are outfitted in a waterproof jacket, pants, and shoes, you are going to need something to stay dry in the event of a squall– and trust us, you want to be prepared for your Paris honeymoon!
A poncho folds up teeny tiny in your suitcase and is easy to throw into a backpack when you're are sightseeing. It is quick to whip out and put on and keeps you more covered than an umbrella. When considering what to wear in Paris, make sure you pick a poncho that is made of quality material so it doesn't rip when you put it on. This is cheap but necessary to bring on your honeymoon in Paris.
#4. Don't Forget A Portable Power Bank
Whether you are going on one of the many tours in Paris, walking around the Louvre for the day, or doing a cooking class, your phone is probably going to die quickly. When planning your honeymoon in Paris, make sure to purchase a portable power bank to bring along for the trip. Portable power banks generally cost from $10-$40 and will help you recharge your phone on the go. Please do not forget to add this to your Paris packing list, even if you aren't usually on your phone, because you don't want to miss the chance to take photos, document, and post on social media!
#5. An Anti-Theft Bag To Keep Your Valuables Safe
Theft and pickpocketing are big in many major European cities, and Paris is no different. That being said, pickpocketing is particularly bad in Paris and we have personally been robbed AND have caught people in the a. Simply wear a cross-body bag [never a backpack] and keep your hand on the zipper at all times. If you don't already have an anti-theft cross-body bag added to your Paris packing list, now is the time to made some adjustments. You want to be safe and secure during your Paris honeymoon!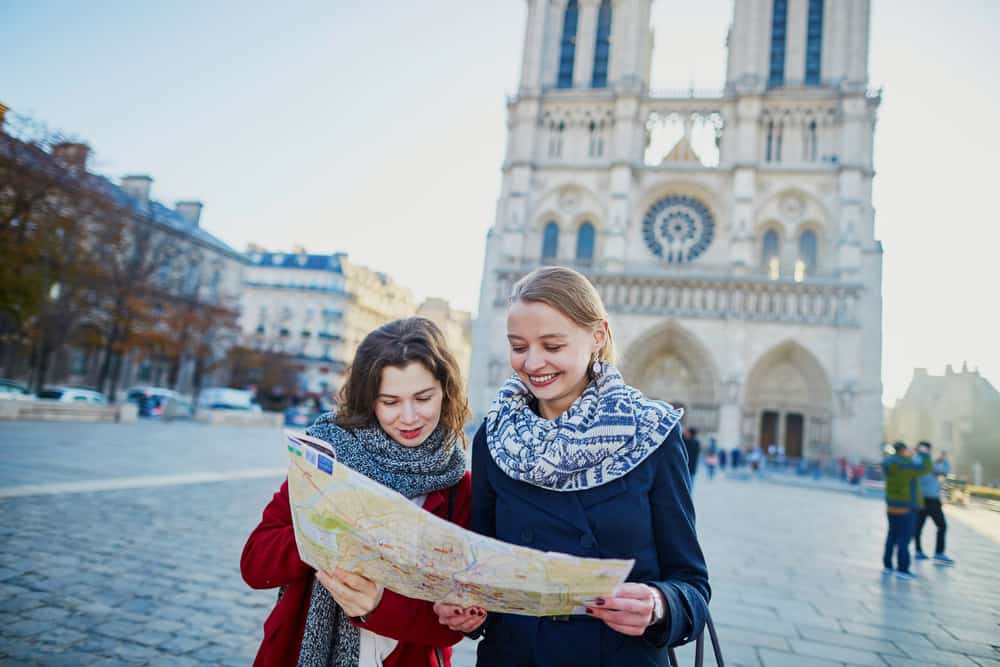 Where To Eat In Paris
Paris is a HUGE foodie city and part of the fun is discovering places for yourself. That being said, start your honeymoon in Paris off right by visiting some places we have already tried and highly recommend. Once you have gotten a taste for the diverse cuisine, you can then branch out and explore your own choices.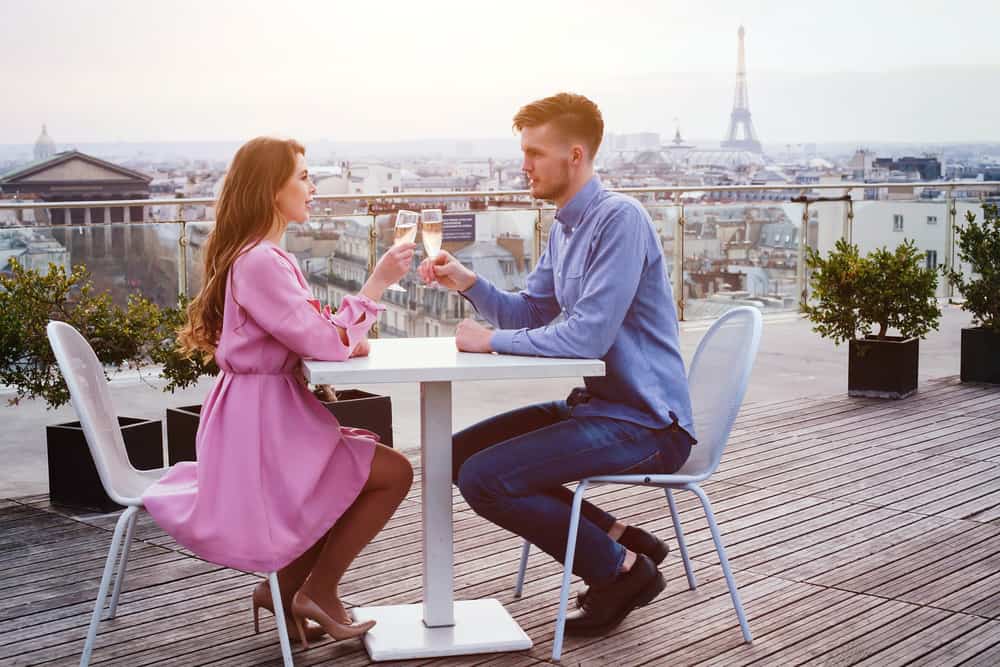 Getting To Paris For Your Honeymoon
Getting to Paris for your honeymoon is actually quite easy! Flights are generally more affordable than ever and if you book in advance you are sure to get a good deal! Charles de Gaulle is the main airport in which people fly into and the Paris Orly airport is secondary and a bit further out of town.
Once you land, you can take an Uber or Taxi into town or take public transportation, which is easy and affordable. We personally recommend taking public transportation such as the Paris Metro due to traffic. Depending on what time you arrive for your honeymoon in Paris check the difference in time between an Uber and the Metro and then go from there!
If you live in Europe or you are already traveling there, you can take one of the many high-speed trains that go in and out of Paris every day! The main train stations in Paris are Gare du Nord, Gare de Lyon, and Gare de l'Est. Spending your honeymoon in Paris has never been easier or more affordable!
Book transfer here: Charles de Gaulle And Orly Airport Transfer
Getting Around Paris
If you are in good fitness, consider taking the Paris Metro! The Metro is a fast, affordable, and easy way to get around on your honeymoon in Paris. The Paris Metro will run rain, shine, snow, and sleet, so it is pretty reliable! You can purchase a metro ticket for 1.90 Euros, a booklet or 10 tickets, or a weekly metro pass, depending on your needs. If you are not able to walk up and down a lot of steps [elevators are rare] or you are in a wheelchair, we recommend taking an Uber as it may be easier and safer. Don't forget to check out our post on 7 Big Mistakes To Avoid On The Paris Metro!
Walking around Paris on your honeymoon is quite enjoyable as you will truly get to discover a different side of the city. Paris is actually quite a large city, so if you plan to walk, remember to wear good walking shoes and to dress appropriately. Finally, depending on the weather, you can also choose to rent a bike and bike around Paris. Biking is very popular among Parisians and there are many local bike stands you can rent from.
Book here: Discover The Heart Of Paris By Bike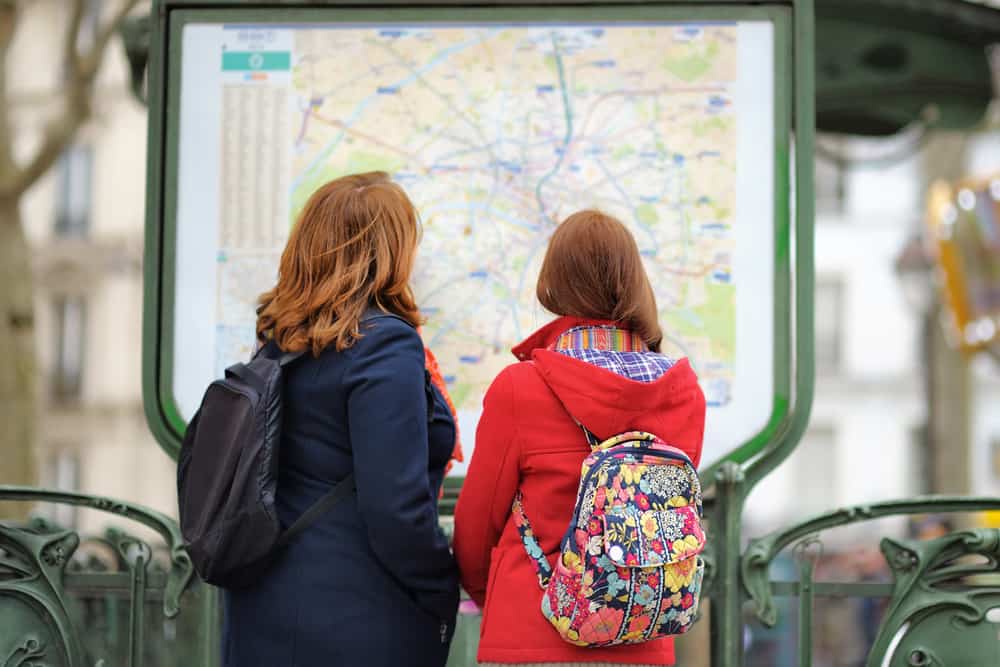 We love Paris and it is our favorite city in the world. It is an incredible destination for your honeymoon. We hope that you found something helpful by reading this guide. We are more than happy to help answer any questions about planning your honeymoon in Paris that you may have! Please don't feel shy to comment below or send us an email! Congratulations on your marriage and we hope that you have a wonderful trip!