Grocery stores in Paris are absolutely essential to visit if you are spending an extended period of time in the city, looking to visit Paris on a budget, or just want a taste of how the locals live! While everyone knows quite a bit about cute Parisians restaurants, there isn't much information out there about French supermarkets. Grocery stores in Paris are surprisingly easy to navigate and visiting one of the many in Paris is a great experience for locals and foreigners alike.
Although it should go without saying, foreigners should note that products in Paris supermarkets are not in English. That means that you need to download some essential travel apps like Google Translate before you go grocery shopping in Paris so you aren't completely lost. If you don't speak French, you will have a hard time identifying ingredients and labels in French supermarkets so a little additional help is always good to have nearby.
Save money in Paris by staying at an Airbnb! Get a FREE $40 Airbnb Coupon by using our code when you book! We stayed at Aribnb's in Paris every trip [we have been 5-6 times] and they really let you live like a local!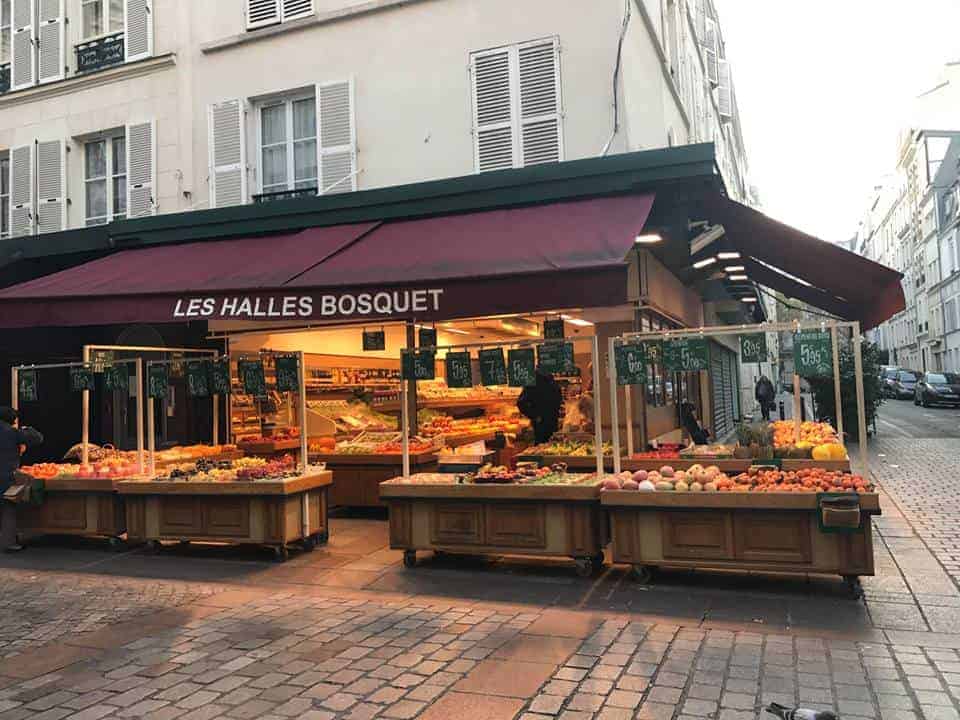 5 Things To Know About Grocery Stores In Paris
#1. Grocery stores in Paris really aren't that expensive
Compared to the high price of food at Parisian cafes and restaurants, Parisian supermarkets are actually quite reasonably priced! When traveling to Paris, you can end up spending money quite quickly. Stocking up on some affordable goods from a Paris grocery store can help your wallet. For example, you can purchase an entire loaf of fresh bread for about $2USD, a liter of juice for $1.50, or fresh ravioli for $2.50.
The prices at supermarkets in Paris are surprisingly low when compared to the price of food, coffee, and alcohol in the majority of the city. If you are on vacation in Paris, head to one of the Paris grocery stores and grab lunch food and some fruit and only eat dinner out. You will get to enjoy a unique perspective on Parisian life and your wallet will thank you!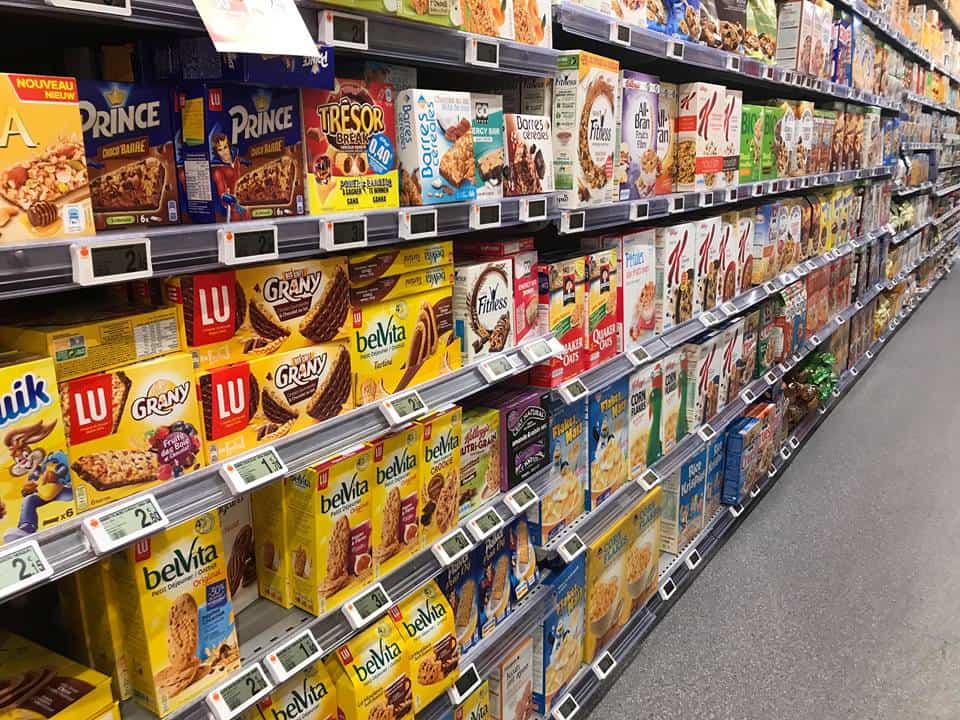 #2. Supermarkets in Paris have a super popular machine where you can squeeze your own orange juice
Who doesn't love fresh squeezed orange juice? The kind from the store tastes okay, but if you have ever put in the effort to squeeze your own, you will know that it has a deliciously fresh taste. Pretty much all of the grocery stores in Paris have their own crazy-cool machine where you put in a whole orange and out pops fresh squeezed orange juice.
You can choose from a few different bottle sizes, depending on if you want to drink some on the go or if you want to take a liter home to enjoy over the course of a few days. If this sounds positively delightful to you, head to just about any grocery store in Paris and get ready to taste this fresh orange juice!
#3. Many grocery stores in Paris don't offer a large selection of fruits or vegetables
While some of the larger grocery store chains such as Franprix and Monoprix do offer a wider selection of fruits and vegetables, many grocery stores in Paris offer very limited options. Don't worry, though! There is usually always an outdoor Parisian market nearby selling a ton of fresh fruits and vegetables.
While Paris grocery stores carry some fruits and vegetables, they carry all of the frozen food items, canned items, and boxed goods. Fruit and vegetable markets in Paris just carry fresh produce and don't carry much else. If you are looking for a specific fresh produce item, a grocery store in Paris may not have it but a smaller Parisian produce market most likely will.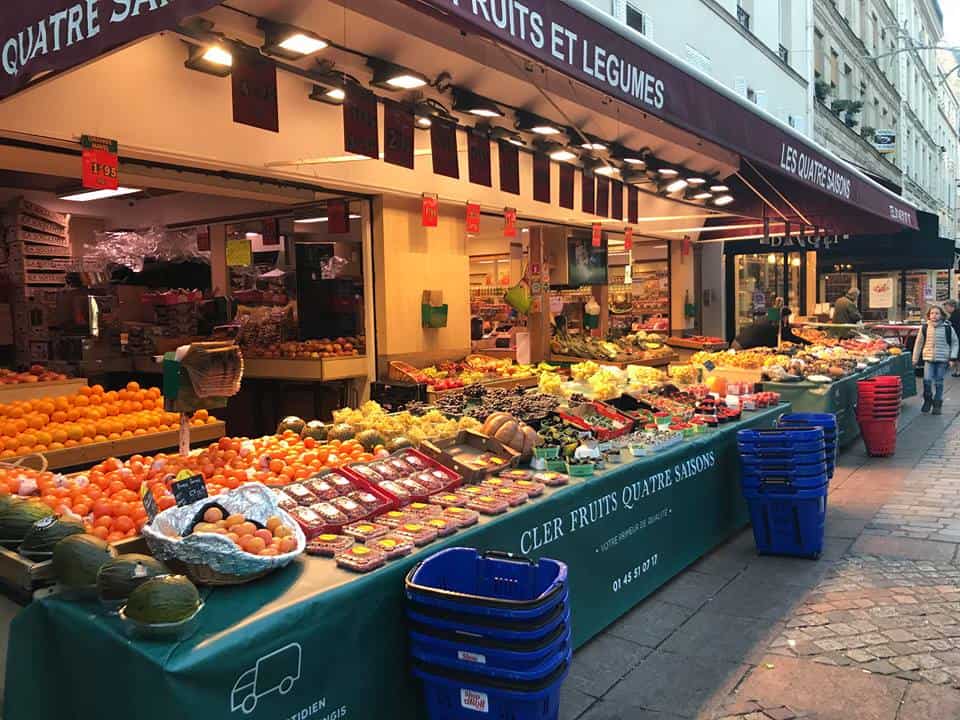 #4. Franprix and Monoprix are the most popular Paris grocery stores
Franprix is the most popular supermarket in Paris and you will most likely find a few in every neighborhood. Franprix stores range from smaller corner stores to larger locations that are quite big by European grocery store standards. Monoprix is another one of the more popular grocery stores in Paris and even offers a variety of home goods, cleaning products, and more in addition to food products.
There are a variety of other Paris grocery store chains in the city along with locally owned French grocery stores. If you are after that tasty fresh-squeezed orange juice mentioned above, you can bet that a nearby Franprix grocery store in Paris has a machine waiting nearby just for you!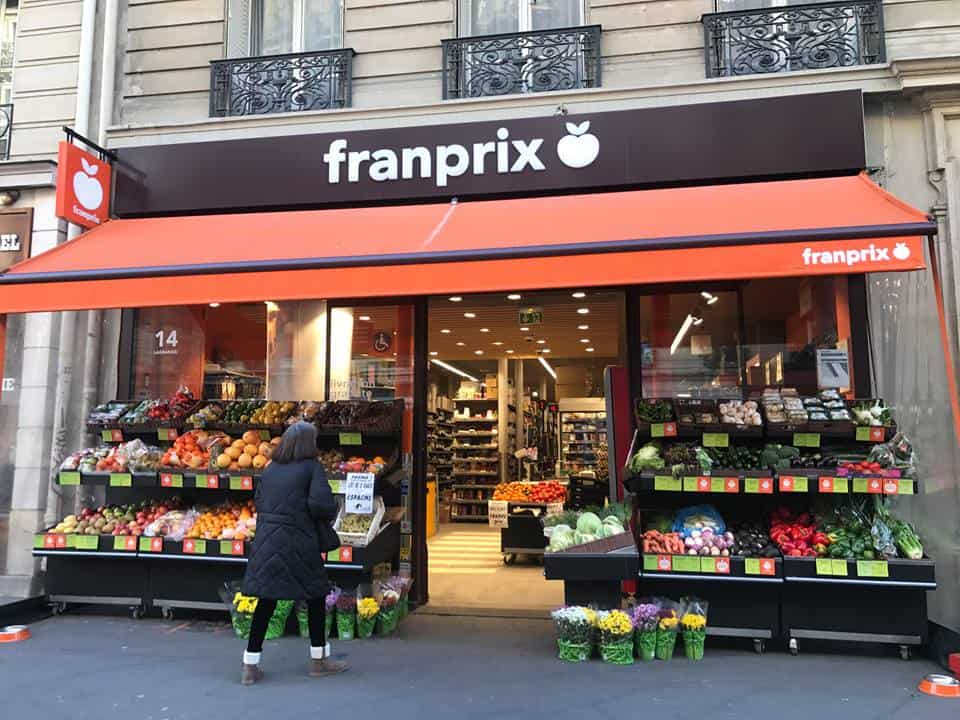 #5. Supermarkets in Paris make you pay for bags so don't forget to bring your own
Europeans are all about "going green" and saving the environment and Paris supermarkets are no different. Like many other European grocery stores, French grocery stores require customers to pay for bags upon checkout. This is a great way to save the environment but can be an unexpected cost if you aren't prepared. You can buy a pack of reusable shopping bags for just $1.50 and toss a few in your suitcase when you travel to Paris.
When going to the supermarket in France, Parisians usually always bring their own reusable grocery bag, pull a little grocery cart, or carry their produce in backpacks. Grocery shop like a true Parisian and bring your own eco-friendly shopping bags so you don't have to pay additional money at checkout.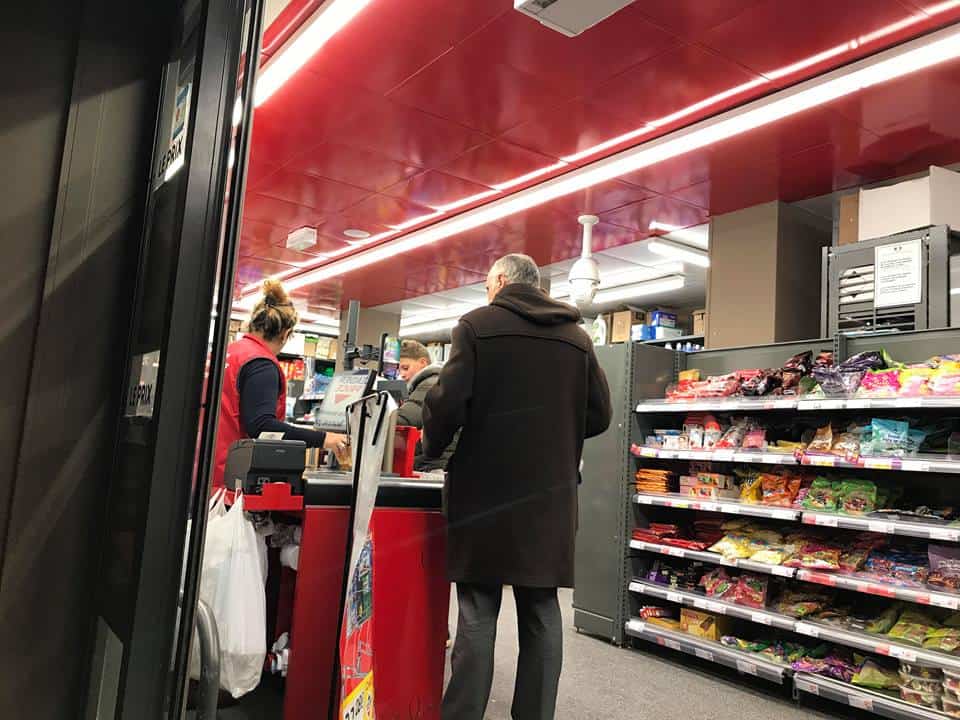 Quick tips for visiting supermarkets in Paris:
-Avoid going in the evening or after dinner. Many Parisians head to supermarkets in Paris on their way home from work so the 5-7pm time is often the busiest. This isn't always the case 100% of the time but if you can visit a Paris supermarket in the early afternoon or late morning, you will most likely not run into crowds. Grocery shopping in Paris can take quite a while if it is busy and the checkout lines are long so if you don't have time go when it isn't as crowded.
-If you are paying with cash, make sure you have it ready. Paris is a busy city and as is customary in busy cities, people don't want to wait around for you to take out coins while at the Paris supermarket. We don't care if you are in Paris, NYC, New Delhi, or Portland, no one feels like waiting around when they are in a rush. Avoid stares and annoying other shoppers at supermarkets in Paris by having your cash or card ready when it is your turn to check out.
-Paris supermarkets may be closed on Sundays. On Sundays, practically half of the city shuts down and this includes Paris grocery stores. If you are hoping to shop on a Sunday, think again because your favorite supermarket in Paris may be closed. Do your shopping the night before and enjoy your time off to relax on a Sunday like the Parisians do! Pay Paris grocery stores a visit during the week and take the weekend off to eat some delicious food!
-Some Paris grocery stores are much larger or smaller than others. We would have to say that we would classify most Paris supermarkets to be "small to medium" compared to American grocery stores. That being said, Paris grocery stores can vary from being very small to quite large, comparatively speaking. Monoprix Paris stores are typically larger, but there are also smaller stores in different neighborhoods around the city.
-Many supermarkets in Paris close around 8-9pm. Make sure you note the closing time for Paris grocery stores if you want to come back later. Many American grocery stores close at 10-11pm so if you are an American visiting Paris take note that Paris supermarkets may close up shop right at 8pm. We wouldn't want you to walk all the way there to find out the grocery store in Paris is indeed closed! Take note of the times to avoid inconvenience later.
Don't forget to pack these 5 things for your trip to Paris:
Shopping in Parisian grocery stores is much less expensive and stressful than one might think! As long as you keep all of these tips in mind, you will have quite an enjoyable experience. Have you ever shopped at one of the grocery stores in Paris? Tell us how it went in the comments!
Pin this post: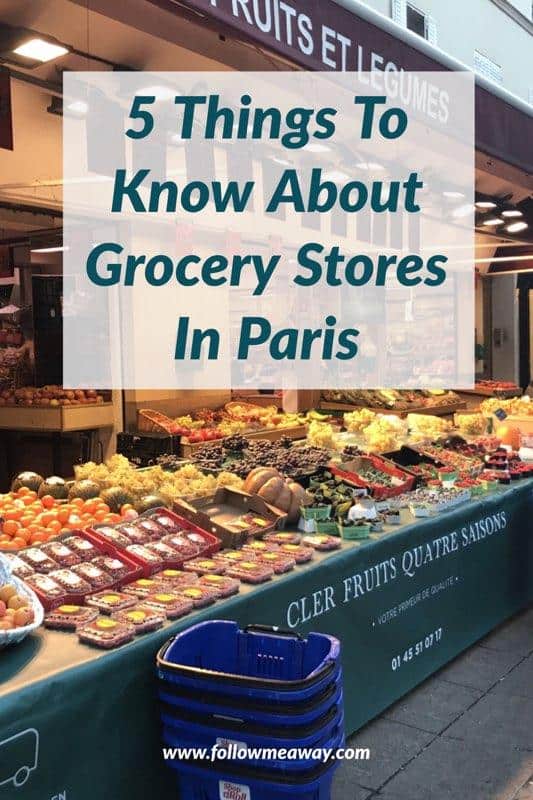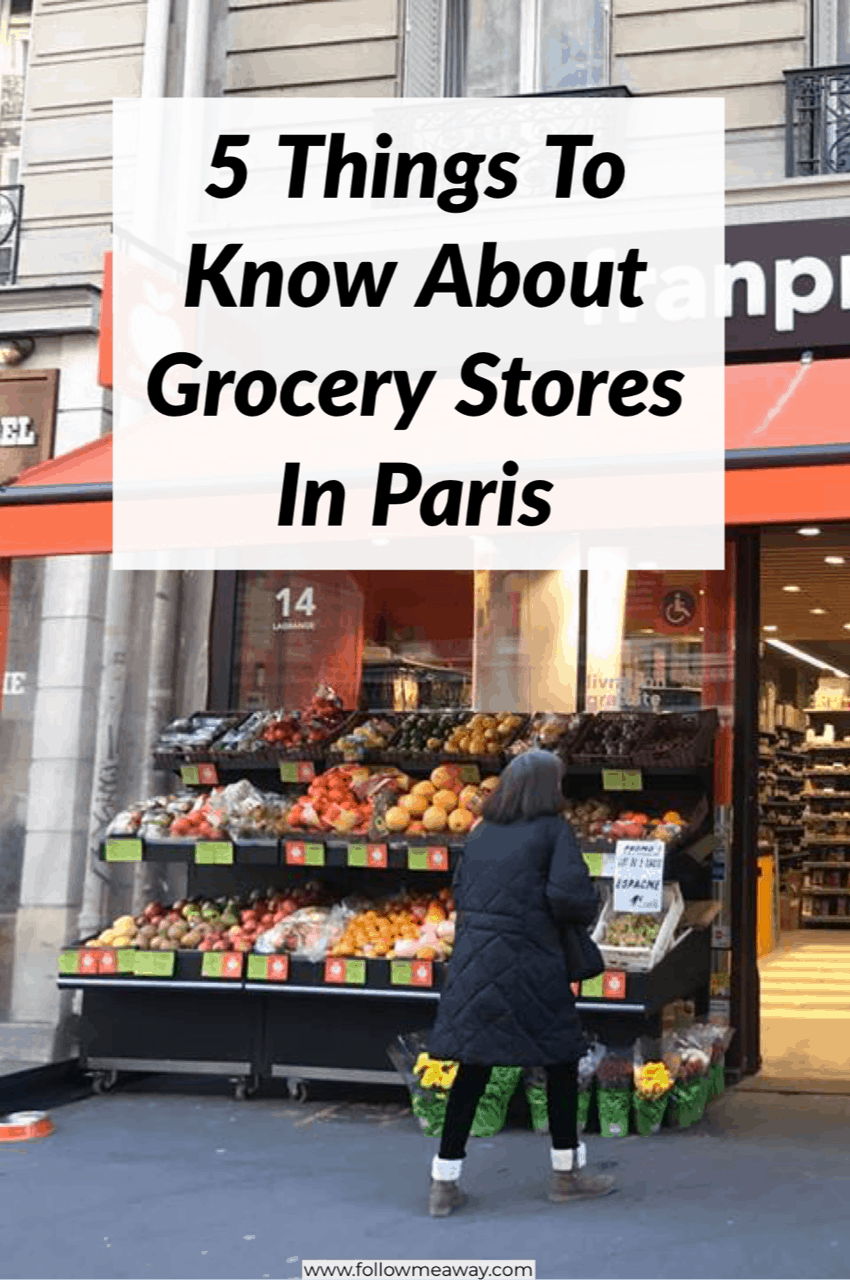 Please note that affiliate links may be used in this article. That means that we receive a small portion [usually a few cents] of the proceeds if you buy an item using our link at no additional cost to you. This helps us continue to create content for this website. Thanks!