There is no shortage of the best things to do in Paris at night!
The City of Lights is something to experience, whether you're in Paris for two days or two weeks, there is always something to do after the sunsets.
Planning your trip to Paris last minute?
Make sure to book your hotels and tours in Paris in advance to ensure availability! Here are our top picks for your trip!
Top experiences and tours in Paris:
1-Hour Seine River Cruise (Super fun/affordable! We loved it!)
Hop-On Hop-Off Bus Tour (Great way to see the city)
Tickets you MUST book in advance:
Top Hotels In Paris:
Hôtel des Arts Montmartre (Good location and moderate price)
Le Katorze Hôtel (Budget option with 4 star rating)
Hôtel D'Aubusson (Luxury central location with pool!)
It cannot be denied how beautiful Paris is at night. The Eiffel Tower is a sight to behold shining along the Seine.
There are so many ways to see this amazing city. We have put together a list of the top places to visit in Paris at night, including ways to save money or time for your unique night out experience.
From nighttime shopping to sipping champagne to exploring catacombs, we have you covered with these attractions in Paris at night.
For a truly remarkable experience and to enjoy the nightlife in Paris like no other, read our list of the top unique experiences and evening activities in Paris.
Don't forget to check out our comprehensive list of where to stay in Paris too!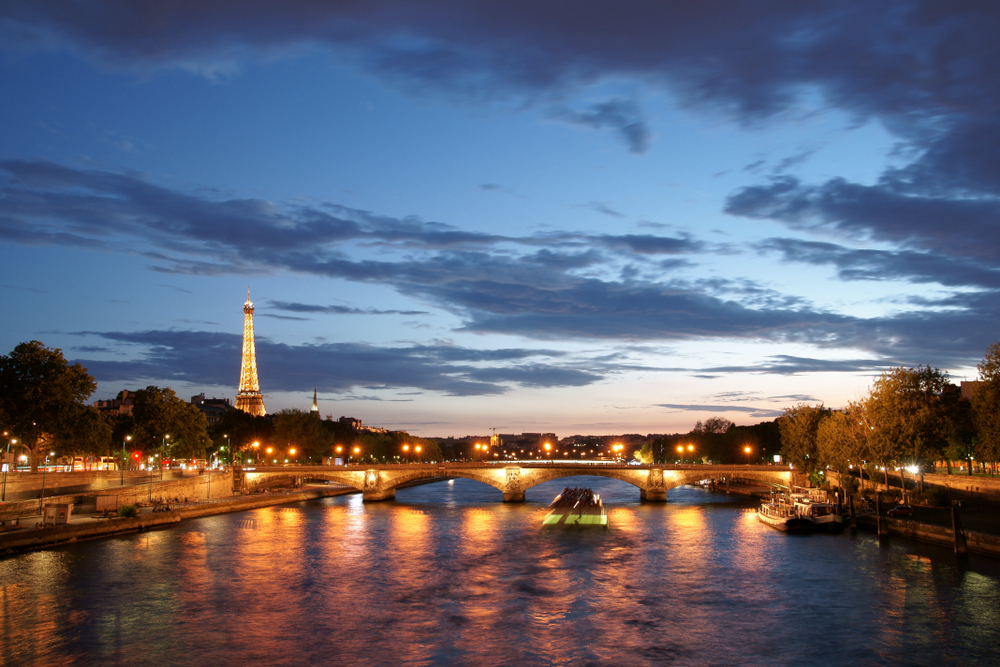 20 Best Things To Do In Paris At Night
Shop the Covered Passages in Paris At Night
If you love shopping, you will adore the many beautiful covered passages in Paris!
They are all also covered in glass, which adds a magical aspect that can only be experienced at night.
There are about two dozen passages first built as a destination for shopping in the nineteenth century and they do not disappoint for your Paris at night excursions.
It is the perfect stop for a walking tour in Paris and even better at night!
These are all pedestrian so you can leisurely walk and browse the little shops and wander down historical paths that will leave you in wonder.
Hands down, this is the best way to shop in Paris, check out our post about the top 10 covered passages in Paris.
Book Here: Paris: Covered Passages Walking Tour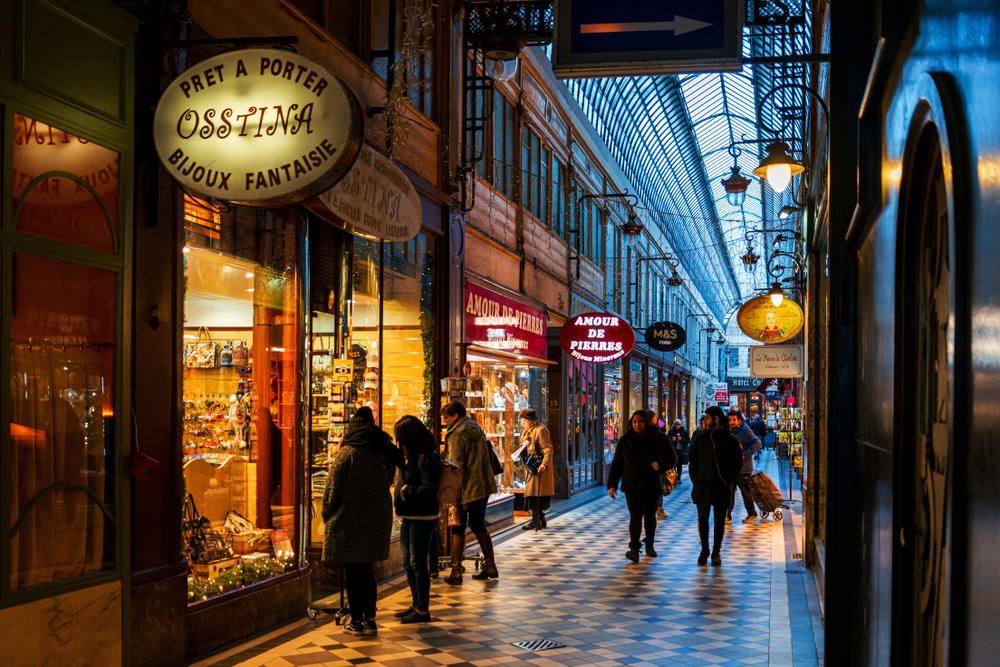 Watch The Sunset In Paris
What can we say? This had to be on the list!
There are many places to see the sunset in Paris, and it's a great way to start the evening for your night in Paris itinerary.
While there are many great places to see this amazing moment in time, we want to share a couple of ideas for the best experience!
On top of the Arc de Triomphe is one of our favorite spots to see the sunset. There is a cost to access the top, so make sure you plan ahead for that expense. We also have a full article on the cost of a trip to Paris.
Once you reach the top, you will not be disappointed. Look towards the Eiffel Tower, and you will be treated to a sunset behind the tower, making for a truly magical show and an amazing treat for Paris at night.
If you want a free sunset view, just walk along the Seine. You will pass many famous sights and be able to see the colors reflect in the water.
Check out our post on the 10 Best Locations to See a Paris Sunset for more ideas.
Book Here: Paris: Skip-the-Line Arc de Triomphe Rooftop Tickets
Find Amazing Views from Montparnasse Tower
If you're looking to see the modern side of Paris, we recommend the Montparnasse Tower.
This tower located in the south of Paris is an amazing way not only to see the sunset but also to take in some amazing futuristic architecture.
This bird's eye view gives you a stunning vista of Paris at night, including the Eiffel Tower from afar, with amazing opportunities for Paris photography.
There is a cost to tour this facility so make sure you plan ahead and know the cost to explore this majestic 59-story wonder.
This is what to do in Paris at night if you love epic views!
Book Here: Paris: Montparnasse Tower Roof-Top Terrace Ticket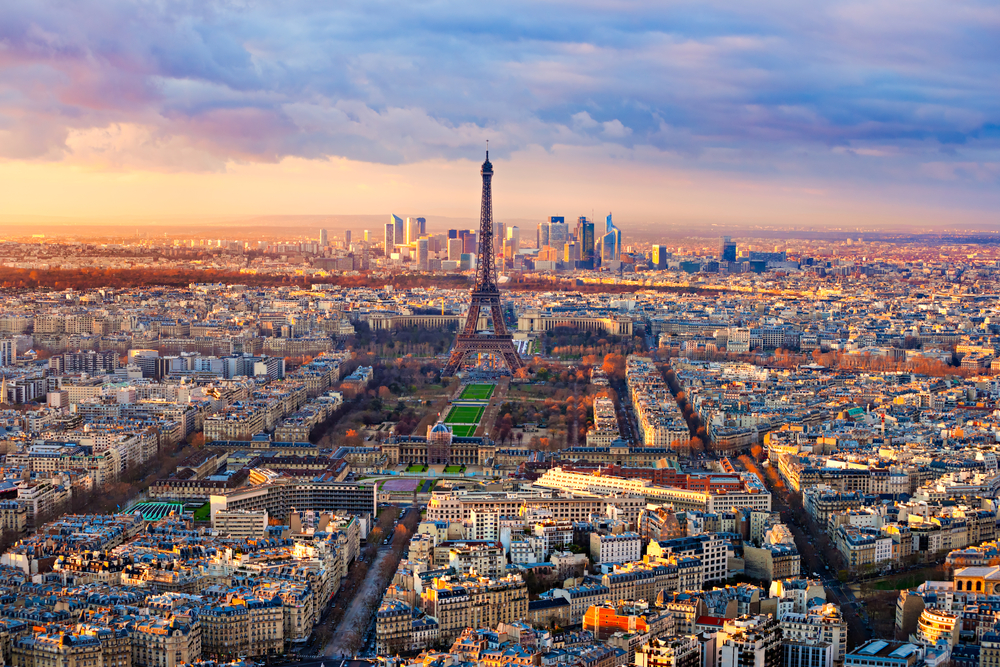 Sip Champagne From The Top Of The Eiffel Tower
You now know where to see a view of the Eiffel Tower for your Paris at night sunsets. Now we want to tell you about the opportunity to see Paris from the top of the tower.
You will need to make reservations at the bar but it is well worth it. Plan ahead and make your reservations because the City of Lights from the top of the biggest light in the city is an amazing site to see.
Be dazzled as you sip champagne and look over the city from this historical landmark. While you are in Paris, make sure to try one of the many delicious French drinks!
This is one of the best activities for a Paris honeymoon!
Book Here: Paris: Eiffel Tower Guided Tour by Elevator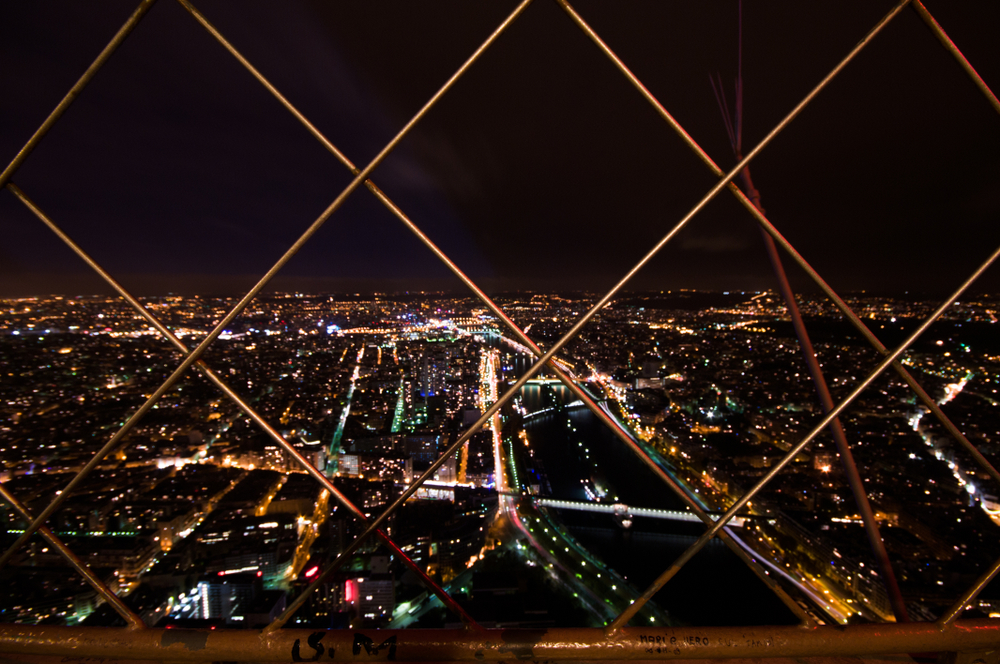 Visit the Louvre At Night
This is a new way to experience the museum and have a unique experience in Paris at night.
There are fewer crowds which makes this one of the most pleasurable ways to see the museum.
The Louvre has different hours of operation depending on the day, so make sure you check that first.
Plan on going to the Louvre on a night when they close later, peruse the museum floor, and finish the night by walking around the magnificent glass pyramid at the top.
The Louvre is one of the greatest things to do in Paris alone at night if you are the type of person who loves to soak in all the pieces and read the placards.
You will love exploring the massive museum at your own pace.
Book Here: Paris: Louvre Museum Timed-Entrance Ticket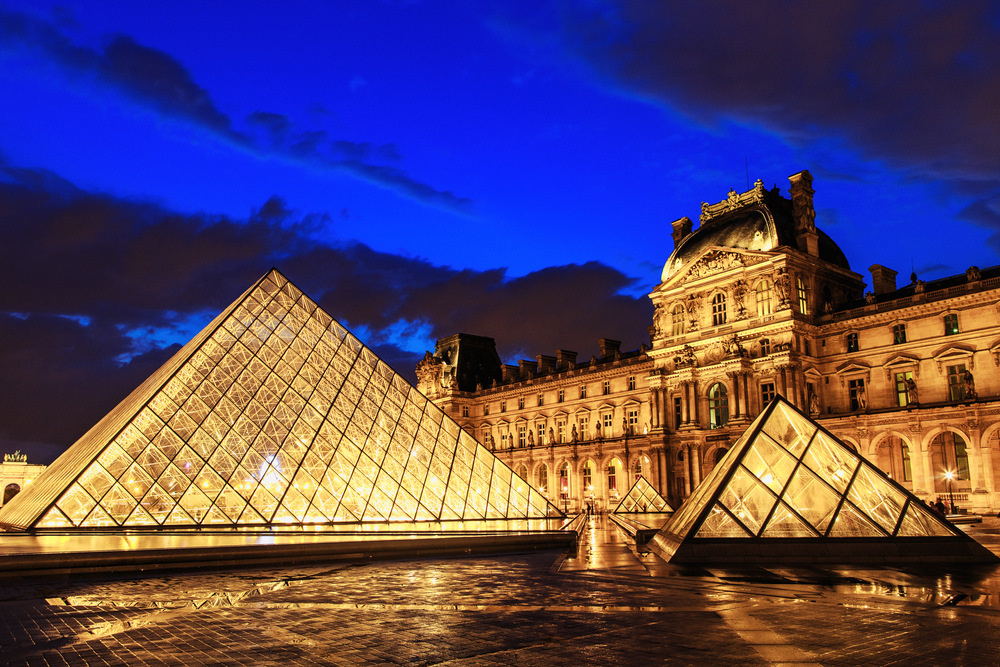 Take A Seine River Cruise
If you're looking for a break from walking and climbing the architecture, book yourself an evening cruise on the Seine River.
For this night in Paris activity, you can choose from short cruises that take you down the canals or you can choose a cruise that offers dinner for a more leisurely experience.
Pick your preference but make sure to pick one of them! Seeing Paris at night from the Seine is an unimaginable experience.
The lights dazzle on the water and the peace of the river relaxes the total cruise and closes your evening with a bang.
Book Here: Paris: Illuminations River Cruise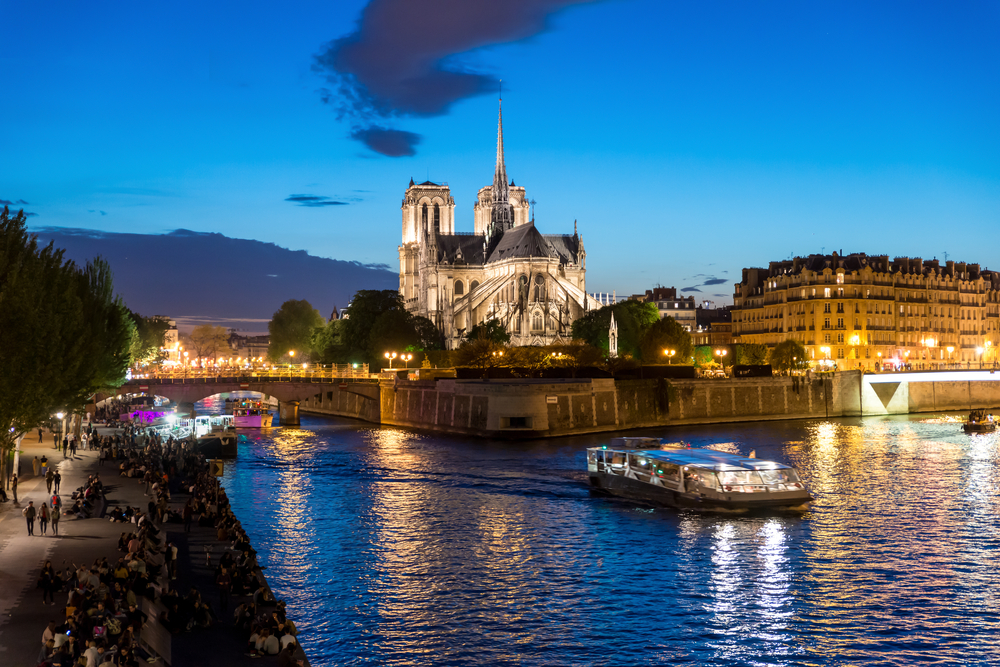 Watch The Eiffel Tower Sparkle
Yes! The Eiffel Tower is featured on our list again as one of the best things to do at night in Paris!
You've seen it at sunset, you've seen your aerial views from the Montparnasse, you've drank champagne in it, and now you will watch the lights sparkle in the night.
There are quite a few places to see this architectural wonder. We personally recommend the Trocadero which is across the Seine from the Eiffel Tower.
Visit and tour the opulent Palais de Trocadero and stick around to see the dazzling light show of the Eiffel Tower, guaranteed to leave you in awe.
You can also enjoy a picnic under the tower on the lawn of Champ de Mars. This is one of the best things to do in Paris at night with kids!
There are also many Paris hotels with views of the Eiffel Tower so keep that in mind when booking accommodations if you want a private view.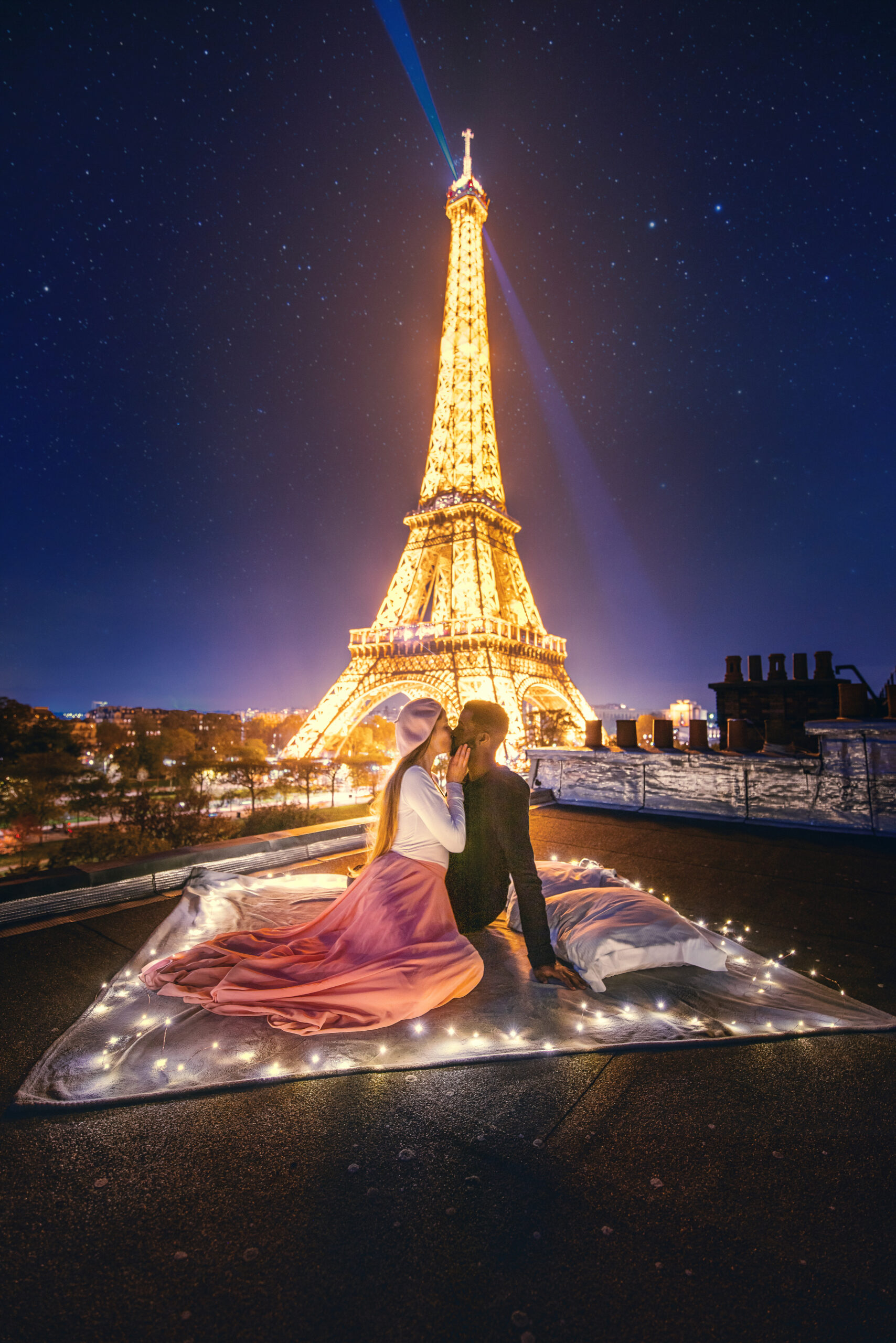 See An Opera
When you think of travel and operas, Paris may not be on your list, but it should be!
This amazing experience is the way to truly be a part of the unique nightlife in Paris.
The Opera de Paris is a once-in-a-lifetime must. Purchase tickets and visit the Palais Garnier and see not only an amazing performance but a truly magnificent building.
This historical opera house was built in 1861 and seats just under 2000 attendees. Considered a national French treasure, this opera house is worth the visit for not only the beautiful performances but also the Napoleon designs in gold and marble.
The performances and this opera house will leave you breathless.
Book Here: Paris: Opera Garnier Entry Ticket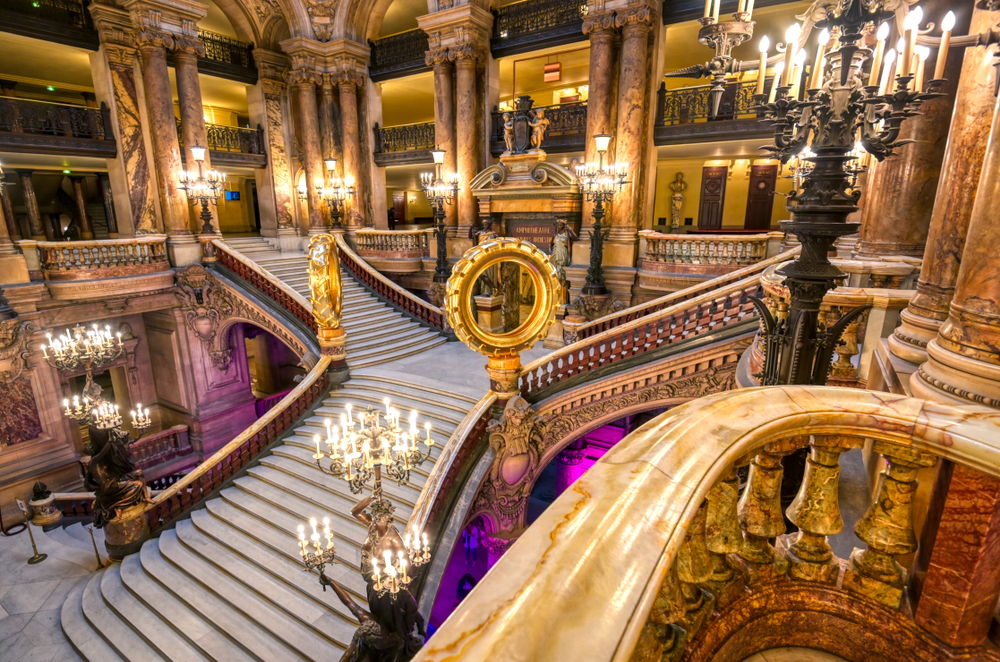 Wander Rue Cler Market
Known as the most famous marketplace in Paris, it would be a shame not to see it at night in Paris.
While this little marketplace is a great way to see outdoor shops and artisans, it is a magical place to have a small, outdoor dinner or cup of coffee
We recommend grabbing your coffee and having a seat then walking the street and looking at all the street marketplace has to offer.
From cafes to the local farmers' market, this street is not one to miss for your list of downtown Paris attractions at night.
Book Here: Paris: Famous Monuments Cycling Tour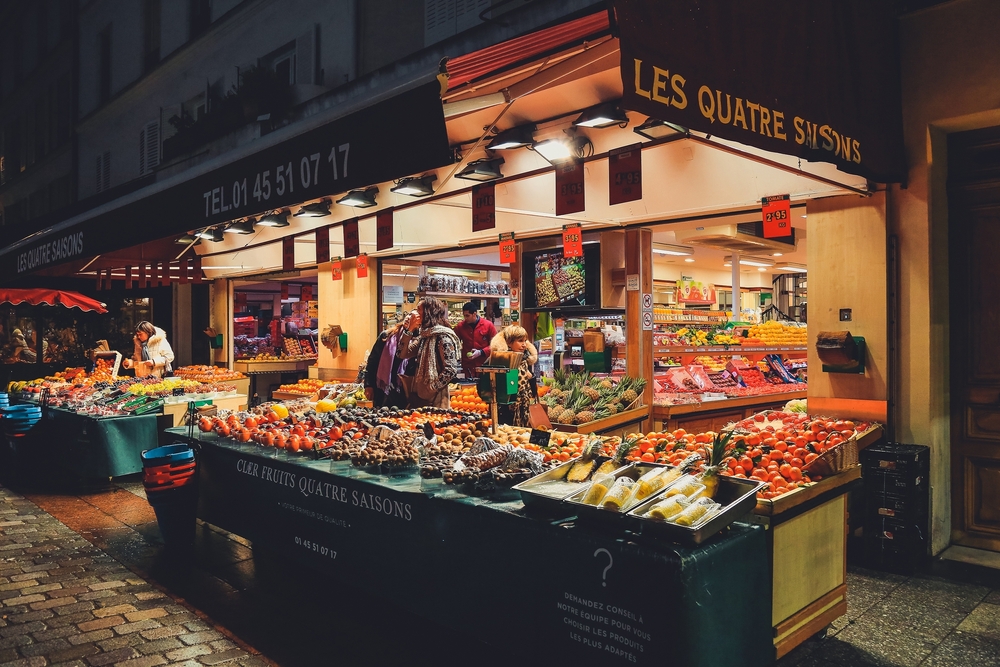 Enjoy A Cozy Meal
When looking for the next thing to do in Paris at night, consider a lighter meal after your dinner.
Paris is renowned for its rich and decadent food. It is also known to the world as the birthplace of traditional and artful cooking, and you need to experience it!
One of our favorite places is II Grigio Paris. Here you can enjoy amazing Italian cooking in an amazing French environment.
This restaurant has a cozy and intimate atmosphere, coupled with delicious food that makes this the place to be.
Reservations are recommended, so if this is on your list to try, and it needs to be, make sure you make your reservations immediately.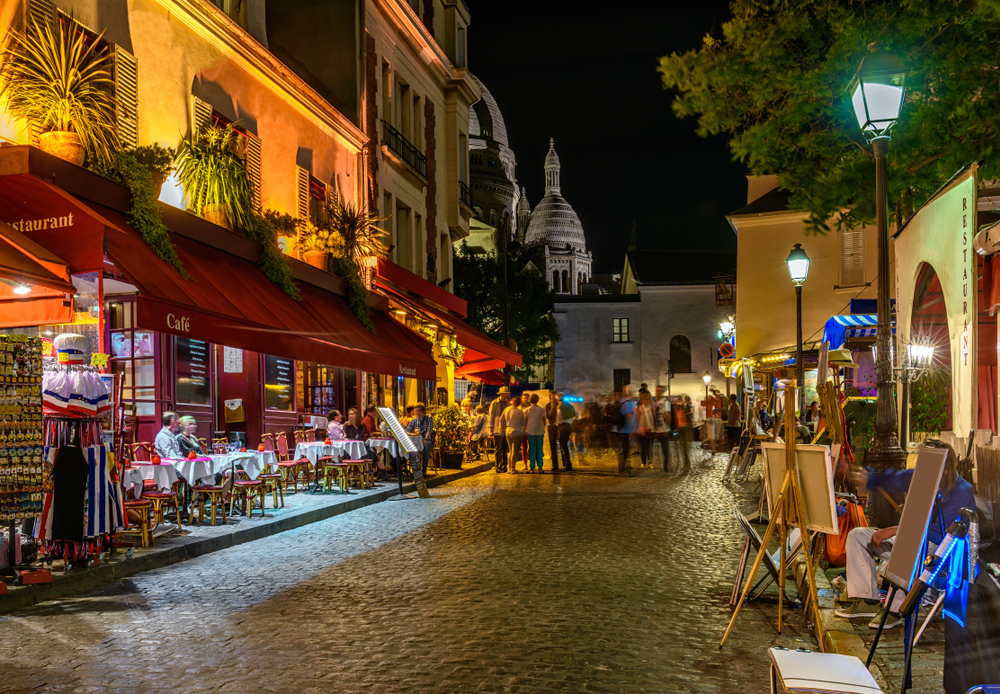 Take An Authentic Cooking Class
As we mentioned earlier, the French are known for the foundations of all traditional cooking. Why not take a cooking class and learn some of their tricks of the trade for your night in Paris?
With many classes available to choose from located all over Paris, there is sure to be one near your accommodations. Why not learn to cook a roux or chiffonade lettuce and then sit to enjoy your deliciously prepared meal?
If you want a perfectly French dessert instead, macaron cooking classes are one of the most popular things to do in Paris at night with family.
A small group class is ideal for one-on-one time with an expert pastry chef. You will have so much fun learning a new skill and enjoying the treats afterward.
Book Here: Cooking Class with a Parisian Chef
Book Here: Paris 2.5-Hour Unique Macaron Cooking Class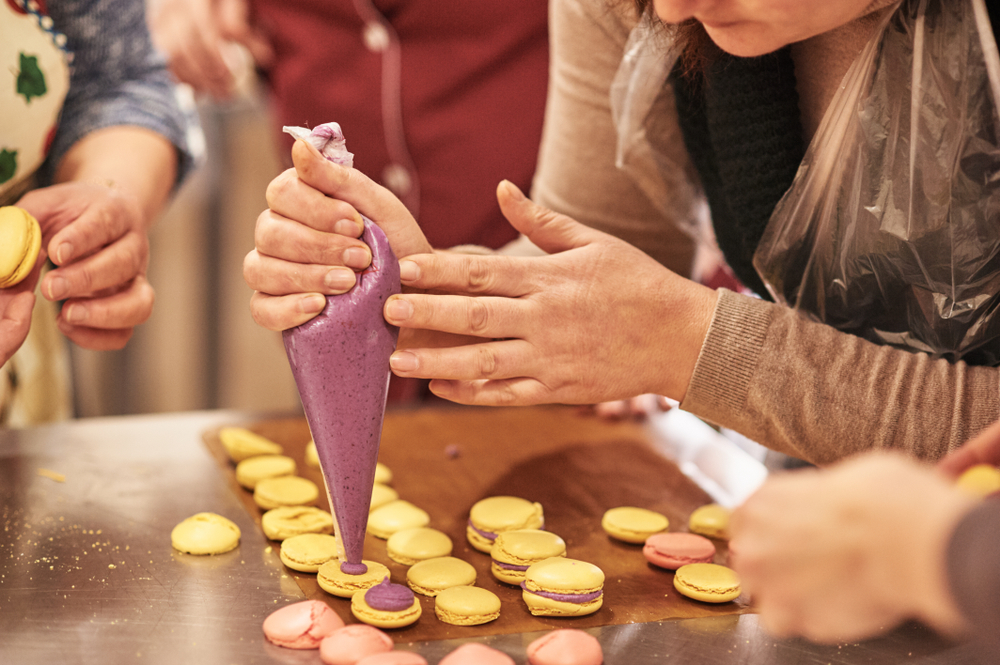 Take In The View From A Rooftop Bar
If you're looking for something more locally inspired in Paris at night, we highly recommend a rooftop bar.
Experience the nightlife in Paris while sipping drinks and looking over local neighborhoods. Enjoy the historical city and sip your wine while being a part of the night outside.
We like Printemps Rooftop Bar and Terrace, here your views are 360 degrees and right in the heart of the city.
Locals enjoy this little spot where you can get something to eat and have a drink, and you should too!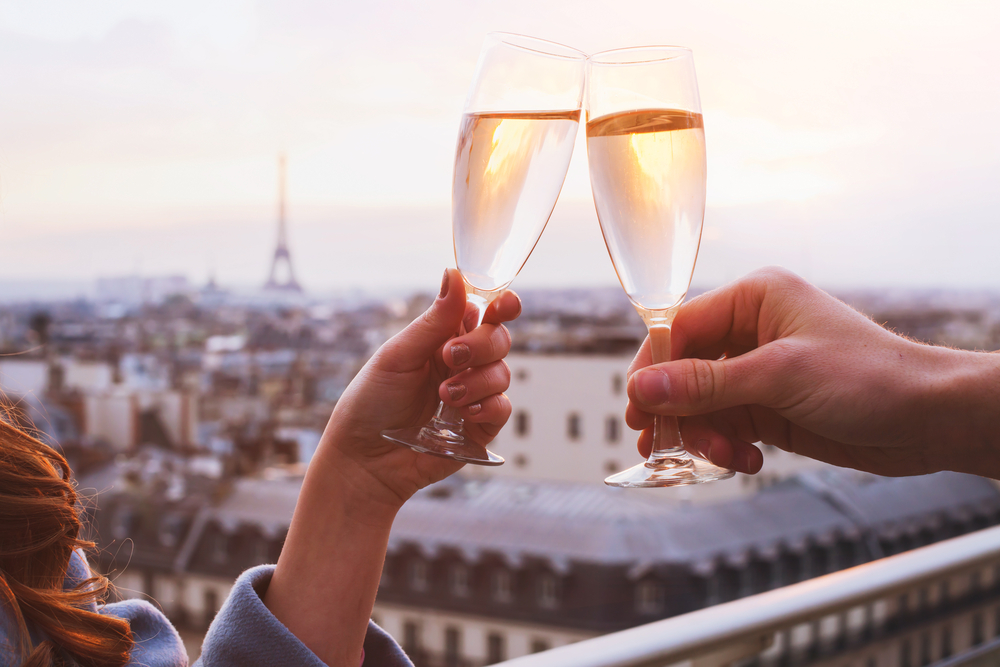 See A Cabaret Show In Paris At Night
Late night things to do in Paris experiences are not complete without a visit to a cabaret show.
While the Moulin Rouge is the most notable, it can get crowded and overwhelming as such a destination.
Don't let that deter you from exploring other cabarets. There are many that are just as magnificent and worth the experience.
We recommend the Lido Cabaret and Champagne. Watch the talented and thoroughly entertaining women perform while sipping on your champagne.
The show is two hours and worth the nominal price paid. You will agree this is one of the best hidden gems in Paris.
Book Here: Paris: Moulin Rouge Cabaret Show Ticket with Champagne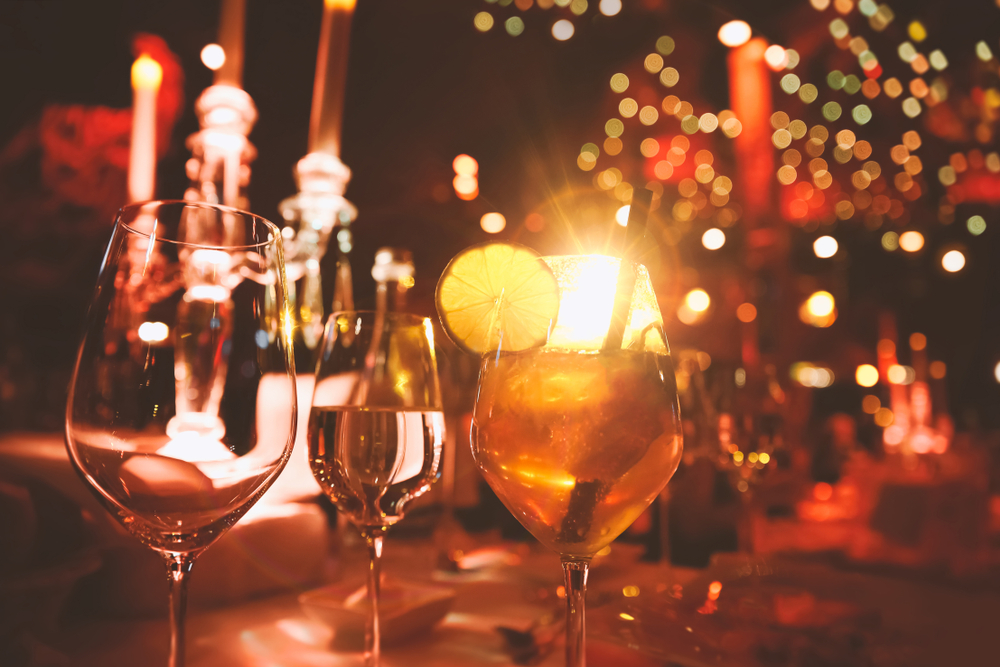 Get Your Shop On Along the Champs-Elysees
The Avenue des Champs-Elysees is a must-stop while you are in Paris at night.
This street runs just over a mile long and is situated between Place de la Concorde and Place Charles de Gaulle.
Known for theaters, luxury shops, and cafes in Paris, this is a definite must at night. With the trees lit up, you have a straight view to the Arc de Triumph.
After you view your sunset at the Arc de Triumph, head to these shops and enjoy a café latte while looking at the Arc.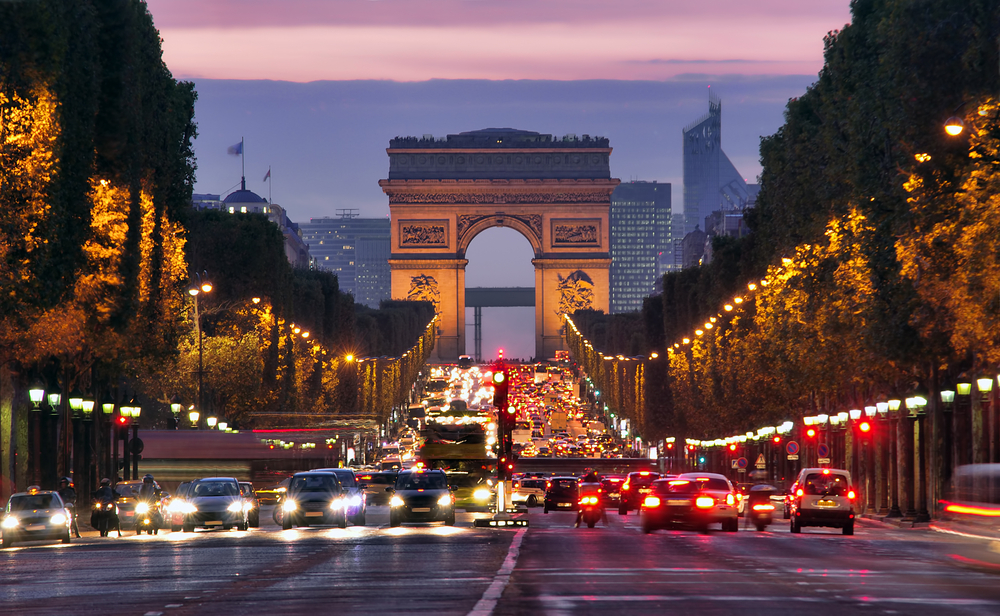 Go On A Nighttime Segway Tour Of Paris
If you want one of the most adventurous and fun things to do in Paris at night, look to a Segway tour.
For an affordable and unique way to see the neighborhoods and streets of Paris, this is the way to do it.
Explore Parisian history while gliding along the paths on your Segway. These exhilarating tours will dazzle you and inspire you to explore more cities in such a fun and unique way.
These tours are seasonal, so make sure you plan ahead for your specific visit to the City of Lights.
Book Here: 1.5-Hour Paris Segway Night Tour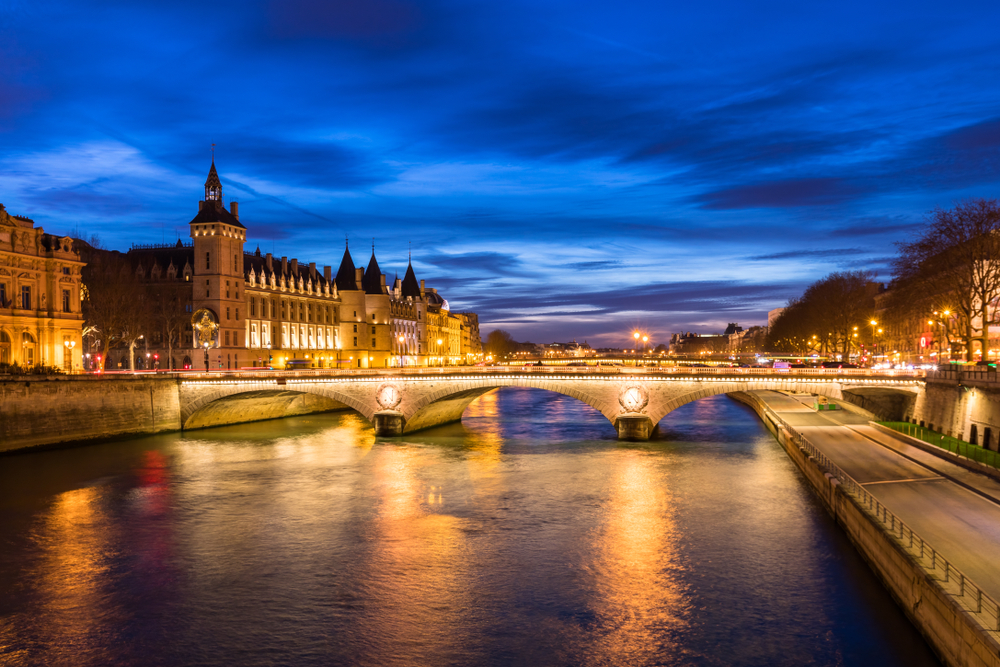 Explore The Musee D'Orsay At Night
If you have toured the Musee d'Orsay during the day, it is a must to do it at night as well.
This art museum stays open later some nights of the week, so be sure to check which one fits into your schedule.
It is well worth the visit and the crowds are considerably smaller. Experiencing this magical place at a more leisurely pace, you will not be disappointed.
Make sure to purchase your tickets in advance to guarantee your admittance.
Book Here: Paris: Musée d'Orsay 1-Day Ticket with Reserved Access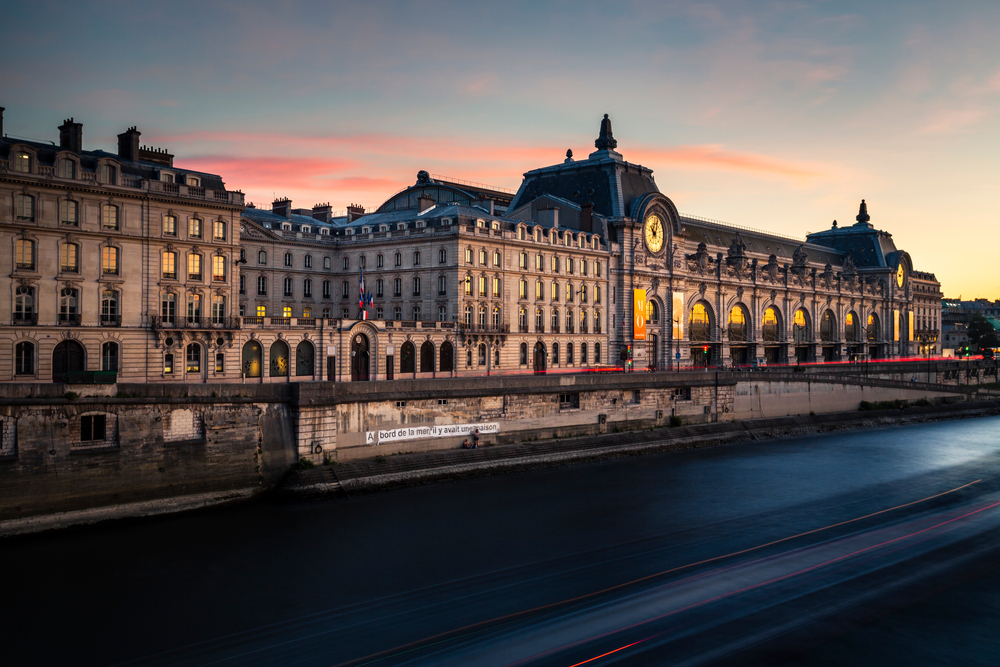 Descend Into The Paris Catacombs
Another option for the nighttime adventurer is to explore the catacombs in Paris at night for an extra spook factor.
In the eighteenth century, due to a public health crisis associated with cemeteries, burials were moved underground.
Tour this vast burial site and learn about the history of the catacombs. This evening excursion is perfect for the person who likes to mix their history with a side of macabre.
Book Here: Paris: Catacombs Skip-the-Ticket-Line Ticket and Audio Guide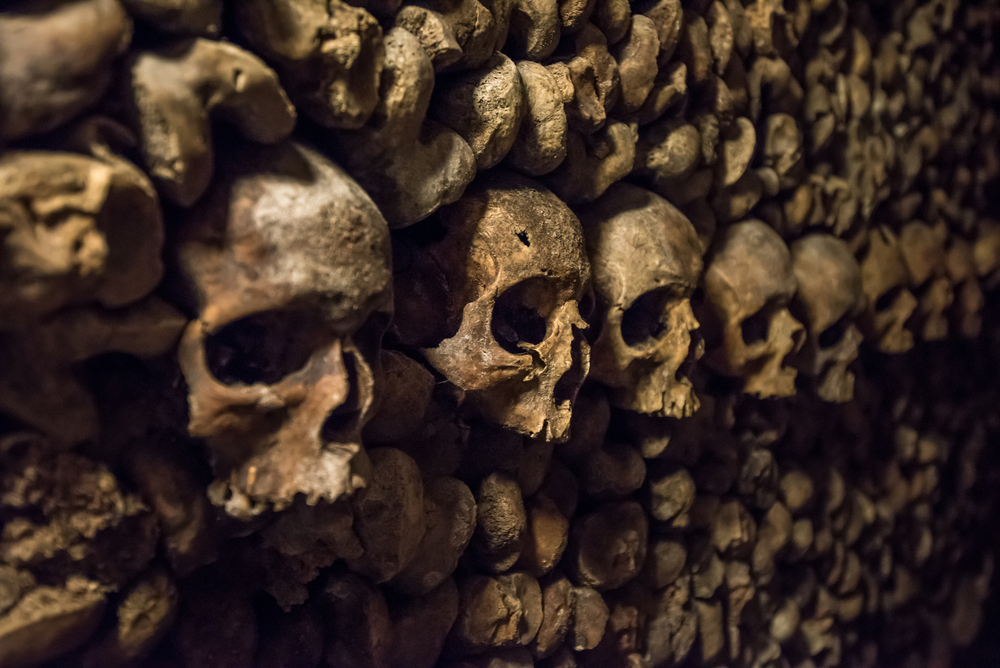 Attend a Concert at Sainte-Chapelle
Located near Notre Dame, Sainte-Chapelle is a beautiful, Gothic cathedral known for its gorgeous, colorful stained glass.
On certain nights throughout the year, the church hosts classical concerts. This is one of the best activities in Paris at night for couples looking for a romantic night out.
The hour-long concerts fill the tall ceilings of the cathedral with relaxing music from stringed instruments.
To make the night even more memorable, you can purchase a premium experience that includes either champagne or wine with tapas.
Book Here: Paris: Skip-the-Line Ticket to Sainte Chapelle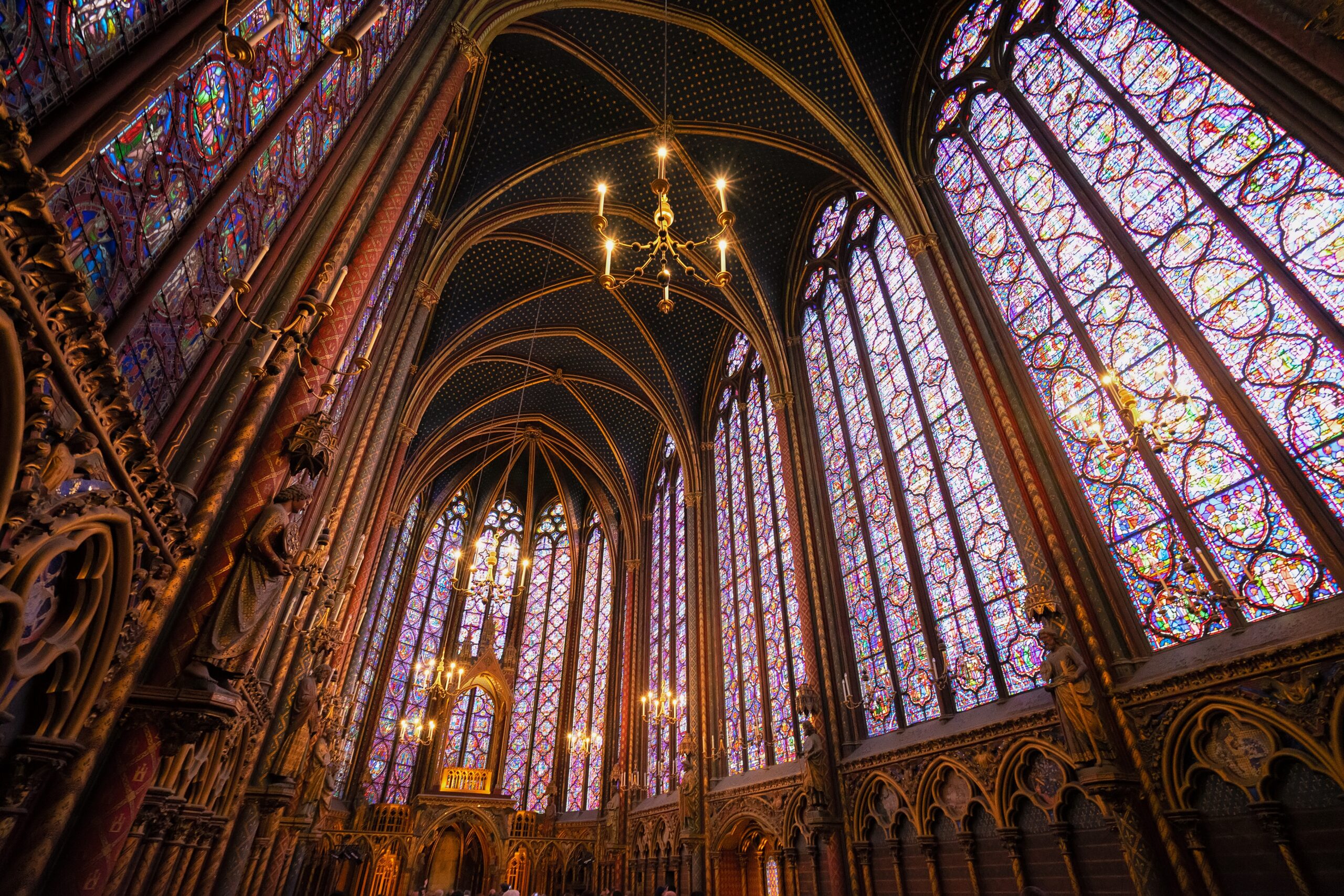 Stroll the Lively Rue Montorgueil
Stradling the first and second arrondissements, Rue Montorgueil is one of the most vibrant streets in Paris with a lively atmosphere perfect for a night on the town.
There are a ton of shops, restaurants, cafes, and bars. Order a glass of wine, find a seat outside, and spend some time people-watching.
Historically, this area was the home of theatre troupes and there are still a few small theatres here if you want to catch a cool show.
Overall, this is a fun street if you want a place to soak in the nighttime atmosphere of Paris while shopping and enjoying delicious food!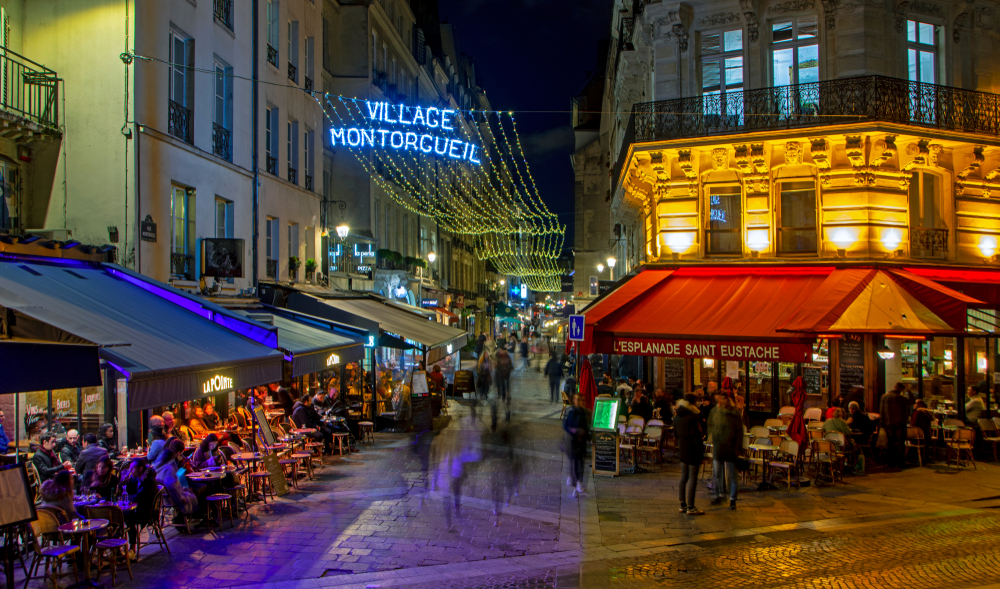 Party at a Nightclub
Paris is known for its fantastic nightclub scene. If you want the chance to dance the night away, visiting a nightclub is one of the best things to do in Paris at night for adults.
Some of the clubs are housed in cool locations such as repurposed train stations and historic buildings.
No matter which one you choose, you will love the feeling of the music's beat coursing through your body. Dance and drink to the sound of a DJ or check to see if there are any upcoming concerts you might be interested in.
Some of the most popular nightclubs in Paris include Rex Club, La Station – Gare des Mines, La Machine du Moulin Rouge, and La Bellevilloise.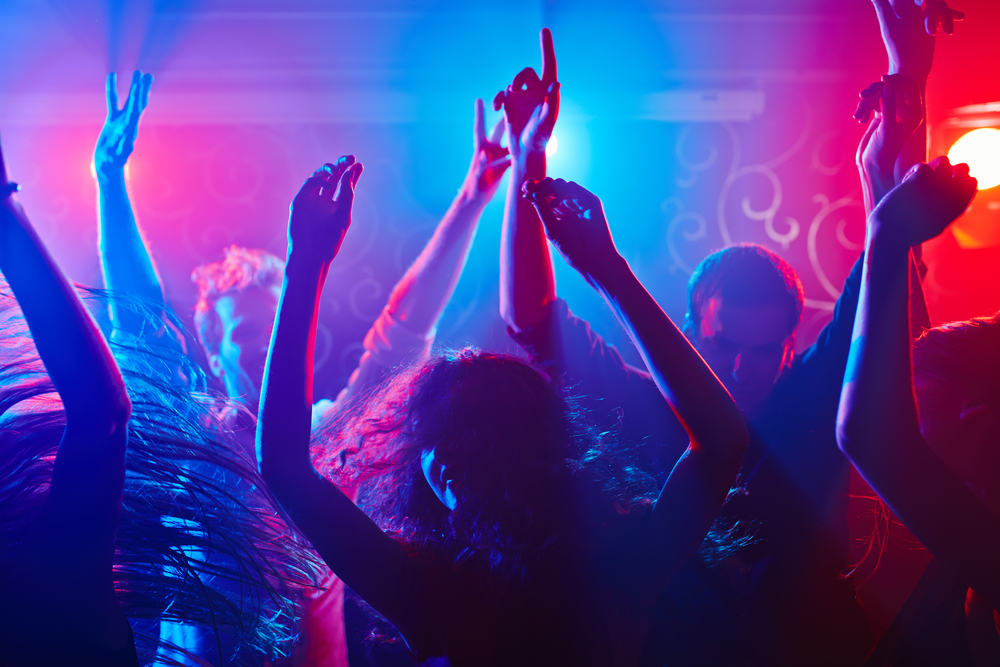 Watch an Outdoor Movie
If you are looking for free things to do in Paris at night during the summer, you need to head to Parc de la Villette in the nineteenth arrondissement.
The Open Air Cinema Festival occurs from mid-July to mid-August with movies beginning after sunset. Both French and English films are shown so check the schedule ahead of time to see what will be playing.
This is a fantastic night activity in Paris for the whole family, especially since admission is free. Arrive early to snag a good spot!
You can bring blankets to lay out in the grass or pay to rent deck chairs. Pack a picnic with some snacks as well but keep in mind that glass bottles are not allowed.
There is a bar where you can grab drinks or snacks such as popcorn.
Make sure to pay attention to the time since sometimes the movies run late and you do not want to miss the last Paris metro of the night if that is how you plan to get home.
Also, remember to bring a jacket because it can get chilly here in the evening.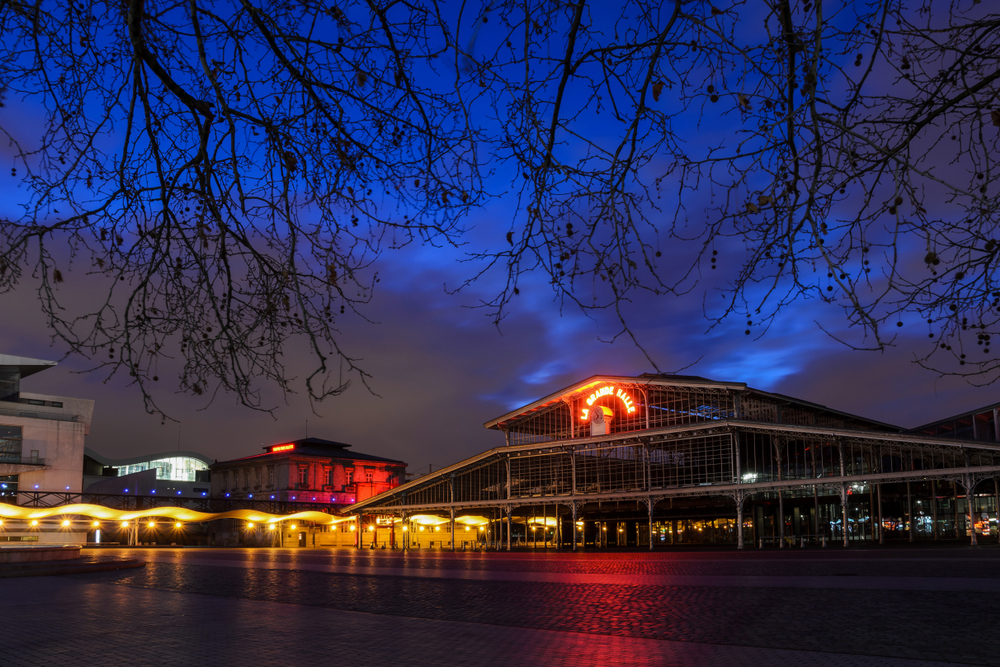 And that wraps up our list of the best things to do in Paris at night. From sightseeing and sunsets to creepy catacomb tours, we have everyone covered for something to do in Paris at night.
We hope you try one or all of them! And don't forget to check out our Paris packing list!