If you're looking for some direction in planning your trip to Paris, this is definitely the post for you! While you can't see everything Paris has to offer in 24 hours, let alone a week, we've done our best to narrow down the top 10 places to help you make the most of your Paris in a day trip.
Planning your trip to Paris last minute?
Make sure to book your hotels and tours in Paris in advance to ensure availability! Here are our top picks for your trip!
Top experiences and tours in Paris:
1-Hour Seine River Cruise (Super fun/affordable! We loved it!)
Hop-On Hop-Off Bus Tour (Great way to see the city)
Tickets you MUST book in advance:
Top Hotels In Paris:
Hôtel des Arts Montmartre (Good location and moderate price)
Le Katorze Hôtel (Budget option with 4 star rating)
Hôtel D'Aubusson (Luxury central location with pool!)
There is so much to see and do in the City of Light if you are in Paris for a day, whether you are a foodie looking for your perfect buttery croissant, a history buff heading to the catacombs or numerous museums, or a lover of architecture seeing the Louvre, Notre Dame, and St. Chapelle Cathedral, there is something for everyone in this amazing city that has been growing continuously since the 3rd century.
When visiting a city with such a longstanding history, trying to see everything that Paris has to offer in a day can be overwhelming, which is why we have compiled a list of places that are some of our favorite places to go to. From restaurants to historical sites, museums to parks, we hope you visit these amazing spots on your one day in Paris itinerary.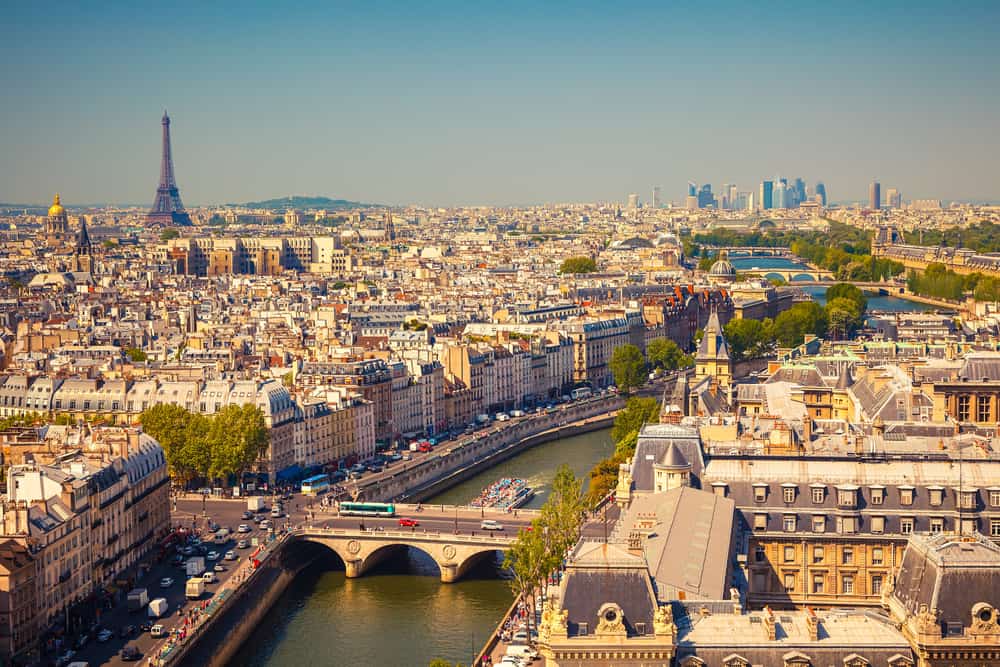 Hands Down, This Is How to See Paris In A Day
Take a Stroll Near the Eiffel Tower
The first thing you have to see when visiting Paris is the Eiffel Tower. Ever since being designed and built by Gustave Eiffel and his company in 1889, the Eiffel Tower has been one of the most iconic and visited structures in the world. You most definitely can not miss the Eiffel Tower while visiting Paris in a day.
There are so many different places to catch an incredible view of the tower on your Paris in a day itinerary. One of our favorite locations to catch a stunning view is while walking down the Champ de Mars, a beautiful grassy park that leads up to the tower. This is also a perfect place to bring a blanket, a bottle of wine and some sandwiches to have a picnic. When walking here, its definitely a "pinch-me" kind of moment if it is your first time in Paris so enjoy your walk and the views.
Skip the line by booking your Eiffel Tower entrance online:
Eiffel Tower Second Floor Priority Access
Eiffel Tower Guided Climb And Summit Access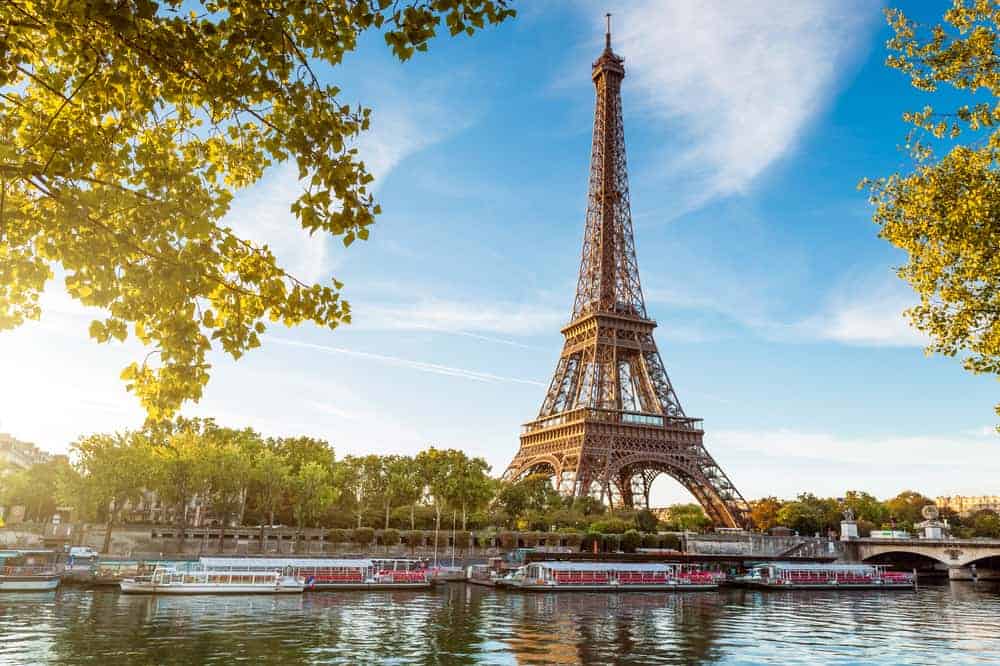 Catch Some Incredible Views from the Arc de Triomphe
Did you know you can climb to the top of the Arc du Triomphe? There is a small museum located in the "attic" of the Arc and from there you can walk up the 46 steps to the terrasse, or rooftop, where you can see incredible panoramic views of Paris. This is one stop on your day in Paris that you can not miss especially with the incredible views of the Parisian skyline.
Many people know about being able to go to the top of the Eiffel Tower to see some incredible views of the city, however, the Arc de Triomphe is our favorite as the view from the top includes the Eiffel tower in the city skyline. Who wouldn't want the Eiffel Tower in the pictures of the iconic Paris skyline? There is a charge to go to the top of the Arc de Triomphe putting you back anywhere from 9-12 euros and the last admission is 45 minutes before closing. There is an app you can download called "Affluences" for live updates on wait times, or you can check the Arc de Triomphe website.
The traffic circle around the Arc de Triomph is constantly busy. Twelve avenues all lead up to and connect at the monument making for constant vehicular traffic. It is not recommended to walk across the road, we don't want anyone getting injured on their Paris in a day trip! Instead, there are underground walkways that lead under the traffic circle to the monument, one entrance is located at the Champs Élysées and the other is at the Avenue de la Grande Armée.
Your Paris in a day trip is not complete unless you visit this stunning monument that has an incredible history and is also the burial site for the unknown soldier from World War 1.
Skip The Line And Get Your Arc De Triumph Tickets Online:
Skip The Line Arc De Triumph Rooftop Tickets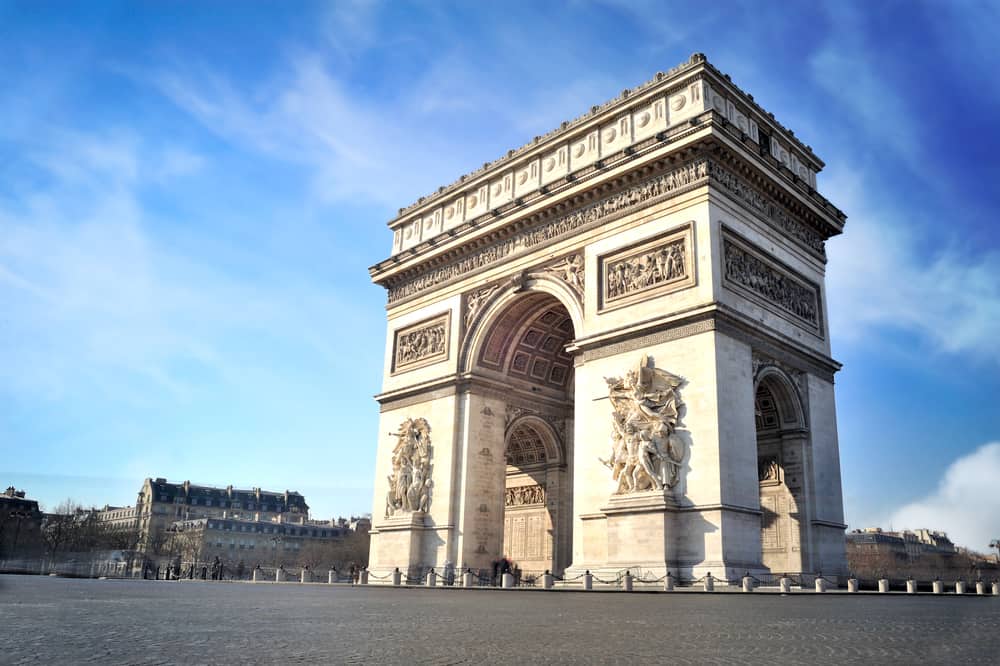 Shop Along the Champs Élysées
Who can have their "Paris in a day" trip feel complete without some shopping? Along the Champs Élysées, described as "the world's most beautiful avenue", are some amazing stores including the Louis Vuitton flagship store which is often described as being the pinnacle of luxury and has also been arranged as a contemporary art museum. In addition to luxury stores, there's also a Zara, H&M (which have some different styles than US locations. Think more classic, less streetwear) and Nike just to name a few.
The Champs Élysées is also a major cultural area. There are several theaters along the avenue such as the Theatre du Rond-Point, the Theatre Marigny, or the Theatre de Champs-Élysées. There are several cinemas as well for you cinephiles out there. Make sure to stop by UGC Normandie or UGC George V.
For you foodies exploring Paris in a day, there are several Michelin Star restaurants, many of them have terraces to sit out on while you are eating and enjoying your drinks in the French tradition. Among these Michelin Starred restaurants located along the Champs Élysées is Ledoyen, one of the oldest restaurants in Paris with classic French food that is quite pricey but definitely worth the experience. For some dessert or a delicious treat, Laduree, a famous French bakery that was founded in 1862 and specializing in macaroons, can also be found along the picturesque avenue. Make sure you stop in for Orange Blossom or Rose macaroons, though all the flavors are delicious and you will have a difficult time picking which one you want!
This area is also known for it's buzzing nightlife scene. Some of the most exclusive clubs in Paris, such as Planches and Raspoutine, are located right here on the Champs Élysées.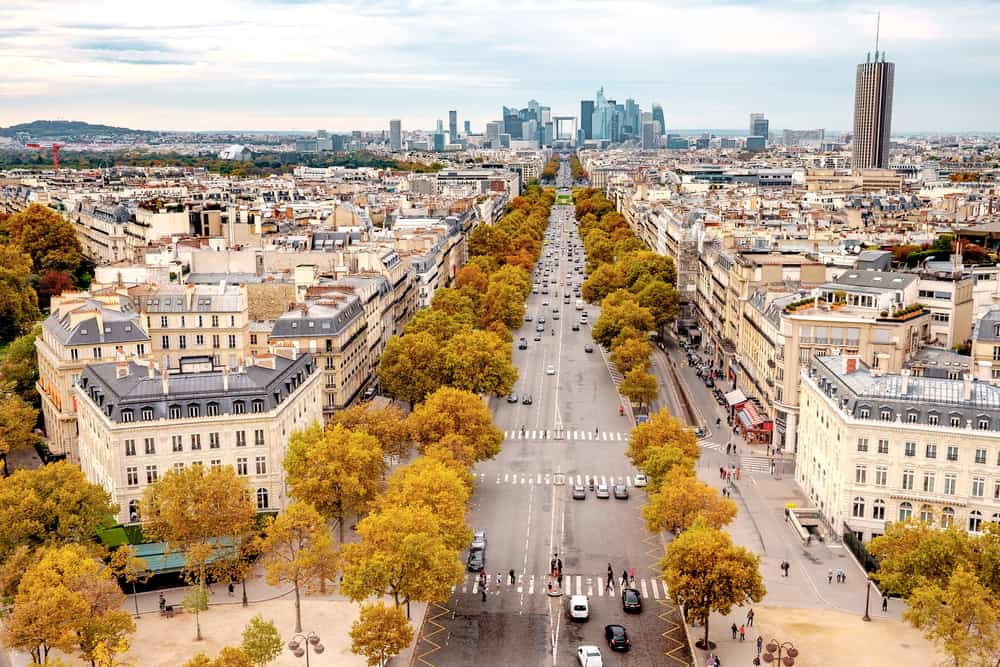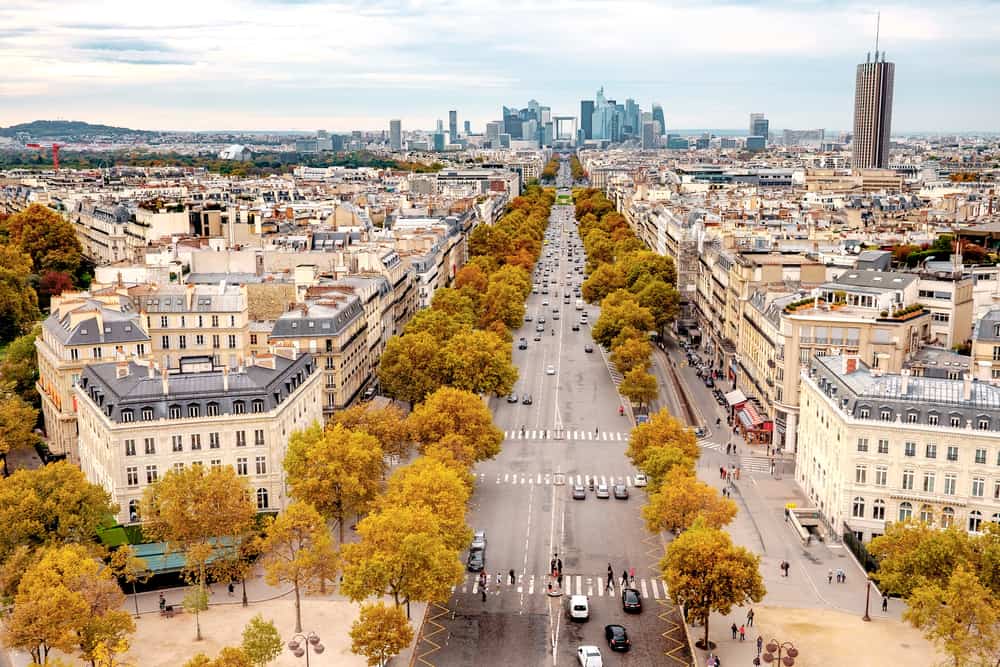 Watch a Show at the Moulin Rouge
Ahhh Moulin Rouge. If you are in Paris for a day and find that your evening is free, head over to the Moulin Rouge, an iconic cabaret located in the 18th arrondissement, it is quite close to Montmartre, and is also the birthplace of the can-can!
The Moulin Rouge first opened its doors in 1889 and quickly became a phenomenon, one that lent a hand to Paris becoming known as a city of decadence and pleasure. Many famous dancers have performed at the Moulin Rouge over the years, which in turn has drawn wealthy, famous and royal individuals through its doors.
Expect to spend around 90 euros just for the show, however, you can also arrange dinner reservations for a more extravagant experience. Make sure you go to this iconic show that has inspired numerous cabarets, films, and plays around the world. Who could resist the call of cabaret when in Paris for a day?
Cool Tours Of Montmartre To Consider
Sacré-Coeur and Montmartre Tour with Expert Guide
Paris: Montmartre 2-Hour Walking Tour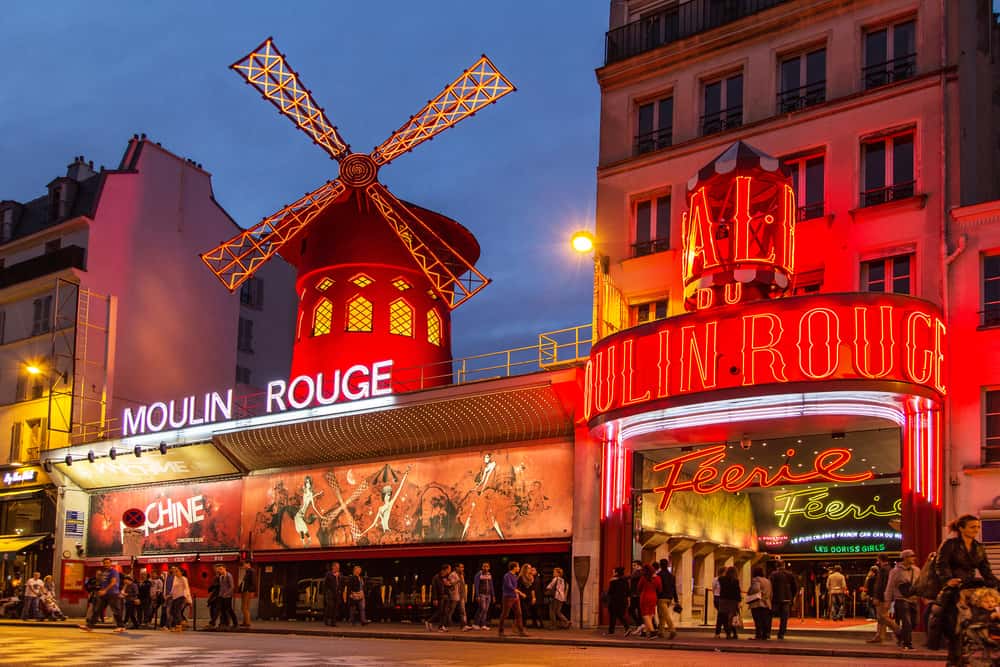 Explore the Louvre
The Louvre was established in 1793. The Louvre Palace, and the Pyramid that was installed in 1984 and was designed by I.M. Pei, is the largest and most recognizable art museum in the world. Many people mistakenly believe that the Pyramid itself is the Louvre, however, the Pyramid was an art installation that was built above the "new" entrance to the Louvre after a renovation in the 1980s. Here you will be able to see some of the most famous painters in the world!
The Louvre has several wings and is comprised of about 652,000 square feet, not including private collections or collections not on display. The Louvre is home to one of the world's most famous paintings, the Mona Lisa by Leanardo da Vinci, a masterpiece which is generally surrounded by a crowd of at least 20 people deep. While the Mona Lisa is certainly a sight to behold, we recommend looking on the Louvre website before your visit and picking out some additional works to see.
When you visit Paris in a day, you will be short on time and you could spend days in the Louvre and still not see everything that it has to offer. Some personal favourites include; The Apotheosis of Homer by Jean Auguste Dominique Ingres, Liberty Leading the People by Eugène Delacroix, The Raft of Medusa by Théodore Géricault, Venus de Milo by Alexandros of Antioch, and The Oath of the Horatii by Jacques-Louis David.
You can buy a Louvre Entrance Ticket here and choose the time that you want to visit. Make sure to budget at least 4-5 hours at a minimum for exploring the Louvre.
There is a seemingly endless amount of paintings, statues and more that you can visit at the Louvre museum. We would recommend buying your tickets ahead of time on the Louvre website (typically around 30 euros) as this allows you to enter the much shorter queue for pre-bought passes. When you are walking up to the entrances, there are almost always several men that will walk alongside you in an attempt to sell you to tickets. THIS IS A SCAM. Do not buy your tickets from them! Buy them from a reputable company or better yet, from the official Louvre website.
If you are able, head to the Louvre early in the morning for some incredible photo-ops. If you get there early enough, it can be relatively deserted, which makes for some epic photographs and a stunning sky with the sunrise. When you have one day in Paris, the Louvre is iconic and worth at least walking by.
Skip the line by booking your Louvre Tickets online:
Book here: Louvre Skip The Line/Timed Entrance Ticket
Book here: Skip The Line/Louvre Scandals Tour

Explore the Colonnes de Burren Installation at the Palais Royale
Originally called the Palais Cardinal when it was built in 1639, it was the residence of the famous Cardinal Richelieu. Upon his death, it fell into the possession of King Louis the Xlll and was renamed the Palais Royale. After the king's death the following year he came into possession of the castle, the Palace became home to the Queen mother and her children, including the Dauphin, Louis Xll, also known as the Sun King (who constructed the Palace of Versailles) and his brother, Philippe the Duke of Anjou.
Throughout the centuries, there have been multiple restorations to the Palace. It is currently the location of the French Council of State, the Ministry of Culture and the Constitutional Council.
In the inner courtyard of the Palais Royale, there is an art installation that was built in the 1980's. Les Deux Plateaux, or the Colonnes de Burren was designed by Daniel Buren and is a great place to take photographs, especially when you pose on a column in the manner of a statue. If you arrive early enough, the courtyard is nearly, if not completely deserted. If on your trip to Paris in a day you are looking for some great spots for photos to upload on your Instagram or other social media's, this is a perfect location!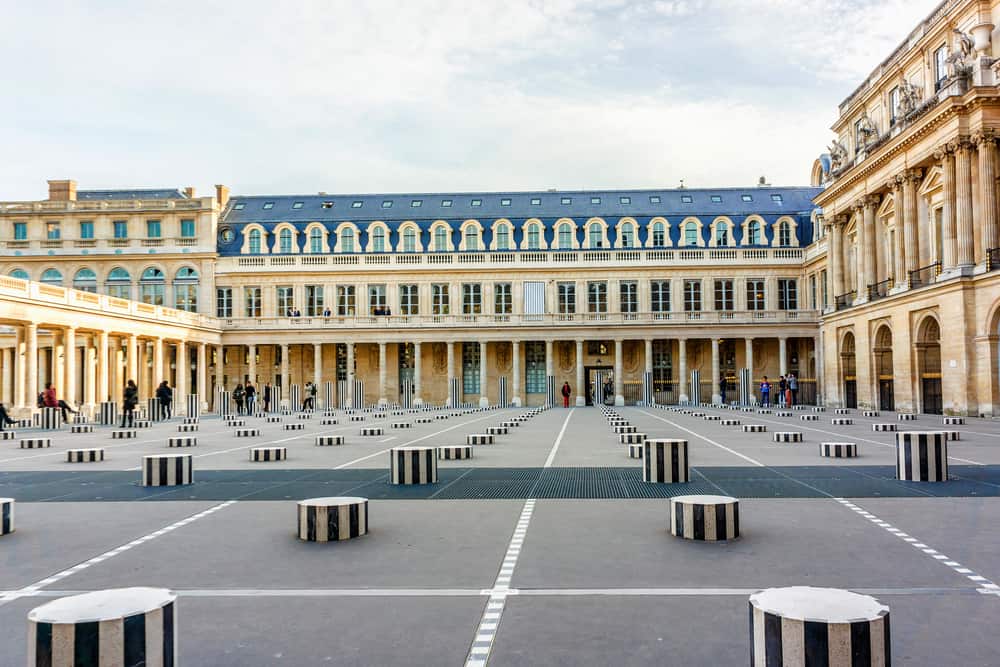 Snap Some Photographs of Notre Dame
As I'm sure you know, there was recently a fire at the Notre Dame Cathedral. Access to the cathedral is currently not allowed and there are roadblocks set up in a circle around the cathedral. Restorations have begun to repair the structural damage to this beloved National treasure.
While you are not able to enter the Cathedral, if you still want to snap a photo, you can walk along the other side of the Seine river and get some beautiful shots to help you remember your day in Paris. While across the Seine, be on the lookout for a bookstore called Shakespeare and Company. This popular bookstore is a favorite with English speaking tourists as Shakespeare and Company is one of the only bookstores in Paris that sells books and reading material in English. The charming bookstore with its many nooks and crannies sells both modern and new selections as well as vintage and first editions.
There are also some great cafes in the area to catch a quick bite, or cappuccino for a pick me up. One place that we like is Odette where you can stop for some choux, a French pastry similar to an eclair, but smaller a circular in shape.
As the tragic fire showed, you never know if a historic structure will suffer from a catastrophic event that prevents you from visiting. Luckily the main structure and most of the interior survived this fire and while you may or may not be able to enter Notre Dame on your visit, you should definitely make time for a stroll on the Seine and getting as close as you can the cathedral when visiting Paris in a day.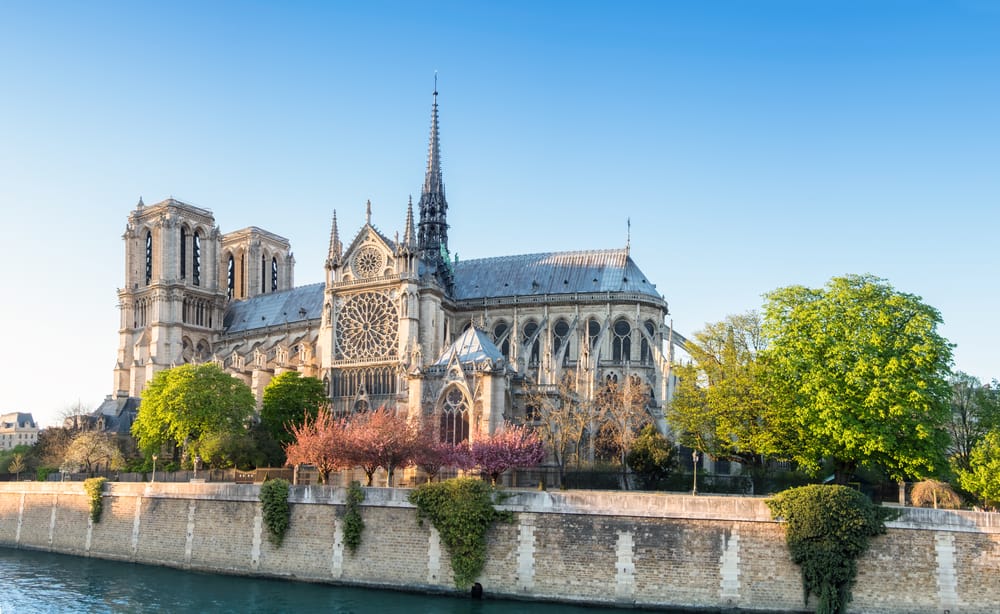 Take a Break at Angelina Paris
Angelina Paris, a popular tea-room most famous for their chocolat l'Africain, a delicious hot chocolate which is essentially heaven in a cup, and one of the best things you will ever taste in your life! Angelina Paris is a perfect spot to head to for a snack or light lunch. Good luck trying to finish a whole cup of their hot chocolate, even if it is the best thing you ever had the pleasure of drinking, because it is extremely rich and sweet, but it will keep you coming back for more or even convince you to buy a bottle of premade Angelina hot chocolate for you to enjoy in the future. In addition to their teas and hot chocolate, they also serve the well known, Mont-blanc pastry; a decadent pastry has icing on the outside and a fluffy creamy middle that is similar to whipped cream but a little heavier and thicker. We'd definitely recommend sharing one of these pastries as it is incredibly rich and there is more than enough for two individuals. There is also a great selection of loose leaf teas, two personal favorites are the Earl Grey and the Jasmine.
Angelina Paris has been a popular spot for many famous individuals to dine at. Patrons of Angelina's included Marcel Proust and Coco Chanel, making this a fashionable and popular spot among the French elite.
If you are looking for a tea room that has some delicious sandwiches, pastries, and hot drinks, visit Angelina Paris. Depending on the time of year and hour of day, reservations are recommended and even if you don't think it will be busy, there will probably be a wait of at least 10 minutes. You might visit Angelinas Paris more than once on your one day in Paris adventure, a little luxury is always fun.
Anglelina Paris has several locations throughout the city. One of the most popular locations is the Angelina Tea Room near the Louvre which has two levels as well as a charming pastry and tea shop in the front of the restaurant. There is also a location in the Parliament building that is very chic but is more business-friendly than the Louvre spot. Be sure to check their website for additional locations throughout the city.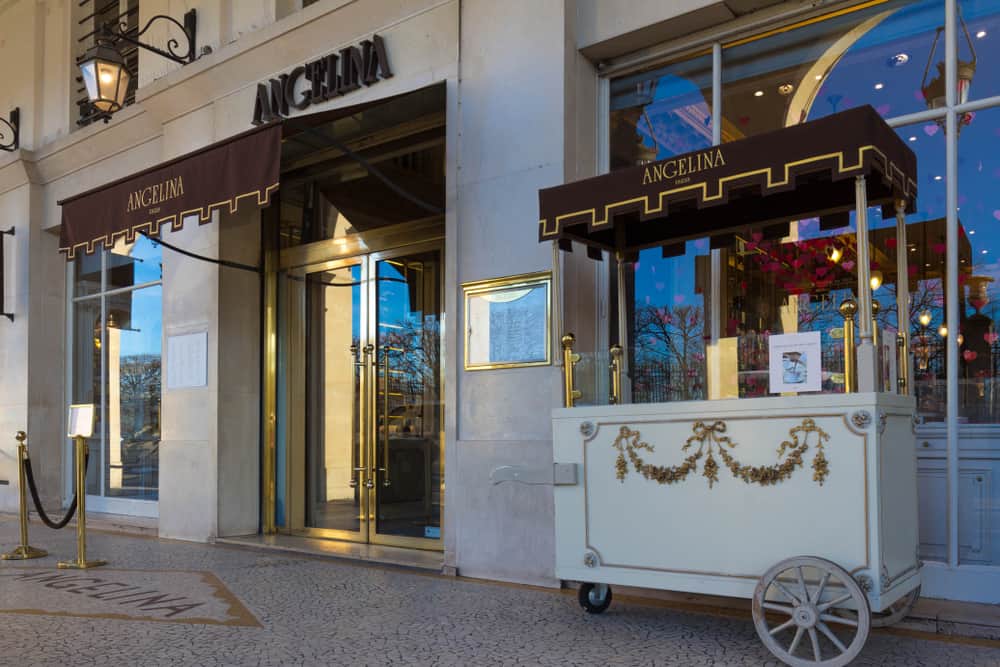 Visit the Stunning Stained Glass Windows of St.
Chapelle Cathedral
St. Chapelle Cathedral is a wonder to behold, especially when you learn that is was constructed in the 11th century. It was commissioned by Louis the lX to house his collection of religious relics, including what was and is believed to be the Crown of Thorns, which was later moved to Notre Dame Cathedral where up until the fire was still housed in 2019 (don't worry it survived the fire).
St. Chapelle was designed in the gothic style and is considered to be one of the biggest achievements of the Rayonnant period. The cathedral was damaged during the French revolution, however, it was restored in the 19th century. Nearly two-thirds of the stained glass windows that you can currently see are originals that have survived since their creation.
The windows themselves are an incredible sight to behold, especially considering how much time and work was put into creating the towering portrayals of Biblical scenes. Your trip to Paris in a day, of course, has a limited amount of hours, but the history, art, and architecture featured at this historic landmark are not to be missed. Tickets cost around 10 euros, a small price to pay for the breathtaking beauty you see inside this stunning cathedral!
Skip The Line And Get Your Notre Dame Tickets Online:
Self-Guided Tour & Skip-the-Line Ticket to Sainte Chapelle
Skip-the-Line: Notre Dame Towers and Sainte-Chapelle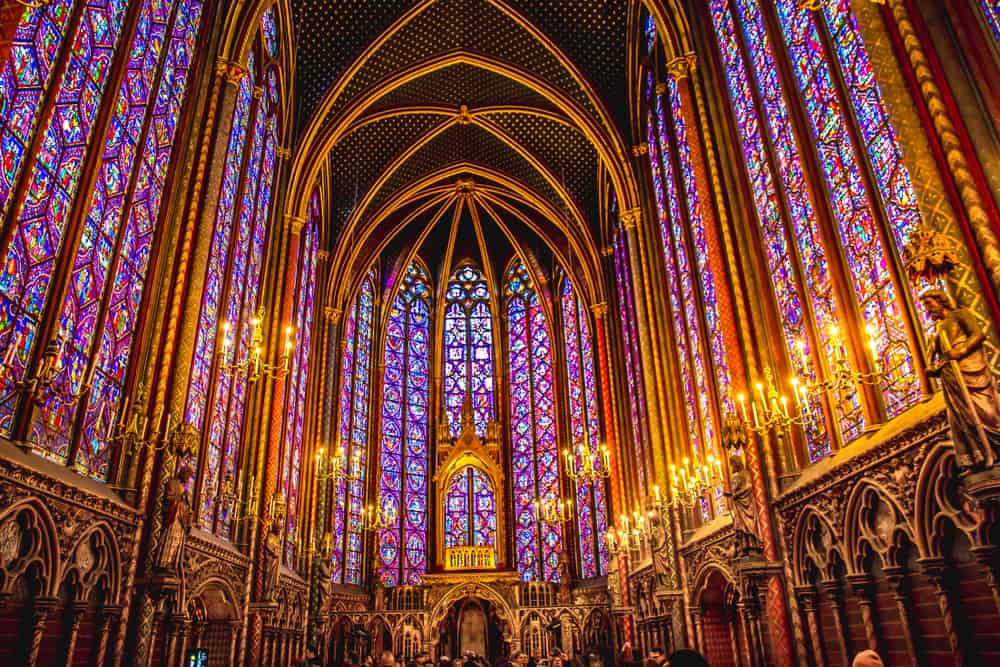 Take a Sunset Cruise on the Seine River
When you are ready to wind down from your incredible trip to Paris in a day, we would definitely recommend a sunset riverboat cruise on the Seine River. The views you see from the boat are fantastic, some of the buildings that you pass are buildings and sites that you may have visited earlier in the day. Don't worry about a lack of sunlight though, if your visit to Paris is during summer, the sun typically doesn't set until at least 9 pm which allows for plenty of daylight hours so you can enjoy the views. Twilight lingers for quite a while, giving your cruise a dreamy effect, which is also quite romantic in our opinion.
There are many different sunset cruises that you can enjoy seeing Paris in a day. Many serve dinner, such as the Bateaux Parisiens Seine River Dinner Cruise or the Bateaux Mouches Seine River Cruise which offers dinner and live music! Reservations are always necessary for sunset riverboat cruises and you should book at least a few days in advance as they are usually sold out the day of. This is truly an epic way to conclude your trip to Paris in a day!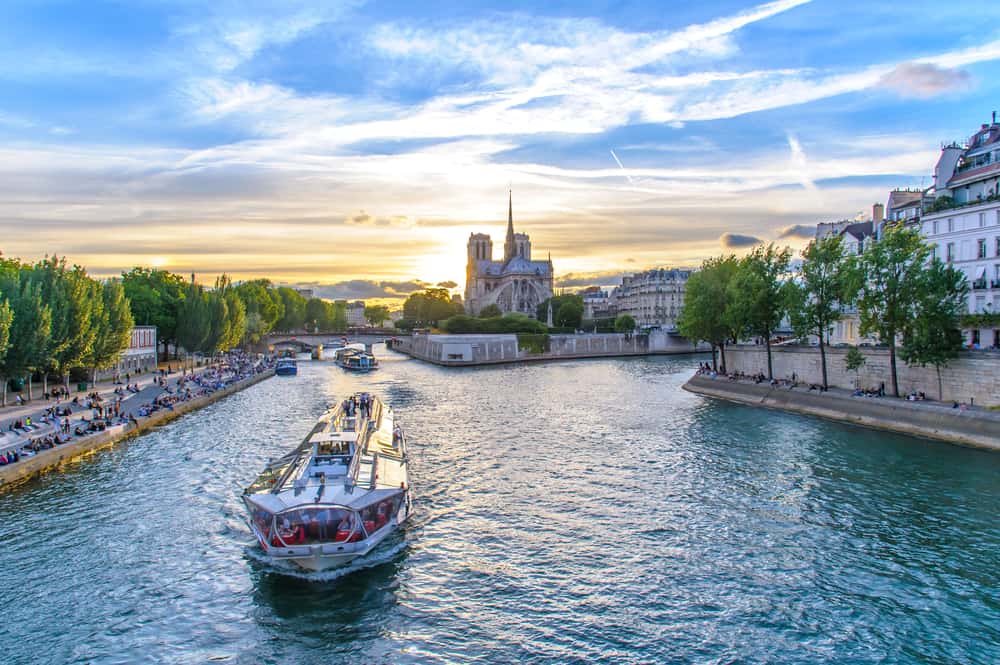 Where To Stay In Paris
There are so many incredible places to stay in Paris even if you only have one day or one night! These are a few of our favorites places to consider staying if you have one day in Paris. We recommend staying somewhere very central since you are only in Paris for a day. We have been to Paris countless times and we can tell you that so many areas of the city are good so as long as you are near a good metro stop you should be set!
Affordable: Hôtel de la Tour Eiffel
Hôtel de la Tour Eiffel is one of the best places to stay in Paris if you are looking for airy rooms and close proximity to the Eiffel Tower for an affordable rate. It is a casual hotel with many rooms offering street views and a courtyard patio with a garden. This is where to stay in Paris if you want to be less than two blocks from the Eiffel Tower!
Check Rates: Booking.com
Budget: Le Village Montmartre
If you are looking for where to stay in Paris on a budget, Le Village Montmartre is there for you! This is a combination of a hostel and a hotel so there is something for everyone. If you are looking for the cheapest places to stay in Paris, simply book a hostel room from Le Village Montmartre which would be a shared dorm. Looking for an affordable but private room? This hotel offers that option as well!
Check Rates: Booking.com
Mid-Range: Hôtel Odyssey
For a mid-range hotel this close to the Louvre, Hôtel Odyssey really is a steal! This is not the hotel in Paris for Parisian charm, rather, Hôtel Odyssey provides a modern French flair you don't often see. It is in an incredible location and very near the Louvre so you can be the first ones in line!
Check Rates: Booking.com
Budget: Sully Hotel
There are a few budget hotels in the 4th district and Sully Hotel is one of them. It is located right in the heart of Le Marais and is where to stay in Paris if you want to experience this area on a tighter budget. Sully Hotel offers unassuming hotel rooms with free wifi but the great part is that it is in an incredible location.
Check Rates: Booking.com
Eiffel Tower Views: Le Metropolitan
Le Metropolitan, a Tribute Portfolio Hotel is located in the 16th district of Paris. Surprisingly, Le Metropolitan is one of the more reasonably priced 4-star hotels in Paris with an Eiffel Tower view in Paris, especially for being located in such a fancy neighborhood. If you are looking for some Eiffel Tower balcony views make sure to request the "Eiffel View Suite" which features a little balcony and large living and sleeping spaces.
Check Rates: Booking.com | Hotels.com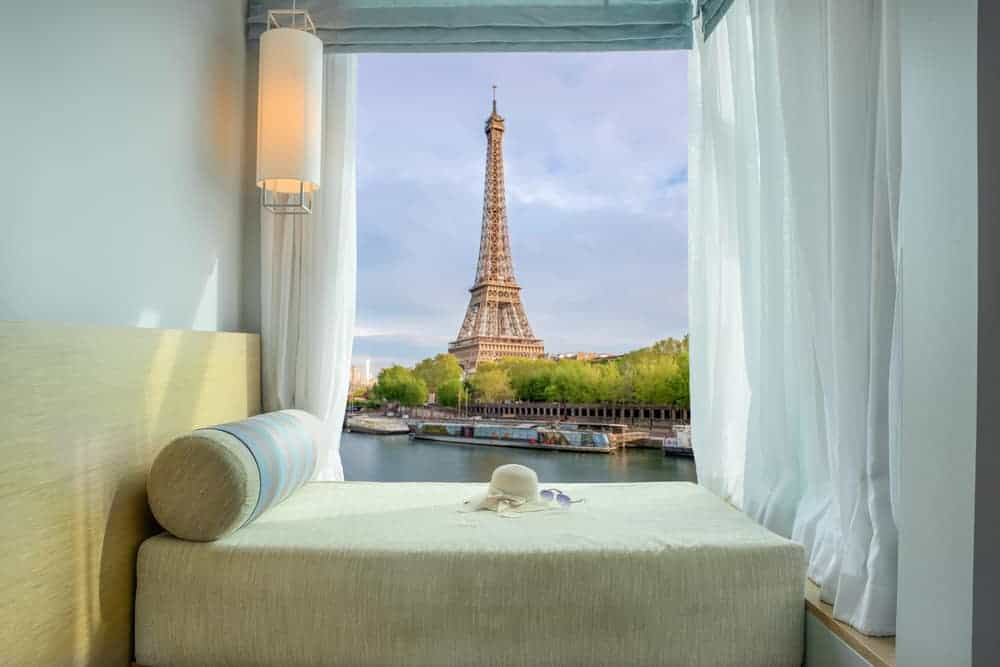 Where To Eat In Paris
Paris is internationally famous for their food and it is no surprise! There is every type of cuisine imaginable, and you can pick whatever type of food suits your fancy. From Asian and Indian fare to Italian and traditional French, there are so many wonderful types of food to choose from. We are listing some of our personal favorites below, but don't be shy and go out and find some new favorites for yourself as well!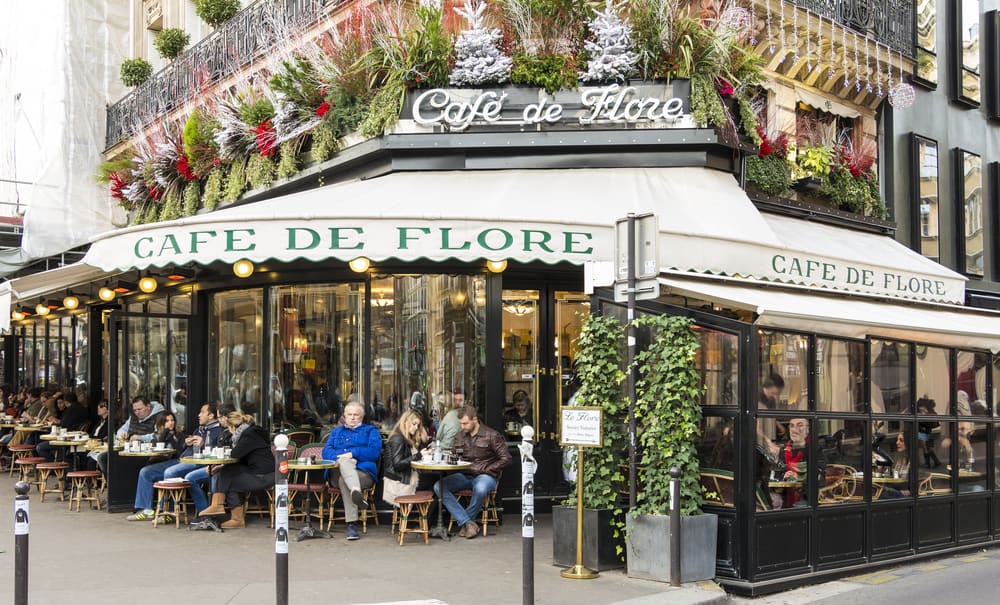 As you can imagine, Paris is an incredible city with so much to do and see. A Paris in a day itinerary can sound like a lot and feel overwhelming and while you probably won't be able to see everything on this list in just one day in Paris, but you can definitely hit two or three stops if you plan accordingly!
There is something for everyone in this culturally rich city, from the art and architecture at the Louvre, to the Michelin starred restaurants that offer incredible dining experiences on the Champs Élysées, and the iconic landmarks such as the Eiffel Tower and Notre Dame. You could spend a month here and not run out of things to do or places to visit!
Make the most of your day and visit some of these amazing places, take lots of pictures, enjoy the incredible food, shop a little and don't forget to be conscientious of your surroundings. Be safe and have fun on your trip to Paris in a day!