Are you planning a trip and or wondering about the best things to do in Ireland?
Or are you simply searching for inspiration to fuel your wanderlust? Either way, this article is for you!
Ireland is such an exciting and beautiful country, and it would take years to see everything it has to offer.
Planning your trip to Ireland last minute?
Make sure to book your hotels and tours in Ireland in advance to ensure availability! Here are our top picks for your trip!
Top experiences and tours in Ireland:
Top Hotels In Ireland:
Unfortunately, most of us don't have that much time when planning a trip to Ireland.
Luckily, however, this article gives you 40 incredible things to see in Ireland that will make your trip unforgettable!
There is something for everyone on this list of the top attractions in Ireland, no matter what you are looking for!
If you are adventurous, you could go coasteering, hike the tallest mountain in Ireland, or surf in Donegal.
For history buffs or lovers of castles, why not spend the night in a castle or explore one of the many that Ireland has to offer?
Ireland is also known for its beautiful scenery, so no trip here would be complete without visiting some of its world-famous cliffs or national parks.
Let's find out what to do in Ireland!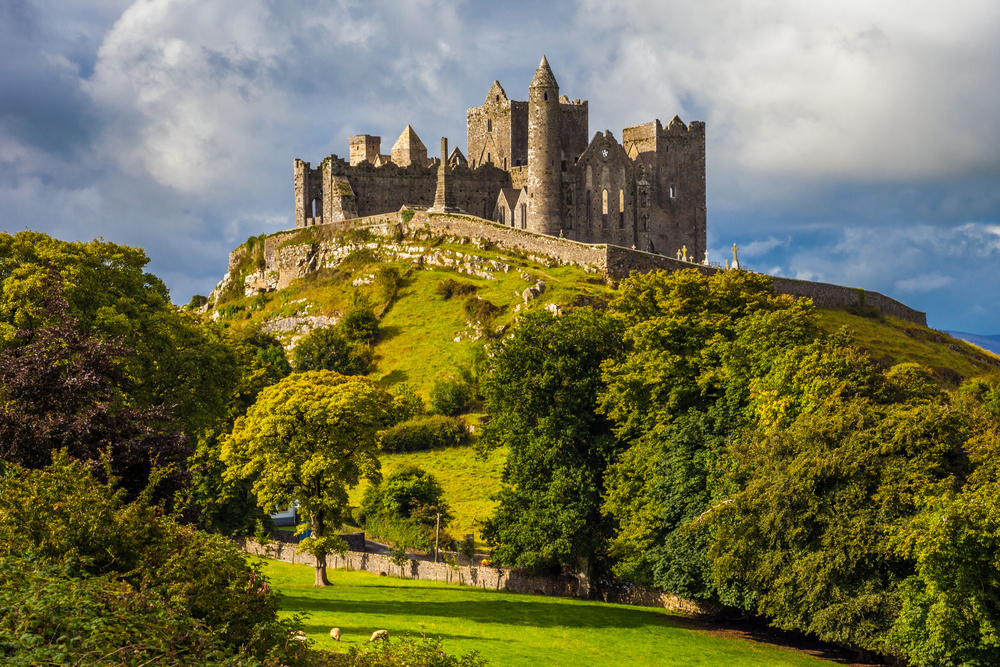 40 Best Things To Do In Ireland: Epic Ireland Bucket List
Go Coasteering
If you have never heard of coasteering before, don't worry, you are not alone.
Not a lot of people outside of Ireland or the U.K. have heard of it before, but it is definitely one of the most adventurous things to do in Ireland.
To go coasteering, the first thing you have to do is put on a wetsuit and a helmet. Then you are ready to go swimming along the hidden caves on Ireland's coast
If you are feeling adventurous, then you can also jump off of the cliffs into the water below.
This is something you want to do with an experienced guide so you stay safe along the rocky coast.
Deciding how much you are comfortable with this experience is also totally up to you. If you don't want to jump off that cliff, then you don't have to jump off that cliff.
No matter how adventurous you get, this is one of the things to do in Ireland that you will never forget.
Book Here: Fethard: Hook Head Guided Coasteering Experience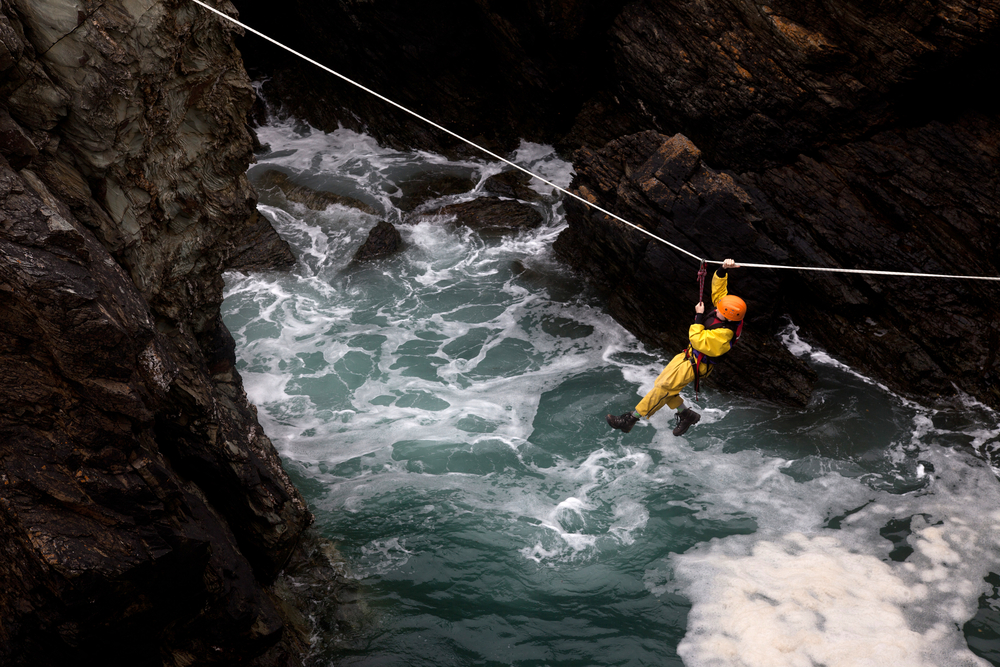 Sleep In An Irish Castle
Spending the night in one of the enchanting castle hotels in Ireland is an experience of a lifetime.
These unique accommodations combine history and luxury into an unforgettable stay.
These castle are some of the best 5-star hotels in Ireland.
Whether you are planning a romantic Ireland honeymoon or looking for one of the coolest places to stay in Ireland, then staying in an Irish castle should definitely be on your list!
Book Here: Ashford Castle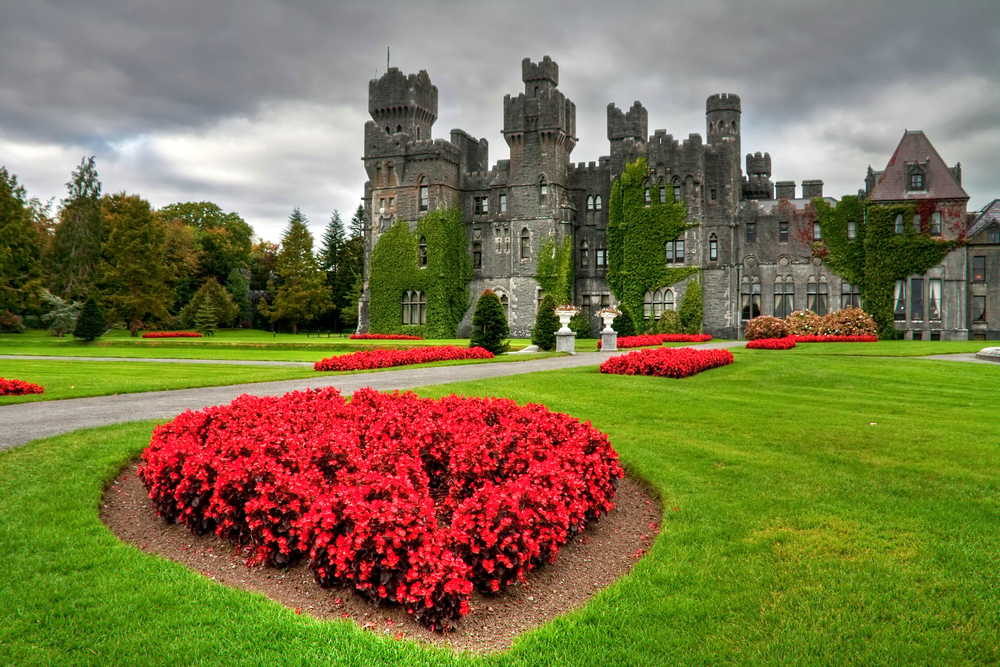 Explore Achill Island
Achill Island can be found in Ireland's Mayo county, and it is one of the places to go in Ireland for the best views!
Offering the 3rd highest sea cliffs in not only Ireland but all of Europe and Croaghaun Mountain, Achill Island offers some pretty spectacular sights.
There are a couple of ways to get to Achill Island. You can drive or take a bus if you want to, but the most exciting way to get there is the Great Western Greenway.
It is a 42 km trail for hikers and bikers from Westport to Achill Island.
Achill Island also has some beautiful white sand beaches, like Keem and Keel. Enjoy relaxing or water sports like kite surfing, sea kayaking, and windsurfing.
If you are looking for another water activity, then consider going paddle boarding on Corrymore Lake.
Traveling with children? You should definitely visit Woodland Faerie Trail, which is a themed trail with games and activities.
If you are looking for other places to visit while in Mayo, then check out this article of things to do in Mayo.
Book Here: Ireland's North Atlantic Coast 5-Day Tour from Dublin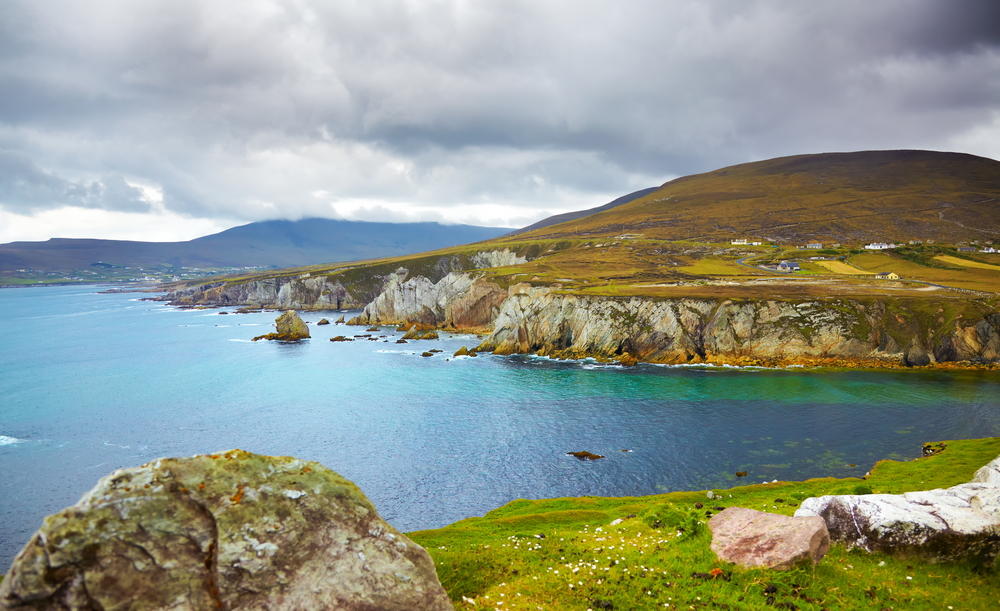 Visit Skellig Michael
Skellig Michael, which is the largest of the Skellig Rocks, is one of the hidden gems in Ireland.
Located in the Irish county of Kerry, Skellig Michael is a huge sea crag.
This island was a location of a monastery during the 6th to 8th centuries. The monastery has since moved, probably during the 13th century.
Skellig Michael has been named a UNESCO World Heritage Site and draws in tourists every year to see this marvelous location.
If you want to visit Skellig Michael, first hire a boat to take you. Once you have made it to Skellig Michael, you will need to climb the 600 steps to the monastery.
Careful, they're probably slippery! It is suggested visitors wear appropriate shoes for climbing the wet steps, as well as warm and preferably waterproof clothing.
Something that is important to be aware of, is that there are no bathrooms on the island, and it is around a 5-hour trip.
While this is one of the things to do in Ireland that might not be possible for everyone if you can do it, you definitely should!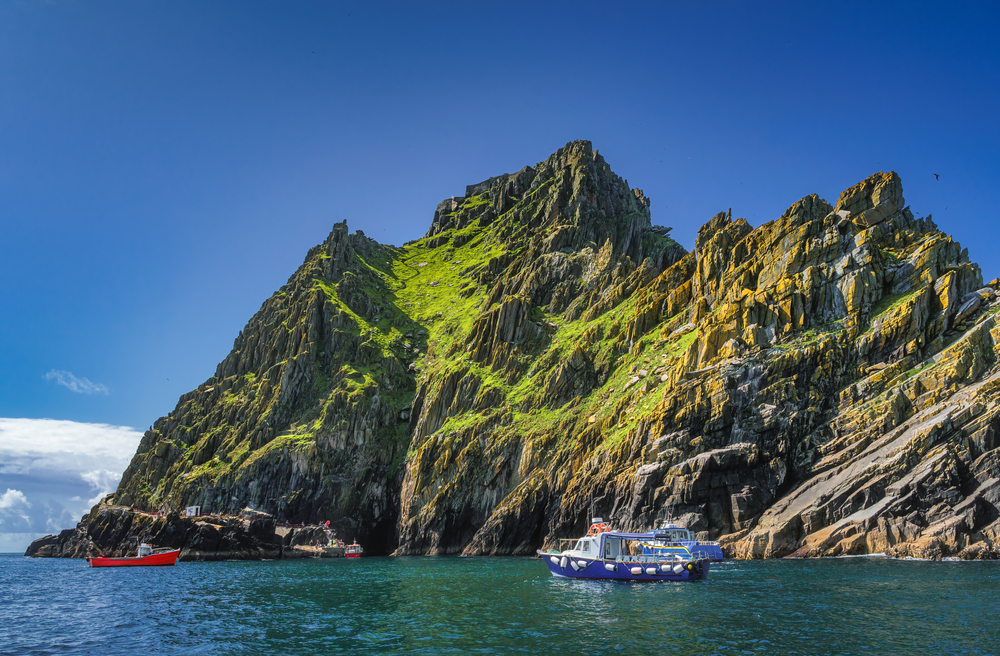 Hike The Historic Hare's Gap
When looking for the best hikes in Ireland, it can be difficult to decide what to do. After all, there are so many hikes for all different levels!
Hare's Gap in County Down is an interesting hike though because you are not only getting some beautiful views but some history.
While walking part of the trail once used for smuggling goods like soap, spices, and coffee, you will also be able to see boulder fields, glacial cliffs, and rolling mountains.
The hike is only about four miles roundtrip, though some steep areas make this a moderate hike.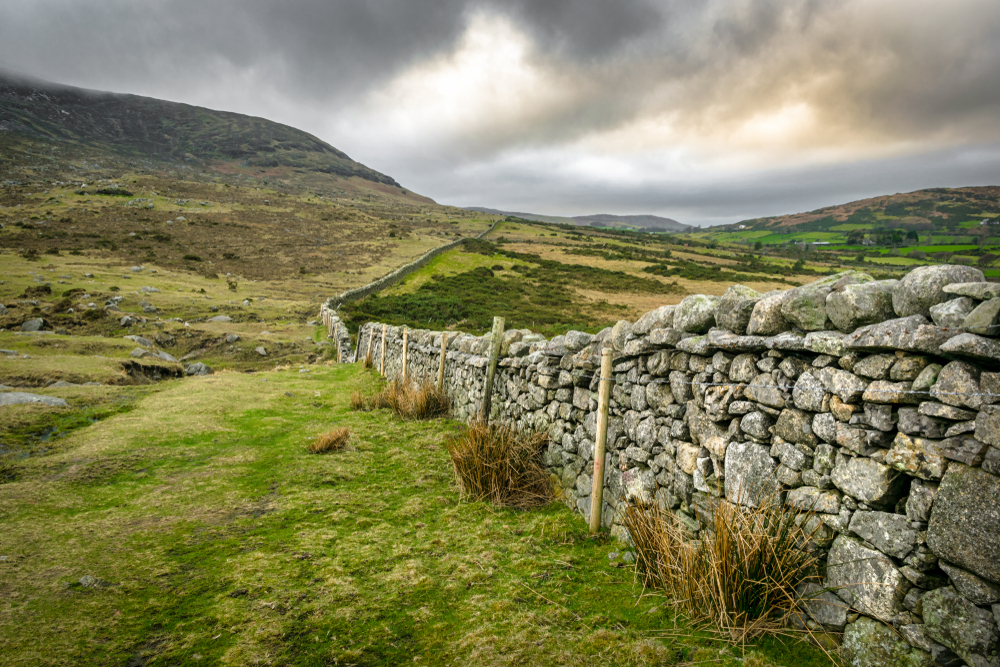 Take Photos Of The Deck Of Cards Houses In Cobh
One of the coolest things to see in Ireland is the Deck of Cards Houses in County Cork.
The Deck of Card Houses in Cobh is a series of 23 brightly colored houses built in the 1850s that are almost stacked on top of each other on a steep hill.
They get their name from the joke that if the bottom house were to fall, the rest would follow, collapsing like a deck of cards.
As if the houses weren't pretty enough on their own, behind them you can also see St. Colman's Cathedral, which is a beautiful addition to one of the most picturesque attractions in Ireland.
If you want to visit these cheery houses, then be aware that the GPS will not take you to the right place if you input "Deck of Card Houses."
You need to go to this location. From there you can walk up a small hill where you will find the spectacular view that you see in all of the pictures!
Here are some other things to do in Cobh.
Book Here: Cobh: Guided Historic Walking Tour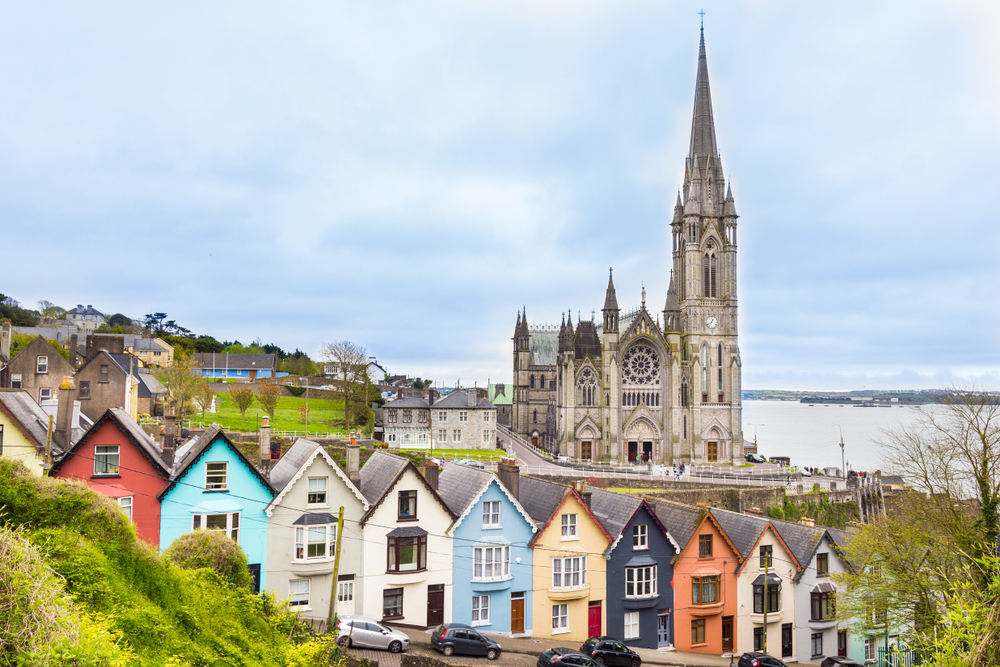 Walk Along Lahinch Beach
While Lahinch Beach might not be one of the best beaches in Ireland for you to visit if you are looking for white sand and a place to swim, it the perfect spot for surfers!
Rated one of the best spots for surfing in Ireland, Lahinch offers waves whether the tide is high or low and all year round.
Lahinch Beach is located in County Clare and is one of the most beautiful beaches that should be on your list of what to see in Ireland.
Right by a pretty small town, Lahinch is known for its craggy shorelines and wonderful sunsets.
If instead of getting in the water you would rather walk by it, you can walk on the shore during low tide or on the walkway during high tide.
From here you might be able to see the dolphins that often swim by.
Make sure to check out our post about the Best Time To Visit Ireland which breaks down the weather, what to do etc!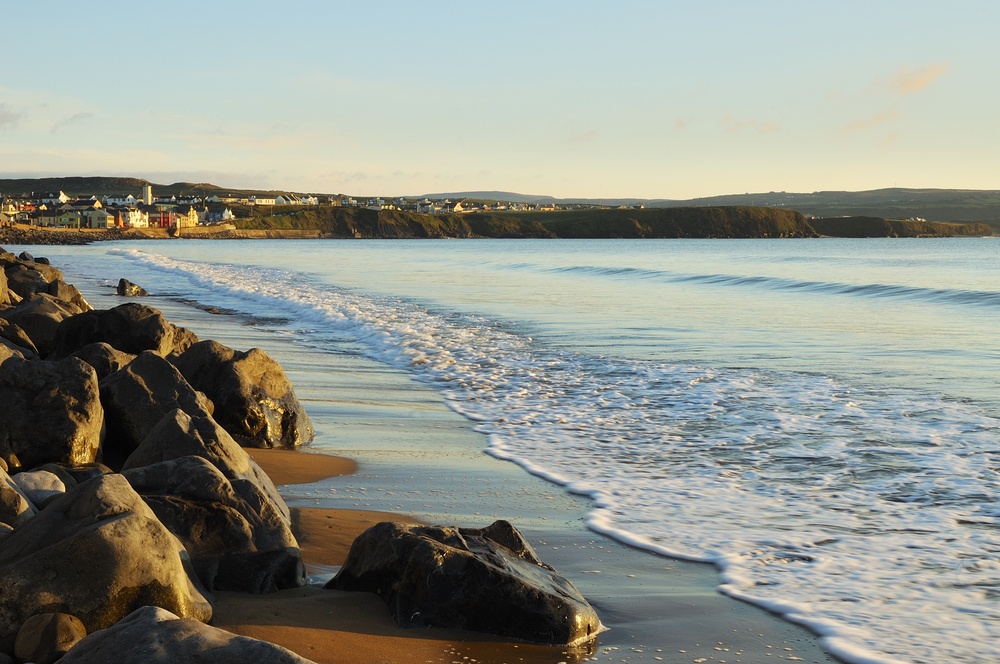 Marvel At Dunluce Castle
Not only is Dunluce Castle one of the most beautiful things to see in Ireland, but it is also one of the locations in Game of Thrones, and is on this Game of Thrones Ireland itinerary.
It was used as a background mock-up to create the Iron Islands, though there were no scenes with people filmed here.
This castle, which is in County Antrim, was built in the 16th century and is a great place to explore.
Even if you don't want to pay to go inside, you can walk around the grounds for free!
Here is an awesome Game of Thrones tour if you want to see some of the other locations from Game of Thrones with a tour guide.
Book Here: Belfast: Giants Causeway & Game of Thrones Locations Tour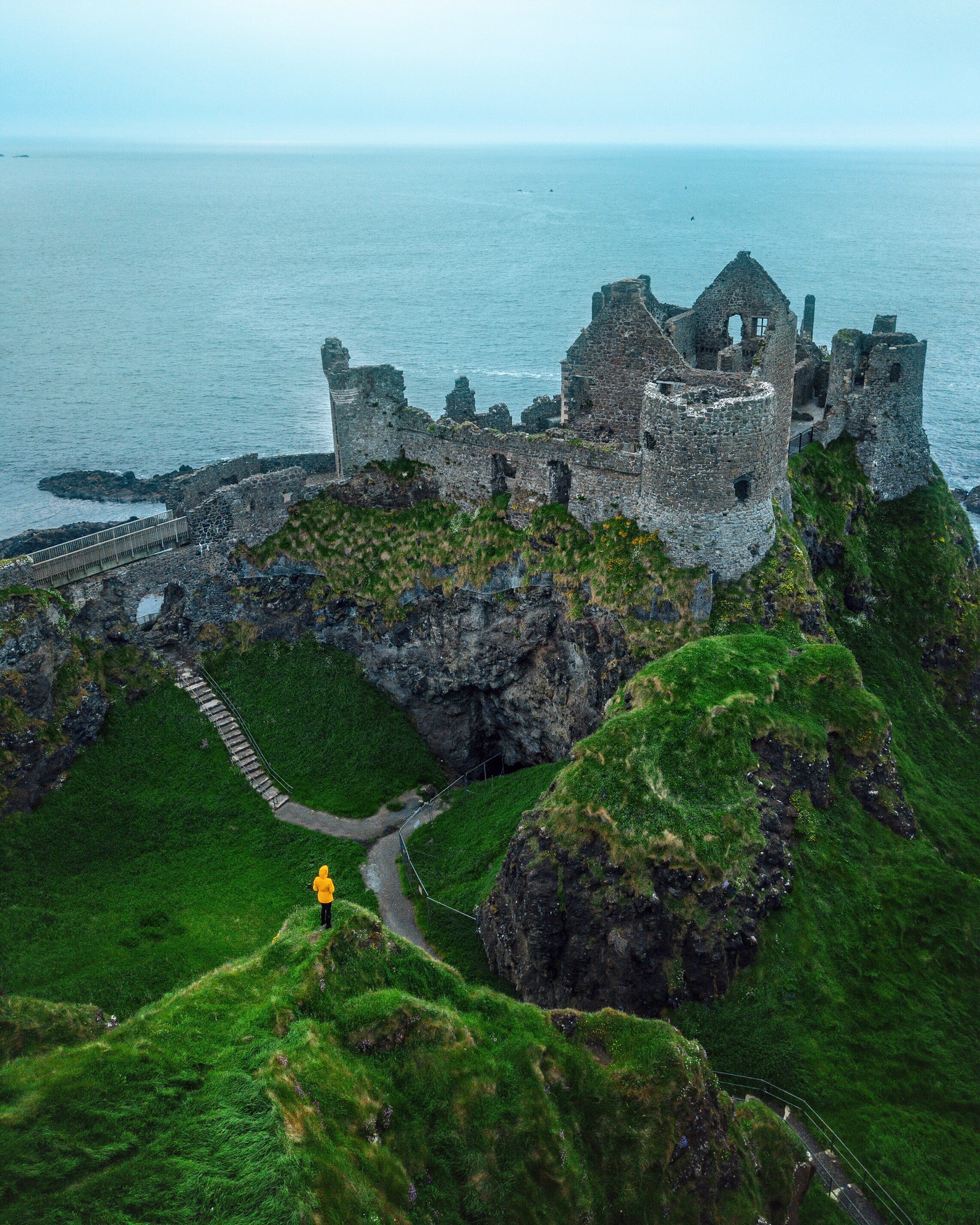 Climb Slieve League Cliff
Located in County Donegal, Slieve League Cliff should definitely be on your list of things to do in Ireland, even though it might not be as popular as the Cliffs of Moher.
Don't let this stop you from visiting though, as Slieve League Cliff, at 1955 ft above the sea below, is nearly three times higher than the Cliffs of Moher.
These cliffs definitely give you one of the best views that you need to see in Ireland and a great experience in Donegal!
There are two ways to get these spectacular views. The first is taking your car to the drive-up viewpoint. This is great for those who are unable to hike, or who just don't want to.
It will be a completely different experience though if you hike along the trail. While seeing the Slieve League Cliff, consider checking out some other things to do in Donegal.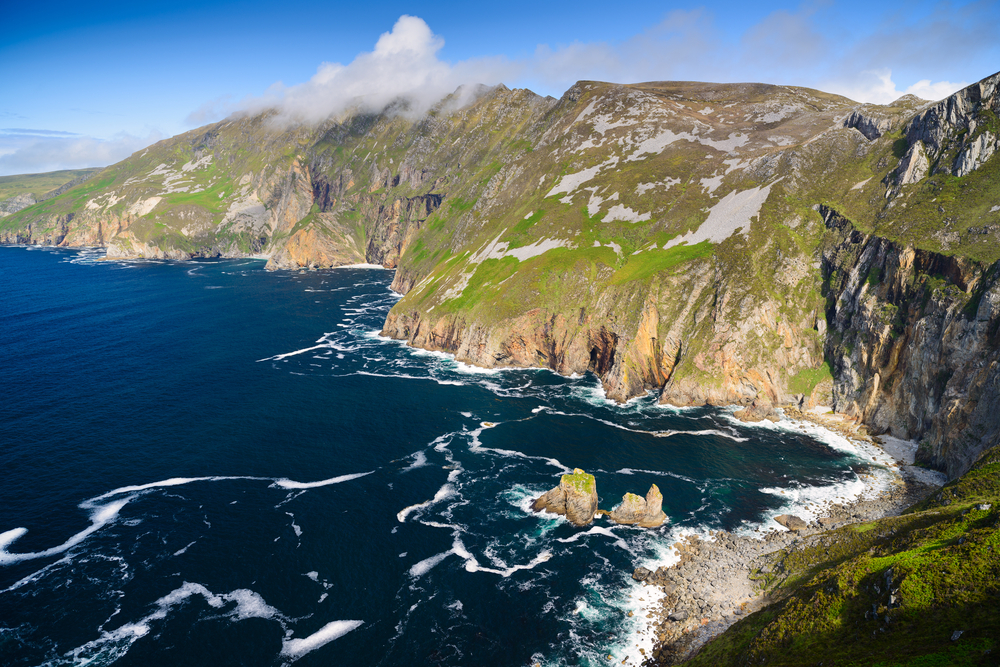 Photograph Downpatrick Head
Some of the most beautiful cliff views in Ireland can be found at Downpatrick Head.
Located along County Mayo's coastline you can find some pretty remarkable sights on this part of the Wild Atlantic Way.
Since Downpatrick Head is one of Ireland's hidden gems, there will be fewer tourists than other cliffs you might visit.
The cliffs on their own are absolutely incredible, but what makes Downpatrick Head one of the things to see in Ireland is the view of Dún Briste.
Dún Briste is a "sea stack" made of several layers of multicolored rock jutting out of the ocean.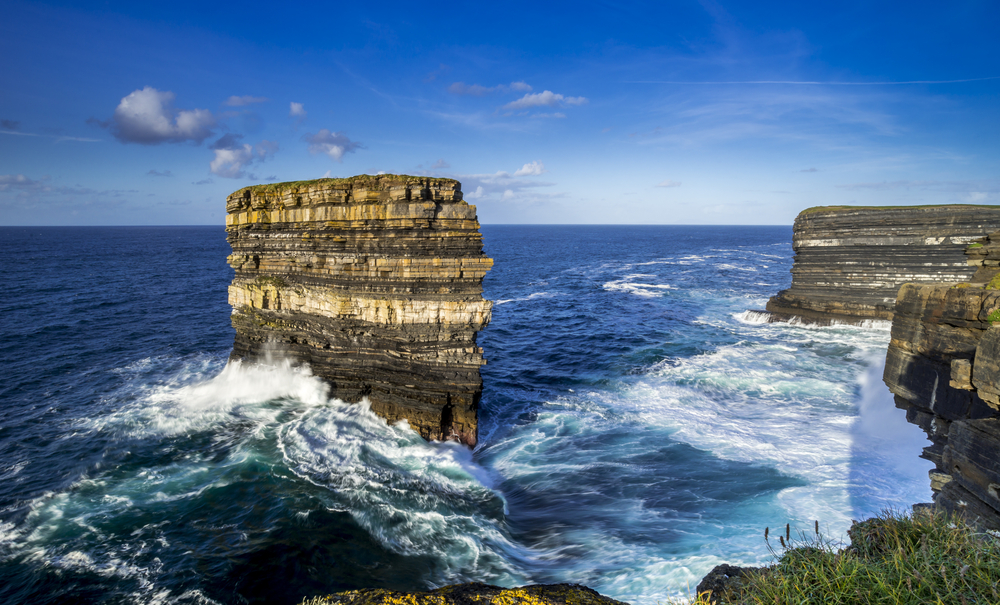 Road Trip Along Slea Head Drive
Slea Head Drive is a scenic route of 30 miles that encircles part of Dingle Peninsula in County Kerry.
Driving this stretch can take you anywhere from half a day to a few days, depending on how long you are planning on stopping.
The actual drive only takes around three hours, but there are so many stops along Slea Head Drive that you have to make!
There is something for everyone on Slea Head Drive like forts, beaches, Star Wars filming sights, and historic churches.
While it is very possible to drive yourself, if you don't feel comfortable driving or want the stops already picked for you, then you can take a Dingle Peninsula tour.
Book Here: Ireland: Dingle Peninsula Day Tour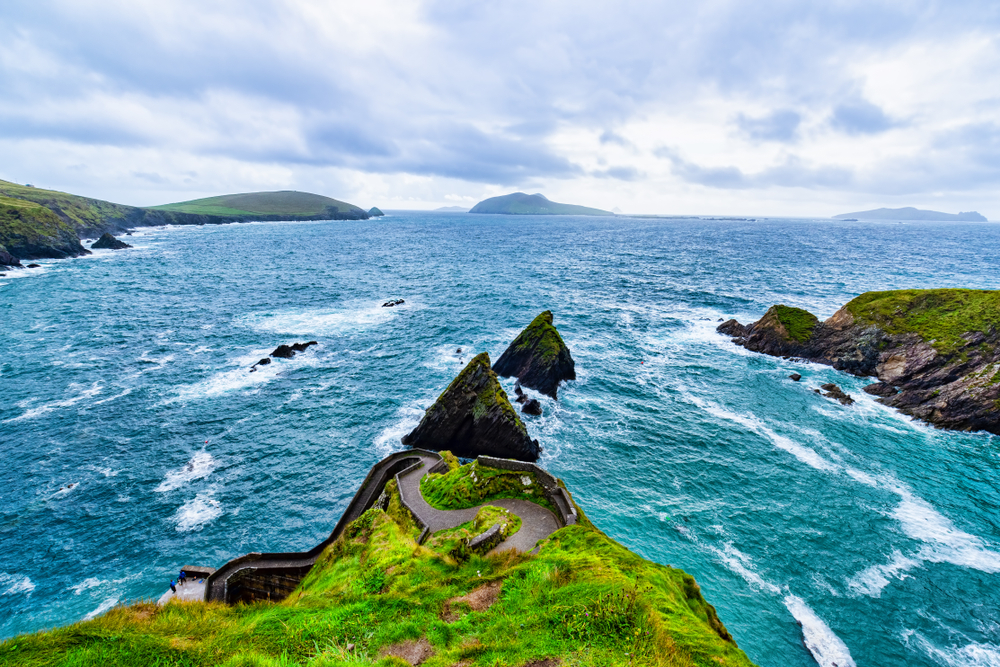 Visit The Cliffs Of Moher
The Cliffs of Moher in County Clare are the most popular cliffs in Ireland, and for good reason.
Whether or not you normally like seeing the really "touristy" attractions during your travels, the Cliffs of Moher should definitely be on your list!
When you get to the cliffs, you can stop at the Visitors' Center and grab a bite to eat before heading out to see the cliffs!
You can either stay on the visitor center's property or if your feeling adventurous, go out and walk on the cliffs. While this is an amazing experience, be very careful if you go out on the cliffs, as this can be risky.
The Cliffs of Moher are one of the must-see in Ireland attractions. Can you think of anything that is more Irish?
If you are looking for some other must Ireland attractions that you must check out while in Ireland, take a look at this Ireland road trip.
Book Here: Dublin: Cliffs of Moher, Kilmacduagh Abbey & Galway Day Tour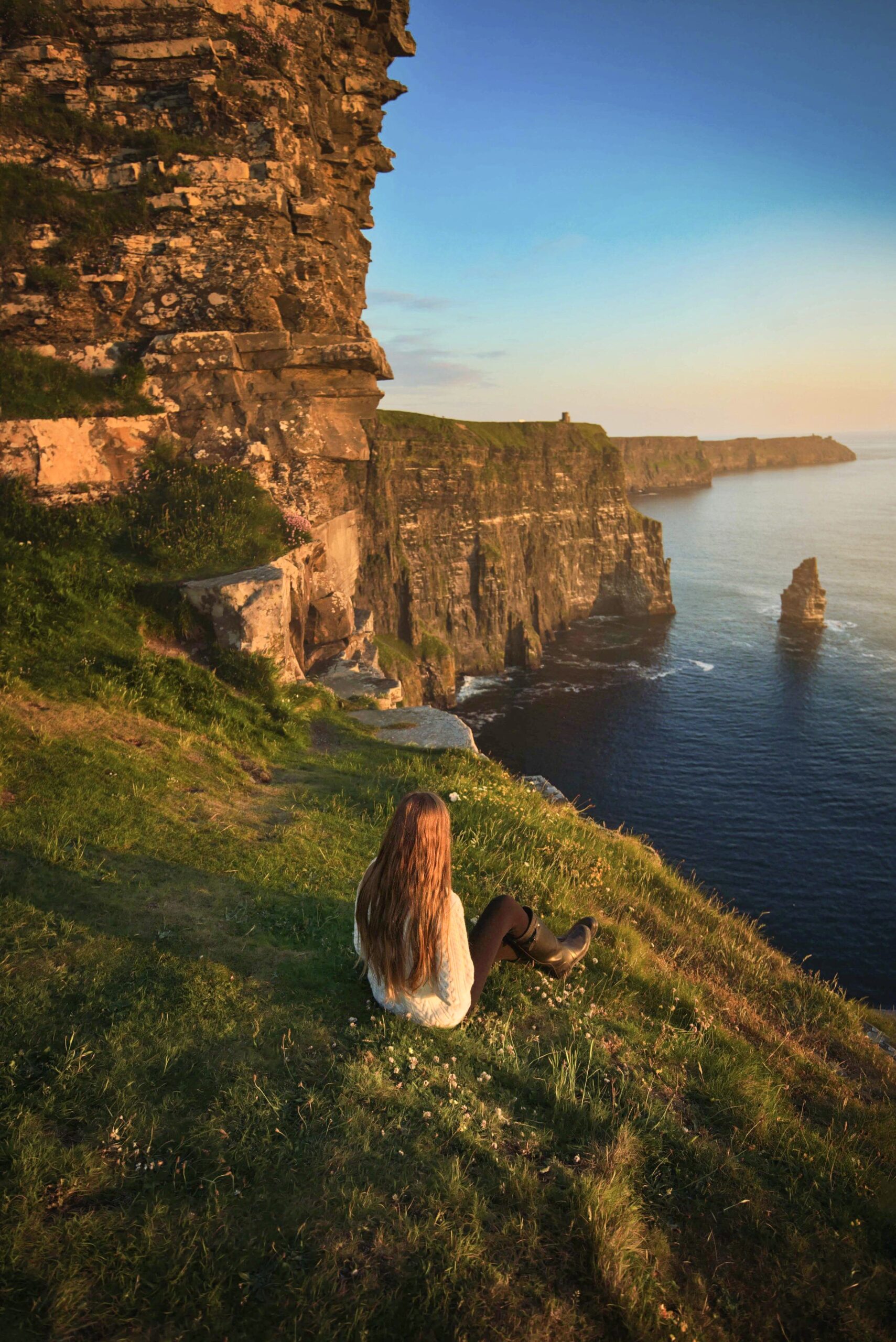 Walk Along The Giant's Causeway
The Giant's Causeway in County Antrim is the only UNESCO World Heritage Site in Northern Ireland.
It is made up of basalt columns formed through the rapid cooling of lava from an underwater volcano.
This magnificent site can be found along the Causeway Coastal Way, which is a 33-mile trail along the coast.
If 33 miles is sounding a little long to you, don't worry! You can still visit one of the best things to see in Ireland with a much shorter hike.
You can walk from the Visitor Center at Old Bushmills Distillery to the Giant's Causeway, which is going to be 2 miles.
Besides seeing the Giant's Causeway, there will also be many other spectacular views.
Book Here: From Belfast: Giant's Causeway Coastal Adventure w/ Tickets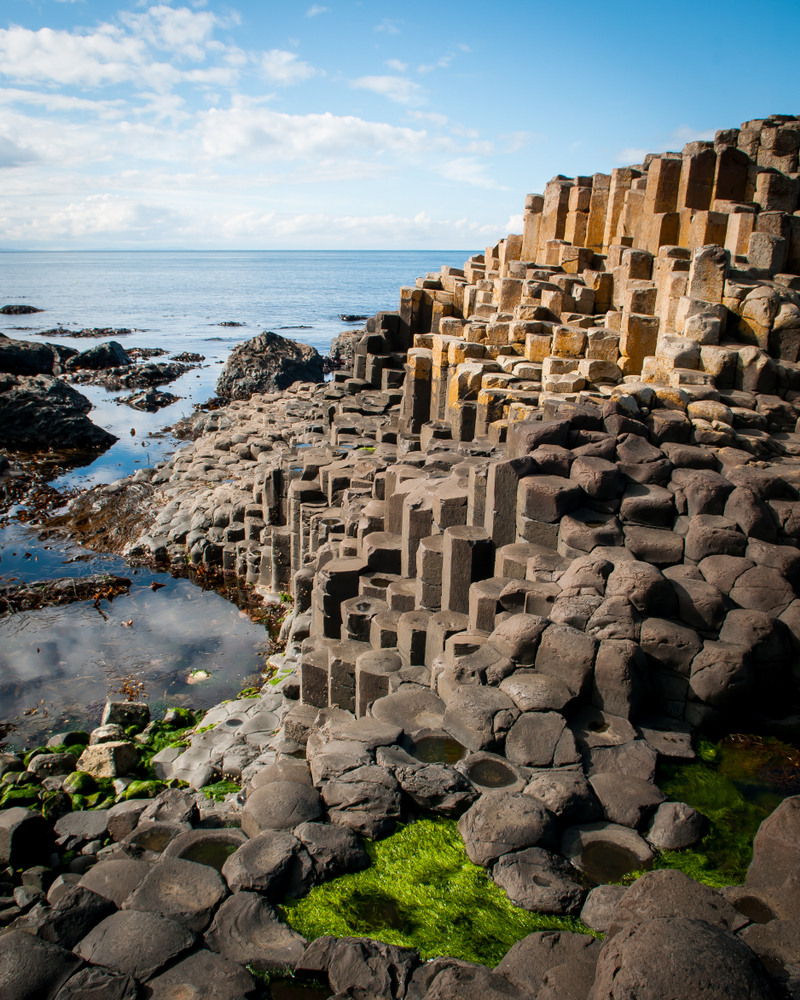 Learn About The History Of Westport House
Considered the most beautiful house in Ireland, Westport House should definitely be on your list of things to do in Ireland!
This house in County Mayo has over 30 rooms you can see with an audio tour.
The house was built by Colonel John Browne in 1650 on top of one of Grace O'Malley's castles.
She was the Pirate Queen of Connacht who ruled the land and seas around the estate. Today, the dungeons from her castle can still be toured!
While visiting Westport House, there are some things you just have to do!
The first is touring the many gardens located on almost four hundred acres of land. You can explore the Looped Walk, the Italianate Gardens, the secretive walled gardens, the forest trails, and so much more!
Westport House also offers a birds of prey show and a hawk walk. Both of these are unique things to do in Ireland.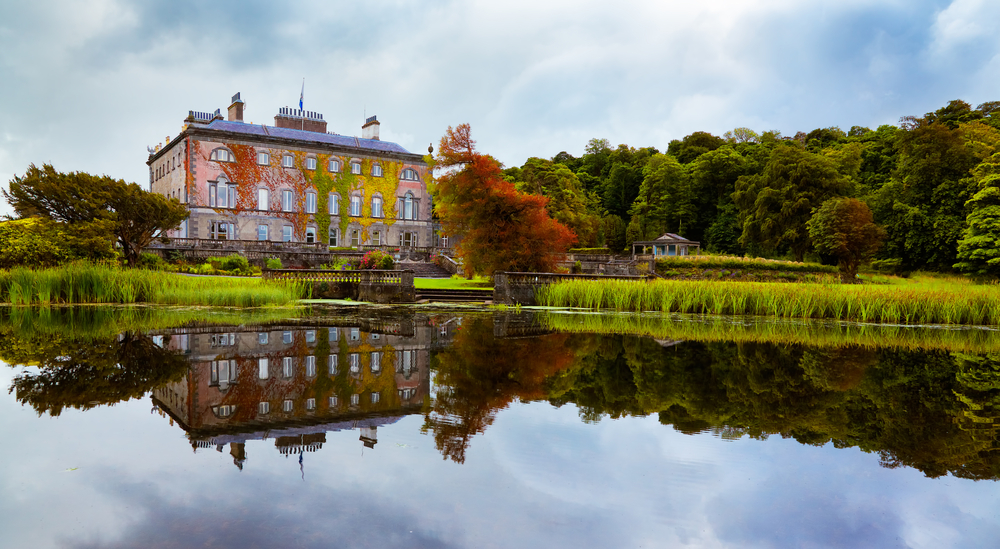 Go North To Malin Head
If you go to the furthest point north in Ireland, then you will find Malin Head located on the Inishowen Penisula in County Donegal.
Malin Head is known for its coastal scenery, thriving birdlife, and many historical curiosities.
If you are lucky, then you might be able to see the Northern Lights which have been making some appearances here recently.
It is one end of the Wild Atlantic Way, which is a route full of soaring cliffs, charming towns, hidden beaches, and some pretty amazing bays.
For movie fans, you would probably be interested to know that Malin Head was a filming location in Star Wars: The Last Jedi.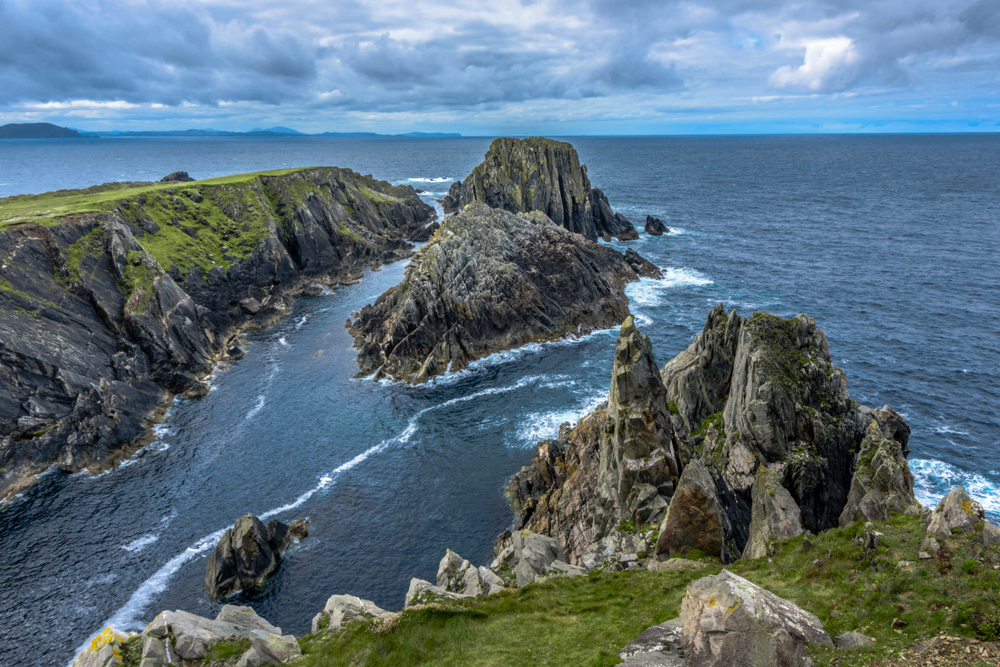 Find Glencar Waterfall
Located in County Leitrim, this 50 foot waterfall is one of the prettiest waterfalls in Ireland.
Glencar Waterfall, which is free to visit, is best seen right after it rains. This is one of the most popular waterfalls in Ireland. It was even included in a poem by W.B. Yeats.
There is free parking at the car park, and the short walk will let you see a few other waterfalls on your way!
There is a picnic area, a playground, restrooms, and even a small tea room.
If you are feeling a little adventurous, then you can make the 5-minute climb up to the top of the waterfall, and get a unique view.
You can also go fishing in the lake if that is something that you would enjoy.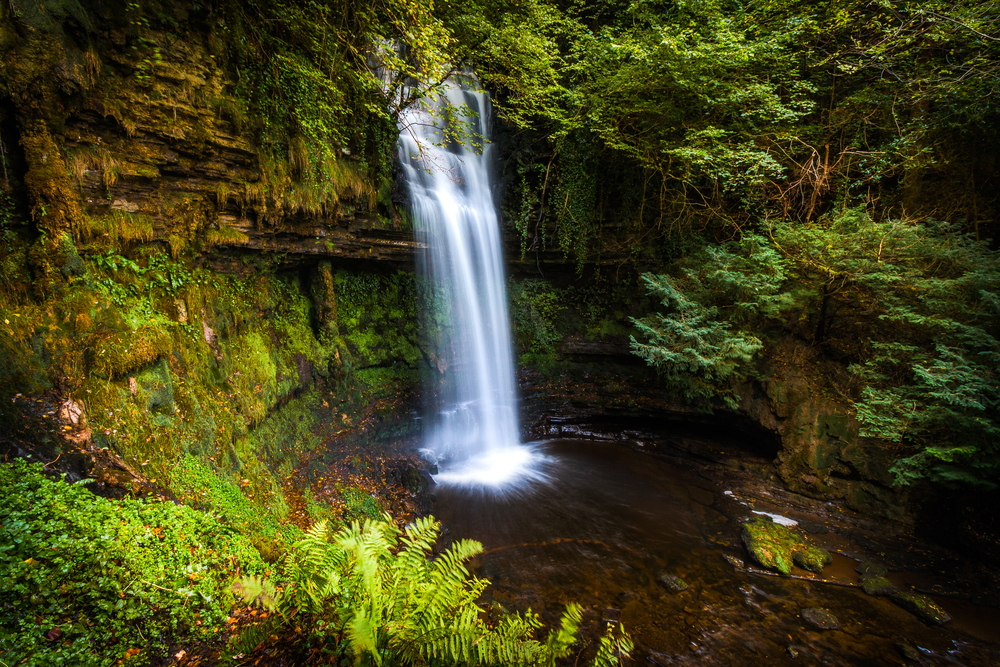 See The Book Of Kells At Trinity College
If you happen to find yourself in Dublin, one of the things to see in Ireland is the Book of Kells at Trinity College.
The Book of Kells is a 9th-century manuscript documenting the four Gospels of the life of Jesus Christ.
It is also one of Ireland's greatest cultural treasures and the world's most famous medieval manuscript.
The Book of Kells is located in the 18th-century old library building found in the heart of Trinity College Dublin
As part of the exhibition, you can also explore the Long Room, which houses over 250,000 of Trinity College's oldest books.
This place is definitely a book lover's dream and one of the best things to do in Dublin!
When deciding where to stay in Dublin, check out some of the options in Trinity, which will put you right next to the Book of Kells.
Book Here: Dublin: Fast-Track Book of Kells Ticket & Dublin Castle Tour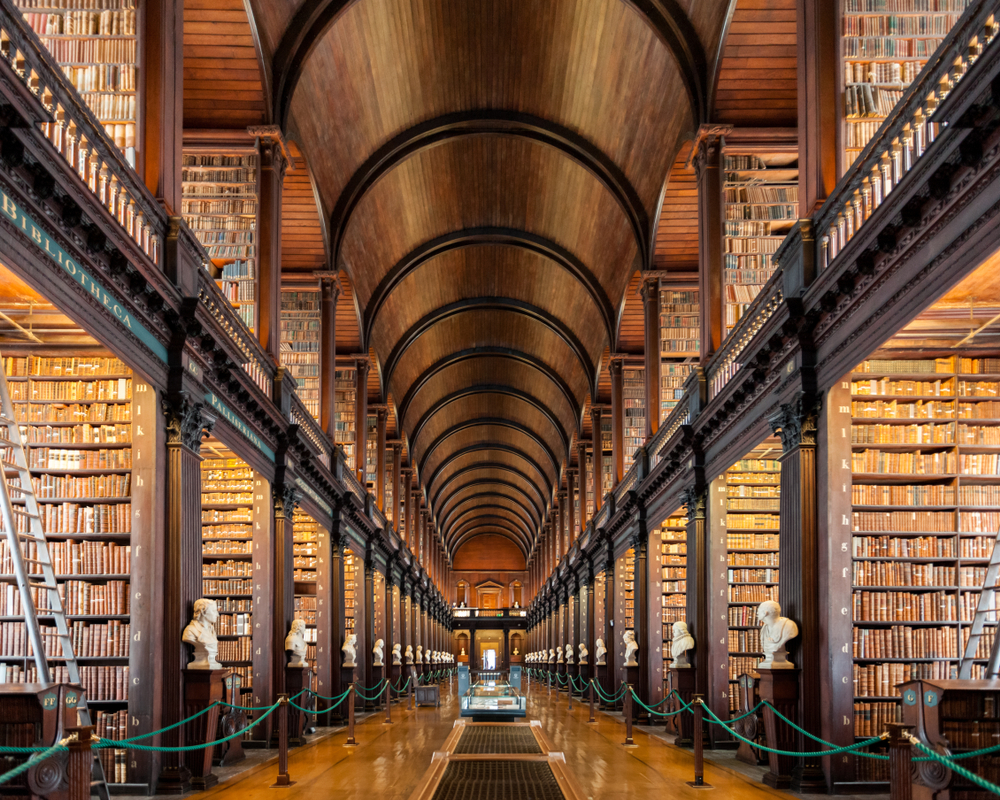 Delight In Doolin
Remember the Wild Atlantic Way from earlier on this list of things to do in Ireland? Well, another stop to make is Doolin!
It can be found in County Clare and is the closest town to the Cliffs of Moher.
There are so many options of things to do in Doolin that it can be hard to decide.
Find beautiful seaside views, charming farmlands (don't forget to see the sheep!), and amazing hikes.
There are also some pretty awesome restaurants, drinks, and live music!
Doolin is also a great starting point for exploring the next location on this list of things to see in Ireland.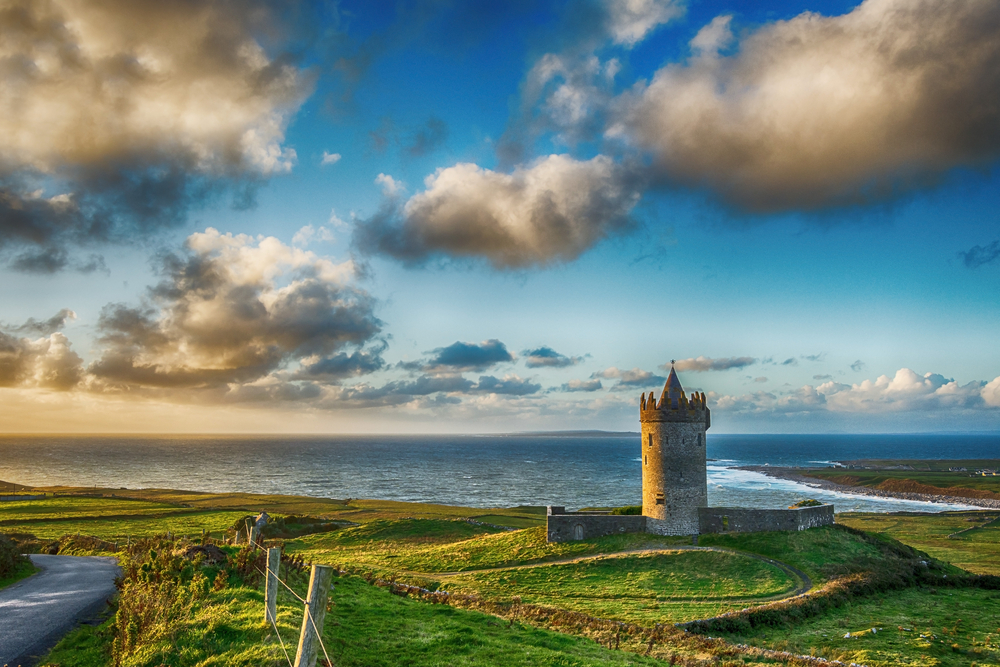 Day Trip To The Aran Islands
Visiting the Aran Islands in County Galway is currently one of the most popular things to do in Ireland, and for good reason!
The Aran Islands, which are made up of Inishmore, Inishmaan, and Inisheer, are known for their geology, history, and Irish culture.
They are also one of the few interesting places in Ireland where the inhabitants still use their native Irish language every day!
Once you have arrived at the Aran Islands, you have multiple ways to explore the island, though none of them include bringing your car with you.
Renting bicycles to explore the winding roads and beautiful beaches just might be one of the best though!
This is one of the best things to do in Galway.
Book Here: From Galway: Aran Islands Day Trip & Cliffs of Moher Cruise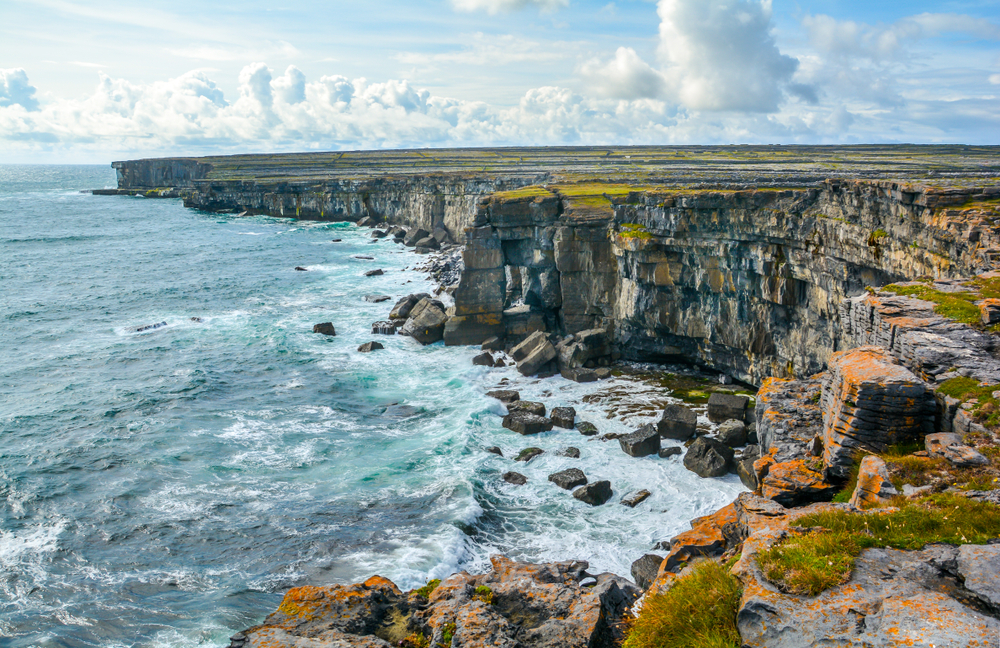 Take In The Views At Dunquin Harbour
Located at the very end of the Dingle Peninsula, Dunquin Harbor has some of the most beautiful views of any Ireland attraction.
It is also still relatively unknown, meaning you won't just be one in a crowd of tourists.
The town of Dunquin is the furthest west you can go in Ireland and is a part of County Kerry. It is one of the must-see stops on Slea Head Drive.
When going to Dunquin Harbour, you should know the famous Dunquin Pier is only reachable on foot.
The closest you can get by car is by taking the R559 from the town of Dingle and following it until you reach signs for the Blasket Ferries.
There are no parking lots so you will have to park alongside the road where you can.
To get one of the best views, go to the cliff right above the pier. From there you can see the pier, cliffs, ocean, and Blasket Islands.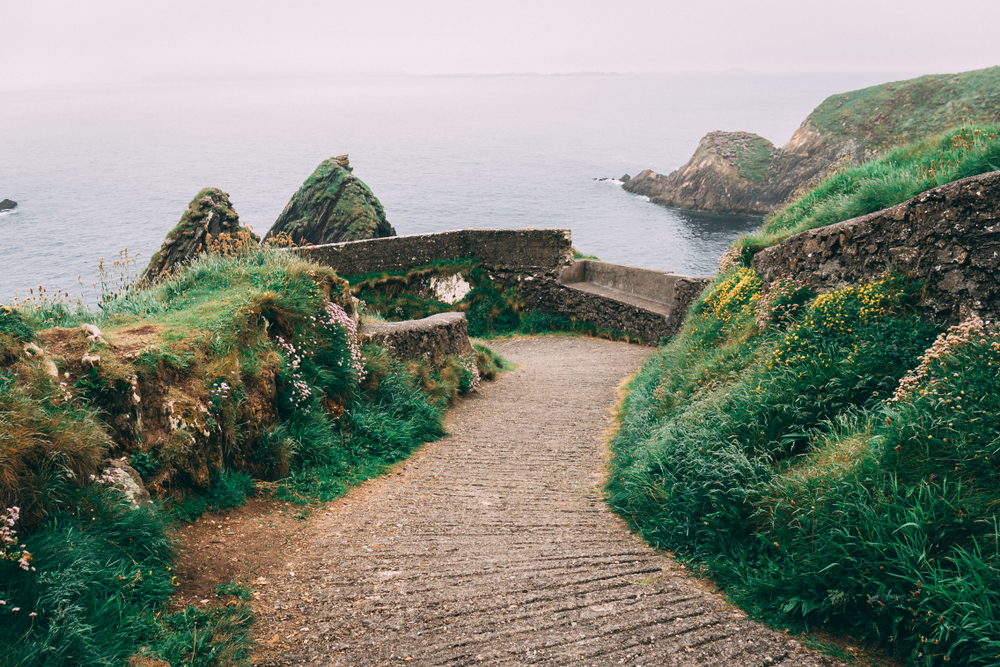 Enjoy A Stroll Through Tollymore Forest
This unique forest in County Down, which was one of the filming locations in the first season of Game of Thrones, is one of the cool things to do in Ireland.
There is a little something for everyone in Tollymore Forest Park, with rocky outcrops, bridges, grottoes, caves, and even the oldest tree from any arboretum in Ireland which is from 1750.
For fans of Game of Thrones, this Game of Thrones Tollymore Forest trek is a must while exploring Ireland attractions!
You can don a woolen cloak while going on this 3.2 km trek, following an extra from the show who is your guide.
On this tour, you will be able to see three of the iconic filming locations from season one of Game of Thrones.
Book Here: Newcastle: Game of Thrones Tollymore Forest Trek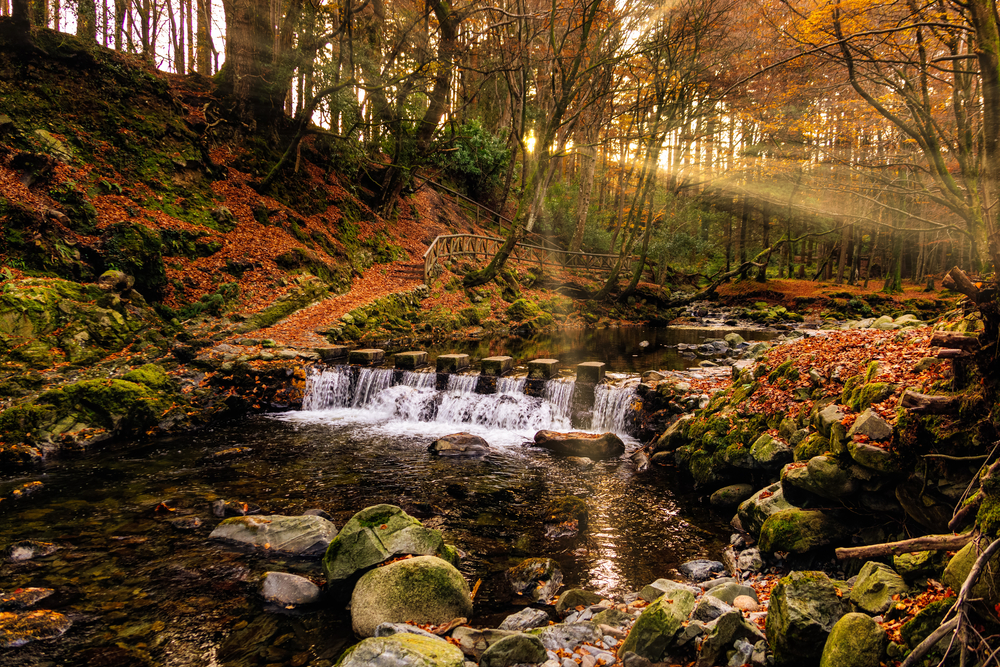 Grab A Guinness At The Storehouse
For beer lovers, Ireland is already a paradise. Why not make the experience even better and visit the Guinness storehouse in Dublin?
While there you can do tastings with beer specialists and tours of the brewery.
This is one of the most unique things to do in Ireland at night, and it will be an experience that you will remember.
In order to save money on the visit to the Guinness storehouse, buy your tickets online.
Book Here: Guinness Storehouse: Entrance Ticket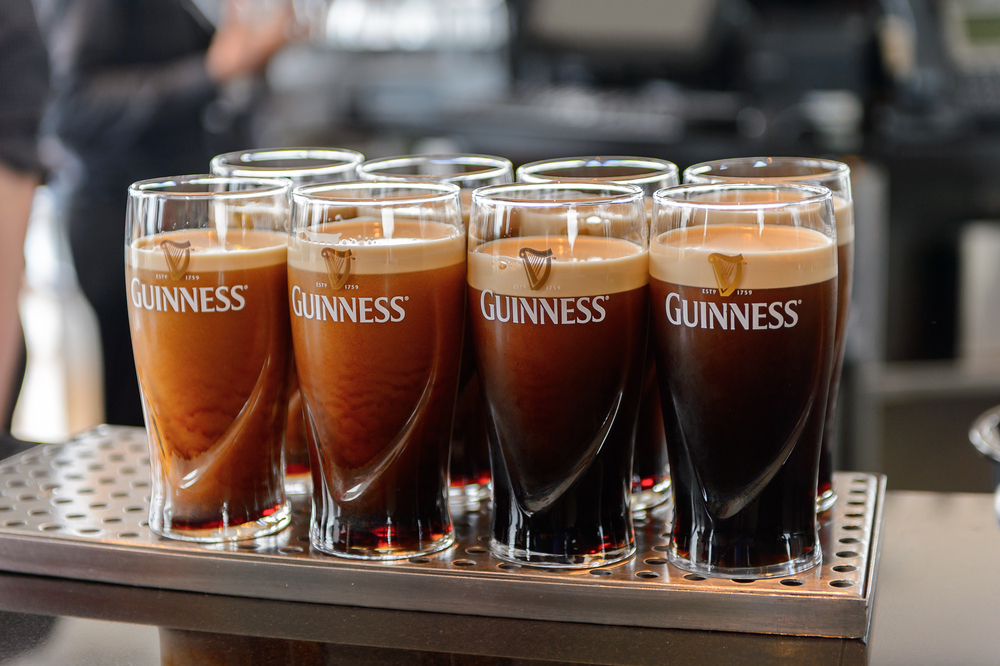 See The Game Of Thrones Doors
The Game of Thrones Doors, or The Doors of Thrones as they are officially called, are a collection of ten doors in Ireland that display scenes from the sixth season of Game of Thrones.
The wood from these doors was salvaged from Dark Hedges, which is a popular filming location of Game of Thrones.
This avenue of 18th-century beech trees was hit by a storm in 2016, and it knocked down some of the trees. Instead of getting rid of the wood, it was salvaged and used to create these ten doors.
The doors were scattered along the northern and eastern coast of Ireland. They can be found at certain local pubs, restaurants, and hotels.
Visiting all ten doors should take you around two to three days, but if you only have one day, here are five Game of Thrones doors you definitely need to see!
Take Photos Of The Bunbeg Beach Shipwreck
Located in the tiny Gaelic speaking town of Bunbeg in County Donegal, you'll find the colossal wreckage of a ship called Bád Eddie (Eddie's Boat) on Maheraclogher Beach.
This ship was stranded on the beach in the 1970s due to bad weather and has been kept as a tourist attraction.
This is one of the more unknown free things to do in Ireland, and normally you won't have to worry about tons of other tourists being there.
This is also an awesome spot to get really cool photos in Ireland.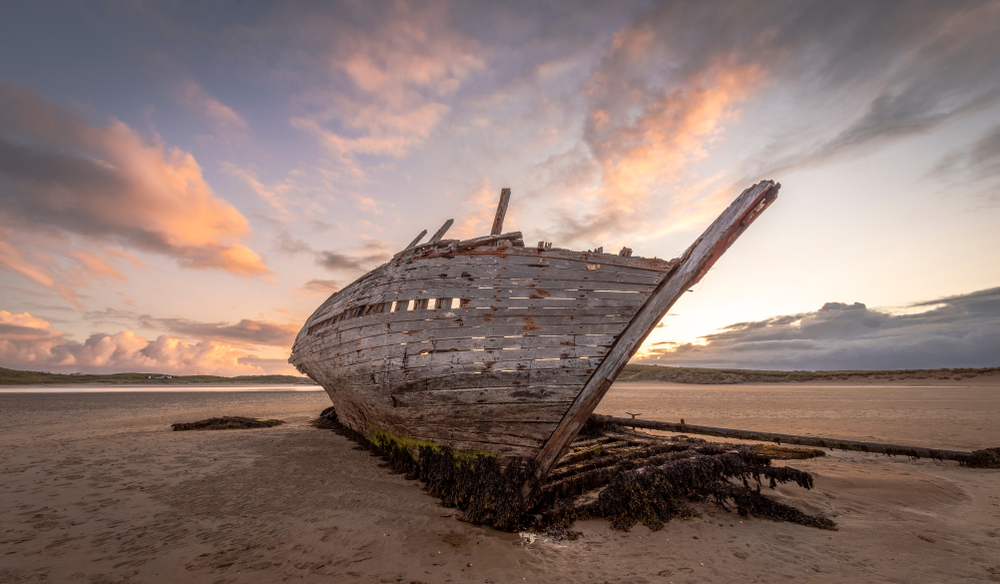 Kiss The Blarney Stone
Kissing the Blarney Stone is one of the weirdest yet coolest things to do in Ireland!
The Blarney Stone is located at Blarney Castle in County Clare. It is one of the top landmarks in Ireland.
Blarney Castle has beautiful grounds, making it alone one of the things to see in Ireland. Still kiss the stone while you're there though.
To get to the stone, you will need to buy an admissions ticket (buy it online to save time and money) then climb to the top of the castle.
Once it is your turn, one of the people helping at the stone will help you lie down and go upside down so that you can kiss the stone.
If the thought of kissing the stone grosses you out, don't worry, they will wipe it down if you ask them.
Here is a list of everything you should know to kiss the Blarney Stone.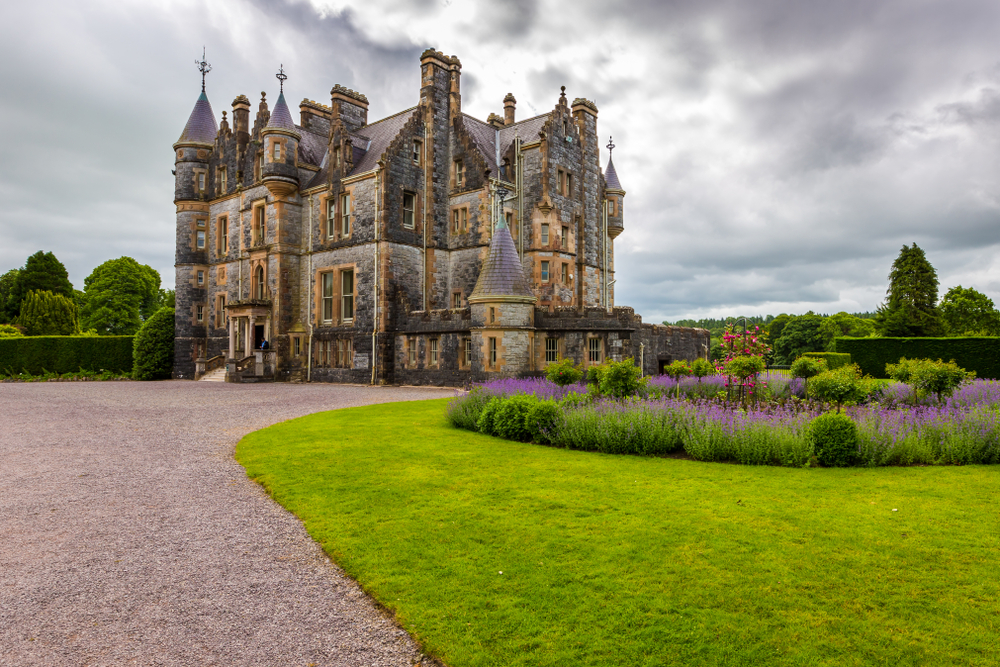 Pretend To Be Royalty At Classiebawn Castle
Classiebawn Castle is one of the hidden gems that should be on your list of Ireland destinations.
Unfortunately, it is actually a private residence in County Sligo near the village of Mullaghmore, meaning you are not allowed to go inside the castle.
However, the surrounding views of Mullaghmore Head, the ocean, and the castle exterior make this place worth visiting in Ireland!
Classiebawn Castle has a really interesting history. It was originally a country estate for a member of the British Royal Family, the Viscount of Palmerton.
He was expanding the house into a castle-like structure but died before it was completed. It was passed down through the family, then was used by the Irish Rebellion.
After that, it was empty from 1916 to 1950. It returned to the ownership of a descendant of Lord Palmerton in the 1950s. It was then purchased by Hugh Tunney in 1991, and he still owns the property.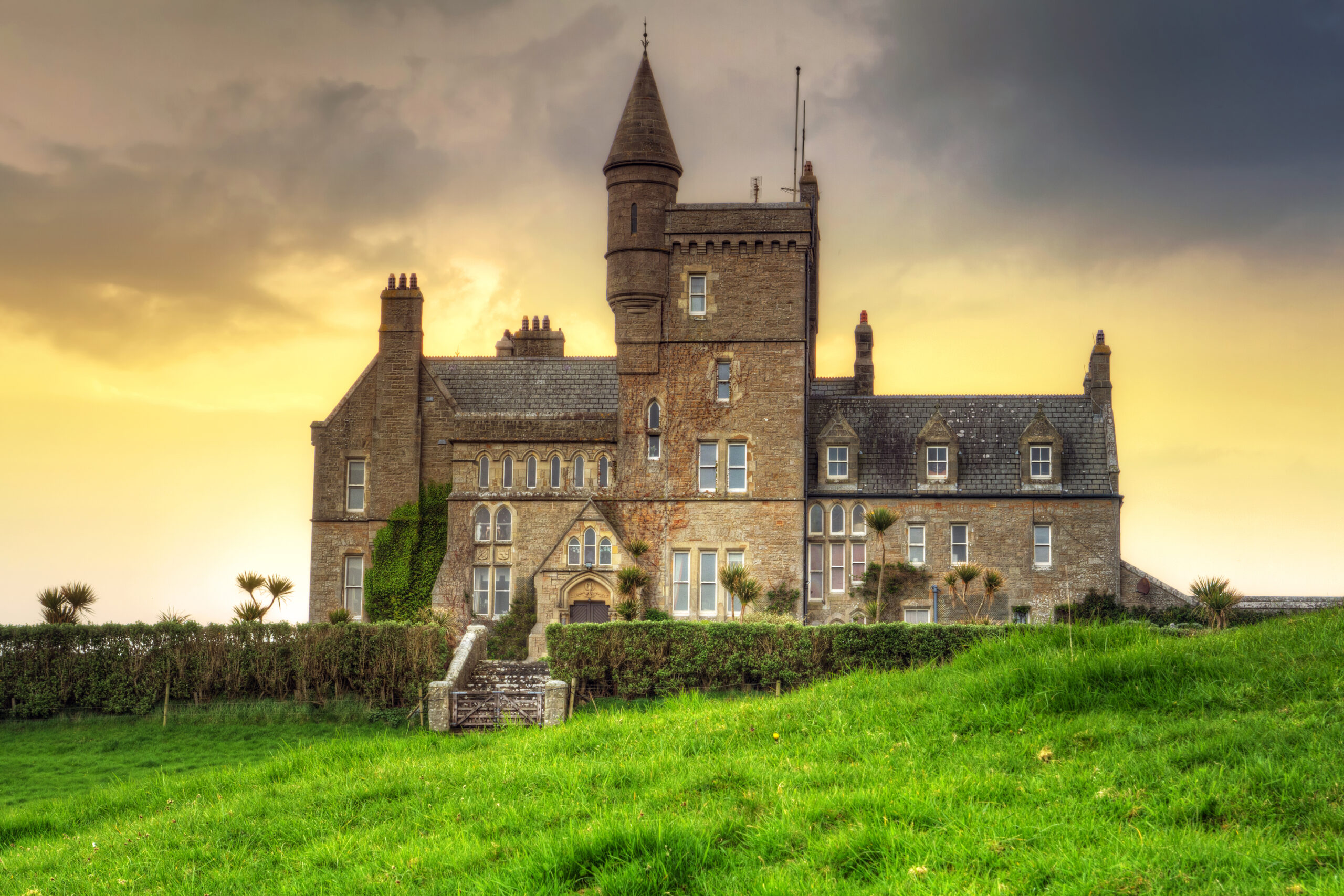 Explore Five Finger Strand Beach
This beautiful beach in County Donegal should be on your list of the best things to do in Ireland!
Five Finger Strand Beach marks the entrance to Trabreaga Bay.
It gets its name from the five sea stacks that are visible when the tide is low. Not only are the sea stacks visible during low tide, so is the wreck of Terry, which is a ship that sunk in 1889.
This is one of the prettiest beaches in Ireland you should certainly visit!
This beach is known for its expansive sand dunes in the back, and it is one of the largest sections of dunes in all of Europe.
Unfortunately, the strong currents and wind that create the dunes, also make this beach unsafe for swimmers.
Five Finger Strand Beach is still one of the things to see in Ireland though. It is beautiful and walking along the beach can be so much fun!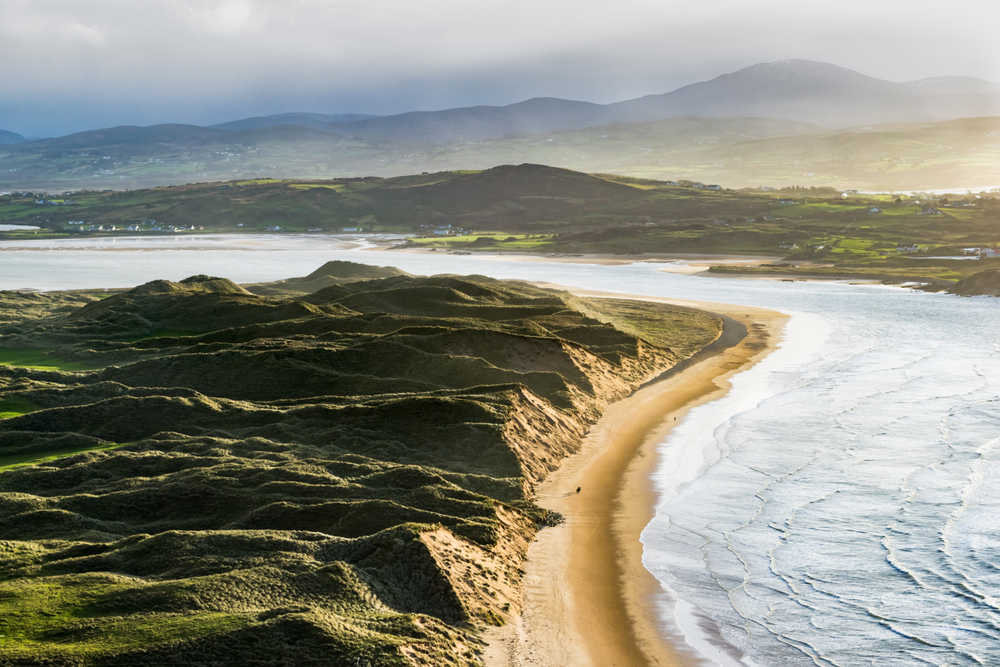 Tour The Waterford Factory In Waterford
One of the most unique things to do in Ireland is to explore the Waterford Crystal Factory.
While on the tour the factory offers, you will be able to see the crystal being made and learn about everything that goes into the process.
Waterford crystal is known around the world, and the only way to see how it is made is by visiting their factory in Waterford, Ireland.
Make sure to check out their website for times and prices when planning your visit!
A tour of the factory is one of the top things to do in Waterford.
Book Here: Waterford: House of Waterford Crystal Factory Tour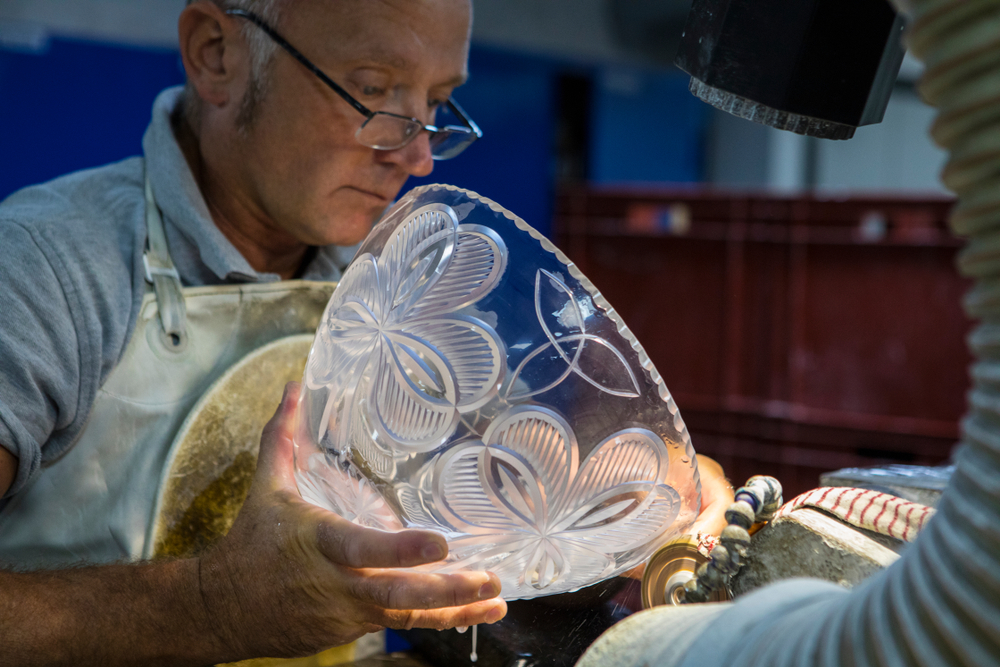 Carrauntoohil Is The Tallest Mountain In Ireland
Carrauntoohil is located in the south of Ireland, in Kerry County, and is a part of the Macgillycuddy's Reeks range.
This certainly isn't the easiest hike in Ireland, but if you can do it, climbing Carrauntoohil is one of the top things to do in Ireland.
The best place to start your hike is probably in Killarney, which is the largest town close by.
The starting point for the hike is Cronin's Yard, which is a 30-minute drive from Killarney. From there, you have a few options for how to get to the top.
The most straightforward one, so the best if you do not have a lot of hiking experience, is Devil's Ladder. Don't worry, the name is much scarier than the actual trail.
Carrauntoohil is about 3,406 ft tall, and the entire hike should take you around 5-6 hours.
The hike is a must-do in Ireland!
Marvel At The History Of Bru Na Boinne
Brú na Bóinne, which means the 'palace' or the 'mansion' of the Boyne, refers to the area within the bend of the River Boyne in County Meath.
Here is one of the world's most important prehistoric landscapes. The area is known for the three well-known large passage tombs, Knowth, Newgrange, and Dowth.
These were built around 5,000 years ago in either the Neolithic or Late Stone Age.
There are also an additional 90 monuments that have been recorded in the area.
For those who love history, visiting Bru na Boinne is one of the best things to do in Ireland.
Book Here: Dublin: Boyne Valley with Newgrange and Bru Na Boinne Entry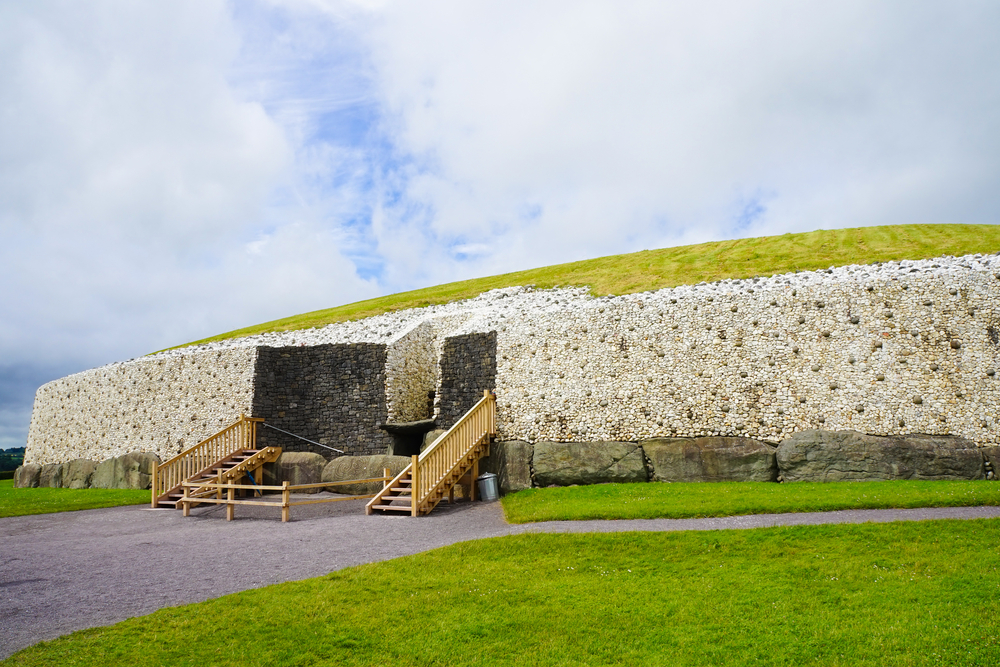 Explore The Rock Of Cashel And Hore Abbey
Located in the charming town of Cashel in County Tipperary, the Rock of Cashel should be on your list of places to visit in Ireland for its beauty.
The Rock of Cashel is a huge fortress that also has a 13th-century cathedral and Hall of Vicars.
The town of Cashel also offers historical museums and a wonderful town center.
While in the area, you should also check out Hore Abbey, which is a ruined Cistercian monastery.
The name "hore" comes from the Gaelic term for yew tree. It is one of Ireland's hidden gems and has significantly fewer tourists than other Ireland attractions.
These locations are super easy to get to on the same trip and are one of the great day trips from Dublin.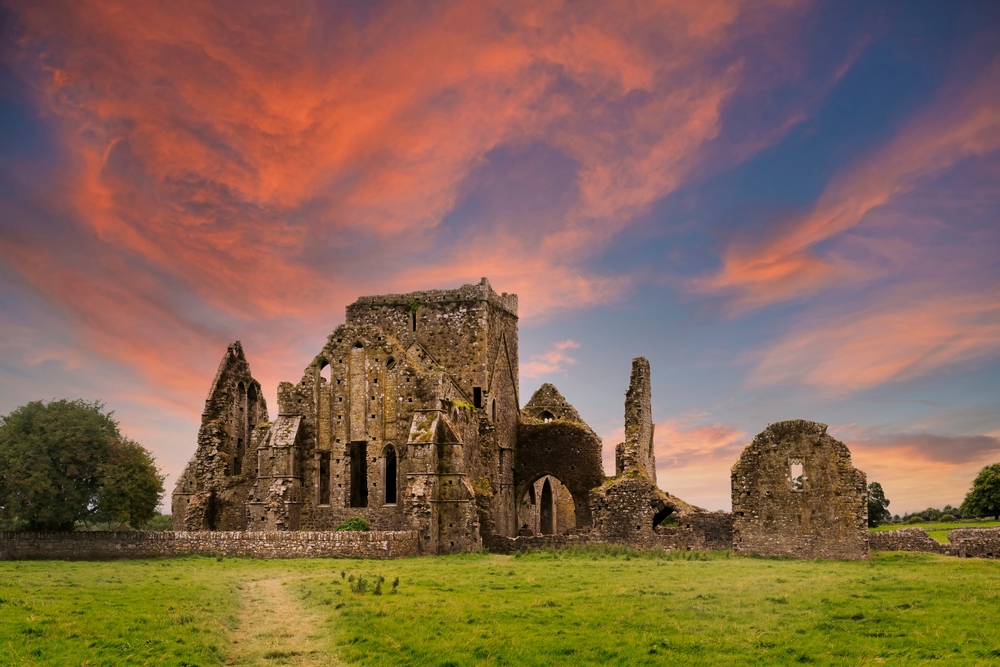 Drive The Ring Of Kerry
Located in County Kerry, the Ring of Kerry is a scenic drive around the Iveragh Peninsula in southwest Ireland.
On this circular route, you will see rugged and verdant coastal landscapes and rural seaside villages.
Some popular Ireland attractions along the Ring of Kerry include Skellig Michael and Muckross House.
There are also several beautiful beaches and some pretty spectacular views. Driving the Ring of Kerry is one of the top things to do in Ireland with kids.
Don't forget to check out our tips for driving in Ireland as well as renting a car in Ireland.
Book Here: Ring of Kerry: Full-Day Tour from Killarney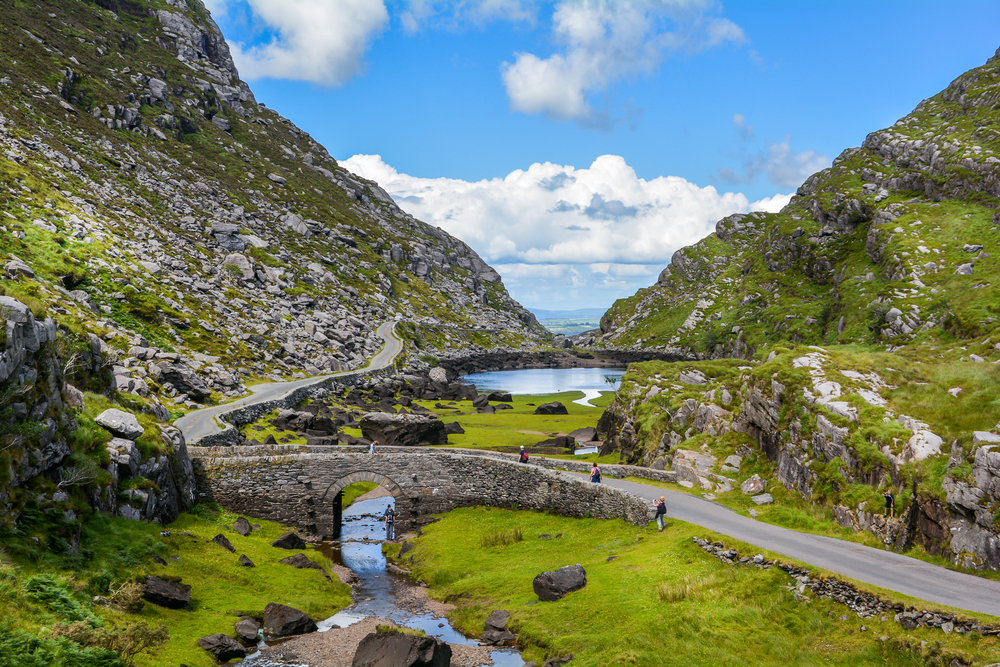 See The Thatched Roofs In Adare
Adare in County Limerick is known as one of the prettiest towns in Ireland. It has been designated a Heritage Town by the Irish government, so it is definitely worth being on your list of places to visit in Ireland.
There are many things you should do while visiting Adare.
Admire the beautiful stained glass work in Holy Trinity Abbey Church. You should also see Adare Castle, which was built in the 1200s.
Adare is most known for its string of thatched roof cottages that were built in the 19th century by the landlord Earl of Dunraven.
This small village in Ireland used to house workers that were building Adare Manor but now they house craft stores and fine dining restaurants.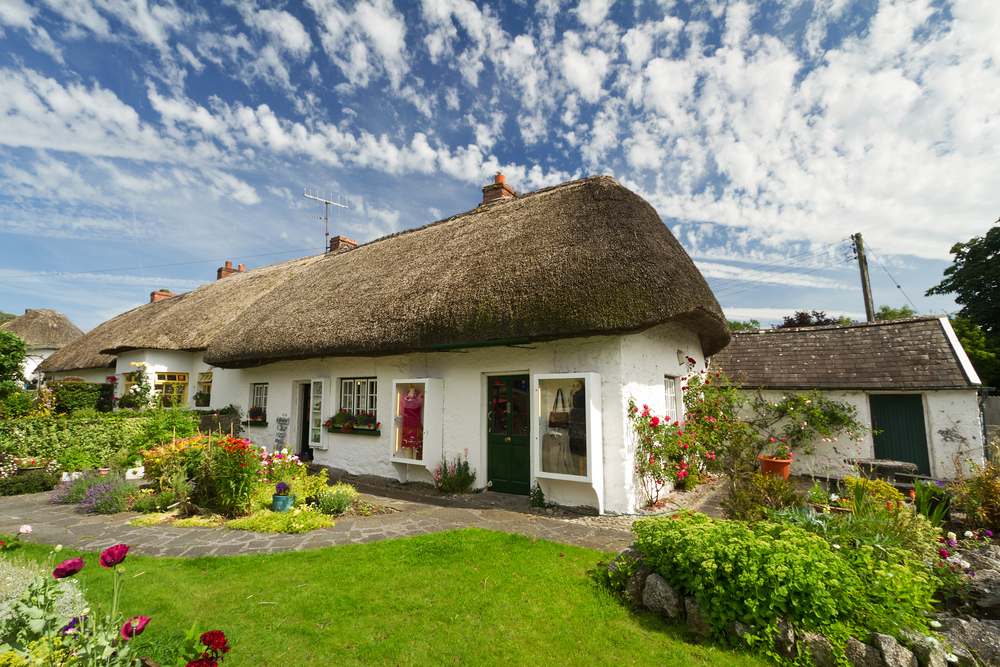 Visit The Wild Nephin Ballycroy National Park
Wild Nephin Ballycroy National Park in County Mayo was established in 1998.
It is located on the Western seaboard in northwest Mayo and is made up of 15,000 hectares of Atlantic blanket bog and mountainous terrain.
This is actually one of the last intact active blanket bog systems that can be found in Ireland and Western Europe.
There are trails throughout Wild Nephin Ballycroy National Park that allow you to view alpine heath, upland grassland, lakes, and river catchments.
It is also a location where you might be able to see Greenland white-fronted geese, golden plovers, red grouse, and otters.
With all that there is to see, you should plan this as one of your Ireland destinations!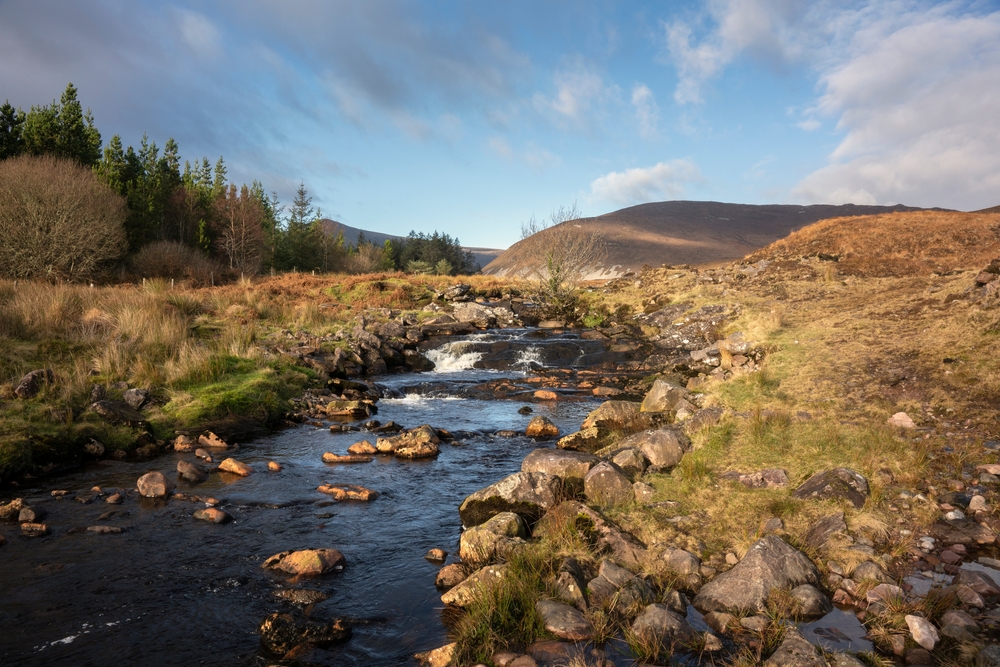 See Aasleagh Falls
Aasleagh Falls, also spelled Ashleigh Falls, is also located in County Mayo where the Erriff River meets Killary Harbour, Ireland's only fjord.
This is one of the most popular Ireland destinations for fishing salmon and trout. If you're lucky, you might see salmon jumping out of the water.
Aasleagh Falls is one of the smallest waterfalls in Ireland, at only 3.5 meters or 11 feet, but it is just as beautiful!
This waterfall is unique from most of the others. Waterfalls in Ireland are normally tall and narrow, but these falls are very wide, making them perfect for photos!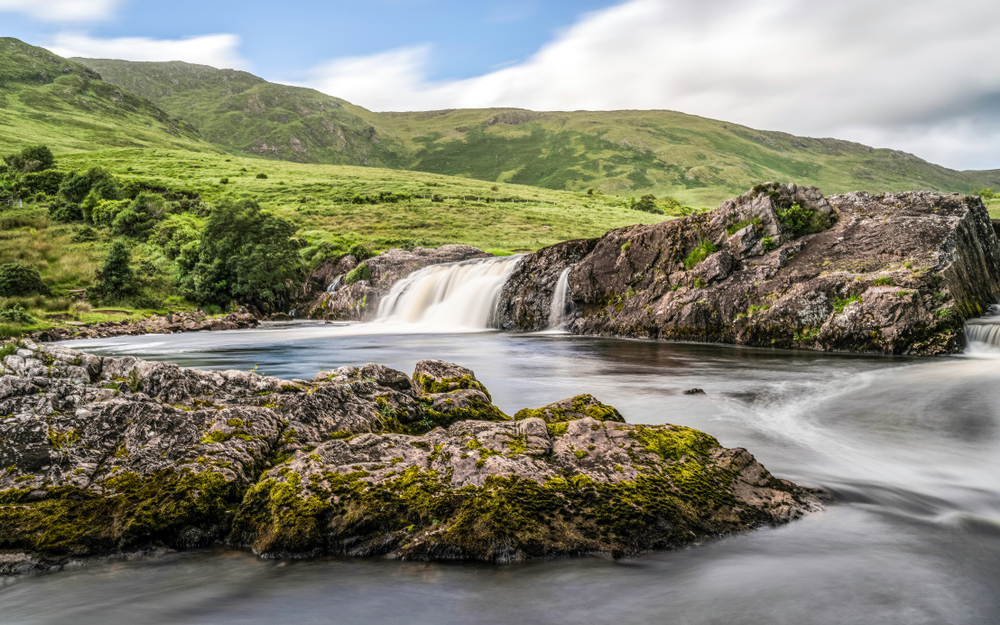 Go Surfing
When you think about surfing, Ireland is probably not the first thought that comes to mind.
However, it is one of the best things to do in Donegal, no matter if you are a beginner or an expert.
Bundoran, which can be found in County Donegal, is actually the surf capital of Ireland, putting it on the list of best things to do in Ireland for adults.
While Bundoran is for the experts at surfing, there are other options for beginners like Tullan Strand or Rossnowlagh.
These are both good options with smaller waves and a less dangerous beach break than Bundoran.
There are also several surf schools in the area where you can learn with an instructor.
When going surfing though, make sure to have warm enough clothing, as it can still be cold in the summer.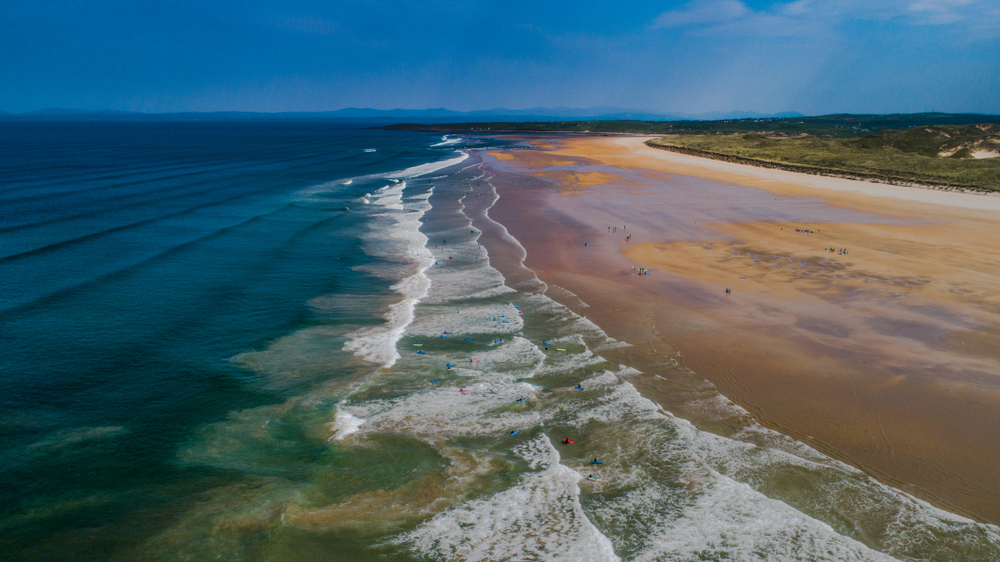 Hike White Arrow Route
Hiking White Arrow Route is unlike any other hikes in Ireland.
The trail is found in Burren National Park, which has 70% of Ireland's 900 native plant species.
It is full of exposed limestone with many different trails to choose from for fun Ireland activities.
White Arrow Route is one of the shorter hikes, but it has so many different things to see.
While on this hike, you will pass through meadows full of exposed limestone, walk along limestone pavements with a lunar appearance, and experience the breadth of Ireland's native plant life.
If you still have time, you can then visit some of the 80 ancient Celtic tombs throughout the park that dates back as far as the Mesolithic era.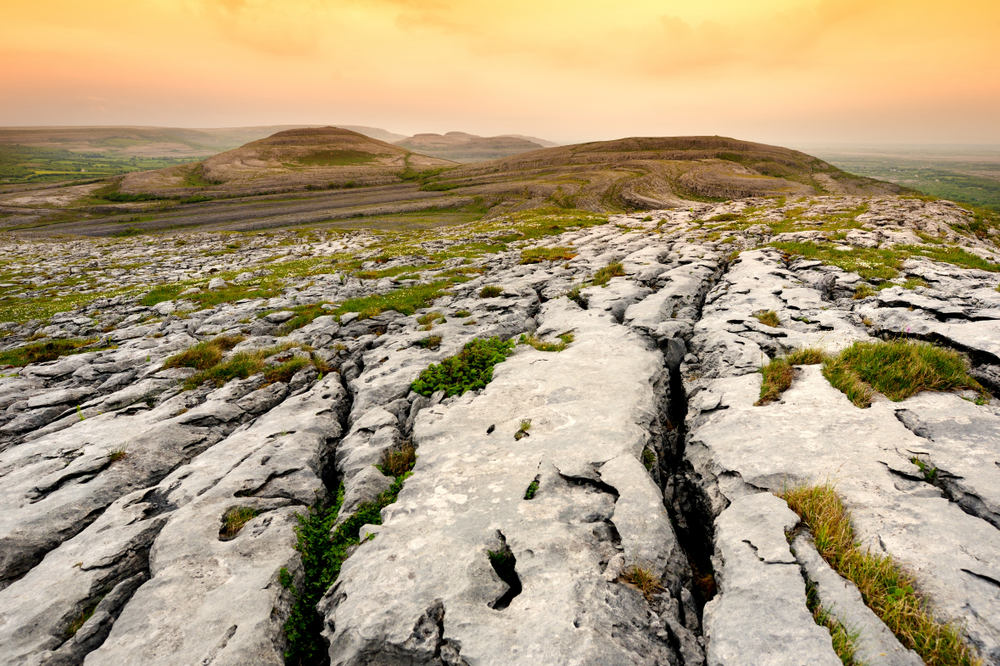 Walk Over Carrick-A-Rede Rope Bridge
Located in County Antrim, Carrick-A-Rede Rope Bridge is one of the best things to do in Northern Ireland,
It is a 20-meter long rope bridge that is 30 meters above the rocks below and connects the Irish mainland to the tiny island of Carrickarede.
This rope bridge was first constructed over 250 years ago and requires a certain level of adventure to cross.
If you manage to find the courage to cross it though, you won't regret it! The views from the bridge are absolutely incredible.
This is an activity for your Ireland bucket list!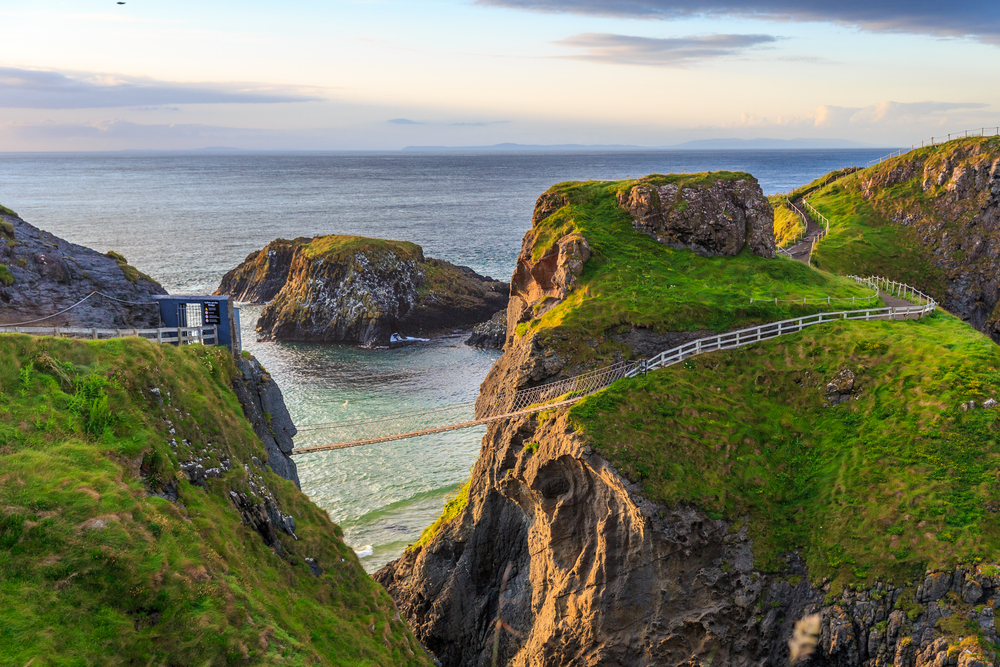 Visit Killarney National Park
Killarney National Park was the first national park in Ireland, created in 1932, and is a UNESCO Biosphere Reserve.
It can be found in County Kerry, less than five miles south of Killarney, the town.
Within the park, you can find mountains, lakes, waterfalls, and even some beautiful historic buildings.
One of the top Ireland destinations in Killarney National Park is Muckross House, a 19th century Victorian Mansion.
Though the outside is beautiful, with some charming gardens, if you would like to go inside you will need to pay for the tour which is around an hour long.
There is also a popular waterfall here called Torc Waterfall. It is a short walk from the parking to the waterfall, and it is definitely worth it.
You can also take a boat ride on Killarney Lake, which is one of the unique things to do in Ireland when at Killarney National Park.
This is definitely one of the best things to do in Killarney!
Book Here: Kerry: Guided Horse Riding Tour in Killarney National Park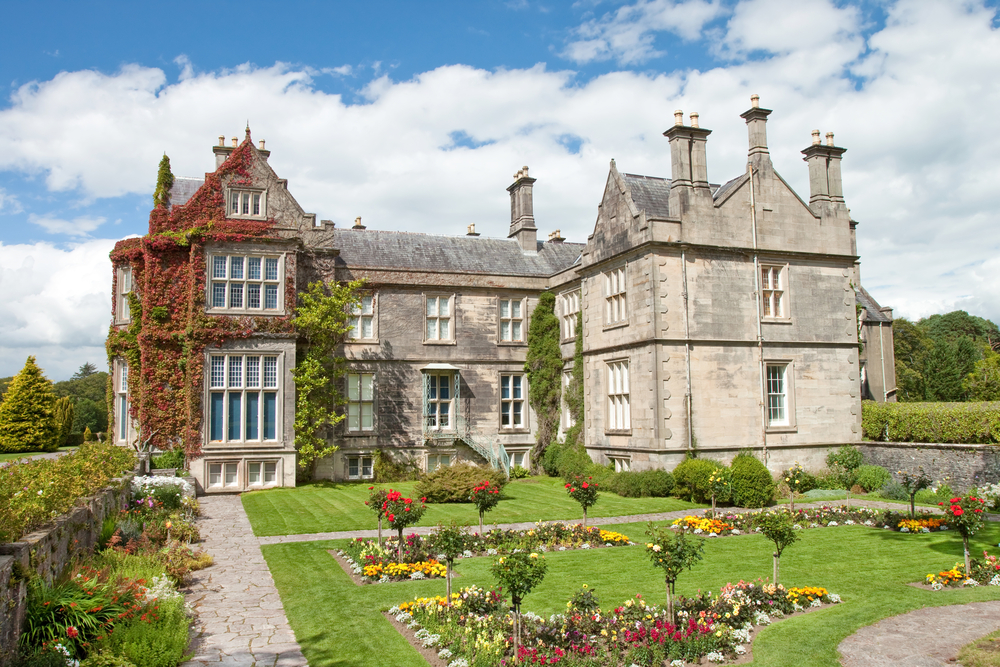 See Game Of Thrones Filming Locations
There have already been a couple of Game of Thrones options on this list of fun things to do in Ireland, but if you are looking for a more comprehensive plan, then you should follow this Game of Thrones itinerary!
These Ireland attractions are all in Northern Ireland and relatively close together.
If you want to do everything, then it should take you around five days, though you can definitely shorten it if you need to!
Included in this itinerary are some of the Game of Thrones doors, as well as Tollymore forest, which have both made appearances on this list.
In addition, there is the Inch Abbey Ruins from season one and Castle Ward from seasons one and eight. Exploring all of these locations will give you a very unique experience in Ireland.
Book Here: From Dublin: Full-Day Game of Thrones Filming Locations Tour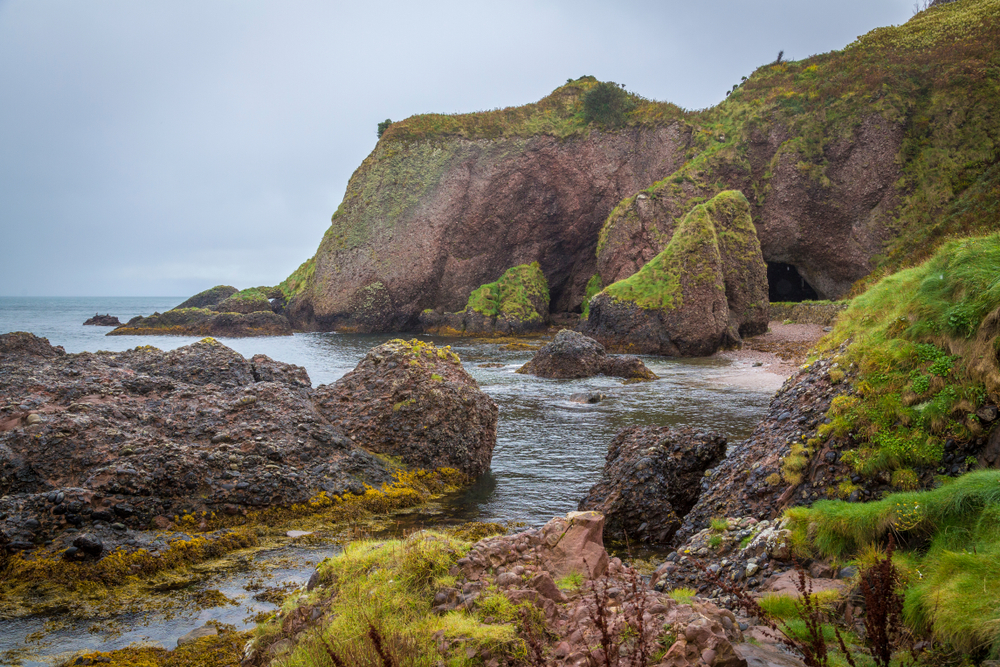 These are some of the best activities in Ireland! With so many options, the struggle will be deciding what you want to do with the time you have.
Hopefully, this article helped you narrow down what Ireland attractions will be must-sees on your next visit to Ireland.
Do you have any favorite things to do in Ireland that did not make it on this list? Put them in the comments below!