You know a thing or two about Ireland if you are looking up Dingle's Slea Head Drive. If you are looking to know a little bit more, you are in the right place! Whether your knowledge of the Slea Head Drive is more casual (like someone said, "Oh hey, you should check out the Slea Head Drive!"), or more obsessive (like you have spent hours researching all the things to do in Dingle and Ireland), we are here to make sure you have a great time!
After all, whether your interest is casual or obsessive, we all know that a little prep work can go a long way. You will not regret taking some time to find the stops you want to make.
Dingle's Slea Head Drive can take you half a day, or several days. How much time you want to spend depends on how much time you have and how many stops you make. That is why we have put together this guide for you.
The internet is full of information, and there is no end to the stops you can make on this scenic drive. We are here to tell you the very best stops to help you narrow things down. Let us know in the comments at the end which stops you choose!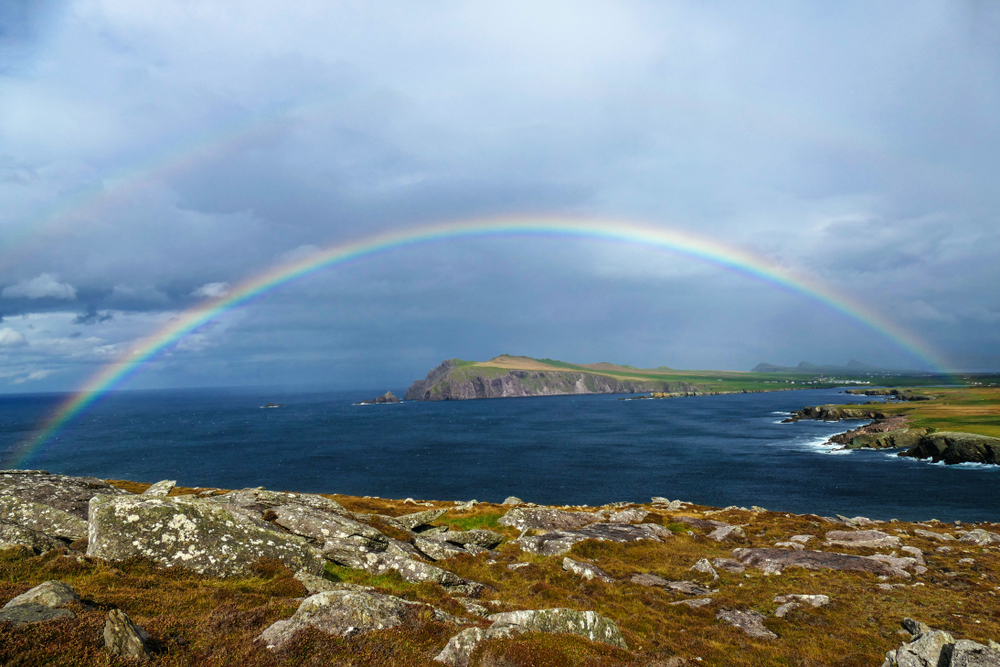 What is Slea Head Drive?
Slea Head Drive is a scenic route of about 30 miles that encircles part of the Dingle Peninsula. You might find yourself asking, "People spend days just to drive 30 miles?" Yes. Yes people do.
You see, Slea Head Drive is much more than a 30 mile long ring road. Ireland has some famous ring roads, including the Ring of Beara and the Ring of Kerry. Slea Head Drive has all the history and amazing scenery that the others have, but is less remote than the Ring of Beara and less crowded than the Ring of Kerry.
Keep in mind that while Slea Head Drive is 30 miles, these are scenic roads not highways. If you drove it straight through it would take you about 3 hours. But we are telling you, you do not want to drive it straight through.
Slea Head Drive has forts, beaches, Star Wars filming sights, and historic churches. Driving past all these extraordinary stops really eliminates a lot of the fun. The whole route is very scenic and lovely, but trust us, you are going to want to make some stops.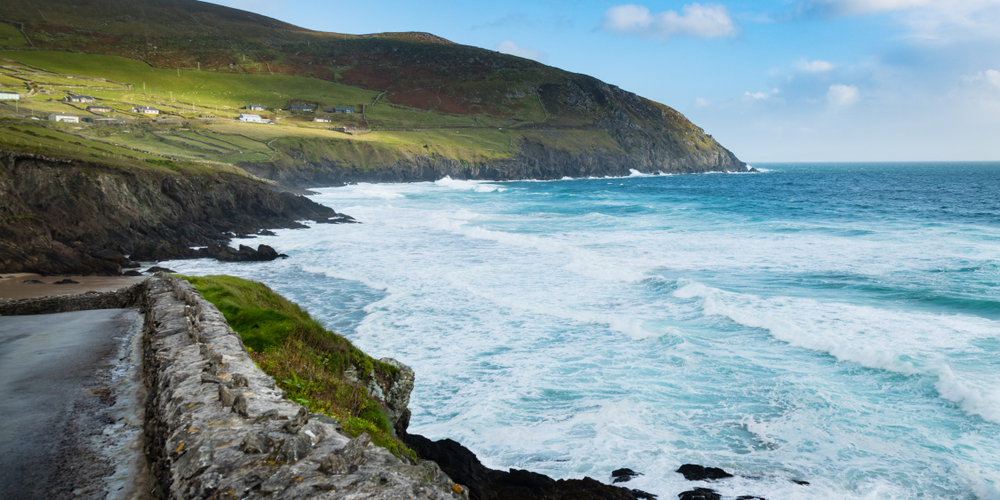 The Best Way to Drive Around Slea Head
As we mentioned above, Slea Head Drive is a ring road. Starting in Dingle Town, you can drive in either direction–clockwise, or counter-clockwise.
We have driven it both ways, and we highly recommend going clockwise. Of course, you can drive in whichever direction you want, but we have done it and clockwise is the way to go.
Going clockwise will give you the best views and a more enjoyable experience overall. Our stops are listed in clockwise order because of this, but if you want to go the other direction (which is fine!) then keep that in mind as you go through our favorite stops. Either way, you will want to start in Dingle Town.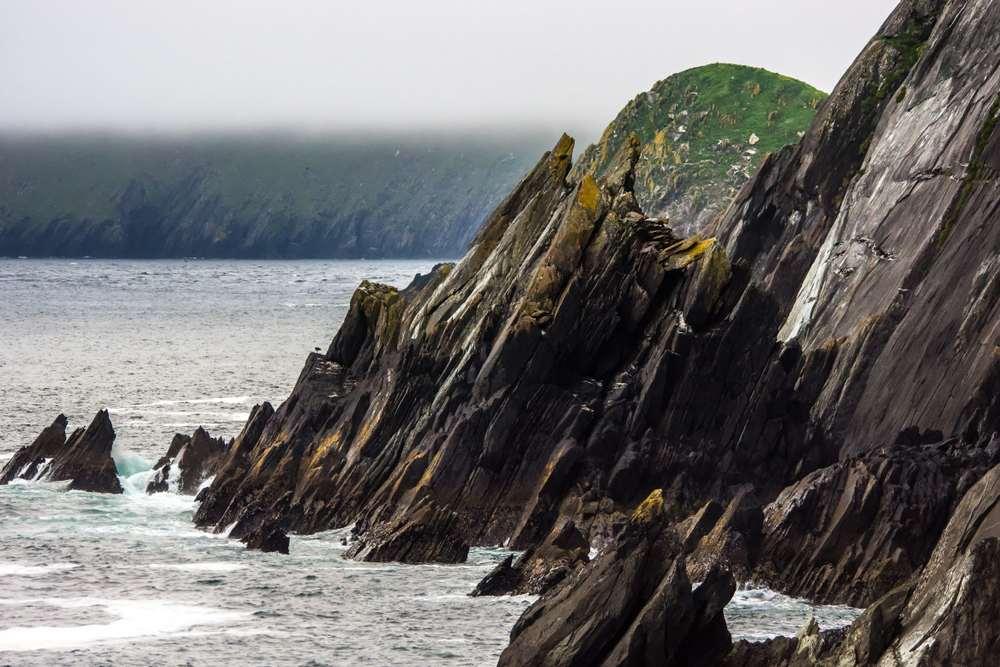 Best Stops Along Slea Head Drive
Begin Slea Head Drive in Dingle Town
Ireland has some pretty dang cute towns, but Dingle Town has got to be one of the cutest. From classic shops (with great ice cream!) to waterfront walks to the just plain old charming aesthetic, you are going to love this place.
We recommend starting and ending in Dingle Town because it is a great base for your Slea Head Drive adventures. With plenty of places to stay the night and tons of things to do, you could spend hours in Dingle Town alone.
Things to Do in Dingle
Experience Inch Beach
Despite its name, Inch Beach is one of the longest beaches in Ireland. Not only that, but it is a sand beach instead of a rock beach, making it perfect for long walks and sunbathing. Keep in mind that sunbathing in Ireland is a little different than sunbathing in the Bahamas, and dress according to the season.
Inch Beach is also a great place to go surfing while you are in Dingle! While some beaches in Ireland are only recommended for expert surfers, Inch Beach is safe for beginners as well.
Eat Ice Cream
If you love ice cream (and it is the rare person who does not), Dingle has a couple of ice cream shops that you have to try! Ice cream may not be at the top of your list for your Slea Head drive, but that is why we are here to make sure you do not miss out on anything!
One of Dingle's ice cream shops is Kool Scoops of Dingle. This place is every kid's ice cream dream, with brightly painted walls and windows. Not to mention the absolutely fantastic ice cream–you can get their signature flavors in hard and soft serve.
The other ice cream shop in Dingle is Murphy's. You cannot miss its bright blue exterior, and you will be glad you did not when you go inside. The homemade, artisan and traditional flavors are sure to delight and satisfy.
Hike to Eask Tower
Eask Tower is a great hike when considering things to do in Dingle. It is just over a mile long and great for every skill level. It can get a little dicey in winter, so we recommend this one if you are visiting during any other season.
The tower itself is built out of stone, which gives it a timeless appearance. You might be surprised, looking at it, that it was built in 1847 rather than in centuries past. Even though it no longer serves its original purpose of guiding boats into the harbor, it is still an impressive sight.
Come During the Dingle Food Festival
Now, going anywhere during a festival is not a great strategy for avoiding crowds, but if you can put up with the crowds you will love the Dingle Food Festival! Out of all the things to do in Dingle, this just might be the most exciting. (Well, maybe after eating ice cream–it is hard to beat ice cream.)
The Dingle Food Festival typically takes place during the first weekend of October. As you would expect, this festival is absolutely packed with food with everything from cooking demonstrations to whiskey tasting. It also features great street entertainment and all kinds of festivities.
Ponder Some Paintings
Another fun thing to do in Dingle is to visit Dingle Artworks. It is a locally-owned art gallery. The artist who owns it, June McIntyre, has her beautiful paintings of the nearby streets and countryside on display throughout the gallery.
If you want a souvenir that is true to the Dingle Peninsula Ireland, definitely take some time here. You will not find any plastic shamrocks made in China in this gallery; it is all pure-hearted, pure-Irish goodness.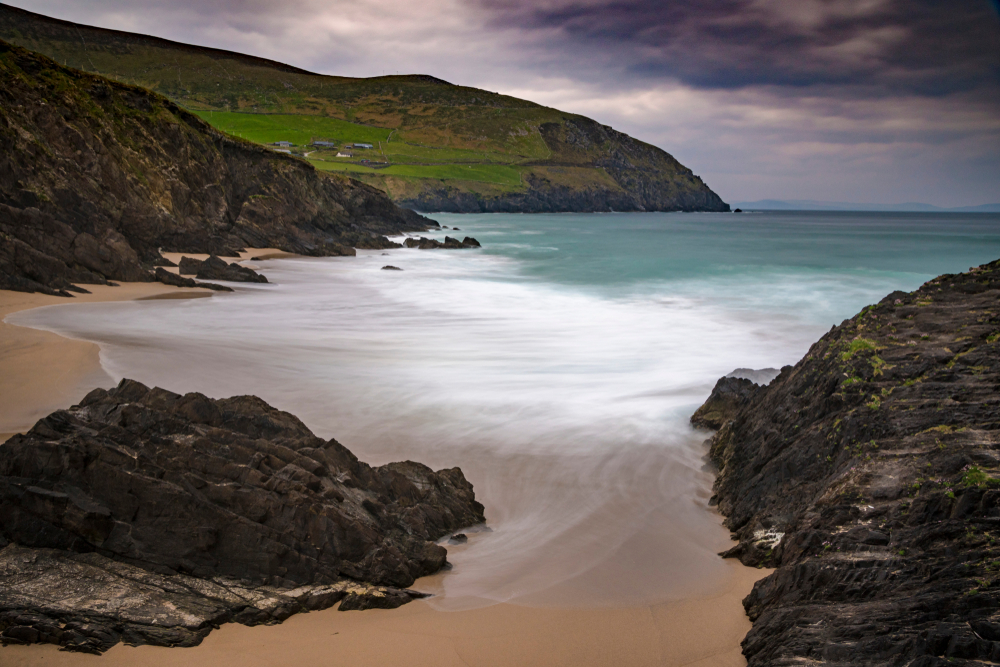 Ventry
When you are ready to leave Dingle and begin your Slea Head drive, our first recommended stop is Ventry. Also commonly known as Ceann Trá, Ventry is a small and beautifully quaint Irish town just outside of Dingle.
If you are wanting somewhere a little more remote to stay the night than Dingle, Ventry is another great option. It has some similar attractions too, and is easily another place where you could spend hours or even a couple of days along the Slea Head drive.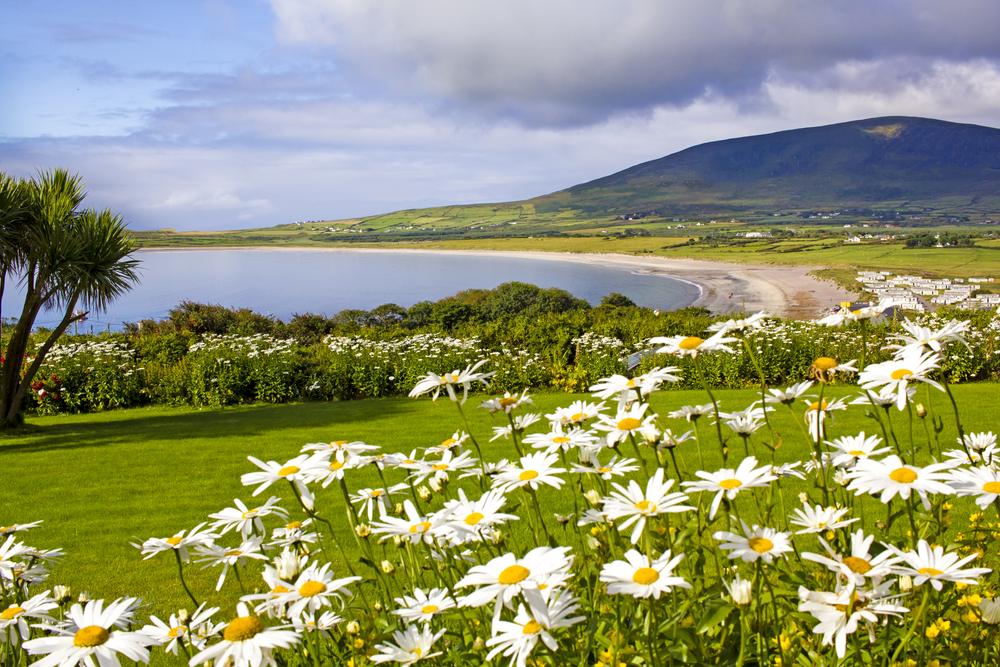 Things to Do in Ventry
Go to the Beach
Just like Dingle, Ventry has its own beach, aptly named Ventry Beach. Like Inch Beach, it is sandy and picturesque; perfect for long walks along the ocean. While the waves tend to be pretty minimal here, and therefore not great for traditional surfing, this is still a great beach.
You can go windsurfing, swimming, and kayaking at Ventry Beach. It is great for all the water sports besides traditional surfing.
Not only that, it is surrounded by wet grasslands and right next to a small lake. There is even a lifeguard during the swimming season!
Visit Ventry Church
We love the story behind Ventry's church from the 1800s. According to the locals, St Catherine of Alexandria's body washed up near Ventry centuries ago and was buried in the village graveyard. So when it came time to dedicate the church, she was the natural choice as the saint it was dedicated to.
Ventry church is a classic church of its time, with stone walls and narrow arched windows. Take a stroll past its hallowed walls to get a taste of the history of the place. You can even attend Mass if you would like, as it is still a fully functioning church!
Relive the Battle of Ventry
Okay, maybe do not actually relive the battle, but definitely let people tell you about it! The story of the Battle of Bentry comes from the legend of Cath Finntragha, which is about warrior hero Fionn-Mac Cumhaill's defeat of the invading king Dáire Donn. According to the legend, the battle happened all over Ventry's countryside.
It had ample opportunity to cover this little area, given that it supposedly lasted a year and a day! This legend was written in the 1400s, but was likely remembered through oral history long before that. In addition, there are actually a number of burial carns in the area, which indicate that a great battle did happen at some point!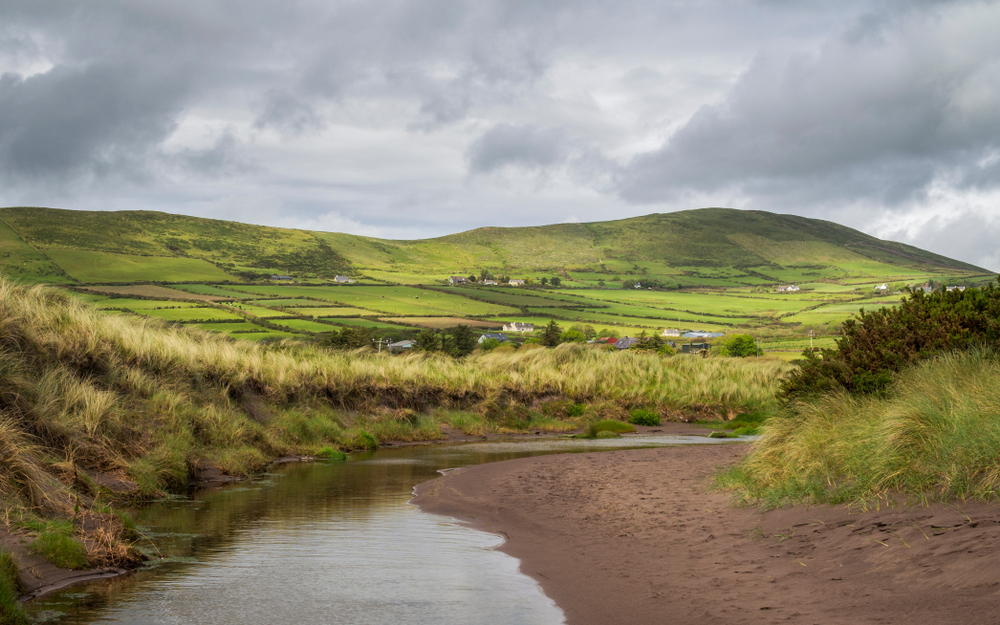 Dunbeg Fort
A short ways from Ventry lies Dunbeg Fort, a structure so old that there are no remains of the people who lived inside it. Located on the cliffs right next to the sea, a lot of the structure has actually been lost to the water below. It often closes after severe storms due to the damage they do to it.
Visit Dunbeg Fort, and you will have the opportunity to stand in a place that has withstood the test of time. Its age is unknown, but speculated to have originated somewhere between 580 BC and 800 AD. How is that for a range?
After Dingle and Ventry, Dunbeg Fort is our next stop because there are so few experiences like it. You cannot help but wonder at its history and former occupants as you stand among its stones with the Irish breeze against your skin.
There is something sacred about places like this, you know what we mean? Places that have been around for centuries, with stories we no longer know. There is just something about it that stays with you long after you leave.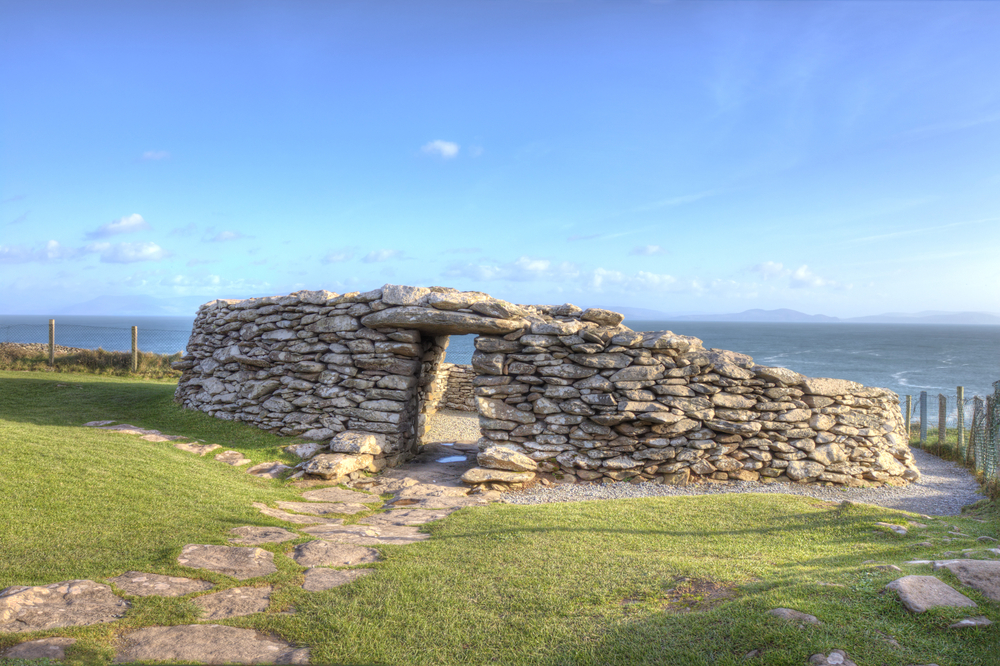 Beehive Huts
We love the Slea Head drive because there is so much ancient history along the way. Once you have had your fill of Dunbeg Fort, you are going to want to spend some time at the Beehive Huts, or Clochan.
Like Dunbeg Fort, the Beehive Huts are difficult to date. They belong to a bygone era of Celtic legend and history.
These curious circular dwellings have lasted so long in large part due to their sturdiness. Some of the walls are as much as 4 feet thick! While they may initially seem simplistic, the people who built them certainly put in a lot of work.
The Beehive Huts are a look through a stony window at how life used to be on the Dingle Peninsula. Some of them are built side by side, sharing walls even! They are a reminder that community is crucial, no matter what era we live in.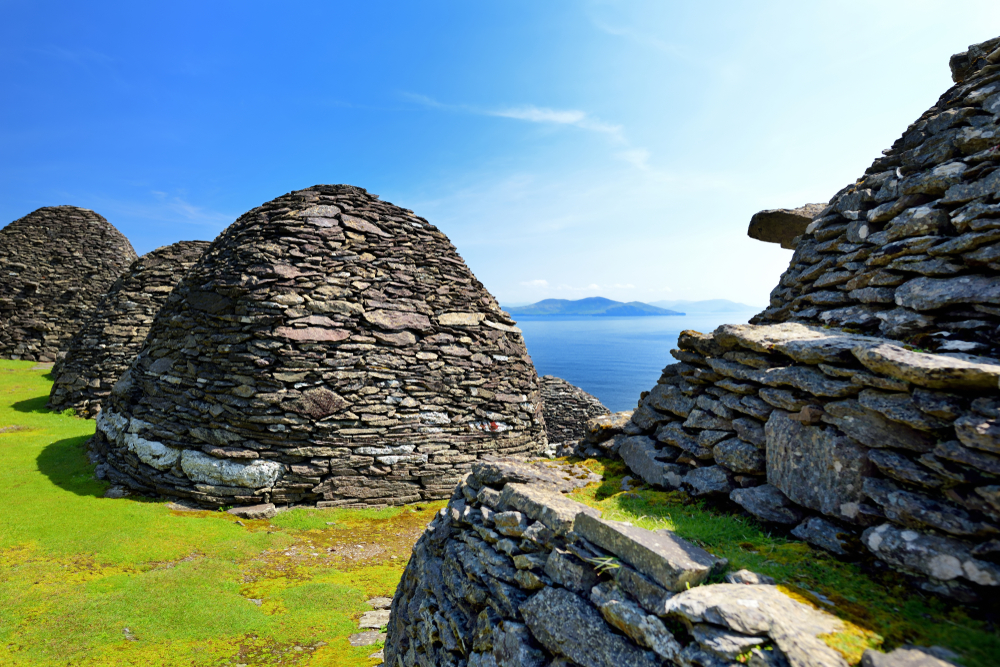 Crucifix On Slea Head Drive/Slea Head Viewpoint
When Christianity hit Ireland, it hit Ireland hard, as evidenced by all the churches and references to the religion scattered about. One such impossible to miss reference is the Crucifix on Slea Head. It is also called the Cornerstone of the Peninsula.
While the spread of Christianity through Ireland happened hundreds of years ago, the Crucifix on Slea Head is actually a pretty recent addition. Can you guess how old it is?
Only about 60 years! It was created just before the 1960s!
Nevertheless, it is an iconic stop along the Slea Head drive that will not take too much time. It is a short walk away from a small parking lot, and definitely worth checking out.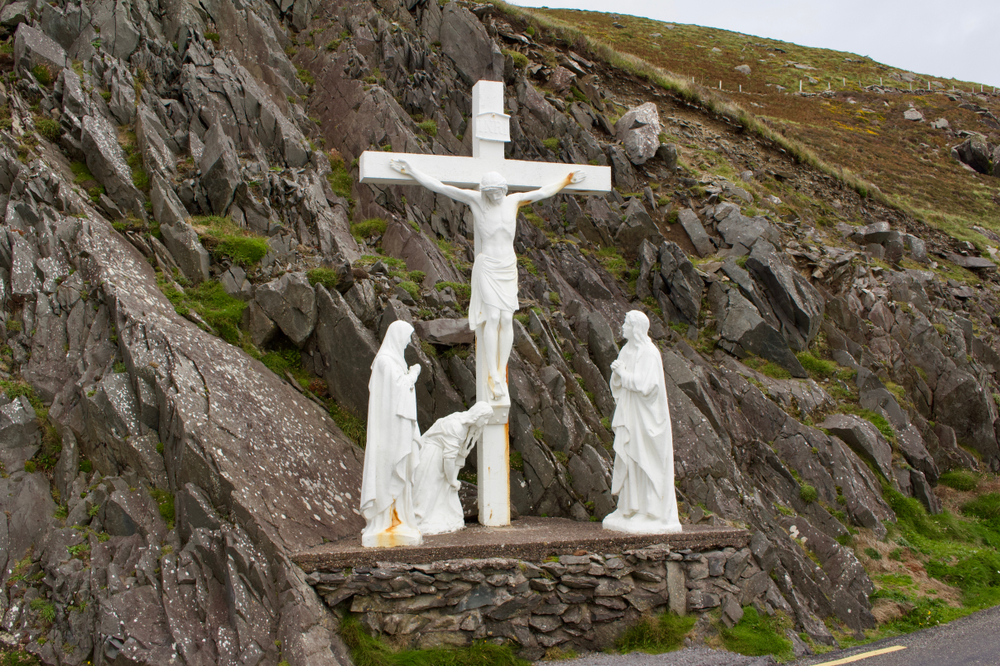 Coumeenoole Beach
Unlike the beaches of Dingle and Ventry, Coumeenoole is not great for swimming. The waters are too powerful and unpredictable here. However, the views are unforgettable.
As you make your way down to the beach from the parking area above you are greeted by stunning beach, water, and cliff views. Down at the beach you will find the proper Irish beach experience–chilly air and even colder waters.
That being said, there is something enchanting about it all, and you will find yourself looking back for one last glimpse before you go.
And then there is a little something else about Coumeenoole Beach… If you take a good look at everything, especially the rocks, you just might find something familiar.
Parts of Star Wars was filmed here! How cool is that? You can walk where Rey and Luke walked!
Whether you visit because you are a die-hard Star Wars fan, or because you love a good beach, we highly recommend Coumeenoole Beach. We suggest trying to come earlier in the day rather than later because this place is popular.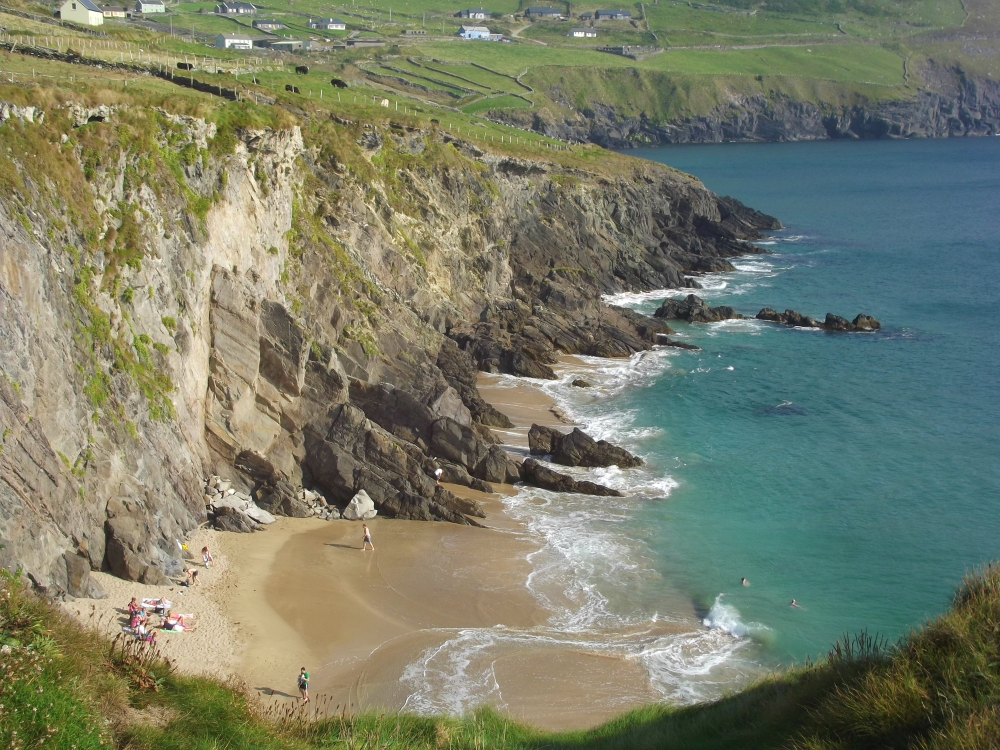 Dunmore Head
If you are looking for some epic sandstone cliffs beside the ocean, look no further than Dunmore Head. The way the ocean waves rise up against the sandstone is simply breathtaking.
As if the views were not reason enough, Dunmore Head is an excellent stop along your Slea Head drive because it will give you a chance to stretch your legs. It features a perfectly short 1.6-mile hike that will allow you to un-cramp your legs without cramping all of your muscles.
Parts of Dunmore Head were also featured in Star Wars, so if you are a fan you can get a two-for-one on this one! Epic views and an epic location. It is hard to beat.
Now, this hike can get a little tricky in inclement weather, so keep that in mind when you visit. (And do not try to do it in winter unless you are getting some unseasonably nice weather!)
Three Sisters and the Sleeping Giant
If you read the heading there, "Three Sisters and the Sleeping Giant," you might think something along the lines of, "Hey, that sounds like a story." And you would be right.
Ireland has numerous epic and legendary tales, like the one we mentioned earlier about the Battle of Ventry. However, the Three Sisters and the Sleeping Giant are not a story of their own. Rather, they are featured in several other stories in the area.
Feel free to ask around to hear some of the tales. You might also hear about some of the sobering history of the area. Like most of Ireland, the land around the Three Sisters and the Sleeping Giant was affected by the Irish Potato Famine in the mid 1800s.
Some of the fields in this area used to be potato fields, and they have not been planted again since the famine that killed about a million people.
On a completely different note, you might also recognize the area from some of the latest Star Wars movies. We are definitely not the first ones to have realized that there is an otherworldly aspect to this place.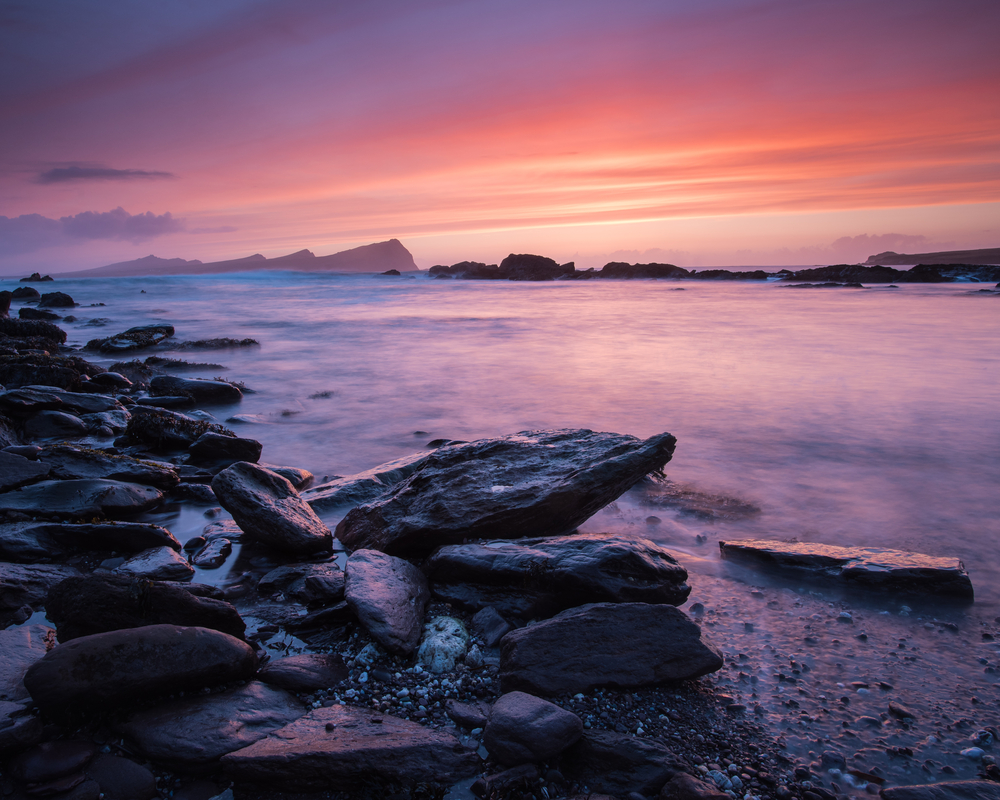 Dunquin Harbour
Dunquin is another little village along the Slea Head drive. Also known as Dún Chaoin, you cannot get further west in Ireland than here. If your thoughts of Ireland are of rugged cliffs and jagged shorelines, with a smattering of greenery all around, then you just might be thinking about Dunquin.
You have probably seen pictures and just not known what you were looking at. Dunquin is actually one of the most photographed places in Ireland! It is not Instagram famous, but travel photographers love the place.
Dunquin may be small, but you can still find a variety of things to do. If you are taking a few days to do your Slea Head drive, then this just might be a good place to relax for a bit.
Definitely try to catch the sunset from here if you can! You will not regret it!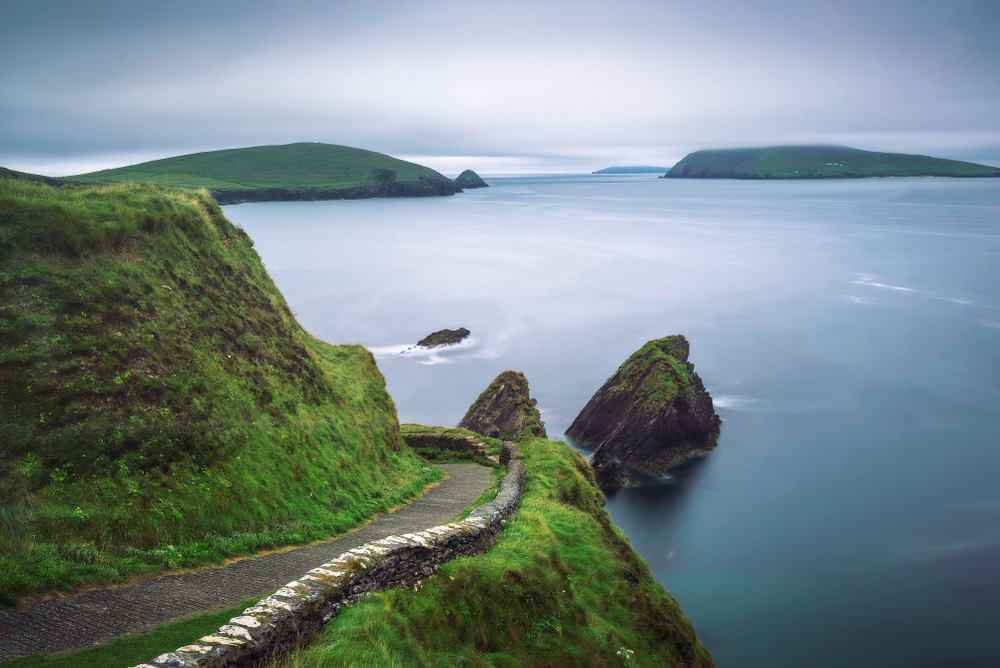 Things to do in Dunquin
Visit Dún Chaoin Pier
For a glimpse of the local life, wander your way on down to Dún Chaoin Pier. Here you will be able to check out the fishing boats that may seem a little small for ocean-faring but are actually quite sound.
You will also see the beautiful cliffs against the ocean. By now you realize we have a thing for cliffs and large bodies of water. Dún Chaoin Pier is no exception to this rule!
Check Out Kruger's Pub
If Ireland is famous for anything besides its stunning green landscapes, it is for its drinking culture. Visit Kruger's Pub for a glimpse at a classic Irish pub.
Now, visiting a pub in Ireland might seem like a rather touristy thing to do, and that is because it is. But this is a worthwhile tourist destination, as the most westerly bar in Europe!
Not only that, but you will also enjoy the fun atmosphere and homey feeling. As with most touristy places, things can be a little overpriced, but it is forgivable here.
Spend Some Time at Louis Mulcahy Pottery
For something a little less touristy, visit Louis Mulcahy Pottery. Louis Mulcahy is famous for his pottery in Ireland, and you can watch him at work.
Not to mention that this is an excellent souvenir opportunity. Watch the artist work his craft, and then take a one-of-a-kind piece home with you to remember your time here forever.
We love little independent shops like this, where you get to meet the person behind the art. Even if you do not plan to spend a lot of time in Dunquin, it is worth stopping in to visit this shop.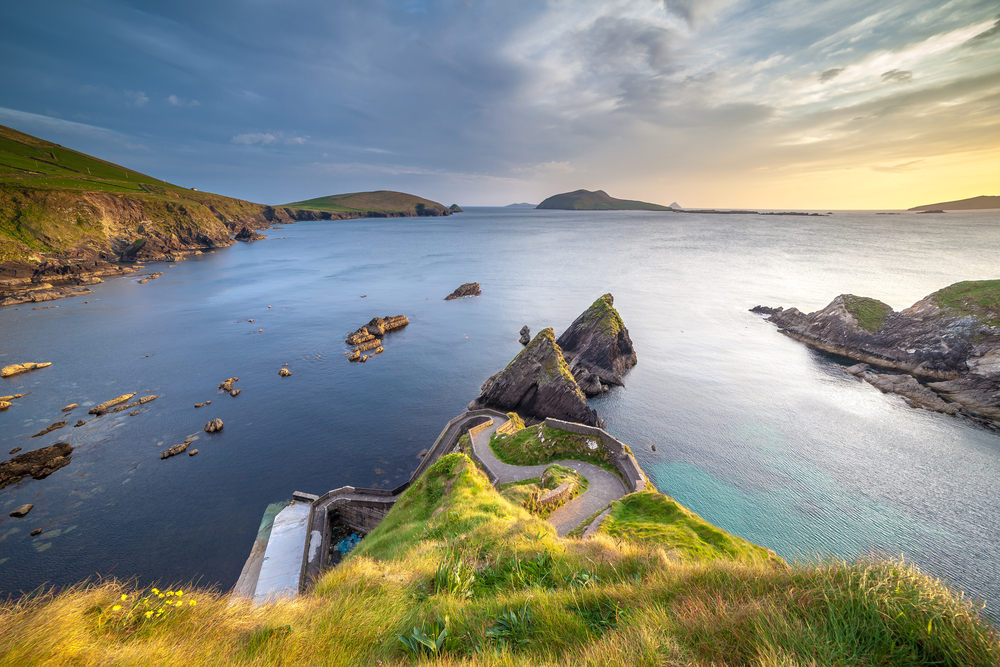 Blasket Islands
While they used to be inhabited, no one has lived on the Blasket Islands since the 1950s. The residents who lived there at the time were evacuated due to dangerous weather conditions and the mainland's inability to protect them in the event of severe weather.
However, you can still go visit the Blasket Islands and see the architectural remains. A ferry leaves from Dunquin for day trips, and you can also camp on the islands overnight. You can also take a boat from Dingle if you would like to visit earlier or later in your Slea Head Drive.
The Blasket Islands are seen as a place where true Gaelic culture reigned. Even though it was a difficult place to live, people here were proud of their history and everything they overcame. It is a lovely place to spend some time.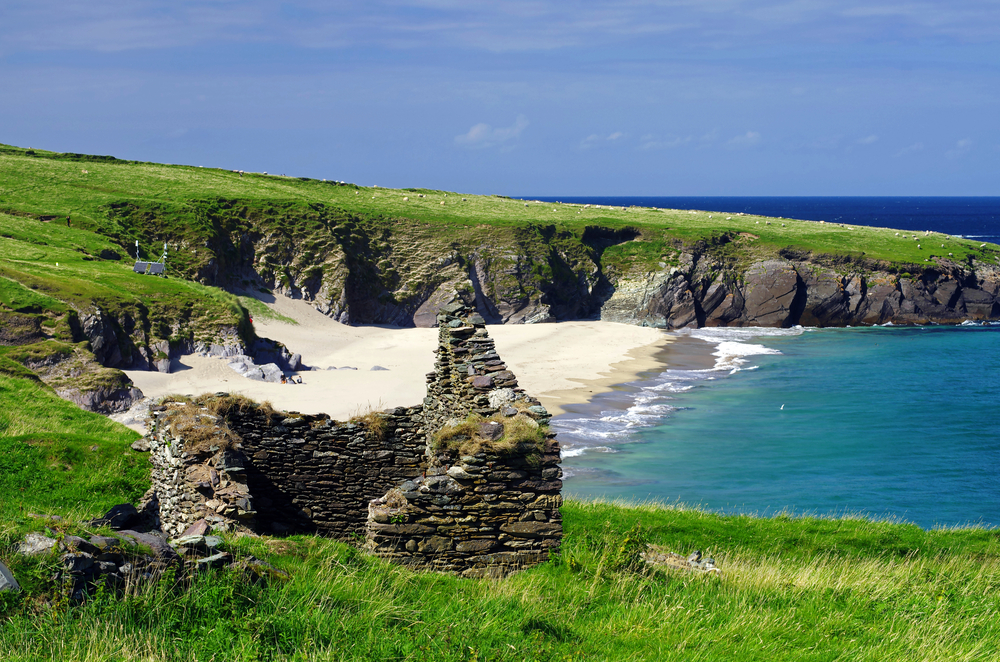 Gallarus Oratory
When you think of ancient churches, places like the Notre Dame Cathedral in Paris, or the Duomo in Italy. AKA, massive feats of architecture and art that reach forever up toward the heavens. Gallarus Oratory is not that but is no less impressive in its own way.
Some of the most extraordinary things have humble appearances, and Gallarus Oratory is definitely one of those. Stones piled on stones come together in a peak to create the exterior of an unauspicious church that just may originate from the 12th century. It is hard to say because historians have not been able to date this centuries-old structure.
Regardless of its age, Gallarus Oratory is a great stop on your Slea Head drive along the Dingle Peninsula because of its historical significance. Pilgrims have sheltered here over hundreds of years, and the serenity of its location among fields, hills, and the rock walls that surround it, is sure to inspire some sense of reverence in yourself.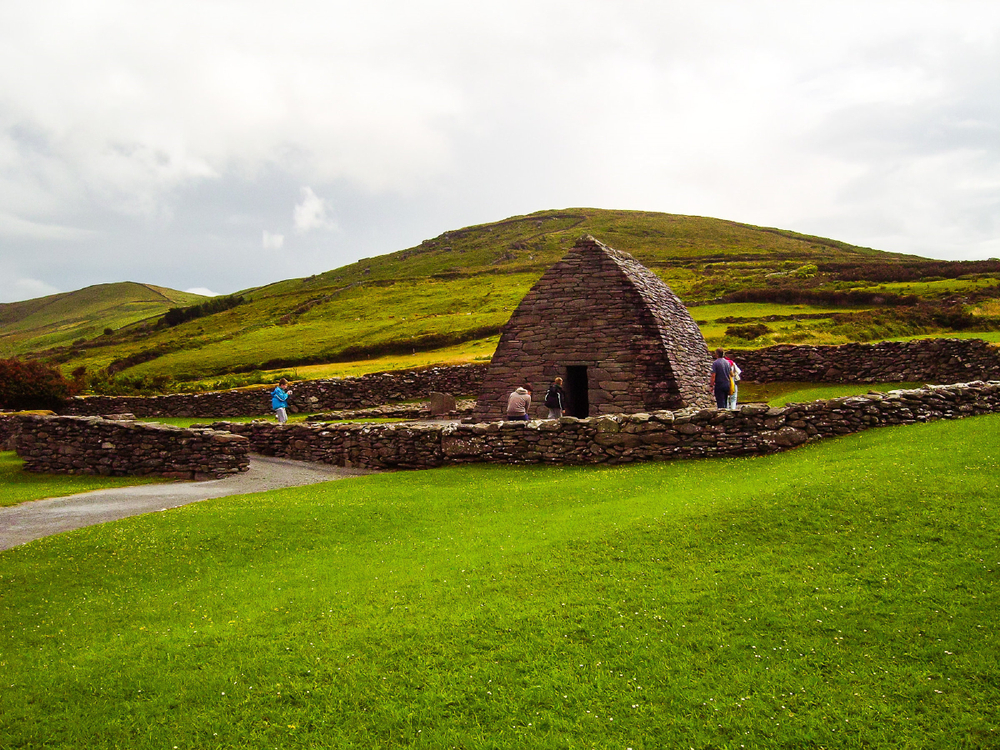 Kilmalkedar Church
Kilmalkedar Church will likely be a little closer to your imaginings of what ancient churches were like. Its crumbling stone walls reach in narrow triangular peaks toward the sky.
Although it may seem more traditional, there are things about Kilmalkedar Church that make it seem as though this location hearkens back to the Celtic religion and tradition. It is likely that this was a place of worship long before Christianity arrived.
One of the things that tie Kilmalkedar back to earlier times is a standing stone, known as Ogham stone, with a hole bored in it. There is also a sundial stone nearby.
All of the historical markers and decaying architecture in the area make Kilmalkedar Church a unique and worthwhile stop on your Slea Head drive.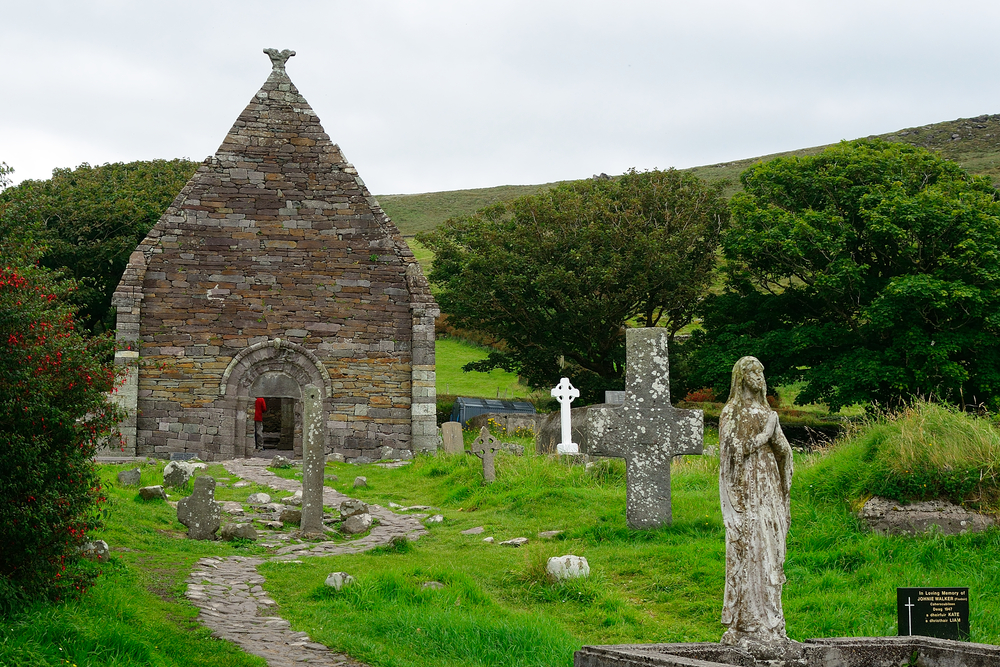 Where to Stay Near Slea Head Drive
Dingle Bay Hotel
If you would like a place with a view, we recommend Dingle Bay Hotel. Located right by the bay and pier, it is in a great place for exploring Dingle.
You will love the free wi-fi and restaurant. There is also classic Irish entertainment at the bar each night.
Not to mention, they also serve a fantastic traditional Irish breakfast! Start your Slea Head drive off right with a hearty breakfast (or yogurts and pastries if you would rather)!
Check Rates: booking.com
Dingle Benners Hotel
If the word charm went by any other name, it would be Dingle Benners Hotel. Also located in Derry, it is an excellent place to stay at the beginning and end of your Slea Head drive.
You will love the antique-style furniture and the old-world elegance of this hotel. Free wi-fi is available throughout, and each room has its own TV and coffee/tea amenities.
Dingle Benners Hotel is also located close to Dingle's very own aquarium, adding an extra element of fun! The Benners Bar offers everything from traditional Irish food to your favorite comfort foods.
Check Rates: booking.com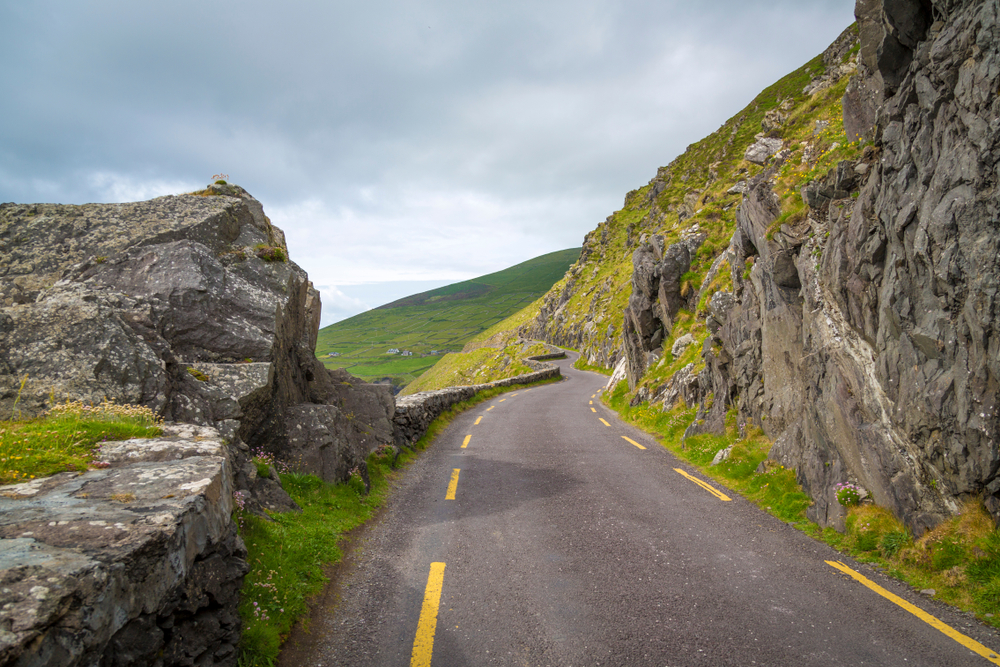 Ceann Sibeal Hotel
A small hop from Dingle, you will find the Ceann Sibeal Hotel located about halfway through the Slea Head drive. It is an excellent place to stay if you are taking more than one day to do all your stops and gives you easy access to Dingle, Ventry, and Dunquin.
Ceann Sibeal Hotel is also another great place to stay if you want views attached to your housing! As if that is not enough, it is also within walking distance of some beautiful Irish beaches. If you are not staying in Dingle, or need an in-between place to stay, absolutely check this place out.
Check Rates: booking.com
Hotel Milltown House
If you would like to feel like you are staying in a fancy countryside manor, look no further than Hotel Milltown House back in Dingle. With its fresh white walls and proximity to the water, you will definitely feel refreshed!
Each room comes with its own sitting area and coffee/tea amenities. You can also use room service here if you just do not have the energy to go out after your long day of exploring!
For a hotel that is a little bit extra, we highly recommend Milltown House. You cannot beat it for its touch of lavishness!
Check Rates: booking.com
An Portan Guest House and Restaurant
If you want to stay in Dunquin (because who would not, with that gorgeous sunset!) we recommend taking a look at An Portan Guest House and Restaurant.
It has a restaurant and a coffee shop, and breathtaking views of the Blasket Islands! Can you imagine the Blasket Islands at sunset? You do not have to! Just stay here and see them for yourself!
This place does not stray away from hearty breakfasts either. You will not start your adventures hungry if you stay here. With all the homemade and fresh fare, you are going to love this place.
Basically, we are telling you it is perfect. Views and food. What else could you ask for?
Check Rates: booking.com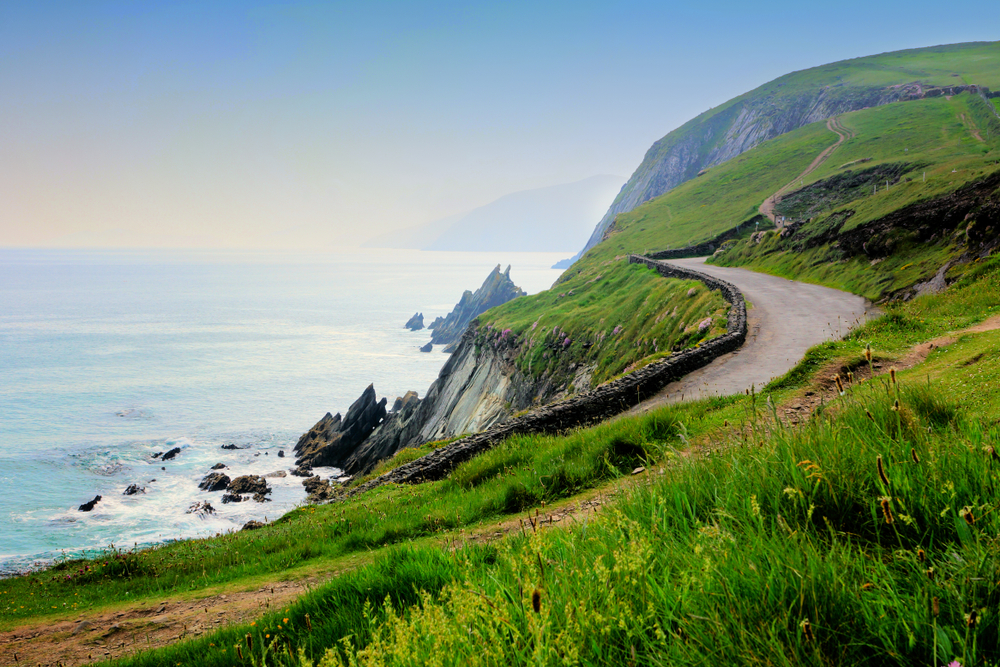 We hope that our recommendations help you plan your Slea Head drive! Our top recommendation is to take as much time as time will allow–there is so much to see and do here, you will not regret it. Let us know what your favorite stops are, and if there are any gems that we did not add to our list!
For more Ireland vacation ideas, check out some of our other Ireland articles here. We also have a complete Ireland Road Trip Itinerary to help guide your travels.