Traveling to Ireland can be somewhat of a magical experience straight out of a fairytale. We've put together this list of 15 luxurious 5 star hotels in Ireland to help you make the most of your visit to the enchanting emerald island.
Planning your trip to Ireland last minute?
Make sure to book your hotels and tours in Ireland in advance to ensure availability! Here are our top picks for your trip!
Top experiences and tours in Ireland:
Top Hotels In Ireland:
These fairytale hotels are the best of the best and offer an experience that you won't soon forget. Many of these luxury hotels in Ireland earn their reputation because they take Irish hospitality to the next level.
Whether you are looking to explore the city and stay in 5 star hotels in Dublin or are more excited to take in the Irish countryside our list of 5 star hotels in Ireland has a little bit of something for everyone.
As you will see, Ireland is filled with stately manors and castles that have been turned into modern-day hotels. It's quite a fun experience to stay in these 5 star hotels in Ireland.
But don't think that a trip to Ireland is all about the past,  there are also many 5 star hotels in Ireland that are more modern in feel and accommodations.
No matter which type of hotel you are looking for Ireland has a wealth of luxury hotels, resorts, manors, and castles to fit your budget and needs. 
Make sure to check out our post about the Best Time To Visit Ireland which breaks down the weather, what to do etc!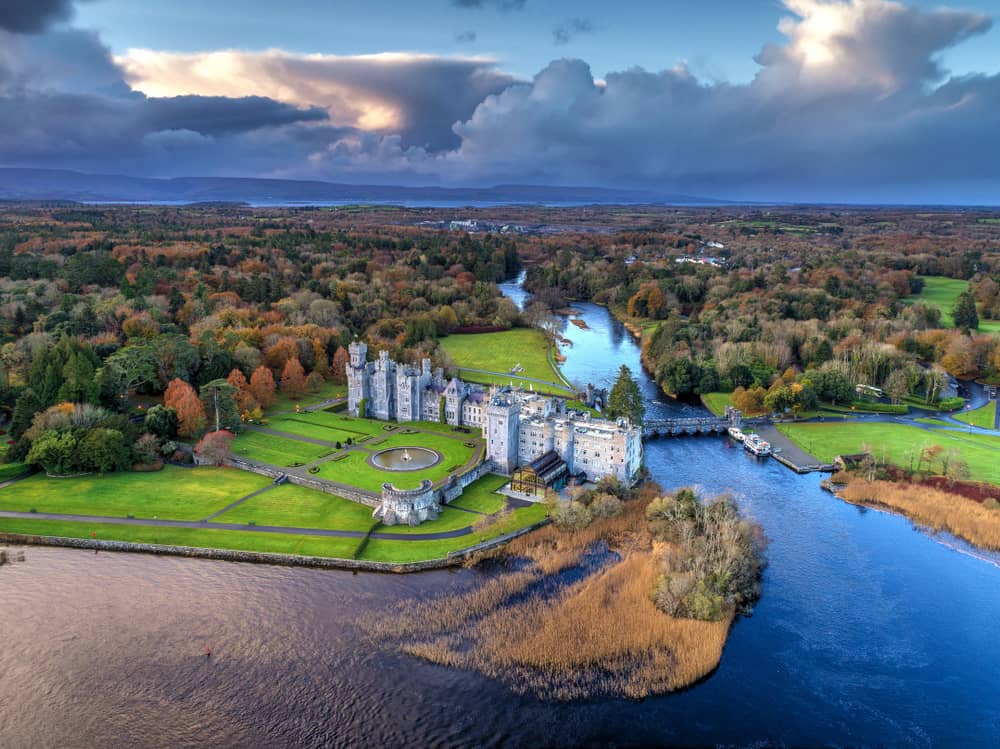 15 Luxurious 5 Star Hotels in Ireland Out of a Fairytale
Adare Manor
Adare Manor earns it 5 star hotel in Irland status because it has been transformed into the luxurious manor house it is today. Originally a simple Georgian house, Adare manor was reworked, thanks to the Earl of Dunraven, and now is a romantic Neo-Gothic manor. The estate is located on 840 acres County Limerick. Like many of these luxury hotels in Ireland, there are plenty of outdoor activities such as golf, fishing, falconry, archery and horse riding. Perhaps you would like to take a day trip to the Cliffs of Moher, Galway City, or Killarney.
The interior of Adare Manor is filled with antiques and original trimmings including stone fireplaces and stained glass windows. Walking through the manor makes you feel like you are in a bygone era which extends to the accommodations. There are a variety of dining options that include the more casual Carriage House Restaurant and the Michelin starred The Oak Room. If you like your 5 star hotels in Ireland to be more traditional then take a look at our guide to the best castle hotels in Ireland our of a fairytale.
Check Rates: Adare Manor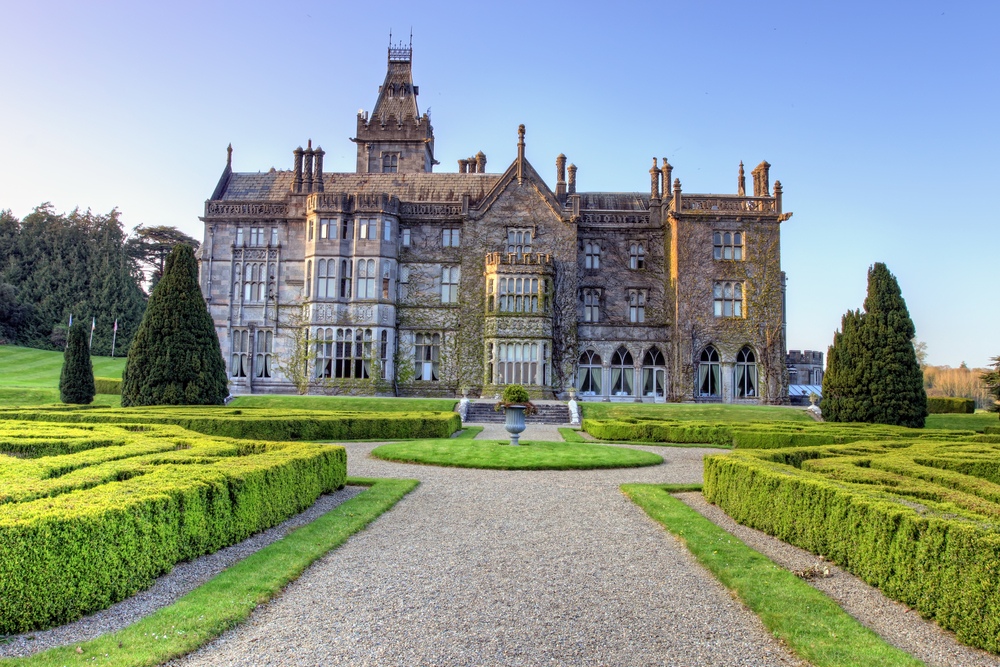 Castlemartyr Resort
One of our favorite 5 star hotels in Cork is the Castlemartyr Resort. Located near the famous Castlemartyr which was first built by the Knights Templar and Strongbow, the land was later owned by Sir Walter Raleigh and finally Richard Boyle, the first Earl of Cork. The Manor House was built in the 17th Century and has been restored to what it is today. While modernized this luxury hotel in Ireland still has it's historic charms that include traditional guest rooms as well as private self-catering accommodations that allow you to create a home away from home.
No matter which accommodation style you choose, Castlemartyr guests have the option of enjoying the bars and restaurants on the property, which also includes afternoon tea! There is a spa and pool to enjoy as well as other outdoor activities. Alternatively, you may choose to drive the 25 minutes to explore Cork City or the Old Jameson Distillery. From Castlemartyr you can also drive to the historic towns of Youghal and Cobh which are known as the home of the 2nd largest natural harbor and the last port of call for the Titanic. If you are looking for a 5 star hotel in Ireland that is a mixture of different times in history definitely check out Castlemartyr Resort.
Check Rates: Booking.com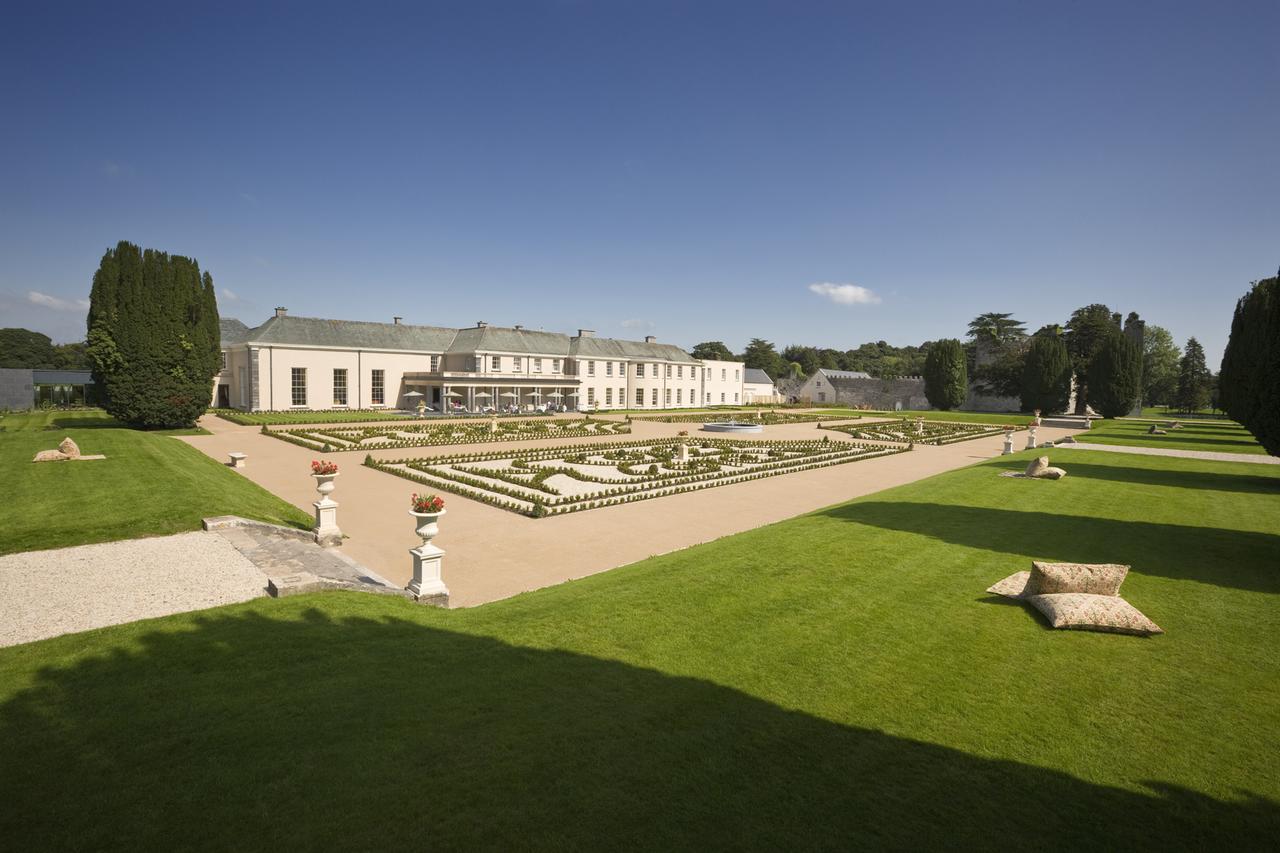 Ashford Castle
This 5 star hotel in Ireland is located in County Mayo and is a beautiful sporting estate that was once owned by the Guinness family. The stunning Ashford Castle is out of a fairytale with a stone facade, towers and turrets, and a gorgeous setting overlooking a lake. The interior of the castle is just as grand with inviting communal spaces that include antique furniture surrounded by wood paneling and elegant chandeliers. You might enjoy the experience of the wine tasting tunnels located in the cellars or the billiards room.
With 350 acres there are many traditional activities to occupy your time. From falconry to fishing to a private boat trip on Lough Corrib you can really enjoy all the estate as to offer. They even offer less traditional activities such as off-road driving. Like many of these old estates, Ashford Castle has been refurbished with up to date amenities including a state of the art spa. A stay at Ashford Castle is truly a luxury hotel in Ireland worth visiting.
Check Rates: Hotels.com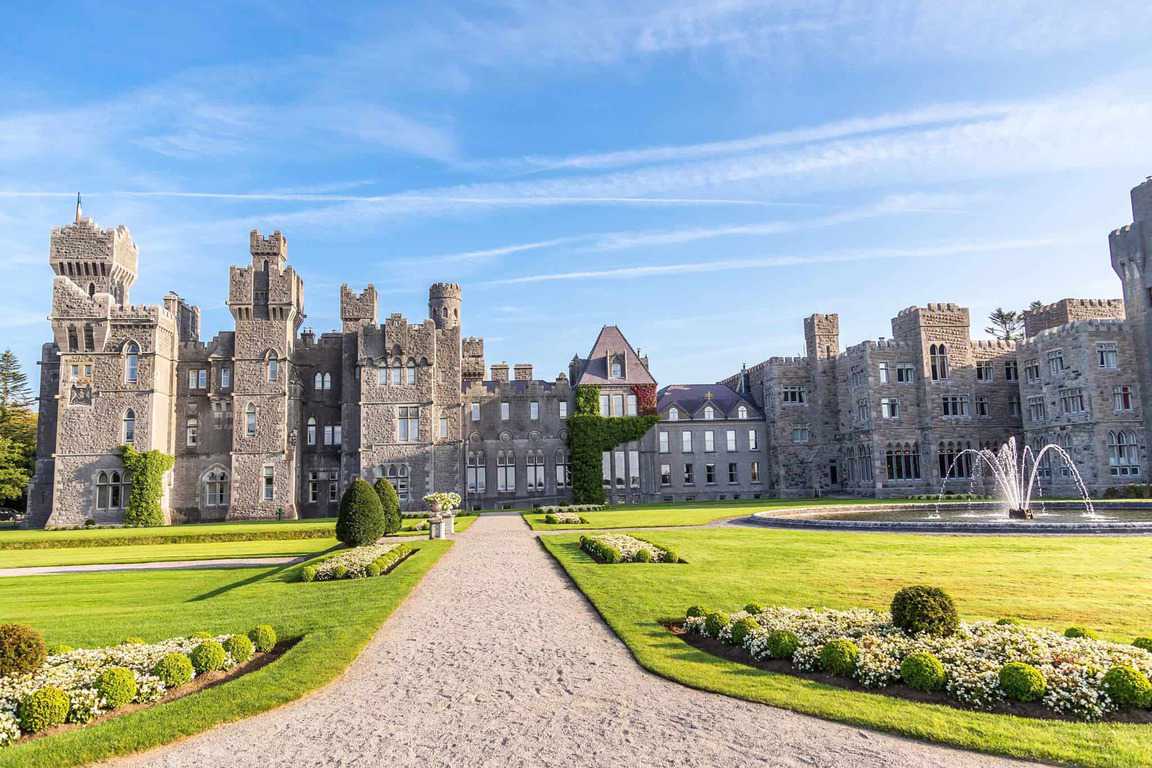 Hayfield Manor
Hayfield Manor is on our list of luxury hotels in Ireland because it is one of the best family-owned 5 star hotels in Ireland. Hayfield Manor is a charming estate operated by the Scally Family who makes it their utmost priority to exceed their guest's expectations. This hotel offers a truly luxurious experience with accommodations that have the magical charm of a traditional manor house. Located in County Cork, Hayfield Manor is a short walk to the city center.
Hayfield Manor truly does go out of their way to make you feel welcome. Some popular amenities include Elemis bath products, a golf putter in every room, and special milk and cookies turndown service for children. We love their after-hours bar for guest and concierge service which is top-notch! This 5 star hotel in Ireland also has a spa and pool which overlooks the enclosed garden sauna and steam rooms. Not to be missed, Hayfield Manor also hosts one of the most popular afternoon tea in County Cork.
Check Rates: Hotels.com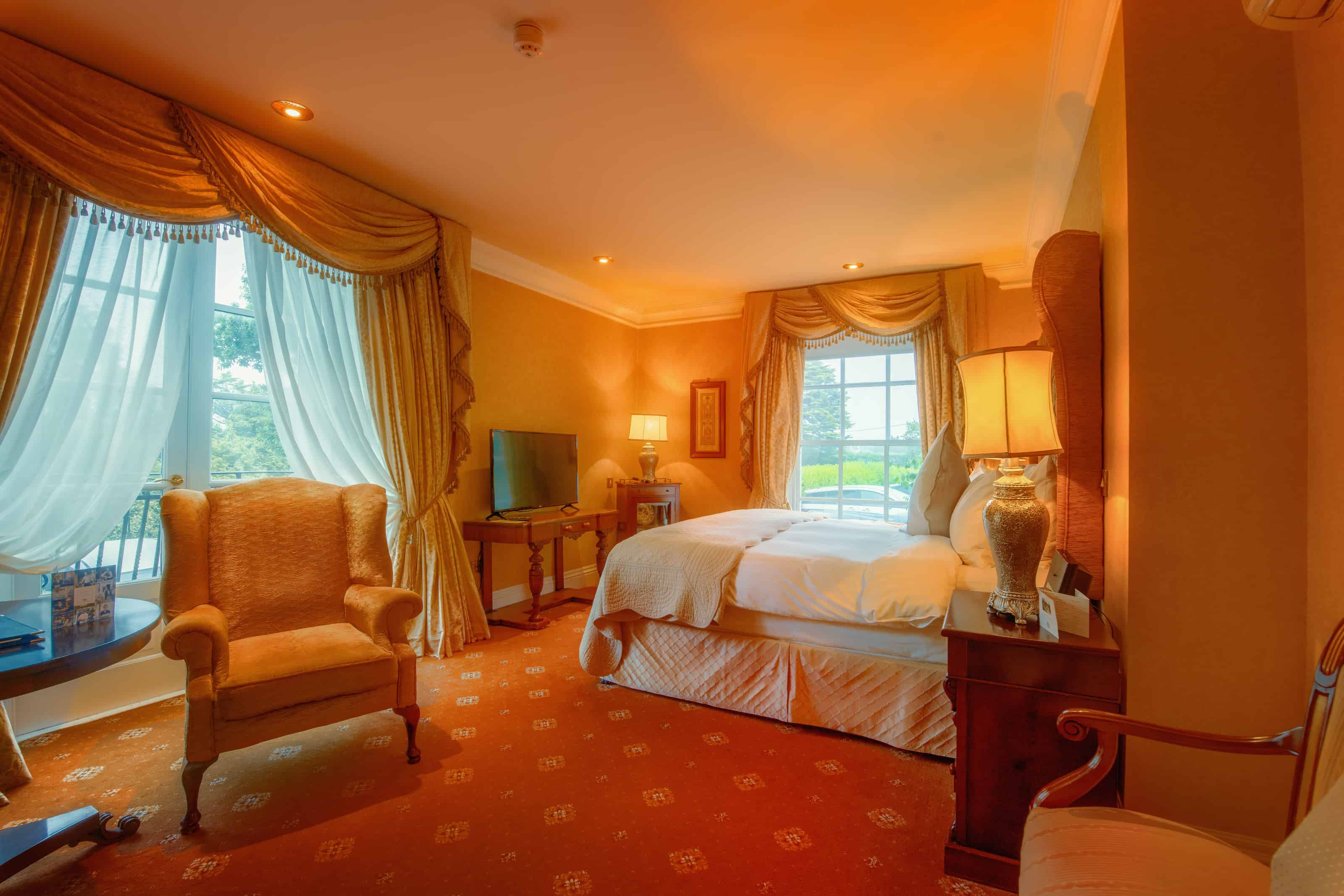 Cliff House Hotel
Located in County Waterford and overlooking Ardmore Bay, this boutique hotel has modern sea-facing rooms for you ocean lovers. The 5 star Cliff House Hotel overlooks Ardmore Bay with rooms that feel like they hang from the cliff face. The hotel also has a Michelin starred restaurant. There is also a full-service spa with a sauna, outdoor hot tub, and relaxation terrace. This 5 star hotel in Ireland is an excellent choice if you are looking for more modern accommodations. We love this luxury hotel in Ireland because of its dramatic location to the sea!
It's location to the sea is so relaxing that you won't regret booking a room here. Watch the dolphins play while you relax in your room or from the restaurants and bars. The Cliff House Hotel is located in Ardmore Village, a quaint, truly Irish village with a 12th Century Church. There are also many other small cute villages and towns to visit in the area. It is about an hour's drive to Cork and worth renting a car to explore the area. Don't forget to check out our guide to the 10 big mistakes to avoid when driving in Ireland.
Check Rates: Booking.com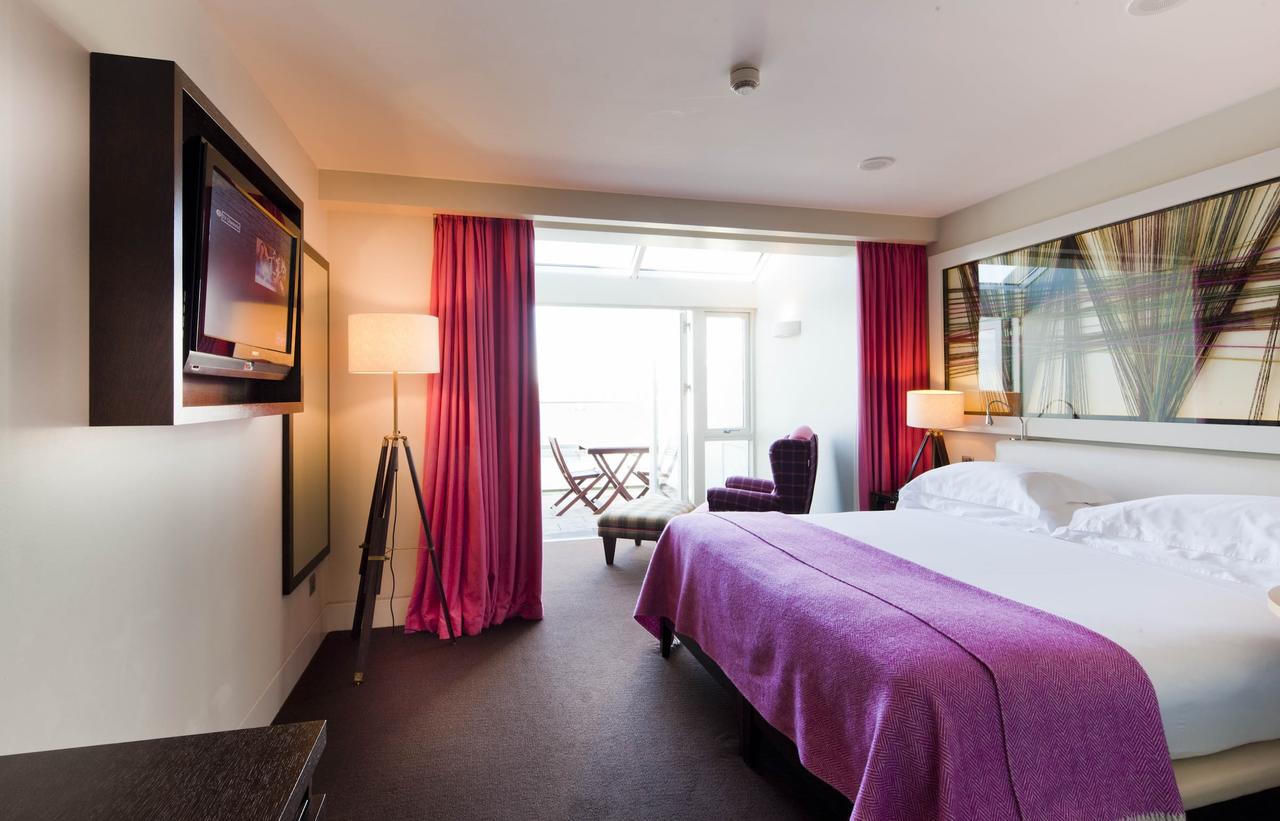 Aghadoe Heights Hotel
Overlooking Lough Leane in County Kerry this hilltop luxury resort is near the famous Ring of Kerry Scenic Drive. This 5 star hotel in Ireland is so amazing that we might just be obsessed with it. The views from Aghadoe Heights Hotel are phenomenal with the Macgillycuddys Reeks, which form Ireland's highest mountain range, in view behind Lough Leane. Another reason we love staying at this property is that the town of Killarney is nearby with plenty of shuttles that make it easy to get around without having to rent a car.
The hotel is welcoming and friendly with plenty to do on the property. If you want the lake view rooms you will need to pay more but even the rooms that look out over the countryside are comfortable and inviting. Ireland is such a beautiful country that you can't go wrong with any view from the rooms in this 5 star hotel in Ireland. The property has a wellness spa with an indoor pool and waterfall. The Lake Room is an award-winning fine dining restaurant that features European dishes mixed with local cuisine and produce. We cannot recommend this 5 star hotel in Killarney enough.
Check Rates: Booking.com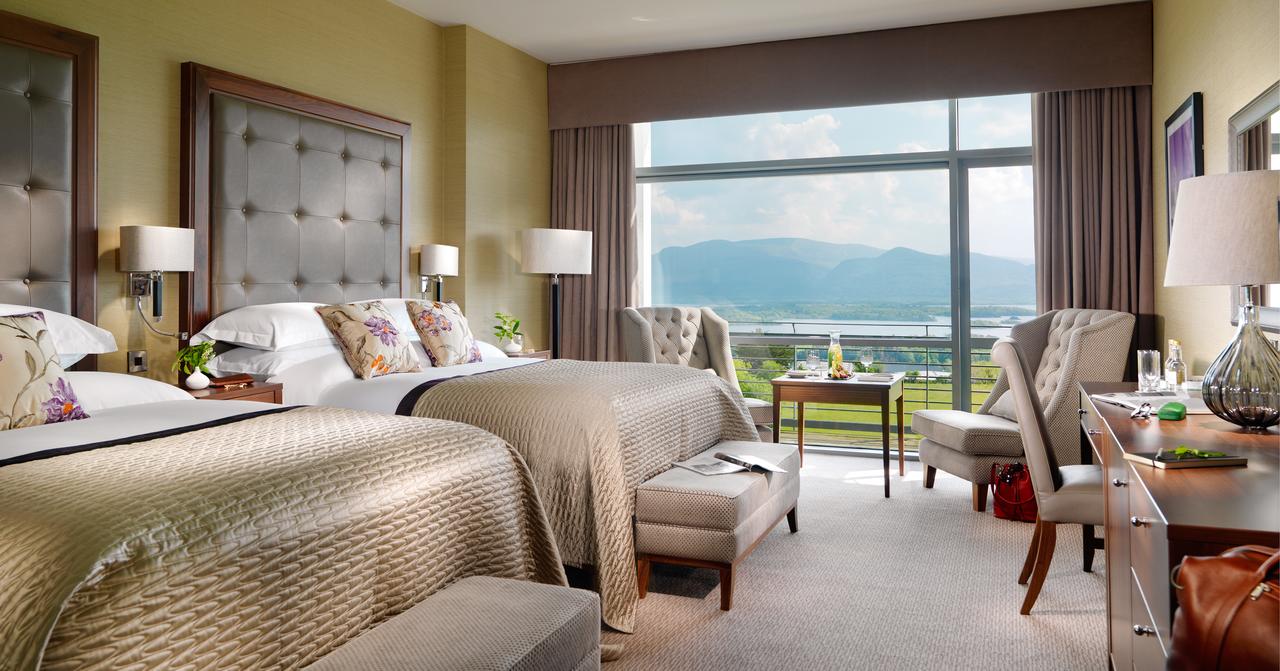 The Merrion
The Merrion is a 5 star hotel in Dublin that is touted as the most luxurious in the city. Located within Merrion Square and just across from the government buildings the hotel is made up of four 18th Century Townhouses. The interior is made up of gorgeous Georgian decor and Irish antiques and is known to be a bit exclusive with penthouses and suites that offer private entrances for its famous guests. But don't let that deter you, The Merrion is anything but pretentious. They go out of their way to treat every guest like a VIP.
After a day of exploring all Dublin has to offer including the nearby National Gallery, National Museum, and Grafton Street Shopping the Merrion has two popular local hangouts to unwind in. The Cellar Bar and Cellar Restaurant which is located in the original wine vaults. With a separate entrance from the lobby, the Cellar Bar is great to check out even if you aren't staying in the hotel. There is another excellent restaurant on the property that makes this hotel even more special. If you want to go all out, then make sure to reserve a table at Restaurant Patrick Guilbaud, the only restaurant in Ireland to receive two Michelin Stars.
Check Rates: Booking.com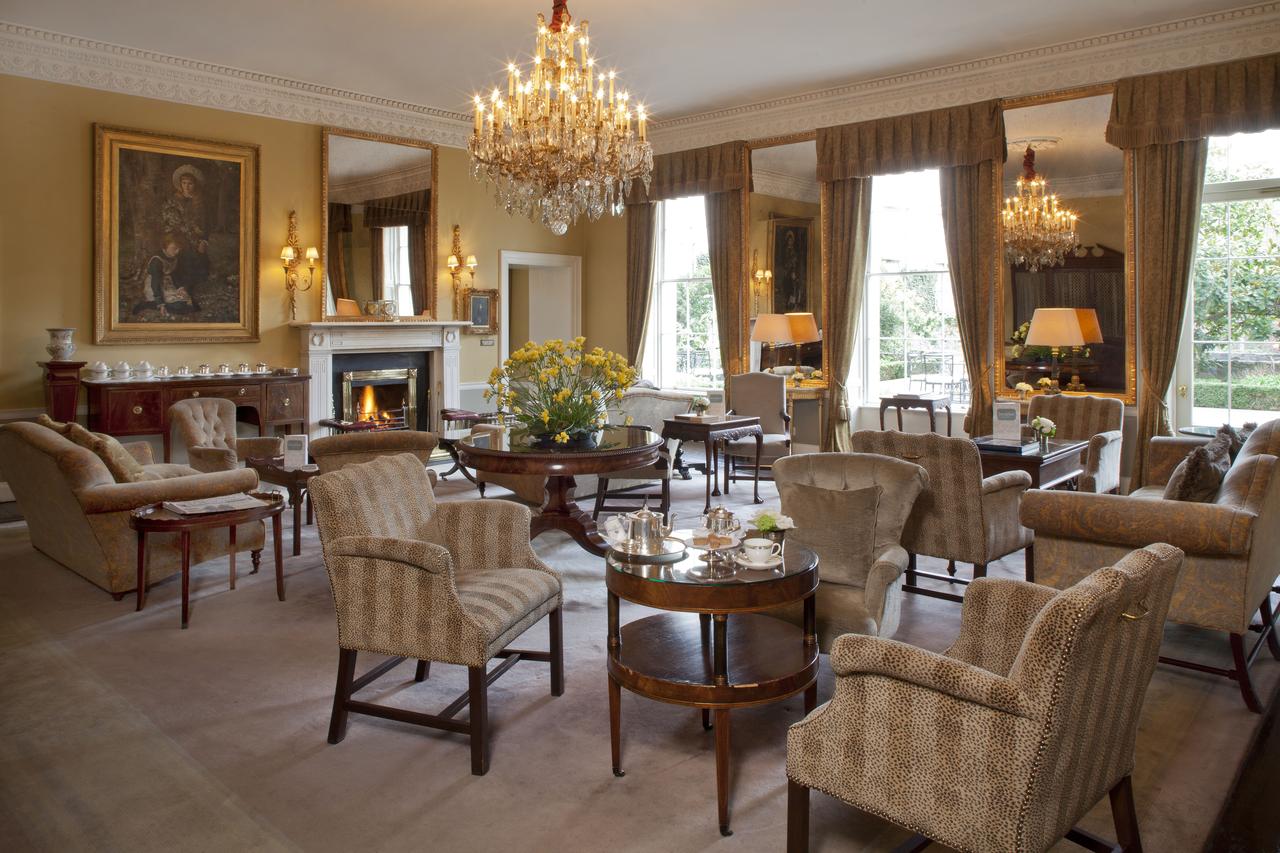 Monart
This luxury 5 star hotel in Ireland is one of the worlds leading spa destinations that is touted as a "you in mind" adults-only spa. Located in County Wexford, the Monart hotel and spa is truly one of the worlds leading spa destinations. The property is located in private woodlands and is also open as a day spa. With saunas, steam rooms, salt grotto, and thermal therapy pools there is no better way to rejuvenate and unwind. If you are staying at the hotel you can pick spa packages that include meals, treatments and even a personal trainer.
After a day of relaxation and spa treatments, the tranquility is continued in your own accommodations. The Monart earns its luxury hotel in Ireland reputation because its rooms are beautiful and serene. One stand out feature is their spa-style bathrooms decked out in Italian marble and featuring French spa amenities. You can choose between a balcony or terrace rooms with either a lake or a woodland view. Only an hour and a half drive from Dublin this spa hotel is a must-do if you want to add a little relaxation to your trip to Ireland.
Check Rates: Monart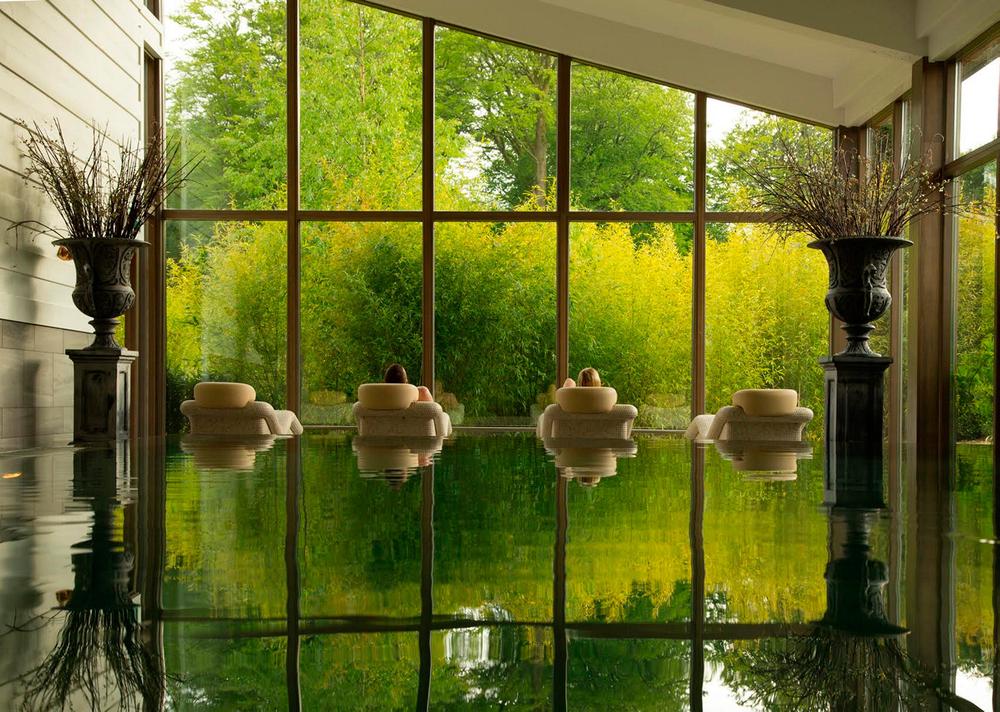 The Shelbourne
Founded in 1824, this is a delightful historic hotel is where the Irish Constitution was drafted. The Shelbourne is located on St. Stephen's Green and is considered the center of Dublin's social and cultural life. With fantastic bars and lounges located on the property, you will love coming back to your hotel to unwind after a day of sightseeing and exploring Dublin. This is definitely the hotel to stay in if you are looking to rub elbows with notable VIPs. It seems the Shelbourne is a 5 star hotel in Ireland that is hard to resist.
The Shelbourne is a luxury hotel in Ireland that is a lot of fun to stay in but some of the rooms can be small. This is quite common for hotels that are located in historic buildings. Rooms have views that either looks out on St. Stephen's Green, the interior courtyard, or some of the surrounding buildings. Even though The Shelbourne is historical the rooms are still very nice and luxurious. You won't be disappointed if you make this 5 star hotel in Dublin your home base for exploring all the city has to offer.
Check Rates: Booking.com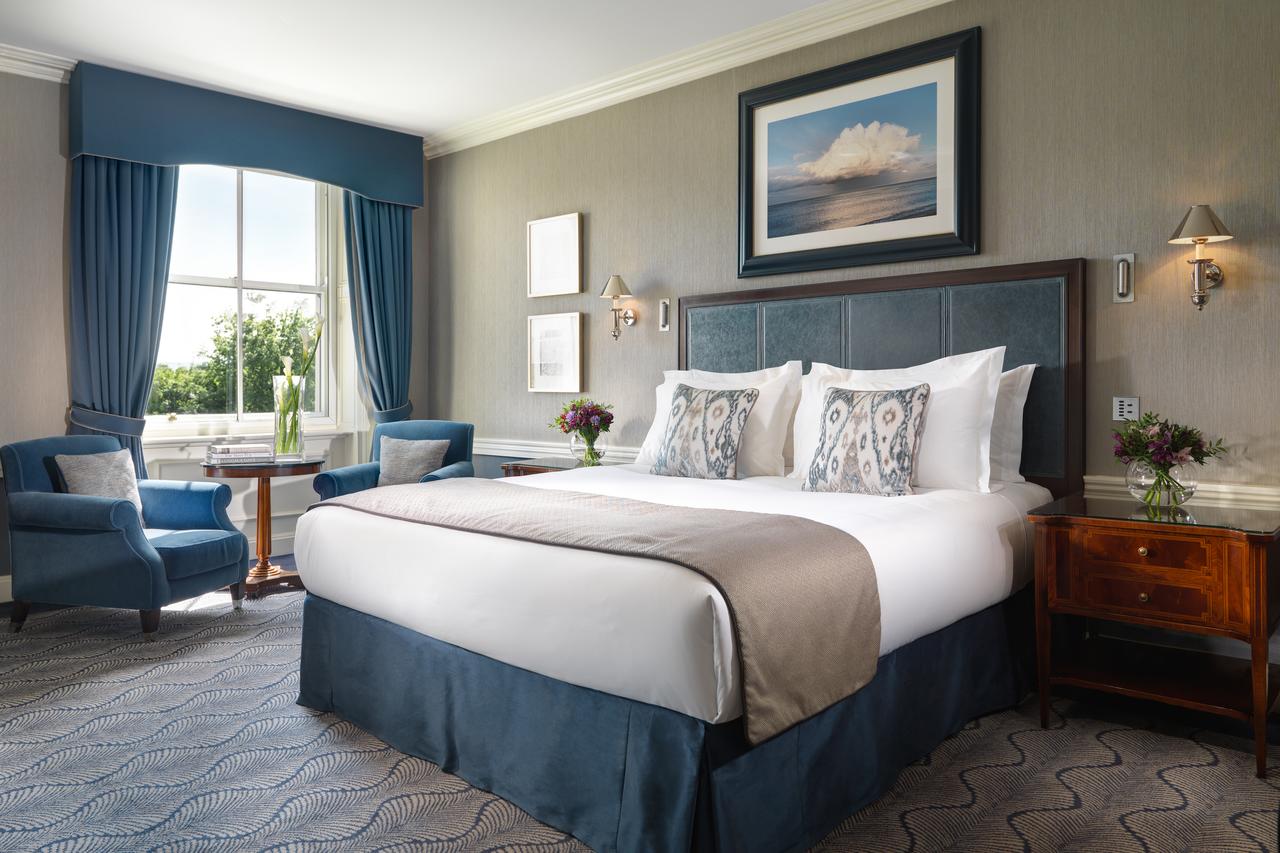 Powerscourt Hotel
Just half and hour drive from Dublin the Powerscourt is a 5 star hotel in Ireland that was once the famous Powerscourt Estate. Now it is an exclusive luxury resort with two champion golf courses and an award-winning spa. The estate also happens to be home to the highest waterfall in Ireland. One reason we love this luxury hotel is its location to famous ancient sites such as The Monuments of Newgrange, Wicklow Gaol, and Kilkenny Castle.
The accommodations are spectacular with opulently furnished rooms and marble bathrooms. Most of the rooms either have a view of the rolling Wicklow countryside or the formal gardens of the Powerscourt estate. With such luxurious accommodations, you may not want to leave your room or the estate. If you do decide to explore the area the hotel staff is excellent and helping you plan out your day.
Check Rates: Booking.com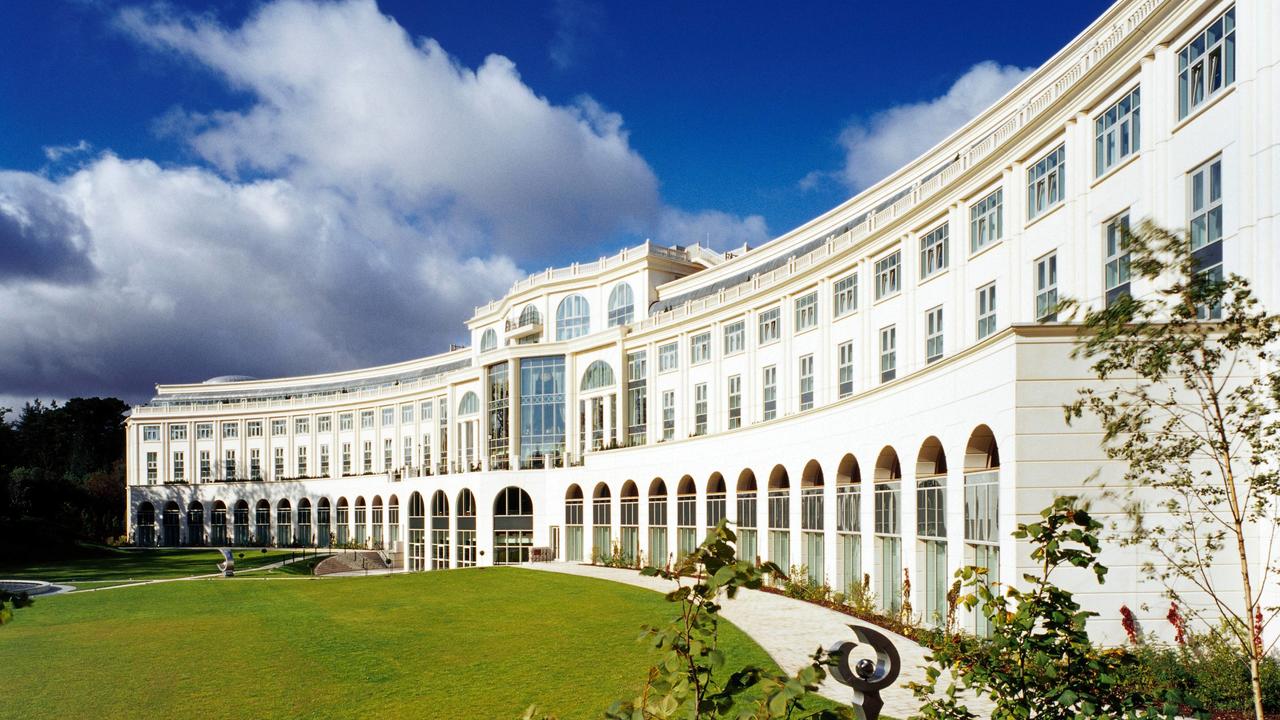 Westbury Hotel
The Westbury Hotel is one of the more cosmopolitan hotels on our list. This hotel is modern and unpretentious about its 5 star hotel in Dublin status. While being modern, the hotel also celebrates locally sourced products by incorporating Irish wool carpets and Irish linen into its decor. The afternoon tea is one of the more famous in Dublin. The concierge is fantastic at helping you organize your day exploring the city as they should be since when you stay at the Westbury Hotel you are staying in the heart of Dublin.
Since this hotel is modern the rooms are larger than you will find in the more historic hotels in Dublin. Each room has a feeling of modern glamour mixed with Irish hospitality. These spacious rooms also come with a Nespresso machine, mini bar, and bathrooms to make your stay more comfortable. Be sure to check your package when booking because some reservations come with breakfast included and some do not. We love this 5 star hotel in Ireland because it feels modern and chic.
Check Rates: Booking.com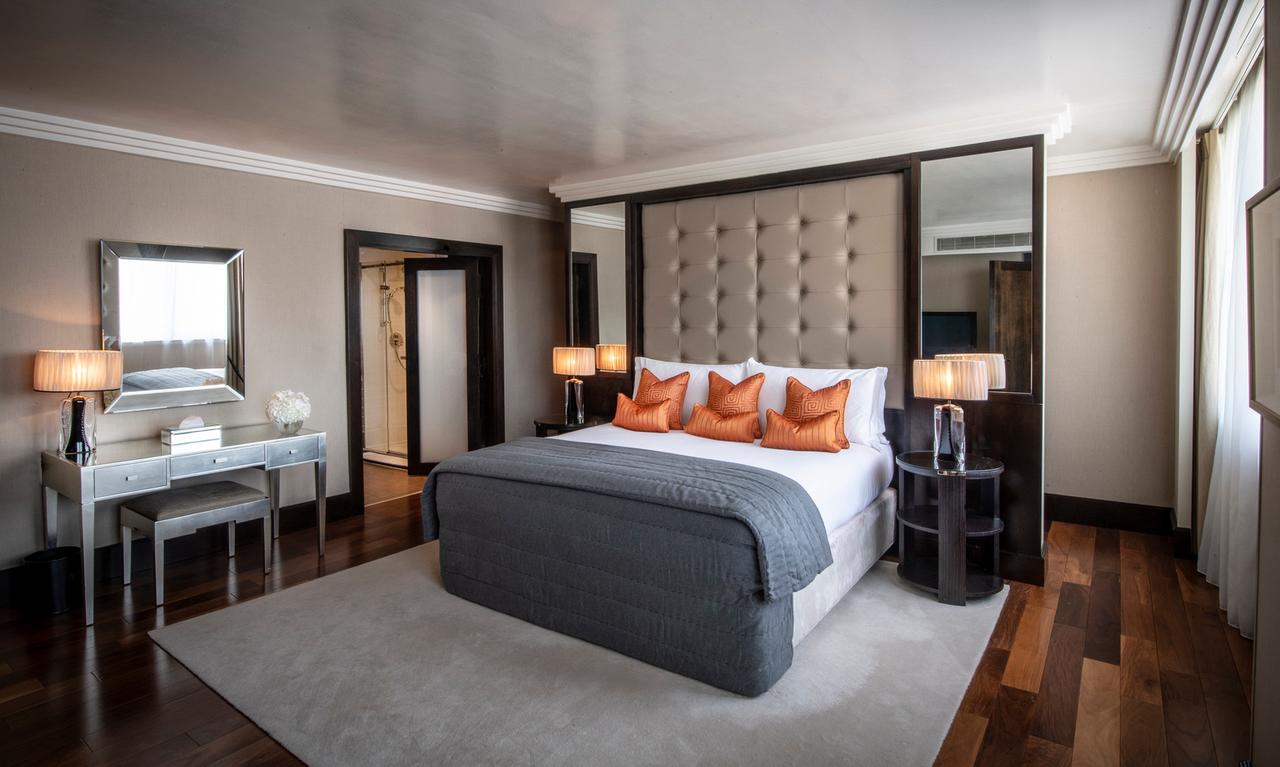 Lough Esk Castle
Located in County Donegal Lough Esk Castle is a luxury 5 star hotel in Ireland that has both old-world furnishings and modern design. The original Castle was built in the 1477 but the oldest stone found in the building today dates to 1621 and was rebuilt again in the 1860s. For this reason, the property has a feeling of country to contemporary charm that is the perfect blend of old and new. The rooms at Lough Esk Castle are large and accommodating with beautiful bathrooms that include a walk-in shower and soaking tub. We love how homey the rooms feel, making this 5 star luxury hotel top on our list.
The property also has the added benefit of sitting on a lake, something we tend to look for when choosing hotels. While staying here you can enjoy the countryside with traditional activities including fishing on the lake. Like most to the hotels on our list, Lough Esk Castle has a spa to relax and unwind in as well as excellent dining options. The city of Donegal is a short drive away with many fun things to do an explore which makes this 5 star hotel in Donegal an excellent home base. If you are looking for ideas of what to do while in Donegal make sure to check out our guide to 10 delightful things to do in Donegal.
Check Rates: Booking.com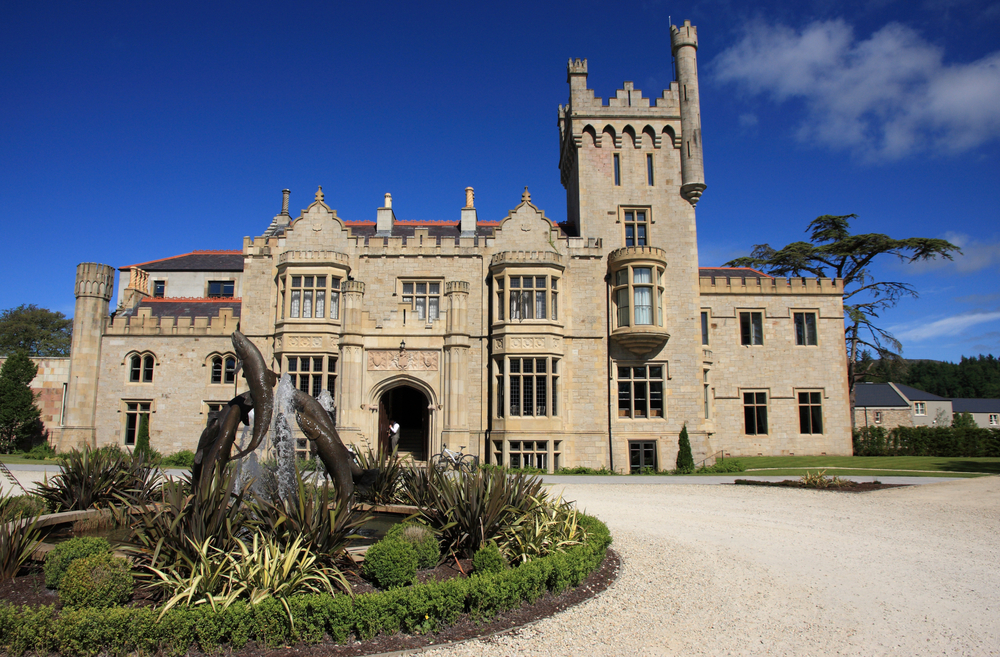 Fitzwilliam Hotel
It's no secret that there are many 5 star hotels in Dublin. With so many options to chose from it's hard to know exactly where to stay. While we have already named a few options we have another that we think is a delightful mix of modern and traditional. The Fitzwilliam Hotel is a boutique property that is located in the city center. The 5 star Fitzwilliams is a contemporary retreat that won't disappoint making this luxury hotel in Ireland worth checking out. The hotel is also on St. Stephens Green and near the many museums that Dublin has to offer. It is also a short walk to Trinity College.
One reason we like this hotel is that they do offer a continental breakfast. The Fitzwilliam also has different restaurants that serve Irish, Mediterranean, and French cuisine for everyone's unique tastes. As a more modern hotel, they also offer 24-hour room service for late-night snacks after a night on the town. After a day of sightseeing, you will be happy to come back and fall asleep snuggled up in your comfortable bed that includes fluffy duvets and a nightly turndown service with chocolates. For even more Dublin hotel suggestions check out our guide on where to stay in Dublin.
Check Rates: Booking.com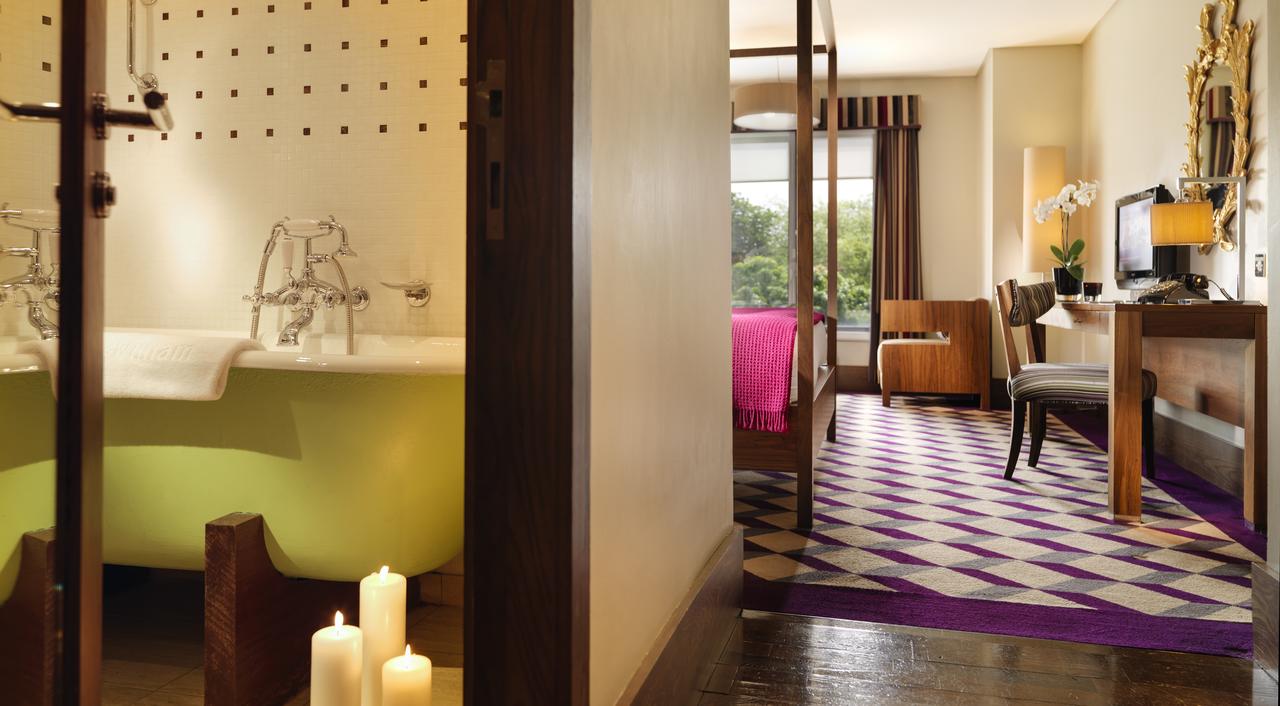 The Europe
Located on the shores of Lough Lein in County Kerry, The Europe is a 5 star hotel in Ireland that offers spacious rooms and outdoor adventure. The first thing you notice when arriving is the stunning views the hotel has to offer. The lakes of Killarney aren't the only incredible part of the views either. You also have the McGillycuddy Reeks Mountain Range close by. With their reflection on the lake and the natural countryside of South West Ireland, this hotel is one worth visiting. The lake has a private pier that allows for fishing and boating. There are also free pony rides and the hotel can even arrange rides through Killarney National Park.
Many of the spacious rooms at The Europe Hotel feature balconies overlooking either the lake or golf course. We love that this hotel is more modern in style while retaining the elegance you expect from a 5 star luxury hotel. There are cozy fireplaces in the lounge and a quaint library if you are looking to take a break and relax. If you are planning on staying here a few days make sure you plan on utilizing the pool as it is pretty epic and fun for both adults and children.
Check Rates: Booking.com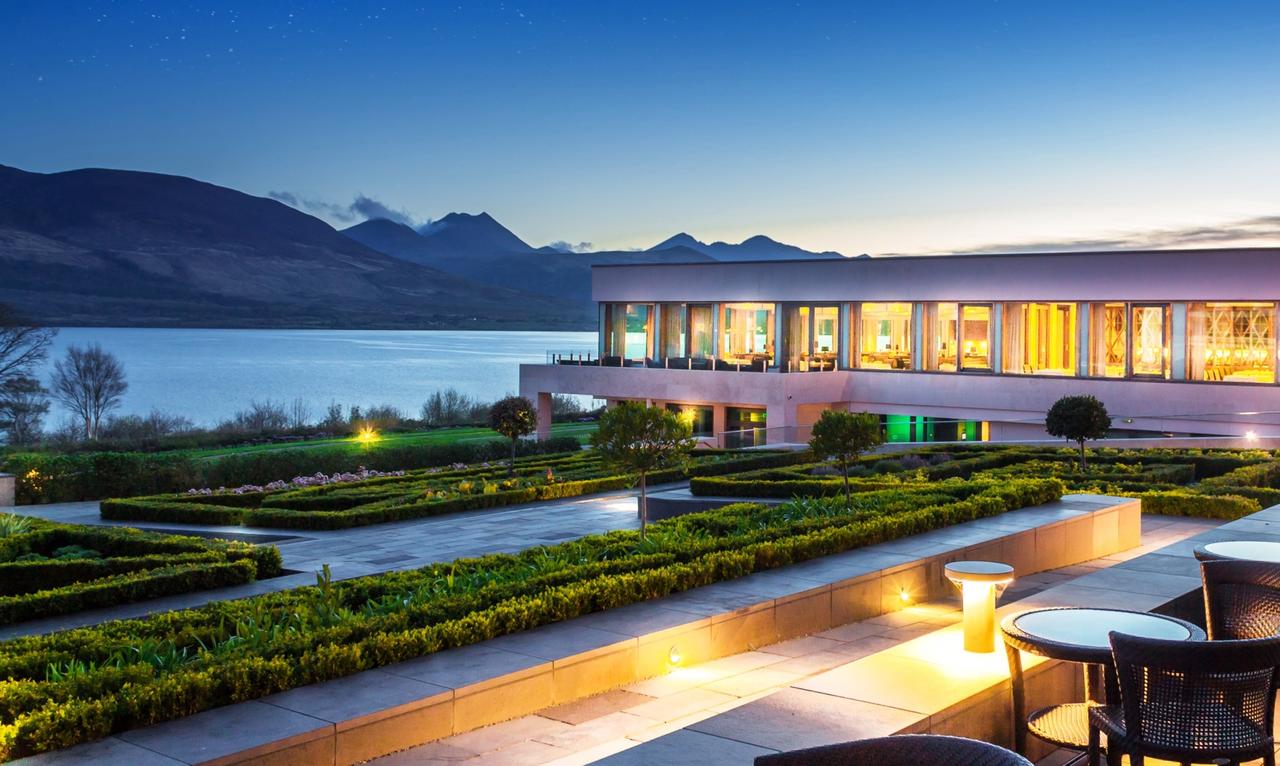 Ballyfin
Ballyfin may be the last hotel on our list but it just might be the utmost in 5 star hotels in Ireland. With just 20 rooms on the 614-acre estate, this hotel is the ultimate escape. Originally a fine country house that has long been admired as the most luxurious Regency mansion in Ireland, Ballyfin does not disappoint. In fact, you might feel a little bit like you are staying at Downton Abby, with the rooms and service that go along with it. From the moment you arrive, you are treated like a VIP making Ballyfin worth its 5 star status.
When it comes to luxury hotels in Ireland there are certain aspects of activities and service most travelers come to expect. Not only are many of the traditional outdoor activities available at Ballyfin but they also offer unique experiences. We suggest you take advantage of the whiskey tasting and musical recitals. Ballyfin is also home to a collection of Irish art that dates from the mid-seventeenth century to today and they offer tours of the art and architecture of the house. Each of the unique rooms in this 5 star hotel in Ireland is decorated with sumptuous tradition and refinement. Finally, make sure you also book dinner at their restaurant for a tasting menu that is quite extraordinary!
Check Rates: Ballyfin.com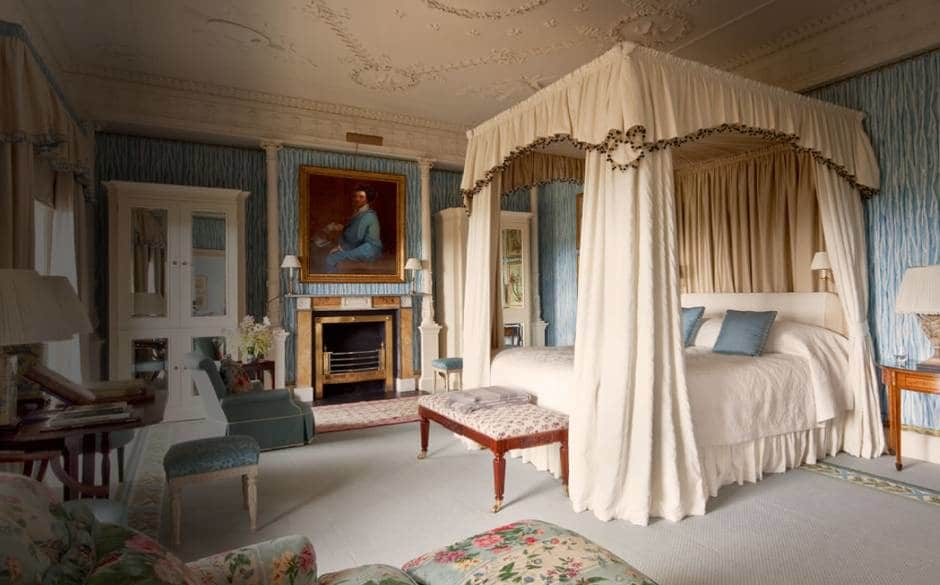 It's not hard to find many 5 star hotels in Ireland and they are all very special. With so many options out there it can be hard to choose. We suggest starting with the area of Ireland you will be traveling to and go from there. No matter what hotels you decide to stay at you really can't go wrong with any of these luxury 5 star hotels. No matter if you are looking for nature, adventure, city, or country there is a choice for you with 5 star elegance waiting for you to enjoy. With 5 star quality, Irish hospitality, and the beauty of the emerald island you are sure to enjoy your Irish vacation!