From small to tall, there is no shortage of beautiful waterfalls in Ireland, and we've rounded up the top 10 prettiest waterfalls you must see on your next trip to the Emerald Isle. Many of the waterfalls in Ireland can be found with just a short walk, although some require more strenuous hiking to get to. By the way, if you're looking for the best easy hikes in Ireland, we've got you covered there too.
Ireland is known for its stunning landscapes and a mild, though rainy, climate, making it the perfect place to visit in any season (but you will want to pack a raincoat, plus these eleven other things). Ireland is the first country we ever visited together, and we keep coming back. This country is full of historical sites, pretty small towns, and stunning scenery. Whether you're planning for a solo trek, a romantic getaway, or a family trip, these ten waterfalls in Ireland make the perfect destination. So grab that raincoat, and let's explore!

10 Prettiest Waterfalls In Ireland You Must See
Torc Waterfall
Torc Waterfall is one of the prettiest waterfalls in Ireland, and one of the most well-known. Located within Killarney National Park in the County Kerry, Torc Waterfall is a popular stop along the Ring of Kerry tours as well as the Kerry Way walking tours. It is also a popular place to visit if you are backpacking in Ireland as there are tons of hikes and things to see! Standing about 20 meters (65 feet) tall, Torc Waterfall is at its most impressive after the rain – which is no problem in Ireland! Because it is one of the more popular waterfalls in Ireland, during the summer months it can be crowded with tourists. We suggest visiting earlier in the day or during the off season!
Visiting Torc Waterfall is easy – from Killarney, you will take the N71 south for 7 kilometers (about four and a half miles). There is a car park located just off the N71. After you park your car, it is about a 200 meter walk (just over 1/10 of a mile) to the base of the waterfall, making it one of the more accessible waterfalls in Ireland. To the left of Torc Waterfall, there is a stone staircase of about 100 steps. It can be strenuous to walk up, but the views are so rewarding!
Torc Waterfall is also the starting point of the hike up Torc Mountain. The summit of Torc Mountain has views of the Lakes of Killarney, Muckross House, and more. The hike to the summit and back is about three hours in total. If you are following our Ireland itinerary, you will have a chance to see this beautiful waterfall!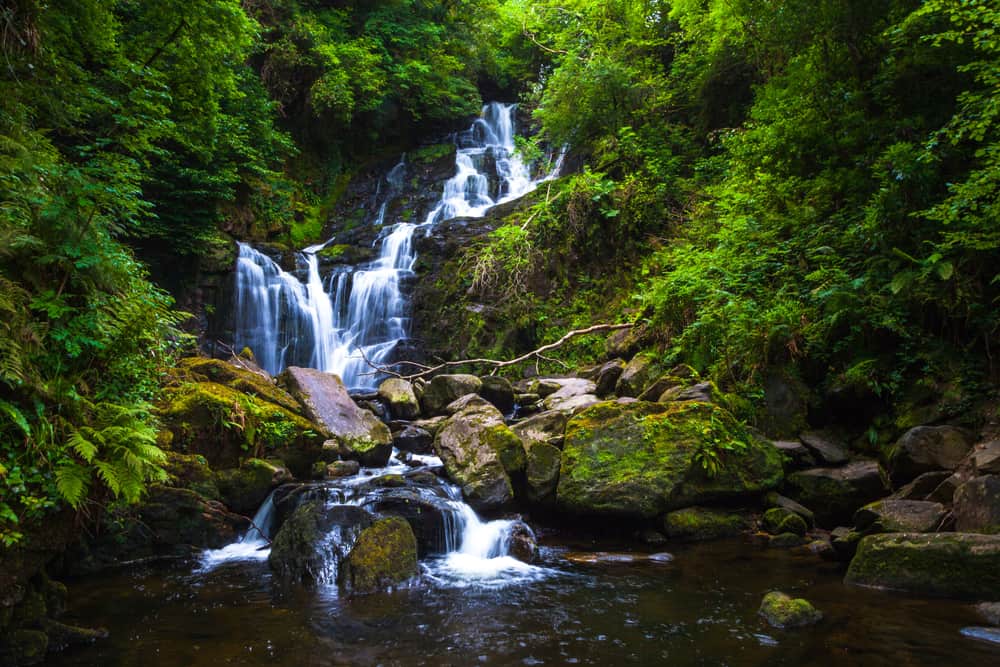 Powerscourt Waterfall
At 121 meters (almost 400 feet) tall, Powerscourt Waterfall is the tallest of all the waterfalls in Ireland. Just about half an hour from Dublin, and near the town of Enniskerry, Powerscourt Waterfall is located on the grounds of Powerscourt Estate in Wicklow County. Powerscourt House was voted one of the top ten houses in the world according to Lonely Planet, and the gardens were voted #3 in the world by National Geographic. All in all, Powerscourt Estate is a worthy addition to your Ireland itinerary, especially if you are staying in nearby Dublin.
Because it is located on estate grounds, Powerscourt Waterfall is one of the few waterfalls in Ireland that is ticketed. According to the estate website, opening and closing hours vary, and tickets are €6 for adults and €3.50 for children under 12. If you are on a family trip to Ireland, Powerscourt Waterfall is a great place to visit – it is ideal for picnics and barbecues. There is a kiosk on-site that serves a variety of snacks, from coffee and tea to hot dogs and ice cream. There is also a playground for younger children. To visit, a car is highly suggested. If you are renting a car in Ireland, you'll want to be sure to avoid these seven big mistakes.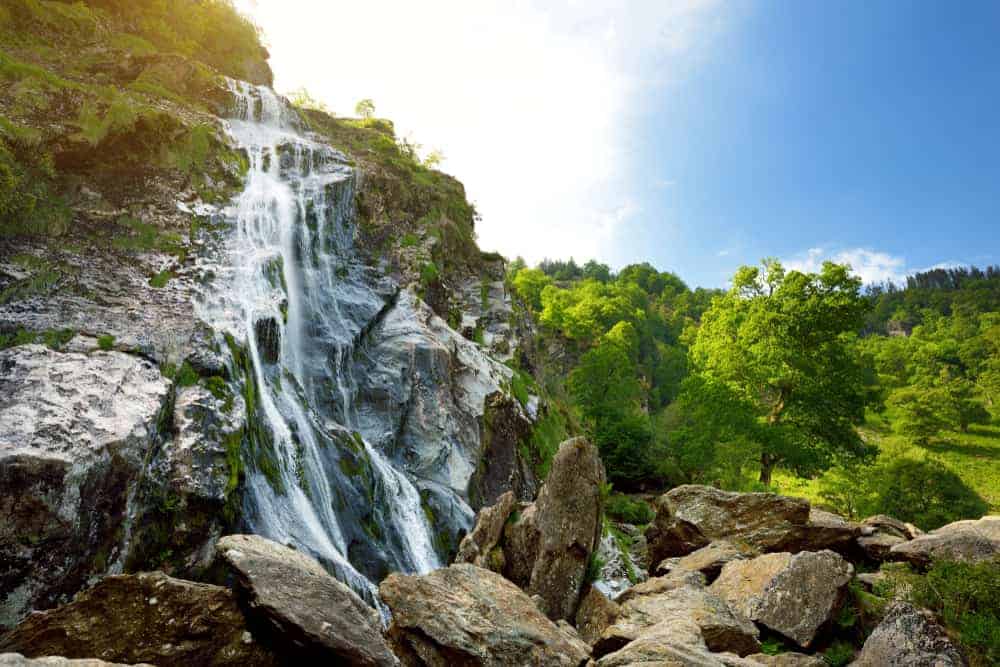 Mahon Falls
Travel to the southeast of Ireland to find Mahon Falls, located in County Waterford near the village of Lemybrien. Mahon Falls are nestled among the Comeragh Mountains. There is a car park off the N25, and from there it's a moderate walk to the falls – it should take you approximately 20 minutes each way. Although the walk is not too strenuous for children, the gravel path is not suitable for strollers. If you have furry friends, this is a great walk to take your dog on!
Although Mahon Falls, at 80 meters (almost 270 feet) is not one of the tallest waterfalls in Ireland, the magnificent views of the mountains, and the sheep dotting the countryside, are certainly worth the trip. If you're in the mood for a hike, then this is a great spot! Ascending the cliffs around Mahon Falls will reward you with views back along the valley, and on a clear day, you may even be able to see the English Channel!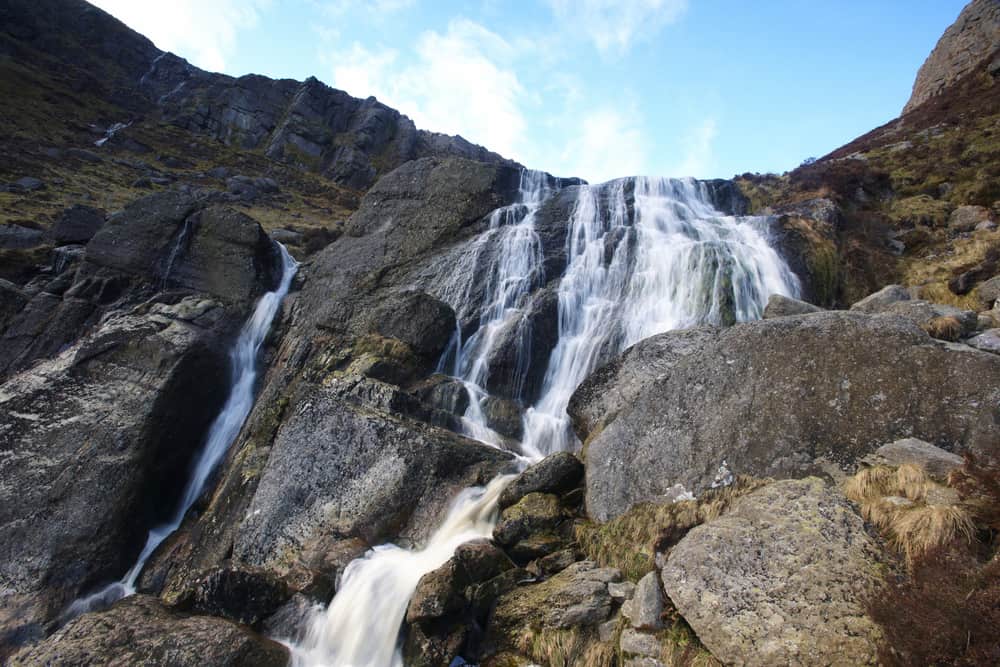 Glencar Waterfall
Glencar Waterfall is one of the most popular waterfalls in Ireland. It has even been immortalized in poetry, by W.B. Yeats in "The Stolen Child." The poem describes fairies beguiling a child to come away with them, and the enchanting surroundings may indeed make you believe in fairies! Glencar Waterfall is located in County Leitrim, close to the border of County Sligo. Follow along the N16 until you spot the sign for Glencar Lake and Waterfall. Near Glencar Lake, there is a car park, from which you can take the short path to the waterfall. If you're in the mood for fishing, Glencar Lake offers trout and salmon, among others.
Standing only 15 meters (50 feet), Glencar is far from the tallest of the waterfalls in Ireland, but it is one of the most romantic. Even the walk from the car park is charmingly wooded. There are actually a few waterfalls visible on the walk from the car park to Glencar Waterfall, but none are as delightful as Glencar. Take a rest at one of the benches or the picnic area to really take in the natural beauty. If you'd like to climb to the top, it's about a five minute climb up the steps. There are quite a few steps, although there is a handrail to help you.
On-site facilities include a picnic area, playground, restrooms, and even a small tea room. There is no charge to park or view the waterfall.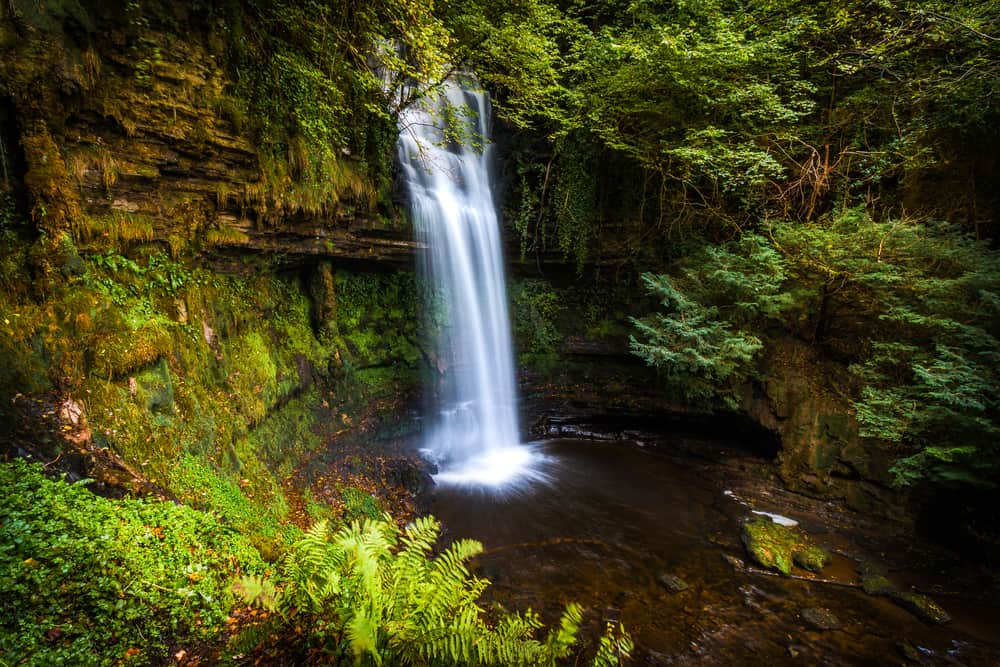 Glenevin Waterfall
At only 12 meters (40 feet) tall, Glenevin Waterfall is one of the smaller waterfalls in Ireland, but it is quite charming! Glenevin Waterfall is located in County Donegal, in the far north of the Emerald Isle and on the Inishowen Peninsula. It sits along the Wild Atlantic Way's Northern Headlands route. The city of Donegal, about an hour south of Glenevin, was named the "#1 Coolest Place for 2017" by National Geographic Traveller, making this region a must-see on your Ireland itinerary.
The easiest way to navigate to Glenevin Waterfall is to drive to The Glen House, a bed and breakfast that also features a tea room and ice cream parlor. From the car park by The Glen House, it's a pleasant walk upstream to the waterfall. There are picnic areas along the route. The darling scenery and easy walk (plus the ice cream!) make this a great place for a family outing.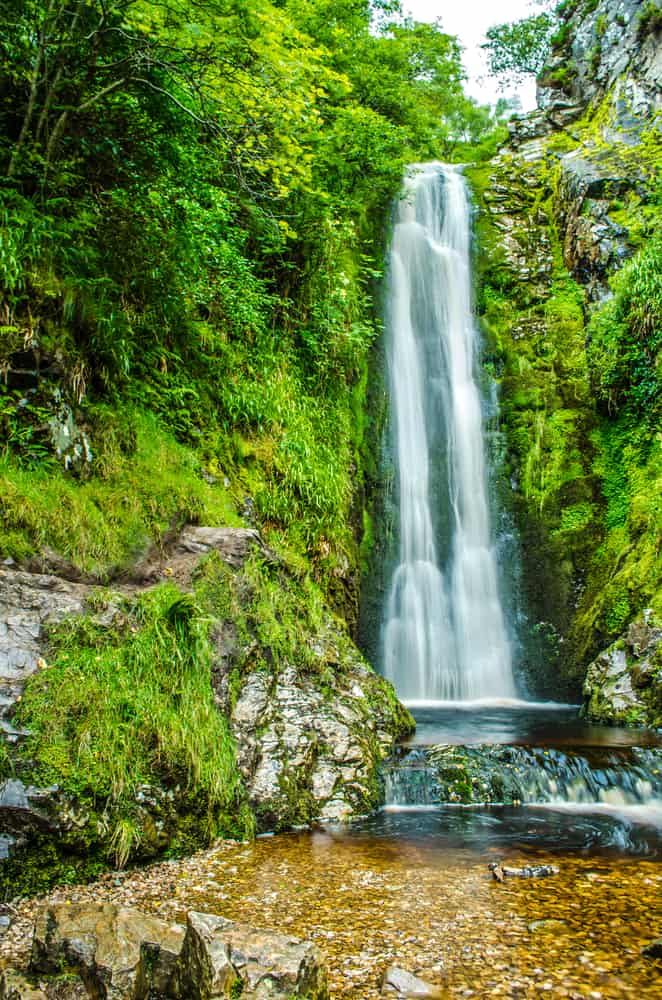 Assaranca Waterfall
The next stop on our list of the prettiest waterfalls in Ireland is Assaranca Waterfall, which is also situated in County Donegal. In fact, it is only about 75 miles from Glenevin Waterfall! Although it is close to Glenevin, it is remarkably different. Assaranca is approximated to stand about 95 meters (300 feet) tall, making it one of the taller waterfalls in Ireland. "Assaranca" is actually just the Gaelic word for "waterfall," so it is very aptly named!
Like most of the waterfalls in Ireland, Assaranca Waterfall is most impressive after a heavy rain – which is no problem in this wet country! Assaranca Waterfall is located 8 kilometers (5 miles) from the small town of Ardara, and 1 kilometer (2/3 of a mile) from the village of Leaconnell on the way to the well-known Maghera Beach and Caves. There is a small car park that allows access to Assaranca Waterfall, but there are no on-site facilities. The walk from the car park to the waterfall is short and easy.
If you are visiting Assaranca Waterfall, give yourself time to visit Maghera Beach as well – it is only 1 kilometer away! There are over 20 caves at Maghera Beach which can be explored by kayak or other small craft.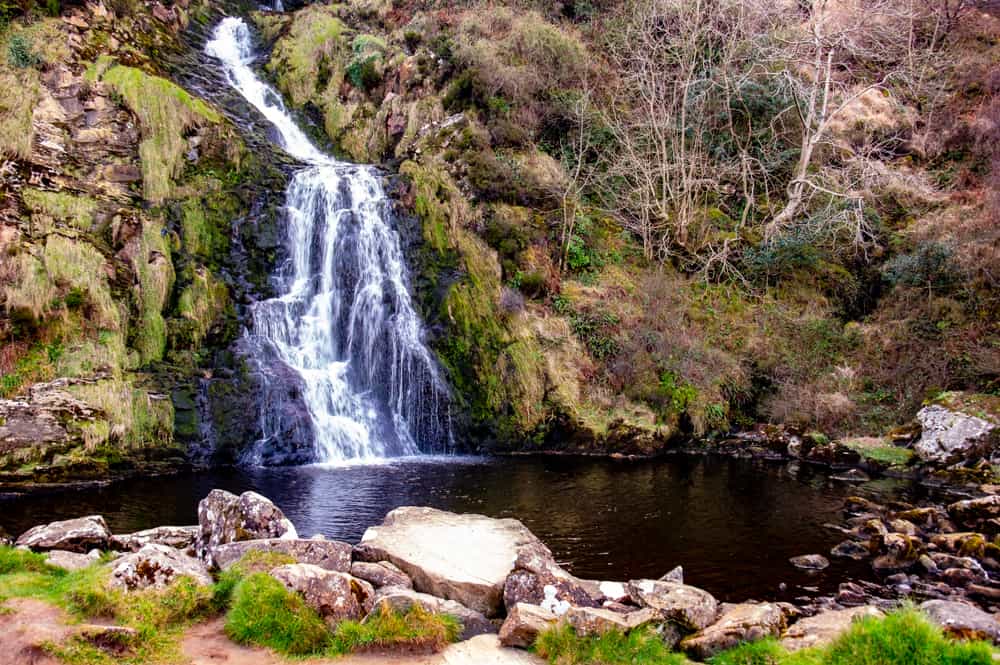 Tourmakeady Waterfall
Tourmakeady Waterfall is on the shores of Lough Mask in County Mayo, nestled in a Celtic rainforest called Tourmakeady Wood. An interesting fact about Tourmakeady Wood? It is one of sixteen forests in Ireland where native species were planted in 2000 as part of The People's Millennium Forests.
Unlike many of the waterfalls in Ireland, Tourmakeady Waterfall takes some walking to get to! There are a variety of trails that lead to Tourmakeady Waterfall, notably the Tourmakeady Loop Trail. This hike is about five kilometers roundtrip (3.1 miles), making it a nice, moderate hike that weaves through the stunning Irish countryside. The trailhead is easy to find at the Tourmakeady Community Center. There are picnic areas along the route where you can rest and look for wildlife. Dogs are welcome here!
You'll find this enchanting waterfall about midway along the trail. Stop and take in the view of the waterfall toppling into the plunge pool and enjoy the calming sound of the flowing water before continuing on. Once you're done with your hike, stop by O'Toole's Pub for refreshments and food.

Aasleagh Falls
Aasleagh Falls, sometimes spelled Ashleigh Falls, is also located in County Mayo – in fact, these falls are about 30 kilometers (20 miles) away from Tourmakeady Waterfall! And, just like Glenevin Waterfall, it sits along the Wild Atlantic Way – although it is almost 300 kilometers (180 miles) to the south. To get to Aasleagh Falls, take the R335. Parking is available close to the waterfall.
Aasleagh Falls can be found where the Erriff River meets Killary Harbour, Ireland's only fjord. The border between counties Galway and Mayo runs down the center of Killary Harbour. This is a very popular fishing location for salmon and trout. If you're lucky, you may even see salmon jumping out of the water!
At only 3.5 meters (11 feet) tall, Aasleagh Falls is one of the smallest waterfalls in Ireland, but that doesn't stop it from being beautiful! Whereas some of the waterfalls in Ireland are tall and narrow, these falls are very wide, making for impressive pictures.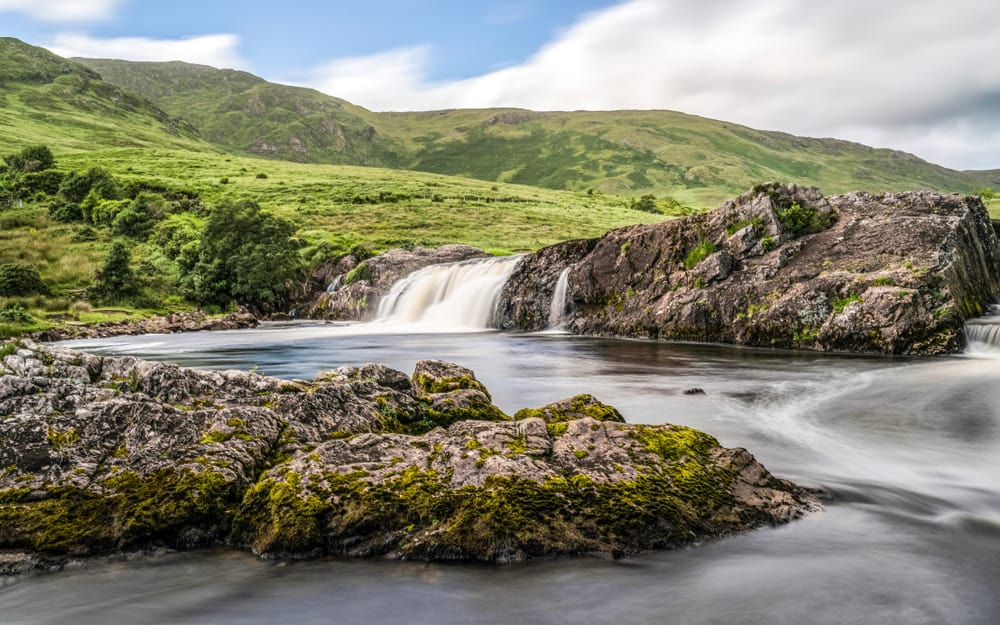 Clare Glens
Clare Glens has made it onto our list of the prettiest waterfalls in Ireland, although it is not just a single waterfall. Clare Glens is a wooded area on the banks of either side of the Clare River. Surprisingly, Clare Glens is not located in County Clare. Instead, the Clare River marks the separation between counties Tipperary and Limerick.
The best way to see Clare Glens and its waterfalls is to take the Clare Glens Loop, a 4 kilometer (2.5 miles) loop walk. Start at the village of Murroe on the R506 – follow this road north for about 5 kilometers (3 miles) until you see the well-signed car parks. There are also restrooms, as well as a picnic area and children's play area.
The river is great for kayaking, and there are even some areas designated for swimming if you want to pack a suit!

Kilfane Waterfall
Kilfane Glen and Waterfall is only open in July and August, but if you are in Ireland during those two months, you will definitely want to visit here! Kilfane Glen is a stunningly picturesque place located in County Kilkenny. This Romantic-era garden encompasses 15 acres, and features a rushing stream, woodland paths, and of course, Kilfane Waterfall. This darling 9 meter (30 feet) tall waterfall is actually man-made, which is rare for waterfalls in Ireland! This garden was created on the estate of the Powers family in the 1790s and has remained largely untouched for over 200 years. Today, Kilfane Glen is listed as an Irish Heritage garden.
At the base of the waterfall cliff sits a romantic grotto. There is a thatched summerhouse, and throughout the garden there are bridges, seats, and fountains. It truly feels like stepping into a rustic painting! There is an admission fee of €7 which goes towards maintaining the gardens. Unfortunately, pets are not allowed.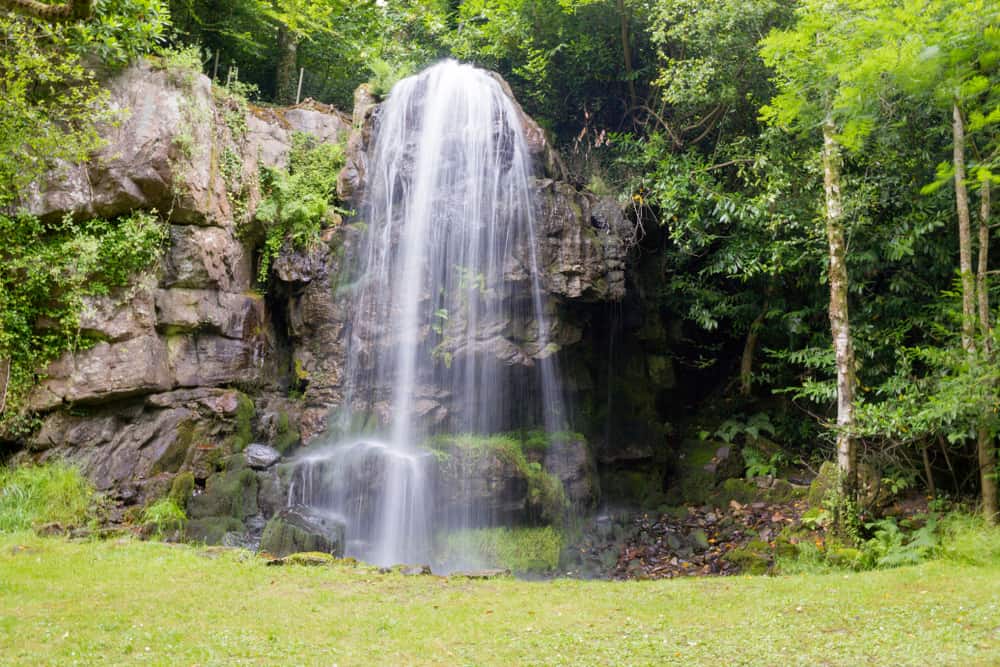 The waterfalls in Ireland are numerous and varied. From charming wooded waterfalls, to wide rocky waterfalls, and even man-made waterfalls, Ireland has it all. Whether you visit one of these waterfalls or all ten, the views are sure to be rewarding! Want more information on Ireland? Try out our perfect Ireland road trip itinerary and make sure to avoid these 7 big mistakes when planning a trip to Ireland.