Looking for some of the best, most luxurious Airbnbs in Tulum, Mexico? Then you have come to the right place! We have done all the research for you, so you can hurry up and book a place to stay and get your dream Tulum vacation started!
Tulum is a deluxe vacation destination on Mexico's Yucatan Peninsula and features a beautiful coastline, a lush jungle, unique cenotes, and ancient Mayan ruins. The area is also known for its spas and wellness retreats. People from all over the world flock here to relax in the sun and have the time of their lives! Why no be one of them?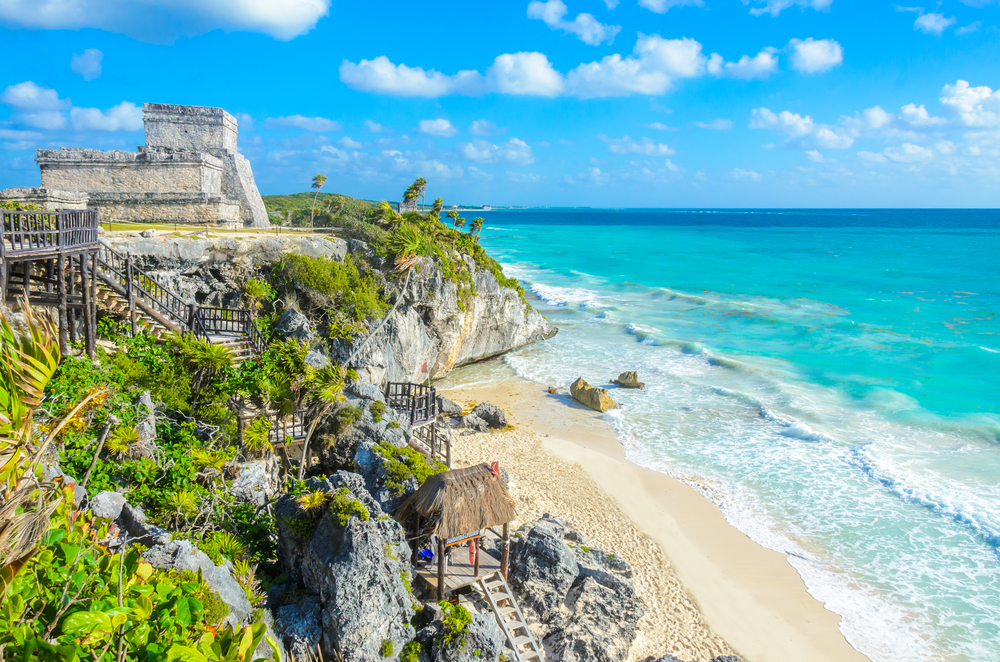 15 Best Airbnbs In Tulum (Rooftop Pools, Penthouses, and More!)
Casita Maya Loft
The Casita Maya Loft is a gorgeous Tulum Airbnb that mixes nature and rustic themes to create the perfect place to stay. Three people can stay here and all of you are sure to fall in love with this home. If you are doing solo travel in Tulum, this place works well too! The building was created using wood and stone from Tulum so you will not forget where you are.
This property has amazing amenities as well, including a swimming pool, a hot tub, a barbecue grill, and a smart TV. There are also bicycles provides for you to use. In the mornings, you will love the peace that will envelop you as you sip your morning coffee and listen to the birds sing. The beach is only a short drive away.
Click Here To Check Rates On Airbnb!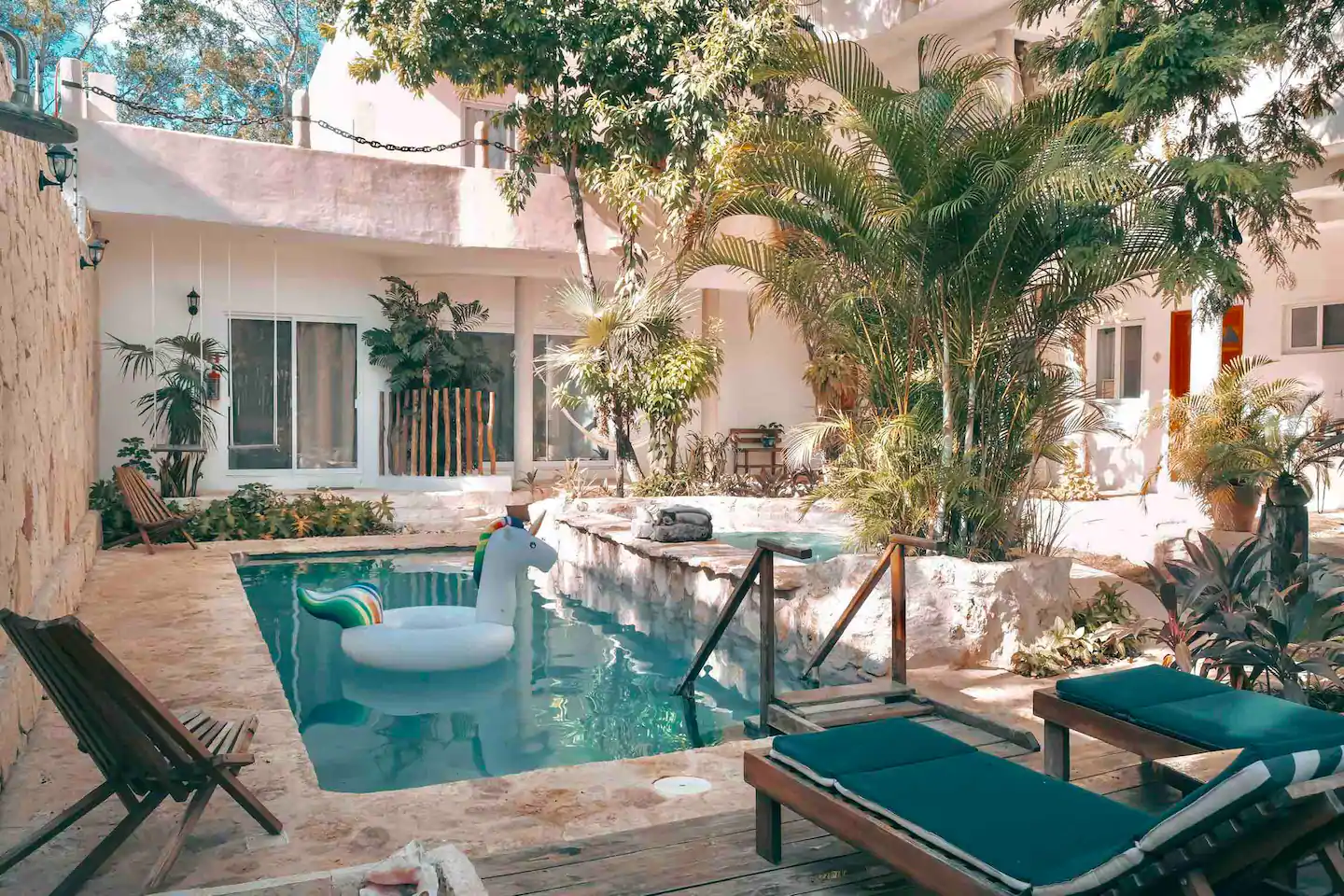 Penthouse With Unique, Private Pool
The Esmeralda Boutique Hotel is an architectural gem topped with an elegant penthouse you would expect to see on a reality TV show. But this Tulum stay is within your reach! Book this luxury Airbnb and you will not regret it. Perfect for a honeymoon, this home is filled with gorgeous details that will leave you in awe.
The most noteworthy thing about this Airbnb is an amazing and unique pool. Found on the balcony, this pool looks over the city, and with one glass side, you can see out even from underwater. Two swings hang over the water so you can grab the perfect Instagram shot. A pretty green garden fills the other side of the balcony.
Click Here To Check Rates On Airbnb!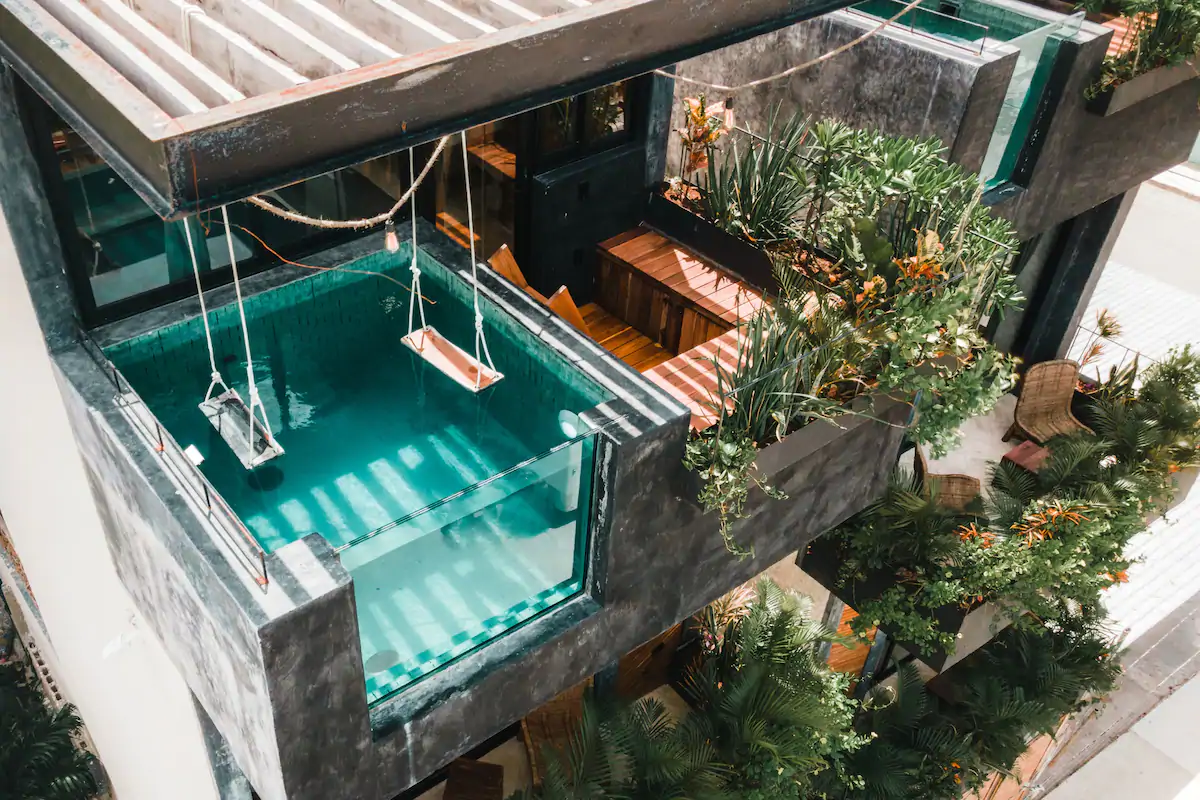 Beach Front Casita
This beach front casita is the top level of a small hotel and is the perfect place for two people to become antiquated with beautiful Tulum. The view from the covered balcony stretches out to the ocean. Sit here and watch the palm trees sway in the breeze. When you are ready to head to the beach, you can walk there in a few minutes.
This is a great property near many popular restaurants and shopping areas. The hotel has a cute pool surrounded by greenery as well as a spa where you can get a massage. There are also bikes available to rent if you want to explore the area in a fun way.
Click Here To Check Rates On Airbnb!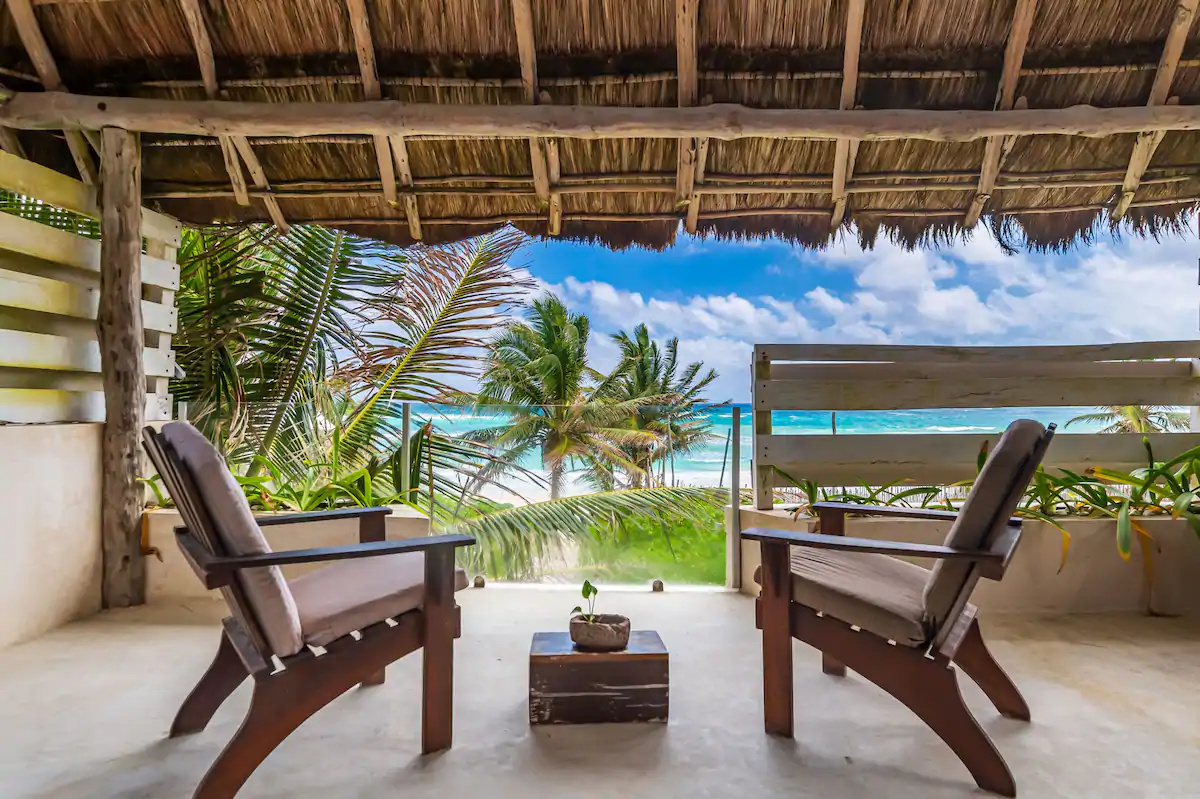 Casa Coconut
Casa Coconut is owned by home stylist and photographer Paulina Arcklin so you know it will be pretty and aesthetic. The amount of detail that went into decorating this home is amazing! This casa has a rustic and stone theme that is picture perfect. This is definitely one of the most stylish Airbnbs in Tulum!
The highlight of this place is the gorgeous, private rooftop patio. Here, you can find a cozy sitting area and a small pool that overlooks the jungle that surrounds the building. The apartment building also has a larger pool to check out. The bedroom here has a small balcony with a hammock for you to chill in.
Click Here To Check Rates On Airbnb!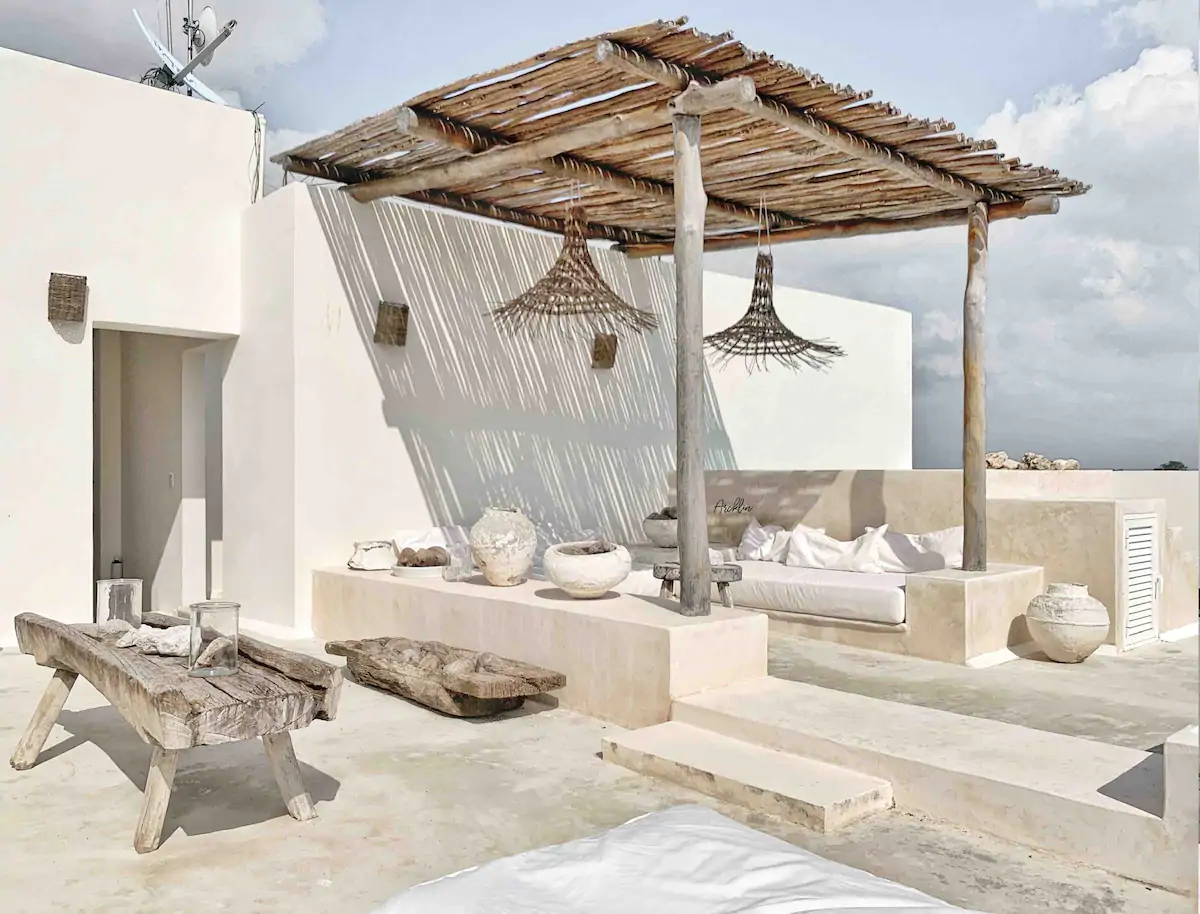 Poolside Zen in the Tulum Jungle
This next property is one of the best Airbnbs in Tulum if you are traveling with a large group. Up to eight people can relax at this villa and enjoy the lovely pool. The interior is very modern and minimalist, giving the feel of staying at a fancy resort. This property is part of Holistika, a yoga and wellness center, which features holistic treatments and many fun activities for everyone.
This Tulum Airbnb is walking distance to many restaurants, boutiques, and bakeries. The available rental bikes will help you get around to see it all. The beach and downtown are not too far away.
Click Here To Check Rates On Airbnb!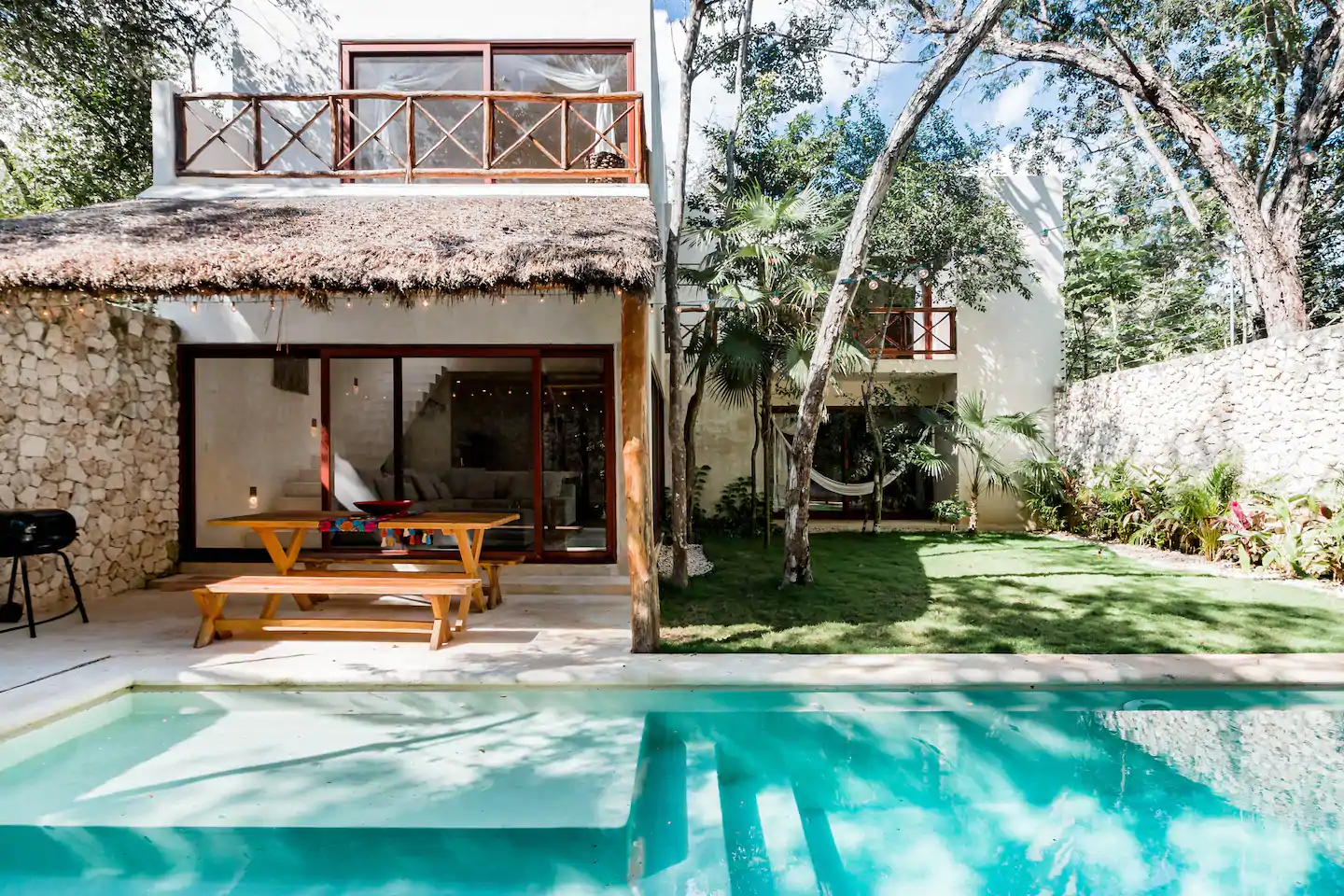 Tropical Penthouse
This tropical penthouse is certainly a paradise! Gather your five closest friends and book this place now! You are sure to have a great time! The private roof includes a covered dining area, a hammock, lounge chairs, a rain shower, and a hot tub all surrounded by tropical plants.
The inside rooms are large and full of comfortable furniture. The beautiful, full kitchen will allow you to cook your own meals and save money from eating out. This is a great place to stay in Tulum if you are planning a long vacation. The property's common areas include a garden and a pretty pool. There are bikes available to get you to all the nearby spas, beaches, and shops.
Click Here To Check Rates On Airbnb!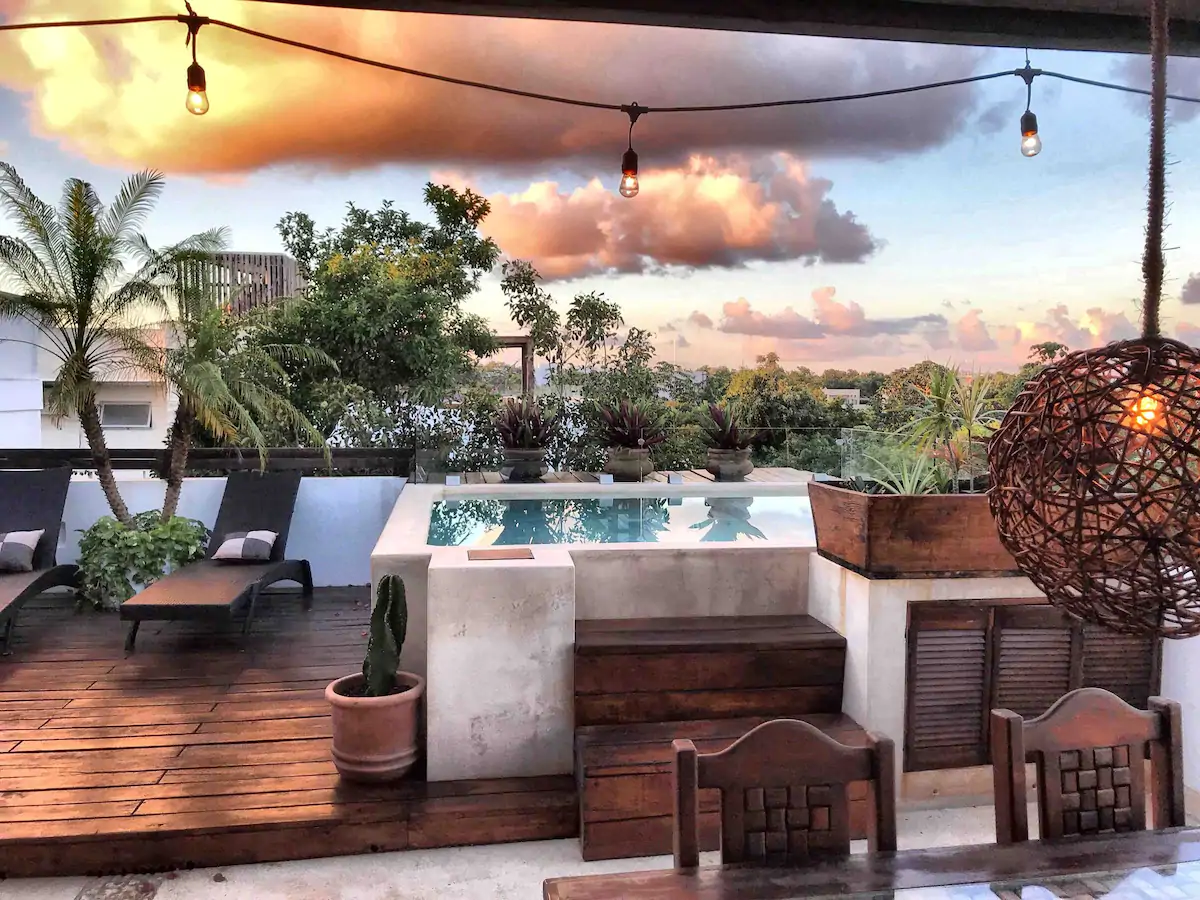 Casa de Piedra
Casa de Piedra is a cute Tulum Airbnb perfect for a couple who wants to get away. Found in a residential part of the city, this apartment is quiet and surrounded by trees. If you are afraid of being too far from the city center, there is no need to fear! A few blocks away, you will find restaurants, markets, cafes, and bars.
The building's rooftop terrace overlooks the jungle and features a pool and sun loungers. The highlight of the apartment is the giant hammock stretched across the ceiling of the main room. Here, you can lay down and watch the world pass by outside the big window. This hammock adds a really unique touch to this Airbnb!
Click Here To Check Rates On Airbnb!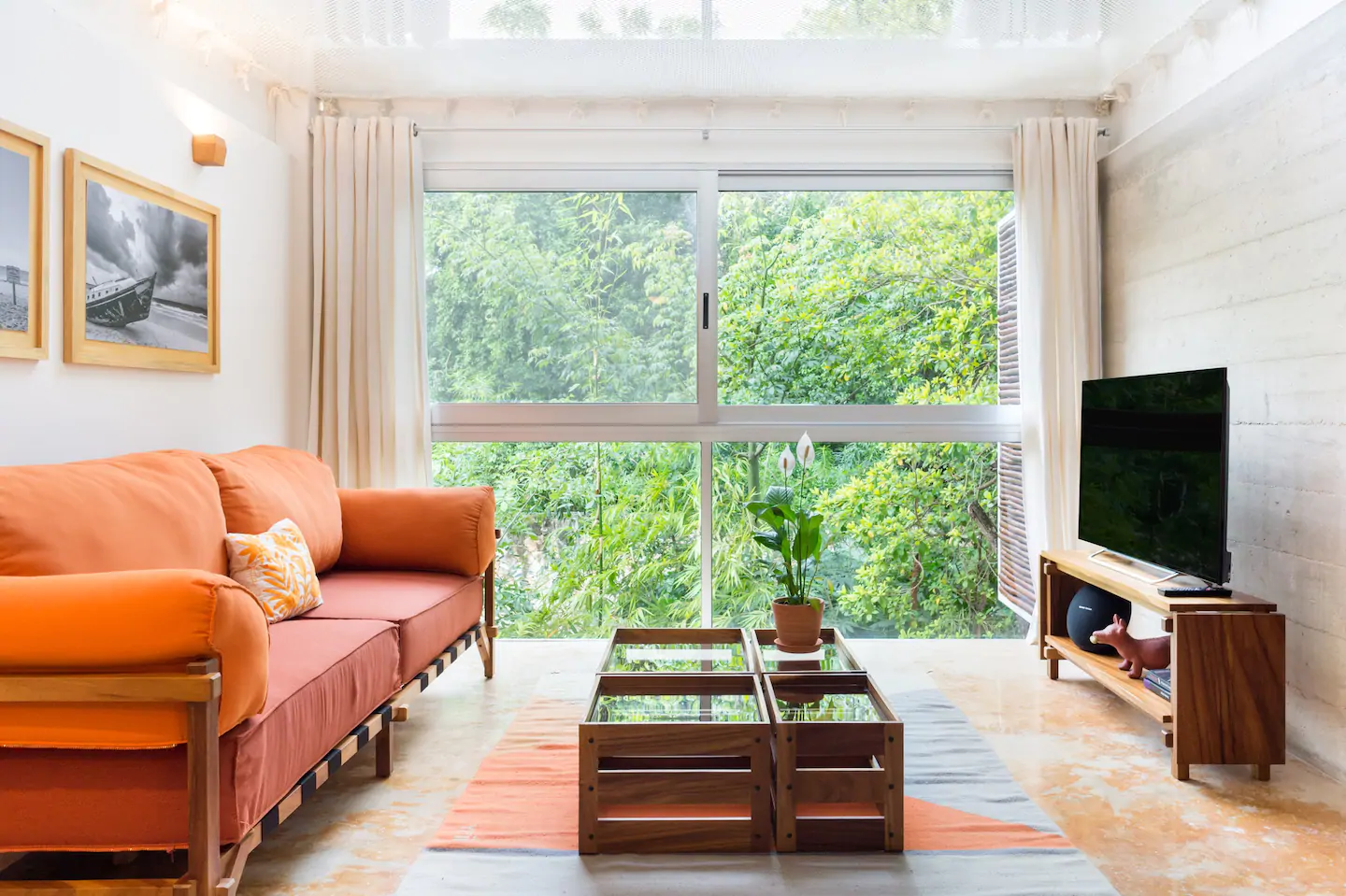 Cenote Lodge at Nahouse
The Cenote Lodge at Nahouse is where you go if you want to become one with nature. Nahouse is a complex of four lodges surrounding a beautiful, natural pool where you can swim and wash away your worries. This place was made with nature in mind and is careful to keep the environment intact.
This lodge is found in the Tulum jungle so you will feel as if you are glamping. You will find peace and relaxation here away from the noise of the city. If you have a rental car, you can easily get to town or the beach. If you love to live in style while also being surrounded by nature, then this is one of the best Airbnbs in Tulum!
Click Here To Check Rates On Airbnb!
Ikal Ha Bungalow
Ikal Ha is one of three eco-luxury bungalows found together in the jungle of Tulum. Surrounded and weaved through with tropical gardens, this home is definitely nature-themed while also having all of the modern comforts of high-speed internet, air conditioning, and a full kitchen. The bathroom includes an outdoor garden tub which allows you to soak in peace. Or if you want a larger area to relax, there is a pool.
This Airbnb has strong resort vibes as well! Extra services include a spa, yoga, personal grocery shopping, and available babysitters if you are traveling with kids and want to go out alone. There is also a private chef on-site if you want to order breakfast, lunch, or dinner. You will be living in luxury here!
Click Here To Check Rates On Airbnb!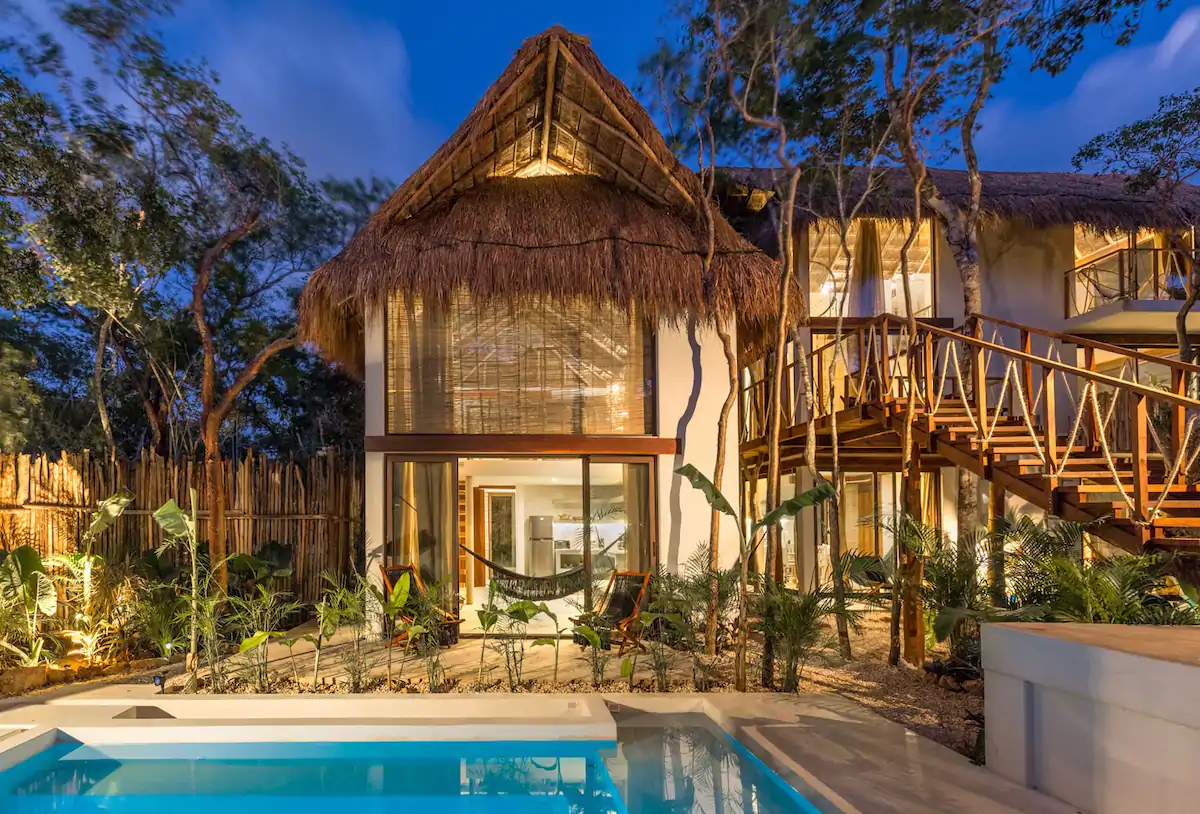 Lovely Studio
This lovely studio is found in a residential area, giving it a local atmosphere while still being only about ten minutes from Tulum's city center. You can find restaurants, shops, cenotes, and beaches all nearby. Two bikes are provided to help you get around.
If you book your lodgings based on how awesome the pool is, then this Airbnb in Tulum might be for you! The rooftop, infinity pool is to die for and provides a wonderful view of the surrounding lush trees. This is where you will want to go to watch the sunset. The apartment itself is cozy and perfect for two people.
Click Here To Check Rates On Airbnb!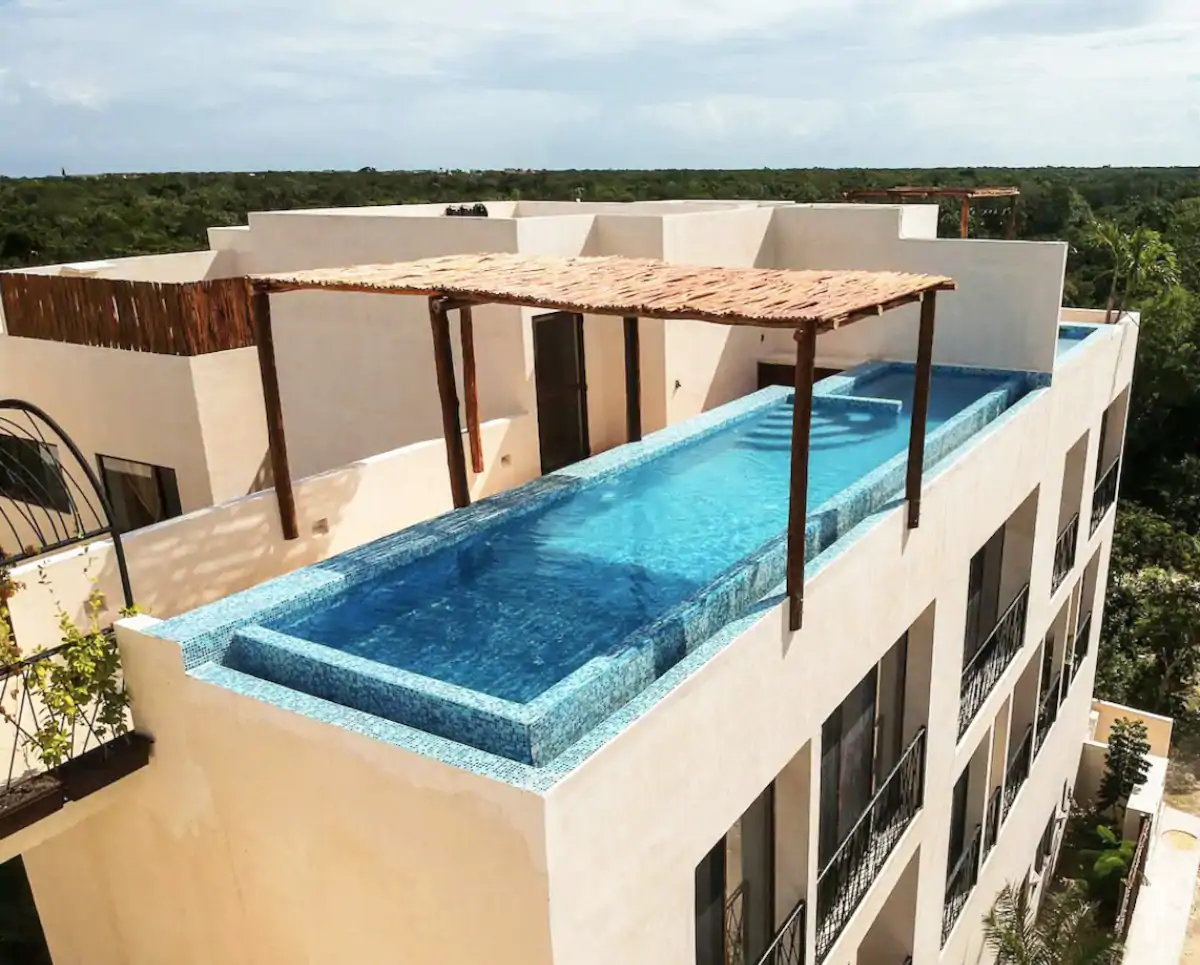 Apartment in the Jungle
Though it is right next to the city center, this next Airbnb is surrounded by over seventy tropical trees, making you feel as if you are in the heart of the jungle. The apartment is one whole floor and can accommodate four guests. You do not have to worry about not having enough space for everyone. There is also a huge terrace for you to enjoy panoramic views of the idyllic property.
There is a beautiful, cenote-styled pool to relax in and loungers to read or nap in the warm sun. This property is within walking distance of cafes, a yoga center, and an organic grocer. The beach is about ten minutes away. There is 24-hour security to make you feel safe when you stay here.
Click Here To Check Rates On Airbnb!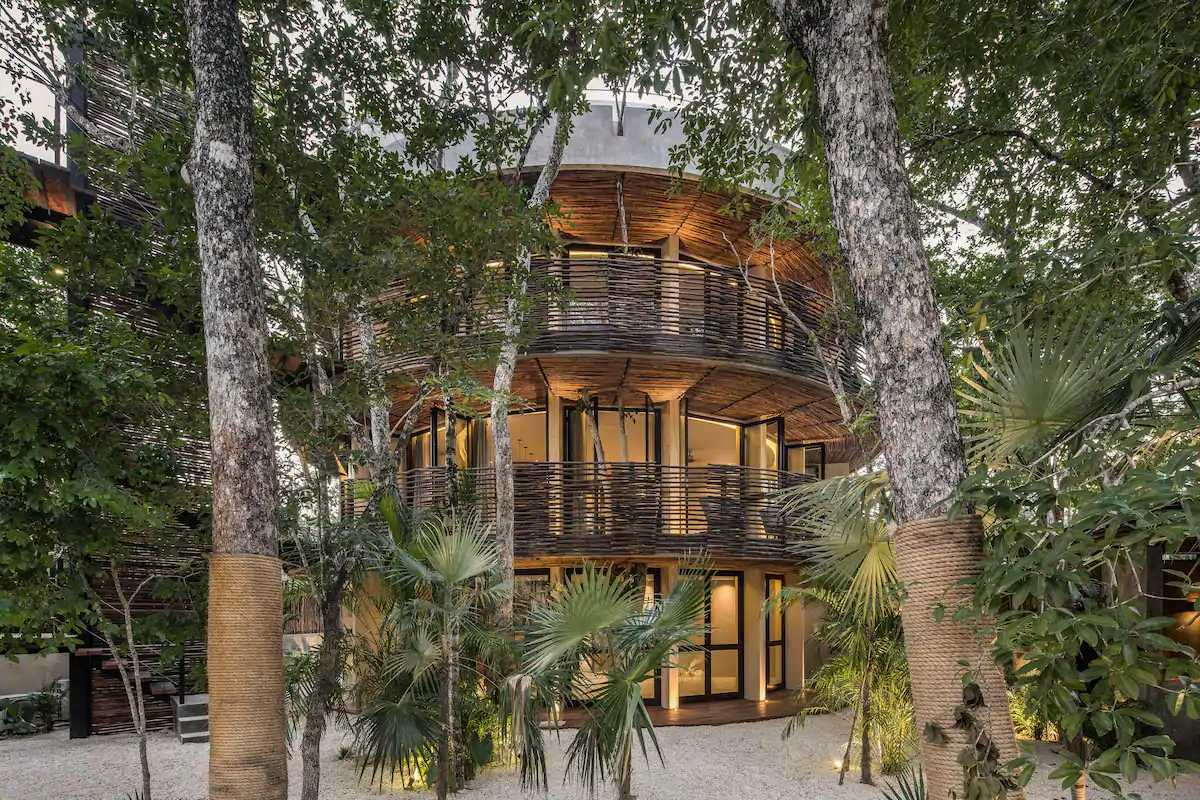 Casa G
Casa G is another gorgeous Airbnb in Tulum! This house is the perfect getaway for up to three people. There is the main loft as well as a small guest house. There is a nice, private yard with a pool surrounded by greenery. You will want to spend all of your time outside on the photo-worthy patio.
This home is a bit farther away from the beach and the city, so it is recommended you rent a car while staying here. But, this is a great place to stay in Tulum if you plan on having an extended trip. You will feel like a local as you wander the neighborhood and eat at cute restaurants. There is a huge, comfy couch for watching TV and a full kitchen for making your own meals.
Click Here To Check Rates On Airbnb!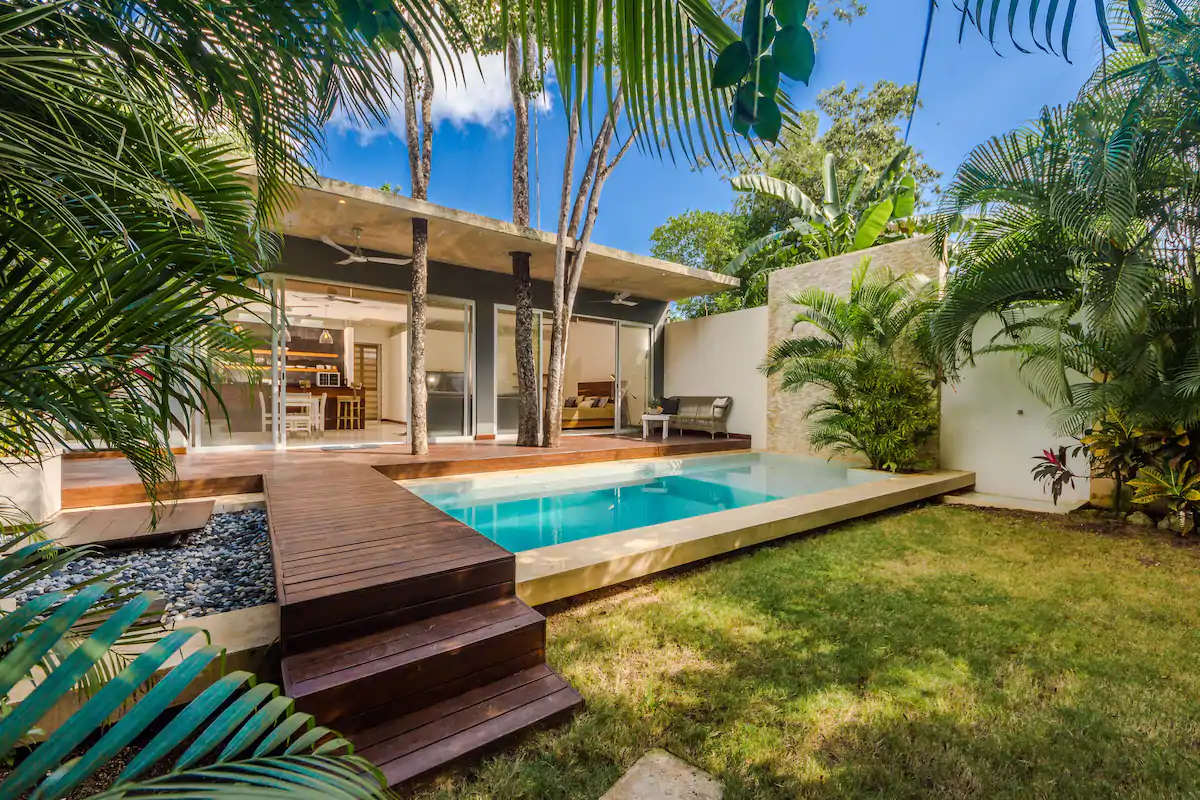 Sanah Villa
If you want to stay in a beautiful and unique place in Tulum, then check out the Sanah Villas. Sanah is a collection of ten adorable villas each with its own pool and weaved through with so many plants you get strong jungle vibes. It is all about luxury mixed with nature here! Enjoy the outdoor sitting area as you listen to the birds sing and take a shower next to growing plants.
You will be so comfortable here! You will sleep in a king-sized bed with a memory foam mattress, get amazing massages right in your room, and melt your troubles away in a volcanic stone steam bath. There is also a fire pit and a yoga area. If you aren't booking this place right now, what are you waiting for?!
Click Here To Check Rates On Airbnb!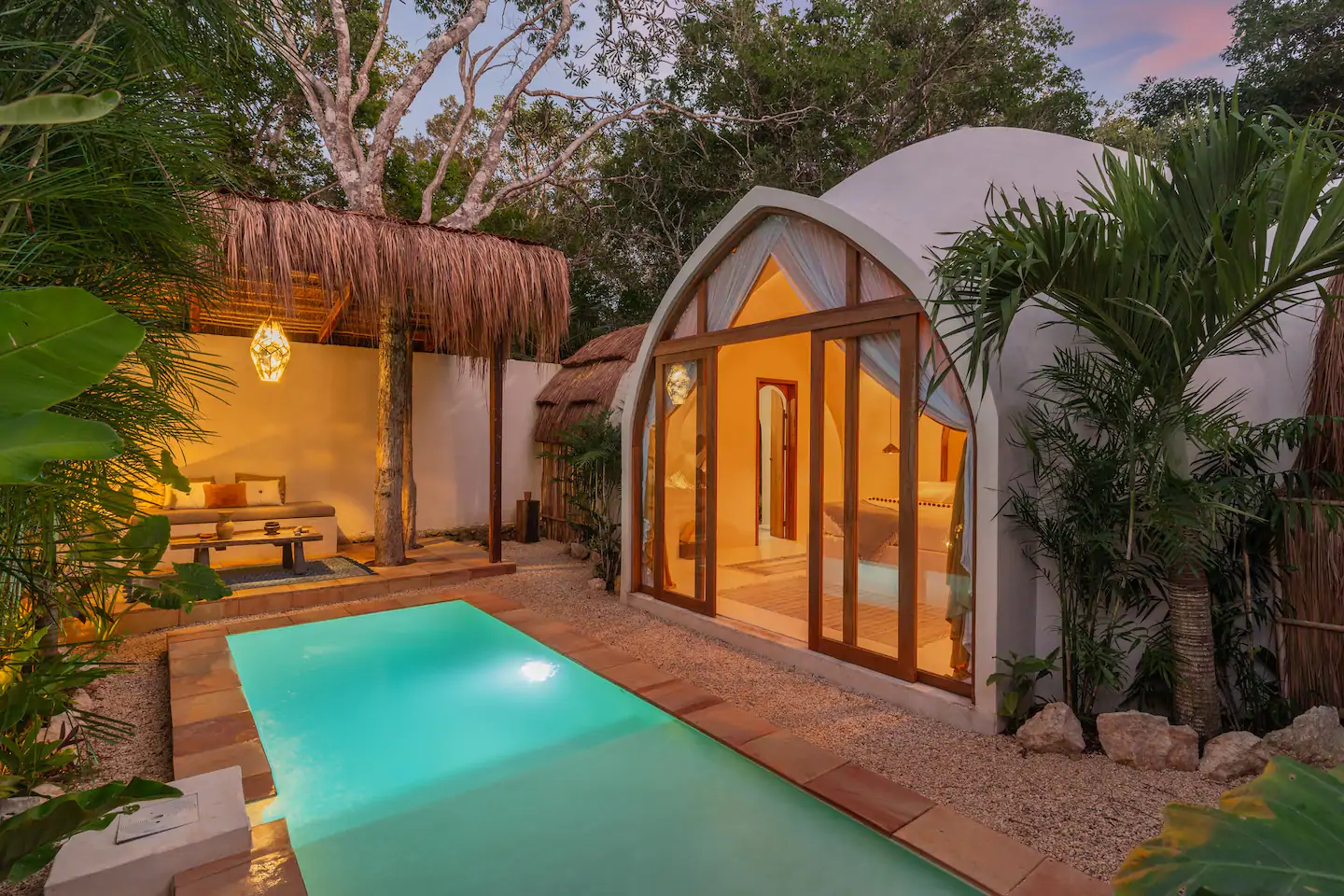 Jungle Eco Tree House
This eco tree house is probably the most interesting choice on our list! Found in a beautiful, jungle location, this is the perfect off-grid, glamping destination. This dome-shaped home features a king-sized bed, purified water, plenty of outlets, and an amazing wrap around deck so you can view nature and wildlife from all sides!
This Airbnb is not too far from many fun activities such as beaches and cenotes. You will love exploring the nearby jungle and may even spot monkeys or toucans. At night, lay on the deck and stargaze. Overall, this is a great place in Tulum to get away from the world and simply be at peace with the world around you!
Click Here To Check Rates On Airbnb!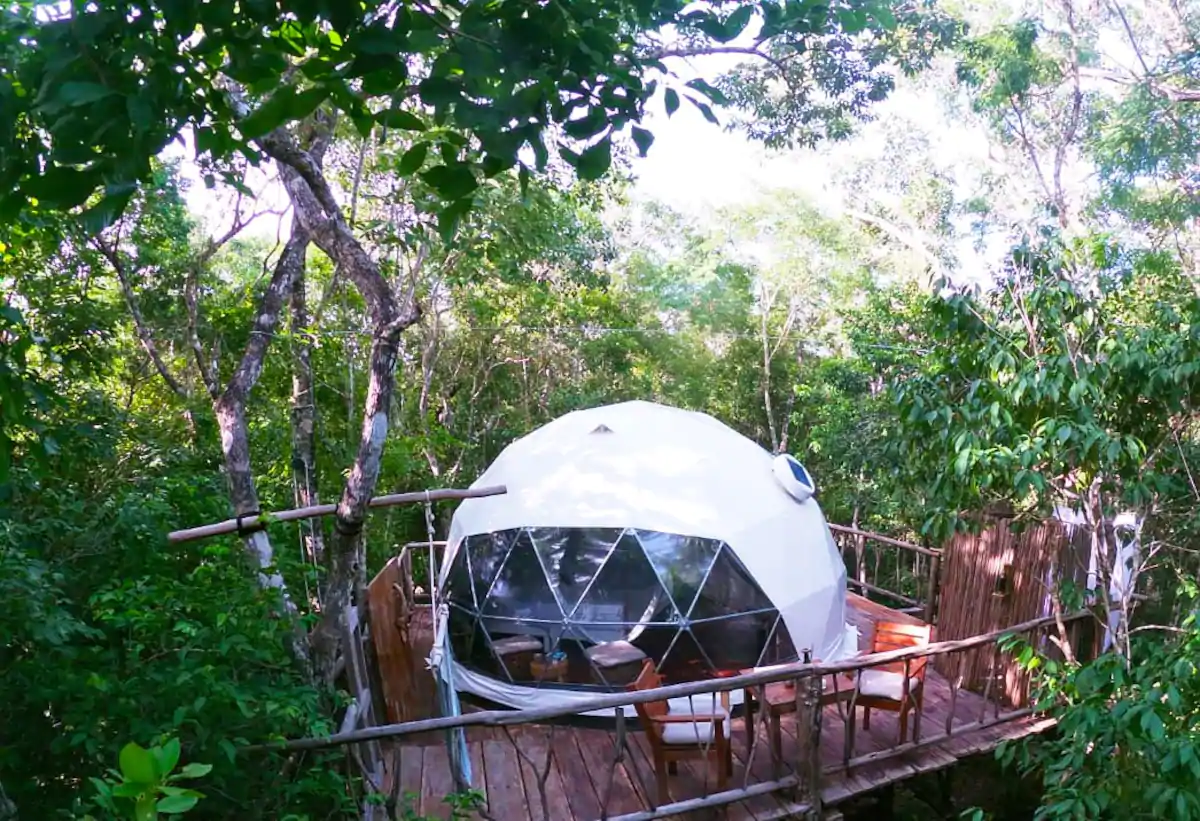 Casa Bonita
We are going to conclude this list with our most luxurious choice! Casa Bonita is right on the beach and is a paradise for travelers. With 2000 square feet and an open floor plan, there is plenty of space for up to six guests. The house includes everything you need for the perfect beach getaway, including kayaks, stand-up paddleboards, and beach loungers. There is a pool and sitting area in the shade where you can watch the ocean lap against the shore.
You are sure to enjoy your time in this beautiful home with its fantastic design and traditional influences. You will love the outdoor shower as well! This casa is near many of Tulum's top restaurants, boutique shops, and yoga studios, so you can easily walk anywhere.
Click Here To Check Rates On Airbnb!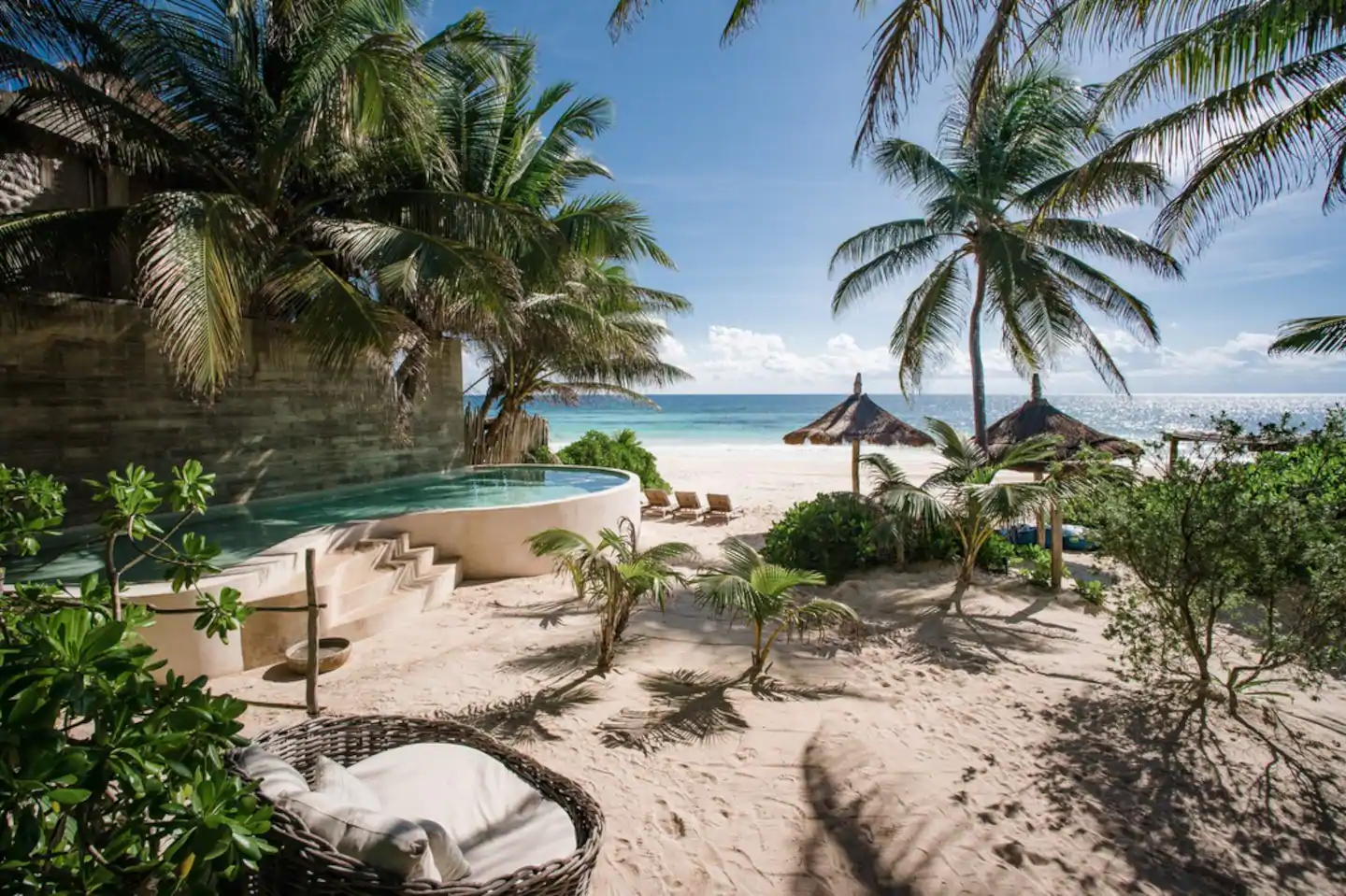 There are so many amazing Airbnbs in Tulum, Mexico, but no matter which one you chose, you are bound to have a fantastic time in this city! Whether you love lazy beach days, jungle adventures, exploring historic sites, or eating your way from one delicious restaurant to the next, Tulum is the destination for you! You will not be bored here as you make fantastic memories!