Looking for some of the best, most luxurious Airbnbs in Tulum, Mexico? Then you have come to the right place! We have done all the research for you, so you can hurry up and book to get your dream Tulum vacation started! Here is our Mexico packing list so you don't forget anything.
Tulum is a deluxe vacation destination on Mexico's Yucatan Peninsula and features a beautiful coastline, a lush jungle, unique cenotes, and ancient Mayan ruins. The area is also known for its spas and wellness retreats. People from all over the world flock here to relax in the sun and have the time of their lives! You've gotta check out these Tulum airbnbs.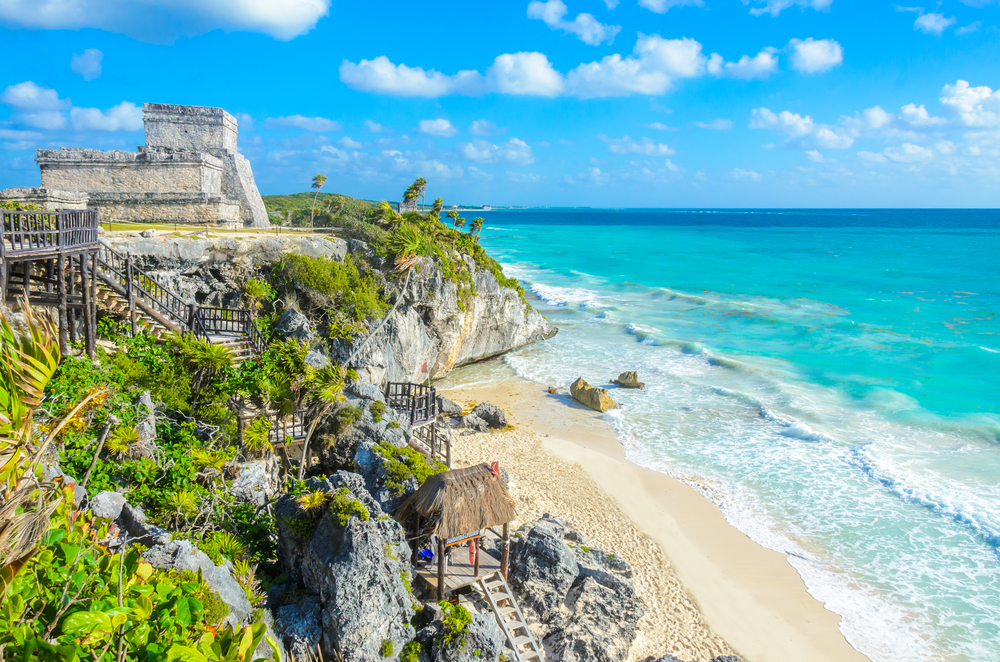 15 Best Airbnbs In Tulum (Rooftop Pools, Penthouses, and More!)
Oceanfront Villa
Starting our list of the best airbnbs in Tulum off strong with this Oceanfront Villa with a private pool! If you're looking for a Tulum airbnb with private chef then this option should top your list.
When you stay here you will have a beautiful view of Soliman Bay, 4,000 square feet of living space, and a large private pool. This villa can comfortably host 10 guests in 4 bedrooms, so you can bring the whole crew!
Location is everything and this location is a 10-15 minute drive to downtown Tulum and has one of the best beaches on the peninsula a short walk from the back porch. Truly, this is one of the best airbnbs in Quintana Roo. I can't imagine a better place to soak up the sun in Tulum than this.
Click Here To Check Rates On VRBO!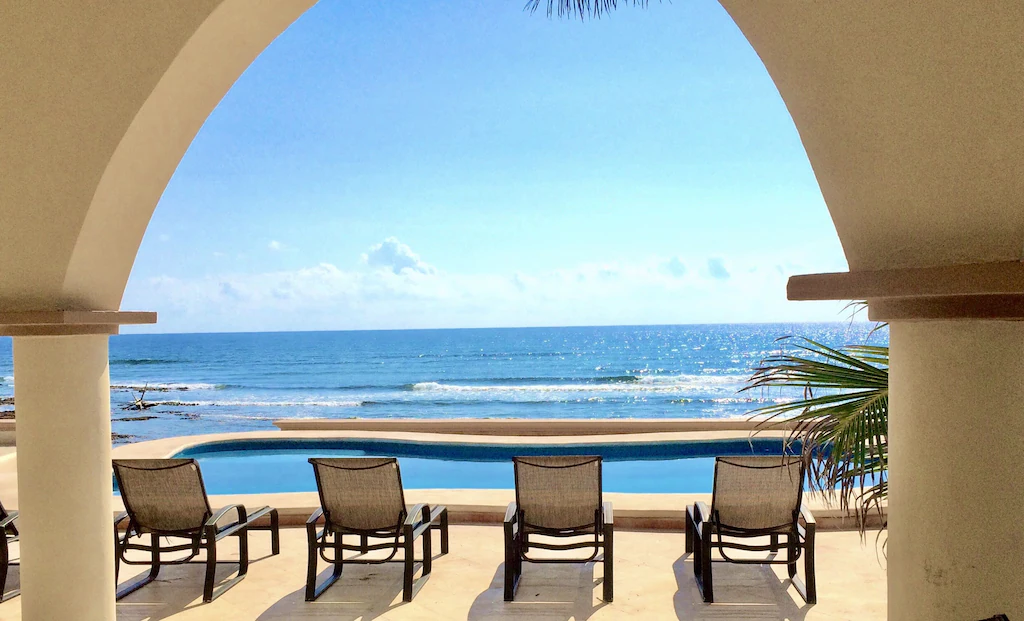 Casa Vendeval
This rental is perfect for couples looking for the best Tulum airbnbs for a romantic getaway. Casa Vendeval is an extremely private VRBO for two guests. It has a private 90,000 liter pool and a private beach. Can you imagine honeymooning here?
This is definitely one of the best airbnbs in Quintana Roo for couples. You're sure to have an amazing time with your partner at this amazingly private, sun drenched vacation rental.
This one bedroom and one bathroom villa has a surprisingly spacious kitchen, as well as modern amenities like supercharged air conditioners, fast wifi, and smart TVS.
Click Here To Check Rates On VRBO!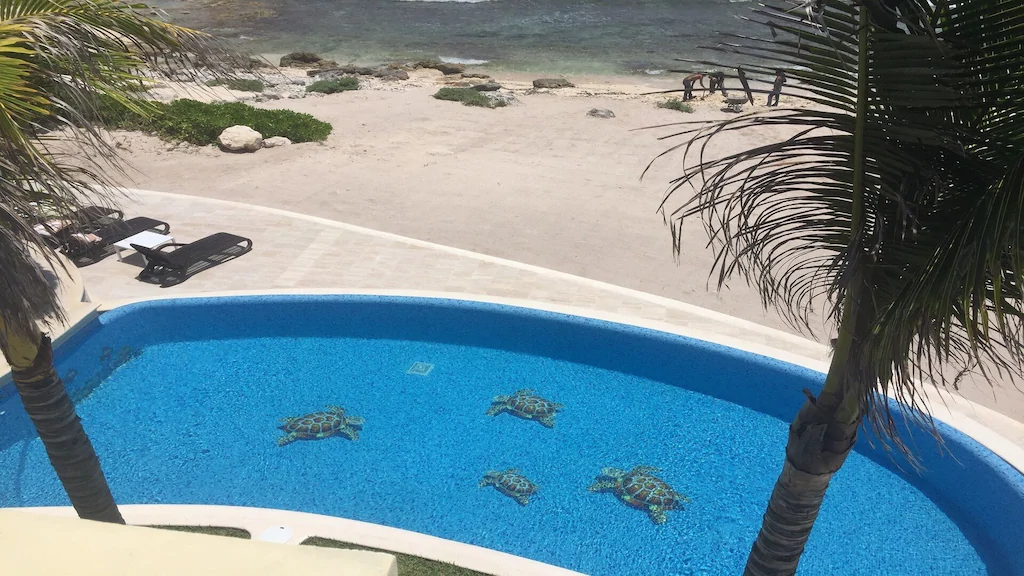 Casita Milagros
The next entry on this list is so special it also made our top airbnbs in all of Mexico ranking! The Jungle Treehouse is perfect for a romantic getaway or some solo traveling in nature.
This is definitely where to stay in Tulum if you want to explore the jungle and wildlife that make the peninsula so unique. The hosts and reviews mention that toucans and spider monkeys are easy to spot from your elevated position in the jungle canopy here.
This treehouse is in a private, gated, sustainable jungle community. It's a quick 20 minute drive from the Carribean beaches of Tulum. This is one of the airbnbs in Quintana Roo that you don't want to miss!
The treehouse can host two guests. You'll love taking a hot shower in the outdoor shower in the jungle! Please note that the treehouse also has an outdoor kitchen. This is definitely the best way to soak up the great outdoors from a VRBO in Tulum.
Click Here To Check Rates On VRBO!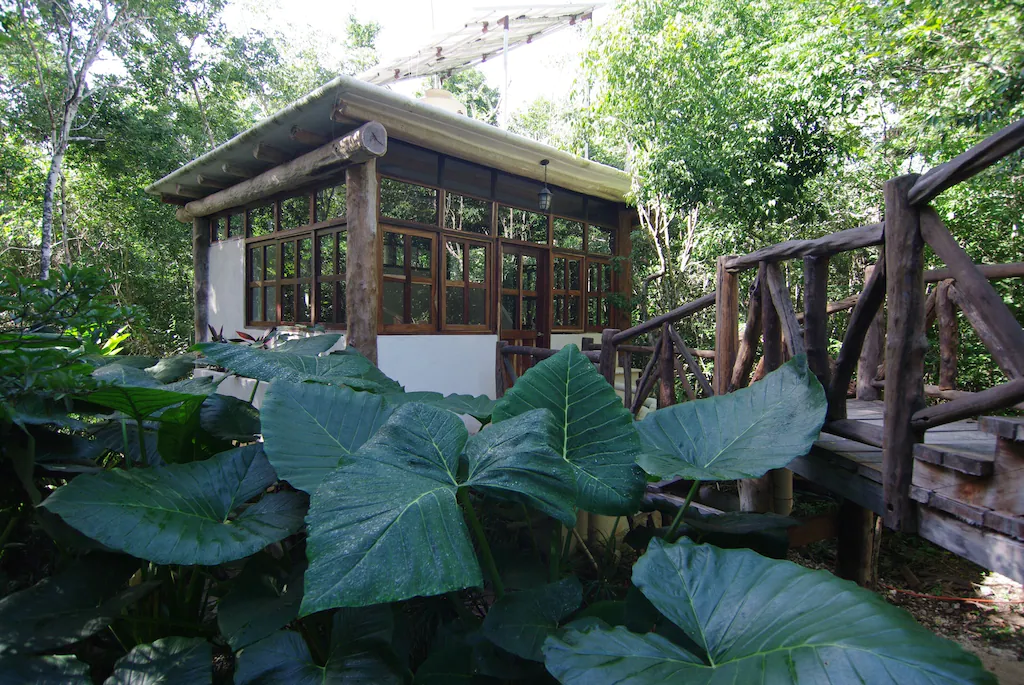 Beachfront Villa
This Beachfront Villa is certainly a paradise! Gather your eight closest friends and book this place now!
You are sure to have a great time because this is one of the best airbnbs in Soliman Bay. The private pool even has its own waterfall feature! And you will have access to a beautiful sandy beach strewn with palm trees right out off the back porch.
This is a great place to stay in Tulum if you are planning a long vacation.The beautiful, full kitchen will allow you to cook your own meals and save money from eating out. The washer and dryer mean you can pack light. Do not pass on this Tulum home rental, it is one of the best villas in Tulum.
Click Here To Check Rates On VRBO!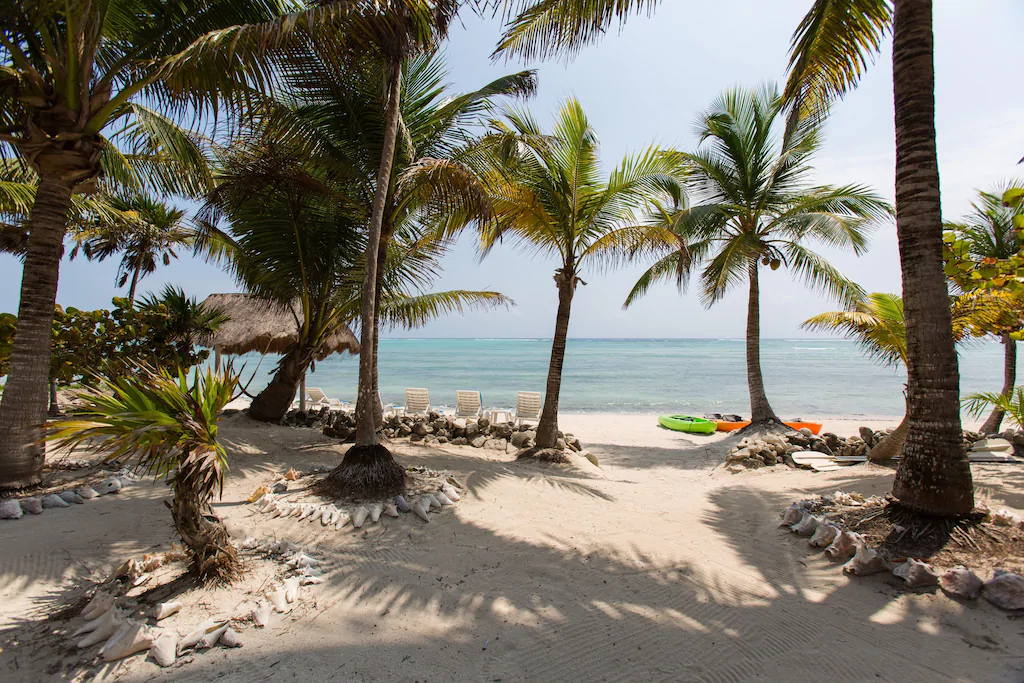 Chef Included Villa
If your perfect getaway includes a break from cooking, this is a great option from our airbnbs in Tulum list for you! The reviews say the chef-prepared food here is lovely and they can even cater to vegans, vegetarians, and other dietary needs.
This 4,000 square foot villa can accommodate up to 8 guests in 4 bedrooms. It has a private beach located on a tranquil bay perfect for snorkeling. The hosts graciously provide snorkel gear, stand-up paddleboards, and kayaks for you to use. When you get tired of the watersports, there is a very relaxing private pool for you to lounge in. This villa is head and shoulders above the rest of the Tulum beach airbnbs, especially if you're looking for a Tulum airbnb with private chef!
You have got to add this to your list for the next time you're looking for airbnbs in Tankah Beach or airbnbs in Tulum! The whole group is sure to have a blast when you book this villa.
Click Here To Check Rates On VRBO!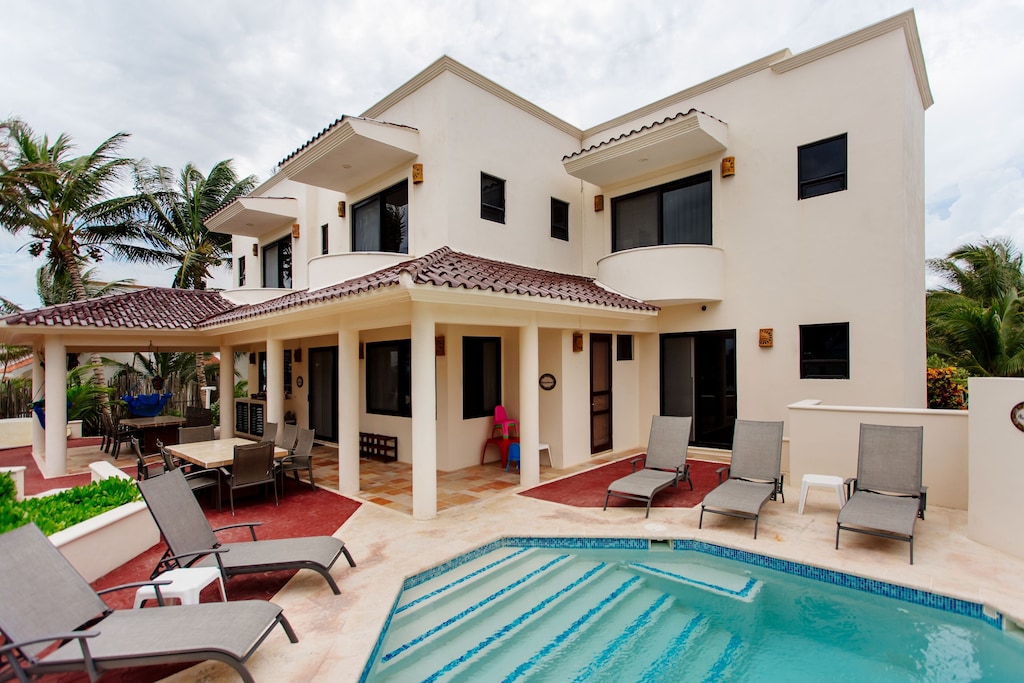 Cenote Lodge
If you're looking for the best places to rent in Tulum near cenotes, we found the perfect Tulum VRBO for you! Come stay in this bungalow on the beach with a private cenote on the property. The cenote leads to an amazing underground cave under the hotels restaurant.
This would be a perfect spot for a solo traveler or romantic getaway as the bungalow accommodates only 2 guests. Staying here you will be only a one minute walk from the famous Manatí Cenote and only an eleven minute walk from Tulum National Park.
Especially considering how great the location is, this is a good option if you're looking for cheap airbnbs in Tulum. You'll save money on a rental car as some of Tulum's best attractions will be right at your fingertips when you stay here.
Click Here To Check Rates On VRBO!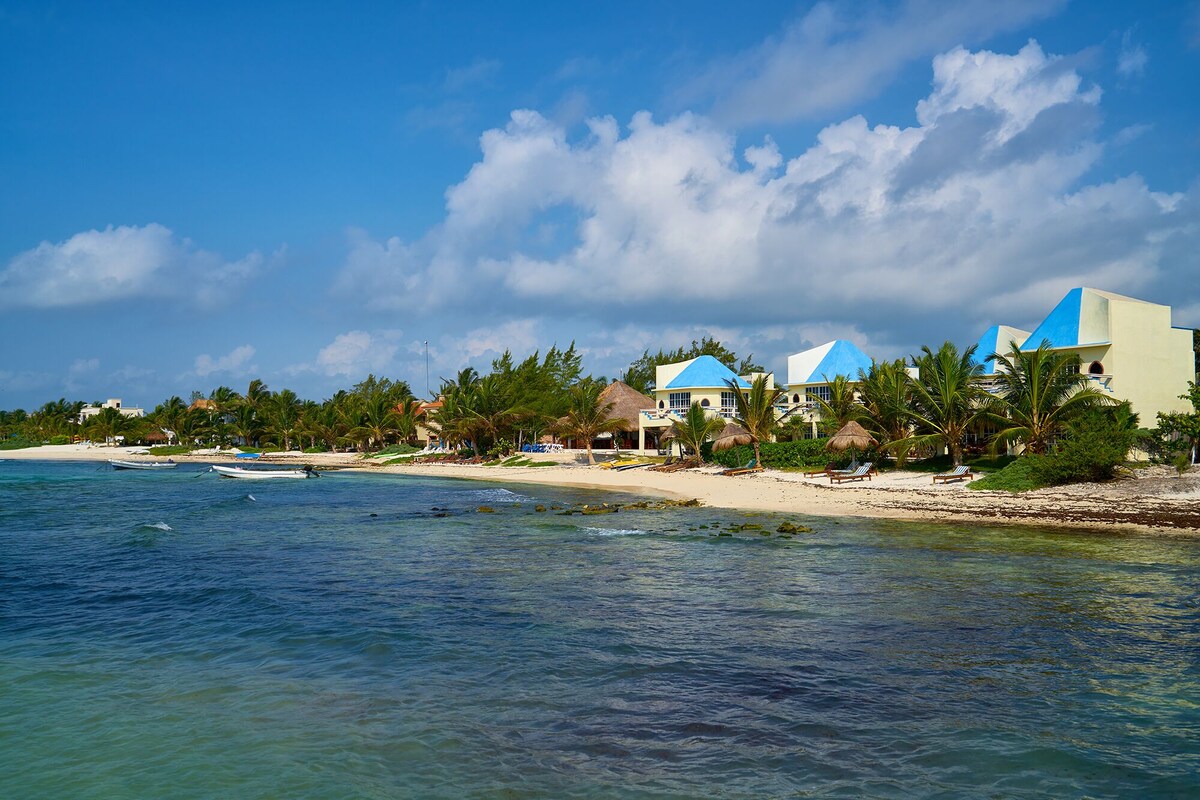 One of the best places to rent in Tulum is this beautiful Reflection Loft. This loft can accommodate three guests. It is a one bedroom one bathroom unit. Reviewers describe the Reflection Loft as "one of a kind!" and "amazingly peaceful!"
This a great option on our list of airbnbs in Tulum to book if you are interested in exploring the area's famous cenotes! When you stay at this totally instagrammable loft you are only 15 minutes from some of the Tulims most beautiful cenotes.
This location also has quick access to the beach and the heart of Tulum city. The beautiful jungle complex offers a pool, fire pit, and outdoor workout center. This VRBO is also featured on our best airbnbs in all of Mexico list! If you're looking for Tulum apartment rentals, add this to your list immediately!
Click Here To Check Rates On VRBO!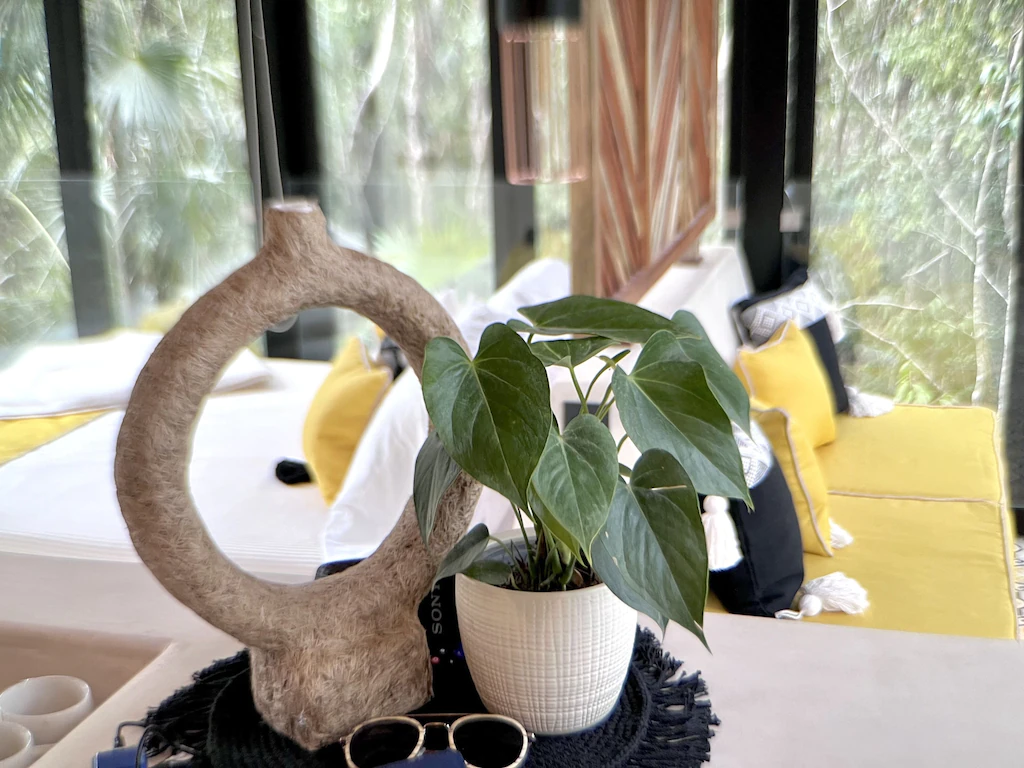 Casa de Las Joyas
If you're looking for cheap airbnbs in Tulum we have found the perfect little jewel box home for you! This charming 650 square foot house is walking distance from Xcacel Beach.
Xcacel Beach has been listed by many major publications as one of the top in Mexico. It is also a turtle nesting ground, so if you come at the right times of year you will definitely spot majestic sea turtles.
This classic adobe house has a gorgeous front garden for you to hang out in. The inside is colorful, cute, and manages to squeeze in everything you need for a lovely stay! It is possible to book wonderful vacations rentals in Tulum on a budget, and this casita is proof of that! It is one of the best airbnbs in Xcacel Beach for sure.
Click Here To Check Rates On VRBO!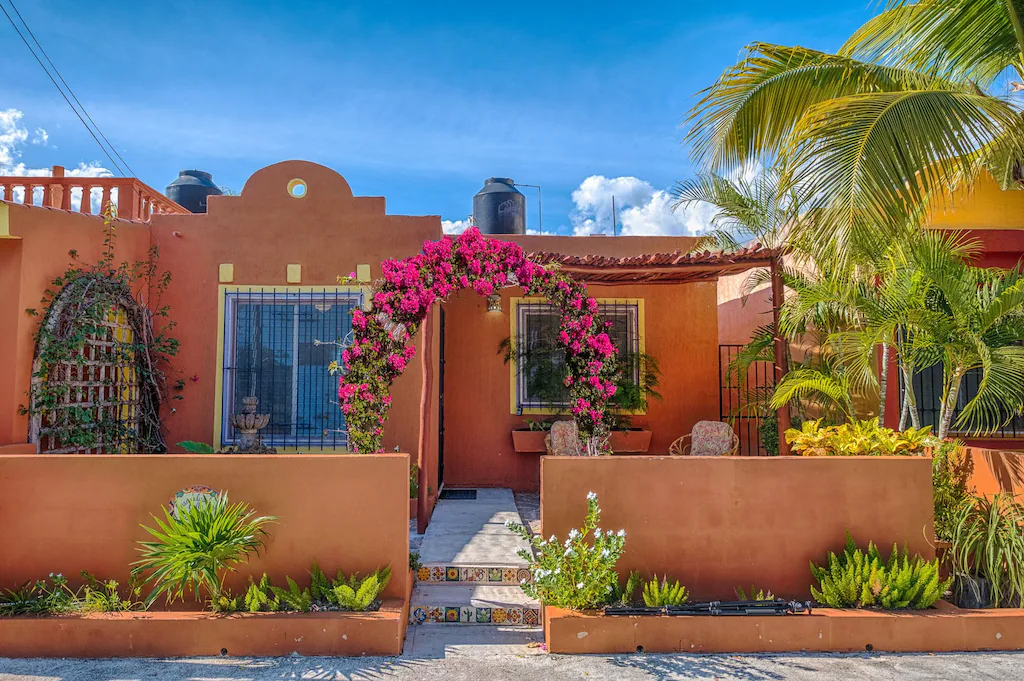 Modern Apartment
This Modern Apartment is another great option for our budget conscious explorers! Stay in one of the best airbnbs in Quinana Roo for a very reasonable price. A quick click through the listing photos shows that you are not missing out on style or amenities despite this being one of the cheap airbnbs in Tulum.
This is a great two bedroom two and a half bath apartment. It can easily accommodate up to 6 guests! There is a beautiful common area with a pool surrounded by greenery. You will want to spend all of your time outside on the photo-worthy patio.
This option out of all the Tulum apartment rentals is a bit farther away from the beach and the city. Luckily it is really easy to rent a bike or a car while staying here. This is a great place to stay in Tulum if you plan on having an extended trip. The complex has great high speed wifi for remote workers, and you will feel like a local as you wander the neighborhood and eat at cute restaurants.
Click Here To Check Rates On VRBO!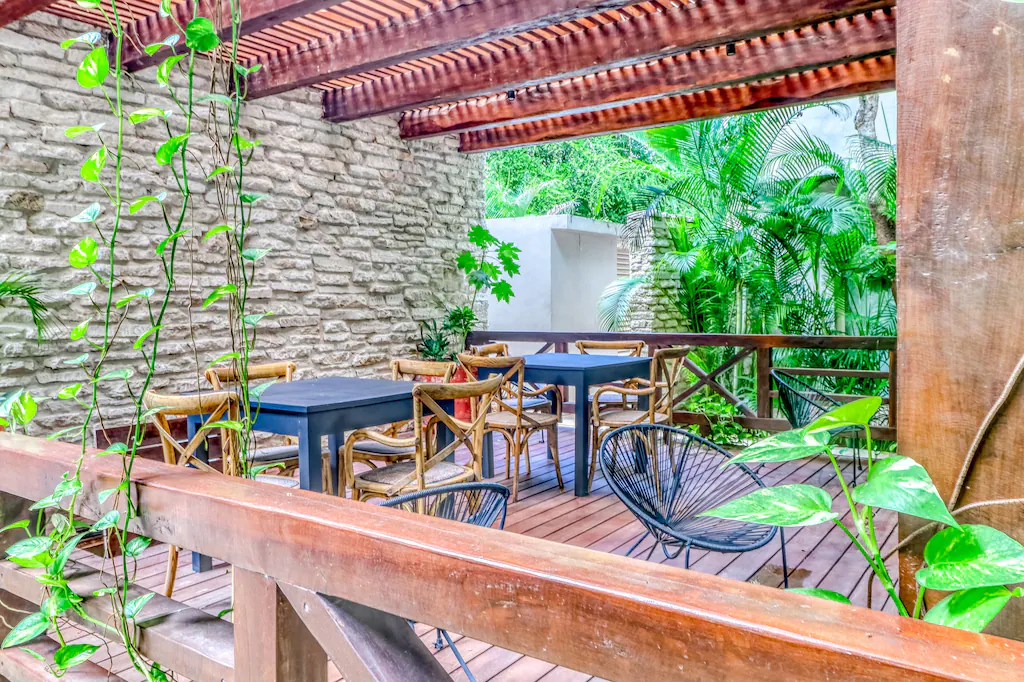 Villa Marusya
If you are looking for Tulum airbnbs with a private pool you've gotta check this one out! The lush landscaping surrounding the pool means you'll be serenaded by tropical birds while you have your sunset swim.
This is one of the best villas in Tulum! It is over 3,000 square feet and can accommodate seven guests. It has four bedrooms and four and a half bathrooms. The decor style is colorful and highlights Mexican culture. You will love the high ceilings, spacious kitchen, and gorgeous outdoor dining area.
Reviewers are raving about how private and beautiful this Tulum vacation rental is, make sure to check out the review page on VRBO. The villa is also located less than three miles from the Crystal Cenote and the Las Palmas private beach. What an amazing home base for exploring the Quintana Roo area!
Click Here To Check Rates On VRBO!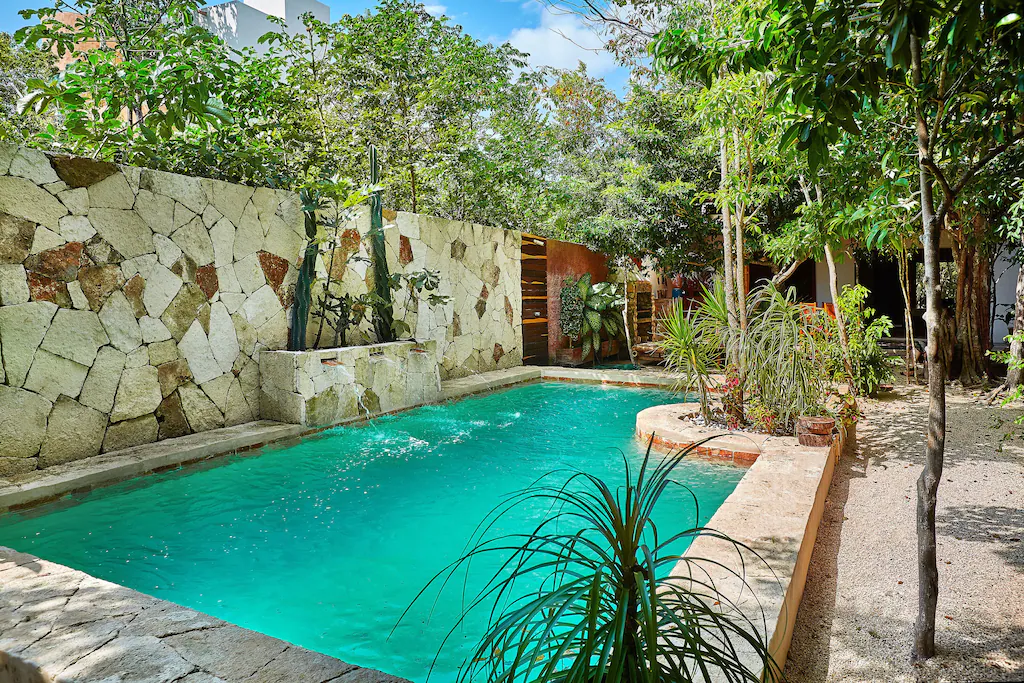 Ikal Ha Bungalow
Ikal Ha is one of three eco-luxury bungalows found together in the jungle of Tulum. Surrounded with tropical gardens, this home is definitely nature-themed while also having all of the modern comforts of high-speed internet, air conditioning, and a full kitchen. The bathroom includes an outdoor garden tub which allows you to soak in peace. Or if you want a larger area to relax, there is a pool.
This Airbnb has strong resort vibes as well! Extra services include a spa, yoga, personal grocery shopping, and available babysitters if you are traveling with kids and want to go out alone. There is also a private chef on-site if you want to order breakfast, lunch, or dinner. You will have a holiday to remember when you book this option out of all the luxury airbnbs in Tulum.
Click Here To Check Rates On Airbnb!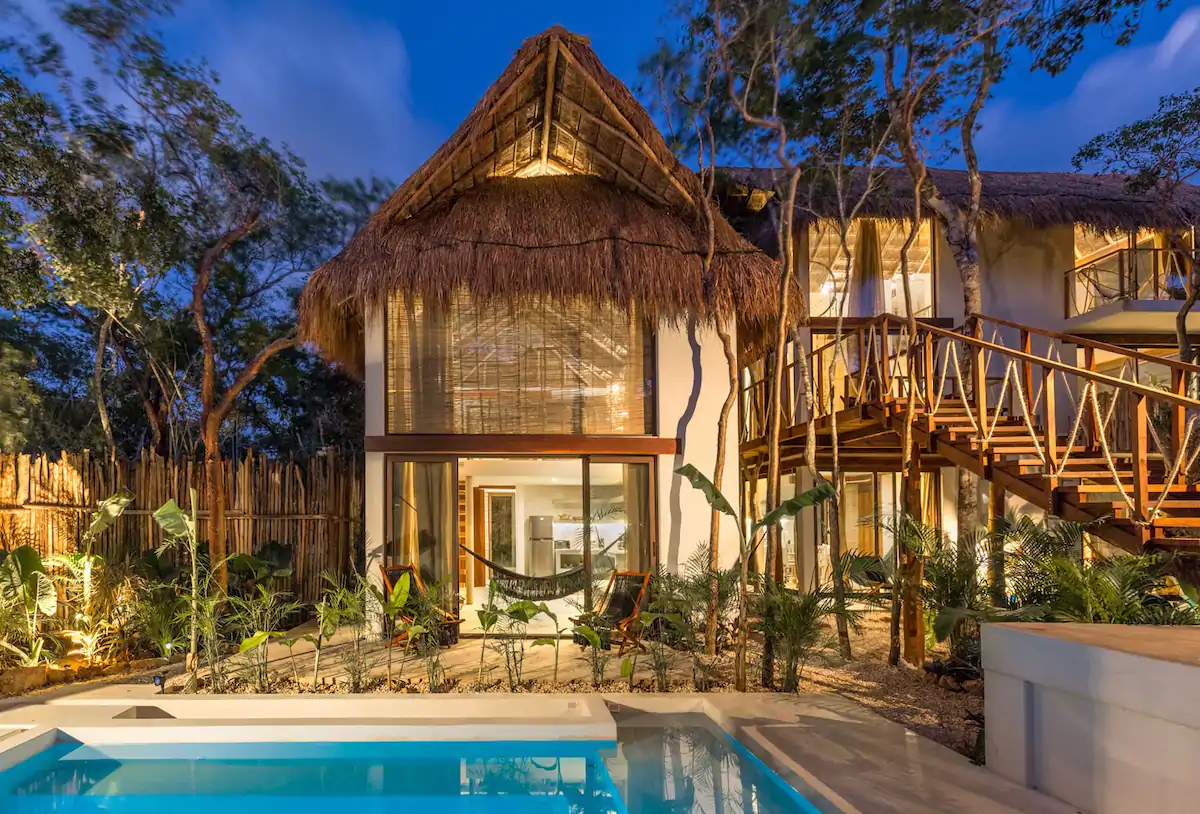 Sanah Villa
If you want to stay in a beautiful and unique place in Tulum, then check out the Sanah Villas. Sanah is a collection of ten adorable villas each with its own pool and weaved through with so many plants you get strong jungle vibes. It is all about luxury mixed with nature here! Enjoy the outdoor sitting area as you listen to the birds sing and take a shower next to growing plants.
You will be so comfortable here! You will sleep in a king-sized bed with a memory foam mattress, get amazing massages right in your room, and melt your troubles away in a volcanic stone steam bath. There is also a fire pit and a yoga area. If you aren't booking this place right now, what are you waiting for?!
Click Here To Check Rates On Airbnb!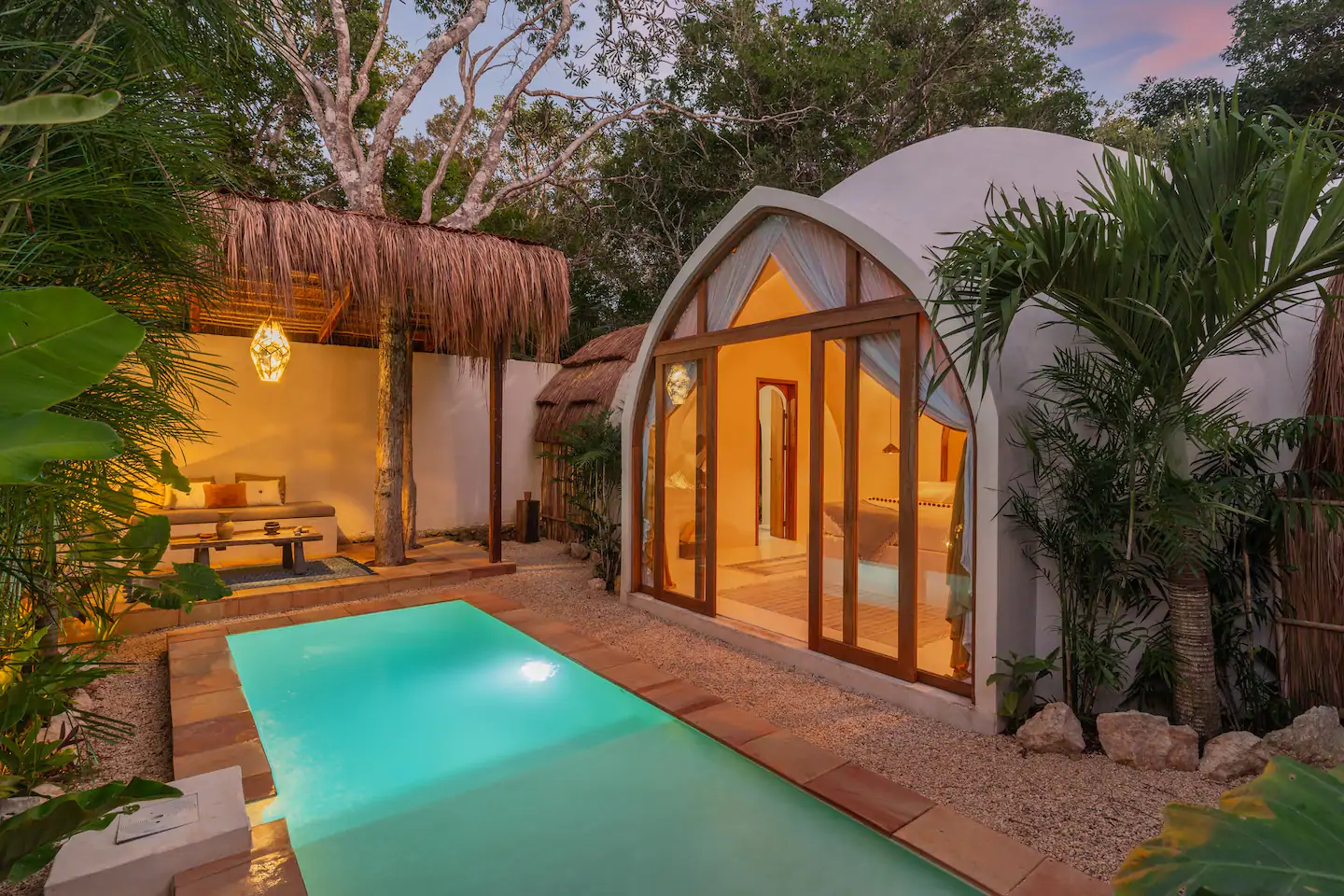 Casita Maya Loft
The Casita Maya Loft is a gorgeous Tulum Airbnb that mixes nature and rustic themes to create the perfect place to stay. Three people can stay here and all of you are sure to fall in love with this home. If you are doing solo travel in Tulum, this place works well too! The building was created using wood and stone from Tulum so you will not forget where you are.
This property has amazing amenities as well, including a swimming pool, a hot tub, a barbecue grill, and a smart TV. There are also bicycles provides for you to use. In the mornings, you will love the peace that will envelop you as you sip your morning coffee and listen to the birds sing. The beach is only a short drive away.
Click Here To Check Rates On Airbnb!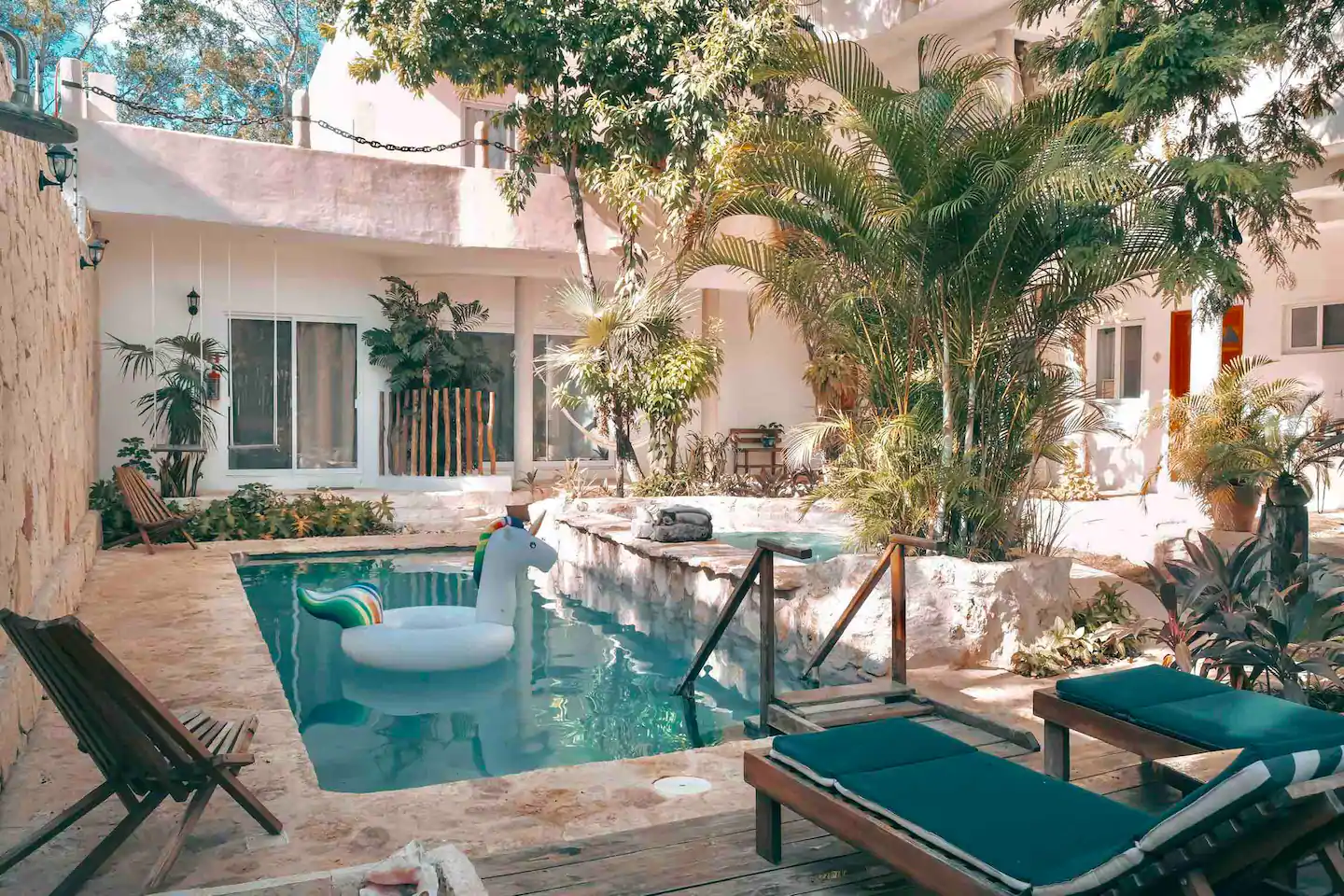 Poolside Zen in the Tulum Jungle
This next property is one of the best Airbnbs in Tulum if you are traveling with a large group. Up to eight people can relax at this villa and enjoy the lovely pool. The interior is very modern and minimalist, giving the feel of staying at a fancy resort. This property is part of Holistika, a yoga and wellness center, which features holistic treatments and many fun activities for everyone.
This Tulum Airbnb is walking distance to many restaurants, boutiques, and bakeries. The available rental bikes will help you get around to see it all. The beach and downtown are not too far away.
Click Here To Check Rates On Airbnb!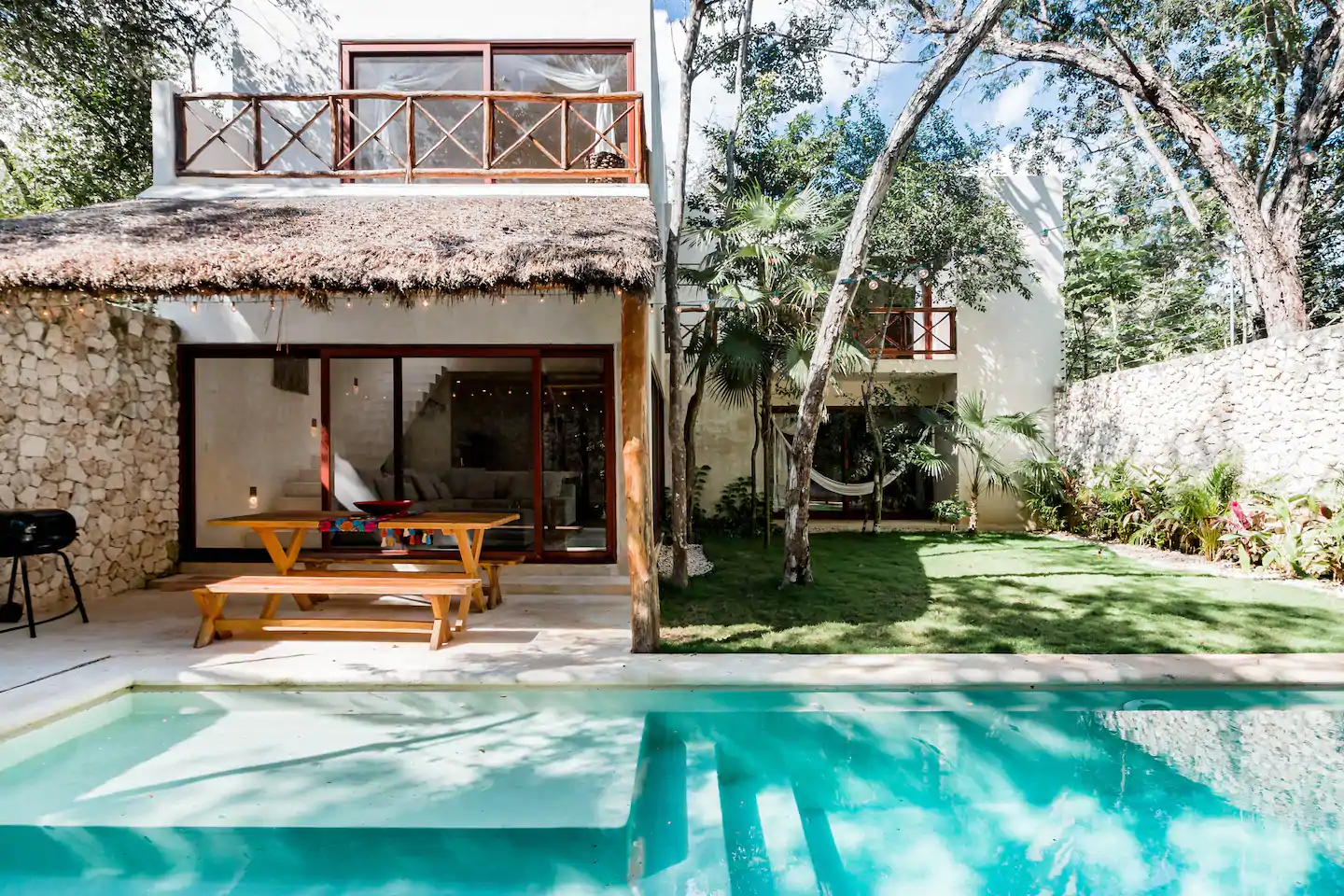 Casa Bonita
We are going to conclude this list with our most luxurious choice! Casa Bonita is right on the beach and is a paradise for travelers. With 2000 square feet and an open floor plan, there is plenty of space for up to six guests.
The house includes everything you need for the perfect beach getaway, including kayaks, stand-up paddleboards, and beach loungers. There is a pool and sitting area in the shade where you can watch the ocean lap against the shore.
You are sure to enjoy your time in this beautiful home with its fantastic design and traditional influences. You will love the outdoor shower as well! This casa is near many of Tulum's top restaurants, boutique shops, and yoga studios, so you can easily walk anywhere. This is one of the beachfront airbnbs in Tulum that you just cannot pass up!
Click Here To Check Rates On VRBO!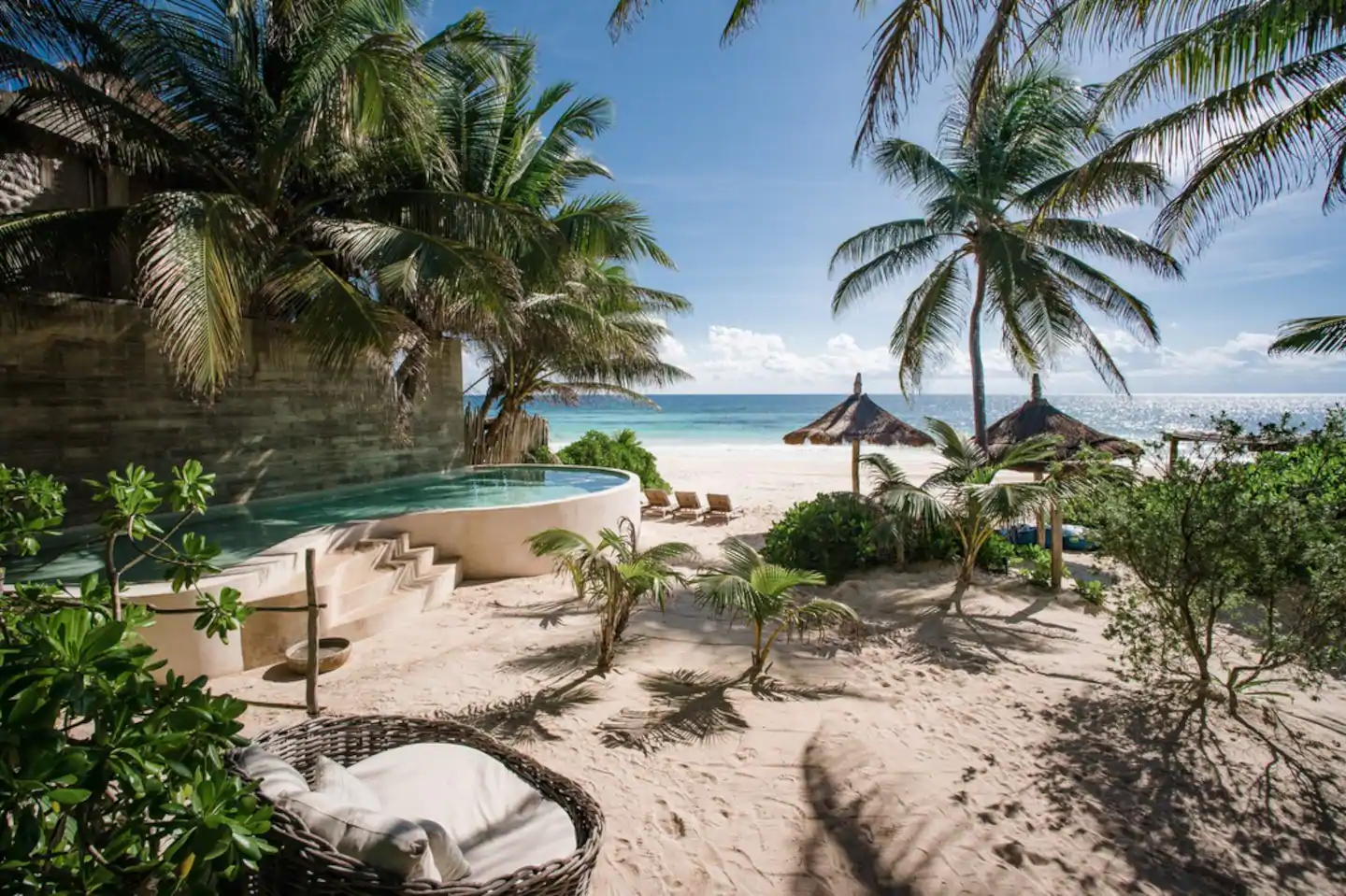 There are so many amazing Airbnbs in Tulum, Mexico, but no matter which one you chose, you are bound to have a fantastic time in this city! Whether you love lazy beach days, jungle adventures, exploring historic sites, or eating your way from one delicious restaurant to the next, Tulum is the destination for you! You will not be bored here as you make fantastic memories!