Breathtaking landscapes, fresh air, craggy coasts and cliffs, numerous ruins, and more are common when hiking in Ireland. You'll also find Europe's largest green space and the longest defined coastal touring route in the World included among Irelands hiking trails. With so much to offer Ireland is a popular hiking destination and has a wide variety of options. Abundant rain, while common in Ireland, may have you considering staying in but you should thank the rain for the lush verdant landscape around you which is gorgeous in any weather. Opt for one of these shorter hikes in Ireland if the weather seems iffy.
May and June are the sunniest months if you want to make the most out of daylight hours for hikes in Ireland you might consider visiting then. Fun fact: there are no snakes in Ireland which means this is one less creature to watch out for while hiking in Ireland. While there is an activity for many interests and hikes for every fitness level we're going to talk about the best hikes in Ireland that are easy to add to a day of travel, do with the family, or to just make a quick stop and take in the scenery.
If you are in the process of planning travel to Iceland, here are some posts to read later:

Best Easy Hikes In Ireland That Will Blow Your Mind
Howth Cliff Walk, about 3.5 miles and 2 hours
Looking for an easy hike close to Dublin? Look no further! This is one of the
best free things to do in Dublin
and shouldn't be missed! Howth Cliff Walk is one of the most convenient hikes in Ireland for those flying into Dublin and a short 3.5 mile loop along cliff tops with views of the Atlantic, Irelands craggy coastline and cliffs, Dublin Bay, as well as two lighthouses, Baily Lighthouse and Howth Harbour Lighthouse.
While hiking in Ireland on this trail, you can also see Martello Tower which was built to protect against French invasion during the Napoleonic Wars, Balscadden House where Yeats lived for three years, Ireland's Eye with its bird sanctuary, and much more.
To begin this hike in Ireland start from the DART train station in Howth and simply follow the green arrows along the route. There are a few other trails that begin from the train station if you are looking for more, there is also a longer purple trail splits off from Howth Cliff Walk as you approach Baily Lighthouse, or you can also choose to walk down the main road through Howth Village on the way back instead of following the trail all the way back.
Of the walks in Ireland on Howth Cliff Walk, you will find the 15th Century St. Mary's Abbey in Howth who's bells rang to guide fishermen home in the fog before the lighthouses were built and you can also stop in for a visit. To check out more photos of our visit to this trail visit
this blog post
.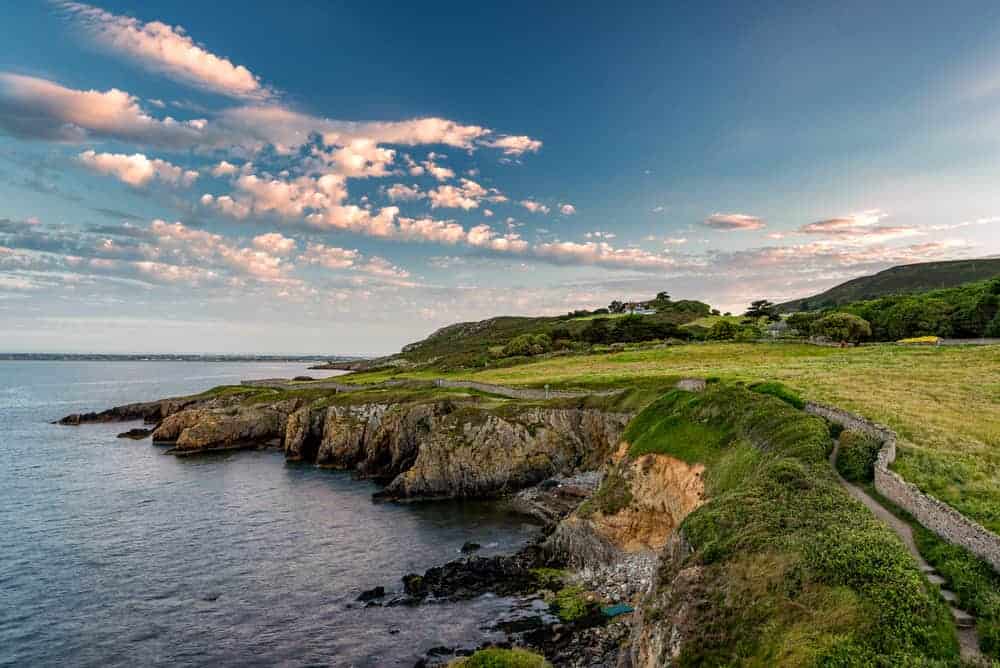 Bray to Greystones, about 4.25 miles and 2.5 hours
For walking along the edge of a hillside in Ireland instead of on top of cliffs the narrow coastal path linking Bray and Greystones is one of the best hikes in Ireland. A short train ride from Dublin to either town this is another easy day trip to Ireland hiking trails. The path is well maintained so as long as you have the proper footwear and check the weather while hiking in Ireland you can feel safe even on a narrow cliff path. The walk is an out and back hike, not a loop, but you can opt to grab a train on the way back instead.
One of the unique hikes in Ireland the trail was built during the construction of the train rail line so that equipment could be moved as necessary. Along the trail is also the ruins of a small house from that time which belonged to Lord Meath where there was also once a toll gate to charge the public to use the walkway. For a full photo essay from our experience on the trail check out
this blog post
. Beyond the history, there is the scenery and the wildlife, keep your eyes open for sea birds, dolphins, harbor porpoises, and sharks. Most people journey from Bray to Greystones but you can do it either way based on where you'd like to grab a bite to eat afterward. If you walk from Bray to Greystones towards the end you will descend to sea level and enter the Greystone harbor or you can begin here!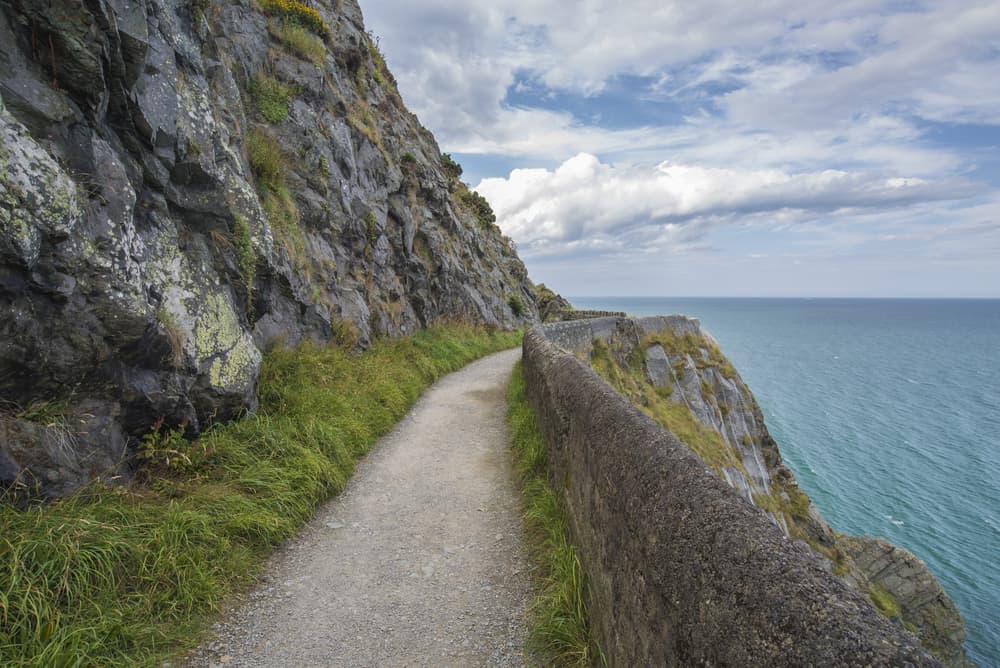 Muckross Lake Loop Trail, about 6 miles and 2-3 hours
Killarney National Park has the most breathtaking landscapes and is a must-see destination for hiking in Ireland with some of the best hikes in Ireland! Muckross Lake is one of the most popular parts of the national park with its stunning scenery, variety of landmarks along the way, and the nearby Torc Waterfall. There are several trails in the area and they can be connected to create hikes of varying lengths, select your path depending on how much time you'd like to spend and where you park.
The shortest full loop around Muckross Lake is about 6 miles and along the way you can see Muckross Abbey, Muckross House, Dundag Beach, Brickeen Bridge, Dinis Cottage (now a cafe), Old Weir Bridge, and more. Keep your eyes open for these unique species whose numbers are dwindling but you still might be able to spot in this unique Ireland hiking trails: the last herd of native Red Deer in Ireland, the rare Kerry Cow, and recently reintroduced to the wild the White Tailed Eagle. With so much to see for one of the walks in Ireland don't forget your camera and plan a little extra time for your visit. If you are feeling like doing more hiking in Ireland after this loop without going far stop by Torc Waterfall by following the public road after Old Weir Bridge, keep reading to learn more!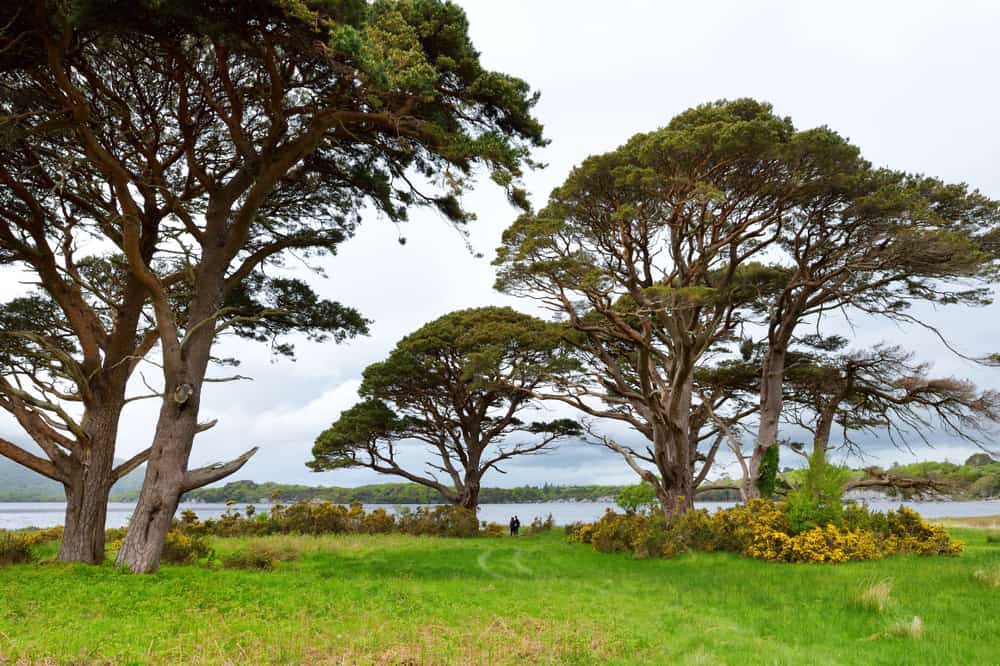 Torc Waterfall, 5 minutes
Still at Killarney National Park if you don't have much time or are tired Torc Waterfall can't really, on its own, be considered one of the hikes in Ireland, it can be visited just off the road with a 5-minute walk! The falls got its name "Torc" which means boar from the legend of the Irish magical boar who was killed by the Irish hero Finn McCool. If you are in the area you really have no excuse for not stopping by this beautiful and cascading 70-80ft waterfall. A favorite tourist destination, get here early to avoid the crowds and if you'd like this stop can be added to the full Muckross Lake Loop Trail as well.
Of all the hikes in Ireland here you have so much flexibility in how much you choose to do; if you did not do the lake loop a short uphill walk has a viewpoint for middle lake or you can connect from here to the lake loop trail but choose to only do a small section using the road to loop back to the falls and parking area. The Torc Waterfall is also a destination on the Kerry Way long-distance walking route, one of the longest signposted walks in Ireland, as its beauty and that of the countryside around it are a no brainer to include while hiking in Ireland.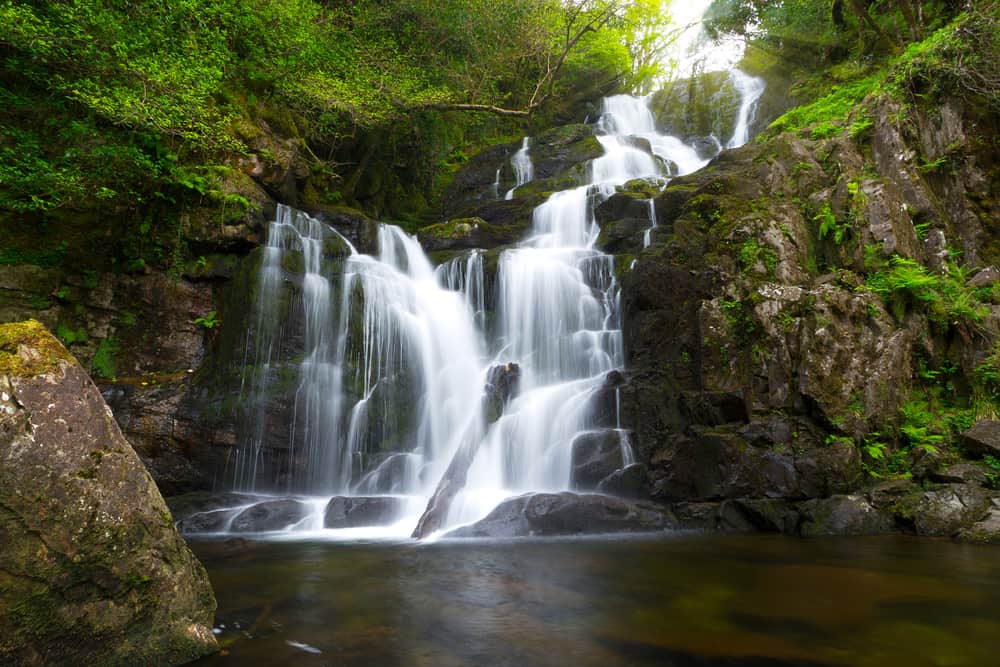 Hare's Gap, about 2 miles (one-way) and 2-3 hours
Depending on your definition of easy hikes in Ireland this trail may or may not fit the bill but its magnificent landscapes make it worth considering. Hare's Gap is not a long hike, 4 miles out and back total, but it has some steep parts that mean the trail is a bit more moderate than easy. The most dramatic mountain pass in the Mournes this trail was once one of the walks in Ireland used as a smuggling route for items like soap, spices, and coffee. Today, it is a starting point for several hikes in Ireland over mountain peaks. On its own, you can take in stunning views of boulder fields, glacial cliffs, and rolling mountains.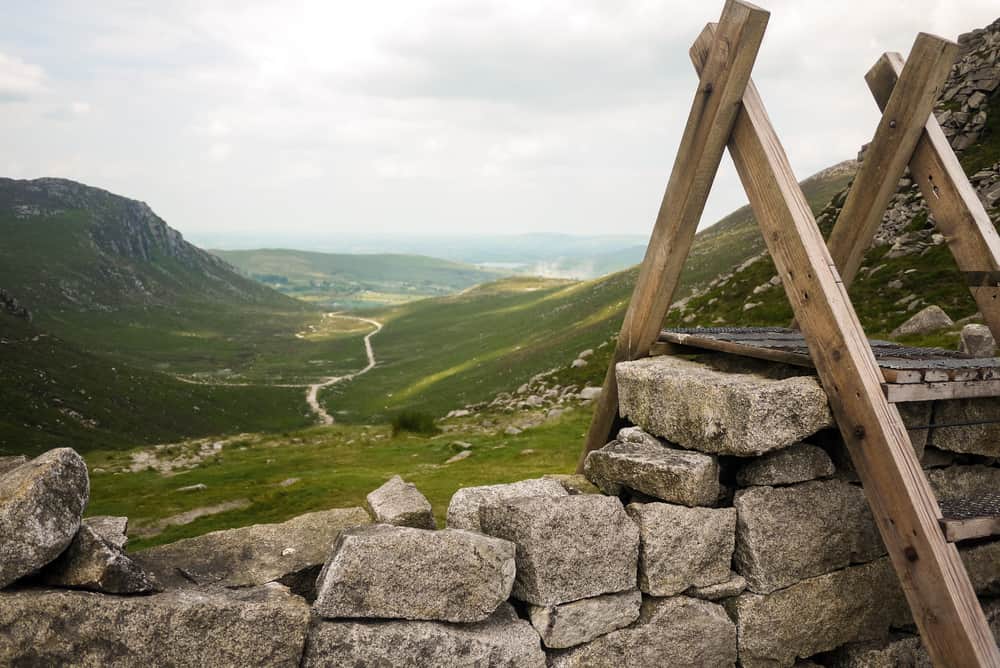 Bushmills to Giant's Causeway, about 2 miles (one-way) and 2 hours
Giant's Causeway is the only World Heritage Site in Northern Ireland and can be found along one of the longer hikes in Ireland, the Causeway Coastal Way, which is about 33 miles. To visit this naturally beautiful location in a much shorter distance you can walk from the Visitor Center at Old Bushmills Distillery 2 miles to this scenic area. Giant's Causeway is made up of three parts the Little Causeway, the Middle Causeway also known as the 'Honeycomb', and the Grand Causeway. Look for the Wishing Chair, Wishing Well, and Giant's Gate from Finn McCool folklore along the walk as well.
Depending on which trails you choose to take you can continue on from Giant's Gate into Port Noffer, The Bay of the Giant, to experience the rich plant life along the sea. Huge columns of basalt 'The Organ' can be seen and approached from here when passing the Giant's Boot and you can head towards the 'Amphitheatre' afterward. You can use Shepherd's Path with 162 steps to get to or down from the cliff top. With so many sights to explore along this short trail, this is one of the best hikes in Ireland!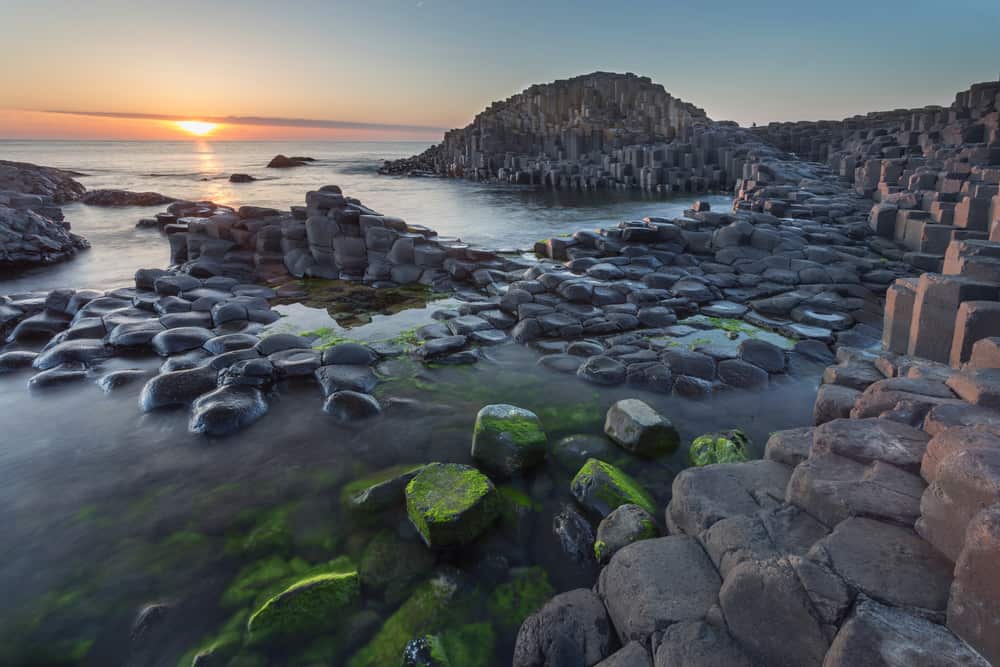 The Pilgrim's Path at Slieve League, about 3.5 miles and 3 hours
We can't get enough of cliffs and ocean views! For one of the shorter hikes in Ireland, The Pilgrim's Path still manages to run along some of Europe's highest cliffs. This trail follows an ancient path that had been used by the Irish Roman Catholics who refused to be forced to convert to English Anglican Church (as required by penal laws in the 18th and 19th centuries). To continue practicing their religion they created roughly made churches from rock in rural areas including along this path.
Follow signs to Pilgrim's Path when entering Slieve League, and on the trail follow yellow rocks and wooden posts that mark the way. The weather can change quickly in this area so be prepared and aware, check the weather report before heading out. Along the path there are the expected sites while hiking in Ireland—ruins, cliffs, the ocean, a lake, a waterfall, and wildlife—yet they always have a different lyrical beauty and a wondrously new panorama at each of the hikes in Ireland. For the truly experienced hiking in Ireland, there is a knife edge trail called One Man's Pass you could continue onto. Not interested in heights and sheer drops on either side of the trail drive to the nearby visitors center, right up to the gate which you can open yourself as it's meant to stop sheep not you, and from here park or drive towards the Bunglas viewing platform for a stunning view of the cliffs.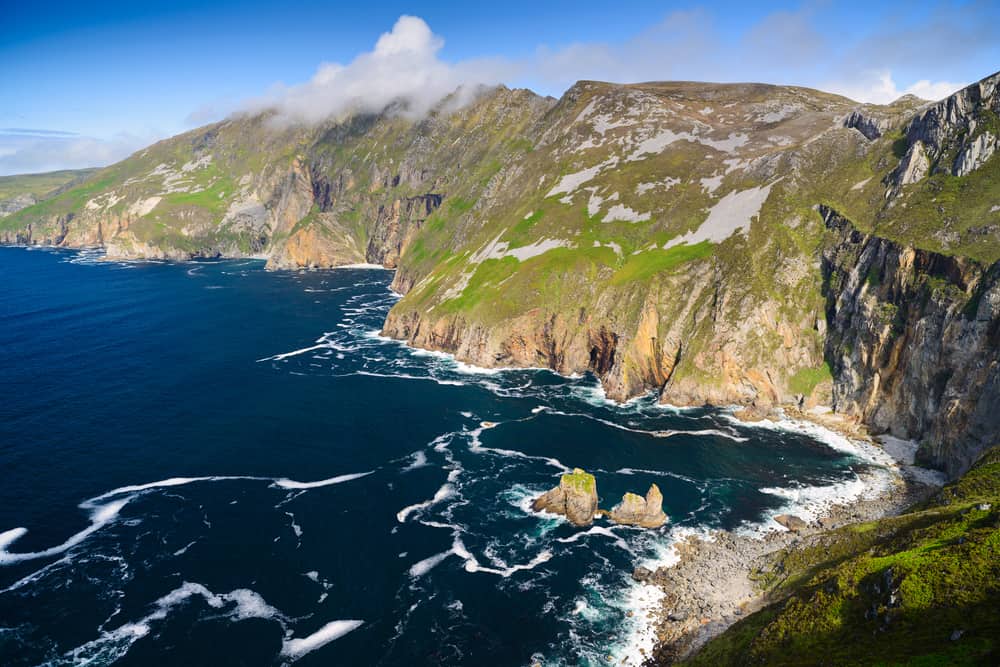 White Arrow Route in The Burren, about 1 mile and 40 minutes
Burren National Park, in contrast to the many rolling hills in Ireland, is full of exposed limestone and has seven different marked trails to choose from. For one of the best hikes in Ireland with the most bang for your buck we recommend taking the White Arrow Route. One of the shortest walks in Ireland on this list the white arrow trail is full of things to discover. The lyrical nature seen in the Burren includes 70% of Ireland's 900 native plant species. Plan your hiking in Ireland around spring to experience this otherworldly landscape with the wildflowers in bloom.
On your visit to this national park pass through meadows full of exposed limestone, walk along limestone pavements with a lunar appearance, and experience the breath of Irelands native plant life. Then visit some of the 80 ancient Celtic tombs throughout the park that date back as far as the Mesolithic era, plus you can check out a portal dolmen, Poulnabrone, a type of single-chamber tomb with a 'table' like appearance, and stop by Corcomroe Abbey built in the 13th century. With so much to see within this National Park, it is one of the can't miss location for hikes in Ireland!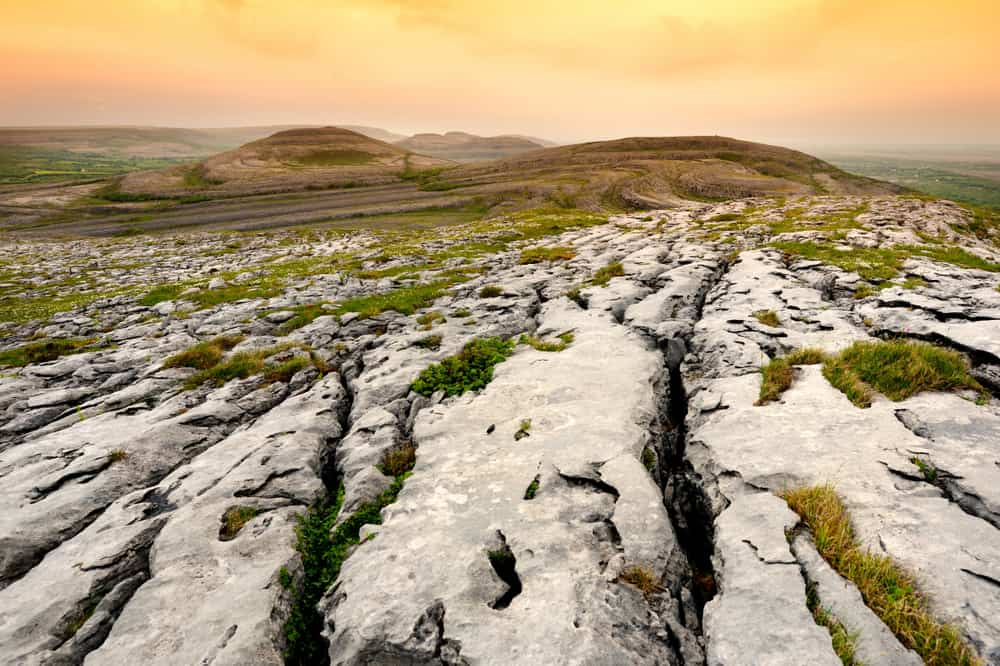 Cliffs of Moher to Doolin aka Doolin Cliff Walk, about 5 miles and 3 hours
Some of Ireland's most famous cliffs and a popular tourist destination the Cliffs of Moher, as with most popular tourist spots, are definitely worth the stop. For the easier and shorter of the hikes in Ireland that lead to the Cliffs of Moher start in Doolin and you walk along the sea cliffs to the Cliffs of Moher Visitor Center and grab public transport back to Doolin afterward. The visitor center is in the midpoint of the cliffs and also the highest point, as such it is the busiest area so we highly recommend getting on the trail and walking a bit even if you don't do the Doolin Cliff Walk itself.
You can do the cliffs in a slightly shorter but more difficult hike from hags Head to the Visitor Center or go all the way from Hags Head to Doolin for the entire walk. If you'd like to learn more about the area there is a local, Pat, who does the trail, Doolin Cliff Walk or 'secret passageway' as it is sometimes called, as a guided walk. Famous for being along gorgeous cliffs on the Atlantic with green fields on the other side, of Ireland hiking trails this one is not a good choice for young children inexperienced in hiking.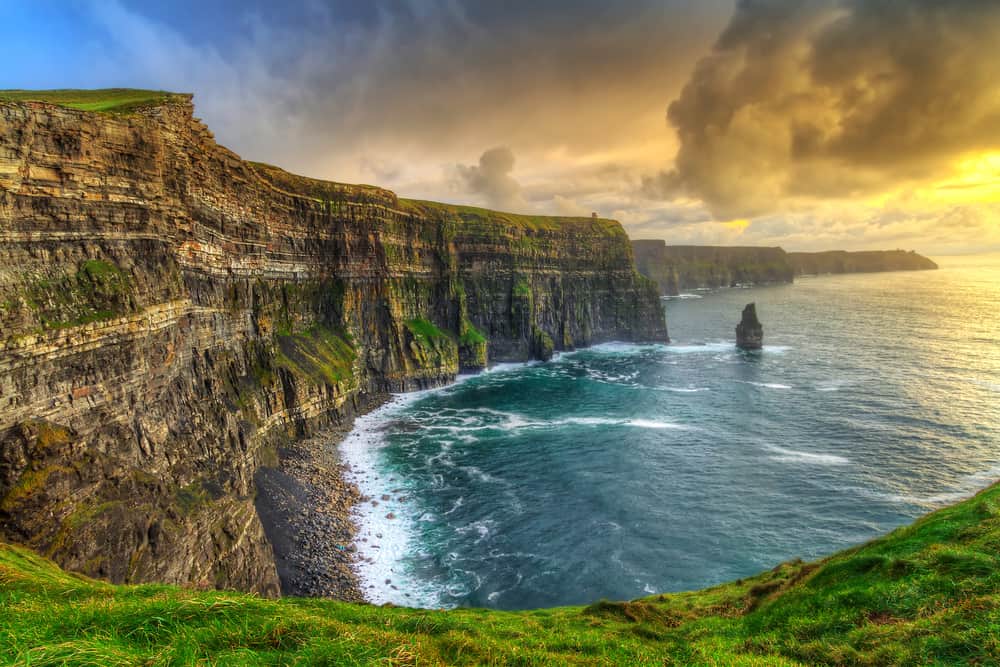 The Scalp Lookout Trail, about 1 mile and 45 minutes
For one of the best hikes in Ireland with the family or on a rainy day when you don't want to be far from the car, The Scalp Lookout Trail in Barnaslign Wood is a safe bet. This short woodland trail goes from Pine to Beech to Fir trees, you might spot some goats nearby, and the highlight of the trail is the lookout over The Scalp. From this point, you can see The Scalp which was carved out of solid granite by glacial overflow and you can also spot views of Tonduff, Maulin, and the Great Sugar Loaf Mountains. To extend your time hiking in Ireland this trail connects to others that include an iconic chimney and the rocky dome Carrickgollogan. Don't forget to download your maps before you head out, the trail marks can be a bit confusing at times and you don't want to miss the viewpoint!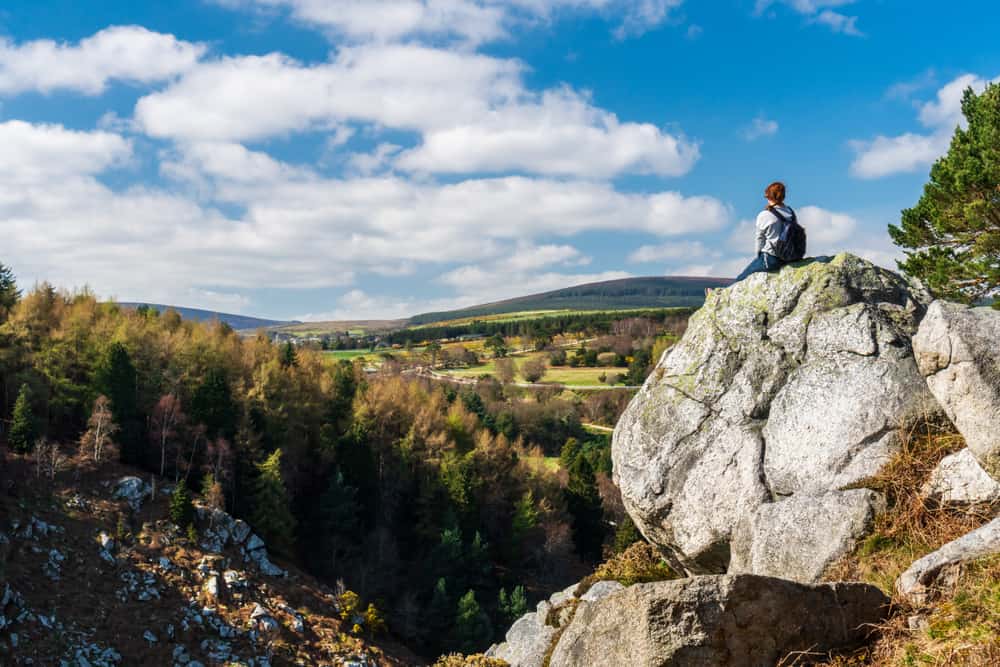 Lower Diamond Hill, about 2 miles and 1.5 hours
When with a group of mixed experience and searching for both easy and more challenging options one of the best hikes in Ireland is Diamond Hill in Connemara National Park. Diamond Hill has two hike options, one to Lower Diamond Hill that is only 2 miles but takes in stunning views and Upper Diamond Hill. This is the perfect of Irelands hiking trails to introduce those beginning hikers to an easy but beautiful experience.
With 360 degree views where you can see Inishbofin, Inishturk, Caher, and Clare Island you'll want to make pit stops while hiking in Ireland for many photos. Instead of cliff views typical in many walks in Ireland, here you have a different kind of breathtaking ocean landscape with Diamond Hill, meadows with exposed rock, and the ocean creeping into the flat land that still peaks out from the water in places. Beyond the view, you can also try to spot Connemara ponies, red deer, mountain goats, and falcons or identify some of the unique flora of the area.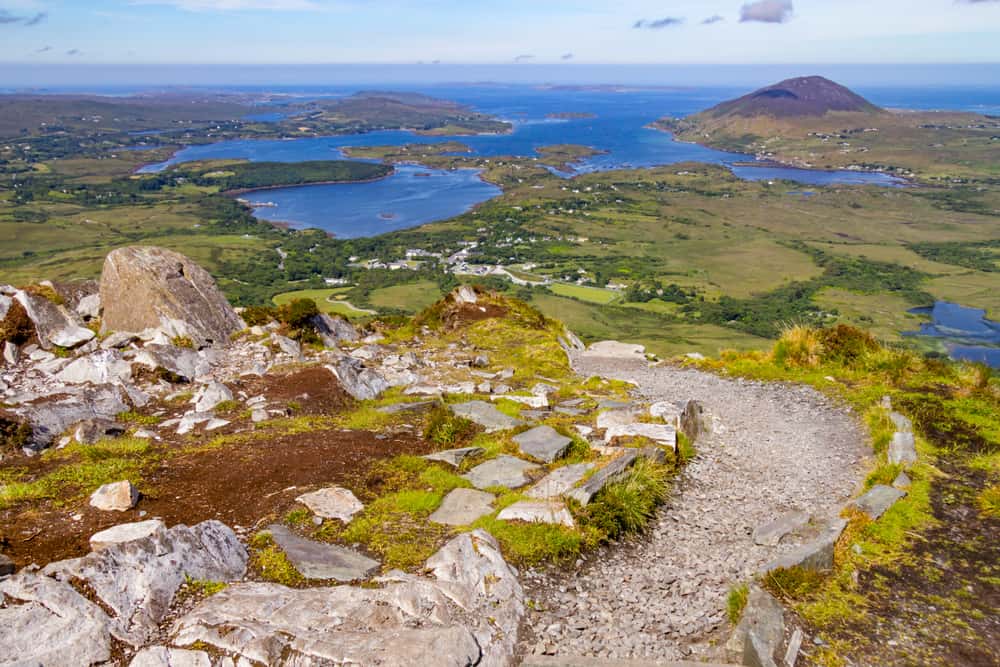 No matter the reason for your decision to visit this country there are so many ways to check out the unique beauty of the place with these easy hikes in Ireland that you can't help but do so! We hope you've found a trail that fits into your visit to experience these breathtaking landscapes for yourself.