Are you looking to vacation in one of the prettiest small towns in Ireland? If you are thinking about coming to Ireland, these are some of the best towns to go to! It can be difficult deciding on where to go first, but these pretty towns in Ireland should top your trip. We have been to Ireland so many times that we have lost count, and there is always something new to see and do! We include a few of these pretty small towns on our Ultimate Ireland Road Trip Itinerary but some suggestions are brand new for you to discover here!
This list should give you all the information you need to choose which small Irish towns to visit first while planning your trip. Whether it be the distance between them or the destinations, we have got you covered on what small towns in Ireland you have to go to before leaving!
Ireland is full of rich history, don't miss out on visiting the peculiar but amazing places in Ireland! There are many legends and tales attached to each town, Ireland is said to be a very magical place. Through the mystery of it all, be sure to check out these beautiful Irish towns! You will not want to miss the local tours and museums that come with each town in Ireland that you visit. So, grab a pint of beer and start working on your accent, because here are the best towns in Ireland to visit!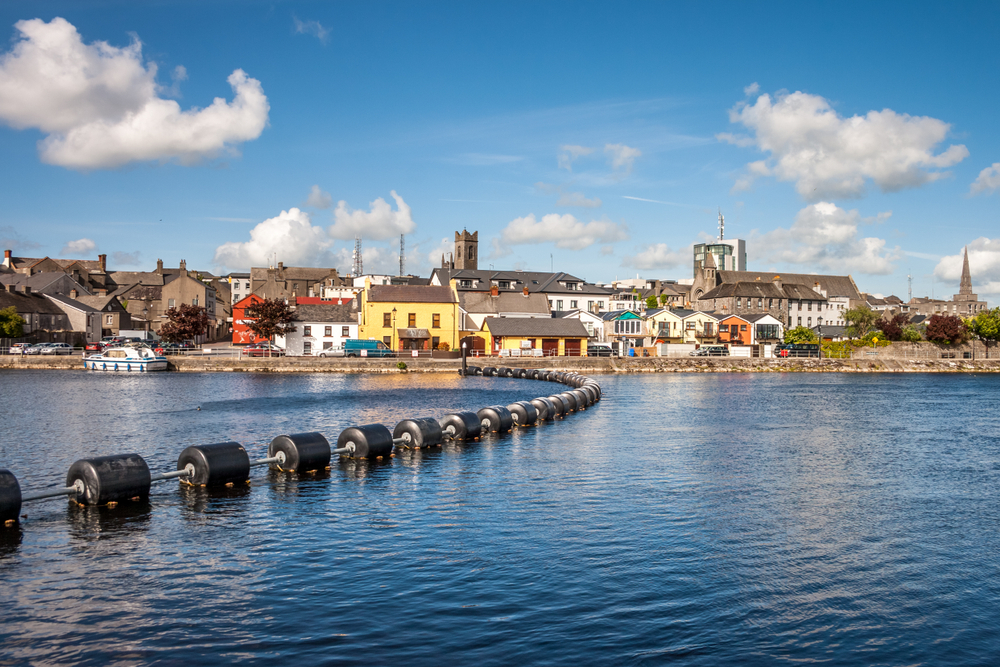 12 Prettiest Small Towns In Ireland + Map To Find Them
Dingle Is One Of Those Towns In Ireland That You Cannot Miss
Top of our list is Dingle, Ireland! It is a gorgeous little town and one that is a treat to visit. Make sure to look around for local areas, as this small town in Ireland is great for pictures and beautiful scenery. Traveling by car is your best option to get to this pretty Irish town, but be careful driving along the peninsula! If you are interested in visiting Dingle, here is a post about the Top 10 Things To Do In Dingle! 
Enjoy Star Wars? This beautiful town in Ireland is known for its scenery and as a film destination for Star Wars. Even though it has been a tourist area for quite a bit, this village in Ireland has not lost the feel of a small Irish town. The local pubs make it homey and welcoming to new visitors, but still has a medieval look and feel to it. Dingle looks over a lively harbor and is the spot for seafood; Doyle's Seafood Restaurant is delicious and it isn't too bad on the wallet! Eating at a yummy restaurant while looking out onto the water is very peaceful and something you will want to try!
The small Irish town also has a very old church called the Gallarus Oratory, located on the Dingle Peninsula overlooking the Ard Na Cainthe Harbor. Historians argue over when it was built but the first account of its presence was documented in 1756. Feel the centuries past by visiting this old chapel and take pretty pictures by the seaside. While you're in this small town in Ireland, don't forget to visit the East Tower overlooking Dingle Harbor! Built in 1847 to guide ships into the mouth of the harbor, this stone wall is a must-see destination!
Where To Stay In Dingle
Dingle has some beautiful guest houses and bed and breakfasts, and Greenmount House is one of the best! This family-run guesthouse has been in operation since 1977 and is only a 5-minute walk from Dingle's town center. This guesthouse offers magnificent views of Dingle Bay and is the perfect place to stay while exploring Irish towns.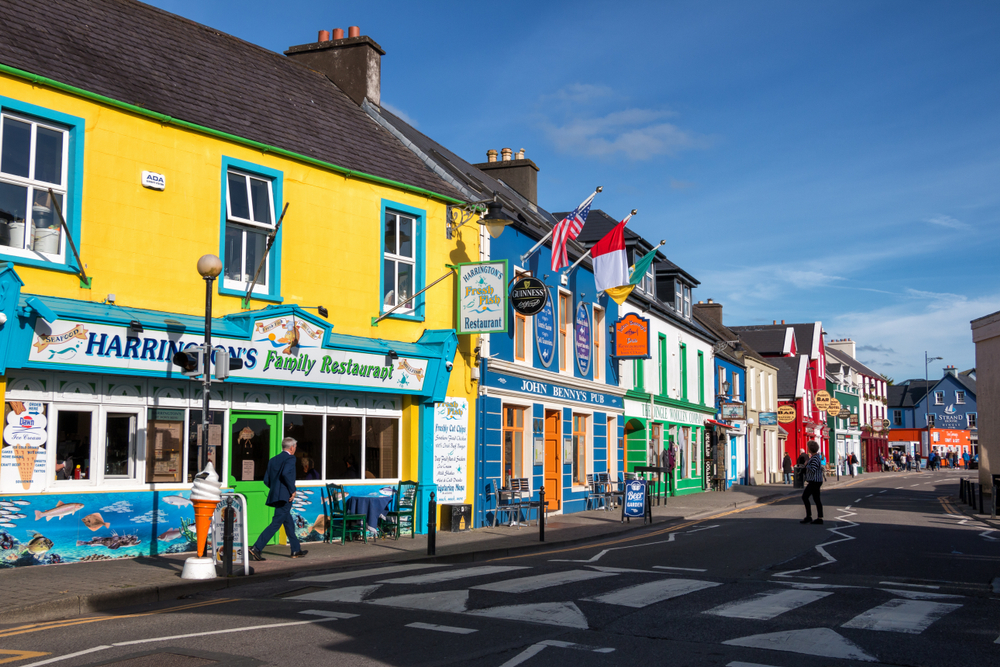 Explore The Amazing Sights of The Dingle Penninsula 
Westport Is Crawling With Pirates Who Want To Give You An Unforgettable Experience
Did you know that most of the small towns in Ireland weren't planned? Well, Westport is one of the Irish towns that was planned in 1780 by architect James Wyatt. This small town in Ireland served as Google's first fully 3D town and when it is time to go, all you have to do is head to Google Maps and relive this amazing experience! There are so many amazing activities to do in this small in Ireland like, cycling along the Great Western Greenway or going to the Westport Arts Festival in late July. Don't forget to take photos, this small town in Ireland is absolutely gorgeous, you cannot beat the views! Check out our guide to visiting County Mayo in Ireland where Westport is located!
This small Irish town also is home to Westport House, built in 1650 by a descendant of the pirate Grace O'Malley! In fact, the property has a theme park called Pirate Adventure Park. The grounds also include Grace's castles and dungeons you can still go into and tour! This small town in Ireland is home to so much history and you would be remiss not traveling to! Check out Ring's Bistro on Market Lane to eat some of the best Irish cuisines in this small Irish town.
Westport is a small Irish town that has to be explored. You will find the best spots to stop and take pictures at or even just revel in the beauty all around you! Even the most insignificant places hold gorgeous views that just leave you speechless. Finding pretty places to wonder is not hard in this small town in Ireland, go exploring!
Book Your Tour of The Westport House!
Where To Stay In Westport
Located in the center of Westport, The Wyatt Hotel is a charming yellow hotel with beautiful architecture. The rooms are stylish, and the price is very reasonable. It is the perfect base for exploring the surrounding town as it has a very convenient location.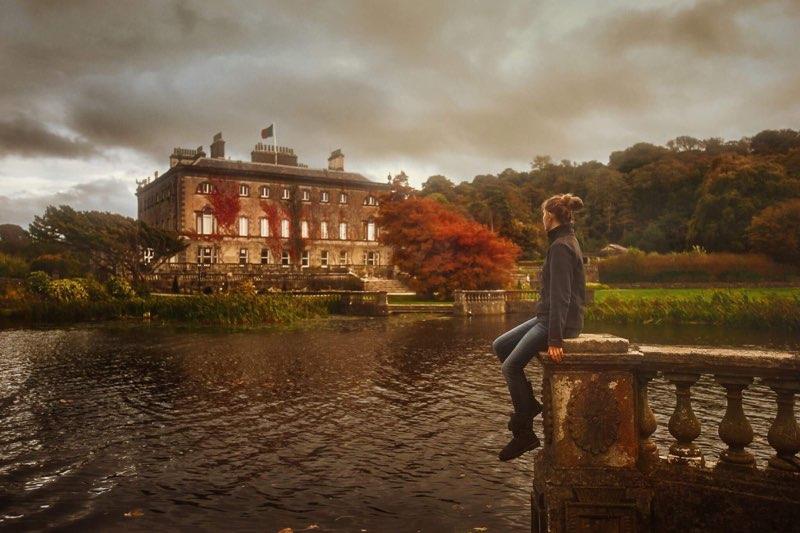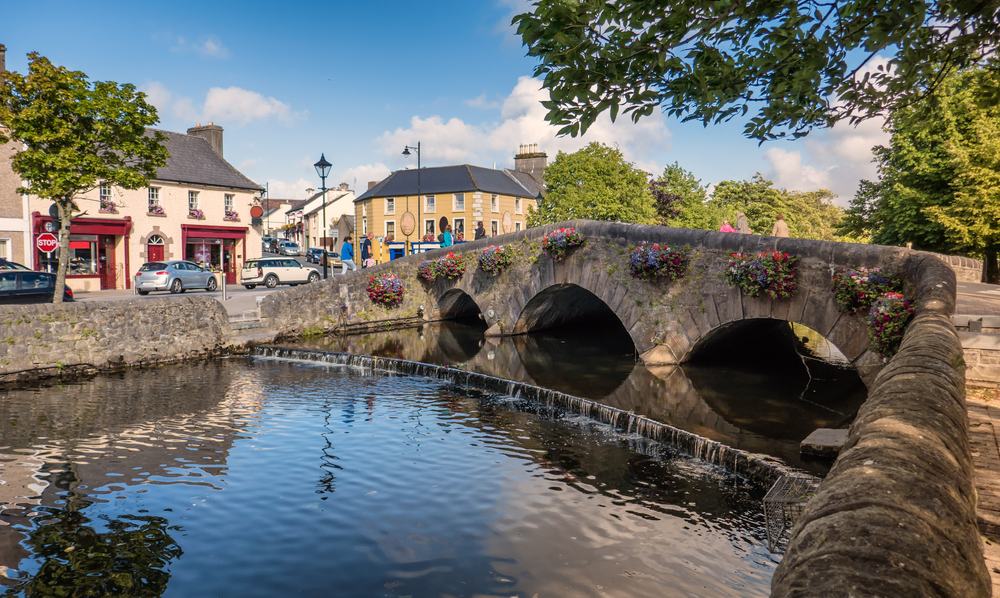 Howth Is One Of The Easiest Towns In Ireland To Access And A Must-See
Getting to Howth is extremely easy! Taking the fast train from Dublin's city center is the guaranteed way to travel to Howth from a large city. Very low cost for the train and you see some beautiful views along your way as well! Howth was the first small town in Ireland we visited on our very first visit! You can check out the Photo Essay Of Howth we did from our first trip!
Located about 30 minutes right outside of Dublin is this amazing old small town in Ireland. If you like being outside and walking to your destinations, this small Irish town has it all! When you visit, take care to go hiking on the Howth Cliff Walk Loop, it is an easy trail that follows the cliffs and has gorgeous views. Make sure to stop along the way and photograph what you see! The cliff tops are so pretty and you get to brag to your friends!
Ireland's Eye is a big place to go when you're in Howth! Its breath-taking views are absolutely a must-see and you get to walk along sandy beaches! Going to Ireland's Eye is only about a 15-minute boat ride and there is so much to do once you arrive. If you like fishing or want to try your hand at it, they have tours you can take! Or if you are an avid bird watcher, they have guides that can take you to view some local species.
Howth is home to a castle that is over 800 years old and is still inhabited by the descendants of the original homeowner, how cool is that! Although it is occupied, the family who lives there allows for visitors on the weekends so it is perfect for a Sunday activity. Attached to the grounds is a golf course and a cafe that you can visit and drink some tea or coffee! The cafe is open May through September, so it is perfect for a summer trip! This small town in Ireland is historic with a modern twist, be sure to visit!
Book Your Guided Tour of Howth!
Where To Stay In Howth
Tara Hall is a very luxurious and stylish place to stay during your time in Howth (it is also one of our suggestions for where to stay in Dublin). The rooms are very elegant and elaborate. As if the beauty of the rooms was not enough to draw you to Tara Hall, there are also breathtaking views.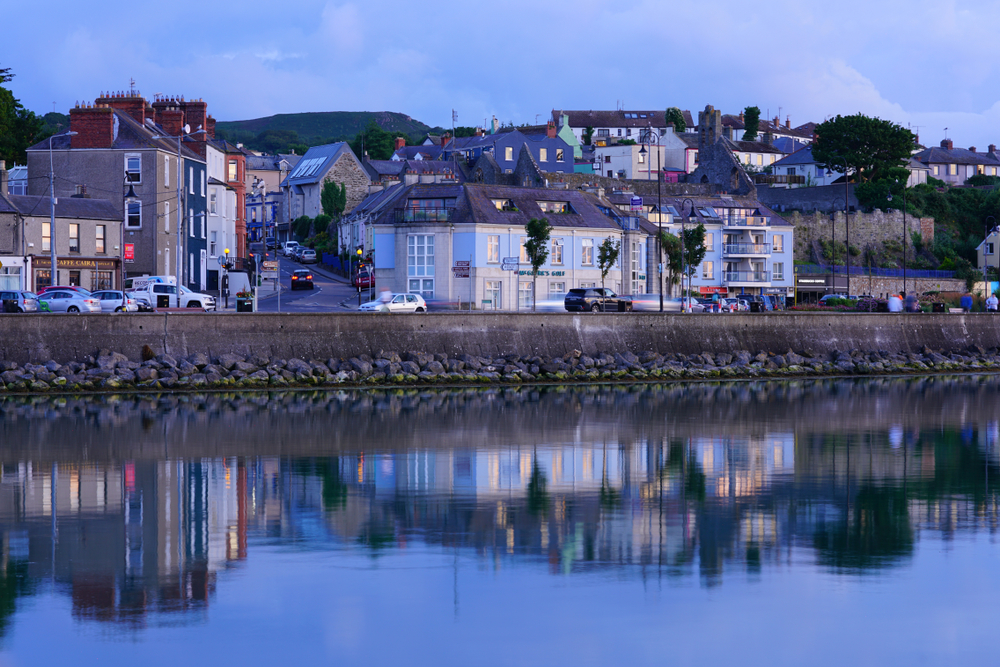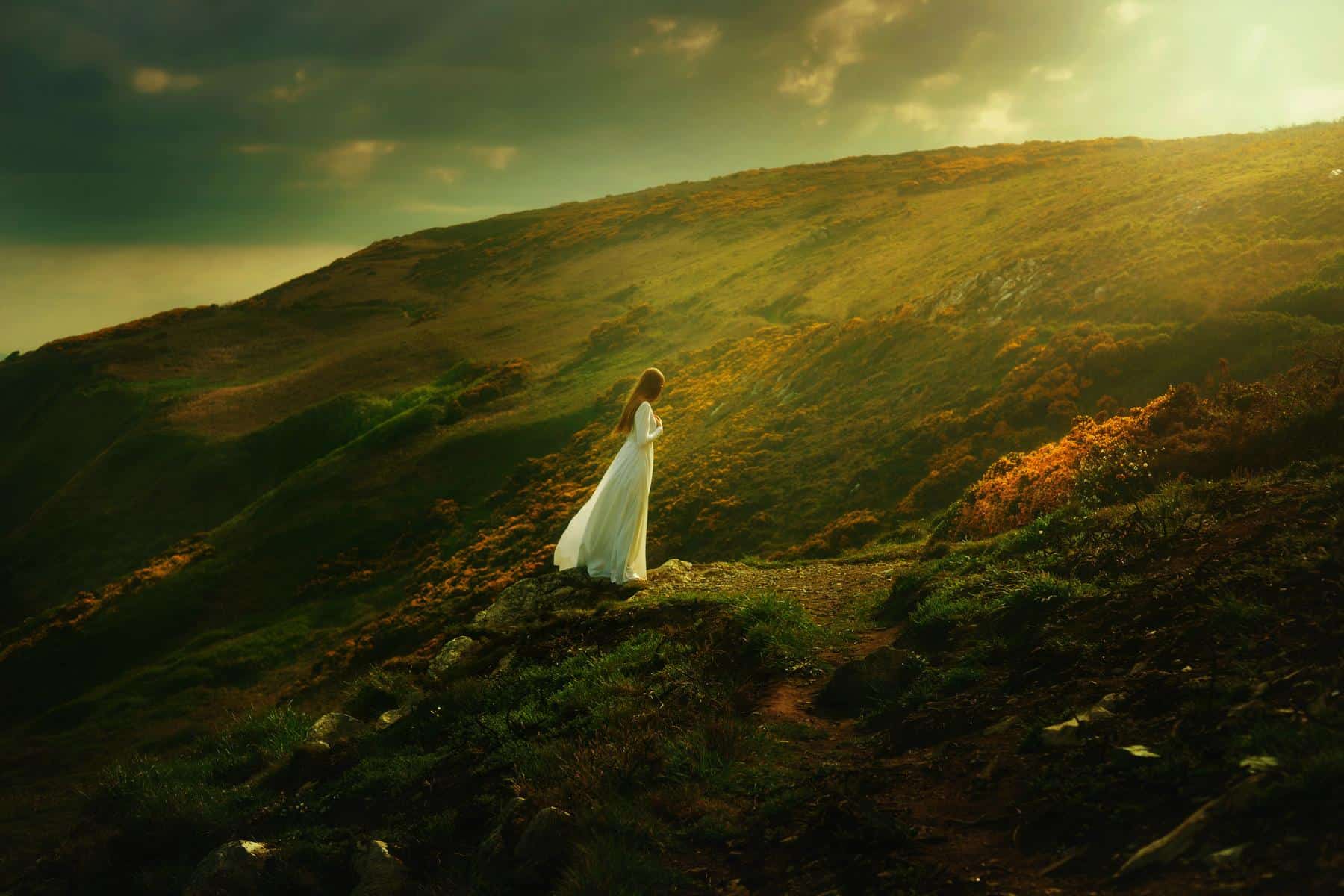 Cobh Is A Beacon Of History And One You Should Definitely Check Out
This small town in Ireland is a definite travel destination because there is a unique history to the town. Cobh was the last port of call for the ill-fated Titanic ocean liner. There is a museum in the site of the original White Star Line Ticket Office, Titanic Experience. You can follow the lives of the final 123 passengers who boarded the cruise liner and join the immersive audio tour.  If you are a history buff and have seen the movie Titanic, I highly recommend you check this out before leaving Cobh.
St. Coleman's Cathedral in this small Irish town on top of a hillside terrace is one of Cobh's most prominent features! A four-octave range 47-bell carillon, the largest in Ireland, is located inside the church and you can hear them in the summer! Inside the cathedral are immaculate stained glass windows and amazing architecture, you will want to take plenty of photographs.
When you're in this small Irish town, seeing all of the wonderful scenery and visiting the historic landmarks, don't forget Spike Island! In the 1850s the world's largest prison to the 1980's riot exhibition and prisoner cells. This former Prison is welcome to anyone who wants to see over 1300 years of history. Located about 2 miles away from the small town Ireland, you will not want to miss this experience.
Book Your Guided Cultural Tour of Cobh!
Where To Stay In Cobh
When staying in Cobh, you want to be surrounded by history, and the Commodore Hotel is definitely historic. It is one of the oldest purpose-built hotels in Ireland. If the history of this hotel isn't enough for you to book a night, how about the stunning view of Cobh harbor? Some of the rooms overlook the harbor, as does the hotel's restaurant that offers Irish and Mediterranean cuisine.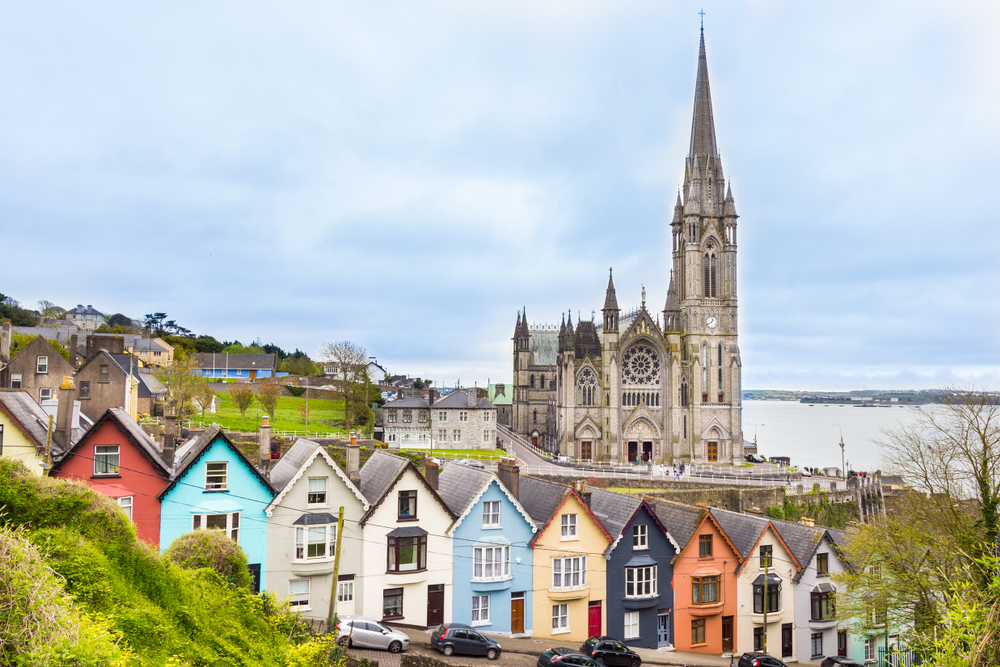 Sneem May Be Small But It Is One Of The Cutest Towns In Ireland
One of the smallest towns in Ireland on this list with a local population of only 557, Sneem has beautiful views and places to visit. Blueberry Hill Farms is a go-to for visiting Sneem, there you can be up close and personal with the farm animals and feed them yourself! You can take tours of the farm and be informed of the farm activities and why the owners do what they do. At the end of the tour, you can even make your own candles, and believe me, they are amazing! A little something to take back with you as well as the exquisite views of the farm and the surrounding area in this small Irish town.
Going back to the magic of small towns in Ireland, here is an absolute must-see recommended place to visit. The Way the Faeries Went is the most gorgeous place to take pictures and you really feel like you are in a spiritual place. A short walk by the waterside, you will not want to miss little faerie houses and sculptures. Enchanting and rustic, this little off-the-beaten-path walk is sure to bring you pretty pictures and good memories.
Sneem is an amazing place full of ethereal, scenic areas and makes for a great stop if you are driving the Ring Of Kerry. Traveling to this small town in Ireland would be the talk of the trip due to its local pubs and cool unknown walking paths. There is so much more to look at and visit here, all you have to do is go looking!
Where To Stay In Sneem
If you are looking to get out of town, why not stay at the retreat which is Parknasilla Resort and Spa? It is located 3 miles away from the center of Sneem, so it is still close enough to explore while returning to the 500-acres of parkland that it is set in. This hotel offers panoramic views of Kenmare Bay and the Kerry Mountains, a golf course, a swimming pool, and hot tubs, as well as multiple outdoor facilities.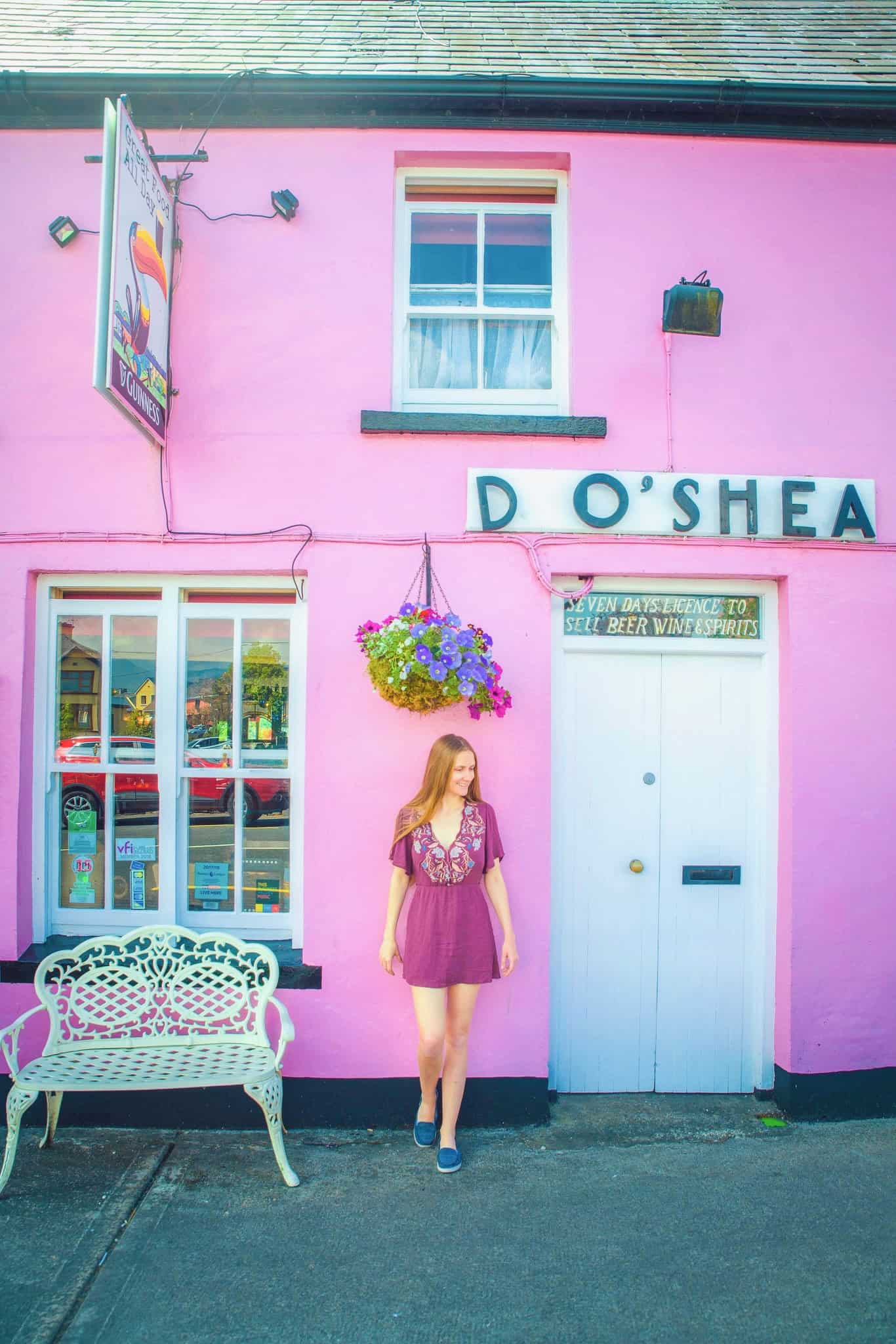 Adare Is One Of The Best Places For Photos From Small Villages In Ireland
We stumbled upon this small village in Ireland by accident but you should visit on purpose! The cottages are so historic and lovely! Known as one of Ireland's prettiest towns, Adare has so much to offer! Extremely picturesque, this small Irish village is designated a Heritage Town by the Irish Government, make sure to go see exactly how beautiful it is! The Holy Trinity Abbey Church is one of the best places to take photos and travel to because of its gorgeous stained glass. You'll want to stay and have a good look around because of the stonework done on the church, you will be absolutely floored by this small Irish village!
Adare also hosts a string of cottages built in the 19th century by landlord Earl of Dunraven. The small village in Ireland used to house workers building Adare Manor but now they house craft stores and fine dining restaurants. Not only will you eat amazing food, but you get to eat inside a small and old, but beautiful cottage.
Adare Castle is another must-see in this small village in Ireland! Built in the 1200sK, this castle is a monument to how strongly it was built. Cromwell Troops ruined the castle in 1657 but much of the Great Hall, bakery, and kitchens remain. Do not skip this amazing experience to see pretty cottages and beautiful architecture!
Where To Stay In Adare
Adare is an enchanting Irish town, so expect the accommodations to be enchanting as well! Fitzgeralds Woodlands House Hotel is set on the edge of Adare and offers some lovely rooms. The décor here is beautiful but very unique, and unlike anything else, you will have seen while exploring towns in Ireland.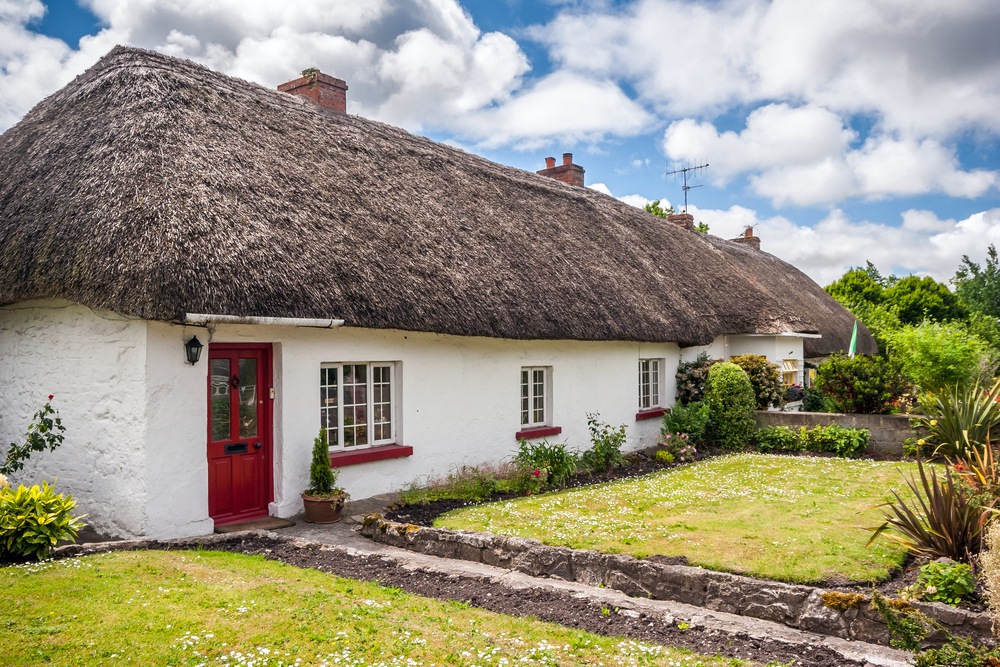 Cashel Presents A Massive Medieval Complex That Will Blow Your Mind
This small town in Ireland is a top destination for so many people for good reasons! Cashel was on our list to visit for years and we finally made it in 2018 and it did not disappoint. Not only does this small Irish village include historical museums but a giant and exalted medieval complex overlooking the small Irish town. Called the Rock of Cashel, it is a hulking partially in ruins fortress that also has a 13th-century cathedral and Hall of Vicars. This is something you do not want to miss out on because it is historic and you can take some of the most majestic pictures on your entire trip!
Many small towns in Ireland have a local historical center or small museum but Cashel has museums about the Great Famine and eve the 1916 Easter Rising. Do you like concerts and dancing? The Brú Ború Cultural Center has performances ranging from traditional Irish music to restaurants and bars. During the summer months, the center has live traditional Irish music and dancing, they even have a historical exhibition called 'Sounds of History', where you can tour the center with an audio guide.
Cashel is one of those small towns in Ireland that if you miss it, you aren't really getting the whole picture. It might be hard to visit so many small Irish towns, but if you play your cards right, you'll be able to visit some truly beautiful areas, like Cashel!
Explore Rock of Cashel on This Amazing Castle Tour! 
Where To Stay In Cashel
Even though Cashel is an absolutely stunning Irish town, it does not have a lot of accommodation. If you are looking for someplace cheap to stay for the night, then the Cashel Holiday Hostel is a convenient and affordable option. If you want something more, then the Horse and Jockey Hotel is only 15 minutes away and is a very beautiful option.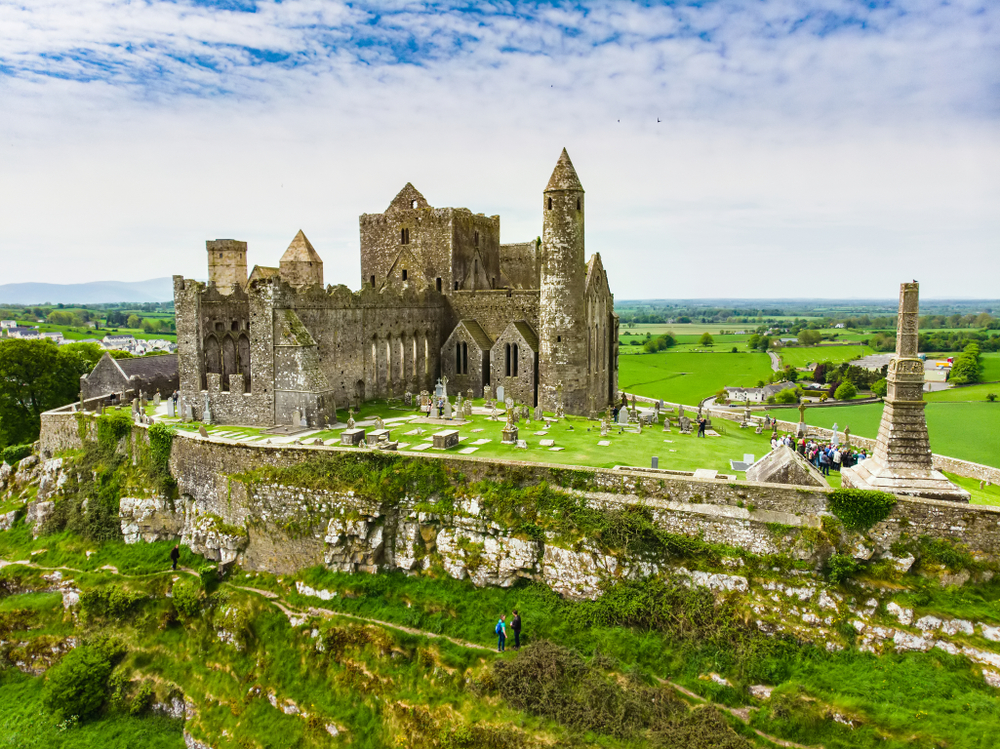 Kinsale Is One Of The Towns In Ireland With Lots Of Historical Significance
Kinsale is one of the best towns in Ireland because you get more when traveling to there! This small Irish town has two 17th century fortresses that oversee the River Brandon. How amazing is that? Two large old fortresses protecting you from whatever may come! Kinsale also has a remembrance garden for the firefighters who tragically lost their lives in the 9/11 terrorist attacks in New York. It is amazing to see how far their bravery was felt from so away. This garden overlooks the River Brandon as well as Kinsale Harbor, so not only do you have a beautiful garden to take pictures at, but a view of the water.
While we are on the topic of water, have you heard of the Lusitania? It was a passenger ship that was torpedoed in 1915, many people lost their lives, but Kinsale has a museum dedicated to teaching those about the sinking! If you like Titanic, this is surely something to go visit! Also located under the museum is the Old Head Signal Tower that was built during the Napoleonic Wars during the threat of a French invasion. So much history in one building! You can see amazing old photographs and an awe-inspiring panoramic view atop the tower.
This is one of the towns in Ireland you do not want to miss out on. There is so much history and stories to be told within the towns in Ireland limits.
Where To Stay In Kinsale
Located in the town center, The Blue Haven Hotel is a stylish boutique hotel. This hotel offers full Irish breakfasts and its own restaurant that specializes in seafood. It is also only a 20-minute drive away from nearby Garrestown Beach if the weather is nice.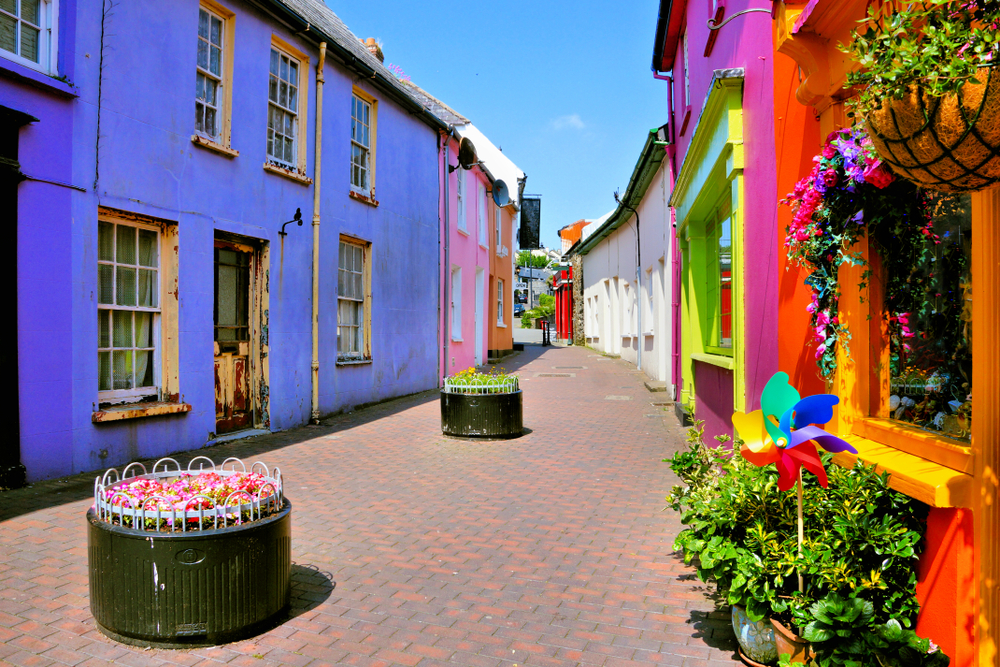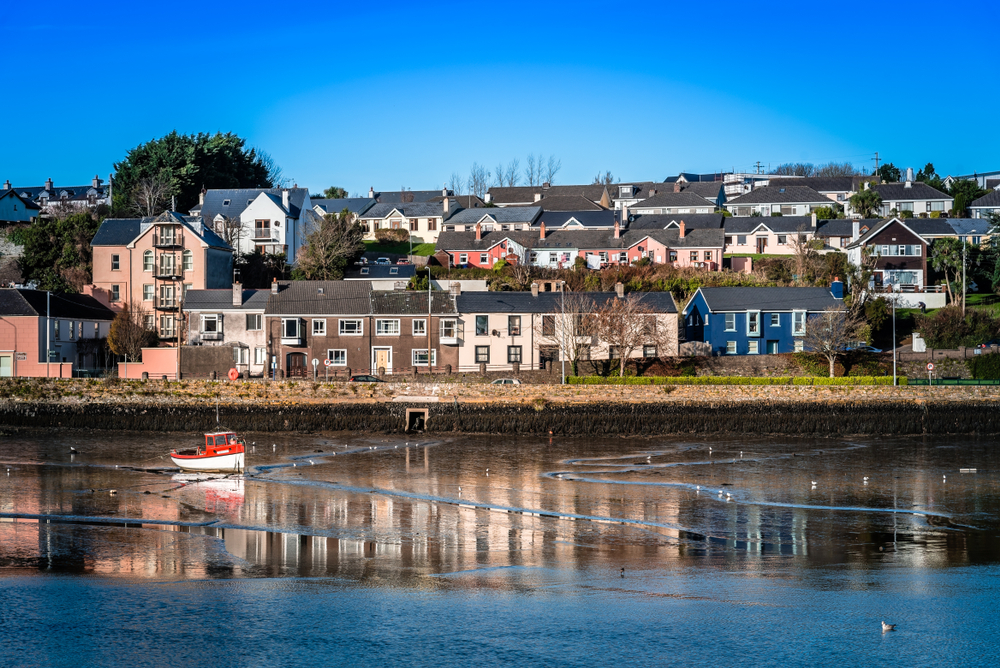 Kilkenny Is A Gorgeous Town In Ireland That You Need To Go To For The Art Festivals
Kilkenny is one of the most medieval towns in Ireland! When you visit, be prepared to load yourself with very old history and your camera with the best pictures you will take. Kilkenny has very well-preserved buildings and has deep religious roots. There is an amazing array of castles, abbeys, cathedrals and so much more! It is recommended you go ahead and check out this huge castle called Kilkenny Castle, built in 1195 by Norman Occupiers and still stands to this day. Its stateliness gives you an ominous but exhilarating feel, discovering the inside with tours is the best way to view this castle. There are also astounding views on the castle grounds, so when you go, take pictures!
If you are into nature, Kilkenny has one of the best gardens to walk around from the towns in Ireland. Called the Woodstock House and Garden, this stunning area has everything to offer! Giant trees that seem to go on forever, gorgeous views of the small Irish town and crumbling architecture to take beautiful photos at. Do not miss out on visiting these gardens, you will regret not going!
Kilkenny has something for everyone, trust us when we say you will want to spend more than two days here because there is so much to see! This small Irish village also hosts many art shows, festivals, and celebrations. Many of them are hosted during the summer so check out what festival is happening before you go! Whether it be touring castles or exploring on your own, Kilkenny has the most incredible scenery and views from other small towns in Ireland!
Explore Kinsale & Kilkenny on This Three Day Tour!!
Where To Stay In Kilkenny
Within walking distance from Kilkenny, Langton House Hotel is a great place to stay in Kilkenny. It is super convenient, being located in the center of medieval Kilkenny. It also offers an award-winning bar and is in an area that is known for its shopping!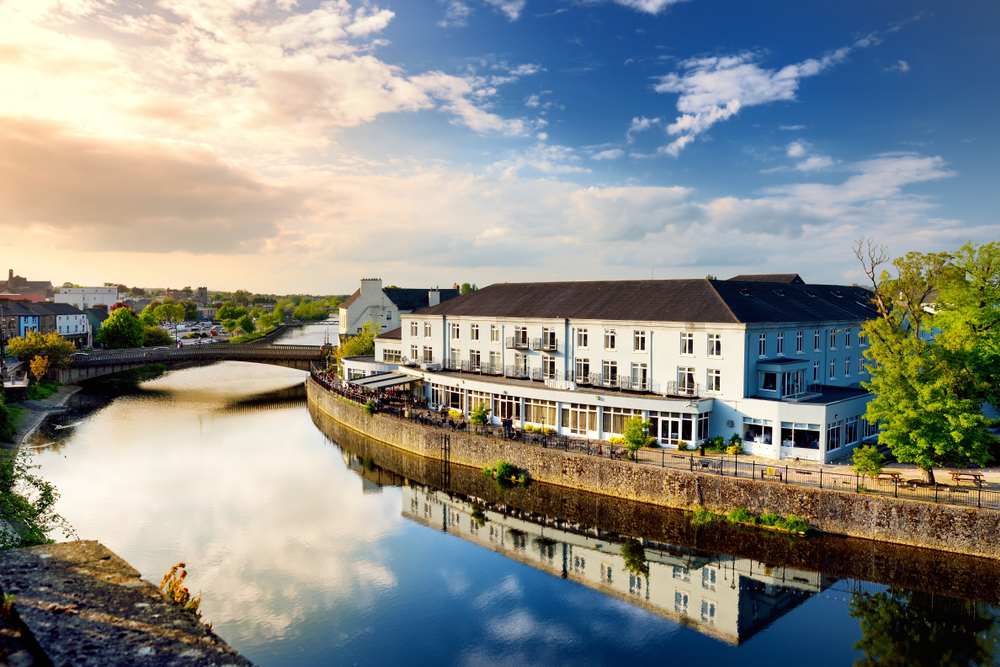 Clonakilty Has Ireland's Only Model Village And Worth Taking A Look At
Do you love the beach? Well, Clonakilty has one of the best beaches from towns in Ireland! Beautiful landscapes that give you a rush of the ocean and ever-changing seasons. On a hot day, Inchydoney Beach is the best place to go, the water is cold and the sun is warm. On a cold or wet day, the landscape is magnificent. If you haven't seen or been to Clonakilty's beaches yet, hop to it! They are absolutely amazing and you will be so upset if you miss going!
If you do not know who Michael Collins is before visiting Clonakilty, be ready to learn then! Home to the Michael Collins Center you will be immersed in the life and times of Michael Collins, an Irish revolutionary, and leader in the Irish's struggle for independence. Definitely check out this amazing little place that gives you so much history and fantastic information on who this man was. This small town in Ireland also boasts a model train village for all ages. This spectacular place called West Cork Model Railway Village is Ireland's only Model Village and an amazing sight to see. Take wonderful pictures of this little village and see what Clonakilty looked liked back in the 1940s!
From all the towns in Ireland, Clonakilty has really exciting destinations and you should check them out! If not for the Model Railway, then definitely the museum of Michael Collins. Never lose a chance to educate yourself and visit Clonakilty!
Where To Stay In Clonakilty
There are some nice hotels in Clonakilty, but one of the prettiest is Clonakilty Park Hotel. This luxury hotel in the center of Clonakilty offers beautiful accommodations and some awesome amenities like an indoor pool, an outdoor pool, a sauna, a steam room, and a three-screen cinema. It is also only a 10-minute drive from a beautiful coastline.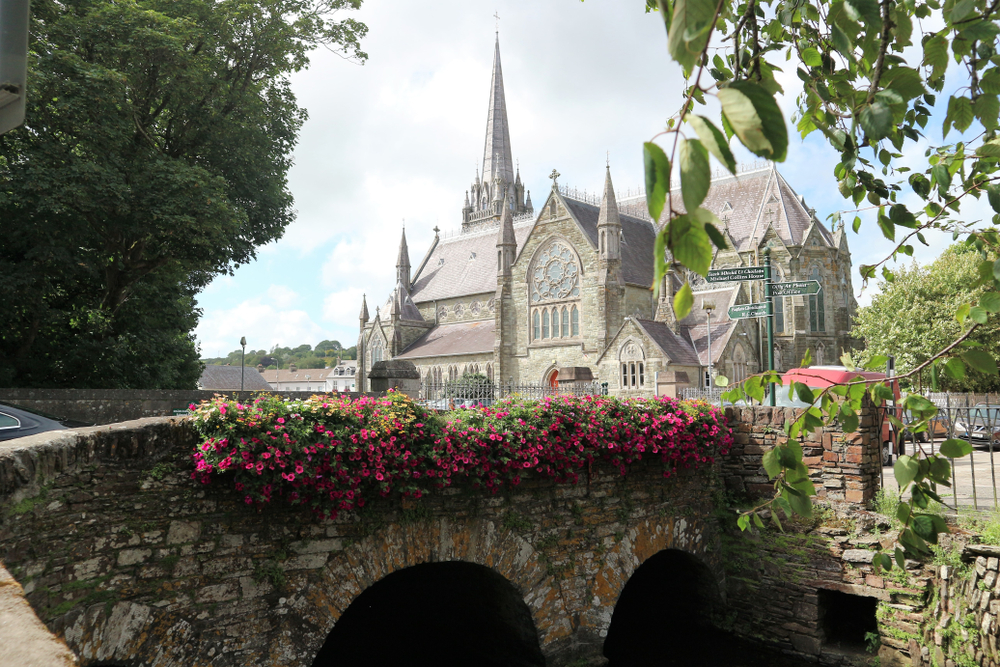 Malahide Is One Of The Towns In Ireland With Charming Historic Buildings
Malahide is one of the most picturesque towns in Ireland. Boasting historic character and a lovely beach, there are so many things to do in Malahide! Malahide's most popular attraction is Malahide Castle, which is one of Ireland's oldest castles. You can take a tour to see the inside of the castle and learn about the ghostly figures that haunt the caste! Then there are the botanical gardens outside the castle that are truly spectacular. Malahide also offers gorgeous views of Dublin Bay, and a beautiful beach to stroll down. There are also some amazing restaurants in Malahide that you can enjoy when you're not out exploring.
Where To Stay In Malahide
While there are many places to stay in Malahide, one of the most luxurious hotels is the Grand Hotel. It is very convenient, located within Malahide and only a 10-minute drive from Dublin Airport. This hotel offers a 50-foot swimming pool, a kid's pool, a steam room, a sauna, and a gym. This is also a great place to stay if you want to visit Dublin, but don't want to stay in the city, as it is only a 25-minute drive away.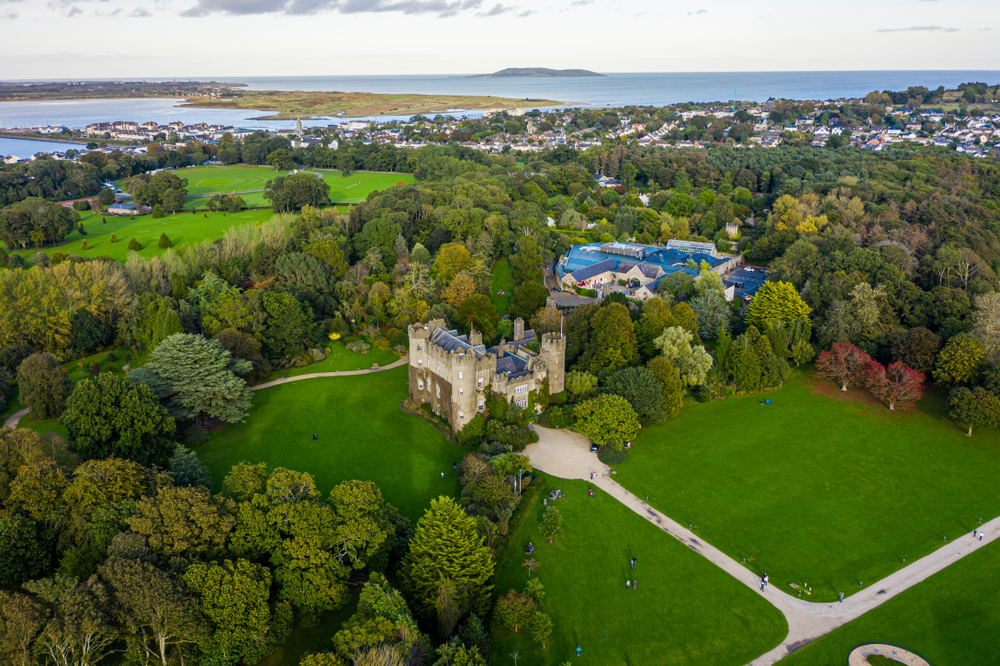 Athlone Is Set Along The Shannon River
Found in the center of Ireland, Athlone is an ancient crossing point on the Shannon River. Shannon River is the longest river in Ireland, and during the summer you can find many yachts and cruise boats floating down the river. Athlone was considered to be the capital of a united federal Ireland due to its central location. Offering a gorgeous castle and some extraordinary architecture, Athlone should definitely be on your list of towns in Ireland to visit.
When looking for some towns in Ireland with the best castles, Athlone should definitely be on your list. Athlone was built during the Norman Invasion of Ireland at the start of the 13th century to protect the crossing point on Shannon River. Athlone is also home to a beautiful church that was finished in the 1930s. The Church of Saints Peter and Paul has some beautiful architecture, and the ground floor is built from white limestone. If you want to get outside while exploring these Irish towns, then head to Lough Ree, which is the second-longest lake on Shannon River. Athlone also holds the oldest pub in Ireland, Sean's Bar, which has been serving customers since the beginning of the 10th century.
Where To Stay In Athlone
Finding affordable accommodation in Athlone is rather easy, and there are many different options. Prince of Wales Hotel is a beautiful hotel located in the Center of Athlone. It offers free parking and Irish breakfasts, as well as multiple dining options and views of Shannon River.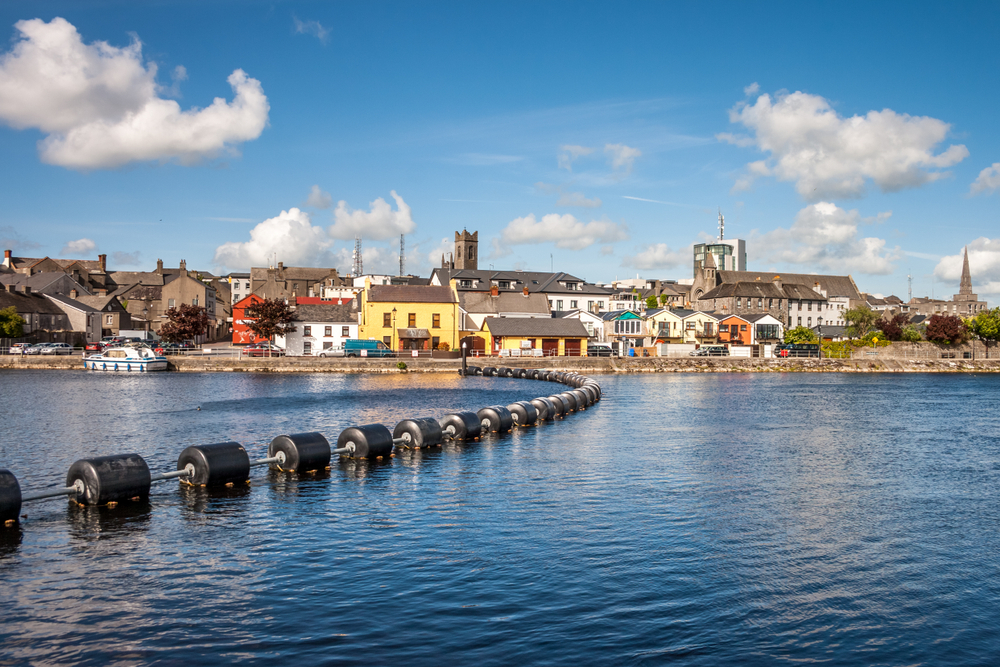 Killarney Is Close To The First National Park In Ireland
Found in the rural south of Ireland, Killarney boasts colorful 19th-century buildings, a beautiful national park, and some of the best shopping of towns in Ireland. Killarney is a pretty popular Irish town, and for good reason. Lots of tourists use Killarney as a base for driving the Ring of Kerry, which is a beautiful scenic drive around the Iveragh Peninsula that takes about ½ a day. If you want to skip the crowds, then do the drive clockwise. The nickname Kingdom has also been given to Killarney, though no one is quite sure why. One theory is that it is named after the Kingdom of Ciar, who founded the O'Connor Kerry clan, or maybe because it kept its Irish independence against the English the longest? Everyone has a different idea.
Killarney National Park was the first national park in Ireland, and it is amazing! It has over 25,000 acres, and you can drive throughout parts of the park or go for a hike. Another one of Killarney's popular attractions is Muckross House, a beautiful Tudor style mansion that was built in 1843. You can take a guided tour to see some of the 65 rooms. Killarney also has three different lakes that all sit in a low valley surrounded by mountains. Around the lakes, you can also find several luxury hotels.
Where To Stay In Killarney
A fun fact about Killarney is that has more hotel beds than of people, so the struggle here will be narrowing down the where to stay! Killarney Court Hotel is only a 10-minute walk from Killarney town center and offers stylish rooms at an affordable price. There is a traditional Irish pub in the hotel and a spa!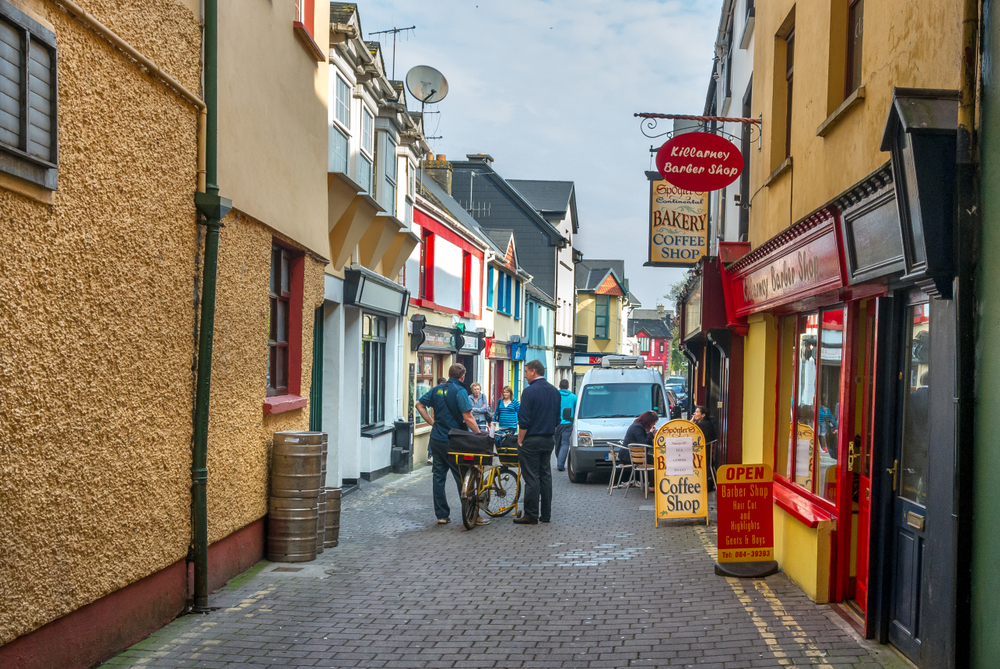 Dún Laoghaire Is One Of The Prettiest Towns In Ireland
Located along the sea, Dún Laoghaire is centered around one of Ireland's largest harbors. It was originally a fort from which an Irish king in the 5th century would launch his European raids. Now the town is much more peaceful, and it one of the prettiest towns in Ireland. East Pier at Dún Laoghaire Harbor is over a kilometer long (just over half a mile) and is the perfect place for a walk at sunset. When standing on the pier you might also be able to see the Howth Head peninsula (another of these towns in Ireland), as well as plenty of other beautiful sights.
If you want to do something more than walk by the water, then consider going paddle boarding, kite surfing, or wakeboarding! There is also the 250-year-old 40 Foot promontory, which as well as being a fun place to swim, has a very interesting history. It was once restricted to only men, but in the 1970s it became part of the women's liberation movement when female activists protested by jumping in.
Where To Stay In Dún Laoghaire
Overlooking Dublin Bay, Haddington House offers beautiful rooms with stunning views. The décor is very trendy and stylish, and this hotel is sure to make your stay is one that you will hopefully never forget!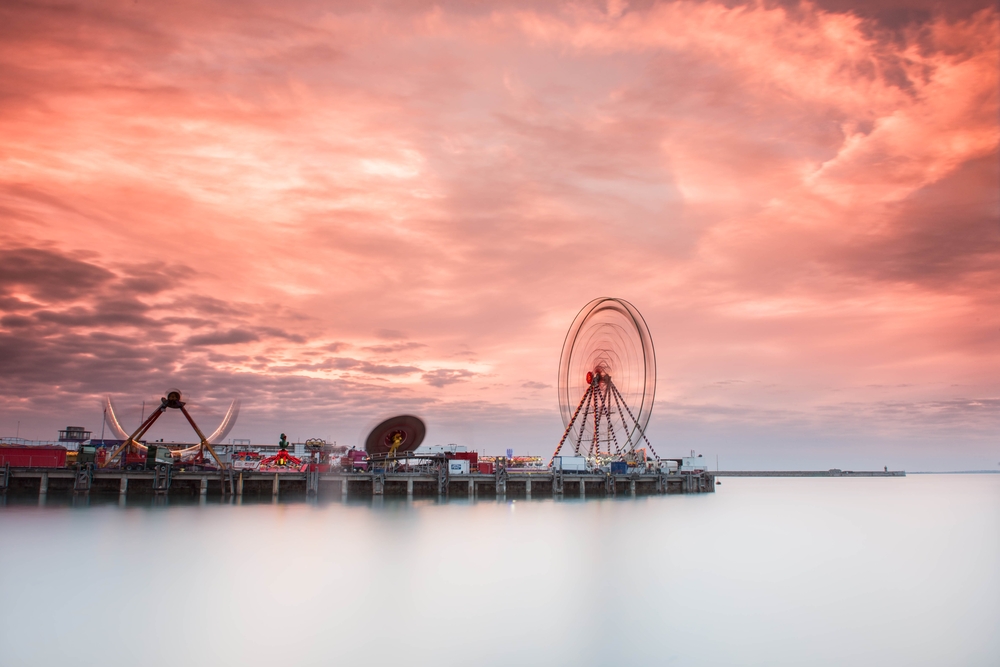 Clifden Is An Outdoor Paradise
If you are looking for towns in Ireland where you can explore the outdoors, then consider traveling to Clifden. This Irish town is surrounded by beaches, trails to hike, and some beautiful architecture. Within the city, there is Clifden Rail Station, which holds a theater that has many events that you can look into. The is also the Marconi Station, which is where the first trans-Atlantic telegraph between North America and Europe was received in 1907. If you find yourself in Clifden on a Friday, then head to Market Day where farmers and craftsmen sell their goods in the town square.
One of the draws of Clifden is its proximity to Connemara National Park, with the two only being 9 miles away from each other. Connemara National park has one of the three fjords in Ireland, Killary Harbor, as well as eleven square miles of land filled with wetlands and bogs, as well as bridges to cross them, and Kylemore Abbey with its stunning architecture and walled gardens. Another attraction that draws tourists to Clifden is Sky Road, which is a 10-mile section of a 1500-mile coastal highway. It offers tons of photo opportunities and will take you by Clifden Castle.
Where To Stay In Clifden
What could be better than staying in a castle while exploring towns in Ireland? Well at Abbeyglen Castle Hotel, you can! Located along sky road, just a short distance from Clifden, this castle offers some of the coolest accommodations. There are also some pretty spectacular views of Clifden and the Twelve Bens mountains.
Letterkenny Is Rated Ireland's Tidiest Town
Letterkenny certainly has one of Ireland's most unusual titles, being rated Ireland's "tidiest town" in 2015. Letterkenny has scenic drives through mountains, promontories, forts, and is very close to Glenveagh National Park with a 19th-century castle and beautiful gardens.
Letterkenny is around 10 miles from Ireland's second-largest national park, Glenveagh National Park. It is a huge park made up of forest and mountain slopes that was once part of the estate of Glenveagh Castle. This park has the largest herd of red deer in Ireland, and some golden eagles that were previously extinct in this part of the country. One of the trails here will take you to Glenveagh Castle, which was built in the 1870s. There you can take a guided tour of the castle and learn all about its history.
Letterkenny's cathedral, the Cathedral of St. Eunan and St. Columbia, was built during the 1890s and has some beautiful stained-glass windows. You can also take a drive to Lough Swilly which is a glacial ford with some interesting history and beautiful views. If you are interested in the history around Letterkenny and the surrounding areas, then consider visiting the Donegal County Museum or the Newmills Corn and Flax Mill.
Where To Stay In Letterkenny
Radisson Blu Hotel offers modern accommodations with a contemporary Irish style and a convenient location for exploring the surrounding area. The hotel also offers a lap pool, steam room, sauna, and fully equipped gym for relaxing.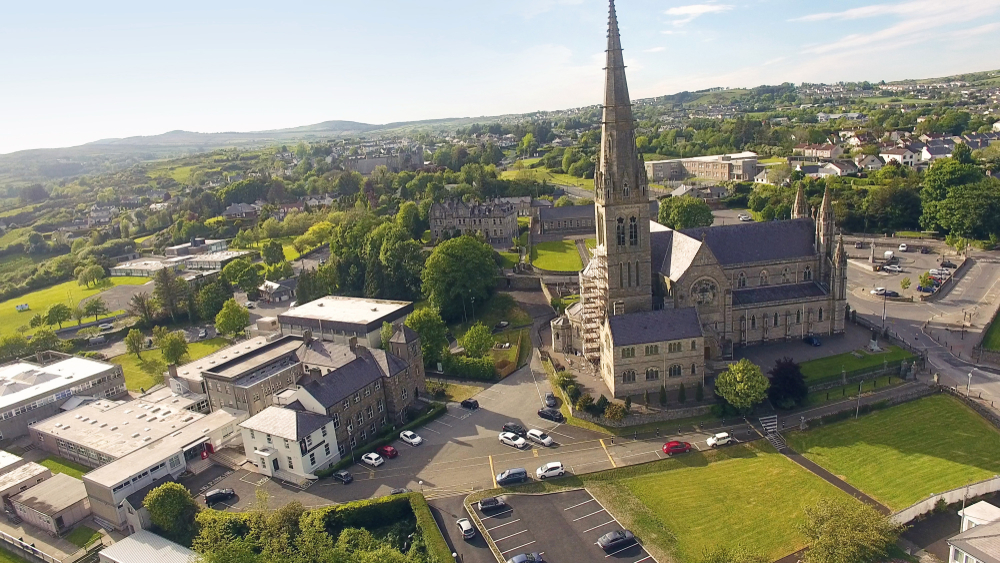 Packing Tips For Your Trip To Ireland:
Here are some of our favorite items that you should consider packing for your trip to Ireland! These are essential travel items that we use and love and you should make sure to consider for your travels.
A concealed travel pouch may be one of the most important items you bring with you! This unisex RFID blocking concealed travel pouch is lightweight and comes in several colors. It has lots of organization to give you peace of mind. You can keep your most valuable documents safe and secure next to your body.
If you have a pouch already you may not want to or need to invest in a new one. If it does not come with the RFID protection, these RFID sleeves would be handy to prevent identity theft. This configuration comes with enough passport and credit card sleeves that the entire family would be protected. They are slim too, so they will easily fit into your current pouch or wallet. These are the kind our family uses not only when traveling but at home as well.
If you have a camera on your packing list, you need to add additional memory cards on your list as well. Unless you are packing a computer for your trip, you will not be able to upload photos and clear your existing memory card. Purchasing additional memory cards cost under $20 and take up no space in your luggage. Having a backup can have the potential to save you a lot of heartaches if something goes awry! There is nothing worse than coming across that perfect moment and then finding out you don't have enough space to capture it on your camera!
Similarly, If you are planning to capture your trip on a smartphone, we beg you to bring some way to back up your memories. The best way to do this is with a portable smartphone flash drive. A flash drive is a small storage device that you can connect up to your smartphone and then safely and easily download the photos onto this device.
If you are planning on taking a lot of pictures with your phone you will definitely want to consider an external charging battery. This Anker high-speed phone charging battery is the exact one we carry with us on all of my trips. It can be used on a variety of phones, not just an iPhone like we have. And wow is it fast! We like that it holds its charging capabilities for several uses so we do not have to worry about it while out and about. And if we forget to recharge it at night, it will still be good to go the next day.
My mom was never a fan of packing cubes until she tried them out! Now she is sold. These Bagail packing cubes are the exact ones she uses whenever she travels and she travels a lot. She cannot believe how much more organized she is now! And she will never leave without them anymore.
We never leave home on a trip without our Bobble filtration bottle. The 18.5-ounce size is perfect for travel and it will fit nicely in the pocket of a backpack or your purse. Also when filled with water, it is not too heavy to carry. And the Bobble carbon filter ensures fresh clean water whenever and wherever you fill the Bobble. You can find filter replacements here. 
Perhaps you are traveling a long distance and packing space is a premium. Then this set of collapsible silicone foldable water bottles would work well for you. Would not take up much space in your suitcase at all. And you will be receiving a set of two.
You will want to bring a backpack or daypack with you to store snacks, your water bottle, phone, extra clothes, etc.. This foldable water-resistant backpack would be great. It is very affordable and is available in many color options for you to choose from. The fact that it folds down into a zippered pouch will make it easy to pack.
Perhaps you need a more substantial backpack for your international travel. This antitheft backpack has a charging port, is water-resistant and can comfortably carry up to a 15.6″ laptop. It comes in a range of colors to choose from and it is inexpensive as well.
We all need to protect our eyes from the sun's harmful UVA/UVB rays. These unisex polarized sunglasses come in a lot of lens colors and frame designs and are extremely affordable too.
If you are fond of the aviator-style of sunglasses these polarized aviators may interest you. We like polarized sunglasses because they remove the glare off the water and help you to see things more clearly.
Don't forget to bring along a universal power adapter if you are traveling abroad. This worldwide power plug is a great example and will charge your phone at the end of your busy days. And this world traveler adapter kit can charge several devices at the same time. This is what you will need when there are several people traveling in your group, or if you bring several electronic devices on your trip that require charging at the same time.
Map Of The Prettiest Towns In Ireland
If you were wondering where these cutest towns in Ireland are located, we took out the leg work and created this map just for you. This map of the towns in Ireland will show you exactly where each and every one of them is located. While you are planning your trip to Ireland, make sure to check out our map of Irish towns so you can see which towns are closer together and where your favorites are located around the island. That way, you can maybe even visit a few in a day or during the duration of your trip. Make sure to download this map "offline" on the Google Maps app so you can use it during your trip in Ireland!
Click Here To Access Google Maps Locations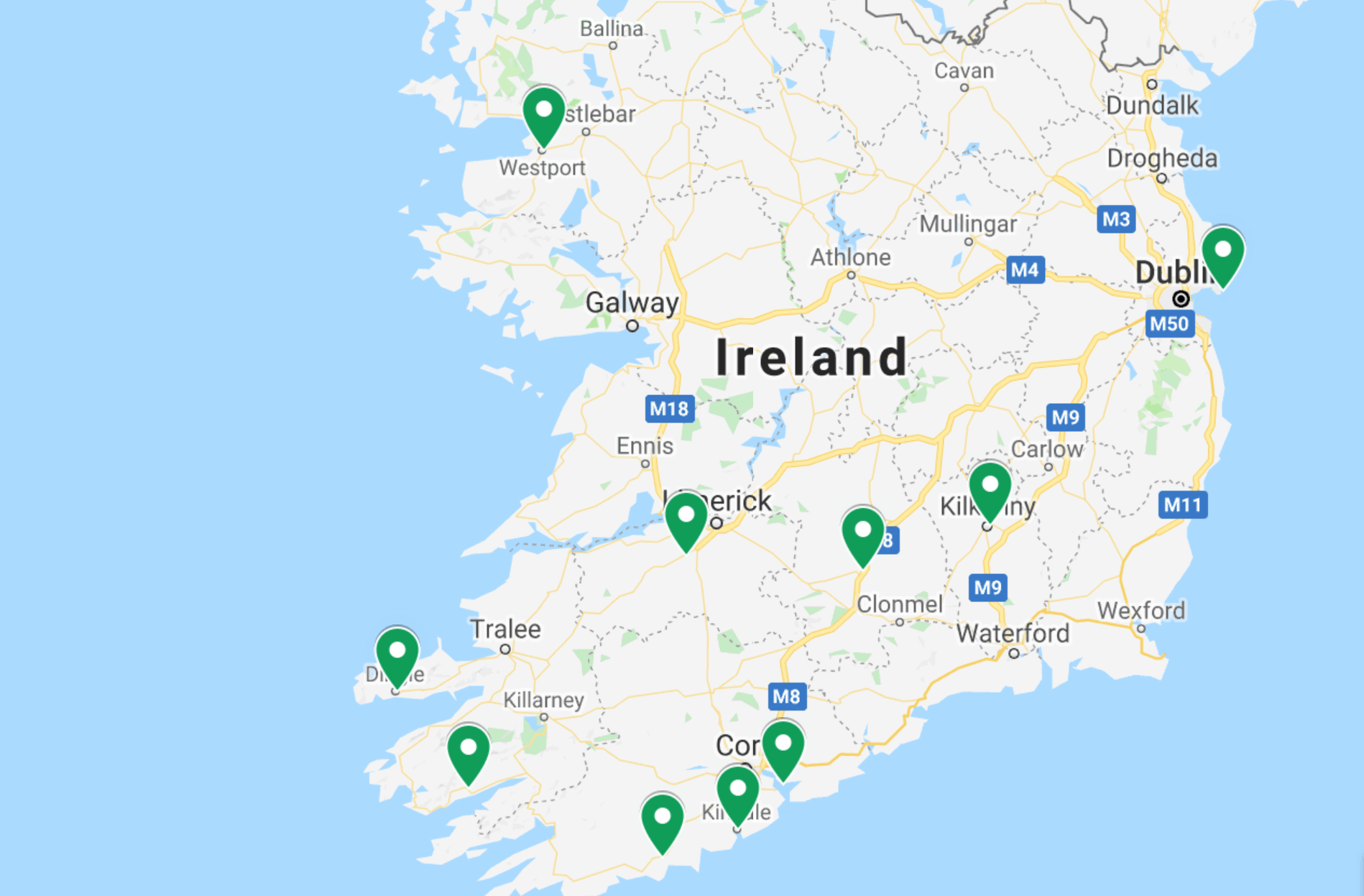 We hope you loved some of our favorite small towns in Ireland. Ireland is one of our favorite countries and we have been so many times we lost count. There is something to see, do, and discover no matter how many times you have visited Ireland. If you visit any of these towns in Ireland, let us know which ones were your favorite. If you visit a different but equally pretty down, we would love to hear about it too! 
Pin this post: