Are you looking for the best beach towns in Italy? Look no further!
Italy is more than just Venice, Florence, and Rome. While these historical cities should not be missed, it would be a shame to ignore the picturesque Italian coastal towns.
The beautiful coastal towns in Italy are known for their charming beaches and also have numerous other draws such as historic old towns.
Visitors are invited to head off the beaten path to explore the scenic wonders of these beautiful beach cities in Italy.
Whether you are visiting Italy in seven days or plan on a longer two weeks in Italy, you should make time for a beach trip. Postcard-worthy views and experiences await you!
Italy is surrounded by water. Thus there are countless Italian coastal cities to choose from. Let's take a look at some of the best!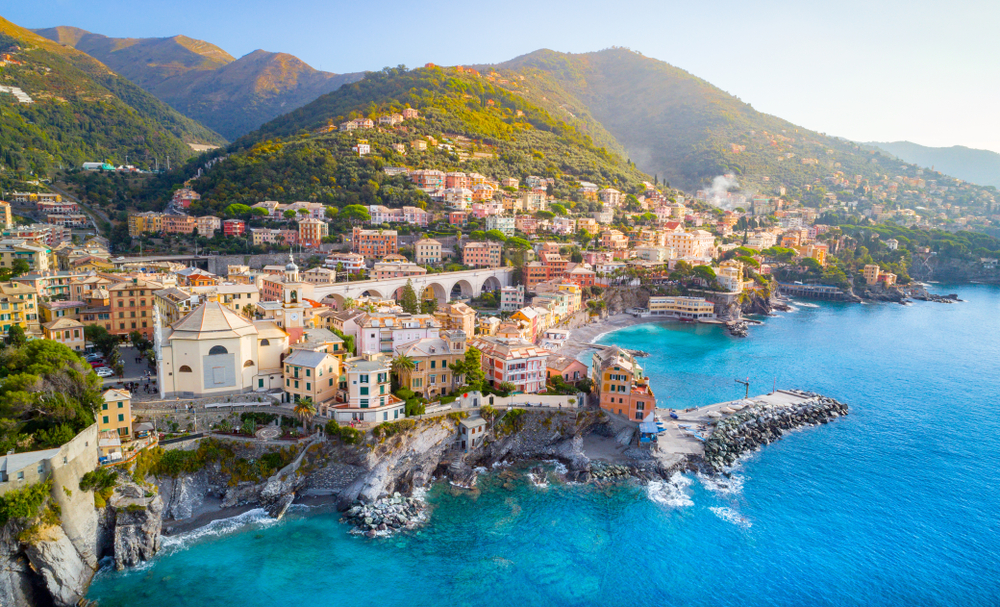 15 Best Coastal Beach Towns In Italy You Must Visit
Capri
Looking for the best beach towns in Italy? Capri should be at the top of your list.
Capri is an island where time is spent enjoying the outdoors. Around every turn is another amazing view, helping Capri shine as one of the best Italian islands.
Blue Grotto is a must when visiting Capri. The water glows a magical blue inside a cave as viewers enjoy a calming boat ride.
Looking for natural beauty? Visit Capri's Faraglioni or Arco Naturale. Both involve unique rock formations.
Another notable activity is the Monte Solaro Chairlift. The chairlift is a ride that takes you to the peak of the mountain.
During the ride, the views are magnificent, with the rider being able to see a full view of the island once reaching the top of Mount Solaro.
Bagni di Tiberio is a gem beach to visit while on the island of Capri. There is something for every type of beachgoer while visiting this spot.
Restaurants and tasty snacks are close for when hunger strikes. It is rumored to have been Augustus' favorite beach during the emperor's reign.
For a more private beach day, look into Piscina di Venere. This beach is a hidden gem and can be accessed by boat.
Keep in mind that September in Italy is basically the last month for warmer water in the country!
Where to Stay in Capri
Capri has multiple house rentals with through-the-roof ratings. These properties are gorgeous and often have a lower price point for the traveler on a budget.
For a resort feel, the Relais Maresca Luxury Small Hotel is a high-end hotel with unparalleled views. Relais Maresca is beachfront with convenience to local attractions.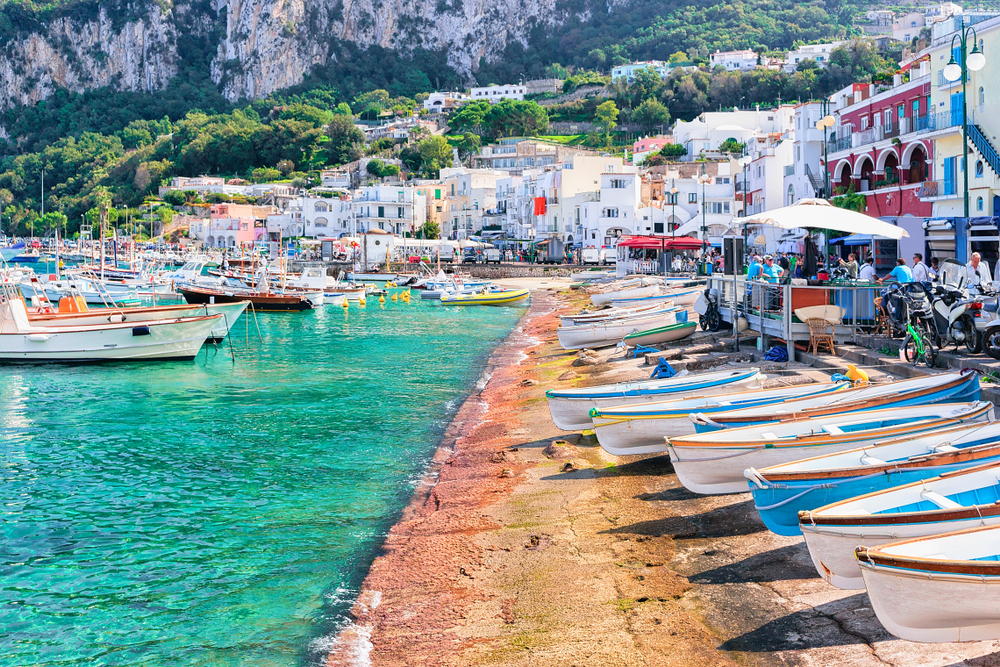 Vernazza
Vernazza is one of the five villages of Cinque Terre and where you'll find some of the finest Instagram photo opportunities.
It also has one of the prettiest beach towns in Italy.
Vernazza Beach is located right in front of the town square. Tourists often gather here because of the delightful scenery and location.
Being so close to the town square, visitors can easily access restaurants nearby with a quick walk.
The second beach is known for the unique way to access it. Visitors must pass through a tunnel to access the water.
Make sure to check out our list of the Best Beaches In Italy to find out more epic places to visit!
This beach is a magnificent sunbathing spot with plenty of rocks to relax on. However, if you are looking for a sandy beach, Vernazza Beach is your best option.
Tourists often stop in the Piazza Marconi while in Vernazza. This town square is ideally located with Vernazza Beach next to it and overlooking views of the harbor.
Hoping to enjoy some traditional Italian food? Stop by the Piazza Marconi's Pippo a Vernazza for a meal on the go.
Cinque Terre beaches top traveler's bucket lists, and Vernazza is one not to be missed!
Where to Stay in Vernazza
Location can not be beaten when staying at Cade Ventu.
The outdoor seating offers immaculate views no matter the time of day. Morning brings views of vibrant blues and evening highlights the glowing sunset skies.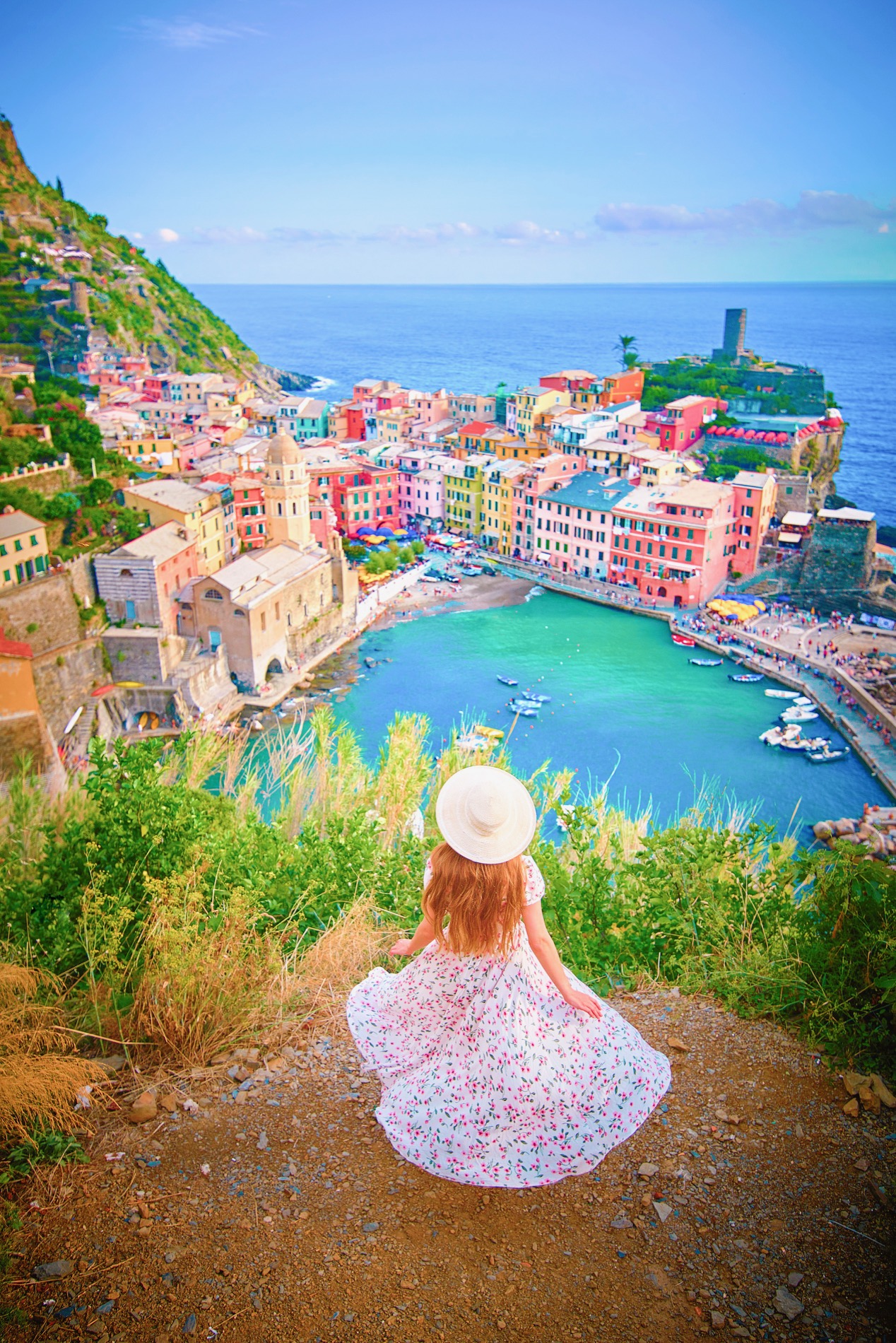 Polignano a Mare
Looking for a location filled with beaches? Polignano a Mare has plenty to choose from and is home to some of the best beaches in Puglia!
Two highlights include Cala Paura and Polignano a Mare Beach. These are some of the best places to visit in Puglia!
Polignano a Mare Beach is lined with beautiful cliffs that perfectly contrast the bright blue waters. If a daredevil is in the crowd, cliff diving is prevalent.
Along with the scenic beaches, there is a picture-perfect port that will have everyone reaching for their camera.
Porto Bianco highlights the unique city built on cliffs and overlooking the Adriatic Sea so make sure to visit it on your Puglia Itinerary!
Looking to enjoy the water from another angle? There are kayak tours around Polignano a Mare for an alternate view of the beach!
These tours are relaxed enough for all skill sets to participate. You'll get an up-close view of the cliffs and caves surrounding one of the best coast towns in Italy.
Where to Stay in Polignano a Mare
People looking for a scenic stay should inquire about Malù Bed and Breakfast. The views cannot be beaten, making it a perfect option to take in this Italian beach town.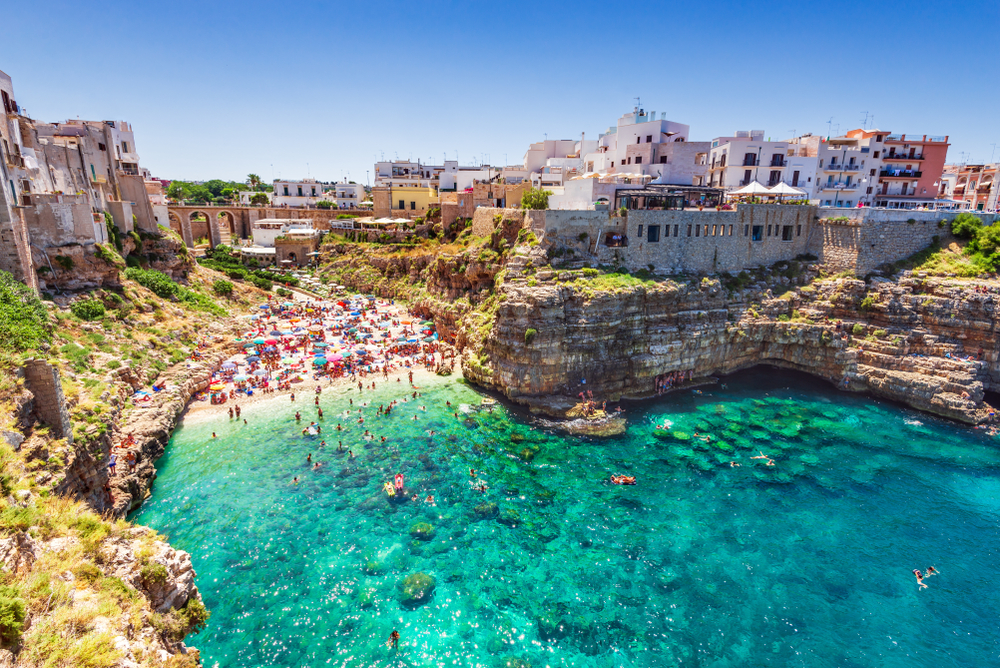 Portofino (Liguria)
Want to be surrounded by the finer things in life? Portofino should be at the top of the list!
A popular stop for the wealthy, Portofino's harbor is filled with beautiful yachts for tourists to admire.
The vibrant buildings will be sure to draw every eye, solidifying Portofino as one of the best beach towns in Italy.
History buffs should check out the Church of San Giorgio or Chiesa Di San Martino. The churches are centuries old and offer breathtaking views of Portofino.
If visiting the Church of San Giorgio, visit nearby Castello Brown. This castle is definitely worth the hike to get there. Get your steps for the day while absorbing the best views of Portofino.
A relaxing swim can be enjoyed at Paraggi Beach. This beach boasts glowing green waters.
Those with an appreciation for the ocean will be drawn to the red coral close to the shore of the Paraggi beaches. Scuba diving is available to get a closer look at the unique coral.
Where to Stay in Portofino
Albergo Nazionale is a quaint hotel right next to the harbor. This is a wonderful spot near many restaurants and shops.
Positano
Hikers will be drawn to Positano while exploring the Amalfi Coast.
This town is built up the side of a mountain, with stairs being the best way to get around. Its unique makeup helps categorize it as one of the prettiest small towns in Italy.
One of the biggest and prettiest beaches on the Amalfi Coast is located in Positano.
Spiaggia Grande is a gorgeous beach attracting many high-profile celebrities. For a more serene beach, visitors will enjoy Fornillo Beach.
Lastly, the Li Galli Islands hold stories dating back to Greek mythology. It is said these islands, located off the coast of Positano, are where sirens would sing to attract sailors.
Sail by the islands and perhaps hear their songs.
No matter what you do here, you will find out why Positano is one of the best things to do in Italy!
Where to Stay in Positano
Travelers should look at Hotel Savoia when considering where to stay in Positano. The rooms are spacious and have balconies overlooking the glamorous city.
Positano links to other Italian coastal towns by hiking trails. After visiting Positano check out other places to stay on the Amalfi Coast.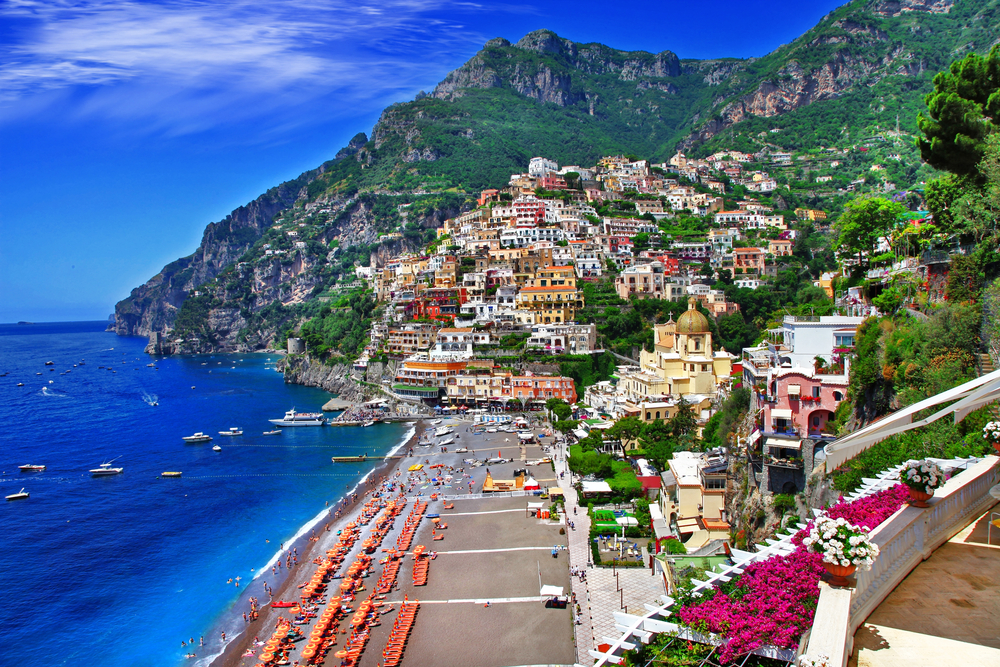 Portoferraio
Leaving the mainland, visitors hop onto a ferry to arrive at Portoferraio, located on Elba Island.
Portoferraio is one of the best beach towns in Italy. There are multiple beaches for visitors to enjoy in this Italian coastal city.
Spiaggia La Sorgente, Padulella Beach, Spiaggia di Sansone, and Spiaggia di Capo Bianco are just a few beaches tourists can explore in Portoferraio.
These white sandy beaches are outlined by cliffs and surrounded by transparent turquoise waters.
Vacationers will find Portoferraio is the relaxing beach vacation they needed.
Where to Stay in Portoferraio
After a long day at the beach guests will love to retreat to Hotel Acquamarina for a view of the town as the sun sets.
The location allows quick access to the beach with impeccable views of the sea off the terraces.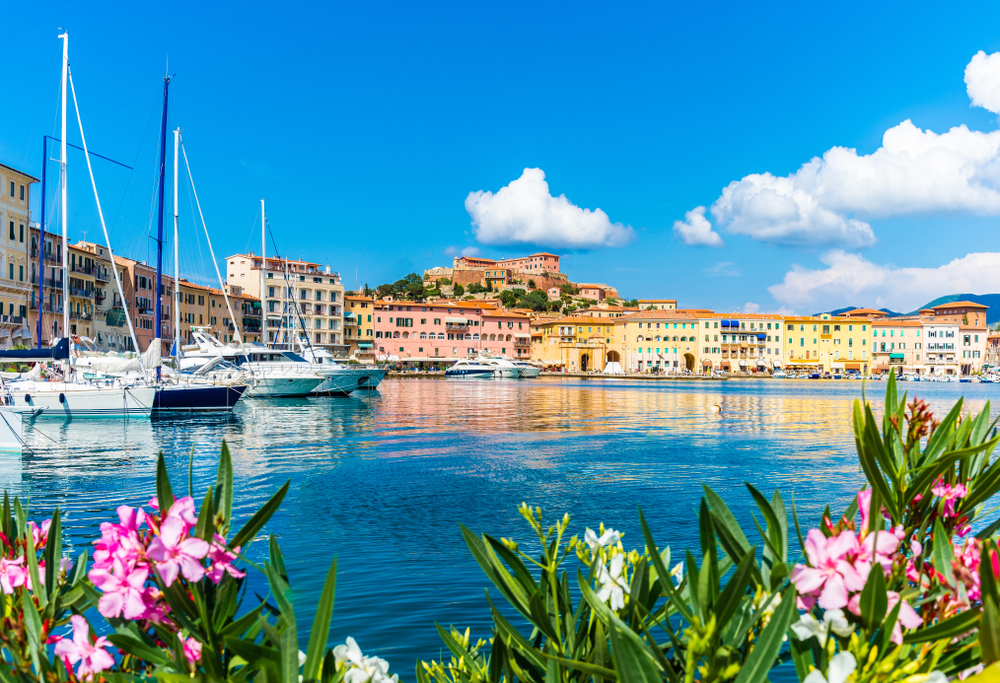 Numana
If you are looking for undiscovered Italian coastal towns on the Adriatic Sea, head to Numana.
Located at the foot of Mount Conero, this area is a slice of natural beauty. You'll find vineyards, olive groves, and traditional stone houses.
There are a few beaches to choose from for your day of fun in the sun.
Numana Beach, also known as La Spiaggiola, is a picturesque beach with the harbor on one side and cliffs on the other.
On the other side of the harbor, the beach of Numana Bassa is lined with restaurants and hip bars. There are plenty of colorful beach chairs to rent.
If you want a beach that is a little more secluded, head farther north along the coast.
Where to Stay in Numana
Consider staying at Maison del Bassotto. This private apartment has everything you will need for your beach vacation.
It is close to the beach and features a balcony overlooking the sea. This is a great place to stay in one of the best Italian beach towns.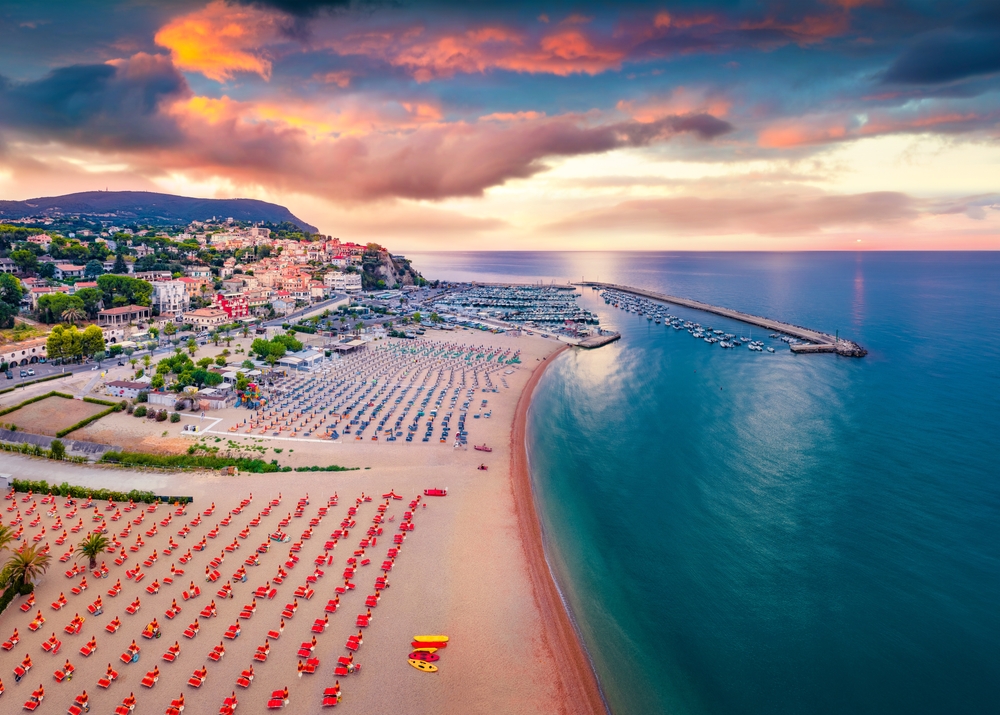 Levanzo (Sicily)
When in Sicily, Levanzo is a must. The clear water allows visitors to catch glimpses of hundreds of fish gliding through the sea.
The smallest of the Egadi Islands, Levanzo is often overlooked. It is one of the best places to visit in Italy with kids because what family doesn't love a pristine beach?
Looking for a break from the hustle and bustle of everyday life? Levanzo checks the box.
This tiny island is one of the best beach towns in Italy although it does not generate much tourist demand.
Visitors get a better look at authentic Italian life while getting a break from reality when visiting Levanzo, one of the best beach towns in Sicily.
Where to Stay in Levanzo
Lisola Residence has a beautiful landscape and a glimmering pool that overlooks the city. This quaint apartment is minutes from everything in town.
It is one of the only places for visitors to stay, solidifying you will be living like a local. Visitors are given access to a Jeep to help them navigate the island.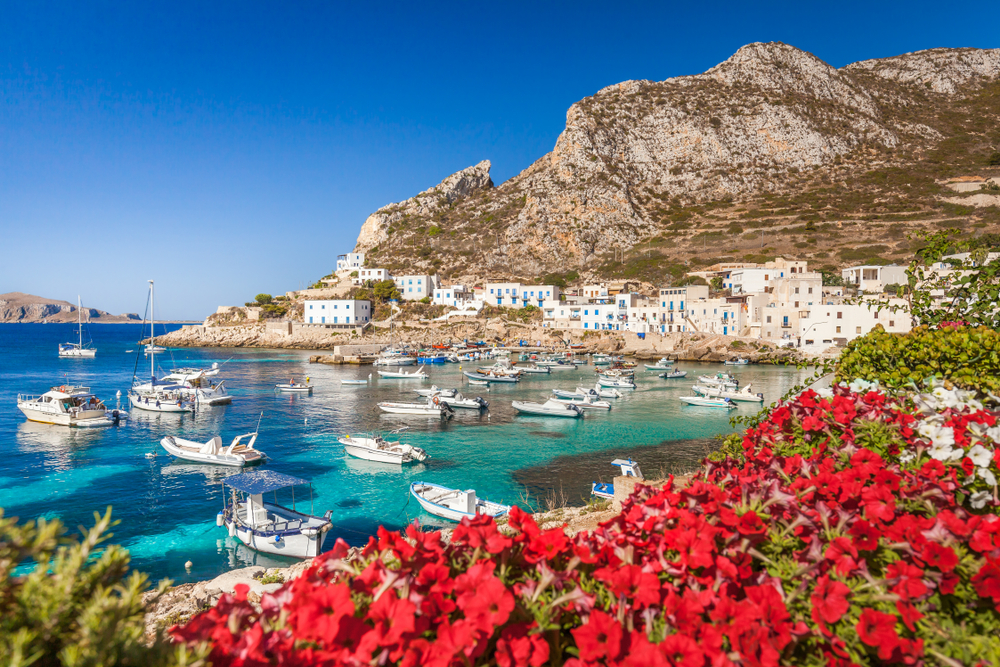 Castelsardo (Sardina)
Castelsardo on the island of Sardinia is home to one of the prettiest beaches in Italy.
Baia Ostina is lined with luscious green land and rock. The rocks help protect the beach from the wind, adding to the overall enjoyment.
Baia Ostina is off the beaten path. When visiting it is best to bring a picnic as restaurants are not easily accessible.
Unique to Castelsardo is Roccia dell' Elefante, or Elephant Rock. This one-of-a-kind rock gives an extra reason to visit one of the best beach towns in Italy.
The rock is perfectly shaped like an elephant looking ready to cross the road.
Where to Stay in Castelsardo
When looking for a place to stay in Castelsardo, Bajaloglia Resort is a must. This hotel boasts clean, modern rooms with top-notch views.
At any point in the day, each visitor is sure to experience picture-perfect views overlooking the sea and town.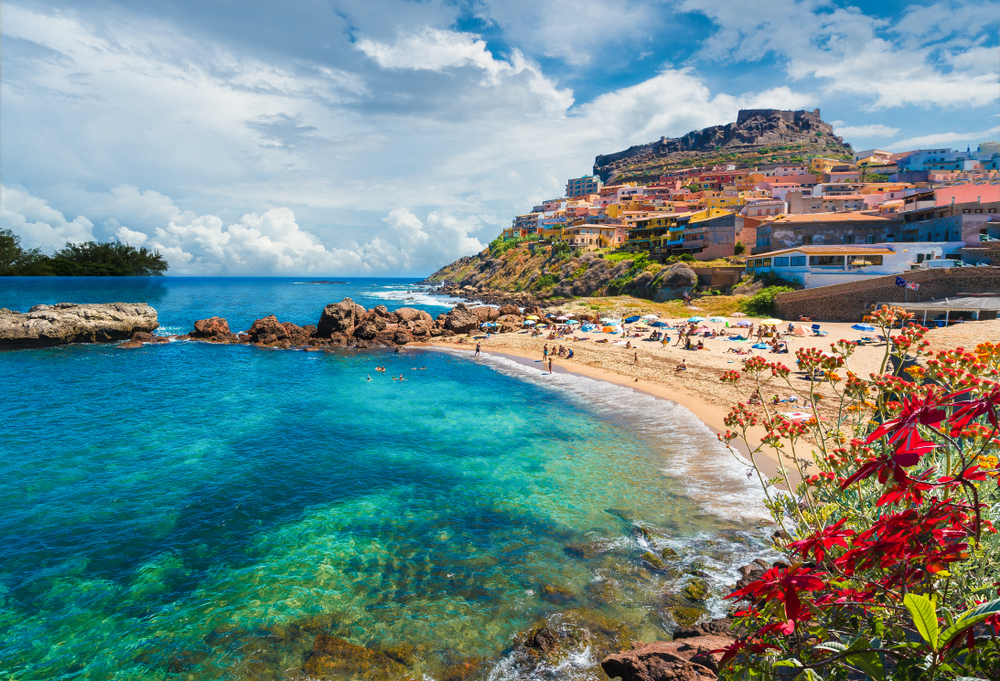 Monterosso al Mare (Liguria)
Monterosso al Mare is connected to Vernazza via a footpath. The views coming and going from Monterosso al Mare are breathtaking.
As one of the cool things to do in Cinque Terre, visitors can appreciate the beauty of one of the best Italian seaside towns from above and within.
Resort-style beaches and accommodations can be found in Monterosso al Mare.
This town has a pristine long beach with beautiful turquoise waters crashing on the shore.
Monterosso's Fegina Beach has paid areas and free areas to accommodate a wide range of guests. The beach is also ideally located directly across from the town's train station for easy accessibility.
You will find this is one of the best family beach towns in Italy!
Where to Stay in Monterosso al Mare
Want a place to stay that has a little bit of everything? Hotel Stella Della Marina is close to exquisite beaches, history, shopping, and gourmet foods.
Visitors can relax with fellow travelers on the terrace while admiring the views of the city and water from one of the best places in Italy near the sea.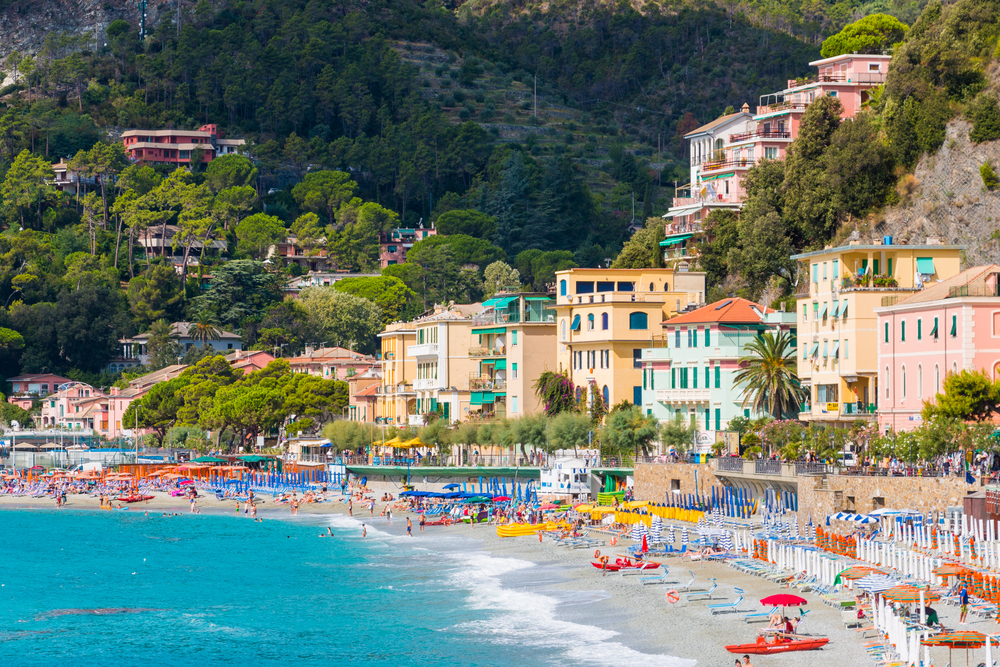 Bogliasco (Liguria)
Bogliasco is one of the best hidden gems in Italy. It is a great central location to explore while being in close proximity to nearby Italian coastal towns.
Pebble-filled Spiaggia Bogliasco gives a vivid contrast to the crystal blue waters.
While taking in the waves, visitors can look up at the town and see the hillside sprinkled with color standing out amongst the trees.
Looking for a bite to eat while exploring Bogliasco? Just Peruzzi has delectable food options for those with dietary restrictions.
Serving an array of Italian foods, this is among the best restaurants in Bogliasco with mouthwatering dessert options.
Dinner with a view can be found while dining at Bagni la Rotonda. Visitors dine with the sound of crashing waves in the background while overlooking the sea.
Where to Stay in Bogliasco
Casa Luce is an apartment with unmatched views. Imagine waking up with views of crystal clear, cobalt seas laid out before you.
The apartment is close to one of the prettiest beaches in Italy and delicious restaurants. At night guests are encouraged to fall asleep listening to the sound of the waves.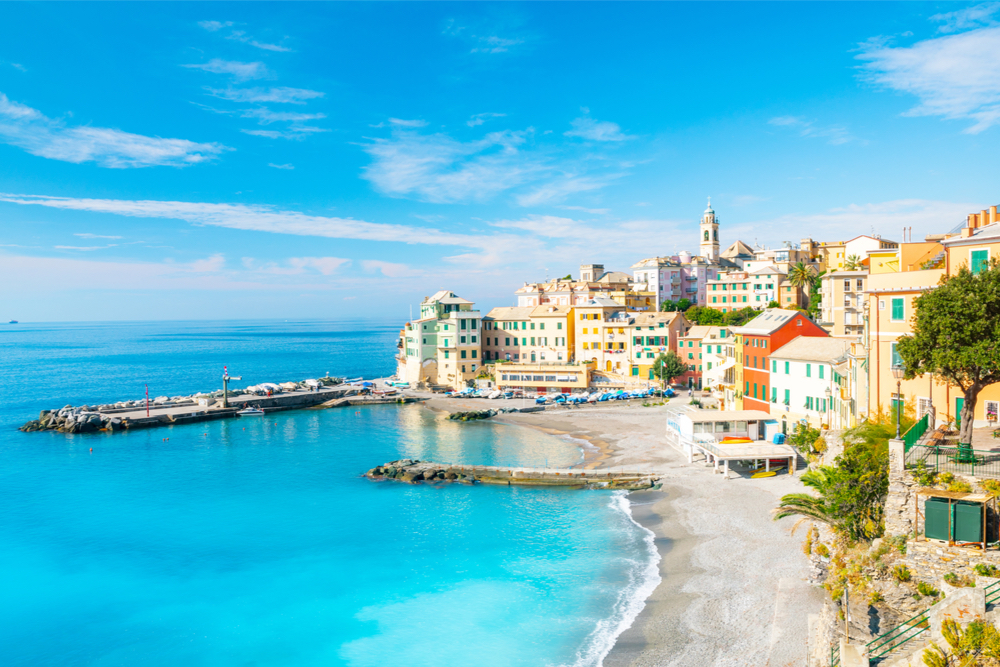 Erchie
Looking for a private getaway? Erchie is a tiny town along the Amalfi Coast perfect for an Italian honeymoon.
As one of the prettiest Amalfi Coast beaches, Erchie Beach is one visitors looking to find tranquility will appreciate.
There is an entire area of the town that does not allow motorized vehicles. Most visitors access the area with pedal boats ensuring extra peace while relaxing in this Italian beach town.
As an added bonus, the beaches in Erchie have extra-fine white sand to sink your feet into.
The center of the town has a beautiful beach with clear water. The town has other remote beaches that can only be accessed from the water.
Visitors looking for an ultimate getaway will adore the peace and quiet of the remote beaches at one of the best seaside towns in Italy.
Where to Stay in Erchie
A stunning apartment with a birds-eye view of the town and sea, the Limoneto Di Ercole helps visitors attain complete peace in this quaint fishing town.
The visibility of the entire town from the apartments is unmatched with the bright blue seas in the background being the cherry on top.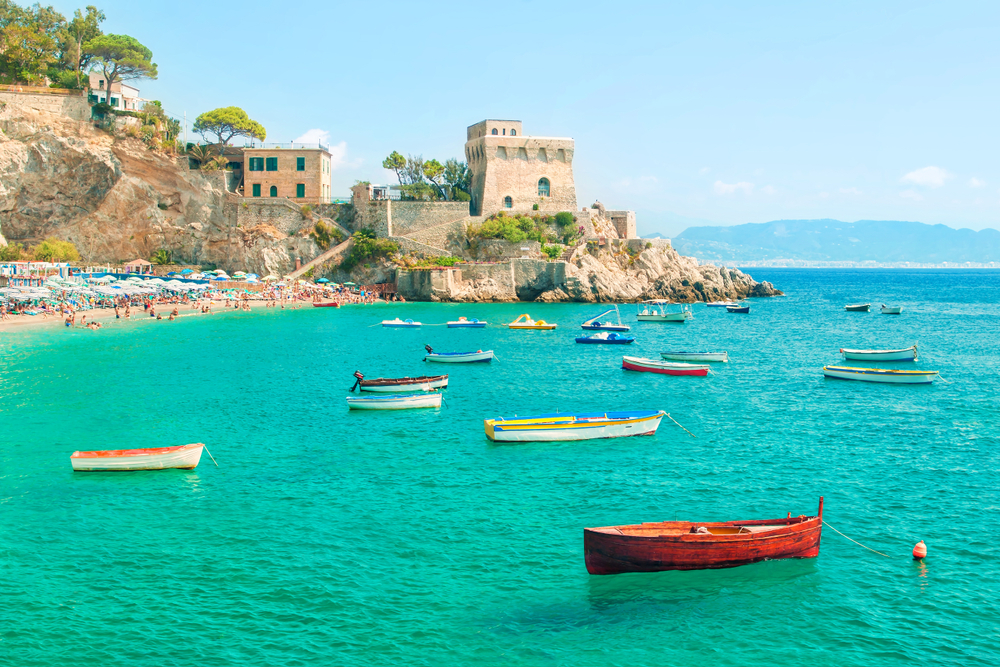 Otranto
If you find yourself in the province of Lecce in Southern Italy, make time to visit Otranto, one of the best small beach towns in Italy.
This is one of the best beach locations in Italy if you want some peace away from the major tourist crowds.
There is a beach right in town next to the harbor, but if you want something more isolated and natural, there are plenty of small beaches tucked into nearby coves.
Make sure to take time to drive north along the coast and see some cool rock formations.
At Torre Sant'Andrea, you'll see many unique sea stacks and arches.
The Grotta della Poesia, or Cave of Poetry, is a gorgeous natural pool perfect for a dip.
Along with the beaches and coastline views, there are plenty of other things to do here. Visit Aragonese Castle, some churches, and the lighthouse at Capo d'Otranto.
Where to Stay in Otranto
Found in Otranto's historic center, Palazzo De Mori has beautiful rooms and views of the harbor.
You'll be close to the beach as well as many other attractions and restaurants.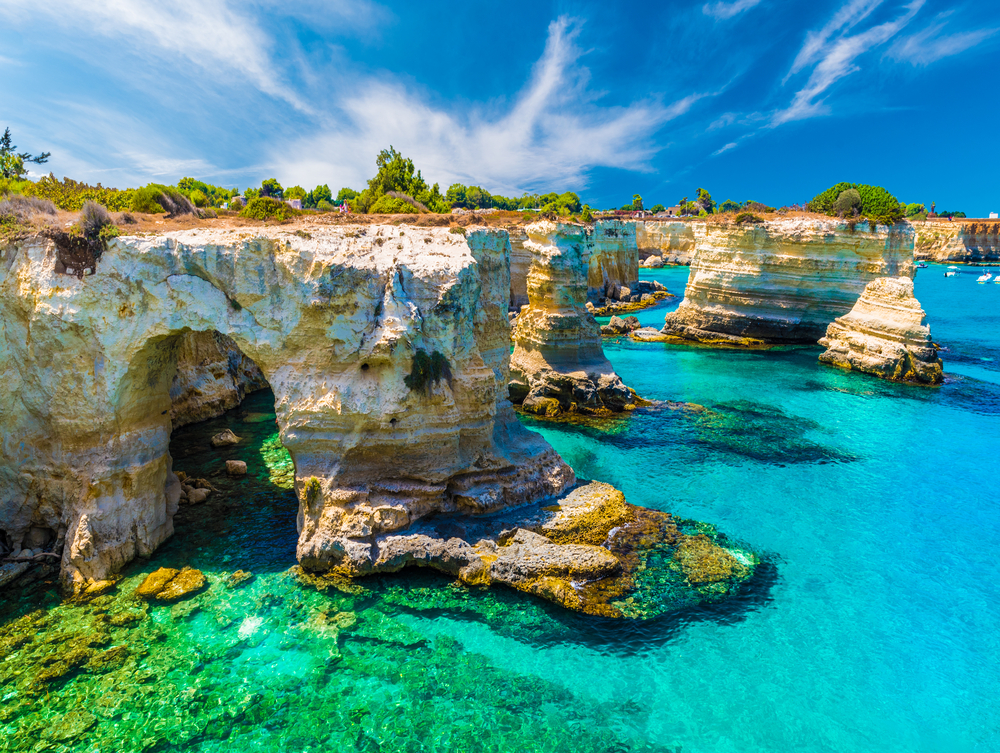 Forio
Forio, on the island of Ischia, is one of the best day trips from Naples. A two-hour ferry ride will bring you to one of the most beautiful small towns in Italy on the beach.
With historic buildings, amazing vineyards, and gorgeous gardens, there is plenty to see here.
Of course, you will want to pack your swimming suit. Along with sandy beaches, the island is known for its natural thermal springs.
At Poseidon Gardens, visitors can enjoy 22 different thermal pools overlooking the ocean.
When you are not relaxing in the hot baths, you can shop, dine, or simply chill under an umbrella.
This is definitely one of the best beach towns near Naples!
Where to Stay in Forio
Forio has plenty of gorgeous properties for a great stay. Book an apartment at the beautifully designed Villa Caruso.
You will have access to a pool, hot tub, garden, and amazing views of the ocean and island.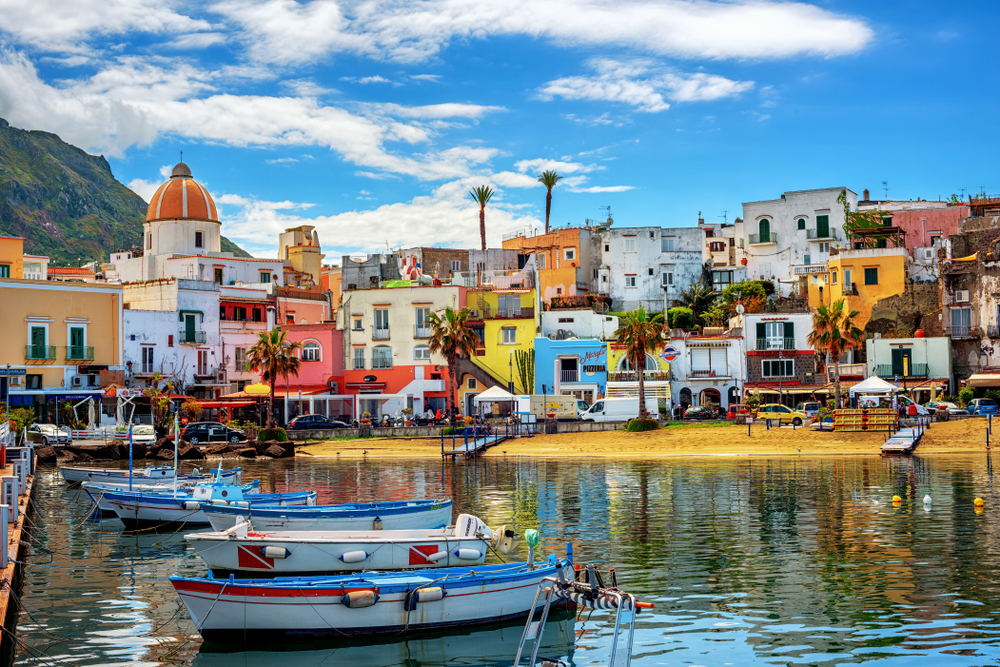 Sperlonga
Located halfway between Rome and Naples, Sperlonga is one of the top quaint beach towns in Italy.
At about two and a half hours by train, this is one of the best day trips from Rome if you want a getaway from the city.
Sperlonga Beach is a hidden gem unknown to many tourists so you will feel like a local as you lay in the sand or wade into the surf.
The white-washed Old Town is a great place to stroll through picturesque alleys covered in bougainvillea flowers.
There are many cafes, bars, and churches as well as views of the ocean.
Even though it is one of the quaint Italy beach towns near Rome, you will feel as if you have found your own little paradise away from the crowds.
Where to Stay in Sperlonga
Casa Zirocco is a private apartment that can house up to eight guests, perfect for a family vacation.
With a full kitchen, two TVs, and an outdoor terrace, you will have everything you need for your beach getaway in Italy.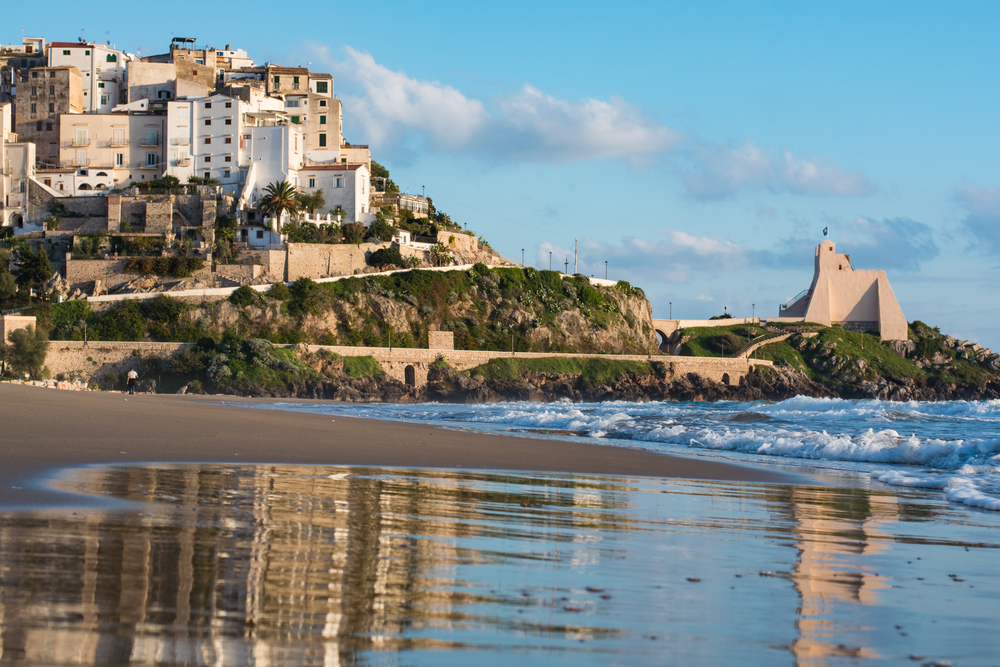 As a country nearly completely surrounded by water, there really is no shortage of quaint Italian coastal towns!
Next, check out our full Italy packing list!