If you are planning on visiting Zion National Park in winter, you are in for a treat! Zion is an absolutely breath-taking U.S. National Park perfect for anyone who enjoys immersing themselves in nature.
It is a fantastic place for a vacation no matter the time of year, but winter adds a whole other level of magic. If you want to go to Zion in the winter season, we have created this guide with a few tips to help you plan!
Zion is popularly visited as part of an epic U.S. Southern road trip or as a smaller road trip of Utah. Even if you are making a trip especially for Zion, you are making a great decision.
It is also very close to Bryce Canyon National Park, so you can easily visit both parks during the same trip. There are many advantages to journeying to Zion in the winter as well. Keep reading to find out why!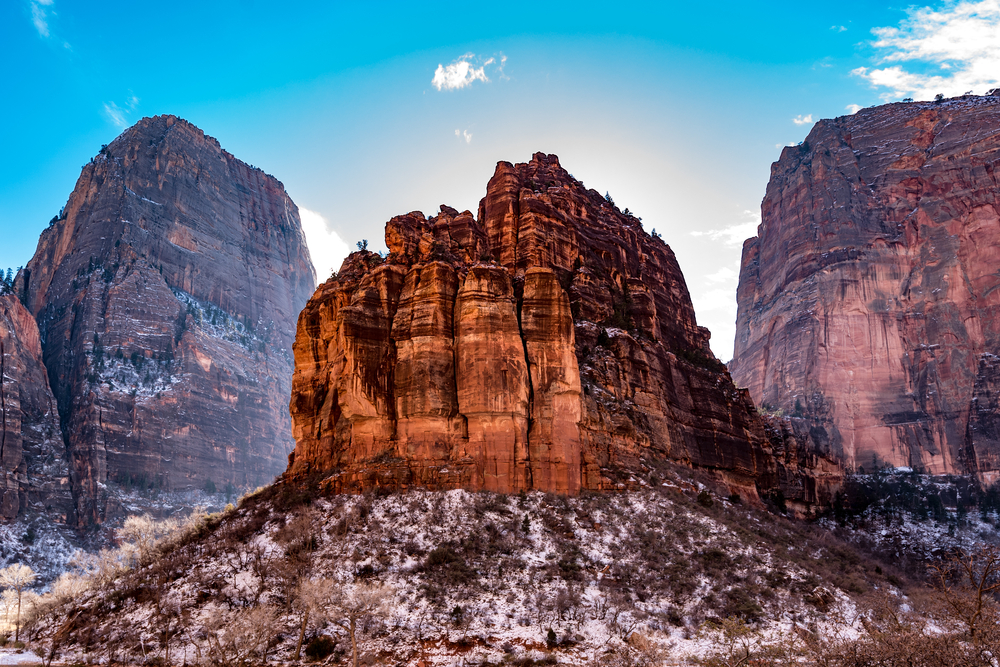 Is Winter A Good Time To Visit Zion National Park?
Of course, Zion is worth visiting in the winter! We have visited Zion multiple times during this season and can say from personal experience that you will have a good time! Zion in winter is very different than during the more popular summer months. For one, there will be far fewer tourists so you can get more time by yourself. Fewer tourists also mean less traffic and noise!
Winter, of course, also brings cooler weather which is perfect if you hate sweating a ton while out hiking. There will be no baking sun or need to seek shade. While in the summer, the temperatures can, and will, break 100 degrees Fahrenheit, that will not be the case in winter! We will break down the Zion winter weather in more detail below.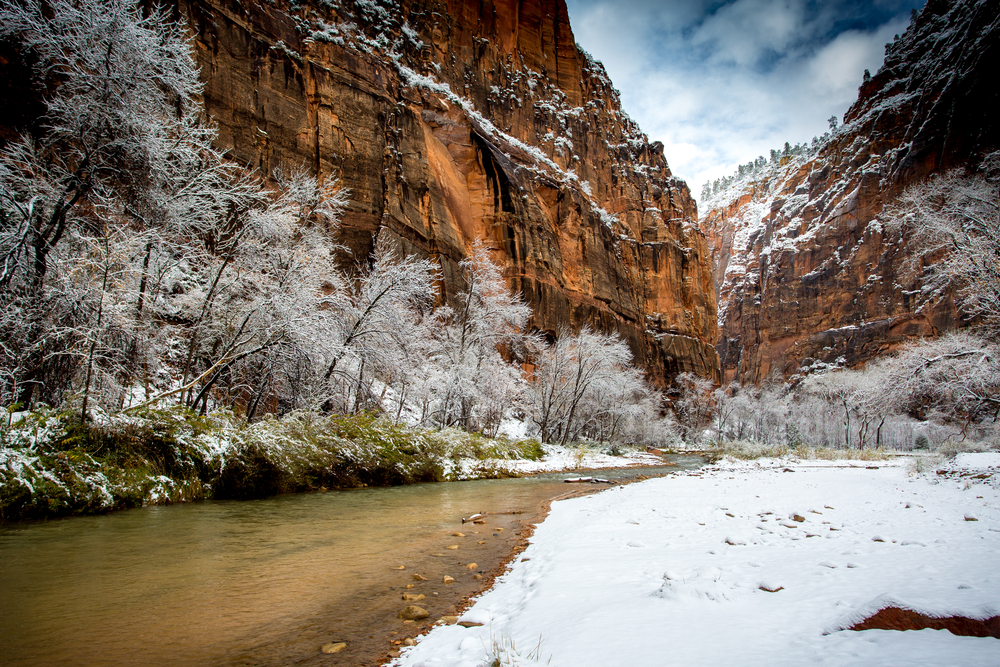 Average Winter Weather In Zion National Park
The winter weather at Zion is on average pretty mild during the day and near or above freezing at night.
Daytime brings temps of around 50 to 60°F. This might be chilly, but since you are likely to be moving around a lot, you will stay warm. Just make sure to pack accordingly! When the sun goes down, so do the temps. Expect around 30°F at night and maybe book an Airbnb with a fireplace for extra coziness!
Winter in Zion is also known for its wetness. In fact, almost half of the park's precipitation occurs between December and March. During this time, about a week's worth of days each month will be rainy. Unlike in the summer, though, there will be no thunderstorms.
Here are the average temps for Zion National Park in winter:
December Temperatures for Zion: 53°F High and 30°F Low
January Temperatures for Zion: 52°F High and 29°F Low
February Temperatures for Zion: 57°F High and 31°F Low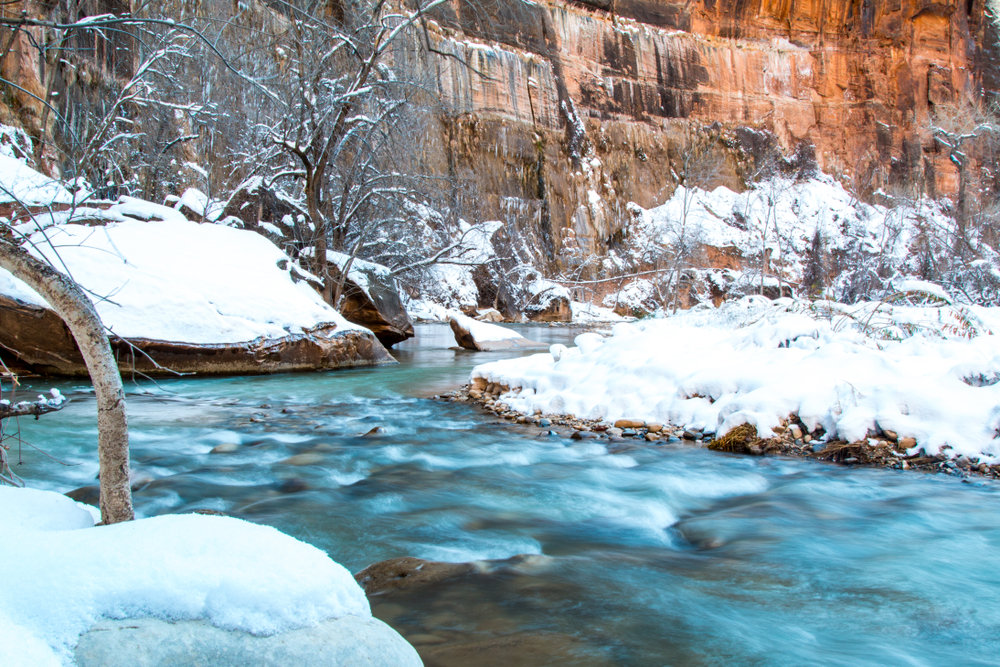 Does It Snow In Zion National Park?
It does snow in Zion! Though it is not super common, it does happen occasionally. The snow usually melts pretty quickly at the lower elevations but it will stick higher up in the mountains. Snow adds a whole new layer of enchantment to the park and is a sight to behold! If it snows enough, you may be able to go skiing in the mountains near the park.
If snow is in the forecast, make sure to wake up early to photograph it before it melts. Though, be careful not to slip! January in Zion has the highest snowfall, so plan your trip for then if you are exceptionally keen to see a winter wonderland. There are downfalls to snow, though, since some roads and trails will be closed if the weather is too bad.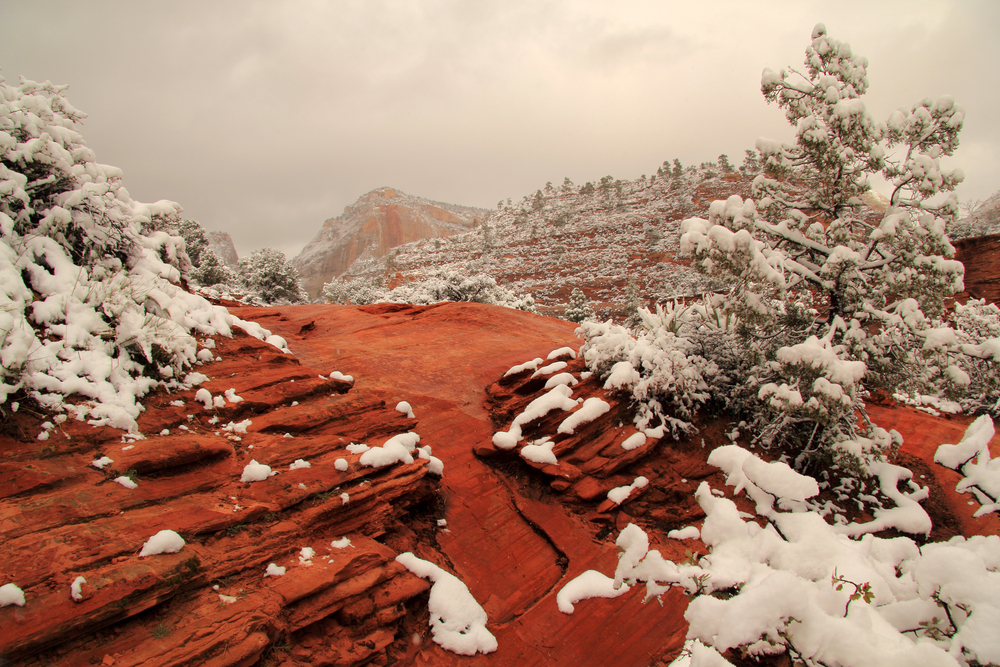 When Can Visitors Drive Through Zion?
You are welcome to drive your own vehicle through Zion in the winter. However, the buses that typically shuttle tourists during the warmer months only run the week of Christmas and New Year's as well as Presidents' Day weekend. Not having to deal with the shuttle and being allowed to drive yourself is a plus to visiting this National Park in the winter since many of the park's roads are usually reserved only for the shuttle.
Be aware that a couple of roads close in part during the winter season. Others will close only if the weather is bad, so pay attention to closures. When it snows, roads are usually plowed right away. As always, drive safely, and you should be fine traversing the roads here.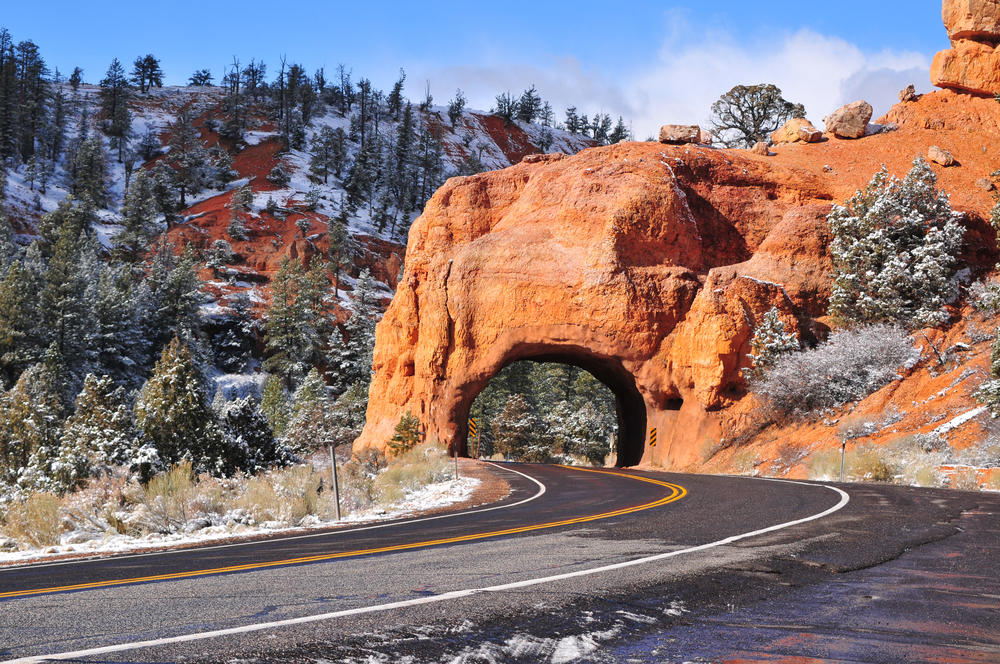 What To Pack For Zion In Winter
A huge part of visiting Zion during winter is knowing what to pack. The key is to bring clothes that can easily layer and keep you both warm and dry. Layers allow you to shed some warmth as you hike and exert yourself, so they are ideal for a trip to Zion in winter when your day might start cold and end with you sweating on a mountain trail. Below is a more complete list of what to pack.
Waterproof and Windproof Coat
You definitely need a good coat to keep you safe from the wind, rain, and cold. Think about bringing a jacket with an Omni-tech base layer and a waterproof shell. We recommend the Columbia Women's Superpipe Slope 3 in 1 Interchange Winter Omni Heat 650 Down Ski Jacket or the Columbia Men's Action Jacket.
Winter Boots or Waterproof Shoes
Good boots or shoes are essential for winter travel when you plan on hiking and being outside in general. You need to keep your feet toasty as well as protected from the elements. Make sure you pack footwear with good traction in case you encounter ice or snow. Some of our recommendations include the Columbia Minx Mid II Omni-Heat Winter Boot and the Columbia Bugaboot Plus Omni-Heat Michelin Snow Boot.
Waterproof Gloves and Hat
You have to keep your hands and head warm or the rest of your body will suffer. Do not forget to pack gloves and a hat or you will regret it! Make sure the ones you bring will keep out water. Some of our suggestions include the Touch Screen Waterproof Warm Gloves, Carhartt Women's Quilts Insulated Breathable Glove with Waterproof Wicking Insert, HighLoong Men Ski Snowboard Gloves Waterproof Thinsulate Cold Winter-Black, and Tough Headwear Cable Knit Beanie.
Polarized Sunglasses
Polarized sunglasses will help to protect your eyes when it is sunny, especially if it does snow and the reflections make it too hard to see. These glasses will help you to see better and appreciate the scenery. Even if you do not have polarized sunglasses, any type will do.
Sun Protection
You might not think about sun screen while traveling in the winter, but you still need it! In a National Park, you are bound to spend most of your time outside. Because of this you will be right in the path of the sun which can cause a burn if you do not prepare.
Reusable Water Bottle
If you are going to be out hiking, you 100% need a water bottle! It is very important to stay hydrated and the park service recommends you bring one gallon of water per person. You might not feel as thirsty in colder weather, but it is important to drink water.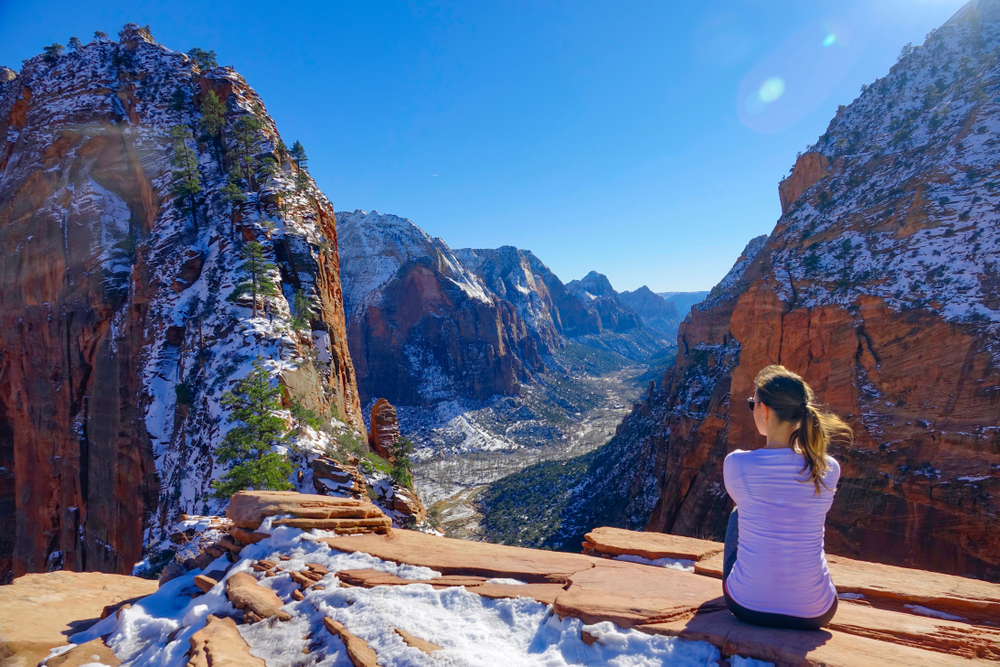 Top Things to Do During Winter In Zion National Park
Take a Scenic Drive
Taking a scenic drive is one of the best things to do in Zion National Park in winter. Normally the shuttle buses prevent you from driving on certain roads, but with them not running in the winter, you have access to the whole park in your own vehicle. Less traffic gives you more room on the roads and scenic pullouts. You will have no trouble finding a place to park.
You will start your drive near the visitor's center on the Zion Canyon Scenic Drive, which will bring you to many trailheads and overlooks. If you only do one drive in Zion, do this one! Other road options include Zion-Mount Carmel Highway, Kolob Terrace Road, or Kolob Canyons Scenic Drive. Before you head out, make sure to check if there are any road closures, especially if it has snowed.
Hike Beautiful Trails
It would be a disservice to visit Zion and not hike some of the amazing trails the park has to offer. There are plenty of trails to choose from and depending on how long you are staying in Zion, you should try to check out a few. As always, check the weather before you head out.
One of the most popular hikes in Zion is through the Zion Narrows, which is part of the Zion Canyon. This is a fun hike in the summer, but is only for brave hikers in the winter! This is because part of the hike involves wading through the Virgin River. Since the water is so icy, you must bring waders or a dry suit. The whole trail is nearly nine and a half miles.
If you want a shorter hike, try Kayenta Trail and Upper Emerald Pool Trail. These two trails connect to create a hike that will last about two to three hours round trip. This is a very pretty hike perfect for snapping some pictures!
The Canyon Overlook Trail is fantastic if you love dramatic landscapes! The peak of this trail provides a thrilling look down into the valley. This is a postcard-worthy sight that often comes up with Zion photo searches. The great thing about this hike is that it is only about thirty minutes each way.
Lastly, Angel's Landing is one of the most iconic hikes in Zion. However, this hike is often closed in the winter due to snow or wind. If it is open and you are up for the four hour hike, you will start on the West Rim Trail. You will have to use chains and do some rock scrambling to get to the top of this trail, but when you make it, it will be worth the effort!
Search for Wildlife
Though some animals are hibernating in the winter, it is otherwise a great time to view wildlife, including mountain goats, bighorn sheep, elk, and deer. With less traffic and tourists, the animals will not be as shy and you have a higher chance of catching a glimpse of them. Make sure to bring binoculars or a telephoto camera lens to get an even closer view of these cool animals!
Zion is also a great place for bird watching. If you are lucky, you might spot a peregrine falcon, California condor, or Mexican spotted owl. Bald eagles also come to Zion in the winter to rest. Overall, there are more than 200 species of birds that make Zion home.
When you do see wildlife, make sure not to approach and always stay at a safe distance. Respect these beautiful creatures by allowing them to live their lives naturally. This means not feeding them, touching them, or leaving behind trash.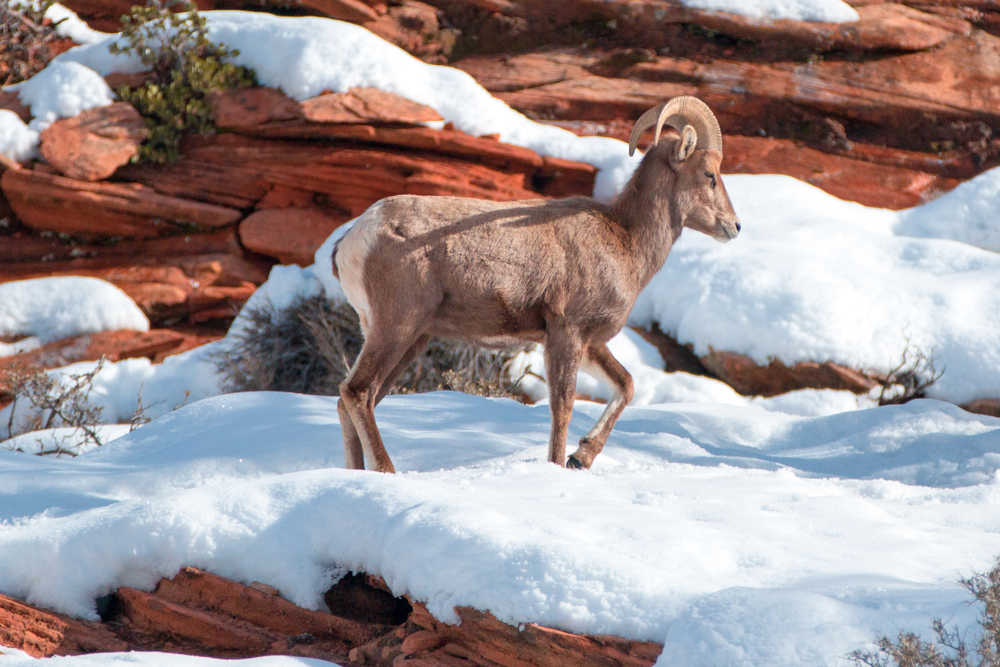 Stargaze in Peace
Stargazing is a peaceful and very relaxing activity to enjoy in Zion and is the perfect way to end the day. Zion National Park works hard to preserve the night sky and reduce light pollution. Because of this, it is a fantastic place to view the Milky Way. Find a good location to stargaze before the sun sets. Some good and safe places are Pa'rus Trail and Kolob Canyons Viewpoint.
When you set up to watch the sky, make sure you are away from the road to protect yourself from cars, but not so far out in nature that you encounter unhappy wildlife. Also, try to bring a flashlight or headlamp for each person in your group.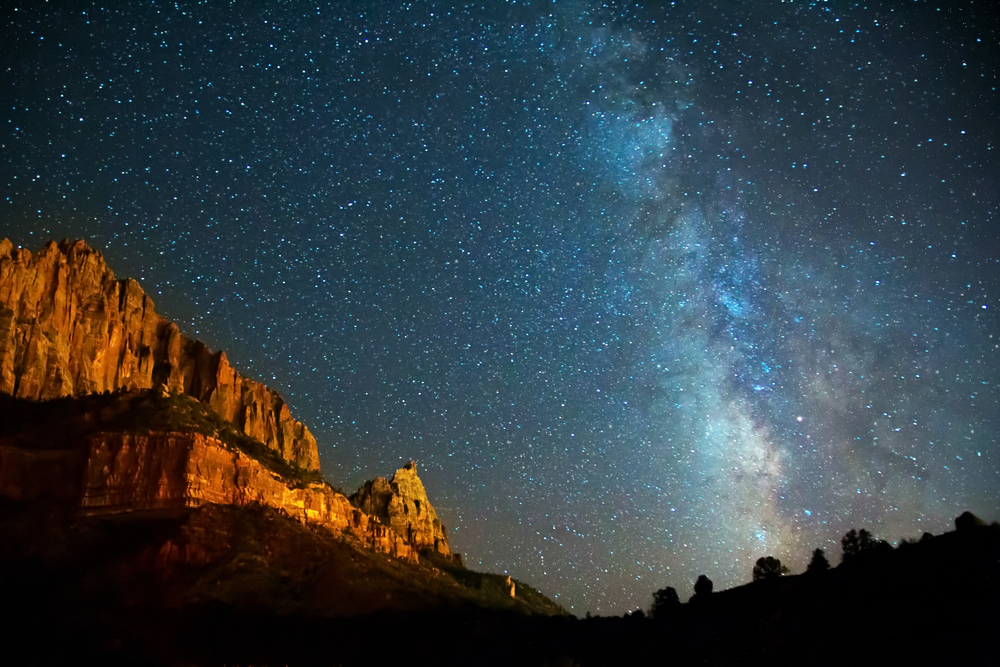 Where To Stay Near Zion National Park In Winter
There are a bunch of cute and comfy Airbnbs near Zion National Park. Many are simple and affordable, but if you are looking for a place of luxury, there are really nice places to fit that bill as well. Whether you want a family-friendly accommodation that will fit a lot of people or a small romantic getaway, Airbnb has you covered! Here are a few of our choices.
Luxury Tiny House
This cute, bright blue tiny house stands out starkly against the desert landscape. This home is 320 square feet and has enough beds to host four people. Since it is situated about forty minutes from Zion National Park, it is a good jumping-off point for visiting the park and surrounding area. This property has hammocks, an outdoor grill, and Netflix, which all help to create a cozy place to stay.
Click Here To Check Rates On Airbnb!
Luxury Zion Home with Private Hot Tub
Next is a very modern and chic house with all the comforts of home as well as some noteworthy amenities. This 1940 home has been renovated into an Airbnb with bright, welcoming rooms perfect for a vacation. The living room has a wood-burning stove to keep you toasty when you visit Zion in winter. After a day of hiking in the brisk weather, you can come back home to warm up in the bubbling hot tub. The park is only about a thirty-minute scenic drive away.
Click Here To Check Rates On Airbnb!
Kozy Kanab Retreat
The Kozy Kanab Retreat is about thirty-five minutes from Zion National Park in the city of Kanab. It is nestled in a beautiful landscape with amazing views of the Red Rock Bluffs. Since up to seven people can stay here, this Airbnb is perfect for a family vacation of girl's trip. There are plenty of nearby restaurants, shops, and hiking trails. When you are not out exploring, you can chill in front of the smart TV or stargaze on the deck.
Click Here To Check Rates On Airbnb!
EcoFriendly Cabin
This Eco-friendly A-frame cabin is a great place to stay near Zion at any time of the year, though only adventurous people might want to book it in winter. This Airbnb is very unique and is more similar to camping than anything. This solar-powered cabin is just under an hour from Zion.
The tiny cabin fits a king-sized bed and not much else. In the wintertime, you can turn on the heater and snuggle under all the provided blankets. The cooking area is outside, but the fire pit will keep you warm. The composting toilet is found in the separate outhouse. Even if roughing it is not your style, the views here are to die for and will make it all worth it!
Click Here To Check Rates On Airbnb!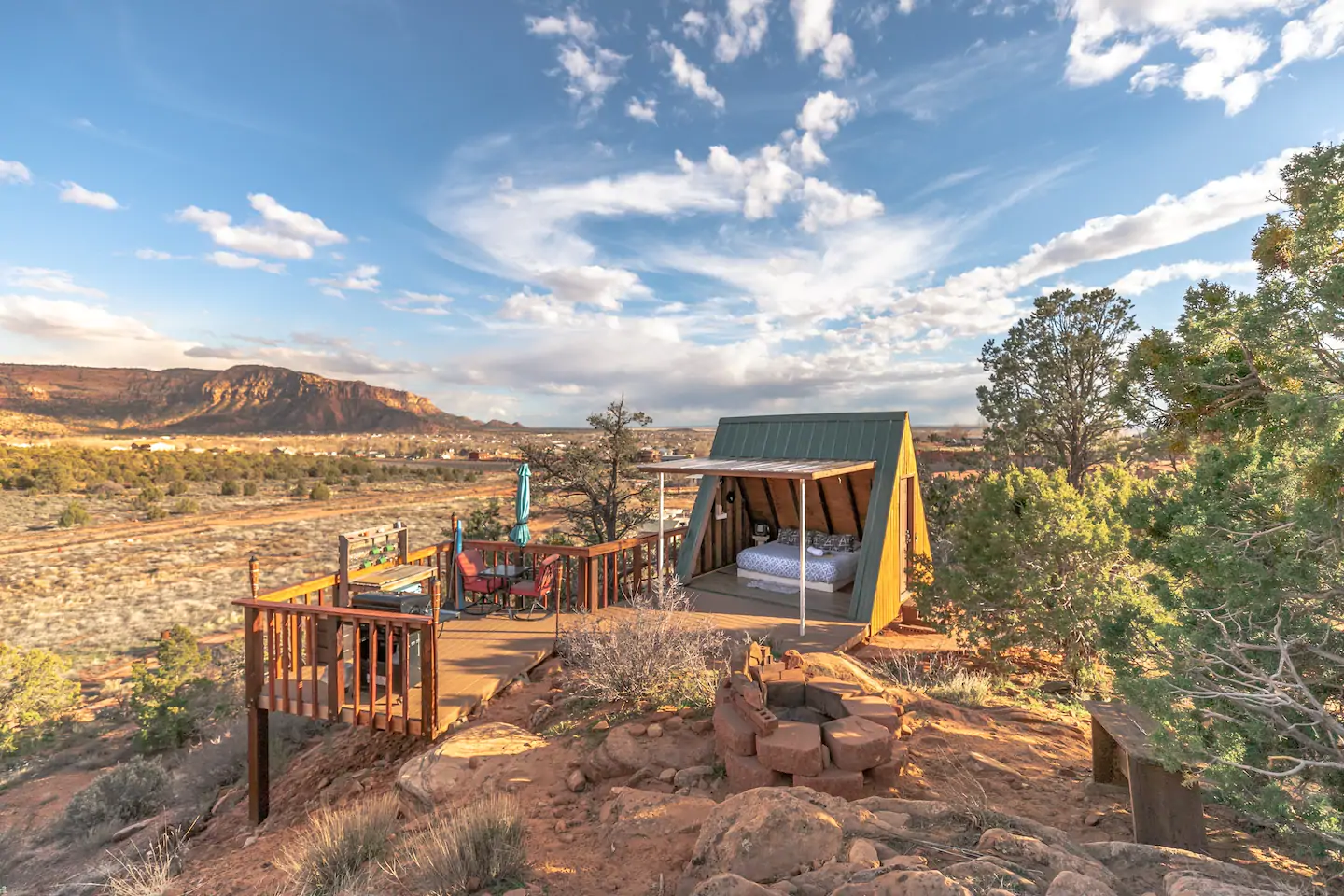 To sum up, you should really consider visiting Zion National Park in the winter if you haven't already! There are so many reasons why this time of year is a great time to journey to this corner of Utah. From fewer tourists to cooler temperatures, experiencing Zion in winter is definitely worth it! As long as you follow our tips and come prepared, you are sure to make some great memories!