The Italian Dolomites are one of the most majestic places in the world, and what better way to experience these mighty mountains than some Dolomites hiking trails. Not only are they a wonderful place to hike, they are also a UNESCO World Heritage Site. Although there are many other activities available in and around the area, such as skiing, biking, and mountain climbing to name a few, we find hikes in the Dolomites to be the most convenient and enjoyable way to truly take in all the splendor of the surroundings.
The Dolomites part of the Southern Limestone Alps and once you see these granite wonders in person it becomes obvious why they are called the pale mountains. The sharp and jutting formations are second to none and it is definitely worth stopping while you are in
northern Italy
or making a trip just to spend time in this breathtaking corner of the world. The best time for hiking in the Dolomites is mid-late summer, after the snow from the winter and spring has melted.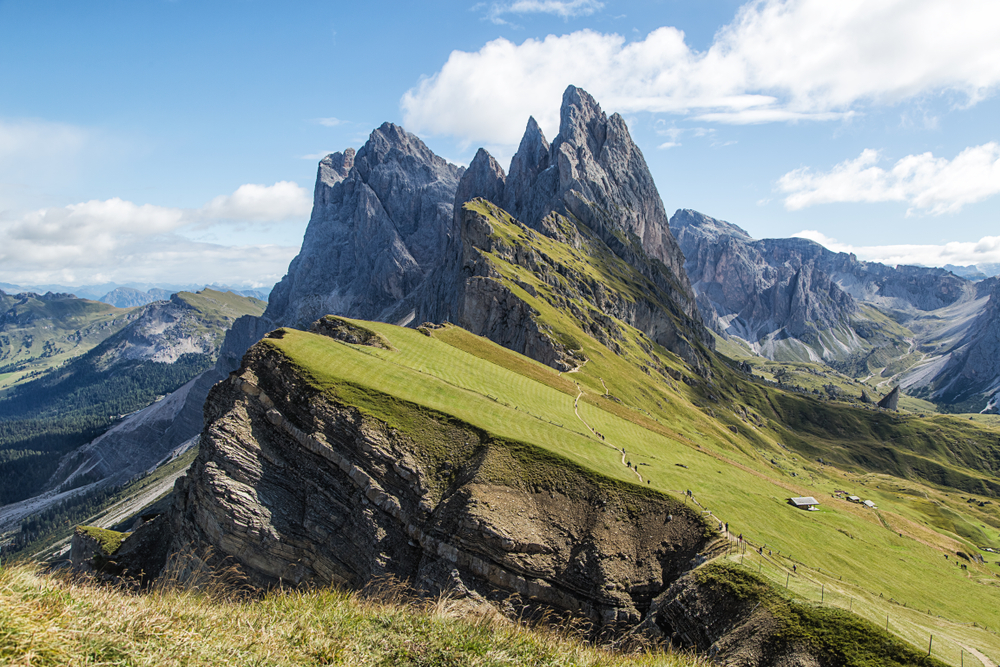 10 Best Dolomites Hiking Trails You Can Do In A Day
Cima Cadin
While hiking in the Dolomites is undoubtedly beautiful, it can also be a bit confusing for some of the hikes. This first hike on our list is an prime example of this. With the rise of Instagram this is a popular photography location, and yet there is little information on how to actually get the the popular viewpoint.
Cima Cadin is actually it's own range within the Dolomites so there are a few options of what to see here. But for the sake of sticking to Dolomites Hiking trails we will focus on the "finger mountains" along path 117. To get here you will need to look up "Tre Cime" in your GPS and follow those driving directions to Rifugio Auronzo, a hotel on top of the mountain. From the hotel you will walk the opposite direction of Tre Cime (Three Peaks) along 117 for 30-45 minutes. At the end you will be rewarded with the most incredible view.
Although much of this hike is uphill, it's actually a fairly easy hike. With the rewarding view and the downhill on the way back it is definitely one of the best Dolomites hikes. It should be noted though that the road leading up to the hotel does have a fairly pricey toll of around 30 Euro just for the last 10 minutes of the drive.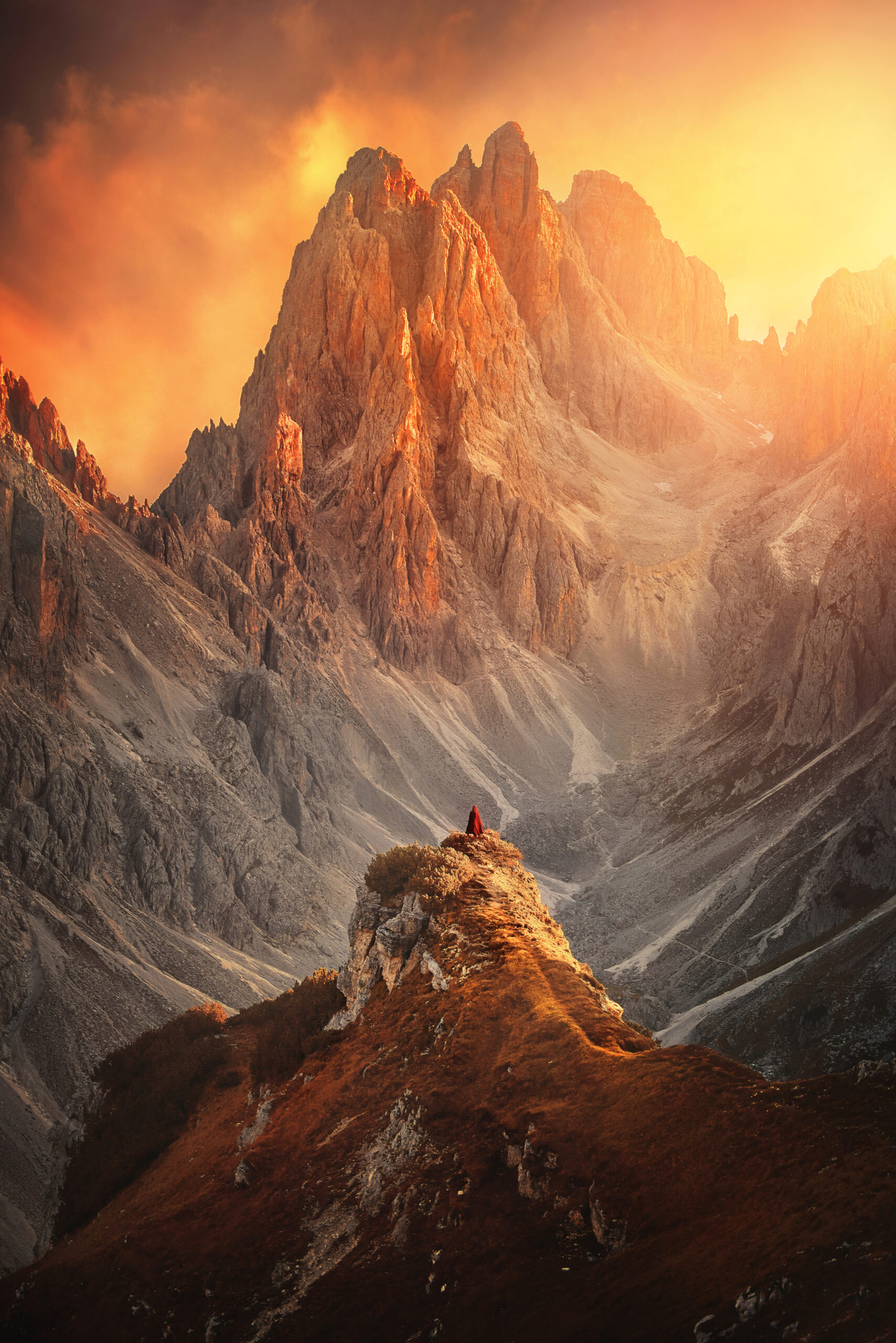 Adolf Munkel Trail
As far as Hikes in the Dolomites go this one has a lot of epic views with relatively little effort. Like the last one this is also slightly uphill for the first half, but this 5 mile Dolomites hiking trail is well marked and easy to follow. Start off by parking in the Zanser Alm parking area, it is a large lot but it does fill up very quickly, so early morning or late afternoon are the best times to go. It will cost around 5 Euro to park here. From the parking lot you want to take trail number 6 and head towards Tschantschenon on a large looking gravel road. You will be going in a Southeasterly direction and pass 3 small B&B's.
The beginning of the trail is not super exciting, but do not let that discourage you, it gets really good. You will come up to a bridge fairly quickly and turn right onto trail number 35. After this point you have a couple of options, but you will be heading towards Geisler Alm either way. If you want to make the loop a little longer you can take the intersection onto trail number 36A to also pass by Gschnagenhardt Alm, otherwise you will pass this intersection and the the next one for trail number 36.
Once you make it to Geisler Alm you can stop and eat at the hut there. There is also a playground and of course the stunning view that you will want to take in for hours. Once you are ready to head back you will just continue on trail 36 until you get back to Zanser Alm and the parking lot. Terrence wanted so badly to do a photo shoot at Zanser Alm, we almost did not go but it was totally worth it and we were so glad that we did. The views are epic and this hike does not disappoint.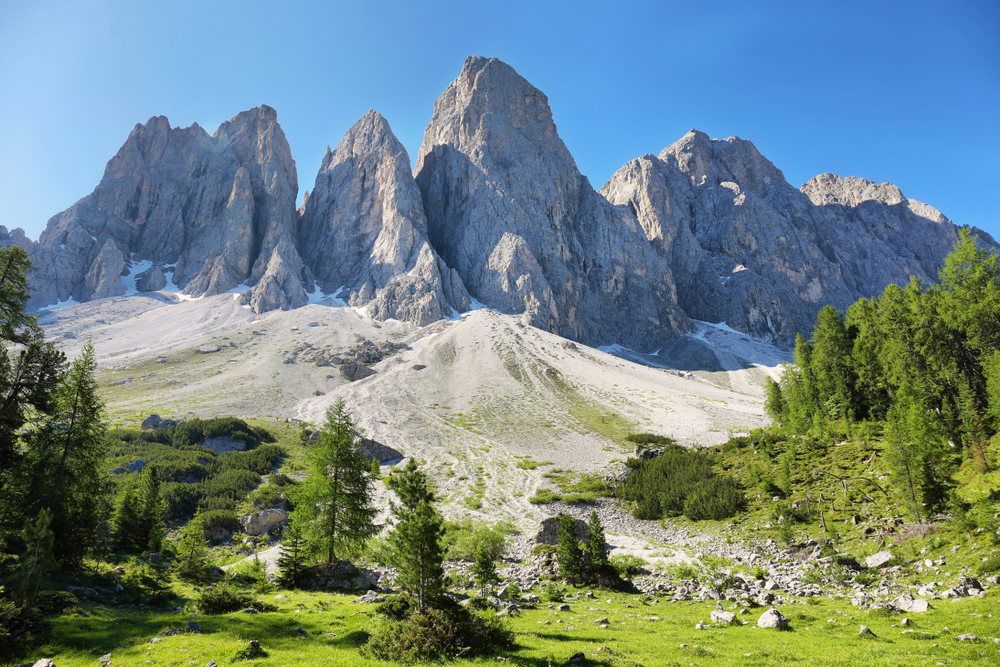 Church Of Santa Magdalena Hike
This iconic photo spot along a relaxing Dolomites Hiking trail can be reached in a few different ways, including not hiking at all. That's right, you can actually drive up to the popular viewpoint. However the road leading up to the church from Magdalena Village is extremely narrow and steep, and is often filled with tourists walking up to the viewpoint. There is also no parking at the top, so even if you do choose to drive you will not be able to park.
This brings up the second option of walking up that same road. As previously mentioned this is a very steep road, so even though it is not a long hike up to the church you want to make sure you are in decent shape and should only take about 30 minutes. However if you are really looking for hikes in the Dolomites then there is also an actual trail leading to the Church of Santa Magdalena from St. Peter Village. This trail is called Panorama Path Villnoss that is 3.5 miles and will take about 2 hours to complete.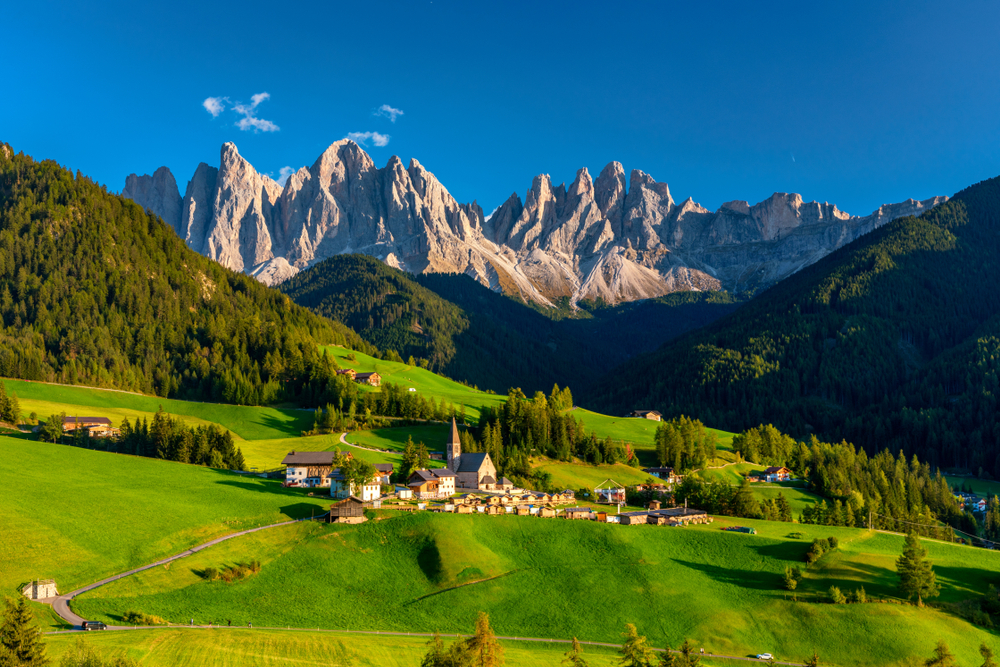 Tre Cime Circuit
This popular and well-maintained hiking trial begins at Rifugio Auronzo, the same place that Cima Cadin started. You may remember that there is a hefty toll, around 30 Euros, to get to the parking lot. But there is also the option of taking a bus from Lago Misurina or Lago D'Antorno during the summer months. This is one of the best Dolomite hikes as it has many huts to stop at, is fairly level throughout, and you get to see the Tre Cime's three peaks from every possible angle.
Because it has such fantastic views and is such a nice trail it is usually pretty busy, but do not let that deter you, it is worth the crowd. Most people like to head towards the right on trail 101 because the views tend to be more in front of you from that direction, but it is a loop so you can go either way. you will pass by incredible geological formations, caves, and even some beautiful lakes on the trail. But the three peaks in the middle are the real draw. The entire circuit is just over 6 miles and will take 4-5 hours, so be prepared with plenty of water. But also remember that there will be huts to stop at along the way if you need a break or some food.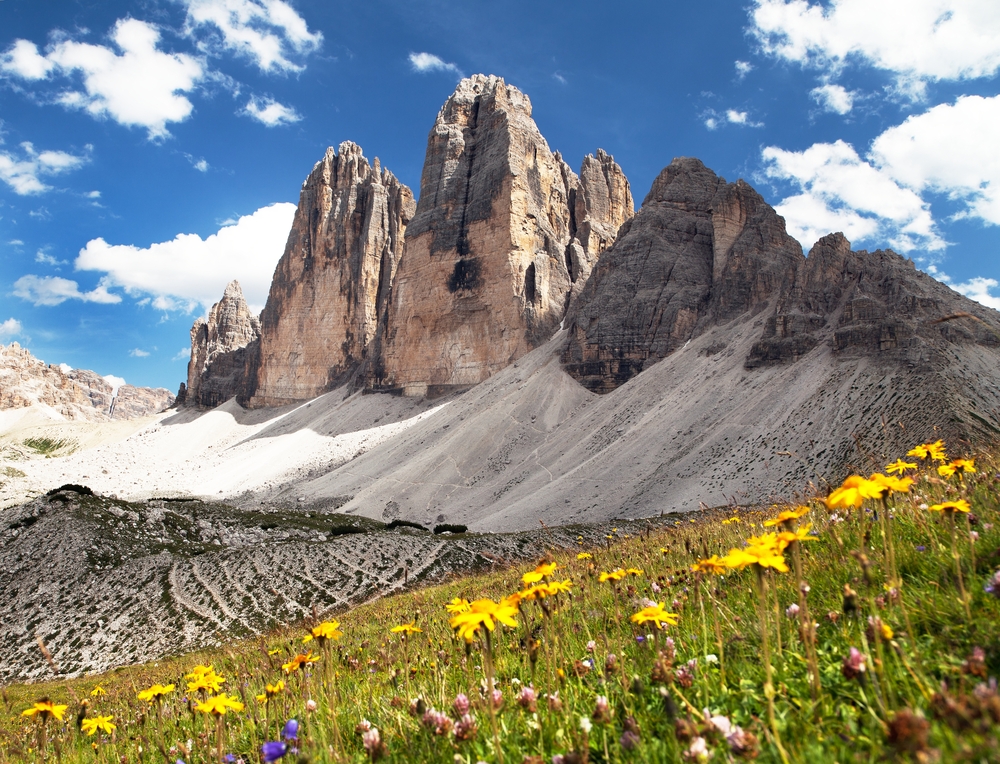 Lago Di Sorapiss
This lesser known Dolomites Hiking trail is worth traversing if only to see the milky turquoise water of Lago Di Sorapiss (Lake Sorapiss). Of course you will also enjoy the jagged mountains in the background, but the color and location of this lake are truly unique and enticing. You can park along the side of the road between Cortina and Misurina at Passo Tre Croci. Be sure to arrive early in the summer months because the road can become crowded since there is not an actual parking lot here.
The trail-head 215 is at the other side of a small meadow and is well marked heading into the woods. If you look closely you can see hideouts from WW1 hidden among the trees. It should be noted that once you are out of the forest you will be hiking along a lot of cliff edges with large drop-offs. If you have a fear of heights this might not be one of the best hikes in the Dolomites for you. From this point on you will be hiking along rocky ground and the trail is rife with stairs and ladders, making it a little more difficult than some of the other hikes on this list. The trickier parts have cables to hold on to to help you climb up and down.
Once you make it to the lake itself you can attempted to find a way around the lake for another view. If you would rather relax along the edge of the lake it is a stunning view of the mountains rising up behind the blue water. Remember that this hike is over 3 miles in, and therefore another 3 miles out and will take 4-5 hours total. Also, this lake is fed by the snow melting off of the mountains, so be sure to visit in the early summer when it is at it fullest.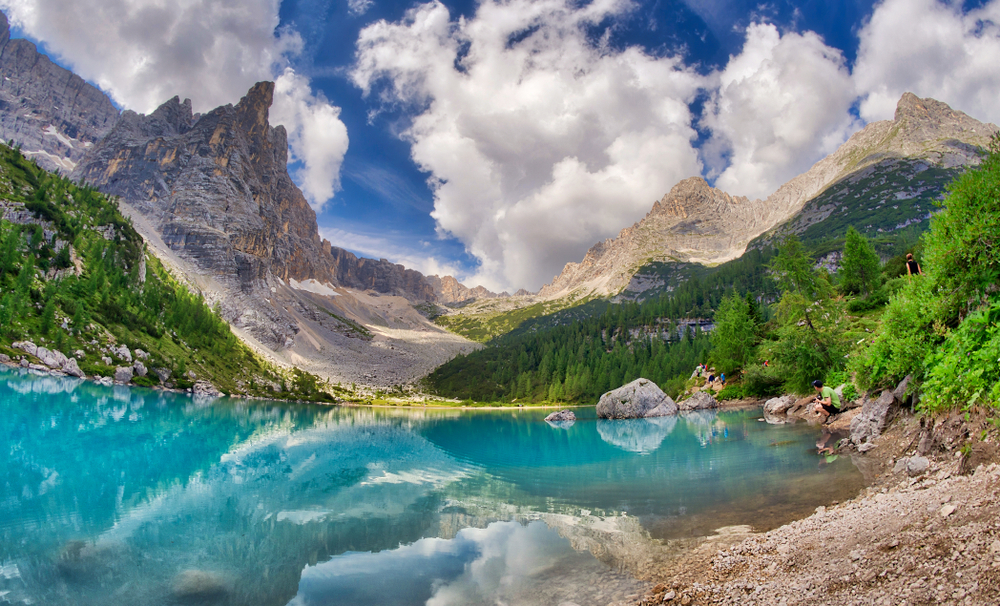 Lago Di Braies Circuit
With the rise of Instagram Lago Di Braies has become a popular destination for one specific viewpoint. This may lead some to believe that this location is overly crowded and unjustly hyped up. Do not let that discourage you, it is one of the best hikes in the Dolomites! Because of that single popular viewpoint many people do not realize that you can hike all the way around the lake. It is worth doing the entire loop.
Most people only go about 100 meters away from the parking lot, to the popular boat dock. This can cause the parking lots to be crowded and hard to get to, so it is best to arrive early in the morning or late in the afternoon. once you get out to the lake you will see how beautiful the clear blue water is with the mountains reflecting off of the surface. This is something worth seeing from every angle. At just under 2.5 miles this flat hike is ideal for families or beginners looking for incredible views without taking the entire day. The route is very easy to follow and can be done clockwise or counter clockwise.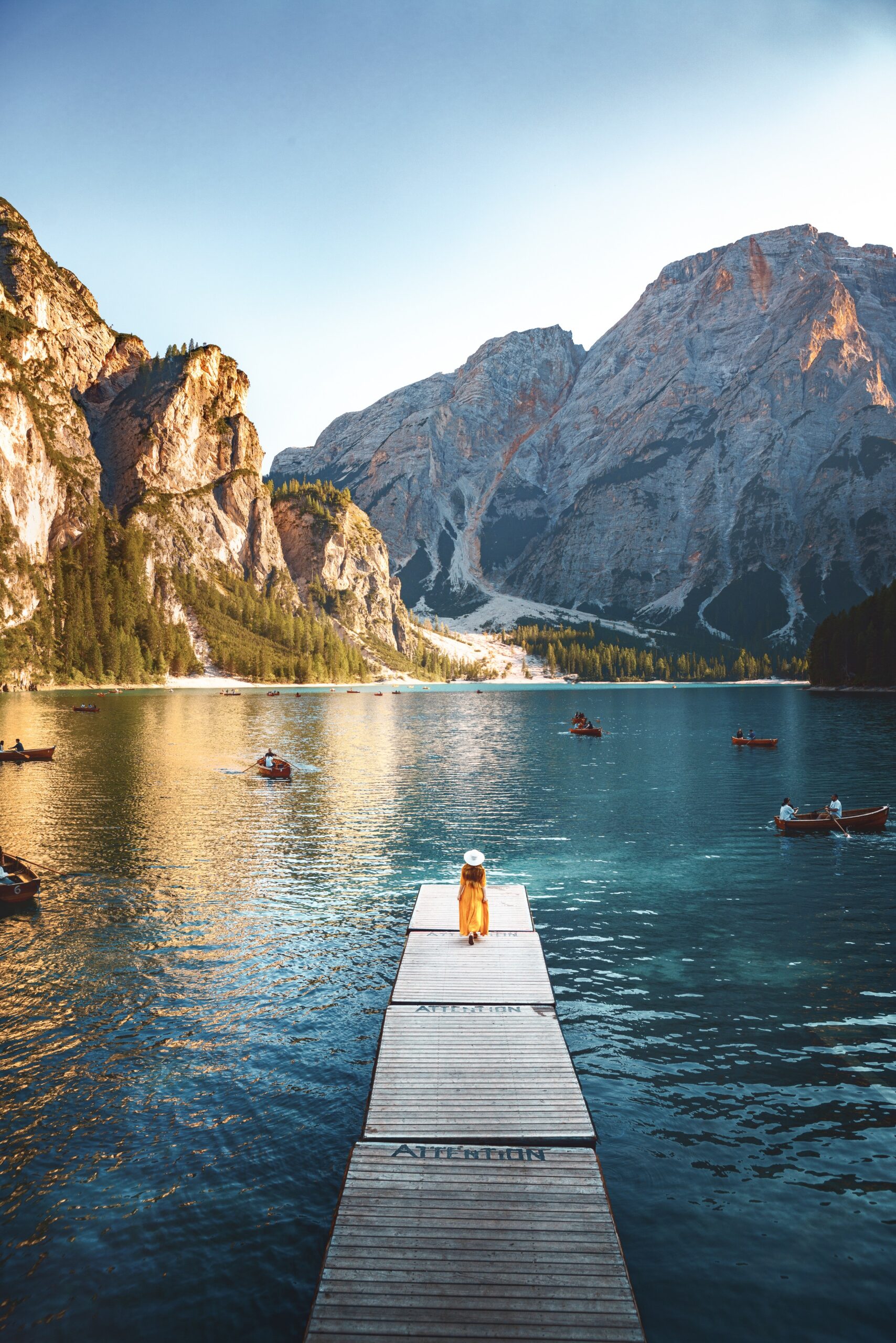 Seiser Alm/Alpe Di Siusi
There are several things you will want to know before heading out to Alpe Di Siusi. Firstly there are over 900 hiking trails here hitting every length and level if difficulty. Second, there is absolutely no driving in Seiser Alm, you must take either a cable car or a bus up to the actual meadow area. There is a large parking lot near Adler Lodge at the upper Ortisei (this is the location you will want to look up with your GPS). It is a little misleading because there are narrow roads you can see winding through the hillsides, but you will be slapped with a heavy fine if you try to drive them yourself.
Once you have made your way up to Alpe Di Siusi there are ample choices available for hiking, but we love Bullaccia/Puflatsch Trail. You can either walk up a very steep 300 meter hill or take another cable car to the start of this trail (look for Bullaccia / Puflatch cableway). Once you are there this 3 mile trail will be very well marked and take you out to another, much smaller, plateau. The reason this is one of the best Dolomites hikes is because this smaller meadow will give you an epic view over the incredible alpine meadow that is Aple Di Siusi. You will be able to really appreciate the rolling hills leading up to the jagged mountains in the distance.
Vajolet Towers
This hike is ideal for anyone who is looking for something less crowded and less touristy than some of the more popular hikes in the Dolomites. This hike is in the gorgeous Rosengarten Nature Park area of the Dolomites. There is a large parking area across the street from Malga Frommer Alm, but you will want to get there early to get a spot (as usual). To start the hike you will need to take a chairlift to get up to the beginning of the trail. The lift pass costs 14 Euro, but it is good for 7 days.
You will want to take path 550 at the top of the chairlift, and you will continue to follow it until you come to a fork in the trail. At that fork you will reach Passo delle Coronelle and you will want to hop on to path 541 until you come to the hut Rifugio Vajolet. There are some incredible views of the Vajolet Towers around this hut so it is a great place to stop for a bite and explore a little bit. When you are ready to continue you will be heading on to path 542, which is quite steep and fairly challenging. After an hour you will finally reach the towers themselves as well as rifugio Alberto Primero directly beneath them.
The entire area is absolutely breathtaking and you will want to walk around to take in every angle. After you are finished you can head back out the same way that you hiked in. Overall this relatively difficult 5 mile hike should take you around 5 hours, although it could be more depending on how often you stop.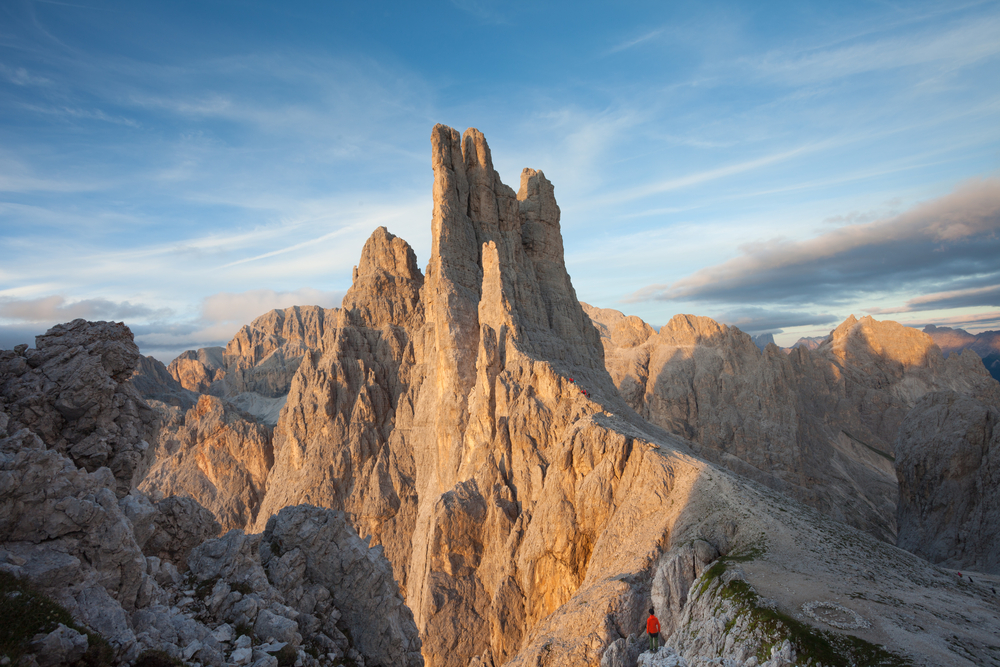 Seceda Ridgeline Hike
This is another one of the Dolomites hikes that requires taking a cable car up to the actual trail. It is quite pricey, but totally worth it to save a ton of time and effort. The Seceda Ridgeline is easily one of the most recognizable locations in the Dolomites, and in the winter the ski lifts take people right up to it. Unfortunately (or maybe fortunately) that summer gondolas do not get you nearly as close and it requires some hiking.
Coming from upper Col Raiser gondola terminal you will take path 2, which is more like a small road than an actual trail. You will be heading uphill and will quickly come to path 1A off to your right (like most of the hikes in the Dolomites it is well marked). Then you will make another right on to path 6 and stay on that until you arrive at the actual ridge. Overall it is a fairly quick hour long hike with an incredible payoff. Definitely stick around and explore for a while before heading back towards the gondolas on the same path you took out.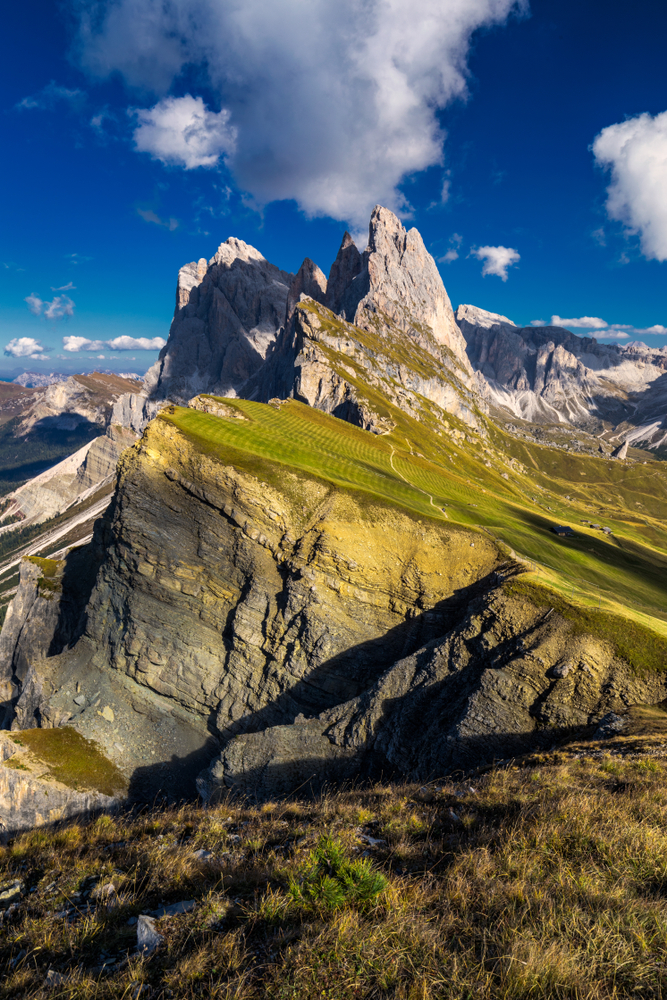 Rifugio Fonda Savio
Getting to this epic hut that is perched up on a large rock can be a bit challenging, and it not ideal for young kids. But the view from the rifugio is worth the difficult hike. You will likely want to take a bus from either Dobbiaco or Cortina up to the trail-head called Lago d'Antorno. Once you are there you will be able to easily follow signs to get to the hut, it is also a well-traversed trail and you will have other people around you the entire time.
It starts out pretty easy in a nice meadow area, but once you get out to the mountainous, rocky parts it becomes more challenging. The final ascent to rifugio Fonda Savio is a very steep staircase-like climb. There are cables to assist, and even some wooden boards in spots that would not have good enough footing otherwise. Do not be disheartened, the food here is incredible and the view back over the trail below is breathtaking!
There is a way to make this Dolomites hiking trail a loop, but you will get mostly the same views and it is considerably easier to head back out the same way you came in. in the end you will have hiked nearly 4 miles with a total time of around 3.5 hours.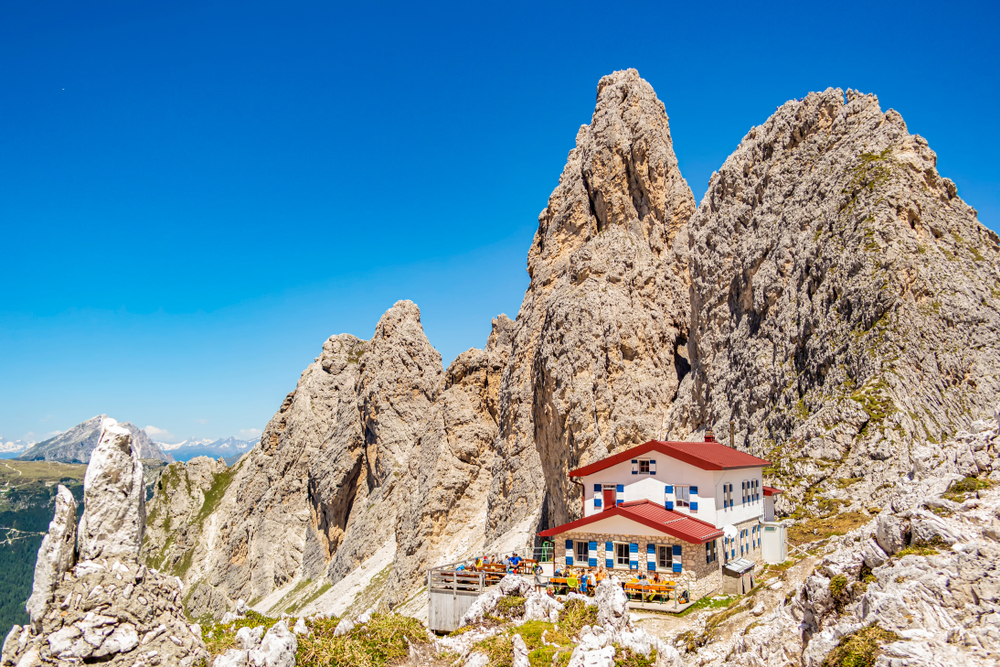 No matter why you are in Italy you will definitely want to carve out some time on your road-trip to visit the majestic Dolomites. The splendor of these mountains are best explored with your own two feet. You do not want to miss out on the incredible views and remember to bring a camera because you are not going to want to forget these Dolomites hiking memories.