If you are looking for the best easy Dolomites hikes, you have come to the right place. We aren't huge hikers so none of these hikes will be crazy treks and you can do them all in a day. Some are a little more challenging than others, but we notate that below. Either way, these hikes in the Dolomites offer some of the best of the best views for photography and more.
The Italian Dolomites are home to some of the best hiking in the world, and there is truly something for everyone. They are a UNESCO World Heritage site and offer so many activities including skiing, mountain biking, rock climbing, spas, canoeing and more.
The Dolomites are second to none and it is definitely worth stopping while you are in
northern Italy
or making a trip just to spend time in this breathtaking corner of the world. The best time for hiking in the Dolomites is mid-late summer, after the snow from the winter and spring has melted. We have notated what to do for various hikes below if you come during the colder months.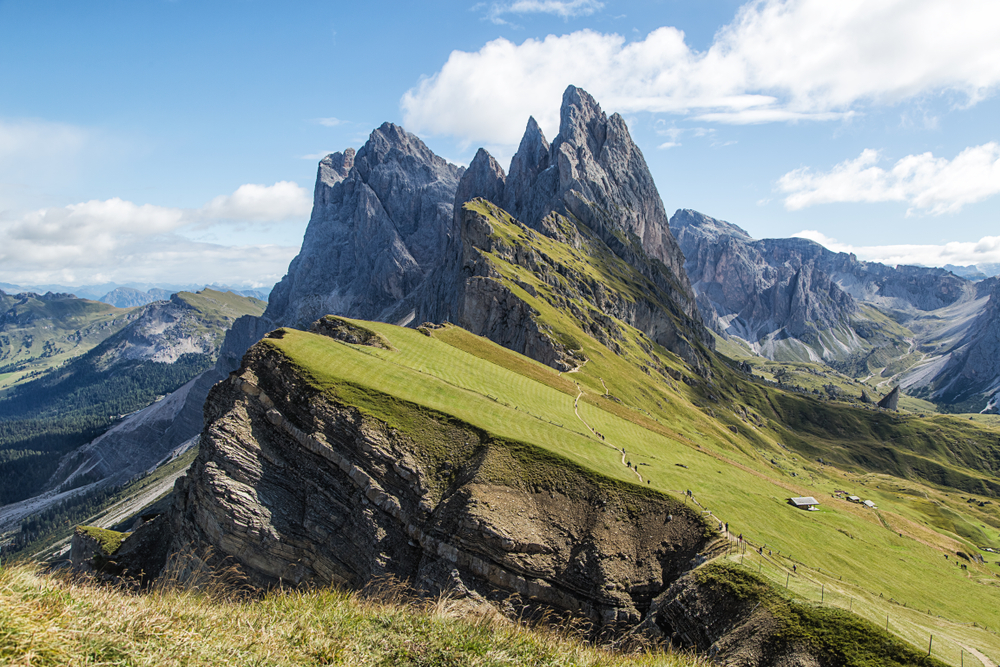 7 Best Dolomites Hiking Trails You Can Do In A Day
Cima Cadin
While hiking in the Dolomites is undoubtedly beautiful, it can also be a bit confusing for some of the hikes. This first hike on our list is an prime example of this. With the rise of Instagram this is a popular photography location, and yet there is little information on how to actually get the the popular viewpoint. People on Instagram don't disclose where things are and while it is beautiful, you can rarely visit it yourself because you don't know where in the entire country it is located.
The only way we were able to find this location was from Marta from In A Faraway Land's
Post On Photography Spots In The Dolomites
. She explains how to get there and provided us with some tips over DM and on Instagram.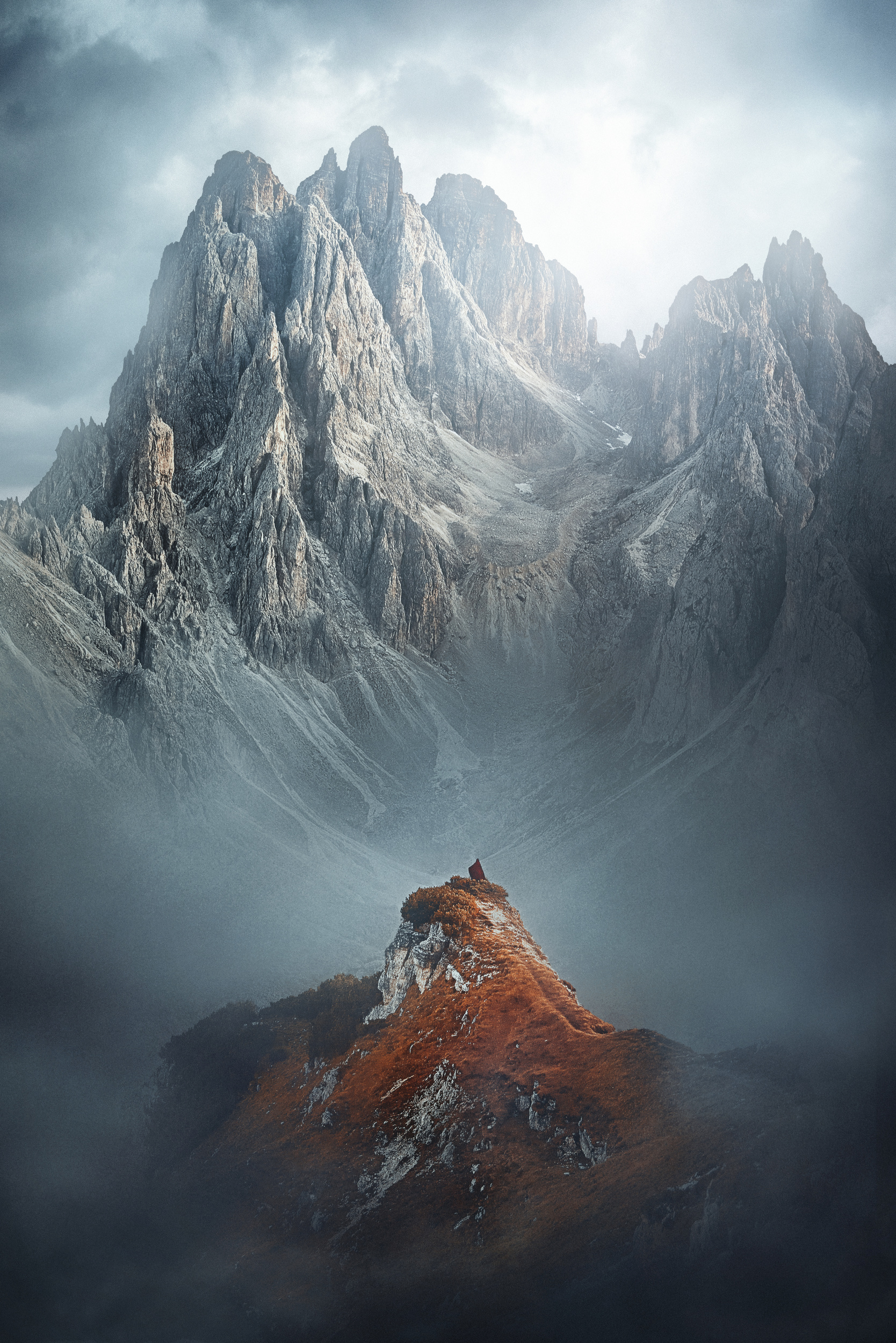 Cima Cadin is actually its own range within the Dolomites so there are a few options of what to see here. But for the sake of sticking to Dolomites Hiking trails, we will focus on the "finger mountains" along path 117 as you can see in the photo below. This is one of the lesser-known hiking trails in the Dolomites but is easy to complete in one day.
It is pretty easy to find if you know what you are looking for. To get here, simply look up "Tre Cime" and follow the directions up the mountain to Rifugio Auronzo. For those that don't know, a rifugio is similar to a little mountain hotel but with only basic comforts. Tre Cime translates to three peaks.
Hiking Tre Cime
is much more popular than the Cima Caden hike, so this is why you should navigate here first.
As you are driving up the steep mountain road, you will come to a toll booth. The toll or price for the last 10 minutes of the drive is a whopping 30 euros. Make sure to budget for this on your
Northern Italy itinerary
so you won't be surprised when you arrive. As you are forking over those 30 euros, just remember that you could be hiking this whole way, so driving and paying the 30 euros is a much better trade.
From Rifugio Auronzo, you will walk AWAY from Tre Cime or the three peaks. You will find trail number 117. You will have to look at all the wooden trail markers along the parking lot until you find the path number 117. You can see the "finger mountains" peeking out in the distance if you are standing in the parking lot with Tre Cime to your back.
One you begin the hike, it will take about 30-45 minutes at a reasonable pace. If you are a slower hiker or have trouble going uphill, you will want to budget about 60 minutes. We did this Dolomites hike in under 30 minutes as we were rushing to be there for sunset.
Although much of this hike is uphill, it's actually a fairly easy hike. We do NOT like uphill hikes at all and we found this one quite alright, and we just took a lot of breaks throughout the whole thing. Even with our breaks, and we take them every 50 steps it seems, we still completed it in 30 minutes.
As soon as you reach the top of the hill that you are hiking up on path 117, you will see the view you came for!! It is stunning and we recommend spending at least 2 hours here if you can. You can hike more of the path 117 or find other small paths. You can have a picnic lunch or watch the sunset or take amazing photos! This is truly one of the
best hidden gems in Italy
and shouldn't be missed!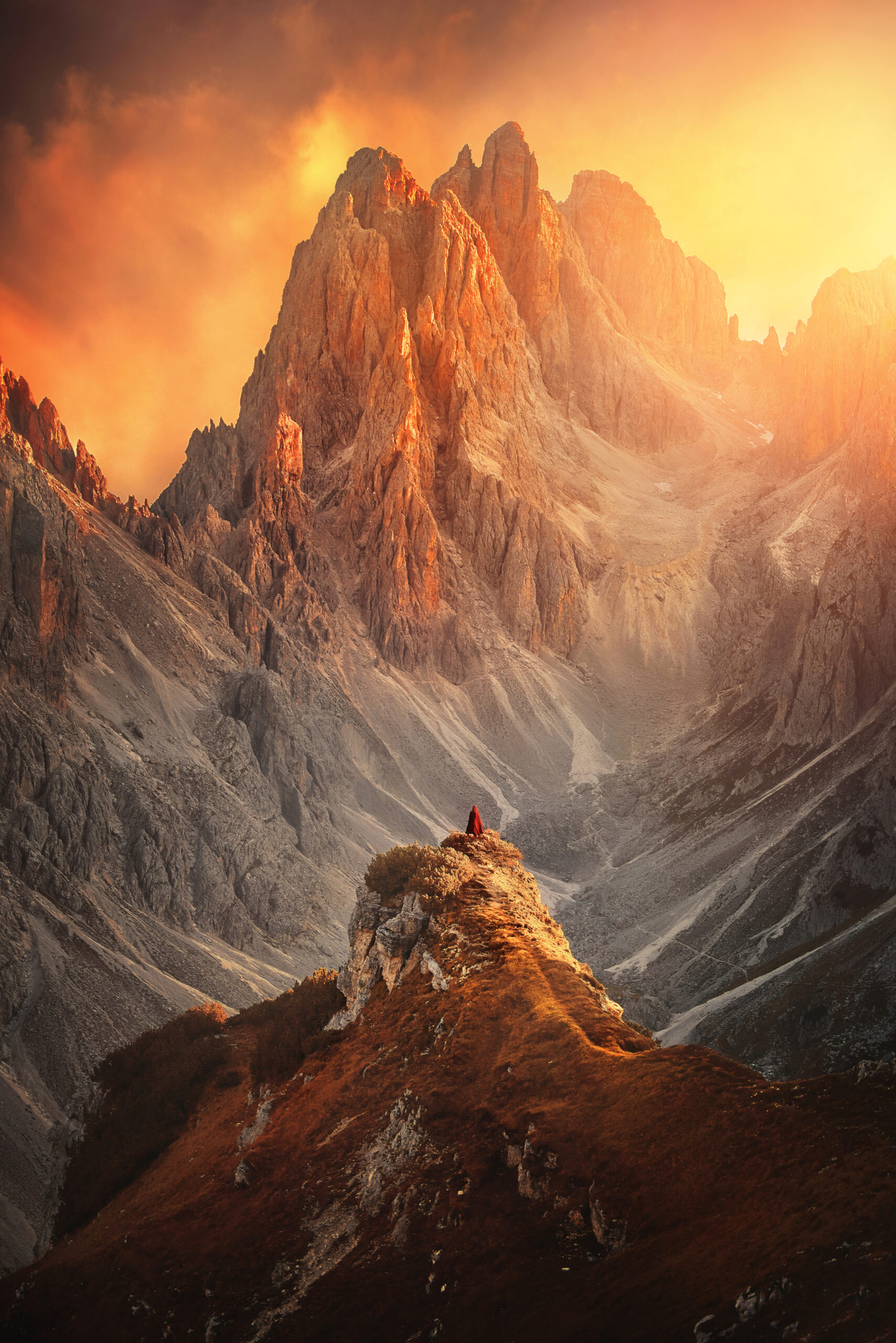 Adolf Munkel Trail
As far as Hikes in the Dolomites go this one has a lot of epic views with relatively little effort. Like the last one this is also slightly uphill for the first half, but this 5 mile Dolomites hiking trail is well marked and easy to follow.
Terrence was actually THRILLED when he found out that this hiking trail existed as it was perfect for a photoshoot! Sadly, the conditions didn't make for the photos we wanted, so we will have to come back and try again in the future.
To begin this hike, drive to the Zanser Alm parking lot. Just the drive is gorgeous and there are many pretty viewpoints as you head through Val Di Funes. It costs 5 euros to park here and the parking lot fills up quickly as Zanser Alms is quite a popular area for hiking and walking. We arrived at around 2pm and it was very full and we had to park at the far reaches of the lot. This made for a mini hike before we even got started!
Once you arrive at the front of the parking lot, you will want to take trail 6 and head toward Tschantschenon. You will be walking on a large gravel road and there will be a slight uphill. Again, we aren't good with uphill and this one lasted longer than we would have liked. It is gradual and tons of older people were doing it so I am sure you will be fine, we are just out of shape!
We actually walked PAST the fork in the road we were supposed to take [listed below] and continued for 30 minutes in the wrong direction. Do not make this mistake!
As you begin this easy dolomites hiking trail, you will pass three small lodges. This is a great place to stop and take some photos from the trail as the cows in the pasture and the mountains in the background look like something out of a postcard!
After you pass the lodges, you will come to a bridge and you will want to turn right onto trial 35. This is the trail to Geisler Alm. There are a few options at this point. If you want to take a longer hike in the Dolomites, you will come to a fork in the trails and will take path 36A which will take you past Gschnagenhardt Alm. If not, you will pass that fork in the road and continue onto trail 36.
To be completely honest, the Zanser Alm region confused us and we had to ask local hikers for directions. Don't get 36a and 36 confused if you want to take a shorter hike. If you want shorter, stick with 35 and 36, but not 36A.
You will eventually arrive at Geisler Alm. There is a hut where you can stop and have a bite to eat or a picnic. If you are hiking in the Dolomites with children, there is a playground where they can burn off some energy. The view is fantastic and we recommend spending at least 45-60 minutes here. You want to relax and soak in the nature all around you!
Once you have had your fill of the view, you will simply continue along path 36 and retrace your steps until you are back to the parking lot. You will once again pass the lodges and the picturesque pastures with the cows. The views are truly epic and this easy hike in the Dolomites will not disappoint!
We saw a lot of older people and families on this trail, so if you are visiting with anybody from this demographic, you will be sure to have a good time!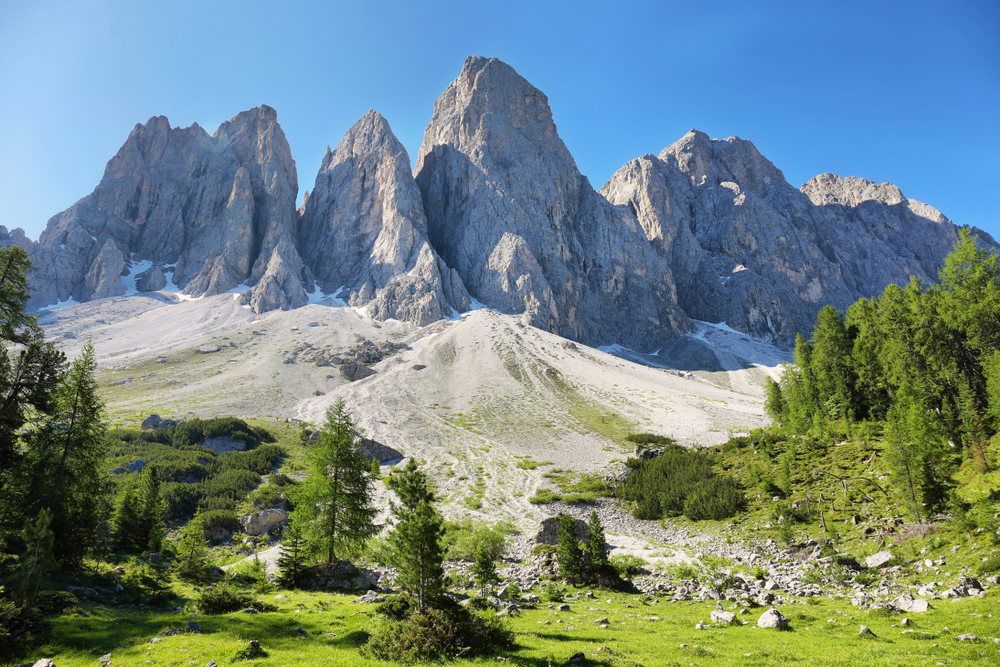 Church Of Santa Magdalena Hike
This iconic photo spot along a relaxing Dolomites Hiking trail can easily be reached by hiking along a road. Now, you may assume that you can easily drive along the short road up to the viewpoint, but that isn't the case and it is actually illegal.
How do we know this? We were staying at a little Airbnb at the bottom of the road. We didn't know better and we drove up from where we were staying, halfway up the road and tried to park. We were immediately chastised by the man who owned the property and learned that this was actually a private road that you can actually get fined on.
We made this mistake and turned the car around within moments of arriving. Luckily we didn't get a fine, and we don't want you to get a fine either. This appears to be a road you can drive on, but it isn't so don't make the same mistake we did!
Luckily, you can still take in the viewpoint which is at the end of one of the easiest Dolomites hiking trails. You simply hike up the same road and you can see the little church with the ridge in the background. Since we were staying nearby and could park in our Airbnb driveway, we went up every day for sunrise and a few times for sunset.
If you want to take this hike, you will need to park in the town of Santa Magdalena at the bottom of the hill. You will put in Santa Maddalena Viewpoint in your GPS which will guide you in the general direction. DO NOT put in Chiesa di Santa Maddalena or the name of the church as it will take you directly to the front door of the church.
This is not correct. You want to hike AWAY from the church itself in order to get the church in the view!
As you hike, you will be hiking through the little village and past hotels and cute little houses. You will make your way uphill and you will eventually come to some open pastures. If you see the name Panoramaweg on a sign you are going the right way.
If you do put in the name of the church, that is okay too as long as you get in the right direction from the town itself. If you put in the church name because the viewpoint didn't come up for you, just know that you will NOT go right to the church along that road, you will instead go LEFT and continue uphill near a steep grassy area.
There will be some benches along the road and you will have successfully made it to one of the prettiest views!
Depending on how fast you hike, this Dolomites hiking trail should take around 30-60 minutes. We did it pretty quickly, but we were already staying halfway up the hill. If you are hiking in the Dolomites in the summer, keep in mind that this hike is VERY hot due to the pavement and lack of trees. Wear sunscreen and take water!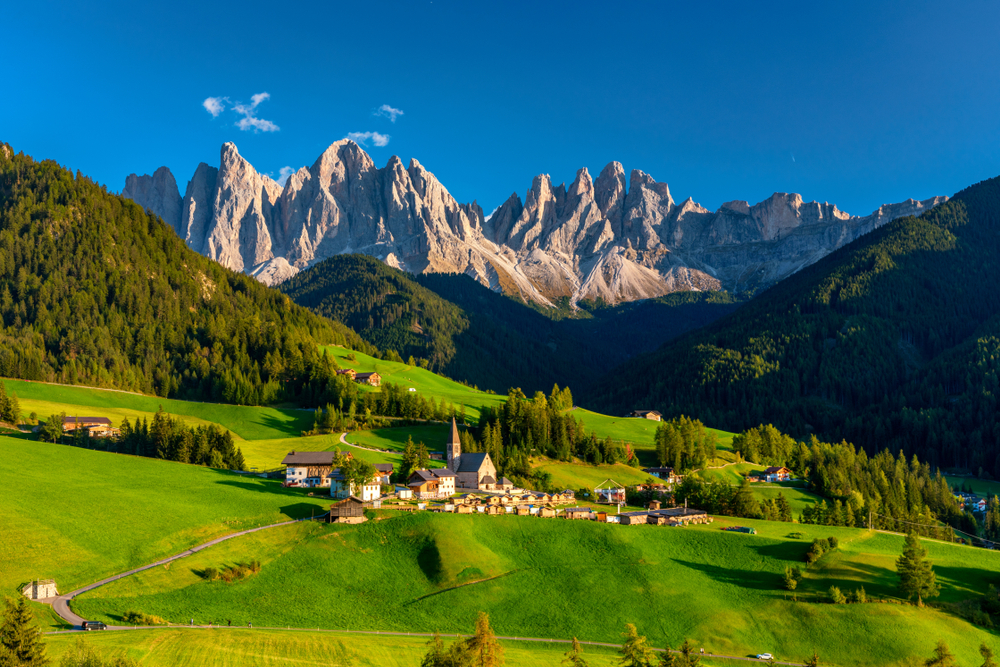 Tre Cime Circuit
This popular and well-maintained hiking trial begins at Rifugio Auronzo, the same place that Cima Cadin started. You may remember that there is a hefty toll, around 30 Euros, to get to the parking lot.
But there is also the option of taking a bus from Lago Misurina or Lago D'Antorno during the summer months. This is one of the best Dolomite hikes as it has many huts to stop at, is fairly level throughout, and you get to see the Tre Cime's three peaks from every possible angle. It is really quite a lovely hike and you can choose to do some or all of it.
Since we wanted to shoot Cima Caden and Tre Cime in the same day, we ended up only hiking some of this one, not the full 6 mile loop. This is a busier hike in the Dolomites, but it is longer so the people are mostly spread out.
As people do, most hikers begin towards the right of the trail along path 101. Since this hike makes a loop around Tre Cime or the three peaks, you can go in either direction, depending on the crowd levels and your interests.
There are many amazing views to see along the way so make sure to have your camera ready at all times! This entire Dolomites hike is a little over 6 miles and takes around 4-5 hours. Make sure to tell a friend or family member where you will be and take plenty of water and snacks.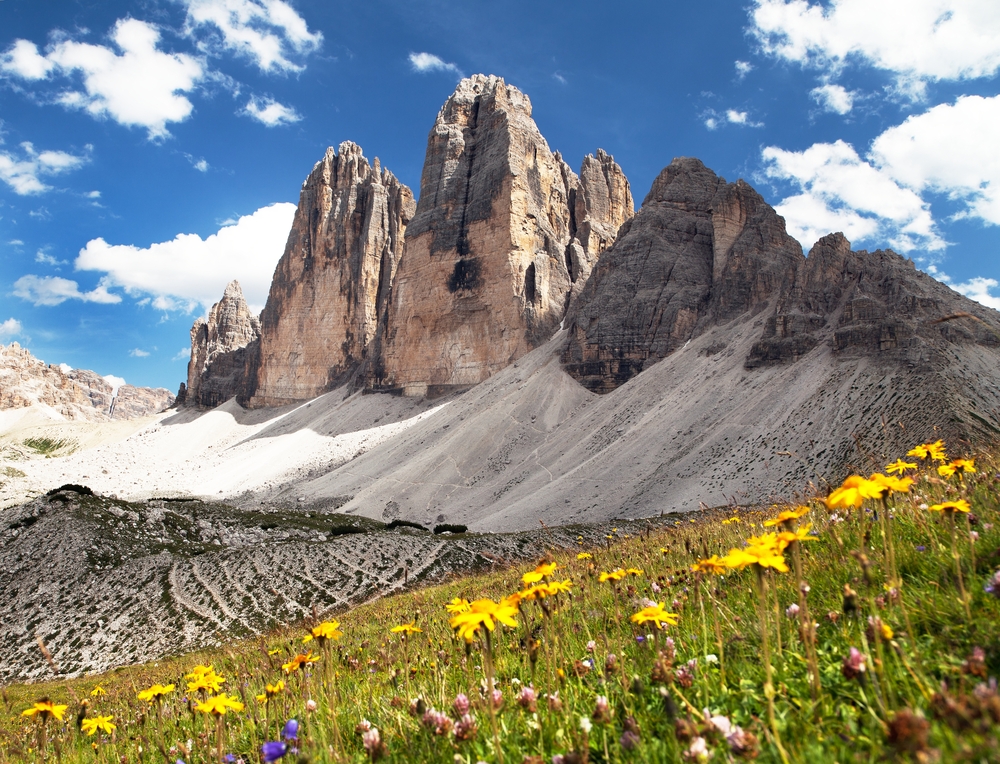 Lago Di Braies Circuit
With the rise of Instagram Lago Di Braies has become a popular destination for one specific viewpoint. This may lead some to believe that this location is overly crowded and unjustly hyped up. Do not let that discourage you, it is one of the best hikes in the Dolomites! Because of that single popular viewpoint many people do not realize that you can hike all the way around the lake. It is worth doing the entire loop.
We thought that Lago Di Braies would be "subpar" and that Instagrammers would have edited the photo to make it look fake or unrealistic. In reality, Lago Di Braies is actually MUCH BETTER in real life than you could ever imagine. As a result, we do strongly urge you to come here for more than just one photo and to actually take time to soak in one of the prettiest Dolomites hikes!
Most people only head to the little boat dock that is right by the parking lot, take their photo, and leave. This is a huge mistake! There is a lovely flat hiking trail that goes around the entire outside of the lake. It is just 2.5 miles and is perfect for those who don't like difficult hikes. It is flat the entire way around and there are many stops if you want to just sit and look at the lake.
Since this Dolomites hike is a loop, you can choose either direction to begin. Lago Di Braies blew us away and the short hike is totally worth it to see this lake at every possible angle! You won't want to miss it and it is the perfect place to eat a picnic lunch or a snack.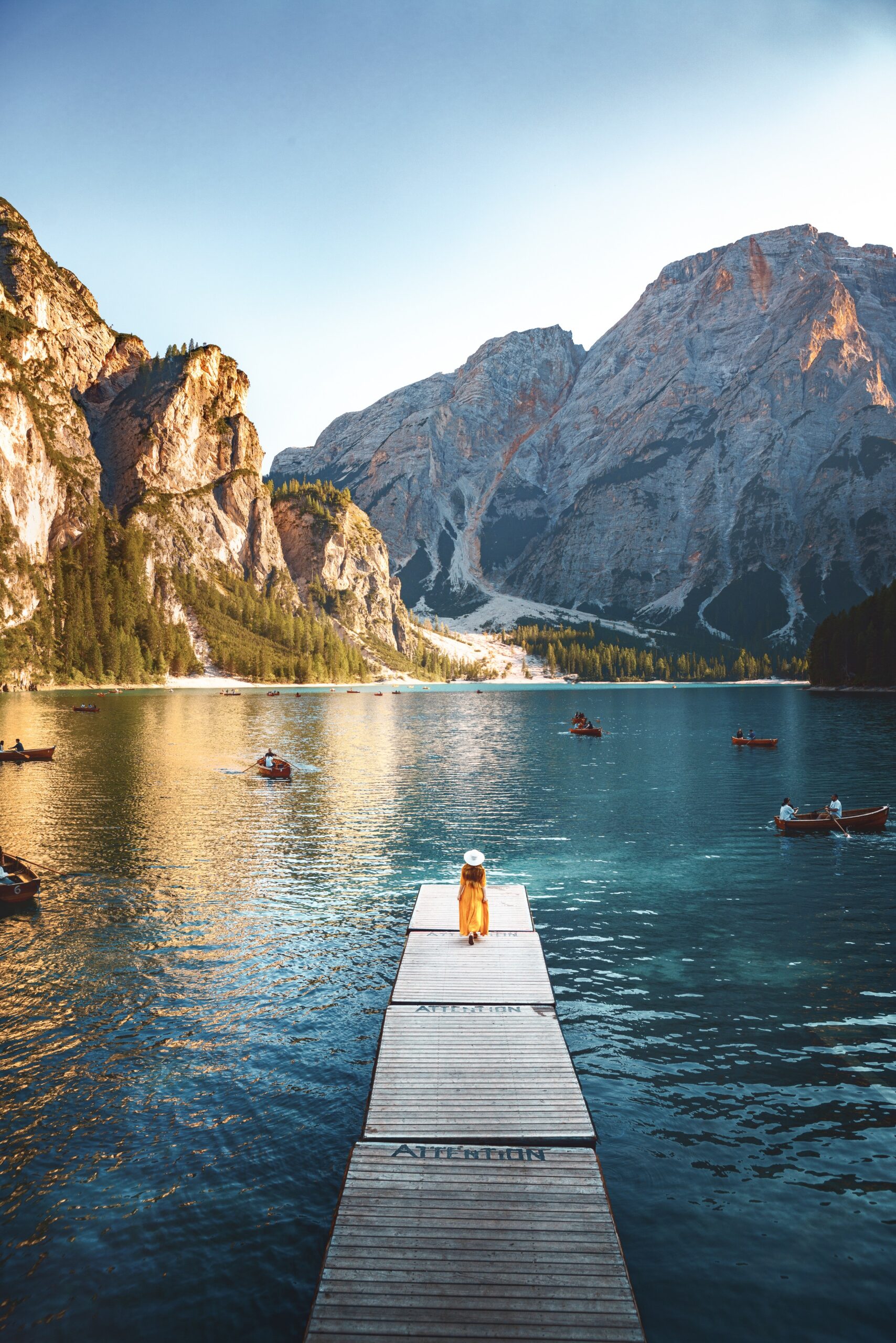 Seiser Alm/Alpe Di Siusi
There are several things you will want to know before heading out to Alpe Di Siusi. First, there are over 900 hiking trails here hitting every length and level if difficulty. Second, there is absolutely no driving in Seiser Alm, you must take either a cable car or a bus up to the actual meadow area. If you ask 10 different people you will get 10 different answers.
Essentially, unless you are staying at a lodge or hotel in Alpe Di Siusi, you CAN NEVER DRIVE HERE! If you ARE staying at a lodge, you can ONLY drive to your lodge at certain hours of the day. You can NEVER drive around the meadow at any point. You can only drive to/from your lodge during certain hours of the day.
So basically, if you aren't staying in a lodge, you will have to drive to an approved parking lot and hike into Alpe Di Susi. Alternatively, you can take a bus or cable car.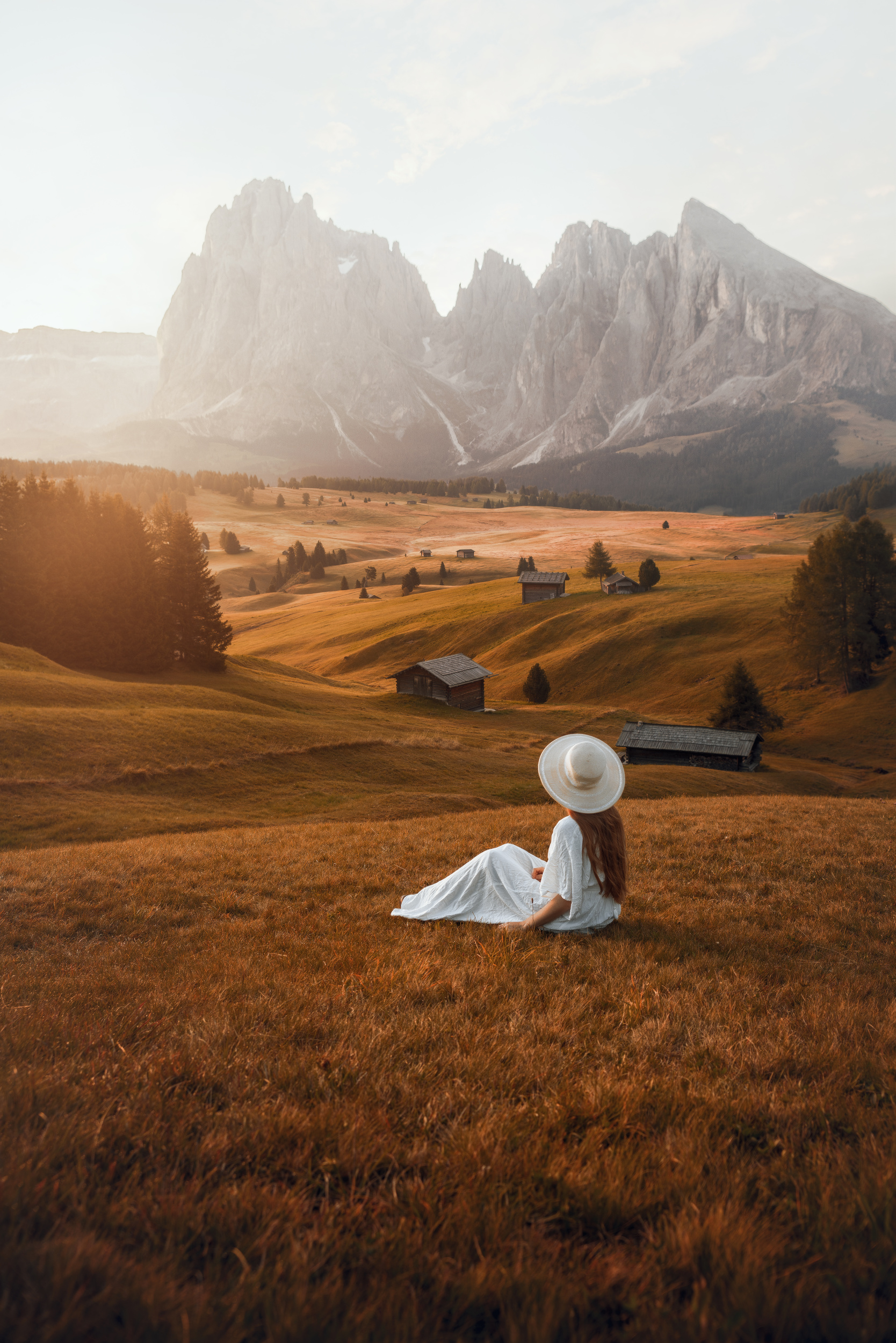 We know a friend who was slapped with a 200 euro fine within a few minutes of coming in for sunrise with her family. She truly didn't know and we want you to avoid that same fate!
To access Alpe Di Susi before busses or cable cars are running, such as for a sunrise photo mission like we did, you will want to drive your car to the parking lot at Compatsch. This is a small town on the outskirts of Alpe Di Susi and where busses pick up hikers later in the day. When we arrived it was 5am so it was dark and there were no busses.
From the Compatsch parking lot, it is a very easy and flat 30-45 minute hike to the common view of the two mountains. It is very easy to follow and there is only one slightly uphill part of the road. Once you arrive, you can walk around until you find the perfect viewpoint. We continued up to Hotel Icaro [put it on your GPS] and stayed in that area to get the viewpoint we desired.
You don't have to only hike this small trail in Alpe Di Susi if you don't want to. It is simply along the road and perfect for photographers or people wanting to take in the view. There are many other options so just see where the moment takes you and plan for an entire day exploring all of the Dolomites hikes Seiser Alm has to offer!
Seceda Ridgeline Hike
This is one of the Dolomites hikes that requires taking a cable car up to the actual trail. You CAN hike from the bottom, but it is going to take you forever and should only be done by experienced hikers.
The Gondolas are quite pricey but totally worth it to save a ton of time and effort. The Seceda Ridgeline is easily one of the most recognizable locations in the Dolomites. We had dreamed about coming here for as long as we can remember, and the view took our breath away!
You will 100% want to take the Gondola from Furnes station. This will bring you right up to the Seceda Ridge and you will only have a 10-minute hike to some of the best views in the Dolomites. That being said, the Furnes station isn't open all year and if there is a lot of snow from the previous winter, may not open until mid-June.
If Furnes Station isn't open, you will come from Col Raiser station. You will take path 2 which is a small road. You will continue up this road and straight up the side of the mountain. This trail doesn't look as bad as it actually is. Now, as I said above, we are out of shape, but this Dolomites hike was way worse than we had thought and we thought we might die. [Not kidding!]
We hiked up from a lodge near Col Raiser Station for sunset and we meant to come back for sunrise the next day and just couldn't bear to make the trek again! If you aren't used to hiking a lot, we recommend trying to use the Furnes station whenever possible. We used this station and it was just so much easier.
Once you arrive to the top of the Seceda Ridge, there are many hike options to enjoy this part of the Dolomites. You will see various trails weaving their way around and you can simply pick whichever ones you love the best. To save money, you could even rid the Gondola up and hike down, if you are in good physical fitness!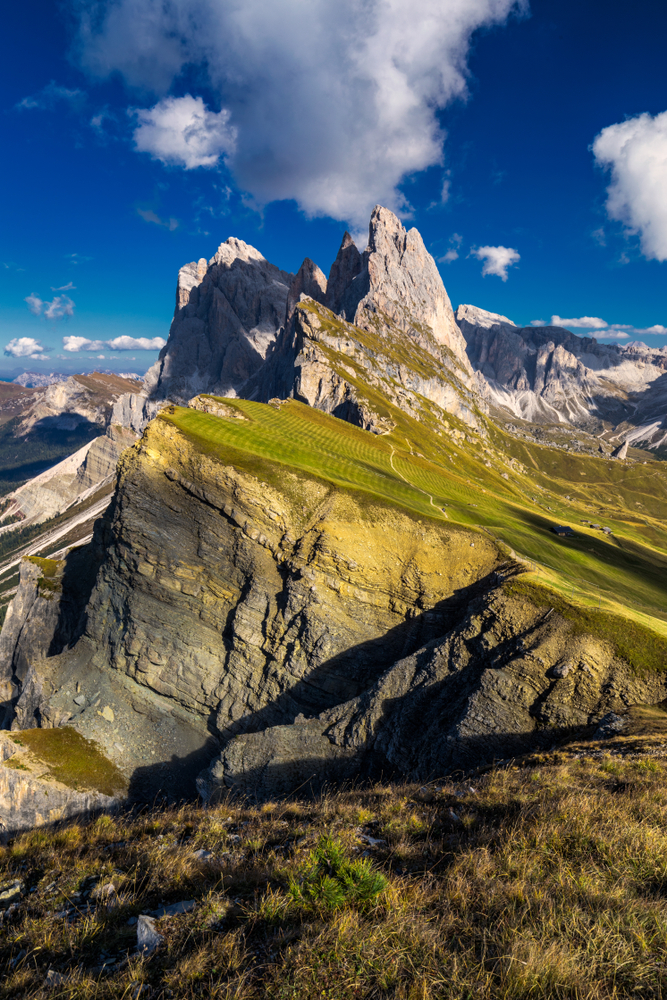 No matter why you are in Italy you will definitely want to carve out some time on your road-trip to visit the majestic Dolomites. The splendor of these mountains are best explored with your own two feet. You do not want to miss out on the incredible views and remember to bring a camera because you are not going to want to forget these Dolomites hiking memories.