It was hard to narrow down this list of the best Airbnbs in Italy to only 19! There are so many amazing places to stay in Italy, you will not want for luxury or unique features! Since this is one of the top tourism countries in the world, it makes sense that Airbnb hosts in Italy really had to step up their game to stay ahead of the curve.
This comprehensive list of Italy Airbnbs includes accommodations in all of the top cities in the country. Want a lush apartment in Rome? How about a home only steps from the beach? Or a countryside villa with amazing views? No matter what you are looking for Italy is bound to provide you with the accommodation you will not soon forget!
We will happily take away the hassle of scrolling through places to stay in Italy. Instead, select one of our catered choices and move on to the big-picture parts of planning an Italian vacation. Italy is a country steeped in history, art, and culture, plus there is plenty of delicious food to devour! You are guaranteed a great time! Click here to learn about our favorite times of year to visit Italy.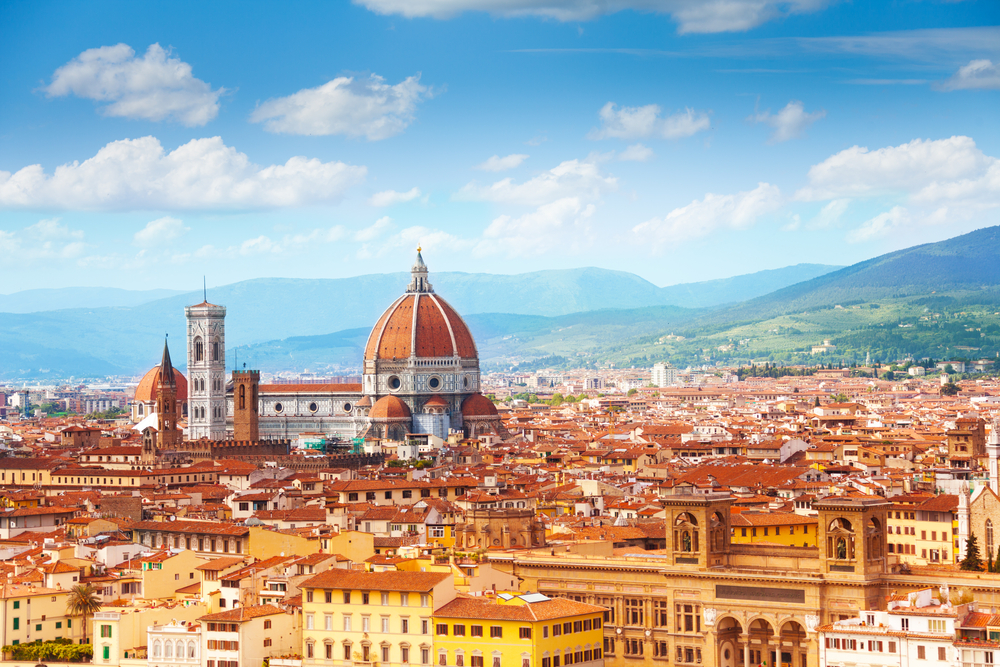 19 Best Airbnbs In Italy (Villas, Trulli, and More!)
Noble Suit in Rome
If you want to feel like royalty, you will need to book the Noble Suit in Italy's capital, Rome. This historic city has some of the best Airbnbs in Italy and this apartment is certainly one of them. From high ceilings covered in 1900s frescoes and dangling chandeliers to the polished, dark hardwood floors, you will definitely feel as if you are in a palace.
While this apartment seems like a destination itself, it is not far from many famous tourist attractions, such as the Colosseum, Trevi Fountain, Roman Forum, and Spanish Steps. Even though this property is right in the middle of the city, it is surprisingly spacious and can house up to six guests. There is also a big rain shower to relax in, so you really shouldn't pass up the Noble Suite, one of the best Airbnbs in Rome.
Click Here To Check Rates On Airbnb!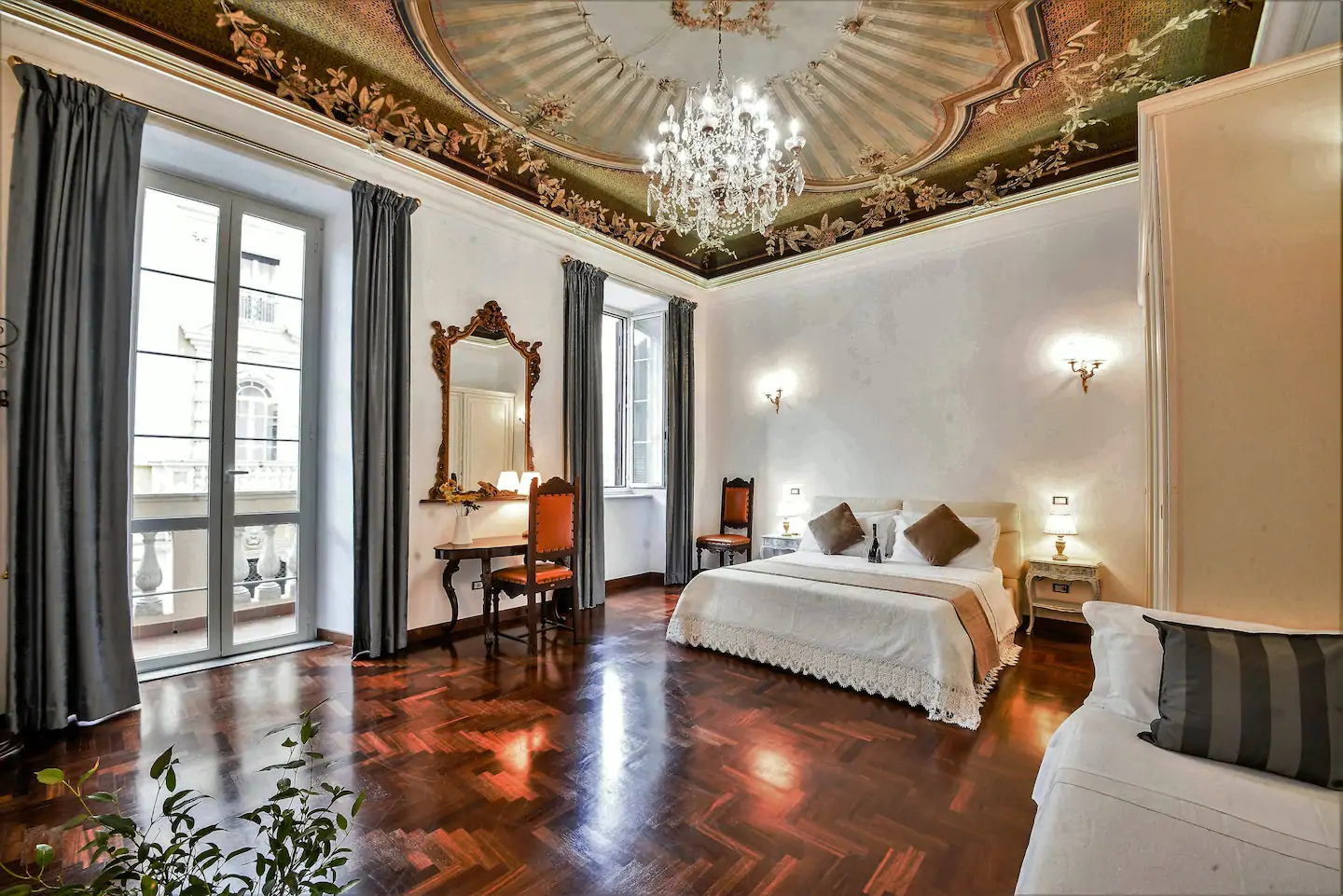 Lovely Apartment Overlooking the Pantheon in Rome
This next Airbnb is also in Rome but is a completely different style. While the first was lush and sleek, this one is rustic and homey, with strong fairy-tale vibes. Gorgeous exposed wooden beams throughout and intricate tile work in the kitchen and bathroom will make you snap pictures like crazy to remember all of the pretty details.
While the inside is to die for, the view out the window is spectacular as well! You could practically touch the famous Pantheon, it is so close! If you don't feel like joining the crowds in the square below, you could entertain yourself by people-watching from your perfect vantage point. Almost all of the main tourist attractions Rome has to offer are a short walk away along with many bars, restaurants, and shops. Book this place if you love being in the center of all the action! You will definitely have a stay to remember at this lovely apartment out of all the Airbnbs in Rome. Click here for our 2 perfect days in Rome itinerary.
Click Here To Check Rates on Airbnb!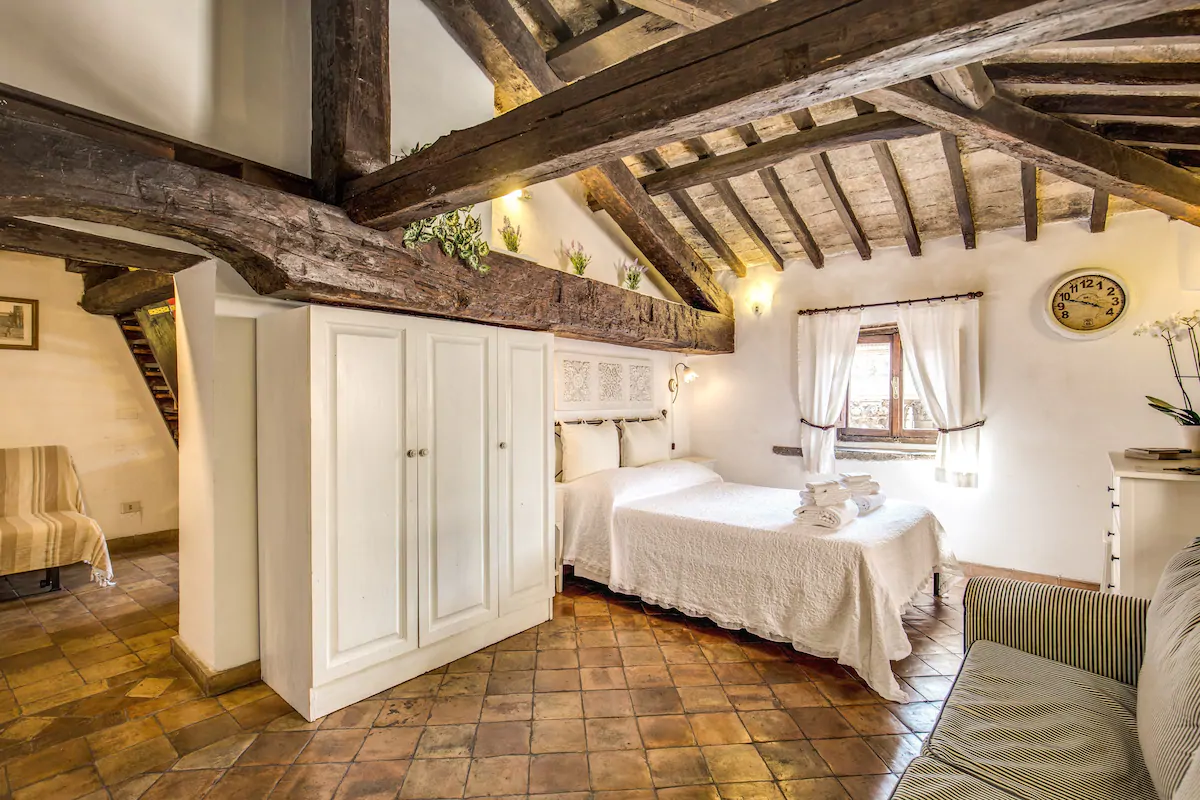 Stunning Studio with Canal Views in Venice
When you travel to Venice, you need a place to stay with canal views! This amazing studio apartment provides views of not just any canal, but of the large Grand Canal! It is a cozy, colorful apartment full of art and vintage touches.
This option out of the Airbnbs in Venice is close to many tourist areas, but not so close that you have to deal with noise. Instead, you will feel like a local as you search out little, hole-in-the-wall restaurants and cafes in the neighborhood. Click here for our 2 days in Venice itinerary.
Click Here To Check Rates On VRBO!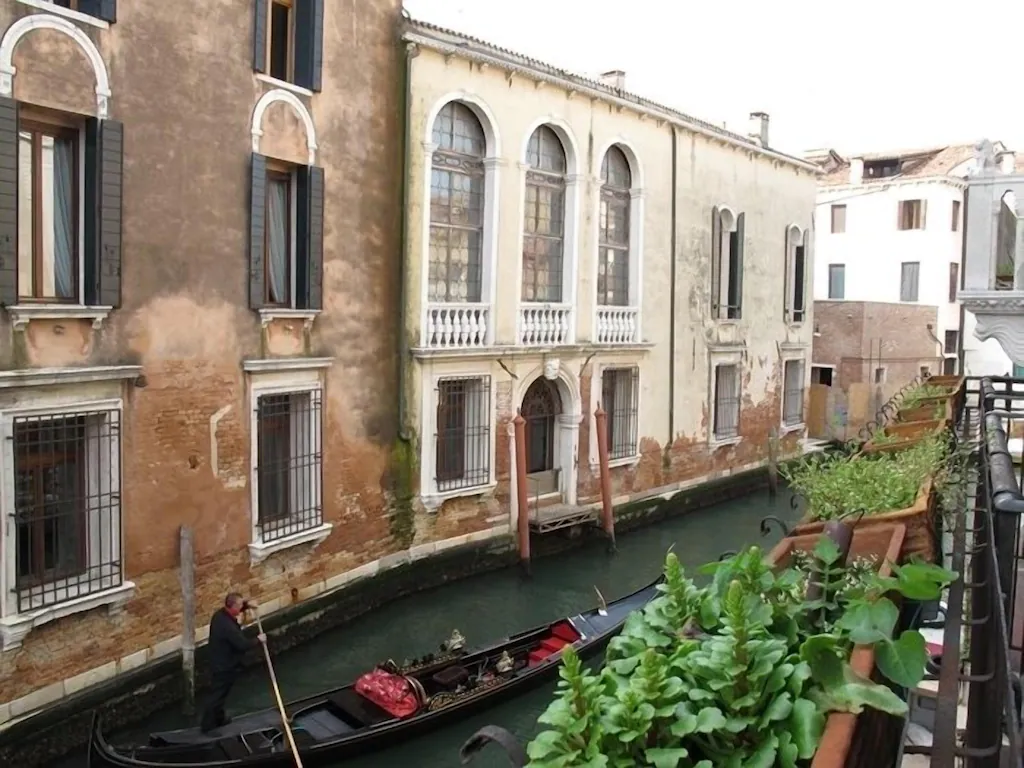 Suite Romantic with Terrace in Venice
If you can't get canal views in Venice, then rooftop views are the next best thing! This next option on our list of Airbnbs in Italy will allow you to see the tops of not just any buildings, but of the Doge's Palace and St. Mark's Campanile, two of the most iconic landmarks in the city. This is an ideal option out of all the Italy apartment rentals to admire the sunset over the city.
This location is the perfect place for a romantic getaway. With bright rooms filled with comfy and modern Italian-made furnishings, you will feel right at home. Exposed, dark wood beams add contrast against the white walls. The apartment is found in the city's historic center and is within walking distance to many museums and tourist destinations. Nearby water taxi stops allow you to explore further. This is a truly special option to choose out of the Airbnbs in Venice.
Click Here To Check Rates On Airbnb!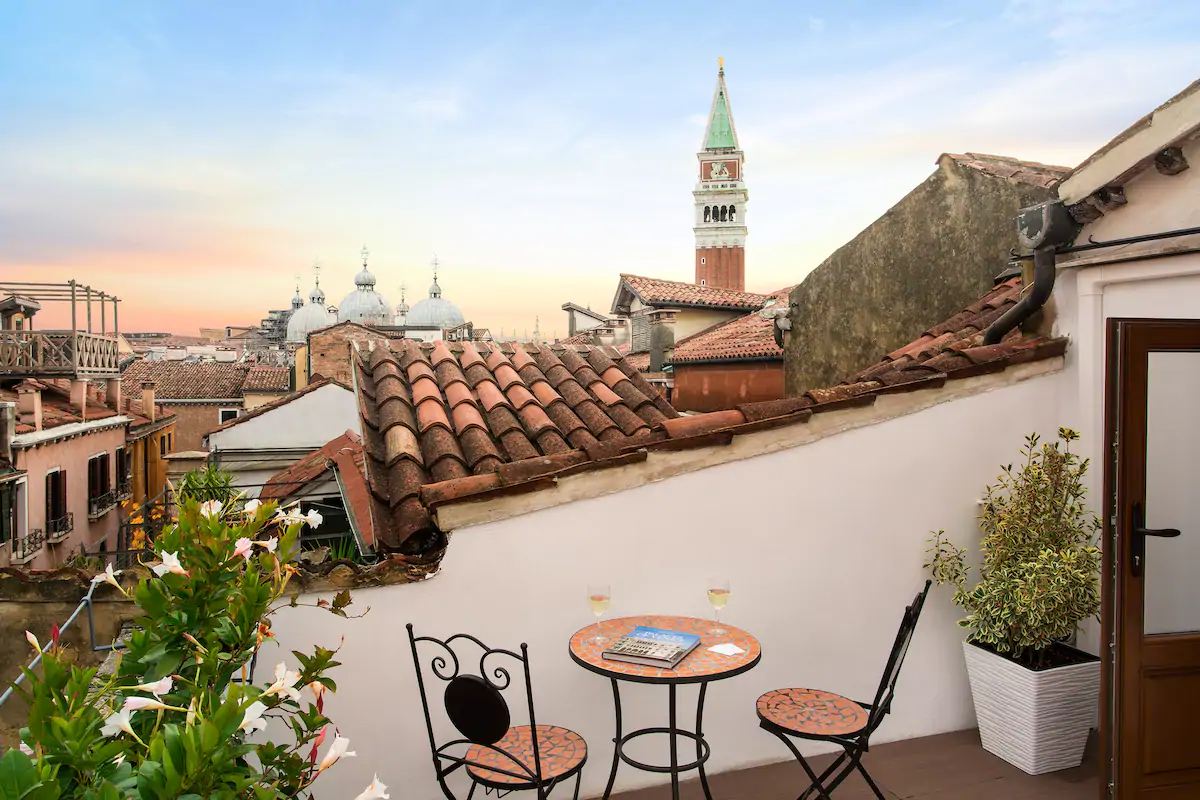 Cinque Terre Garden
Cinque Terre is a collection of five villages on the coast and there are plenty of cute, Italian Airbnbs here to choose from. If you love staying in places that give you mountain views for days, then you might want to check out this breathtaking apartment in the village of Liguria. Here you can sit outside on the private balcony and admire the sunlight moving across the mountains while you sip some wine. What is more classically Italian than that?! This is definitely one of the best Airbnbs in Cinque Terre.
The apartment is bright and situated in a beautiful garden. It is a one bedroom and up to four people can stay here. When you aren't spending as much time as possible on the sunny balcony, you can drive to the seaside or explore the many other adorable villages of the Cinque Terre region.
Click Here To Check Rates On VRBO!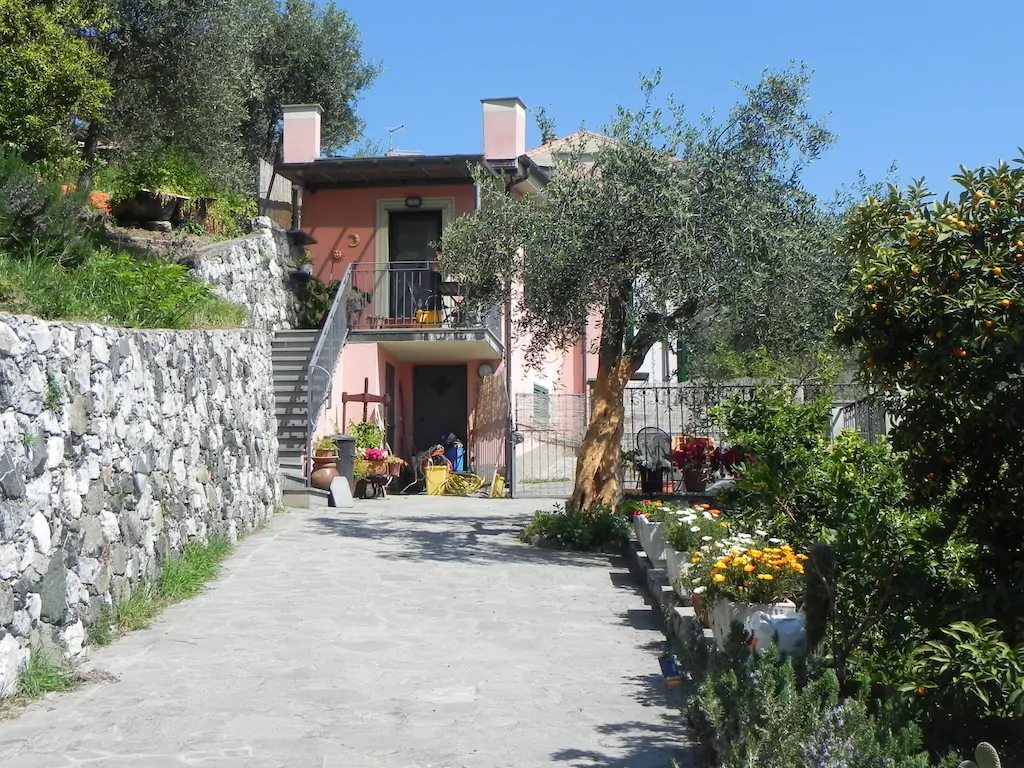 Vine Covered Villa
Domus Laeta is a vine-covered villa that was built in the 1600s. You will want to book this Airbnb in Italy the second you see the pictures! With walls covered in gorgeous ivy and hints of classic Mediterranean architecture, this is the perfect place to snap some photos for Instagram. Everyone back home will have to pick their jaws up off the floor! This is such a special property on our vacation rentals in Italy list.
Evidence of the building's long history are still evident in the old stables, watch tower, and oil mill. The original water reservoir has been turned into a swimming pool perfect for a relaxing soak. Pretty terraces allow you to have panoramic views of the sweeping valley.
This bed and breakfast-styled stay will give you the chance to met fellow travelers. The town of Giungano is located in the edge of the Cilento and Vallo di Diano National Park, giving you a chance to explore Italian nature. The Amalfi Coast is about an hour and a half drive north.
Click Here To Check Rates On VRBO!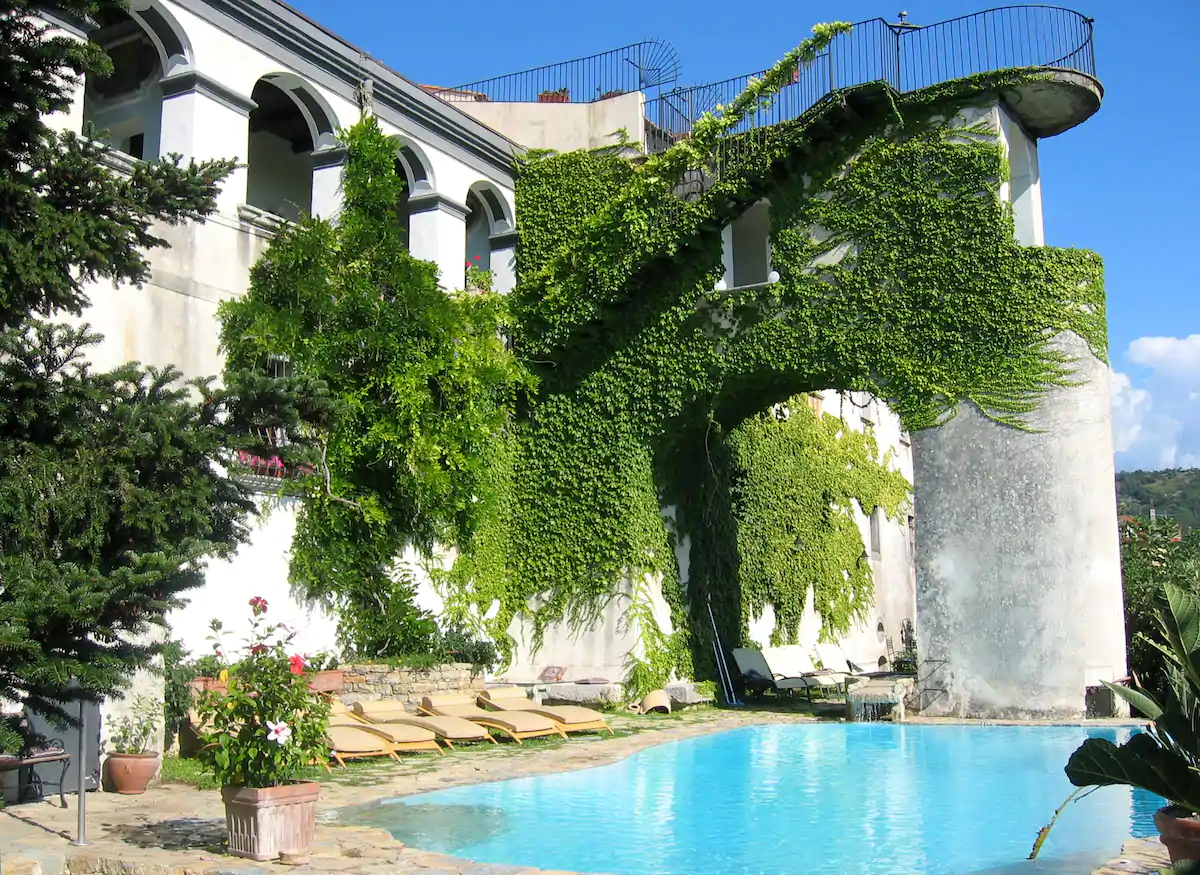 Maso Raris Chalet
The Maso Raris Chalet is a rustic, log cabin nestled in the Dolomite mountain range in the north of Italy and gives off Swiss Alps vibes. This 15,000 square mile property is worth a stay no matter the season. In summer, you can enjoy hiking trails, mountain biking, or foraging for wild mushrooms. In the winter, the landscape turns into a snowy wonderland, perfect for skiing, relaxing in the sauna, or staying snuggled up inside with a hot drink and a good book.
There are two chalets on the property, so this is great if you are traveling with a large group or are doing a family vacation for Christmas. This is the perfect Airbnb in Italy for anyone who wants to get away from busy cities and enjoy nature. Children will love the wide, open lawns to run around and parents will love the easygoing, peace and quiet. If you're looking for Airbnbs in the Dolomites, make sure to save this Chalet to your list!
Click Here To Check Rates On Airbnb!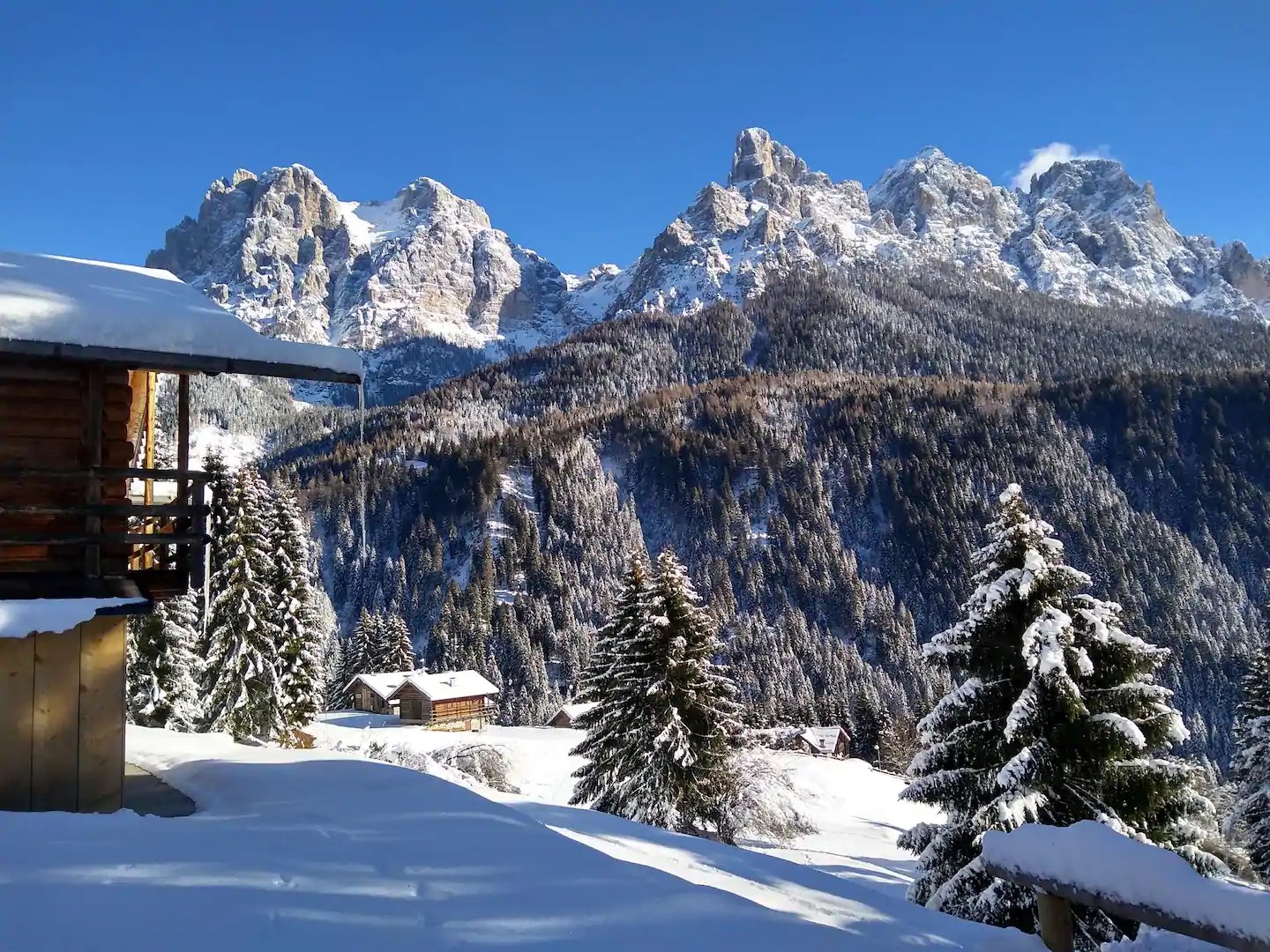 Romantic Terrace in Florence
The terrace of this apartment looks directly out at the famous Duomo Cathedral, the centerpiece of Florence. You cannot get better, private views than this of the Renaissance dome and the square around it. This is definitely one of the best Airbnbs in Florence.
The rooms of the apartment are just as amazing as the view outside. It has sunny, bright rooms full of color and modern finishes. This Airbnb in Italy can host up to 4 guests in 2 double bedrooms. It really packs a lot into 700 square feet. We definitely recommend checking out this spot when you're looking for where to stay in Italy.
Click Here To Check Rates On VRBO!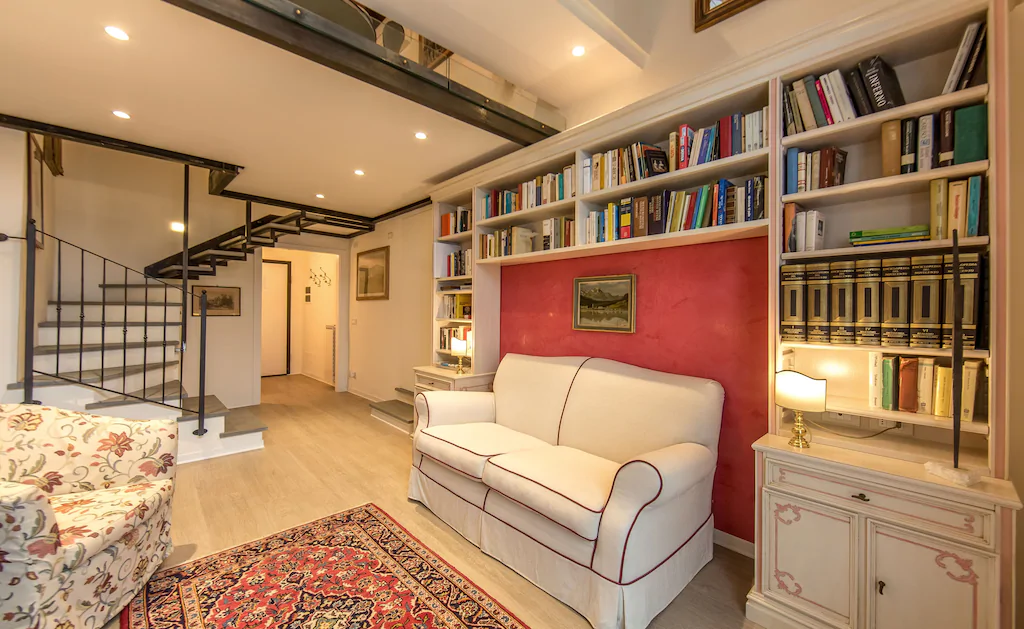 Charming & Quiet Loft With Garden in Florence
The next entry on our list of Airbnbs in Italy is also in Florence, but is larger and give guests more room to spread out. This loft styled home, with its modern and chic design, would make a perfect home away from home. You've got to add this to your list of Airbnbs in Florence to consider. There is also a small garden, which is rare for a location in the middle of the city. This little oasis will give you a place to unwind.
There is a queen-sized bed in the loft and a couch that can be converted to a bed as well if you are traveling with a couple of people. The kitchen is fully stocked with equipment so you can cook with local ingredients bought at the nearby farmers market. There are also many artisan shops, bars, museums, and historical places to visit within walking distance. Santa Croce Basilica is right around the corner.
Click Here To Check Rates on Airbnb!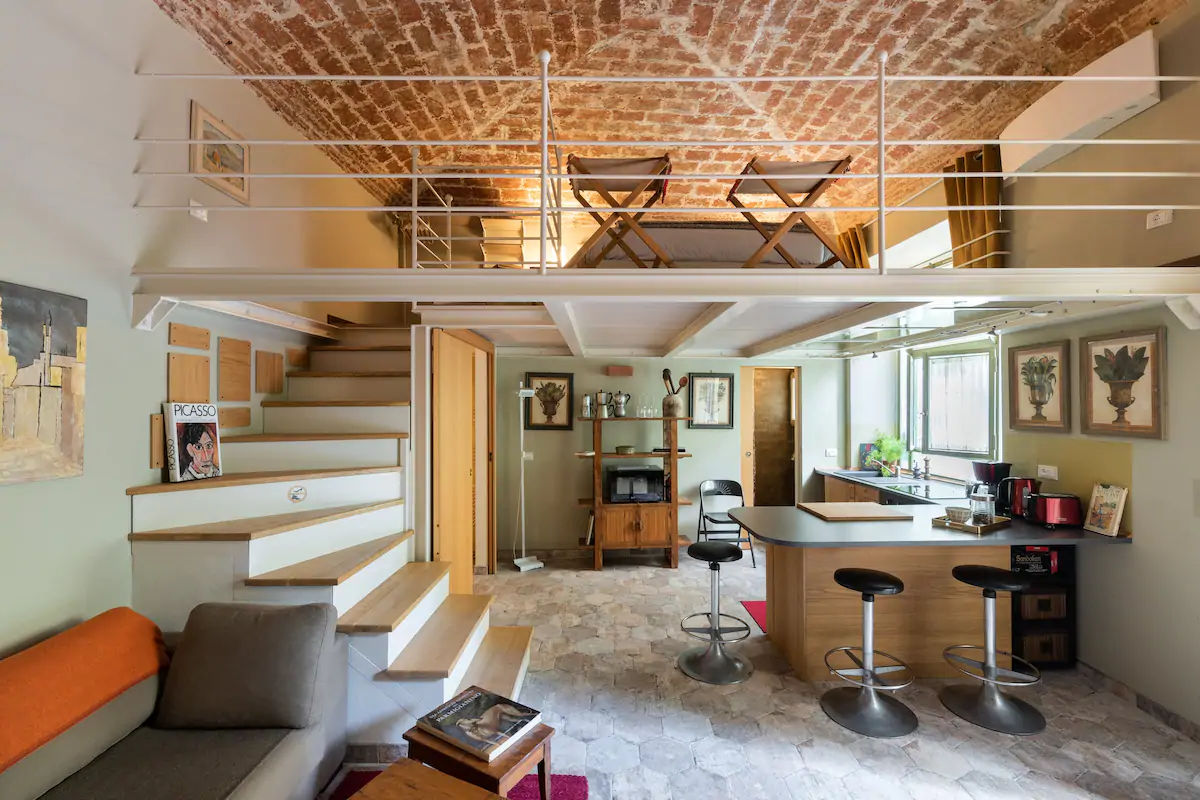 Duomo Luxury Apartment with Terrace in Milan
Milan is known for its fashion, so why not book a fashionable apartment? This luxury apartment's mint and orange color scheme will really get you in the mood for an Italian vacation! The 180 degree views of the city makes this a standout entry among the luxury Airbnbs in Italy.
This apartment is on the fifth floor, but don't worry! This apartment includes amenities like air conditioning, washing machine, dishwasher, and high speed wifi which can be hard to find in Airbnbs in Milan.
When you leave your beautiful apartment to go out into the city, you not have to travel far to find the best attractions, restaurants, and shopping areas. The apartment can sleep two adults in its 721 square feet. Read our tips for how to make the most of a day in Milan!
Click Here To Check Rates On VRBO!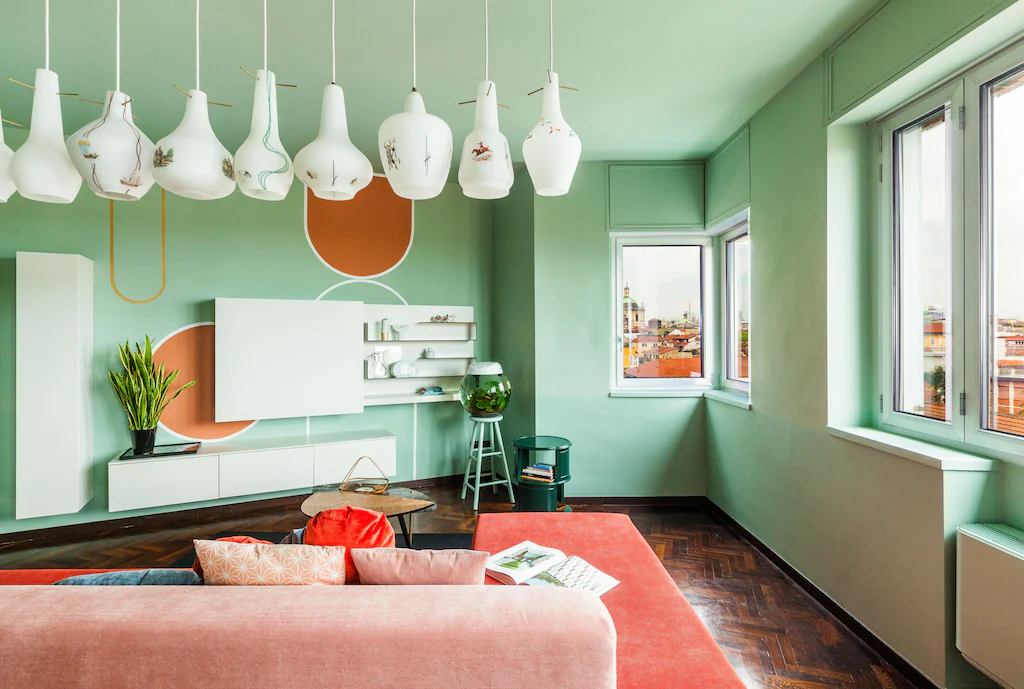 Tuscan Farmhouse
Tuscany is such a romantic part of Italy, perfect for honeymoons. Imagine relaxing in your own 18th century villa in the Tuscan countryside. This is a standout option out of all the Italy home rentals available.
The Tuscan Farmhouse is 915 square feet and can host 4 guests. It has 2 bedrooms and 2 bathrooms. One look at the wood stove and exposed beams in this Italian country kitchen and you'll be wanting to bookmark this option for Airbnbs in Tuscany ASAP.
Click Here To Check Rates On VRBO!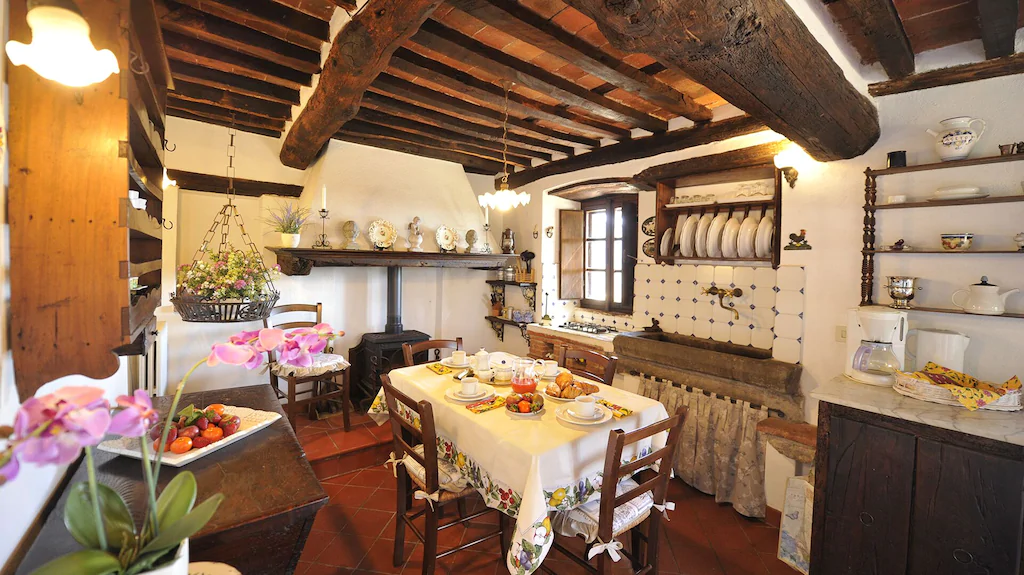 Laura Apartment in Amalfi
The Amalfi Coast in Italy is absolutely gorgeous and definitely worth a visit (or two)! When you look for a place to stay here you will want to find somewhere with great ocean views. This option out of all the Airbnbs in Amalfi definitely checks that box! It has an outstanding view of the sea as well as view of the surrounding countryside full of lemon groves and vineyards.
This apartment is a quite spacious option when compared to many of the options on our best Airbnbs in Italy list. Coming in at 1292 square feet, it can sleep 5 guests in 3 bedrooms. One pro of this vacation spot is that the host and multiple reviewers say that the public transit in the area is so good that there is no need to rent a car. Just kick back, relax, and take a vacation from driving stress.
Click Here To Check Rates On VRBO!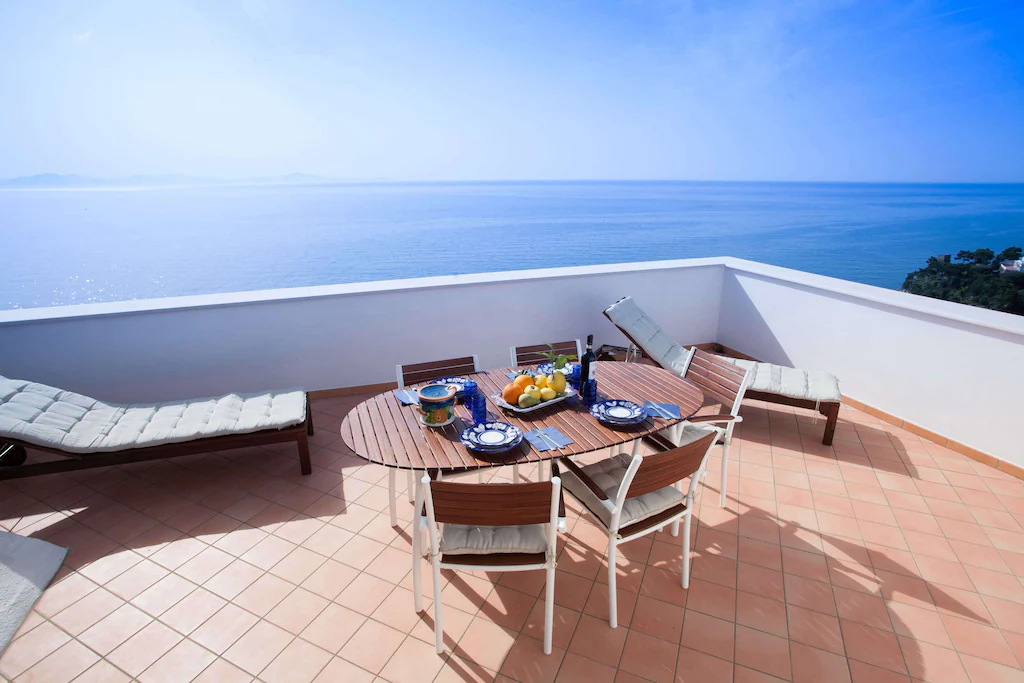 Historic Apartment in Rome
If you are a history buff you must stay at this Italy VRBO! This 646 square foot apartment dates back to 1520. The dark wood beams and historic glass windows will make you feel as though you've traveled back in time on your Italian getaway! This is definitely one of the coolest Airbnbs in Rome.
The apartments prestigious origins mean that it is located squarely within one of the best neighborhoods in Rome. When you book this VRBO you will be just steps from the major tourist attractions of Navona Square and Saint Angel Castel. The host and reviewers boast that you will be able to reach everything you need for a perfect vacation on foot from this apartment. No worrying about rental cars, buses, taxis, or the metro for you!
This apartment can host 3 guests. Even though it is over 500 years old it has all the modern conveniences: free wifi, televisions, microwave, coffee maker, etc. Please note that the apartment does not offer air conditioning, so plan accordingly!
Click Here To Check Rates On VRBO!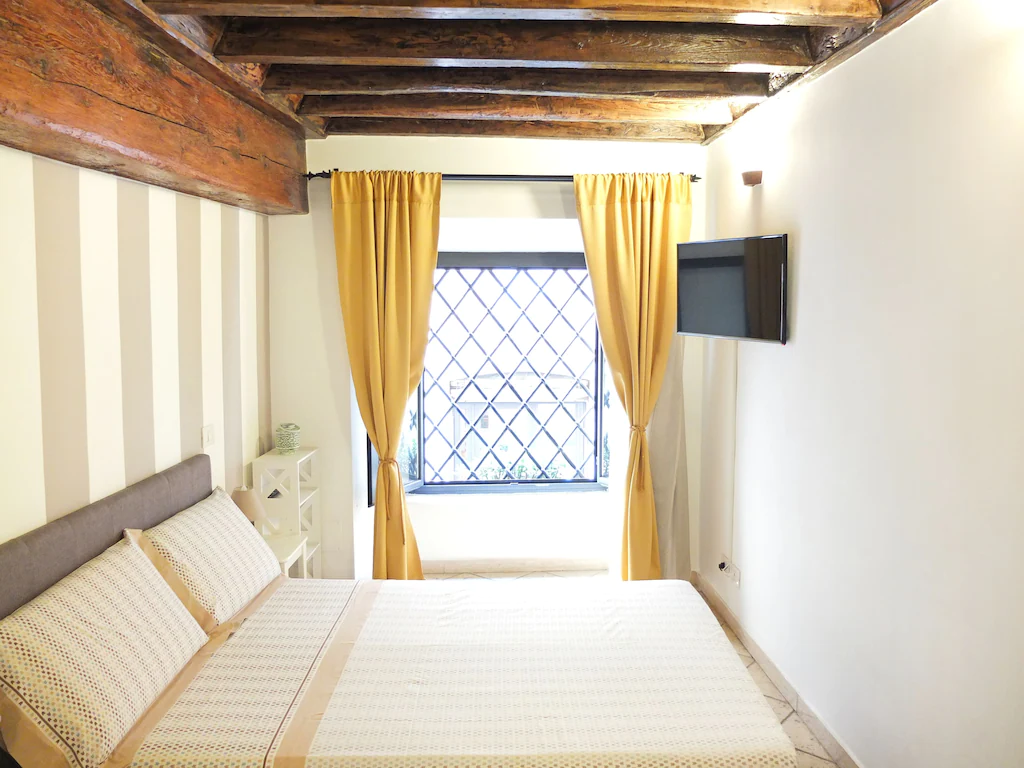 Private Trullo Martodda Suite
If you are looking for a really unique experience in Italy, why not stay in a trullo? A trullo, or plural trulli, is a type of stone dwelling native to the Apulia region of Italy, which makes up the heel of the boot-shaped country. The cone-shaped roofs of these historic huts are so distinctive and gorgeous.
This authentic trullo dates from the early 1700s, but has been modernized to become one of the coolest Airbnbs in Italy. On the inside, you will find light and airy rooms with the white bricks from the outside carrying through to the interior. Since the property is found in a rural area surrounded by farms and olive groves, you will find a peaceful atmosphere perfect for a quiet, romantic getaway. Sit on the covered patio, sip some local wine, and just enjoy being in Italy.
Click Here To Check Rates On Airbnb!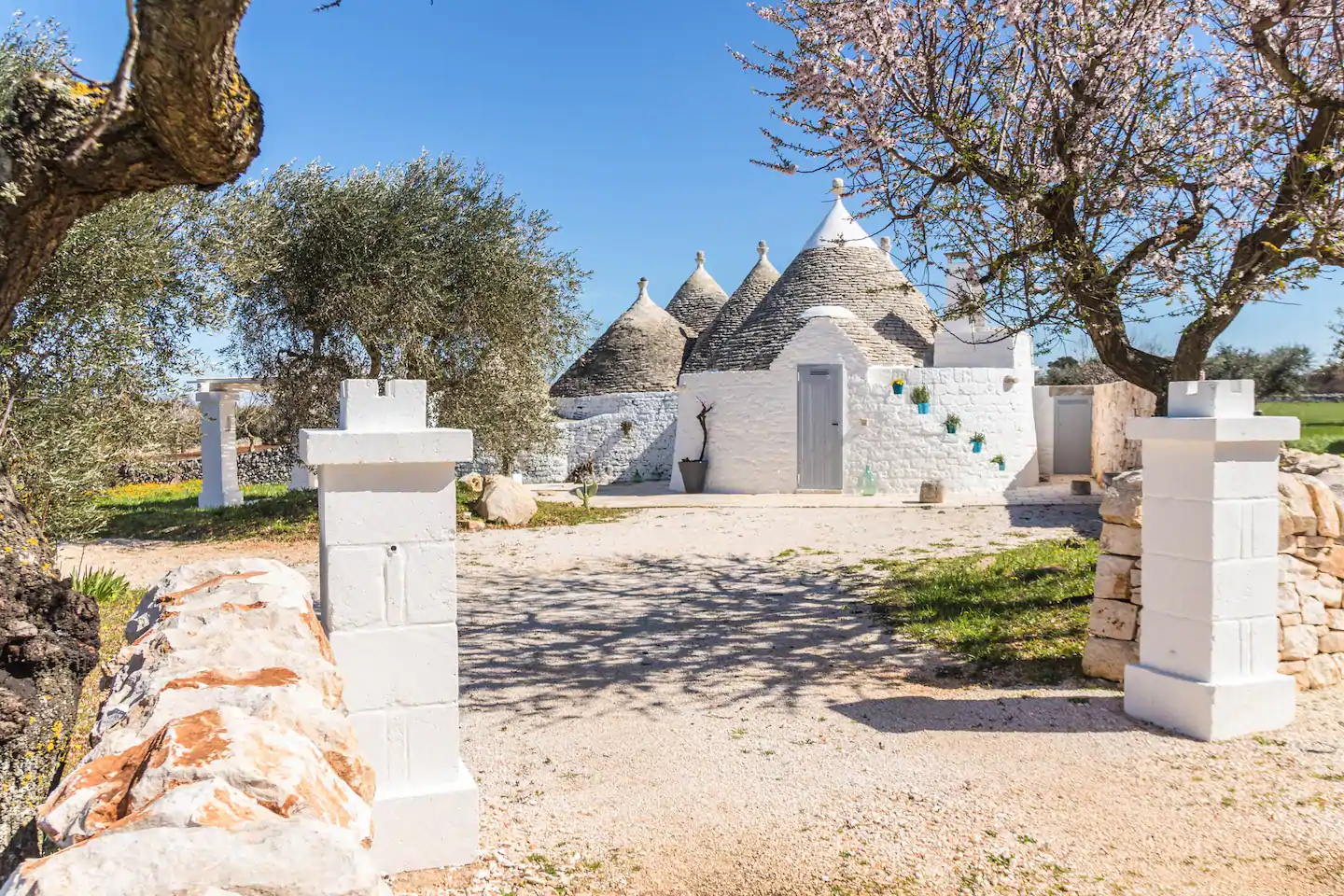 Trullo Suite with Private Pool
This is another trullo just as quaint as the first and offers a comfy place to relax in the Italian countryside. This one has an amazing bonus- a private pool and jacuzzi on your terrace! It is surrounded by lavender plants and is so picturesque. There is a covered patio with a dining table enjoy your food al fresco by the pool.
Up to 4 guests can have a comfortable stay in this home. This trullo is part of Il Borgo delle Querce at Martina Franca in Itria Valley. This is close to the main tourist areas of the valley, so easy to site see in the morning and relax by the pool in the afternoon. Your stay here can be summed up in one word: Idyllic.
Click Here To Check Rates On VRBO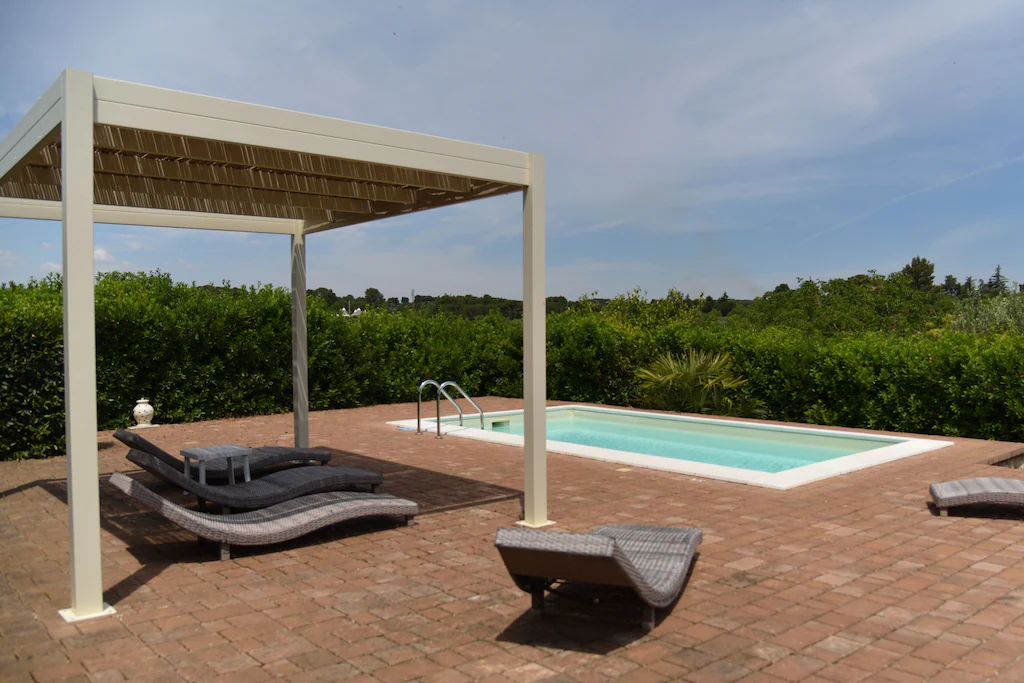 Villa Oliveta in Tuscany
Many travelers dream of staying at a villa in Tuscany! Villa Oliveta gives you the chance to check the experience off your bucket list! This is absolutely one of the best airbnbs in Tuscany. Click here to learn about our favorite Tuscany tours to add to your stay.
Since this amazing home can fit up to 8 people, it would be ideal for a family vacation or a girls' trip. Plus, splitting the cost between so many people would bring the individual cost down.
Reviewers describe the property as spacious, lush, and breathtaking. The pool outside surrounded by an olive grove and Italian countryside is truly a once in a lifetime view. The inside of the villa is just as gorgeous. The host is an interior designer and has spared no expense making this one of the best Italy airbnbs.
Click Here To Check Rates On VRBO!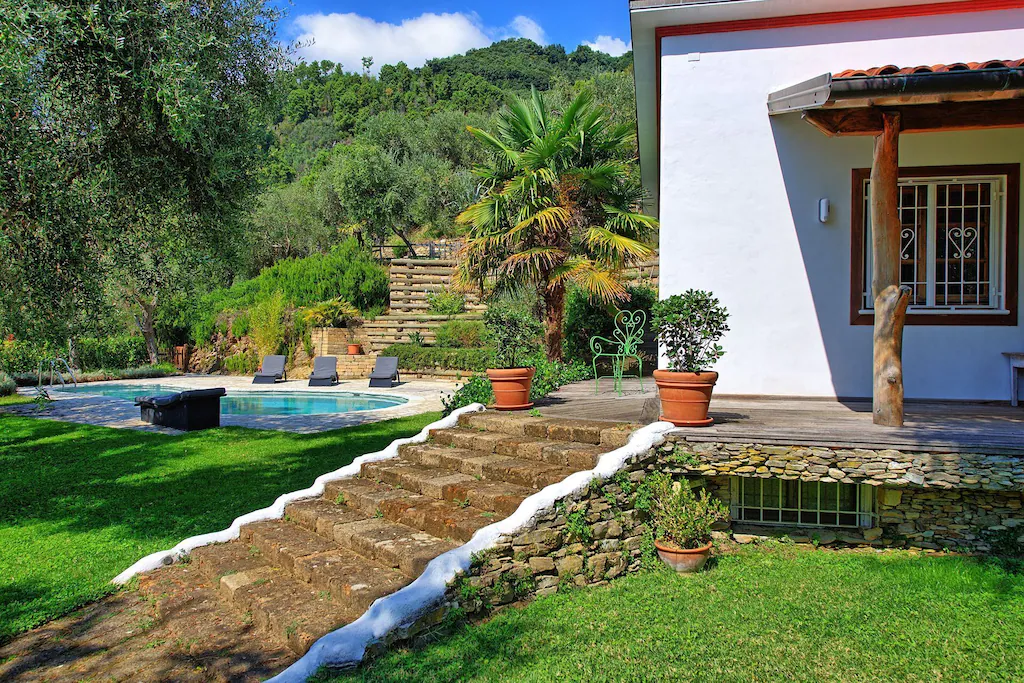 Sicilian Cottage
Get ready to live your best colorful cottagecore life at this Sicilian Cottage. You'll love the sweeping ocean views and having private access to the seaside. Save this rental for the next time you're looking for the best Airbnbs in Sicily or cheap Airbnbs in Italy.
The picturesque cottage is surrounded by olive tees, agaves, and palms. It is 495 square feet and can host 2 guests. The grill and outdoor dining table invite you to make use of the 350 days of sunshine Sicily enjoys per year. We love the beaches in Sicily. What a perfect romantic Italian getaway spot!
Click Here To Check Rates On VRBO!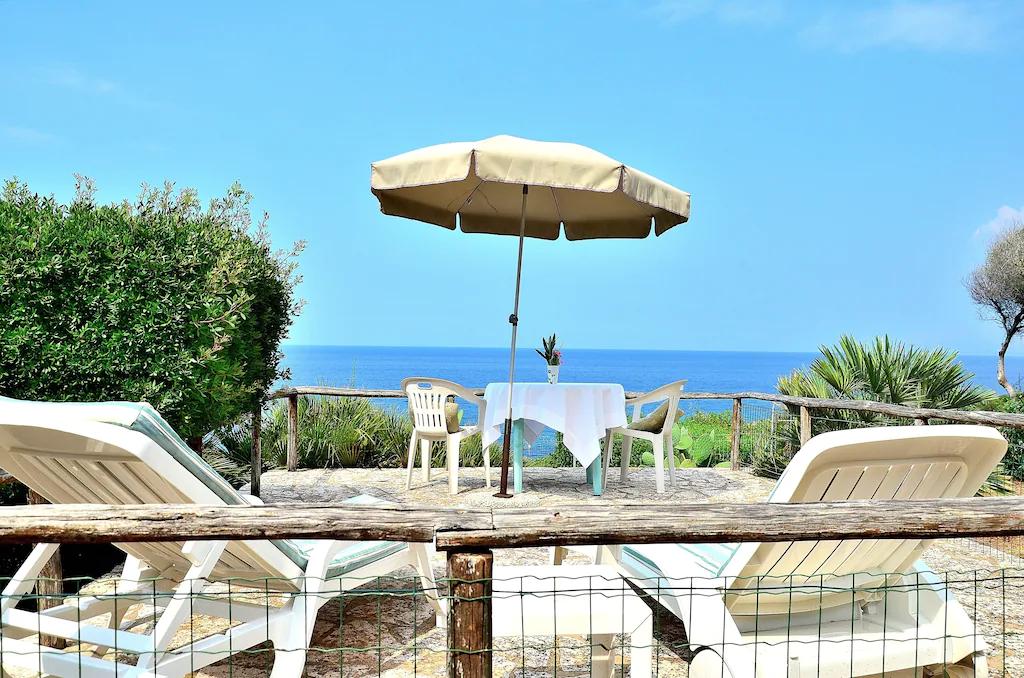 Farmhouse in Chiantishire
This farmhouse surrounded by oak woods and vineyards is the perfect place to relax in Tuscany. Securing its place among the best airbnbs in Tuscany is the outdoor pizza oven!
Reviewers call this the nicest and cleanest airbnb they've ever stayed in. It has incredible views of the rolling hills of Chiantishire. This farmhouse has a colorful and spacious Tuscan kitchen that just begs you to make a delicious Italian meal. The VRBO can accommodate 4 guests in 2 bedrooms. Come enjoy a glass of Chianti right where the grapes are grown! This is a standout choice out of all the Italy airbnbs.
Click Here To Check Rates On VRBO!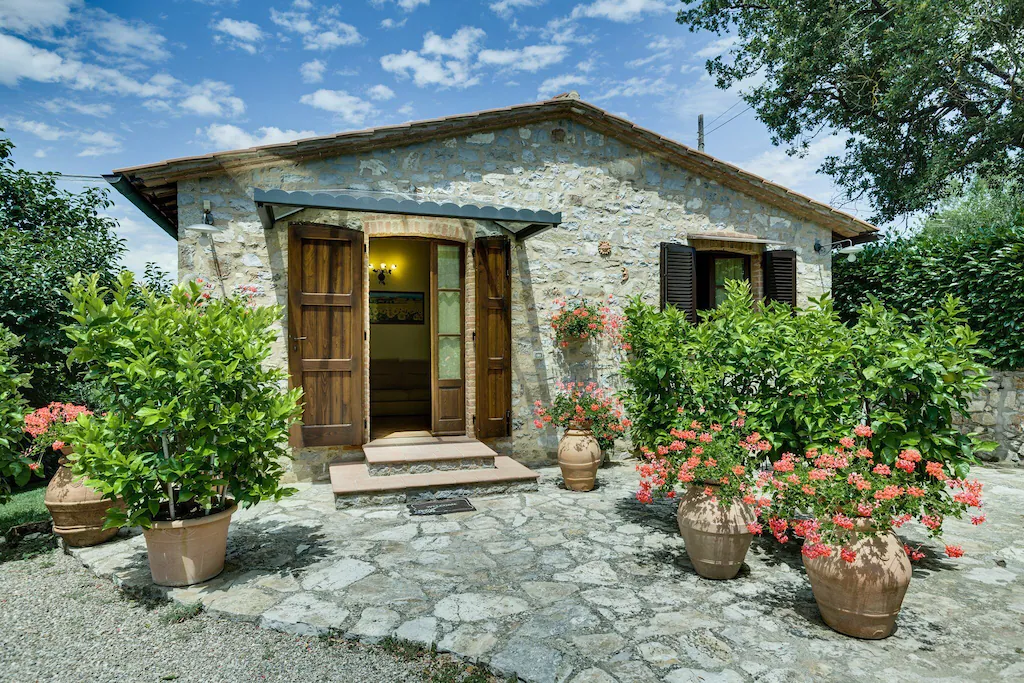 Castle in Sicily
We will end this list of best Airbnbs in Italy with a bang! Just look at this picture! Who hasn't dreamed of staying at your own private castle in Italy?
This castle is an Italy VRBO you do not want to miss out on. It has incredible views of the sea and Mt. Etna. It can host 10 guests in 5 bedrooms. The 2000+ square feet have all the things you would expect in a gorgeous castle, turrets, 4 poster beds, a library, and beautiful views. The private pool is a huge bonus.
Really, you've got to click through these listing photos! You'll sure to have a royally good time if you choose this castle out of all the Airbnbs in Sicily. Click here for our favorite beaches in Sicily and maps of how to reach them.
Click Here To Check Rates On VRBO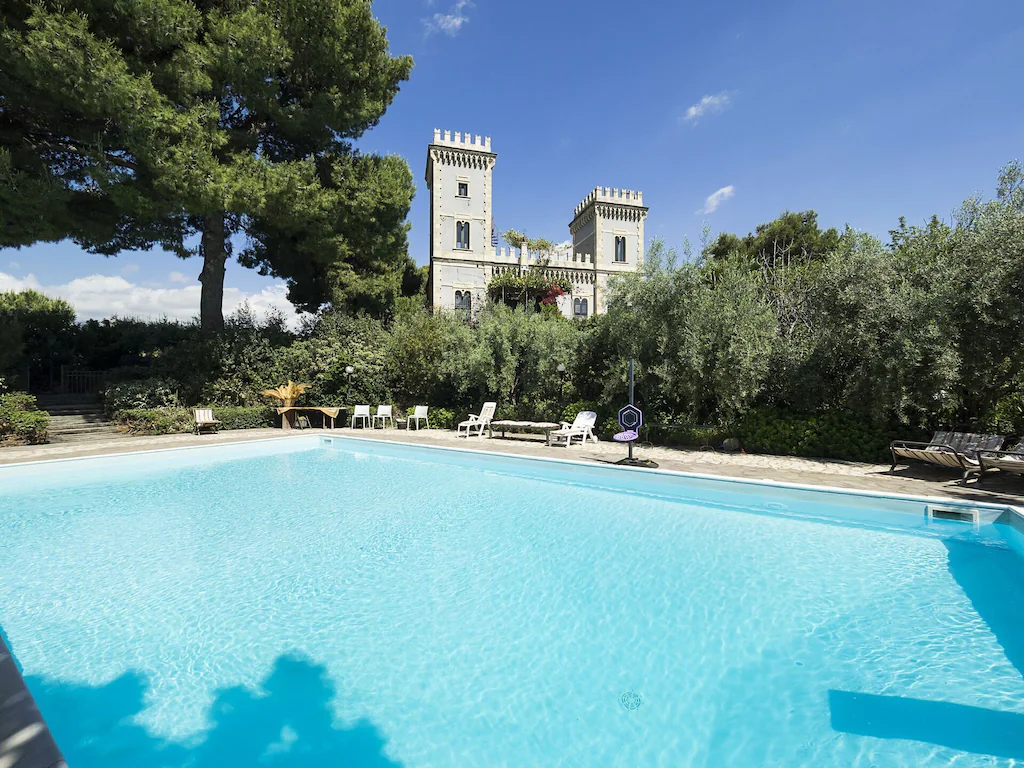 If you did not want to travel to Italy before, you must be dying to book a ticket now! There are so many amazing, unique, and cute Airbnbs in Italy it is impossible to narrow it down. You want to stay everywhere! With beach access, hot tubs, and sweeping, panoramic views, these Italian stays have everything you need to make your trip one for the books!