It was hard to narrow down this list of best Airbnbs in Italy to only 19! There are so many amazing places to stay in Italy, you will not want for luxury or uniqueness! Since this is one of the top tourist countries in the world, it makes sense that Airbnb hosts really had to step up their game to stay ahead of the curve.
This comprehensive list of Italy Airbnbs includes accommodations in all of the top cities in the country. Want a lush apartment in Rome? How about a home only steps from the beach? Or a countryside villa with amazing views? No matter what you are looking for Italy is bound to provide you with an accommodation you will not soon forget!
We will happily take away the hassle of scrolling through places to stay in Italy. Instead, select one of our catered choices and move on to the big picture parts of planning an Italian vacation. Italy is a country steeped in history, art, and culture, plus there is plenty of delicious food to devour! You are guaranteed a great time!
Looking to save money on your trip to Italy? Get a FREE $55 Airbnb coupon by using our code when you book!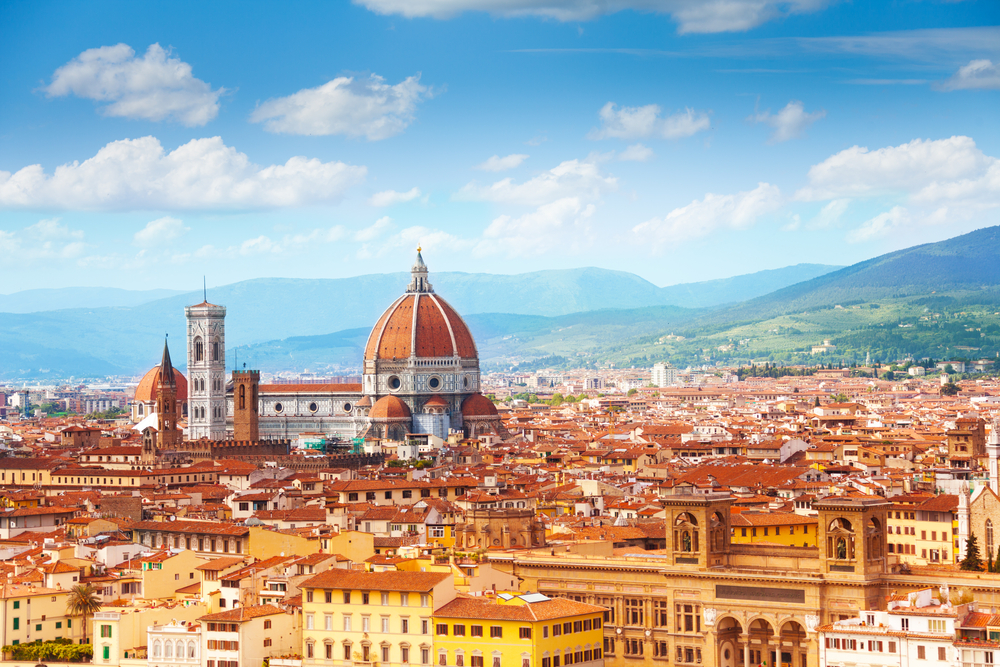 19 Best Airbnbs In Italy (Villas, Trulli, and More!)
Noble Suit in Rome
If you want to feel like royalty, you will need to book the Noble Suit in Italy's capital, Rome. This historic city has some of the best Airbnbs in Italy and this apartment is certainly one of them. From high ceilings covered in 1900s frescoes and dangling chandeliers to the polished, dark hardwood floors, you will definitely feel as if you are in a palace.
While this apartment seems like a destination itself, it is not far from many famous tourist attractions, such as the Colosseum, Trevi Fountain, Roman Forum, and Spanish Steps. Even though this property is right in the middle of the city, it is quite spacious and can house up to six guests. There is also a big rain shower to relax in, so you really shouldn't pass up this Italian Airbnb!
Click Here To Check Rates On Airbnb!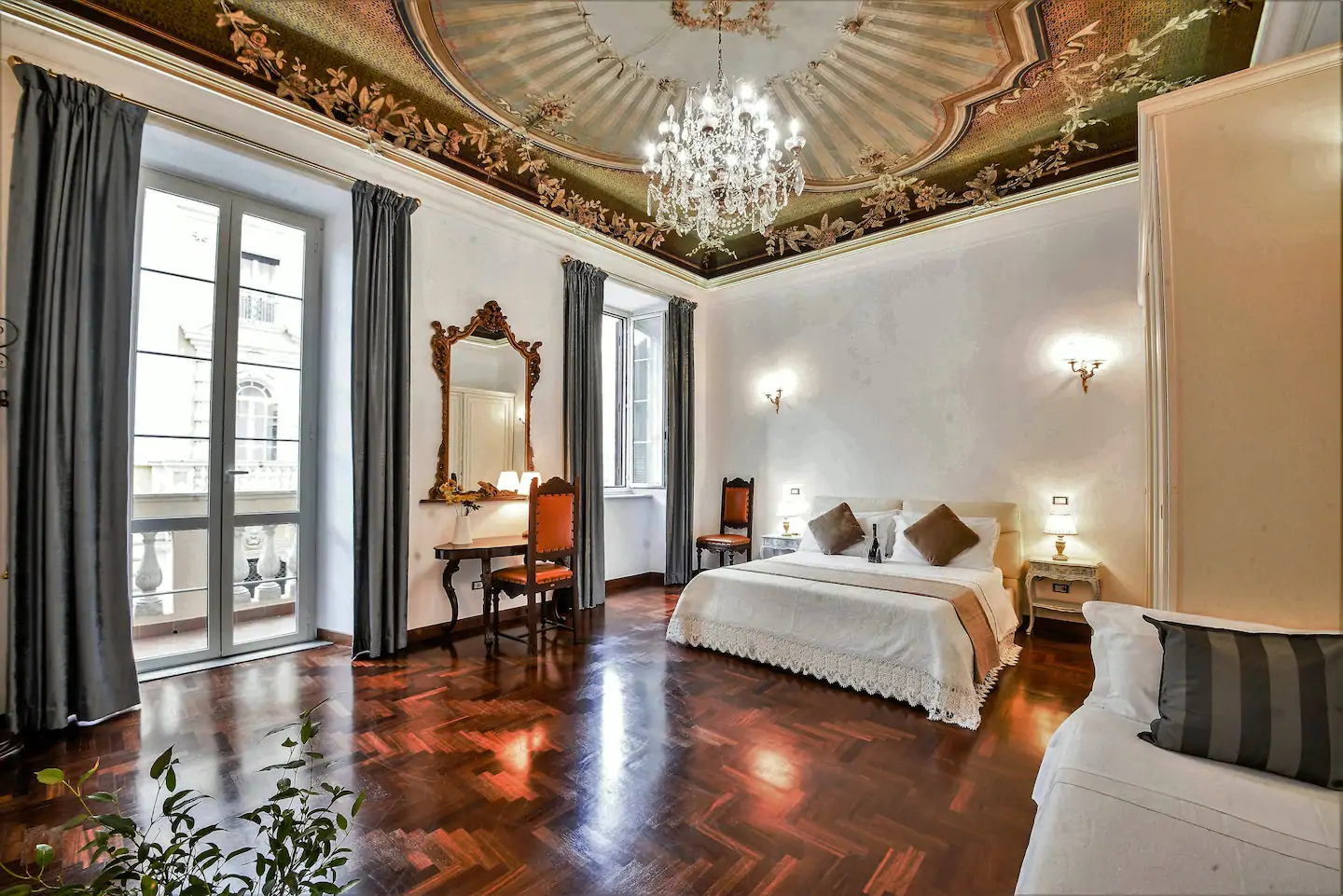 Lovely Apartment Overlooking the Pantheon in Rome
This next Airbnb is also in Rome but is a completely different style. While the first was lush and sleek, this one is rustic and homey, with strong fairy tale vibes. Gorgeous exposed wooden beams throughout and intricate tile work in the kitchen and bathroom will make you snap pictures like crazy to remember all of the pretty details.
While the inside is is to die for, the view out the window is spectacular as well! You could practically touch the famous Pantheon, it is so close! If you don't feel like joining the crowds in the square below, you could entertain yourself by people watching from your perfect vantage point. Almost all of the main tourist attractions Rome has to offer are a short walk away along with many bars, resturants, and shops. Book this place if you love being in the center of all the action!
Click Here To Check Rates on Airbnb!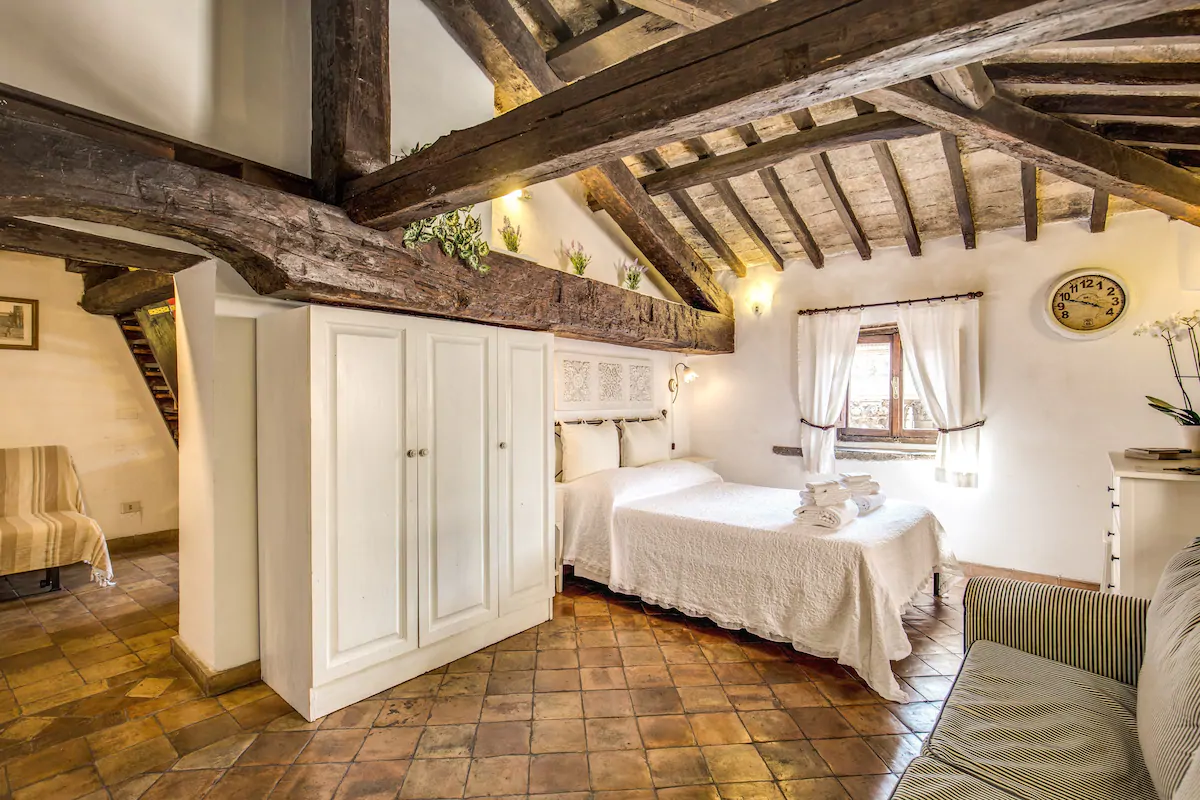 Stunning Studio with Canal Views in Venice
When you travel to Venice, you need a place to stay with canal views! This amazing studio apartment provides views of not just any canal, but of the large Giudecca Canal! This is the largest transportation canal in Venice and the wide windows allow you to sit back and watch the boats and vaporettos cruise along the water.
With a completely renovated interior, you will have a modern place to look forward to returning to each night. This Venice Airbnb is close to many tourist areas, but not so close that you have to deal with noise. Instead, you will feel like a local as you search out little, hole-in-the-wall restaurants and cafes in the neighborhood.
Click Here To Check Rates On Airbnb!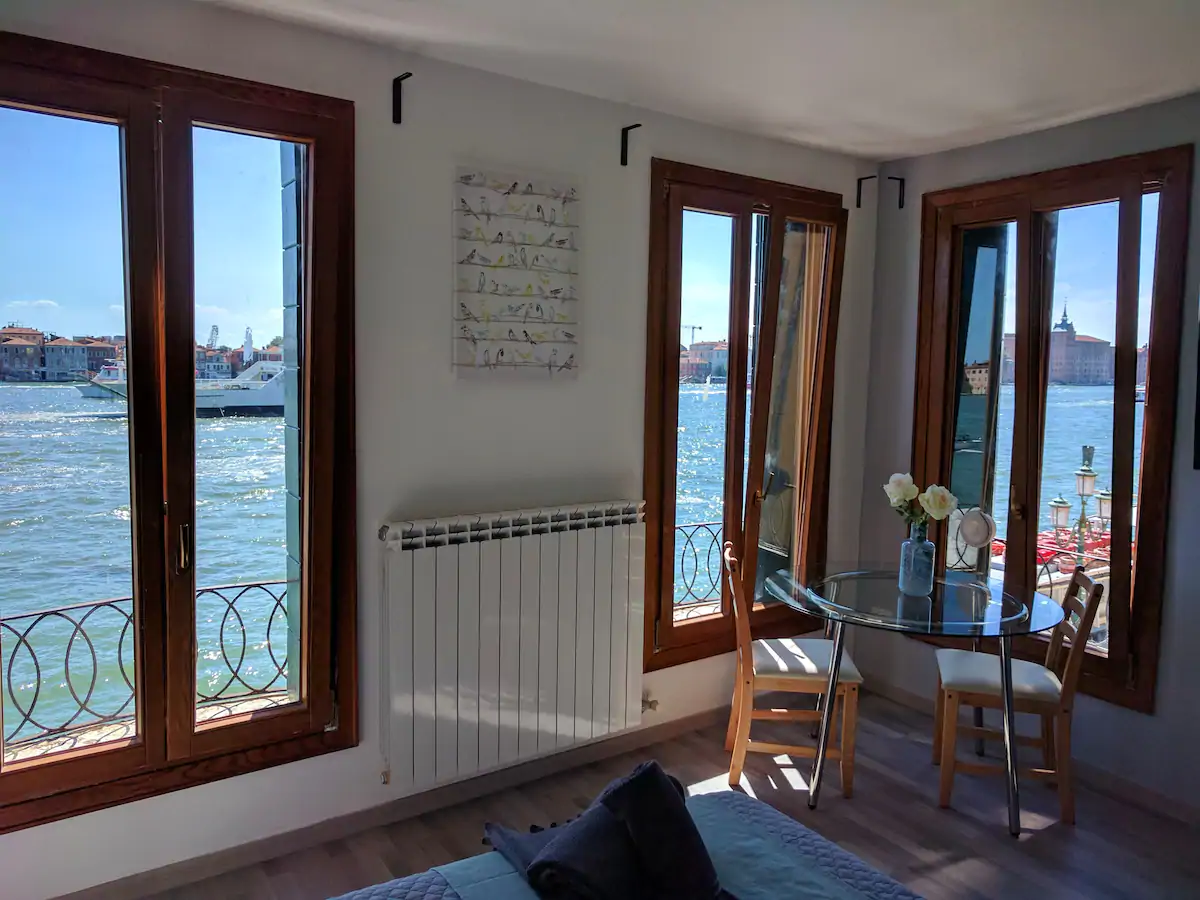 Suite Romantic with Terrace in Venice
If you can't get canal views in Venice, then rooftop views are the next best thing! This next Airbnb in Italy will allow you to see the tops of not just any buildings, but of the Doge's Palace and St. Mark's Campanile, two of the most iconic landmarks in the city. This is a great place in Venice to admire the sunset over the city.
This location is the perfect place for a romantic getaway. With bright rooms filled with comfy and modern Italian made furnishings, you will feel right at home. Exposed, dark wood beams add contrast against the white walls. The apartment is found in the city's historic center and is walking distance to many museums and tourist destinations. Nearby water taxi stops allow you to explore farther.
Click Here To Check Rates On Airbnb!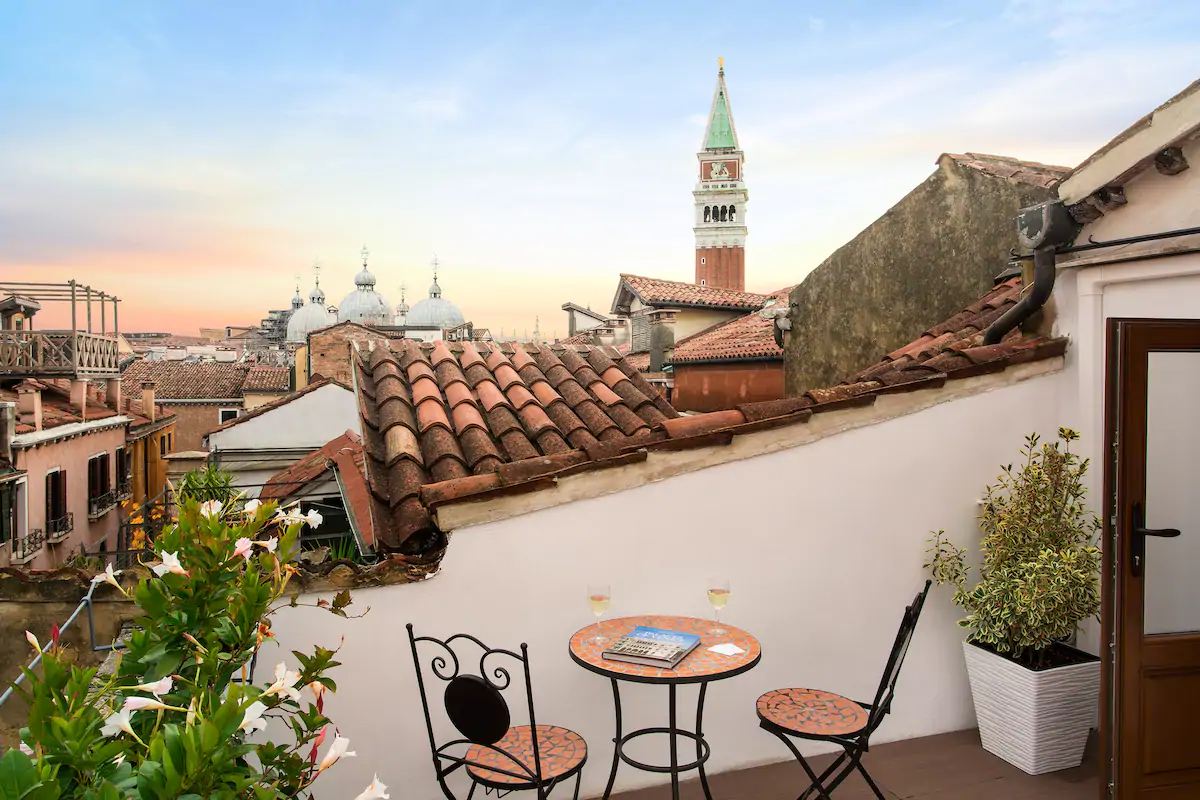 Breathtaking Sea View Apartment in Vernazza, Cinque Terre
Cinque Terre is a collection of five villages on the coast and there are plenty of cute, Italian Airbnbs here to chose from. If you love staying in places that give you views for days, then you might want to check out this breathtaking sea view apartment in the village of Vernazza. Here you can sit outside on the private balcony and admire the sunset sink below the rooftops while you sip some wine. What is more classically Italian than that?! The nearby harbor is visible as well and only a short walk away.
The apartment is bright and minimally decorated with wooden accents that give a homey feel. Two bedrooms, each with a king sized bed, allow up to four people to stay here. When you aren't spending as much time as possible on the sunny balcony, you will be walking distance to many bars, restaurants, and shops.
Click Here To Check Rates On Airbnb!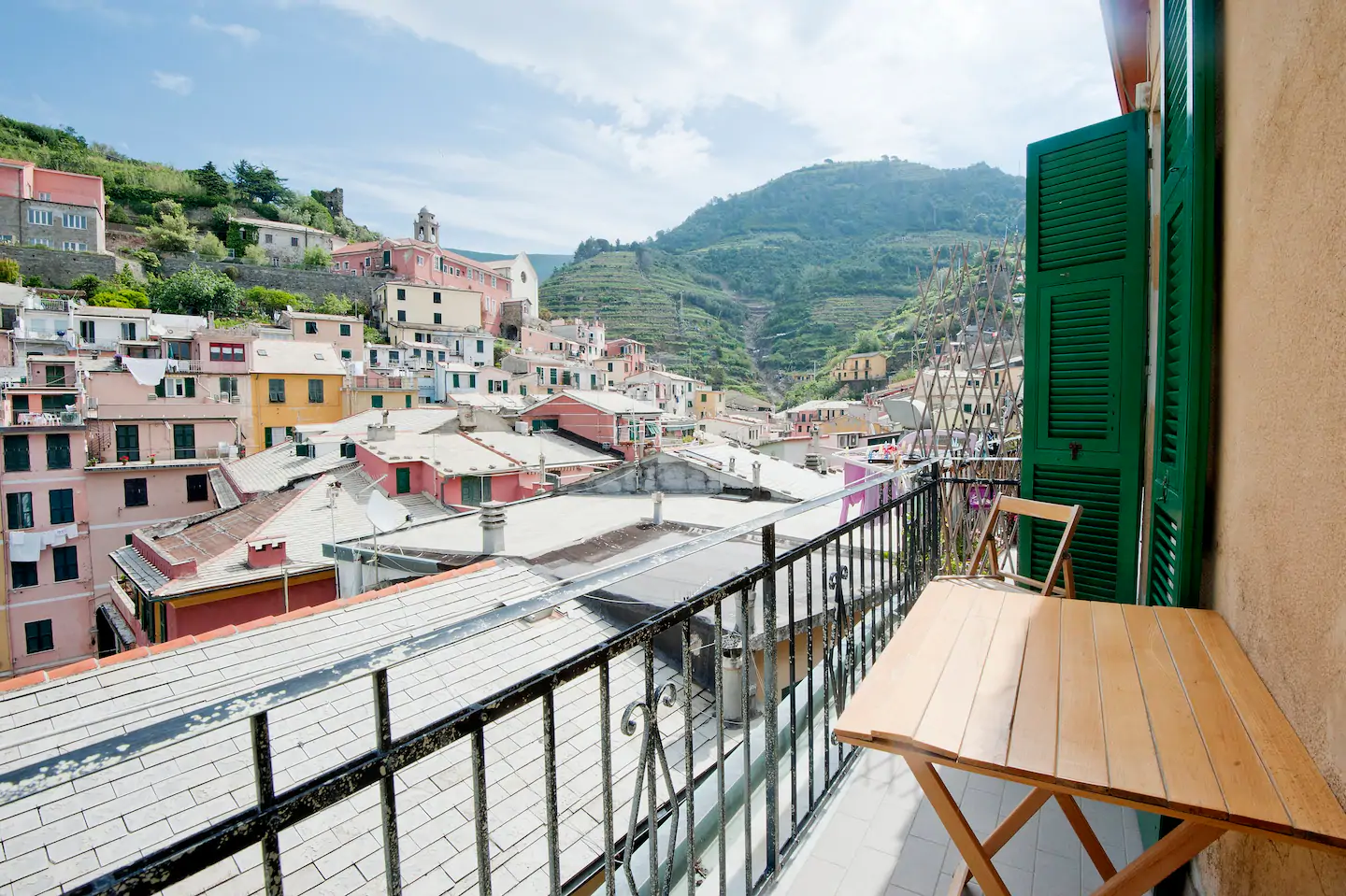 Domus Laeta in Giungano
Domus Laeta is a vine covered villa that was built in the 1600s. You will want to book this Airbnb in Italy the second you see the pictures! With grey walls turned green with ivy and hints of Mediterranean architecture, this is the perfect place to snap some photos for Instagram. Everyone back home will have to pick their jaws up off the floor!
Evidence of the building's long history are still evident in the old stables, watch tower, and oil mill. The old water reservoir has been turned into a swimming pool perfect for a relaxing soak. Pretty terraces allow you to have panoramic views of the sweeping valley.
This bed and breakfast styled stay will give you the chance to met fellow travelers. The town of Giungano is located in the edge of the Cilento and Vallo di Diano National Park, giving you a chance to explore Italian nature. The Amalfi Coast is about an hour and a half drive north.
Click Here To Check Rates On Airbnb!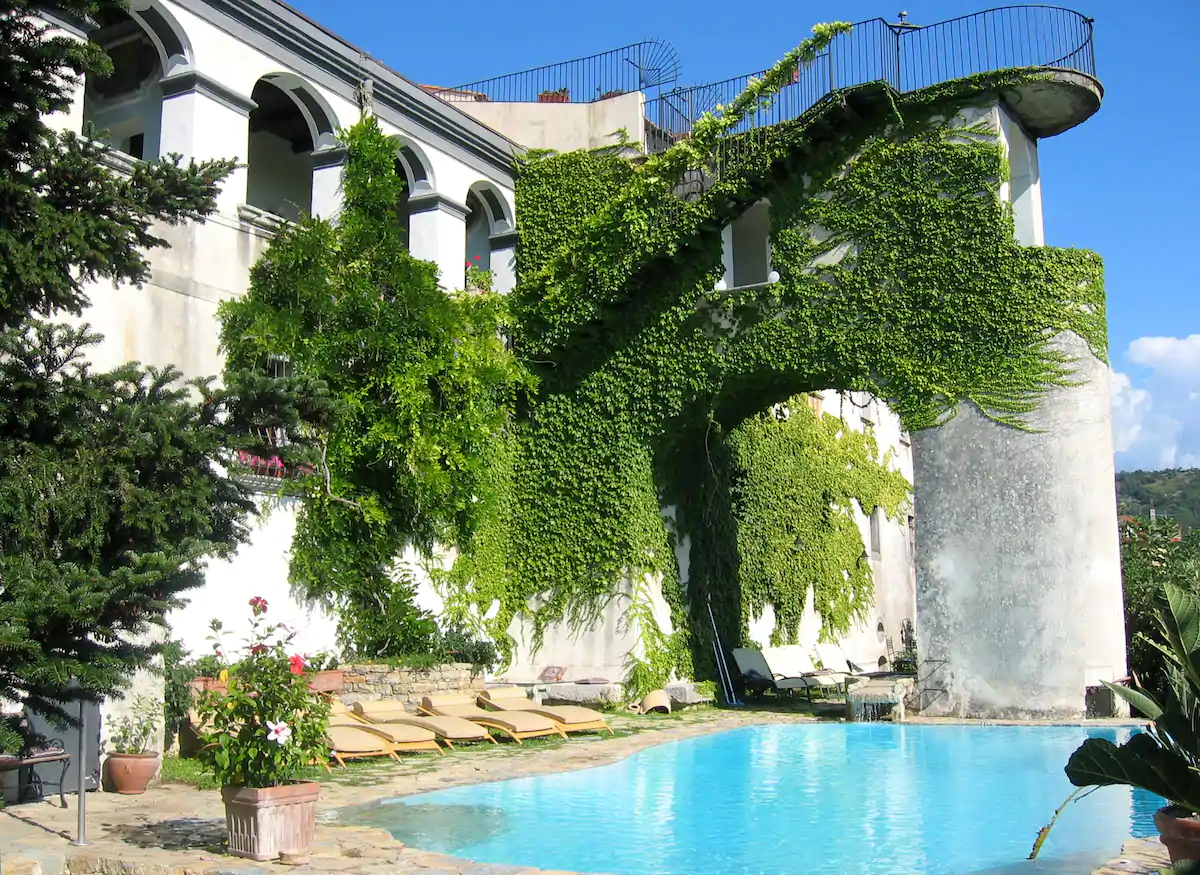 Maso Raris Chalet
The Maso Raris Chalet is a rustic, log cabin nestled in the Dolomite mountain range in the north of Italy and gives off Swiss Alps vibes. This 15,000 square mile property is worth a stay no matter the season. In summer, you can enjoy hiking trails, mountain biking, or foraging for wild mushrooms. In the winter, the landscape turns into a snowy wonderland, perfect for skiing, soaking in the sauna, or staying snuggled up inside with a hot drink and a good book.
There are two chalets on the property, so this is great if you are traveling with a large group or are doing a family vacation for Christmas. This is the perfect Airbnb in Italy for anyone who wants to get away from busy cities and enjoy nature. Children will love the wide, open lawns to run around and parents will love the easygoing, peace and quiet.
Click Here To Check Rates On Airbnb!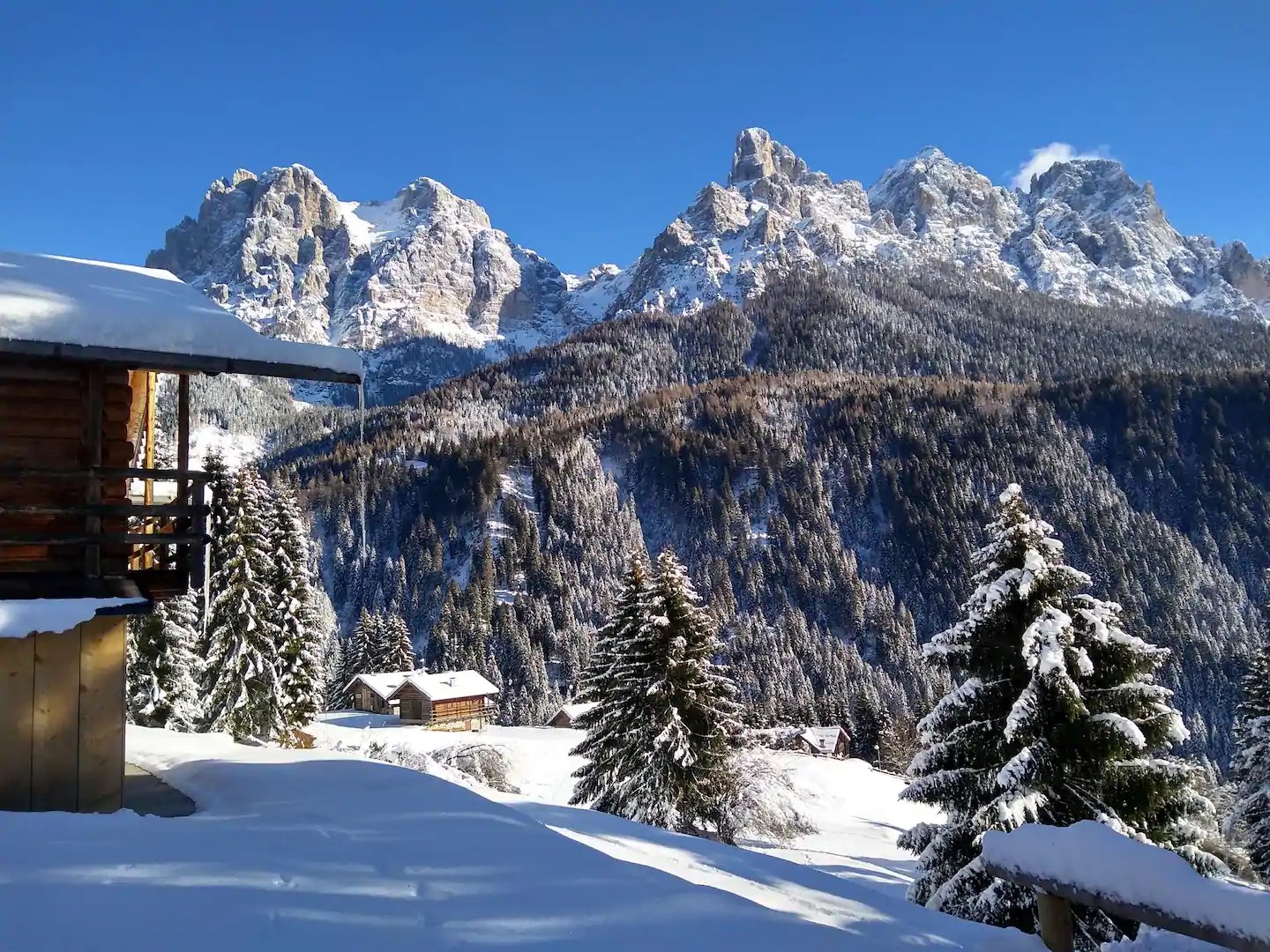 Unique Artist Studio in Florence
A local artist rents out this studio apartment when it's not in use and if it is available when you travel to Florence, you will want to book it fast! Both windows in this apartment look out directly at the famous Duomo Cathedral, the centerpiece of Florence. You cannot get better, private views than this of the Renaissance dome and the square around it.
The rooms of the apartment are just as amazing as the view outside. With sunny, bright rooms full of eclectic art and furnishings, you really get a homey, lived-in vibe. Since this studio is strictly only available for one person at a time, solo travelers will love the opportunity to stay here. However, anyone traveling with others will want to look for a different Airbnb.
Click Here To Check Rates On Airbnb!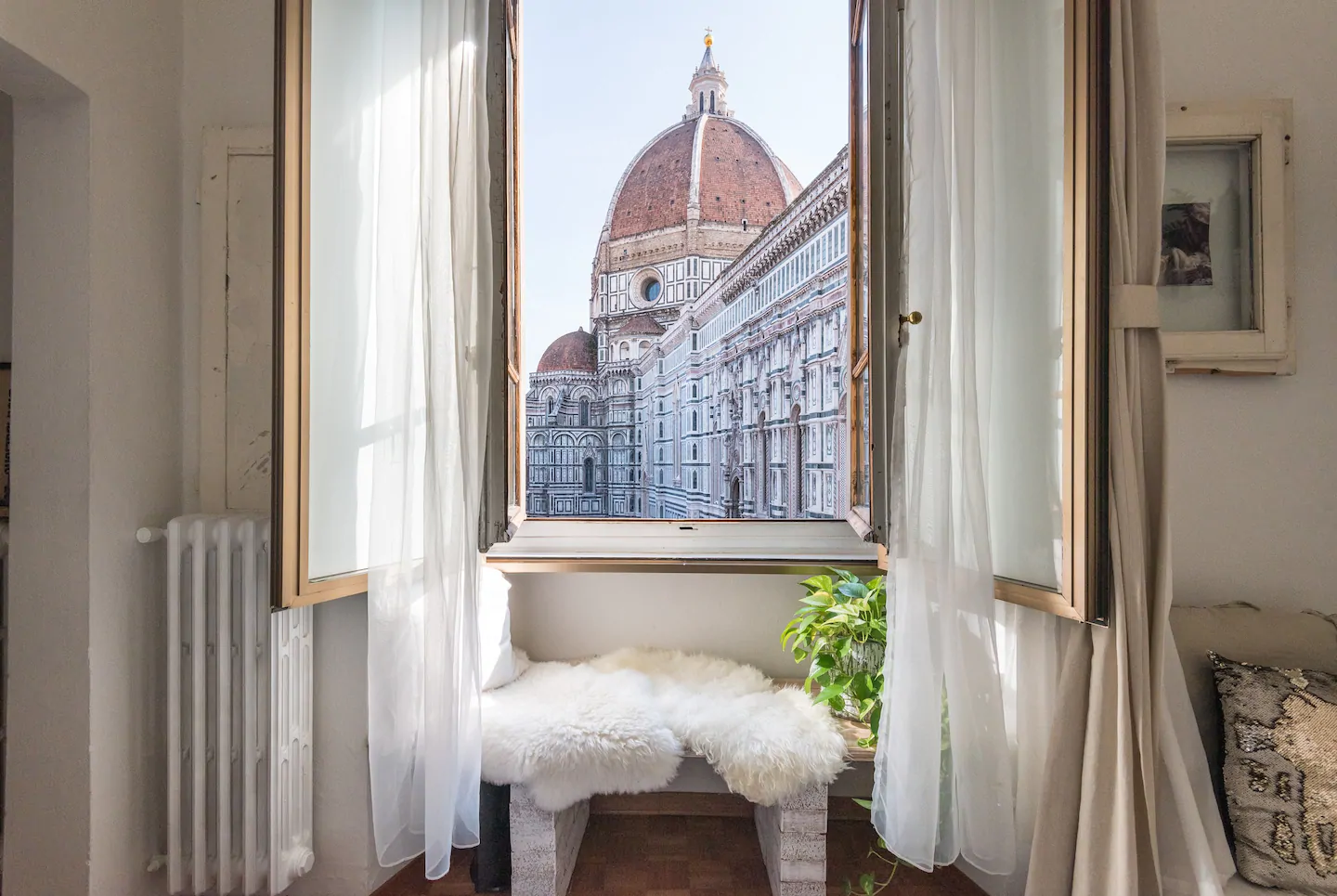 Charming & Quiet Loft With Garden in Florence
The next Airbnb in Italy is also in Florence, but is larger and give guests more room to spread out. This loft styled home, with its modern and chic design, will make you feel as if you are in an upscale Brooklyn apartment instead of in the cultural center of Italy. There is also a small garden, which is rare for a location in the middle of the city. This little oasis will give you a place to unwind.
There is a queen-sized bed in the loft and a couch that can be converted to a bed as well if you are traveling with a couple of people. The kitchen is fully stocked with equipment so you can cook with local ingredients bought at the nearby market. There are also many artisan shops, bars, museums, and historical places to visit within walking distance. Santa Croce Basilica is right around the corner.
Click Here To Check Rates on Airbnb!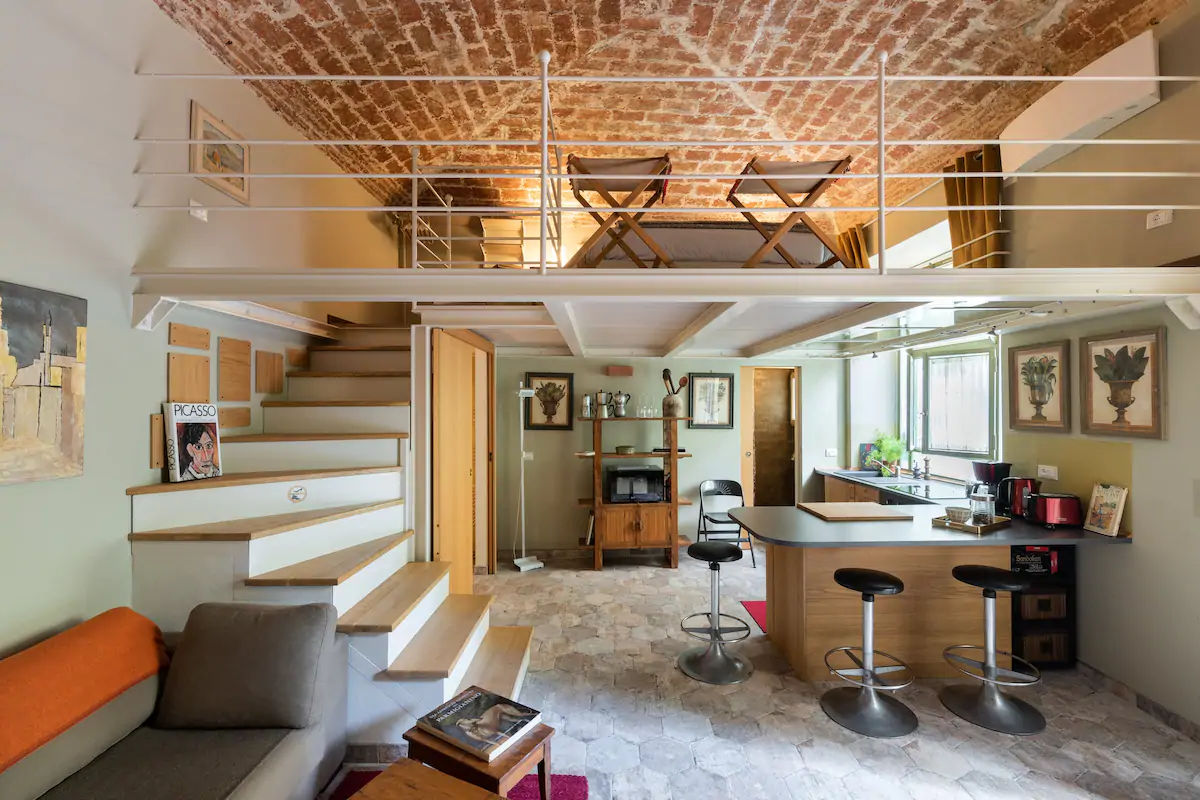 Duomo Luxury Apartment with Terrace in Milan
Milan is known for its fashion, so why not book a fashionable apartment? This luxury apartment's most impressive feature is the terrace which is lush with plants and provides perfect views of the next door cathedral. This apartment is on the fifth floor, but don't worry! There is an elevator, which you do not always get in these old buildings.
The interior is bright and modern with plenty of big windows to let in the light. The marble bathroom is sleek ad dark, like an ad for HGTV. When you leave your beautiful apartment to go out into the city, you not have to travel far to find the best attractions, restaurants, and shopping areas. If you want to explore farther, there is a nearby metro station.
Click Here To Check Rates On Airbnb!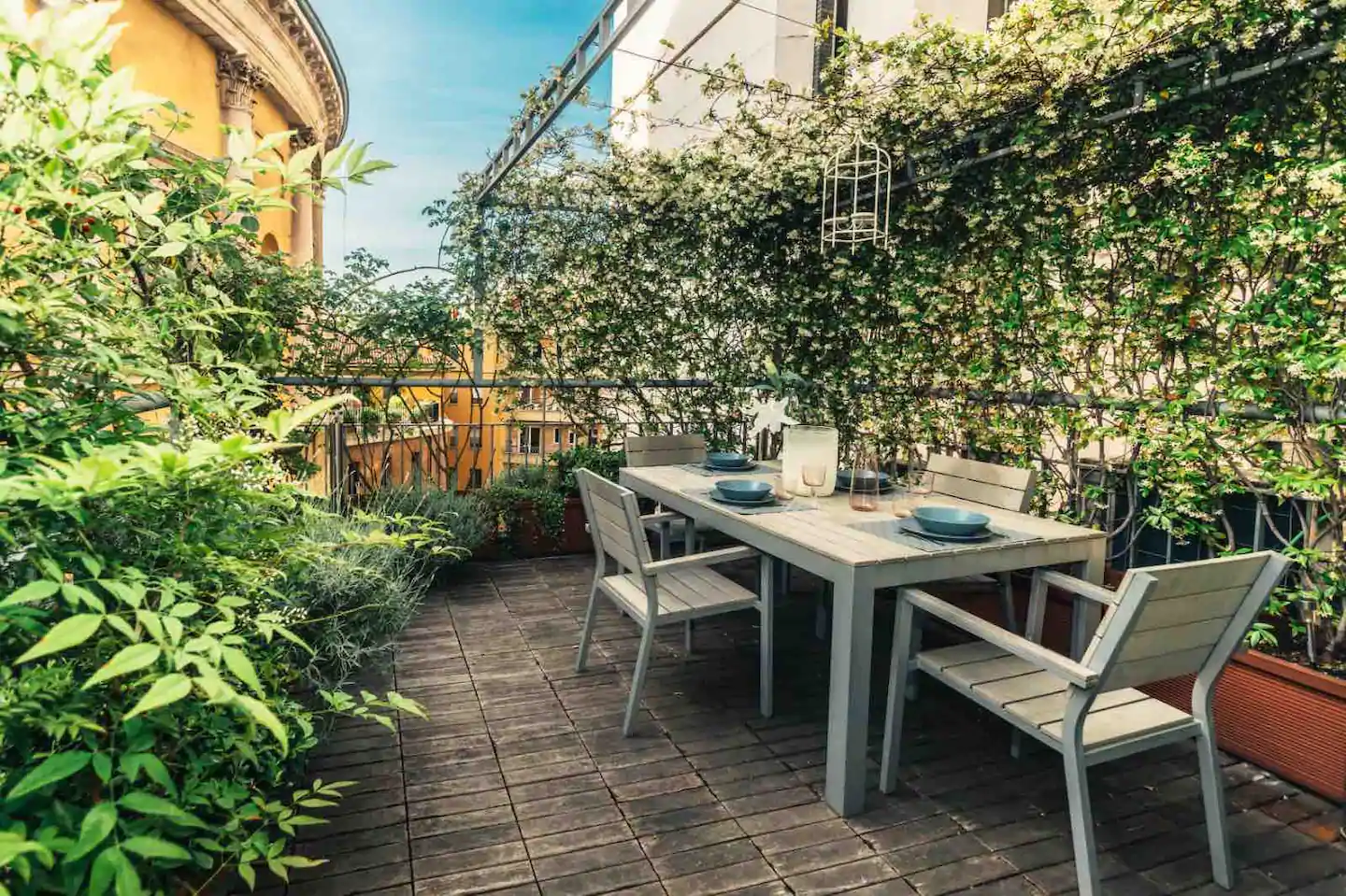 Lemon Tree House in Naples
If you are traveling to Naples, you simply must book the lemon tree house! This property is notable for its gorgeous and photogenic backyard garden which is full of citrus and palm trees as well as a hammock, outdoor seating, and views of the sea. You will love the Mediterranean atmosphere as you sit outside and enjoy the sea breeze while drinking freshly squeezed orange juice!
This lovely house is large enough for six guests with two bedrooms, each with a balcony. Located in the historic city center, this home is not far from many museums, shops, churches, and markets as well as being a short walk to a couple of metro stations. When you come back in the evening, settle down to play some included board games.
Click Here To Check Rates On Airbnb!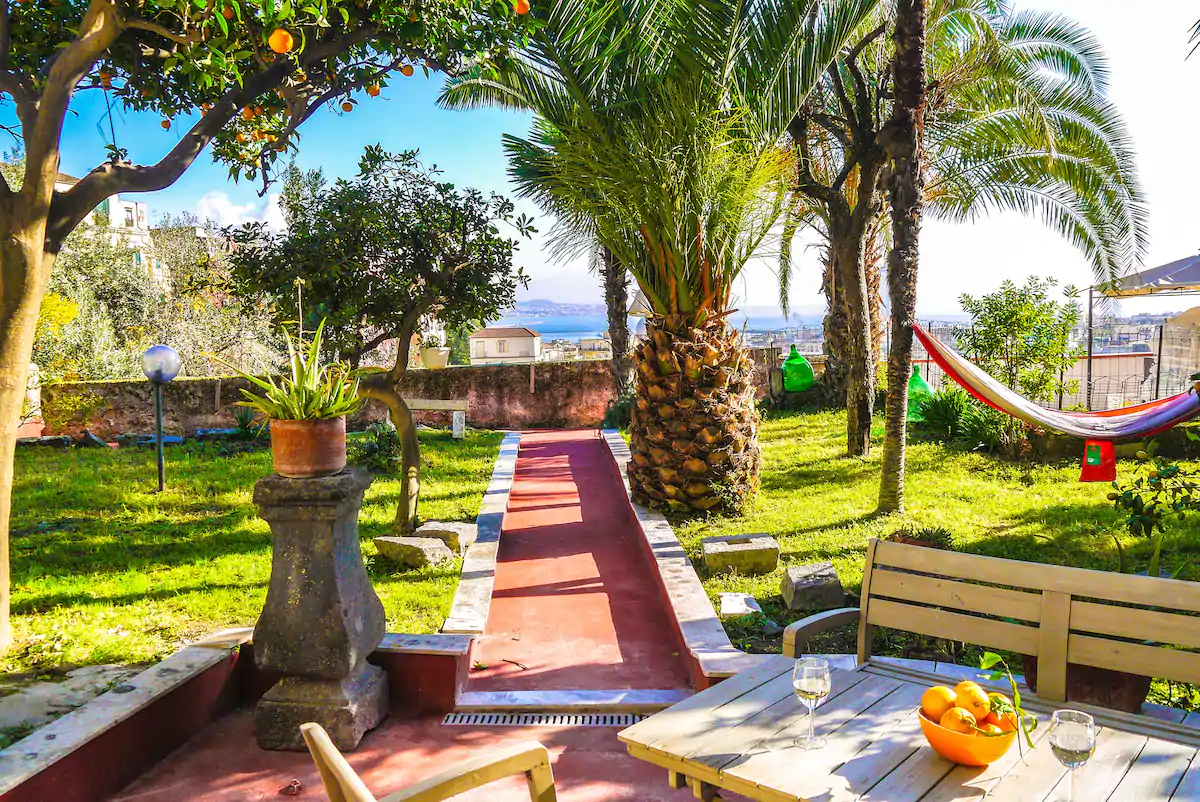 Lady Laura House in Amalfi
The Amalfi Coast in Italy is absolutely gorgeous and definitely worth a visit (or two)! When you look for a place to stay here you will want to find somewhere with great ocean views. Look no further, though, because Lady Laura House has it all! This cute apartment offers expansive scenes of both the ocean and the city, not only from the windows but from a secluded, flower-filled balcony as well. Watching the sunset from here will be a memory you will cherish.
The home is very beachy, with a blue and white theme and tile details. When the flowers on the balcony's wall are in bloom, you will not have to think twice about using it as the perfect selfie backdrop. When you want to get to the beach to relax and soak in the sun, you do not have to worry about a long commute, because the shore is only a few minute's walk away. Shops, restaurants, and ferry stops are all nearby as well.
Click Here To Check Rates On Airbnb!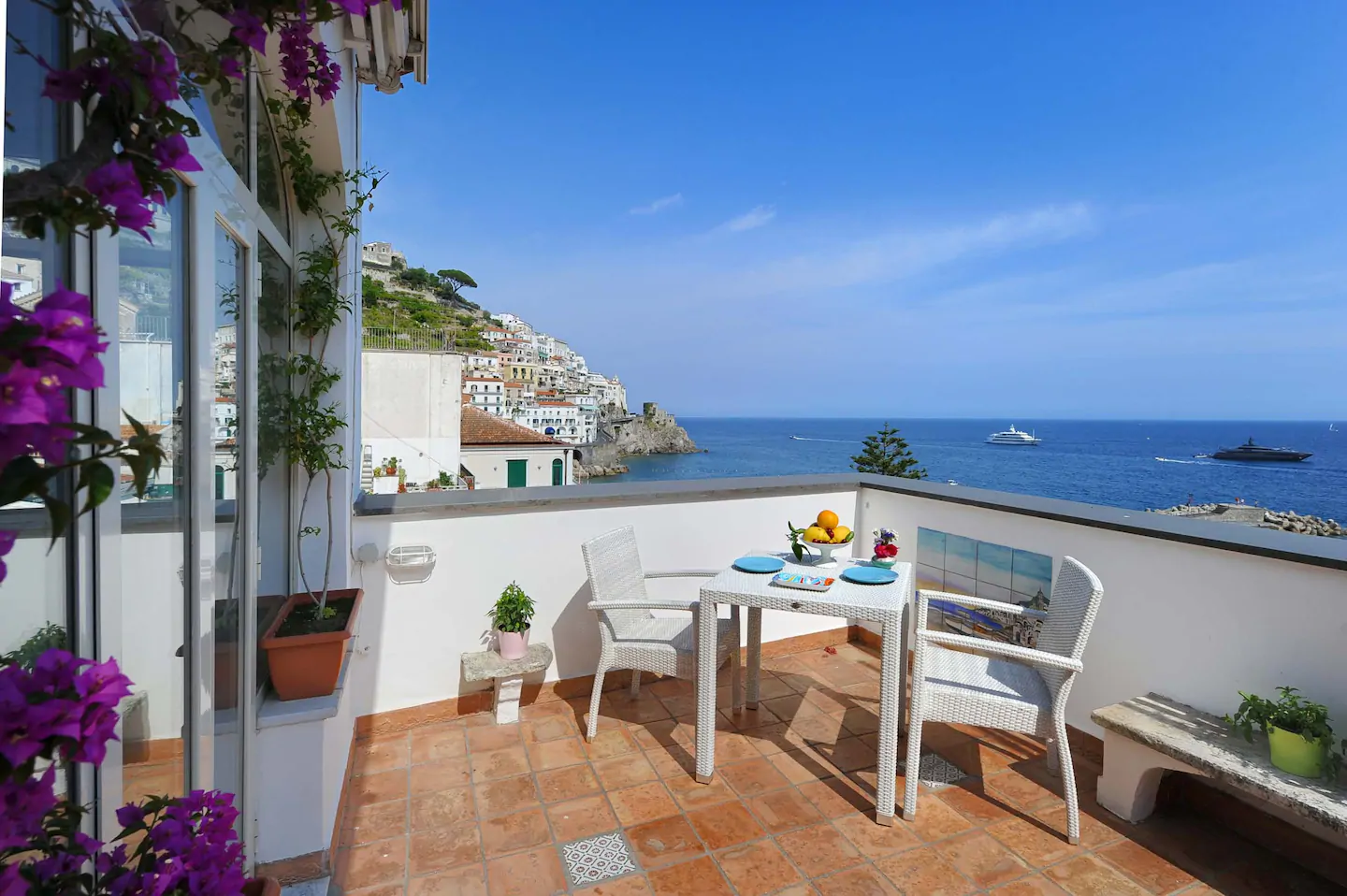 Spacious Villa on Amalfi Coast
This beautiful and spacious villa is found in the hills above the Amalfi Coast and provides jaw-dropping, panoramic views. There is no arguing that this is one of the best Airbnbs in Italy! Dubbed Casa Rossa, this home is big enough for four guests and has many amenities that make it worth booking. Have you ever soaked in a hot tub under an authentic, Italian vineyard, complete with an outlook to the bright blue ocean? Now is your chance!
This Italian Airbnb is located in a smaller, more rural neighborhood, ideal for anyone seeking a more peaceful atmosphere. While you can enjoy the quietude here, it is also not far from the city of Amalfi. A drive of about five miles will bring you to the beach. Or if you want to get a bit of exercise, you can hike down in about thirty to forty minutes.
Click Here To Check Rates On Airbnb!
Private Trullo Martodda Suite in Locorotondo
If you are looking for a really unique experience in Italy, why not stay in a trullo? A trullo, or plural trulli, is a type of stone dwelling native to the Apulia region of Italy, which makes up the heel of the boot-shaped country. With their cone-shaped roofs, these historic huts certainly draw in the eye and make a great place to stay in Italy!
This authentic trullo dates from the early 1700s, but has been modernized to become one of the coolest Airbnbs in Italy. On the inside, you will find light and airy rooms with the white bricks from the outside carrying through to the interior. Since the property is found in a rural area surrounded by farms and olive groves, you will find a peaceful atmosphere perfect for a quiet, romantic getaway. Sit on the covered patio, sip some local wine, and just enjoy being in Italy.
Click Here To Check Rates On Airbnb!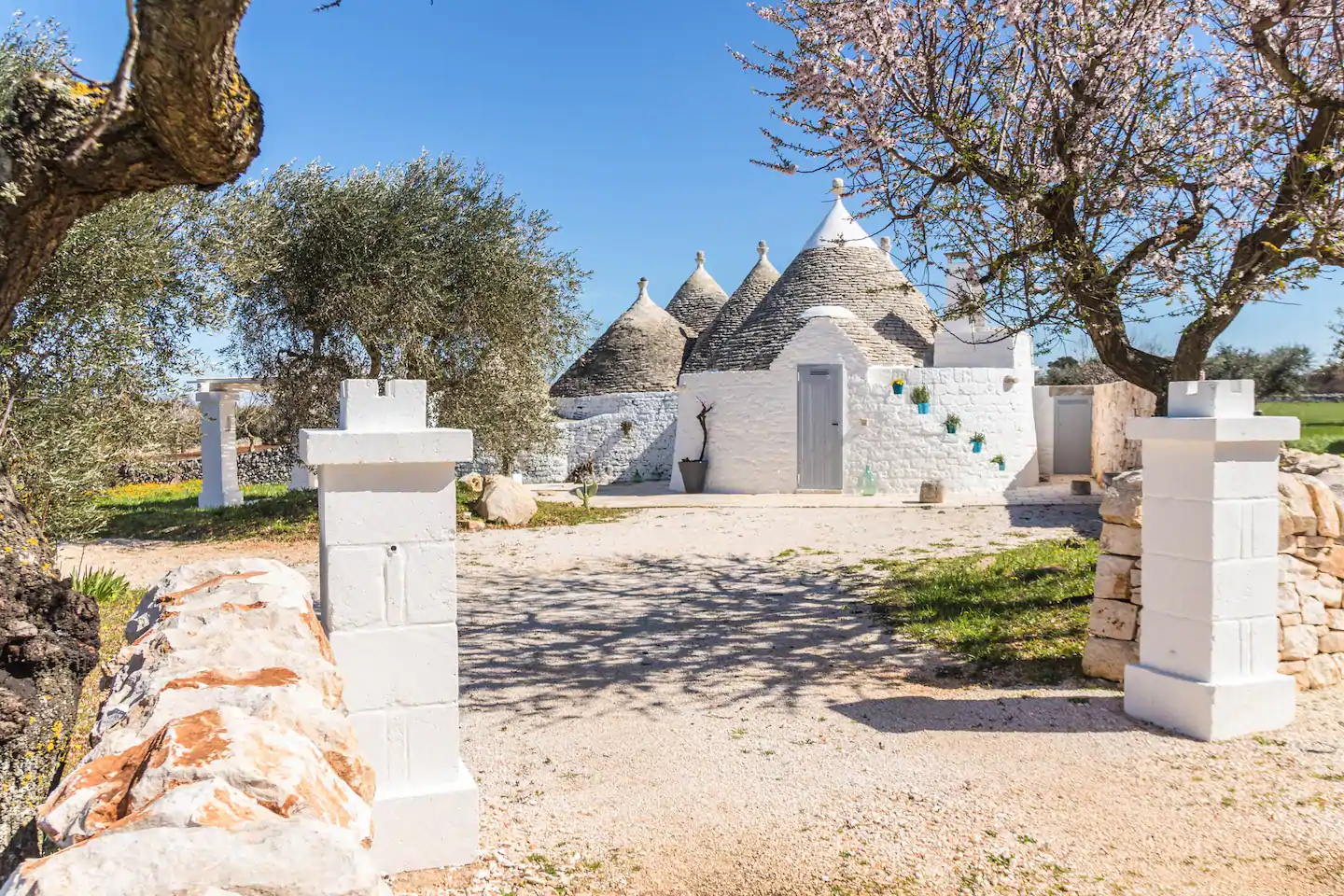 Trulli Suite 2P in Locorotondo
This is another trullo just as quaint as the first and offers a comfy place to relax in the Italian countryside. The Itria Valley, where this dwelling is located, is known for its peace and quiet so you can let your stress slip away. And speaking of relaxing, there is a private courtyard where you will find a small hot tub. Not only will your mind calm, but your muscles will loosen as well.
There is a covered patio with a barbecue grill if you want to cook outside or you can enjoy the fully equipped kitchen inside. When you get tired of the little home, if that is even possible, you can go explore the nearby small towns or book a bike tour of the valley. If you love wine, check out a wine tasting. Your stay here can be summed up in one word: Idyllic.
Click Here To Check Rates On Airbnb!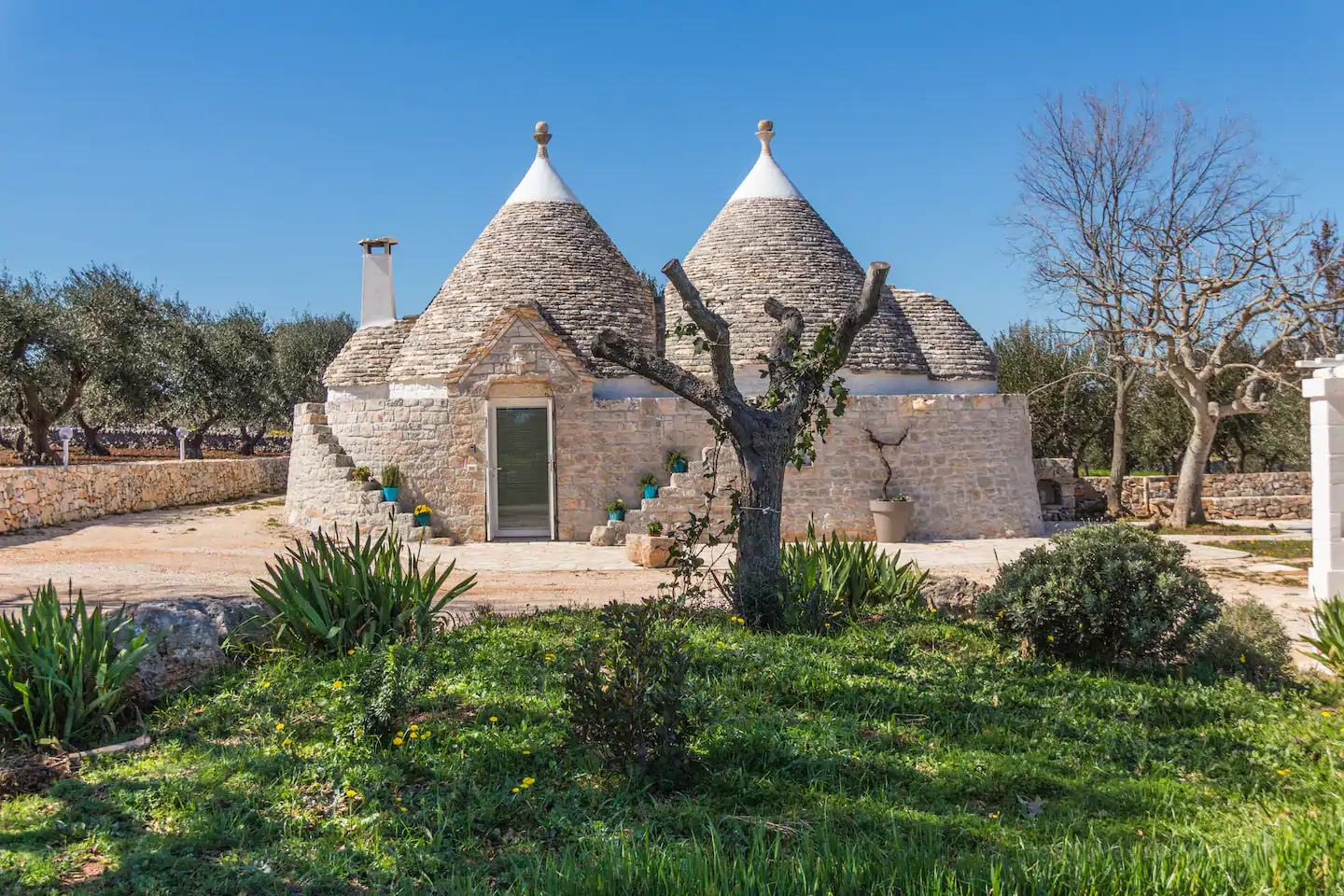 Villa Oliveta in Tuscany
Many travelers dream of staying at a villa in Tuscany! Villa Oliveta gives you the chance to check this experience off your bucket list! Since this amazing home can fit up to fourteen people, it would be ideal for a large family vacation or a girls' trip. Plus, splitting the cost between so many people would bring the individual cost down.
This 1806 farmhouse turned villa is found in the Aretine Chianti hills, near the Loro Ciuffenna commune. From its perch, you will be able to see for miles into the green valley below. You will absolutely love hanging out by the pool or in the hot tub after enjoying a meal cooked on the barbecue. The inside is spacious, rustic, and too cute to not fall in love with the second you step inside.
Click Here To Check Rates On Airbnb!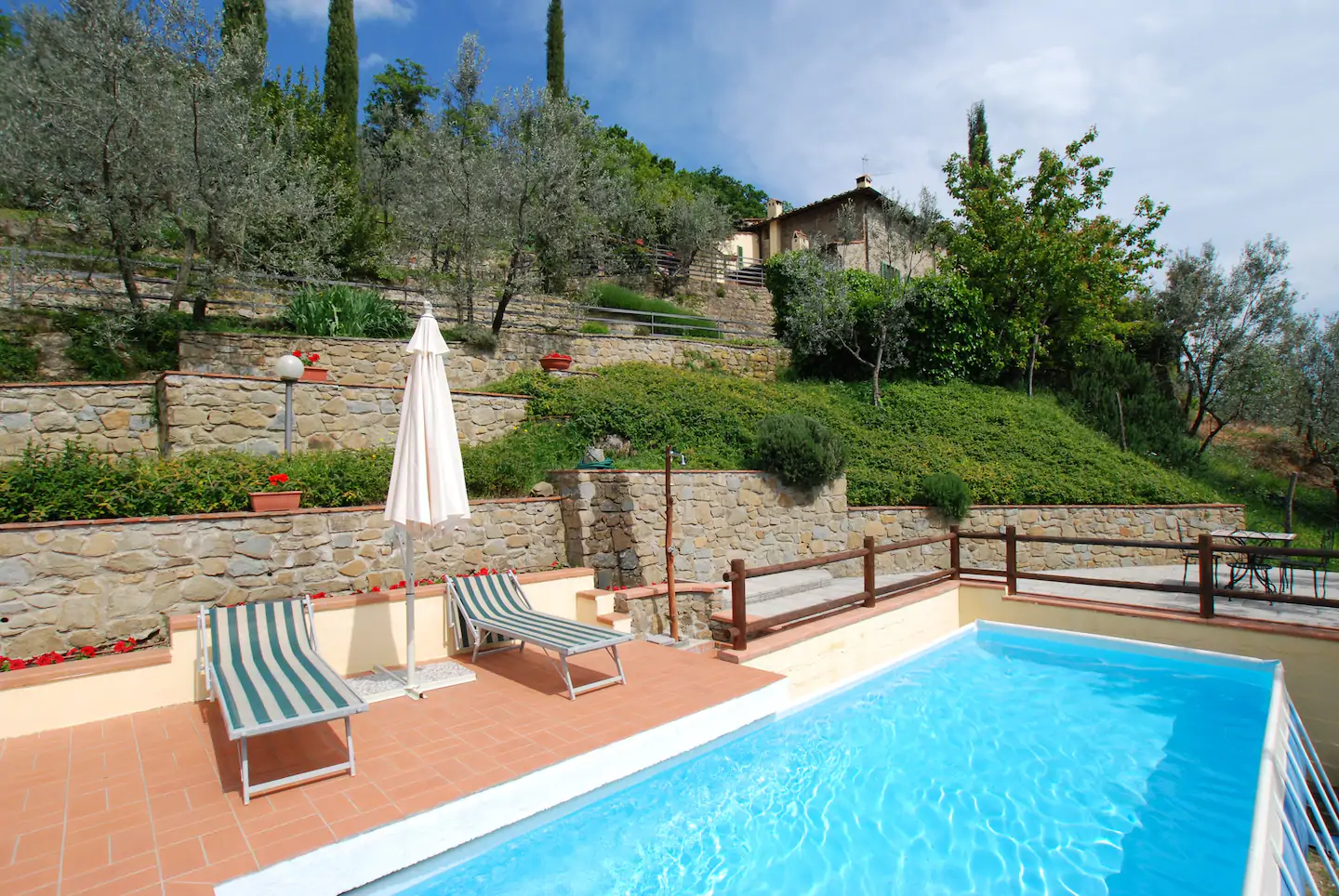 La Pavoncella in Sardinia
If you are traveling to the Italian island of Sardinia, then you should consider booking La Pavoncella in the southern city of Torre Delle Stelle. With a beautiful terrace overlooking the sea and a sitting area complete with a hammock underneath shady trees, what more could you ask for in an Airbnb in Italy? Maybe close proximity to a white sand beach? Oh, yes! This home is walking distance to the beach, where you can soak in the Mediterranean atmosphere.
This Italian stay can hold up to four people, and you may very well never want to leave! The rooms are light and airy with large windows you won't be able to tear your eyes away from. While the walls and furniture are white, blue accents throughout give life to the cozy spaces. The whole property looks like the set of a Mediterranean rom-com.
Click Here To Check Rates On Airbnb!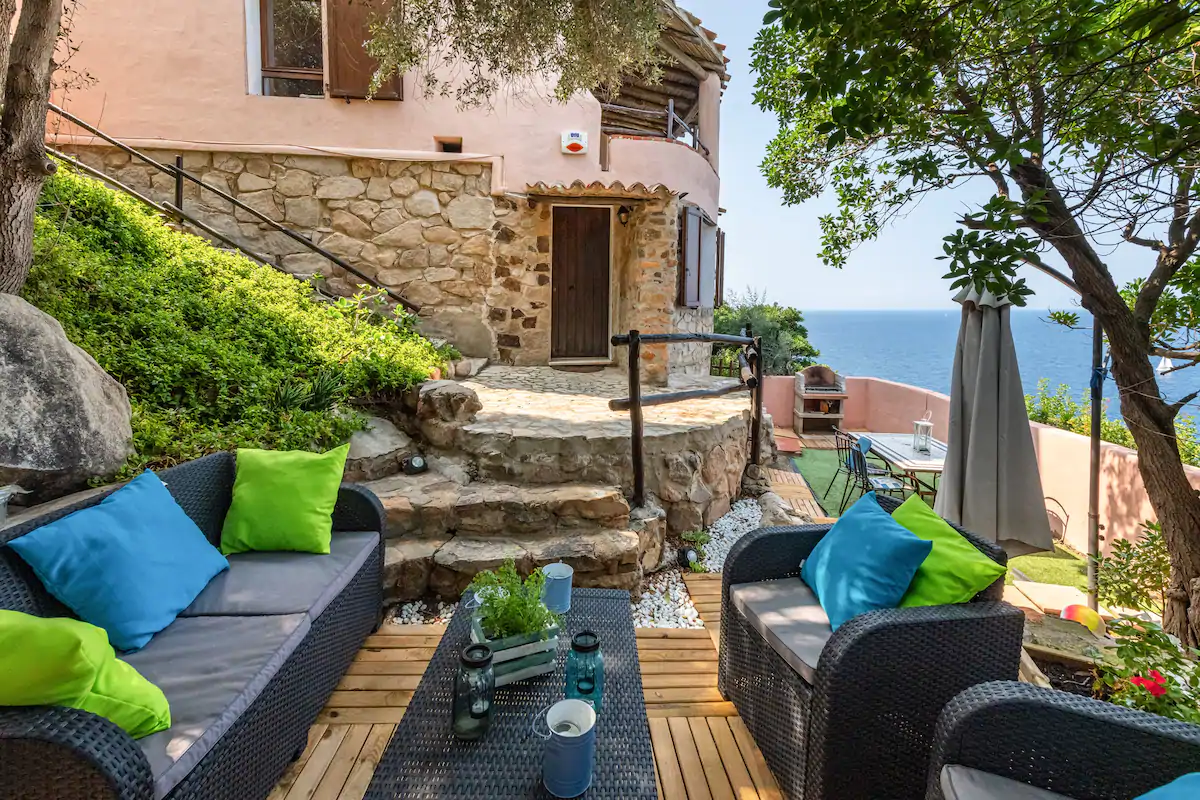 Castello di Lispida in Monselice
You want to stay in an Italian castle. This is not a question, but a statement because why wouldn't you?! The stunning Castello di Lispida is surrounded by trees and rolling lawns in the town of Monselice. Poet Ralph Waldo Emerson once described this place as "the most picturesque town I have seen in Italy." Venice is also only about an hour away by train, so you could easily make a day trip to the canal-filled city.
Book a room at this 19th-century manor to enjoy the royal treatment. Your accommodation includes a bedroom, living area, kitchen, and bathroom, all filled with antique furniture and vintage touches. The property also includes a greenhouse that has been converted into a pool as well as outdoor hot tubs. Don't forget to enjoy a glass of wine made at the castle!
Since it is found in the beautiful Euganean Hills Natural Park, this stay is perfect for people who love to explore nature. The castle has bikes you can use to ride through the park. The town of Monselice also offers many fun and cultural things to do to make your trip worthwhile!
Click Here To Check Rates On Airbnb!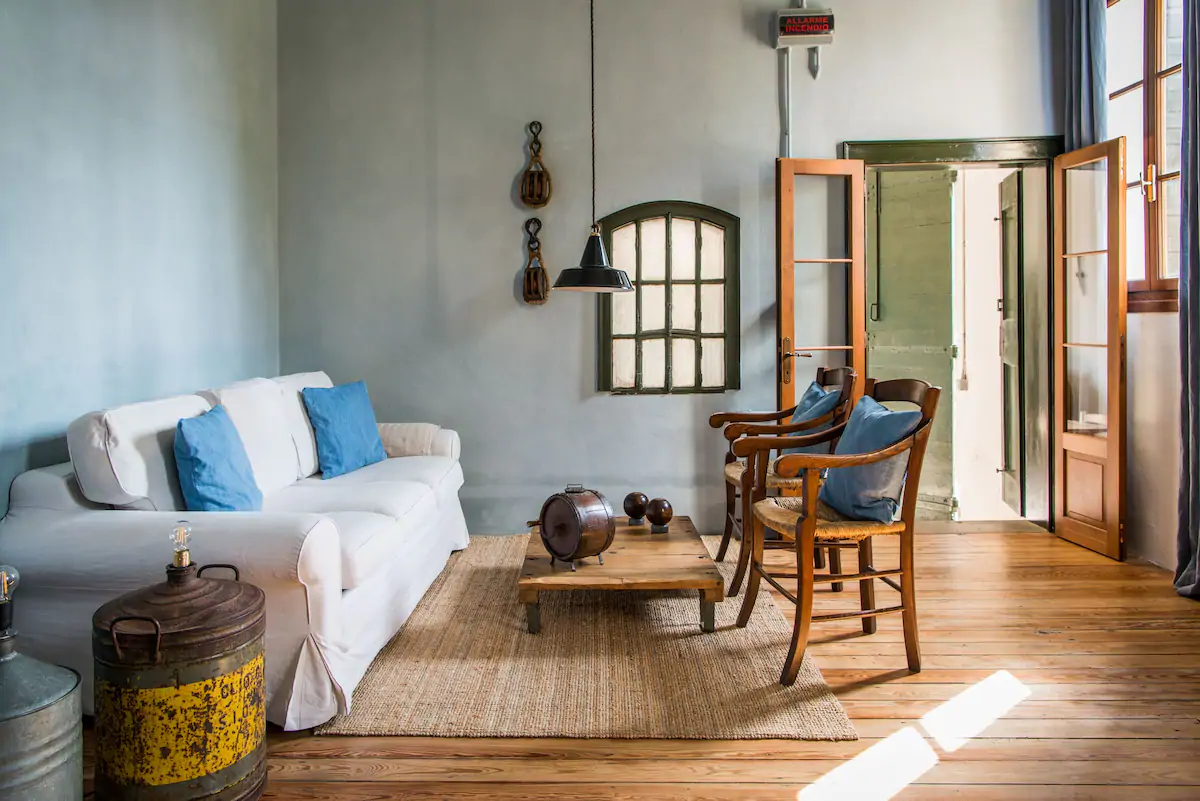 Casa Nica in Sicily
We will end this list of best Airbnbs in Italy with a bang! Just look at this picture! The ocean is only a few steps away from this home, perfect for beach lovers! Casa Nica is found on the island of Sicily and is one of the best beach getaways around. Interestingly, this was once a fisherman's house built in 1912 by the owner's great-grandfather! It has since been renovated into a charming Airbnb with strong beach vibes.
The beautiful and colorful tiles on the floor lead you through airy rooms with amazingly crafted furniture just as colorful. The house is found in a hamlet near the town of Solanto. The beach is not the only thing within walking distance. You will also find bars and restaurants nearby. With everything you need so close, you can easily nestle down for a calm and peaceful beach vacation and block out the noise of the outside world.
Click Here To Check Rates On Airbnb!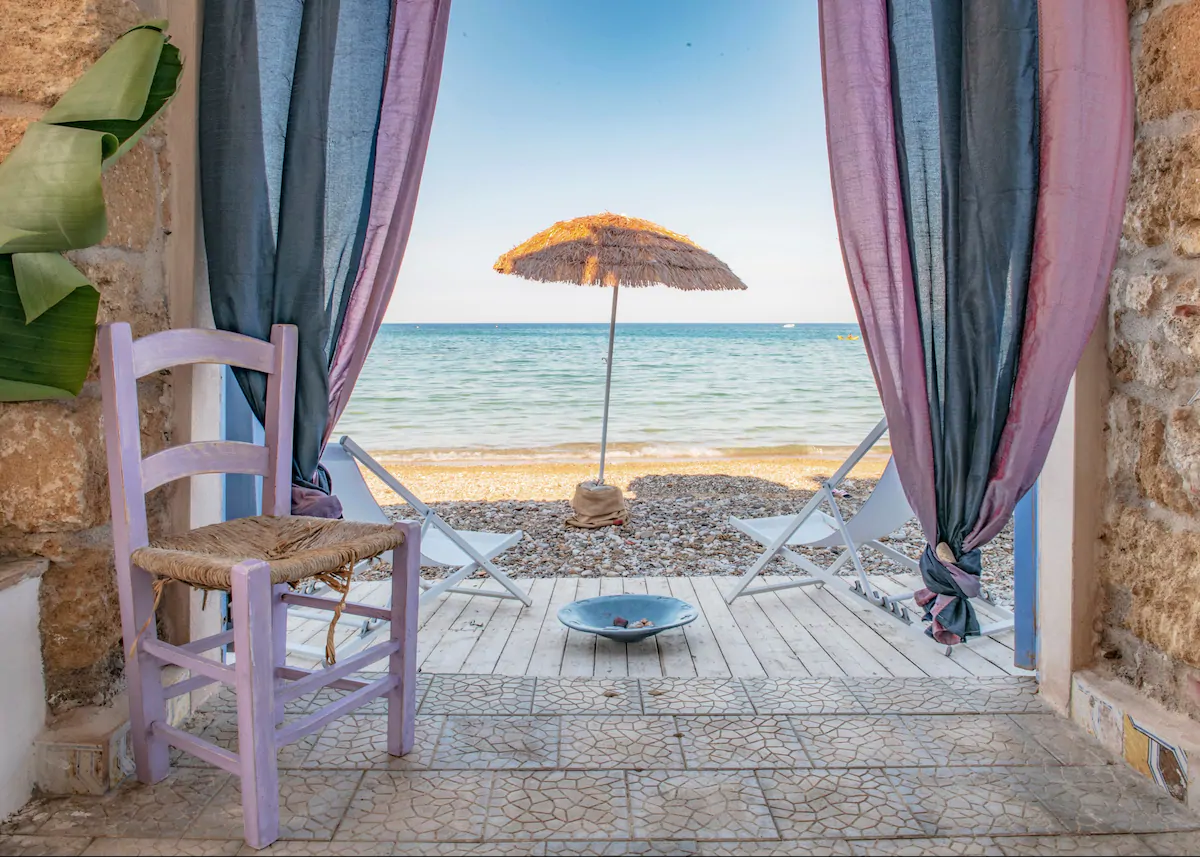 If you did not want to travel to Italy before, you must be dying to book a ticket now! There are so many amazing, unique, and cute Airbnbs in Italy it is impossible to narrow it down. You want to stay everywhere! With beach access, hot tubs, and sweeping, panoramic views, these Italian stays have everything you need to make your trip one for the books!