Looking for the best Airbnbs in Venice Italy for your next trip abroad? We're here to help you with these suggestions!
There's a reason Venice Italy is a tourist destination year after year. With its perfect weather, great food, beautiful views, romantic ambiance and more, it's hard not to enjoy your time in this paradise.
You're bound to find countless things to do in Venice: from St. Mark's square, to the Rialto Bridge, and the canals that wind through each city, town, and market, you are sure to experience the Renaissance and Gothic architecture and lively history here. The only thing to make your trip even more memorable is finding an ideal Venice Italy Airbnb to stay in!
Airbnbs can be a great option when traveling as they allow you to stay in accommodations that are more unique than a typical hotel. Vacation rentals also allow for you to connect with locals, and better yet? They're often kinder on your wallet than the average hotel would be!
So take a look through our list of suggestions to find the best Airbnb in Venice Italy for you!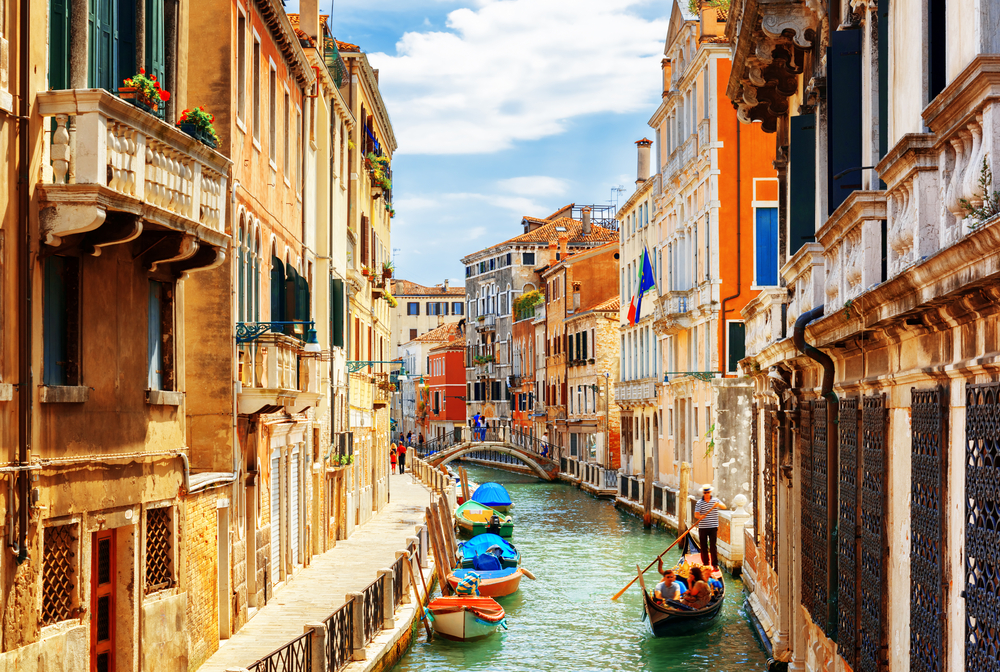 12 Best Airbnbs in Venice Italy (Rooftops, Views, & More)
1. A Canal View
This apartment is in an ideal location for a dream Venice vacation. Due to its central location, you can reach all of your main destinations in a short amount of time. If you are spending a bit longer such as 3 days in Venice, this is the perfect central spot!
You're just 10 minutes away from the Ponte de Rialto and less than 10 minutes away from the Piazza San Marco! The reviews say that the best food in Italy is just steps from your door.
We especially love that there is the "Ospedale Civile" close by– meaning you can get to any of the nearby islands quickly: from visiting Murano Island to see its glass elaborations to stopping by Torcello for its colorful houses, this Canal View Apartment is perfectly located for day trips!
This apartment can comfortably host six guests in two bedrooms. It has one full bathroom. The flat's spectacular structure is true to its Venetian roots, and it is ideal for vacation. Immerse yourself in the atmosphere in the center of the city by booking this Airbnb in Venice Italy today!
Click Here to Check Rates on VRBO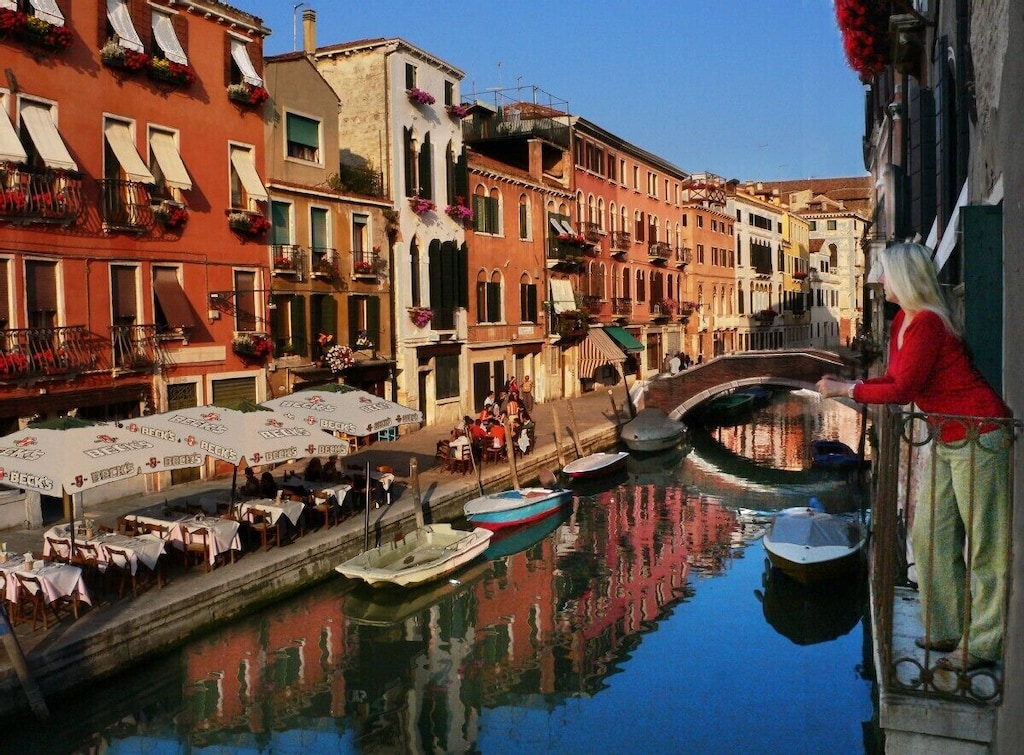 2. Rooftop Terrace with Canal Views
You get the best of both worlds when you rent this Airbnb in Venice! It has a historic wooden rooftop terrace AND a Grand Canal view. It doesn't get better than this folks! This adorable loft is in the heart of Strada Nova.
This loft's proximity to bus, train, and water taxi stations makes this the perfect home base for exploring Venice. The loft can accommodate four guests in its 646 square feet. It has one bathroom, and a decent-sized kitchen including a dishwasher and washer. Those are rare amenities for Venice! Definitely take the delicious dinner you cook up to the rooftop terrace to catch one of those spectacular Venice sunsets.
Click Here to Check Rates on VRBO

3. Castello Canal Views
If you prefer sleek modern design in your home away from home, this is the entry on our list of Airbnbs in Venice for you! Every bit of this 1076-square-foot apartment has been updated to feel light and bright.
This gem can sleep up to five guests in two bedrooms. It has two recently renovated bathrooms. The kitchen is also updated and sleek. I love the contrast between the light modern feel of the inside of this property, and the old-world Venetian feel right outside the windows.  This property has lovely balconies for taking in the Castello Canal right outside.
The famous attractions of San Marco Square and the Rialto are only a five-minute walk from this property. It is a great home base for seeing all Venice has to offer!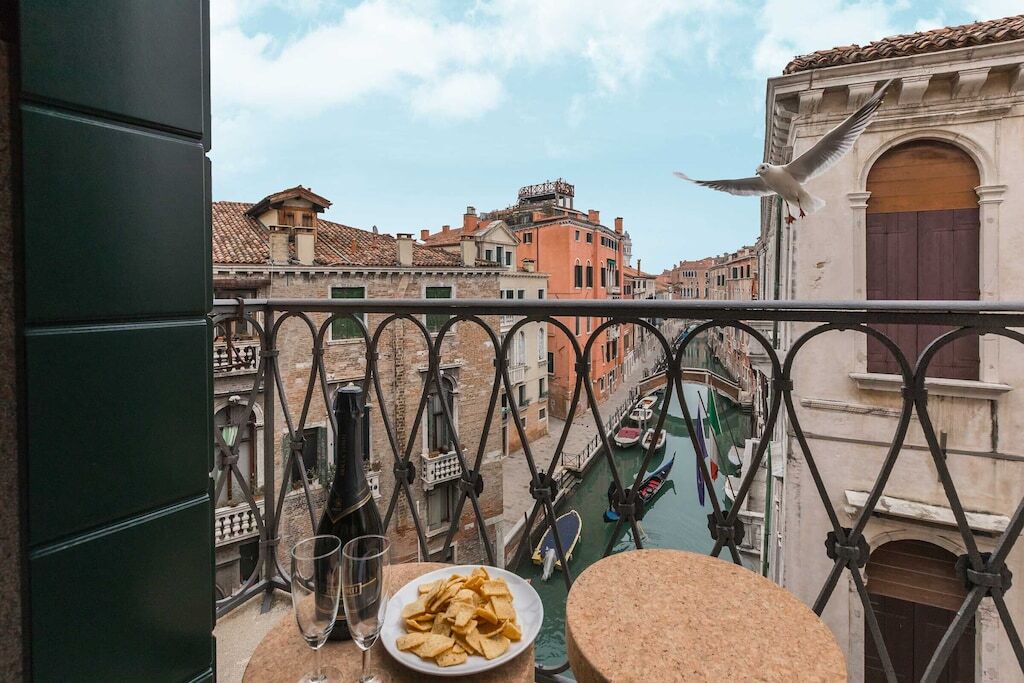 4. Baroque Chic Rooftop
This apartment in the San Marco District just screams Venice! The interior design is sprinkled with antiques and utilizes a bold black and red Venetian color scheme.  There is no doubt that this is a house with history! Don't worry, the kitchen and bathroom have been updated to modern luxury standards.
One of the best features of this apartment is that it has a private rooftop terrace!  In the morning and evenings, you can sit and relax on this terrace with a cup of coffee and listen to the water of the canals flow.
This majestic apartment can sleep four guests in two bedrooms. It is 861 square feet. This spot does have air conditioning, which can be rare for VRBOs in Venice.
Click Here to Check Rates on VRBO 
5. Riva Degli Schiavoni Apartment 
This Castello apartment is great for anyone looking for a comfortable Airbnb in Venice Italy. This iconic rooftop has an amazing view of the San Marco basin. The shady canopy means that this terrace can be used in any weather!
The 969-square-foot apartment can sleep up to five guests. It has two bedrooms and one bathroom. The interior has a cozy and warm feel. Our American readers might find this kitchen a tight squeeze, but it's a pretty standard size for a European city. You'll definitely be able to whip up some delicious meals here to enjoy on your private rooftop terrace.
Click Here to Check Rates on VRBO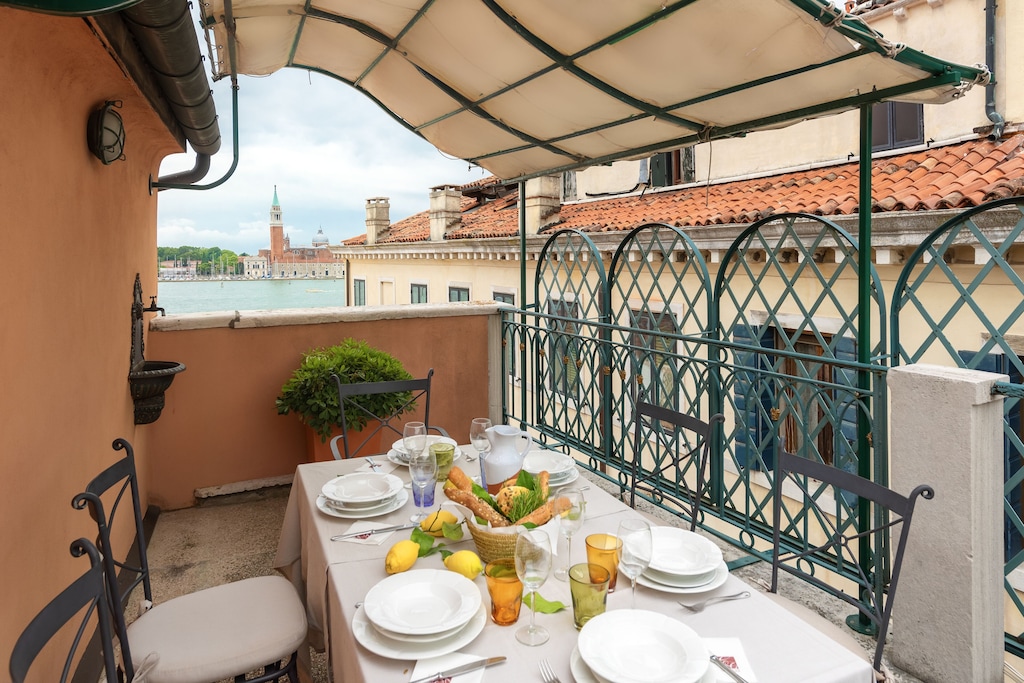 6. Do Pozzi Waterdoor Flat
This Waterdoor Elegant Flat is a great Airbnb in Venice Italy to rent for your vacation because this space is newly refurbished and features an equipped kitchen, a living room, a master bedroom, and a large ensuite bathroom.
Better yet, the location of this Airbnb is fantastic, as it is central to a vibrant area that has a range of cafes, shopping stores, and restaurants. Although it is close to the ever-popular Strada Nuova and Rialto, this specific area is quiet and relaxing.
Another unique feature is that the private door and of this Airbnb in Venice Italy is a water door on the canal. This means you can look right at the water during your vacation– it is literally eye level! This flat can comfortably fit four people and is really spacious for your relaxing time in Italy.
Click Here to Check Rates on Airbnb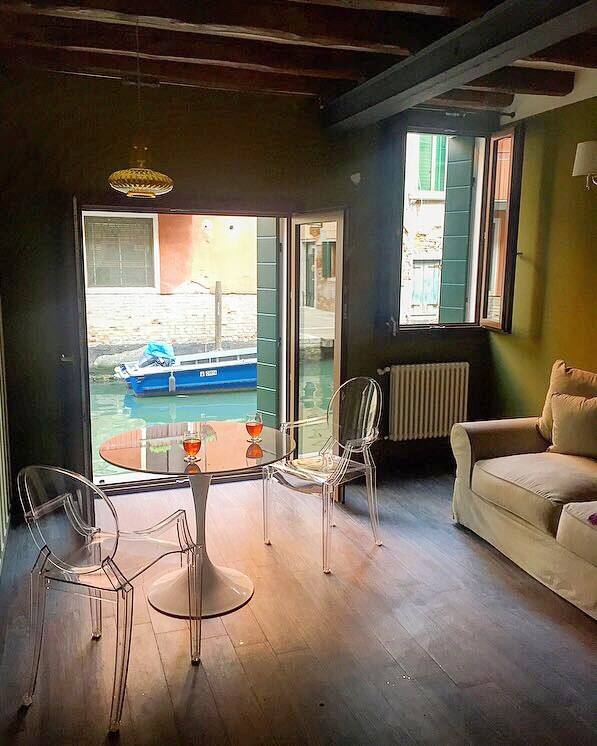 7. 15th Century Villa
If you're looking for Airbnbs in Venice that have historical significance and a pool, this is the property for you! This property is a 40-minute drive outside Venice, but staying in an authentic 15th-century Italian Villa seems worth the drive to us.
When you rent this VRBO you are given private access to a 4300-square-foot apartment in the left wing of the villa. This includes access to your own secluded pool and garden space. The larger Villa also has public gardens you are free to explore.
The luxury vintage vibe inside this Villa is so special. Your apartment has three full bathrooms and four bedrooms. It can sleep up to 10 guests, so you can bring your whole crew along on this amazing adventure. You're sure to feel like 15th-century Italian royalty when you book this VRBO in Venice.
Click Here to Check Rates on VRBO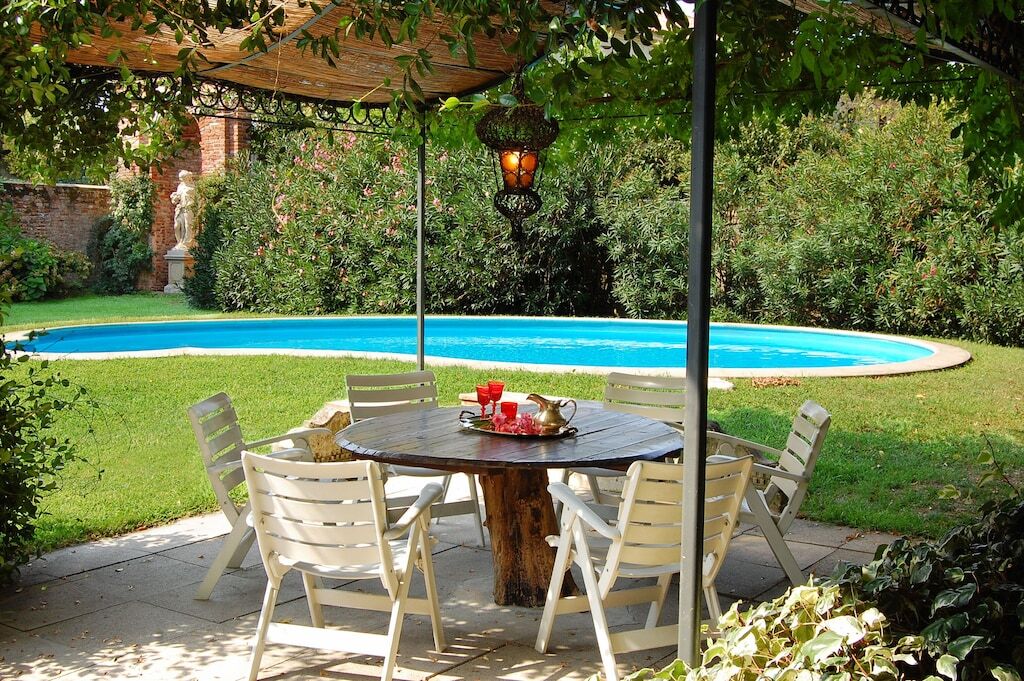 8. Romantic Suite with a Terrace and Views
Is there anything more romantic than a private suite that features a terrace and views of iconic Italy? Look no further than this Airbnb in Venice Italy! This romantic suite is perfect for couples who are traveling, and the entire apartment is clean and comfortable for your stay!
This exclusive apartment is located in the historic center of Venice, meaning it is just a 2-minute walk from St. Mark's Square, and you can find museums, monuments, and water taxi stops close by as well!
The apartment itself comes with luxury shades, four-poster beds, armchairs, and more. The living area is relaxing and comfortable and spacious for families, and there is concierge services available every day. Most people love to check to the terrace with tables and chairs though, as it offers great views of the city for any romantic evening.
Click Here to Check Rates on Airbnb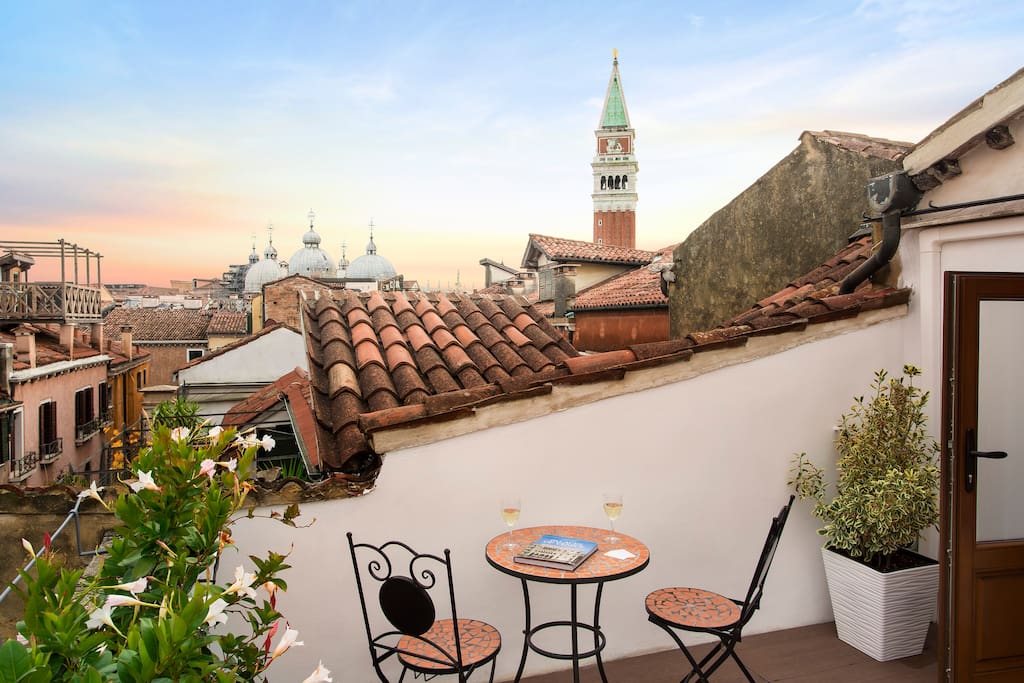 9. Central Cozy Apartment
This gem of an apartment has been recently restored with a minimalistic style.  You will feel cozy and comfortable when staying at this Airbnb in Venice Italy.
The apartment can sleep up to six guests. It has two bedrooms and two full bathrooms. There is a water bus stop less than 1 minute from the property, so exploring Venice by boat will be a breeze.
Between the excellent central location, newly renovated style, and a variety of amenities, it's no surprise that people love to book here! It is a relaxing stay with easy guest access. This VRBO is well-reviewed for its cozy and clean space!
Click Here to Check Rates on VRBO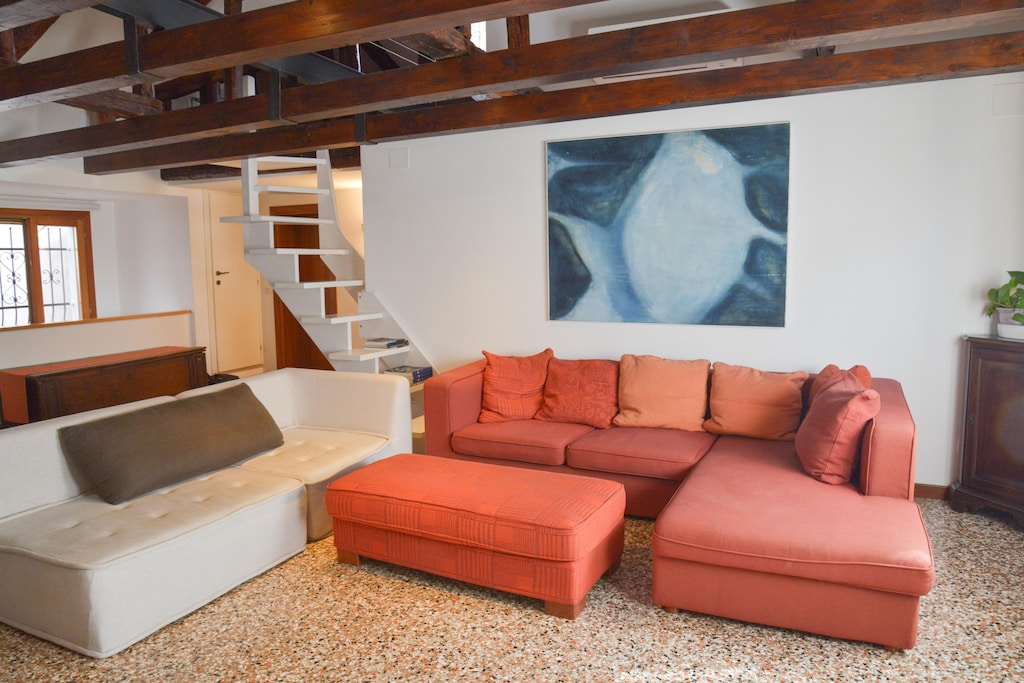 10. Piazza Ferretto Flat
If you're looking for a budget-friendly option for your Venice vacation, this is the entry on our list of the best Airbnbs in Venice for you! Its location just outside the main city means that you can have a chic and spacious vacation rental for half the price of those in downtown Venice. 
This lovely flat is located on a bus line so getting into Venice will be a breeze. It is located in the ancient gallery of Piazza Ferretto, so there is plenty to see and do within walking distance of this apartment. 
The flat is a spacious 1292 square feet. It has two bedrooms and can sleep seven guests. This flat has two very luxurious, modern, bathrooms. The whole unit has been updated and decorated in a sleek and clean style. 
Click here to Check Rates on VRBO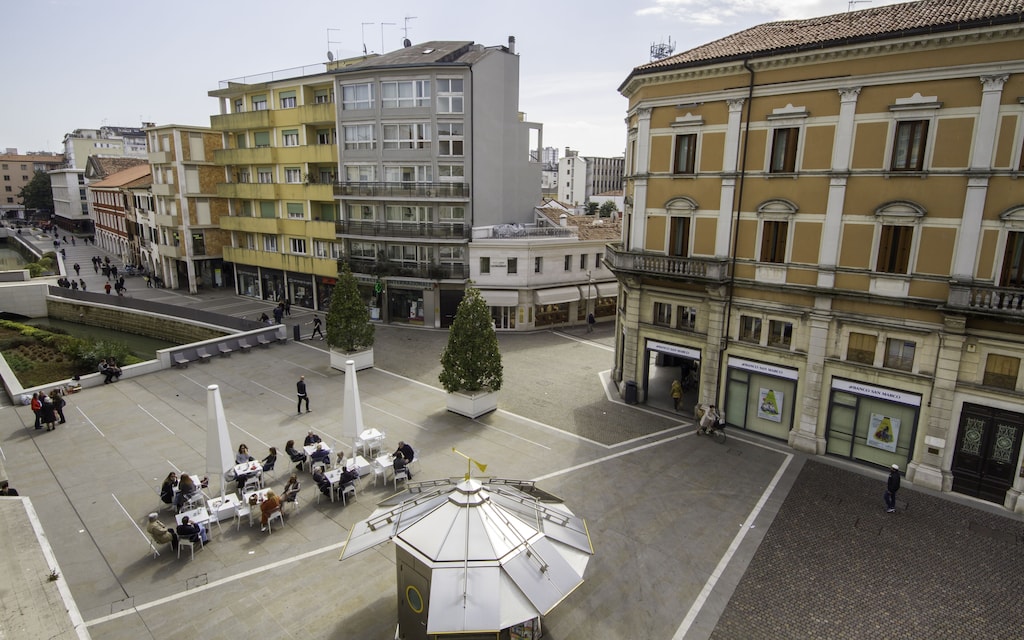 11. Nati's House on the Canal
This lovely apartment is located in a quiet neighborhood in Venice on a beautiful canal. I love the antique touches in all the decor. This apartment truly incorporates the best of Venice's old-world charm. 
The reviews of this place are full of guests who have stayed more than once in this comfortable vacation rental. It is a short distance from the Alilaguna water bus stop so you can see the whole city from this quiet and cozy home base. 
Nati's House can sleep three guests in one bedroom. It is 484 square feet and has one bathroom. 
Click Here to Check Rates on VRBO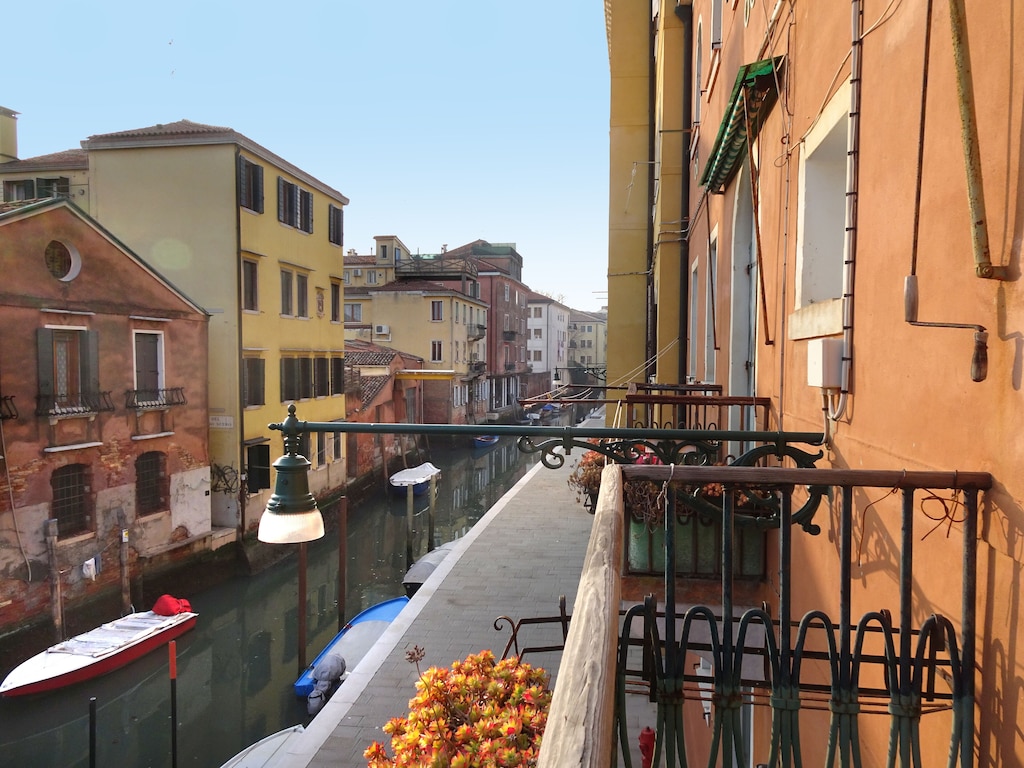 12.Ca' Mazzega Residence
This vacation rental is located in the amazing historical area of San Marco. Book this option on our list of Airbnbs in Venice and you'll be staying less than 2 miles from the home of Marco Polo, the famed explorer! It is also very close to the famous Rialto Bridge. If you're visiting Venice for water sports, this is a great home base for sailing and kayaking. 
The unit itself is thoughtfully furnished and has all the amenities, including air conditioning and a washer! It also has a pretty spacious kitchen by Venice standards. This is perfect for making lovely meals to eat on the apartment's private shaded terrace! This 700-square-foot apartment can sleep four guests. It is a one bedroom, one bathroom unit. 
Swiping through the photos of this VRBO I'm sure you can see why we had to include it on our list of the Best Airbnbs in Venice
Click Here to Check Rates on VRBO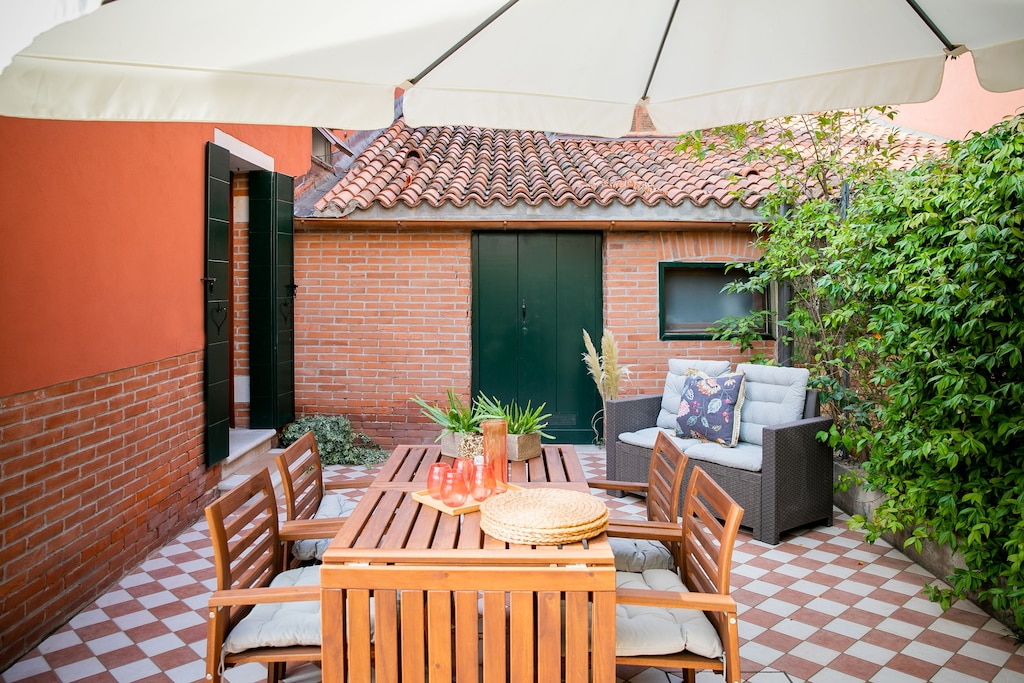 We're thrilled you've chosen to return to the Italian islands on the Adriatic Sea for your next vacation. You're going to love traveling through the canals, eating great food, and enjoying the views and local ambiance. For more tips check out this article on our favorite two day itinerary for Venice. We hope a location on this list caught your eye so you end up at one of our favorite Airbnbs in Venice, Italy!