Looking for the best Airbnb in Venice Italy for your next trip abroad? We're here to help you with these suggestions!
There's a reason Venice Italy is a tourist destination year after year. With its perfect weather, great food, beautiful views, romantic ambience and more, it's hard not to enjoy your time in this paradise.
You're bound to find countless things to do in Venice: from St. Mark's square, to the Rialto Bridge, and the canals that wind through each city, town, and market, you are sure to experience the Renaissance and Gothic architecture and lively history here. The only thing that could make your trip even more memorable is finding an ideal Venice Italy Airbnb to stay in!
Airbnbs can be a great option when traveling as they allow you to stay in accommodations that are more unique than a typical hotel. Airbnbs also allow for you to connect with locals in unique areas, and better yet? They're often kinder on your wallet than an average hotel would be!
So go ahead and take a look through our list of suggestions to find the best Airbnb in Venice Italy for you!
Looking to save money on your trip to Venice? Get a FREE $55 Airbnb coupon by using our code when you book!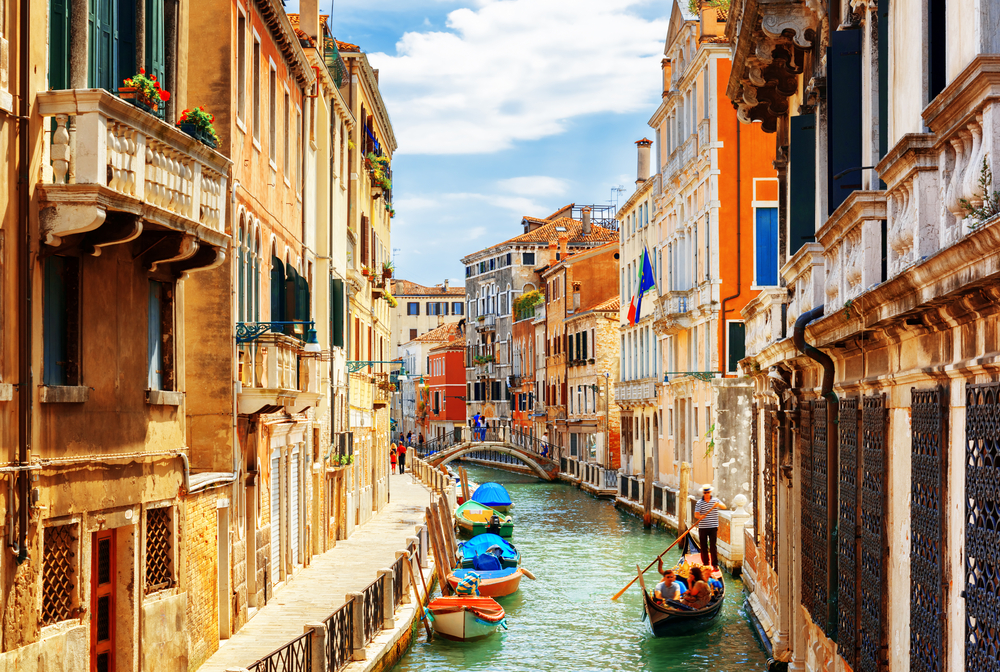 12 Best Airbnbs in Venice Italy (Rooftops, Views, & More)
1. A Canal View Near San Marco Square
This apartment is in an ideal location for a dream vacation and therefore makes it a great arbinb in Venice Italy stay in! Due to its central location, you can reach all of your main destinations in a short amount of time. You're just 10 minutes away from the Ponte de Rialto and less than 10 minutes away from the Piazza San Marco!
Better yet, there are museums, restaurants, and fields close by! We especially l0ve that there is the "Ospedale Civile" close by– meaning you can get to any of the nearby islands quickly: from visiting Murano Island to see its glass elaborations to stopping by Torcello for its colorful houses, this Canal View Apartment is perfectly located for day trips too!
During your stay, this apartment with a view of the grand canal will be entirely available for you. Its spectacular structure is true to its Venetian roots, and it is ideal for vacation as the views of the Canal are breathtaking! Immerse yourself in the atmosphere, with locals, and in the center of the city by booking this airbnb in Venice Italy today!
Click Here to Check Rates on Airbnb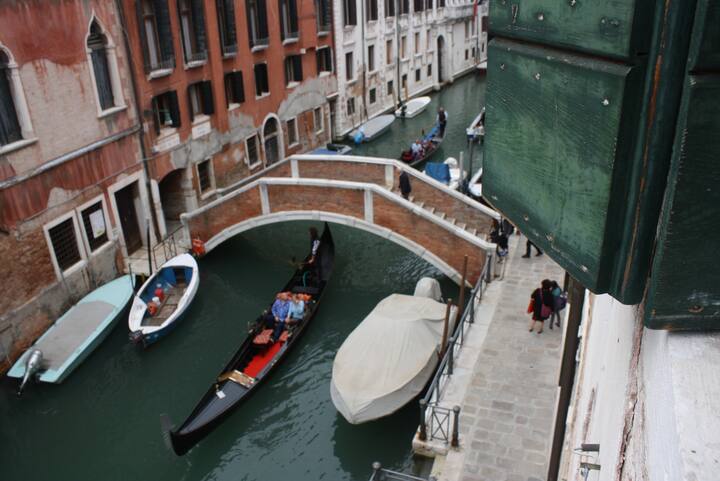 2. Amazing Loft in Center San Marco
Just one minute from San Marco Square, this private loft is in the center of San Marco, meaning it is a great Airbnb in Venice Italy to rent during your vacation! Because of its central location, this loft has a great view of St. Mark Basilica and is well known for its easy and convenient way to all transports.
This loft is also more than just a room– it is like a studio! It would be like renting your own place with a great space filled with a table, 2 chairs, a large private bathroom, and a breathtaking view from a window. With recent renovations, this loft is charming, cozy and comfortable.
Renting this airbnb in Venice Italy is a great option, as you are literally minutes from the best shops and restaurants, and you can hear chamber orchestras playing in San Marco square on some evenings! There is also a great luggage storage facility here, an easy lift to the third floor, and the owners are flexible with check in and check out times in this safe and cosy spot.
Click Here to Check Rates on Airbnb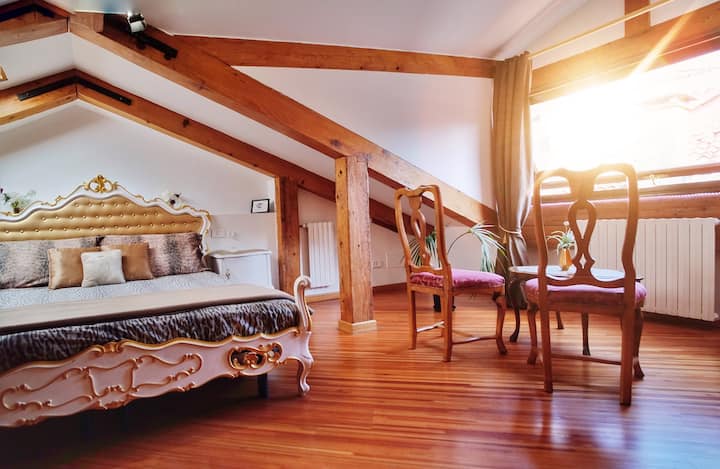 3. Stunning Studio with Canal Views
This beautiful second-floor apartment can be yours for your entire vacation! Known for its stunning views, this Airbnb in Venice Italy has been entirely renovated and now features wooden floors, a new bathroom, and a new kitchen. Better yet? It is located in Dorsoduro!
You're just minutes away from some of Venice's most sought after churches, museums, cafes and hidden gems. But what really makes this place special is that this apartment is perfectly suited for couples and is well equipped and offers some unforgettable views.
Out the window here, you can see the largest canal in Venice: the Guidecca canal. This makes this stunning studio highly sought after, and its maximum flexibility of check-in and check out as well as bag drop off makes it competitive for booking! Enjoy this south-facing Airbnb during your trip, as you embrace this full apartment in an area that offers a calming break from the hustle and bustle of tourist hot spots.
Click Here to Check Rates on Airbnb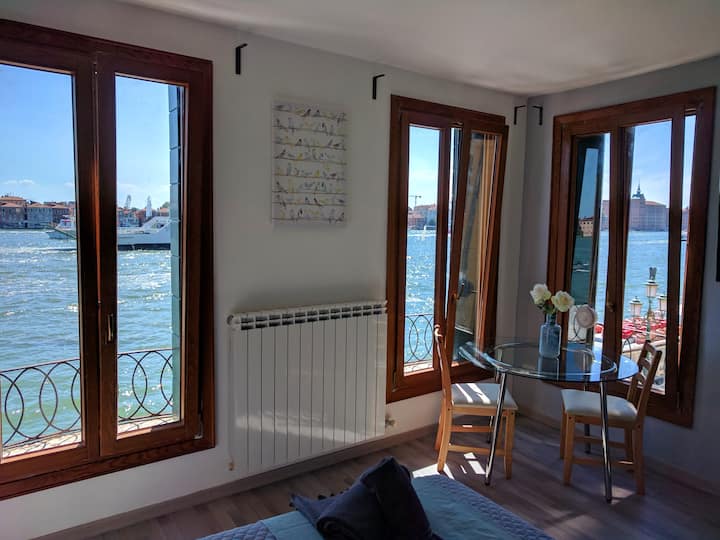 4. Rooftop San Marco Tower View
This entire apartment is just one minute from San Marco square, meaning it has beautiful views of the San Marco Tower. On the third floor, this apartment has 2 bedrooms: one features a large bed, and the other has a sofa bed. The modern bathroom is large and the kitchen is fully accessible.
When you book this apartment, you get the entire apartment, and contact with the renters can help you organize a transfer from an airport as well as help you book boat tours and private water taxis. They have even helped organize private walking tours with their guests! All you have to do is ask!
One of the best features of this apartment is that it has a rooftop view! Because of its private terrace, many people love to book this Airbnb in Venice Italy because it offers beautiful views of the San Marco Tower on this terrace. In the morning and evenings, you can sit and relax on this terrace with a cup of coffee and listen to the water of the canals flow to your left while looking at San Marco's tower!
Click Here to Check Rates on Airbnb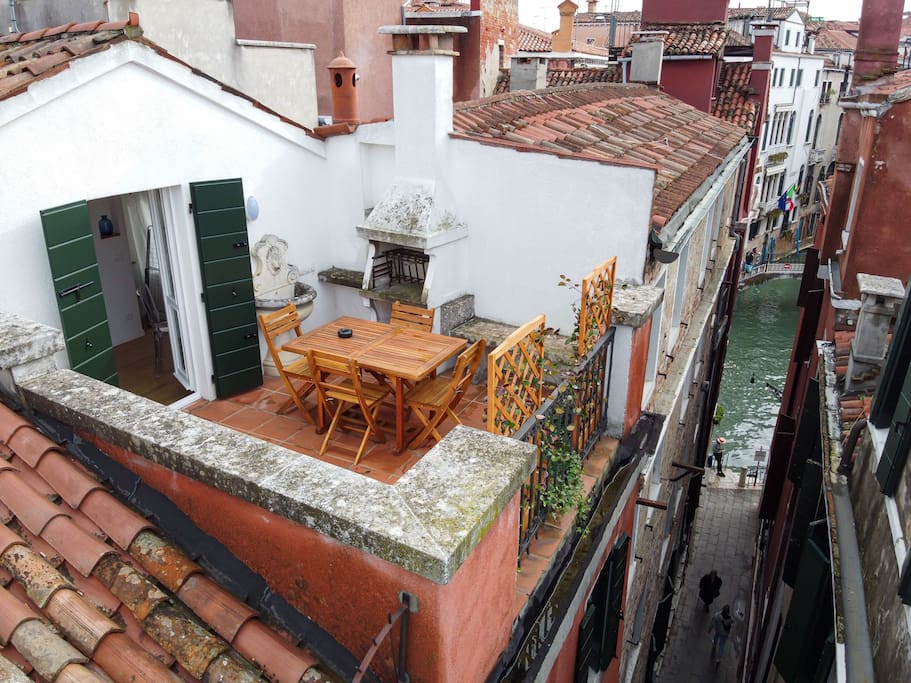 5. Palazzo DePonte with a Canal View
This spacious, private room hosted by DaPonte is great for anyone looking for a comfortable Airbnb in Venice Italy during their vacation. With self-check-in, a clean building, a Large Hall area open for all guests, and easy check-in and luggage storage, this place makes traveling simple and welcoming!
What draws most people in to rent this Airbnb in Venice Italy is that the room is spacious: it is private with an en-suite bathroom and features a variety of amenities such as WiFi, television, soaps, and the large hall that was mentioned earlier!
However, most visitors love to book here because it has a great canal view! You can literally watch Gondola's pass by your window from this private room, and its central location ensures you are positioned between San Marco and Rialto which is perfect for exploration. Who wouldn't want to be in the center of a lively city with great views?
Click Here to Check Rates on Airbnb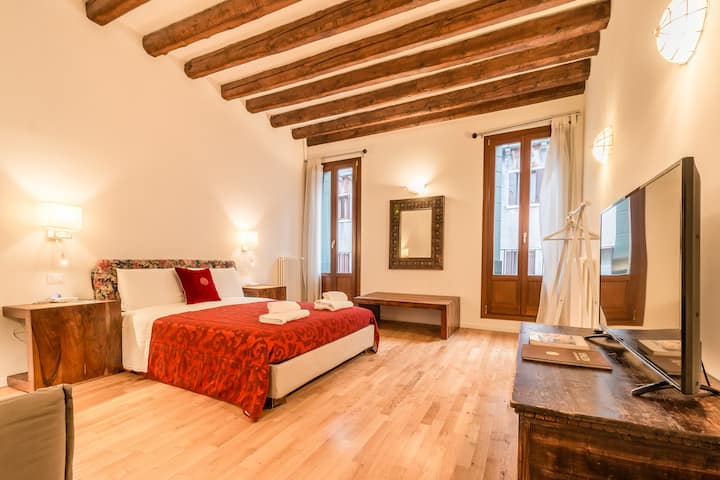 6. Do Pozzi Waterdoor Flat
This Waterdoor Elegant Flat is a great Airbnb in Venice Italy to rent for your vacation because not only can you have the entire apartment to yourself, but this space is newly refurbished and features an equipped kitchen, a living room, a master bedroom, and a large ensuite bathroom.
Better yet, the location of this Airbnb is fantastic, as it is central to a vibrant area that has a range of cafes, shopping stores, and restaurants. Although it is close to the ever-popular Strada Nuova and Rialto, this specific area is quiet and you are able to relax easily! No noisy tourists around!
Some guests also love that the private door and entry of this Airbnb in Venice Italy is a water door on the canal, meaning you can look right at the waters during your vacation– it is literally eye level! This flat can comfortably fit four people and is really spacious for your relaxing time in Italy.
Click Here to Check Rates on Airbnb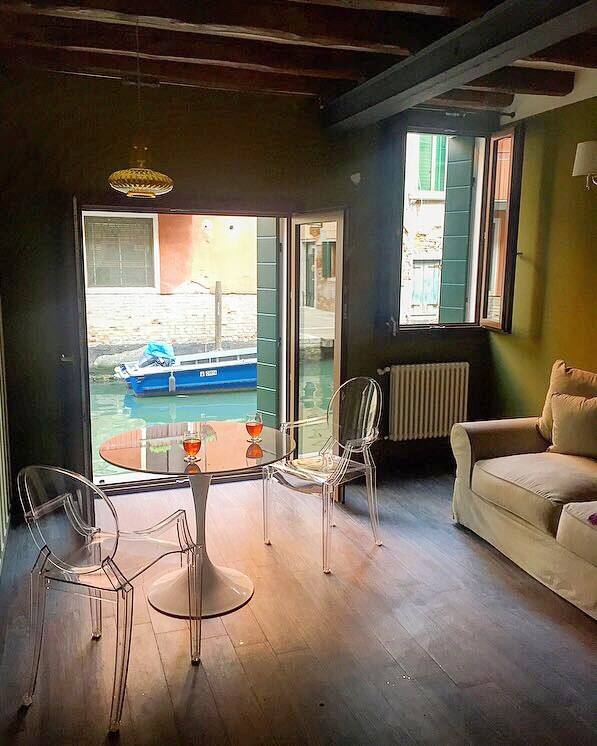 7. Charming Terrace Rooftop Apartment
If you want an entire Airbnb in Venice Italy to yourself, look no further than this charming apartment that features a terrace rooftop that is close to San Marco Square! This renovated space is situated perfectly: it is only a quick walk to the square but is far away from the noise and bustle of the touristy locations.
Better yet, many people love renting out this Airbnb because it features a sofa bed, master bedroom, kitchen, and bedroom in addition to a romantic terrace. This rooftop terrace is perfect for romantic evenings and is large enough for couples to enjoy the views of the city and neighborhood while enjoying dinner or glass of wine.
This apartment also features an indoor fireplace and wifi. It is clean and tidy and having access to the full apartment ensures you have lots of space and can stay comfortable while you are exploring and resting during your vacation!
Click Here to Check Rates on Airbnb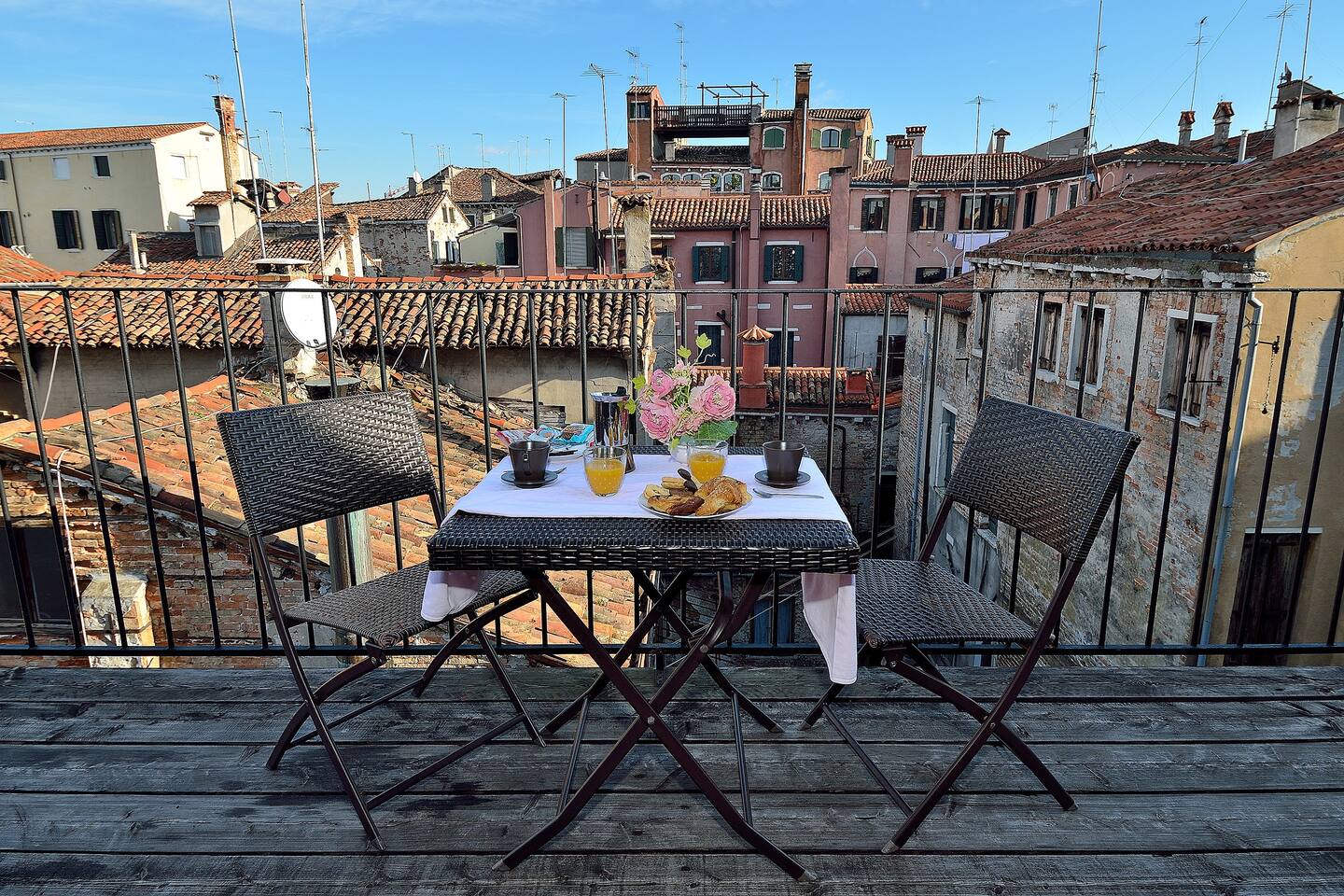 8. Romantic Suite with a Terrace and Views
Is there anything more romantic than a private suite that features a terrace and views of iconic Italy? Look no further than this Airbnb in Venice Italy! This romantic suite is perfect for couples who are traveling, and the entire apartment is clean and comfortable for your stay!
This exclusive apartment is located in the historic center of Venice, meaning it is just a 2-minute walk from St. Mark's Square, and you can find museums, monuments, and water taxi stops close by as well!
The apartment itself comes with luxury shades, four-poster beds, armchairs, and more. The living area is relaxing and comfortable and spacious for families, and there is concierge services available every day. Most people love to check to the terrace with tables and chairs though, as it offers great views of the city for any romantic evening.
Click Here to Check Rates on Airbnb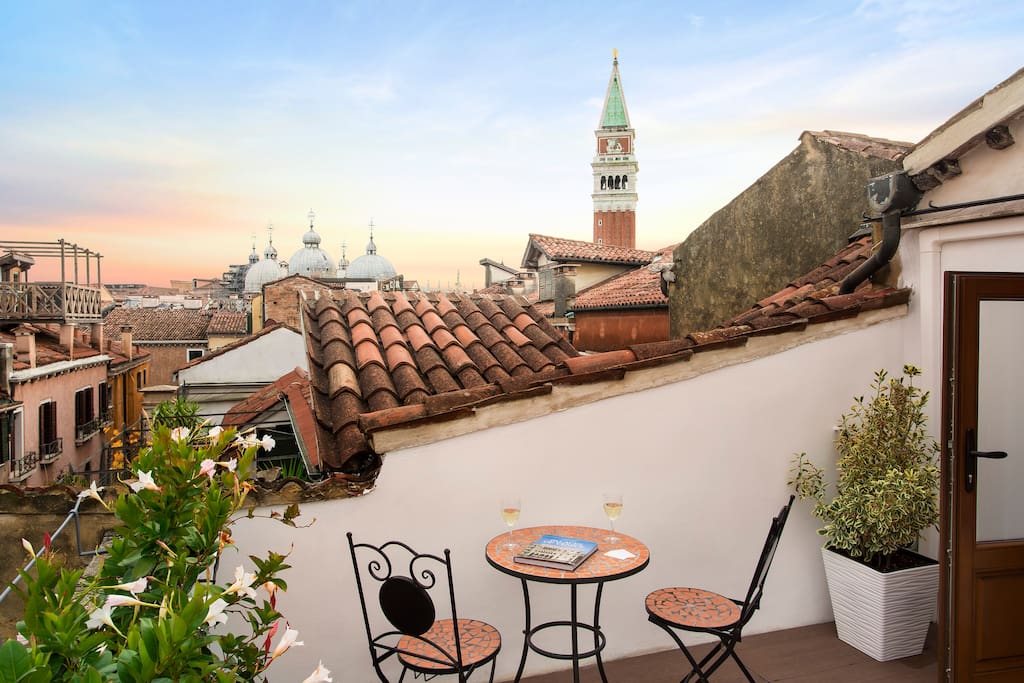 9. Tintoretto Canal View Apartment
This gem of an apartment has been recently restored with a minimalistic style, meaning you will feel clean and comfortable when staying at this Airbnb in Venice Italy with all of the modern comforts it has to offer!
Better yet, this apartment has a canal view of the Rio Della Sensa and is adjacent to the historic home of the painter Tintoretto. The apartment is on the first floor and features a kitchen with amenities such as a microwave and oven and dishwasher. The apartment also has a living room, a TV, a bedroom, and a spacious bathroom.
Between the views of the canal, the newly renovated style, and a variety of ammonites, it's no surprise that people love to book here! It is a relaxing stay with easy guest access. You can check-in and check out easily, and the Airbnb itself is well-reviewed for its views and clean space!
Click Here to Check Rates on Airbnb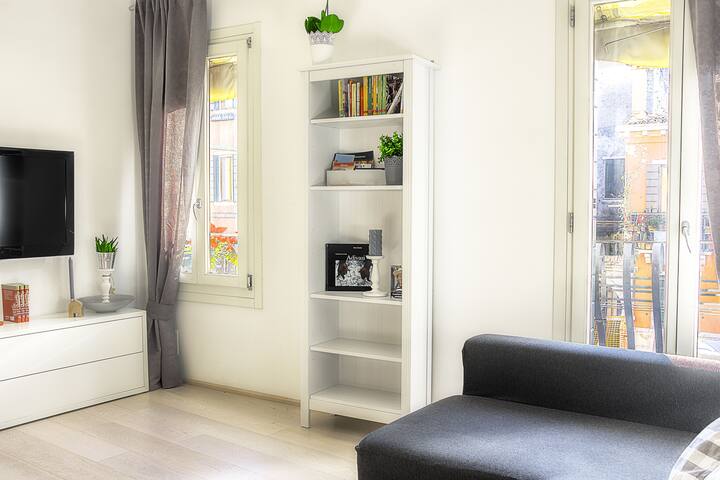 10. Il Giglio Di Vida in San Marco
Location is so important when you book an Airbnb in Venice Italy, so we love this Airbnb for its location! Located in the historic center, S.M. Giglio is just 5 minutes away, as is the Accademia bridge. And you are a mere 7 minutes from the Rialto! Talk about being central!
As you are in one of the most beautiful cities in the world, this Airbnb is great for its unique stay in the heart of it all. With full access to this 2 bedroom apartment, you have enough space and amenities such as a bathroom, kitchen, TV, sofa-bed, double bed, and oven.
Better yet, the unique layout of this apartment makes it feel spacious and fun: with stairs leading to an elongated bedroom, high-beam ceilings, and being a step away from canals will have you feeling like staying here is as much as an adventure as exploring Venice itself!
Click here to Check Rates on Airbnb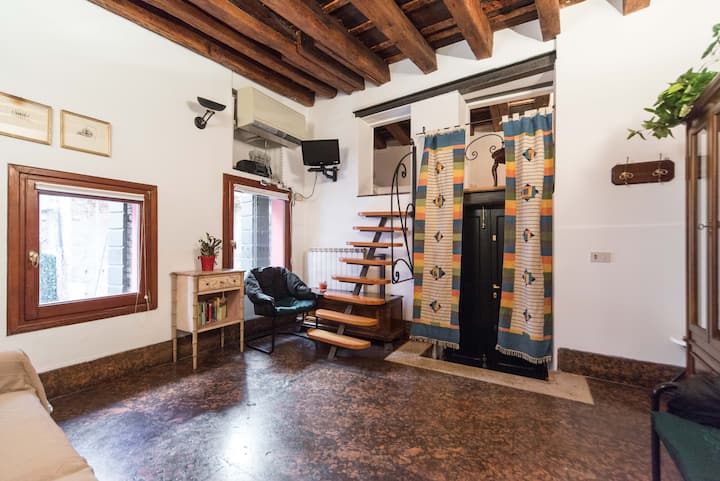 11. Sweet Dreams on Rialto Bridge
To change up location just a bit, you may want to check out this condominium on the most famous Venetian bridge of all time: the Rialto. This apartment accommodation is great for those who want to stay in the real Old Town and this place is truly a romantic getaway!
This apartment is located in the second oldest building in Venice, but it brings in a modern furnishing to the magical atmosphere with WiFi, a kitchenette, a king-size bed, noise proof windows, and more. The apartment is at your full disposal during your visit and is spacious yet comfortable.
Check-in is easy, and this Airbnb in Venice Italy is truly beautiful. With a convenient location, you can simply step outside and immerse yourself in the Old Town, walk along the famous Rialto bridge, stop by some cute cafes and just relax!
Click Here to Check Rates on Airbnb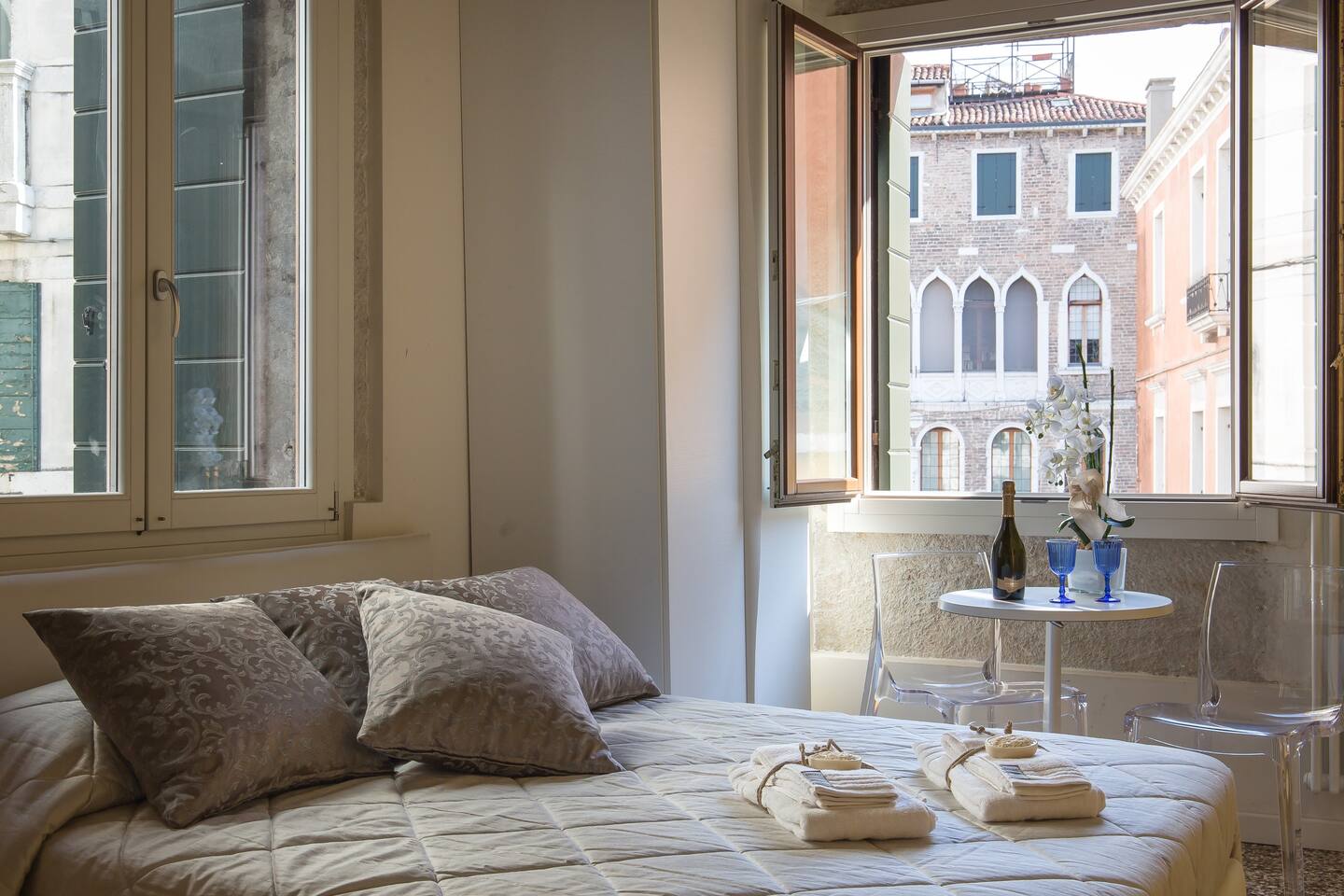 12. An Open Space Apartment Close to Doge Palace
This amazing open space location is a beautiful Airbnb in Venice Italy that is in the heart of the city! On Via Garibaldi, the most important street in Venice, you are bound to enjoy city life with nearby shops, restaurants, and some of Venice's best attractions!
The outside of the apartment is composed of historical stones but the inside comes well equipped with modern styled furniture and comfort. Here you will have access to a fully-equipped kitchen, a bedroom, and a private garden (whose privacy is to DIE for! Talk about a beautiful place for a romantic evening and even some Instagram photoshoots!).
Breakfast is also offered to guests, and you are only a few minutes away from Napoleon Park for some great evening strolls. The host of this apartment is available for bag deposit, easy checkout, and check-in, as well as help with booking attractions and reservations! It's the perfect getaway!
Click Here to Check Rates on Airbnb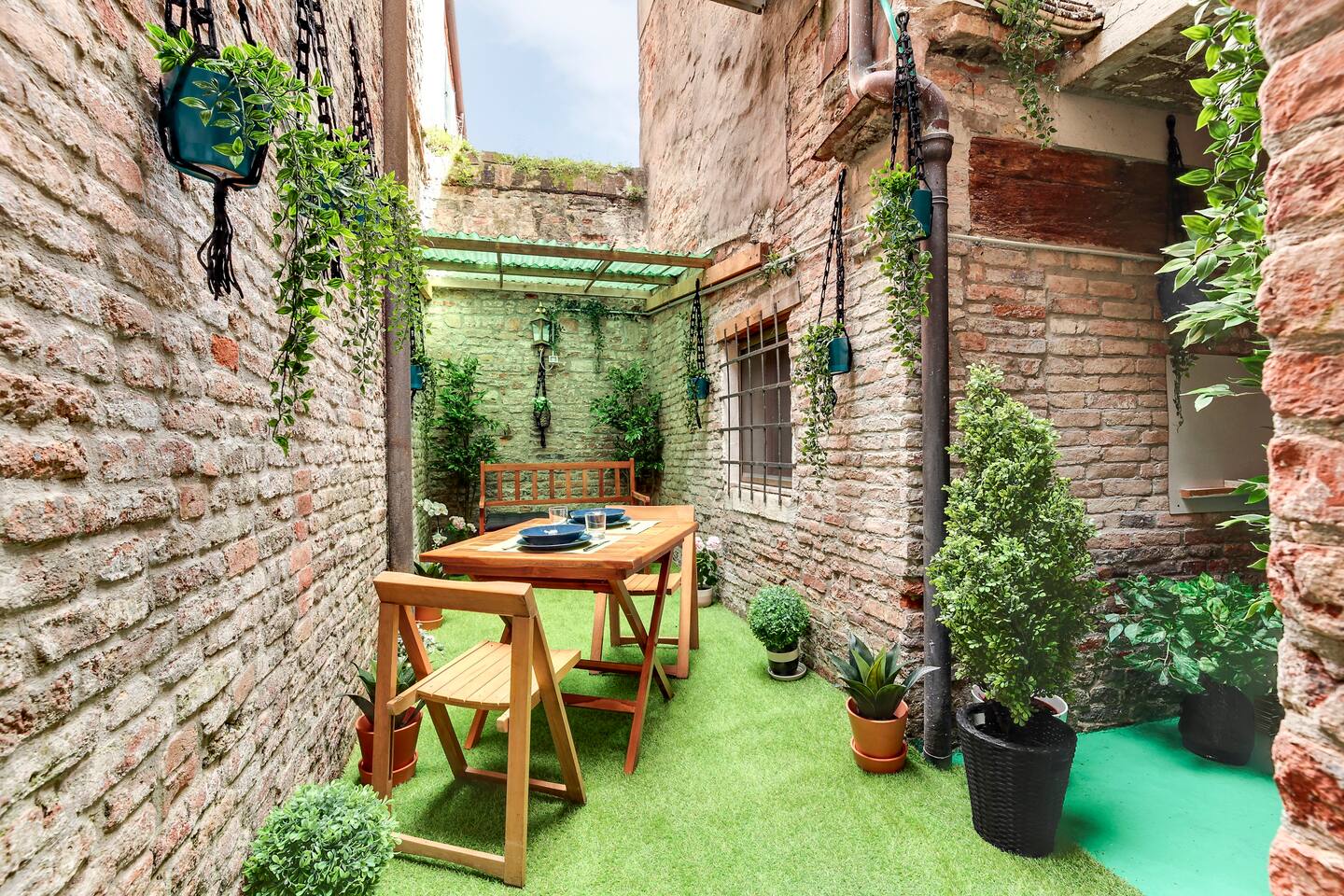 We're thrilled you've chosen to return to the Italian islands on the Adriatic Sea for your next vacation. While traveling through the canals, eating great food, and enjoying the views and local ambiance, we hope you'll find a location on this list that catches your eye so you end up in the best Airbnb in Venice Italy!
Whether you're staying on the cusp of a canal, trying to stay more inland, or looking to stay somewhere you've never been before, you're sure to enjoy your time in this wonderful country. Let us know if you have any questions or comments as you go about choosing your next Venice Italy Airbnb and don't forget to check out our Venice Itinerary if you're unsure of what to see while on vacation! Oh and don't forget to remind yourself of the best things to pack for Italy before you leave for your wondrous trip!