So you're looking for the perfect Airbnb in Rome to accommodate your stay? Well, you've come to the right place! Rome is one of the most beautiful places in Europe, but also one of the most popular tourist destinations – and you can see why. It's renowned for its beauty, history, and in our opinion, one of the most romantic cities to stay in!
Rome is a place that can be enjoyed by anyone at any time of year. When searching for your Airbnb in Rome, you might want to take the location into account. We have an article where you can read our breakdown of the neighborhoods in Rome and the pros and cons here.
Save money on your trip! Get a FREE $55 Airbnb coupon by using our code when you book!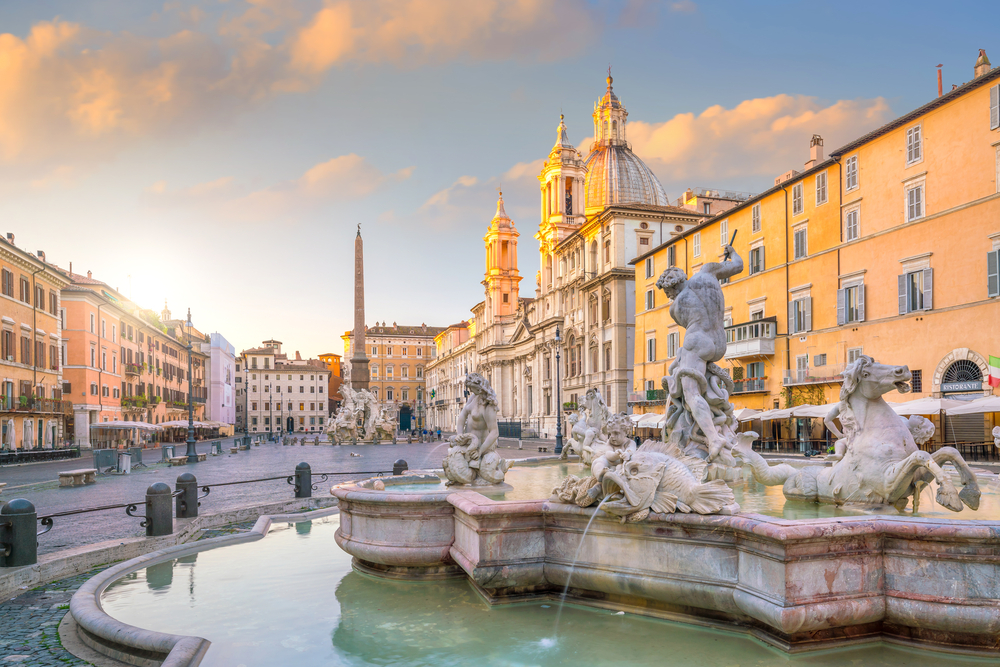 15 Best Airbnbs In Rome
NAVONA-ROMANTIC SUITE
If you're going to go to Rome, you may as well go all out, right? This Airbnb in Rome is a flat located inside the 1400 building. This one is for those who love history! With bright and airy decor, this Airbnb in Rome is located in Rione Ponte, between St Peter's Square and Campo de Fiori. There's even a view of St Peter's Dome!
Click Here to Check Rates on Airbnb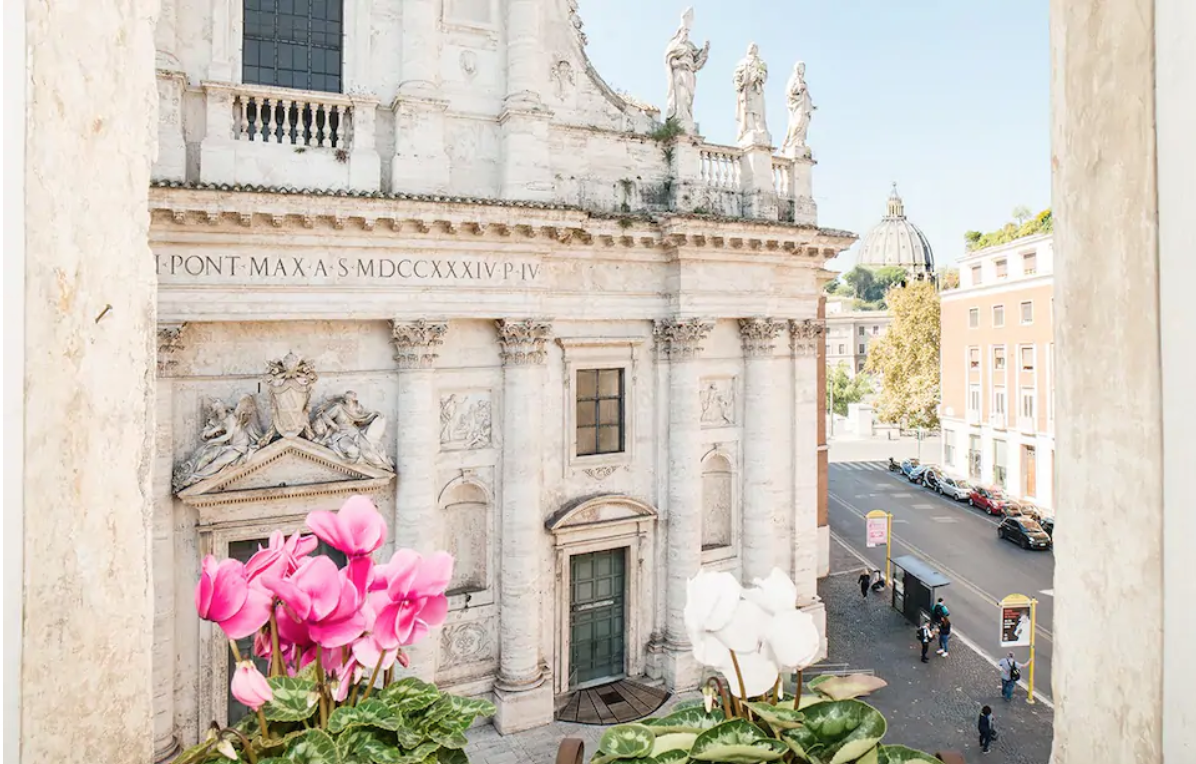 PignetoRhome: Casetta Allegra
For those looking to stay in a quiet, less touristy place for an Airbnb in Rome, this is the one for you!
This cozy studio flat is suitable for two guests and is located in the Pigneto neighborhood and gets its name from a long stretch of pines planted by the Caballini family. Pigneto is full of cheap restaurants, wine bars, independent shops, and fresh markets every day. It's also recently become known for its great nightlife.
Even though it isn't in the center of Rome, you can easily get there by tram, bus or metro, or if you fancy walking, it would take you around 40 minutes.
Click Here to Check Rates on Airbnb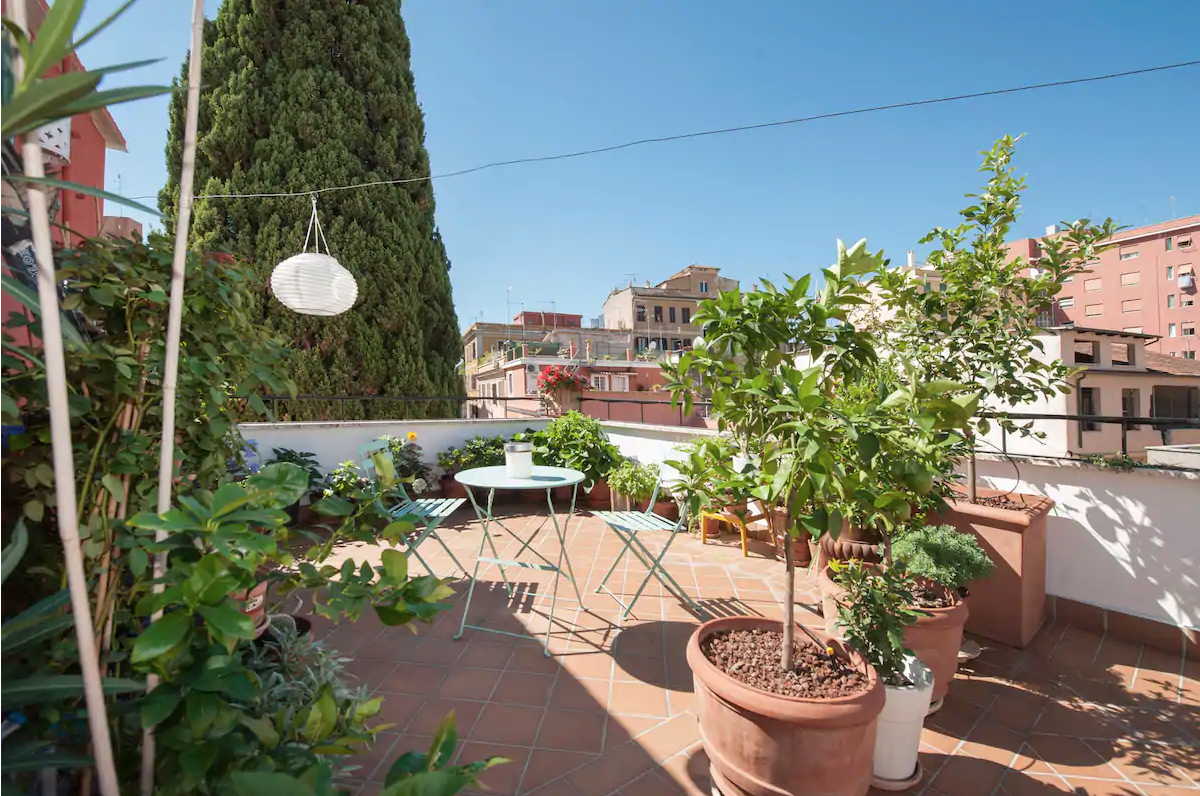 Romantic Trastevere Lovely&Quiet Vicolo de Cinque
If you're looking for a romantic Airbnb in Rome, this is the one for you! It has all the beauty and cuteness of a little cottage, but in a 19th century building the heart of Trastevere. Even though Trastevere is on the other side of the river than central Rome this Airbnb in Rome isn't one to overlook. Trastevere doesn't benefit from having any metro stations, but the walk across is river is short and beautiful!
If you're wanting for an area away from tourists, this is the perfect place for you. The narrow, picturesque streets have loads of local bakeries and old shops but come alive with bars and restaurants at night. It's the perfect area for a couple looking to enjoy a quiet vacation away from the bustle of the city.
Click Here to Check Rates on Airbnb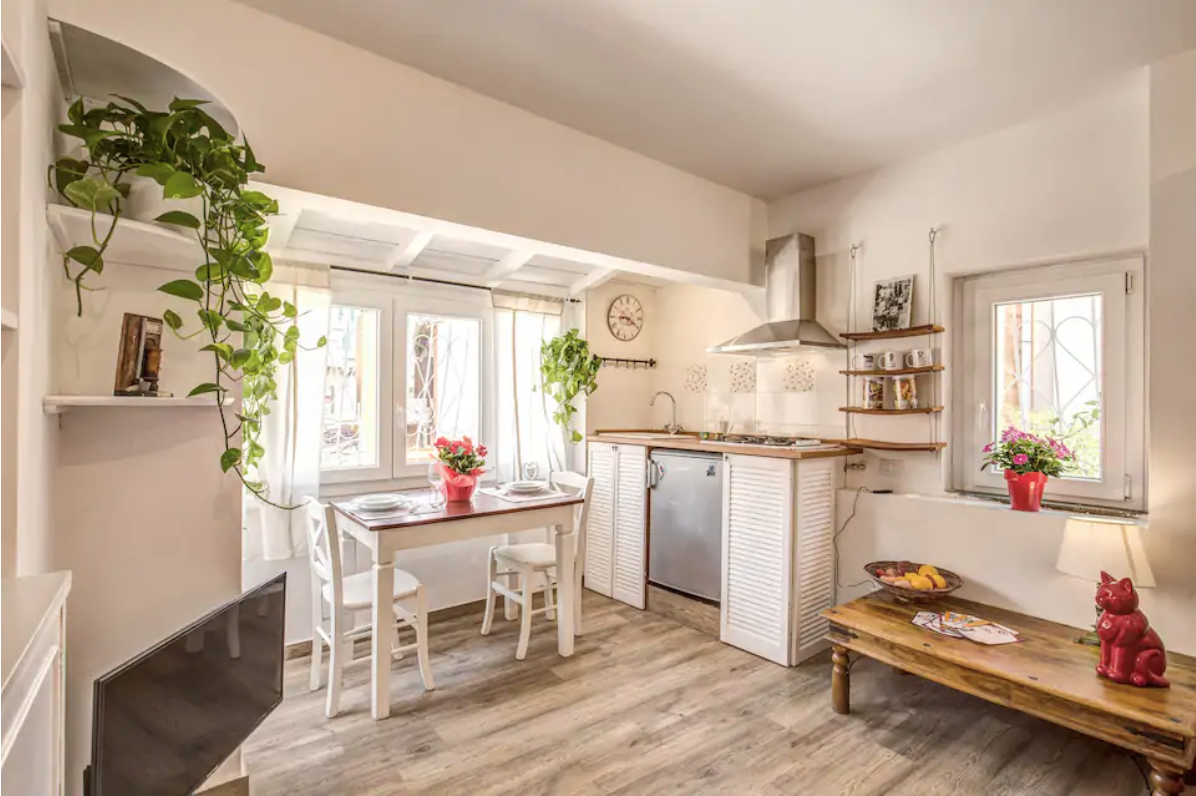 Deluxe Appartamento in palazzo Nobile nel centro
Now, if you're looking to live like a Roman patrician, then this is the Airbnb in Rome for you! This place is certainly a showstopper, with six-foot-high ceilings decorated with frescoes and the antique-inspired decor, you'll be feeling like royalty!
Whilst this flat doesn't have a big kitchen by any means, why would you want one when it's located in Campo de 'Fiori? You have the center of Rome right at your doorstep and you're close to everything, from the main attractions to the best restaurants. This is the best Rome Airbnb for a couple looking to be right in the center of all the action.
Click Here to Check Rates on Airbnb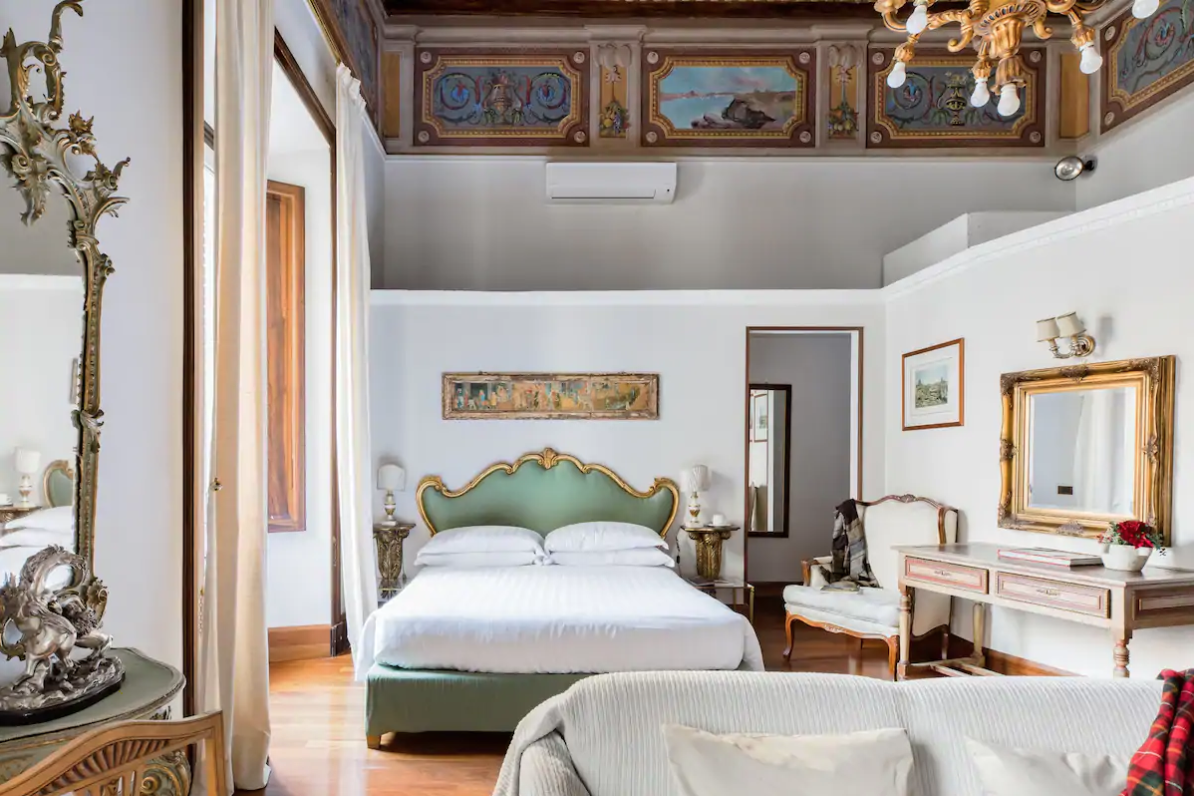 Trevi Fountain Royal Gold Apartment
The real stand-out rooms of this Airbnb in Rome has got to be the dining room and the family room. We just love the stripey wallpaper with the wooden beams! This is another central Airbnb which is great for families as it sleeps up to 6 people. It's located within walking distance from the Spanish Steps and the Trevi Fountain.
If you're looking for an Airbnb and Rome that has a luxurious feel, this is perfect for you. The beautiful gold finishings and the marble bathroom make the whole place look super expensive!
Click Here to Check Rates on Airbnb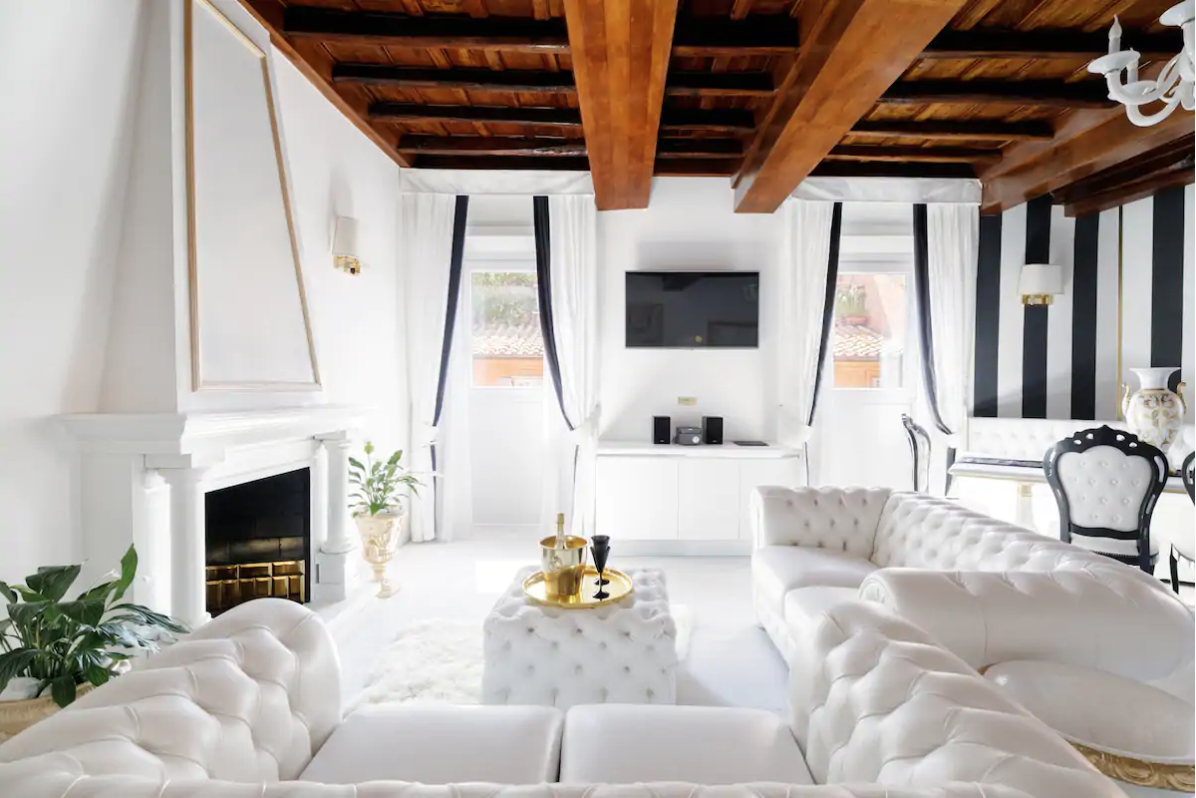 Boheme Cottage with swimming pool
If you're considering bringing your car with you and staying outside of the city to visit other places in Italy, this Airbnb is a great home away from home!
It's located nearby Parco dell'Appia Antica and the Sanctuary of Santa Maria del Divino Amore, which are both beautiful places.
This Airbnb also benefits from a swimming pool which is open from June to mid-September. With this place, you get that feeling of staying in a log cabin in the middle of nowhere. But in reality, you're just half an hour's drive away from the center of Rome!
Click Here to Check Rates on Airbnb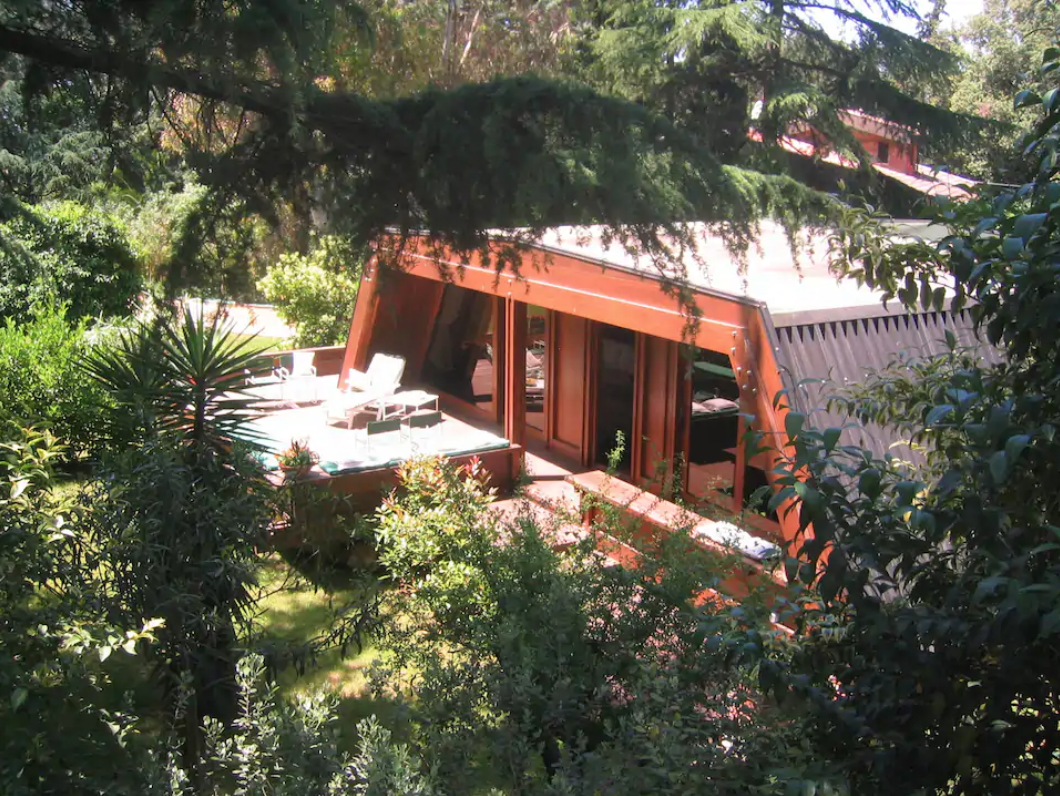 Paradise Suite, scopri Campo de' Fiori da un bilocale shabby chic
This small, cute, shabby chic style flat is located in Campo de Fiori and is suitable for up to 4 people. It has a small kitchen for those who wish to cook with produce purchased at the local markets in the morning.
This Airbnb in Rome is renowned for its great location, which is within walking distance of all of the important Roman attractions. It's also known for having amazing restaurants and even better nightlife.
Click Here to Check Rates on Airbnb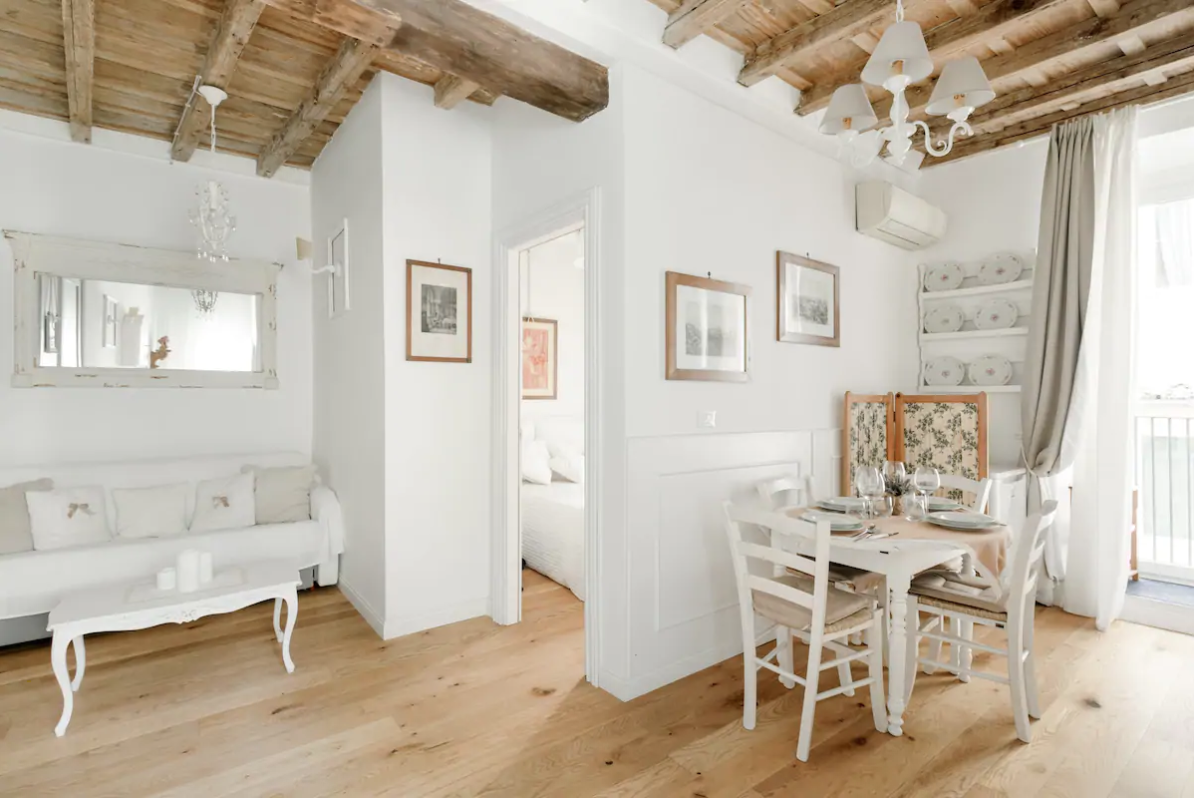 +8 Pers/Metro@5min Vatican-St Peter/with Garden
We think this Airbnb in Rome could definitely be the setting of a romantic comedy set in Italy – just look at that exterior! This spacious Airbnb can fit up to 8 people (9 if someone fancies sleeping on a fold-out bed). You get your own private garden that benefits from the outdoor seating and a table for you to enjoy your cooked meals on a beautiful Italian evening!
It's located in a middle-class residential area and has a lot of lovely boutiques, shops, bakeries, and convenient stores closeby. There's also a couple of lovely parks close by for you to enjoy.
You don't have to worry about being too out the way at this Airbnb in Rome, as the Vatican and San Peter are just a 20-minute walk away and just a 3 minute walk away from the metro.
Click Here to Check Rates on Airbnb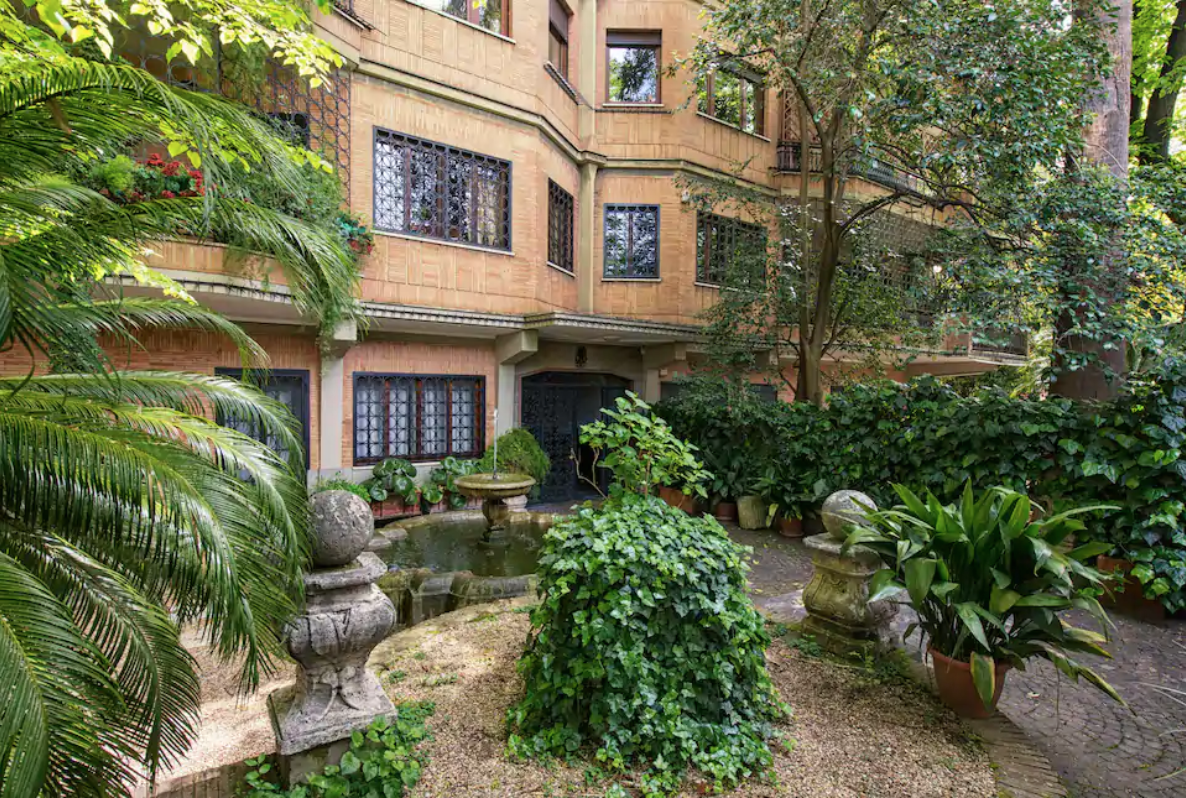 Prestigious apartment in Trastevere with pool
Back in Trastevere, just a 20 minute walk away from Pantheon, this Airbnb in Rome is a fantastic option for a group of five friends. The dark furnishings give the whole place a very sleek, modern feel and who wouldn't want a swimming pool in the middle of the living room!?
This Airbnb is a little bit famous as it has appeared in several magazines such as Elle Decor and Rome Houses because it was decorated by a famous roman architect.
It comes with a fully fitted kitchen for those who want to cater themselves and a great fireplace for those who are visiting in the winter months. The couches are even big enough to fit 15-20 people so you definitely won't be running out of space in this place!
Click Here to Check Rates on Airbnb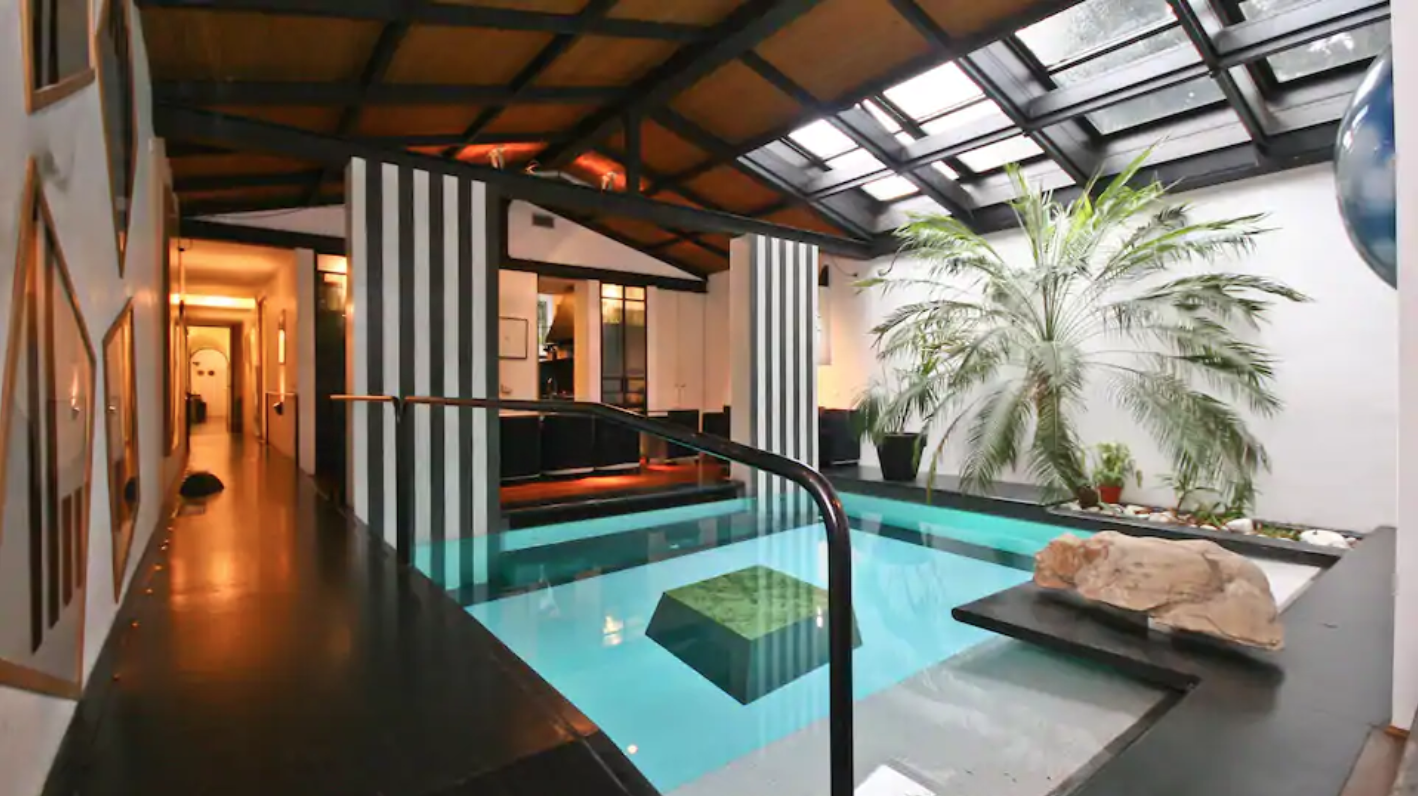 Lovely 3Chic Maison Colosseum. District Monti
This gorgeous Airbnb in Rome is in a perfect location, with the Colesseum, the Spanish Steps, and the Trevi Fountain all within a 10-minute walk!
If you need more convincing that this Airbnb is in one of the best locations, the Basilica Santa Maria Maggiore and the Basilica of Santa Prassede are just 100m away from the apartment! Being located in the Monti district is ideal for travelers and those looking to sight-see as you're right in the middle of everything. The area is known for its friendly atmosphere and amazing outdoor cafes, wine bars, pizzerias, and ice cream stores.
This apartment can sleep up to five people, but we think its perfect for couples as it provides a very romantic atmosphere. Can you just imagine watching the sunset on that private terrace drinking a glass of wine with your partner? Just perfect!
Click Here to Check Rates on Airbnb
Charming Apartment with Terrace by Spanish Steps
Nestled near Piazza di Spagna and the Spanish Steps, this Airbnb in Rome has a gorgeous private patio for you to enjoy, with views of those stunning Italian buildings.
The modern bohemian decor provides a very soothing atmosphere for up to 4 guests and is within half an hour's walk from most of the popular tourist attractions. It's a great little place to come home to after a long day of exploring.
For those looking to do a little bit of shopping, you're in luck – Via del Corso and Via Condotti, two streets known for their shops are also closeby!
Click Here to Check Rates on Airbnb
Studio Apartment with View near the Colosseum
Looking for an Airbnb in Rome with stunning views? Then this is the one for you! The balcony with outdoor seating provides a lovely view of the rooftops of Rome and a great place to sit and watch the sunset!
This compact studio apartment is ideal for a couple looking to stay in Rome for a long weekend. Whilst there is a bit of a compromise of not having a kitchen, the apartment is located in the Monti area which has all the best restaurants and wine bars for you to enjoy.
Click Here to Check Rates on Airbnb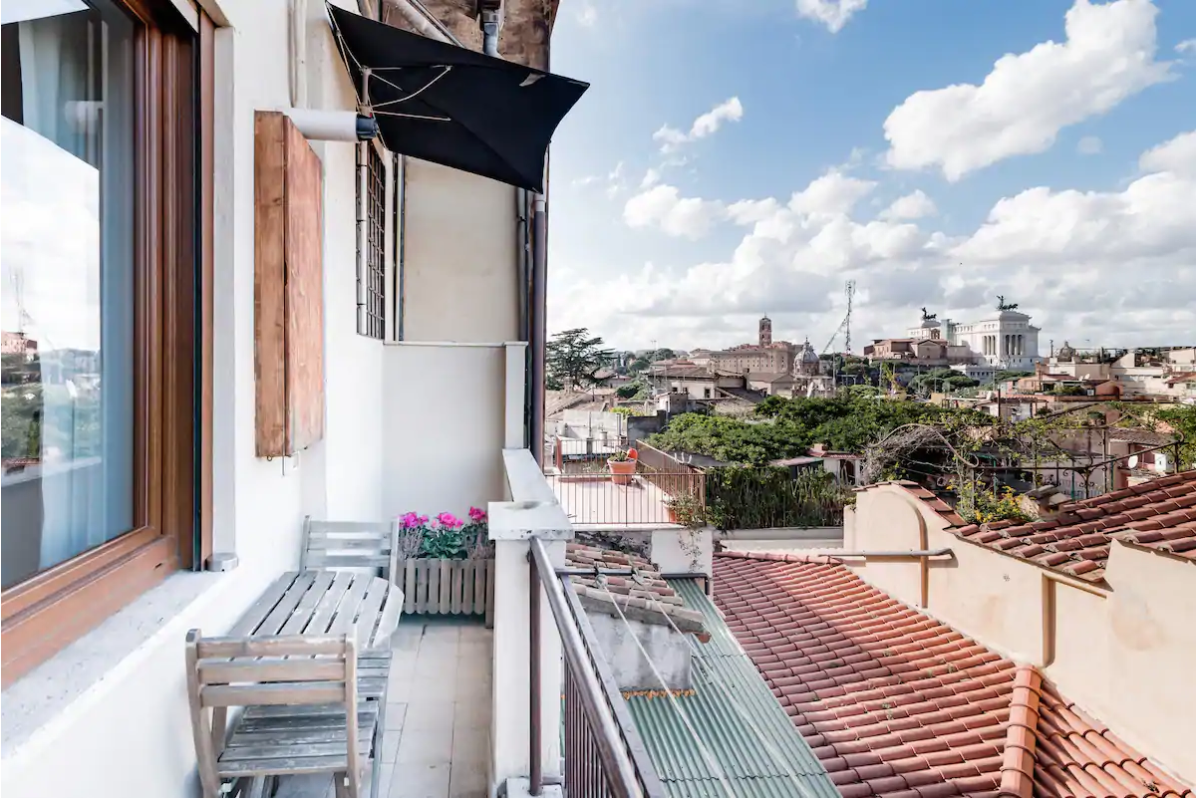 CASA CAVALCANTI B&B Design -Termini -Colosseo
When looking for an Airbnb in Rome, don't discount the boutique bed & breakfasts (where you only have a private room). B&Bs can be perfect for those looking for a shorter, cheaper stay and can be a great way to meet the locals to get recommendations of things to see and do. And the best part, you don't have to make breakfast yourself as it is brought up to you for you to enjoy in bed.
This private room is decorated with a wonderful Mediterranean style with lots of cacti to truly make you feel like you're in paradise. This B&B is located in the heart of the Esquilino area and is in one of the Umbertini buildings of the nineteenth century of the historic Piazza Vittorio Emanuele II, with the building being called "the movie palace".
Click Here to Check Rates on Airbnb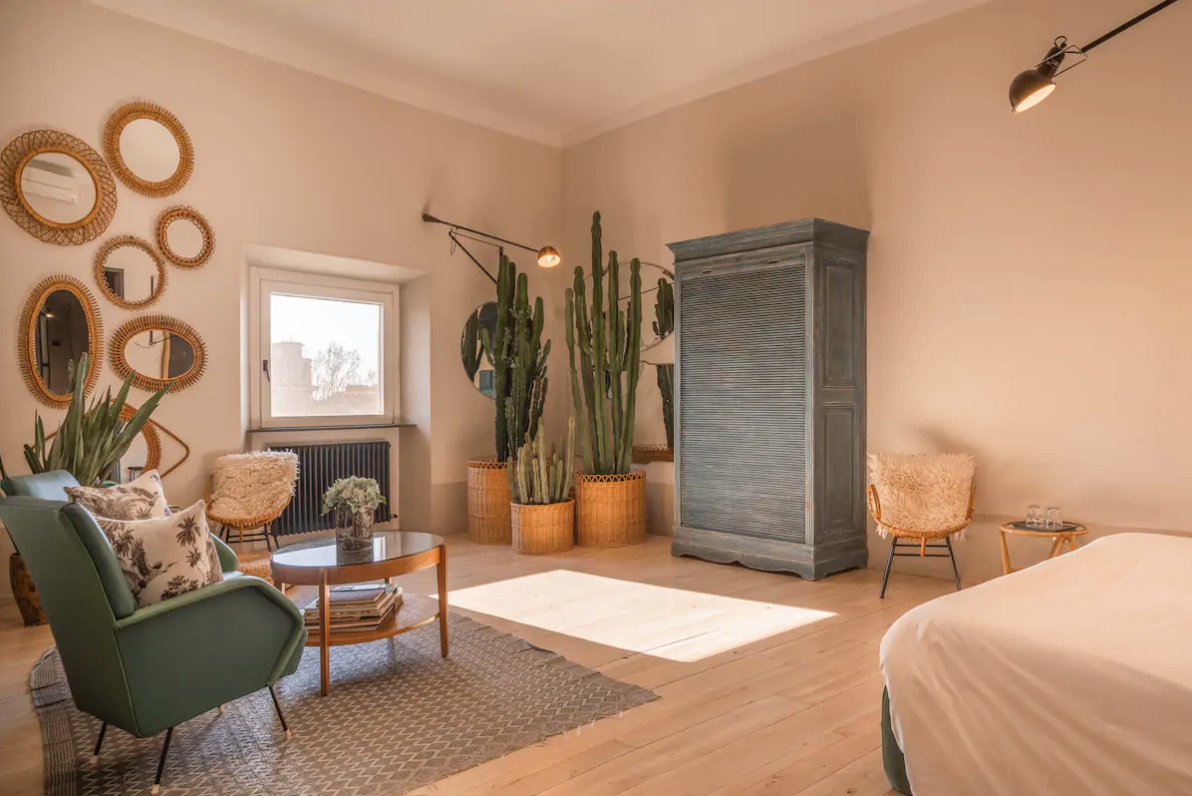 Noble Suite
Now, if this place doesn't make you feel like you're staying in a Roman palace, we don't know what will!
This stunning Airbnb in Rome has the original frescoed ceilings of the 1900s but don't worry, the rest of the flat has been newly renovated!
Even though this suite looks like it should be in the Italian countryside, it's actually located right in the center of Rome and close to many tourist attractions such as the Colosseum, Venice Square, and Repubblica Square.
This is a great suite for families as the price includes a high chair and a cot. The place also benefits from a kitchen if you fancy cooking some Italian food yourself.
Click Here to Check Rates on Airbnb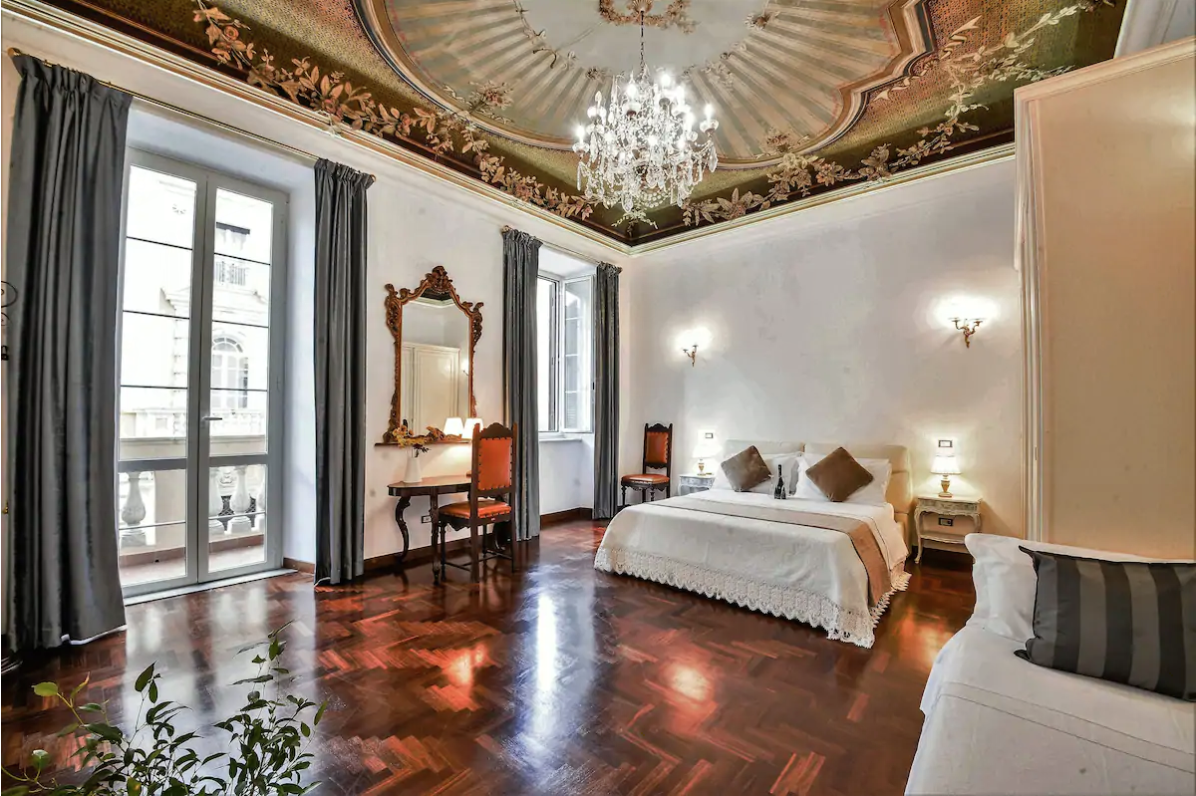 Napoleon's Boutique
Owned by the same hosts as the Noble Suite, this Airbnb in Rome is ideal for a couple. The light and airy decor make the place feel very spacious. The view from the window of this suite is of a gorgeous lush green garden.
The apartment is located in a vintage building in the city center – you could have your own photoshoot on your doorstep! If you're wanting to do more exploring, it's close to tram and bus stations.
Click Here to Check Rates on Airbnb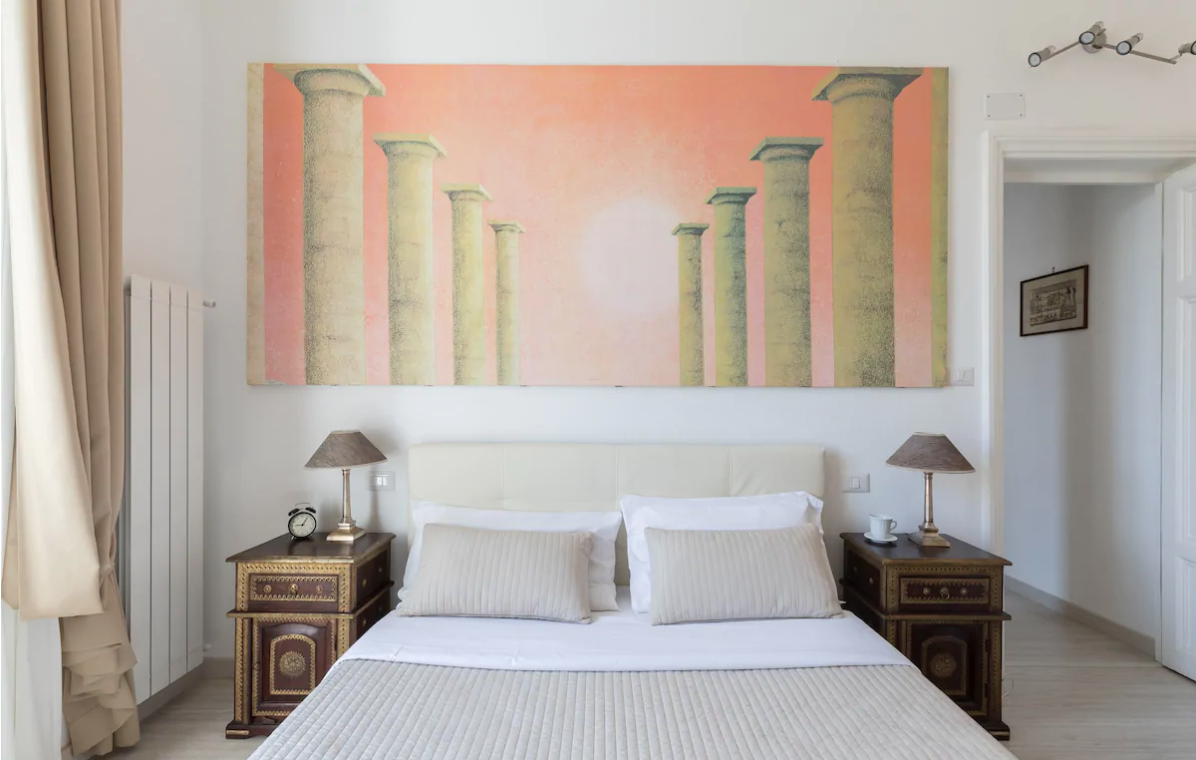 And there you have it! That"s our list of some of the best Airbnbs in Rome. We absolutely love the city of Rome because its a place that can be enjoyed at any time of year. We hope you enjoy your stay!