We all know that there are tons of beautiful beaches in the USA, but where is the best beach camping in the USA? Just imagine: waking up to the sound of waves crashing against the shore. Opening your tent or camper and seeing the sunrise.
There are tons of locations where you can go camping on the beach in the USA. This is legal, of course when done correctly! From national parks to state parks, and even campgrounds, the best beach camping is something you want to check out.
So enjoy nature at its core! Camping beaches in the USA are everywhere, and you won't regret spending time there. Build memories! Travel! And have fun! What better way for a weekend getaway in the USA?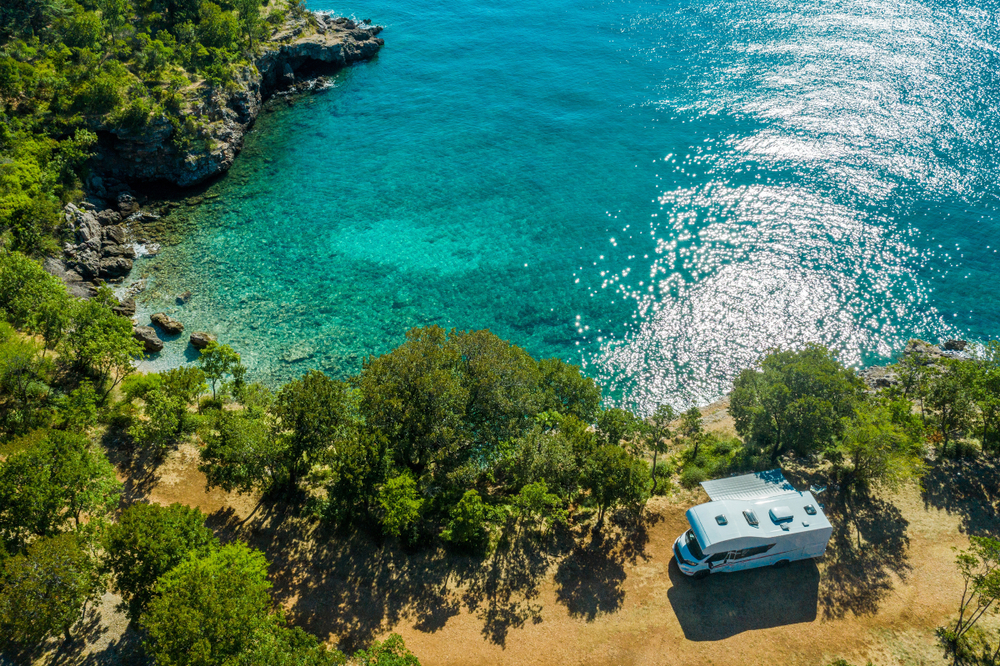 15 Best Places for Beach Camping in the USA You Must Visit
1. Dry Tortugas National Park, Florida
The place to camp at Dry Tortugas is Garden Key. Garden Key is infamous for its experiences with star gazing, snorkeling, and sunsets. The location itself is remote and immersive. Talk about the best beach camping in Dry Tortugas!
Make sure your reservations for the ferry are booked in advance, however! These slots book out months in advance. Individual sites can accommodate up to three 2-person tents and are on a first-come, first-serve basis.
The campsite itself is right by the docks and has picnic tables, grills for fires, and hooks. There are toilets and showers nearby, but no wifi or electric! So prepare yourselves. This location is one of those campgrounds on the ocean you don't want to miss.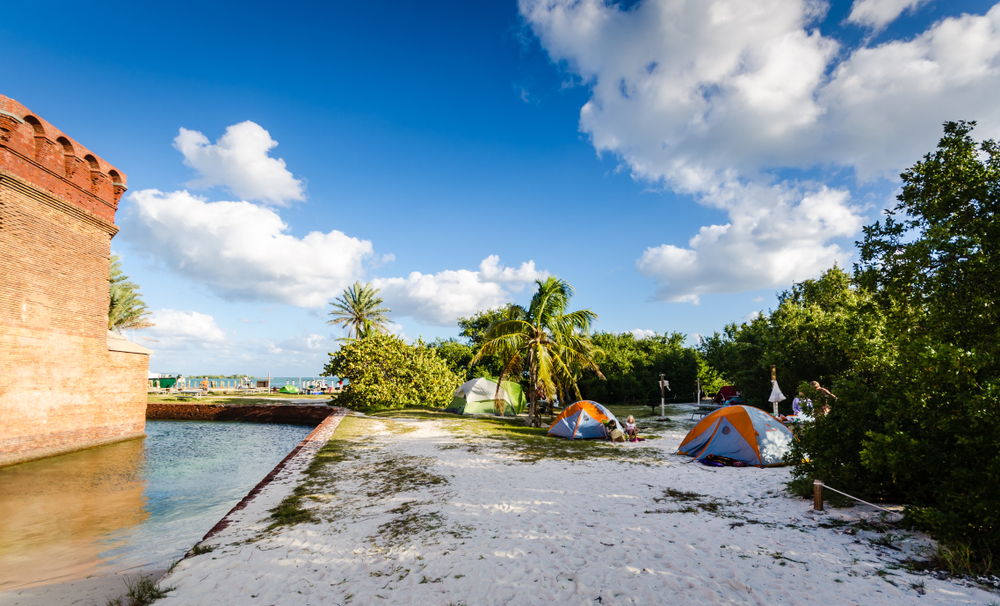 2. Olympic National Park, Washington
Another one of the most popular campgrounds is Kaloloch Campground. This is located in Olympic National Park! It is the destination to check out in Washington state. It is, after all, one the destinations for beach camping in Washington!
The rocky terrain here is different than one's typical sandy and beach camping experience. And there is wildlife everywhere! You can expect to see gulls, whales, bald eagles, and more.
Reservations are recommended. No, they are encouraged. Rates vary depending on season, so book ahead and plan! The Kalaloch and Ruby beach are the coastal locations that are a safe heaven for most campers. When looking for the best beach camping in America, stop here!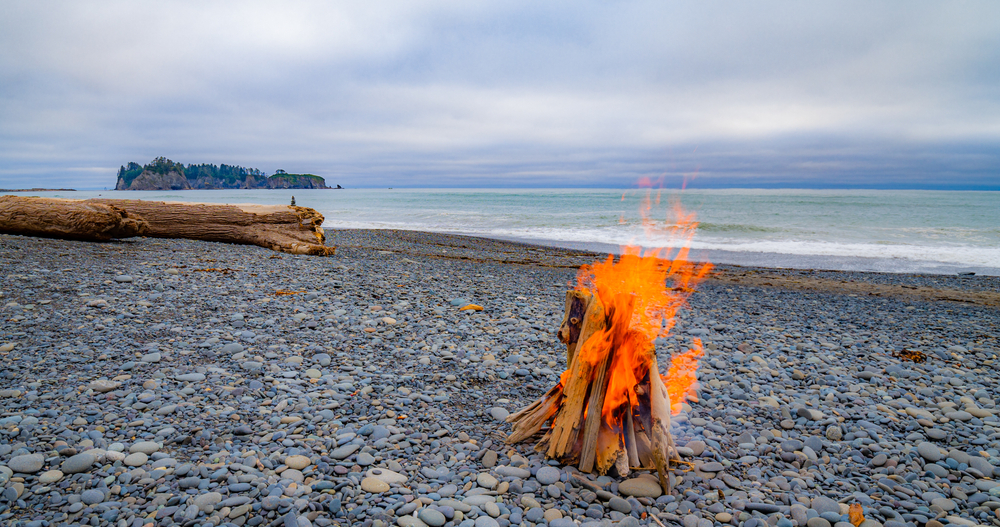 3. Bahia Honda State Park, Florida
Is there anything more dreamy than camping under palm trees? It can feel like some of the best camping beaches in the USA are all in Florida. And that's for a reason! Of all camping vacation spots in the USA, how can you not love the pristine waters of the Florida Keys?
On Big Pine Key– which is in Bahia Honda State Park– explore the emerald waters and soft coast. Enjoy water experiences like snorkeling. See vivid sunsets! And enjoy this parks famous balmy sea breezes to keep you cool.
Guests will love waking to wading seabirds, the nearby scenery of plants, and more. Kayaks and snorkeling gear can be rented. And there are boat trips near by as well! Just reserve spots in advance! And enjoy– this is one of the best camping spots in Florida!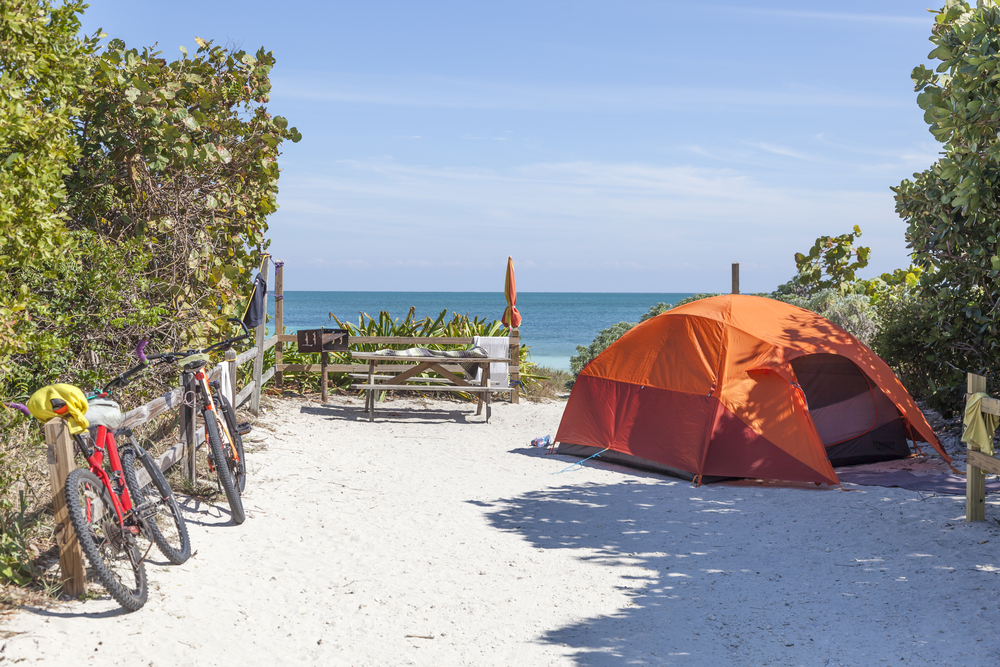 4. Big Sur, California
To camp legally near Big Sur, make sure you do your research! Especially if you are going to to take a long road trip up the coast! Of all of the beach camping on the west coast USA, make sure to book places like Pfeiffer Big Sur State Park. This features some of the top beach camping in California.
This campground has over 189 tent and RV sites. But it does fill quick! Each site features a fire pit, picnic table, and parking. For the full site there are toilets and hot showers. Campgrounds with beaches are always easily accessible!
This is an extremely popular campground. Spots can book out six months and advance. But when you see the stunning seashores, historic monuments, and even the tons of trails this park has to offer, you'll never want to leave the Sur.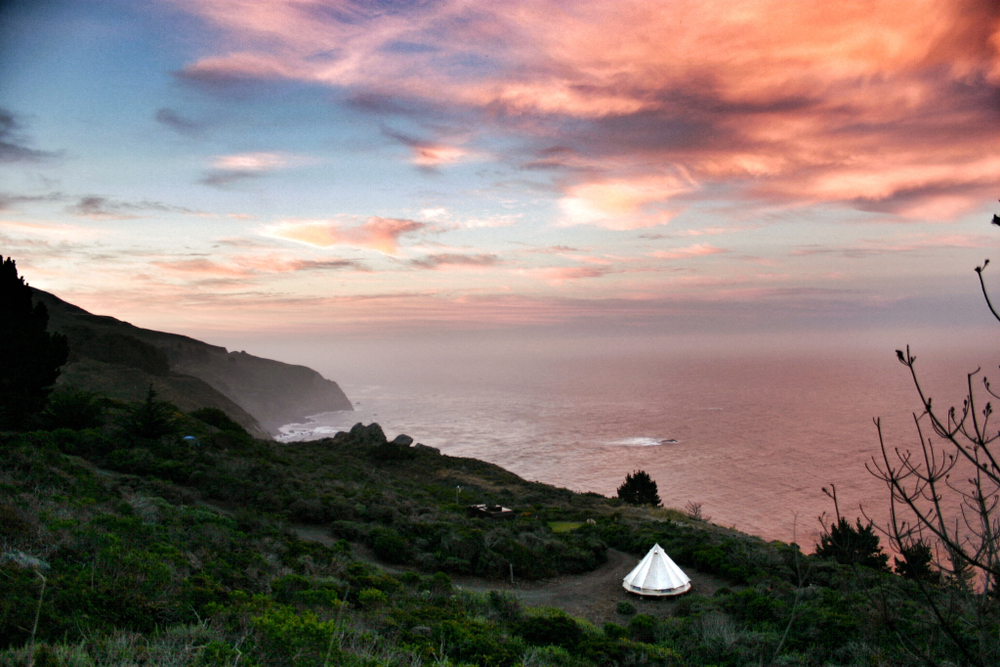 5. Westport, Massachusetts
Looking to stay on the east coast? And how about going more north? Some of the best camping on the east Coast USA is in Massachusetts. In particular, you may want to check out Horseneck Beach State Reservation. This features some of the best beach camping in Westport!
The beaches here stretch for over two miles. It is close to Martha's Vineyard, so it is a little more secluded. Guests love the stunning waves and the ability to go windsurfing nearly every day.
There are over 100 campsites available here. And they are fairly cheap to rent: only 22$ if you are a a Mass resident, but if you are not a resident, book early and pay up! Sleep under the stars by the ocean at the beat beach camping in Massachusetts.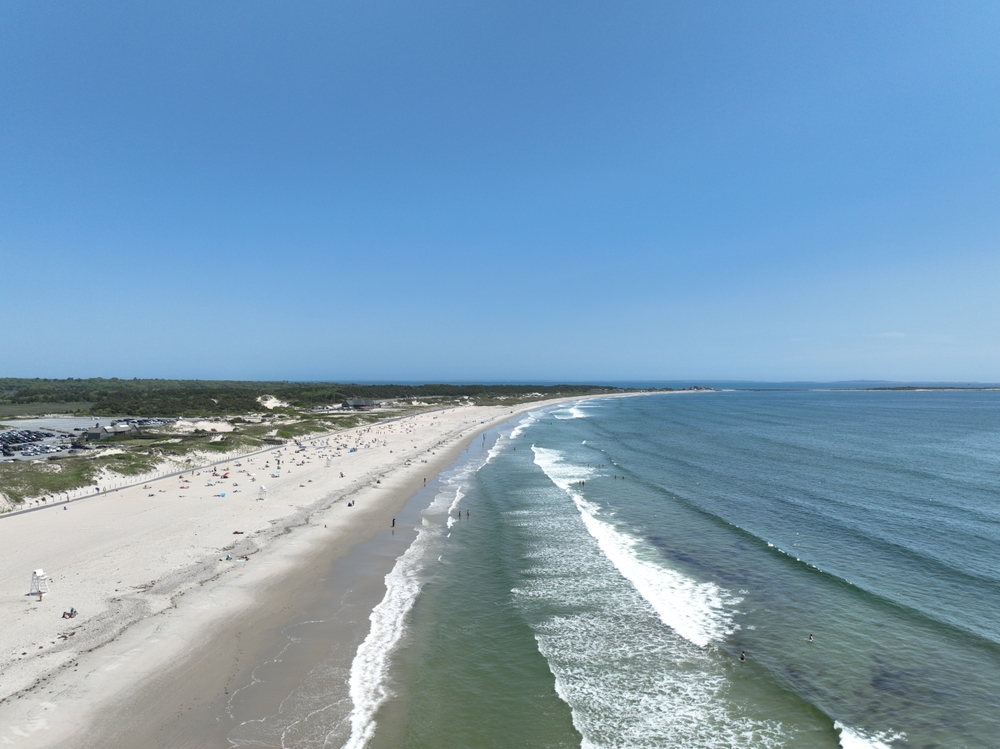 6. Muskegon, Michigan
What about the Great Lakes?! Some of the best beach camping in Michigan happens on the cusp of these wonders. We suggest checking out the Hoffmaster State Park in Muskegon, Michigan in particular.
The grounds here are massive. It surrounds Lake Michigan for over three miles. The campground is popular, and often booked– all 297 sites! This is because the views are stunning, and there are tons of trails (both for hiking and skiing!).
The art may seem secluded at first glance, but while staying here, you can travel to nearby towns if you're needing some "city life." The towering dunes will keep you coming back. So make sure to check out the Dune Overlook Trail in between staying at one of the east waterfront campgrounds! Of all best camping vacation spots in the USA, check this out.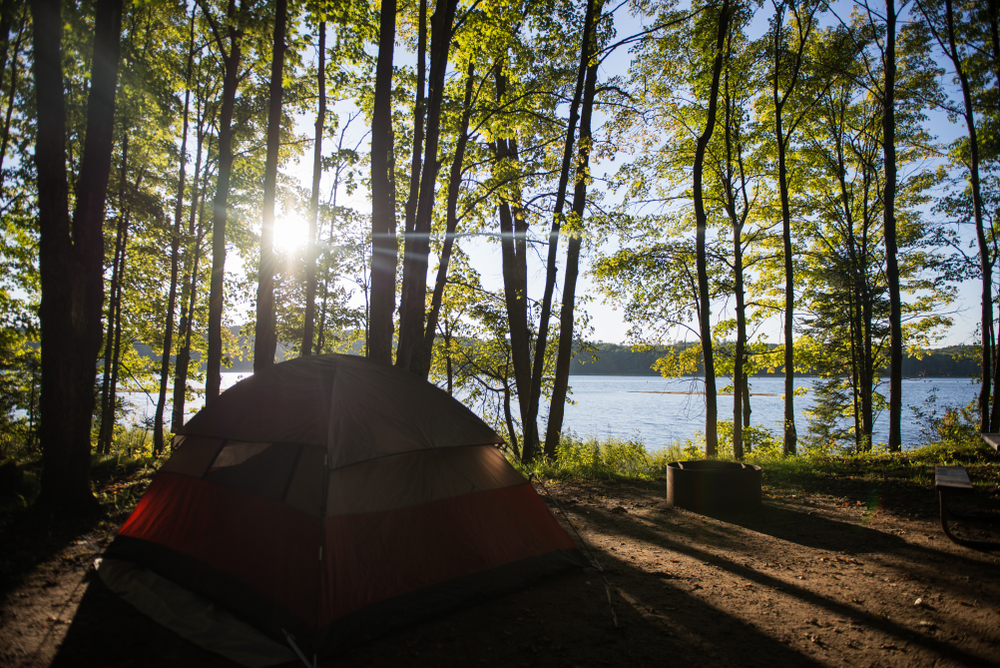 7. Lake Superior, Wisconsin
Now we all know what you are thinking: who goes beach camping in Wisconsin?! It turns out some of the best beach camping in Wisconsin is on Lake Superior.
21 islands compose Wisconsin's Apostle Islands. And you can camp on at least 18 of these beaches! Of those 18 islands, 15 also offer backcountry camping. This means you can fend for yourself!
Most campsites are fairly cheap, but they do suggest reservations. Guests seem to love the Lakeshore Trail fro Meyers Beach. Please do note that the mainland campsite is only available via hike or kayak– there are no cars on this island! So, plan ahead. And enjoy the primitive camping zones, docks, boats, and more!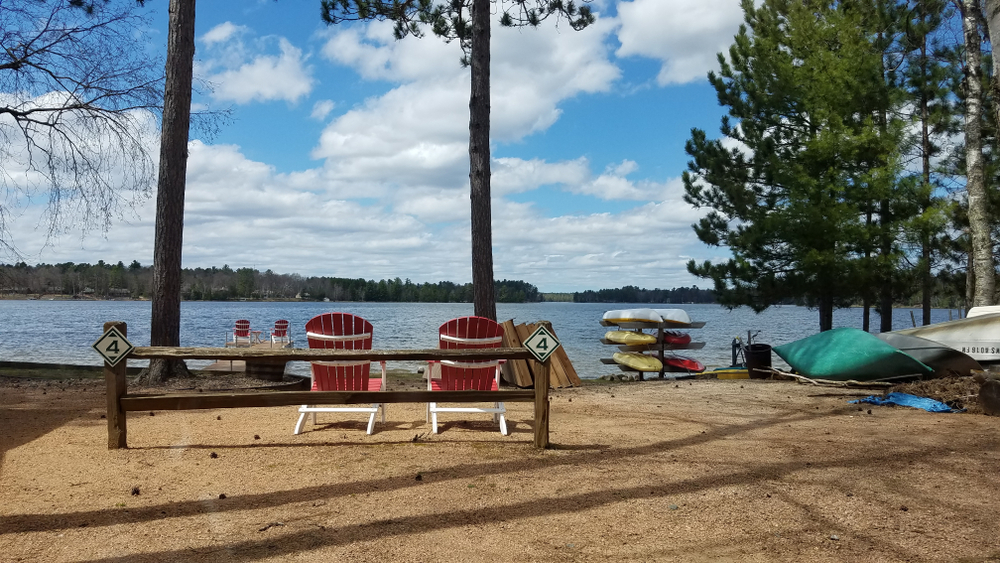 8. Hunting Island, South Carolina
We all know the beaches are famous in South Carolina. So can you imagine beach camping in South Carolina? Make sure to check out the options at Hunting Island State Park! It is one of the best camping beaches on the East Coast USA!
Lcoated between Charleston and Savannah, this spot is the vacation stop for all your camping needs! Plus it is close to two iconic cities! This state park is quiet and secluded. And it is pet friendly with over 100 campsites that gator to tents and RVs.
Spend time on the coast fishing or crabbing. Don't worry about electric or water hookups: those are there and ready for you! Plus with trails for hiking and trailing nearby as well, you'll be busy here! Just make reservations in advance: this is one of the top places to camp on the beach in the USA!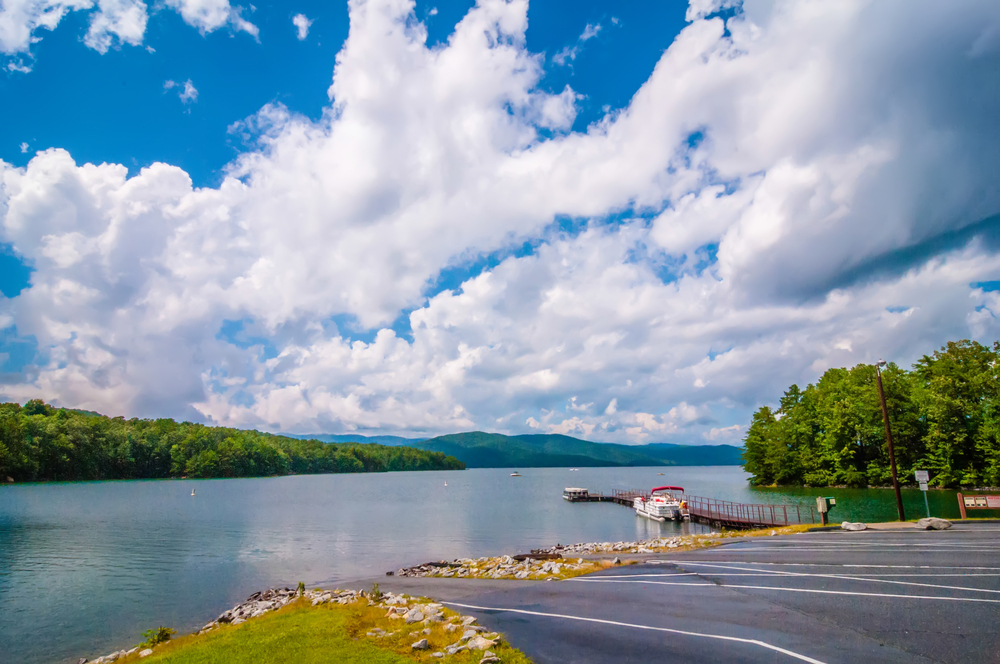 9. Gulf Islands National Seashore, Mississippi
Technically Gulf Islands National Seashore is offers some of the best beach camping in Mississippi, but it also offers it in Florida?! That's right! The Gulf Islands National Seashore stretches over 160 miles, crossing multiple states.
This stretch also features 12 historical forts, hiking trails, and tons of white beaches. While you cannot camp directly on the sand, there are several sections where you can camp "back country" style. Talk about the best camping on the beach!
In Mississippi in particular, look out for these islands: Petit Bois, West Petit Bois, Horn and Cat. You can beach camp here, but you must arrive via boat and you must stay away from birds nests. Enjoy the dunes and vegetation and pack appropriately! There are no facilities around!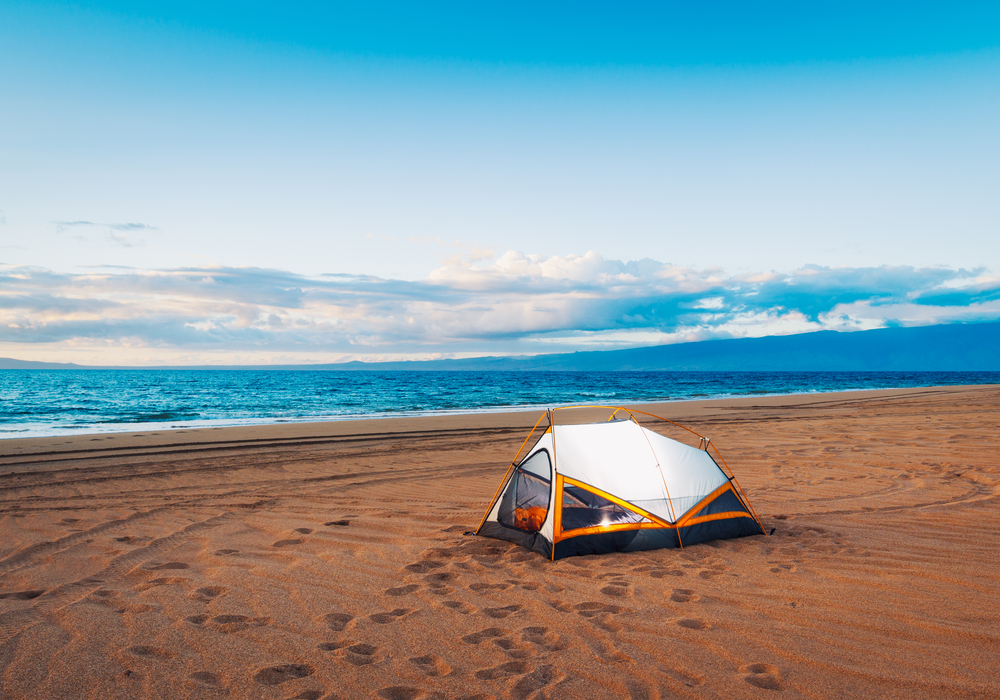 10. Kappa, Hawaii
It's not surprising that some of the best beach camping in the USA is also some of the best beach camping in Hawaii. I mean… have you seen the islands?! Check out the Napali coast, and camp at Napali Coast State Wilderness Park.
Under the shadows of multicolored sea cliffs, this is the location to be at. There are tons of trails– like the famous Kalalau Trail. But you can also choose a quieter area, like Miloli'i which offers more serene camping.
Most sites have on-site amenities like picnic tables, fire rings, and outhouses. Just watch for the seals and sea turtles during season! And make sure you are aware of the appropriate dates in which you can camp. You don't want to miss some of the best camping on the ocean here just because you decide to travel during off season!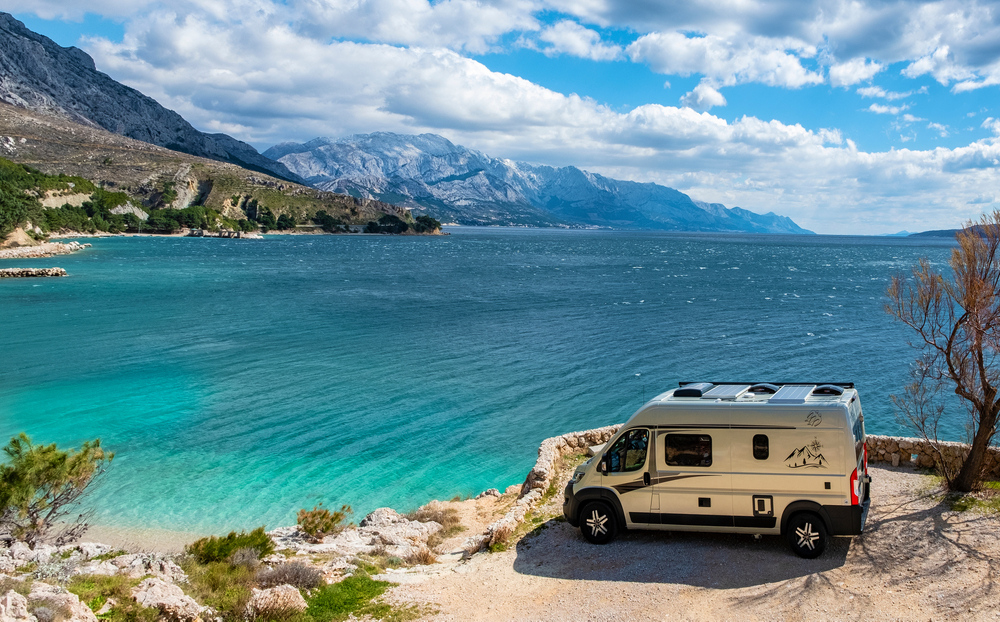 11. Yachats, Oregon
The best camping beach in Oregon exists at Siuslaw National Forest. This is hands down one of the best camping beaches in the USA. It offers a unique opportunity to blend wilderness with the coastline. The dense forest sits across Tilicum Beach Campground.
Here you can go surfing, swimming, and whale watching. There are 61 campsites, and nearly all of them overlook the beach. Plus, each campsite can accommodate up to eight people!
Picnic tables, fire rings, fish toilets, and water are all available. There are no showers! And make sure to book fast: despite being open year round, the sites at Siuslaw National Forest fill fast! Make your reservations today to experience true USA beach camping.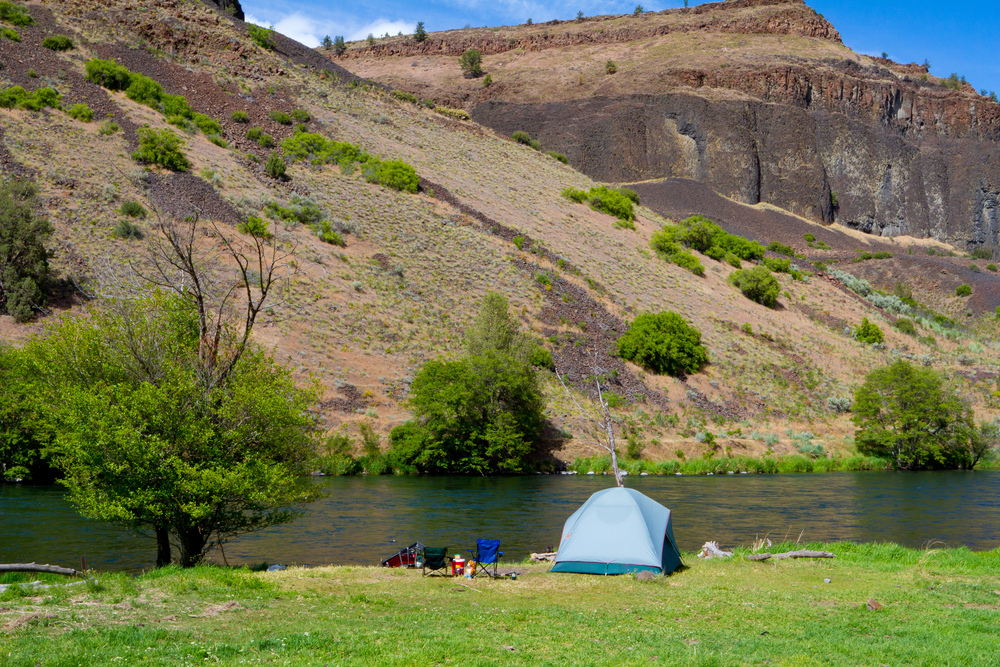 12. Homer, Alaska
Another top beach exists in Homer! That's right, make sure to check out Homer Spit Campground, which is the best camping beach in Alaska. This awe-inspiring destination is located just south of Anchorage, on the Kenai Peninsula.
90% of the surrounding area is wilderness. So you will definitely see wildlife like black Mears, moose, and maybe even get to participate in events like dogsledding or go sightseeing via plane.
The site itself overlooks Kachemak Bay, meaning you can see glaciers and snow camped mountains. On the beach and at the campground, you'll see 115 sites, amenities like restrooms and showers, as well as a small shop. You're only 300 feet from the bat when you're here! This is one of teh top beach campsites in the USA!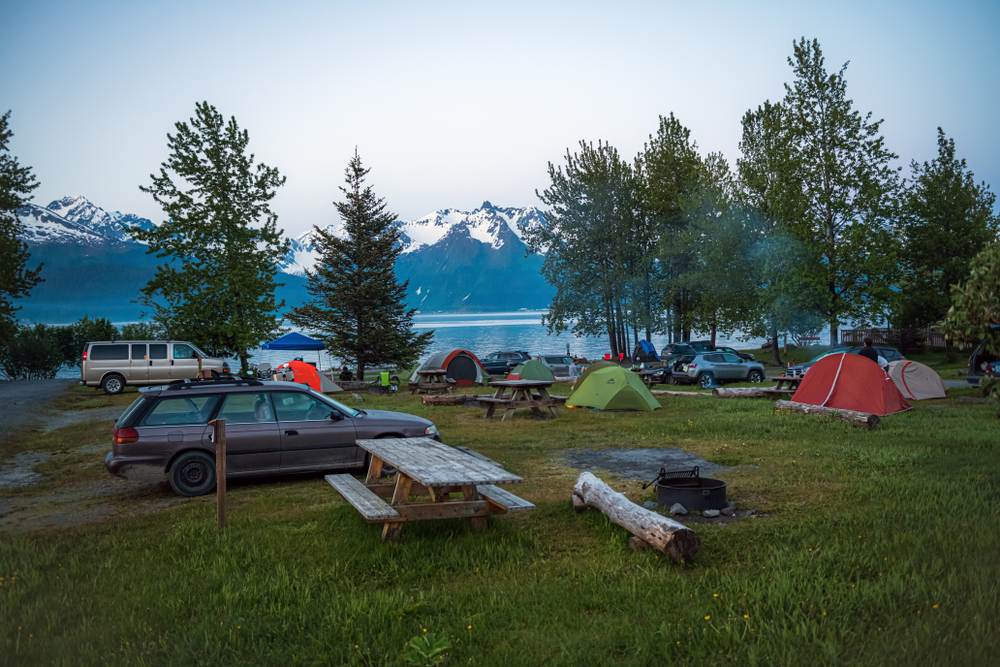 13. Padre Island, Texas
If you are looking for the best camping beach in Texas, look to Padres Island. The Padre Island National Seashore has over 130,00 aces of beach! And there are tons of traditional campsites here.
Visit spots like Bird Island Basin. Here you can enjoy panoramas of the coastline, and participate in water activities like fishing, kayaking and windsurfing, Most spots at this campsite offer sections for tents and RVs.
This is a site that doesn't have amenities other than chemical toilets and picnic tables. So stock up! Thankfully, the Malaquite Visitor Center offers necessities nearby. It is first come-first serve in regard to booking a site.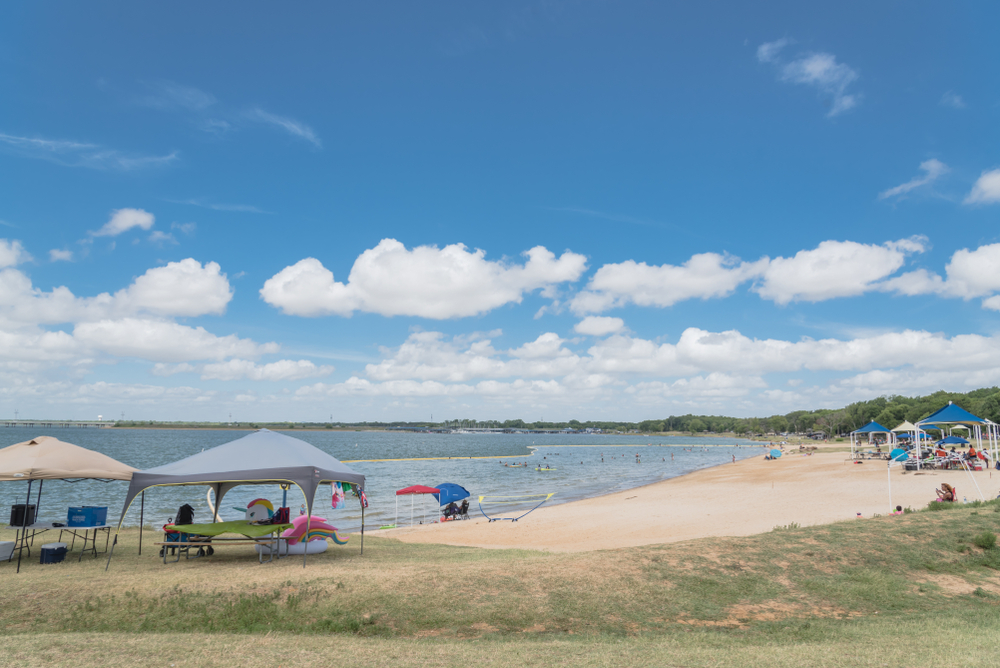 14. Assateague Island National Seashore, Maryland
Located just on the barrier island that juts into the Atlantic Ocean, right outside Ocean City, is the Assateague Island National Seashore. This easily accessible location features an Oceanside Drive-in Campground, meaning it is the best for beach camping in Maryland!
With no ferry needed, and the ability to get here by car, bike and foot, guests flock to visit. But what keeps them back? The free-roaming wild hoses that inhabit the island. That's right! Camp with horses!
This is also one of the better surfing areas with larger waves. You can spend time on the water with a board, or even kayaking, kiteboarding, and on nearby trails cycling. Tents, trailers, and RVs are welcome on this site.Just make a reservation!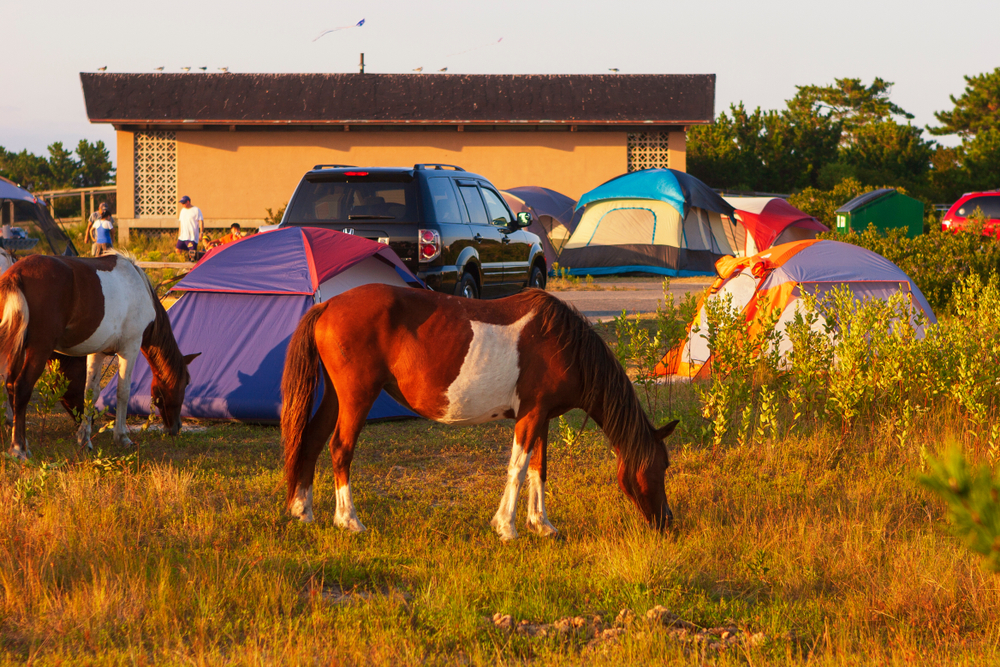 15. False Cape State Park, Virginia
Located right between Back bay and the Atlantic Ocean, the False Cape State Park offers some of the best beach camping in Virginia. This area is one of the last remaining undeveloped areas of the Atlantic coast.
Come and enjoy the 6 miles of pristine beach area. Along the coast you can enjoy guided kayak trips, primitive camping, interpretive programs, and many hiking and biking trails. Do note that the park is only accessible via foot, bike, tram or boat. No public vehicles are allowed!
Primitive camping is offered year round. There are no cabins, or same day reservations. So book ahead! Rental rates vary by season , but definitely check out spots at Cape Landing Ocean, Barbour Hill bay, and Barbour Hill Ocean. There are pit toilets around, but not other facilities!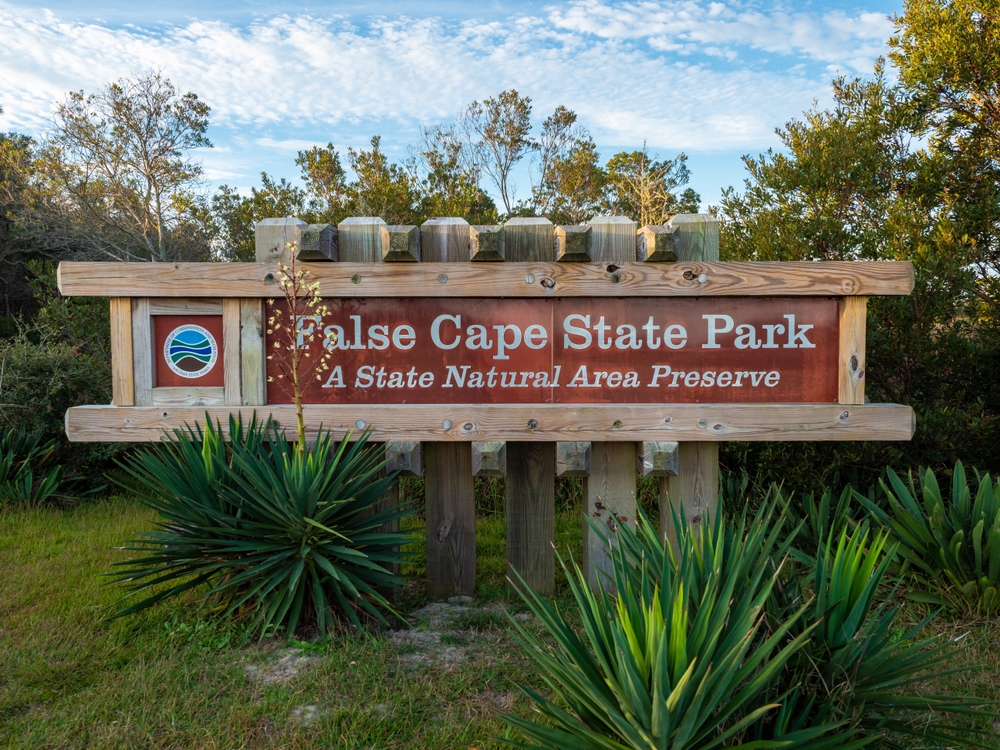 And there you have it, folks. 15 places for the best beach camping in the USA! From the best waterfront campgrounds to primitive camping options, you can really camp at a variety of locations across the USA. Just make sure to do your research and book in advance! This is the best beach camping in America!