Are you looking for a list of the best Airbnbs in Hawaii? Then this list of amazing vacation rentals in Hawaii and is perfect for you!
Hawaii is a beautiful state full of opportunities for unique adventures. It is perfect for a romantic tropical honeymoon or just a relaxing island getaway, without the hassle of international travel. Hawaii is an island chain in the Pacific Ocean that consists of seven inhabited islands.
Of those seven, four are set up as prime tourist locations. On this list, we'll be looking at those four islands: Oahu, Maui, Kauai, and Hawai'i – locally known as The Big Island.
Each island is unique and offers different activities for visitors. Oahu and Maui are the most popular tourist destinations, and so you will find plenty of things to do. Kauai and The Big Island are beautiful islands that offer activities for tourists, but a large part of them remains untouched.
When you're planning your trip, keep in mind what kinds of activities you'd like to do, and then choose your island stay based on that! Depending on which island you choose to visit, or even if you choose to visit them all, make sure you review our Hawaii packing list. One important thing to remember when traveling to Hawaii is that they are small islands with not much space for large houses – so a lot of these Airbnbs will be studio size spaces.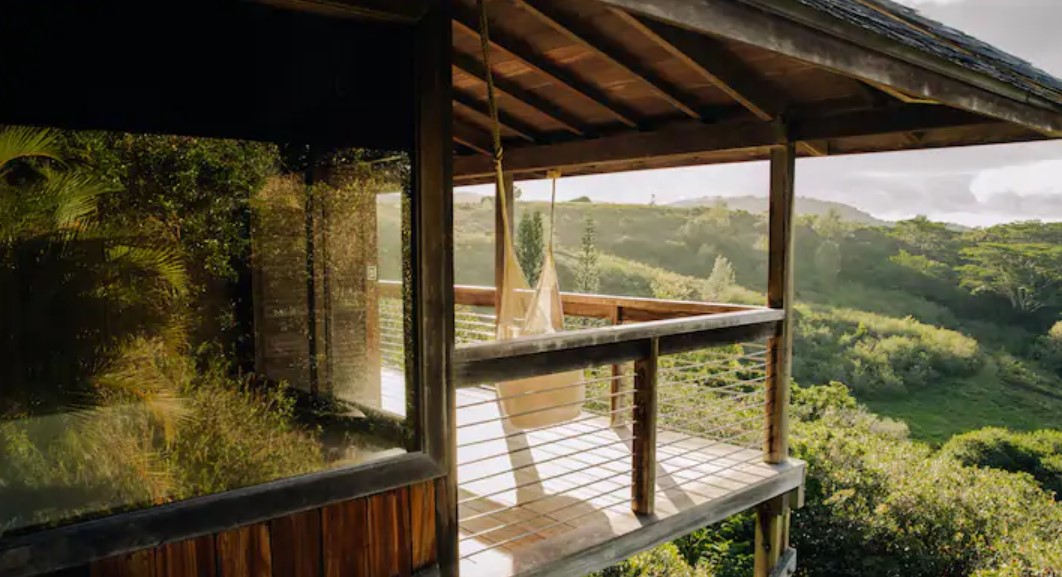 20 Best Airbnbs In Hawaii (Treehouses, Glasshouses, and More!)
Oahu Miracle House
North Shore Airbnbs always seem to have gorgeous beach fronts, and this one is no exception. Located on Banzai Pipeline you'll be right on the shore professional surfers love. This beach is home to surfing world championships and incredible waves.
This 1970s home features eye-catching vaulted ceilings with wood beams and a spacious lanai for dining space with a view. Plus, your next-door neighbor is one of the most successful surfers of all time. Each room in this home is beautifully decorated with wood accents, modern furniture, and spacious and open living.
This VRBO has space for 14 guests in its 5 bedrooms with 9 beds. It would be perfect for gathering with your fellow surf lovers, or a large family reunion.
Check Rates: VRBO.com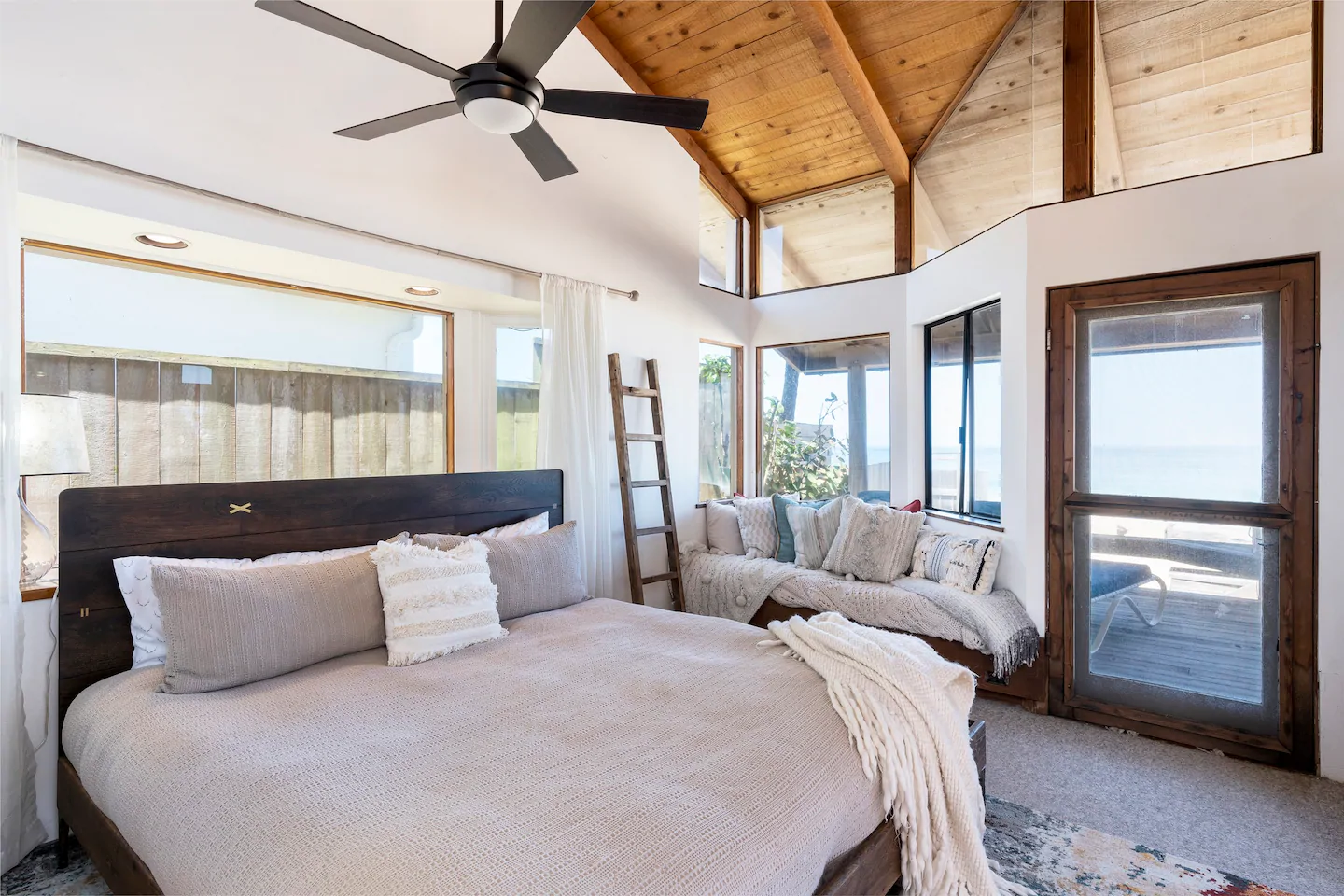 Princeville Penthouse
Wake up to stunning panoramic views of the Bali Hai coastline in this penthouse VRBO. This is a top VRBO in Princeville featuring a gorgeous picture window the living room for the very best panoramic views of the ocean.
The space offers a living room, a huge deck, a well-sized dining room, 2 bedrooms, 2 bathrooms, and a full kitchen, so it's perfect for a family to comfortably stay or a few friends looking for a getaway.
Get updates (and no spam!!) on the latest posts and more from Follow Me Away straight to your inbox.SUBSCRIBEI consent to receiving emails and personalized ads.
You can enjoy dinner or just relax on the spacious balcony with the ocean breeze and the sounds of crashing waves. The building sits within a neighborhood atop a bluff overlooking Hideaways Reef and offers a 2-mile scenic walking path and swimming pool. You'll also be just a short drive to Hanalei Bay, sightseeing, Tunnels Beach, snorkeling, and enjoy more local treats along the way.
Check Rates: VRBO.com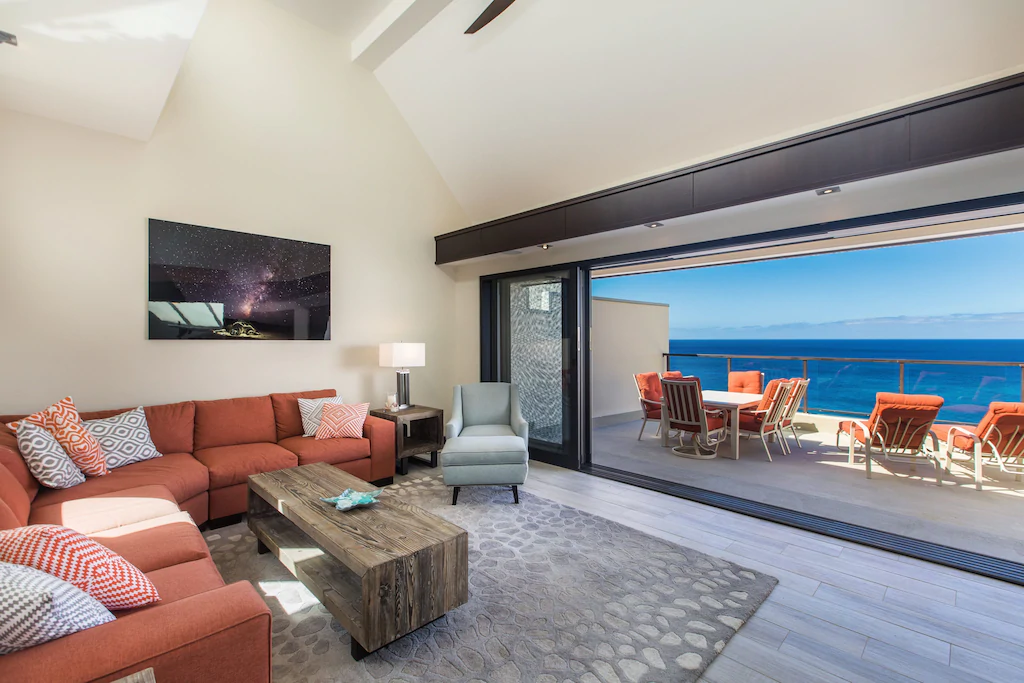 Rocky Point Loft
Are you loving this list of where to stay in Hawaii, but you're trying to plan a trip on a budget? You must check out this reasonably priced loft with direct beach access!
This lovely loft is located smack dab between Pipeline Beach and Sunset Beach. The North Shore bike path is nearby, making this the perfect stay for cycling enthusiasts. Another benefit to being near the bike path is that delicious food trucks park all along it. You'll love sampling a variety of local cuisines on your walk or cycle to the beach.
This loft can accommodate 4 guests. It's perfect for a couple or small family! This is a one bedroom one bathroom unit. This Oahu VRBO has its own BBQ and deck surrounded by plumeria, palm, and avocado trees. When you're looking for accomodations in Hawaii, make sure to add the Rocky Point Loft to your list of options.
Check Rates: VRBO.com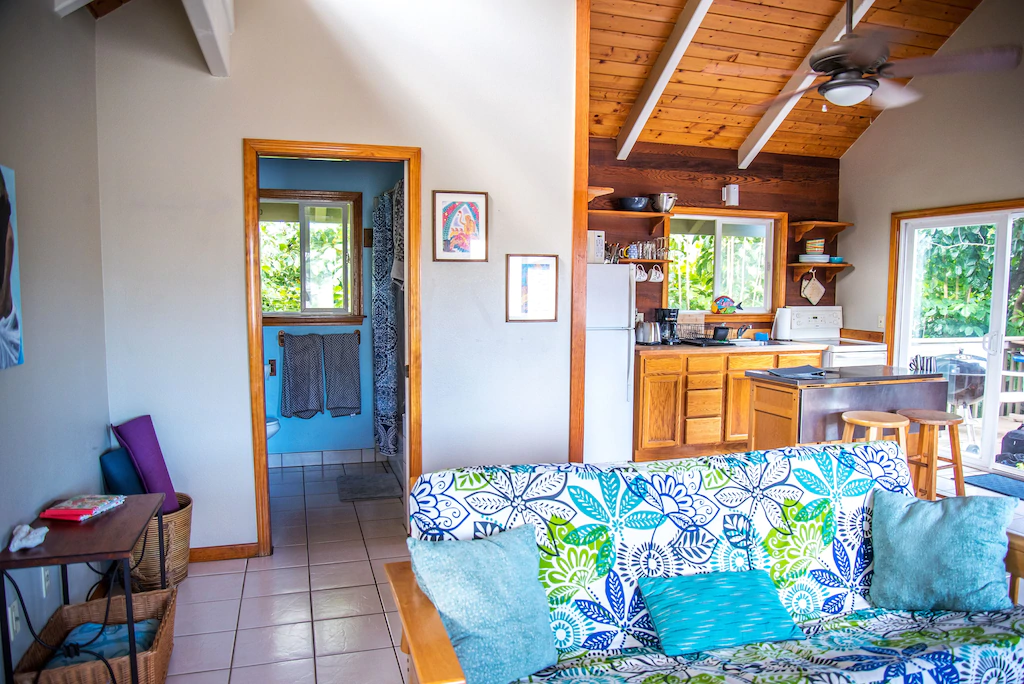 Tropical Garden Cottage
Have you ever wanted to spend the night in a tropical flower garden? This is the entry on our list of vacation rentals in Hawaii for you. The sweet scent of hundreds of tropical flowers will keep you company when you stay in this adorable cottage. This cottage is overlooking the Pacific Ocean on Maui's picturesque North Shore.
This guest cottage can accommodate 2 guests. It has a studio layout with 2 full bathrooms. When you stay here you'll be within 4 miles of two different waterfalls, the Hana Maui botanical gardens, and the famous Hana Lava Tubes! Because of this great location, this cottage would make a perfect home base for exploring all that Maui has to offer. Over 300 5 star reviews agree, you should definitely come stay in this Hawaii VRBO.
Check Rates: VRBO.com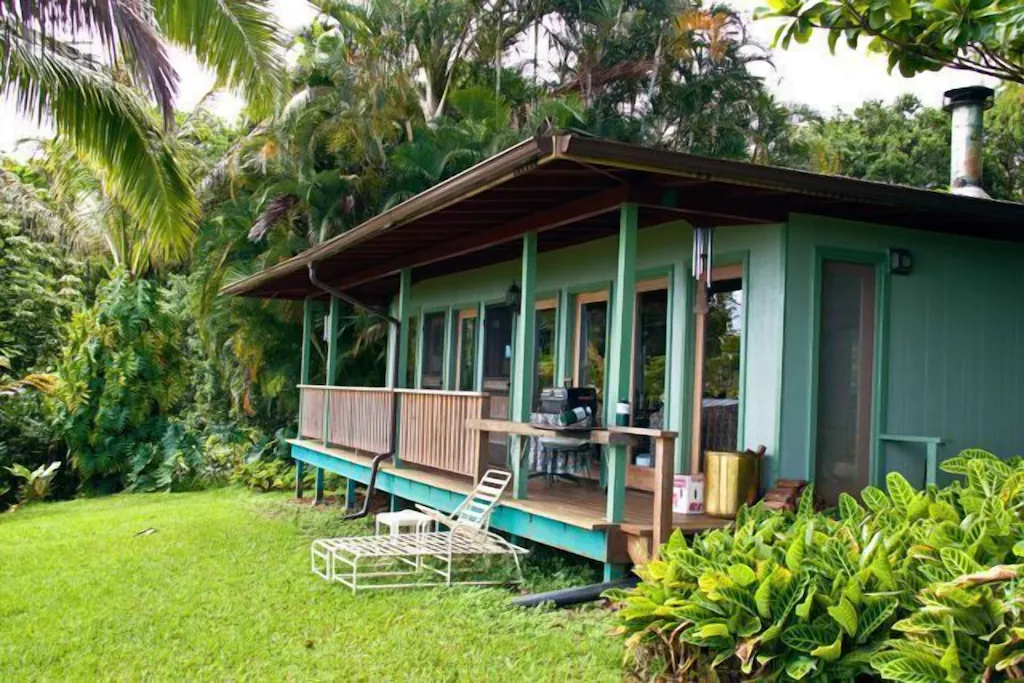 Paradise Pali Kai
This Airbnb in Hawaii on the Big Island is perfect for a family trip, or a group of friends. With three bedrooms, the Paradise Pali Kai has plenty of room for everyone. This is truly a luxury stay with its oceanside location and beautiful views. This is one of the best Airbnbs in Hawaii for a family or large group.
The Paradise Pali Kai is fully air-conditioned, which is a luxury on the islands. There are three bedrooms, each with a queen-sized bed. There are also two and a half bathrooms, a large sitting area, a full kitchen, and two separate lanais. The side of the house that faces the ocean also has walls of windows, so you can really enjoy the view.
The real selling point of this amazing Airbnb in Hawaii, besides the location, is the private pool. You and your family can truly feel like you are living in luxury with your large private in ground pool. The pool has several small waterfalls that feed into it. Outside, you'll also find an area for sun lounging and a dinning set.
Check Rates: VRBO.com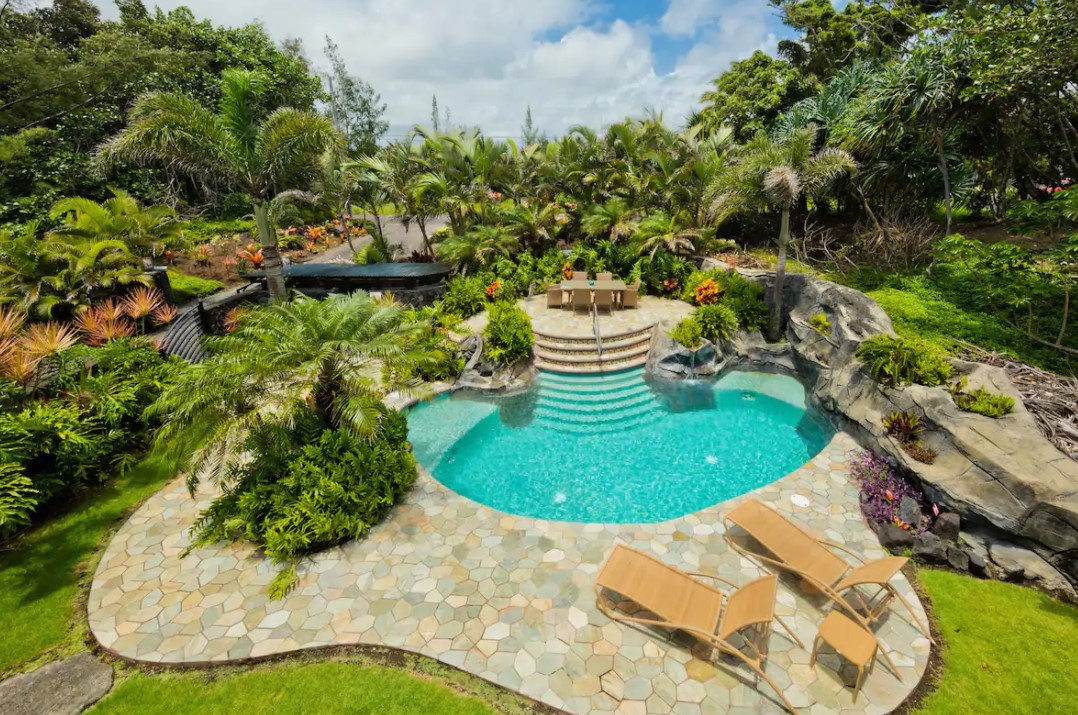 Mo Snell's Coffee Farm House
Have you ever wanted to have your morning coffee while standing in a coffee orchard? If so this Airbnb in Hawaii is a must stay! Located on the Historic Mamalahoa Highway in the Kona Coffee Belt this farm stay is truly one of a kind. Come stay at this farmhouse on the slopes of the dormant Hualalai Volcano, high above the hustle and bustle of Kona.
Enjoy beautiful view of the Pacific Ocean from your covered lanai and saltwater lap pool. This 1 bedroom 1 bathroom house was designed by renowned Seattle architect Chris Snell. This Hawaii VRBO draws inspiration from traditional Hawaiian Hales and Japanese farmhouses. The architecture is designed to blend indoors and outdoors for a truly unique jungle living experience. It's easy to see why this farmhouse is on our list of the best Hawaii Airbnbs.
Check Rates: VRBO.com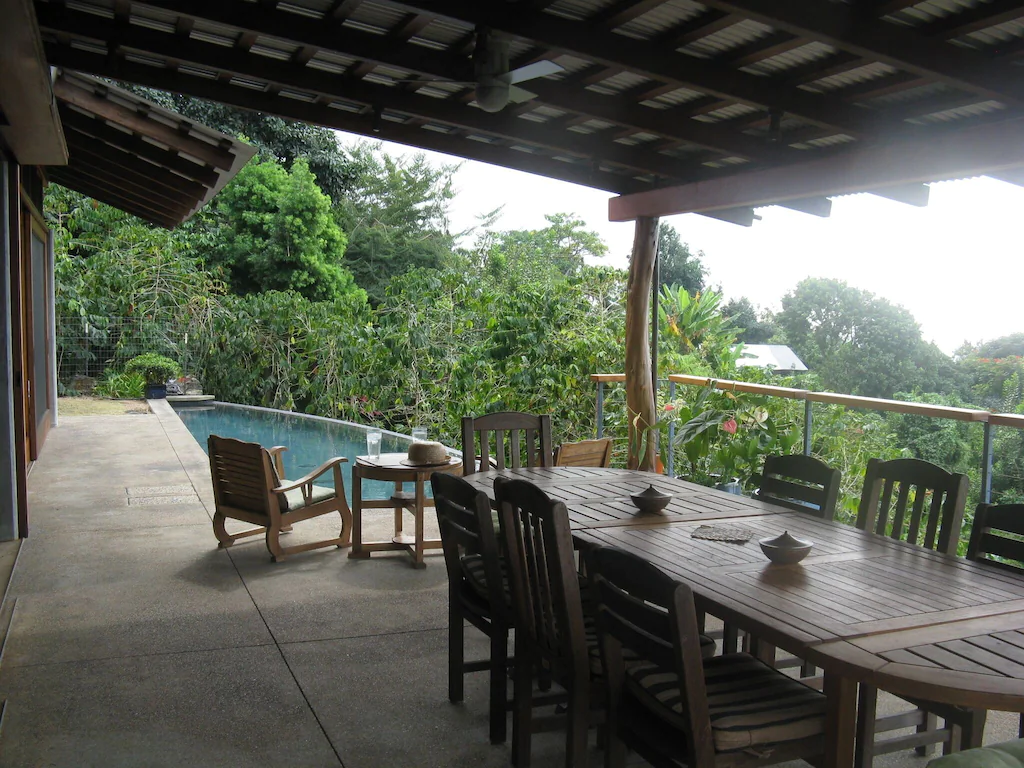 Nene Nest Cottage
If you're looking for cheaper Kauai vacation rentals that still offer a bit of luxury, here is your unicorn! This beautiful and crisp 2-bedroom Nene Nest Cottage is perfect for your Hawaiian vacation and offers competitive nightly rates without having a 30-day stay minimum. You'll get an entire (beautifully decorated) house for the price of some condos!
t's surrounded by the iconic lush green landscape that Kauai is known for and still close to beaches, restaurants, and other popular spots in Kekaha. The 900 sq. ft. villa is fully stocked to make your vacation as comfortable as possible with a fully equipped kitchen, luxurious pillowtop king bed, relaxing lanai, and a washer and dryer.
This top Kauai VRBO is also close to some of the longest white sand beaches in Hawaii, great restaurants, and shopping villages. This is one romantic stay! Nene Nest Cottage is so special that it also made it onto our Best Airbnbs in Kauai list!
Check Rates: VRBO.com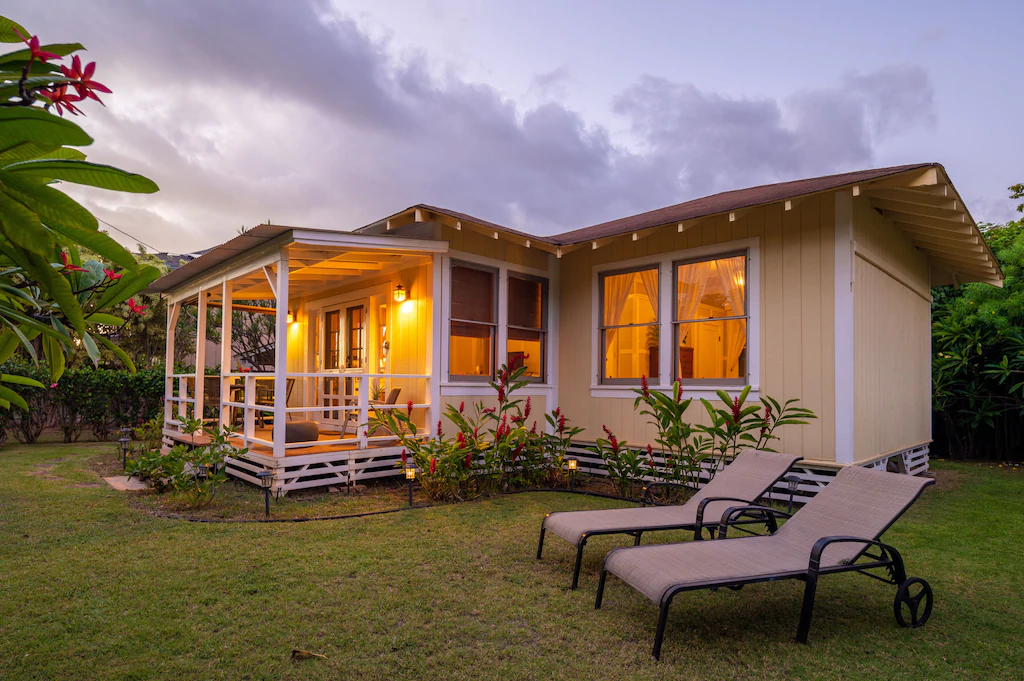 Cliff House on Hamakua Coast
This Airbnb in Hawaii is perfect for a small group or family looking for accommodation with an ocean view. The Hamakua Cliff House is a beautiful and secluded home. The house itself feels like it is a part of the cliffside as it is surrounded by lush tropical greenery. There are two bedrooms inside the house, as well as two full bathrooms.
This waterfront guest house is a great place for whale watching in the winter! The cliffside views of the Pacific from this rocky peninsula are truly breathtaking, year round. When you're not soaking in the views from the lanai, take a plunge in the outdoor pool, or cook up a delicious dinner with fresh local produce. This is a great VRBO in Hawaii for relaxing and connecting with nature.
Check Rates: VRBO.com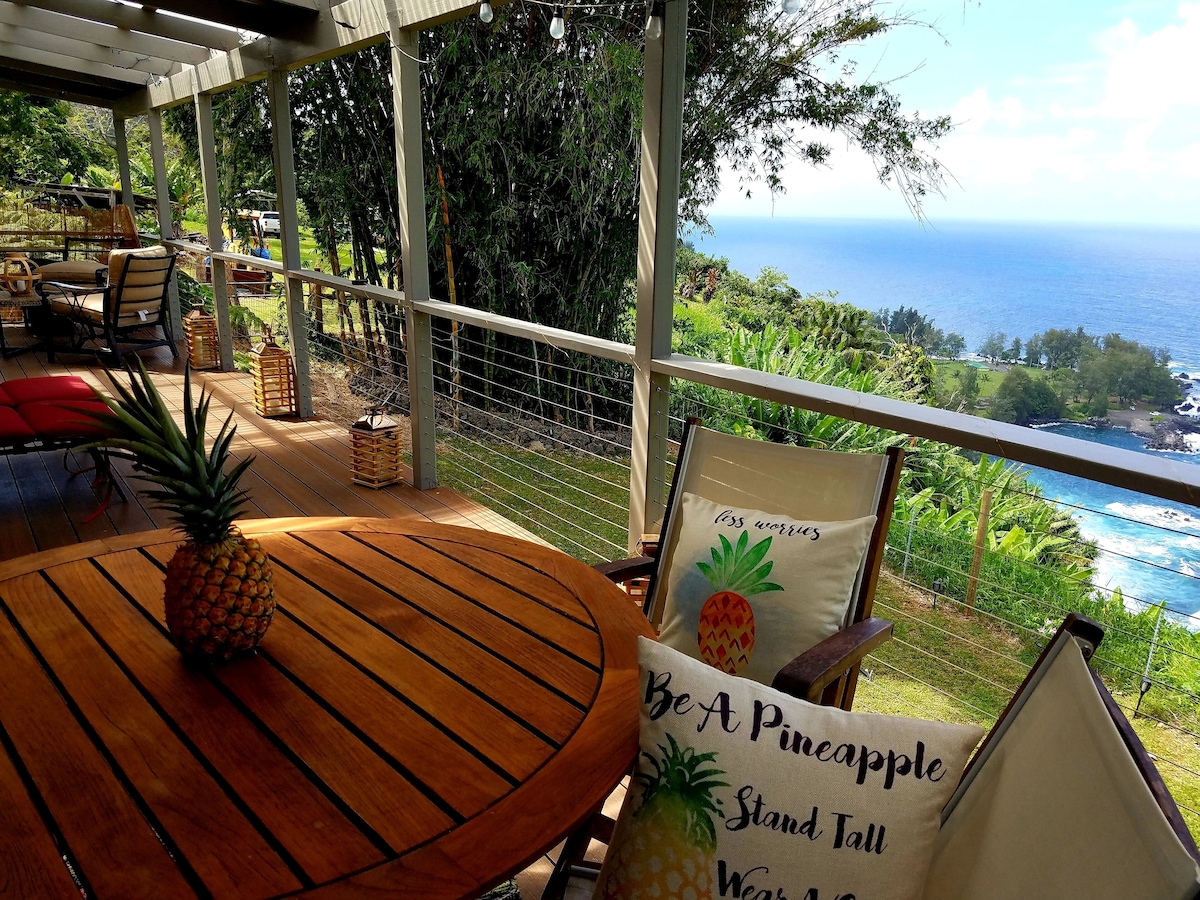 Waikiki Luxury
Do you want to live like royalty on your Hawaiian getaway? You've got to add this Waikiki Luxury Condo to your list of places to stay in Hawaii. When you stay here you will be able to step right from this condo building onto the sand of famous Waikiki Beach.
This condo features jaw-dropping views of Waikiki from floor-to-ceiling windows. The wow factor is really present in every room, from the fit for a chef's kitchen to the luxurious master bedroom. This 1575 square foot condo can accommodate 8 guests in 4 bedrooms. It has 3 full bathrooms. This Airbnb in Honolulu is truly not to be missed! You're sure to have a vacation fit for a king with this as your home base.
Check Rates: VRBO.com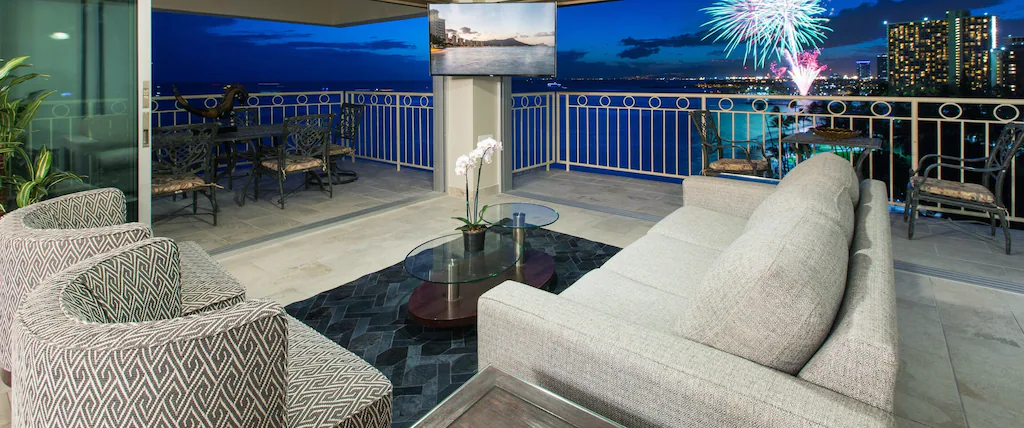 Peaceful Rainforest Treehouse Retreat
This treehouse in Hawaii is located on the Big Island and for those looking to experience Hawaii off the grid. The Peaceful Rainforest Treehouse Retreat is 8 miles away from Hawaii's Volcano National Park on a secluded off the road lot. It is perfect for adventurous couples or individual travelers.
On the bottom floor of the treehouse, you'll find a lanai with a large day bed, which is the perfect place to relax and enjoy nature. There is also a small table set so that you can enjoy meals or coffee on the lanai. On this level there is also a bathroom and an outdoor shower.
As you go upstairs, you'll reach another lanai. The upstairs lanai is a covered space that also has places for you to lounge and enjoy nature, no matter the weather. You will enter the main portion of the treehouse via the second-story lanai. Inside you'll find a studio space with a perched bed, large windows on the walls, and 12ft ceilings. The space feels very airy and open and almost like you are still outside.
Check Rates: VRBO.com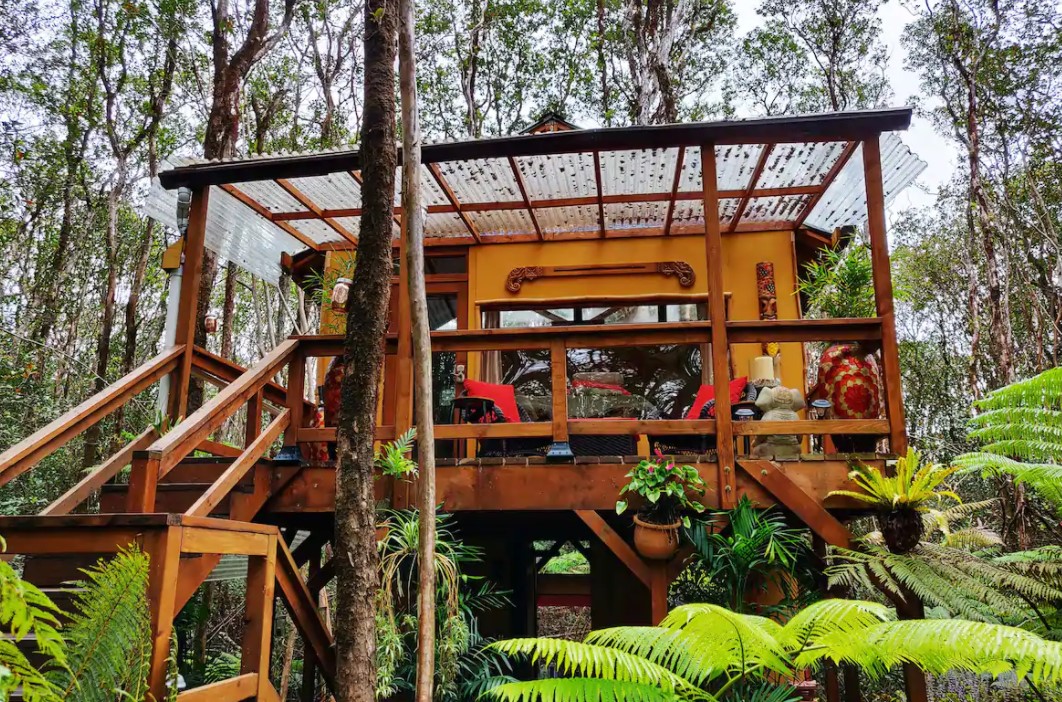 Romantic Garden Cottage
The Romantic Garden Cottage is an Airbnb in Kauai surrounded by lush tropical greenery. Tucked away on an acre of land near the Wainiha River, you will feel like you are all alone in the world. It is a beautiful and romantic space for a couple on their honeymoon. The Romantic Garden Cottage is perched on a bluff which gives you uninterrupted views of the valley below.
Inside the cottage, you'll find a large living space with a full kitchen. On the main floor is a bedroom with a queen-sized bed and a large bathroom. Up a spiral staircase, you'll find a loft space that also has another bed and space to hang out.
The best part about the Romantic Garden Cottage is the outdoor space. There is a private pool and hot tub, a lanai with lounging chairs and a dining set, and a set of Adirondack chairs situated to look down in the valley. The nearest beach is just a mile away, but the space feels entirely secluded in the mountains. This is truly one of the best Airbnbs in Hawaii.
Check Rates: VRBO.com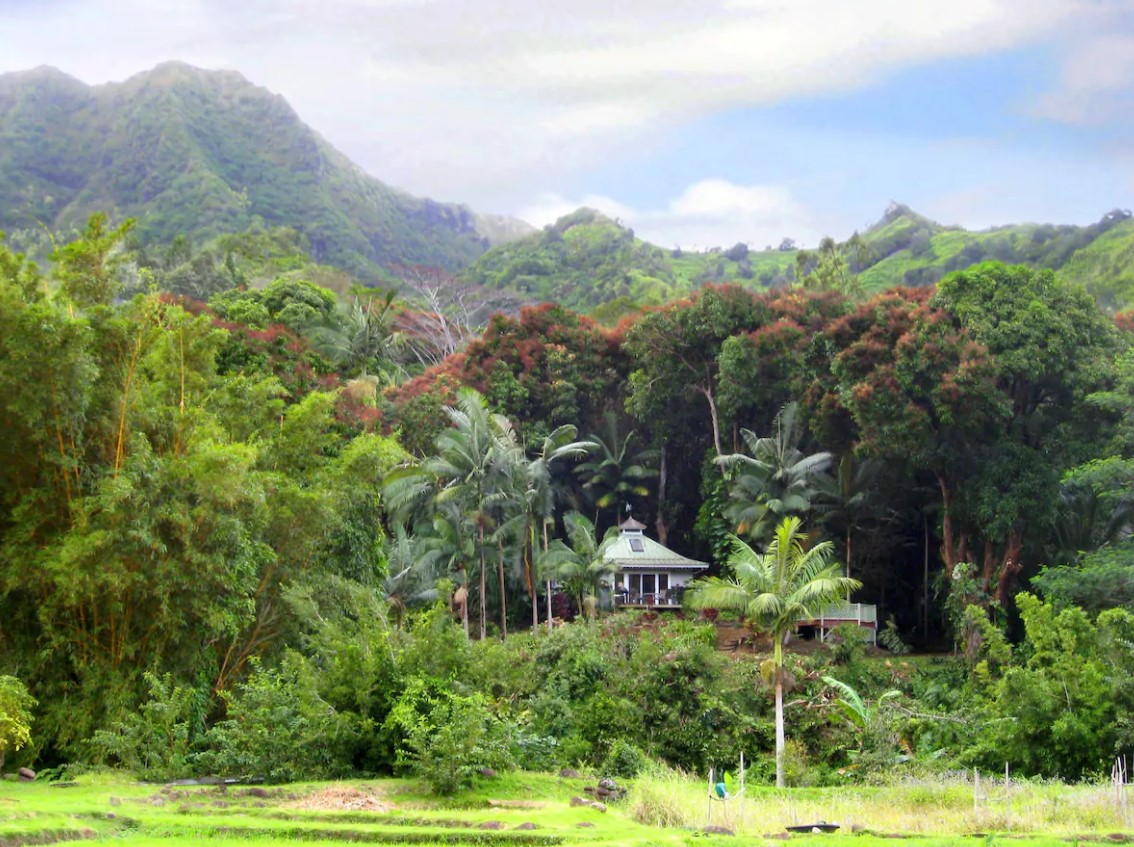 South Kona Hideaway
The South Kona Hideaway is a home located in the Kona coffee belt and is an awesome Airbnb in Hawaii. There are two units available to rent, which makes it perfect for families and small groups. Or just rent one unit if you are traveling as a couple or solo. Each unit features one bedroom, one bathroom, and a private lanai.
Inside, you'll find a spacious home with a full kitchen, large seating area, and each unit has a queen-sized bedroom. Step outside on your private lanai and enjoy endless views of the Kona coffee farms and the Pacific Ocean. The South Kona Hideaway also has a large backyard, which is perfect for hanging out, whether as a couple or a large group.
Check Rates: VRBO.com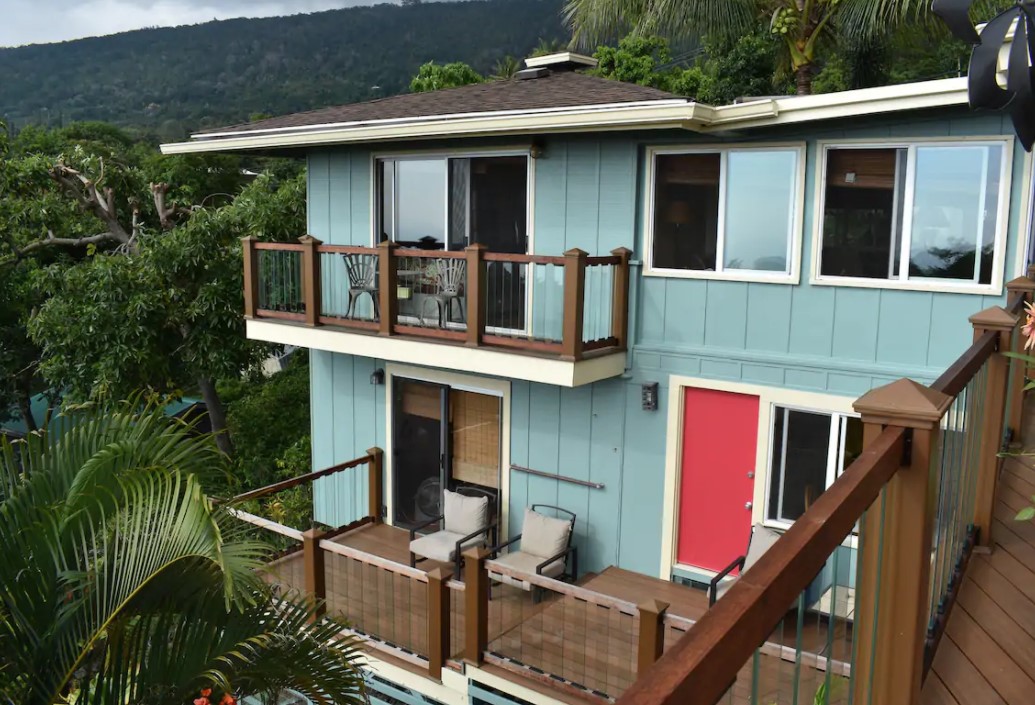 Diamond Head View
This entry on our list of Hawaii airbnbs also features an amazing (and rare!) view. The Diamond Head View Studio has an unobstructed view of the lush slopes of the famous Diamond Head Volcano that helped form the beautiful island of Oahu.
In addition to the amazing diamond head view, this vacation rental is only a one-minute walk from the famous Waikiki Beach. This is a highly sought-after location that is within walking distance from loads of Oahu attractions. The studio can accommodate 2 guests. It has a small kitchen with a full-sized refrigerator and hot plate for cooking up a quick meal after a day of surfing or boogie boarding at Waikiki Beach.
When looking for Hawaii vacation rentals in Oahu it is difficult to find gems like this! Be sure to save this to your list of Hawaii vacation homes.
Check Rates: VRBO.com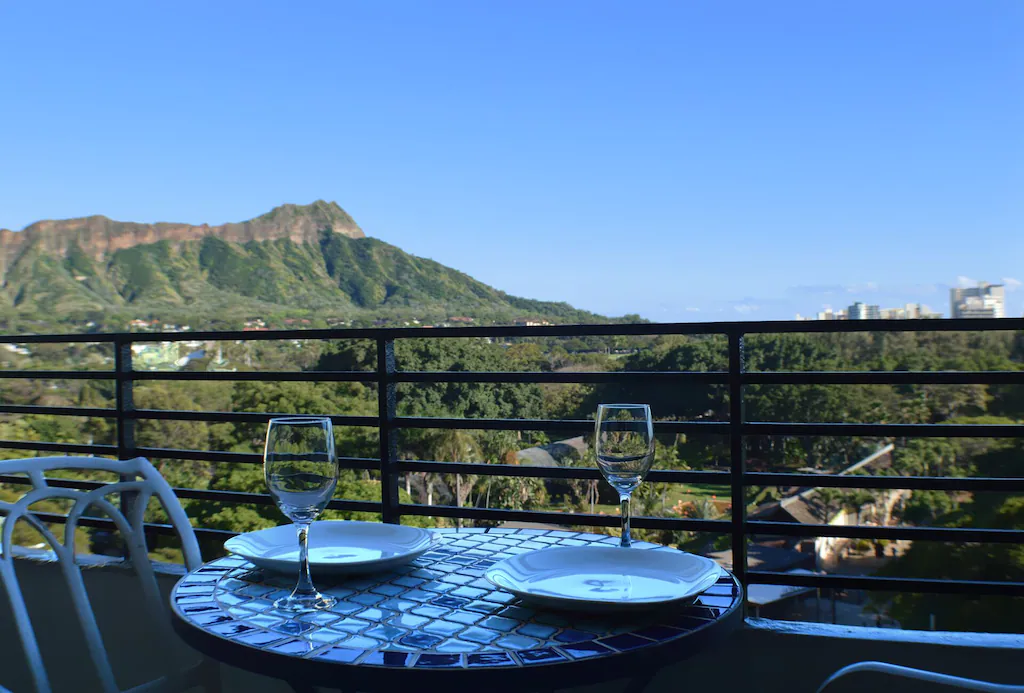 Tropical Fruit Farm Retreat
This open air space on the Big Island is one of the best Airbnb's in Hawaii because it is so unique. The Tropical Fruit Farm Retreat is a small home that blends seamlessly with the tropical rainforest and fruit farm it is on. You'll be able to savor tons of organic Hawaiian produce such as avocados, pineapples, lilikoi, coffee, bananas, kava, and many more!
The location of this paradise farm is wonderful. Perched on the western slope of Mauna Loa your guest house has sunset views of the ocean. The property has easy access to the Captain Cook Monument Trailhead which will lead you through the emerald island landscape to the exceptional swimming and snorkeling at Kealakekua Bay.
The Tropical Fruit Farm can sleep up to 2 guests. It has one bedroom and one full bathroom. There is an outdoor jungle shower that looks absolutely unforgettable! You must check out this Hawaii bungalow rental. Make sure to sample the hosts famous chocolate avocado superfood mousse while you're there!
Check Rates: VRBO.com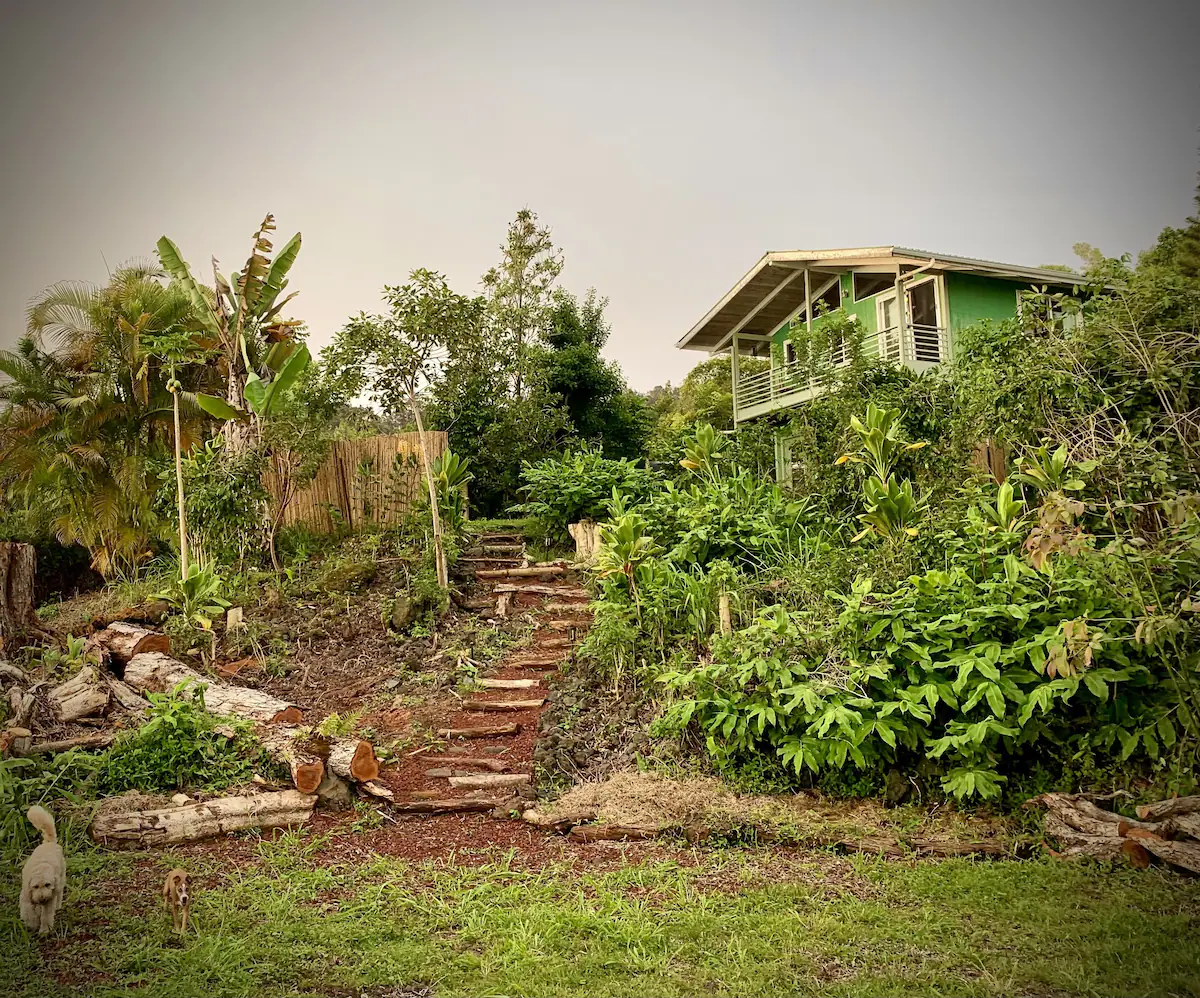 Colorful A-Frame
Are you looking for oceanfront Airbnbs in Hawaii? This colorful A frame is the perfect choice for you! This Hawaii vacation rental is located right on the sands of Sunset Beach. Additionally, this home is only 1,000 feet from Pipeline. Pipeline is one of the most famous surf spots in the world! If you are not a surfer, you will still love the water at Sunset Beach because it is crystal clear and the snorkeling is beautiful here.
This is definitely one of the best cabins in Hawaii.It features a hot tub on the deck and two barbecues. Tropical jungle foliage surrounds the home and gives it a cozy feel. The A-frame can accommodate 8 guests which makes this a great option out of all the great bungalows in Hawaii for larger groups. This Oahu home rental has 4 bedrooms and 3 full bathrooms.
If you've been trying to decide where to stay on the North Shore, look no further! This option is head and shoulders above most waterfront airbnbs in Hawaii. If you want to compare this A-frame to similar airbnbs in the area, check out our Best Airbnbs in Oahu article.
Check Rates: VRBO.com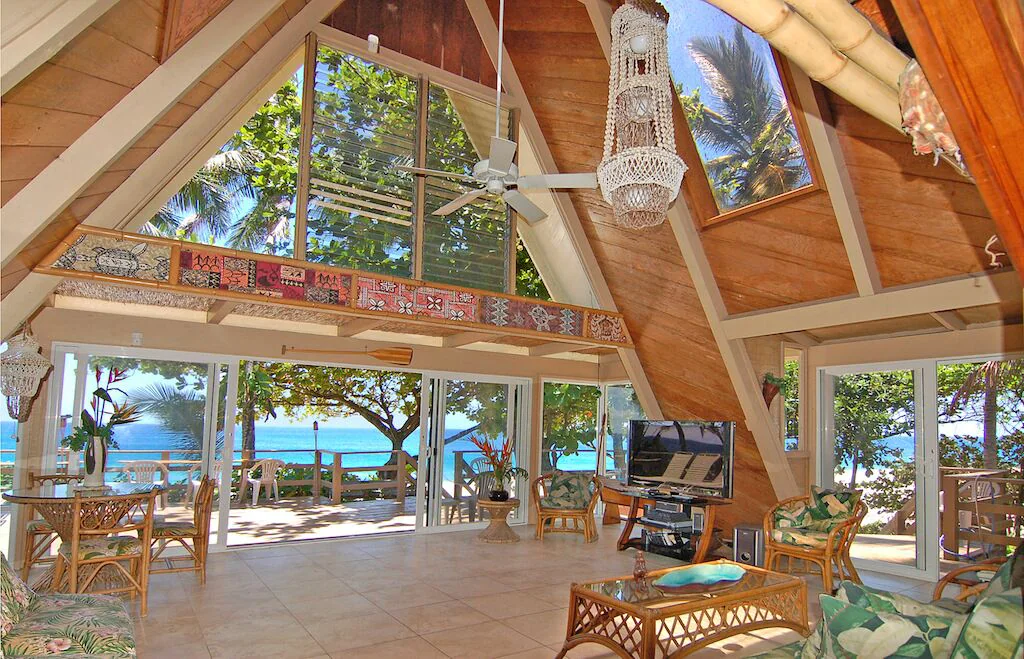 The Cliff House
Perched on the side of a cliff with unmatched views lies The Cliff House. This magical residence is easily one of the best luxury Airbnbs in Hawaii. It's hard to believe that you actually have the opportunity to stay in this place that is the textbook definition of a tropical paradise. 
The true magic of this Airbnb is found outdoors when you peer over the cliff's edge and are greeted with views of a brilliant waterfall thundering below you, lush trees, the outline of the Haleakala volcano, and the sparkling ocean. With a Jacuzzi that also gives you access to these views, an emerald-tiled pool, and a BBQ, you'll never want to go indoors.
The interior of the house is also spectacular and is filled with teakwood and marble. This home can sleep 4 guests in 1100 square feet. You'll love the skylight over the master bed perfect for stargazing. The bathroom also features an outdoor shower, and if you're keen on spending the night poolside, there's a casita bedroom near the pool where you can do just that.
Check Rates: Airbnb.com