If you are spending Christmas in Paris and you're looking for fun, festive things to do, this is the article for you! We love Paris during any day of the year, it is one of our favorite places in the world, but Christmas makes this amazing place even more special.
The holidays are arguably the most magical time of the year, so, considering that, imagine spending the most magical time of the year in one of the most magical cities on Earth!
Planning your trip to Paris last minute?
Make sure to book your hotels and tours in Paris in advance to ensure availability! Here are our top picks for your trip!
Top experiences and tours in Paris:
1-Hour Seine River Cruise (Super fun/affordable! We loved it!)
Hop-On Hop-Off Bus Tour (Great way to see the city)
Tickets you MUST book in advance:
Top Hotels In Paris:
Hôtel des Arts Montmartre (Good location and moderate price)
Le Katorze Hôtel (Budget option with 4 star rating)
Hôtel D'Aubusson (Luxury central location with pool!)
Being able to spend your Christmas in Paris is an opportunity that will create memories to last all your life.
Everywhere, all across the globe, people love the holiday season. There is just something about that time of the year that really lightens up your mood and puts that extra pep in your step. Christmas in Paris is no exception. In typical Parisian fashion, celebrating Christmas in Paris is chic, magical, extraordinary and unforgettable as ever. Between all the lights, decorations, events, and activities, there is not shortage of things to fill your days with festive, happy, fun!
So please enjoy our article dedicated to inspiring you on how to have the best time you can while spending Christmas in Paris. We hope you find it informative and helpful!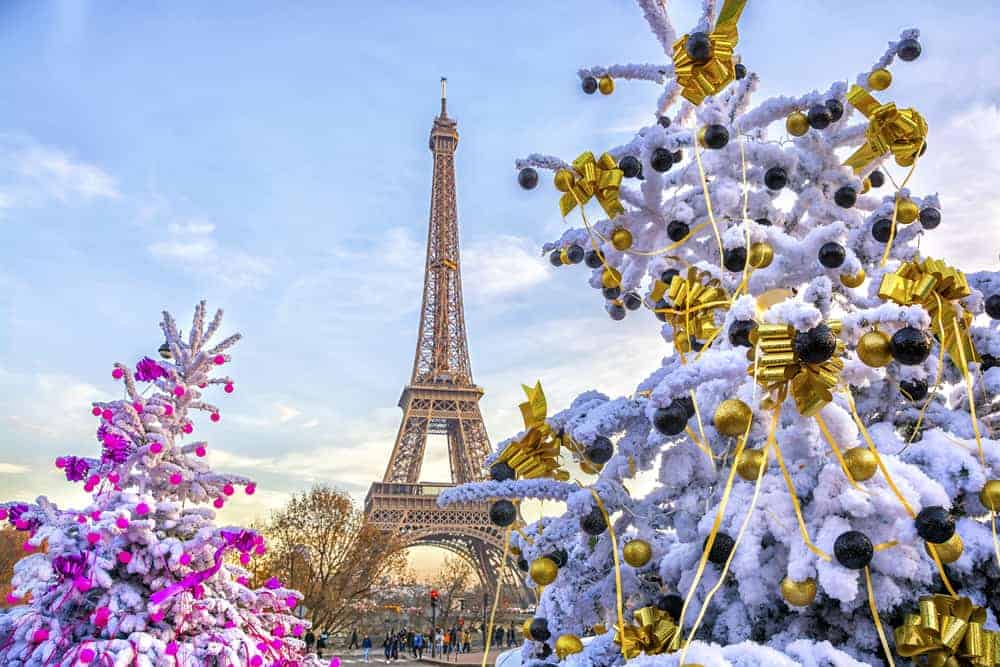 Is Christmas a good time to visit Paris?
Before we even start with all the things to do, let's cut to the chase… Is Christmas a good time to visit Paris? YES. We firmly declare, YES. Besides the fact that everything is beautifully decorated and festive as can be, during Christmas in Paris, there's actually not a larger influx of people so you wont have to worry about fighting for space to breathe at popular destinations. That is always a good thing because there's nothing that ruins the magic of travel like struggling through outrageous crowds of people and the many selfie sticks. Paris is the most popular tourist destination in the world though, so there will always be some tourism, but you don't need to worry about being overwhelmed like a lot of places, so take advantage of that!
There are also so many beautiful things to see, so many fun things to do, experiences to have, even for Paris. Between shopping in department stores and walking amongst their displays of Winter Wonderlands, ice skating around many notable landmarks with awesome scenery, and admiring the billions of beautiful lights against the crisp night air, you will fall in love with Christmas in Paris. So, if you get the chance to spend Christmas in Paris, you will not have to worry about regretting your decision. Even though, who could ever regret a Paris trip? But, you know what we mean.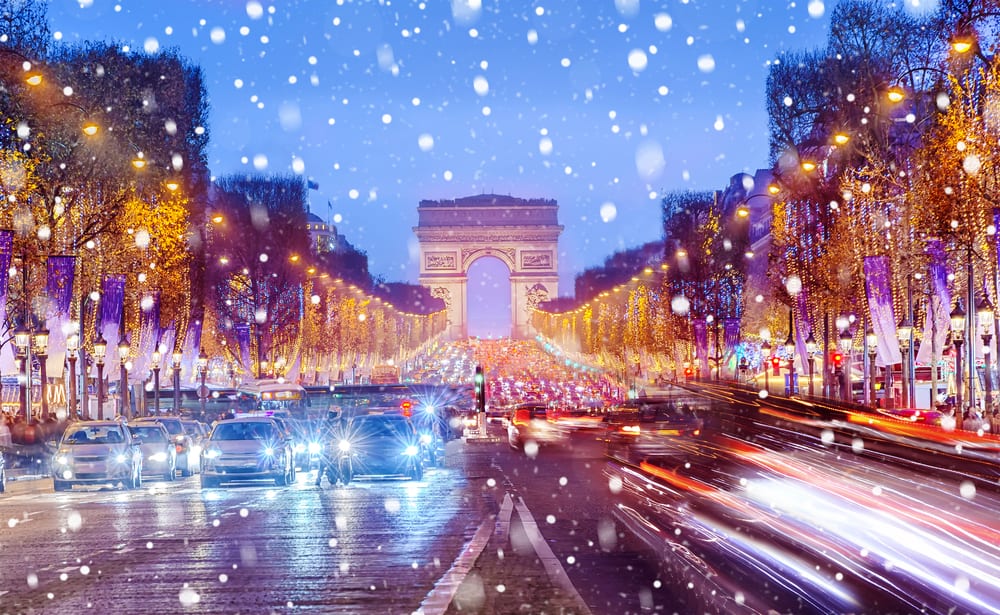 Average weather temperatures during Christmas in Paris
Now what about the weather during Christmas in Paris? The weather and the average temperatures are definitely one of the most important things to plan for when setting up a trip. Obviously Christmas is during the Winter and Paris is far enough from the equator to experience some cool temperatures. The good news is, they are pretty much exactly what you would expect for Christmas weather! The average temperatures range from a high of 46° Fahrenheit to a low of 37° Fahrenheit, so you don't need to worry about turning into a complete popsicle, unless you are from Florida, like us. But, that being said, we have been to Paris during the Winter twice and we never though it was unbearable. So take that bit of info and with it as you wish!
In terms of rain, it does rain in Paris during December, so prepare yourself for that possibility. The average rain levels during Christmas in Paris are, 27mm of rainfall spread out between 15 days. And of course, snow! Will you have a white Christmas in Paris? There is a chance, but odd are, you might not see it. Of course, it's different every year, but usually meteorologists assume December will have around two days of snowfall during the month and since temperatures are crisp but not freezing, it's not likely the snow will stick. But, every year is different! Let's see what happens this year with the snow.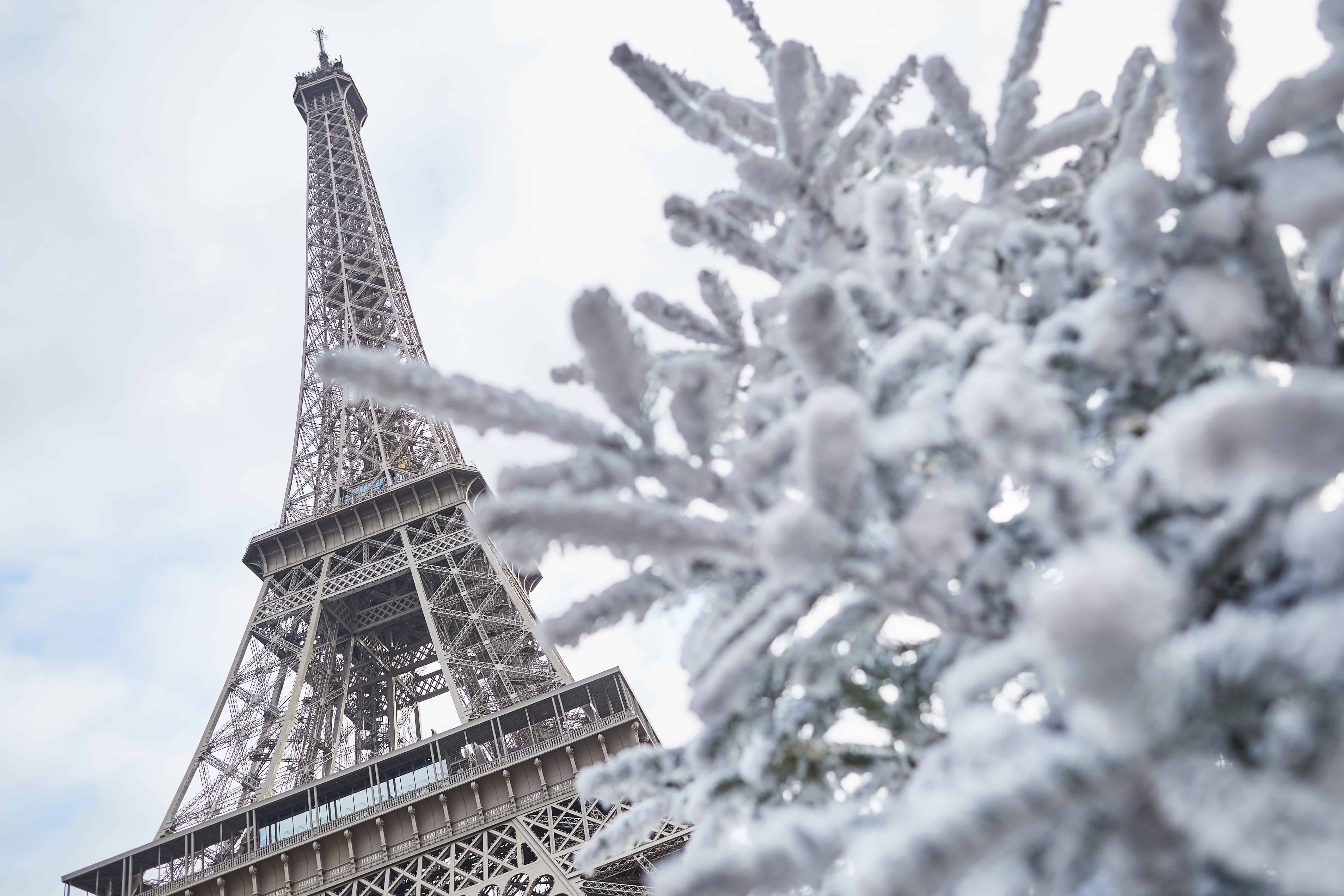 10 Festive Ways To Spend Christmas In Paris, 2019
Go ice skating at the Eiffel Tower.
A trip to Paris is never complete without visiting the French's leading lady, Tour Eiffel. The Eiffel Tower is amazing all the year around but during Christmas in Paris, there's a whole extra incentive. During the Winter months, you have the option to experience ice skating elevated up in the Eiffel Tower overlooking all of Paris. This is an amazing way to spend some time during Christmas in Paris.
The Eiffel Tower's personal skating rink opens up on the 15th of December and is accessible for all those who visit the tower for no extra cost from the general admission price until the 31st of January. The perfect time-frame for a special thing to do during Christmas in Paris. You have twelve hours of the day to make it over there for a skate, it is open from 10:30 A.M. to 10:30 P.M. Plenty of time to head over!

Check out the themed Christmas Tree at the Galleries Lafayette.
It is probably a given that one of the grandest shopping centers in the world would be heavily participating in the holiday season. Every year, the board of directors for the famous Galleries Lafayette come together to come up with a new amazing theme for their Christmas decorations and their Christmas tree. It is quite a spectacle to go to the Galleries during Christmas in Paris to see what the iconic shopping center had come up with and how they brought it to life. It's different every year, but you can guarantee that regardless it will be immaculate and impressive as ever.
Last year, the theme for 2018 was called "The Dream Factory," and was sponsored by Piaget. The title for the theme fit accordingly because as always, the tree and the gallery's decorations were something out of a dream. It's really a sight you have to see to believe. With all the festive decor, plus the incredible glass dome at the ceiling that the Galleries Lafayette is most commonly known for, you will be amazed. So while spending Christmas in Paris, do as the Parisians do and go check it out!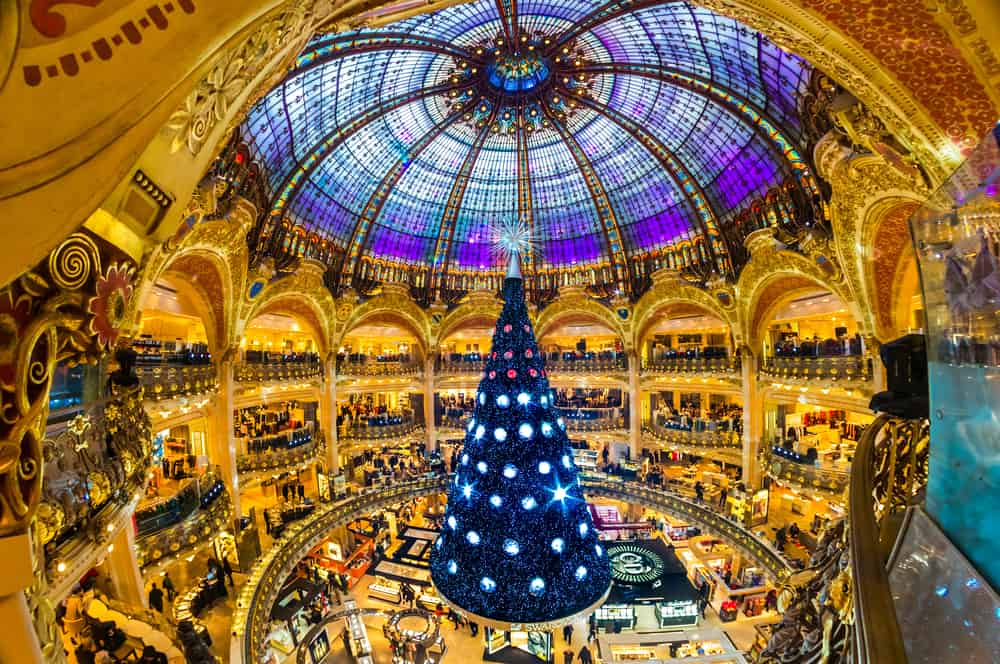 Hunt for all the amazing Christmas window displays.
You probably read that heading and thought, "So what? Who cares about department store window displays?" Well, these are not just any window displays. Oh no no no… These window displays are THE window displays and they go ALL out for Christmas in Paris. They attract crowds of people watching to see what magic the department stores had created for the world to see that holiday season.
The four famous department stores, The Galeries Lafayette, Printemps Haussmann, Bon Marché, and BHV Marais usually unveil their displays in November and they're up through Christmas. So, spend a nice evening during your trip to take a walk in the crisp holiday weather and go window hunting! It's a unique and fun way to get a little festive for Christmas in Paris.
Have fun at Disneyland Paris, see it all dressed up for Christmas.
Who doesn't love spending some time at a Disney Park? We are from Central Florida where the original Disney World theme park is, so believe me, we are the ultimate connoisseurs of all things Disney-Theme-Park. If you have ever heard of the way Disney goes crazy for the holidays, then you can assume whatever is going on there will be a good time, that goes without being said. Christmas in Paris is an amazing time in Disney-Land-Paris, it holds up for Disney's reputation perfectly and is just as magical of an experience as you would assume.
If you are going to spend Christmas in Paris, Disney is (Of course) an awesome way to spend some time. Between all the amazing lights, decorations, Christmas parades, meetings with Santa and Disney characters all dressed up in their festive best, and so much more. All the Christmas spirit starts in the theme park around the middle of November and don't stop until Christmas, so go spend the day having a merry ol' time with Mikey and Minnie Mouse and have the ultimate theme park experience for Christmas in Paris!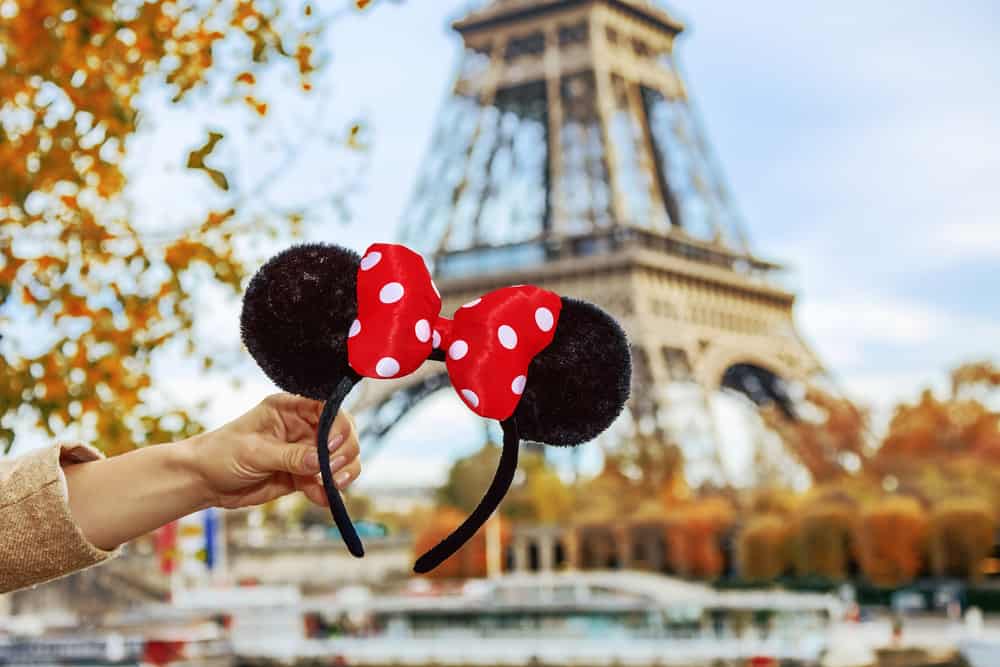 Visit a Parisian cafe all decorated for Christmas.
The little cafes in Paris that line almost every street are a staple in the City of Love and Lights, it's one of the biggest things that people do when they visit Paris just because they're so easy to find which makes them so convenient. You will get a unique perspective on these little gems during Christmas in Paris when they're all decorated and lit up! If you want to find one of these cafe's literally just walk anywhere for a couple blocks.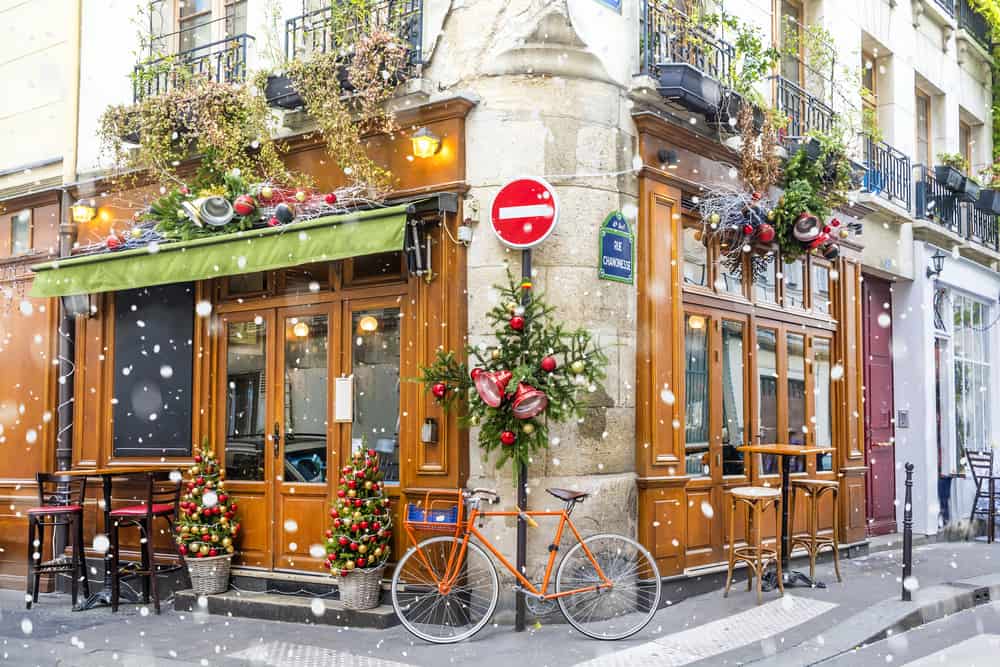 Attend Christmas mass at a local church.
Christmas mass is an integral part of the holidays for so many people, in Paris and visiting Paris. Attending church on that night of Christmas in Paris is an extraordinary experience with all of its famous and beautiful cathedrals and basilicas. When you think of church in Paris I'm sure the first one you think of is the Notre-dame, but, sadly due to the devastating fire this year, the Notre-dame is closed to the public. Thankfully, we have some other churches to recommend for you so you can still attend one of those amazing masses for Christmas in Paris.
One of the first we can recommend to you is the Sacre-Coeur on Montmatre, it's one of the prettiest locations in Paris all the way up on the tallest hill so it overlooks the entire city and is perfect for Christmas in Paris. The different services held at the Sacre-Coeur go as follows:

6pm Christmas Eve, (First Evensong of Christmas)
10pm Christmas Eve, (Organ Concert)
12am Christmas Eve, (Midnight Mass)
11am Christmas Day, (Solemn Mass)
4pm Christmas Day, (Solemn Vespers)
10pm Christmas Day, (Mass)

Another location we recommend is the Saint-Sulpice Church

7pm Christmas Eve (Children Mass)
11pm Christmas Eve (Christmas Vigil)
1am Christmas Day (Christmas Mass)

And then the Madeline Church's services.

9:30pm Christmas Eve (Doors Open)
10pm Christmas Eve (Vigil and Evening Mass)
11am Christmas Day (Solemn Verses)
6pm Christmas Day (Mass)
We hope that information will be useful to you if you're planning on going to mass during your Christmas in Paris. The churches here pride themselves on a beautiful service and I'm sure they'd appreciate you being there!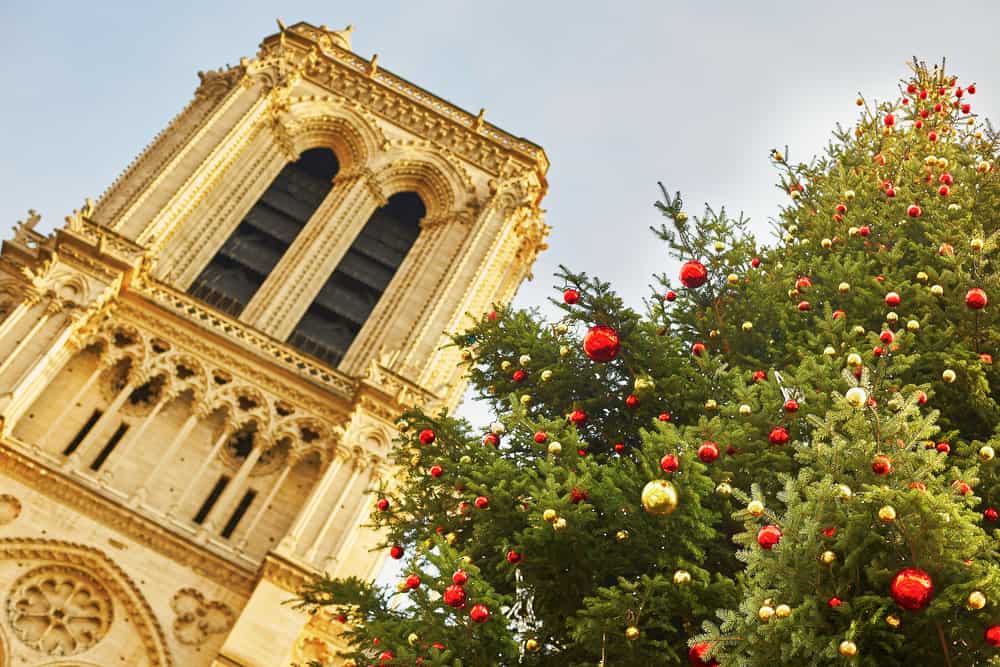 Go ice skating around the city.
Yes, yes, we know we already mentioned ice skating, but there is just SO many amazing places to carve up some ice in Paris we just had to go on. There is a really picturesque ice rink at Chaps De Mars that has the Eiffel Tower looming in the background as you skate. That will definitely make for great pictures, so if you're interested in that, definitely check that out! The ice rink is open from the middle of December to right after the first week of January. The hours are from 11am to 9pm, so you can have a really nice lunch outing with the family, or a romantic date with someone you love!
There is just something so festive about ice skating at Christmas time, maybe thats why Paris has so many choices for that! If you have small children, The Charlety Stadium "Snow Park," is a great choice on where to take them to skate. It's all dressed up for Christmas as an actual winter wonderland and that in itself is magical, but the ice skating gives it a little something extra! Head there once again around the end of December right around Christmas time to the second week in January!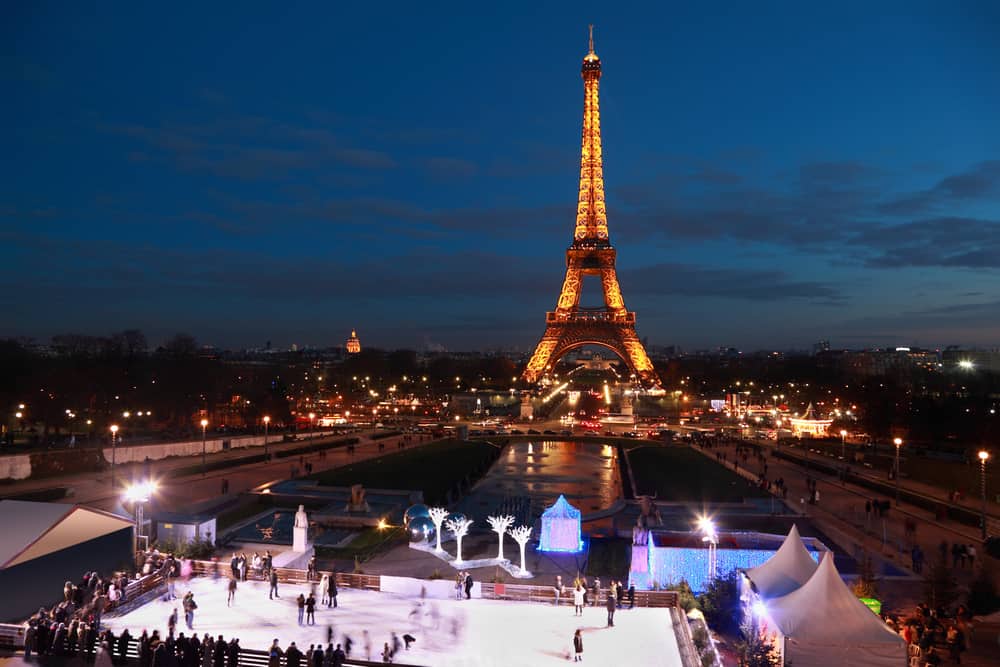 Bundle up and bike through the city.
Take the city and conquer it by your own accord by renting a bike. This is a great way to have an adventure that you can make all your own and since it's Christmas in Paris there plenty of places to bike to where you can see plenty of breathtaking views! You can rent a bike easily when you register for a system called Velib which has bike stations all through out the city accessible to the public. Chances are, you'll find these without even looking. But, if you are planning on biking a lot it is probably more cost effective to go rent a bike from some of the many bike rental shops through out the city.
Have a good time getting a little exercise in while you bike beautiful trails like the banks of the Seine River, Bois de Vincennes, Canal St. Martin, and Coulee verte Rene-Dumont. These are all really scenic areas perfect for a bike ride. Just remember to wear warm clothes because odds are, it'll be a little chilly out at night and with the wind in your face from your bike riding!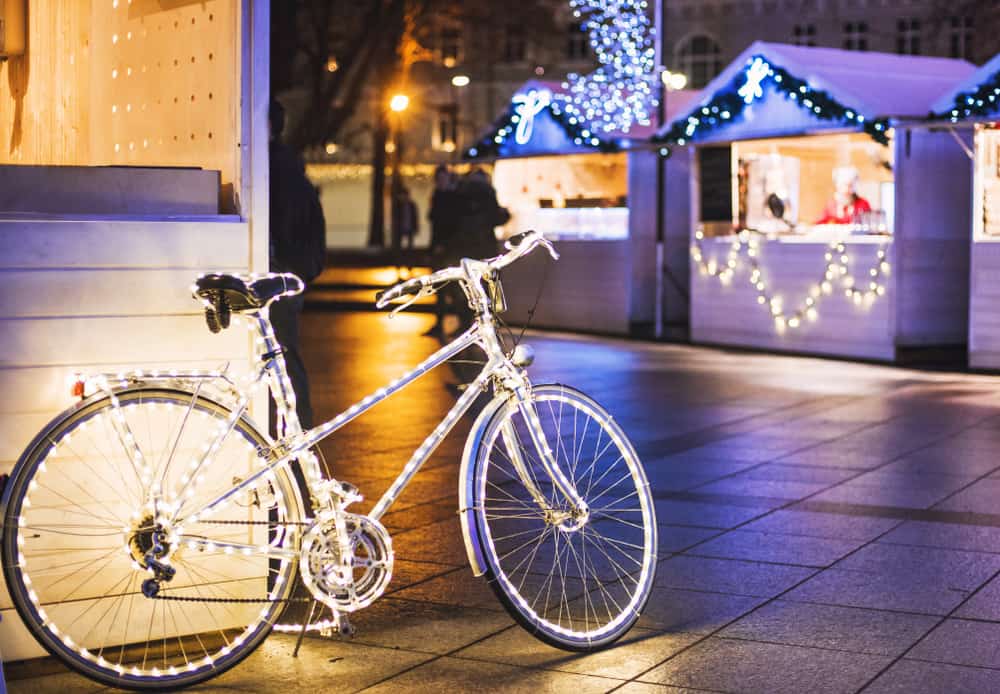 Explore Champs-Elysees and ride the ferris wheel.
The Eiffel Tower isn't the only place you can get an amazing aerial view of Paris. If you want another way to indulge in this unique perspective of The City of Love and Lights, hop on the ferris wheel at Champs-Elysees! Ferris wheels are a lot of fun and give you just that extra bit of a rush without being too thrilling. So it's basically the perfect middle ground for those who like wild ride and those who would prefer to wait at the gate. When it's Christmas in Paris, the entire city is lit up ten fold more than normal and so when you find yourself at the top of the ferris wheel at this time of the year, you get to witness an even more enhanced view of Paris.
Prices for a ride on the Paris Ferris Wheel go for about eight euros a piece which is about nine U.S. dollars, so compared to most ferris wheels, it really not that expensive. We think it's sincerely worth every penny for the view you get! If you wish to go, the ferris wheel is open from 11am to 12am, but, on Fridays the hours are actually 11am to 1am.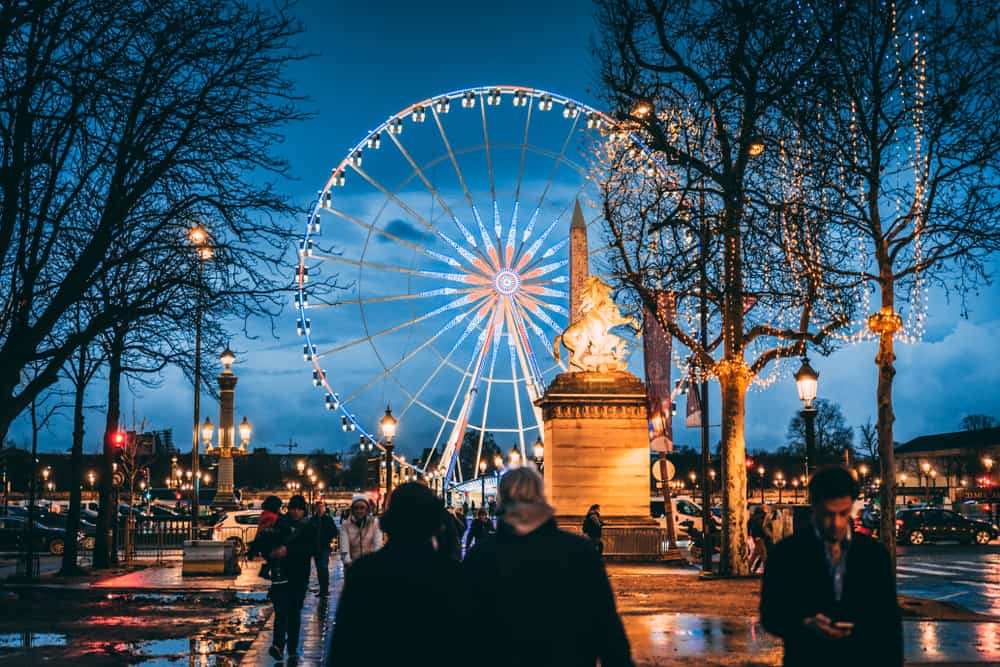 Visit one of the many Christmas markets.
Christmas markets have become an essential part of Christmas in Paris. Having become popular in the 1990s from Germany, the markets are a really great way to shop around for some festive knick-knacks and generally enjoy some holly-jolly time this holiday season. Paris is home to some of the best Christmas markets in Europe so you are in for a real treat! There is an awesome Christmas market in every single quartier in the city so don't worry about there being any shortage of awesome places to hit up and shop.
The Paris Christmas Market at Les Halles is one of the newer shops but it's easily one of the biggest. You can go try to find your way through a maze of Christmas trees and then when you're finished, head to one of the stands for some mulled wine and Nutella crepes; Delicious and fun! This is the perfect place to buy some Paris souvenirs to remind you of your trip!
Another option for a good Christmas market to visit during Christmas in Paris would be The Place De Abbesses Christmas Market in Montmartre. It's easily one of our favorite ares to go in Paris because of its views and aesthetics. So if you're into visiting a Christmas market in one of the prettiest places in Paris, check it out!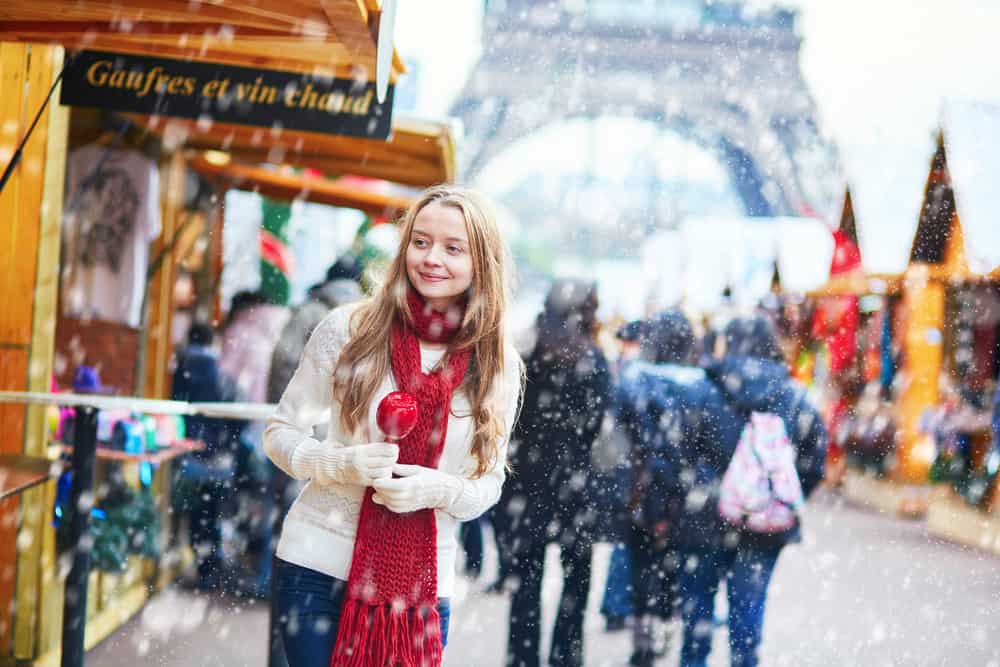 The magic of Christmas in Paris is an intoxicating and amazing experience. There is so much to do in this city and with all the festivities from the holiday season, there is even more things to do! From fun family activities like biking and ice skating, to shopping and sight seeing, you will find it hard to run out of things to do spending Christmas in Paris. So, enjoy yourself and have a safe flight!