Are you looking at what to do with 4 days in Paris? Don't worry or stress; I have you covered with this jam-packed itinerary for a trip to Paris, which takes you to all the tourist musts and some off-the-beaten-path locations across the city!
I have visited Paris countless times, in all seasons, so this will walk you through my personal insider knowledge!
For example, some of my favorite things to do in Paris with 4 days include:
Visiting the Paris Covered Passageways (super hidden gem!)
Explore Montmartre (An extremely cute part of the city)
Sainte Chapelle Church (Do NOT miss this!)
Eiffel Tower (Obviously this can't be skipped!)
Louvre (Popular for a reason!)
Use this as a first time in París itinerary or as a return visitor where you make this itinerary your own, and hopefully discover some new places to visit in Paris! Here is how to make the most of your 4 days in Paris. This itinerary has all the museums, landmarks, public parks, sites, restaurants, activities and more!
I also have you covered if you are only looking to spend 3 days in Paris! And if you need help packing I have an entire guide!
4 Days In Paris Itinerary
Day 1
Stop 1: Arrival and breakfast
Drop your bags off and look for a boulangerie near your hotel or Airbnb! A boulangerie is a French bakery. You MUST try a flaky melt in your mouth pain au chocolate, a croissant, or, my favorite, a pain au Chocolat aux amandes (chocolate and almonds) and a cup of coffee!
My favorite bakeries include Petite Ile Boulangerie, Maison Landemaine, Boulangerie Artisanale, Paris Maison Eric Kayser (a chain), and Sain. I always try to google a place near where I'm staying when planning a trip to Paris so I can have a few options once I arrive!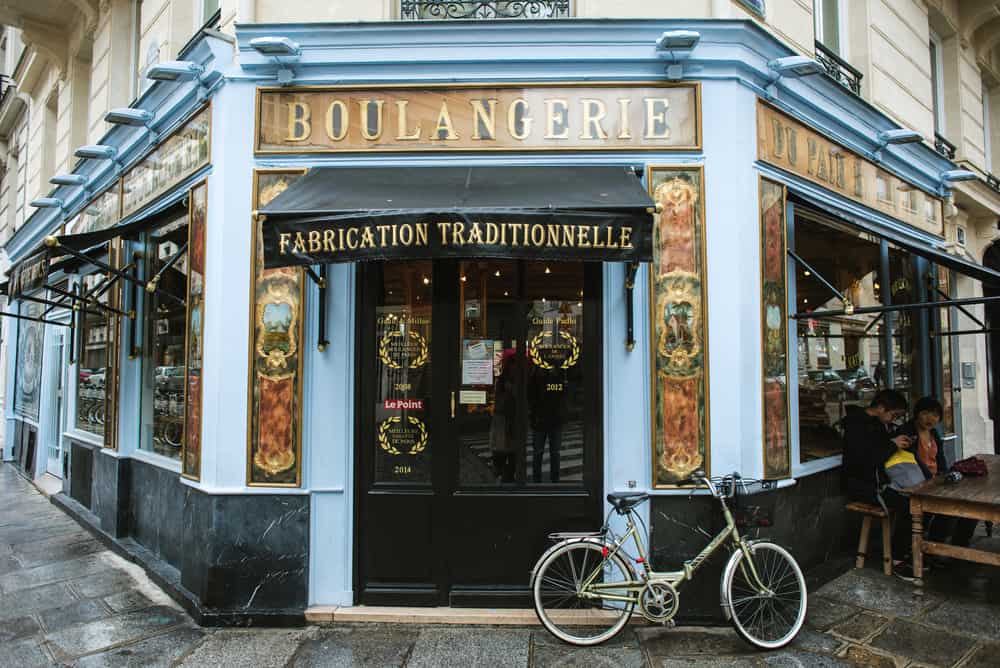 Stop 2: Arc de Triomphe and Champs-Élysées
The first stop of your 4 days in Paris, is a visit to the Arc de Triomphe for breathtaking views of the city! For those looking for a stunning view of the city, book tickets to the top of the Arc de Triomphe. Not only will you get the picturesque views of Paris, you can also see the Eiffel Tower and the Sacré-Cœur! Go midmorning as it does not open until 10 a.m. Book your tickets here! This vantage point is even better than the Eiffel Tower and needs to be on your 4 day itinerary for Paris!
As you stroll along the Champs-Élysées, you are just a short 30-minute walk from the Eiffel Tower! As you stroll towards the river, keep an eye out for Pont Alexander Bridge! If you don't want to walk, rent a bike instead. Velibs is like Uber for bikes in Paris. If you would rather view the sites by car, why not book this Private Guided City Tour in a Traction Avant or DS 21?
Arc de Triomphe Tips:
Location: Place Charles de Gaulle, at the western end of Champs-Élysées.
Access: Use the underground passage to reach the arch safely.
Tickets: Purchase tickets in advance to avoid long lines.
Sunset Visit: Consider visiting during sunset for a stunning view of the city.
Museum: Explore the small museum inside for historical context.
Panoramic Terrace: Take the elevator to the terrace for breathtaking city views.
Traffic: Avoid crossing the traffic circle; use the underground passage.
Champs-Élysées Tips:
Stroll: Take a leisurely stroll along the iconic avenue.
Window Shopping: Explore luxury boutiques and flagship stores.
Cafés: Enjoy a coffee or meal at one of the charming sidewalk cafés.
Landmarks: Admire landmarks like the Grand Palais and Petit Palais.
Events: Check for events or parades; the avenue hosts various celebrations.
Nighttime: Experience the avenue illuminated at night for a magical atmosphere.
Seasonal Decorations: Visit during holidays for special decorations and events.
Click Here to Book : Paris: Arc de Triomphe Rooftop Tickets
Click Here to Book : Paris: Private Guided City Tour in a Traction Avant or DS 21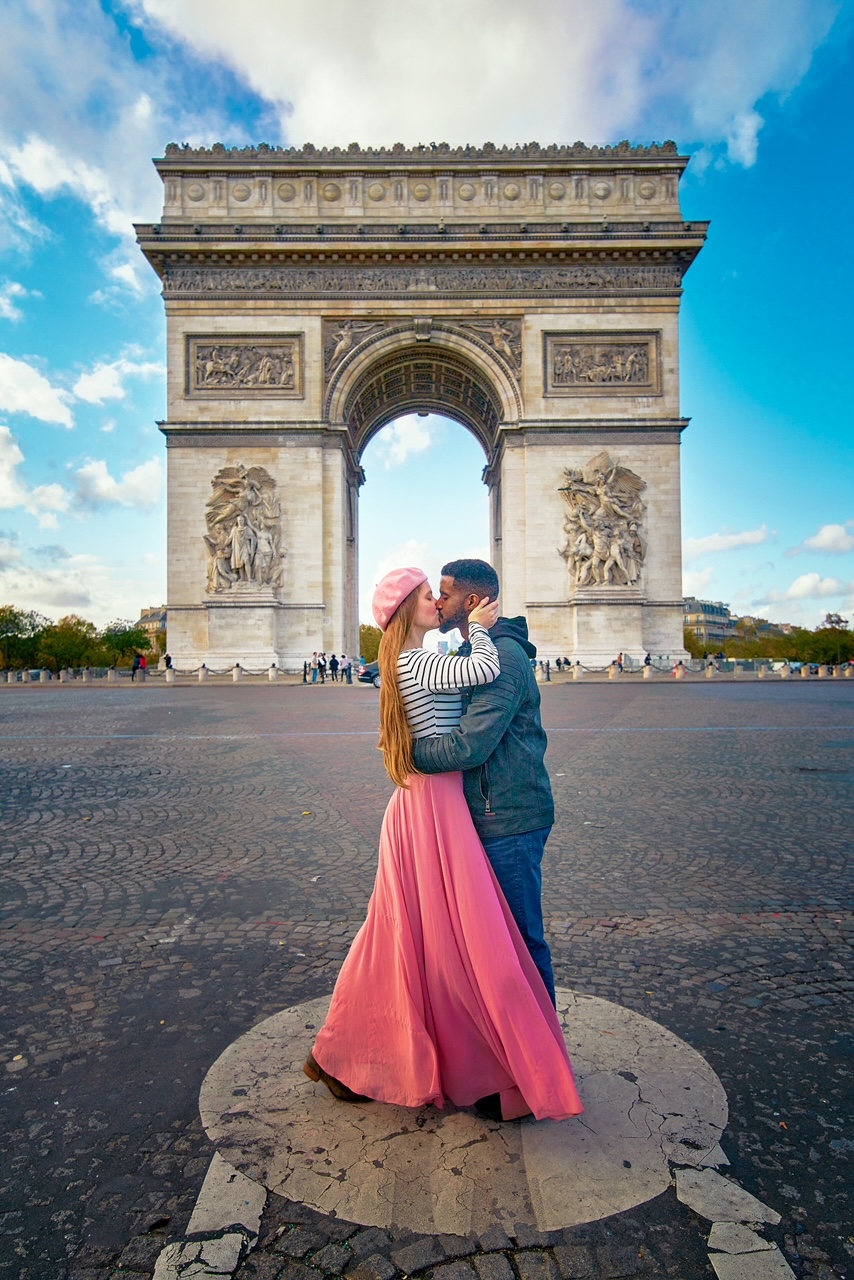 Stop 3: Tuileries Garden and Musee de L'Orangerie
The Tuileries Garden is a must for your 4 days in Paris, it is my favorite public park. There is just something calming about walking up the gravel, tree-lined paths towards the fountain chairs, where you can people-watch, or enjoy a coffee and pastry!
It is also one of the best places for children, as during the summer there is a carnival with rides and a carousel, as well as a park. During winter, there is a Christmas market as well. Ride the giant carousel for amazing views of Paris, day or night! A great place to visit for 4 days in Paris with family!
I stop at Angelina's for a cup of the best hot chocolate on Rue Rivoli before crossing into the park during the winter months.
Inside the Tuileries Garden, the Musee de L'Orangerie features three of Monet's water lily paintings in two rooms. (If you are looking to save money and coming from October to March, save this for Sunday as it will be free!) I could sit for hours staring at some of my favorite Impressionist paintings. Book a tour with the L'Orangerie complete with a river cruise on the Seine.
Tuileries Garden Tips:
Location: Located between the Louvre and Place de la Concorde.
Scenic Walks: Enjoy leisurely walks among beautiful flowerbeds and statues.
Chairs and Relaxation: Bring a book or just relax in the provided chairs.
Pond Views: Don't miss the iconic pond with its fountains and sculptures.
Seasonal Events: Check for any seasonal events or exhibitions.
Cafés: Visit the garden cafés for a delightful break.
Musée de l'Orangerie Tips:
Location: Situated at the west corner of Tuileries Garden.
Monet's Water Lilies: Marvel at the stunning Water Lilies series by Claude Monet.
Early Visit: Go early to avoid crowds and fully appreciate the art.
Combined Tickets: Consider combination tickets if visiting other nearby museums.
Audio Guide: Enhance your experience with the museum's audio guide.
Temporary Exhibitions: Check for any temporary exhibitions or special displays.
Click here to Book: Paris: Orangerie Museum Entry Ticket and Seine Cruise Ticket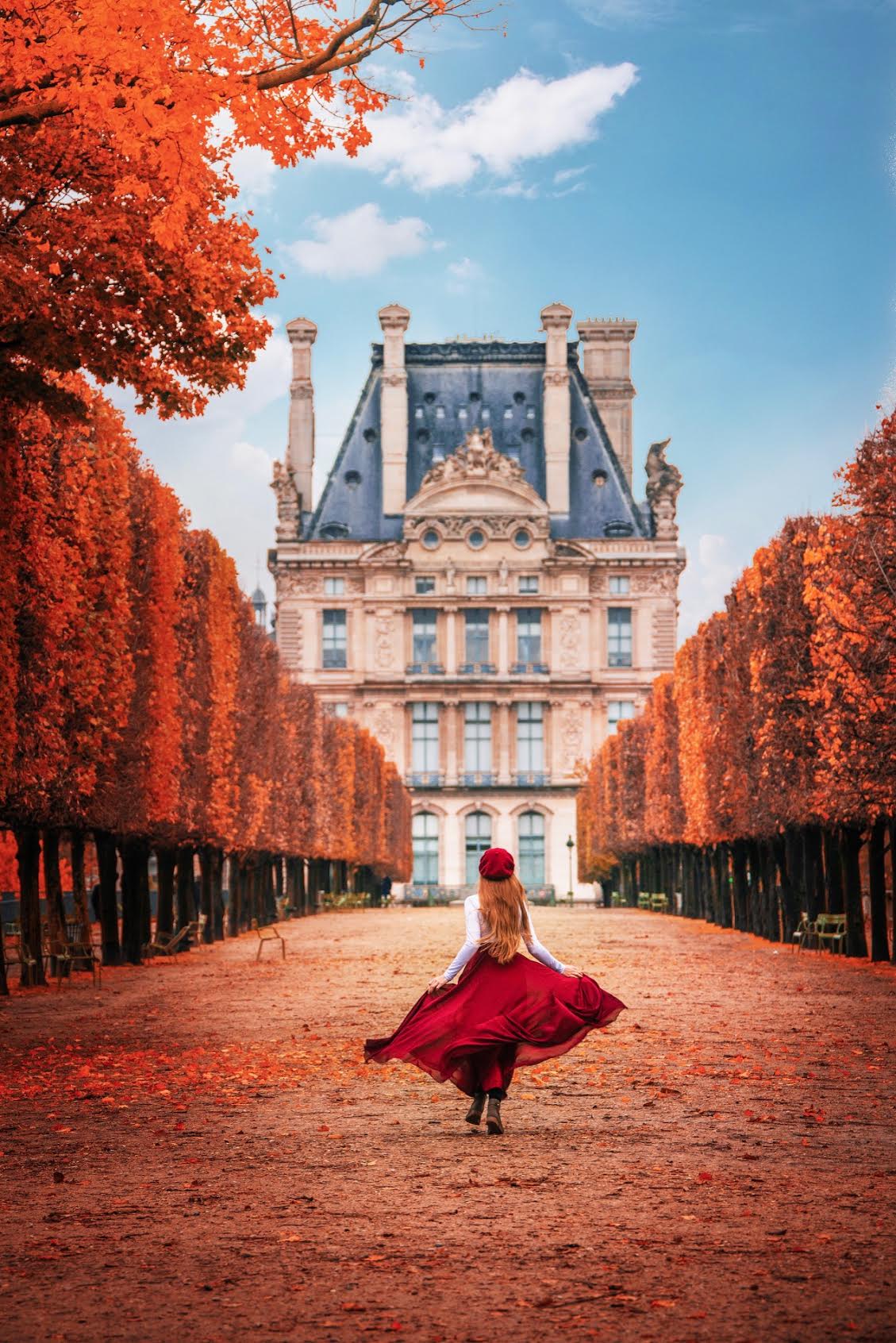 Stop 4: Louvre
After leaving the Tuileries Garden, you are minutes from the Louvre! Exit along the Seine, and head towards one of the most iconic museums in Paris, is a must for your first time in Paris! Plus, if you have purchased a museum pass you can use it here! Enter underground versus entering on street level as the lines are much‌ shorter! After leaving the museum, head upstairs to the glass pyramids for some pictures!
If visiting on a Friday and you are looking to save money and don't mind waiting in line head to the Louvre after 6 p.m., and you get in free. This is a great tip for those looking for free things to do in Paris in 4 days. If you hate waiting in line, purchase your skip-the-line ticket here!
The Mona Lisa is a must, as is the Venus de Milo; however, my favorite rooms to wander are the sculpture garden and the impressionist paintings! Research what interests you, or just hit the highlights! Book your tickets in advance, as tickets are for timed entry.
If you are looking for a skip-the-line ticket, with a guide to all the masterpieces, I highly suggest booking this tour!
Louvre Visit Tips:
Timing: Plan an early morning visit to beat the crowds.
Tickets: Purchase tickets online to skip long lines. (MY BIGGEST TIP!!)
Map Familiarity: Study the museum map beforehand for key exhibits.
Must-See Artworks: Prioritize famous artworks like the Mona Lisa and Venus de Milo.
Guided Tours: Consider a guided tour for in-depth insights. (Great advice!)
Comfortable Attire: Wear comfortable shoes; the museum is vast.
Photography: Respect the photography rules and be mindful of others.
Quiet Zones: Discover quieter areas to appreciate art without the crowds.
Rest Breaks: Take breaks in the museum cafes or nearby Tuileries Garden. ( Love grabbing a coffee!)
Special Exhibitions: Check for temporary exhibits for a unique experience.
Security: Be aware of security procedures and guidelines. (No big bags, but free lockers!)
Cultural Respect: Appreciate the cultural significance of the art and exhibits.
Click Here to Book: Paris: Skip-the-line Louvre Ticket with Host for Mona Lisa
Click Here to Book : Paris: Louvre Museum Timed-Entrance Ticket
Click Here to Book : Paris: Skip-the-Line Louvre Museum Masterpieces Guided Tour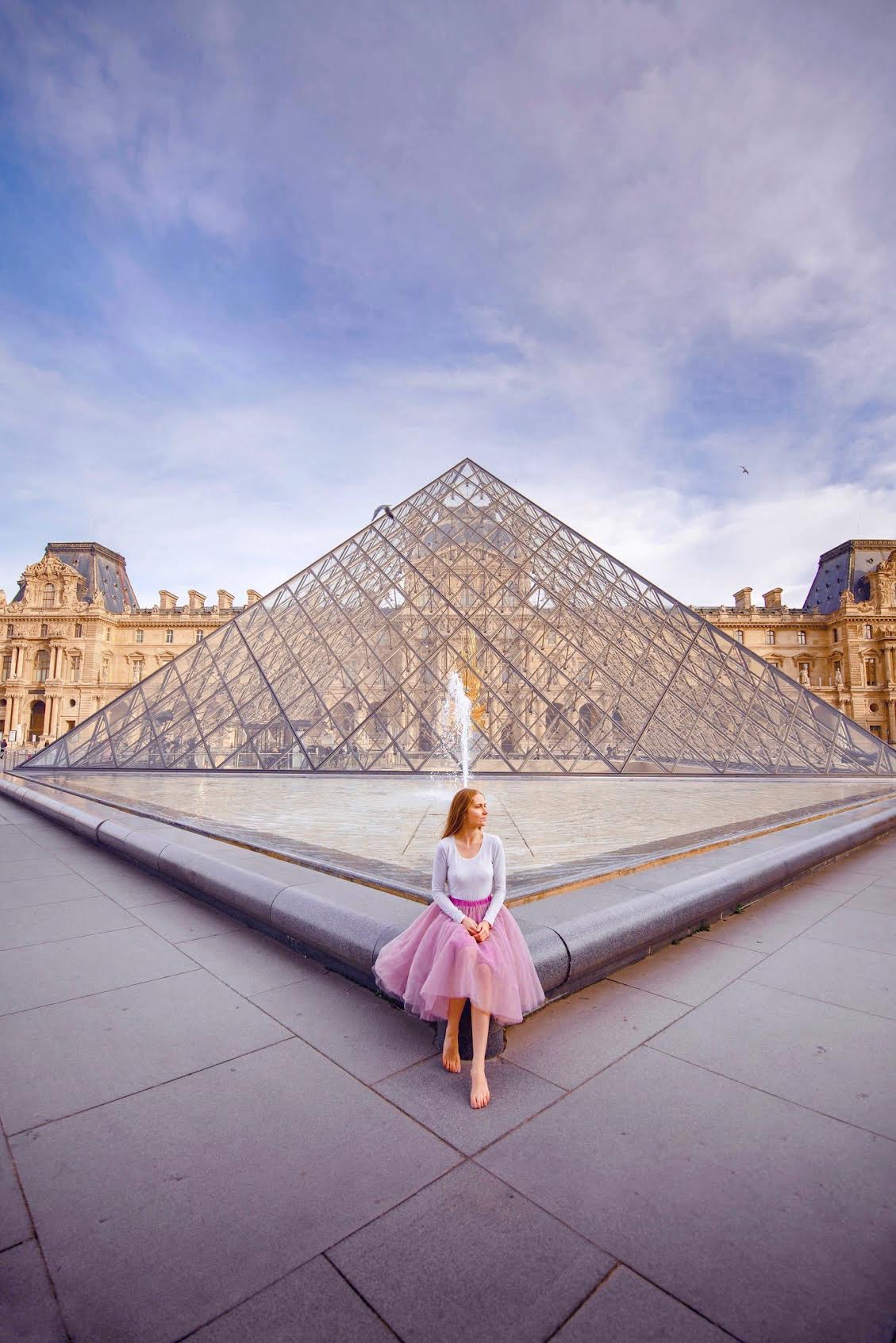 Stop 5 – Catacombs
One of the unique things you can do while in Paris in 4 days is head underground to explore the Catacombs. Book your tickets online 7 days in advance. On this visit, you will head 131 steps under the streets of Paris, back to 18th-century Paris, to the underground cemetery. Pack something warm even in summer as it can get quite cold underground.
They transformed the site into a decorative rearrangement of the skulls into monuments, to attract visitors. I think this special skip-the-line access tour is complete with areas that you can't normally see as a tourist and is worth splurging for.
If you are looking to explore more of the dark history of Paris, this Dark History walking tour is for you!
Catacombs Visit Tips:
Booking: Reserve tickets online to avoid long lines (I waited FOREVER in person!)
Comfortable Clothing: Wear comfortable shoes and bring a light jacket; it gets chilly!!
Audio Guide: Opt for the audio guide to enhance your experience.
Limited Accessibility: Note that the catacombs may not be suitable for those with mobility issues.
Respectful Behavior: Maintain a respectful demeanor; it's a solemn place.
Stay on Path: Follow the designated path and do not touch the bones or carvings.
Photography Rules: Abide by the photography rules; some areas may be off-limits.
Emergency Exits: Familiarize yourself with the location of emergency exits.
Cautionary Note: Understand the somber history; it's a unique but poignant experience.
Click Here to Book: Paris Catacombs: Skip-the-Line Special Access Tour
Click Here to Book : Paris: Dark City Secrets Walking Tour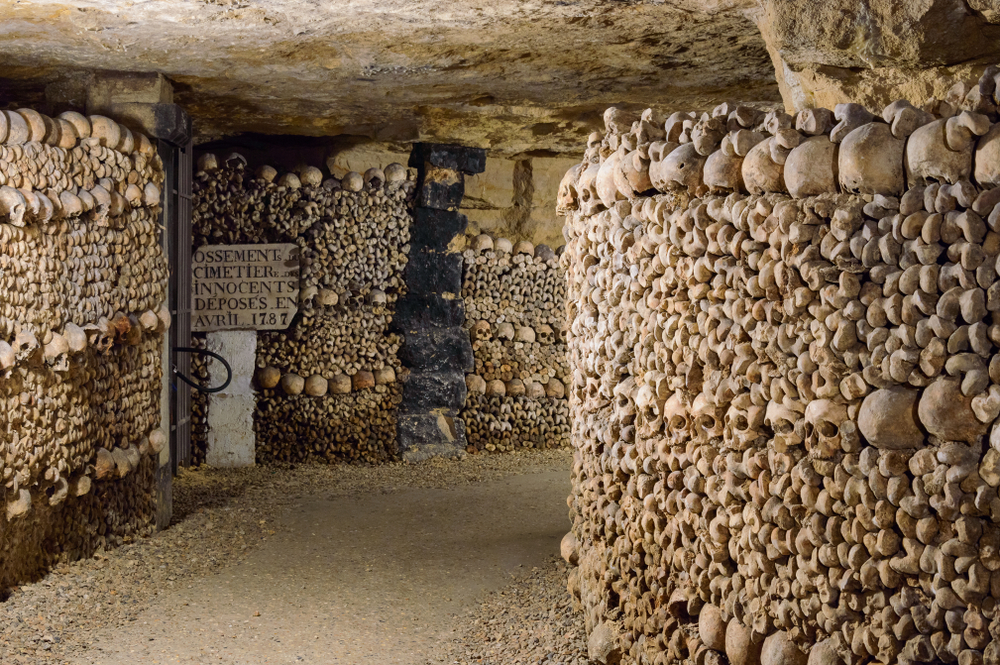 Stop 6: Covered Passageways and Palais Garnier
The covered passages of Paris are great hidden gems to explore, especially if you have 4 days in Paris during wintertime. The covered passages while empty in the early morning transform into busy shops and restaurants later in the day! They are also architecturally stunning!
Built in 1799, "Passage des Panoramas", is one of the oldest covered passageways in Paris! Look up at the gorgeous stained dome glass ceiling! While Passage Vivienne is elegant with mosaic flooring and glazed glass decor. For those wanting to explore more covered passages, book a covered passageway tour! Or check out our guide to the 10 best-covered passageways in Paris.
Take the 7-minute walk back to the Palais Garnier (Opera House), for another example of Parisian architecture. To go inside one of the greatest opera houses of the 19th century, visit from 10 a.m. to 5 p.m. For theater lovers, book a ticket for an opera show. Book your advanced ticket entry here!
Click Here to Book : Paris: Covered Passages Audio-Guided Walking Tour
Click Here to Book : Paris: Opera Garnier Entry Ticket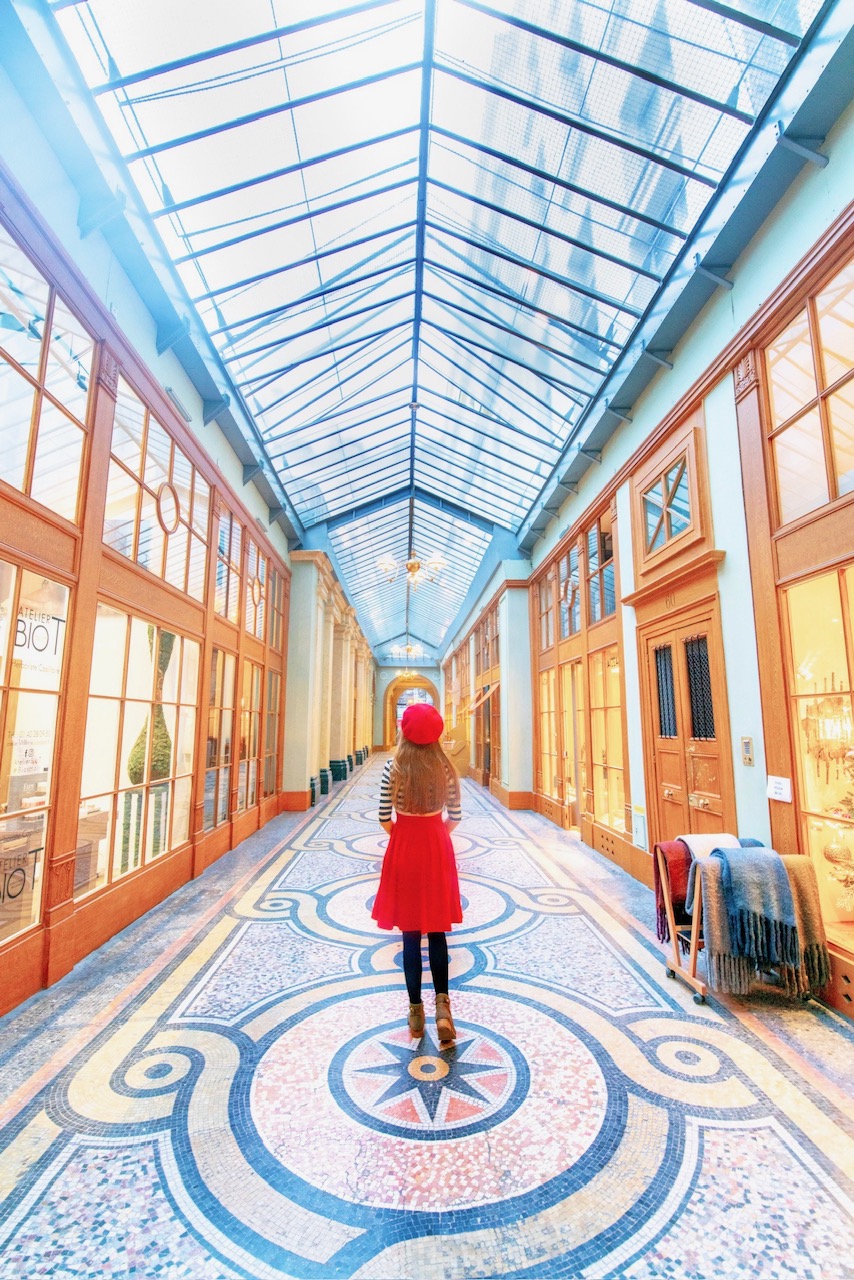 Stop 7: Dinner and Nightlife in Saint-Germain-des-Prés
Enjoy a delightful dinner in the charming Saint-Germain-des-Prés district at my favorite dinner spot for steak, Le Relais de L'Entrecôte. Breziah Cafe is a great choice for those in the mood for Crepes. Or hit up the equally popular Café de Flore, or Les Deux Magots and do some people-watching.
Some of my favorite spots to stop at are Maison Sauvage (they decorate the ceiling depending on the season), Le Hibou which plays music after dinner. La Robe is a quaint little wine bar, as is L"Avent Comptoir du Marce. The perfect ending to your first of 4 days in Paris France.
Saint-Germain-des-Prés Dinner & Nightlife Tips:
Classic Café Start: Begin at Café de Flore or Les Deux Magots.
Dinner Reservations: Book in advance at a local bistro or brasserie, popular spots get busy!
Stroll Rue de Buci: Explore the lively streets for hidden gems.
Live Jazz: Experience jazz at Le Caveau de la Huchette or similar venues.
Wine Bars: Savor French wines at La Palette or other local wine bars.
Late-Night Treats: Indulge in pastries at Poilâne or Ladurée.
Art Galleries: Discover art galleries for a cultural touch.
Local Hangouts: Enjoy the atmosphere at Le Saint Régis or La Palette.
Seine Walk: Take a romantic Seine walk after dinner.
Public Transport: Plan your metro journey for a safe return.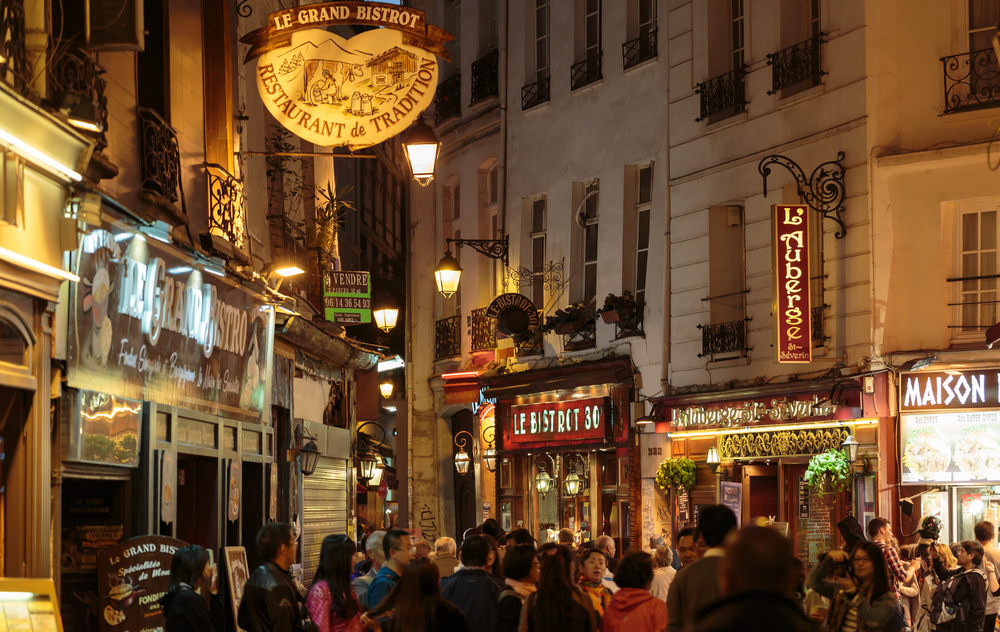 Day 2
Day 2 of your Paris itinerary, will be packed, and with jet lag, you will be up early to get your day started! So let's jump into it!
Stop 1: Sacre Coeur and Montmartre
My favorite way to get up to the Sacre Coeur, unless you want to climb the stairs, is to take the funicular ride (included with your metro pass), from the Anvers Metro Stop! The quick trip takes less than 2 minutes! It opens at 6 a.m., perfect for those who wake up early with jet lag. Watching the sunrise over Paris will be a memory you never forget.
The Basilica of Sacre Coeur opens at 6:30! It will award early risers with crowd-free views of Paris. This iconic white "monument" allows you to go inside the church area. Don't forget to look up. The ceiling is the largest mosaic in all of France.
Visit the dome, where you have 360-degree views of the city.
Try a walking tour of the Sacre Coeur and Montmartre areas if you want to explore the rich history of the area with an English-speaking guide. For the more food-centric visitors, take this Montmartre Cheese, Wine & Pastry Guided Walking Tour!
After coming down the hill, stop by Moulin Rouge with the iconic red windmill.
Montmartre Travel Tips:
Early Visit: Explore Montmartre early to avoid crowds. (My secret photo tip!!)
Comfortable Shoes: Wear comfortable shoes; streets can be steep and filled with cobblestones
Artists' Square: Visit Place du Tertre to see local artists at work and a great spot to buy something!
Sacre-Cœur: Climb to Sacre-Cœur for panoramic views of Paris (this is also a great sunset spot!)
Hidden Cafés: Discover charming, lesser-known cafés for a local experience.
Café Terrace Sunset: Grab a seat at a café terrace for a picturesque sunset.
Click Here to Book : Paris: Montmartre and Sacré-Coeur Walking Tour
Click Here to Book : Paris: Montmartre Cheese, Wine & Pastry Guided Walking Tour
Stop 2 Breakfast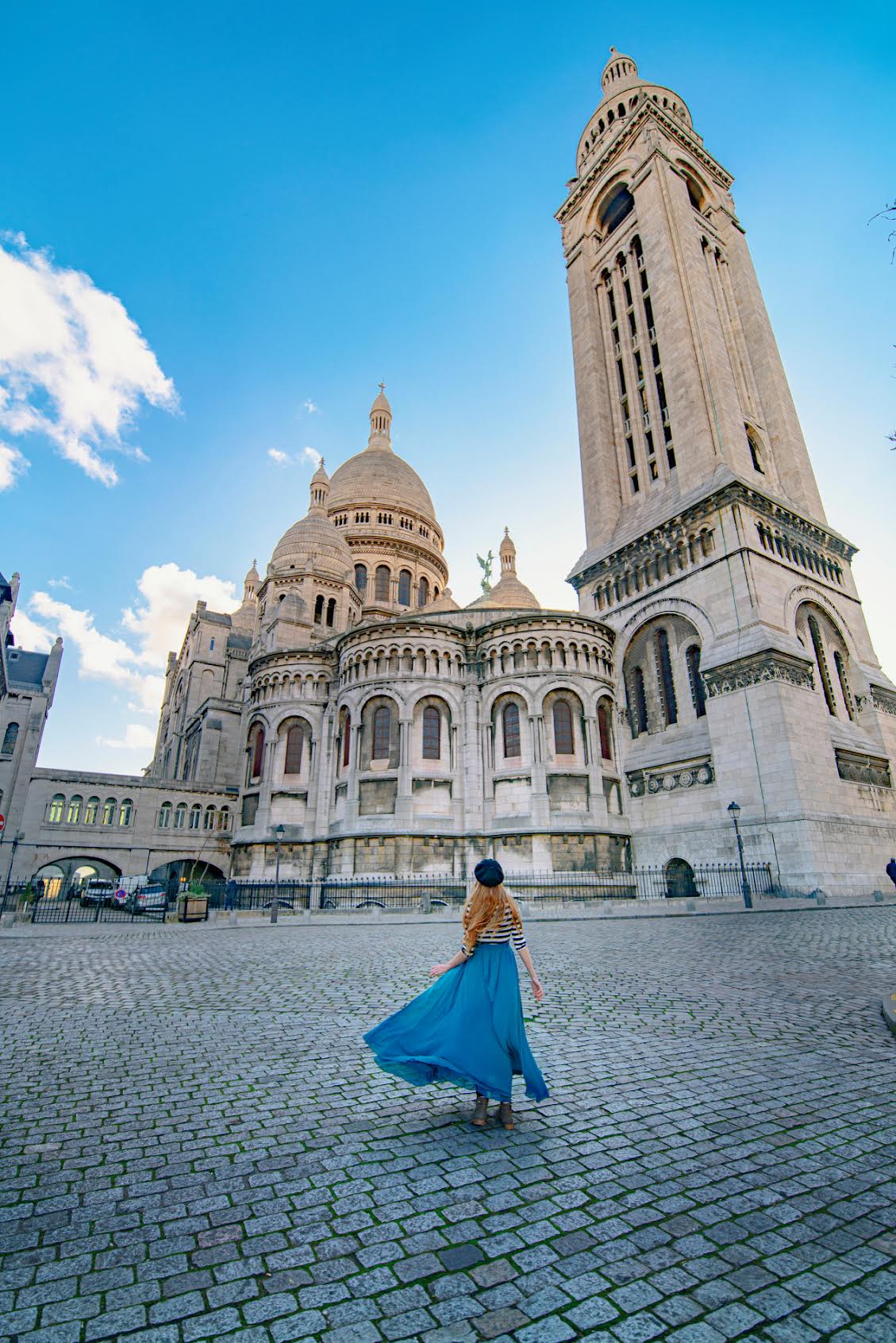 Stop 2- Breakfast
After leaving the Sacre Coeur, head to Rue Abbesses where you will find plenty of restaurants. One of my favorites is Le Vrai Paris. Not only is the breakfast delicious, but is super cute. Beans on Fire is great for a cup of coffee. This area is an absolute must-visit on your 4 days in Paris itinerary.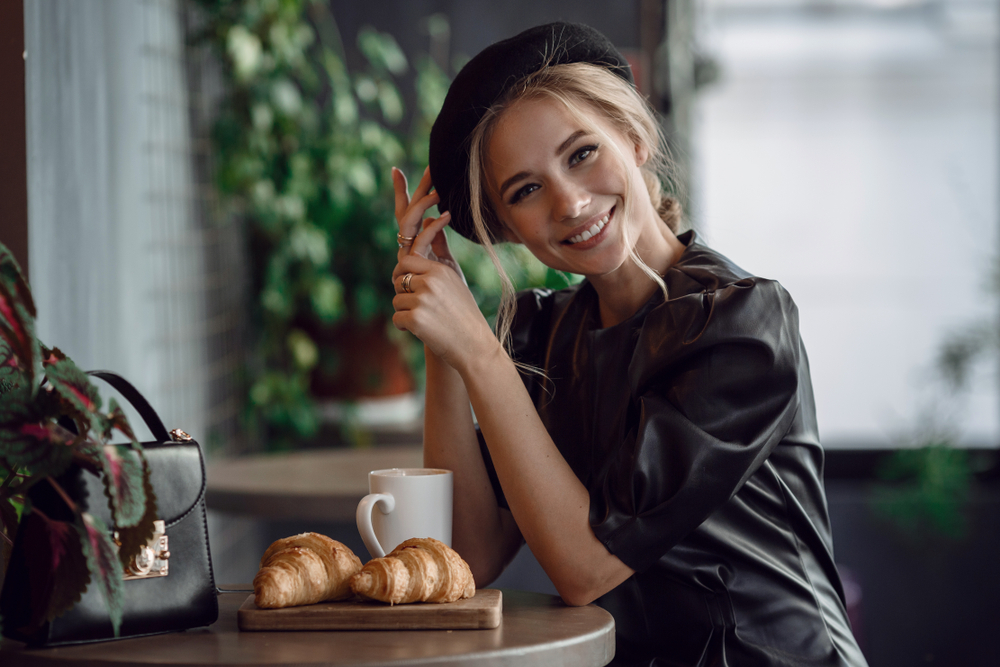 Stop 2.5 – Lunch in Montmartre
Are you ready for lunch after visiting the Sacre Coeur? Head to the more local area of Rue des Martyrs. On this street, you will find a plethora of food options and stalls to enjoy. Take your own little food tour and get a little of everything that looks good! Plus, there a great cafes and bars if you want to sit down and relax after a busy morning! While this itinerary is jam-packed, don't be afraid to take a break and just enjoy being in Paris!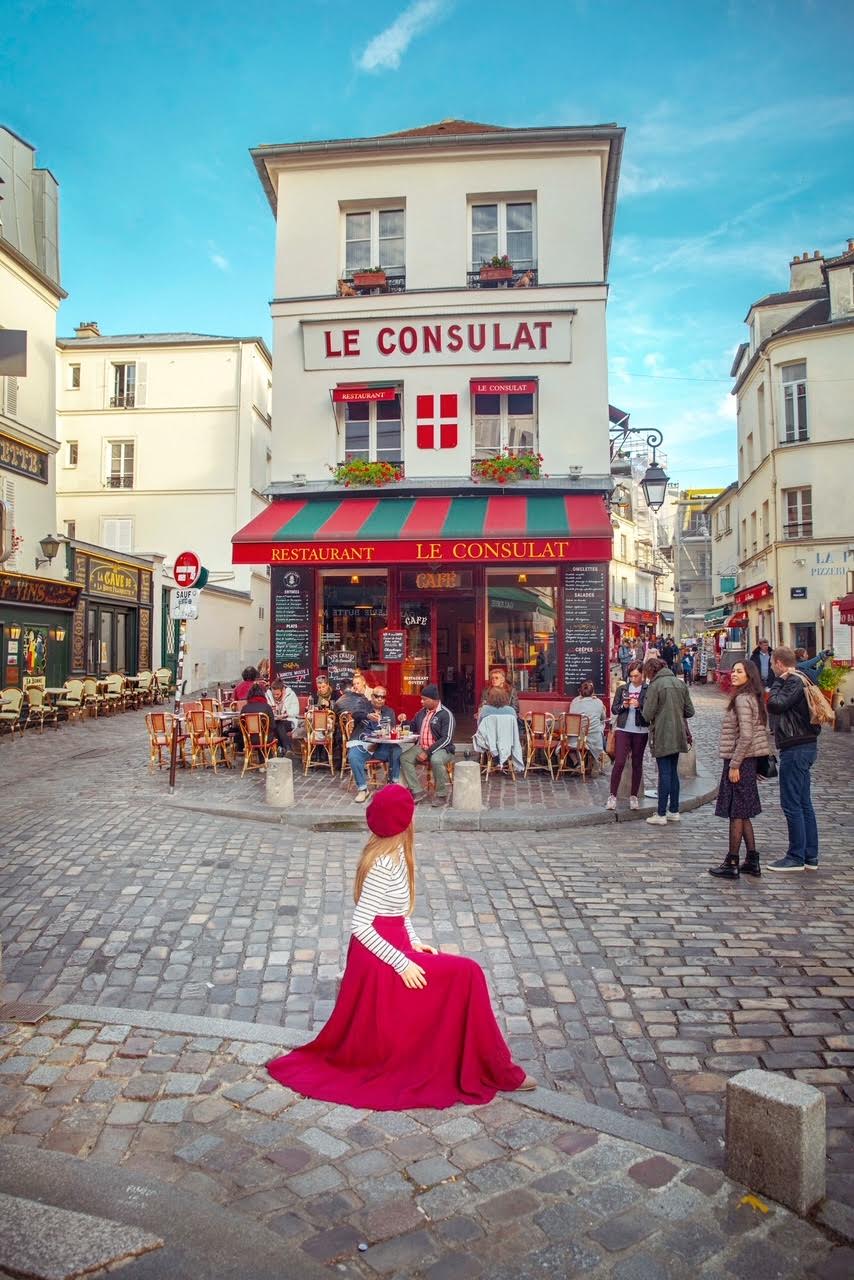 Stop 3: Rodin Garden
The sculpture garden at the Rodin Museum costs just 1 euro, as is a great option for those looking for "free" things to do in Paris! The gardens are an incredible place to spend an hour year ground.
Most of Rodin's works live inside the museum, and if you purchase a museum pass, use it here. If you have chosen not to purchase a museum pass, you can book tickets here. Trust us this is your money saved for your itinerary for Paris in 4 days!

Rodin Garden Tips:
Early Arrival: Visit early to enjoy the serene atmosphere.
Sculpture Highlights: Focus on iconic sculptures like "The Thinker" and "The Kiss."
Audio Guide: Enhance your visit with the museum's audio guide.
Relaxation Spots: Find quiet corners to relax amidst the greenery.
Picnic Friendly: Go to a local French grocery and pack a picnic!
Combo Tickets: Consider combo tickets if visiting the Rodin Museum as well. (Linked above!)
Weekday Visit: Opt for a weekday visit for a more tranquil experience. (I love doing this!)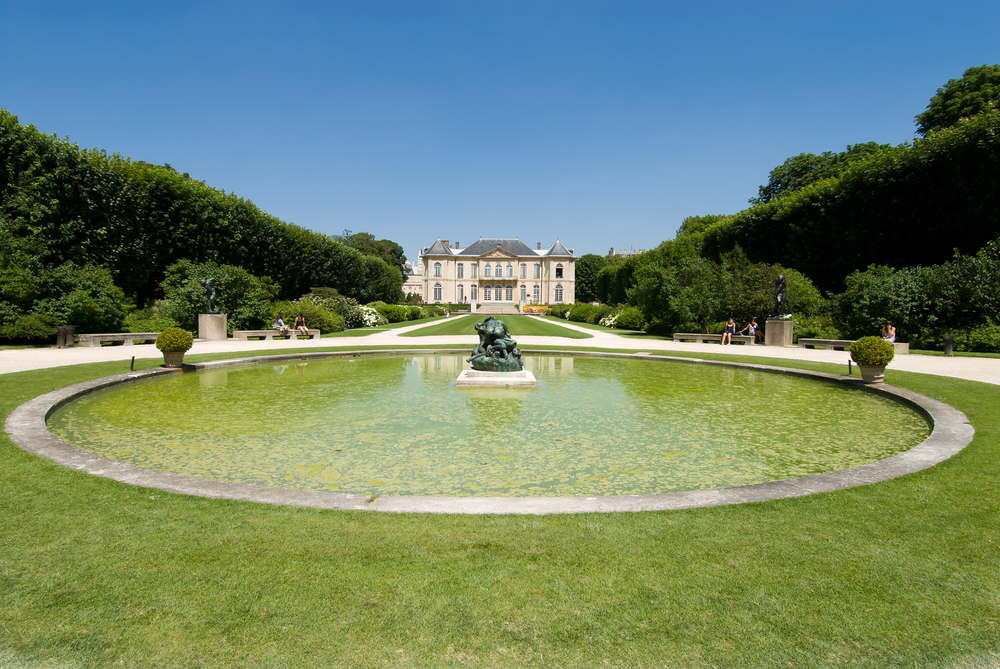 Stop 4: Musee D'Orsay or Petite Palais
I consider this museum to be my favorite in Paris and a great museum for first-time visitors compared to the Louvre. Housed within a converted railway station, the museum showcases French art, sculptures, and paintings. Those on a tighter budget, please note that admission is free on the first Sunday of each month.
Don't forget to head to the museum's outdoor area, for breathtaking views of the Seine River and the Louvre Museum just across the street. The Musee d'Orsay is included in the 4-day museum passes.
Reserve your skip-the-line guided tour through the museum to avoid wasting time waiting in line. Alternatively, you can book your‌ tickets here which also includes a Seine river cruise—an excellent choice if you haven't experienced a river sightseeing cruise yet!
However, for those on a tighter budget head to Petit Palais, which is completely free. Built for the 1900 World Fair. Open Tuesday to Sunday, featuring European paintings, and sculptures dating from the Middle Ages and Renaissance to the eighteenth and nineteenth centuries. You can even see my favorite artist Monet here!

Musée d'Orsay Travel Tips:
Ticket Pre-booking: Book tickets online to skip long lines (HUGE lines! Tickets linked below!)
Timing: Plan a morning visit or late afternoon to avoid crowds.
Must-See Artworks: Prioritize famous pieces like Van Gogh's "Starry Night."
Central Clock Gallery: Don't miss the iconic clock gallery for stunning views (This is my fave to see)
Relaxing Breaks: Take breaks in the museum's charming café or sculpture garden.
Exhibition Updates: Check for temporary exhibitions for a unique experience.
Enjoy your visit to the artistic haven of Musée d'Orsay!
Click Here to Book: Paris: Skip-the-line Louvre Ticket with Host for Mona Lisa
Click Here to Book : Paris: Louvre Museum Timed-Entrance Ticket
Click Here to Book : Paris: Skip-the-Line Louvre Museum Masterpieces Guided Tour
Stop 5: Sainte Chapelle Church
Constructed in the 11th century, St. Chapelle Cathedral is something to marvel at! It is the stained glass windows of the church that draw visitors here.
The price is about 10 Euros and if you can budget to visit this breathtaking cathedral. Book your tickets here.
Sainte Chapelle Visiting Tips:
Ticket Booking: Book tickets online to skip the lines.
Morning Visit: Opt for a morning visit for better lighting (I go right when it opens!)
Security Check: Be prepared for a security check before entering.
Concerts and Events: Check for any concerts or events happening (This is super unique and fun!)
Compact Visit: The chapel is small, but the details are intricate; take your time
Dress Modestly: As with any place of worship, respect the sacredness; dress modestly
Combined Tickets: Explore combo tickets if visiting nearby attractions.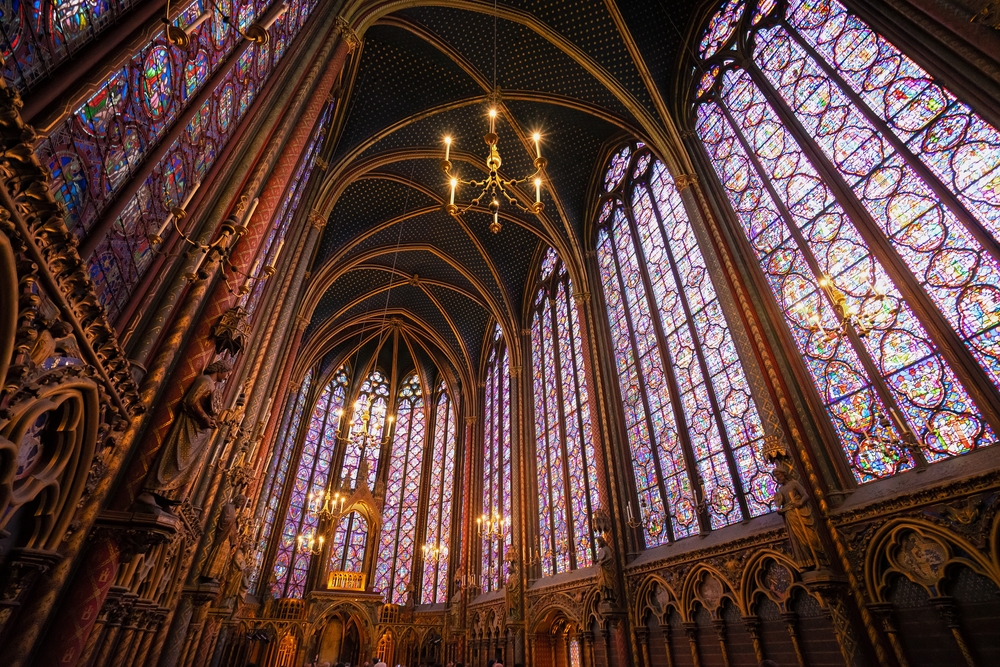 Stop 6: Rue Cremiux
If you are googling the prettiest streets to visit within 4 days in Paris, Rue Cremiux will come up on every list for good reason. While architecture in Paris is architecturally stunning on most streets, this street is one of the most charming streets in Paris!
This adorable street is lined with houses painted in an array of bright colors just be respectful as people live here! One of the most beautiful areas in Paris for sure.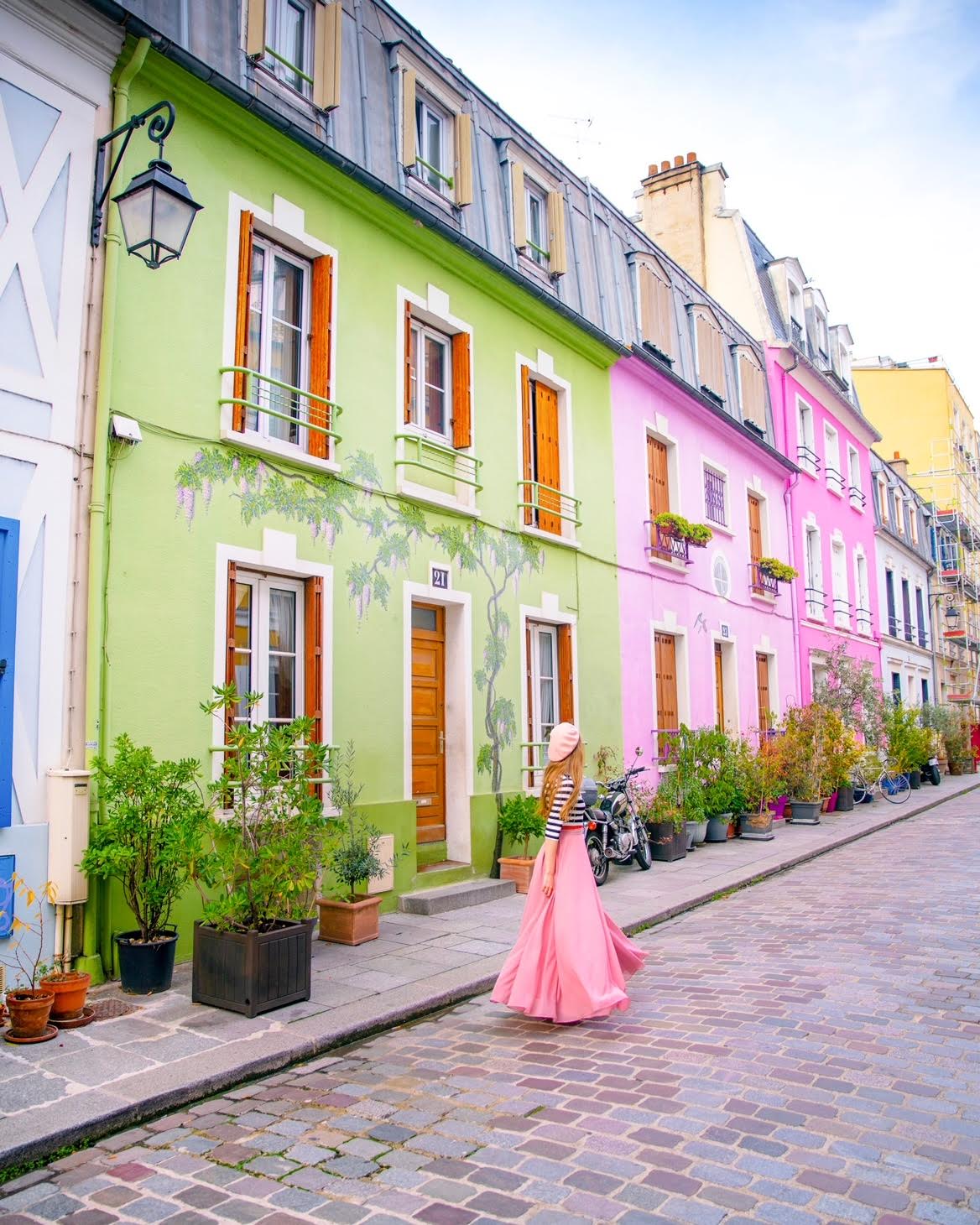 Stop 7: Cave du Septime for Wine
For me, no trip to Paris is complete without visiting at least one wine bar. Cave du Septime is one that I return to every trip. For natural wine connoisseurs, this is the place to come. It is the casual sister restaurant of the legendary Septime and Clamato restaurants. They pour 10 natural wines here daily, with small bites to snack on! Come solo or with friends, and the friendly staff will welcome you.
If you plan, make reservations at Septime or Clamato for dinner!
Day 3
On Day 3 of your four days in Paris, you will spend the day wandering around different neighborhoods in Paris!park
Stop 1: Marais District
The Maras district (4th arrondissement) has recently become one of my recent areas to explore when visiting Paris. As you walk around the historic yet trendy Marais district, there are plenty of charming cobblestone streets, shops, and cafes to enjoy. The 4th arrondissement is fitting when spending 4 days in Paris.
If you are a fan of Picaso, make time to visit the Picaso museum here! Hotel de Ville (which has one of my favorite Christmas Markets) hosts events year-round and Place des Vosges is Paris's oldest square and the perfect palace to take a quick break! If coming here on a Sunday and want a Parisian Brunch head across the square to Carrette!
The Marais is also home to the Pompidou Center with its unmistakable architecture with brightly colored tubes adorning the outside of the building. This museum houses works of artists such as Dali, Picasso, and various other Modern Art exhibits! Don't forget to book your tickets in advance!
Click Here to Book : Paris: Pompidou Centre Modern Art Museum Entry Ticket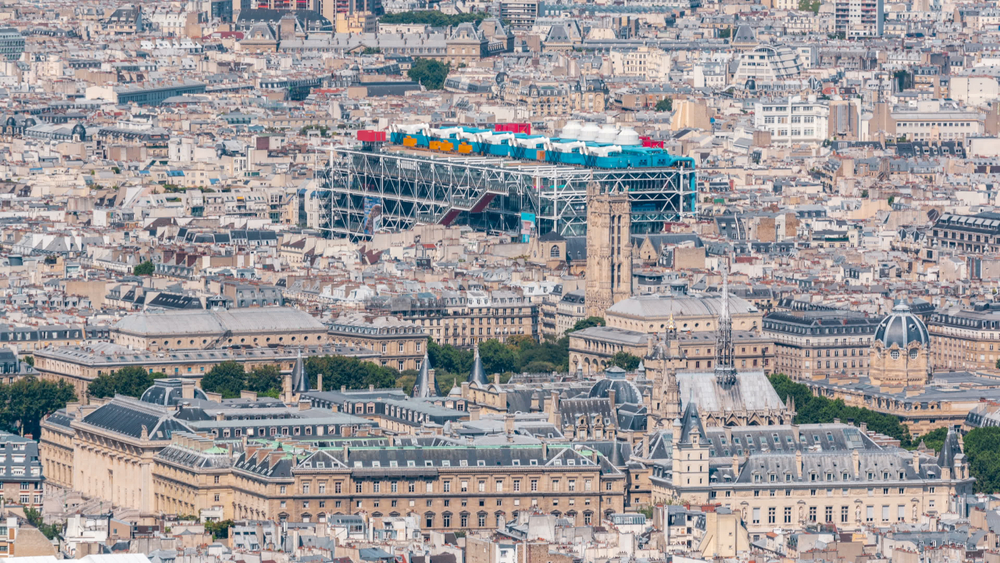 Stop 2: Lunch
Head to Rue Des Rosiers if in the mood for a non-french lunch. L'as du Falafel is a great option and is located on Rue Ecouffes. However, there are tons of cute cafes in this area! My favorites are Le Loulou, Le Relais de L'Entrecôte and Le Breziah Cafe.
Or better yet, why not take a food tour of the Marais? For 3 hours you will discover all the delicious French dishes without having to do any of the research!
TO Book Paris: Food Tour in Le Marais with Tastings: Click Here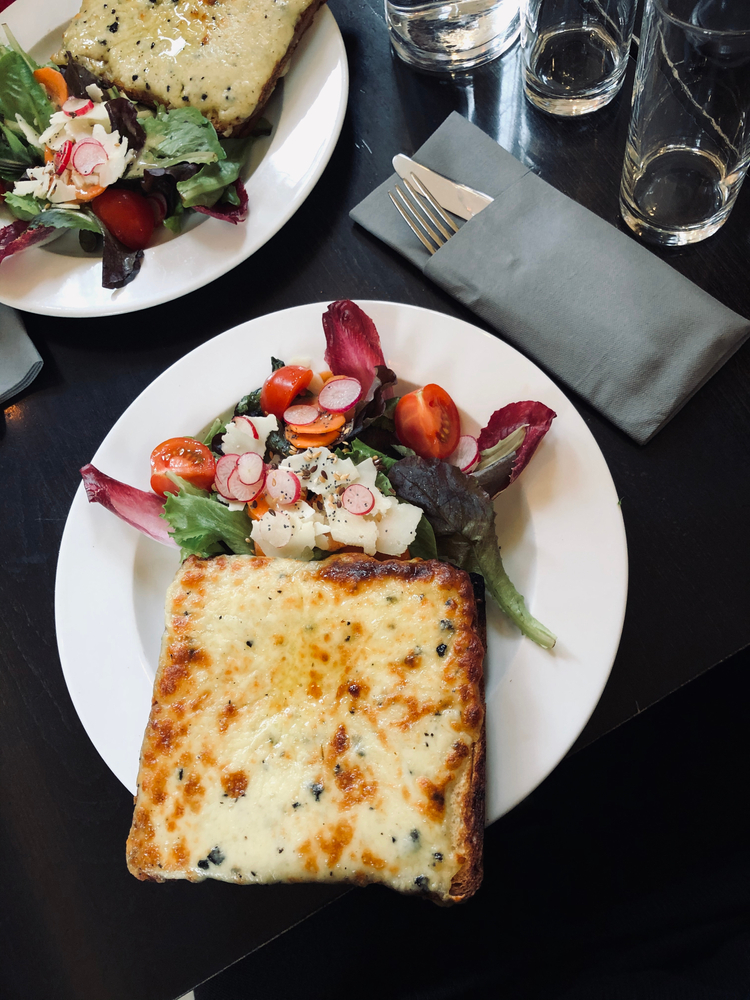 Stop 3: Latin Quarter and Notre Dame
After lunch, stroll along the Seine River towards Notre-Dame Cathedral. Still under construction because of the fire of 2019, the exterior is worth a stop. The best spot for pictures is right before you walk over the bridge towards the cathedral. If you are looking to enter the crypt and want a walking tour of the area, this tour combines both things!
After visiting Notre Dame, head back into the Latin Quarter to the Shakespeare and Co. bookstore. The Latin Quarter is a great area to pick up touristy souvenirs. Spend some time wandering around the Latin Quarter, grab a crepe (my favorite street eat in this area), or have an afternoon coffee or happy hour at a cafe!
This walking tour of the Latin Quarter that takes you to all the highlights over 90 minutes is a great option for those wanting a more structured option!
Click Here to Book: Paris: Notre Dame Outdoor Walking Tour with Crypt Entry
Click Here to Book : Paris: Latin Quarter Walking Tour with Local Guide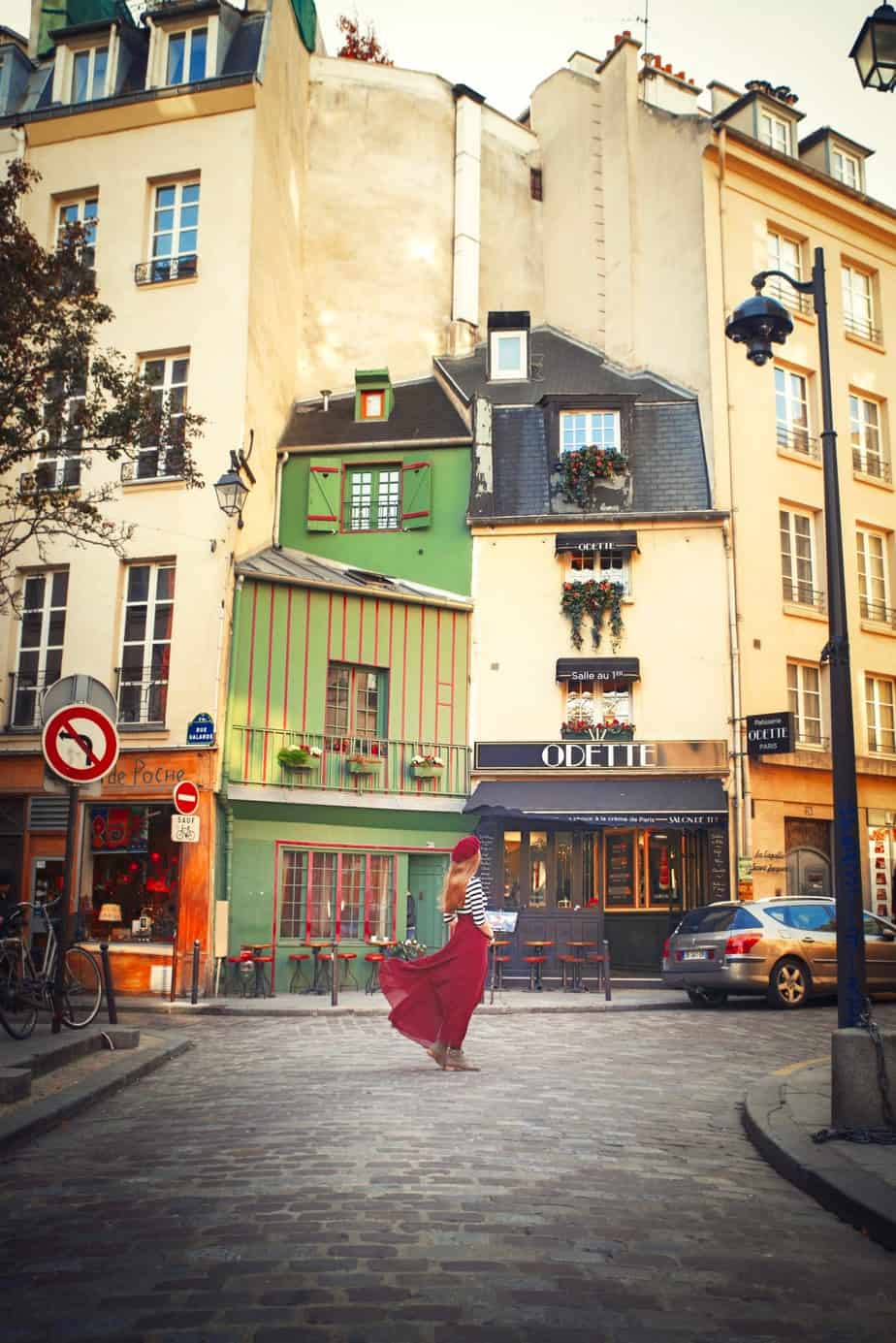 Stop 4: Luxembourg Gardens
Take a midday break at Luxembourg Gardens. It is another Paris spot I keep coming back to trip after trip! This manicured park has statues, fountains, and a pond that is the backdrop to the Luxembourg Castle.
Sit on one of the many benches under the shade to take a rest. For those trying to stick to a budget-friendly day in Paris, head to a grocery store and have a picnic lunch in the park! Surrounded by flowers, statues, and gravel paths, you will feel like a local.

Luxembourg Gardens Tips:
Early Visit: Enjoy a peaceful morning; it gets busier later in the day.
Free Entry: Entry to the gardens is free
Relaxation Spots: Find a chair by the pond or in the orchard for a tranquil break.
Statue of Liberty Replica: Discover the Statue of Liberty replica near the Medici Fountain.
Seasonal Flowers: Visit in spring for blooming flowers or fall for vibrant foliage.
Palais du Luxembourg: Explore the palace and its art exhibitions (There is a fee for this!)
Children's Playground: Ideal for families; there's a playground for kids.
Cafés: Enjoy a coffee or snack at one of the charming garden cafés.
Open Air Concerts: Check for any open-air concerts or events.
Map Exploration: Use the map to discover hidden corners and points of interest.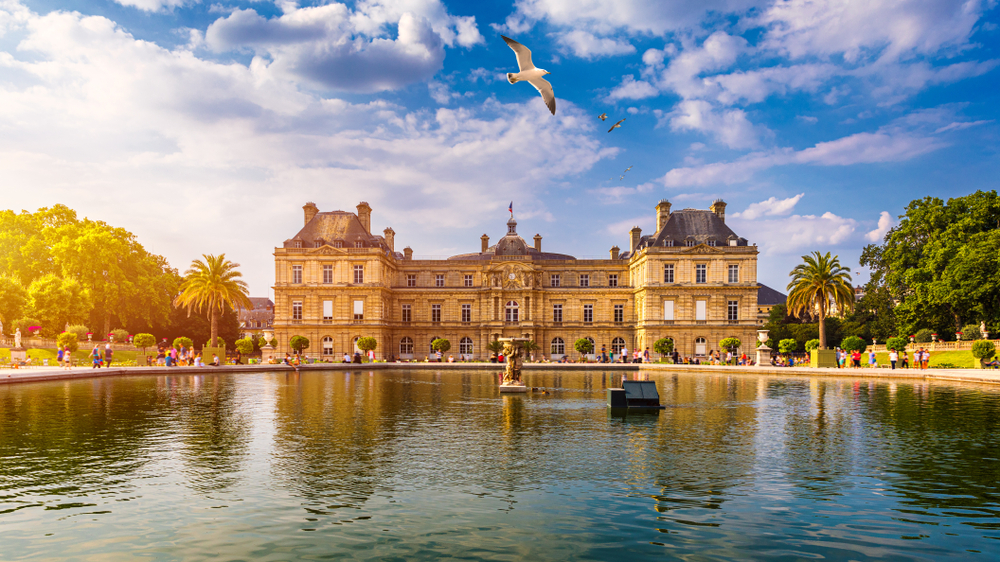 Stop 5: Eiffel Tower
The Eiffel Tower is on every Paris bucket list, and is a MUST!
Book your tickets to see the Eiffel Tower as far in advance for a visit to the top as possible. Add this to your to-to do list of your Paris trip planner! Or save time by booking a guided tour of the Eiffel Tower! Personally, I like to visit later in the day. Head to the local grocery store and enjoy a picnic lunch on the grass before heading up for the views.
If the elevator tickets are sold out for your dates, the Eiffel Tower is still a must-visit! Even if you just see it from the ground! Head to Av de Suffren for amazing pictures of the tower, one of my favorite spots.
For those celebrating a special occasion, experience the Eiffel Tower by having lunch above the city on this tour that comes with a 3-course meal at Madame Brasserie. Or if dinner is more your style so you can see the city lights, book this tour!
Click Here to Book : Paris: Eiffel Tower Guided Tour by Elevator
Click Here To Book : Paris: Eiffel Tower's Madame Brasserie 3-course lunch 12:00
Click Here to Book : Paris: Eiffel Tower's Madame Brasserie Dinner at 6:30 PM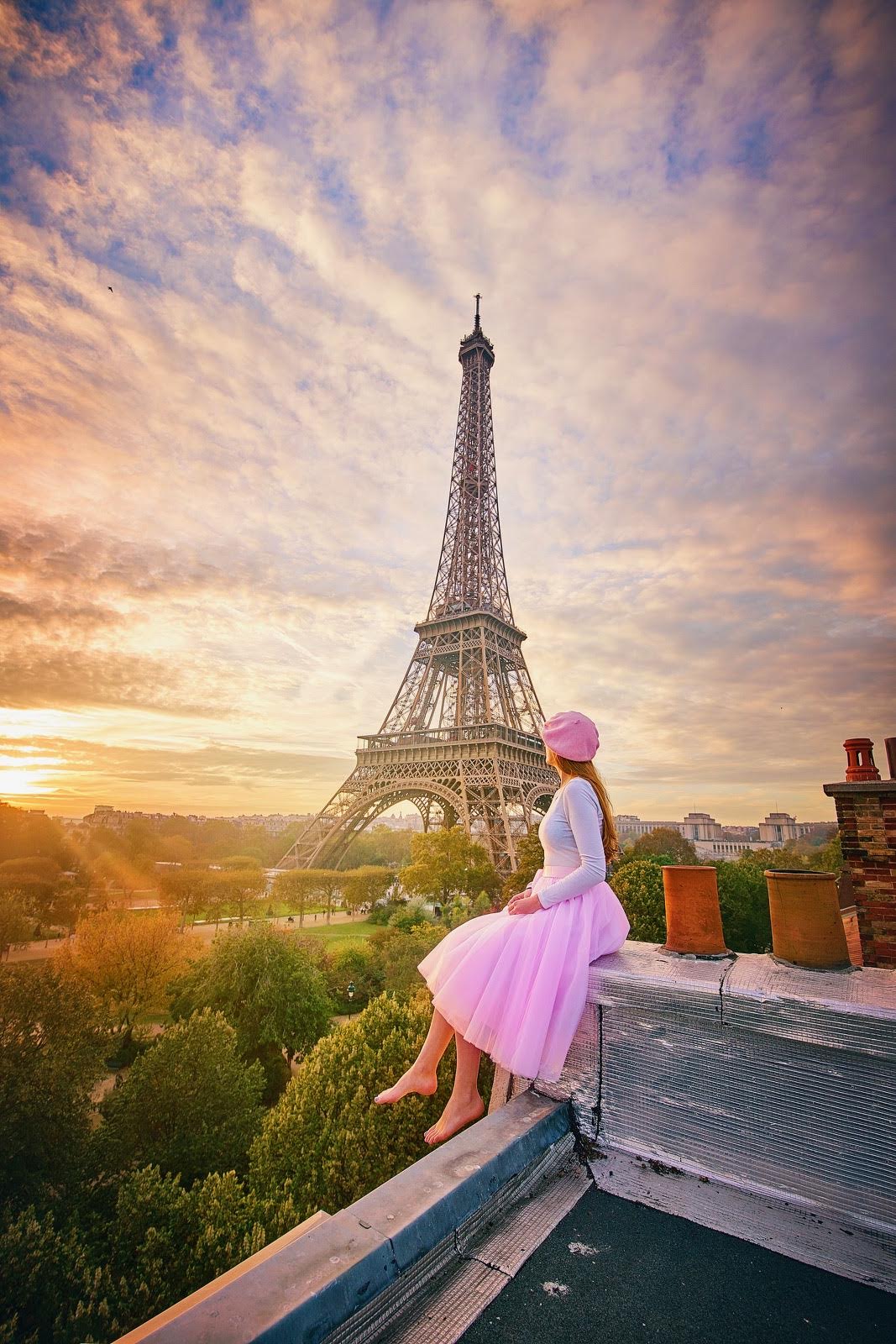 Stop 6: Seine River Cruise
After your Eiffel Tower visit, head down to the Seine and take a one-hour Seine River cruise to appreciate Paris from the water. I think right before sunset is a great time to do this! But the great thing about the Bateau Mouche is that there are departures multiple times a day from 10:15 a.m. to 10:30 p.m.! You need to add this to your list of things to see in Paris in 4 days!
I think seeing the sights from a different vantage point while relaxing on a boat sailing down the Seine is the perfect way to spend an hour. If you are looking for something more romantic take a river and dinner cruise, this tour includes champagne a 4-course menu, and live music while setting sail on a river for a 2.5-hour tour!
For those not waiting for their night to end, pair your river cruise with a Moulin Rouge show! Enjoy the iconic after-dinner show, where can-can dancers put on a spectacular performance in a cabaret-style show. If you are looking at things to do in Paris after dark, this was a highlight of my Paris nightlife experience. However, stop 7 is for those looking at more budget-friendly options for a night out in Paris!
Click Here to Book : Paris: Dinner Cruise on the Seine River at 8:30 PM
Click Here to Book : Paris: Champagne at the Moulin Rouge & Seine River Cruise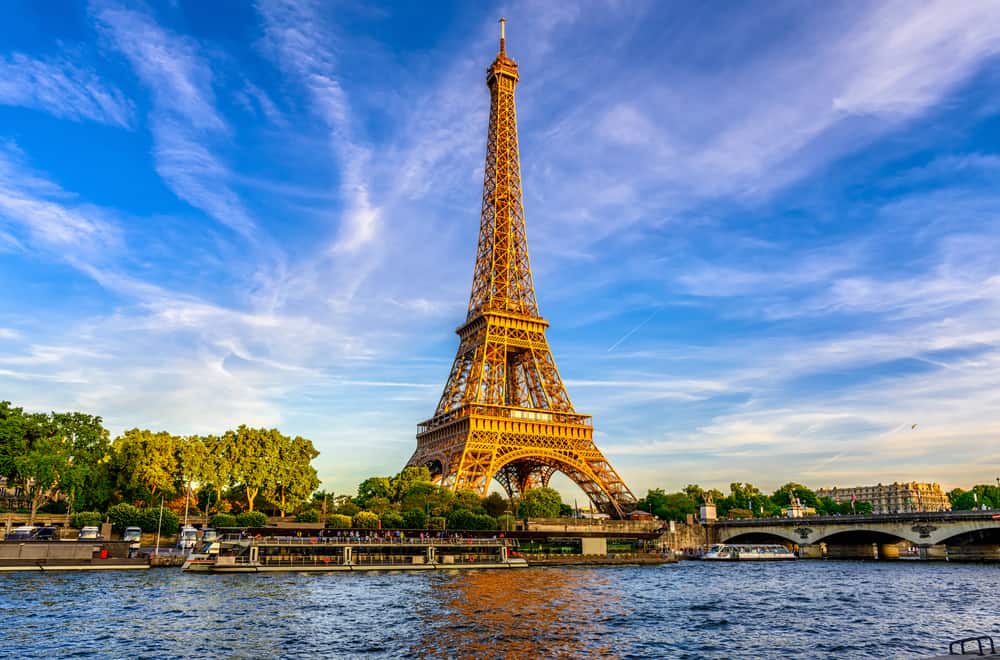 Stop 7 – Eiffel Tower Sparkling Show and Drinks
Instead of heading to the Trocadero area to watch the Eiffel Tower sparkle at night, instead head to the Tuileries Garden. Enjoy the Eiffel Tower from the Ferris wheel, with amazing views of the entire city after dark!
If you are looking for cocktail bars in Paris, one of my absolute favorites is Little Red Door. It even ranks in the top 5 of the 100 best cocktail bars around the world. There will normally be a line to get in, but trust me it is worth the wait once you taste the expertly crafted cocktails. Whether you are traveling alone ( ask to sit at the bar). Check out more suggestions of things to do in Paris at night!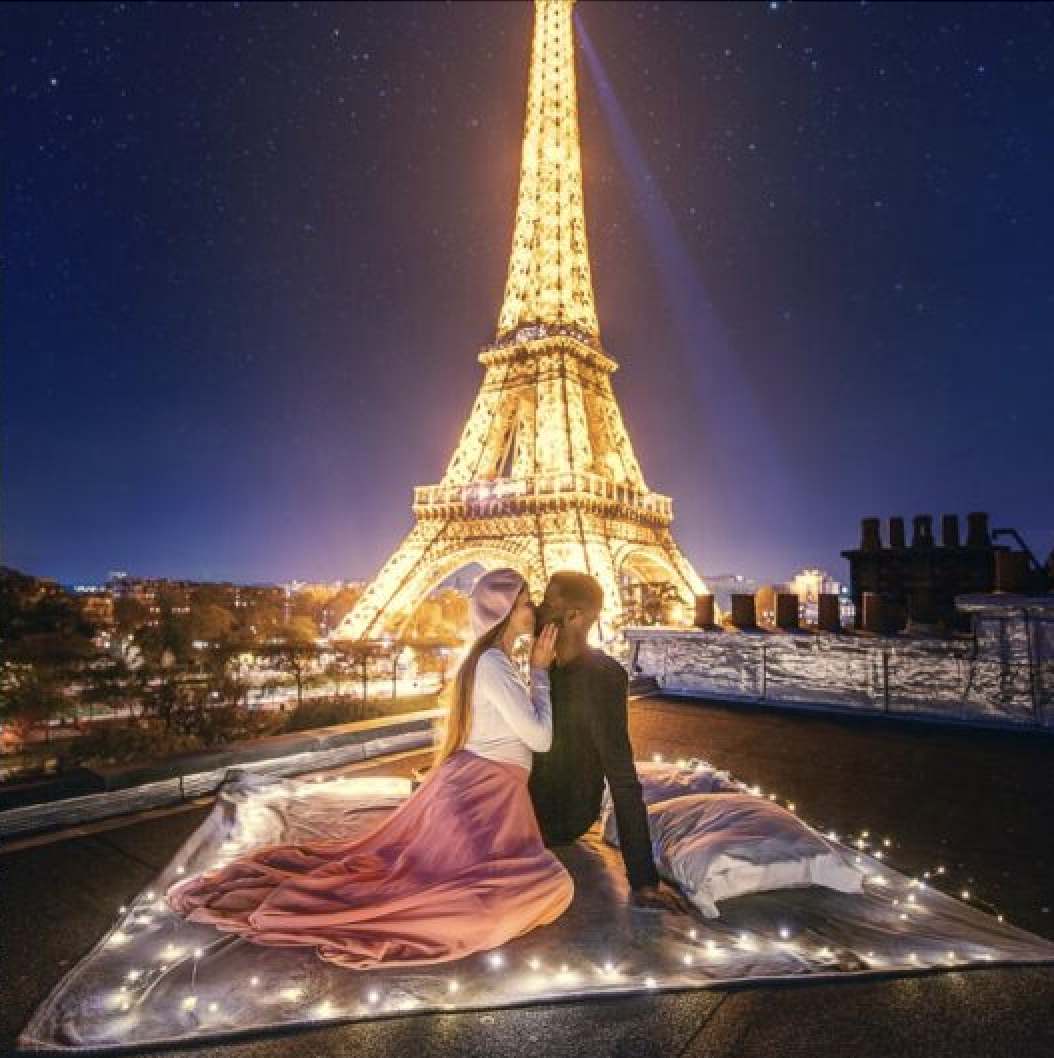 Day 4
Stop 1- Versailles
Head one hour outside of Paris for the first time on your 4 day Paris trip to the Palace of Versailles. It is easy to get here just take the RER C.
Built in 1623, it is one of the greatest achievements in French 17th-century architecture. Tickets grant access to the palace, gardens, and grounds. Spend your morning roaming around the palace and the famous Hall of Mirrors, the gardens, and the multiple associated buildings.
Palace of Versailles Travel Tips:
Advance Tickets: Book tickets online to avoid long entry lines (I once waited 2 hours!)
Gardens Exploration: Allocate time for the expansive gardens; they are SO HUGE!
Versailles Pass: Consider a Versailles Pass for access to multiple attractions.
Audio Guide: Enhance your experience with the informative audio guide.
Hall of Mirrors Priority: Visit the Hall of Mirrors early or late in the day to avoid peak hours.
Picnic Option: Pack a picnic to enjoy in the palace gardens. Local bread and cheese anyone?!
Comfortable Shoes: Wear comfortable shoes for extensive walking. (Those gardens are HUGE!)
Public Transportation: Take the RER train for a convenient journey from Paris.
Check Special Events: Be aware of any special events or closures during your visit.
Click here to Book : Versailles: Skip-the-Line Tour of Palace with Gardens Access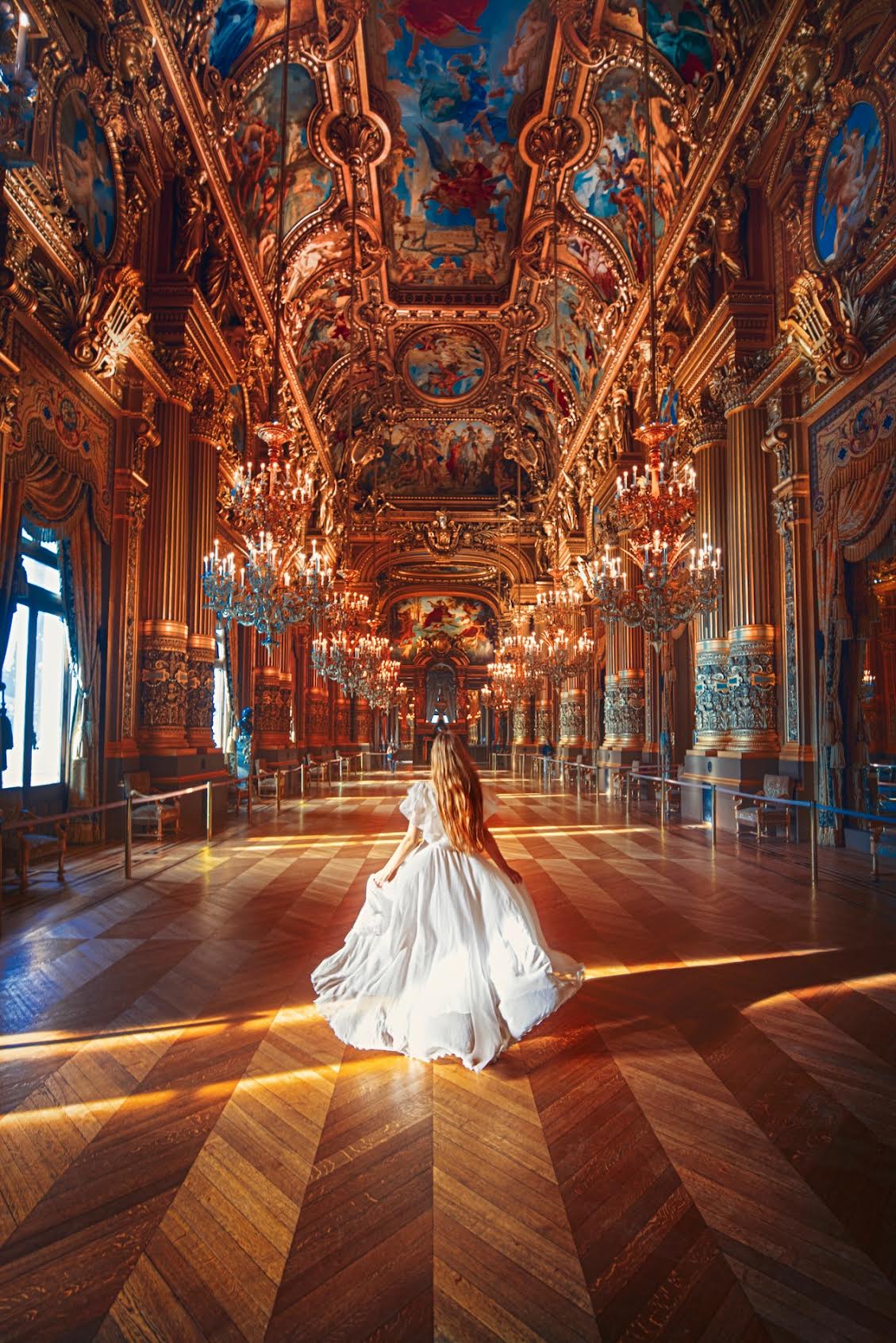 Stop 2: Coulee Vert Rene Dumont and Promenade Plantée
The Promenade Plantée is like the Highline in New York City. It overlooks the Coulee Vert Rene Dumont Park, during summer you will find sunbathers and sports games taking place in the park. The route starts at Rue de Lyon and Avenue Daumesnil​​.
This garden oasis is the perfect place to stroll or sit and enjoy people-watching for an afternoon. Flowers and water fountains surround this wooden path overlooking some amazing views of Paris streets down below, a must-see in Paris!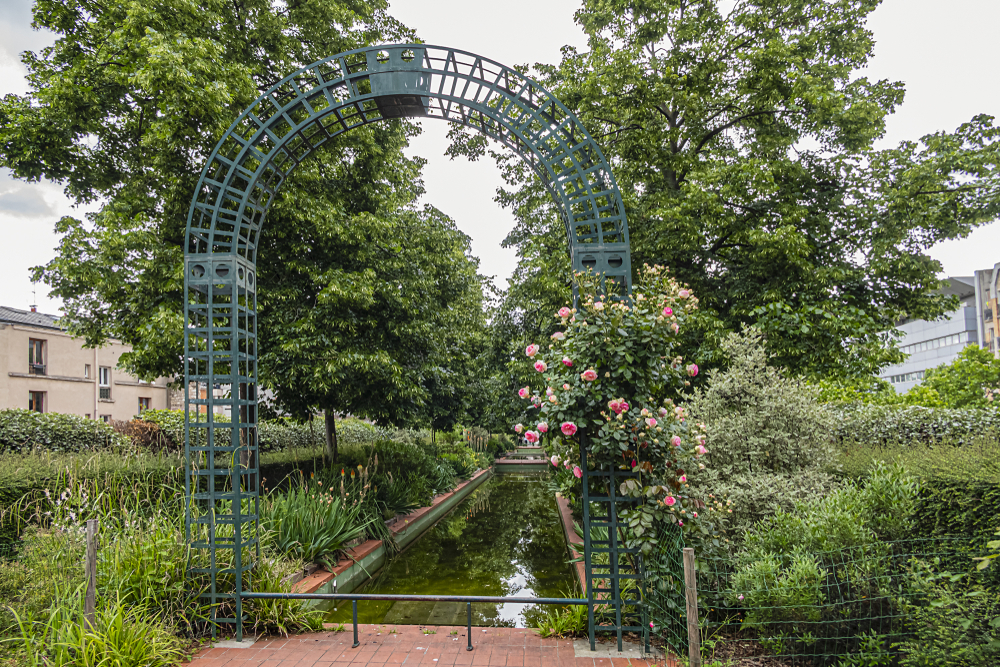 Stop 3: Père Lachaise Cemetery
Père Lachaise was the first garden cemetery in Paris. First opened in 1804, it is the resting place of notable figures like Oscar Wilde, Fredric Chopin, and Jim Morrison. It is Paris's most visited cemeteries. It is worth a visit if you are looking for unique things to add to your Paris trip itinerary.
Click Here to Book: Paris: Haunted Père Lachaise Cemetery Guided Tour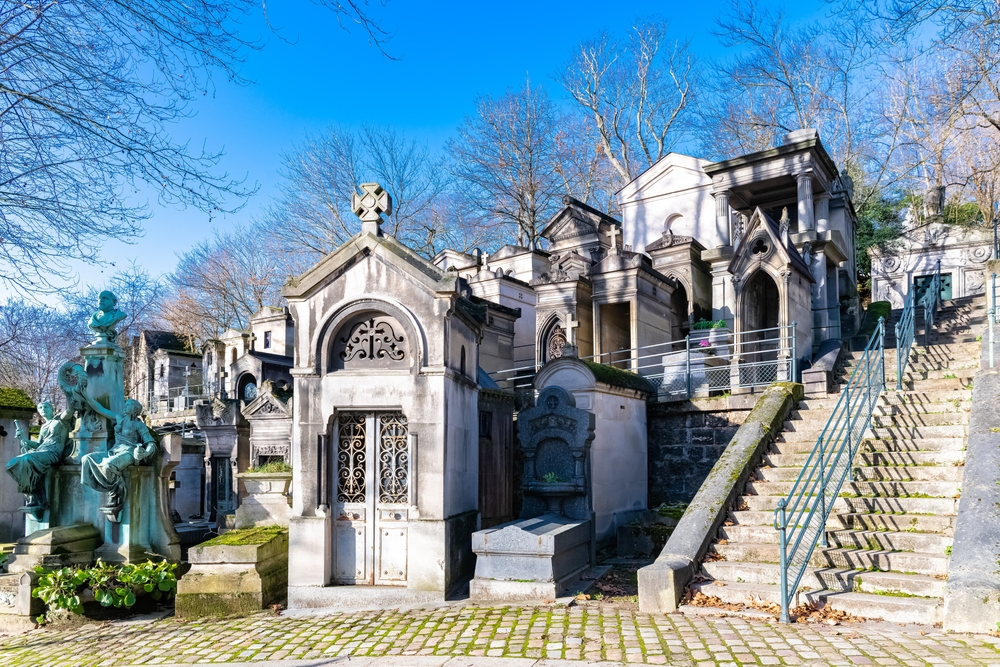 Stop 4: Canal Saint-Martin
In the heart of Paris, many tourists never make it to the Canal Saint-Martin area, which is a shame on a four day trip to Paris. While you may not find it on many tourist attraction lists, I think it is worth a visit to experience the life of locals. In recent years, this area has become very trendy, with tons of cafes and restaurants to enjoy.
The 4.5 km canal system, built by Napoleon in 1802, was used to supply fresh water to the city. Now this idyllic location is perfect for strolling along the waterfront. If visiting during the spring, summer, or fall I love to grab a bottle of wine and relax on the cobblestone by the river!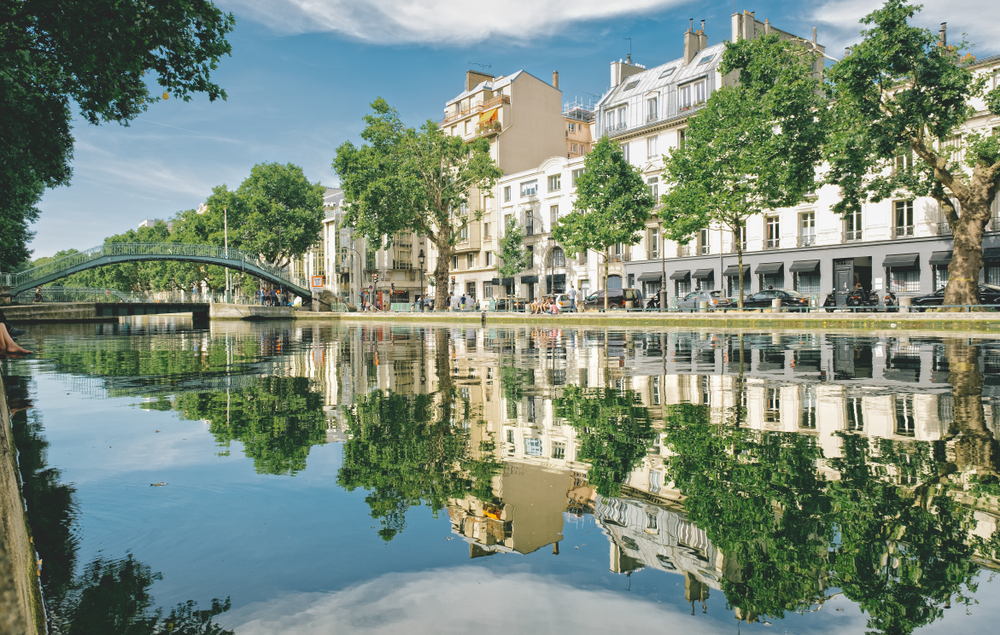 Stop 5 : Evening
On your last of 4 nights in Paris itinerary, why not spend your last night like a true Parisian, relaxing and unwinding at a cafe? There are tons of options to choose from no matter what area of Paris you are staying in. Grab an outside table, order a bottle of wine, and a meal, and just take in the surrounding scene!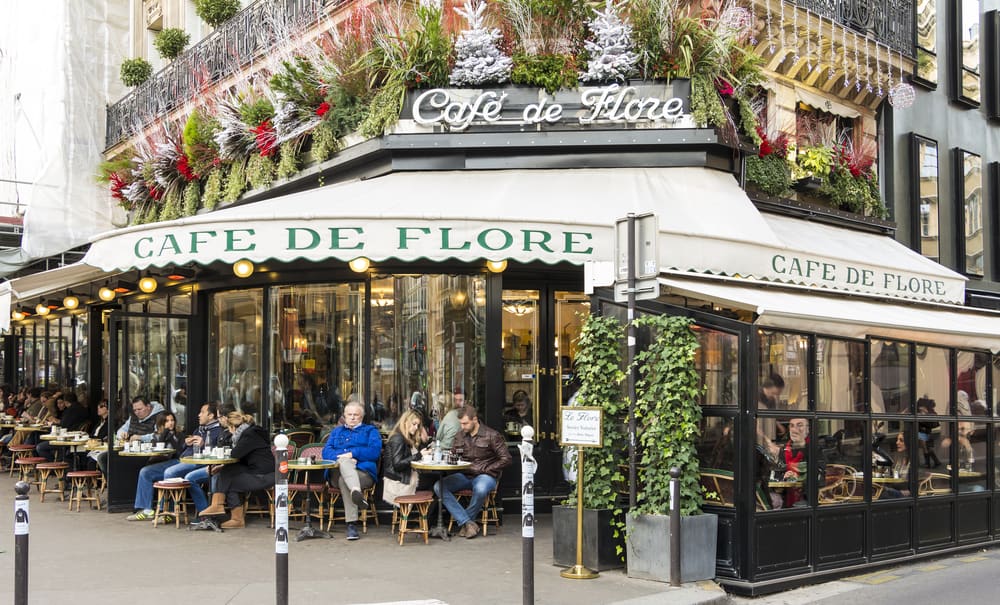 Where To Stay on your Paris Itinerary
Check my complete guide on where to stay in Paris! If you are looking for the iconic Eiffel Tower outside their window on your 4 days in Paris, check out our list of the best Paris hotels with a view of the Eiffel Tower.
Hôtel Plaza Athénée – Dorchester Collection
One of the best 5-star hotels in Paris is the Hotel Plaza Athenee. This opulent hotel even houses a Dior Institute spa. Choose from over 5 restaurants, a seasonal ice skating rink, and a cocktail bar.
Guest rooms and suites include marble bathrooms, customizable pillows, and a personalized mini-bar. Guests curate their choices from over 80 different drinks to make it truly their own. Some of the room packages include breakfast and views of the Eiffel Tower.
Among the several restaurants, you will find American, French, and Japanese cuisine all being supervised by Michelin Star chef Alain Ducasse.
To Book Hotel Plaza Athénée : Click Here
Hotel Joke
The Asotel brand in Paris is known for being some of the top-rated properties in the city! Choose from 17 hotels spread through the city's different neighborhoods all of which are 3- and 4-star!
The rooms are always modern and include Wi-Fi and a free mini bar with drinks in the room! Stop by any of the 17 properties for free non-alcoholic drinks and snacks from 2 p.m. to 2 a.m.
Hotel Joke is a great option when visiting Paris! I recommend any of their hotels, depending on your price point and the location you choose!
To Book Hotel Joke: Click here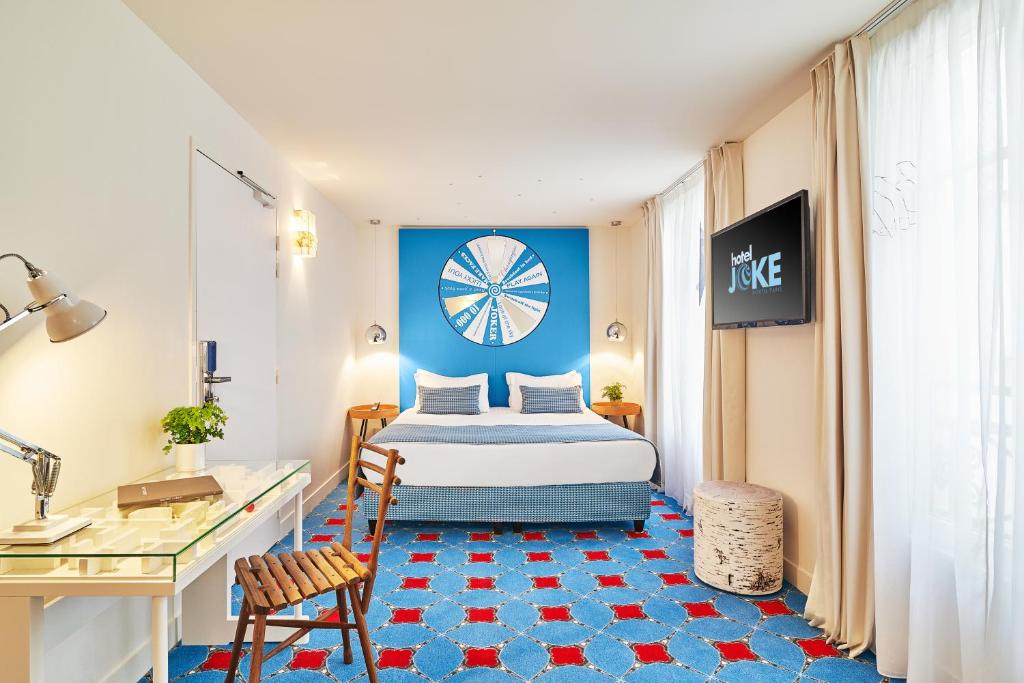 Paris France Hotel
The Paris France Hotel is a boutique hotel in the Marais neighborhood of Paris. The hotel is located inside a building from the Belle époque period of architecture from 1910. The rooms have been totally refurbished and unlike most Paris hotels; the rooms are spacious rooms!
To Book Paris France Hotel : Click Here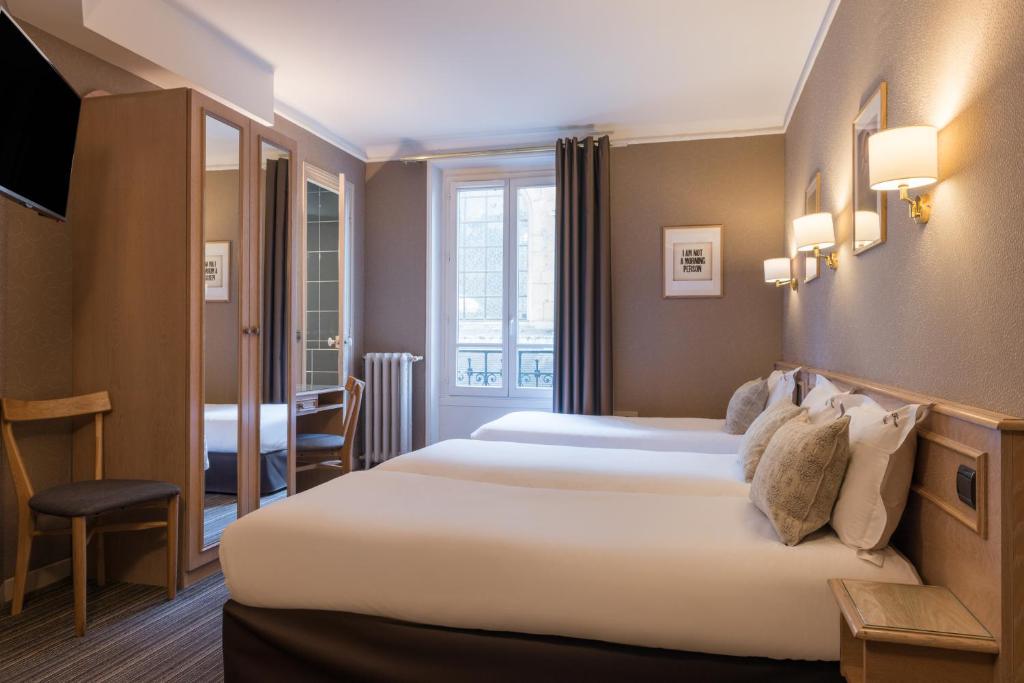 Where to Eat During Your 4 Days In Paris
Le relais de L'Entrecote
I have been recommending Le Relais De L'Entrecote to friends and‌ family visiting Paris for years. The menu here is simple. Steak and fries are the only thing on the menu! Once you taste the melt-in-your-mouth steak, perfectly crispy fries, and that walnut-covered salad. The line outside will make sense! Did I mention a second helping is free?
Choose from two locations one in St. Germain du Pris and one in Montparnasse.
Sacre Frenchy!
Sacre Frenchy is one of my favorite upscale bistros with a seasonally changing menu in the 3rd arrondissement of the Maris near Hotel du Ville.
I have been here for breakfast, Sunday brunch, and dinner. They have set menus (which I find to be a fantastic deal), as well as a full menu to order a la carte. Plus the restaurant is very family friendly on weekends.
Think a basket of pastries, freshly squeezed juice, coffee, and an appetizer and entrée.
Restaurant Anne
If on your 4 days in Paris trip, you are looking to dine at a Michelin Star restaurant this place needs to be added to your list! In a quiet and private courtyard off the Place des Vosges.
Book far in advance as the restaurant hours are Wednesday to Saturday from 12:30 to 14:00 and from 19:00 to 21:30 and Sunday from 12:30 to 14:00 and reservations are required.
The lunch menu is served from Wednesday to Friday and includes a Starter and main course or main course and dessert: €79 or all three options for €89.
Menu options include oysters, a veal fillet, vegetable beetroot ravioli, champagne glazed spike, and wagyu beef!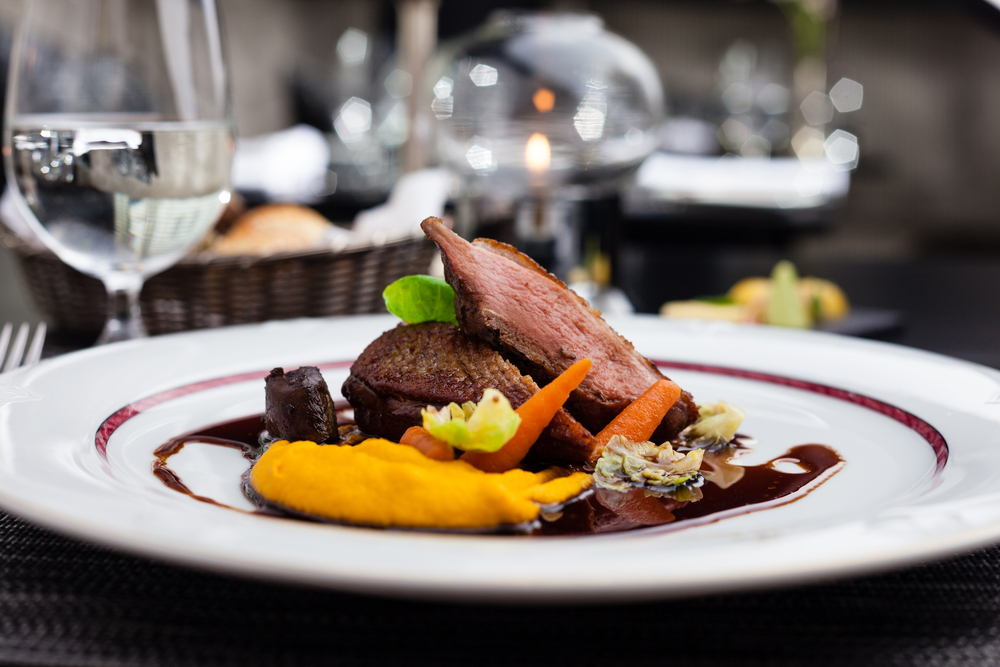 Insider Tips For Your First Trip To Paris
Keep change for public restrooms
YES, you have PAY to use the public restrooms in Paris! So keep some spare coins with you!
Navigo Decouverte Pass
This was my first purchase when I got off the plane in Paris! The card costs $5 to purchase, and you must bring a small photo (1 x 1.25 inches) of yourself, but the card is good for 10 years!
If you are coming for a 4 days in Paris trip, tickets purchased Thursday before midnight can be used the same week until Sunday. While tickets were purchased on Friday, they began on Monday the following week!!
It works for all zones 1-5, and for those arriving at CDG airport is also included. I think the card pays for itself as it costs less than a round-trip train ticket into the city, plus you don't have to worry about keeping track of your metro tickets!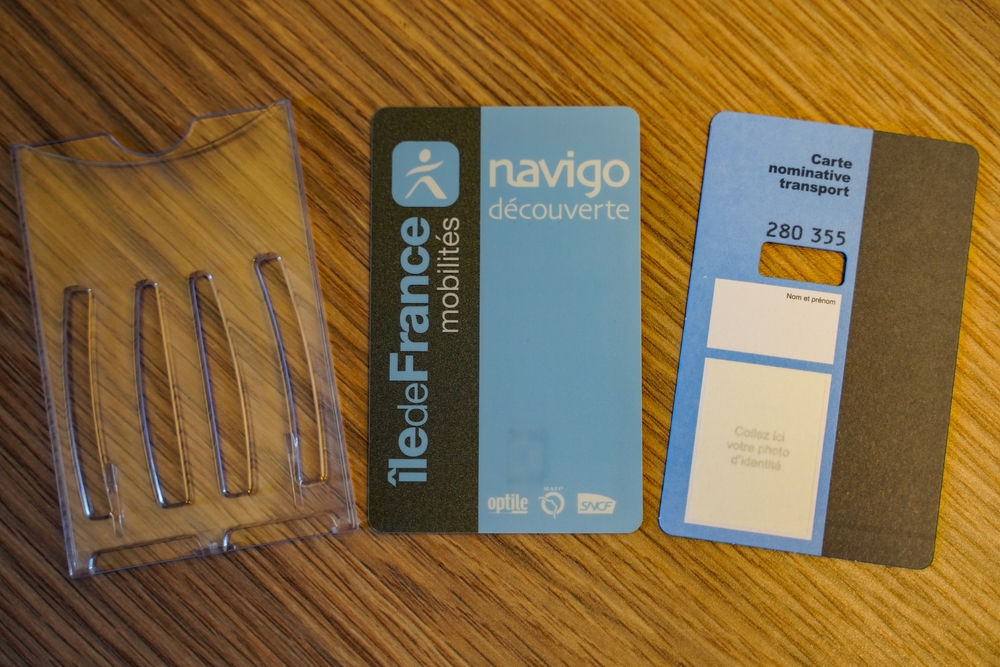 Free Museum Days
If you can plan your trip to include the first Sunday of the month from October through March museums are free!! There will be a line, but for those on a tighter budget, this is big! Check museum websites; for example, the Louvre is free on Friday evenings after 6 p.m.
Take advantage of all the free sites within Paris, there are so many. Instead of a paid tour, take a free walking tour in the city just be sure to bring cash for a tip!
Free Water
If you bring a reusable water bottle, you can fill it at various locations around the city! Just keep your eyes out for the dark green cast iron sculptures, that double as free water fountains.
Paris Pass vs the Museum Pass
If your budget allows during your 4 days in Paris France, look into getting one of the Paris Pass or the Museum Pass, depending on your budget and interests. The 4-day Paris Museum Pass is geared towards those who want to visit all the fabulous museums Paris offers. But you can also just choose a 2-day pass to save money, and adjust this itinerary!
If you want more experiences such as the Eiffel Tower, hop on bus tours, wine tastings, and cooking classes the Paris Pass is for you. If the budget is tight, book a 2-day pass instead of a 4-day pass!
The best thing about purchasing these passes is you can make advanced reservations when planning your trip to Paris.
To Purchase your Museum Pass: Click Here
To Purchase your Paris Pass: Click Here
Beware of pickpockets
Pickpockets in big cities are everywhere, and Paris is no different! Be aware of your surroundings in tourist locations. But, especially on the metro or in metro stations. Don't make these mistakes!
I have been to Paris countless times and have never been a victim of picket-pocketing. Just be aware of your surroundings and keep your valuables safe while in public.
How to do Paris on a budget
Even if you have a smaller budget, don't let that stop you from visiting Paris! There are plenty of hostels that are centrally located if you don't mind sharing a room! For meals head to the grocery store to pick up items for a picnic at some of Paris's most iconic sites!
For those with an average budget, why not book an AirbNb. Where you can cook at home! It will surprise you how inexpensive grocery stores are. Just look for a Carrefour, Super U, Monoprix, or Franprix in your neighborhood. I have everything you need to know about Paris grocery stores here!
With an unlimited budget, Paris has amazing 5-star hotels, and Michelin restaurants to dine at. If you are looking for more of a splurge grocery store, to stock up for a picnic head to Grand Epicerie, trust me it is worth a visit! I have an entire post on how to budget for Paris!