Visiting Budapest in winter is an amazing and memorable experience you will not soon forget. Like most spots that experience a winter season, the weather during winter in Budapest will be a bit cold, with most of the days being damp and cloudy with the occasional sunny, yet brisk days. Budapest has an average temperature of high/low of 38°F/29°F in December, 34°F/25°F in January and 40°F/29°F in February, but that doesn't mean you should write off visiting Budapest in winter! Quite the contrary, it is a perfect time to visit.
Winter in Budapest is generally defined from December to February, with shoulder months in November and March. Since the temperature is usually so chilly during the winter months, snowfall can be expected at times. Winter in Budapest means Christmas decorations and a bunch of markets to visit with a chance of snow and fewer crowds. Budapest in winter tends to be budget friendly which is the perfect reason for any traveler to visit. With a few tips and this handy guide by your side, you will be off on your way to an enjoyable trip at one of the coolest locations in Eastern Europe during the winter months.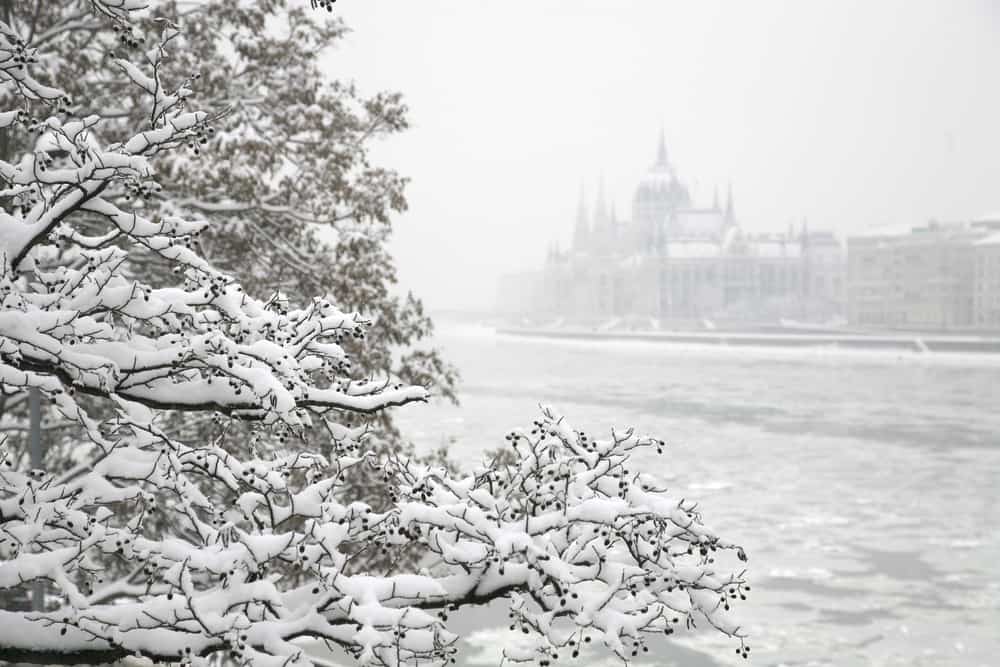 The Ultimate Guide To Visiting Budapest In Winter

Average Budapest Winter Weather
The average daily weather for Budapest in winter tends to be chilly and cloudy. While it does snow frequently during Budapest in winter, it is not an abundant amount so it should not put a damper in your plans as long as you plan accordingly. Since skies become grayer during the winter in Budapest, the amount of sunshine is fairly low. You can expect at least about two to three hours of sunshine every day during the months of December through February. Sure, this gives you shorter daylight hours, but Budapest in winter offers more time to explore the city by night and it will allow you to see a unique way to enjoy what the city has to offer.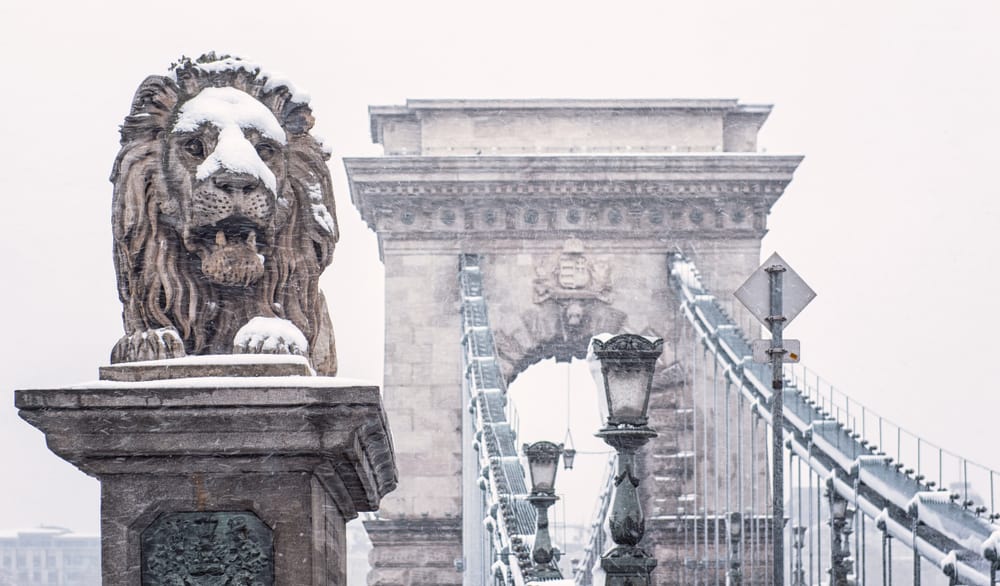 Average Winter Temperatures In Budapest
The average temperature of Budapest in winter is actually relatively reasonable, especially for a city located in the northern hemisphere. The average temperature of Budapest in December hovers around 38°F, the average temperature of Budapest in January is 34°F, and the average temperature of Budapest in February is 40°F. As you can see, these temperatures are not entirely freezing and can actually more enjoyable than similar cities such as New York City, which averages in the mid-to-low 30's during January. If you are looking to visit Budapest in winter, rest assured that it is no colder than any other large northern city. You won't show up to your Budapest winter trip and be shocked by the temperature change, especially if you already live in another place that experiences winter. We are from Florida and have visited countries during their winters and survived just fine. If we can do it, you certainly can!
Check out these average highs and lows of Budapest in Winter to get an idea:
November Temperatures For Budapest: 46°F high and 36°F low
December Temperatures For Budapest: 38°F high and 29°F low
January Temperatures For Budapest: 34°F high and 25°F low
February Temperatures For Budapest: 40°F high and 29°F low
March Temperatures For Budapest: 50°F high and 36°F low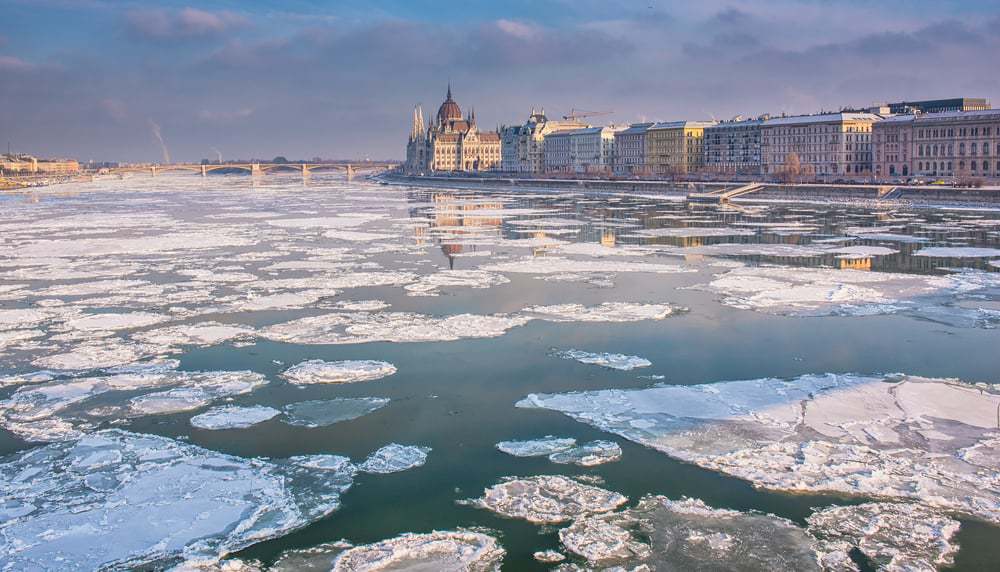 How To Get To Budapest In Winter
Getting to Budapest in winter is quite easy! Transportation prices will be at a yearly low during the majority of the winter, so you will save a lot of money by booking your trip to Budapest in winter! If you are traveling by air, Budapest Ferenc Liszt International Airport (BUD) is the main airport in which people fly into and it is located about 25 minutes outside of the city. Once you land, you can take a taxi into town or take public transportation, which is easy and affordable. If you are not traveling with too many pieces of luggage it is recommended to take the airport shuttle bus which costs €3 one way and it will take you to the city center at Deák Ferenc Square. If you opt for a taxi instead you can probably expect to pay around €25- €35 for one way. The taxis do not have a flat rate and they use a meter. Spending winter in Budapest has never been easier or more affordable!
If you are traveling by train then Budapest Keleti (eastern) railway station is the station to pull up into. In Hungarian, it is spelled as Keleti pályaudvar and it is the main international station as well as a hub for the inter-city railways.
Another option of travel to get into Budapest from one of the countries outside of is via bus. If you decide to use this form of transportation you will arrive and depart from the Nepliget Bus station. Depending on which country you are coming from and which bus company you are using they should have easy access to this station. Neploget Bus station is located a little outside the city center, at the corner of People's Park – you can get to and from there via Budapest's efficient metro system. There is an option for everyone!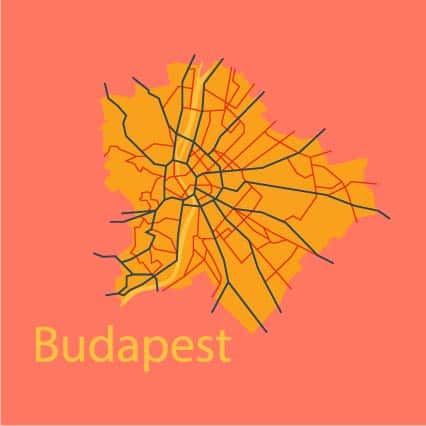 How to Get Around Budapest In Winter
If you want to fit in like a local, consider using the public buses in Budapest! The majority of people who use mass transit use the bus system. They are easily accessible with over 200 routes in Budapest and have express options if you do not want to take the local routes.
Another option to get around Budapest in winter or any time is the metro. The metro is a fast, reasonably priced, and easy way to get around, even in winter! The metro in Budapest will run rain, shine, snow, and sleet, so it is pretty reliable! Depending on where you are and where you need to go there are 4 different metro lines you can ride. The primary hub where three of the metro lines meet is at Deák Ferenc tér station in the center of the city. Depending on your needs and how long you are staying you can purchase different options such as a single ride, 24 hours pass, 7-day pass. Take a look here for the options and pricing based on the length of your stay. If you are not able to walk up and down a lot of steps or you are in a wheelchair, we recommend taking a taxi as it may be easier and safer. Uber and Lyfts do not seem to run in Budapest but the taxis are cheap and fast so it should still work well with your budget.
Walking around Budapest in winter is quite enjoyable because the city will be decked out for the holidays and then may be blanketed in snow during the early months of the year. Budapest is a good sized city so if you plan to walk, remember to wear good walking shoes and to dress appropriately.
It is always recommended to walk around a new city as that is the best way to really learn about a place. What is great about Budapest is that everything is within walking distance (restaurants, tourist spots, and thermal baths, of course). If you are not much a walker and prefer to have some wheels under you, consider using BuBi. BuBi is Budapest's version of public bicycles that are shareable. Biking may not be ideal with cold weather on your face, but hey! maybe you are someone that is not easily affected by the cold.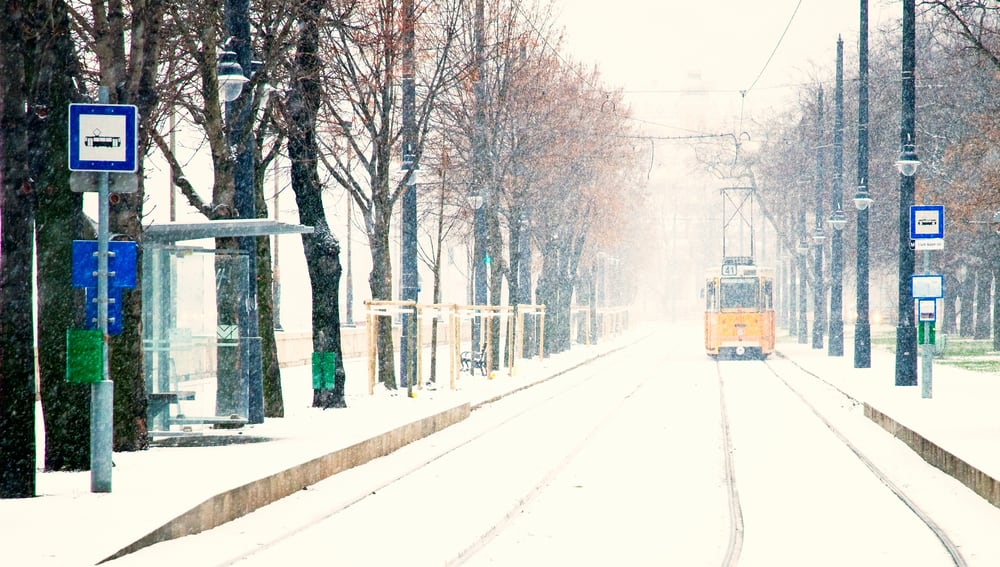 Top Things To Do In Budapest During The Winter
Visiting Budapest in winter presents a unique opportunity to explore parts of the city that you may have otherwise passed up. While the weather is cold and possibly inclement, there's plenty of options to head indoors and participate in a variety of options in the city. If the weather is great, you can take to the streets and explore, all while being dressed appropriately! Whether you are looking to spend a long weekend in Budapest or have a week or more to visit, there is plenty to see and do!
Shop the Chrismas Markets
A first and foremost you MUST do when visiting Budapest in winter is to check out the European Christmas markets! There are two main markets, St Stephen's Sq, Budapest and Vorosmarty Sq, Budapest. Both are located in district V and open up around mid-November and close on the last day of December. The big draw to shopping at these markets is to become immersed in the authenticity and efforts put forth by the locals to showcase traditional Hungarian experiences. There are a lot of vendors who are selling handmade items that can't be found in commercial stores selling mass-produced Christmas gifts. If you want to bring home some unique souvenirs to your friends and family – shop these markets!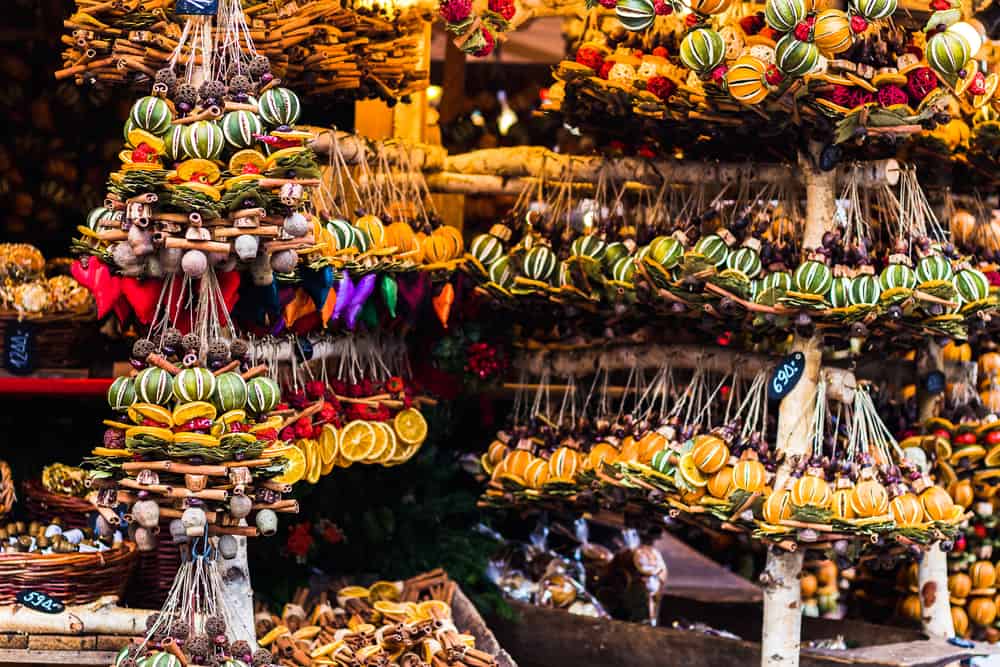 Take a Dip in the Thermal Baths
When people think of Budapest the first thing that comes to mind is the famous Széchenyi Baths. It's easy to see why Budapest got its nickname of "The City of Spas" from the 100+ natural thermal springs that have been housed by dozens of spas around town. Just because you need to be in a swimsuit to experience these baths does not mean this experience is limited to warmer weather. No matter what time of the year you visit, you need to make sure soak in the baths is on any Budapest itinerary!
Quite the contrary, because of the natural thermal producing properties there's no better time to soak in the baths than in the cold weather! Széchenyi Baths have specific winter open hours and yes – they keep the outdoor parts open too! They have different ticket prices depending on if you plan to be there for a certain amount of time or want to purchase a full day pass. Be prepared to spend quite a few hours at the baths if you go because once you go in you may not want to leave!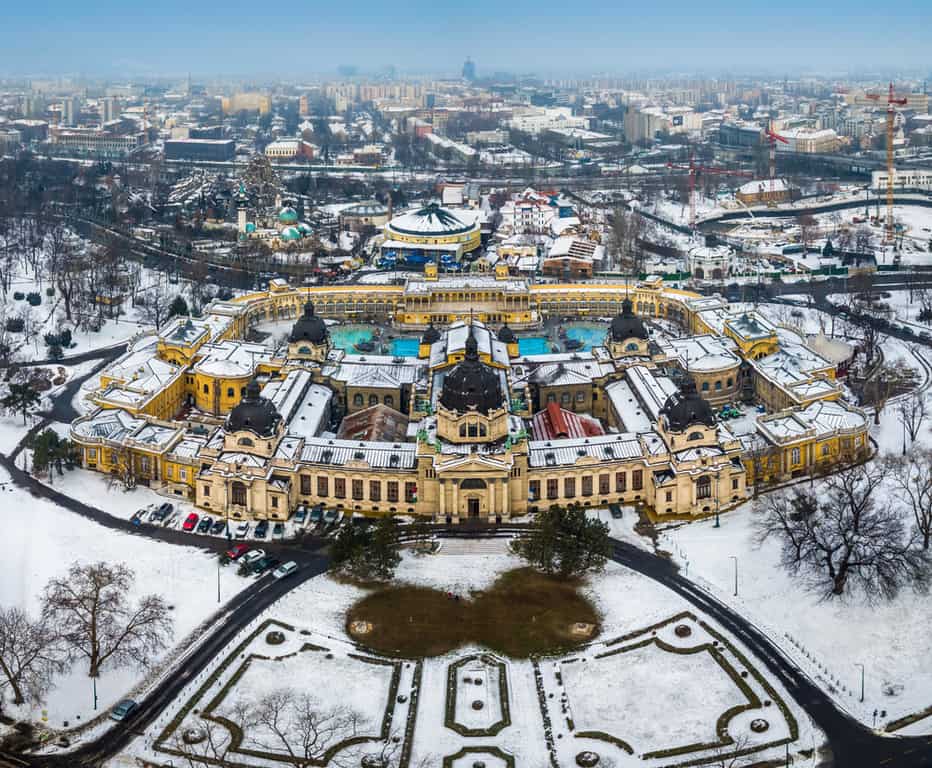 Ice Skate at Europes Largest Rink
If you ask a European what's the largest and most famous ice skating rink in Europe, they are most likely going to say Budapest's City Park, Ice Rink. It's located in front of Vajdahunyad Castle on the edge of City Park, and visitors can skate during the winter in Budapest between late November and mid-February. Besides being the largest rink it is also one of the oldest and how the rink becomes frozen is through a very traditional process of the times it came from. During the summer months, the rink is actually water so that tourists and locals alike and peddle around in small boats. Opening hours during winter in Budapest are 9 a.m. – 1 p.m. and 5 p.m. – p.m.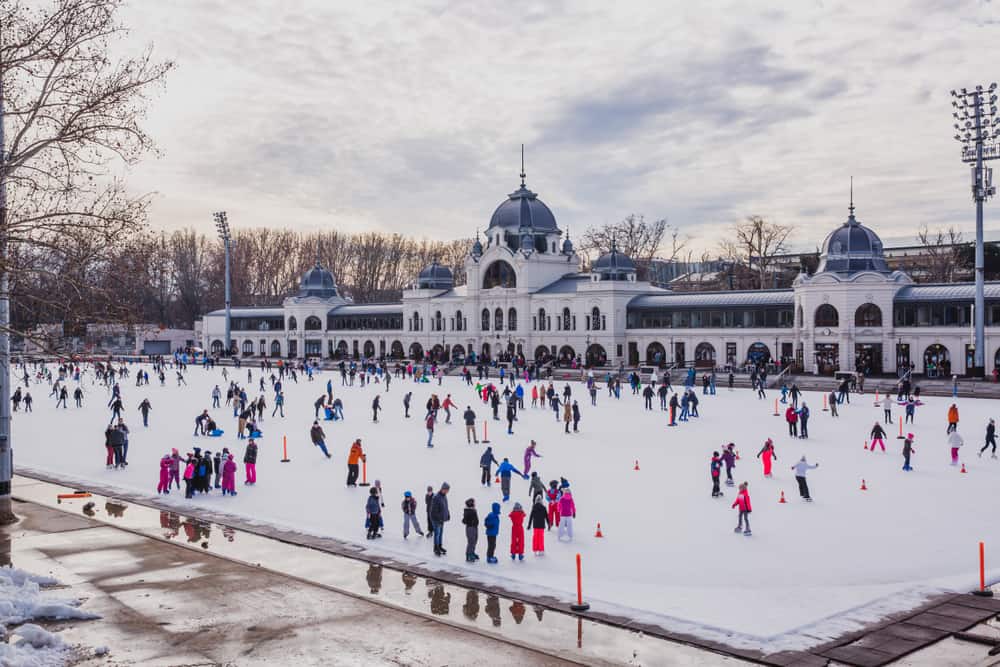 Take a Tour of the Hungarian State Opera House
Whether you're a fan of the arts or not you shouldn't pass on the opportunity to see where legendary ballets and operas have been performed. The Hungarian State Opera House is a beautiful architectural masterpiece that was built in the 1800s and has withstood the test of time to look exactly the same for hundreds of years. Unfortunately, it's closed until 2020 so no performances will be shown but tours of the building are still available and that's why it's one of the things to do listed here. As you walk the tours, imagine the many "Nutcrackers" that were performed on stage there and imagine the audience members who stood for an ovation to cheer on the talented dancers that spend their winter in Budapest.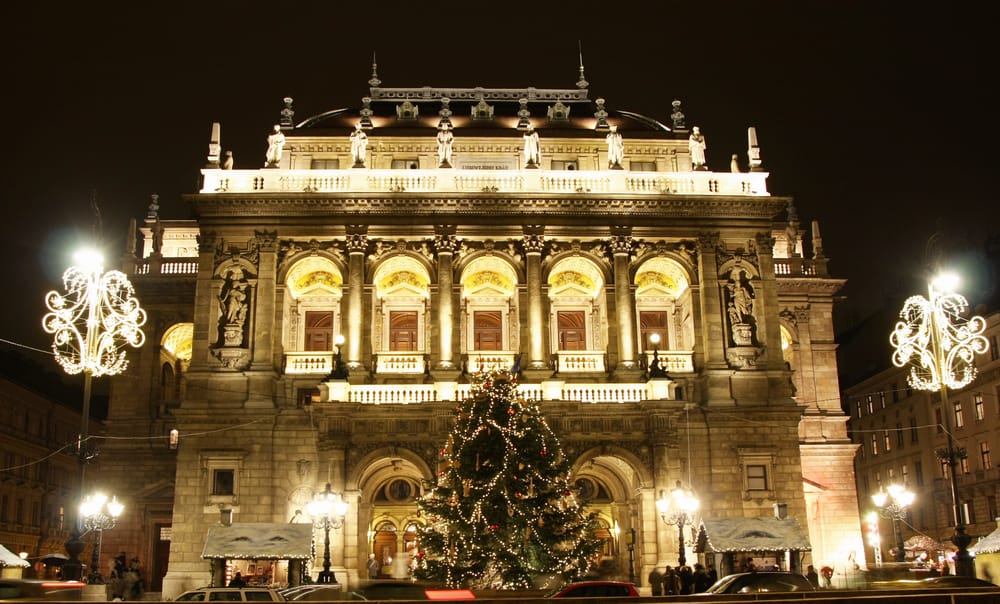 Hop On and Off the Winter Tram
During the winter in Budapest, mainly December and January, there are special trams covered in fairy lights that make an ethereal and visually pleasing winter scene, especially at night. The Hungarian word for this unique ride is called Fényvillamos. If you are interested in hopping on a tram to check out the town in style, you can find these lit up trams along the popular routes in Budapest. The tram is covered in thousands of lights and starts to operate after 5 pm every night. A tram ticket costs about 380 HUF and there are no services during Christmas Eve and New Years Eve. Fairy lights make everything seem prettier and these trams will make for a beautiful Instagram post!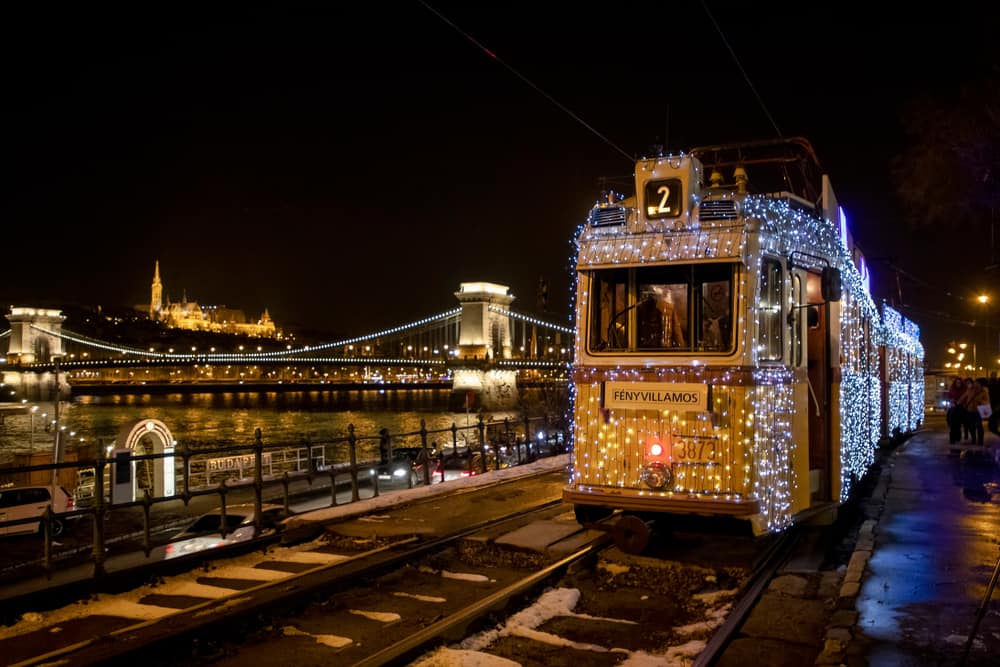 Warm Up With a Drink at a Ruin Bar
Ruin bars are basically Budapest's version of dive bars. They have become a part of the city's contemporary culture which is a fun way to enjoy the nightlife if you are visiting Budapest in winter. While they might be considered hipster now, ruin bars have a history dating back to the WWII era. Ruin bars are a perfect spot if you want to have the opportunity to mingle with other people, both local and tourists, in Budapest. There are quite a few ruin bars in Budapest, mainly in the Jewish Quarter (district 7) but the one that started them all is Szimpla Kert. Every ruin bar has fun and eclectic interiors while having a rundown, warehouse looking exteriors. Budapest's ruin bars each have their own personalities and are welcoming of anyone looking to enjoy a night out with friends. If you have time for some nightlife during your stay – definitely check one of them out!

What To Pack For Budapest In Winter
If you are heading to Budapest in winter, there are a few packing tips we suggest you adhere to! Visiting Budapest in winter is quite enjoyable and magical, but you need to stay warm and dry. Since it is Budapest, you will also want to do all these things while looking a bit fashionable too! Dressing in layers is key! This way, you can easily go from warm out on the streets of Budapest to comfortable inside a building. If you get too warm or too cold, simply add or take away a layer until you feel better.
Packing for Budapest in winter with just a carry-on is completely doable but if you want to bring a checked bag, that is even better as you will have more space!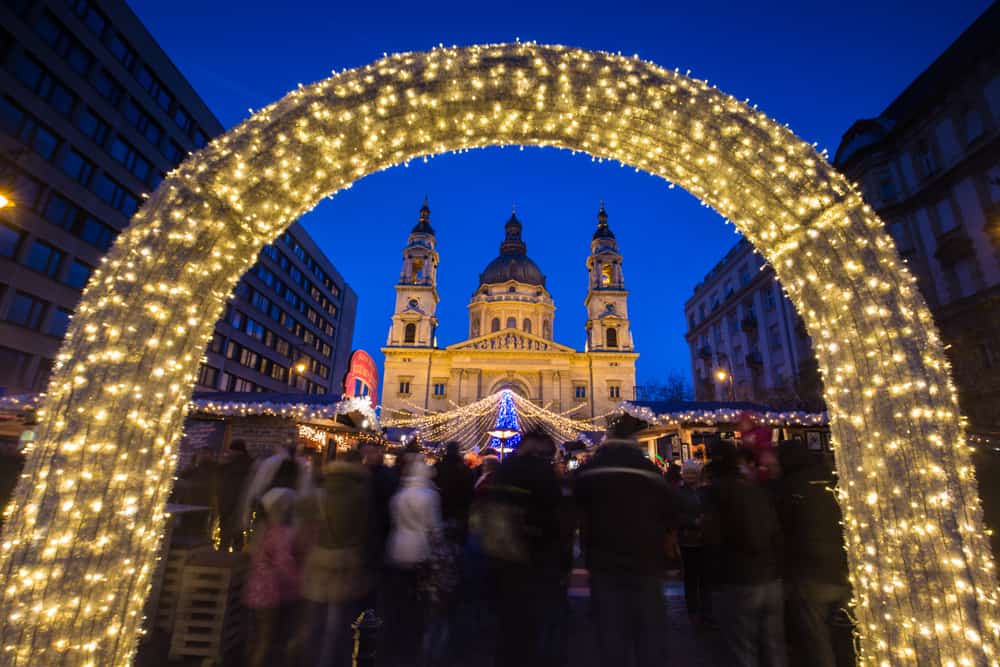 As you can see, there are so many activities that you can experience during winter in Budapest! An entire novel could be written on even more things to do and where to eat and stay, but we have to narrow it down to the suggestions above so we don't completely bore you. If you read this far, congratulations! You are well on your way to planning your dream trip to Budapest in winter! If you have any questions about planning your winter in Budapest vacation, make sure to let us know in the comments and we will try and answer the best we can!