If you are wondering if it is worth going to Banff in winter, the answer is YES!
While winter in Banff is known for being cold, that doesn't mean you should write off visiting this lovely mountain city altogether.
As a resort town in the province of Alberta, Canada, Banff offers beautiful views of Mt. Rundle and Mt. Cascade. There are tons of boutiques, restaurants, and parklands to explore.
Outside of town, you can find jaw-dropping winter views in Banff National Park, hit the ski slopes, or ice skate in picturesque settings.
Visiting Banff, Canada, in the winter means seeing all the beautiful landscapes in the snow and the town with holiday decor, making it all the more magical!
I love a great winter wonderland and Banff is one of the best in North America! If you love winter sports or getting cozy around a fire, add Banff to your winter bucket list!
If you are lucky, you can even see the northern lights in Banff in winter, too!
You may want to take the lovely drive up to see nearby Jasper in winter as well.
Let's look at the best winter activities in Banff, Canada!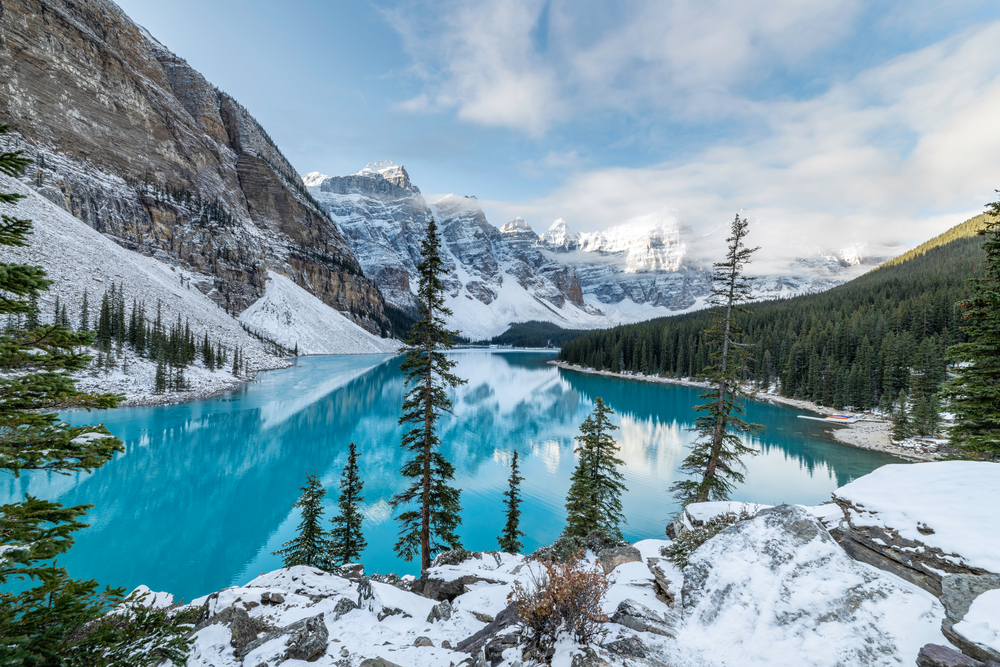 10 Best Things To Do In Banff In Winter
Hike the Frozen Johnston Canyon
If you're visiting Banff in winter, Johnston Canyon is a must-see! This frozen experience is one of the best things to do in Banff!
This ice walk is a 3-mile round trip on a steel walkway suspended over the famous canyon. It's an easy hike, with only slight elevation changes. This hike should top your Banff itinerary!
During this walk, you'll see six different waterfalls. While many of them will be frozen, they are an epic sight to see! You can not ask for better winter hiking in Banff!
Whether you opt to walk the full trail or not, you can also consider hiring a guide so they can explain the geographical nature of this adventure! This is truly one of the best hikes in Banff National Park!
This is one of the best things to do in Banff in January when the trail is less crowded.
Book Here: Banff: Morning or Afternoon Johnston Canyon Icewalk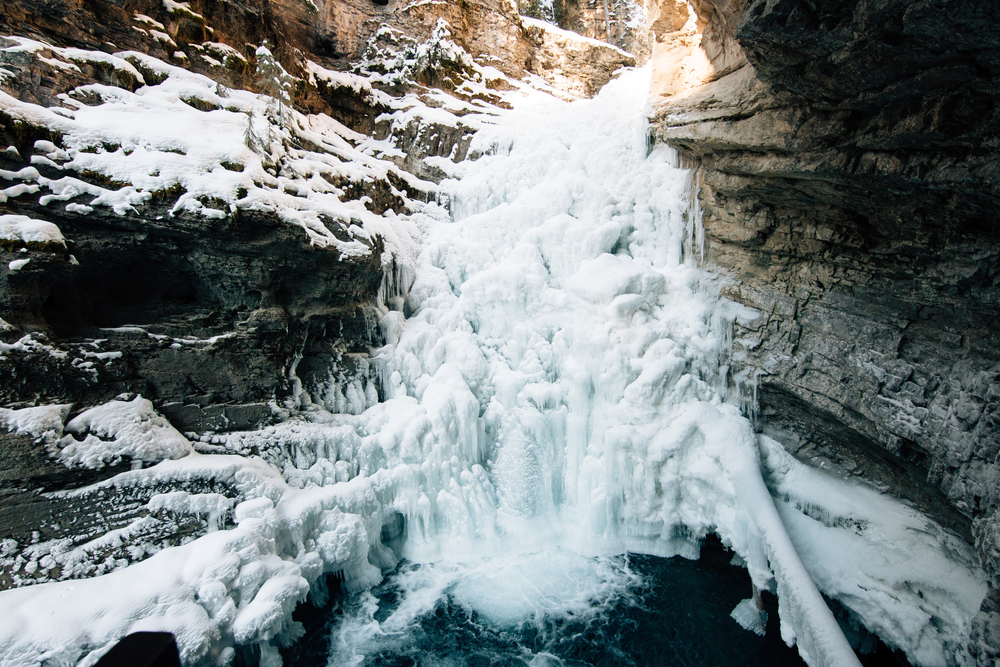 Take a Gondola to Sulphur Mountain
If you're looking for the best things to do in Banff in winter, I highly recommend getting a once-in-a-lifetime experience by seeing the Canadian Rockies from a bird's eye view.
The Banff Gondola takes you to the top of Sulphur Mountain for breathtaking views! The best part? You don't have to walk up there, making it one of the best things to do in Banff with kids!
Sitting at 7,486 feet in elevation, Sulphur Mountain has a newly renovated boardwalk that offers great views, restaurants, and a 360-degree look at the Canadian Rockies.
During Mountaintop Christmas, you can take a photo with Santa, watch a holiday movie, and decorate cookies. This is one of the best Christmas in Banff events!
Book Here:  Banff: Banff Gondola Admission Ticket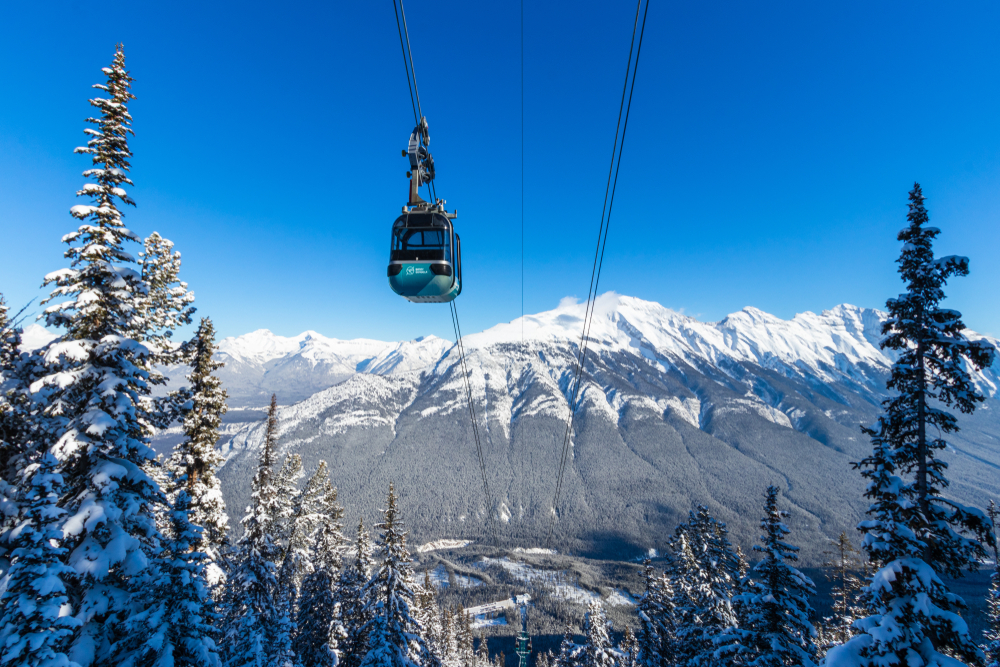 Enjoy a Dog Sledding Adventure in Banff National Park
Banff National Park was one of Canada's first national parks, and now you can take a dog sledding adventure through it!
Dog sledding is not just a Banff winter activity. It historically dates back to 1000 BC when the people of Canada used dog sledding for transportation of supplies and food.
Today, take a tour of the park on a dog sled. Enjoy a ride across a frozen lake and swerve through forest trails!
You might even be lucky and see a few animals such as moose on the nearby tracks!
When visiting Banff National Park in winter, I suggest taking a ride in a dog sled since it is such a unique way to see the park.
Book Here: Kingmik Great Divide Tour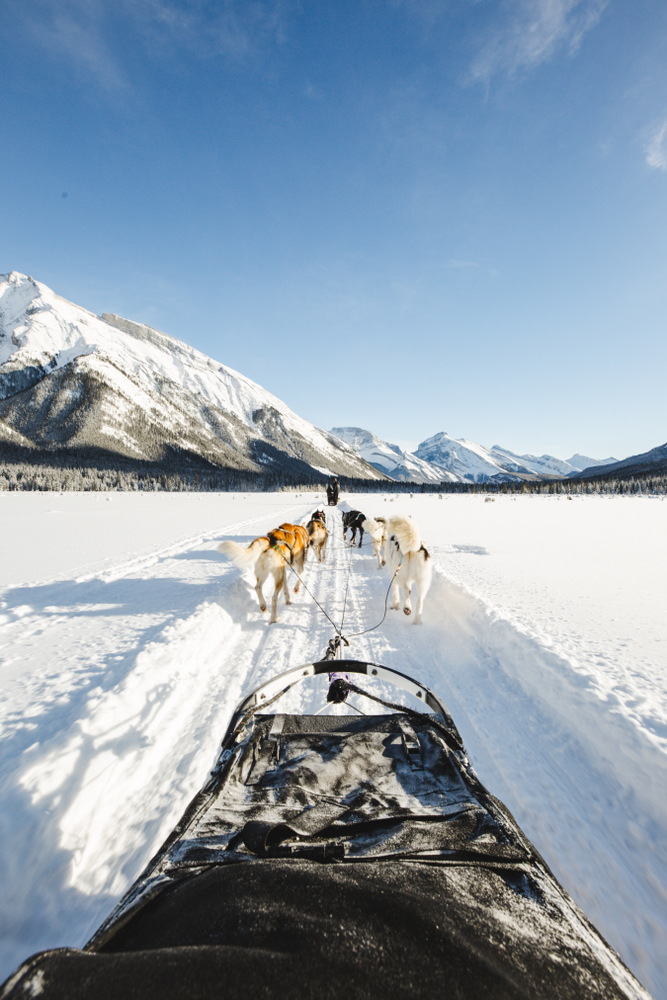 Go Ice Skating at Lake Louise
Lake Louise is one of the many lakes that completely freezes over during winter in Banff National Park. You have to go to Lake Louise in winter for jaw-dropping scenery and fun outdoor attractions.
Although it is stunning during the summer, ice skating is one of the best things to do at Lake Louise in winter!
Known as one of the most scenic lakes in the world with mountains in the backdrop, Lake Louise is consistently maintained and therefore safe to go ice skating on!
If you don't have your own ice skates, don't worry! You can rent a pair at Wilson Mountain Sports for the day.
Skate on the lake and enjoy incredible ice sculptures along the shore.
In the summer, the lake offers one of the best hikes near Canmore and the Icefields Parkway, but in winter, ice skating is the most fun option!
I say you have to add this pretty lake to your Banff National Park winter itinerary!
Book Here: Lake Louise Winterland Tour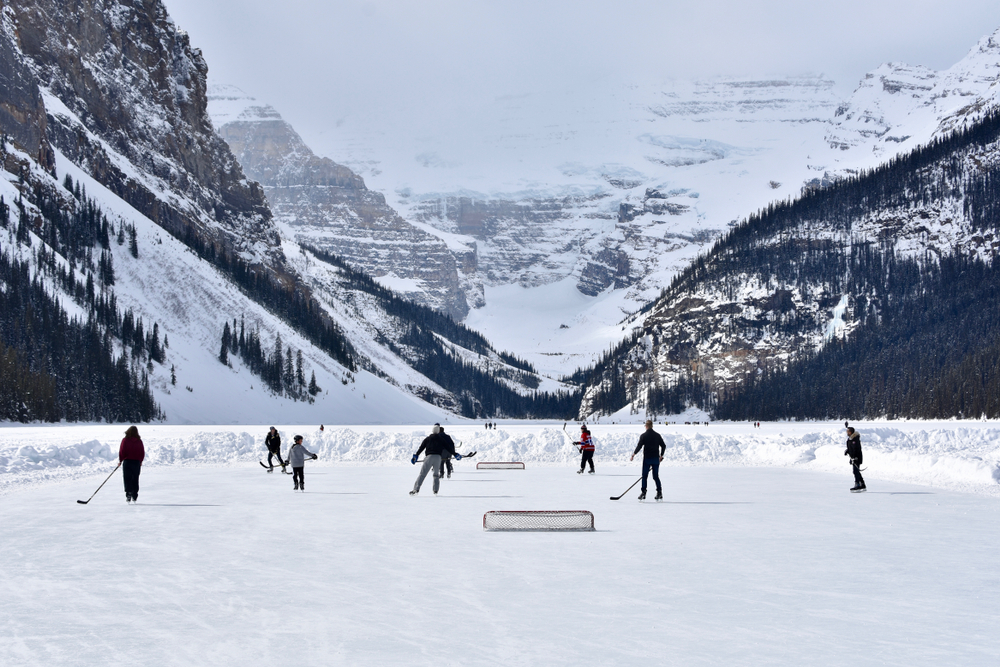 Stay Warm at the Banff Upper Hot Springs
If you get tired of the winter weather, you can easily spend the day warming up at the Banff Upper Hot Springs! Relaxing here is fantastic!
The springs themselves were originally a place for the First Nations of Banff. Because of this, the government is set on protecting and preserving this space.
It is the perfect place to ease sore muscles after skiing or skating. I promise it will help you unwind!
Warm up from Banff in winter and enjoy some time in the hot springs. Plus the views are outstanding!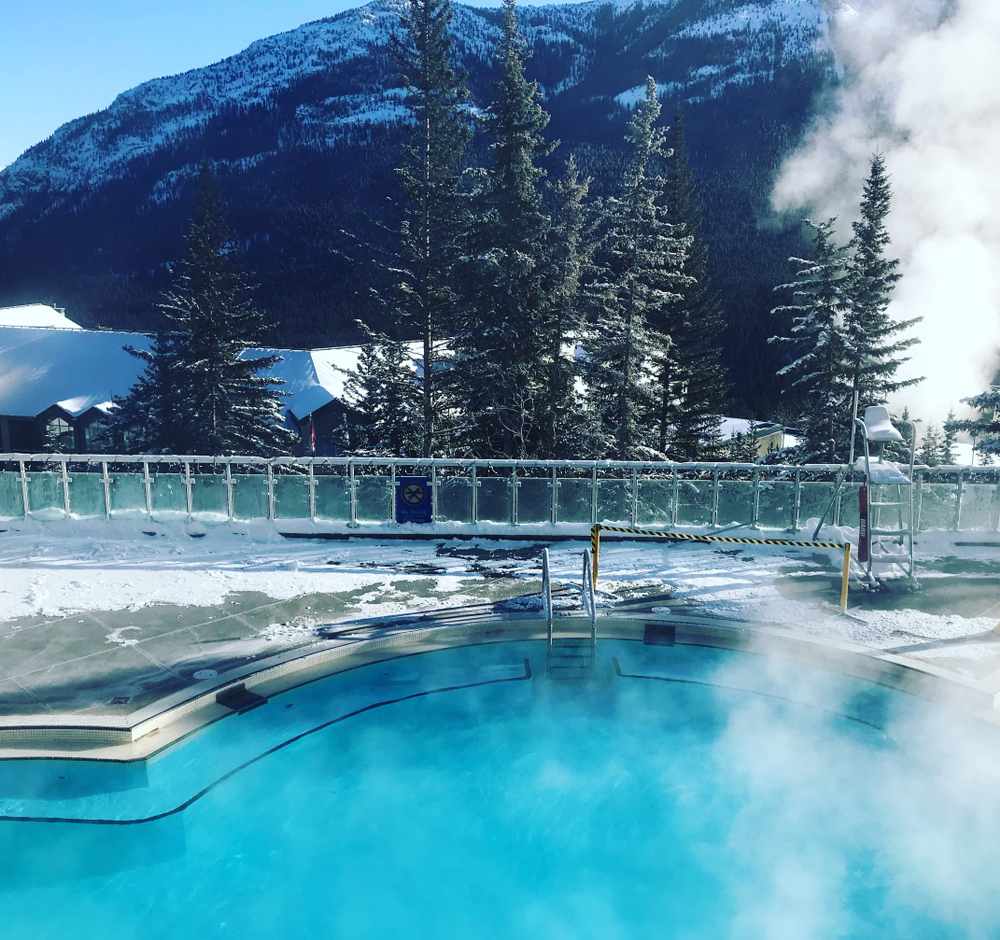 Take a Trip to Banff's Famous Skiing Hills
Would it be Banff in winter without hitting the slopes? One of the most popular Banff winter activities is skiing and snowboarding, of course!
Banff is well known for its three ski resorts known as the SkiBig3. There are Banff Sunshine, Lake Louise Ski Resort, and Mount Norquay.
A SkiBig3 Lift Ticket will give you access to all three resorts and their powdery slopes. They are all great for beginners and experts.
Lake Louise Ski Resort has stunning views. There are 4,200 skiable acres with 164 runs.
At Banff Sunshine, there are 3,358 acres of skiable terrain with over 100 runs.
Mount Norquay is the smallest with only 60 runs on 190 acres.
During the five days leading up to Christmas, you might even see Santa on the slopes!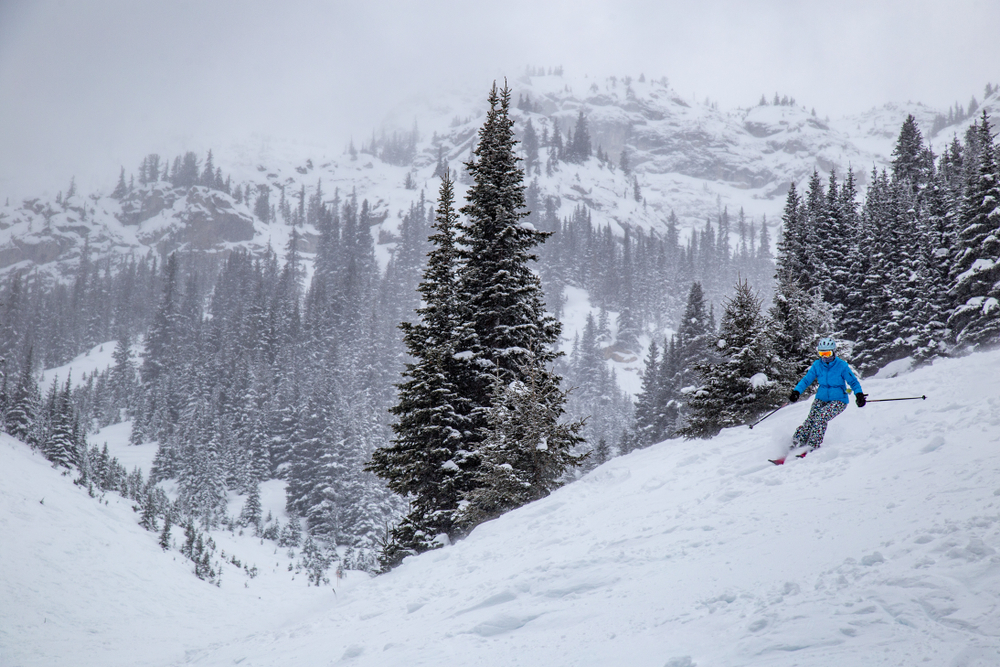 Find the Best Christmas Lights in Banff
If you visit Banff during Christmas, there are plenty of fun activities! Take time to discover the best light displays throughout town. The Christmas lights add so much magic to the winter nights.
In Search of Christmas Spirit is a gorgeous light display at the Cascade of Time Garden. Grab a lantern and walk through the snowy garden to find lit sculptures of native wildlife including bears and moose.
This free event takes place from mid-November until the end of December.
Downtown Banff is also dazzling with lights stung on the buildings and trees. Enjoy shopping or stop for a hot meal at one of the restaurants as you walk around.
Many hotels in the area also have amazing lights to check out. These are some of the top places to visit in Banff in December!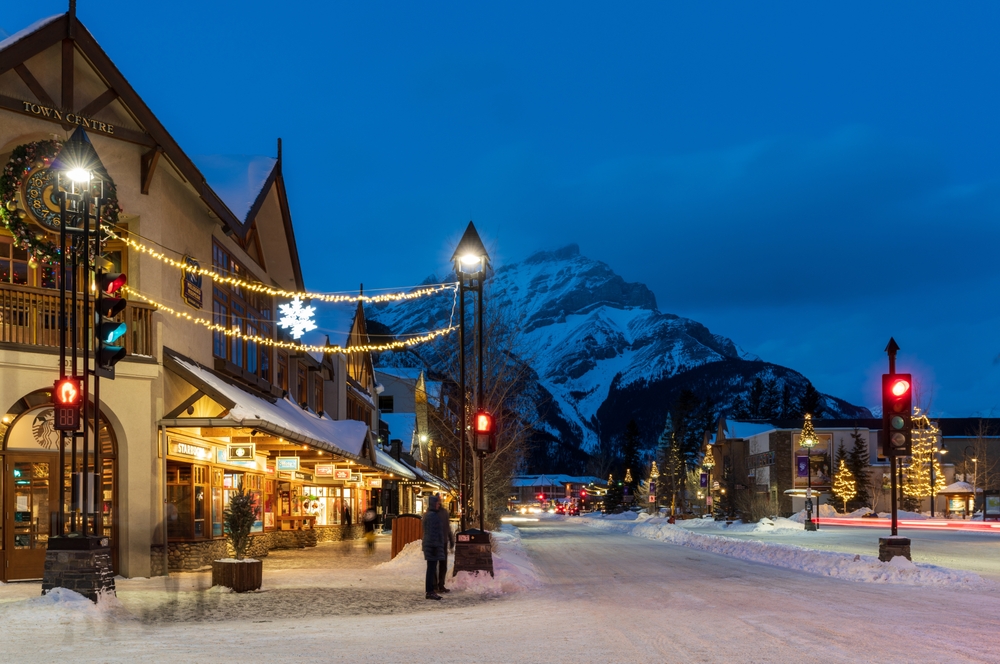 Attend Christmas at the Castle
The 1880s-era Fairmont Banff Springs Hotel is one of the most beautiful landmarks in Banff. During winter, it is even more incredible nestled among snowy trees.
The hotel's Christmas at the Castle event is one of the best things to do in Banff during Christmas. If you are visiting Banff with kids during the winter, there are so many family-friendly activities to enjoy!
Walk through the indoor North Pole and get a photo with Santa. There is gingerbread house making, bedtime stories with Mrs. Claus, and holiday crafts.
Admire the pretty Christmas tree in Mount Stephen Hall and catch a performance of A Christmas Carol.
The hotel also puts on an elegant New Year's Eve Gala! This is one of the best things to do in Banff in December!
Check Rates: Booking.com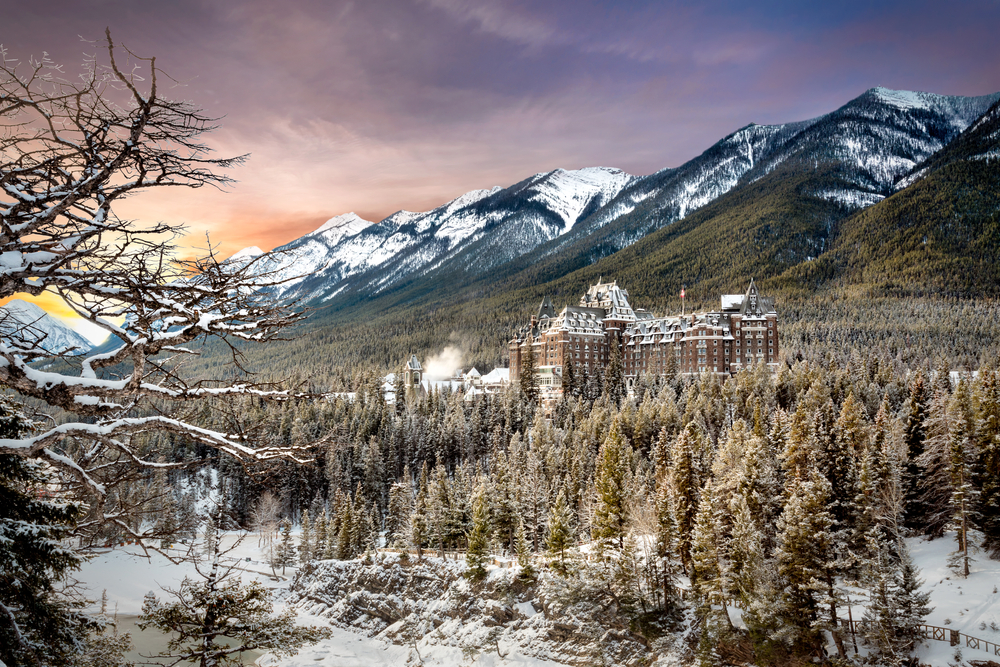 Sip Your Way Through the Hot Chocolate Trail
The Banff Hot Chocolate Trail is one of the most delicious winter activities in Banff from mid-November through the end of the year.
Over 20 restaurants and cafes throughout Banff take part in the trail, offering hot chocolate to keep you warm as you explore downtown.
You can order a classic hot chocolate or some of the limited-time hot chocolates made special for the event. Some even have a dose of alcohol for the adults.
At the Maclab Bistro, order a Dark Chocolate Strawberry Hot Chocolate. The Wild Flour Bakery serves the tasty Brownie Bauble Hot Chocolate. Try Raspberry Ripple Hot Chocolate at Whitebark Cafe.
For a boozy hot chocolate, check out Three Bears Brewery & Restaurant, Bear Street Tavern, or Lake Louise Inn among others.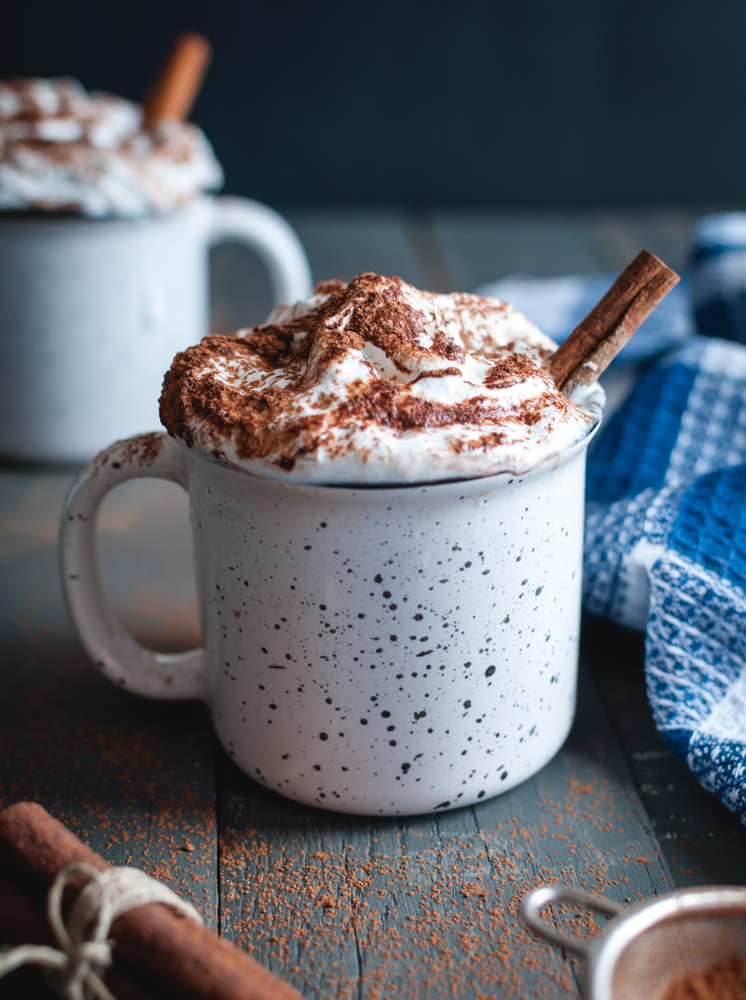 Relax at the Banff Centre for Arts and Creativity
For a more calming winter activity in Banff, I recommend checking out the Banff Centre for Arts and Creativity!
This center was founded in 1933 on the promise of building a community of creativity. It is a great place to check out art shows, performances, and more!
This is a great idea for what to do in Banff in February when the days are short and the weather is cold.
There are also a variety of different sit-down restaurants that can be found in the center after you're done exploring.
It is truly one of the best indoor things to do in Banff during winter!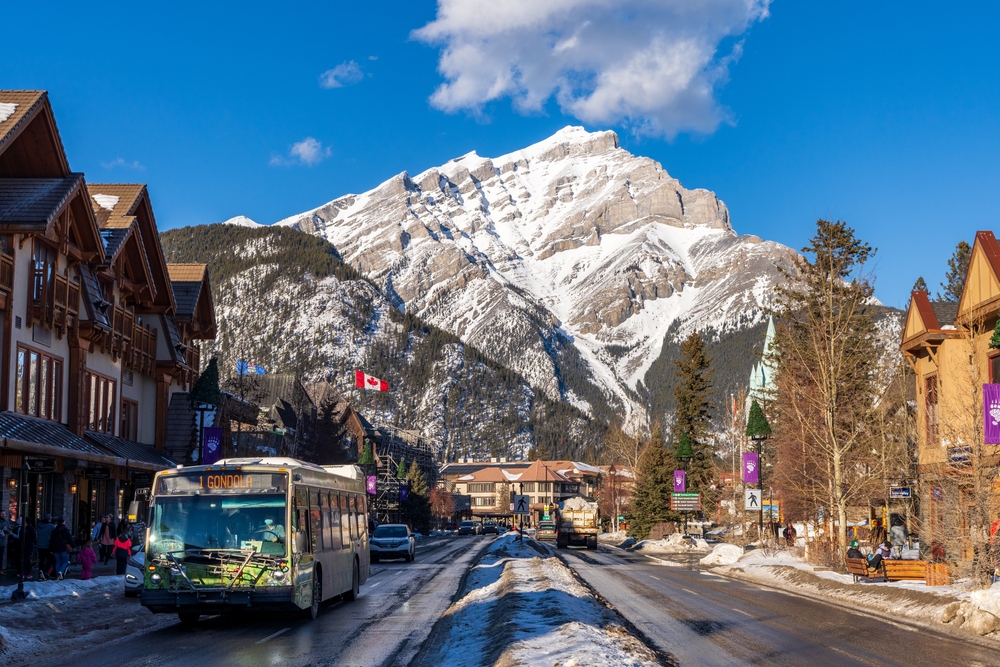 Average Banff Winter Weather
The average weather in Banff in winter is cold. No surprise! With the Rocky Mountains close by, you can expect snow and chilly weather.
January and December are typically the coldest months in Banff with average lows of 23°F, although it has dropped to the negative thirties before!
Don't let this cold Banff winter scare you away, though! Because of the relative dryness of the air in Banff, the extreme temperatures are more bearable than at first glance.
This chilly weather is doable, as long as you pack and plan appropriately! With a high likelihood of precipitation during the winter months, Banff always has snow during December, January, and February!
This snow creates a magical winter wonderland. Don't forget, though, that November and March can be cold and experience snow as well. Keep an eye out for snow, ice, and frost when you begin traveling, packing, and planning!
January and December are typically the coldest months for the city. This mountain town can remain below freezing all day long with drops late into the night. Be aware of the wind chill as temperatures can feel up to ten degrees colder with those harsh winds.
Daylight can last as long as eight hours during December. This means you have time during the day to experience the higher, warmer temperatures. But once night arrives, make sure you are bundled up and prepared for dropping temperatures.
Average Banff Winter Temperatures:
November: 32°F High and 17°F Low
December: 23°F High and 8°F Low
January: 26°F High and 10°F Low
February: 32°F High and 12°F Low
March: 41°F High and 20°F Low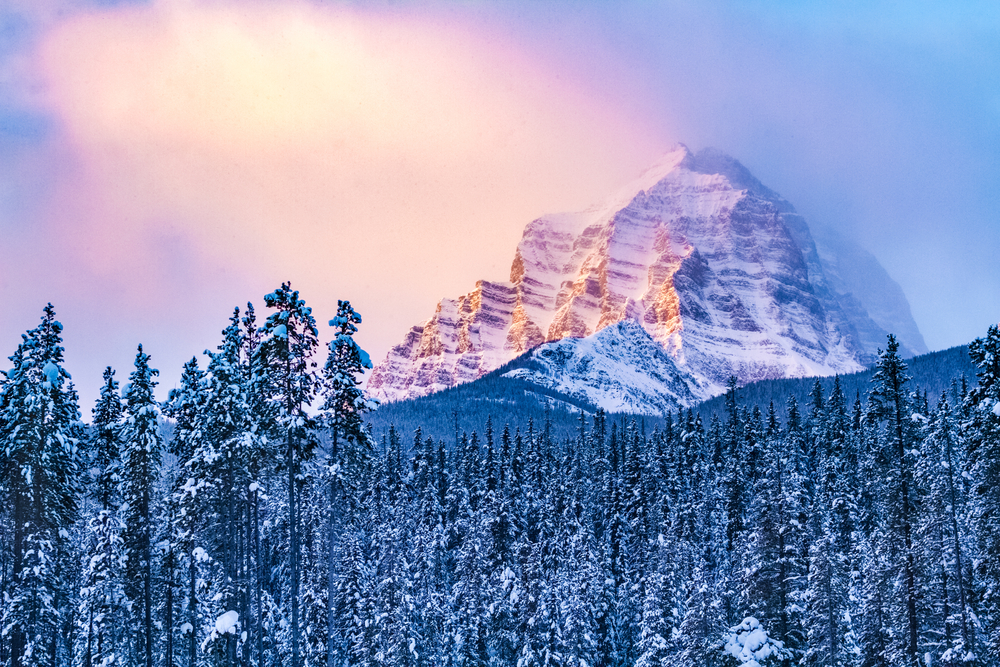 How to Get to Banff in Winter
Getting to Banff in winter is easy! You'll need to fly into the Calgary International Airport (YYC) and then rent a car to drive to Banff. It is about a one-and-a-half-hour drive.
It is not too hard to drive in Banff during winter but be prepared to traverse icy roads! If you are wary of driving, many hotels offer an airport shuttle!
Round-trip flights to Calgary are fairly cheap, especially if you're looking at airlines such as Westjet and Air Canada.
The prices also decrease during winter, so make sure to take advantage of the lowered prices and visit Banff in winter!
There are quite a few unique things to do in Calgary so you may want to add it to your itinerary!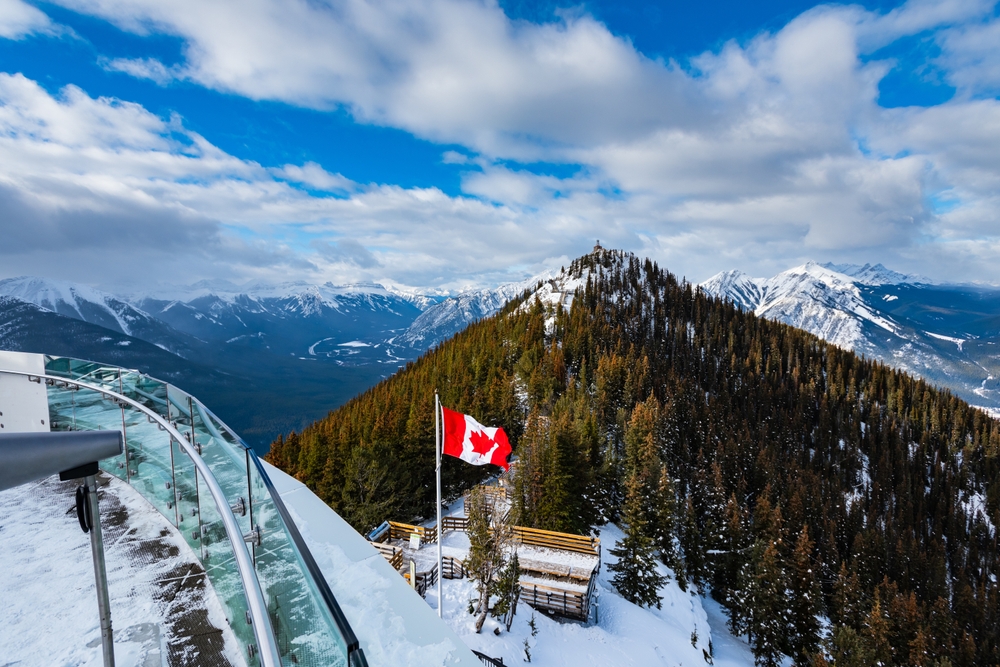 What to Pack for Banff in Winter
If you are heading to Banff in the winter, there are a few packing tips I suggest! Visiting Banff in winter is so magical, but you need to stay warm and dry!
Since Banff is a resort town, you may also want to be comfortable and fashionable too!
Dressing in layers is always key! This way, you can easily go from the cold, slightly wet, outdoors into a comfortable atmosphere inside.
I have provided some key items to pack for your trip to Banff. This way you are well prepared for winter activities, comfort, warmth, and fashion of course!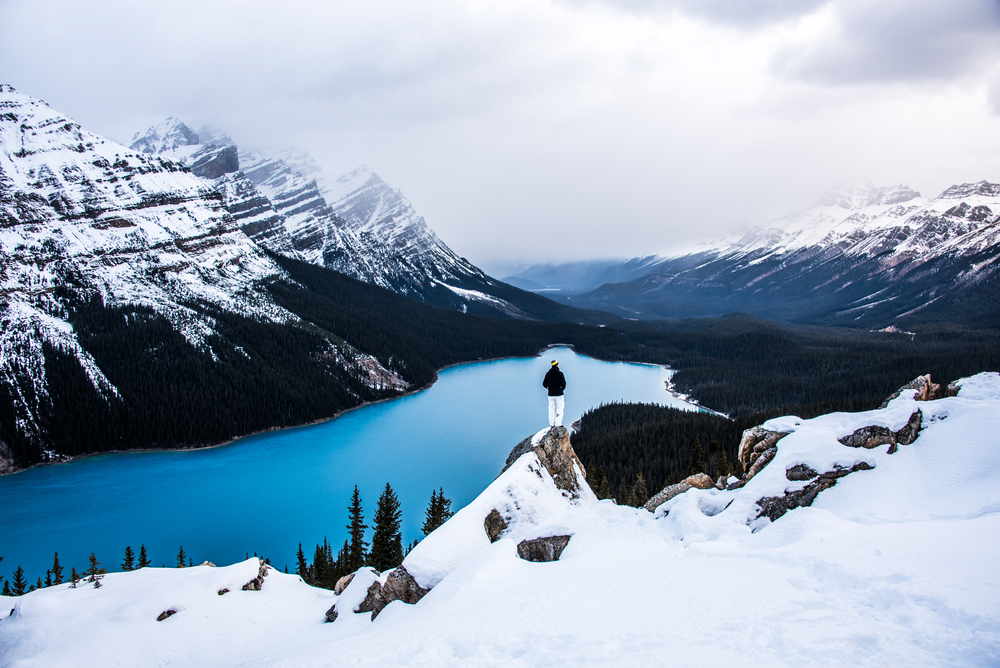 Where to Stay in Banff During Winter
While Banff is known as a resort town, it can be a bit overwhelming when you are looking for a place to stay!
I've got you covered and am providing a few locations below. They are ranked by price, so you can have the ultimate list of where to stay in Banff in winter.
Affordable: Banff Inn
Featuring a hot tub, steam room, and sauna to keep you warm, the Banff Inn is located only 12 miles from one of the most popular ski resorts in the area!
Johnston Canyon is only a 26-minute drive away, and the Fairmont Banff Springs golf course is 2.5 miles away.
With 24-hour concierges at the front desk, ski storage rooms, a pizza restaurant, and more, this location offers a huge bang for its buck!
Check Rates: Booking.com
Mid-Range: Banff Boutique Inn
Located in Banff National Park, surrounded by the Rocky Mountains, the Banff Boutique Inn is one of the best places you can stay when visiting Banff in winter.
With the city center only a 5-minute walk away and the Banff Gondola a 10-minute drive away, this is a fantastic location!
What makes this hotel wonderful isn't just where it is located. The guest rooms offer high ceilings and modern conveniences.
They also have access to a full kitchen, a cozy fireplace, a living room that features books and board games, as well as complimentary on-site parking!
Mid-Range: Douglas Fir Resort and Chalets
The Douglas Fir Resort and Chalets is surrounded by the beautiful environment of Tunnel Mountain and is a short distance from Banff town center.
It is a family-friendly resort, providing guests with a variety of activities! With two indoor waterslides, a pool, an indoor play area, saunas, and fitness centers, there is something for everyone.
You can also enjoy ski trails, scenic hikes, and more! This hotel is well-reviewed and is a lush way to spend Banff in winter!
Check Rates: Booking.com
Luxury: Rimrock Resort Hotel
For luxury Banff winter accommodation, book a room at the Rimrock Resort Hotel!
The rooms include mountain views, comfy furniture, free toiletries, flat-screen TVs, and more amenities. This is a fantastic place to unwind after a day of skiing and exploring in the cold.
The hotel also features two restaurants, a spa, a wellness center, ski storage, valet parking, and fireplaces. It is in a great location near many of the top Banff attractions.
Check Rates: Booking.com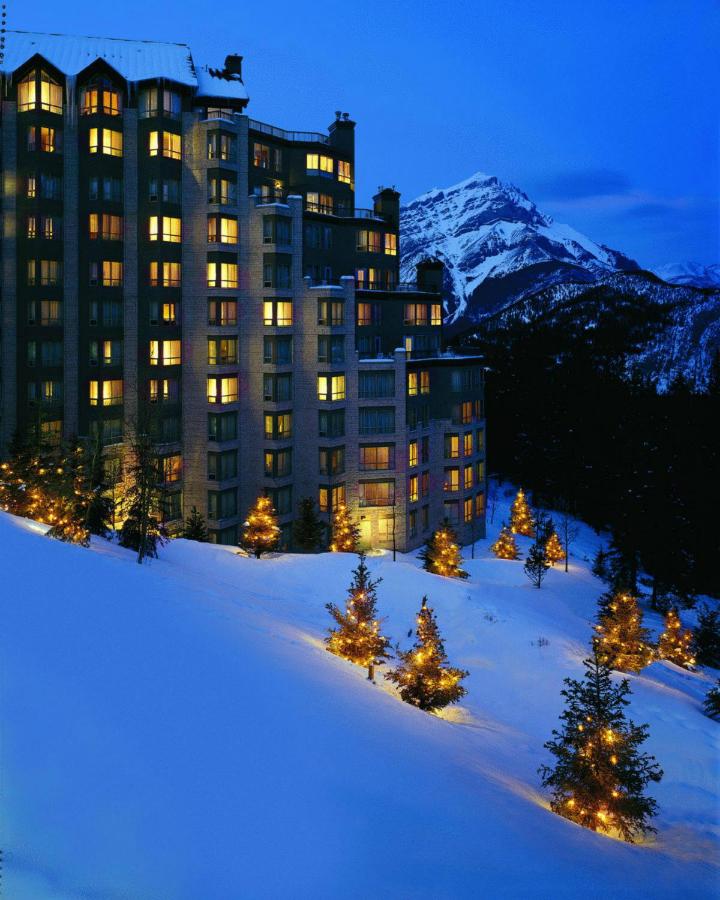 There is so much to see and do when visiting Banff during the colder times of the year!
I could probably write an entire novel on what this beautiful resort town has to offer, but I had to narrow it down so suggestions don't overwhelm you!
If you have any questions about planning your vacation to Banff in winter, please let me know in the comments, and I will try to answer the best I can! Happy travels!