Visiting Paris in winter is a magical and memorable experience you won't soon forget. The weather during winter in Paris will be a bit cold [Paris has an average temperature of 41°F in January and 38°F in Feburary], but that doesn't mean you should write off visiting Paris in the winter all together!
Winter in Paris is generally defined as December to February, but months such as November and March can experience winter weather in Paris as well.
Winter in Paris means Christmas decorations and Valentine's Day treats and the chance of snow and fewer crowds to fight. With a few tips and this handy guide by your side, you will be off to an enjoyable trip to the City Of Light during the winter months.
Save money in Paris and live like a local by staying at an Airbnb! Get a FREE $40 Airbnb Coupon by using our code when you book!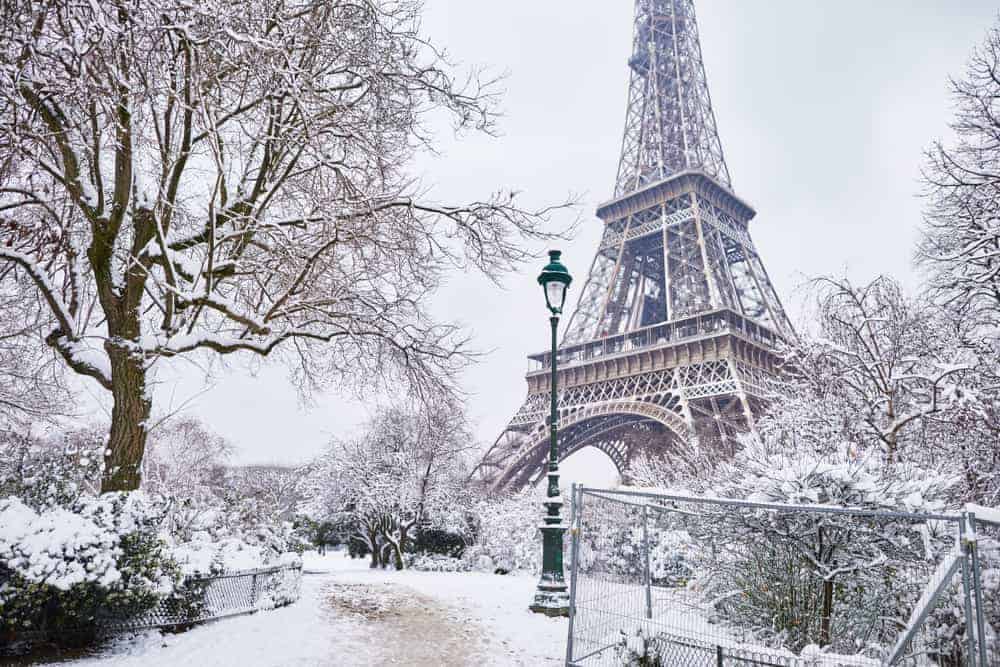 The Ultimate Guide To Visiting Paris In Winter
Average Paris Winter Weather
The average weather in Paris in winter is a bit rainy and chilly. It does snow in Paris in winter but you won't find it every year and it won't snow until the end of January or February.
December weather in Paris [and in France in general] is actually more on the rainy and warmer [for winter] side, so there is less chance of snow because it is too warm and wet for the snow to form. Even if it does snow in Paris, it is usually just a dusting or 1-2 inches.
Since Paris observes Daylight Savings Time, the sun sets quite early during the winter in Paris. If you are visiting Paris in winter, understand that the sun will set by 5 pm at the latest. Sure, this gives you shorter daylight hours, but it offers more time to explore the city by night and the rain and cold allow you a unique way to enjoy what the city has to offer.
If winter is the only time you have to visit Paris, just remember that the average Paris winter weather isn't all that bad and is quite doable with the proper packing and planning!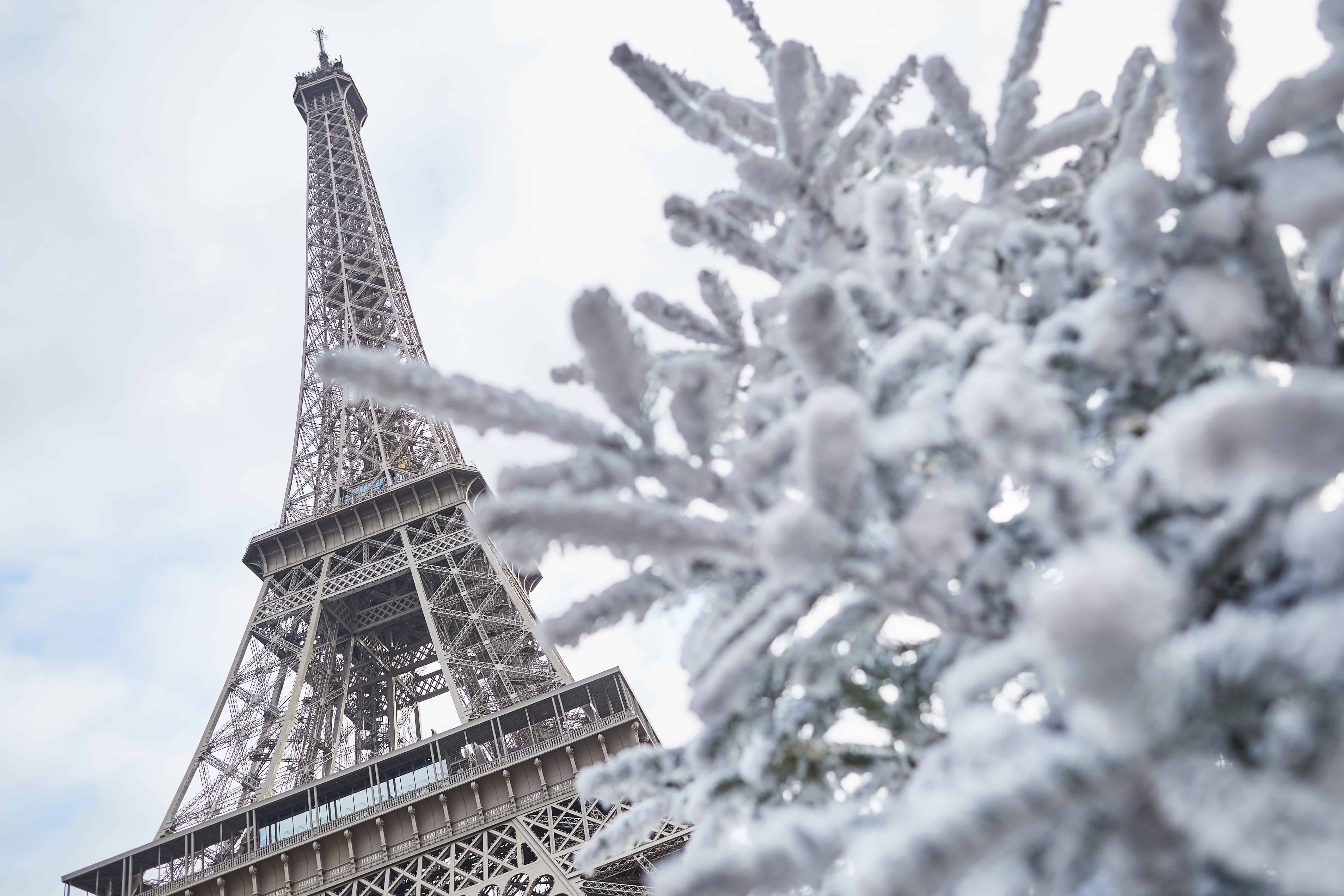 Average Winter Temperatures In Paris
The temperature of Paris in the winter is actually relatively reasonable, especially for a northern city. The average temperature of Paris in December is 42°F, the average temperature of Paris in January is 41°F, and the average temperature of Paris in February is 38°F.
As you can see, these temperatures are not entirely freezing and are actually more enjoyable than similar cities such as New York City, which averages in the mid-to-low 30's during January.
If you are looking to visit Paris in the winter, rest assured that it is no colder than any other large northern city. You won't show up to your Paris winter trip and be shocked by the temperature change, especially if you already live in a place that experiences winter. We are from Florida and have visited Paris during the winter twice and survived just fine so if we can do it, you certainly can!
Check out these average Paris winter weather highs and lows to get an idea:
November Temperatures For Paris: 52°F high and 43°F low
December Temperatures For Paris: 46°F high and 37°F low
January Temperatures For Paris: 45°F high and 37°F low
February Temperatures For Paris: 46°F high and 36°F low
March Temperatures For Paris: 54°F high and 41°F low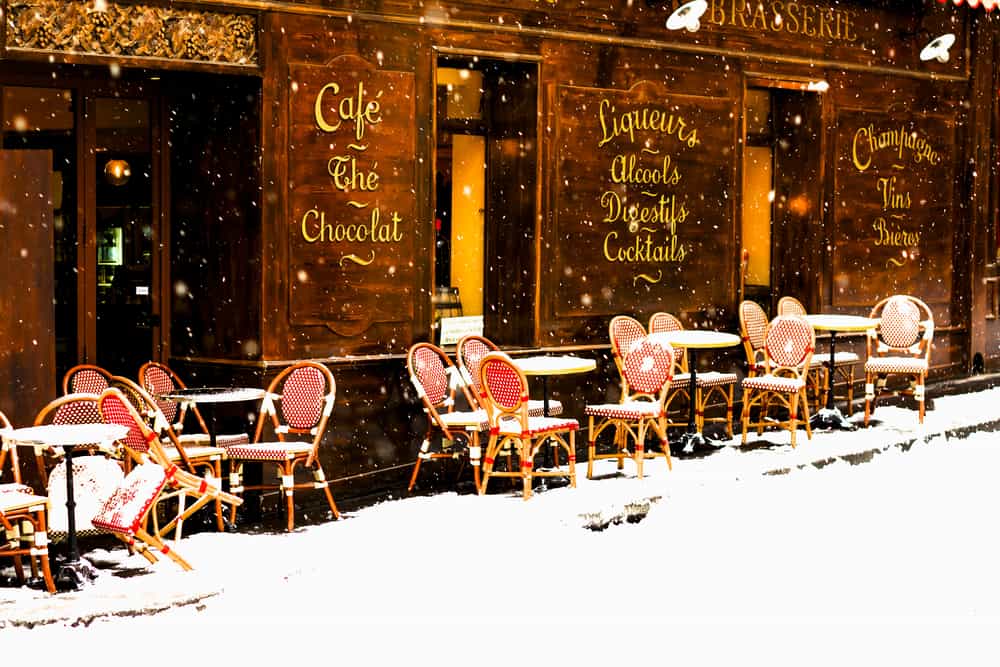 How To Get To Paris In Winter
Getting to Paris in winter is quite easy! Transportation prices will be at a yearly low during the majority of the winter, so you will save a lot of money by booking your trip to Paris in the winter! Charles de Gaulle is the main airport in which people fly into and the Paris Orly airport is secondary and a bit further out of town.
Once you land, you can take an Uber or Taxi into town or take public transportation, which is easy and affordable.
If you live in Europe or you are already traveling there, you can take one of the many high-speed trains that go in and out of Paris every day!
The main train stations in Paris are Gare du Nord, Gare de Lyon, and Gare de l'Est. Spending winter in Paris has never been easier or more affordable!
Book transfer here: Charles de Gaulle And Orly Airport Transfer
How To Get Around Paris In The Winter
If you are in good fitness, consider taking the Paris Metro! The Metro is a fast, affordable, and easy way to get around, even in winter!
The Paris Metro will run rain, shine, snow, and sleet, so it is pretty reliable! You can purchase a metro ticket for 1.90 Euros, a booklet or 10 tickets, or a weekly metro pass, depending on your needs.
If you are not able to walk up and down a lot of steps [elevators are rare] or you are in a wheelchair, we recommend taking an Uber as it may be easier and safer. Don't forget to check out our post on 7 Big Mistakes To Avoid On The Paris Metro!
Walking around Paris in winter is quite enjoyable because the city will be decked out for the holidays and then may be blanketed in snow during the early months of the year. Paris is actually quite a large city, so if you plan to walk, remember to wear good walking shoes and to dress appropriately.
Finally, depending on the weather, you can also choose to rent a bike and bike around Paris. Biking is very popular among Parisians and there are many local bike stands you can rent from.
Book here: Discover The Heart Of Paris By Bike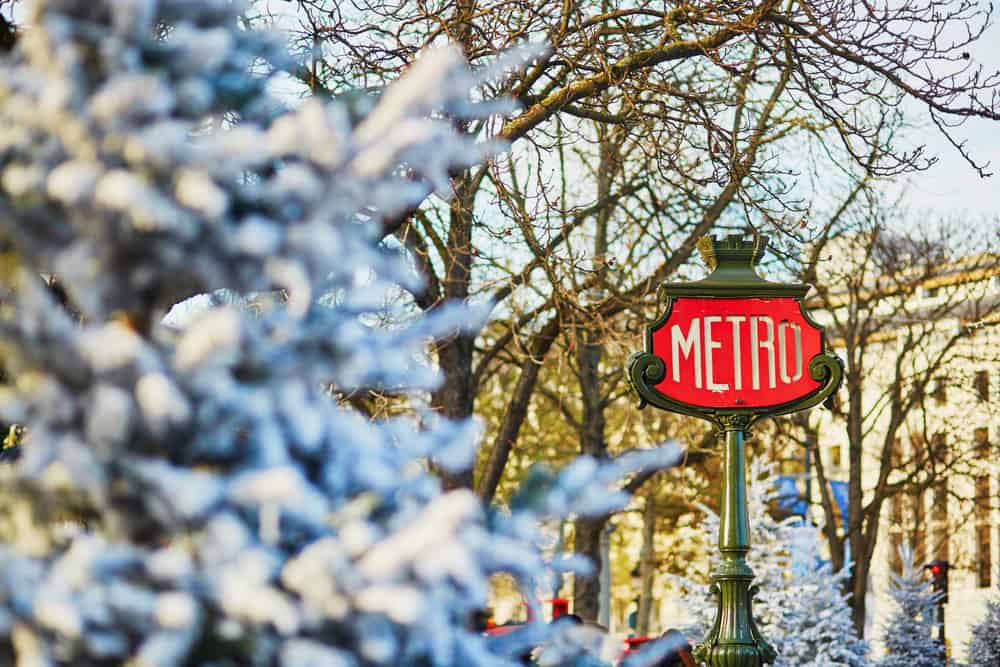 What To Pack For Paris In Winter
If you are heading to Paris in the winter, there are a few packing tips we suggest you adhere to! Visiting Paris in winter is quite enjoyable and magical, but you need to stay warm and dry. Since it is Paris, you will also want to do all these things while looking a bit fashionable too!
Dressing in layers is key! This way, you can easily go from warm out on the streets of Paris to comfortable inside a building. If you get too warm or too cold, simply add or take away a layer until you feel better.
Both times we have visited Paris in winter, we packed our entire wardrobe in carry-on luggage! If you want to pack in a carry-on, know that it is totally doable! If you want to bring a checked bag, that is even better as you will have more space!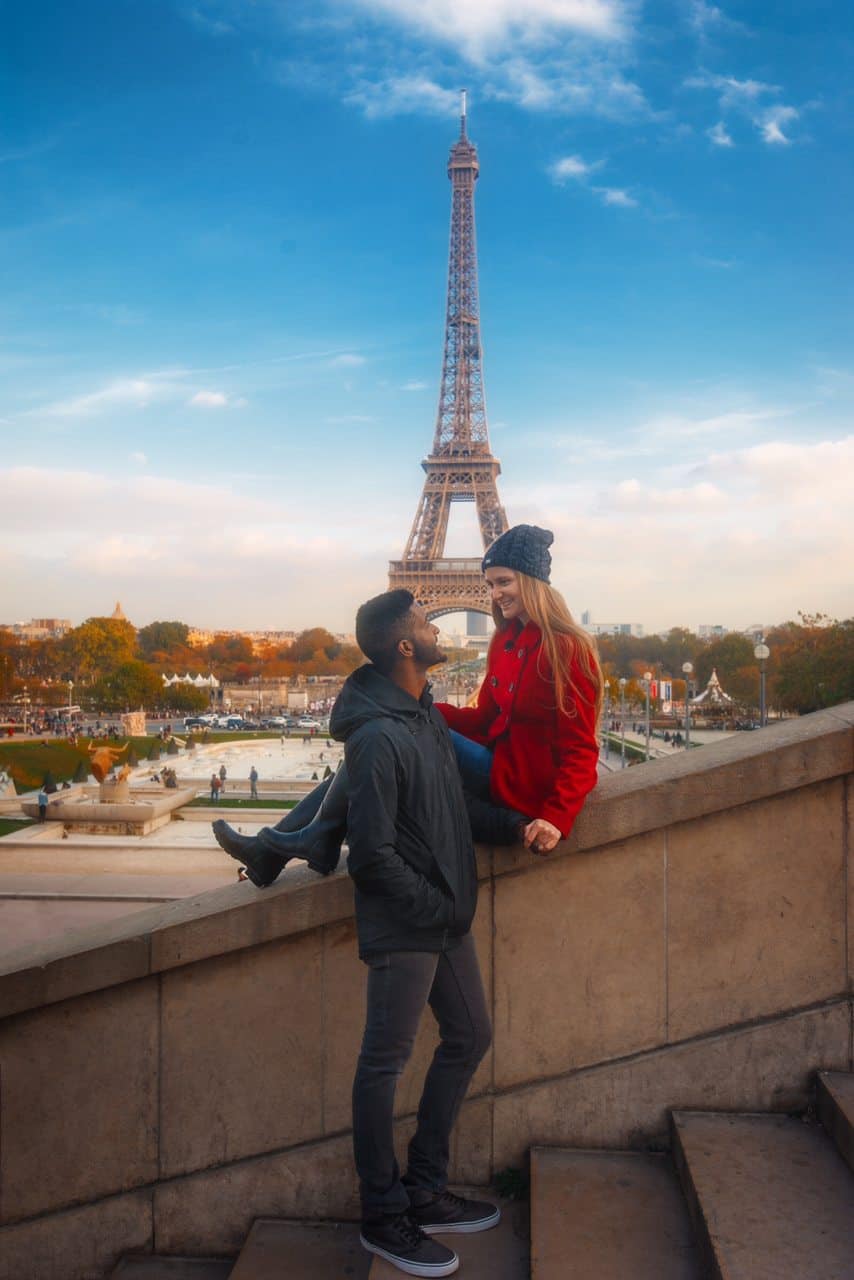 How To Spend Christmas In Paris
If you are visiting Paris in winter because you are going to spend the Christmas and New Years season, you are truly in for a treat!!! Everywhere, all across the globe, people love the holiday season and spending Christmas in Paris is an unforgettable experience.
There is just something about that time of the year that really lightens up your mood and puts that extra pep in your step. Christmas in Paris is no exception.
In typical Parisian fashion, celebrating Christmas in Paris is chic, magical, extraordinary and unforgettable as ever. Between all the lights, decorations, events, and activities, there is no shortage of things to fill your days with festive, happy, fun!
We could go on for hours here but we put together an entire list of 10 Festive Ways To Celebrate Christmas In Paris. This article will break down all of our suggestions in great detail!
Some of the best things to do during Christmas in Paris are celebrating Christmas Mass at one of Paris' many Catholic Churches! Notre Dame used to be a favorite spot, but since the tragic fire, Mass will be unable to be celebrated there this year.
Don't worry, there are plenty of other churches where you can celebrate Christmas in Paris! Don't forget to check out our Paris Christmas Guide for everything you need to know about planning your Christmas experience including what to do and more!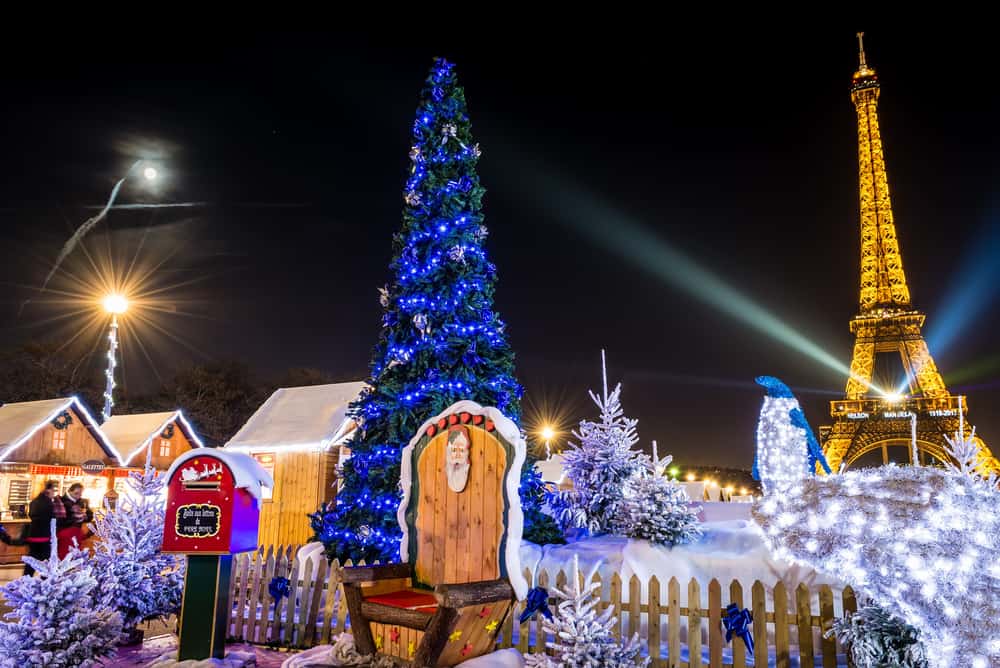 Top Things To Do In Paris During The Winter
Visiting Paris during the winter presents a unique opportunity to explore parts of the city that you may have otherwise passed up. While the weather is cold and possibly inclement, head indoors to one of the many things to do in the city!
If the weather is great, you can take to the streets and explore, all while being dressed appropriately! Whether you are looking to spend a long weekend in Paris or have a week or more to visit, there is plenty to see and do!
Bundle Up And Explore Paris By Bike
You can rent bikes at the Velib Bike Stations in Paris for very little money. It costs $8 to rent for a week and the first 30 minutes of each ride is free. Even if you end up having to pay by the hour, it will still be cheaper than renting from a bike shop. Biking is a wonderful way to explore the city, even in winter!
Make sure that you are dressed in warm clothing and make sure it is windproof, if possible. Wear gloves to keep your hands warm and a hat and get ready to explore what winter in Paris is like by bike! You can also ride your bike across town and drop it off at any Velib bike station and simply take the Metro home if the weather gets bad!
If you would prefer, there are many guided bike tours that you can take around Paris in winter! That way, you can enjoy the sites without worrying about getting lost!
Book here: Electric Bike Tour Of Paris' Hidden Gems
Check availability: Paris 4-Hour Bike Tour: Off the Beaten Path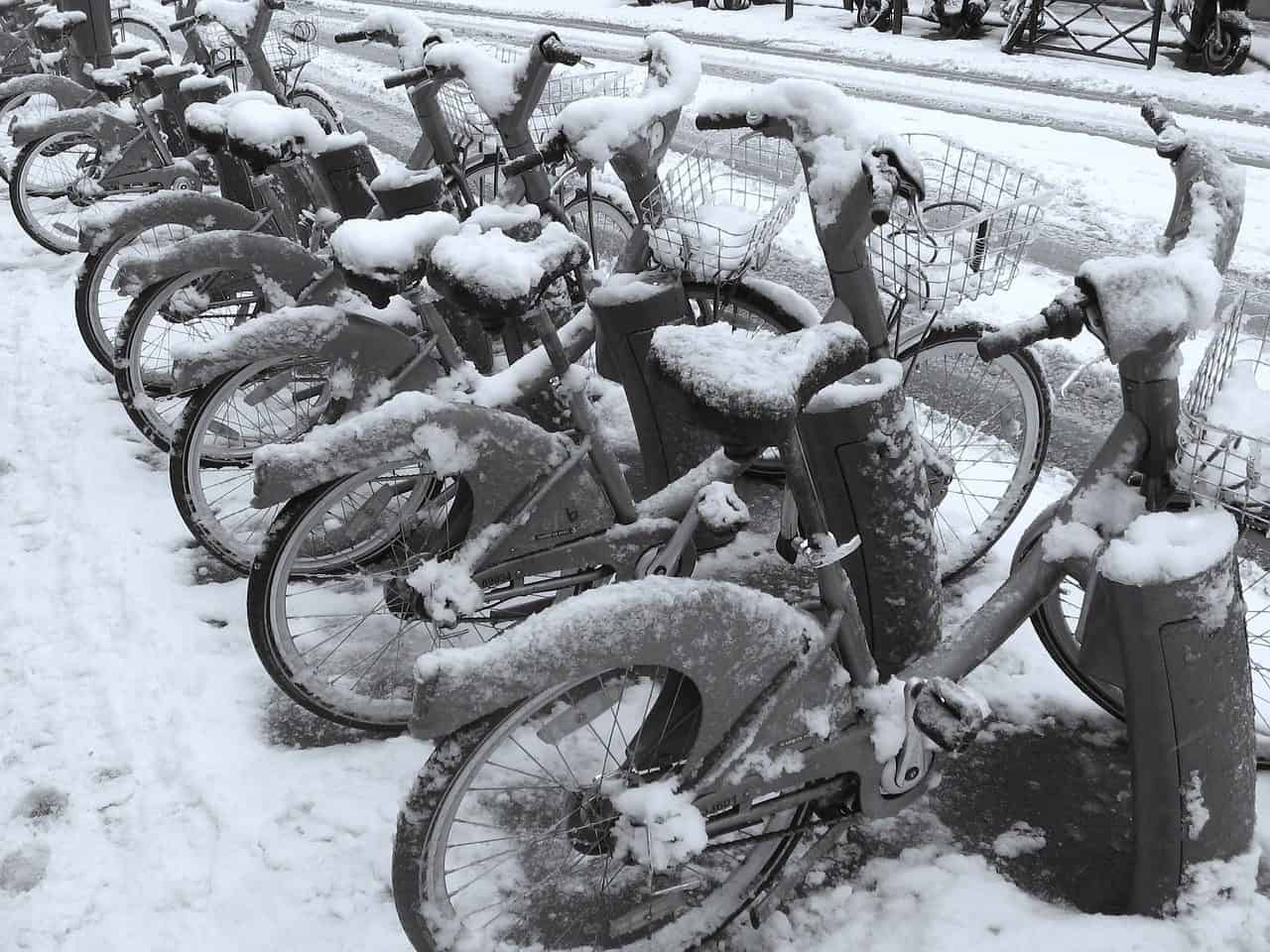 Go Window Shopping Along The Champs-Elysées
There is nothing more magical than a walk along the Champs-Elysées during the winter! Winter in Paris means stores decked out for the holidays, Christmas trees galore, and maybe even a little snow if you are lucky! Parisians love to window shop, especially around the holidays! Take the Metro to either end of the Champs-Elysées and window shop your way up and down the streets! There are plenty of good places to eat if you need to stop in to warm up during your walk!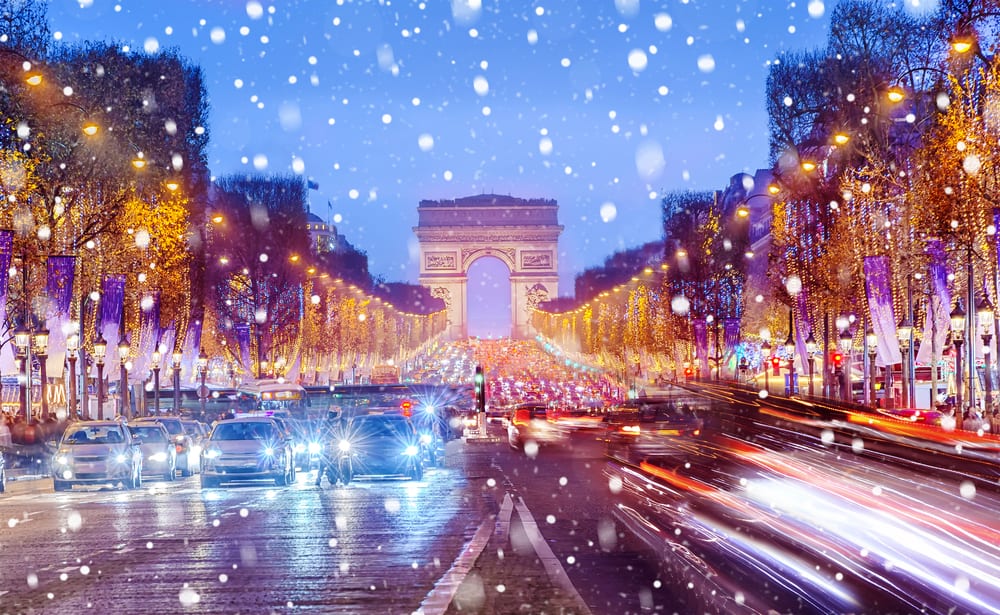 Head Indoors And Enjoy One Of The Many Parisian Museums
Museums are a highlight to explore in Paris during the winter! Millions of people travel to Paris from all around the world to visit museums and there is no better time to enjoy them than when visiting Paris in winter! If you are visiting the Louvre, make sure to buy a timed entrance ticket so you aren't stuck waiting over an hour in line to buy a ticket!
You can buy a Louvre Entrance Ticket here and choose your time that you want to visit. Make sure to budget at least 4-5 hours at minimum for exploring the Louvre.
It is the perfect activity to do in Paris in winter if the weather gets bad because it allows you to spend a great deal of time indoors without ever getting bored. You can even book a cool guided tour about Louve Scandals or you can try and find the best butts at the Louvre! How entertaining, right?
If you have already seen the Louvre, check out one of the other fantastic museums to explore in Paris such as the Musee d'Orsay, the Musee de l'Orangerie, the Holocaust Museum, Musee Rodin and many many more! Click here to book your Musee d'Orsay tickets in advance!
Book here: Louvre Skip The Line/Timed Entrance Ticket
Book here: Skip The Line/Louvre Scandals Tour
Book now: Musée d'Orsay Reserved Access 1-Day Admission Ticket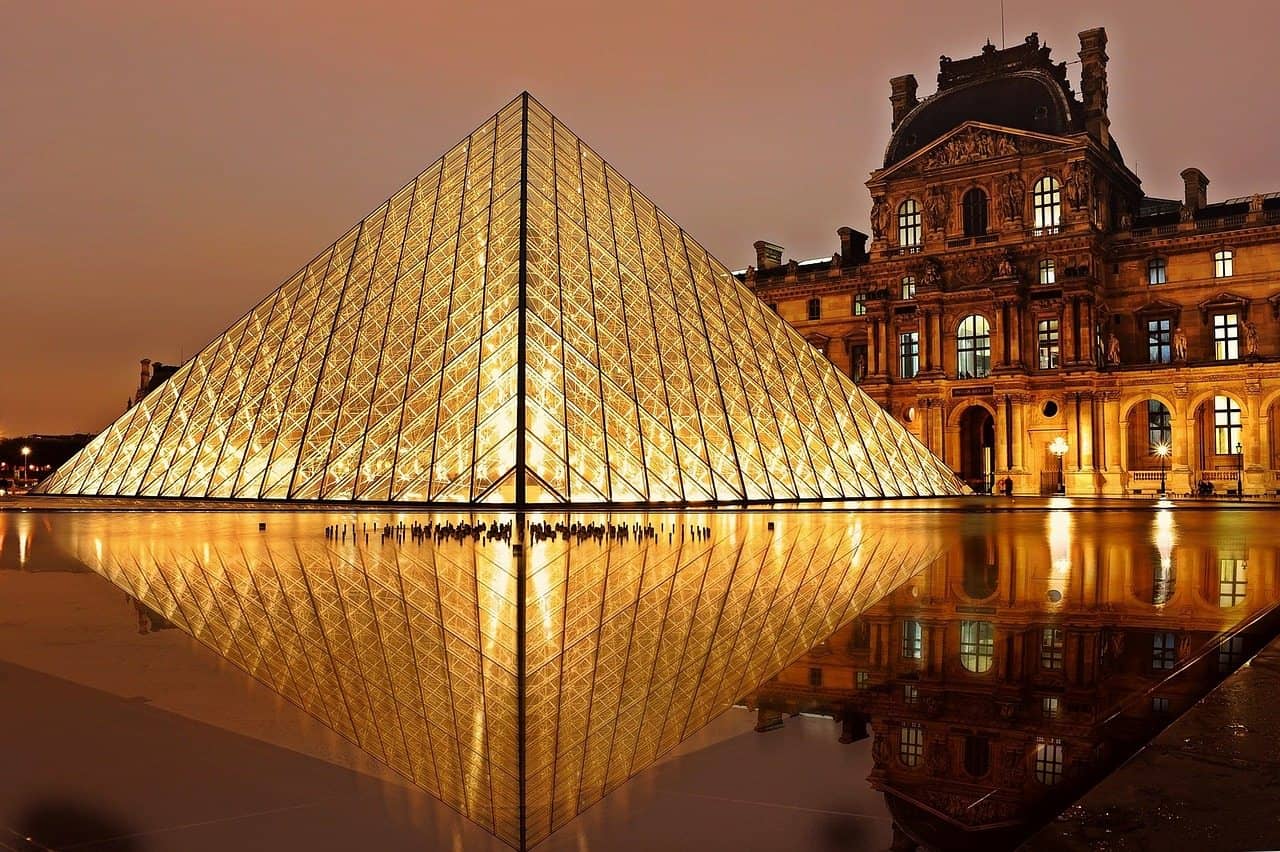 Go Underground And Visit The Parisian Catacombs
The catacombs are the perfect activity to when visiting Paris in winter because they are underground which means they are sheltered from the elements! The Parisian catacombs are home to over 6 million bones, so get ready for the experience of a lifetime. You can book your Catacombs ticket online so that you can skip the line and get an included audio guide.
If you are visiting Paris in winter and want to head to the catacombs, make sure to wear warm clothing, as you will be underground and it may be cold. Discovering the dark side of the City Of Light has never been more fun!
Book here: Catacombs Skip The Line Ticket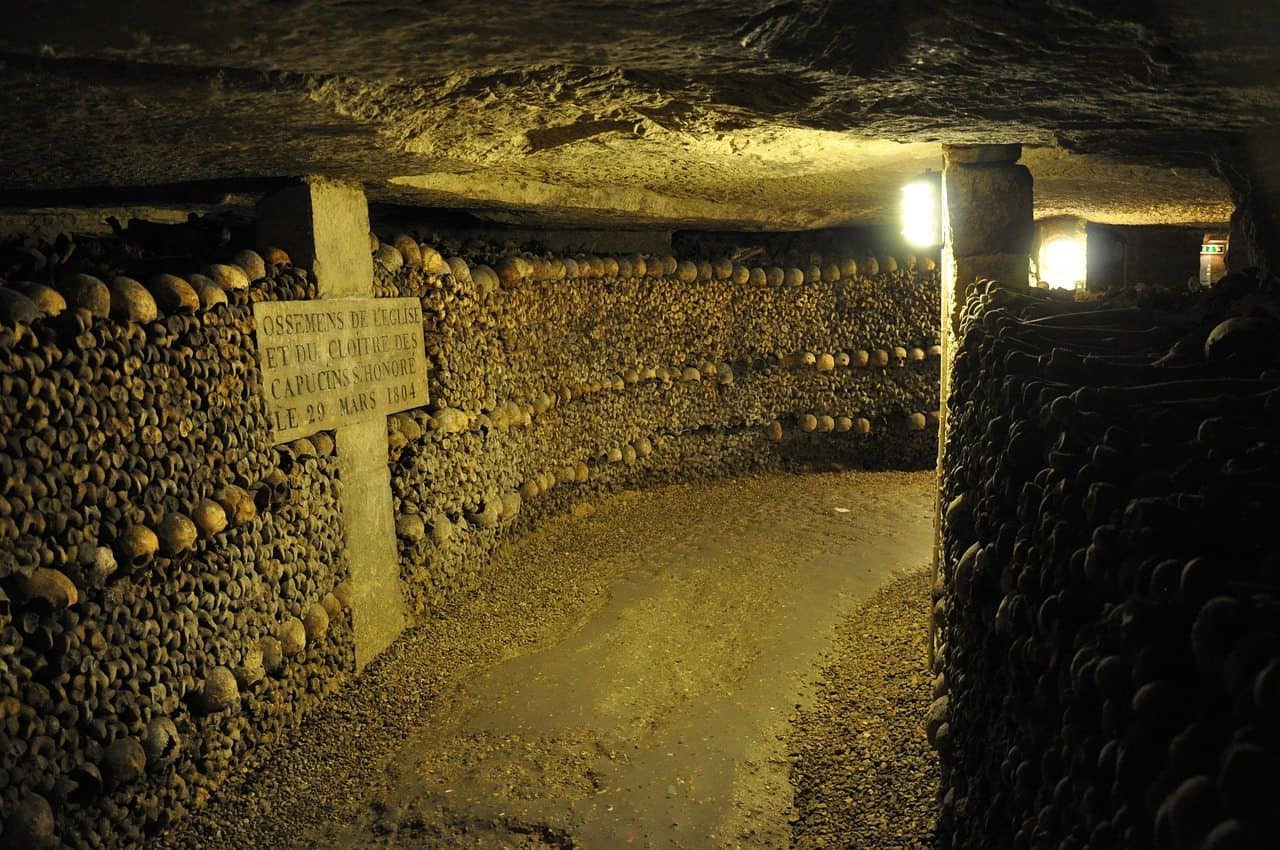 Warm Up With A Cooking Class During Winter In Paris
Paris is home to some of the best food in the entire world! From delicious crepes to fluffy Macaroons, the food is truly out of this world. Taking a cooking class when visiting Paris in winter is the perfect way to head indoors and learn about your favorite French food while staying warm and dry.
There are so many options for cooking classes, from learning the secrets of French pastries to learning how to cook an authentic Christmas dinner, there is truly a Parisian cooking class for everyone!
Book here: Learn The Secrets Of French Pastry From A Parisian
Book now: French Macaroon Baking Class
Book here: 2-Hour French Bread Making Class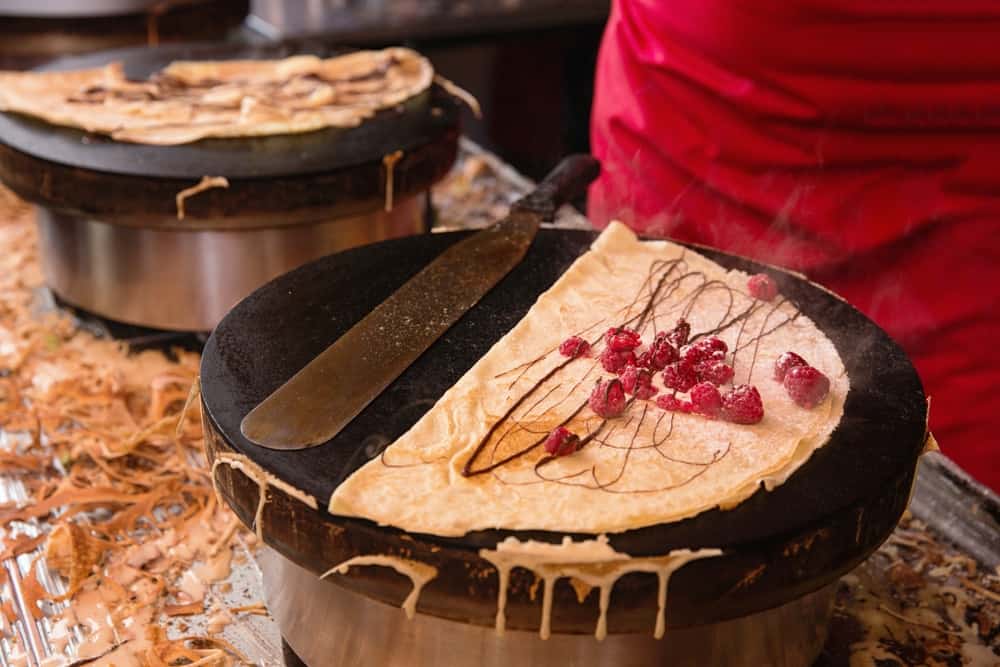 Go Ice Skating For Free Around The City
Ice skating is the quintessential winter activity and it can be found in Paris! Ice skating during winter in Paris is actually free, all you have to do is rent ice skates which will run about $7. We can't think of anything more magical than strapping on a pair of skates and Ice skating around Paris in winter!
The most popular Paris winter ice skating locations are in front of Hôtel de Ville and at the base of the Montparnasse skyscraper. Make sure to dress warmly so you don't spend your whole time skating wishing you had worn a hat!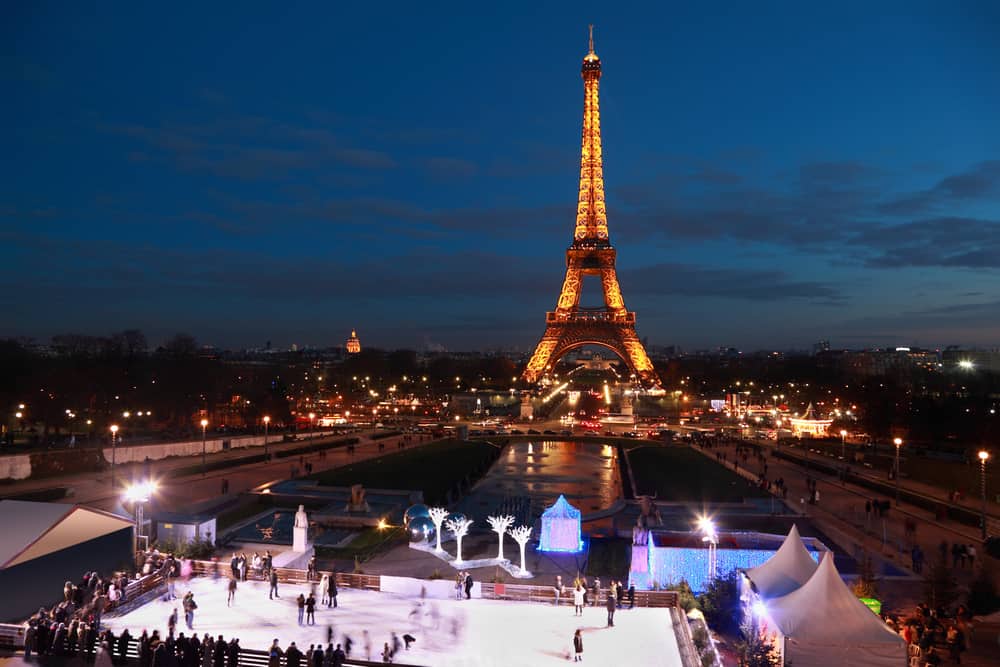 Go To A French Christmas Market In Paris
If your trip to Paris in winter falls around the holidays, you are in for a real treat! Head to one of the authentic Christmas markets in Paris and shop at the stalls, eat delicious food, and enjoy the holiday cheer.
We love Christmas markets in Europe and there are some fantastic ones in Paris during the winter! Try the mulled wine as a way to warm up while browsing the handcrafted goods and homemade cookies. There are multiple Christmas markets around Paris in winter so make sure to visit a few, if you have time. Each one has its own little twist!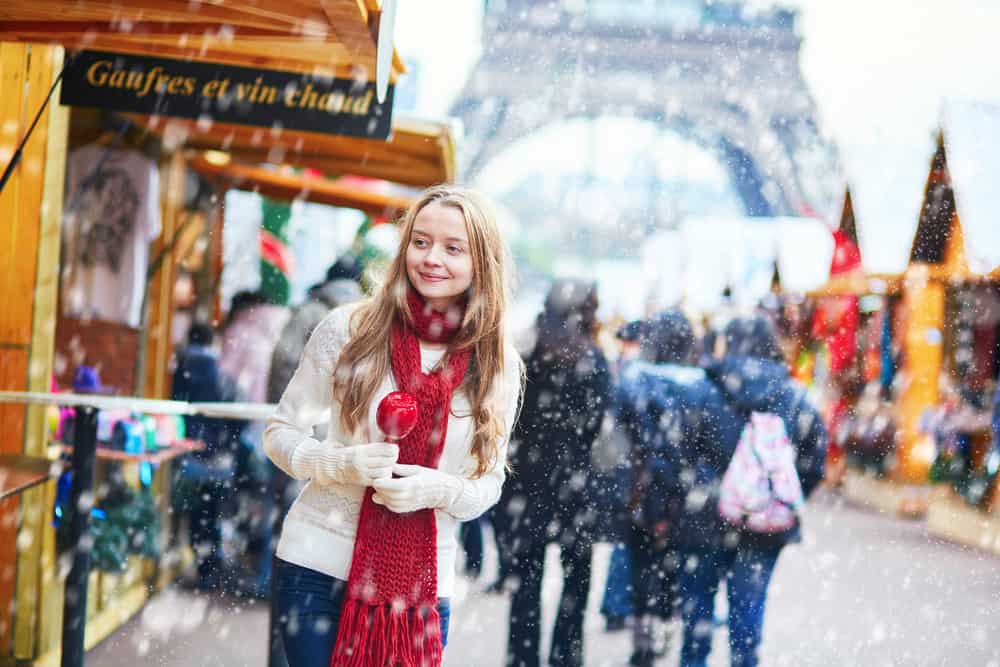 Take In Paris From Above On Top Of The Eiffel Tower
Just because it is winter in Paris does not mean that you should forgo a trip up the Eiffel Tower. If you have never gone up the tower, don't skip it just because it is winter. Going up the Eiffel Tower in winter is actually more enjoyable than in the summer because you won't be fighting with long lines of people and you will have more open space to take in the view without the crowds.
That being said, going up the Eiffel Tower in winter can be quite cold so be sure to dress in your warmest clothing so you have an enjoyable trip! We highly recommend gloves, a hat, and layers!
Book here for discounted entrance: Eiffel Tower: Second Floor Priority Access or Summit Ticket
Check availability here: Dinner at 58 Tour Eiffel with Priority Lift Tickets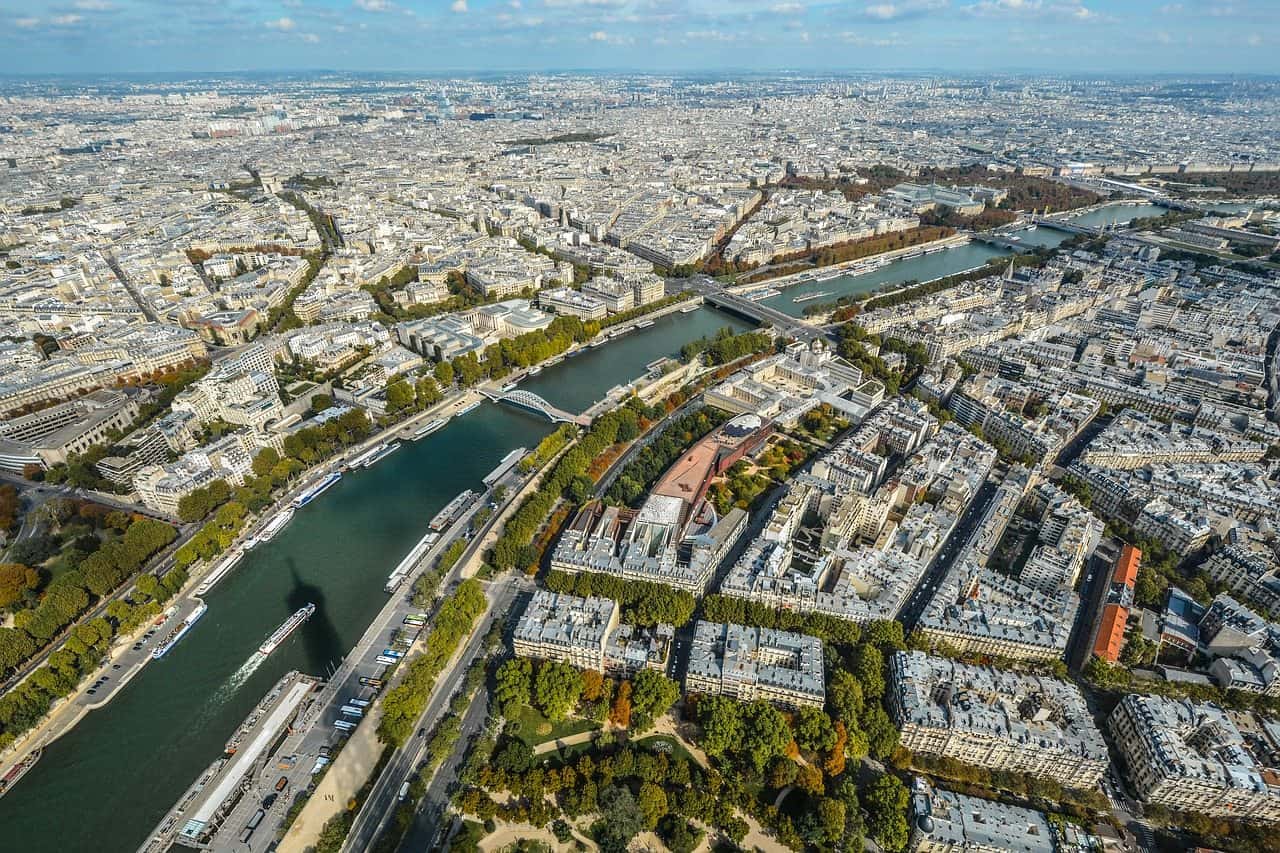 Where To Stay In Paris During The Winter
Where to stay during your winter trip to Paris will depend on what you plan on doing. We prefer to stay near the Eiffel Tower as we like to be able to walk a few blocks and see it in the distance. Perhaps you are looking to explore the Montmartre District or spend a lot of time in certain museums.
If you find a hotel you love, do not worry! The Paris Metro goes to every corner of the city and makes it quick and easy to get around!
We created this guide to the Very Best Neighborhoods in Paris with exact hotel recommendations. Some are larger and some are more intimate so depending on what you want, there is something for everyone!
These are our personal recommendations and neighborhoods that we have actually stayed in during our winter visits to Paris1
If you are truly looking to get a feel of how the posh locals live during your winter trip to Paris, we suggest that you consider renting an Airbnb! An Airbnb allows you to live like the locals do in the heart of bustling neighborhoods!
You can experience everything from grocery shopping in Paris to walking home from the metro to cooking with local ingredients in your own kitchen! You will also save money on eating out in the event that you want to try your hand at creating authentic French dishes at home!
Redeem Now: Get A Free $40 Airbnb Coupon
Our recommended areas to stay in Paris in winter would be near the Eiffel Tower, near the Arc De Triomphe/Champs Elysees, and near the Louvre. There really is no "bad" area to stay in Paris so we can really only give our personal recommendations for areas, hotels, and Airbnbs that we love.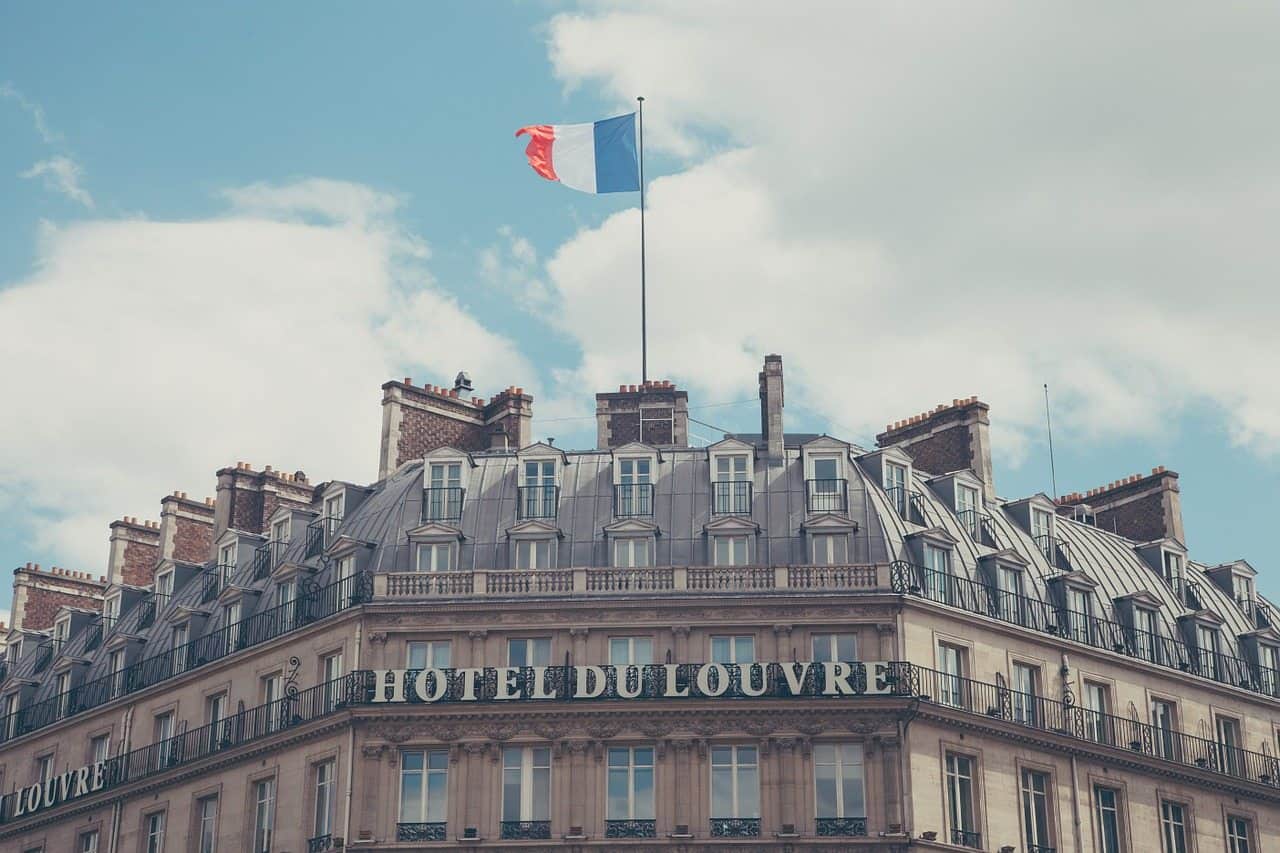 Hotel Recommendations In Paris:
Paris is one of our favorite cities in the world and visiting Paris in winter is a wonderful time for deep discounts on accommodations! The places we stay are a fraction of the price they would be during the spring and summer so you get more bang for your buck!
We created this Ultimate Guide On Where To Stay In Paris that breaks down our top neighborhood suggestions for you. This will show you the hotels we recommend in each neighborhood as well as why we like that area and what there is to see and do around there! These are all areas in Paris that we have actually stayed in and many of those stays have been during winter in Paris!
If you don't want to check out the article, that is okay! We are going to list a few favorites below for you to take a look at. These are some of the best places to stay during your winter trip to Paris. There is so much to see and do and you will be right in the thick of all the holiday festivities! These locations and suggestions really can't be beaten!
Affordable: Hôtel de la Tour Eiffel
Hôtel de la Tour Eiffel is one of the best places to stay in Paris in winter if you are looking for airy rooms and close proximity to the Eiffel Tower for an affordable rate. It is a casual hotel with many rooms offering street views and a courtyard patio with a garden.
This is where to stay in Paris if you want to be less than two blocks from the Eiffel Tower! This is one of our favorite neighborhoods and the area we stay each November when we visit Paris.
Check Rates: Booking.com
Affordable: Hôtel Vivienne
For the price, Hôtel Vivienne is easily one of the best places to stay in Paris in the 1st district. Hôtel Vivienne is located right near Galerie Vivienne which is such an incredibly unique shopping Galerie in Paris. Visiting the shopping Galeries is one of the best things to do in the event a Paris winter storm blows through so you will already be nearby!
This quaint hotel with cafe-style breakfasts is walking distance from the Louvre and Seine and is where to stay in Paris if you want to stay in the 1st district for an affordable rate!
Check Rates: Booking.com
Mid-Range: Hôtel Montmartre Mon Amour
Hôtel Montmartre Mon Amour is located just steps away from some of the most famous sites in Montmartre. Montmartre is a wonderful area of Paris to stay in during the winter and it is much less busy than during the summer months!
If you are looking for where to stay in Paris in winter for an affordable rate but near some of the best sites in the city, Hôtel Montmartre Mon Amour is the place for you. This cute boutique hotel is walking distance from metro stations and is perched on the Montmartre hill!
Check Rates: Booking.com
Mid-Range: Hotel Rivoli
When searching for where to stay in Paris, it is hard to go wrong with choosing Hotel Rivoli in the 4th district. Hotel Rivoli is a boutique hotel located in the heart of this fabulous area and is truly one of the best places to stay during winter in Paris.
It is right in the thick of the nightlife central of Paris! Some of the rooms at Hotel Rivoli even come with a private balcony so you can overlook the city of Paris at your leisure. It is also located near transportation which makes getting to other parts of Paris easy.
Check Rates: Booking.com
Famous Eiffel Tower Views: The Peninsula Paris
The Peninsula Paris is one of the top luxury hotels with a view of the Eiffel Tower on the market. If you are looking for the best of the best this is the place for you. Just steps from the Arc De Triumph, Peninsula Paris is one of the most sought-after properties in Paris.
If you are looking to go all out during your winter trip, this is the place to be! If you want to stay here, you are going to want to check rates and availability immediately and book as soon as possible because it sells out quickly!
Check rates: Booking.com | Hotels.com
Eiffel Tower Views: Le Metropolitan
Le Metropolitan, a Tribute Portfolio Hotel is located in the 16th district of Paris. Surprisingly, Le Metropolitan is one of the more reasonably priced 4-star hotels in Paris with an Eiffel Tower view in Paris, especially for being located in such a fancy neighborhood.
This is the area we stayed during our first trip to Paris and it makes a great stop during the winter. If you are looking for some Eiffel Tower balcony views make sure to request the "Eiffel View Suite" which features a little balcony and large living and sleeping spaces.
Check Rates: Booking.com | Hotels.com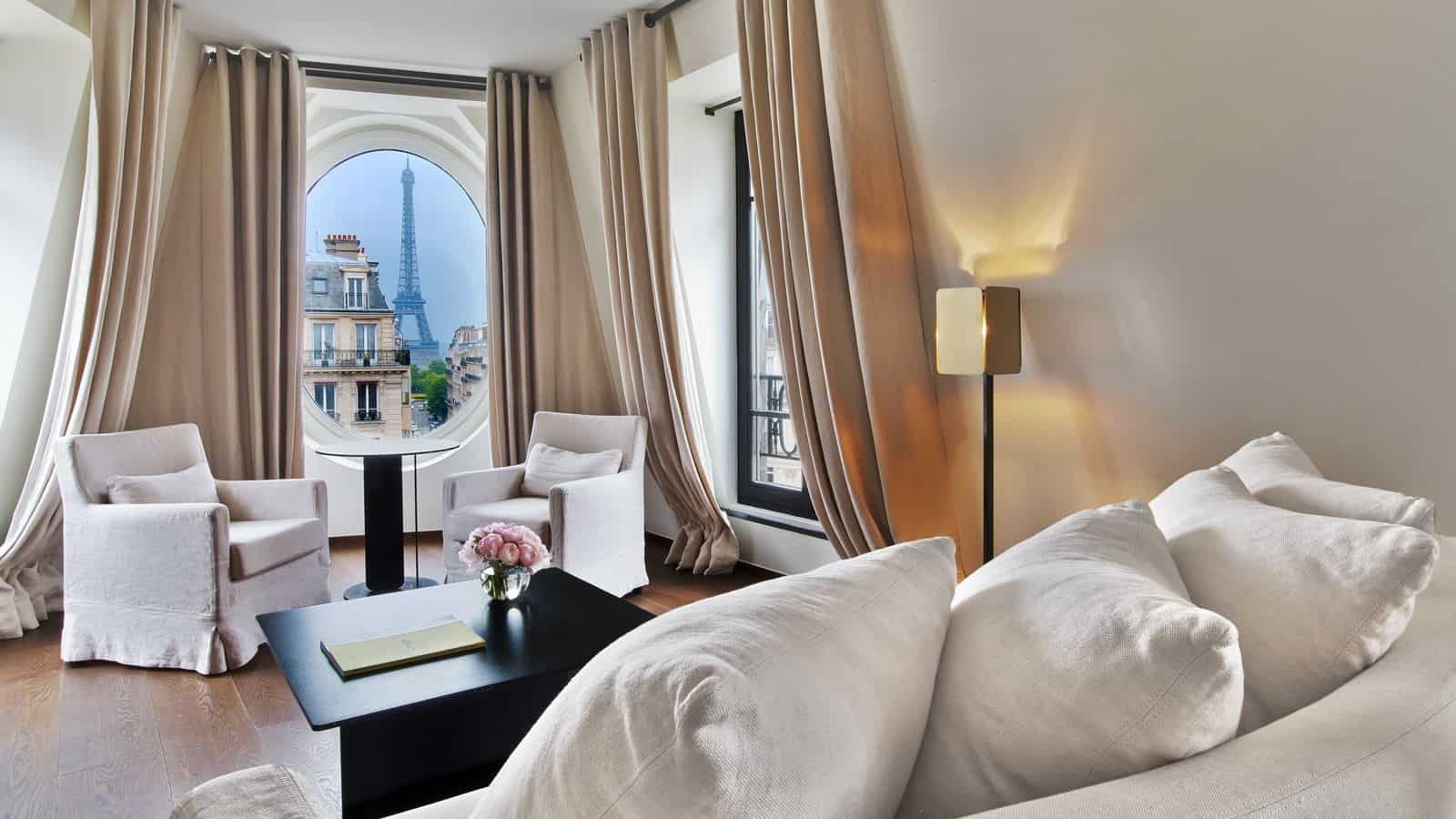 Best Places To Eat During Your Winter Trip To Paris
Paris is a true foodie city! From authentic French food to international fare, there is truly something for everyone! When visiting Paris in winter, you can choose to eat outside one of the many cafes like a true Parisian, or you can opt to eat inside, which is what we usually choose.
Parisians sip their coffee outdoors, no matter what the weather is like! We were shocked how many people were sitting outside during winter in Paris, so do so at your own risk! Here are some of our favorite places to eat in Paris!
Breizh Cafe Breizh Cafe offers galettes and crepes along with local ciders and beers. They have both an indoor and outdoor sitting area, in case you want to try eating outside in Paris in the winter! The food was delicious and the drinks were great! We recommend a galette for dinner and a crepe for dessert!
La Catrina Taqueria. If you are looking to experience some Mexican in Paris, this is the place for you! Their tacos are out of this world and the location is right next to a Metro stop and a Velib bike station. Their Hibiscus juice is a highlight!
Papelli. Authentic Italian in Paris? Why not! As we said above, Paris is an international city so it makes sense to try all different types of food! The pizza at Papelli is so amazing and their appetizer of bread and olive oil is scrumptious! There are multiple locations around Paris to make getting around easy.
La Taverne de ZHAO. This Chinese restaurant is our all-time favorite restaurant in Paris! We go every time we visit! It is the perfect place to visit when traveling to Paris in winter because the food just warms your soul. Try the tofu with egg of a thousand years. It looks weird, but it is one of the most delicious things ever!
Les Fondus de la Raclette. We went here for Victoria's birthday and it is literally the perfect spot for a Paris winter dinner! Raclette is a cheese dish that came from the French Alps and skiers eat it after coming in from the slopes. This restaurant mimics a ski chalet and the food is so delicious! Come hungry because they give you a ton of food and so much cheese you have enough to take home!
Don't forget to check out our list of the Best Cafes In Paris and be sure to visit some during your winter vacation in Paris! They get all dressed up for the holidays and you really don't want to miss them!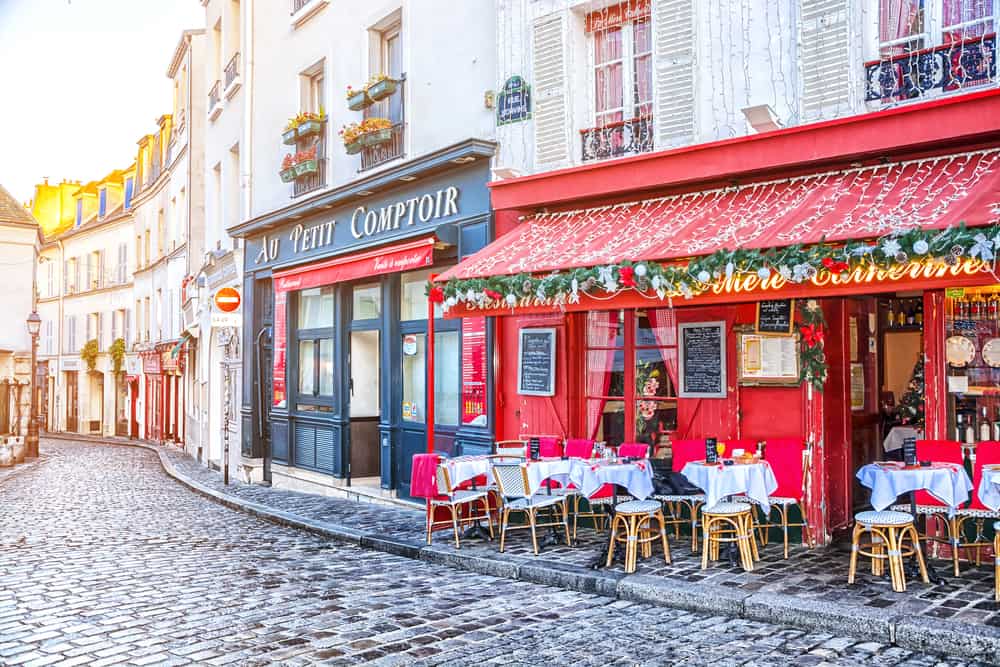 Getting To/From The Paris Airport In The Winter
If you are planning to travel to Paris in winter and you won't be taking the train, chances are you are flying into one of the Paris airports. Charles De Gaulle Airport is the main airport in Paris for international arrivals. Paris Orly is the second most popular international airport in Paris but much less popular than Charles De Gaulle.
When arriving in Paris in winter, you can take the bus from Paris Orly into the city center which only takes about 15-20 minutes, depending on traffic. One of the benefits of traveling during winter in Paris is that the traffic is much better than it would be if you were visiting during the summer time!
The larger and more popular Charles De Gaulle (CDG) airport is further away and takes almost an hour to transit into Paris. When traveling from Charles De Gaulle to Paris in winter, you have the option of taking the bus, hiring a private taxi or uber, or taking the RER train.
If you have a long walk from a train or bus station to your accommodation, take this into account because the Paris winter weather may be harsh and you don't want to drag your baggage on the street. We personally prefer to take the RER train from the airport as it is generally only around $10 per person and is quick and easy as you transfer trains inside the metro station.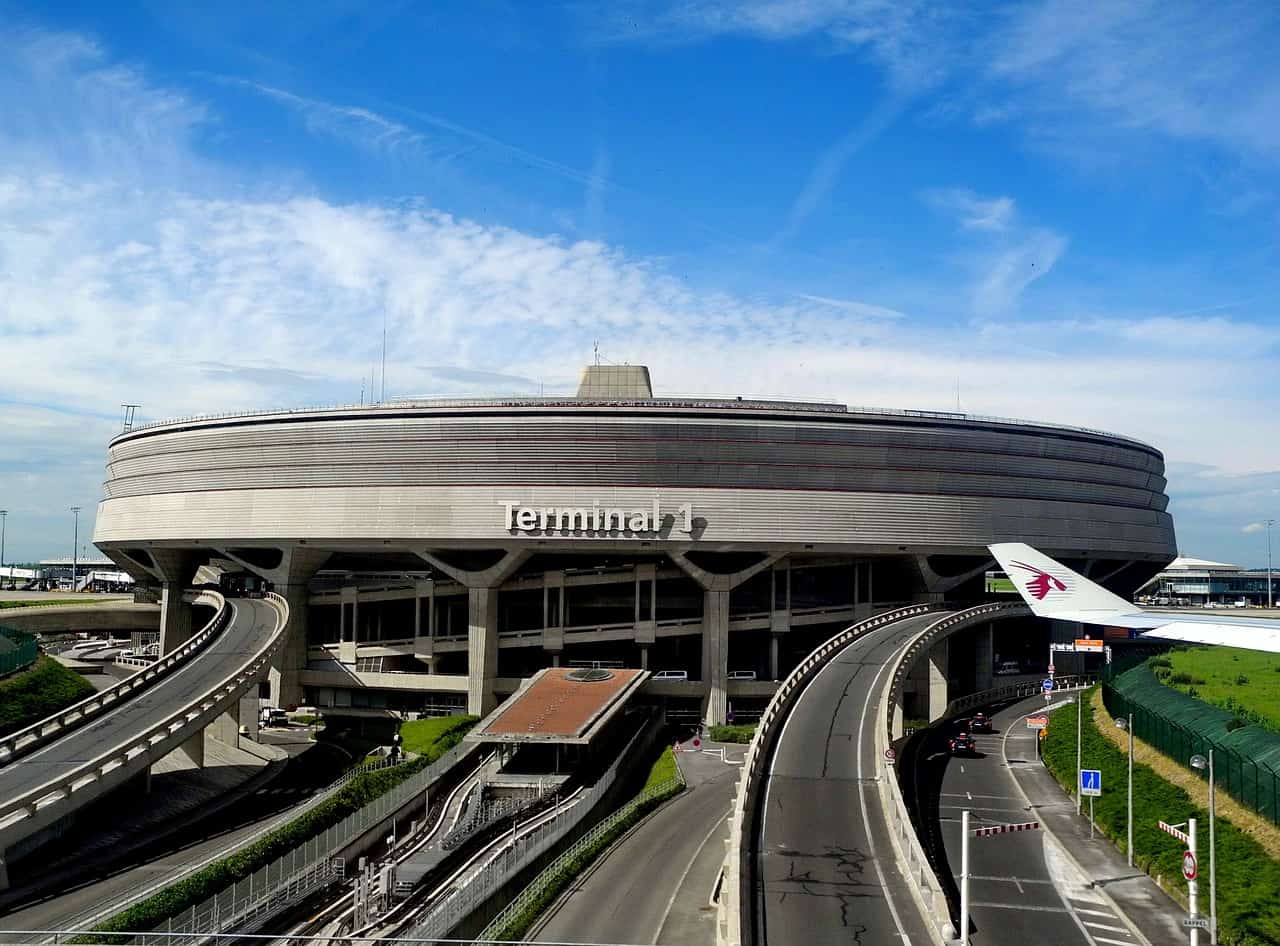 Scam & Safety Tips For Winter In Paris
While visiting Paris in winter is a much lower season than summer or warmer months, scammers are still out and you still need to keep an eye on your things for safety! Many times, it isn't obvious or easy when spotting scams in Paris which is why we are here to tell you what to do!
Luckily, Paris is a very safe city overall so there isn't too much to worry about! Just keep in mind best practices for safety as you would for any major city and you will be fine!
Quick Safety Tips For Paris:
Always watch for pickpocketers. Pickpocketing is huge in Paris and even bigger during winter in Paris! During the winter, everyone spends more time inside in enclosed spaces such as the Louvre Museum and this is the perfect place for thieves to do their dirty work! We always recommend an anti-theft handbag that is crossbody in style so you can keep your valuables in front of you at all times. If you are using pockets, always keep your valuables in your front pocket or avoid carrying in your pocket altogether.
Consider purchasing travel insurance. If you are worried about safety in Paris, consider purchasing travel insurance that will cover your valuables if anything is lost or stolen. Pickpocketing and stealing is the most common crime in Paris and rampant during winter in Paris so it is always good to stay prepared.
Verify your route when taking a taxi. Always ask Paris taxi drivers what the minimum price for the ride is and then keep a close watch on the meter. Taxi drivers in Paris often overcharge unsuspecting tourists and try to take advantage by taking longer routes. If you take a taxi in Paris, plug your route into your Google Maps on your phone and if you deviate from that route say something! We always recommend Uber as the company will help out if something goes wrong!
Keep emergency numbers handy. All emergency numbers in Paris are toll free when called from any phone in France. This includes payphones as well! Winter weather in Paris may get harsh and slippery and you may fall and hurt yourself and need emergency assistance or some other hardship may befall you. Dial "15" for medical emergencies and dial "17" for the Paris police.
Find your local embassy and make copies of your passport. When traveling to Paris in winter, it is always a good idea to travel with a copy of your passport. If your things are lost or stolen, you will need a copy as proof of who you are and your citizenship. It is also a good idea to find your local country embassy in Paris and make a mental note of the location and details in the event of an emergency.
Keep an eye out for Paris scammers. Scammers are all over the main tourist areas in Paris. The best way to avoid getting scammed is to simply avoid talking or interacting with them all together. Scams in Paris come in the way of random people inviting you to play super simple games or people trying to hand you a "free" flower and then freaking out and demanding payment because you "stole" the item. Firmly say no and walk away from anyone who tries to approach you and avoid approaching any suspicious groups during winter in Paris.
Dress in layers and pay attention to your body. Winter in Paris can get quite cold, especially if there is a wind chill! When visiting Paris in winter, we highly recommend following our packing list above because you don't want to underdress and become chilled. If you don't dress properly and the Paris winter weather is particularly bad, you run the risk of hypothermia or wind chill. A trip to the local hospital isn't the way you want to spend your vacation!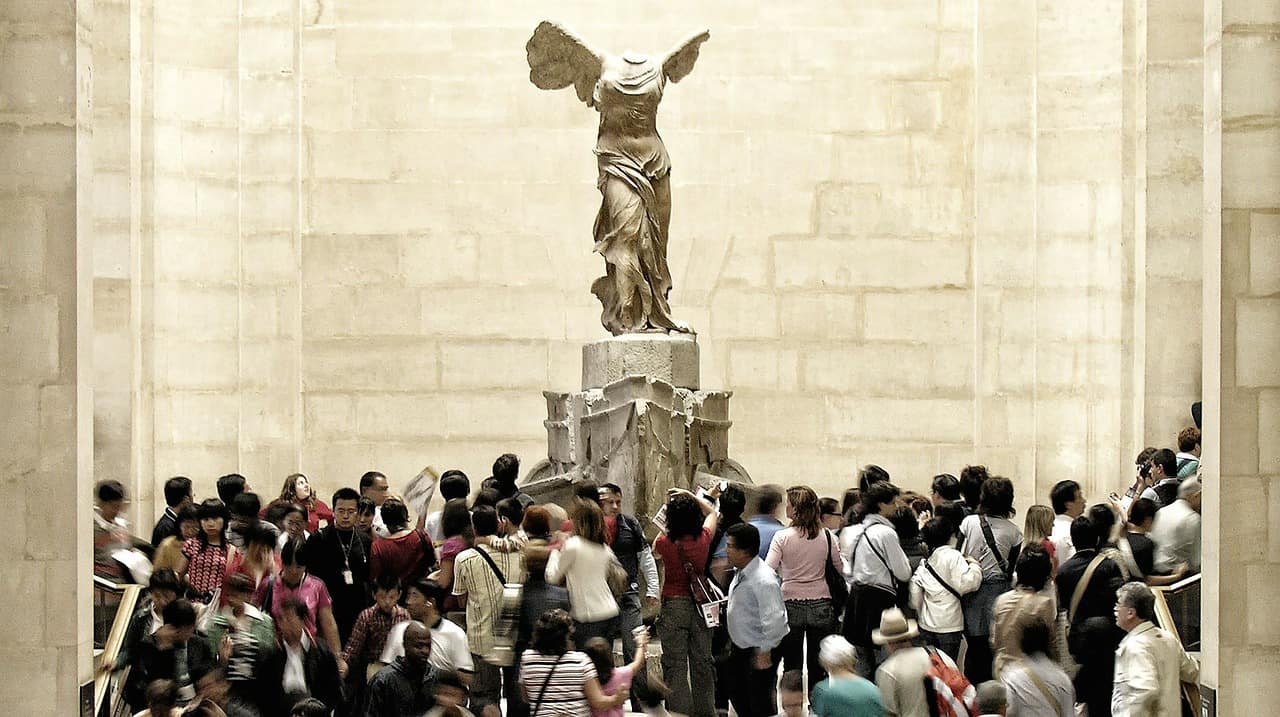 Walking Tours Of Paris In Winter
Just because you are visiting Paris in winter doesn't mean you have to stay cooped up inside all day! Exploring the city by foot is one of our favorite ways to see Paris, even in the winter! If you are visiting during the winter in Paris and you want to take a walking tour, simply ensure that you are dressed appropriately in the right coat and footwear and you should be good to go!
Recommended Paris walking tours: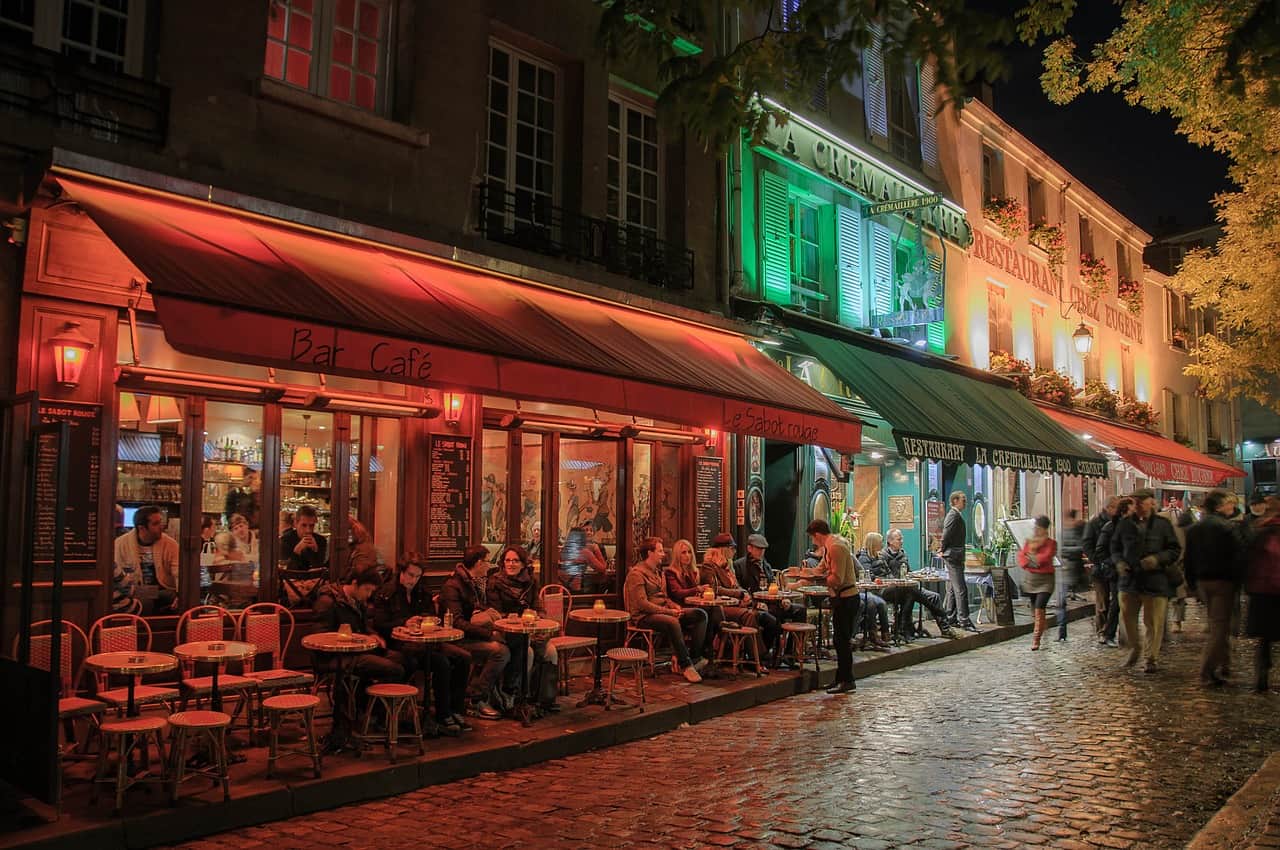 There is so much to see and do when visiting Paris in winter! We could write an entire novel on our favorite things to do and where to eat and stay, but we have to narrow it down to the suggestions above so we don't completely bore you! If you read this far, congratulations! You are well on your way to planning your dream trip to Paris in winter!
If you have any questions about planning your winter Paris vacation, make sure to let us know in the comments and we will try and answer the best we can!
Pin this post: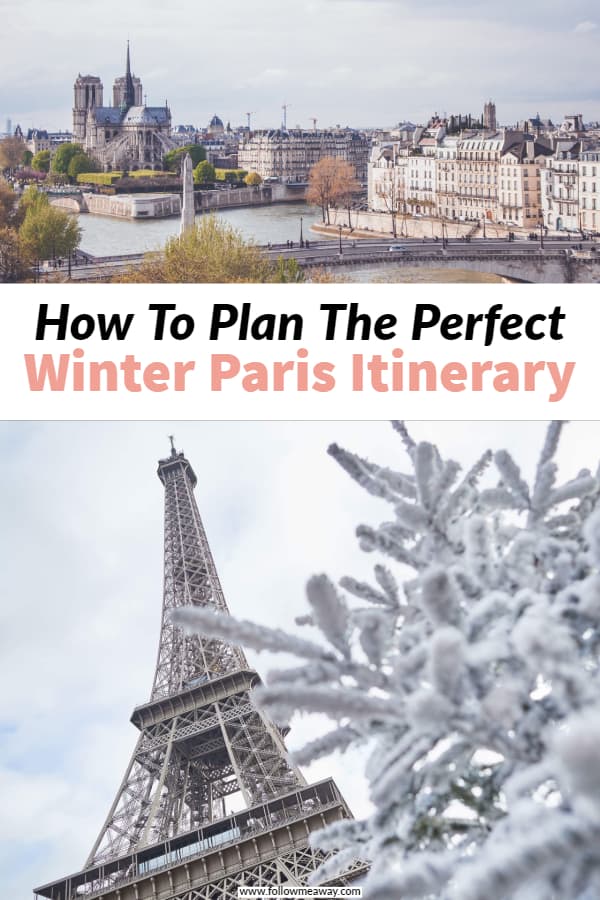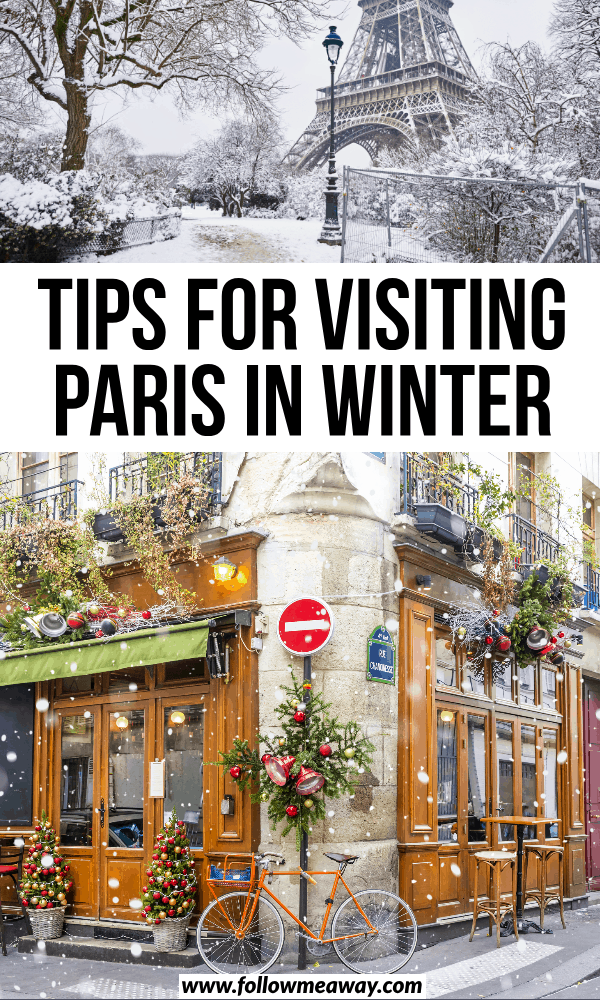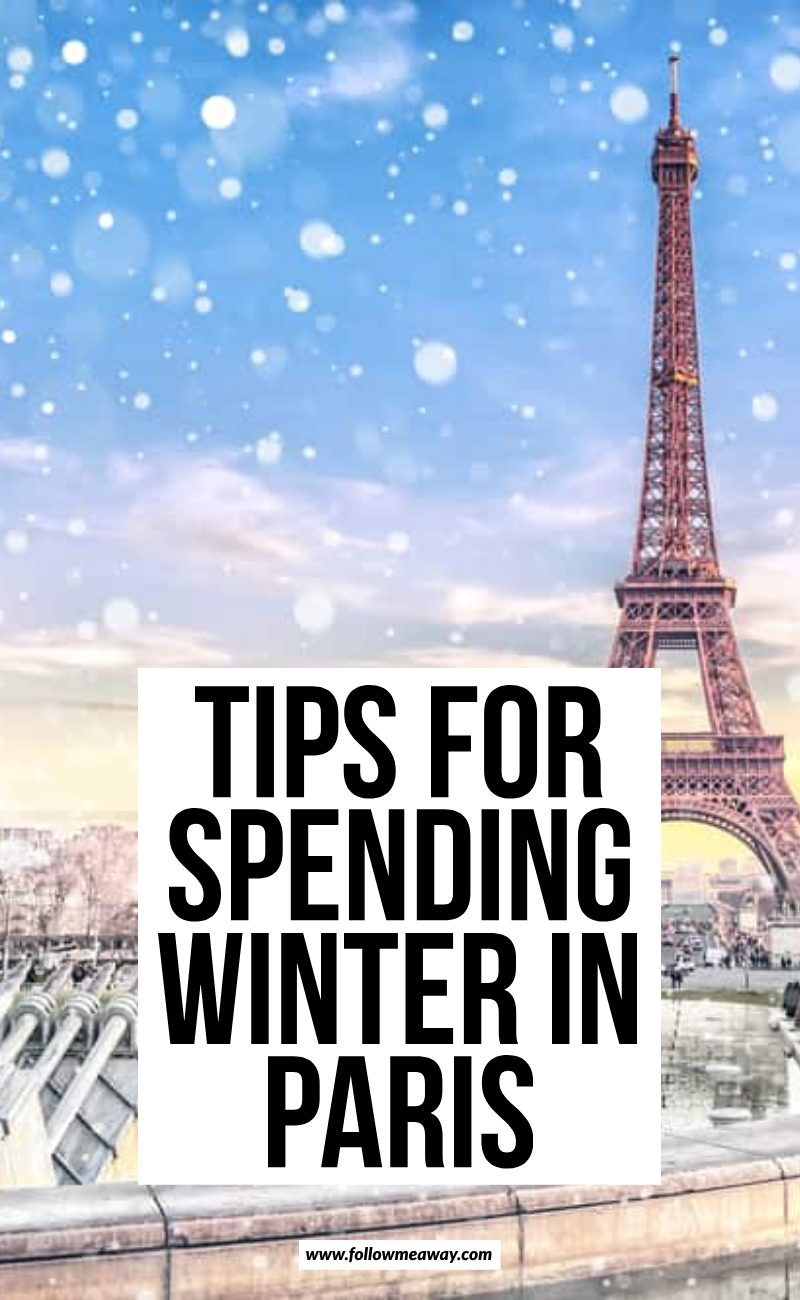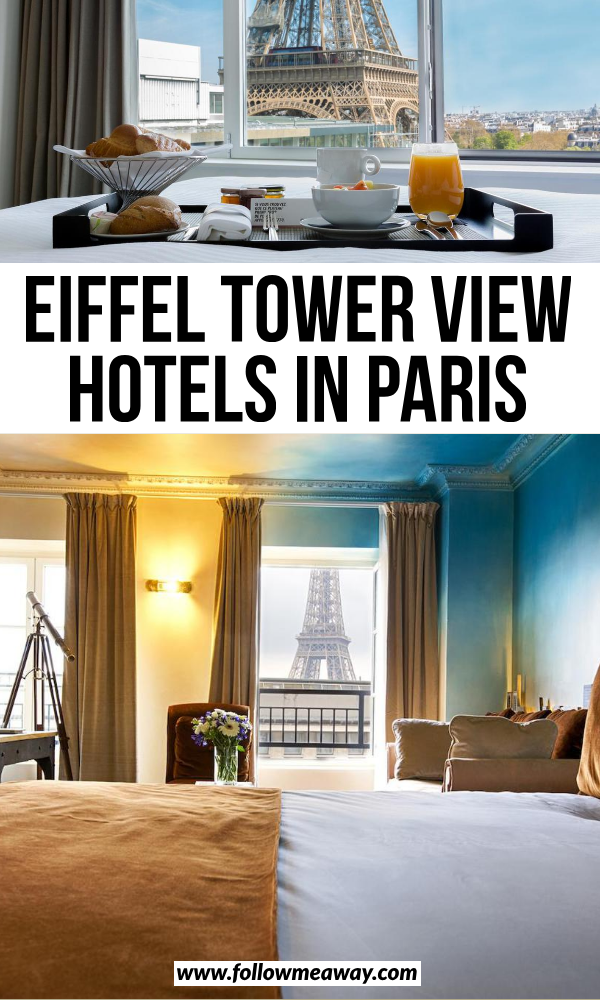 Disclaimer: This post may contain affiliate links which means we make a small profit at no cost to you from certain sales made.