Christmas markets in Europe are incredibly popular, and there are multiple reasons why. European cities are already beautiful but add sparkling lights and decorations, and they become enchanting. Also, who doesn't love Christmas? These Christmas markets are all decked out and are full of colorful decorations, Christmas songs, and the smells of the country's traditional holiday cuisine. Exploring Christmas markets in Europe is one of the best ways to spend the holiday season!
The hard part of European Christmas markets is figuring out where to go. It is a difficult decision. After all, there are hundreds, possibly thousands, of Christmas markets in Europe, each being unique and beautiful. What's nice about there being so many options, is that there is a perfect Christmas market in Europe for everyone, you just have to find it! No matter where you want to travel to, how crowded you want it to be, or what type of food you want to eat, there is a Christmas market just for you.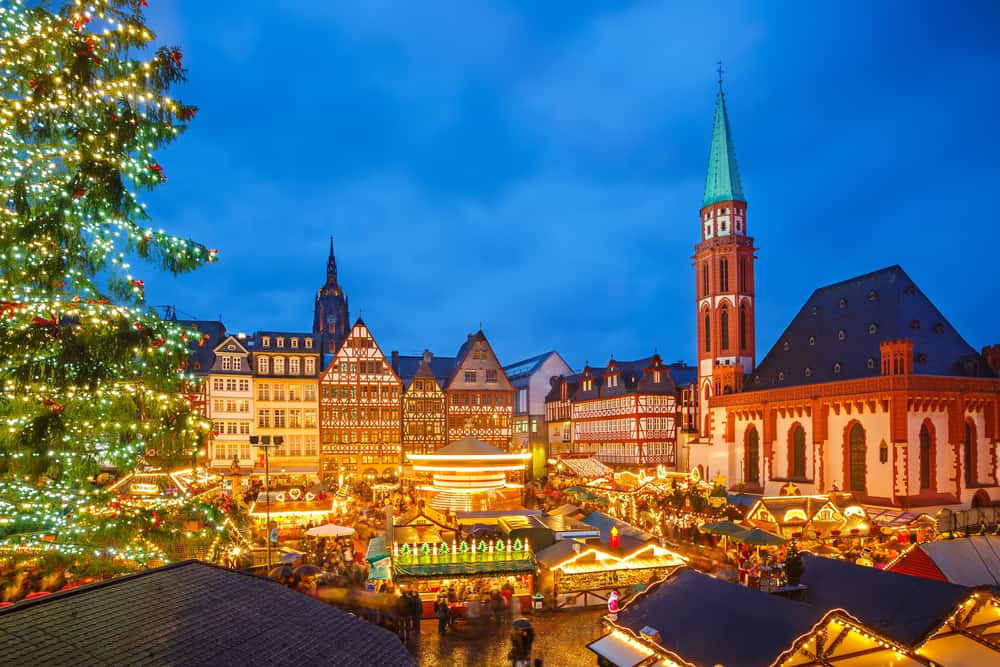 15 Festive Christmas Markets In Europe You Must See In 2020
Christkindlmarkt On The Rathausplatz Is One Of The Most Popular Christmas Markets In Europe
Though there are lots of Christmas markets in Austria, Christkindlmarkt on the Rathausplatz is the largest and busiest one of all. It takes place on the Rathausplatz, the square in front of the town hall, which is situated across from the Burgtheater. This European Christmas market goes back to the late 18th century, making it not only filled with an old-fashioned vibe but also a place with amazing historical roots.
It is estimated that every year, this European Christmas market attracts around 3.5 million people a year! Sometimes it's an excellent idea to follow the crowd. It means there are some awesome reasons why so many people are flocking to this particular Christmas market. Possibly, one of those reasons is not in the market itself, but in the adjacent park, where there are magical lights, holiday surprises, and even an ice skating trail. Another reason to explore this Christmas market is the giant Rathaus Christmas tree at the center of the market. There are so many wondrous things about one of the best Christmas markets in Europe that it is hard to pick just one!
In the market itself, you'll find the traditional stalls selling roast chestnuts (just like your imagination of a Charles Dickens Christmas), different kinds of pretzels, pastries, giant doughnuts, and even a Victorian-era type of lollipop. There are also a vast number of places selling mugs of amazing Christmas punch. But more than the scrumptious taste-treats alone, this Christmas market is filled with stands that sell all sorts of wonderful, Christmas decorations, arts, and crafts. You will be able to find the most beautiful, plastic-free, original decorations made of handcrafted wood or blown glass. Artisans from all over Austria and nearby countries come to sell their wares at numerous arts and crafts stalls.
Dates: November 15th – December 24th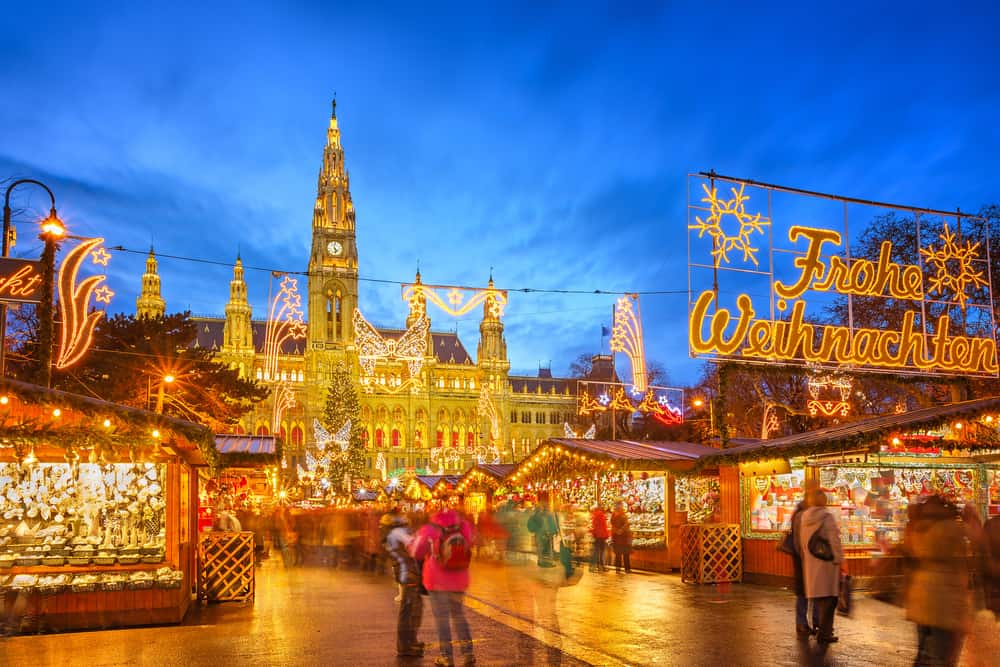 Enjoy Christmas Carols At The Old Town Square Christmas Market
This European Christmas Market is one of the two most popular Christmas markets in Prague and is a wonderful way to see Prague in Winter. Old Town Square is normally quite beautiful, but add the lights and decorations, and this becomes one of the most gorgeous Christmas markets in Europe. This European Christmas market is full of brightly decorated wooden stalls selling handmade products and local treats.
You can buy all sorts of unique objects, including ceramics, jewelry, embroidered lace, wooden toys, scented candles, Christmas tree ornaments, hats and gloves, and puppets and dolls dressed in traditional costume. While exploring all of the goods for sale, don't forget to sample some of Prague's traditional food! You can try roasted hams, barbequed sausages, pancakes, and chimney cakes (which, although very popular in Prague, is actually Hungarian).
You will also find a barn at this European Christmas market where children can pet sheep, goats, and a donkey. A nativity scene is set in a wooden stable where you can see Mary, Joseph, baby Jesus, and the Three Kings. This Christmas market would not be complete without the choirs and school groups that dress in traditional costumes to sing Christmas carols.
Dates: November 30th – January 6th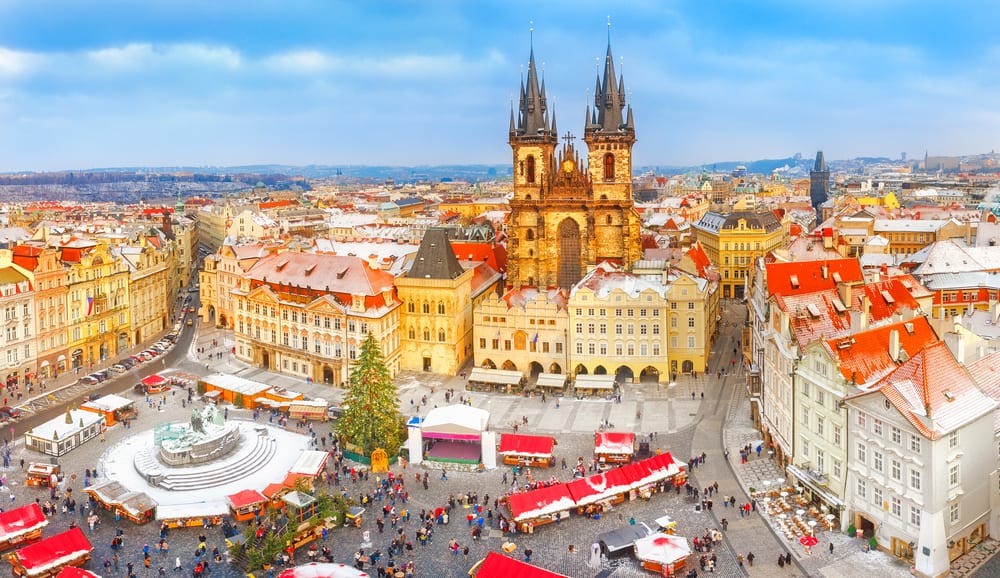 The St. Gallen Christmas Market Is One Of The Most Enchanting Christmas Markets In Europe
Nicknamed the "Swiss Star City," the St. Gallen Christmas market is a must when exploring Christmas markets in Europe. The nickname comes from the 700 stars that shine over the squares during Advent. St. Gallen is also a UNESCO World Heritage Site. This ensures that the buildings will only help with making the St. Gallen Christmas market one of the most romantic Christmas markets in Europe. Starting November 28th, the lights will be shimmering over the town. The market will continue until December 24th, making this one of the Christmas markets in Switzerland that you can spend Christmas Eve.
If you are in St. Gallen during the Christmas season, many of the restaurants will have special menus for the holidays. Even if you have been to St. Gallen before, going during Christmas time is like going to a completely different town. If you are looking for Christmas markets in Europe to go to this December, the St. Gallen Christmas market should definitely be one of them!
Dates: November 24th – December 24th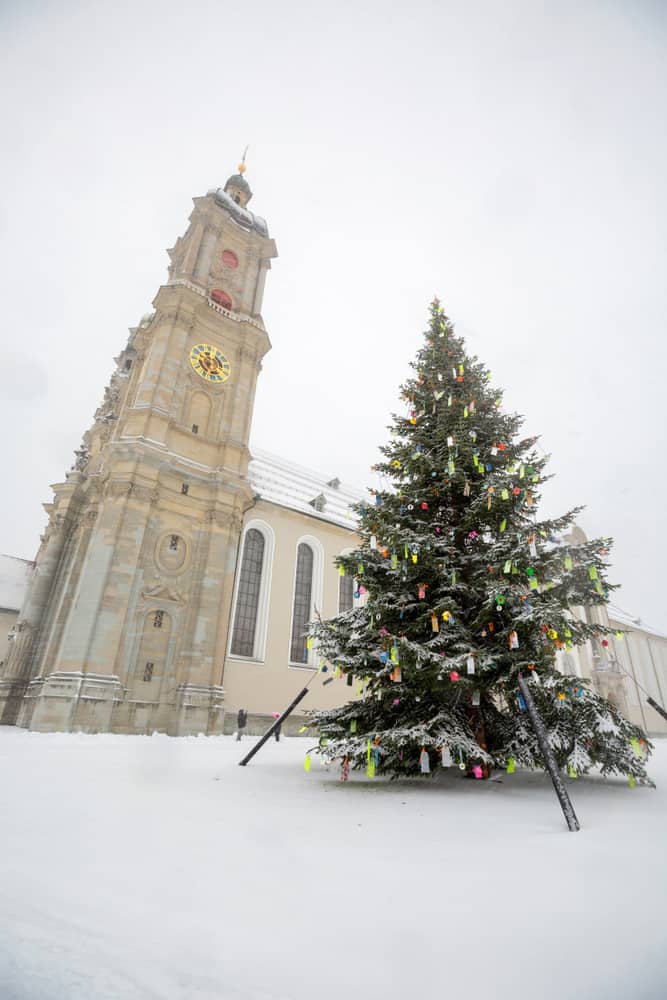 Brussels Winter Wonders Draws Millions Of Visitors Every Year
A lot of work is put into Brussels Winter Wonders, and it is obvious. Every year around 2.5 million visitors gather in Brussels to be a part of one of the most famous Christmas markets in Belgium! Brussels is prepared for the crowds though and offers over 200 stalls to cater to tourists and locals alike. Shop for handmade gifts and souvenirs while enjoying some of the treats provided throughout this European Christmas market.
Brussels goes all out for this yearly celebration. For example, you can enjoy the fairground attractions that are available during the Christmas season. Ride the Ferris wheel or merry-go-round or choose to skate on the ice rink! While in Brussels for Christmas, make sure to watch the light and sound show that is projected onto the Grand Palace for visitors to admire. There are also parades and concerts to entertain all ages!
Dates: November 30th – January 7th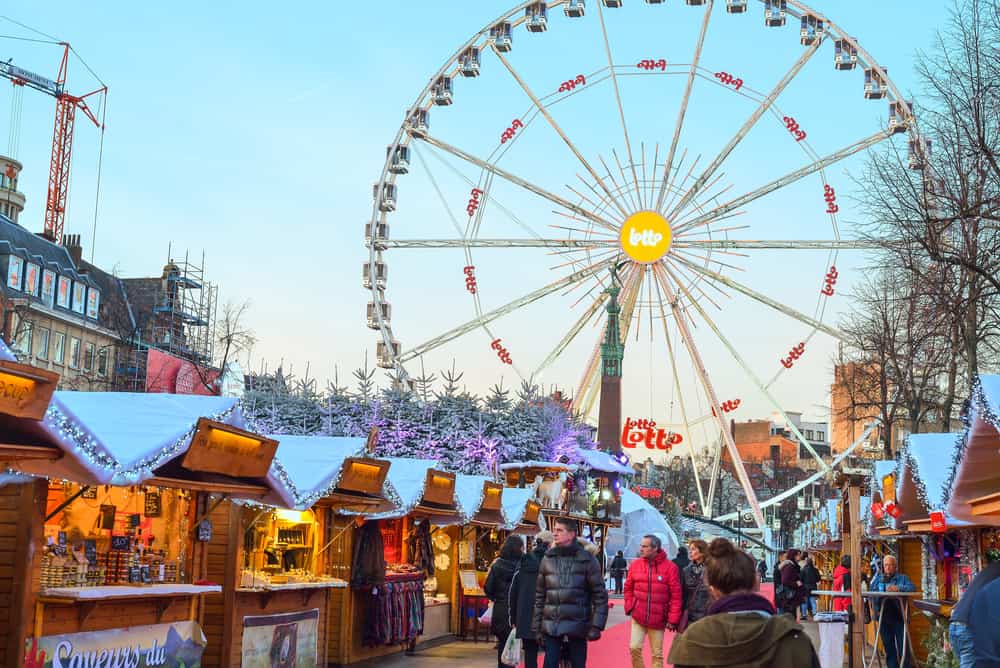 The Dresden Christmas Market is one of the oldest Christmas Markets in Europe
Did you know that the Dresden Christmas Market has been open for 585 years? This makes it one of the oldest Christmas Markets in Germany. The first-ever Christmas Market in Dresden began in the 1400s. Only a few other Christmas Market locations around the globe are older. This makes the Dresden Christmas Market one of the must-see Christmas Markets in Europe.
The Dresden Christmas Market boasts some unique regional characteristics of all the Christmas Markets in Europe. The specialties include Lusatian blue-printed fabrics, Moravian Stars and Ore Mountain wooden crafts. Perhaps the most unique feature of this market is the Dresdner Christstollen fruit loaf that sits in the light of the step pyramid. The Stollen is so crucial to the region that parts of the festival are dedicated just to the bread. If you want to see a giant Stollen, be sure to visit the Dresden Stollenfest happening on December 8, 2019. Here, visitors can see Stollen that weighs multiple tons. Even the Dresdner Stollenmadchen (Stollen Ambassador) will be in attendance.
If you're in Dresden during the market season, there are many different tours that you can go on. Many of these center around the Advent. These are so popular that they are likely to sell out, so make sure to book in advance! There are many options, and some tours include Stollen for you to eat during your trip. One tour lets you enjoy the music of the advent played by the Dresden Residenz Orchestra.
Dates: November 27th – December 24th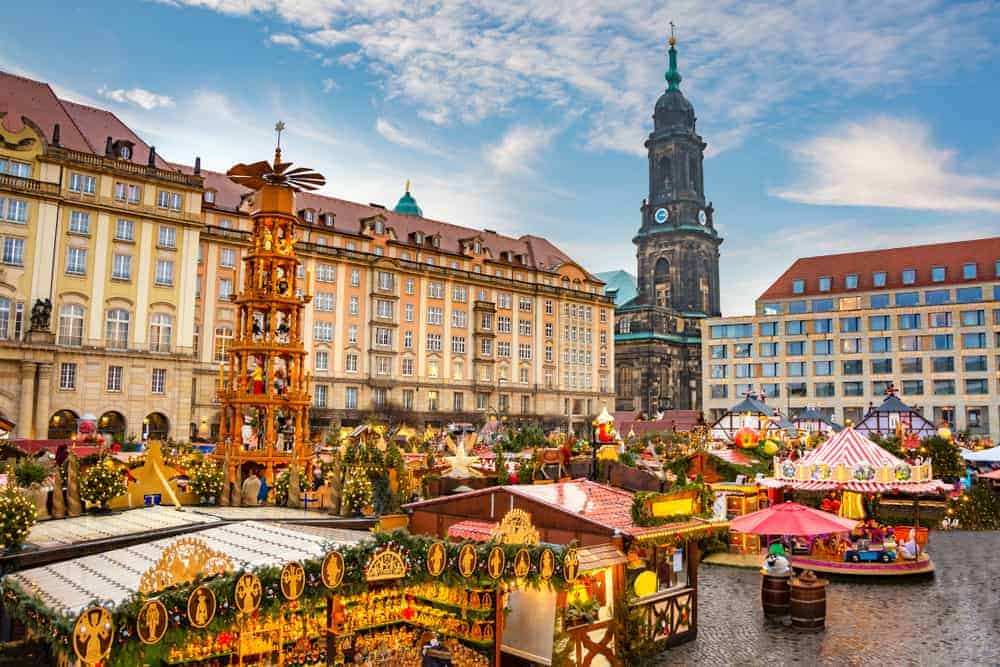 Enjoy Two Individual Christmas Markets When You Visit The Bern Christmas Market
The Bern Christmas market, located in Switzerland, is actually made up of two Christmas markets, Münsterplatz and Waisenhausplatz. The Bern Minster Christmas market, which is also called the Bern Christmas market by the Münsterplatz, is one of the best Christmas markets in Europe if you want to find quality artisan goods. The products that you can buy are unique and made by the same artists that sell them in the market. This charming location, which is surrounded by buildings from the 15th to 17th centuries, gets its name from Bern Minster which stands at the eastern side of the market and boasts the tallest bell tower in Switzerland.
Take a short walk down the pedestrian-only streets to the other section of Bern's famous Christmas market, which is on the Waisenhausplatz. Here you can find even more selections of artisan goods and delectable treats. There are plenty of gifts, household goods, and food. While walking through the chalets of this Christmas market, you can smell the spices being used all around you.
Dates: December 1st – 24th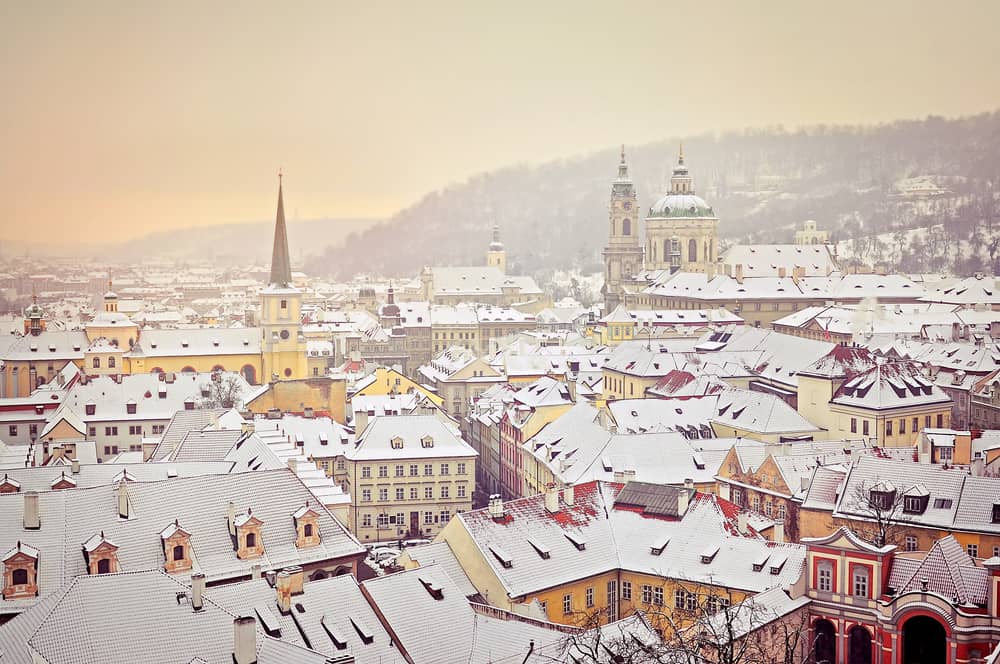 The Paris Christmas Market at Les Halles Is a Beautiful European Christmas Market
During the winter season, Paris, France is bustling with Christmas markets, making it an excellent option for what to do during Christmas in Paris. Even though the Christmas Market at Les Halles is relatively new, it is still one of the largest Christmas markets in Paris. Roughly 50 chalets make up this market, all offering gifts made by French craftsmen and mouthwatering delights. Make sure you try the freshly cooked crepes filled with Nutella, for a delicious treat to enjoy while exploring this European Christmas market.
This Christmas market in Europe is not just known for its stalls though. When you are in Paris, make sure to appreciate the Christmas tree maze, lighted reindeer, and Santa's cabin! The Christmas market surrounds the Fontaine des Innocents, making this European Christmas market truly beautiful.
Dates: November 30 – January 5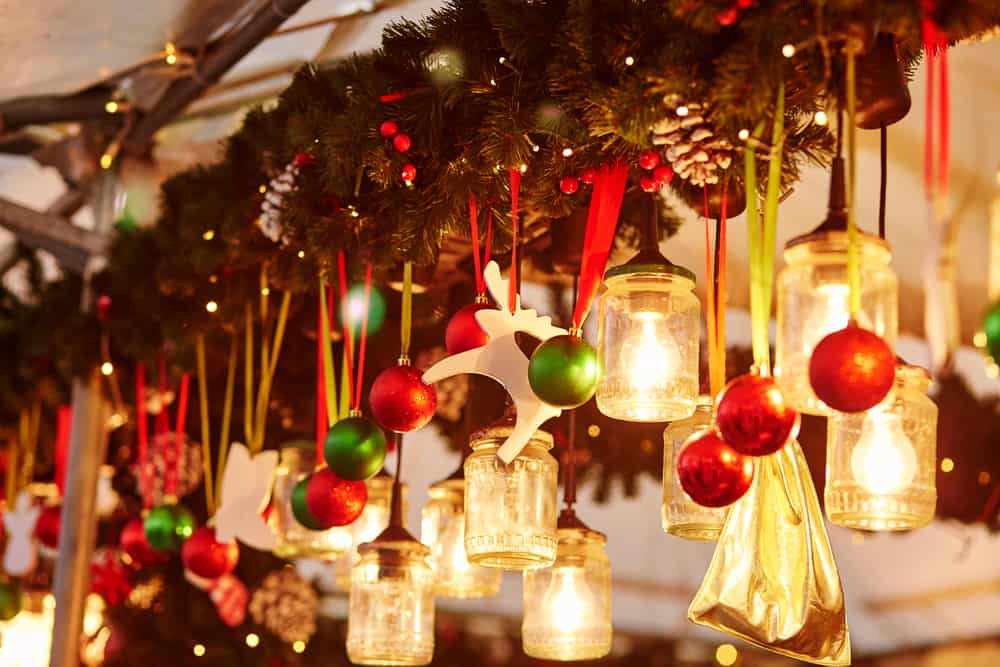 The Christmas Market On Cathedral Square Is Full Of History
With origins going all the way back to 1491, the Christmas Market on Cathedral Square is the oldest market in Salzburg, Austria. When you hear the name Salzburg, you might automatically think of the musical The Sound of Music or the classical composer Mozart. Did you know though that Salzburg is also the birthplace of the famous Christmas carol, "Silent Night"? That alone seems reason enough for Salzburg to be one of the most quintessential Christmas markets in Europe!
There are over 90 events that take place at the Salzburg Christmas market, and all of them offer a fun, festive, and informative accumulation of cultural traditions. You will find varied entertainment such as parades of Perchten—a figure of German folklore—donning scary costumes and masks, a presentation of Christmas mangers, authentic folk song and dance performers, and the Advent Brass Concert.
Of the Christmas markets in Europe, this one has extra charm due to the magnificent fortress that looks down upon the city from a nearby hilltop. There is also the fact that all of the stalls full of souvenirs, delicious treats, and handmade goods are set against the beautiful scenery of the Cathedral. Make sure to try a delightful baked apple before you leave.
Dates: November 22nd – December 26th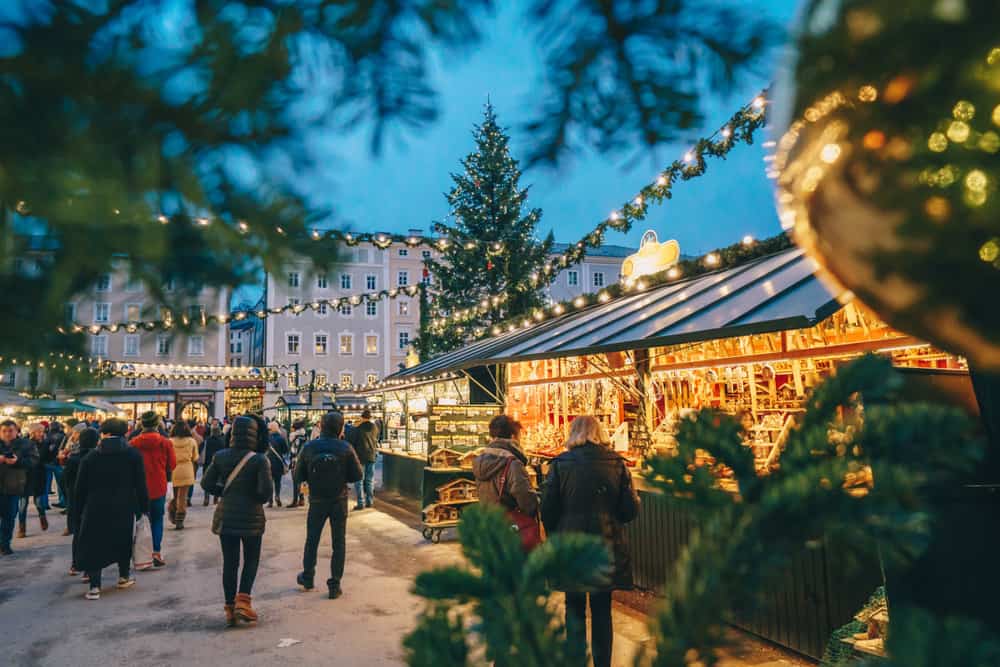 Vörösmarty Square Christmas Market Offers Programs For People Of All Ages
Every Christmas season this lovely square at the center of Budapest transforms into a festive Christmas market. For the season 122 wooden stalls and two outdoor stages will take over the square and is one of the most magical Budapest Christmas Markets! During the month-and-a-half that the Christmas market takes over Vörösmarty Square, around 160 different performances and programs will occur to entertain both children and adults. There is also a show kitchen where you can learn about Hungarian dishes, and try them!
If you have children, this is an excellent European Christmas market to take them to. There are craft workshops where your children can learn how to make ornaments, candles, and toys. Santa Clause will also be visiting the market on December 6th for the children.
Dates: November 8th – January 1st
The Colmar Christmas Market Is Centrally Located To Other European Christmas Markets
Planning on visiting other Christmas markets in Europe such as those in Germany? Lucky you! Colmar, a French Christmas market, is located only a few kilometers from the German border. So, road trippers and river-cruisers may want to take an excursion across the Rhine to visit markets in Breisach and the Black Forest village of Breitnau in addition to visiting the Christmas markets in France!
With its Medieval half-timber houses and cobbled streets, the city of Colmar, France, is a setting straight out of a storybook. And each year when December rolls around, the Old Town is magically transformed with an added layer of glittering lights, vivid decorations, and five Christmas markets in Colmar. In 2018, Colmar was voted the best Christmas market in France and the second-best in all of Europe. One reason for Colmar's popularity is its location within the Alsace wine region.
The Colmar Christmas markets are well known for their unique and delicious drinks. While strolling through the stalls, you can try "vin chaud rouge" which is the French version of Germany's "glühwein," a steamy mulled wine sweetened with honey, orange, and cinnamon. You can also have "vin chaud blanc" which is the same, except that it's made with white wine. No matter which drinks you choose to taste, the Christmas markets of Colmar, with their wine-tastings, French delicacies, traditional toys, and quaint shops offer a perfect way to celebrate an old-world holiday straight out of a fairytale.
Dates: November 22nd – December 29th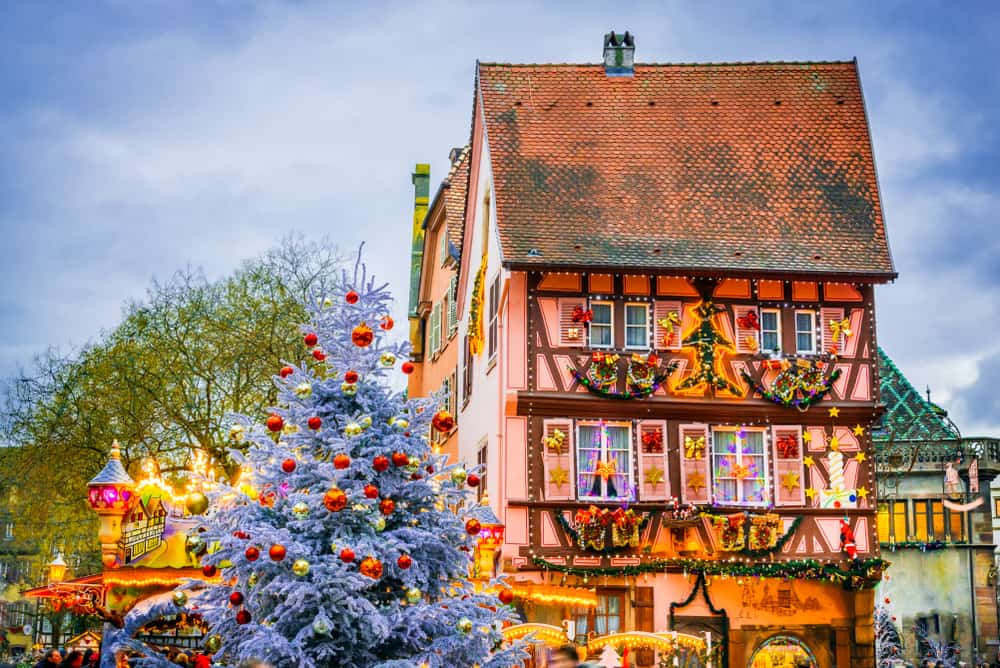 The Tallinn Christmas Market Is One Of The Best Christmas Markets In Europe
The Tallinn Christmas market, which is located in Estonia, has been awarded the best Christmas market in Europe multiple times over the years. Of course, it had to be on this list of best Christmas markets in Europe! It is fitting that this is considered the best Christmas market in Europe, as legend has it that the first Christmas tree was brought to Tallinn in 1441. The city of Riga argues this story, so we don't really know for sure.
Every year over half-a-million people journey to Tallinn to attend one of the best Christmas markets in Europe. This year the Christmas market will be decorated with heart-shaped decorations. There are many reasons for this, one of them being that the Tallinn Christmas market is heartshaped when viewed from the air. The shopping at the Tallinn Christmas Market is unlike any other time of the year. Artisans sell luxury goods that can only be found at the Christmas market like luxurious furs, intricately knit socks, and wooden decorations. You can also enjoy a cultural program with singing, dancing, and more!
Dates: November 27th – January 6th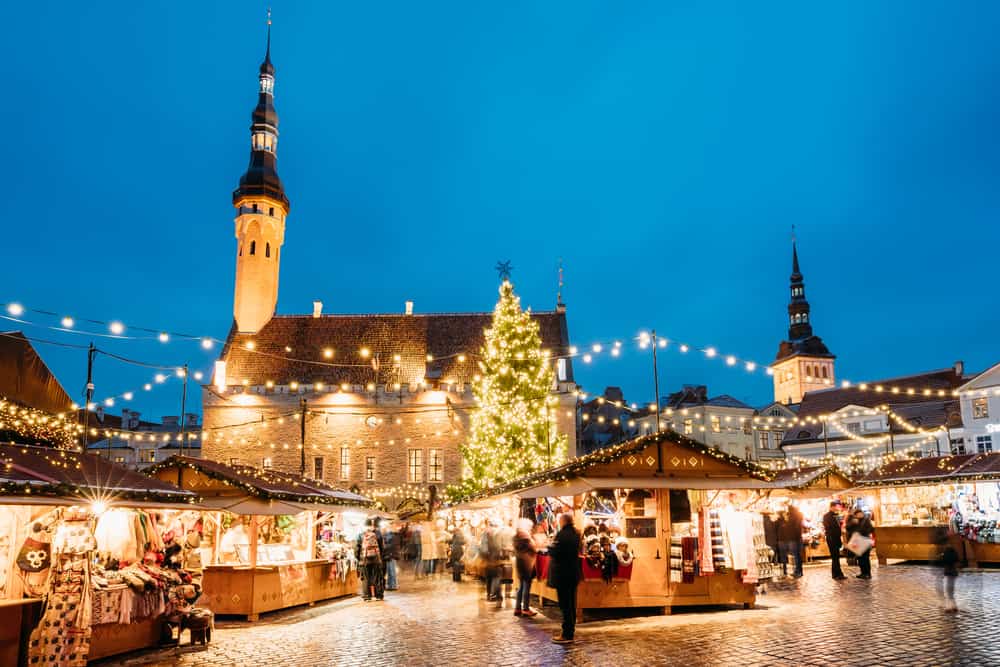 Don't Miss Visiting The Venice Christmas Market
Traditionally, Christmas markets in Italy run from the end of November until early January, but the Venice Christmas Market does not– so make sure to get there! This market usually opens three weeks before Christmas Eve and closes on December 24th. However, despite this short time frame, this market is one of the best Christmas markets in Europe.
During the season, the Campo Santo Stefano transforms into a Christmas Village. Kiosks surround the area, filled with artisans and locals who sell food. Behind them is the traditional and famous backdrop of Venetian palaces. Talk about feeling festive for Christmas in Europe!
This market is well known for it's dedication to selling Murano glass, which is used in jewelry, ornaments, and worked into designs that are accented with silver and gold. The Venice Christmas Market is also well known for its traditional cuisine, from sweets to balsamic vinaigrettes, and these gourmet products are locally made and sold for a steal of a price. You must try the white truffles from Abla!
On top of all these wonderful facets of the Venice Christmas Market, concerts, other entertainment, and specialty programs designed for children make this market fun for all and is close to the famous Grand Canal, making it a must-see.
Dates: Three weeks before Christmas – December 24th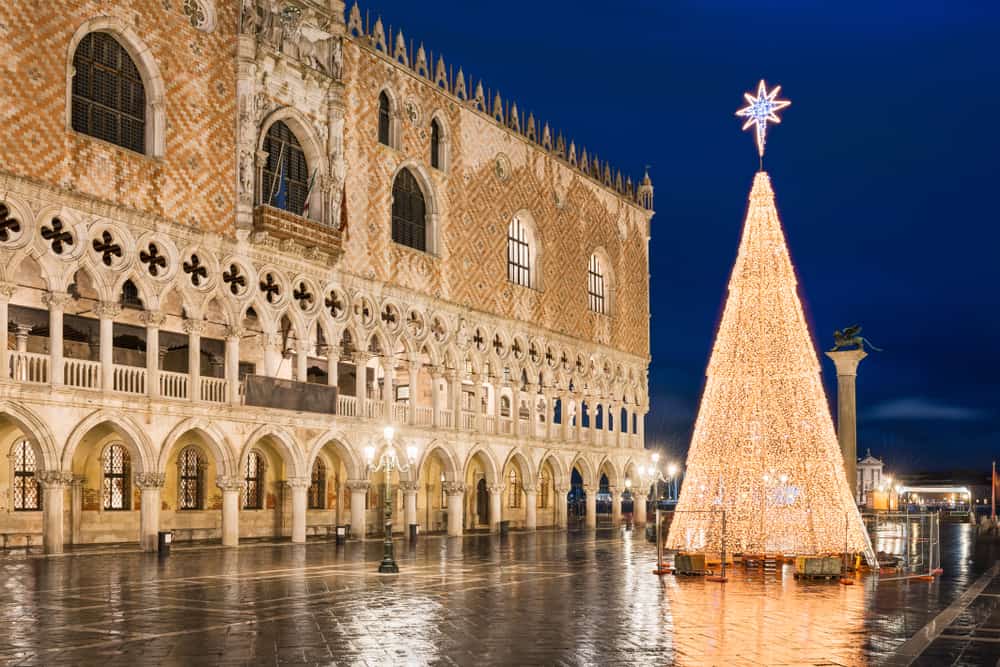 The Place De Abbesses Christmas Market in Montmartre Is A Charming Christmas Market
The Place De Abbesses Christmas Market in Montmartre might be small, but it is located on one of the most photo-worthy streets in Paris, making this Christmas market one of the most charming Christmas markets in Europe. Due to it's lesser popularity, this is a great European Christmas market if you want to be able to explore a Christmas market without the crowds. Here you can walk through the Christmas market with your mulled wine and roasted Chesnuts without feeling overwhelmed.
While exploring this European Christmas market, you will come across all sorts of handmade gifts, including hand-knit scarves, one-of-a-kind fashions, and children's toys. You can also enjoy the carousel and take in all of the beautiful sights and smells of the Place De Abbesses Christmas Market.
Dates: November 30 – January 1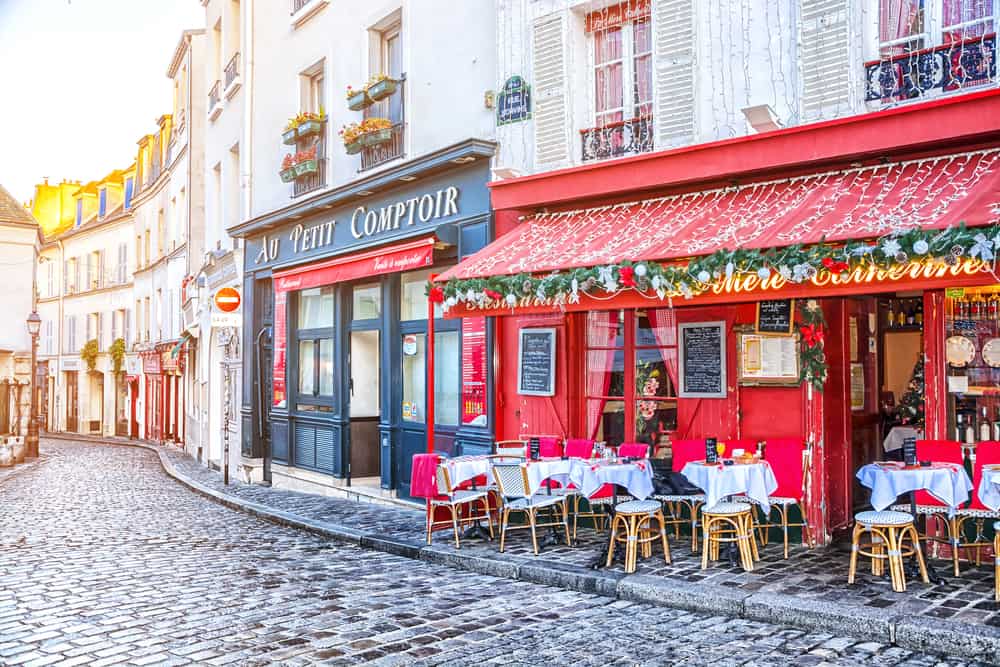 The Nuremberg Christmas Market is one of the most famous Christmas markets in Europe
Since the Nuremberg Christmas Market is one of the most popular Christmas Markets in Europe, it would be foolish for it not to have a place on this list. The Nuremberg Christmas market is not only one of the most famous Christmas markets in Europe, but also in the world, so if you find yourself in Germany during the Christmas season, make sure to plan a visit!
The market is famous for many reasons but especially for the food! Guests should be sure to stop by this German Christmas Market to try out the gingerbread and the sausages. Look for the sausages listed as '3 im Weggla' to get three sausages in one roll! As for the gingerbread, you can try all sorts of shapes, sizes, and flavors. Whatever your choice may be, don't forget to grab some to-go for your friends back home! European Christmas Markets like this one each have their traditions, and for Nuremberg, it's gingerbread. They have been baking it for over 600 years.
European Christmas Markets all have their own specialty gifts that they're known for, but at Nuremberg, you can also purchase gifts from other areas of the world. You can find anything from French delicacies to hand-crafted Nicaraguan dolls.
If you are traveling with children, don't forget to stop by the Children's market. Here, children can ride the merry-go-round and stop by Santa's house! The adults can, of course, enjoy some mulled wine for the journey in a beautiful collectible mug to enjoy for seasons to come.
Dates: November 29th – December 24th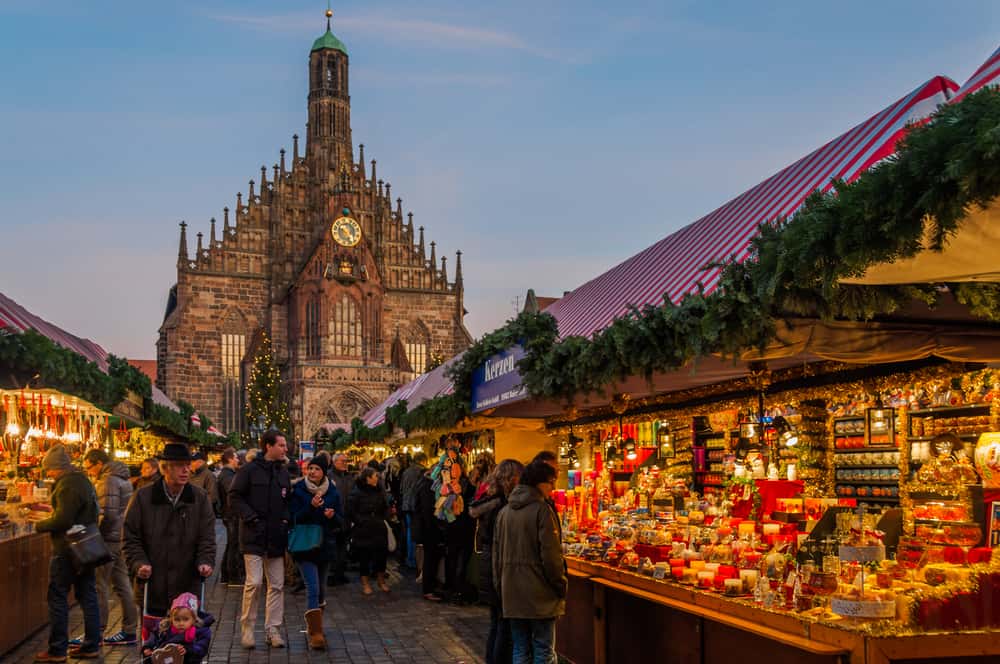 The Christmas Market By The Budapest Basilica Is A Very Unique European Christmas Market
This Christmas market is one of the most beautiful Christmas markets in Europe, and that is because of the Basilica that stands in the background. This Christmas market is definitely unique and is one of the best ways to see Budapest in winter. It has plenty of what you would normally find at a European Christmas market, including handmade gifts, some delicious food (make sure to try the chimney cake!), and an ice rink (which is free for children). This is not all that can be found at this Christmas market though!
Every afternoon a 3-D light painting covers the Basilica. Festive holiday and religious scenes light up the facade of the Basilica, which makes this one of the most unique Christmas markets in Europe. There are folk dances that take place during this Christmas market, and on a few days, there is a Hungarian flash mob that will occur. Every Sunday, you can enjoy a ceremony for lighting a candle on the Advent Wreath. There is also a celebration on January 1st for Lentil Day, as it is a tradition to eat lentils on the first day of the year, for they are believed to bring good fortune.
Dates: November 22nd – January 1st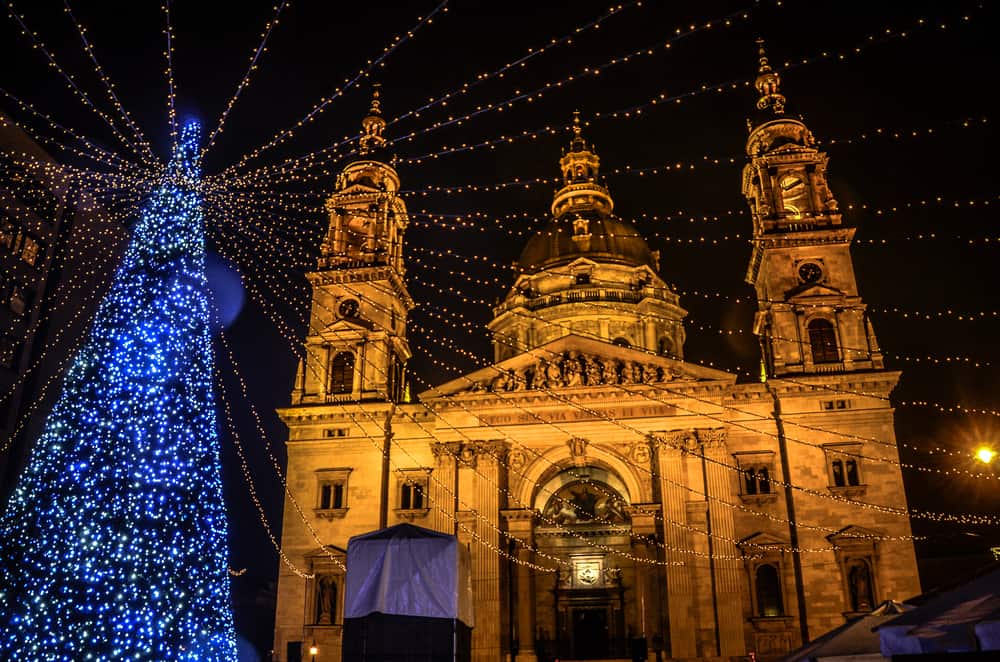 Packing Tips For Your Trip To Europe:
Here are some of our favorite items that you should consider packing for your trip to Europe! These are essential travel items that we use and love and you should make sure to consider for your travels.
A concealed travel pouch may be one of the most important items you bring with you! This unisex RFID blocking concealed travel pouch is lightweight and comes in several colors. It has lots of organization to give you peace of mind. You can keep your most valuable documents safe and secure next to your body.
If you have a pouch already you may not want to or need to invest in a new one. If it does not come with the RFID protection, these RFID sleeves would be handy to prevent identity theft. This configuration comes with enough passport and credit card sleeves that the entire family would be protected. They are slim too, so they will easily fit into your current pouch or wallet. These are the kind our family uses not only when traveling but at home as well.
If you have a camera on your packing list, you need to add additional memory cards on your list as well. Unless you are packing a computer for your trip, you will not be able to upload photos and clear your existing memory card. Purchasing additional memory cards cost under $20 and take up no space in your luggage. Having a backup can have the potential to save you a lot of heartaches if something goes awry! There is nothing worse than coming across that perfect moment and then finding out you don't have enough space to capture it on your camera!
Similarly, If you are planning to capture your trip on a smartphone, we beg you to bring some way to back up your memories. The best way to do this is with a portable smartphone flash drive. A flash drive is a small storage device that you can connect up to your smartphone and then safely and easily download the photos onto this device.
If you are planning on taking a lot of pictures with your phone you will definitely want to consider an external charging battery. This Anker high-speed phone charging battery is the exact one we carry with us on all of my trips. It can be used on a variety of phones, not just an iPhone like we have. And wow is it fast! We like that it holds its charging capabilities for several uses so we do not have to worry about it while out and about. And if we forget to recharge it at night, it will still be good to go the next day.
My mom was never a fan of packing cubes until she tried them out! Now she am sold. These Bagail packing cubes are the exact ones she use whenever she travels and she travels a lot. She cannot believe how much more organized she is now! And she will never leave without them anymore.
We never leave home on a trip without our Bobble filtration bottle. The 18.5-ounce size is perfect for travel and it will fit nicely in the pocket of a backpack or your purse. Also when filled with water, it is not too heavy to carry. And the Bobble carbon filter ensures fresh clean water whenever and wherever you fill the Bobble. You can find filter replacements here.
Perhaps you are traveling a long distance and packing space is a premium. Then this set of collapsible silicone foldable water bottles would work well for you. Would not take up much space in your suitcase at all. And you will be receiving a set of two.
You will want to bring a backpack or daypack with you to store snacks, your water bottle, phone, extra clothes, etc.. This foldable water-resistant backpack would be great. It is very affordable and is available in many color options for you to choose from. The fact that it folds down into a zippered pouch will make it easy to pack.
Perhaps you need a more substantial backpack for your international travel. This antitheft backpack has a charging port, is water-resistant and can comfortably carry up to a 15.6″ laptop. It comes in a range of colors to choose from and it is inexpensive as well.
We all need to protect our eyes from the sun's harmful UVA/UVB rays. These unisex polarized sunglasses come in a lot of lens colors and frame designs and are extremely affordable too.
If you are fond of the aviator-style of sunglasses these polarized aviators may interest you. We like polarized sunglasses because they remove the glare off the water and help you to see things more clearly.
Don't forget to bring along a universal power adapter if you are traveling abroad. This worldwide power plug is a great example and will charge your phone at the end of your busy days. And this world traveler adapter kit can charge several devices at the same time. This is what you will need when there are several people traveling in your group, or if you bring several electronic devices on your trip that require charging at the same time.
Exploring European Christmas markets is one of the best ways to spend this holiday season! With all of the bright lights, cheerful music, and delicious treats, no matter which Christmas markets in Europe that you visit, it will be a magical experience. There is little that can compare to the combination of the joy of Christmas and the beauty of European towns. Enjoy your holidays exploring Christmas markets in Europe!