Are you looking for the BEST things to do in Florida? If so we have you covered below with all places you should add to your Florida bucket list.
If Florida is not already on your bucket list destination list, we promise after reading this list of the BEST things to do in FL, you are sure to pan a visit to the sunshine state.
Florida is famous for its warm weather, gorgeous beaches on both the Atlantic and Gulf coasts, theme parks like Disney World, and National Parks such as Everglades National Park. It is also known for its plethora of natural springs to explore, Kennedy Space Center, and the nation's oldest city.
Whether you are looking to road trip through Florida, plan a weekend getaway, or just looking for a day trip we have you covered! So pack some sunscreen, and lots of water, and head out to explore these Florida bucket list destinations!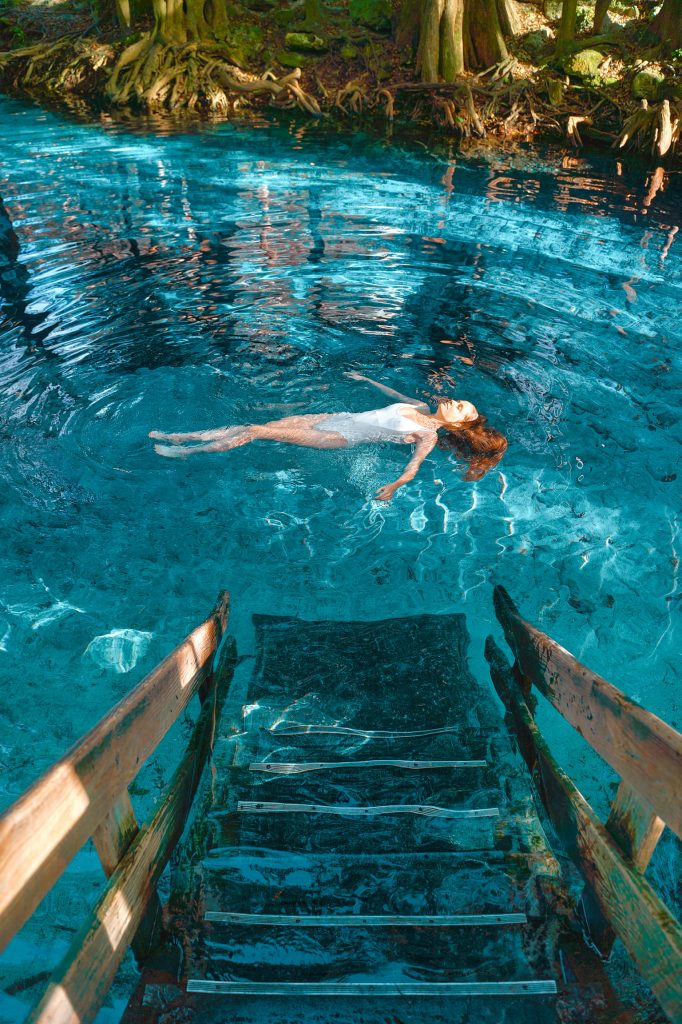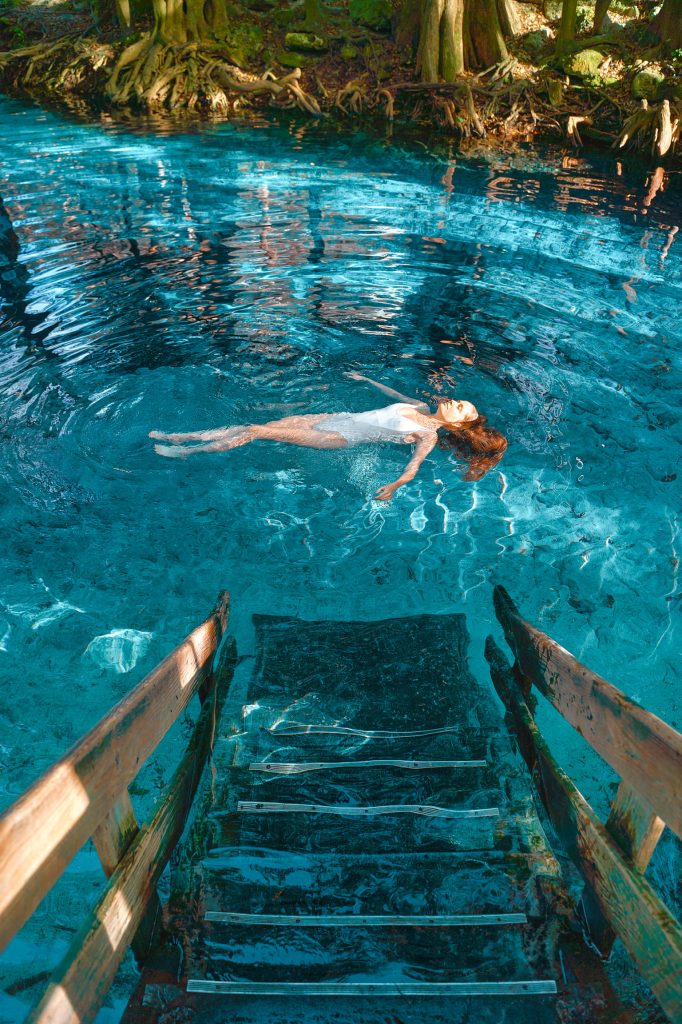 15 Best Things To Do In Florida For Your Bucket List
Dry Tortugas National Park
Dry Tortugas National Park is a 100-square-mile park with seven small islands, located about 70 miles off the coast of Key West. This magnificent paradise is home to the iconic Fort Jefferson. Founded in 1513 by Ponce de Leon, you will find a convergence of nature, history, and relaxation at this magical hidden gem!
Trust us when we say, it is worth the journey to get here. As the National Park is in the middle of the ocean it can only be reached by boat or seaplane. Making it one of the unique things to do in Florida!
Entry to the national park costs $15 and this is included in the price of the Dry Tortugas National Park on the Yankee Freedom III ferry. The journey takes about 2 hours 15 minutes and costs $190 per person with children going for $135. It departs at 7:30 am and returns at 5:15 pm.
The second option is a seaplane. Key West Seaplane Adventures is the only seaplane service to Dry Tortugas and takes about 40 minutes. Choose from either a half-day or a full-day excursion, and the cost is between $361 to $634 per person.
While Fort Jefferson might be the centerpiece of the Dry Tortugas there's so much more to explore. It also houses some of the best beaches in the world, a coral reef, and marine life. Making this National Park in Florida a great place to swim and snorkel!
Lastly, reserve a spot on the ferry you can visit here, and reserve a spot on the seaplane you can visit here. It will be worth the extra effort as it is one of the BEST things to do in Florida!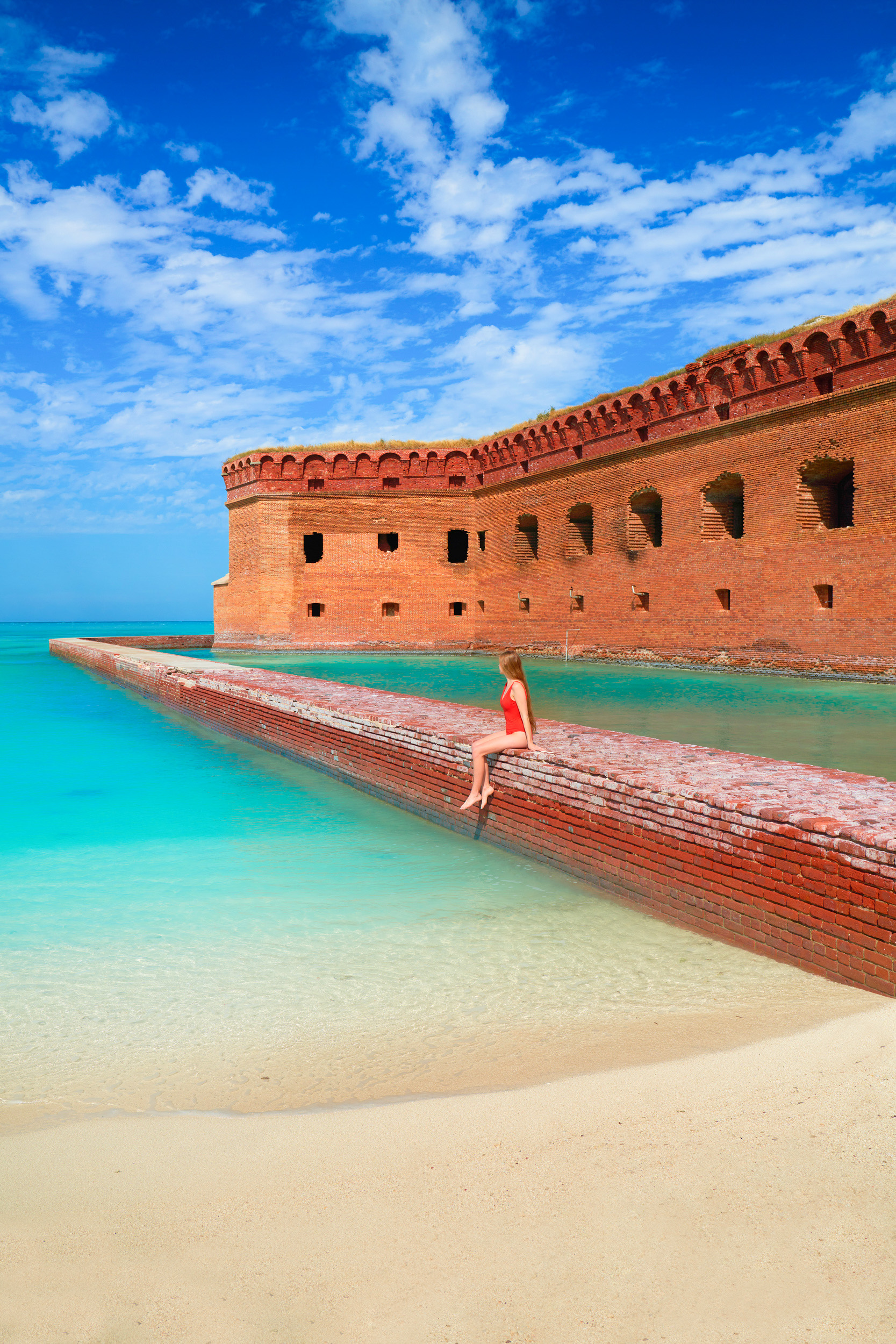 Ginnie springs
Ginnie Springs is another gem on our best road trips in the US and must be on your Florida bucket list! Located in High Springs, this is one of the many natural springs in North Florida you must visit! The freshwater spring pumps out 80 million gallons of water every day.
First, for those making the trip, you will be greeted with a beautiful outdoor playground where you can snorkel, kayak, paddleboard, or relax in an inner tube. If you are scuba trained, this is a great place to go diving as well as there are many caves to explore. For water lovers, this is one of the places to visit in Florida!
Second, the crystal clear water stays at a constant 72 degrees year-round and is shockingly blue. You will think you have traveled to paradise. If you are looking for a place to relax, this is one of the hidden gems in North Florida!
Lastly, if visiting during the warm summer months, plan to arrive early as it does get quite busy. For those who want to plan a weekend getaway, there is a campground on site.
Please know that Ginnie Springs is privately owned and as such admission is more than nearby National and State-owned springs. The cost is between $15 and 20 depending on the season but is a hundred-percent worth it to visit this Florida paradise.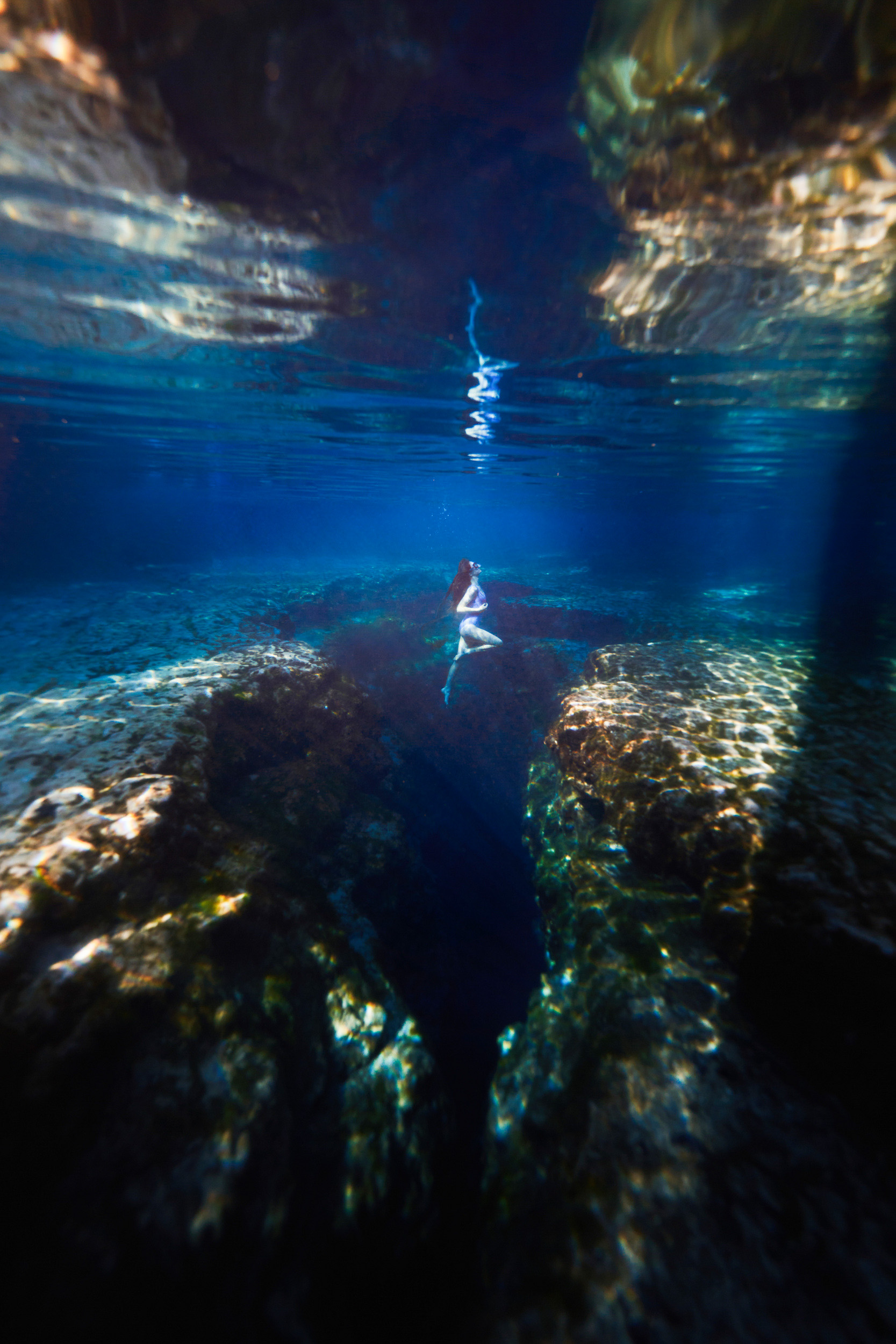 Devils Den
Are you a diver looking for the BEST things to do in Fl? Devils Den is one of the world-class attractions in Florida. Located north of Ocala and South of Gainesville. But the coolest part about Devil's Den is that it is inside a dry cave, underground! This cave is home to many extinct fossils, hence the name Devil's Den Prehistoric Springs!
As you descend down the wooden staircase into a cavern that appears to open up into another world, be prepared to take in the awe-inspiring Devils Den. Like most of the springs in Florida, the water here stays a constant 72 degrees.
This is one of the few things to do in Florida you MUST make a reservation in advance to visit on their website. Please note that you MUST be in the water, actively swimming with snorkel or scuba gear the entire time you are down at Devils Den.
But, for divers going the maximum depth of 54 feet, you will want to bring a wetsuit. Divers flock here to admire the ancient rock formations that date back 33 million years!
Some of the tips we have gathered from our trips here are: if you want a fantastic view of the light rays get a reservation between 12 and 1 p.m. And if you are looking for the lowest crowds, book a reservation for either in the morning or late afternoon.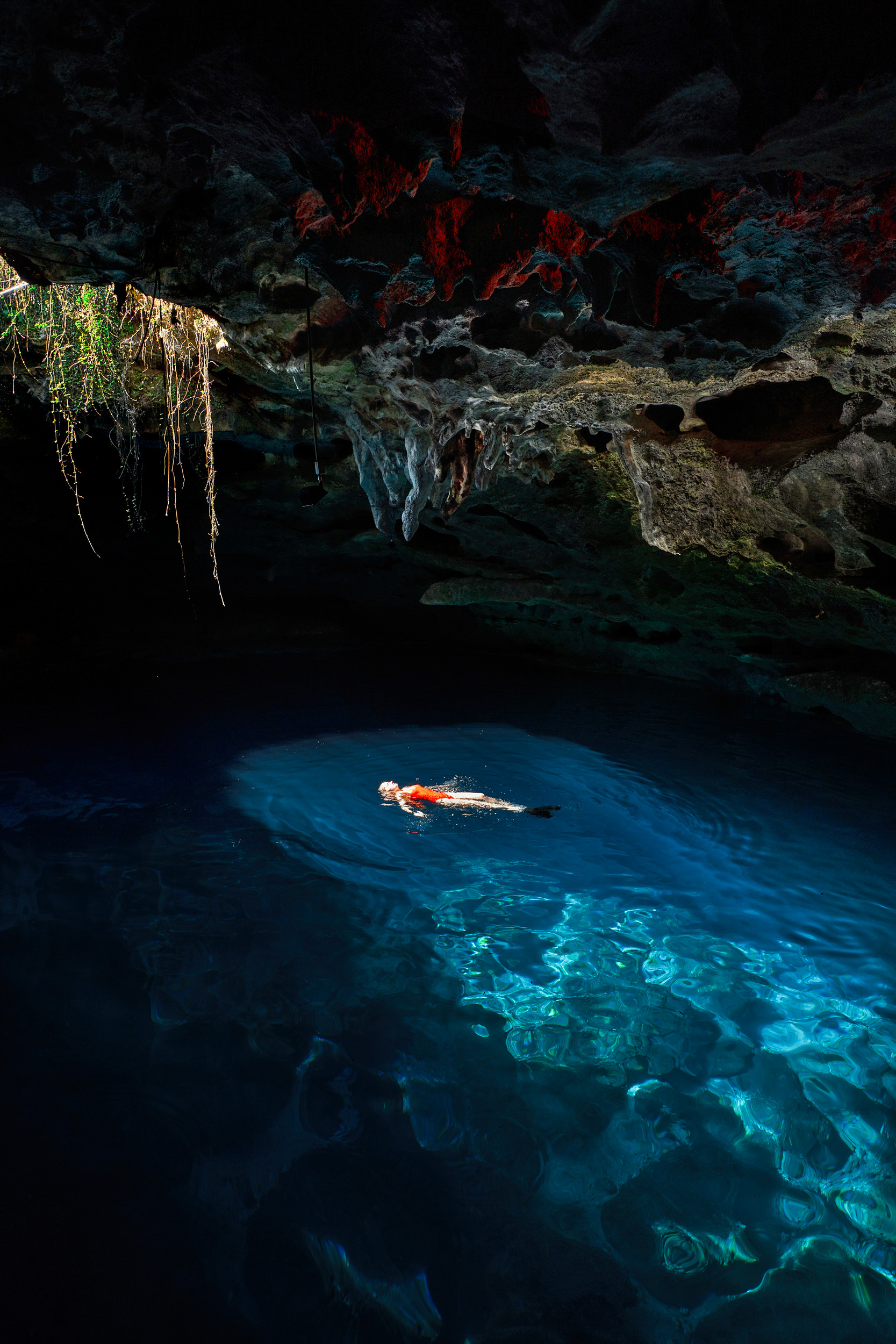 Saint Augustine
Saint Augustine is one of the cool places to go in Florida. As the nation's oldest city, it is full of gorgeous architecture, historic sights, and amazing restaurants. We think that exploring this city is one of the romantic things to do in Florida and the perfect spot for a widely Romantic honeymoon destination.
The city of Saint Augustine was established by Spanish conquistadors in 1565, which means this city is filled with cultural and historic things to do in Florida. But, it wasn't until Henry Flagler's railroad transformed the city into a bustling hub in the late 1800s.
It is also one of our favorite small towns in Florida!
Visit the 17th-century Spanish fortress Castillo de San Marcos, Ponce de Leon's Fountain of Youth Archeological Park, or head to the famous Saint Augustine beaches! There are museums, national parks, wineries and distilleries, as well as ghost tours to explore.
If you don't know where to start, book a trolley tour that takes you across the city stopping at over 22 sites. Make an appointment to visit Castle Ottis, or go hiking in Anastasia State Park.
No matter what you choose to do in Saint Augustine there are so many options for things to do in Florida for couples! Plus, for those looking at things to do in Florida at night, you will not want to miss one of the famous Saint Augustine Ghost tours!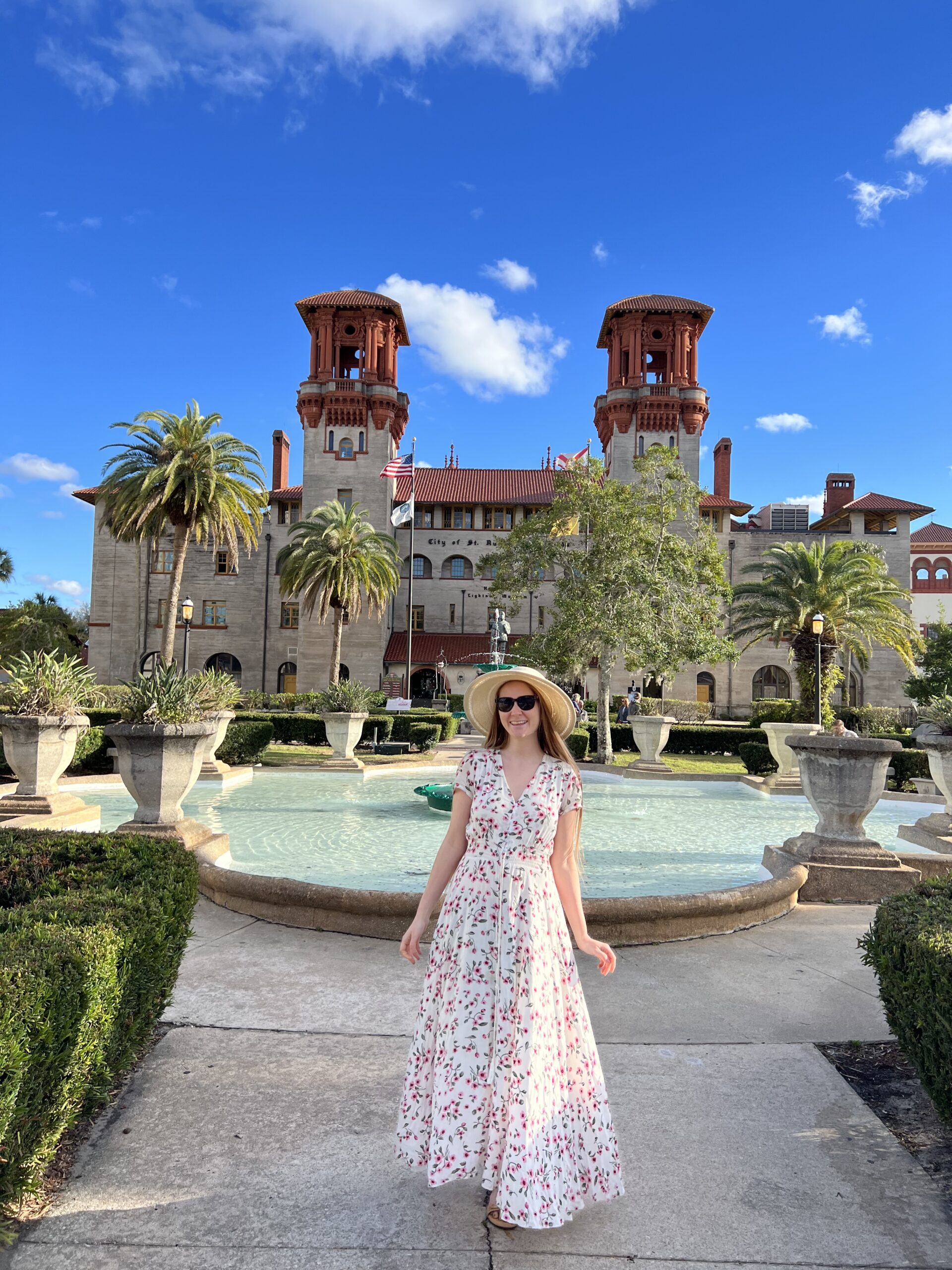 Crab Island (Destin)
Along the emerald coast of the Florida panhandle, you will find Destin nestled between Pensacola and Panama City. Destin is known for its powdery white sand beaches and crystal clear water, making it on the list of what to see in Florida for beach lovers.
One of the best activities in Florida for summertime is a trip out to Crab Island. The name is misleading because it is not actually an island, but was a man-made island created by the Army Corps of Engineers that has now eroded over time and with hurricanes into an underwater sandbar.
Along the sandbar, you can swim up to floating restaurants, enjoy lunch at one of the food boats, or go boat hopping along the sandbar. Keep in mind these eateries are only open from March through October.
You will find visitors here snorkeling, playing water games (the water is only 4 feet deep), or just chilling on a raft soaking up the hot Florida sun with a drink in your hand. Just remember to pack lots of sunscreen and water!
The only way to visit one of the fun places in Florida is by boat. You can rent a boat for the day or take an excursion tour out to the island. The Crab Island Company offers a Shuttle Boat or a wildly popular Adventure Tour where you can play on water trampolines, water slides, paddle boards, and ocean kayaks!
Now you might be thinking this is not one of the family-friendly things to do in Florida with kids, but you could not be more wrong! The shallow water makes it one of the best beaches to enjoy with the whole family.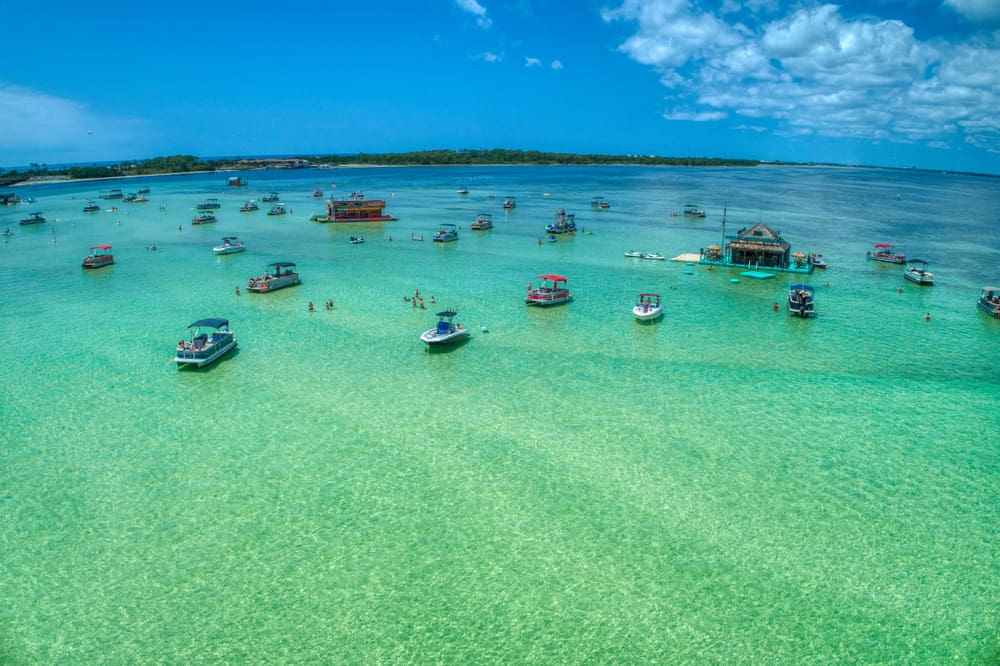 Ringling Museum in Sarasota
The Ringling Museum in Sarasota is one of the Florida must-see attractions! We think this is one of the BEST things to do that will transport you to Europe without leaving the west coast of Florida.
The museum and grounds cost $25 to enter. But if you are over the age of 65, admission is $23. This admission gives you access to the Museum of Art, Circus Museum, and Bayfront Gardens. You will want to pay the additional $10 to add a tour of the Ca'd'Zan's first floor! One of the BEST things to do in Florida!
However, if you are only looking to stroll the gardens and grounds the admission is $5, a steal! On Mondays, the Bayfront Gardens, and the Museum of Art are free to enter.
First, the Ca'd'Zan Mansion built in 1924 was inspired by a gothic style and features of the Venice canals. Hues of reds, yellows, greens, and blues of tile medallions highlight the Renaissance pink of the exterior making it a photographer's dream.
Second, the Museum of Art features over 28,000 works of art valued at 40 million dollars and reminiscent of European museums.
Last, stroll the Bayfront Gardens. These gardens are filled with trees, greenery, and secret gardens.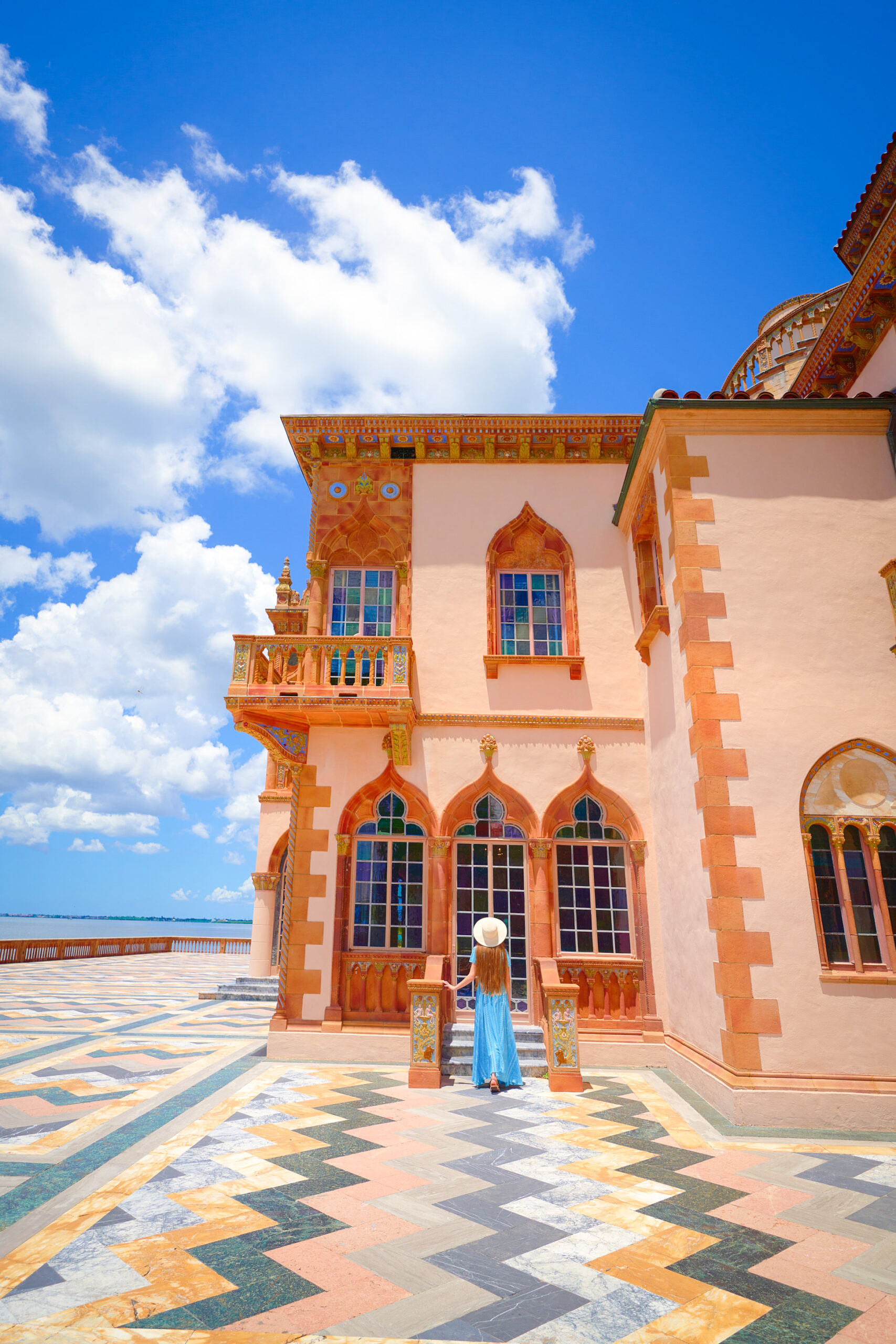 Amelia Island
For those travelers looking for options for bachelorette party destinations in Florida head to Amelia Island. A gorgeous destination in Northern Florida known for its idyllic quiet beaches and upscale historic streets make it the perfect place to visit if you want to unwind and relax.
Amelia Island gets our vote as one of the best things to do in Florida for adults! The 13-mile island has several resorts such as the Ritz Carlton you can stay at as well as some beautiful private places to rent.
Firstly, groups can take private bar tours and explore the 50-block historic district. Or visit Marlin And Barrel Distillery with a group or as a couple! They have a variety of rum and vodka that you can sample during your visit.
At the beach, there is of course swimming, and relaxing on the beach with a drink in hand. Or go shelling and look for shark teeth. For something unique, you can even go horseback riding on the beach! And don't forget paddle boarding or kayaking.
Additionally, the island features lots of fun and casual beach-style restaurants that are perfect for grabbing a bite after soaking up the sun all day. For special occasions grab a reservation at SALT, the only 5-diamond restaurant in Florida.
Outdoor lovers need to head to Fort Clinch State Park. Explore the 1100 acres of sand dunes, an estuarine tidal marsh, sweeping plains, and a maritime hammock. Best of all it is another free thing to do in Florida!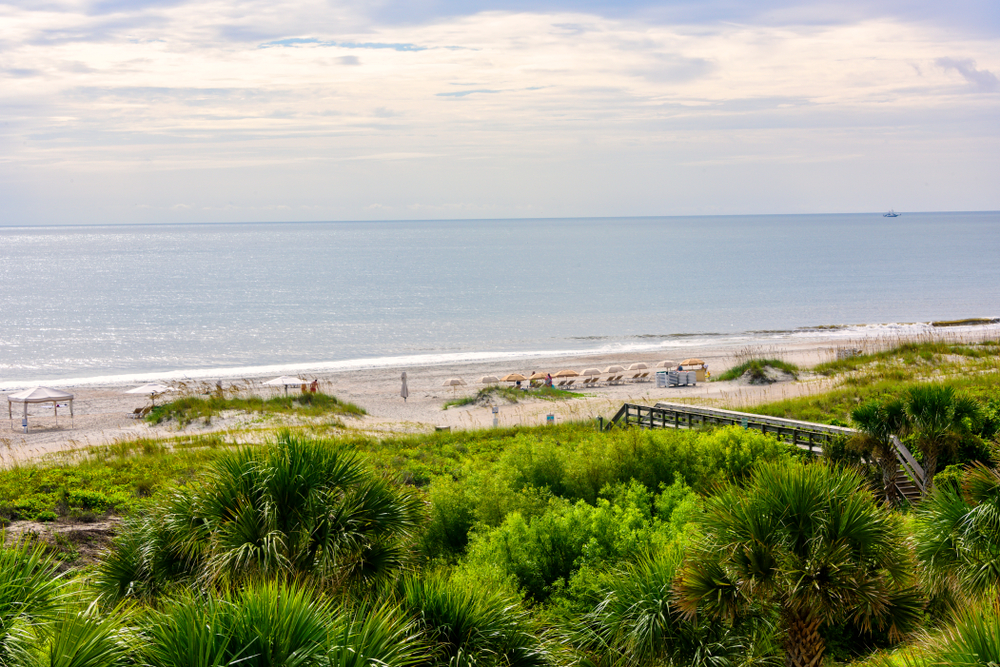 Beach of Miami
If you are looking at what to do in Florida, and find yourself in Miami head to the famous Miami beach! There is a reason over 23 million people flock to Miami every year, and it is not just for the sunshine.
The beaches in Miami encompass over 20 miles of the Atlantic Ocean shoreline. They are pristine with white sandy shores and warm turquoise water. There is a Miami Beach for everyone!
From the glitzy Bal Harbour, and popular South Beach Art Deco beach, to nude beaches, family-friendly beaches, state parks like Bill Baggs and Crandon Park, and gay beaches.
Finally after enjoying the sun all day, for those looking at the BEST things to do in Florida after dark, the nightlife in Miami is like nothing else. If you plan on dancing your nights away you have to check out LIV at the Fontainebleau or the Basement Miami clubs.
We think Miami is one of the best summer vacations in the USA to take! Our suggestion of where to stay for those looking at adults-only resorts is the Standard! While in town make sure to carve out time to visit the famous Wynwood walls!
Why not pair your trip to Miami with a visit to the Everglades and the Florida Keys, for one an amazing road trip for a weekend getaway on the East Coast?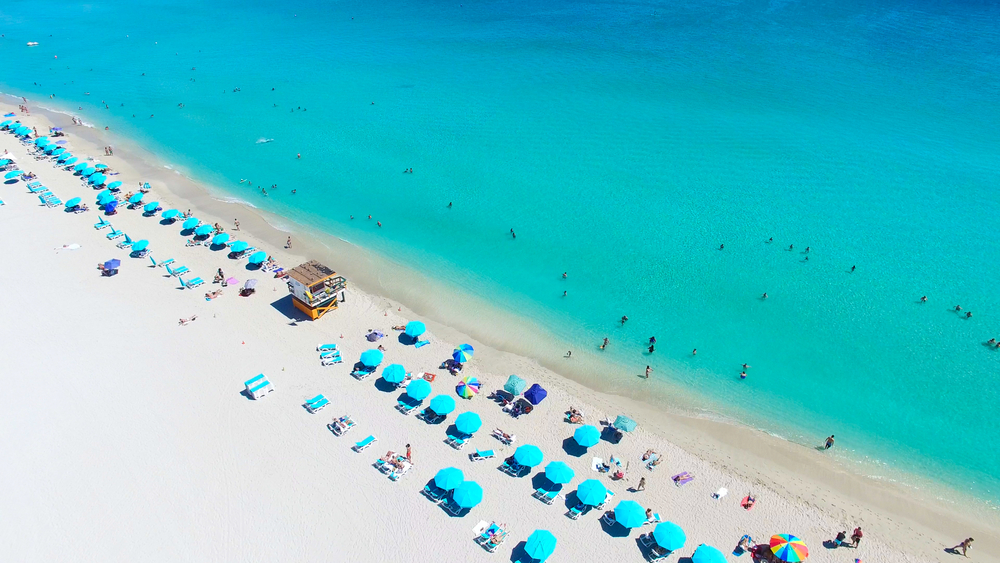 Everglades
A visit to the Everglades National Park is one of the popular Florida things to do. The National Park encompasses over two million acres that provide endless recreation in Florida's largest subtropical wilderness in the US.
The landscape is unparalleled and is home to a diverse ecosystem with tropical hammocks, coastal lowlands, mangroves, and cypresses.
An airboat ride through the Everglades is a must-do in Florida, and there are plenty of tour options right from Miami. As you glide over the water keep your eyes peeled for alligators. Take a tour or for those renting a car, the cost is $25 for a one-week pass to enter the National Park.
There are endless activities to do here! You can bike on trails, birdwatch, fish, geocache, hike, and canoe. Or participate in ranger lead programs throughout the park.
However, it is important to note that there are two seasons. The dry season runs from November to March. It attracts the most tourists due to the warm winter weather and the migration of wildlife. The wet season runs from April to November. Not as busy due to a muggy climate, mosquitos and ranger programs are temporarily stopped.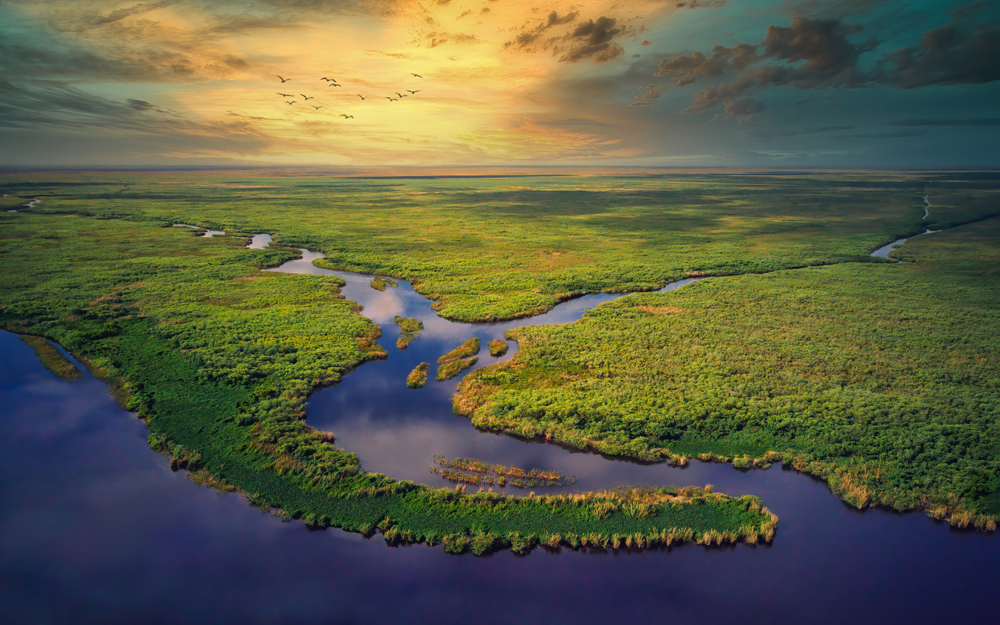 Marco Island
Are you looking for Florida vacation things to do in Marco Island? It is the perfect place to spend a few days relaxing in the Florida Sun. Marco Island is the largest of 10,000 Islands. This mangrove-lined estuary is located south of Naples on the Gulf of Mexico.
Marco Island offers tons of activities to do in Florida! Beaches and surrounding sandbars offer some of the best shelling in Florida. Along with community parks, Briggs nature preserves, golf, farmers market, and museums. There's something for everyone to enjoy!
Check out the Florida Dome Homes just off the coast. Or head to Keewaydin Island for a private beach escape with 8 miles of untouched pristine coastline. For both of these activities boats are needed to reach the destination!
For families head to the family-friendly Tigertail Beach. And for those without children, a visit to the Marco Island Brewery or a sunset catamaran tour should be on your list!
Make sure to check out some of our favorite Resorts On The Beach in Marco Island!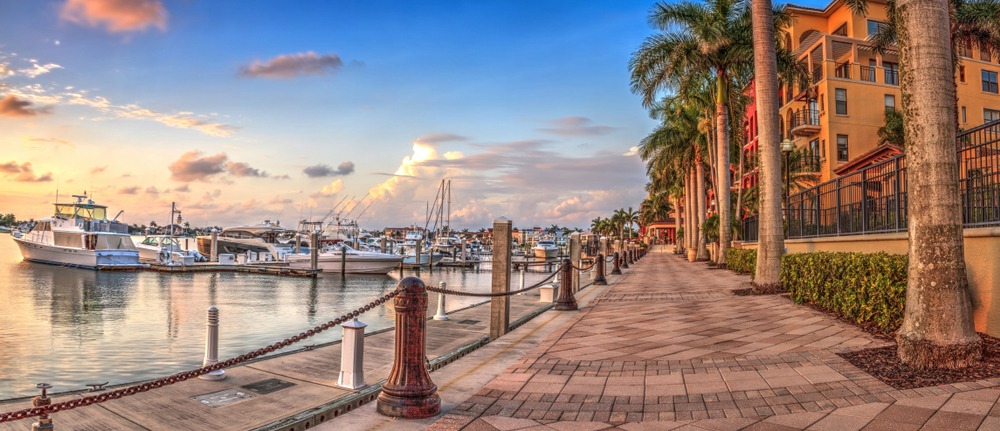 Disney World (Orland)
A visit to Disney World is probably one of the most popular Florida vacation activities! We are annual pass holders, live an hour away from the parks, and have been to Disney World hundreds of times so are going to share all the best information we have with you.
Obviously, Magic Kingdom is the most popular and famous park at Disney World, Epcot, Animal Kingdom, and Hollywood Studios are all worth a visit and are less crowded!
Located in Kissimmee Florida ( the Orlando area), visitors from around the world flock to visit this iconic theme park. Disney World is one of the many fun things to do in Florida!
We have a whole guide on mistakes first-time visitors often make, the best shoes to wear ( because you will be walking all day!), and backpacks to bring to make your visit that much better!
First, the most popular Magic Kingdom is perfect for those with small children. This park focuses more on Disney fairytales and well-known Disney characters.
Second, Disney Hollywood Studios focuses on the film industry and behind the scenes of filmmaking. Older children tend to prefer this park and it now features a Star Wars area.
Third, EPCOT, our personal favorite, tends to have something for everyone. The highlight is The World Showcases where 11 countries are represented with pavilions highlighting the culture and food of the area. Transporting you all around the world in one day!
Fourth, Disney's Animal Kingdom Theme Park is all about animals and suits most ages. This is also where you will find Pandora from Avatar!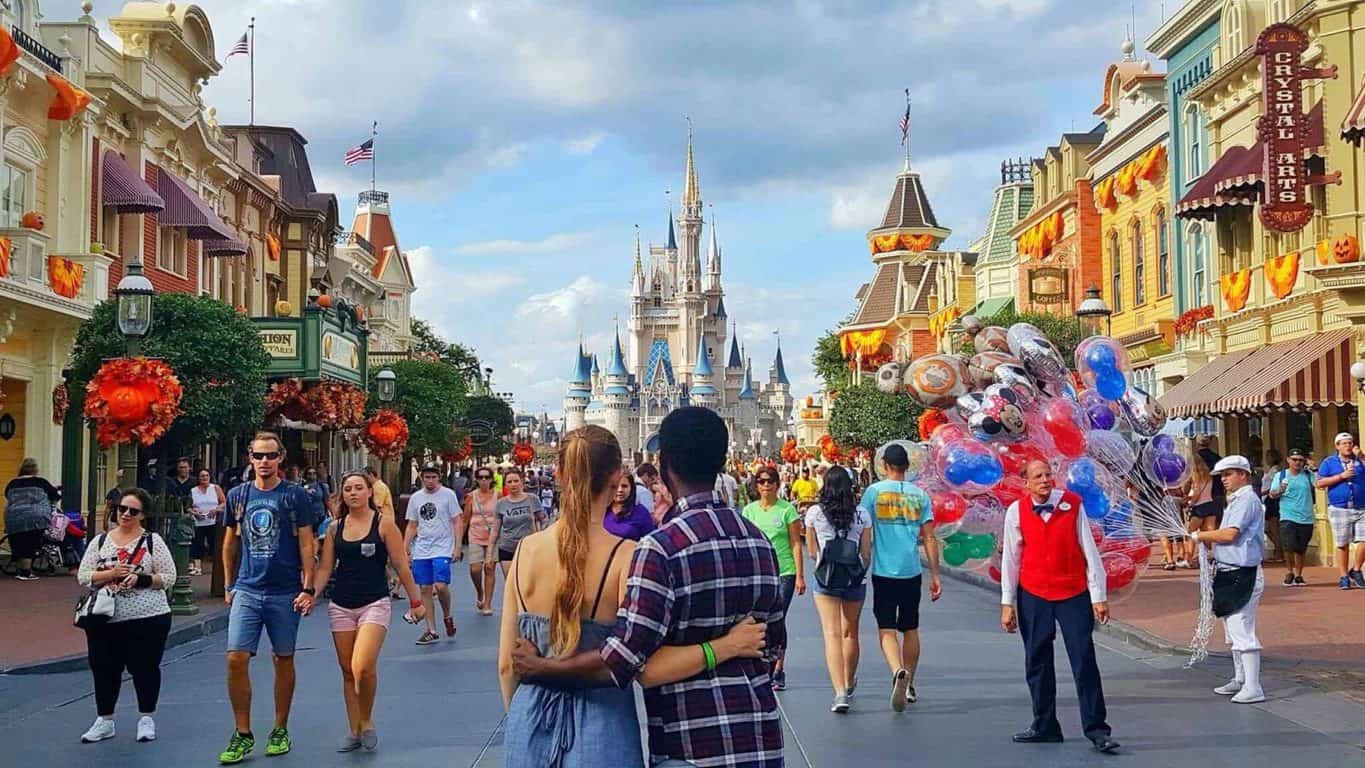 Little Palm Island
Are you looking for the ultimate bucket list must-see in Florida? Well, Little Palm Island in the Florida Keys is the private island getaway calling your name! It is one of the best all-inclusive resorts in the US! What could be more magnificent than a resort sitting on its own private island accessible by yacht or seaplane?
At Little Palm Island, upon arrival seashell pathways with an on-shore lounge greet you. Order a cocktail and start unwinding with those stunning ocean views and lush tropical foliage.
The most epic part of this Florida resort is the activities you get to choose from! Little Palm Island offers snorkeling and a Look Key Reef Scuba Diving Trip. Sailing and boating trips are also offered.
Finally, take the dolphin encounters! The research team on-site helps guide you through everything you need to know about the species and you can even swim with them!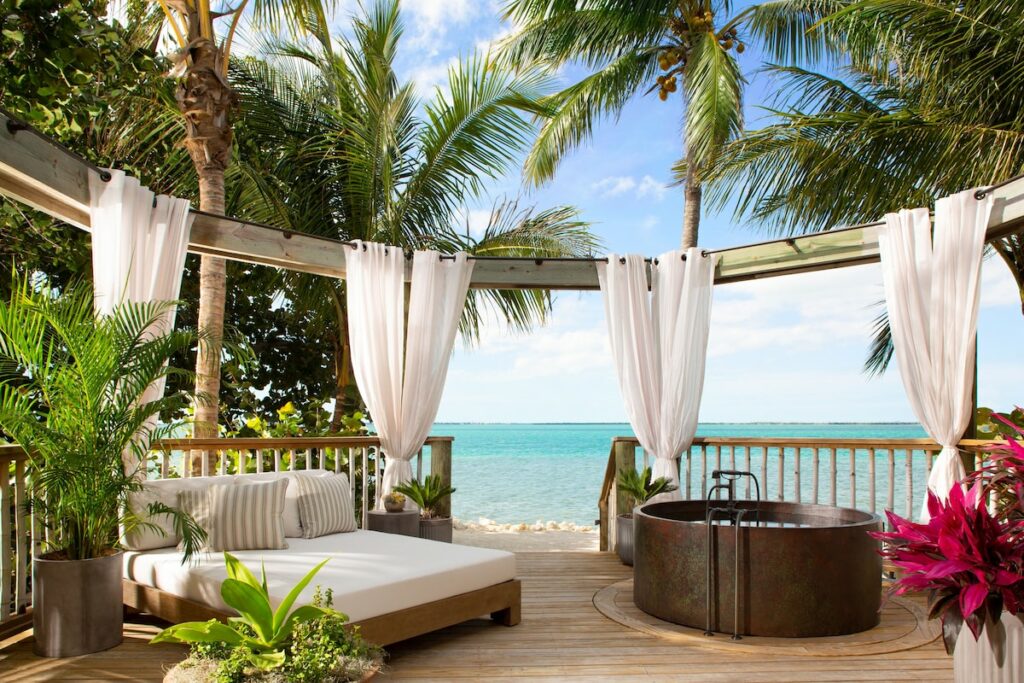 NASA Kennedy Space Center
NASA Kennedy Space Center is one Florida activities if you find yourself in the Orlando area. Home to NASA's primary launch center and all things space related.
The onsite museum lets visitors enjoy exhibitions, shows, and attractions. Formed in 1958 by President Dwight D. Eisenhower, in the space race against the Soviet Union.
A one-day ticket starts at $75. Two-day passes are only $89 ( good within 6 months) for adults. Discounts for children and seniors are offered. There are also yearly passes if you live close by!
Included in your visit are: The deep Space Launch Complex, shuttle launch experience, Atlantis shuttle, Kennedy Space Center Bus Tour, planet Play, Rocket Garden and the Astronaut Hall of Fame, Journey to Mars, 3-D films, and more.
Moreover, for those interested in educational activities in Florida, the STEAM team gives live presentations. As do the astronauts' live encounters in the Universe Theater.
You can make it a full day trip and visit Canaveral National Seashore which is one of the best beaches near Orlando!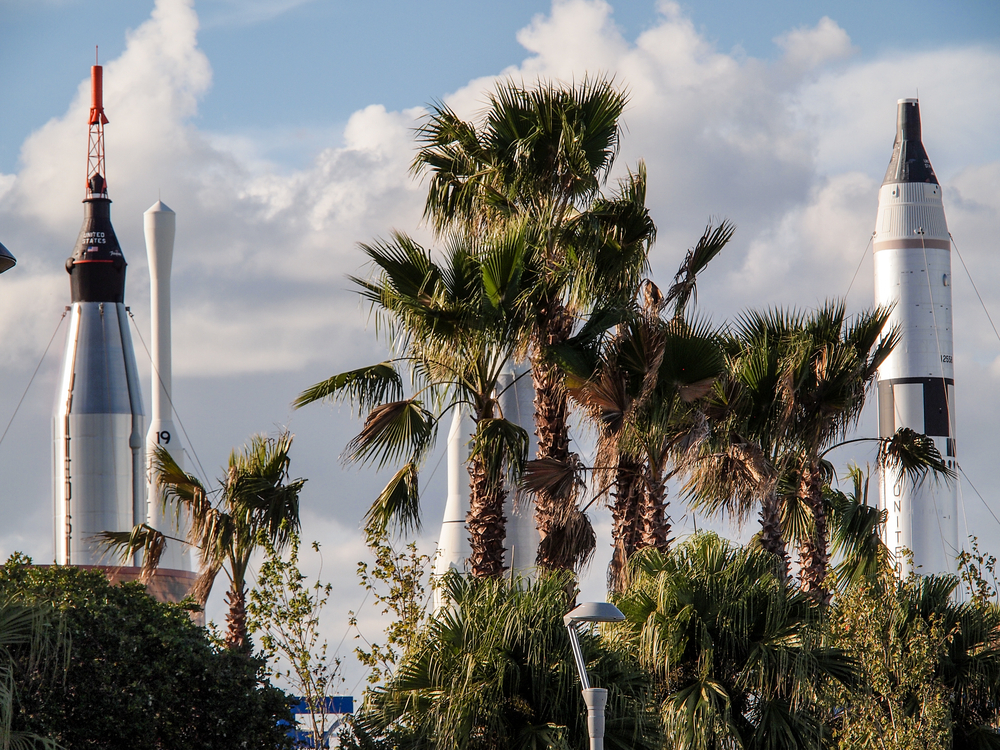 Manatees in Crystal River
On your list of things to see in Florida, you need to add seeing manatees in Crystal River. Crystal River is located about 90 mile North of Tampa and is home to over 40 natural springs. It is also the manatee capital of the world and home to the only manatee wildlife refuge in the US.
During your visit to the area, one of your first stops should be Three Sisters Springs, inside the Crystal River National Wildlife Refuge. The fee includes the trolley/shuttle to and from the refuge. During the summer months, adult tickets are $12.50, and in the winter $20. This is one of the few places to visit in Crystal River where you can still swim with manatees!
While your second stop should be Homosassa Springs State Wildlife Park. It is here guests can learn all about the endangered species and how they are returned to the wild after injury. But please remember to never touch them as they are an endangered species.
Evidently, as many as 800 manatees arrive here in the winter months where peak season runs from November 15 to March 31. There are plenty of tours offered for kayaking and seeing manatees up close. If you can visit midweek you will have fewer crowds.
We think this unique experience is one of the BEST things to do in FL!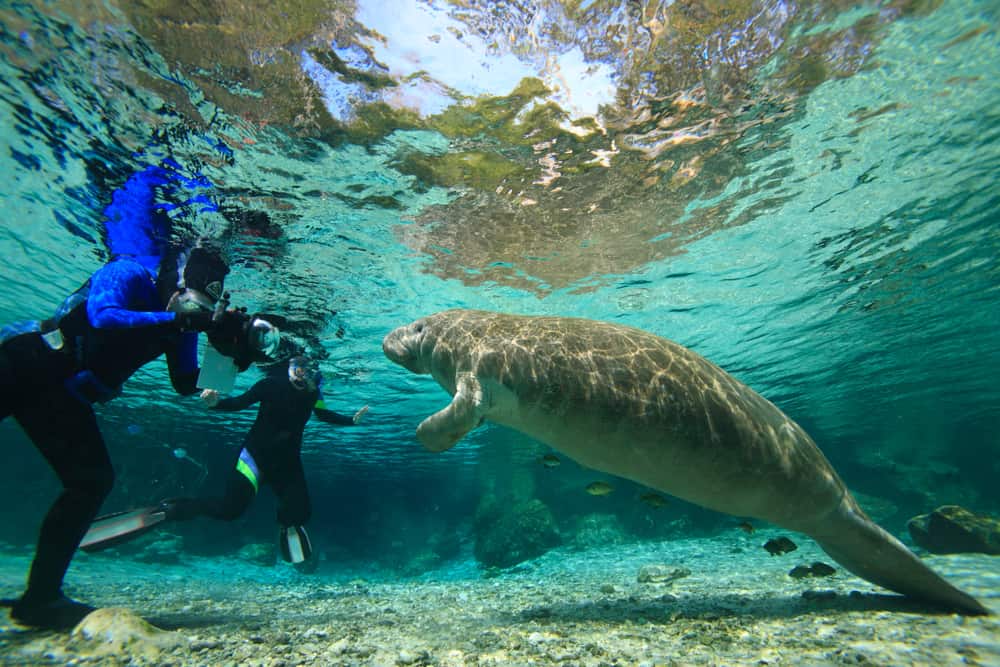 Clearwater Beach
The beach is one of the free things to do in Florida! In fact, it is where we shot our Haunted Ocean pictures! For those who do not know, Clearwater Beach has a very famous pirate ship that sails the waters every day!
Unquestionably, it is one of the best beaches on the west coast and was rated #1 by TripAdvisor. Located in St. Petersburg it is known for its expansive wide sugary white sand with the picturesque calm warm emerald water!
Popular with families since there are lifeguards on duty! Search for shells and build sand castles with peace of mind. For those more adventure intended you can parasail, paddleboard, or rollerblade along the beach promenade.
In addition, for those with children, you can visit the nearby Clearwater Marine Aquarium where Doplin Tale was filmed. Once the sunsets, head to Pier 60 to watch the sunset while enjoying one of the casual seafood restaurants.