Planning a trip to see "The Mouse" and looking for the best backpacks for Disney? We are annual pass holders, live an hour away from Disney, and my [Victoria] first trip was when I was just 9 months old, so this isn't another post where someone will tell you what backpack to bring to Disney World just to make money. These are our real tried and true suggestions on the best backpacks for Disney!
All of our suggestions here will be backpacks we have personally owned or as close to those shoes as we can come if a new and improved version is out! And although we don't have "littles" of our own yet, our "kids" suggestions are taken from annual pass holder friends and come highly recommended! When finding the best backpacks for Disney World, it is important to remember that you want a quality backpack, but that doesn't mean you will have to break the bank for this purchase!
When choosing your backpack for Disney, it is important to choose something functional yet cute [or just functional if "cute" isn't just your style]. Remember that your kids can carry their own Disney backpacks so they can help haul the load you are bringing into the park. Of course, the little ones will get tired, so don't give them too much to carry. Letting each child pick out their backpack for Disney and then giving them a few small items of their own to carry in it such as snacks and a swimsuit is a great way to get them interested and involved!
We always try and use our own photos from Disney when suggesting items, but we have to be honest, any time we take pictures at Disney, we always take our backpacks off so they aren't in the photo! As a result, there are virtually no photos of us in our backpacks at Disney to include in this article [so sorry!]
Read Next: Best Shoes For Disney For Women And Men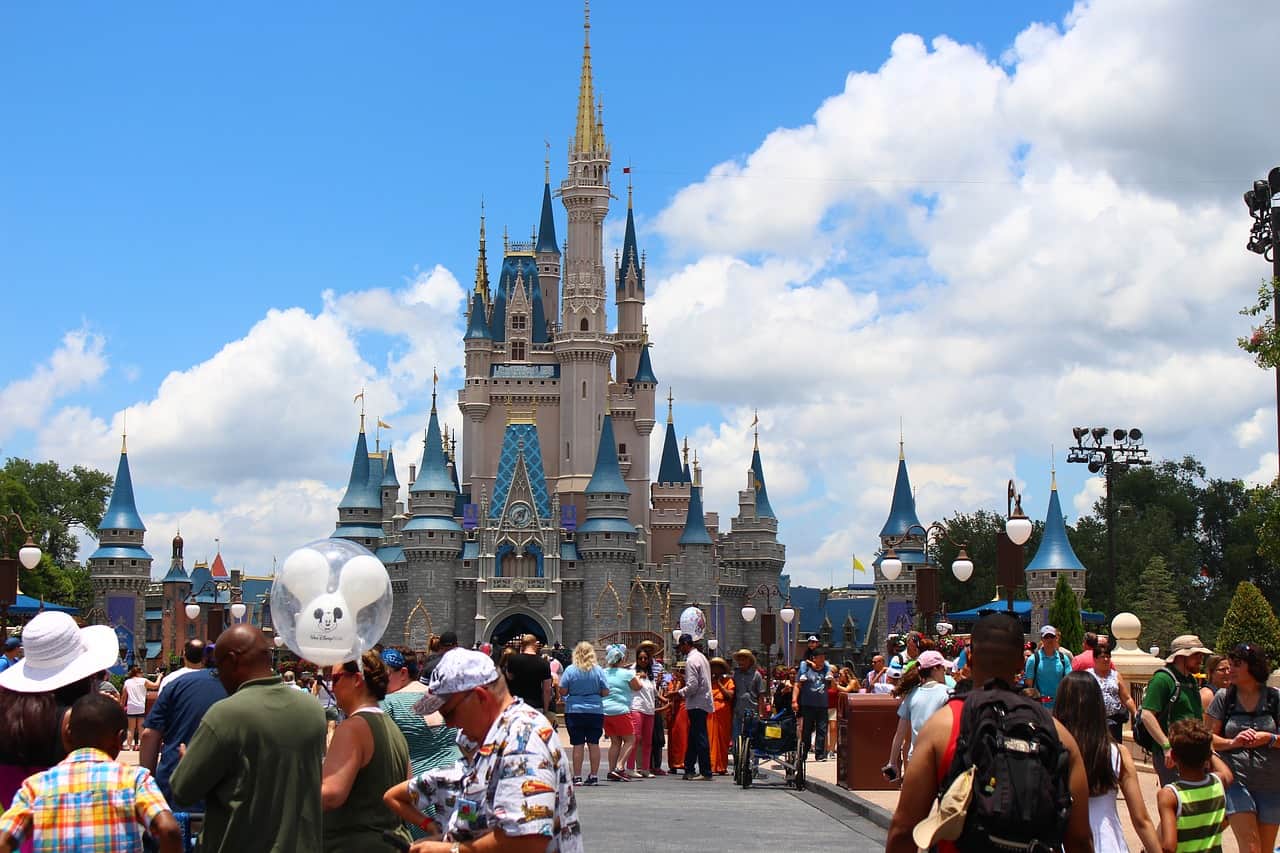 Best Backpacks For Disney For Adults
Whether you are visiting the parks with kids or as an adult on your own as we do, choosing a backpack for Disney that is comfortable, airy, and functional is important. In Florida, it can get hot very quickly, so choosing a breathable backpack for Disney is especially important. You don't want your back to be sweating and getting all over the Disney backpack on day one of a five-day vacation and then you are going to have to smell it for the entire trip!
These are some of our personal favorite backpacks for Disney for adults that are tried and true! We provide a range of prices and options depending on what you like. If you are a more feminine and fashionable adult looking for the best backpacks for Disney to match your style, we have you covered. If you are more functional like Terrence and prefer more neutral colors and a useful style, we have suggestions on the best backpacks for Disney for you too!
Best Stylish Adult Backpacks For Disney
Minnie Mouse Faux Leather Backpack. THIS is one of our favorite backpacks for Disney for stylish adults or adults looking for something cute and functional. It is also very popular in the parks! After all, who doesn't want an adorable faux leather backpack for Disney that also looks like Minnie Mouse! We love using this backpack and although it is made of faux leather, it doesn't run too warm in the Florida heat. It is on the smaller side and doesn't take up much space on your back so it is a great substitution if you are used to carrying a purse but want your hands free for Disney. This is one of the best backpacks for Disney because it ticks all the boxes you want a stylish backpack to be!
Hynes Victory Backpack. This is one of the best backpacks for Disney because it is SO AFFORDABLE. It also has so many pockets and places to put things which is necessary when exploring the parks! We personally recommend this backpack for Disney simply because of the pocket locations on this backpack. It is bigger than our first suggestion with many more pockets for storing things. Our favorite pocket location is the zipper that is on the outside of the Disney backpack but rests against your back! This way, you can put valuables in here so they are easily accessible, but there won't be a risk of them getting stolen because the zipper will be against your back the whole time you are wearing it! This is one of the best backpacks for Disney if you are looking for something stylish but not a "Disney" related item!
Loungefly x Mickey All Over Mini Backpack. Loungefly brand offers the best array of cute backpacks for Disney! There is literally a Disney backpack in every print and in every color you can possibly imagine. We have the Mickey one linked above because we are huge Mickey Mouse fans, but Loungefly seriously makes so many options! Love the Evil Queen? Want Lilo and Stitch? Aristocats? The Haunted Mansion? You can buy a Loungefly backpack or even a wallet in these patterns! Click here for the whole selection if you want to see more. We personally love the outside zipper pocket so we can store our phone and some change for popcorn there in an easily accessible location! This is truly one of the best backpacks for Disney because it comes in so many colors and designs!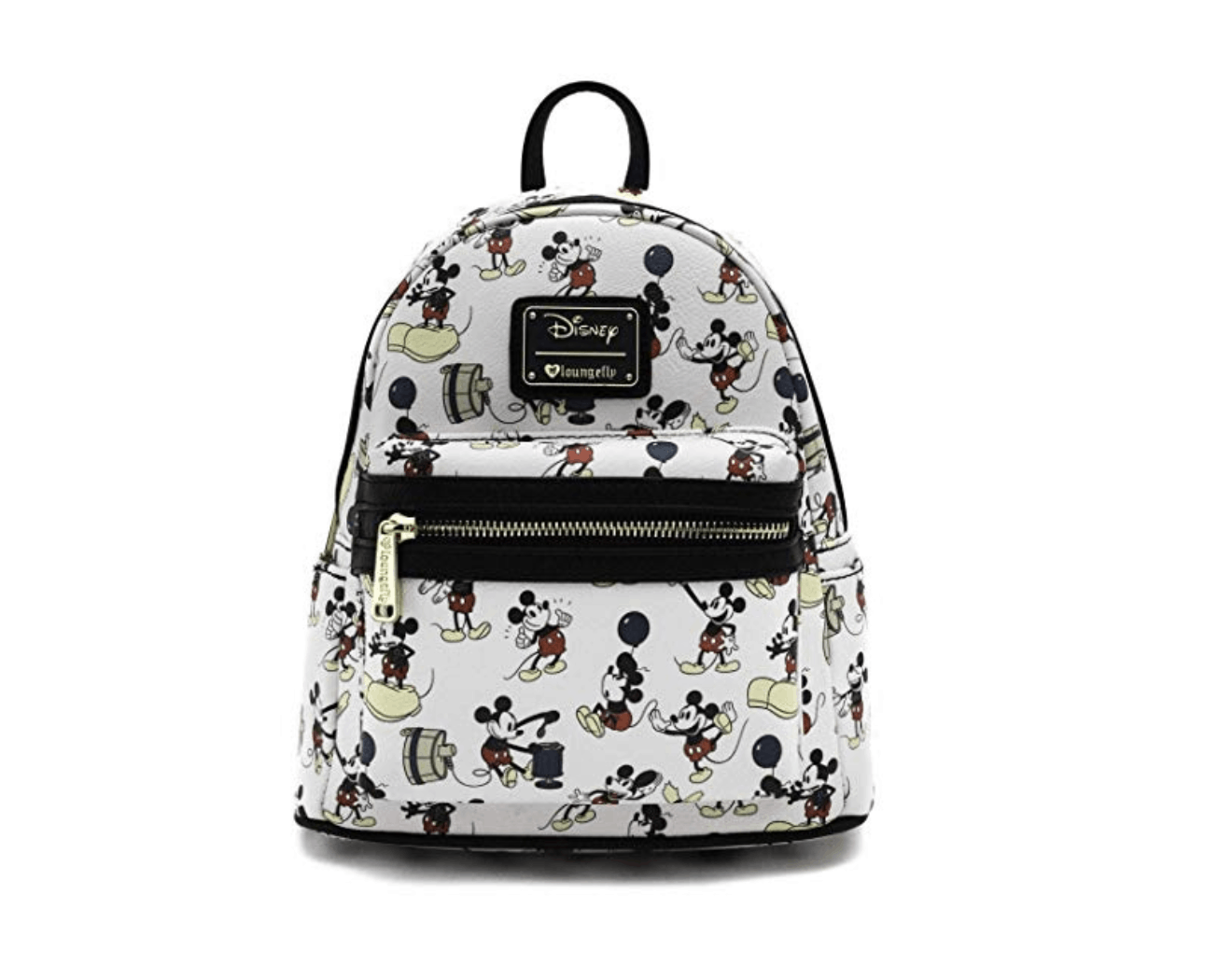 Best Functional Adult Backpacks For Disney
OutdoorMaster Sling Bag. This is our very favorite functional backpack for Disney! If you have never used a sling backpack, you haven't lived yet! [Just kidding but you are going to love it.] A sling backpack for Disney will change your life! It doesn't hurt your back the way traditional backpacks may and leaves one shoulder completely free. You can also keep this backpack on when you need to get into it by simply rotating it around from your back to your front. We have worn this backpack to Disney countless times and it is fantastic and we cannot recommend it enough! This is one of the best backpacks for Disney because it is incredibly affordable, unisex, and comes in multiple colors. It is lightweight, sturdy, and comes with anti-theft pockets and enough room for laptops and cameras, if necessary!
Under Armour Hustle 3.0 Backpack. If you want the best backpack for Disney for people super serious about the Parks and hauling a lot of stuff, this is the backpack for you. It is a simple black, but man is it a workhorse! One of the best features of this backpack for Disney is its size, breathability, and amount of stuff you can fit into it. This is a great choice for a Disney backpack if you are traveling with kids and want to bring changes of clothes, snacks, drinks, diapers and more. The shoulder straps are adjustable "heat gear" technology which will help keep you cool in the Florida heat. We also love that this backpack for Disney comes in a variety of color choices so you can pick the one that best fits your family. The price tag is a little higher on this option than other suggestions, but it is totally worth it if you are looking for the best backpack for Disney for serious visitors!
Disney Mickey Mouse Backpack Diaper Bag. This bag comes highly acclaimed from our friends with kids. Not only is it a Disney-themed backpack, it also doubles as a diaper bag. This is one of the best backpacks for Disney when traveling with young kids because it is huge and only weighs 1.25 pounds which is FANTASTIC for walking around Disney all day and toting a lot of stuff and kids too. There are 9 pockets and a changing pad included. A word from our friends who use this bag, sometimes it takes a long time to ship, so if you want this backpack for Disney, make sure to order early before your trip!
Finex Mickey Mouse Canvas Backpack. If you are dying to find a functional backpack for Disney that still has some "Disney spirit" this one by Finex is a great choice. We love how affordable this choice is without sacrificing functionality or pattern. This Disney backpack features multiple interior pockets including a back slot for storing a laptop [or something else since you will be walking the parks] as well as two outside pockets for water bottles and an exterior pouch for small change. The fact that this backpack is made out of canvas is good news when walking around Disney during the warmer months. It also makes it easy to clean if you get a lighter-colored one dirty. Simply scrub in the sink and it will come clean fairly easily. If you want the best backpack for Disney that is affordable, functional and comes in a lot of patterns, this is the perfect option for you.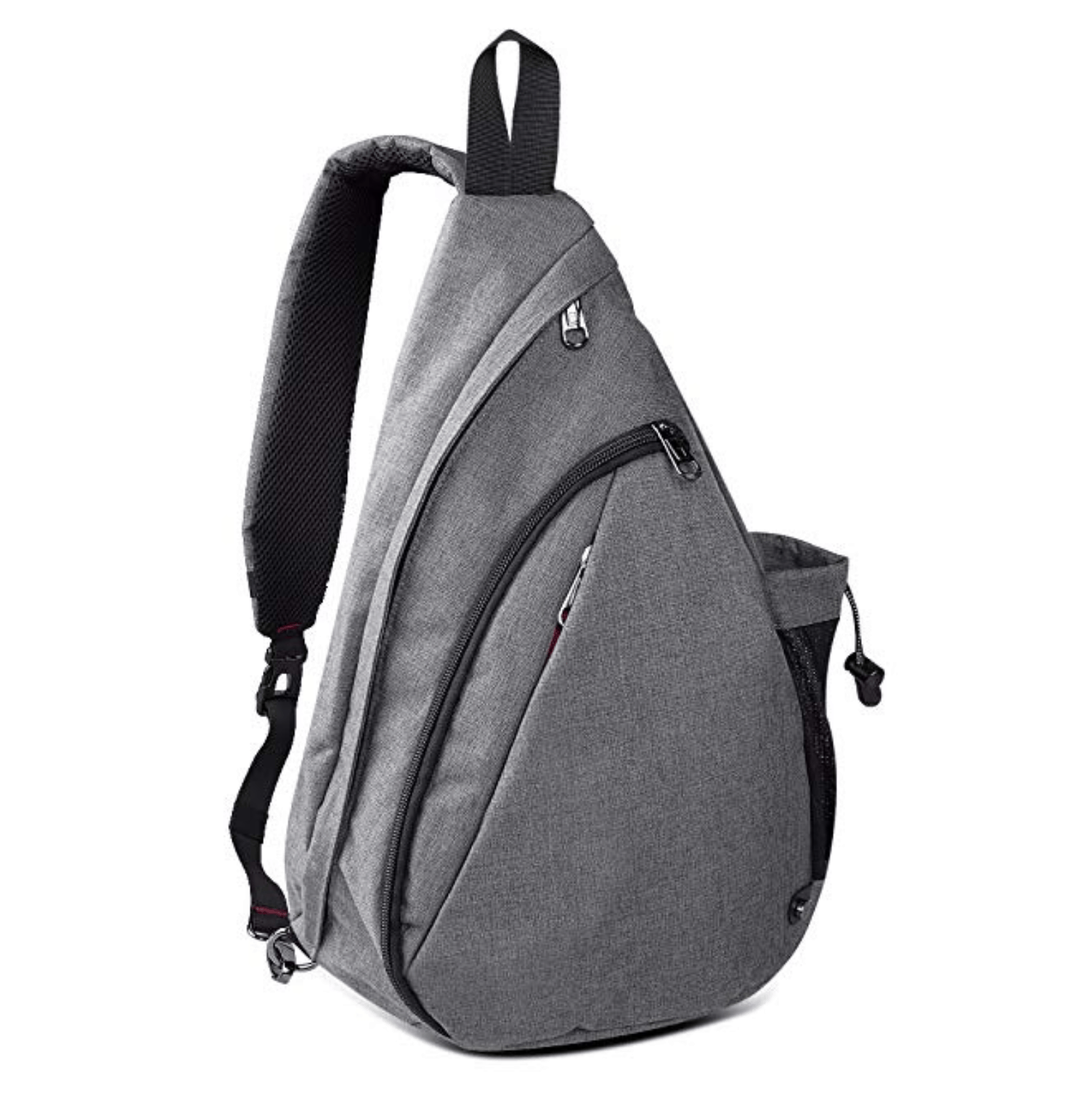 Best Backpacks For Disney For Kids
Disney Mickey and Minnie Mouse Drawstring Backpack. Drawstring backpacks make a great choice for kids to take to the parks and carry on their own. How do we know? Because this is what we had to carry when we were kids walking around Disney! This is one of the best backpacks for Disney for children because it is lightweight, affordable, and comes with a fun lanyard and pouch too. The best part about having your kids carry drawstring backpacks is that they are lightweight and fold up into almost nothing. So when your kid gets tired of carrying his or her backpack, you can easily just take out the few items in it, fold up the backpack, and stuff it into one of the choices for adults above.
Disney Backpack with Safety Harness Straps. We see this one at Walt Disney World quite often and it comes highly recommended from our friends with children. Not only is this an adorable and affordable backpack for Disney, but it also doubles as a leash/safety mechanism for your children! We have seen kids get separated from their parents time and again at Disney and this backpack helps you prevent that. Your kid gets to carry a cute little Mickey or Minnie Mouse backpack and when you are in a busy area, you can simply attach the detachable strap to the back of the bag and keep your kid close in the crowds. We have seen this in use at the Disney parks and it is a wonderful safety invention and the best of both worlds when it comes to choosing the best backpacks for Disney for your children!
American Tourister Children's Frozen Backpack. If you are visiting Disney with an older child who can carry more of their own items, look no further than the American Tourister Brand. We are suggesting this Disney Frozen backpack because that is what our friend's daughter carries, but American Tourister makes many high-quality backpacks for children if you prefer a plain one or one with different patterns. This is one of the best backpacks for Disney for older children because it is more spacious and carries more while remaining lightweight and affordable for mom and dad.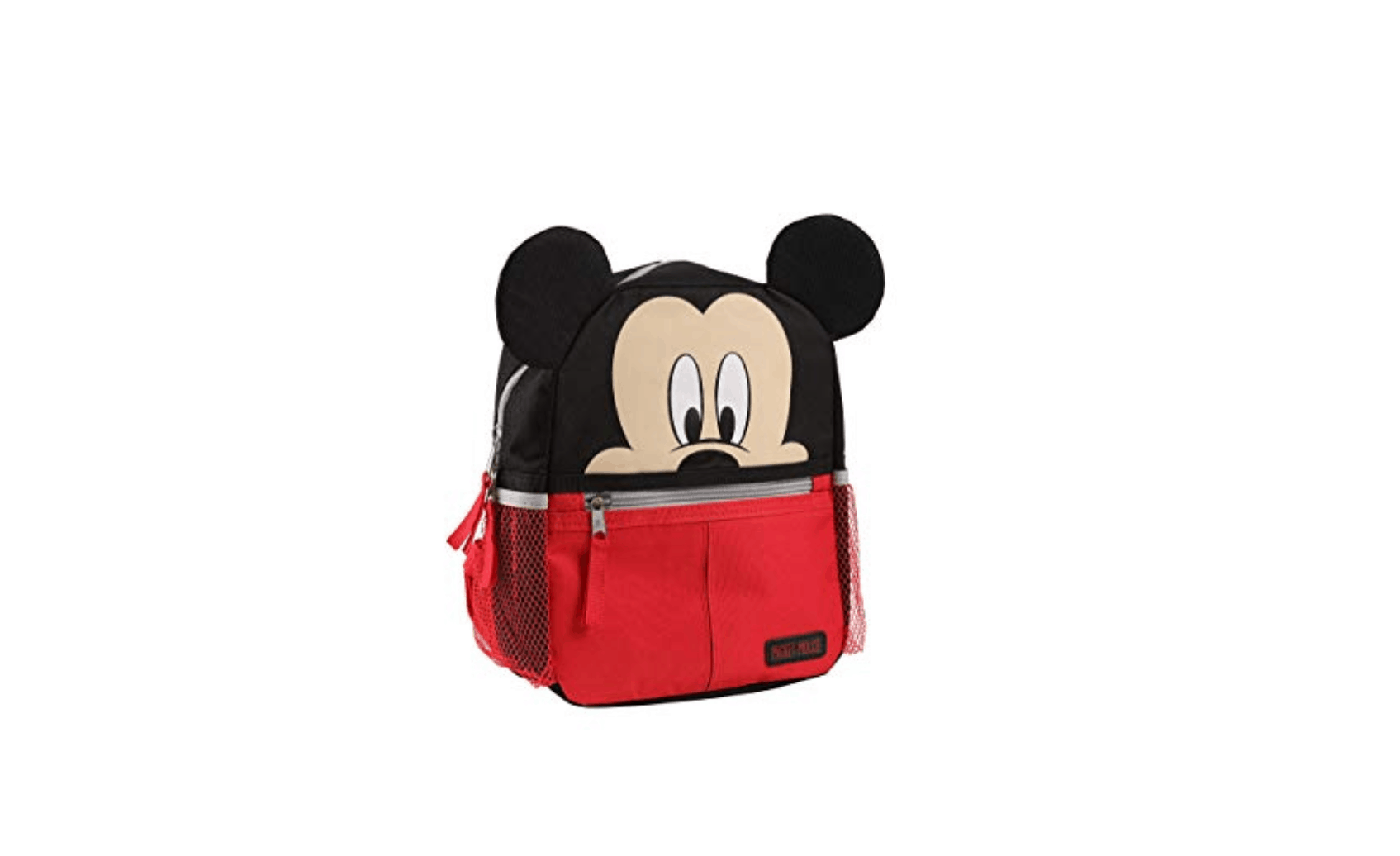 Bringing Backpacks Into The Disney Parks
As you may have already guessed from this article, it is 100% okay to bring backpacks into the Disney Parks and we have many times before. The only downside is that each and every backpack and bag you bring into the Disney Parks must be searched upon arrival. If you are traveling with a group of people all wearing backpacks, this will take a few extra minutes. When you are going through security with a backpack, the guards will require you to take it completely off in order to be searched. They will also look into every zipper on both the inside and outside. All of this is completely okay as it is for all of our safety when visiting the Disney Parks! Keep this in mind when choosing the best backpacks for Disney so you can stay prepared.
Bringing Backpacks On Rides At Disney
We are commonly asked if visitors are allowed to bring backpacks on rides at Disney. This is a great question because many theme parks, from Universal Studios to Six Flags require you to get a locker each and every time you choose to ride a ride. We have experienced this before and can attest that it is so annoying. We are happy to report that you can bring a backpack, purse, or bag on each and every ride at the Disney Parks!
From rides with children all the way to roller coasters that go upside down, you can bring your backpack on everything. This is so much better and easier than having to go and get a locker every time you ride a ride and we truly appreciate that Disney has such a lax rule. We have also never had a problem fitting one of our Disney backpacks on a ride and there is usually plenty of space to accommodate it!
We hope you found our suggestions for the best backpacks for Disney useful and helpful when planning your own trip. Whether you are looking for something stylish, functional, or for kids, there is a Disney backpack option for everyone. We shared our favorites above and some suggestions provided by friends to cut back on the difficult legwork for you. We hope you enjoy your trip to our favorite place on earth. Please let us know what your best backpack for Disney is in the comments and if you bought one of our favorites or something else different that you love that we should add to this list!
Follow Me Away is a participant in the Amazon Services LLC Associates Program, an affiliate advertising program designed to provide a means for sites to earn advertising fees by advertising and linking to Amazon.com
Pin this post: