Are you looking to go to some unique destinations in Florida to explore? We have you covered with a list of the best small towns in Florida that are great for any road trip, to move to, or for any kind of adventure!
As a Florida local who was born and raised here for her whole life, I am going to bring you along and show you some of the hidden gem small towns that other locals may not want you to know about 😉
When checking out the best things to do in Florida or even in the US, sometimes you miss out on exploring the smaller towns states have to offer because you're moving so fast! These are the perfect place to either live or to explore.
Sometimes when exploring Florida, all you need is a tent, bathing suit and some snorkeling gear and you can be entertained for days on end! We know that's not everyone's style, but personally, I love just exploring the different waters and enjoying the crystal clear waters in natural springs around my home state!
The best summer vacations are never too far away when exploring Florida! So sit back and relax while we walk you through the best small towns in Florida for you to adventure!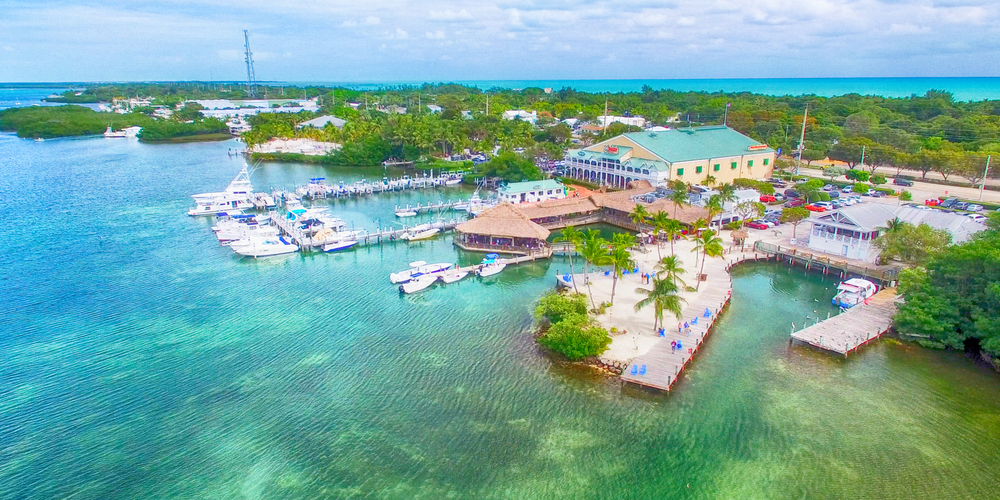 12 Best Small Towns in Florida You Must Visit!
Mount Dora
In Central Florida resides the Antique Capitol! Mount Dora is one of those quaint towns in Florida that gives tropical Stars Hollow vibes and is perfect for people who desire autumn at all times but still want to enjoy the heat and sun of summer!
This is where I go at least once a year! It is my favorite little place to go.
Mount Dora hosts antique shops and annual city-run festivals that make it one of the best of the rural Florida towns for a low-key, romantic getaway! It has a museum hosting local history, a collection of classic cars and a replica of a 1940s gas station! As one of the best Florida historic towns, Mount Dora has many waterside restaurants overlooking the lovely Lake Eustis making it a great spot for peaceful trips!
Don't miss out on this adorable option for the best small towns in Florida!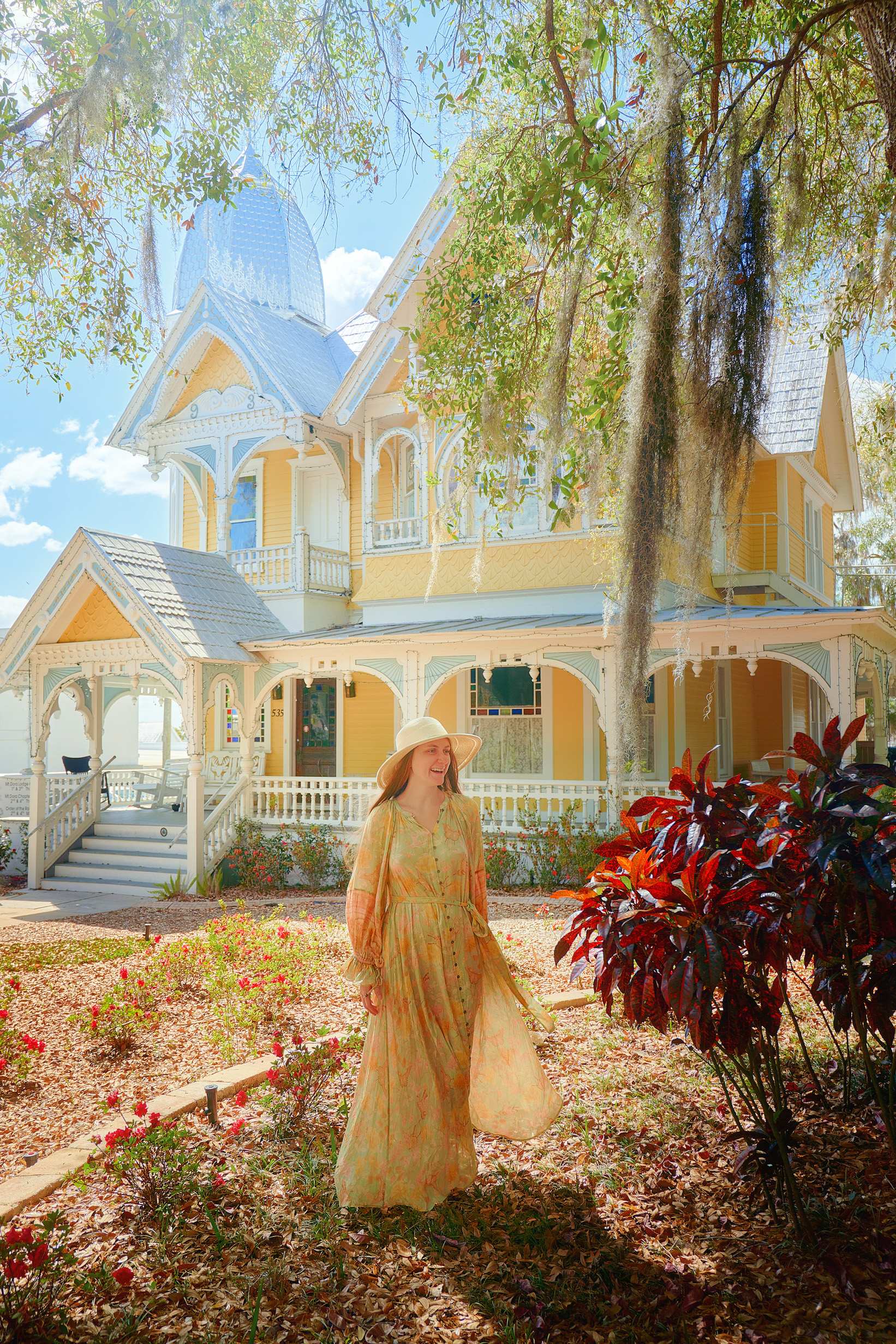 Micanopy
Micanopy is located in Alachua County, Florida and not too far from Gainesville, Florida but is one of the best small towns in Florida which time seems to pass by!
When it comes tot owns in Florida, Micanopy is known for it's 19th-century buildings and has great spots for antique shoppers, those looking for unique artisans, and lovely food! Their woods have enormous oak trees and is definitely a cool option for cute towns in Florida.
If you're looking to make a road-trip of all the antiquing spots in Florida, Micanopy is definitely a spot, rivaling Mount Dora for antique capitol, they're right off the I-75 and make it an easy stop along your way!
It's hospitality is unraveled across the state as even the residents agree this is one of the best small towns to live in Florida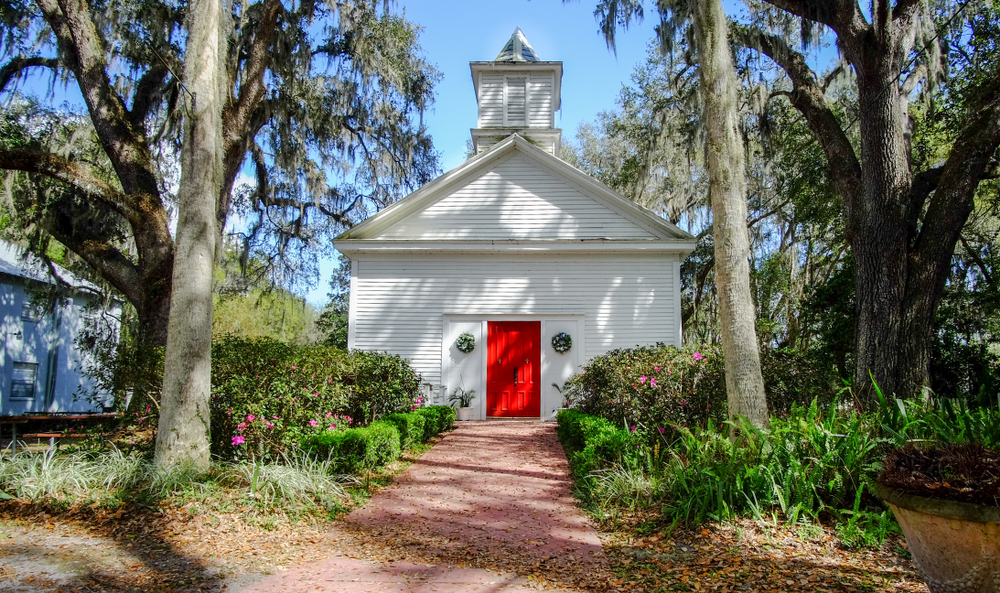 Key West
As a part of the many Florida Keys, Key West is an awesome option for the prettiest towns in Florida!
One of many destinations stops within the archipelago of the Florida Keys, Key West is home to some awesome spots to spend a good amount of time exploring! It's definitely an Instagramable destination for it's pastel-hued homes and picturesque tropical architecture! With bright green plants and large palm trees, the Key West is home to year-round sunshine and historical spots for every kind of traveller!
Whether you're looking to relax and snag some good pictures, or you're wanting to learn more about Key West's impact in history there are activities for everyone to spend time. With attractions like the Hemingway House and the Little White House, this is one of the historic towns in Florida that will definitely check something off a bucket list! If looking to make it to the southernmost point of the contiguous US, or wanting to see some amazing coral reefs and snorkelling spots, Key West is for you!
Don't forget to try a classic slice of Key Lime Pie while visiting this option for cute small towns in Florida!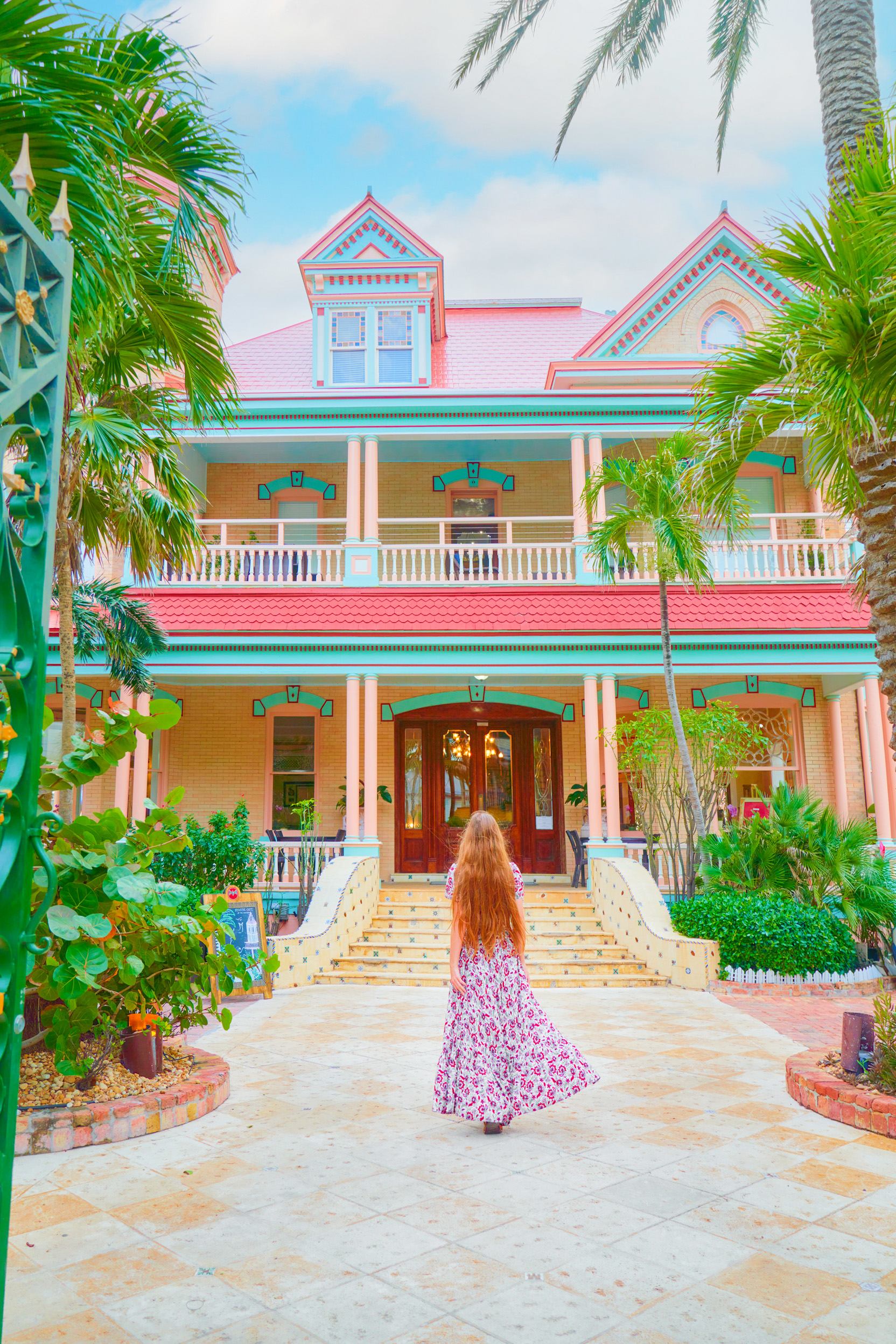 Ferdinanda Beach
Another lovely option on our list of small towns in Florida is Ferdinanda Beach!
Located in Northeastern Florida on Amelia Island, Ferdinanda Beach is known for its Shrimp festival! This is a seafoodies dream destination for towns to visit in Florida because they celebrate their seafood industry with so much pride! It's the perfect place to enjoy the beach AND get fantastic, fresh and local seafood! If you're looking to attend the festival, try to go for the first weekend in May as this is when it's held! The festival also highlights the towns shrimping history, so you can learn tons about how shrimping happens!
There are plenty of outdoor spots to go and explore! From parks to beaches, Ferdinanda Beach is one of the best Florida beach towns for the family! Don't miss out on this great option!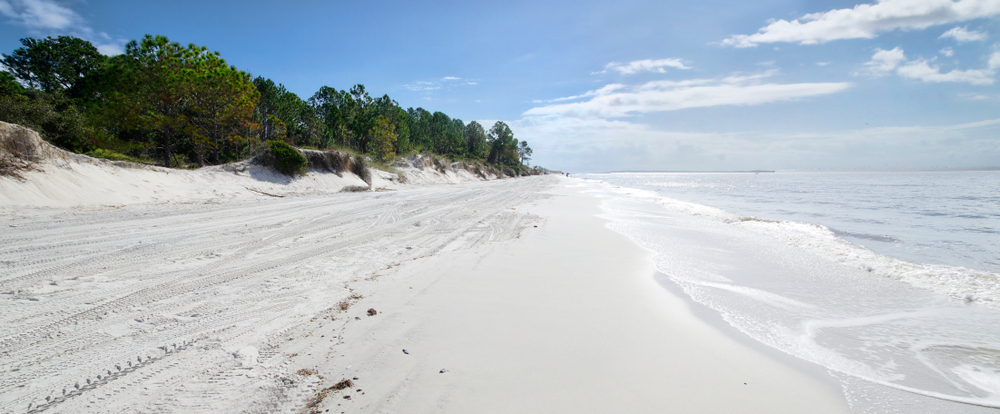 Seaside
If you're looking for a classic option for the best small beach towns in Florida going to Seaside is top on our list!
Yes, we said that right. Seaside is the name of one of the best small towns in Florida and has a little bit of everything for travellers! With pastel coloured houses and beautifully decorated porches, this town boasts a 20th century new urbanist architectural design and has plenty of beautiful spots to wander around and enjoy!
From pristine sandy beaches, to surfing spots, to walking paths and state parks; this is one of the hidden gems in Florida to live for its access to all the appeals of an active outdoor lifestyle! It is perfect for people who want a more laid back spot to rest for a bit while not missing out on amenities and access!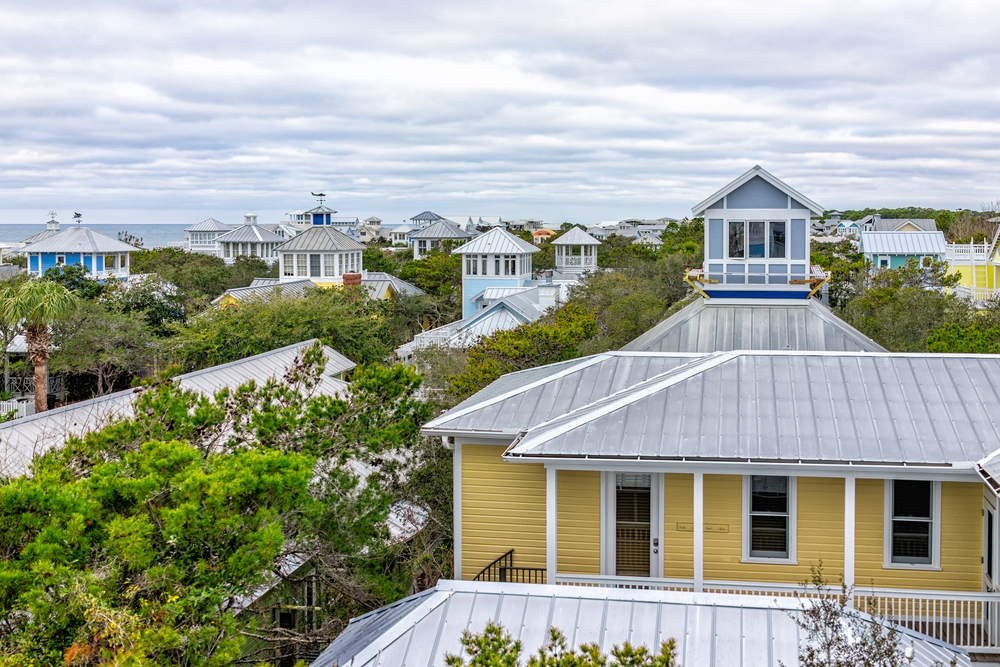 Anna Maria Island
Anna Maria Island is another great example for towns to visit in Florida for people looking for a beach paradise!
When it comes to small Florida towns, Anna Maria Island is known for its broad beaches! It is one of the barrier islands on the Florida Gulf Coast, and is classified as a resort city! With shops, galleries, and eateries, this is a lovely spot to consider when looking for small cities in Florida to explore!
The Anna Maria Historical Society Museum has a 1920s restored cottage on display and has a lot of information on the settlement and trade history of Anna Maria Island! This is a cool example of historic towns in Florida with active community-run museums with tons of access to the history!
If you're looking for towns in Florida with a big food community, Anna Maria Island is a great option! The Bridge Street Market has local cuisine and businesses selling their amazing food as well as artisans with art and live music running once a week during the summer seasons!
Don't miss out on Anna Maria Island! It is the perfect Day Trip From Orlando!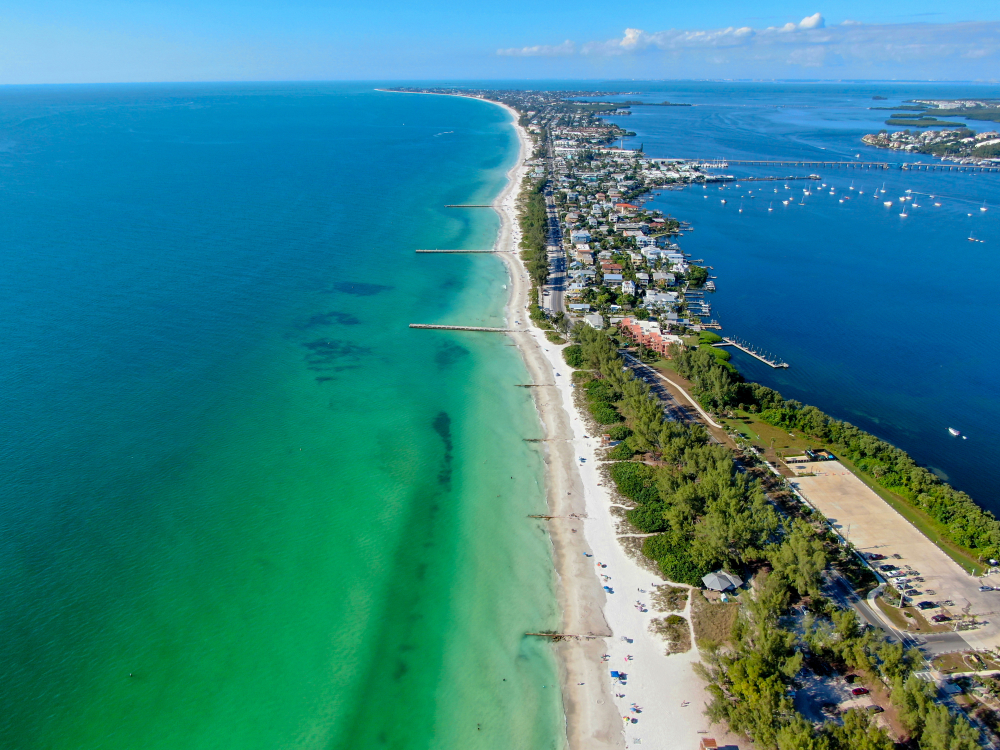 Crystal River
When it comes to towns in Florida with rich outdoor activities, Crystal River is one you cannot go wrong selecting!
With such a cool name, it's no surprise that Crystal River is home to some amazing bodies of water with straight from a magazine views! Home to the famous Three Sisters Springs, Crystal River is known for its natural springs and water bodies for people to go to and leisurely enjoy! The landscapes are beautiful and their ecosystems are so unique most are protected sites and have strict rules for visiting so please pay attention if this is what you're looking to explore!
They also have a Wildlife Refugee spot sheltering manatees year round! With Crystal River Archaeological State Park, Rainbow River and Kings Bay, there are plenty of outdoor activities to enjoy in this exciting option for small Florida towns!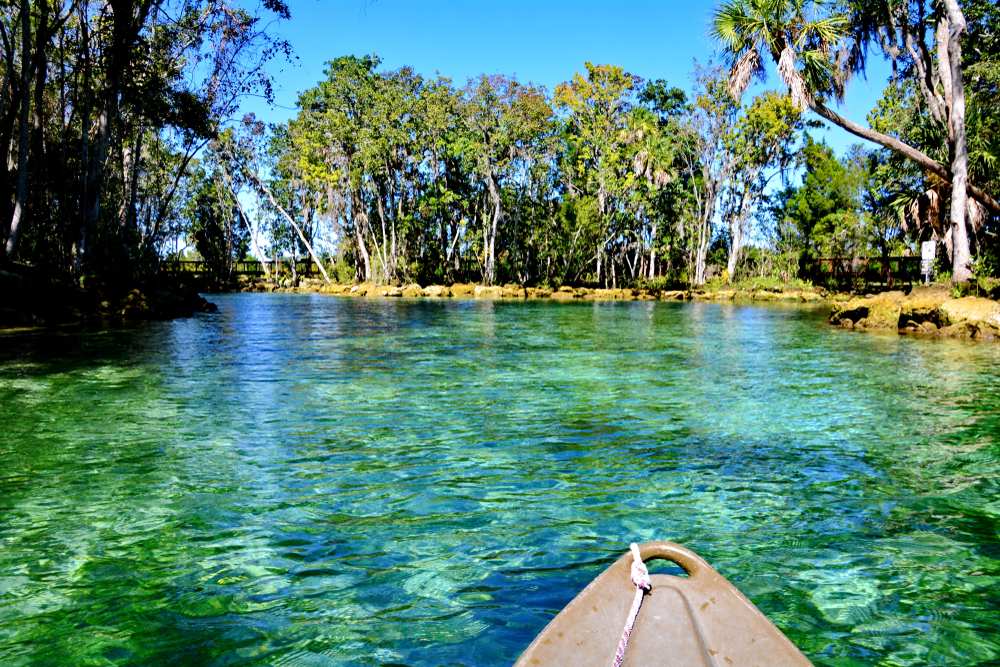 High Springs
Another option for the best small towns in Florida with tons of natural springs is High Springs!
Located in Alachua County, High Springs has natural attractions drawing canoeists, cave divers, and campers alike! With Santa Fe River, High Springs has plenty of water attractions and lovely natural wonders for families and couples to enjoy!
Each of the springs in this option for towns in Florida has its own rules and regulations in order to protect its springs, for example the very popular Ginnie Springs has a visitation fee and they only allow a certain amount of people to visit per day so definitely get a reservation early! Other natural wonders to look into are Blue Springs Park, Poe Springs, O'Leno State Park and of course the Santa Fe River!
If you're an adventure seeker and are looking to enjoy some snorkelling, tubing or do some swimming in refreshing water, High Springs is the option for best small towns in Florida for you!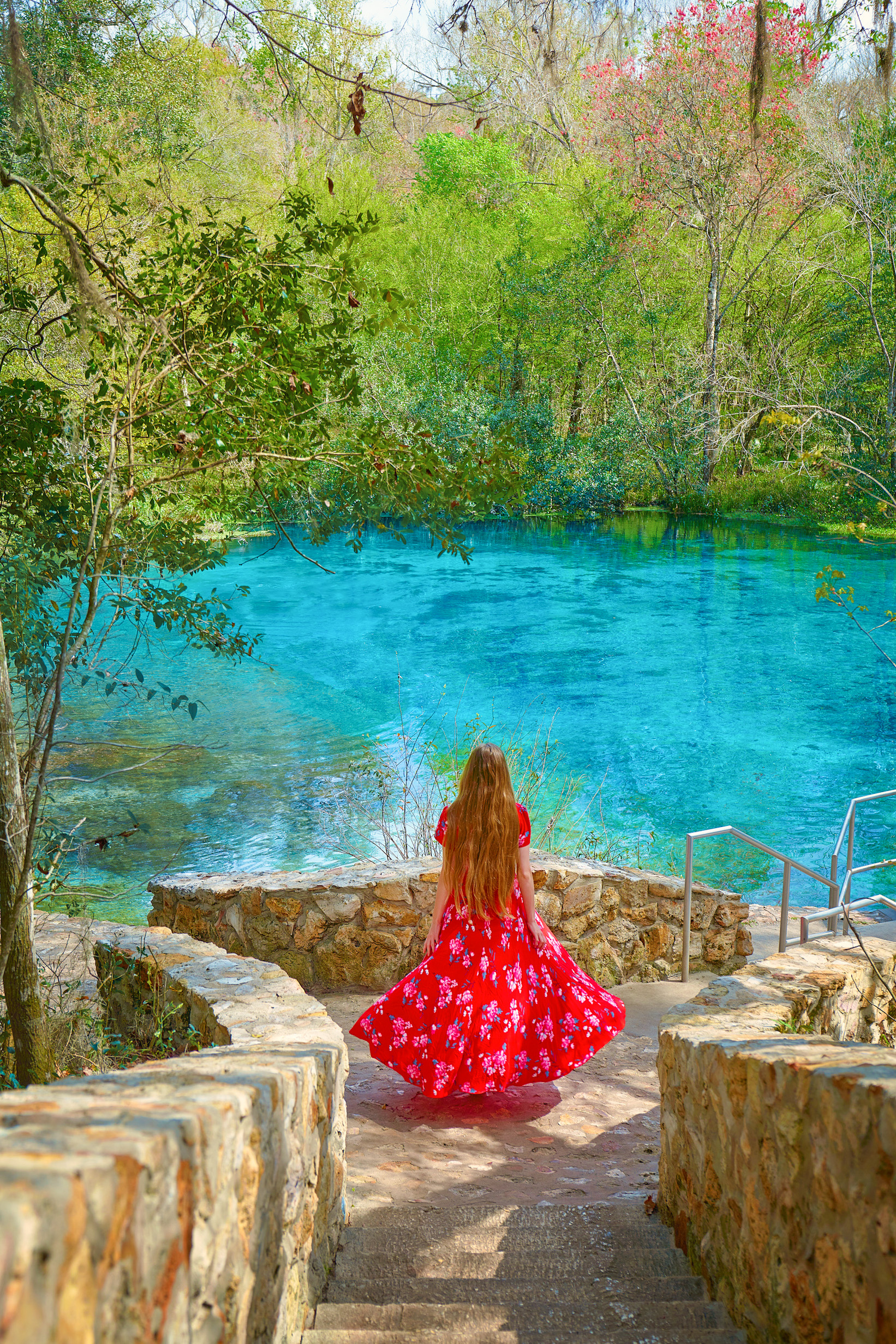 Apalachicola
Located in Franklin County, the beautiful Apalachicola is one of the quaint beach towns in Florida to keep an eye on!
It shares the Apalachicola Bay on the Gulf of Mexico, meaning the water off its beaches runs warm and lovely! This is another of the best coastal towns in Florida for people looking to enjoy some amazing seafood! Apalachicola shaped a lot of the coasts fishing culture and has a lot of maritime history for its oyster fishing! While they are not allowed to bring in as much as they used to with new regulations on hauling oysters, Apalachicola is still a must visit destination for fresh fish dinners and to learn a little more about Florida's maritime influence!
If you're a big fisher, definitely consider taking a trip out to St George's Island as they are popular for its protected shallow bays, and fishing destinations! Apalachicola is home to acres of national and state forests to explore! If you love the sun and outdoors, then Apalachicola is the best option for towns to visit in Florida for you!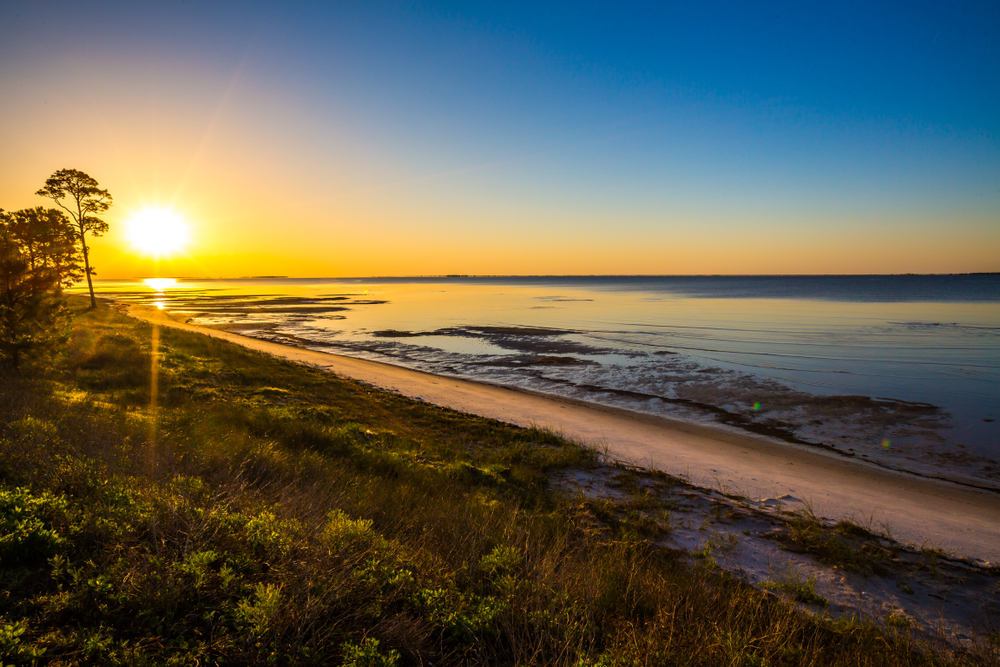 Rosemary Beach
If you're looking for quaint towns in Florida that feel undiscovered and not filled with tourists, Rosemary beach is a great option for you!
As an unincorporated, planned community, Rosemary Beach has plenty of stretches of beautiful sandy beaches to relax on with a good book or splash in the water! They're proud of their mild temperatures and unique beach side attractions! They have lovely trails running along the sand so you could walk for hours on the beaches before even hitting the water!
Don't forget your bathing suit when visiting this option for towns in Florida!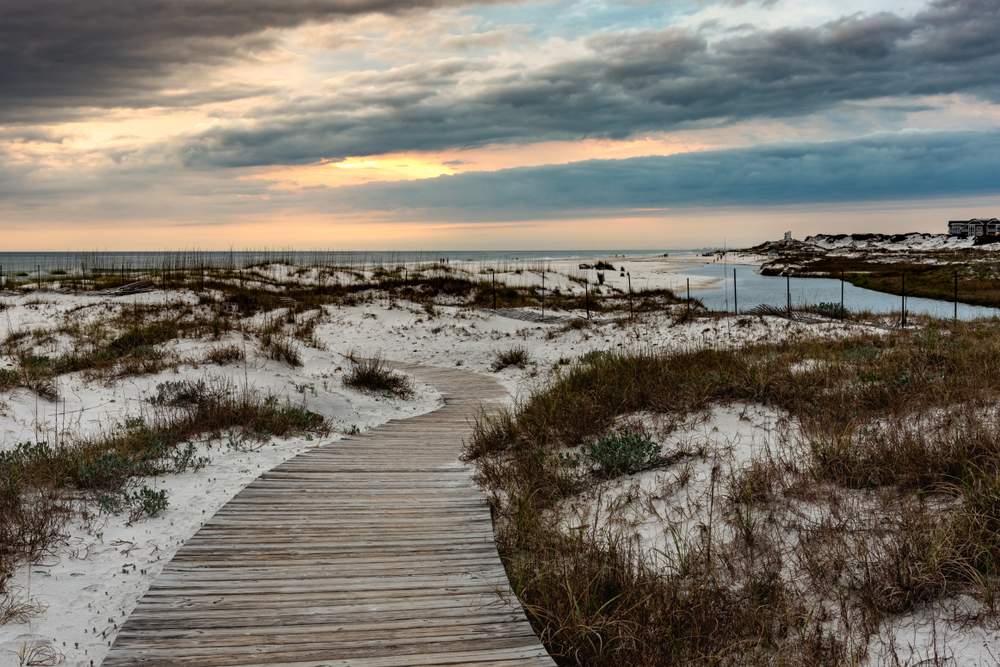 Palm Beach
A classic option for towns in Florida that you can't miss out on is Palm Beach!
A lot of people think of Palm Beach when they think of Florida and it's a great example of small towns in Florida that feels like a bigger city. Separated from the mainland by Lake Worth Lagoon, Palm Beach boasts fancy estates and historical houses to explore! You can't miss out on Palm Beach shopping, and their main road is lined with boutiques, galleries and lovely restaurants to enjoy!
Additionally you can see the Henry Morrison Flagler Museum, and enjoy the Gilded Age mansion in the town! It's also a fabulous option for boating along the waterway and getting a great view of Florida's coast from the water!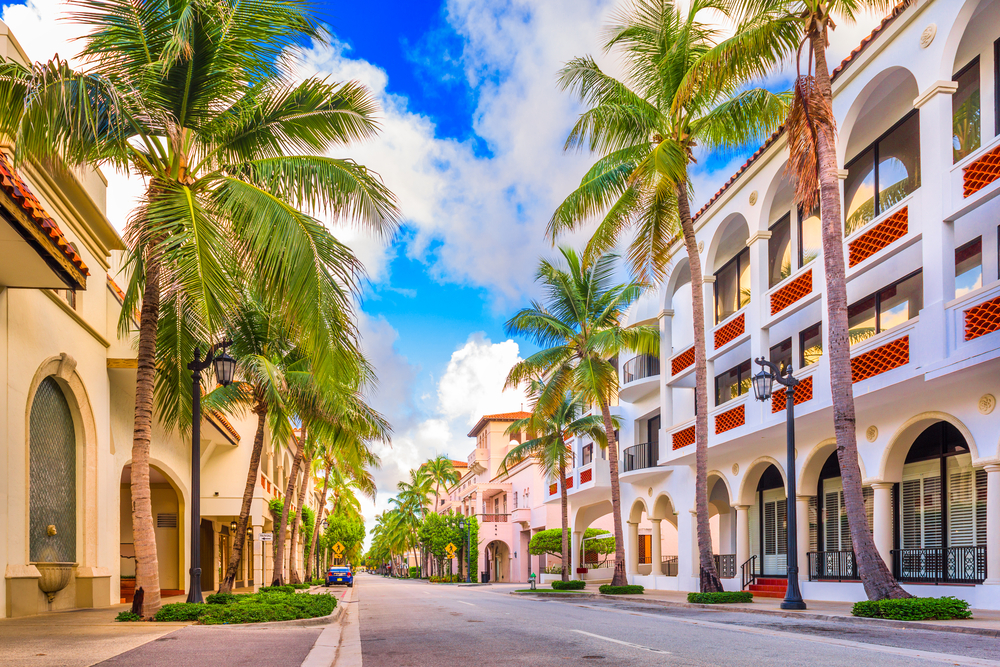 Islamorada
Lastly on our list of the best small towns in Florida, is the beautiful Islamorada!
A village encompassing six of the Florida Keys, Islamorada is the best spot for snorkellors and divers! With a lot of national parks protecting coral reefs and ship wrecks, Islamorada is perfect for people who are interested in marine life and want to spend time appreciating different ecosystems both in and off the water!
From the History of Diving Museum, Windley Key Fossil Reef Geological State Park, Lignumvital Key Botanical State Park, and Indian Key Historic State Park; there are amazing natural spaces to explore and enjoy the sun!
While not as popular as Key West, Islamorada is definitely a fantastic option for the best small towns in Florida who want to explore some ship wrecks and the ocean! From lost treasure, to pirate chests, to 1800's ruins, Islamorada is brimming with history of the Florida Keys and a must-stop destination for anyone adventuring in Florida!
Plus, it's only 90 minutes from Miami, and 100 minutes from Key West, making for a great half-way point for anyone looking to have a Florida Road-trip vacation!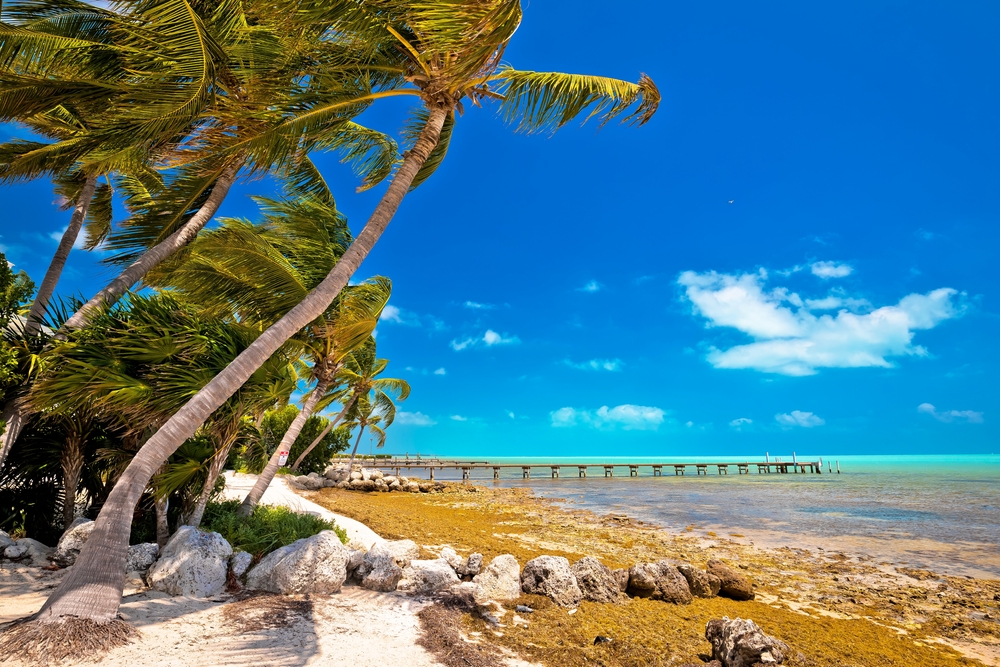 Florida is a fantastic state in the USA to consider when looking into booking a vacation. It's a domestic destination if the USA is your home country, meaning the costs are sometimes less than international destinations and easier to access! It's a tropical alternative to other southern States and is filled with plenty of islands and beaches to explore along the Gulf of Mexico! No matter which of the best coastal towns in Florida you're looking to make your mark in, you can't go wrong with any of our suggestions!
Now that you've seen our list of the best Florida towns to explore during your next Florida vacation, where will you visit first?