When looking for some magical places to visit, there are some amazing hidden gems in the U.S – some might even be on your doorstep! The US is so huge and has such a wide variety of hidden gems that there will be something for anyone whether you're looking for the earth's natural wonders or a cute little town.
The great thing about hidden gems and secret spots is that they can often be a lot quieter because not many people know about them. They're great for whether you're planning a road trip, vacation, or just want to get out and explore something new – these spots are a great place to start.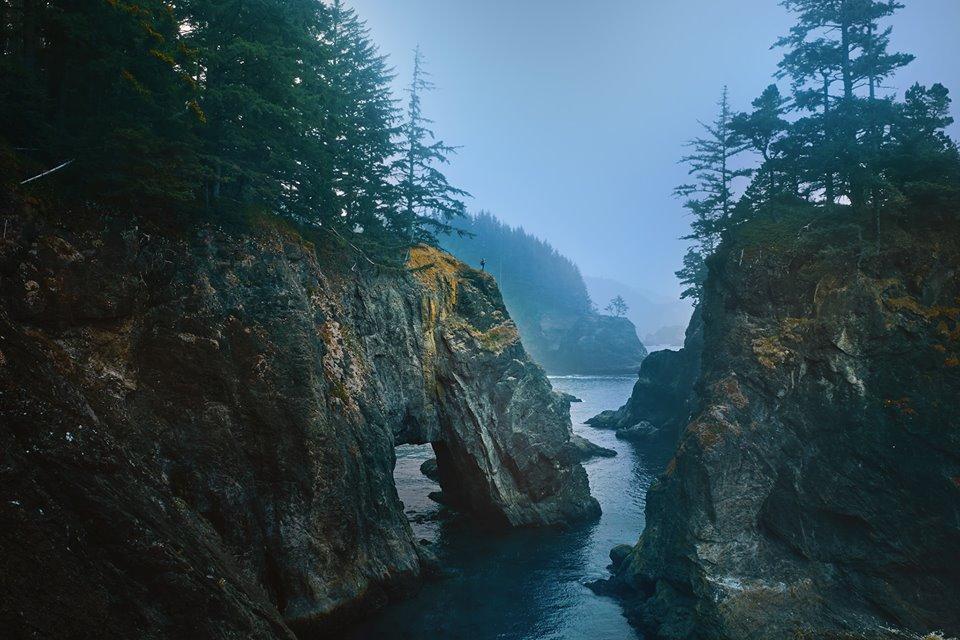 20 Magical Secret Spots And Hidden Gems In The U.S.
Fly Geyser, Nevada
When you think of Nevada, your mind might immediately go to Las Vegas and the iconic Las Vegas strip. However, Nevada is also home to some beautiful hidden gems in the U.S. such as Fly Geyser.
Fly Geyser is a small geothermal, colorful geyser located on Fly Ranch. This six-foot-tall natural structure that spews boiling water over five feet in the air looks like it crash-landed on earth from a spaceship. But don't worry, it's not an alien. The main geyser was created accidentally in 1964, after a test well as improperly plugged or left uncapped. Subsequently, the hot water from the well resulted in calcium carbonate deposits beginning to form, growing several inches each year.
It truly is a sight to behold! It's important to note that Fly Geyser is located on private land, but you can make reservations to go on tours to see it.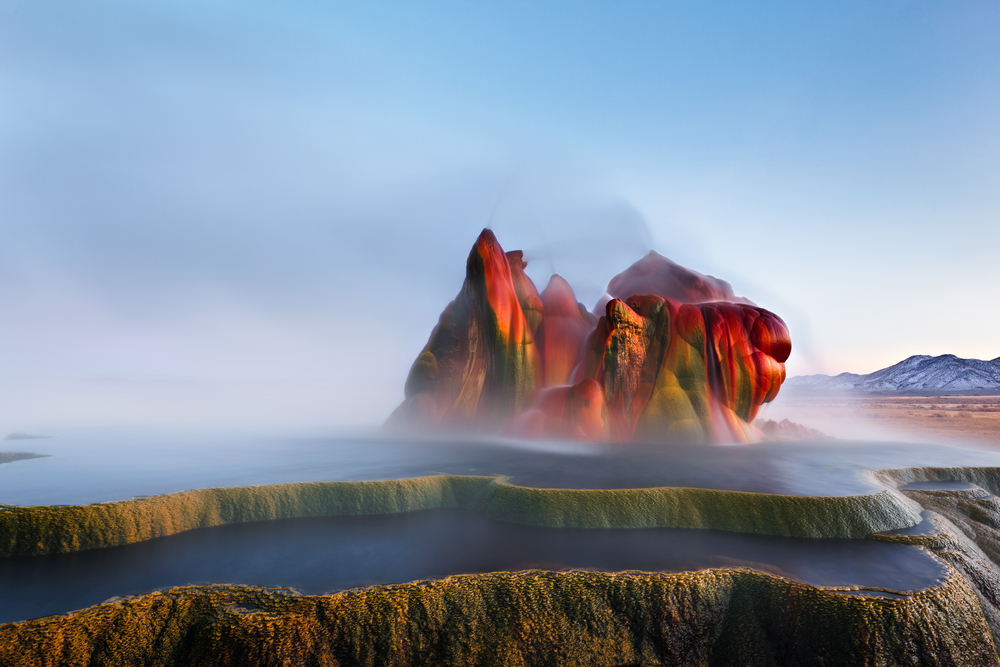 Helen, Georgia
Fancy taking a step back in time? This hidden gem in the U.S. will surely make you feel like a time traveler!
Helen or better known as Georgia's Alpine village is America's answer to the German state of Bavaria. There are so many local businesses to support in this small town and lots of arts and crafts you can get involved in. Helen also takes part in Oktoberfest, of course!
But there's a variety of outdoor activities you can do too. From tubing to ziplining or visiting Anna Ruby Falls, there's something for everyone to enjoy. Also, check on Helen's website so you can see what kind of events they hold every year. In Summer, they hold to the oldest balloon event in the region!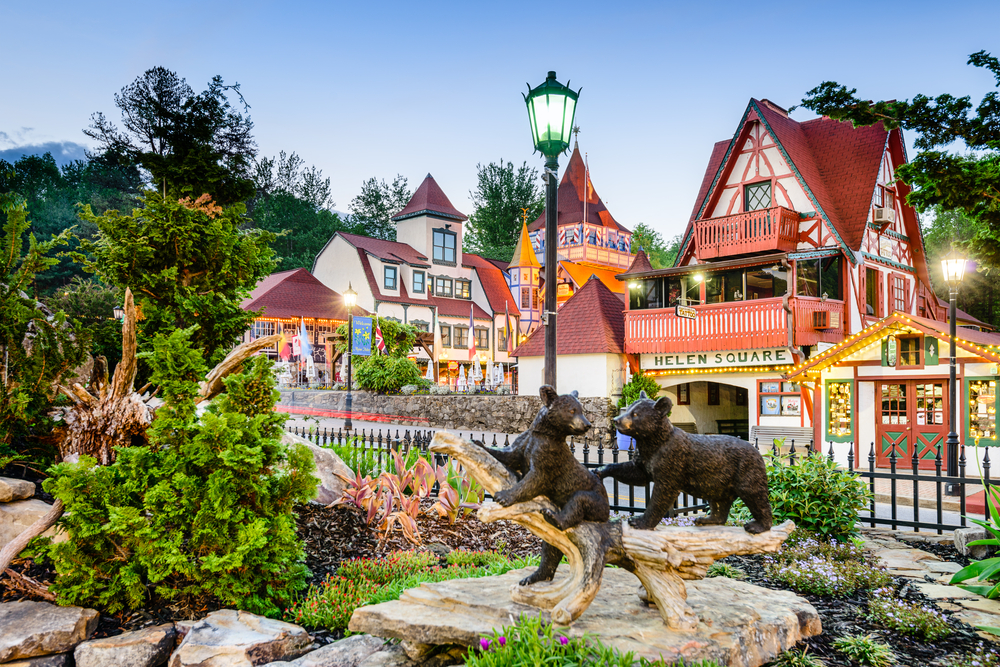 Dry Tortugas National Park
Would you believe that this hidden gem in the US is just 70 miles from Key West!? If you're looking for more hidden gems in Florida, you can read our post here.
You would be right in thinking that Dry Tortugas National Park is a little strange looking. I mean it's seven small islands and is home to Fort Jefferson, which was used as a prison in the Civil War. But there's so much more to Dry Tortugas National Park than just the history. It's known for its abundance of sea life, tropical birds, coral reefs that are some of the least disturbed in Florida Keys and even legends of shipwrecks.
Whether you fancy learning a bit of history, going snorkeling, birdwatching, or sunbathing on the super remote beaches, Dry Tortugas National Park is bound to amaze you! It's only accessible by boat or seaplane, and even offer guided tours of Fort Jefferson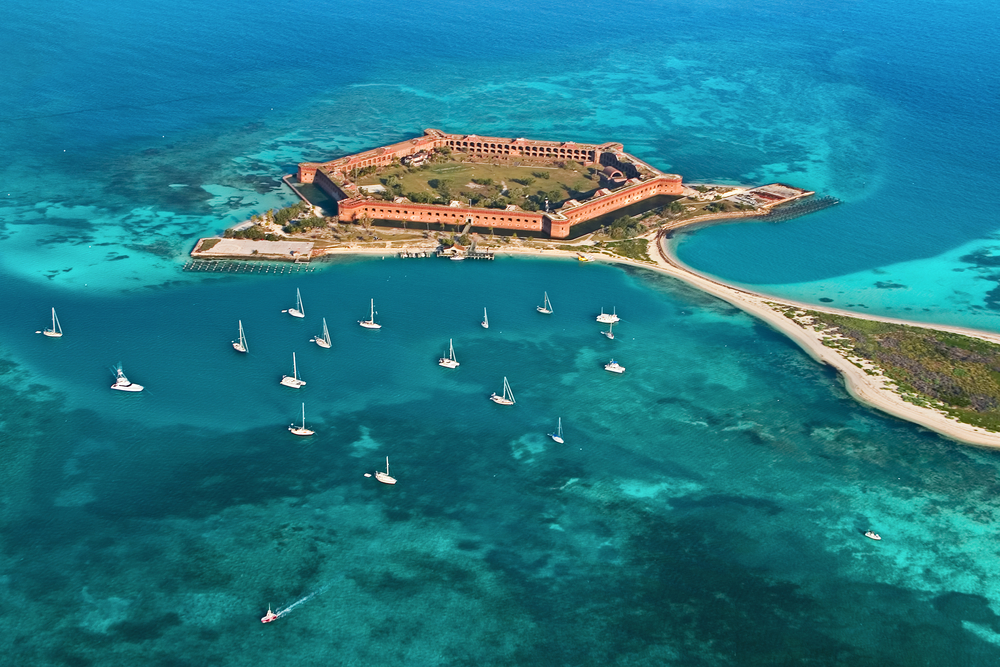 Providence Canyon State Park
Ranked as one of the seven wonders of Georgia, this hidden gem in the US is great for avid hikers – it's Georgia's own little Grand Canyon!
These canyons were created by poor farming practices back in the 1800s, but today it's regarded as one of the most picturesque locations in the state. With gorgeous red tones against the lushness of the greens, this place would be great for a photographer.
There's around 10 miles of hiking trails, some even go to the canyon floor. There's different levels of difficulty and you can even bring your dog with you as long as they stay on a leash. However, you don't have to even hike to visit Providence Canyon State Park, you can here and take advantage of the picnic areas and the playgrounds with your family.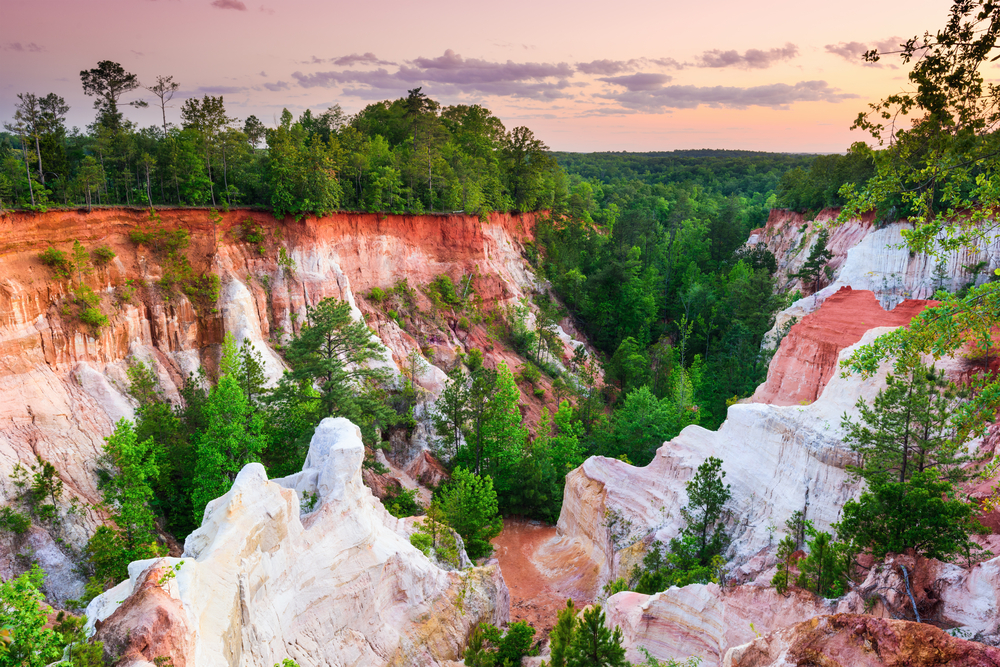 Samuel H Boardman State Scenic Corridor
Picture this: a 12-mile long coastline, secluded beaches, gorgeous scenery, miles of forests… It sounds like paradise, right? This is what to expect when you visit this hidden gem in the U.S.
Samuel H Boardman State Scenic Corridor is located in Oregon and is regarded as one of it's best-kept secrets. There are so many things to see on this rugged coastline, from secret beaches to some pretty incredible rock formations. There are a few hiking trails in the forest by the coastline, and we really recommend them if you have the time as that's where you'll get the best views and maybe even find a hidden gem of your own!
If you want to see more of what the Oregon Coast has to offer, you can check out our Oregon Coast Road Trip post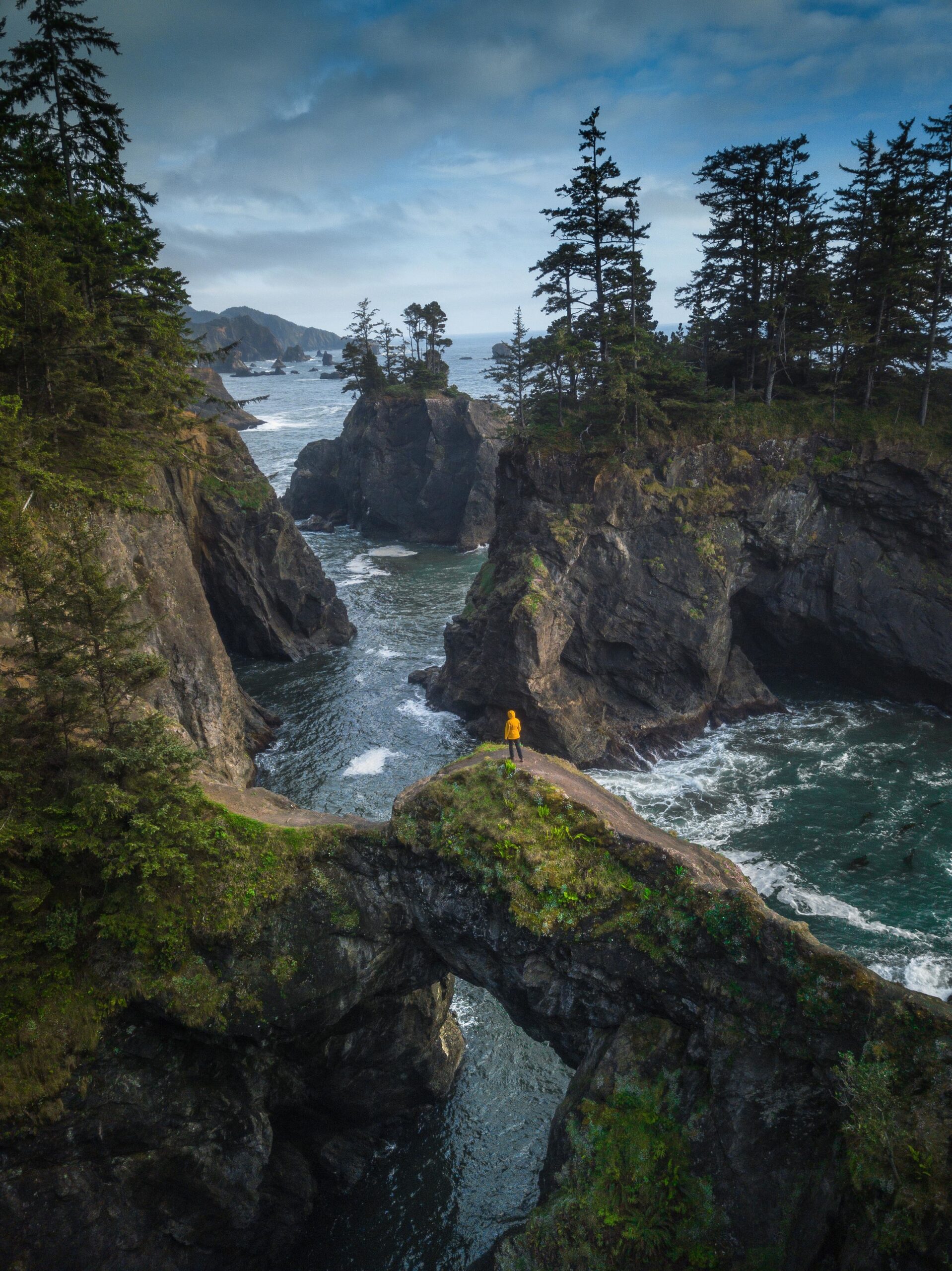 Apostle Islands National Lakeshore
This hidden gem in the U.S is a cluster of 21 islands on the waters of Lake Superior.
Apostle Islands National Lakeshore is great for anyone who loves outdoor sports as there's so many for you to choose from. You can hike, paddle, sail, or cruise your way into discovering these little gems all over the lake.
You can also scuba dive to see the fascinating rock formations and even some shipwrecks because the water is so clear, this is one of the hidden gems in the U.S you won't want to miss out on!
Apostle Islands National Lakeshore is great for a weekend getaway as they offer camping on 19 out of the 21 islands. Can you just imagine what the sky would look like at night!? Amazing! There are of course multiple hiking trails for you to take on for you to really see the beauty of this place.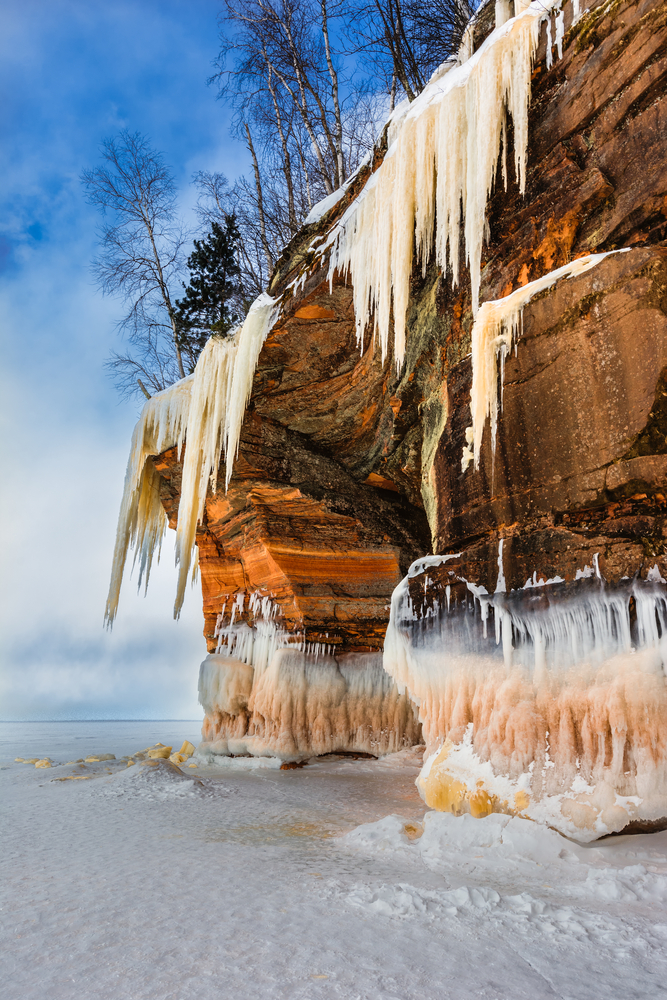 Kelly Park
This hidden gem in the US is located just 40 minutes outside of Orlando and is best known for its Rock Springs. You can read my post all about this perfect little Oasis here.
It truly does look like a tropical destination! The crystal clear waters are perfect for swimming, especially on scorching Floridian days as the water is quite cool. It's a great place to go tubing through the mangroves and see the wildlife beneath you. This is one of the hidden gems in the US which feels like paradise.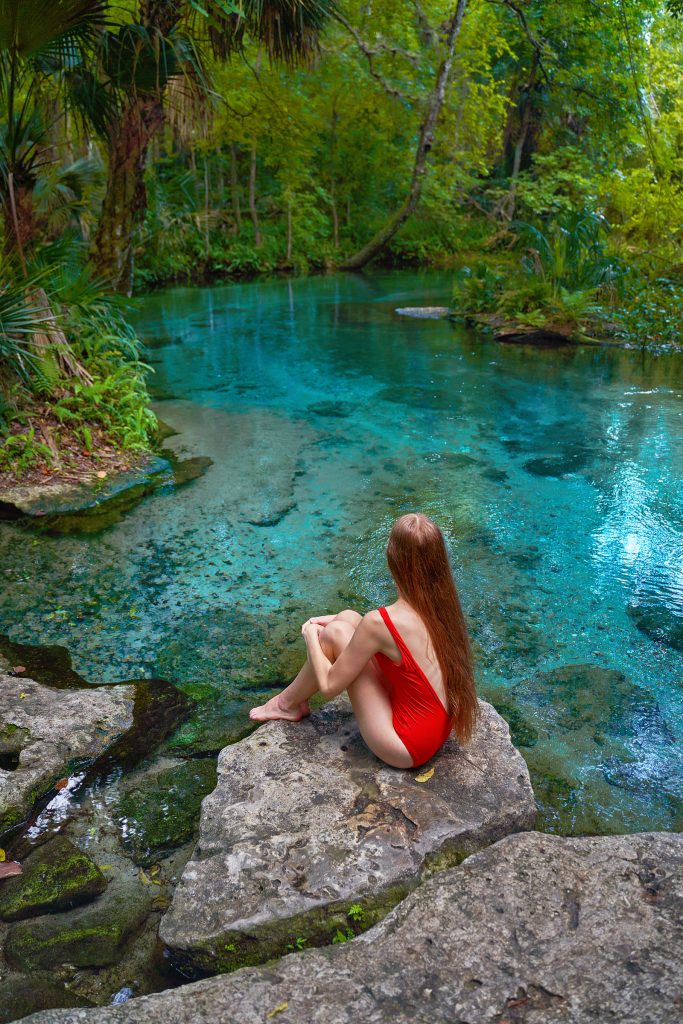 Hamilton Pool, Texas
If you're planning a Texas road trip, this hidden gem in the US is the perfect stop. This place is a spectacular natural beauty. It's a natural pool that was created when the dome of an underground river collapsed due to erosion thousands of years ago. It's now the perfect spot for some wading or swimming.
This is also a popular destination for hiking and birdwatching. Make sure to bring your hiking boots with you as you have to hike a quarter of a mile just to get to the pool. But don't worry, it's a super easy one!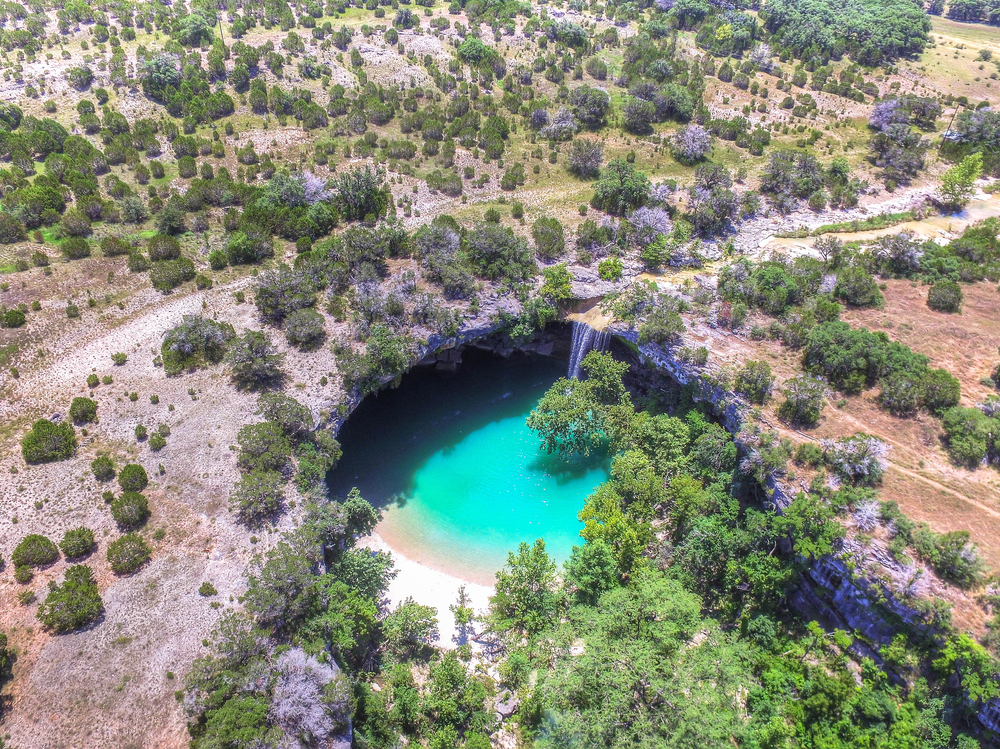 Cummins Falls Tennesee
Cummins Falls is located in Cummins Falls State Park. This hidden gem in the U.S. is the eighth largest Tennesee waterfall sitting at 75 feet high and boy, does this waterfall not disappoint!
Cummins Falls is set in an idyllic but rugged landscape and be warned, Gorge Access Permits are required to go to the base of the waterfall and getting there is quite a strenuous task. There's a lot of climbing and slippery rocks involved, so tread carefully!
But if you don't fancy taking a hike to the base of the waterfall, don't worry! You can still enjoy the waterfall from the Overlook or designated picnic areas.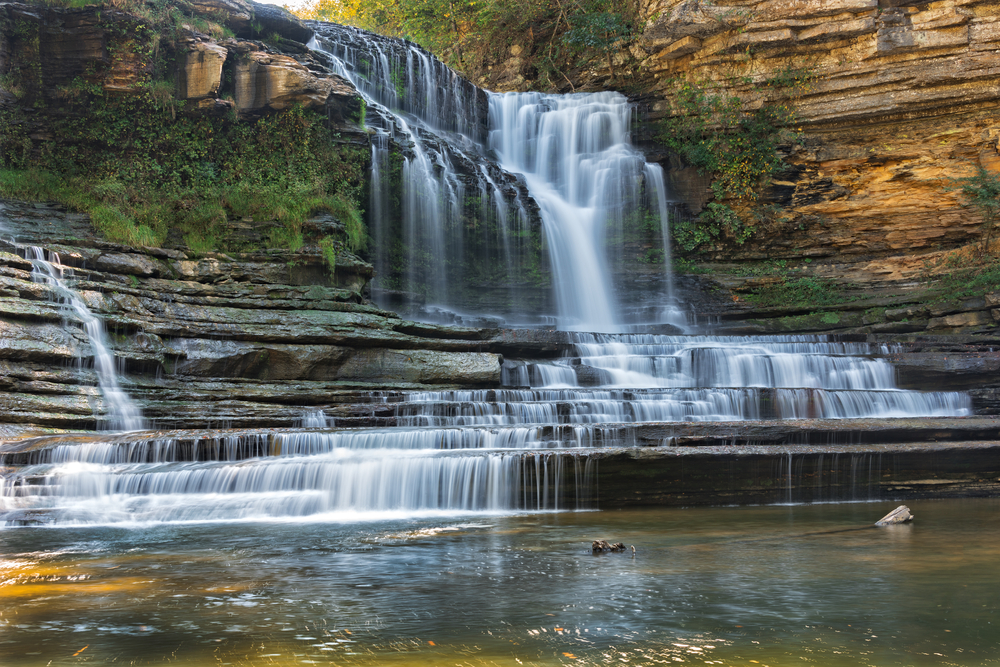 Great Sand Dunes National Park
This is one of the hidden gems in the US that would be a perfect stop on a Colorado road trip!
It contains the tallest sand dunes in North America and is open 24 hours a day, 365 days of the year. And this sandy wonderland doesn't just include sand dunes, there's alpine lakes, pine forests, aspen, grasslands, and wetlands… All perfect for wildlife!
There's no end of things to do at this hidden gem in the US, from your usual hiking and backpacking to sandboarding – which we think sounds like a lot of fun! You can even go horseback riding too!
But what we think is the stand-out attraction of the great sand dunes is visiting it at night, especially on a moonless night. The lack of light pollution will make for the most amazing star gazing experience!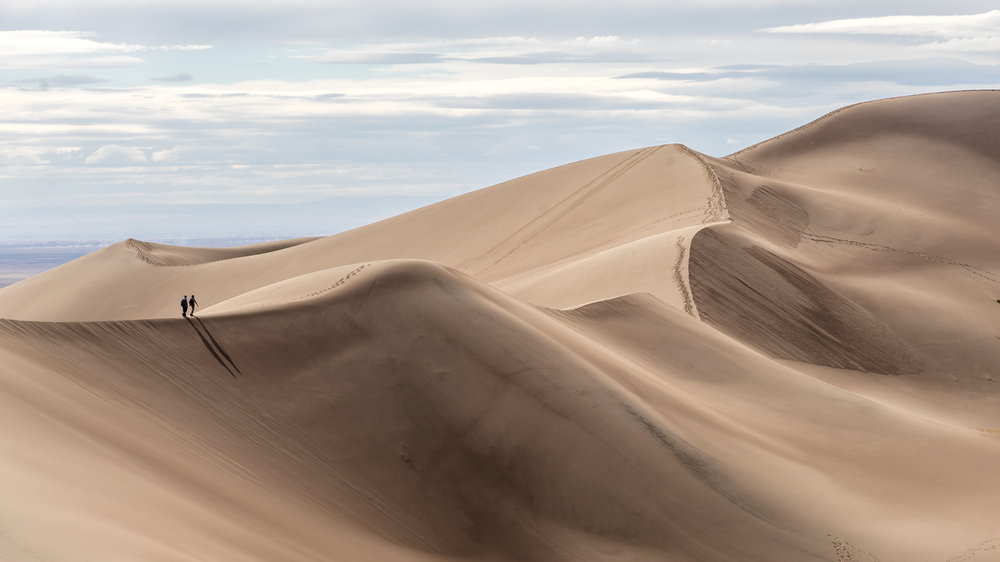 Door County Wisconsin
With 300 miles of shoreline, Door County is a hidden gem in the US that has so much to explore. It's a 70-mile long region is Wisconsin that contains 34 named islands and a lot of small cities and towns all with their own unique vibe. There's so much to do that it would be impossible to list everything in just a few paragraphs! On Door County's website, you can plan your trip. All you have to do is fill out a questionnaire about your trip and the website will do all of the work for you.
Some of the highlights include an authentic Swedish restaurant with goats grazing on the roof (yes, you read that right), Highway 42, Cave Point County Park, and many arts and crafts centers. Don't skip visiting Door County with kids! I actually grew up going here to visit my Aunt and Uncle many times!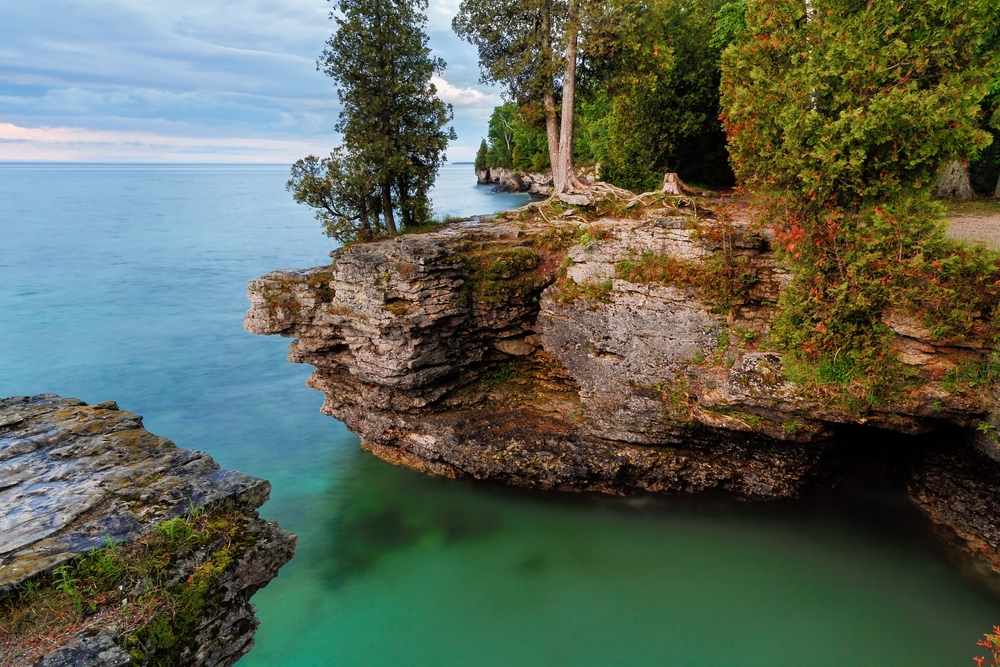 Watkins Glen State Park
If you're looking to do a New York road trip (and we really recommend you do!) this hidden gem in the US should definitely be one of your stops.
Watkins Glen State Park is the most famous of the Finger Lakes State Parks. There are 19 waterfalls in this state park and the hike is only 2 miles long! The hike takes you behind some of these waterfalls for a truly magical experience. It seriously looks like a place that should be in Lord of the Rings!
If you like a beautiful view, Watkins Glen State Park is 100% somewhere you should visit, this place is known for having the most breathtaking views of nature.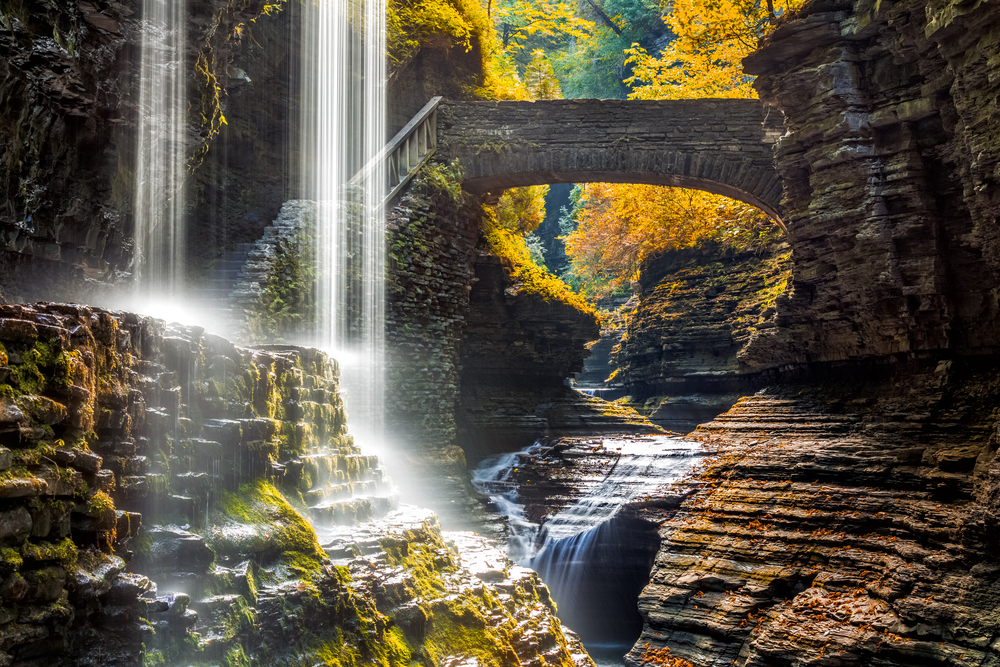 Diamond Fork Hot Springs
There are multiple hot springs in Utah, but we think Diamond Fork is especially beautiful and is a hidden gem in the U.S. that you should visit.
Diamond Fork Hot Springs is located around a hours drive away from downtown Salt Lake and is only 2.5 miles away from the trailhead. We love visiting hot springs in the cooler months, the contrast between the crisp air and the naturally heated springs are amazing!
There are multiple different rock pools for you to choose from at Diamond Fork Hot Springs and the temperatures can vary between them all, so make sure to do some scoping before you jump into the first one you see- we know how tempting it can be!
With beautiful blue water and waterfalls, this is the perfect place to relax and chill after your short hike.
Check out our Utah Road Trip blog post to see more beautiful places in Utah.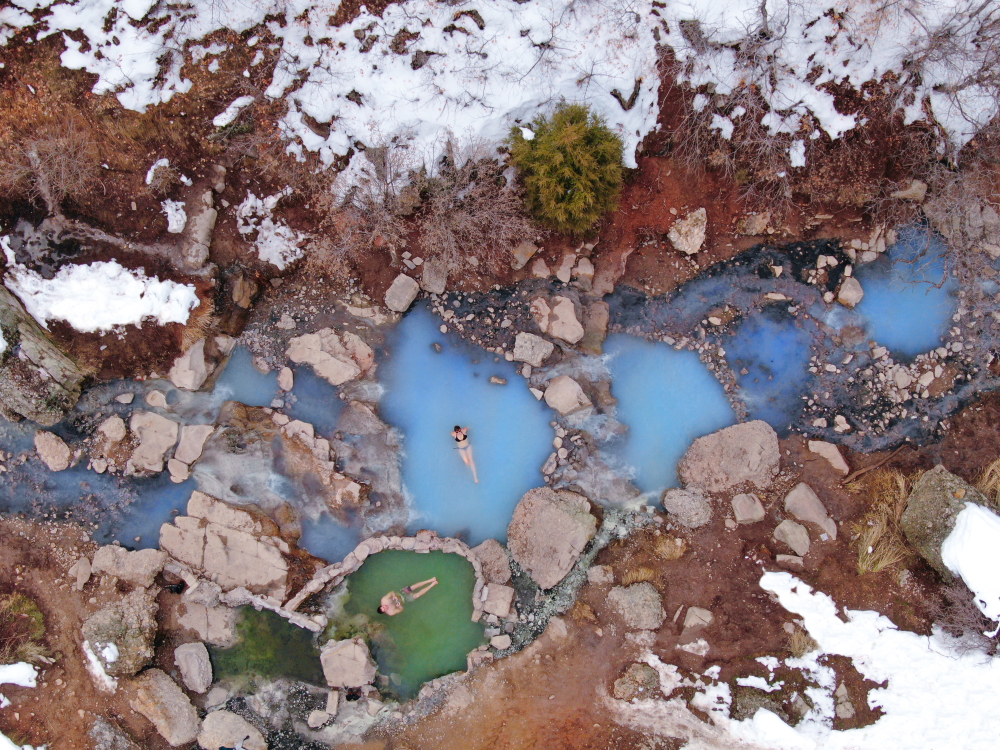 Plaza Blanca
Plaza Blanca is a beautiful set of white stone cliffs that provide breathtaking views and a very magical atmosphere.
If you're an avid photographer, this hidden gem in the U.S. is a great place to practice your photography skills. With so many unusual formations you're bound to get some stunning shots. There are also multiple hiking trails for you to check out, all with different views of the formations so you will not be disappointed.
Plaza Blanca is one of the stops on our New Mexico Road Trip, you can see all of our stops here.
Coyote Gulch
Coyote Gulch is one of the longest hidden gems in the US you can experience. It's a winding canyon in Grand Staircase Escalante National Park. You'll see some incredible red rock and the Escalante River. Though the hike isn't strenuous, it's best suited for an overnight hike if you really want to experience the beauty of Coyote Gulch. Plus you'll get to experience the gorgeous sunrise and sunset over Red Rock County, which is truly breathtaking.
There's so much to see on the Coyote Gulch, the different rock archways provide the perfect backdrop as a little getaway to be at one with nature. Coyote Gulch is also a stop on our Utah Road Trip post.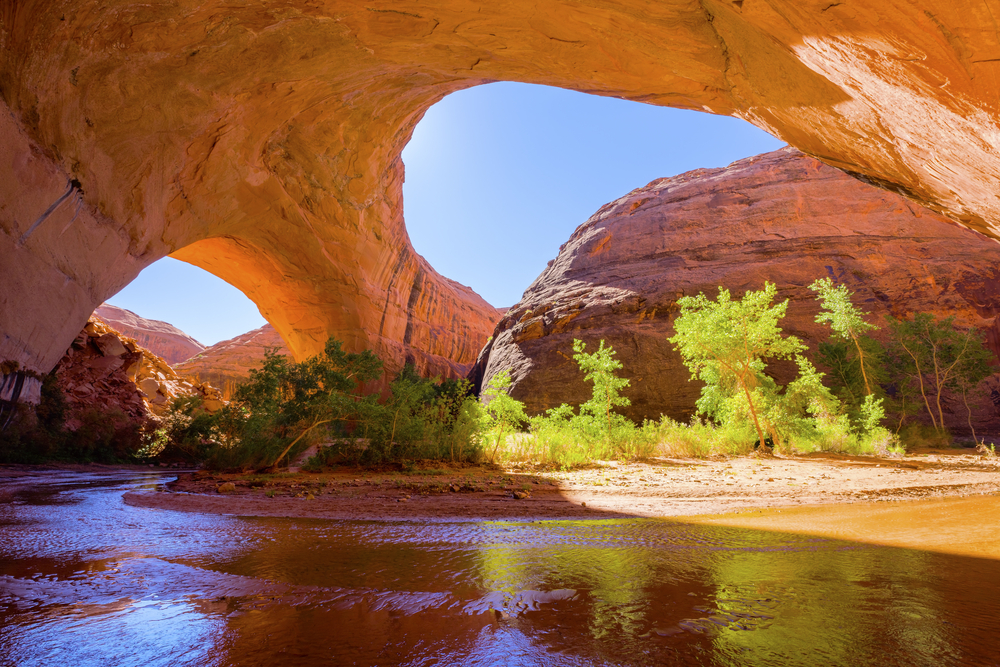 Petrified Forest National Park
Named for its large deposits of petrified wood, this national park is located in northeastern Arizona (find all about our guide to an Arizona road trip here). But there's a lot more to this hidden gem in the U.S. than just wood. There are great hikes across the backlands, fossils, badlands, ancient petroglyphs… You can even go horseback riding!
There's a lot of history in this park. Newspaper Rock is where you will find the thousands of years old petroglyphs and Puerco Pueblo used to be the site of Puebloan homes. There are multiple museums in this park, including Painted Desert Inn National Historic Landmark tells you all about the recent human history and the rainbow forest museum has a load of paleontological exhibits.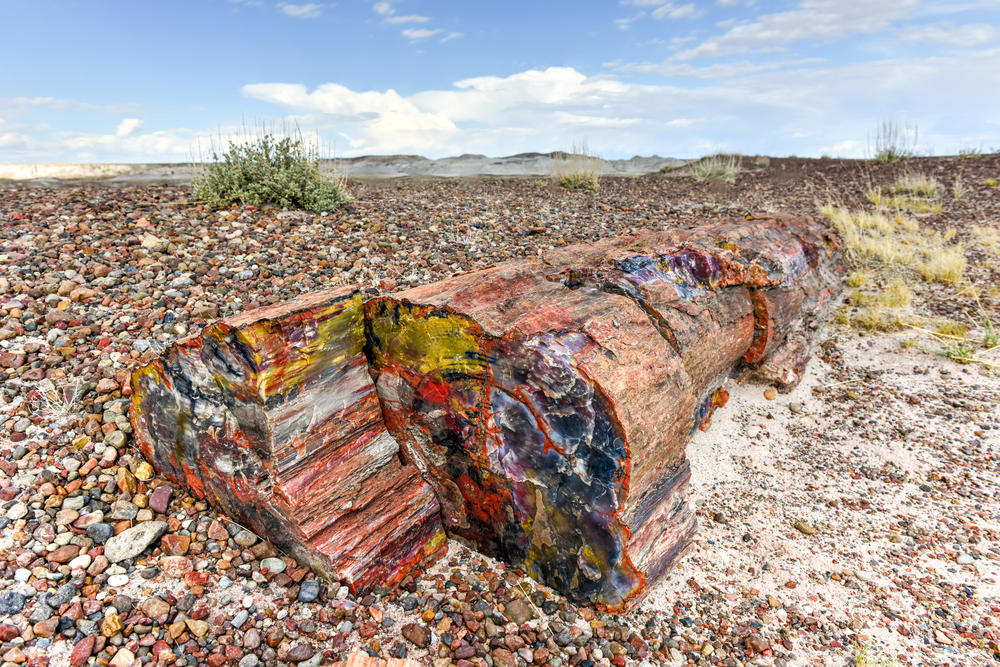 Bodie, California
Bodie is a perfect hidden gem in the U.S for lovers of the paranormal. It's one of the best-preserved ghost towns in the states and was once home to more than 10,000 gold-seekers. Now, over 200 structures are still standing.
It definitely provides a pretty eerie experience. And unlike other ghost towns in the states, you can wander around this one freely to explore it yourself. It's a town frozen in time with a focus on preserving the remaining buildings rather than restoring them. It's a great place to visit if you're looking for great photo opportunities or wanting to step back in time.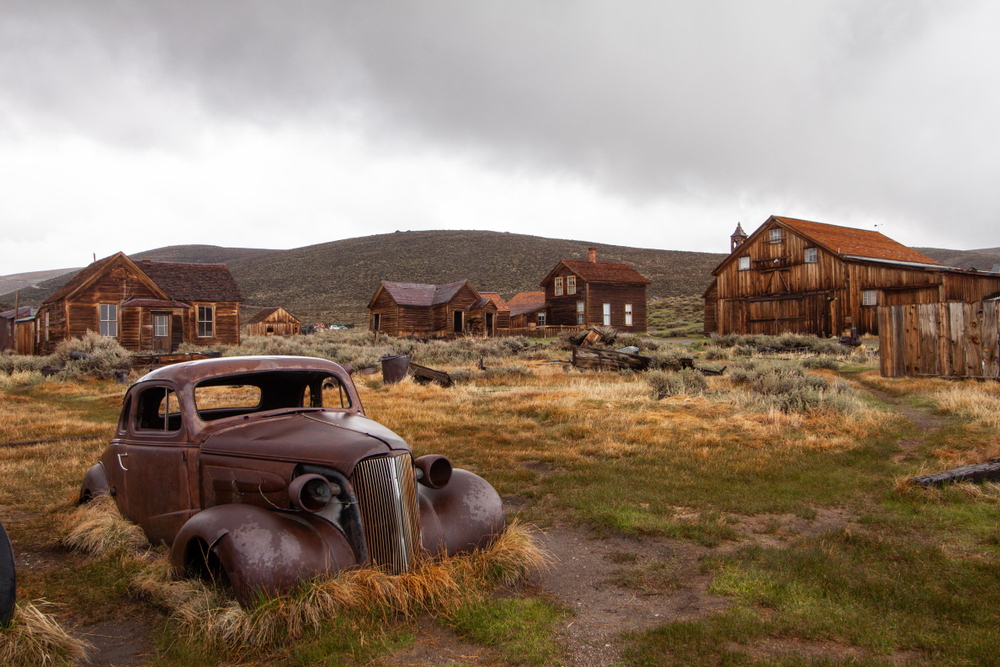 Thor's Well, Oregon
This hidden gem in the US is located on the Central Oregon Coast in Cape Perpetua. It can look a bit daunting – at high tide, it looks like a giant bottomless hole that's draining the entire ocean.
However, the reality isn't as scary as it looks. Its really just a hole in a rock formation that's around 20 feet deep to form a sea cave, and the illusion is created by the hole constantly overflowing and refilling itself. But it looks super cool!
Naturally, the appearance of Thor's Well changes depending on the tide. At low tide, Thor's Well looks a lot less aggressive and is pretty calm. Therefore if you want to see Thor's Well in all of its glory, it's best to go between one hour before high tide and one hour after. it's a great little stop to make on an Oregon road trip.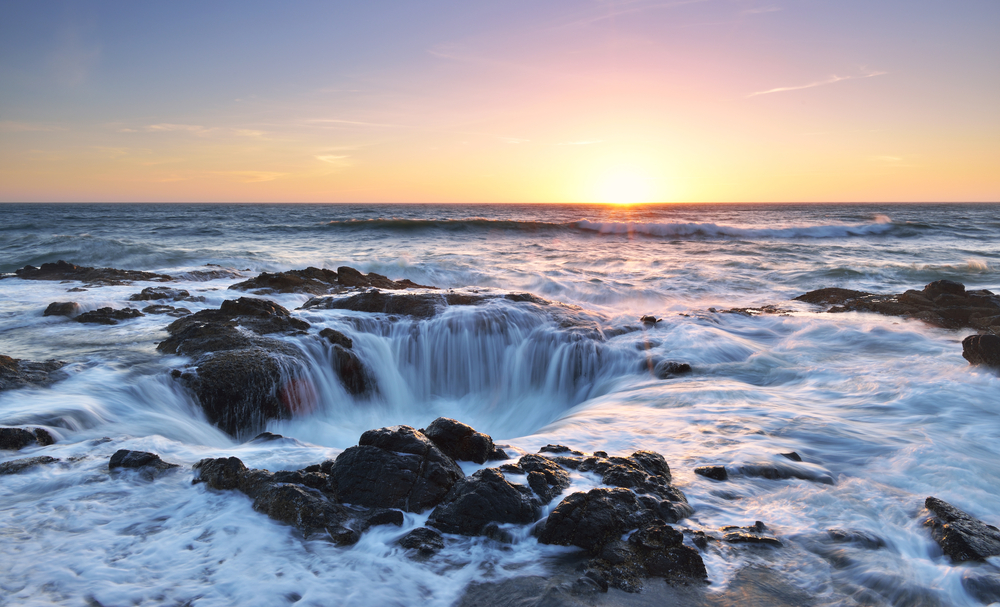 Mackinac Island, Michigan
Mackinac Island is a truly unique hidden gem in the U.S. and for many is considered to be an ideal vacation spot. There are no cars and no chain hotels on this island, just family-owned businesses and horse-drawn carriages!
This is a great family vacation spot as there are so many things to do and see. Gorgeous sunsets, golf courses, spas, world-famous fudge… You'll find it hard to not find an activity to enjoy. If you're a fan of the water, there's a lot of water activities such as Kayaking, parasailing, fishing charters… Mackinac Island is known for its amazing fish!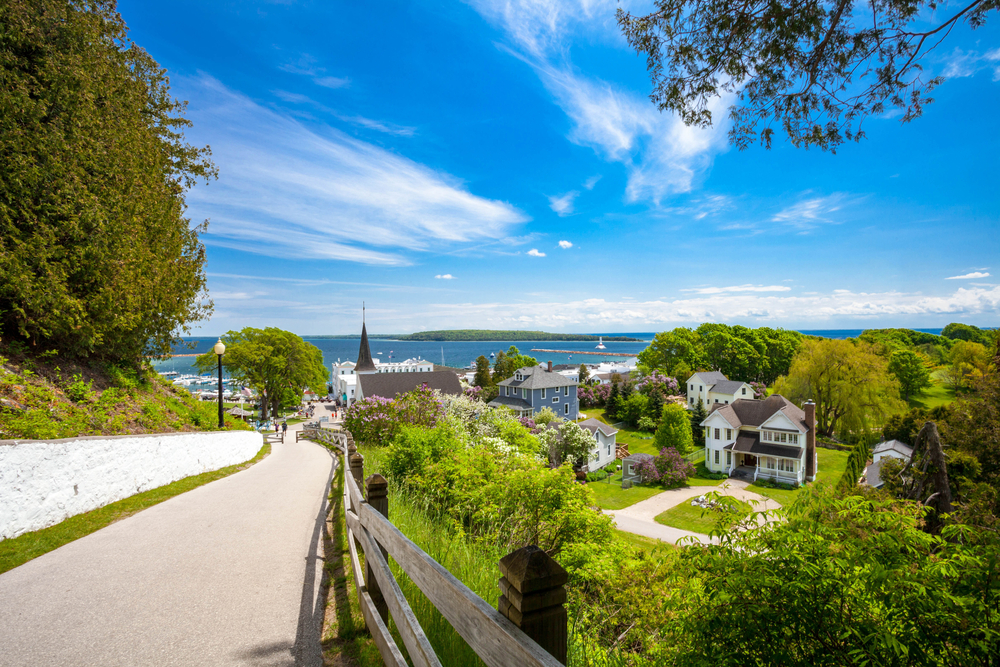 Meow Wolf, Santa Fe
Now, this is a different type of hidden gem in the U.S. Meow Wolf was set up in 2008 as an artist collective by a group of young residents hoping to supply Santa Fe with an alternative form of art. In 2016, they opened their first permanent installation 'House of Eternal Return'. It's storytelling in art form and is so beautiful.
People describe the installation as a real-life 'Alice in Wonderland' experience for its ability to transport you to a magical world made up of neon lights and something different around every corner. It's something that you need to experience for yourself to really take it all in!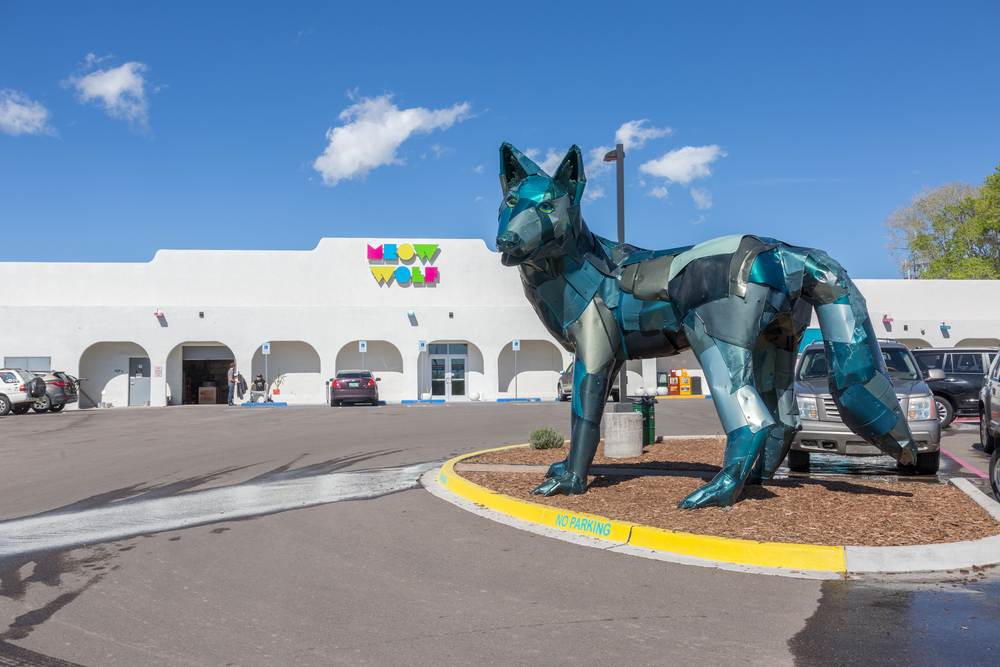 We hope you enjoy this list of hidden gems in the U.S. and hope you find something that you can explore for yourself. There are so many hidden, secret places that may not be as well known that are definitely worth seeing as they're all beautiful in their own way.