Looking for the best Airbnbs in Boulder for your upcoming vacation? You're sure to have an amazing time in the entrancing mountains of Colorado. We're here to help out by narrowing down the 12 best Boulder Colorado Airbnbs.
Boulder attracts outdoor adventure enthusiasts from around the world. This is due to the iconic Flatiron mountain range, the delicious breweries, the charming shops of Pearl Street and the college town vibe. If you want to spend some time hiking followed by drinks, excellent food, crisp mountain air, and a soak in the hot tub, Boulder is the vacation city for you!
Boulder is conveniently located within reasonable driving distance from Denver as well as smaller towns such as Golden and Arvada. And from the vibrant leaf changing colors of fall to the snow draped peaks of winter, Boulder is the perfect place to visit at all times of year. That's one of the many reasons why Boulder is a stop on our Colorado Road Trip Itinerary.
To maximize your experience in this thriving mountain city, you'll want to look for the best Boulder Airbnbs that will allow you to connect with the locals and avoid generic hotel life. Another perk of Airbnb stays is receiving restaurant and activity recommendations from your knowledgeable local host.
As you prepare for your next vacation, take a look at these Airbnbs in Boulder that will ensure your stay is truly memorable.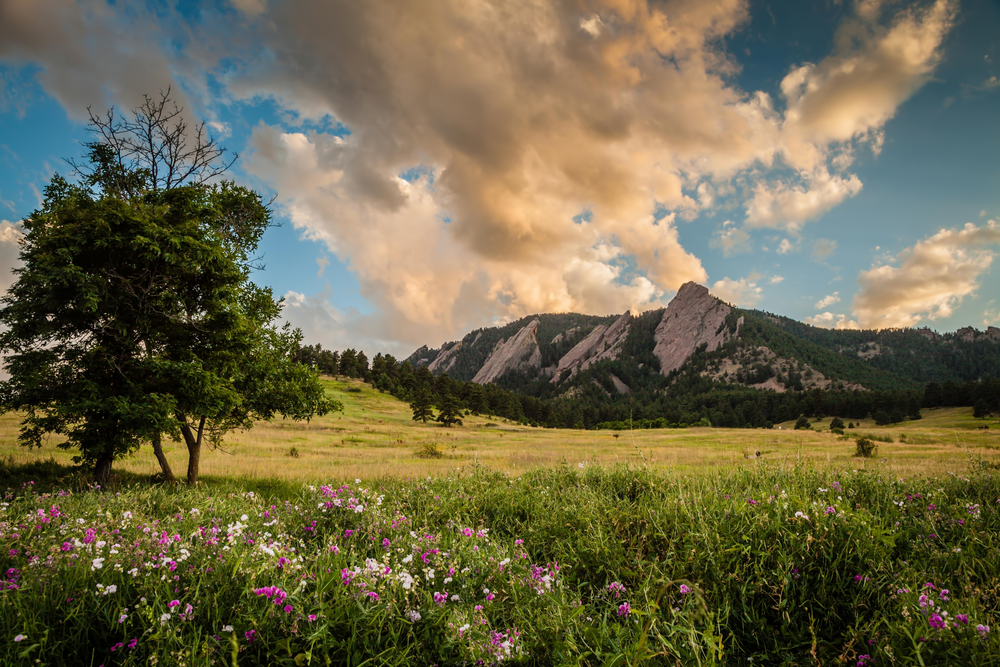 12 Best Airbnbs In Boulder Colorado (Cabins, Treehouses, And More!)
Colorful Artist's Apartment
This colorful apartment is perfect for those who want to be walking distance to all the coffee shops and breweries of downtown Boulder. The location of this colorful artist's apartment is even walking distance to some wonderful hiking trails. So you can absolutely take a vacation from the stress of driving and enjoy the walkability of Boulder.
The 750 square foot VRBO has been lovingly carved out of the hosts home built in 1910. The apartment has cork flooring, is solar powered, and has other eco friendly touches.
The colorful artist's apartment can sleep 3 guests in 3 bedrooms. It has one bathroom. You've got to add this hidden gem to your list of VRBOs to check the next time you are booking places to stay in Boulder.
Click Here To Check Rates On VRBO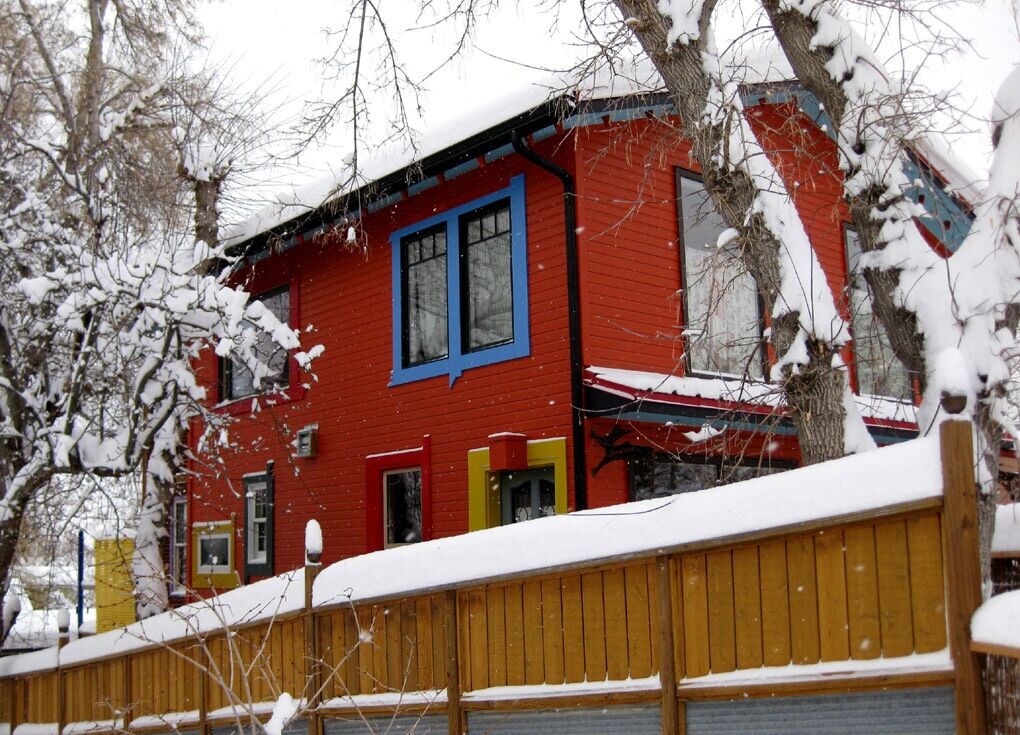 Mountain View Log Cabin
Are you headed to Boulder to experience quiet and beautiful mountain scenery? Then this is the VRBO in Boulder for you!
This adorable log cabin is located on 2 private acres. The 1100 square foot wrap around porch with mountain views is really put to good use at this property. The porch has a hot tub, gas grill, bbq smoker, and outdoor seating.
Many outdoor enthusiasts love staying at this Boulder vacation rental because it is near Golden Gate Canyon State Park, the Roosevelt National Forest, and the James Peak Wilderness. This would be a great option out of the vacations rentals in Boulder if you are looking to visit some of Colorado's natural hot springs.
When you do need to visit a city or town to stock up on supplies Boulder, Denver, Golden, and Idaho Springs are all less than an hour away. The central location really make this cabin a winner out of all the airbnbs near Boulder.
The log home can sleep 8 guests in 3 bedrooms. It has 2 full bathrooms. The house is 2400 square feet and has beautiful mountain views.
Click Here To Check Rates On VRBO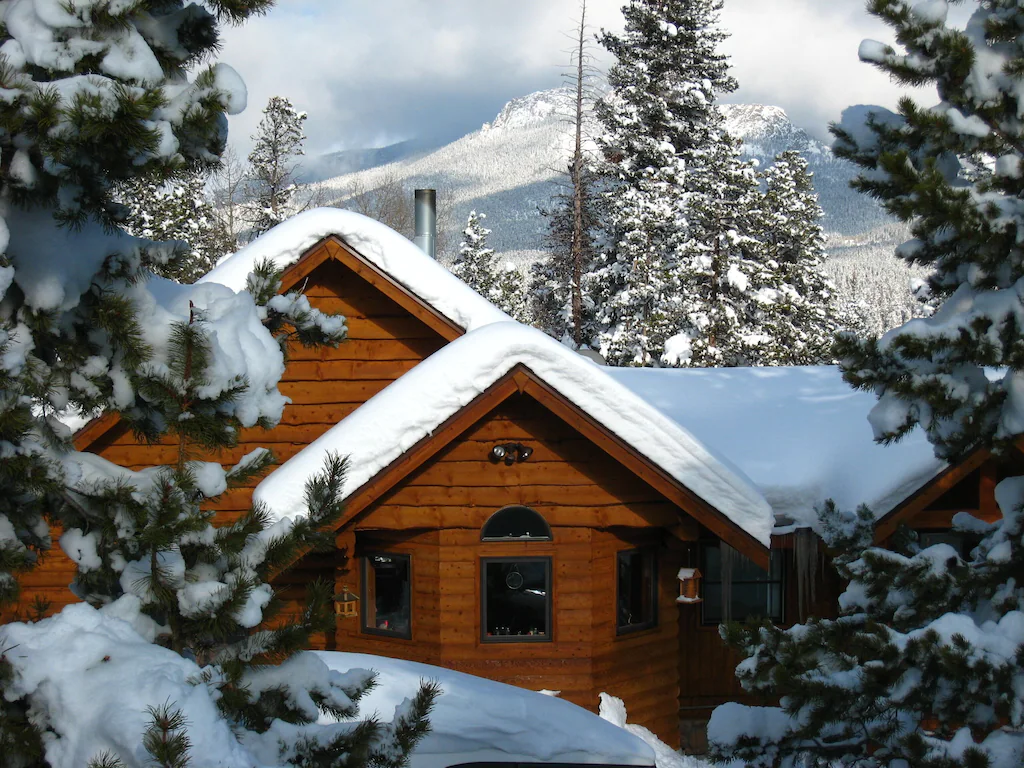 Canyon Escape
Cabins in Boulder give you the best of both worlds. When you stay in one you can have the cozy feel of cabin life out in nature while still having easy access to the comforts of the city. If this sounds perfect to you, Canyon Escape is the Boulder cabin you're looking for. 
This cabin in Boulder Canyon has easy access to Boulder Creek. There is a path along the creek that is perfect for hikers and cyclists. It's also just a couple miles from Boulder Falls and the Cliffs of the Narrows. Surrounded by the woods, you'll feel remarkably at peace in this charming natural landscape.
The cabin itself is divided into two separate studios. You'll have a private entrance to your half. The hosts live on the property in one of three total cabins and are happy to make themselves available to you should you need them during your stay (playing with their dog is an added bonus).
The studio is the ideal place to return to after a day of outdoor adventures. It has a fireplace inside, a wonderfully comfortable bed, a desk nook, a hammock and wood stove outdoors, and a garden.
Click Here To Check Rates On VRBO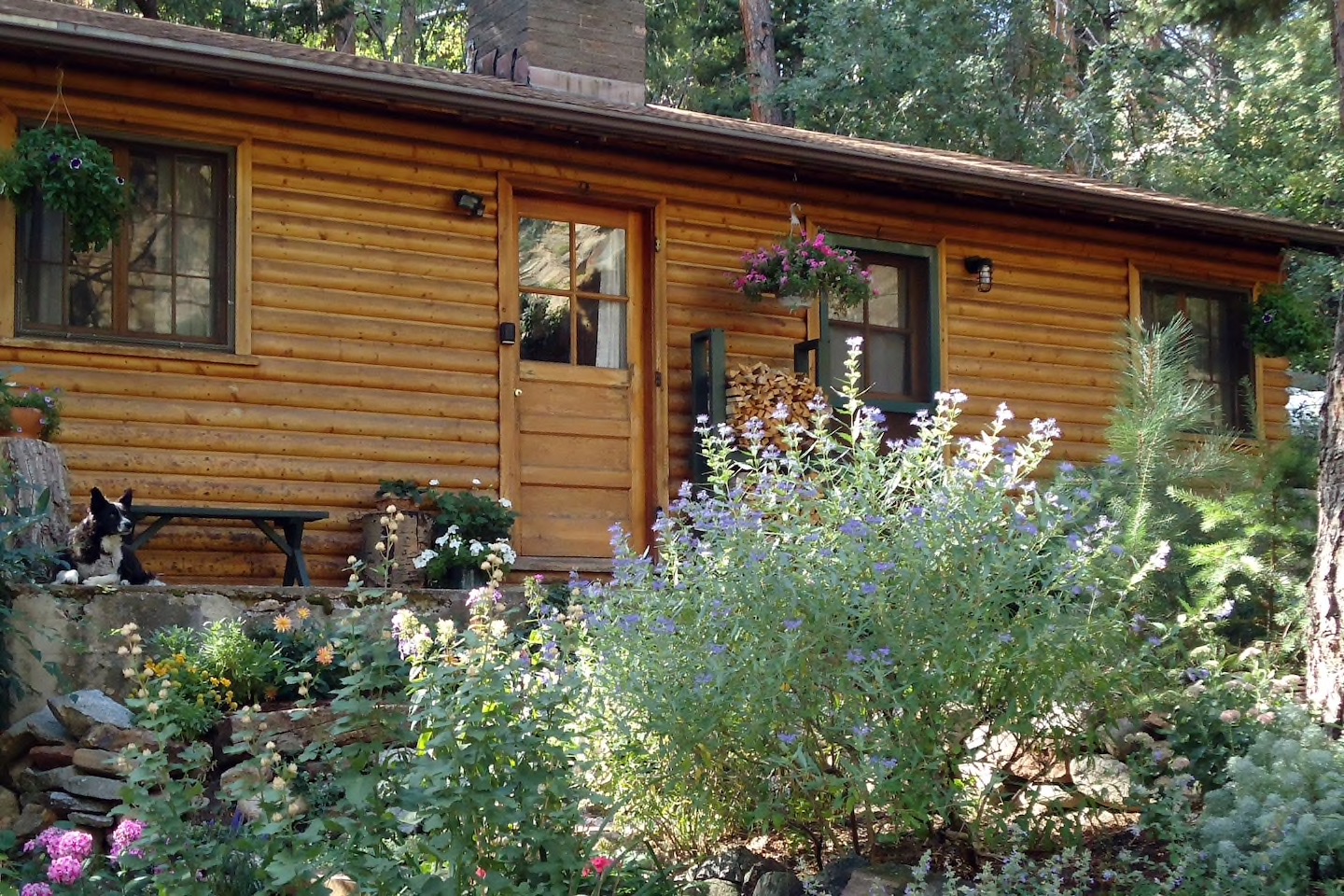 Artistic Home With Hot Tub
This 1800-square-foot mountain home showcases a variety of reclaimed materials. The resulting structure is an eclectic and artistic home that is like nothing you've ever seen. From the Moroccan sconces to the antique wood stove to the custom tile in the bathrooms, you've got to look at these Pinterest-worthy listing photos!
This Boulder VRBO has stunning views of the Arapahoe peaks. It is located 15 minutes from some of the best hiking in Colorado. The home backs up to the national forest and feels extremely private. It has a jetted hot tub and an outdoor fire pit perfect for stargazing. This rental can comfortably accommodate 8 guests. It has 3 bedrooms and 2 full bathrooms.
The home is located 35-40 minutes from Boulder. It is just 7 miles outside the small mountain town of Nederland. Please note that if you intend to rent this home in the winter you must have 4 wheel drive or all wheel drive to reach the property.
Click Here To Check Rates On VRBO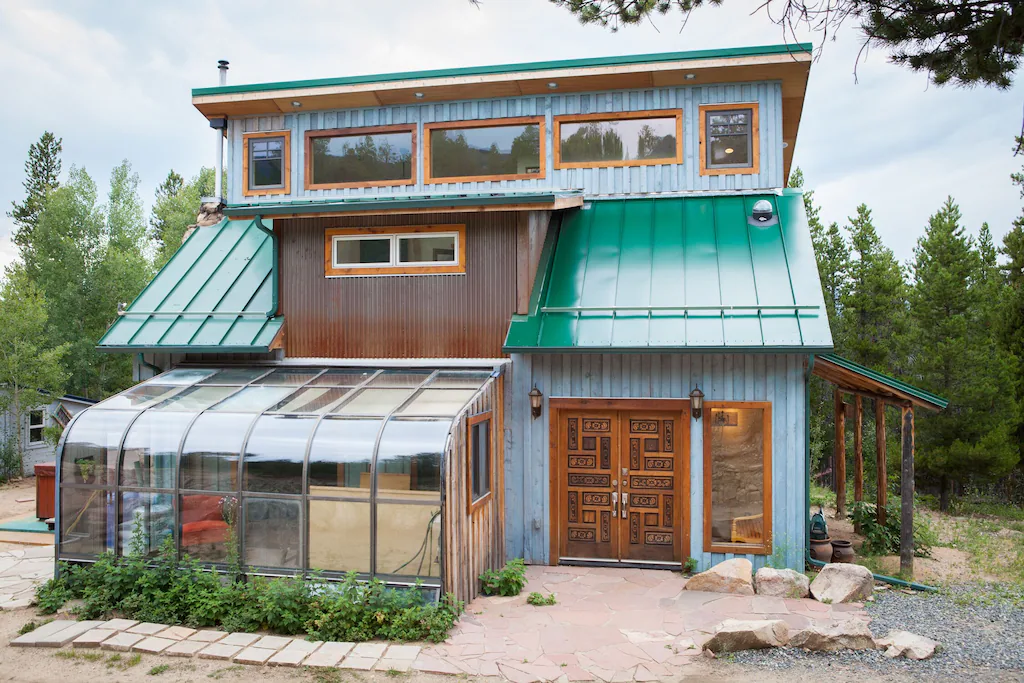 Luxury Mountain Retreat
It's rare to find luxury Airbnbs in Boulder Colorado that allow you the seclusion of mountain living while being a hop and a skip from downtown. If that sounds like the vacation for you be sure to book a stay at the Luxury Mountain Retreat. This property is just a 10 minute drive from Boulder's Pearl Street. However, it still feels like a mountain escape with privacy and beautiful views.
This Luxury Mountain Retreat is 8,000 square feet. It has 6 bedrooms and 6.5 bathrooms. This spacious home is perfect for gathering a large group of friends and family for an adventure in Colorado. This VRBO can accommodate 19 guests.
You'll love soaking in the outdoor hot tub on a cold night with views of Green Mountain and the Boulder city lights. The home also has 4 huge fireplaces and a home theater! There's something for everyone in this luxury Colorado VRBO.
Click Here To Check Rates On VRBO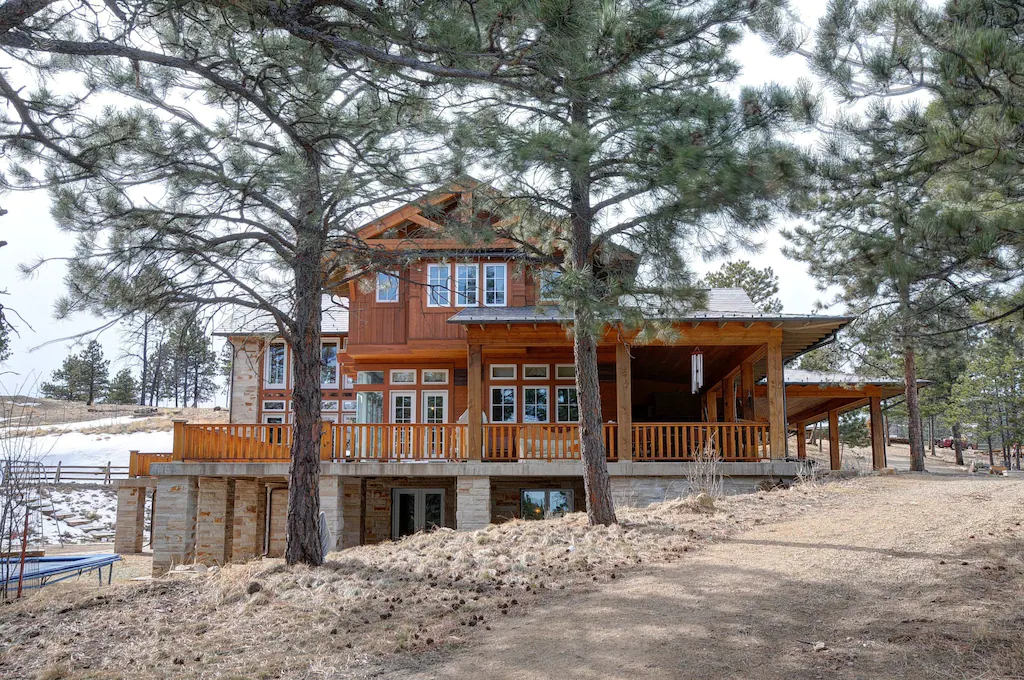 Downtown Delight
If you're looking for cheap airbnbs in Boulder, may we suggest this Downtown Delight? This VRBO is lovely and budget friendly.
This charming historic home was built in the early 1900 and retains charming period details. The home is located in Old Boulder and has beautiful views of the Flatiron mountain peaks. The front porch and front garden are lush and welcoming. The whole home is bright and well furnished. We love all the historical touches and gorgeous wood floors!
This historic home has 2 bedrooms and 1 bathroom. This 1100 square foot VRBO can accommodate 4 guests. What a great budget option for exploring Boulder!
Click Here To Check Rates On VRBO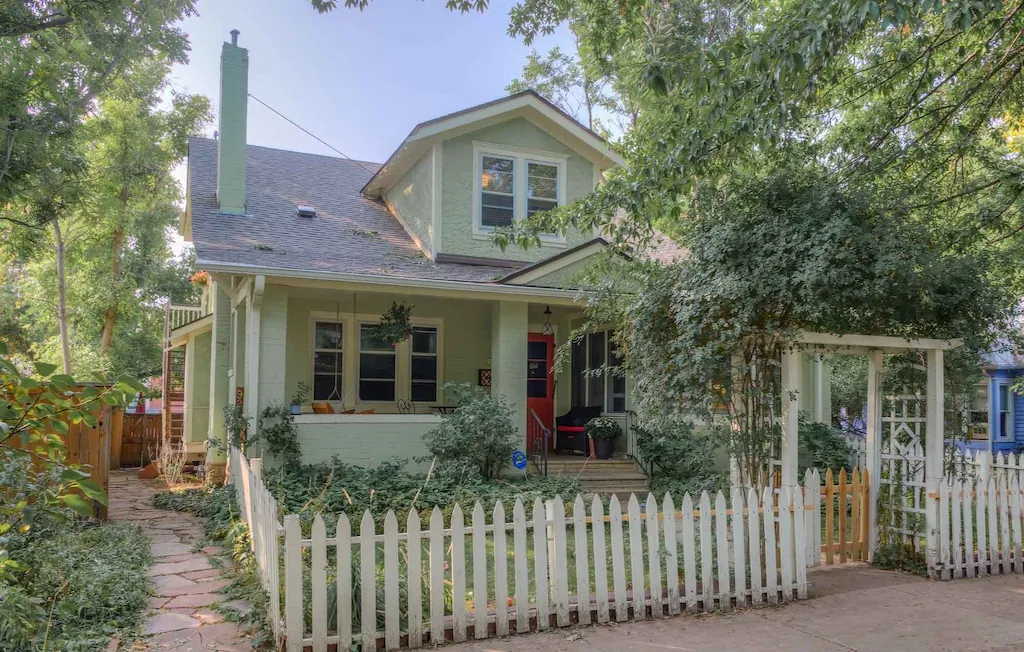 Little Red Treehouse
Looking for the best Airbnbs in Boulder for two? Consider heading 25 minutes away to Lyons, Colorado for a magical stay in the Little Red Treehouse.
Up among the Colorado pine trees you'll find the coziest, comfiest accommodations. This treehouse a bathroom, little kitchen, heat, air conditioning, a Murphy bed that allows you to maximize the small space, a loft, and even Wi-Fi. You get the benefits of seclusion in a unique space while still having everything you need for a comfortable stay.
Start your day eating breakfast and sipping coffee on the outdoor patio as you take in the views. You'll likely be visited by hummingbirds that love stopping by the hummingbird feeder, and if you look below you might spot the odd bunny or fox.
Lyon Town Center is just a 5-minute walk from the treehouse. You can easily walk to restaurants and shops as well as hiking trails and river tubing opportunities. Bikes are provided if you'd like to ride into town or venture further afield. This unique treehouse is in such a convenient location for your vacation home base.
Click Here To Check Rates On VRBO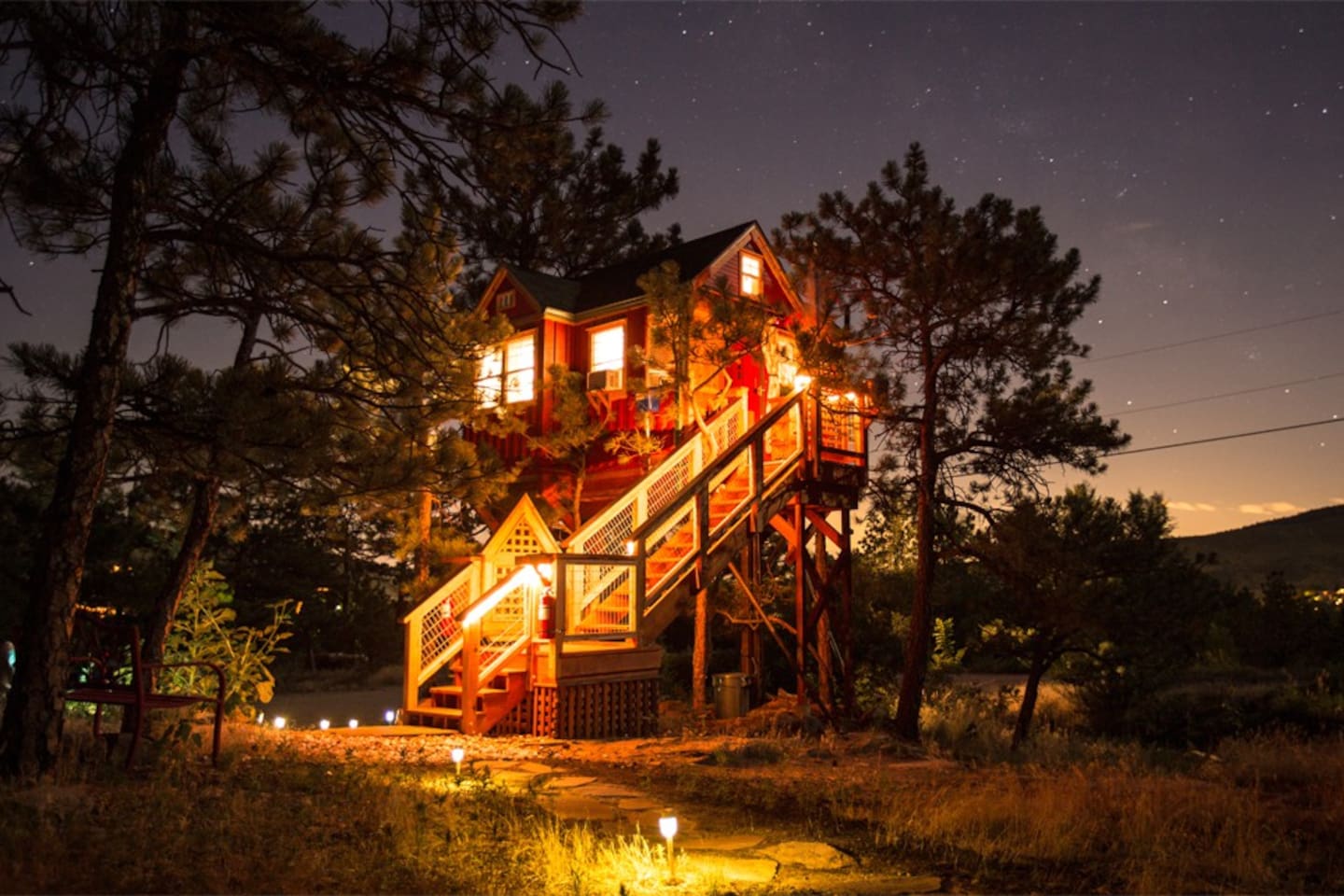 Carriage House in the Heart of Boulder
Looking for where to stay in Boulder? Put this 600-square-foot studio on your list of Boulder Airbnb! Located less than a mile from Boulder's famous Pearl Street and only 3 blocks from a Whole Foods Market. It is also less than a mile from the hiking and running trails of Mt. Sanitas. This location means you're sure to have an amazing time in Boulder!
The Carriage House has high ceilings and wood floors that make the space feel large and bright. It is constructed studio style with an open plan. There is 1 bathroom and the bed is located within the main living space. You'll love the very spacious walk-in closet for your clothes and luggage. The kitchen is small but well thought out and has everything you'll need to cook some delicious meals during your stay.
This studio offers the chance for a longer stay to really get to know Boulder. The carriage house requires 30-day bookings. Luckily the daily rate is quite affordable. A weekly cleaning and linen service can be added for a minimal additional fee.
Click Here To Check Rates On Airbnb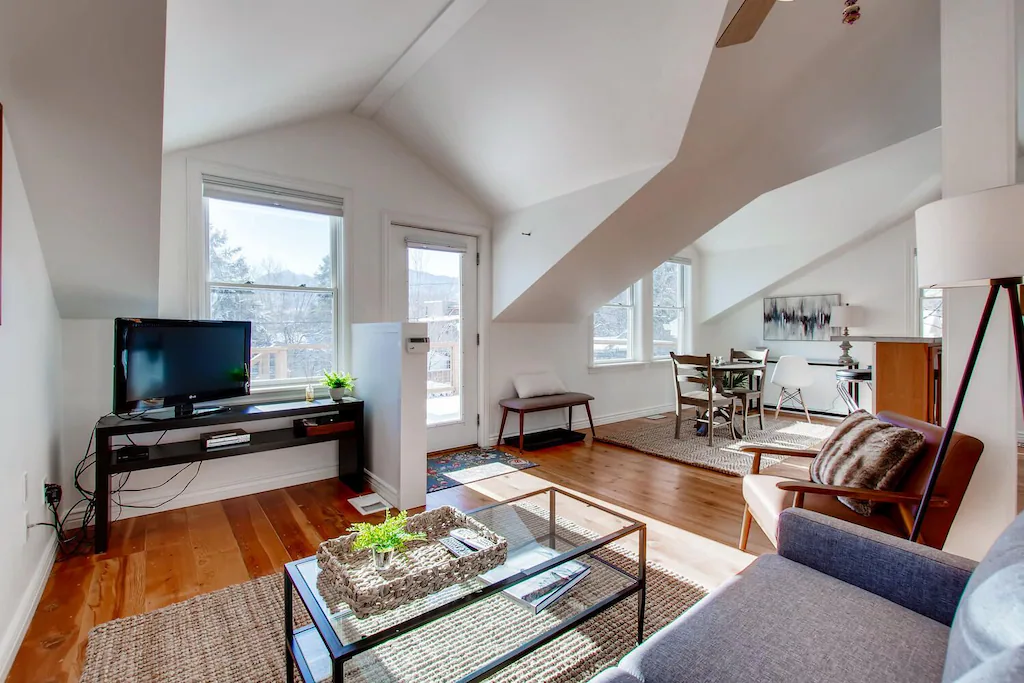 Creekside Craftsman
Our list of the best Boulder Airbnb wouldn't be complete without this Creekside Craftsman. This Airbnb is located to the west of Boulder on private acreage. When you stay here you'll feel like you're out in the rugged Rocky Mountains but you will still have quick access to all the amenities of Downtown Boulder.
This Craftsman Cabin is 2950 square feet and can accommodate 10 guests. It has 4 bedrooms and 2 full bathrooms. The game room and 4 scenic decks, one with a private hot tub.
This property offers hiking trails right out the back door. When you stay at the Craftsman Cabin you can try out local hobbies such as hiking, biking, fly fishing, climbing, and skiing. This is an ideal Boulder VRBO for experiencing the famous Rocky Mountain lifestyle.
Click Here To Check Rates On Airbnb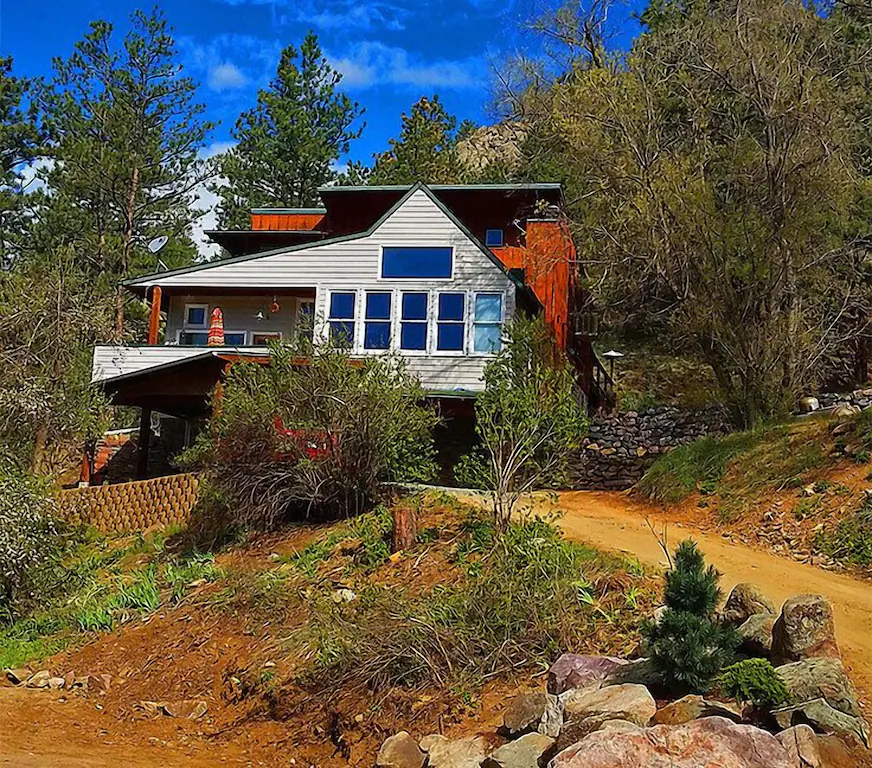 Boulder Farm Arcade
This quirky VRBO in Boulder is perfect for a fun vacation for all ages! The private classic arcade in this vacation rental would be such a fun bonus a Boulder vacation.
The Boulder Farm Arcade is located on 5 acres just 10 minutes from Downtown Boulder. This place has amazing mountain views inside and out. There is an airy living room for lounging and a spacious kitchen. The Boulder Farm Arcade has 4 bedrooms and 2 full bathrooms. It can sleep 10 guests. Perhaps you and 10 friends could work together to beat the high scores on the 3 full-size arcade games. You'll be able to save your quarters for the gumball machine, all the arcade games are set to free-play mode.
Perfect for Boulder explorers of all ages, you are sure to have an unforgettable time at this unique VRBO.
Click Here To Check Rates On VRBO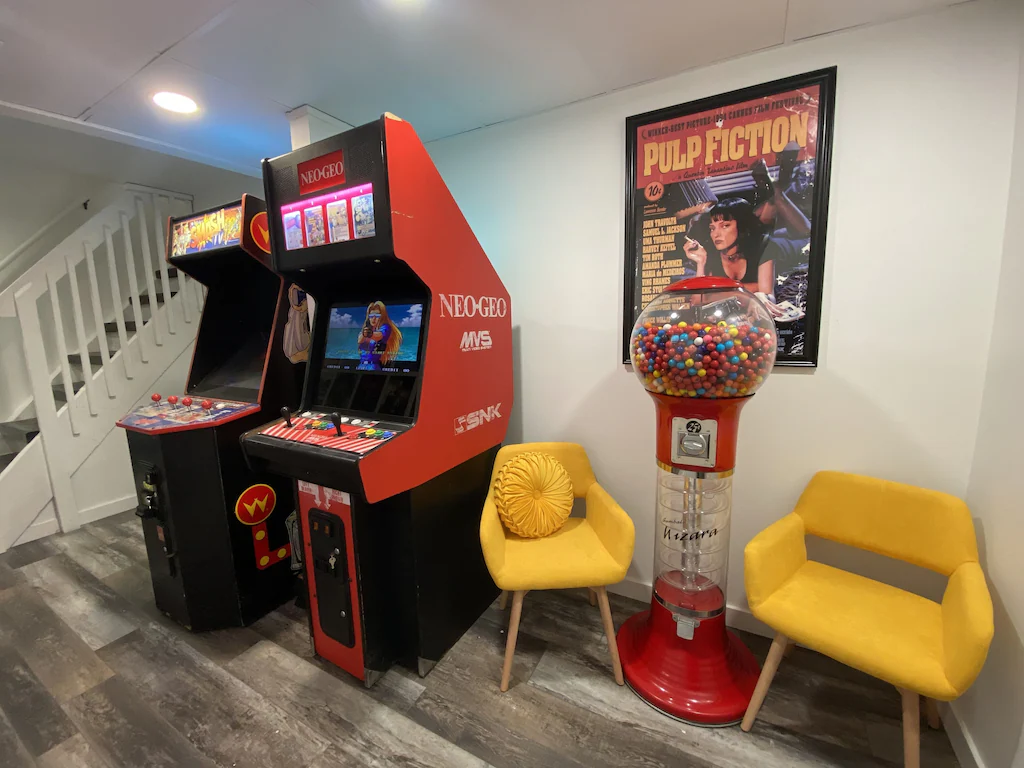 Modern Mapleton Home
This stylish, modern Mapleton home is one of the best Airbnbs in downtown Boulder. The home is ideally situated within walking distance of Pearl Street and 3 blocks from the famous Mt. Sanitas trails. This is why Mapleton Hill is Boulder's most desirable neighborhood. This quiet tree lined area is the perfect place to relax and unwind on a mountain vacation.
This Boulder duplex VRBO has been tastefully decorated in the mid century modern style. It has lots of subtle lots of Western wildlife and Rocky Mountain homages that are fun to look out for.
This townhome can sleep 3 guests in 2 bedrooms. It has one full bathroom. If you have a larger crew, consider booking the upstairs unit of the duplex as well! Please note that due to city zoning laws this VRBO has 60 day minimum stays.
Click Here To Check Rates On VRBO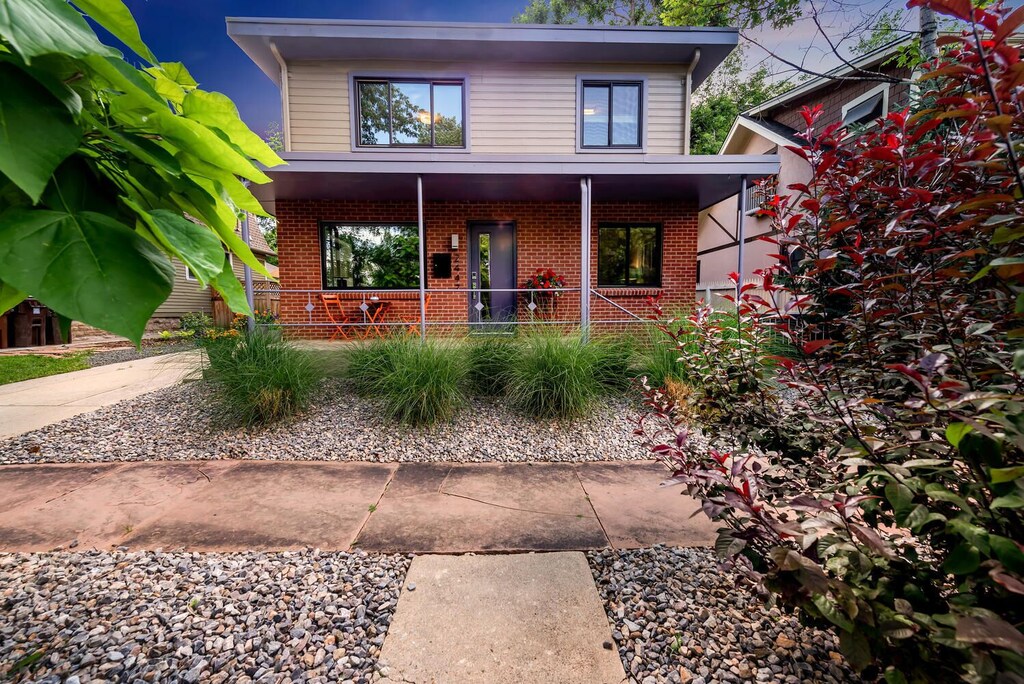 Dreamy Bohemian Bungalow
The ideal trip to Boulder often involves a combination of hiking as well as a stroll down Pearl Street to treat yourself to food and souvenirs. This Bohemian Bungalow is located just three blocks from Pearl Street in the heart of the city, which makes it one of the best Boulder Colorado Airbnbs.
In addition to being walking distance to Pearl Street, the bungalow is within a short drive of grocery stores and larger chain stores. You're also close to excellent hiking trails including the famous Flatirons in Chautauqua Park.
The bungalow itself is a 1914 Victorian home decorated with beautiful art from the host's travels around the world. The exposed brick walls throughout the house and the south facing windows give make this bungalow very cozy.
Click Here To Check Rates On Airbnb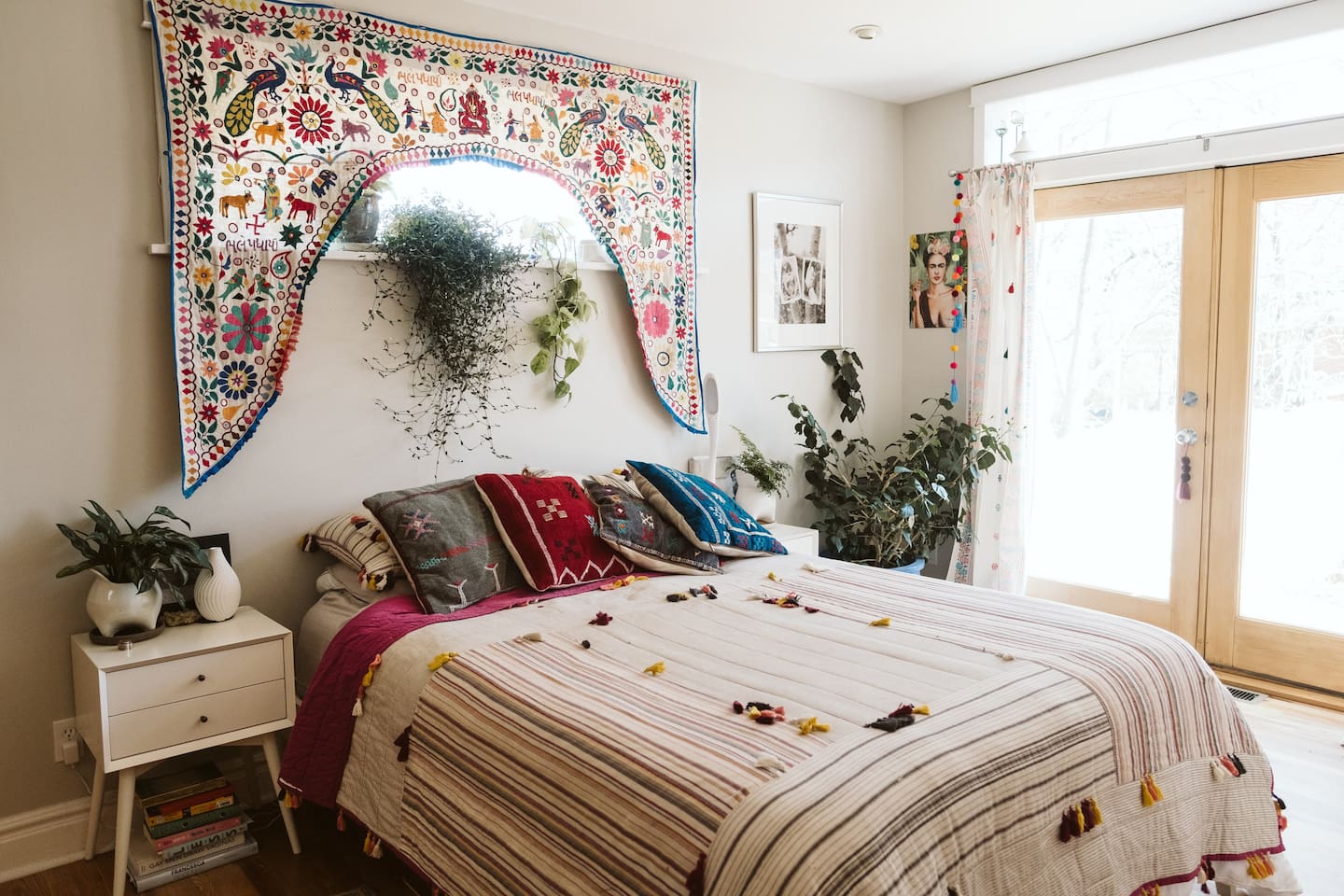 We're thrilled you've chosen to make the mountains and charming streets of Boulder your home for your next vacation. Hopefully one of these wonderful Airbnbs in Boulder will catch your eye.
Whether you're staying in the heart of the city to wander downtown with easy access to restaurants and shops, or you're enjoying the nature views, unpredictable weather, and wildlife up in the mountains, you're sure to fall in love with this town that calls out to lovers of the outdoors. As you decide which of these Boulder vacation rentals are best for you, please let us know if you have any questions or comments.