Are you looking to explore some of the best beaches near Orlando FL? You are in luck because I am a Florida local and love visiting the Orlando area. Don't think that because Orlando is central, the beaches are very close, and there are options on both the Atlantic and Gulf Coasts.
After exploring the beaches in Florida for over 30 years, I have some opinions. I have suggested where to go and where to skip to a lot of people. And now I am going to help you!
So after you enjoy the thrills of the theme parks, head down to some of these best beaches near Orlando FL, and enjoy some laid-back fun in the sun. I have found your family beaches, great surfing spots, resort beaches, and everything in between.
Don't forget to pack your bathing suits, and sun hat, and wear plenty of sunscreen! You are going to love checking out all of these amazing beaches near Orlando!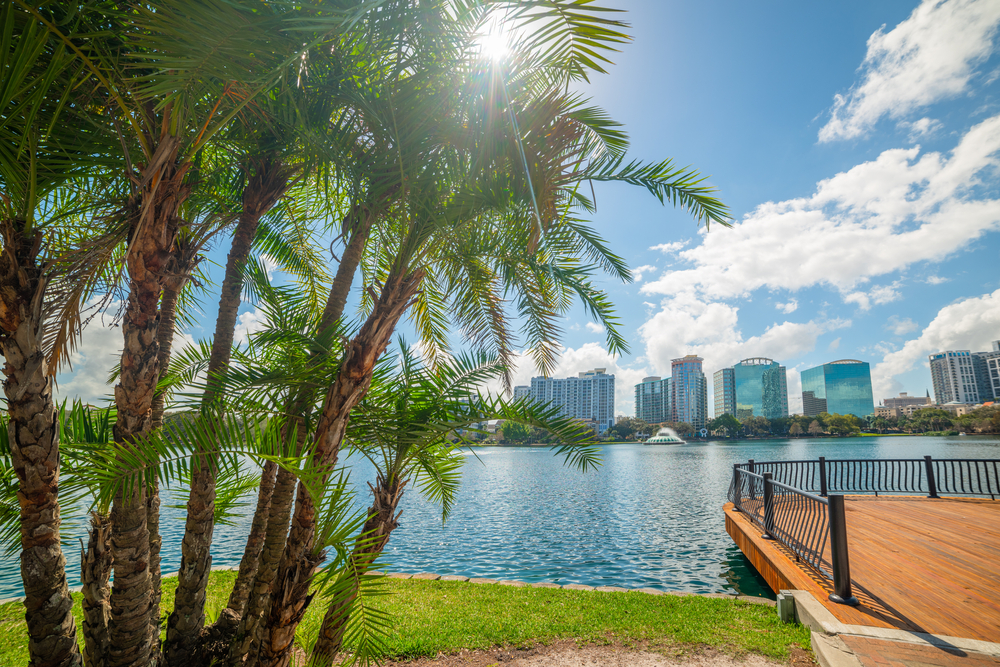 Are There Any Beaches In Orlando?
No, Orlando may not have its own coastline, but it's surrounded by plenty of stunning beaches that are a just short drive away. One of the closest beaches to Orlando is the famous Cocoa Beach. You can be there in under an hour.
I love Cocoa Beach for surfing or playing in the waves! And yes, you can get surf lessons if you want!
You can also explore the nearby Daytona Beach, the beautiful Canaveral National Seashore, and the lovely Smyrna Beach. And don't forget about Clearwater Beach over on the Gulf Coast there is a reason why it's one of the most loved Florida beaches.
How Far is the closest beach to Orlando?
The closest beach to Orlando is Cocoa Beach. It is approximately 60 miles and is a 1 hour drive away. This makes it a convenient option for a quick getaway from the city. Other nearby beaches include Daytona Beach and New Smyrna Beach, while Clearwater Beach on the Gulf Coast is also within a two-hour drive. But Cocoa Beach is the closest beach to Orlando airport and Disney.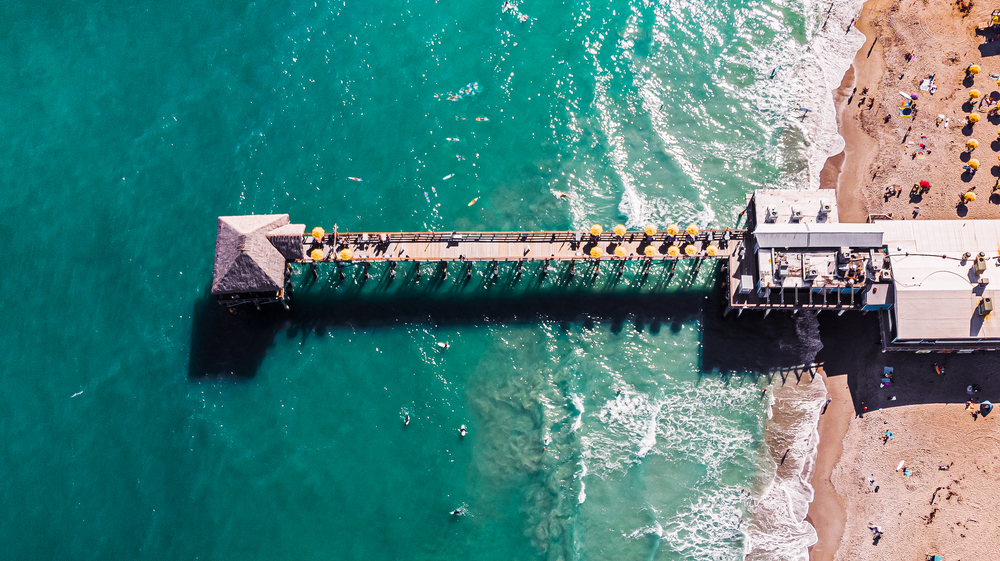 Which beach near Orlando has the clearest water?
Anna Maria Island has the clearest water near Orlando. It is located on the Gulf of Mexico and is renowned for its immaculate white sand and beautiful, calm, blue waters that are excellent for swimming. It is always voted as one of the top beaches in the United States and is about 2 hours away!
Do not listen to other people who tell you that the best place is Clearwater Beach. It is NOT! I grew up going to Clearwater Beach and while the sand is powdery white and perfect, the water is far from clear!
I still recommend visiting Clearwater Beach if you are looking for a good beach near Orlando, but it does not have crystal clear water in the same way as Anna Mara Island.
If you are looking for blue water beyond the beaches, Rock Springs at Kelly Park, about 35 minutes outside Orlando, is known to have some of the clearest water in Florida.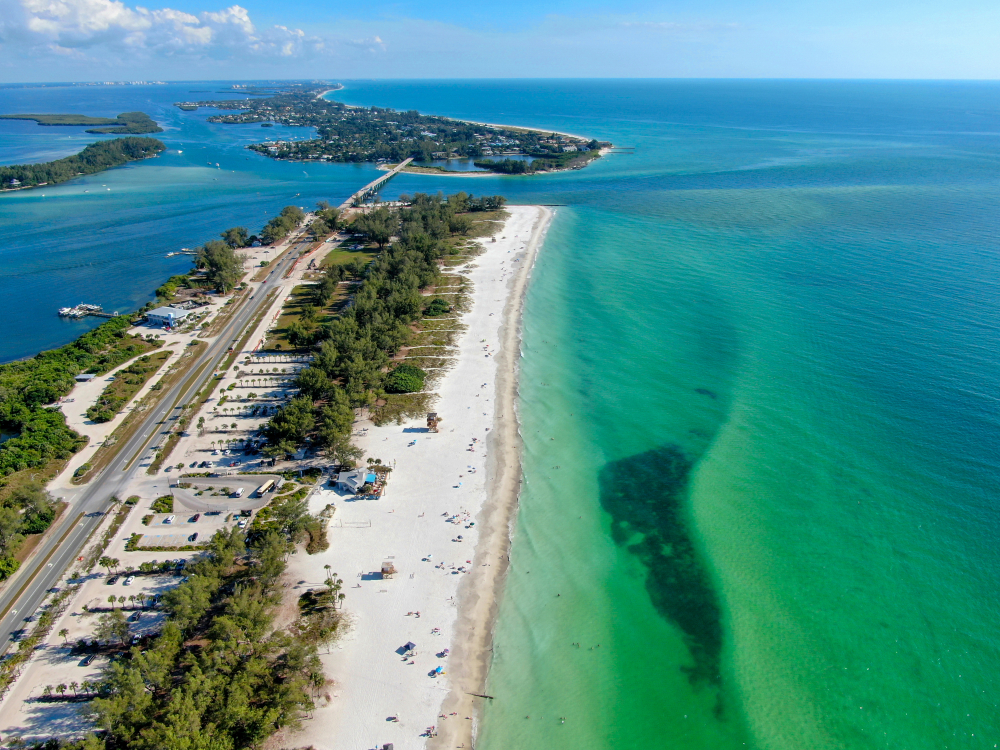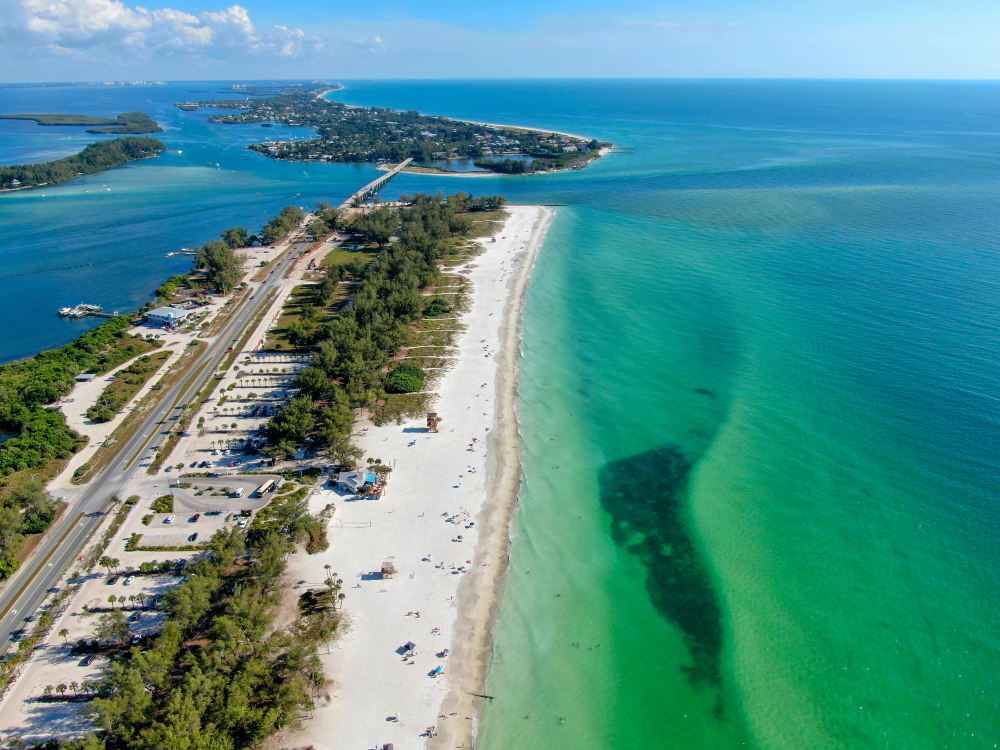 Best Beaches Near Orlando FL
Cocoa Beach
Cocoa Beach, is a famous beach town nestled on Florida's stunning "Space Coast". It is just about an hour's drive to the east of Orlando. This makes it a popular destination for those looking to escape the hustle and bustle of city life. But, Cocoa Beach offers so much more than just its convenient location and beautiful shoreline, it is also the closest beach to Disney.
As soon as you set foot on Cocoa Beach, you'll feel the chill vibe of a classic beach town. But don't be fooled, there are a whole bunch of activities waiting for you. And one of the most famous surf shops in the world.
If you like feeling the wind in your hair try parasailing over the beautiful ocean. If you're feeling lucky, why try the casino cruise? And Cocoa Beach is one of the best beaches in Orlando for families. One of the main attractions at Cocoa Beach is the boardwalk.
It stretches about 800 feet over the Atlantic Ocean with perfect views of the beach. But the boardwalk isn't just about the views. It's home to a variety of shops and restaurants, making it a great place to grab a bite to eat and do some shopping. You definitely want to put Cocoa Beach on your list of best beaches near Orlando FL it is a very special place.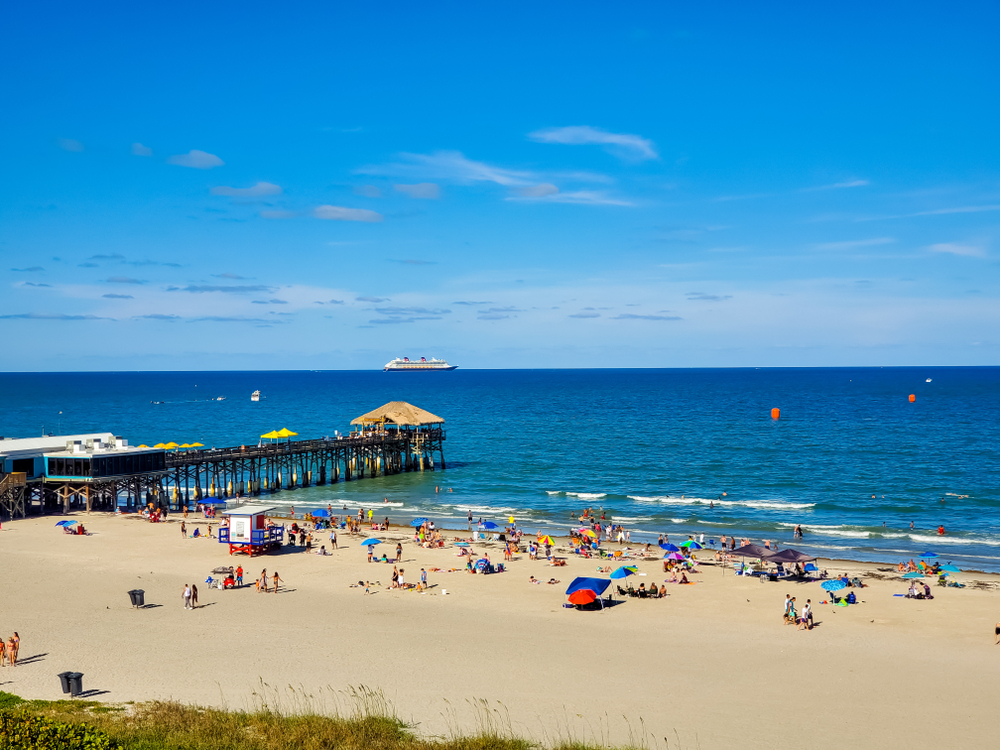 Canaveral National Seashore
Canaveral National Seashore is a beautiful national on Florida's East Coast. It stretches across both the Volusia and Brevard counties. This beautiful sanctuary is just about a 1-hour drive from the city life of Orlando.
There is a wonderful diversity of habitats, including beaches, dunes, hammocks, lagoons, salt marshes, pine flatlands, and oceans. This provides a safe home to many unique plants and animals, making it a paradise for nature lovers and animals.
One of the highlights of Canaveral National Seashore is its unspoiled, pristine beaches. It has the longest stretch of undeveloped beach in all of Florida! It's the perfect spot for those looking for a peaceful retreat away at one of the best beaches in Orlando.
And there's more! Depending on where you wander off, you might even find sections of the beach frequented by nudists. This is mostly around Playalinda Beach which is a bit south of the main beach.
If you are making a whole day out of it, consider also visiting Kennedy Space Center, it is one of my top things to do in Florida!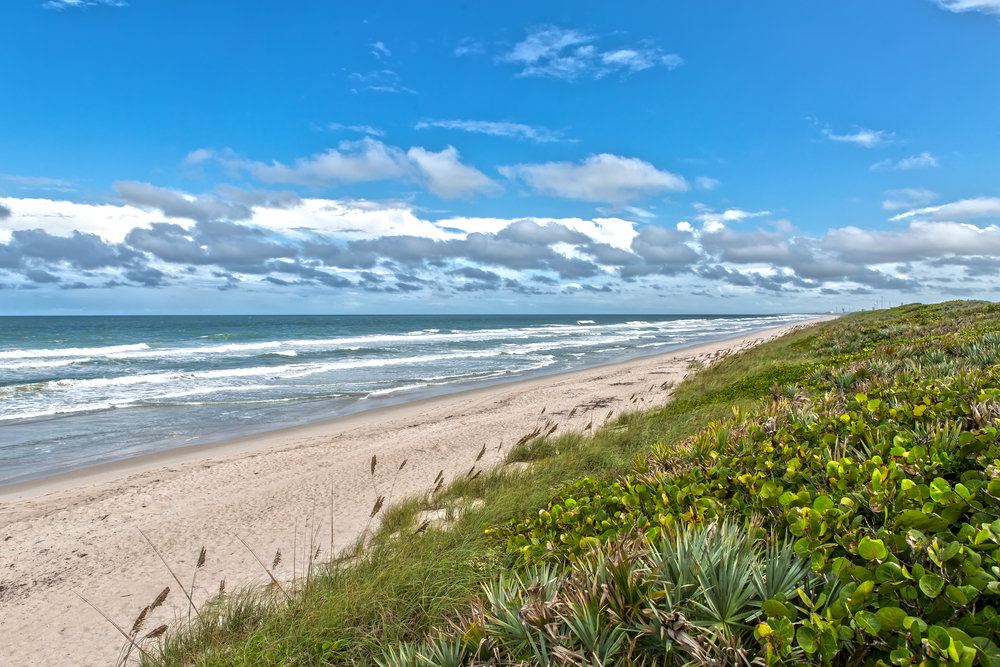 Daytona Beach
One of the most popular beaches near Orlando is Daytona Beach and it is just 1 hour away! This is one of my favorite beaches to walk along because it stretches over 23 miles along the sunny shores. But it's not just a beach Daytona is always so much fun.
Daytona Beach is known for its hard-packed sands, and you can drive your car right on the sand! This fun activity has been going on since the 90s and is still going strong.
This unique feature earned Daytona the title of "The World's Most Famous Beach." On top of beach driving, Daytona Beach offers plenty of fun in the water. I love watching the surfers in the water surfing, paddleboarding, and people flying by on the jetskis.
The beach also has several off-beach parks with picnic areas, restrooms, and splash parks for the kids. For those who prefer a more laid-back vibe, the Daytona Beach Boardwalk and Pier is a popular spot.
There is an indoor and outdoor amusement area, and plenty of gift shops, restaurants, and bars. If you are visiting during the high season in the summer, you will see live music performances on the boardwalk. This is one of the best vacation beaches near Orlando.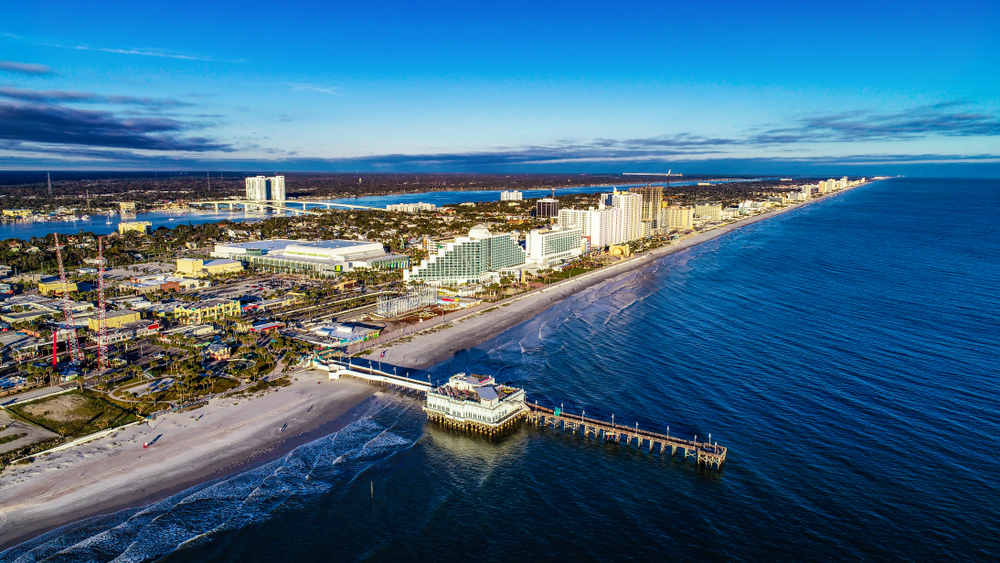 Anna Maria Island
Anna Maria Island is one of my favorite places to visit Florida's Gulf Coast. The waters are beautifully clear, and it is only about a two-hour drive from Orlando. Perfect amount of time for a day trip!
The island stretches approximately 7 miles from north to south and has one road in and one road out. The communities along the island are Anna Maria City in the north, Holmes Beach in the middle, and Bradenton Beach in the south, each having a unique personality and charm.
It is best known for its stunning white-sand beaches, crystal-clear waters, and swaying sea oats, Anna Maria Island is a paradise for beach lovers. The beaches are not only beautiful but they also less crowded compared to some other Florida destinations, offering a more relaxing experience.
Besides the beaches, there are plenty of other things to do on Anna Maria Island. I love eating the delicious local seafood at the island's restaurants, exploring the local boutiques, and relaxing in the sun.
If you're lucky, you might even spot dolphins, manatees, and a unique array of Florida birds are known to frequent the area. Keep Anna Maria Island high on your list of beaches close to Orlando.
Ormond Beach
Ormond Beach is another coastal city that is located along the east coast and is north of Daytona Beach. It's a beautifully peaceful place where you can have a first-class resort experience and enjoy a small-town charm.
Ormond Beach is conveniently located around 60 miles from Orlando and is about an hour's drive. Driving from Orlando to Ormond Beach is easy and the route takes you along the I-4 E highway. This makes it a great beach for a day trip if you're based in Orlando and want to head to the coast.
Enjoy the beautiful beaches they have an upscale vibe but they still have a very quiet environment. Ormond Beach is one of the beaches close to Orlando for those looking for a more relaxed, peaceful beach day.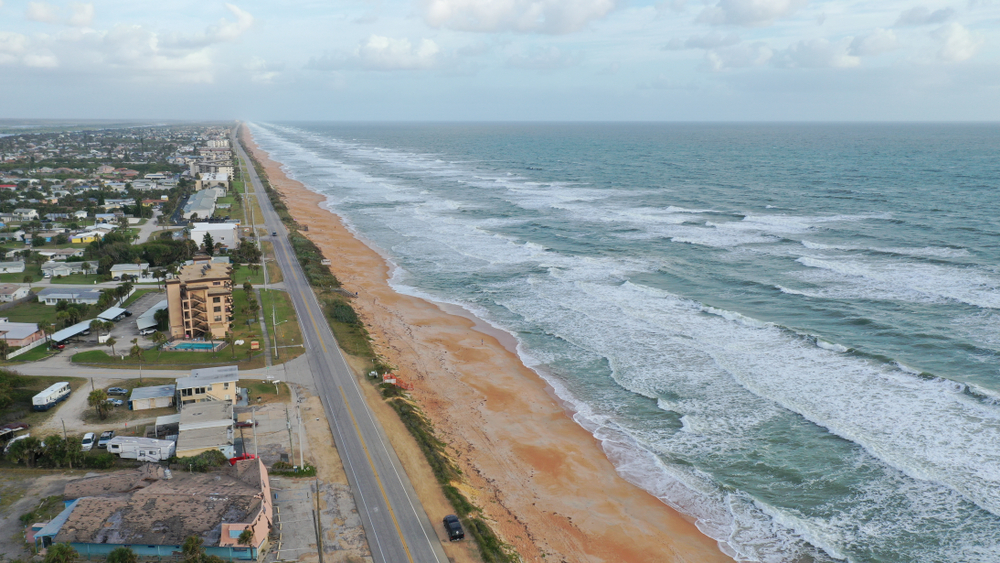 New Smyrna Beach
New Smyrna Beach is a beautiful coastal city located in Volusia County, Florida. Despite being a small city, it is one of my favorite beaches near Disney. You will find plenty of culture, art, and yes, a beautiful sandy shoreline that stretches for 17 miles.
The word is getting out as Travel & Leisure Magazine just said that New Smyrna Beach is an underrated destination that's a paradise for seafood and outdoor lovers. There is also a fun art scene, with plenty of galleries and live music venues to check out.
Besides all the fun things thing to do on land, New Smyrna is a favorite with surfers and offers some of the best waves in all of Florida. The beach is just an hour's drive from downtown Orlando, making it a popular day trip or weekend getaway.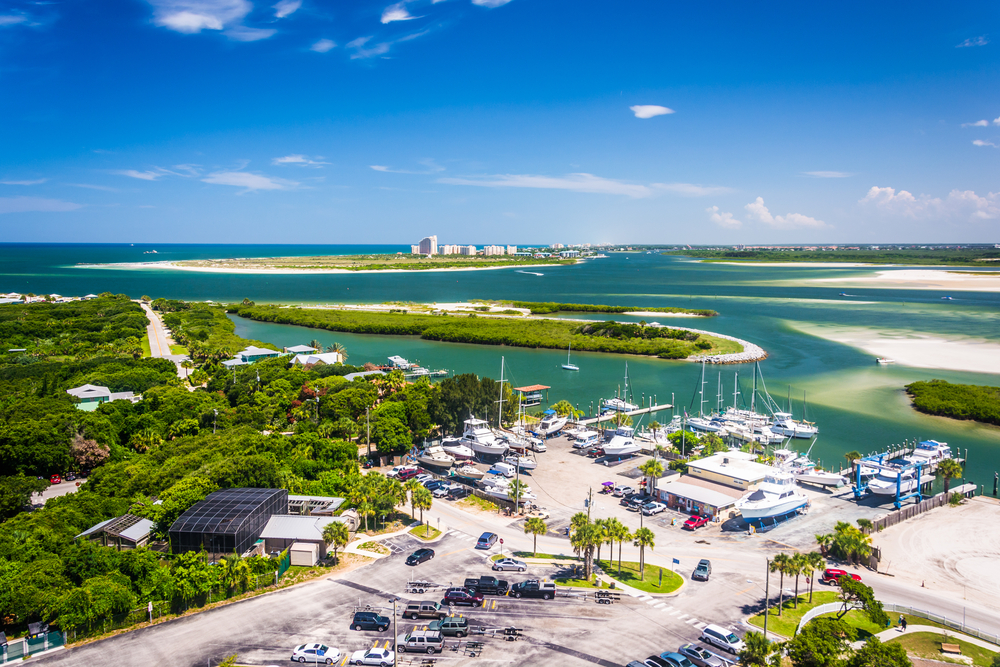 Clearwater Beach
Clearwater Beach is famous for having the clearest water near Orlando. It is a beautiful resort beach on the western side of Florida. There are white sandy beaches ready to be explored. There are also very calm blue waters that are perfect for taking a dip.
If you have time check out the Caladesi Island located right off the north end of the Clearwater beach. This island is a tropical paradise with pristine shorelines! Clearwater is just 100 miles west of Orlando and should take under two hours to get there. It is one of my favorite day trips to take while visiting this area of Florida.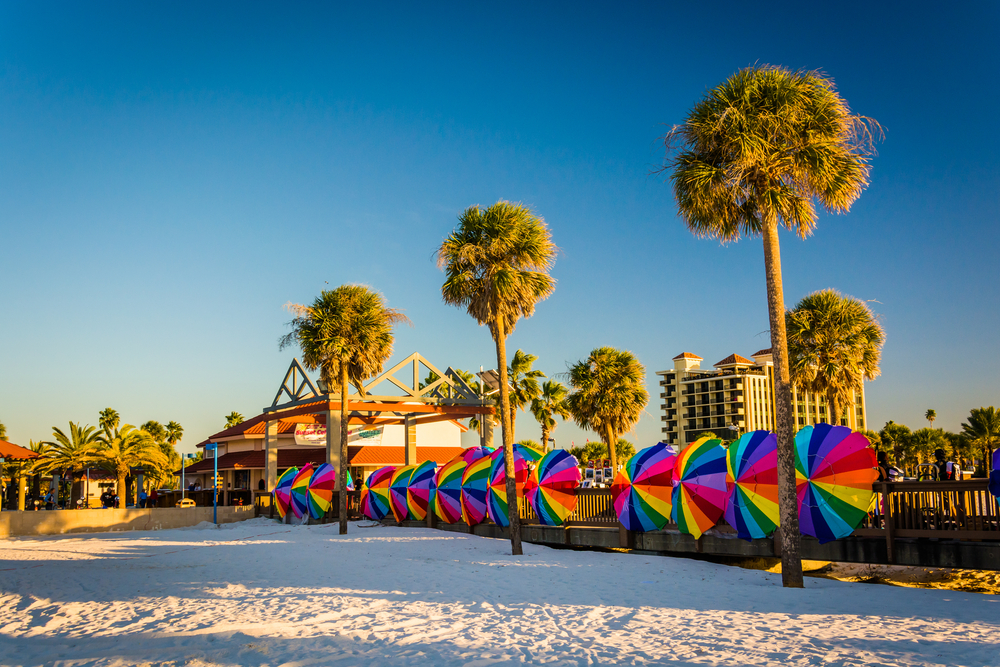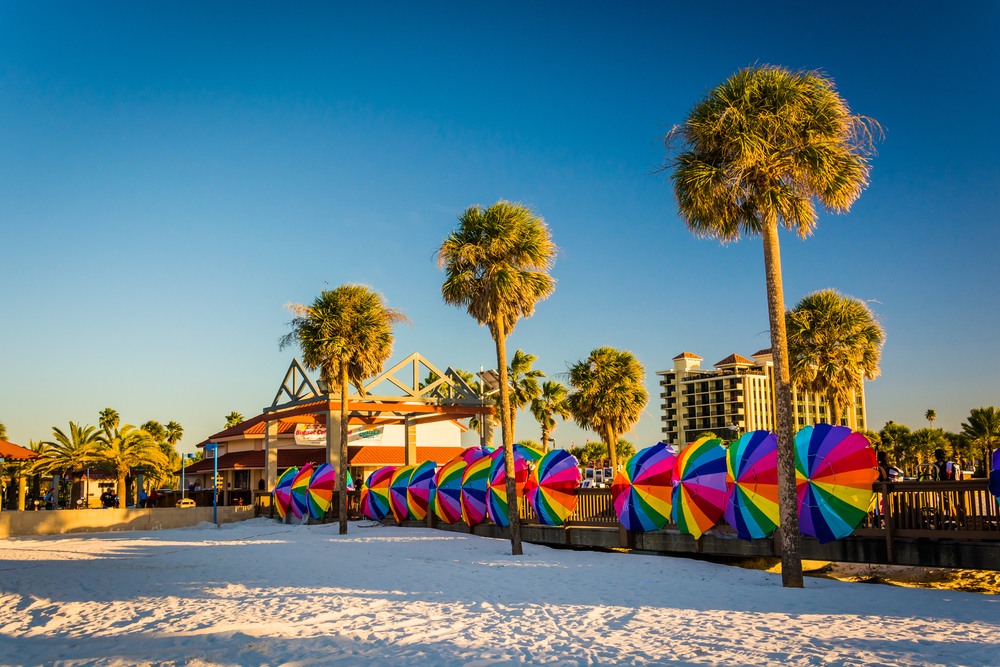 Flager Beach
Flagler Beach is a cozy coastal city nestled along Florida's Atlantic Coast, it is located between Daytona Beach and St. Augustine, Florida. It is a very peaceful Florida small town with no high rises. There are a few beautiful beaches, the town's namesake beach, Flager Beach is the most popular. Here you will find golden sand and a beautiful shoreline.
For a more family-friendly adventure at one of the nearest beaches to Orlando, try Old Salt Park. This Orlando Beach has bathrooms, picnic areas, and a very peaceful atmosphere. You can reach the town of Flagler Beach from Orlando it is a little over an hour, depending on traffic, and the time of the year you are visiting Florida.
Vero Beach
Vero Beach is a calm beach town along Florida's Atlantic Coast. There are a few beautiful beaches here to check out. The most popular is the Round Island Beach Park. This is a wonderful spot to set up for the day because there is a calm lagoon ocean access, so you can have whatever kind of day you want at one of the beaches near Orlando.
Another wonderful beach to check out in Vero Beach is South Beach Park. This is a local favorite spot, for the laid-back vibes, large sandy shores, and beautiful water. This is usually less crowded than some of the other beaches closest to Orlando. You will love your trip to Vero and it takes less than two hours from Orlando.
Playa Linda
Playalinda Beach translates in Spanish to pretty beach, so you just know it is one of the best Orlando beaches to visit. This beautiful beach is located on Florida's east coast in the Canaveral National Seashore. It is known for its miles of undeveloped and protected shorelines and crystal-clear waters and is just 1 hour from Orlando!
This is a truly hidden gem because it is less commercialized than some of the other best beaches near Orlando FL. But, there is still plenty to do once you arrive. It is a great place for families, surfers, fishing, shell seekers, bird watchers, and photographers.
The beach park opens early making it a perfect spot to watch a Florida sunrise. Keep in mind that the admission fee is $20. Playalinda Beach is also near the Kennedy Space Center and Merritt Island National Wildlife Refuge, If you want to knock out some of the best things to do in Orlando while visiting.