Trying to plan the perfect Washington road trip? We're here to help make the process a little less stressful!
Washington has SO much to offer, especially when you're driving through the state, so you're sure to be in for the time of your life with this road trip. Just make sure to pace yourselves when mapping out your travel time and when adding stops to your Washington road trip itinerary!
Washington is full of adventure: from rainforests on the Peninsula to deserts on the east coast, and the National Parks with mountains, glaciers and beaches in between, the stops on this trip are bound to take your breath away. It is truly one of the Best Road Trips In America!
We are listing some of the must-see stops for a Washington road trip, so make sure to explore these sites (or at least the ones that interest you!). So, with that being said, get your car ready to go, pack some travel snacks and start creating a playlist! You're in for a wild exploration of Washington state!
Don't forget to check out our Detailed Road Trip Packing List so you don't forget any essentials for your trip!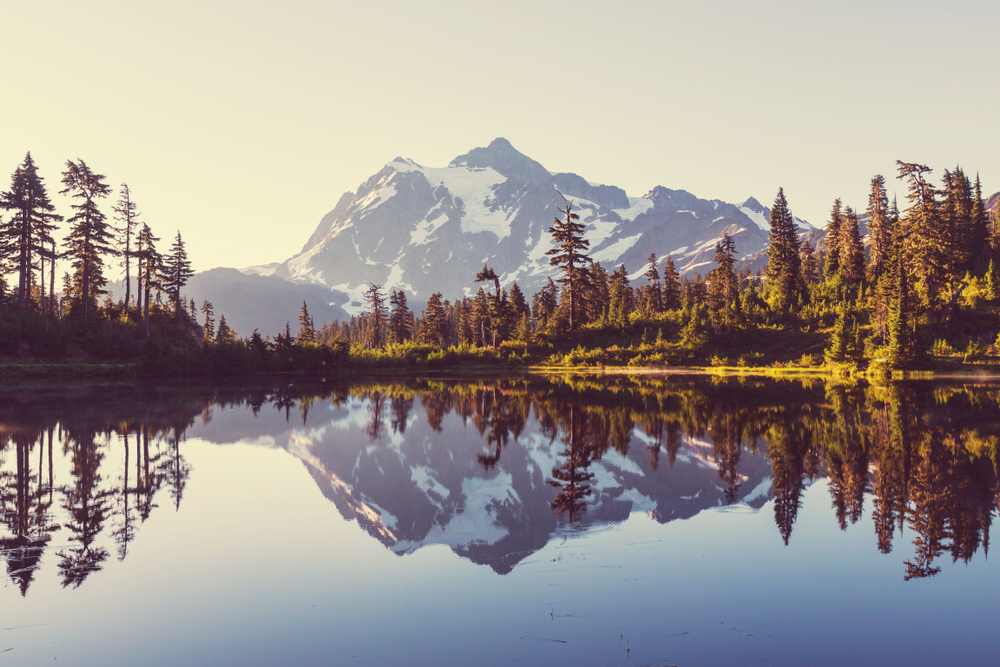 The Ultimate Washington Road Trip Itinerary
Getting to Seattle
To start off your Washington road trip, we highly recommend flying into Seattle. The Seattle-Tacoma International Airport (SEA) has a variety of different airlines that fly into this popular city/hub, which includes Alaska, Southwest, American, Delta, and more.
Flying into SEA is easy not only because they have a lot of Airlines, but because you can fly to Seattle from a lot of cities. This includes but is not limited to: Minneapolis, Atlanta, Nashville, Pittsburg, Salt Lake City and more. This will come in handy when you are booking a flight to start your Washington road trip!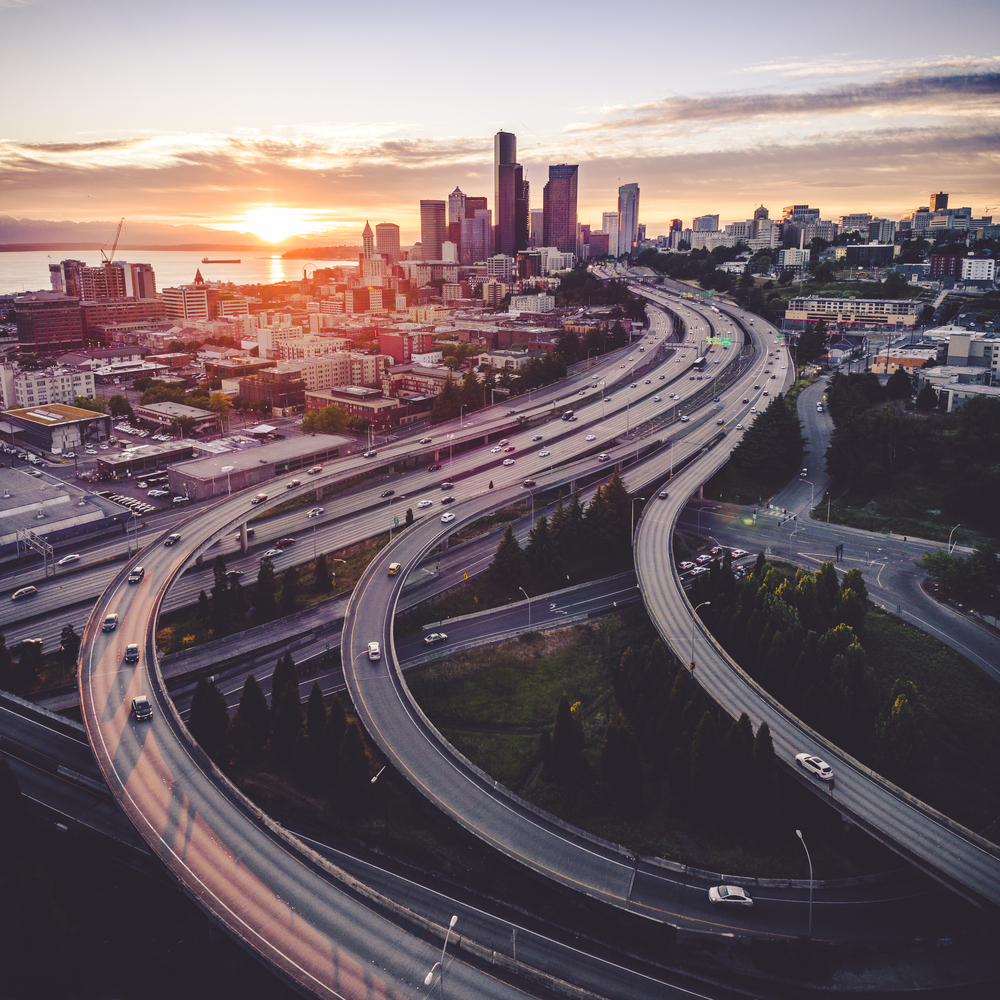 Getting Around Washington
To start you Washington road trip, you first and foremost need to rent a car. Thankfully, you can easily rent a car at the Seattle Airport from suppliers like Avis, Dollar, E-Z and more. This means that you have a variety of great choices and therefore good rates!
We recommend making sure you rent a vehicle that you are going to be most comfortable with and in. You want to ensure that you are getting good mileage as Washington is a large state to travel across, and you want to also make sure you have enough space! This trip can be long if you want it too (depending on your own timeline!), so really just consider renting a type of vehicle that can handle the landscape of Washington during your road trip– save those sports cars for later!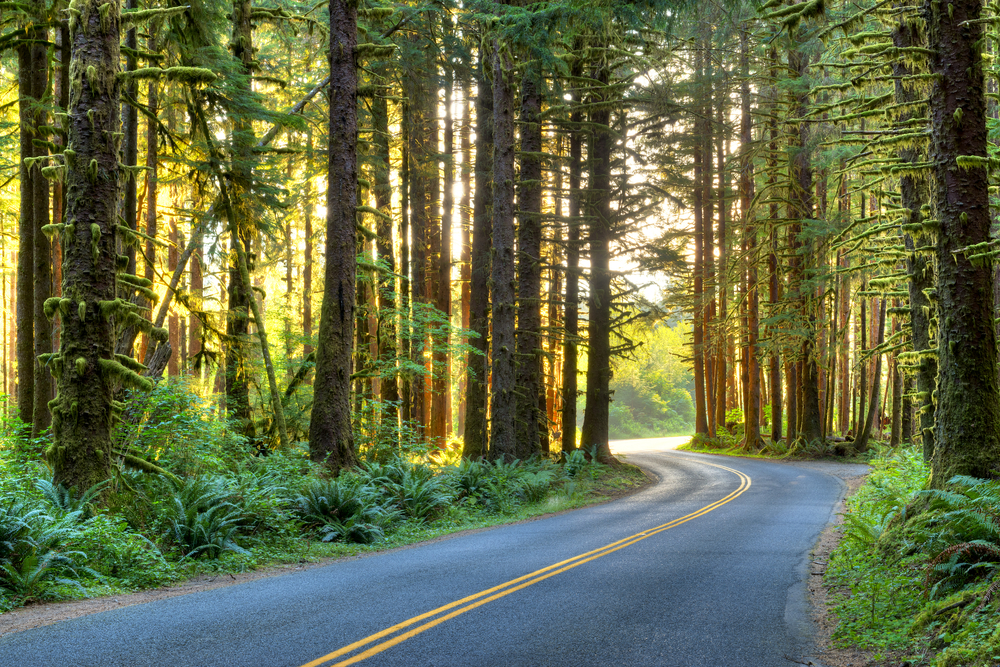 Stop 1: Start Sleepless in Seattle
Because you are flying into Seattle, it only makes sense to start your Washington road trip here! Surrounded by water, mountains, and forests, Seattle is the perfect Pacific Northwest city to explore and introduce you to the city-life of Washington.
When exploring the city, we recommend checking out the iconic landmark that is known as the Space Needle. This observation tower offers great views because of its 520 foot tall observation deck: from here you can see downtown Seattle, the Olympic and Cascade Mountains, Mount Rainier, Elliot Bay, and more!
The Pike Place Market is also cool: this 9-acre market is a permanent farmers market in the hub of the city that opened in 1907 and is still here today! This is a wonderful place for small farmers, crafters and local businesses to thrive and therefore is a popular tourist destination. You can pick up the best and most unique travel gifts here!
And if you're feeling artsy, you can always go explore the Seattle Art Museum that features modern and historic works, or the Museum of Pop Culture! The Chihuly Garden and Glass which features outdoor works by the famous Dale Chihuly is also great, and the Gum Wall is a great photo op that might also be sticky. (But do it for the gram!)
Puget Sound, a estuary, and the Woodland Park Zoo are also great areas to explore where the city meets nature. Don't believe us that Seattle can have gorgeous views of the landscape? Make sure to also stop at Discovery Park, and Lake Union!
Where to Stay in Seattle 
Low-Range: Stunning Capital Hill view Apartment Check Rates: Airbnb.com
Mid-Range: Basement Suite with Large Patio and Tub Check Rates: Airbnb.com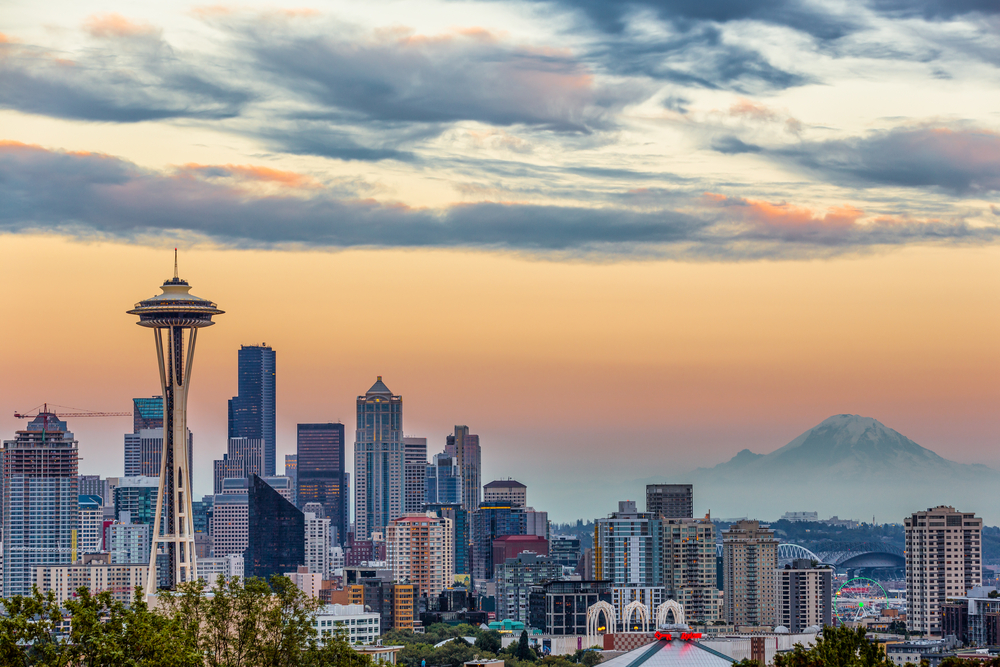 Stop 2: Swinging by Port Angeles
Now that we are on the move, we added Port Angeles to your Washington road trip itinerary! Voted as one of the best small towns to live in and explore, we recommend swinging by here to experience these small-town vibes (which are much unlike Seattle's vibes!) on the Olympic Peninsula.
Because this region is known for its stunning natural beauty, this town is shadowed by the Olympic Mountains and most activities are based around hiking and the lakes. We recommend taking a hike at the Dungeness National Wildlife Refuge, which is a sand and pebble beach known for its shorebirds and has great views of the San Juan Islands.
The 6.5 mile Waterfront Trail is part of a larger Olympic Discovery Trail system that is great for a moderate hike. And if you're feeling more artsy or indoorsy, you can visit the Blue Whole Gallery or the Landings Art Gallery. You can also explore a love for all marine life at the Feiro Marine Life Center. 
Lastly, if you want to support local, feel free to tour locally during your Washington road trip! Harbinger Winery and Sorensen Cellars are great tasting rooms and shops that you can find on the Waterfront Landing Complex for an evening of tours, great food, and local shops. Don't forget to check out some of the coolest Airbnbs In Washington!
Where to Stay Near Port Angeles 
Mid-Range: Olypmic Discovery Trail Guest House, Check Rates: Airbnb.com
Low-Range: Tent Camping: Whiskey Creek Beach Front, Check Rates: Airbnb.com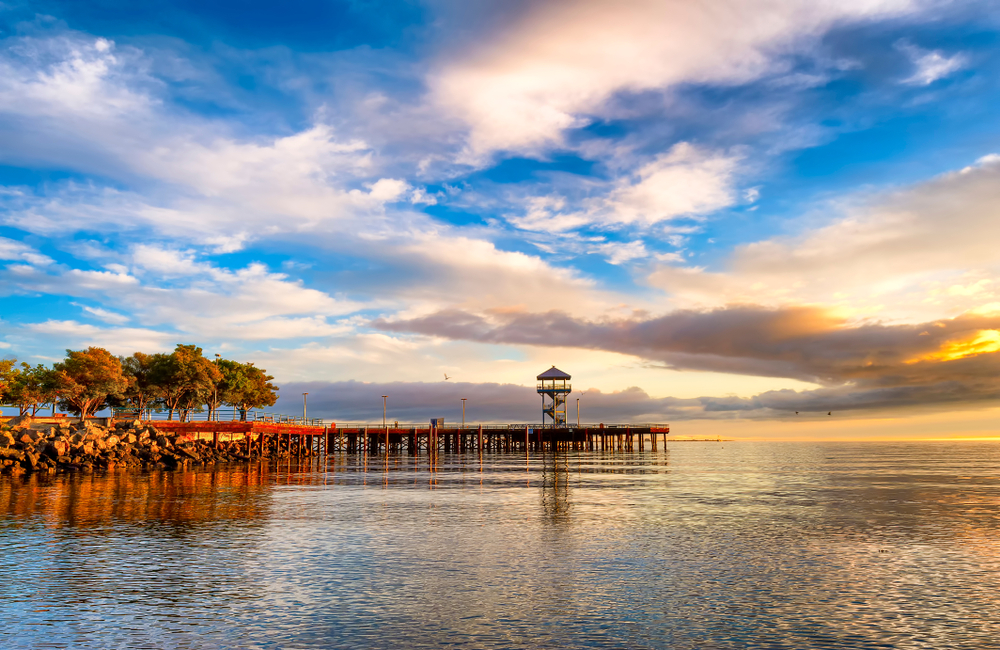 Stop 3: Spend Some Time at Olympic National Park
Because you are already on the Olympic Peninsula and leaving Port Angeles, we recommend next stopping to explore Olympic National Park which is super close by. There are so many things to do in Washington and this is one of the best!
Besides, a Washington road trip wouldn't be the same without stopping by national parks, so we've made sure to add this one on your itinerary!
There are so many natural wonders to explore in this park! First, we recommend exploring the Olympic National Forest, where there is a multitude of trails, camping opportunities and rain forest lodges for you to explore. You can also visit the Hoh Rain Forest Visitor Center while here if you want to learn more about rainforests!
Ruby Beach is a remote beach that features tons of beach trails and campsites and offers breathtaking views on the water! And speaking of water: Lake Crescent is a mountain lake that is icy blue. Many people love to camp here and have some recreational fun on the shore.
If you're still looking for more recreational fun, the Sol Duc River is a winding river where you can hike up and alongside it, and its natural flow promises great views and soothing sounds– you might even see some famous rainbow trout jumping in the water! And don't forget to try your hand out at skiing if you visit the park during the winter season: Hurricane Ridge is known for its elevated destination and fun courses!
Where to Stay Near Olympic National Park 
Low-Range: Tent Camping Near Hurricane Ridge, Check Rates: Airbnb.com
Mid-Range: Off Grid Cabin, Check Rates, Airbnb.com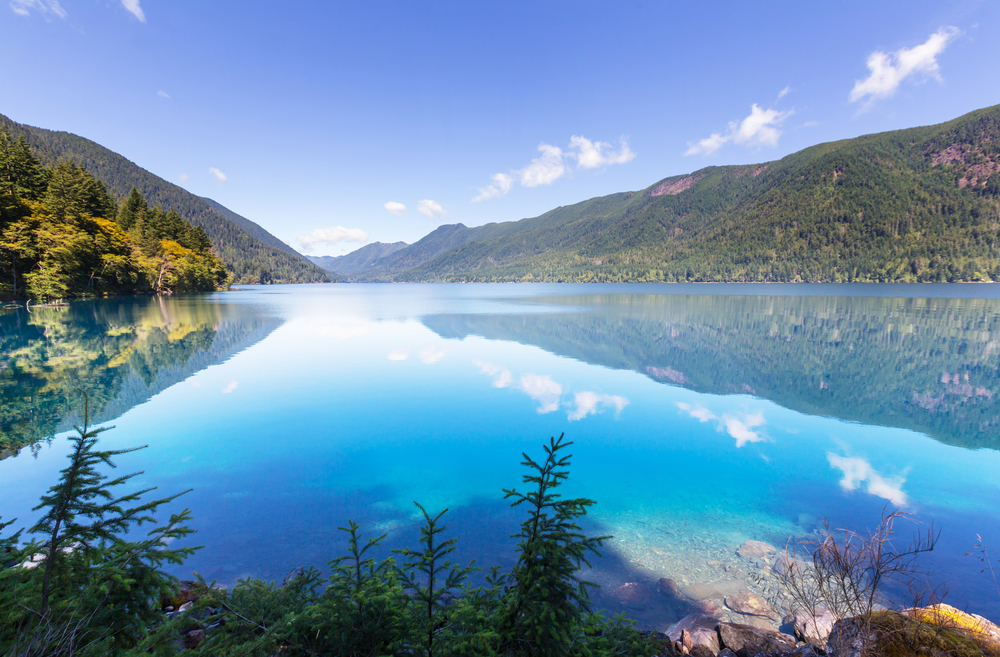 Stop 4: Relaxing at the Olympic Hot Springs
You've got it right! We're spending a bit more time on the Olympic Peninsula, and staying in Olympic National Park, but this time we are sending you on your way to relax in a natural hot spring. We are making sure to add the Olympic Hot Springs to your Washington road trip itinerary just because you cannot miss it when you are visiting the park!
The Olympic Hot Springs are near Boulder Creek, which is a tributary of the Elwha River. By the river, you can check out the dormer dam at Gines Canyon and pass by the Madison Creek Falls. Walking this route will take you straight to the hot springs!
At the springs, there is a variety of pools: along the right side of the trails are the more public pools, but others can be more secluded. Although we do want to warn you– test the temperature! Some pools can get up to 188 degrees, but we don't think that will stop you from enjoying a soak and photo op here!
Where to Stay Near Olympic Hot Springs 
Low-Range: The Sol Due Tent, Check Rates: Airbnb.com
Mid-Range: Valley View Farm Stay, Check Rates: Airbnb.com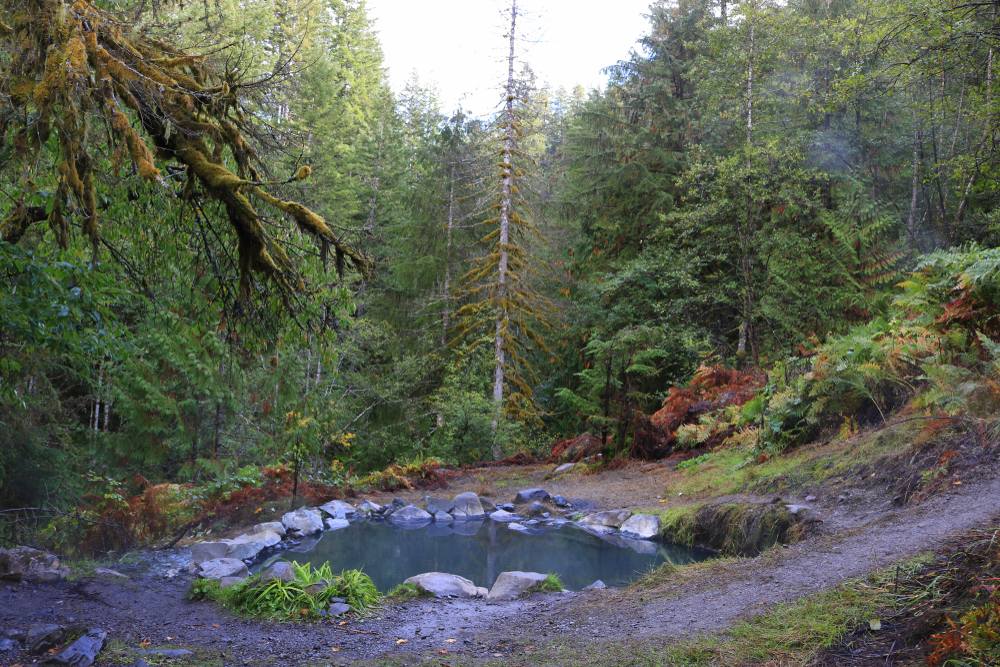 Stop 5: Swing by Cape Flattery
Next on your Washington road trip is none other than Cape Flattery. This is the most northwestern point of the United States, jutting out on Washington's peninsula. To start viewing this amazing area, we recommend hiking the Cape Flattery Trail. This is a 1.2 mile walk that is heavily trafficked, but is good for all levels and seeing wildlife!
After exploring, we recommend going to Shi Shi Beach to see the Pacific in all of its glory and make sure to check out the coastal forest that is right by the beach for some fantastic camping experiences. Close to Shi Shi is the Point of Arches, which is a great park for hiking, backpacking, and breathtaking views.
Speaking of views, Cape Flattery's Lighthouse is iconic and you must swing by it for a great photo op, and don't forget to check out Tatoosh Island, where the Lighthouse is located. Taking boats and ferrys and tours here is highly fun and many tourists do it!
Lastly, because this area is part of the Makah Reservation and is a Marine Sanctuary, we would recommend stopping by the Makah Cultural and Research Center to learn more about the land and the history you've spent time exploring!
Where to Stay Near Cape Flattery 
Mid-Range: Oceanview Port Renfew Accommodations, Check Rates: Airbnb.com
High Range: Ocean Side Retreat, Check Rates: Airbnb.com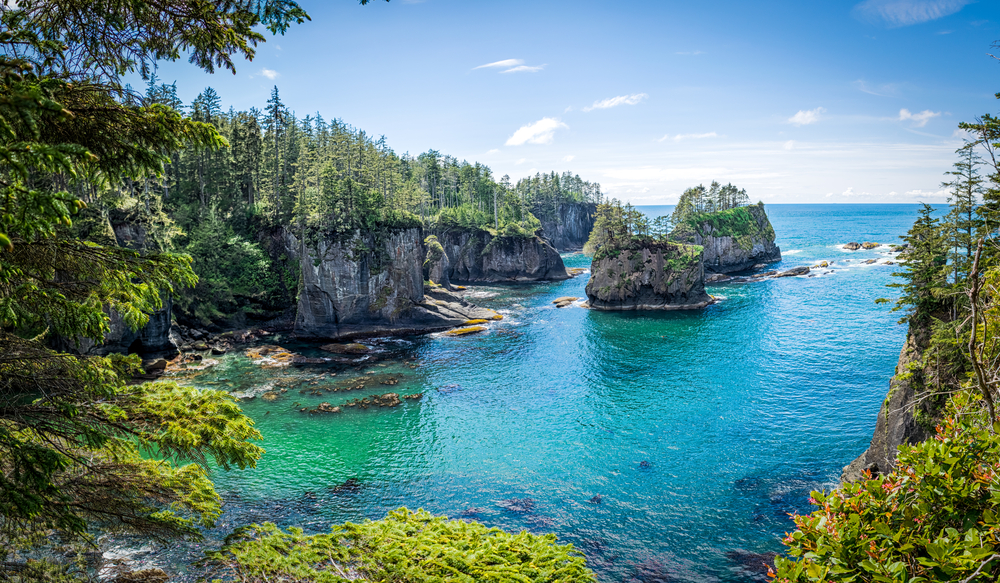 Stop 6: Visit Mora and Rialto Beach
Mora is a campground in the Olympic National Park, so you won't really be traveling far when embarking on this part of your Washington road trip! And after spending some time at Mora, you can visit Rialto Beach!
Mora is just inland of Rialto Beach, and is well known for its towering trees contrasted with the roar of the Pacific nearby. If you follow Mora, you will eventually find the mouth of the Quillayute River when you trek inward far enough, but if you follow Mora Road, off of La Push Road, you will find Rilato Beach.
This rocky beach and pounding waves are the perfect places to visit if you are looking for facilities, picnic areas, and spaces to camp. A Hole-in-the-wall sea-carved arch is near Rialto, and if you feel like driving away from the beach for a few days, you can reach the town of Forks in less than 30 minutes (yes all you Twilight fans, Forks!).
We do warn you though, make sure to check the tides! It is possible to get stranded in certain areas of Rialto when the coast is impassable once high tide rolls in, so keep an eye on time and head back inward to Mora to visit the Quileute Indian Reservation to avoid getting stuck!
Where to Stay Near Rialto Beach
Low-Range: Forks Outside (Camping), Check Rates: Airbnb.com
High-Range: Isacc's Yurt at Hoh Rainforest Resort, Check Rates: Airbnb.com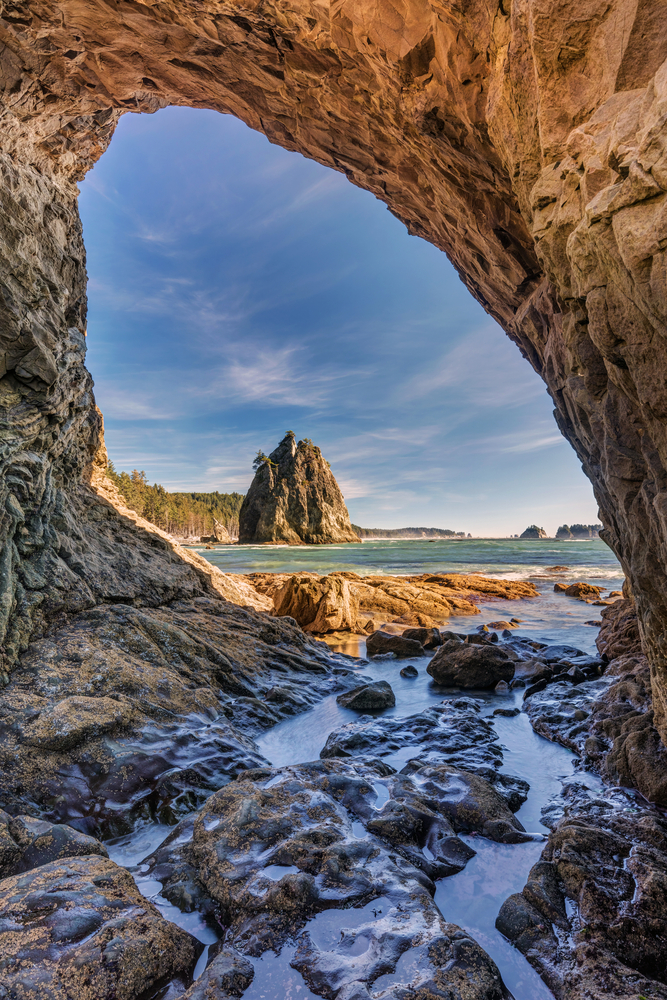 Stop 7: Take a Break in Everett, Washington
To break up some of the lengthy drives during your Washington road trip, it would be awesome if you spend some time relaxing in Everett! This city is filled with activities for explorers, and its longstanding history of aviation keeps people coming back for more!
While in Everette, we recommend checking out the Schack Art Center which has diverse exhibits, specifically focusing on young craftsmen! But the stand-out area here is the glassblowing studio that is open to the public!
Carleton Farms is a family farm that offers great fun for adults and children– if you're visiting in the fall, you must check out the hayrides, pumpkin patches, corn mazes, zombie paintball, and more!
But if you're feeling even more adventures, check out the Flying Heritage Combat Armor Museum. This is a unique assemble of historical aircraft, and to make this trip even better, you can book a tour at the Future of Flight Aviation Center and Boeing Tour to design your own plane on an observation deck!
Where to Stay Near Everett 
Low-Range: Professionals Stopover Private Room, Check Rates: Airbnb.com
Mid-Range: Pleasant View Spacious Serene Studio, Check Rates: Airbnb.com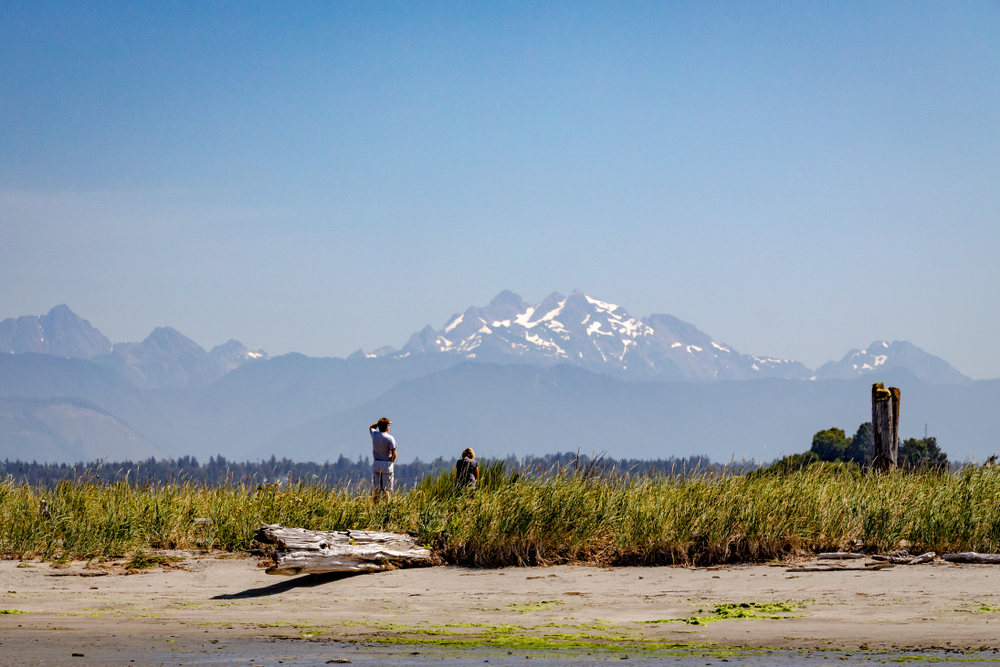 Stop 8: Relax Near Lake Cavanaugh (In Skagit!)
Although Lake Cavanaugh is a census-designated space in Skagit County, that doesn't mean that there aren't loads of activities to do here! We HIGHLY recommend going to the Outback Kangaroo Farm for some unique experiences with cute animals.
And if you're feeling up to it, the Boulder River Trail is an easy hike, as is the hike around Lake 22 (however, this trail can get a bit slippery so do be careful!). But some of the coolest views come from Canopy Tours where you can biplane and walk through this gorgeous area!
Little Mountain Park is also close by which is great for picnics or mountain biking. And the Bonhoeffer Botanical Gardens is a fantastic and free space that is pet friendly and FULL of serene flowers and plants.
The Skagit area also has a Valley Tulip Festival if you're in town during the appropriate time, and the little areas have tons of farmer's markets and little town places, such as the Concrete Theatre and the Oso Slide Memorial!
Where to Stay Near Lake Cavanaugh
Mid-Range: Entire Guest Suite Mountain View Victorian, Check Rates: Airbnb.com
Mid-Rage: The Birches, Daylight Downstairs Apartment, Check Rates: Airbnb.com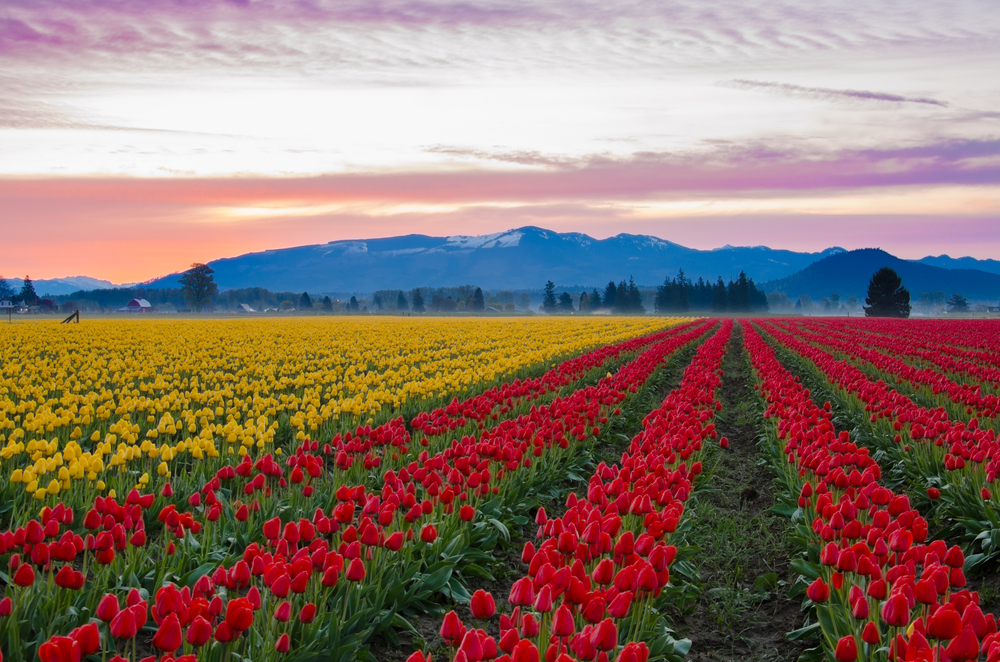 Stop 9: Breathe in Bellingham
A coastal city in Washington, Bellingham straddles the Canadian border and ports many ferries to Alaska. This city is a great hub with lots to explore, which is why we are adding it your Washington road trip!
East to Bellingham is snow-capped Mount Baker. This volcano offers fantastic ski runs if you are interested in visiting in the winter, but if you are more interested in staying in the city, downtown has a SPARK Museum that is all about electrical invention. The hands-on exhibits are great if your e traveling with family!
You can also check out the Whatcom Museum, which features more than just art– it also talks about nature and regional history. However, most people love to stay outside when they are visiting Bellingham because there is so much to do!
The Whatcom Falls Park is a large recreational area with natural gardens and streams, and the Larrabee State Park is great for bayfront camping and its freshwater lakes that you can boat on. Many freshwater lakes are popular in this area, such as Lake Whatcom and Lake Padden. And many people love to take a ferry or boat ride to Lummi Island, which is a rural island that has an old-fashioned vibe. A trip here will have you feeling like you stepped back in time!
Where to Stay In Bellingham 
Low-Range: The Aloha Suite, Check Rates: Airbnb.com
Mid-Range: Pleasant Bay Look Out Private Room, Check Rates: Airbnb.com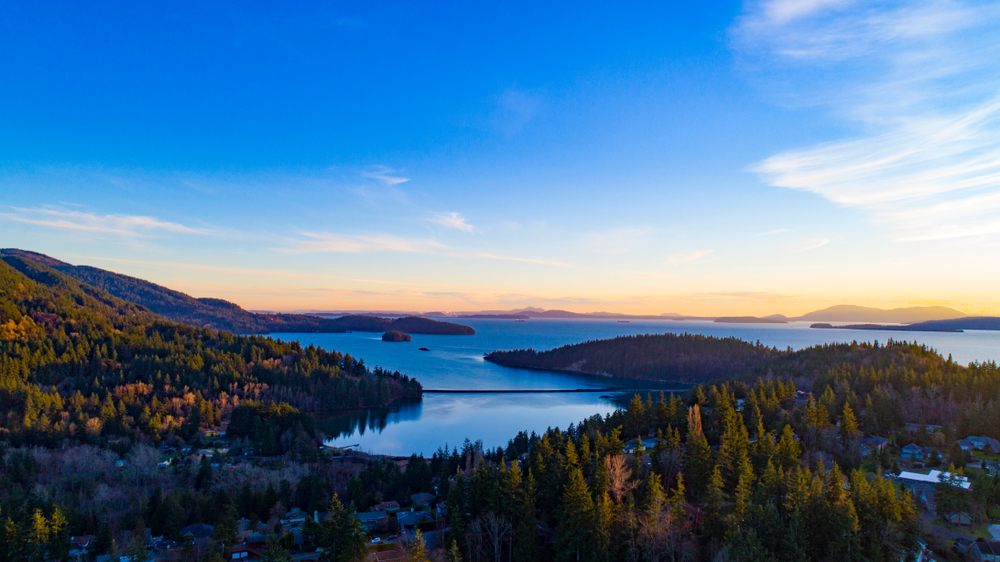 Stop 10: Hike Some More at Mount Baker-Snoqualmie National Forest
Because you are already so close to Mount Baker after visiting Bellingham, what better stop is next other than the Mount-Baker-Snoqualime National Forest for your Washington road trip? This national forest extends more than 140 miles along the western slopes of the Cascade Range and the Canada border.
Wallace Falls State Park is a famous hiking area and campsite that puts you in the middle of nature if you're interested in staying here. Better yet, Stevens Pass is accessible here. But do be warned, the full length of the pass is 1,238 miles long, so you may just want to travel it for a bit at this access point!
And if you are visiting in the spring, make sure to mark the tulip festival on your calendar! There is a place, Skagit Valley, that is known for its vast landscapes covered in tulips every year.
After, you can always explore Rattlesnake Ridge which is known for its hikes and scenic views: from here you can see glacier-covered peaks, mountain meadows, and forests that are rich and thriving. The smooth paths meandering through the forests to this ridge is easy for any hiker!
Where to Stay Near Mount Baker 
Low-Range: Upper-Level Suite near Mission, Check Rates: Airbnb.com
High-Range: Cabin Middle Fork Retreat, Check Rates: Airbnb.com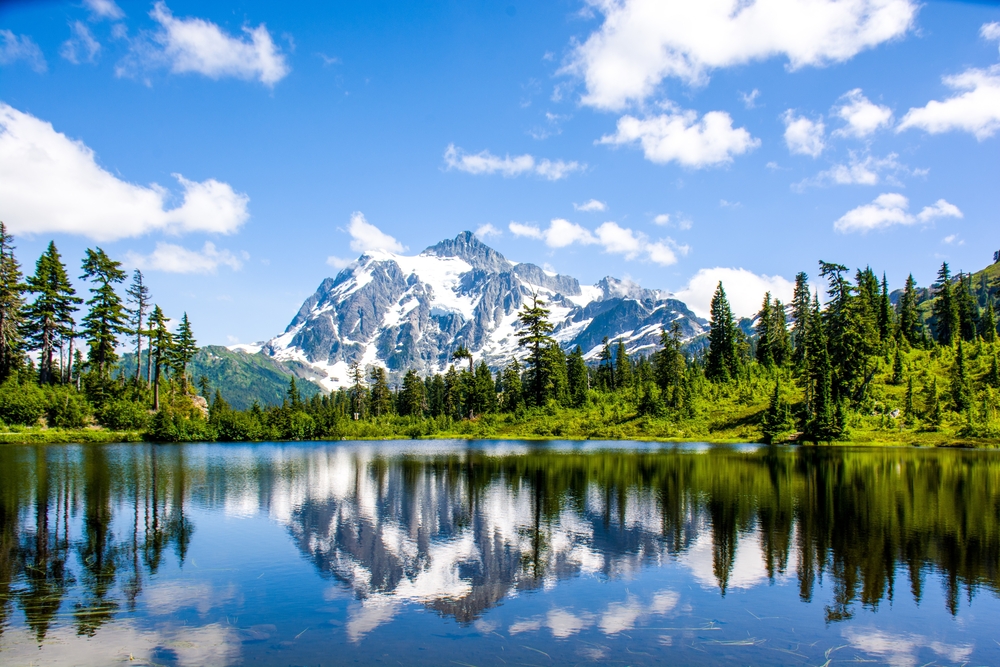 Stop 11: Moving Toward North Cascades National Park
Would you really be on a Washington road trip if we didn't add a national park to your itinerary? No need to worry because your last stop is the North Cascades National Park! A vast combination of conifer-trees, mountains, glaciers and lakes, this is a must-see!
While driving, you should be aware that the Cascades Highway can take you pretty far into the park, however, you can pass by great hikes and viewpoints like the ones leading to famous trails like Thunder Creek Trail. 
There is also some great water-activities to do here, such as renting boats or sightseeing at Ross Lake and Lake Chelan. And if you're looking for some social interactions, the remote town of Stehekin is close to Lake Chelan!
While visiting the park, know that you can bike, horseback ride, boat fish, and camp here. Just be aware of the 200 species of wildlife that exist here. And if you're interested, check out the Buckner Orchard for some history and apples! Just know there is SO much to do and explore within these vast national parks so take your time and enjoy the landscapes!
Where to stay near Stehkein 
Mid-Range: Mazama Trails Studio Cottage, Check Rates: Airbnb.com 
Mid-Range: River Pines Inn-River Suite, Check rates: Airbnb.com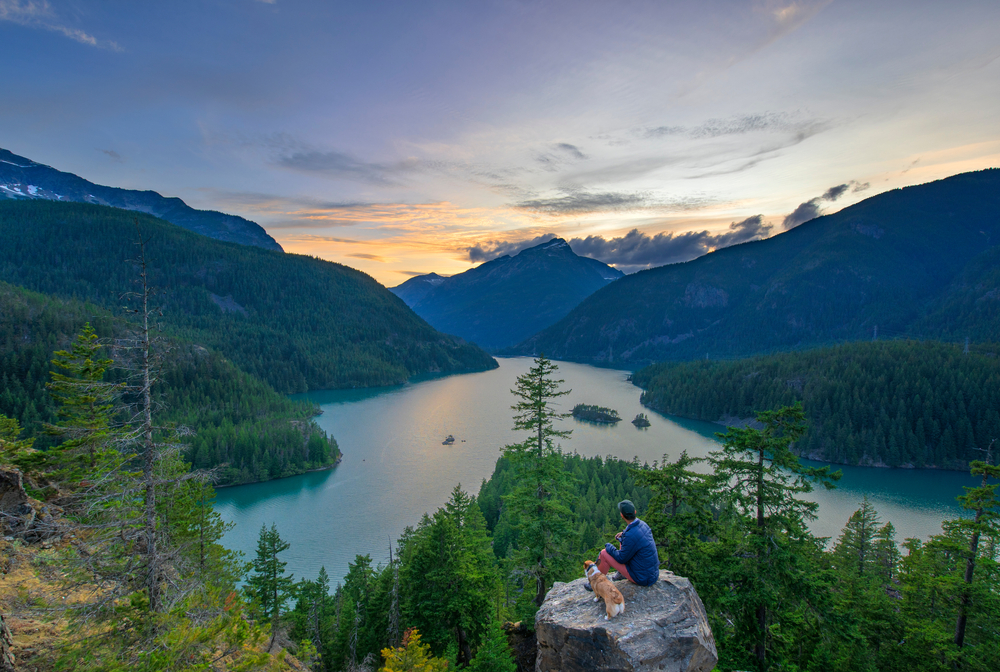 After finishing your adventures at the North Cascades National Park, make sure to get back to your car and circle back around to Seattle to wrap up your Washington road trip! Washington's truly a rich state: with tons of national parks, coastal towns, deserts on the east, and more, you will have so much fun exploring.
Whether you are looking for family-friendly things to do, new hikes to challenge yourself, or just seeking a getaway, Washington has something for everyone, and with breathtaking views!
This state will continuously surprise you: so be prepared to conquer your Washington road trip and pack some great hiking shoes– we can't wait to hear all about your adventures!