Planning a trip to Italy and wondering how much it is all going to cost? Wonder no more, you have found the right place.
A trip to Italy costs as much as you want it to. Well, within reason of course. Pick your budget, and we will tell you how to make it work!
We have been to Italy a number of times, with a range of budgets. The first time we went we were on a very, very tight budget. When we went again we did things on a moderate price range.
Another time that we traveled to Italy, we went all out and spent much more. People have all kinds of reasons to spend more or less, we totally understand. Whether you are trying to save money or going for the most luxe Italy experience possible, we have you covered.
After all, when you are planning a trip to Italy cost is not the only consideration. Italy is about classically beautiful countryside, stunning sunsets, and sunbathing by the sea.
None of those things cost money. There are plenty of things in Italy that do not cost money and some things that are absolutely worth the price. We will walk you through all of them.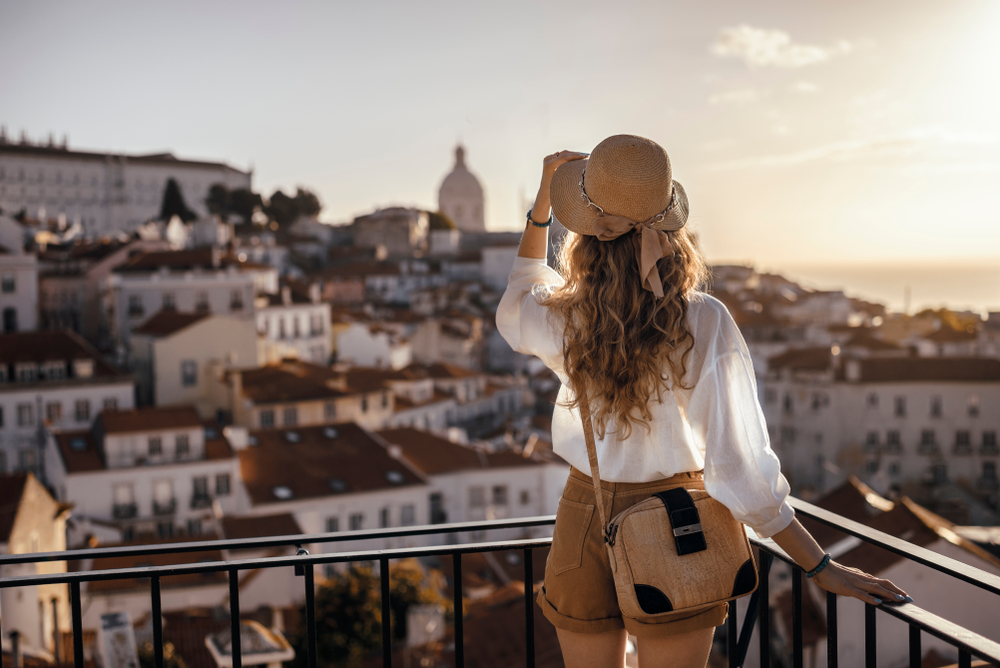 What Does a Trip to Italy Cost? Breakdown by Budget!
What Can I Expect to Spend on My Trip to Italy?
The real question is, what do you expect to spend on your trip to Italy? When asking how much does it cost to go to Italy, we recommend figuring how much you can and/or want to spend.
For the sake of this article, we are going to break it down by cost per day.
When we went to Italy on a very tight budget $50-$75 a day was a good target for us. You can absolutely have a fantastic trip to Italy on this budget! We had so much fun that we have gone back several times since.
A good mid-range budget is $75-$150 a day. With this budget, you do not have to be quite so frugal, but you also do not run the risk of feeling like you have wasted your hard-earned cash.
We consider a lux budget to be around $200+ a day. With this kind of budget, there is not much that you will not be able to do and see while you are in Italy.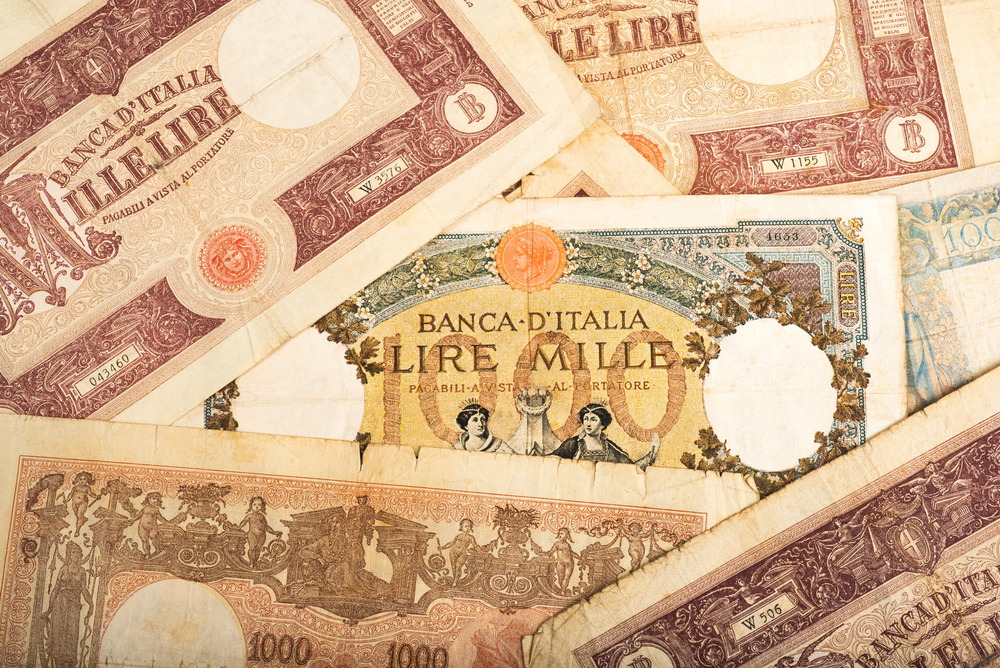 How Much Does it Cost to Fly to Italy?
This section is geared toward those flying to Italy from the United States. Europeans can fly to Italy for much cheaper because everything in Europe is so much closer!
For example, a flight from London to Milan can go for less than $50, while $850 is cheap to fly from Tampa, Florida to Milan. If you are flying from Europe this section just does not really apply to you the same way it does to someone traveling from the United States.
The least expensive airport to fly into in Italy is Milan, followed by Rome. If you are doing Italy on a budget, we absolutely recommend flying into one of these two cities.
A lot will depend on which airport you are flying from. For example, the airport we live closest to is in Tampa, Florida. Flights from there can be as much as $1200.
But if we drive a couple of hours to Orlando, the flights run more along the lines of $600-$800. Even better, if we drive four hours to Miami the cost is closer to $400-$500.
You can save a ton if you are willing to put in some travel time before your flight. Whether you are traveling on a budget or going lux, this is an easy way to save hundreds of dollars that could very well be better spent.
Flights to Italy on a Budget: $300-$500
New York City just might be the cheapest flight to Milan. If you are remotely close to New York and have a good way to get to a New York Airport, this is going to save you some money. Boston, Atlanta, and Miami are all similarly priced as far as the East Coast goes, while Los Angeles is going to be your best bet for the West Coast.
Do not think that just because you are looking to fly on a budget you cannot find some great deals. The further ahead you can plan your flight, the more likely you are to find amazing flights at a discount–even some that are non-stop!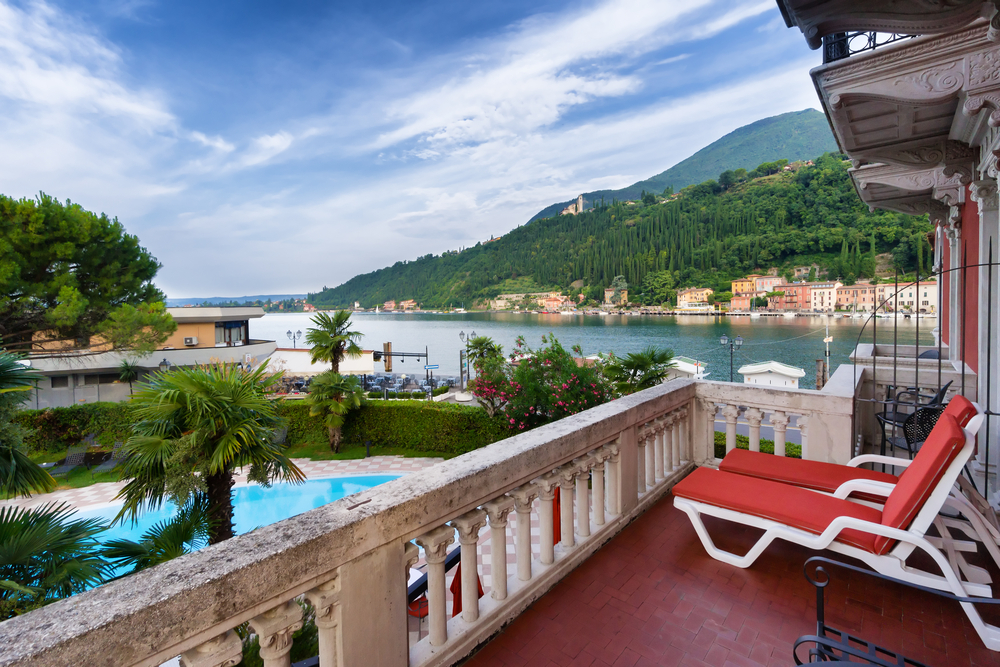 Mid-Range Flights to Italy: $500-$700
You are going to see more of your mid-range flights in cities that are not mega-cities or that are more land-locked. Some good examples of this are Rochester, Philadelphia, Los Vegas, and Cleveland. They are not as inexpensive as flying out of New York City, but driving to New York City is not really realistic for people who live in Nevada.
If you are landlocked or do not want to drive for hours, plan on being in more of the mid-range zone. These prices are not astronomical by any means, but you will probably have to spend more and should expect some layovers.
Luxury Flights to Italy: $700+
Luxury is all about comfort. Flying luxe might mean picking the closest airport to you regardless of the ticket price, or finding a flight without layovers.
An example of this is a non-stop flight from Detroit to Rome. It costs more than some of the above-mentioned options, but you will not have to worry about spending time in random cities.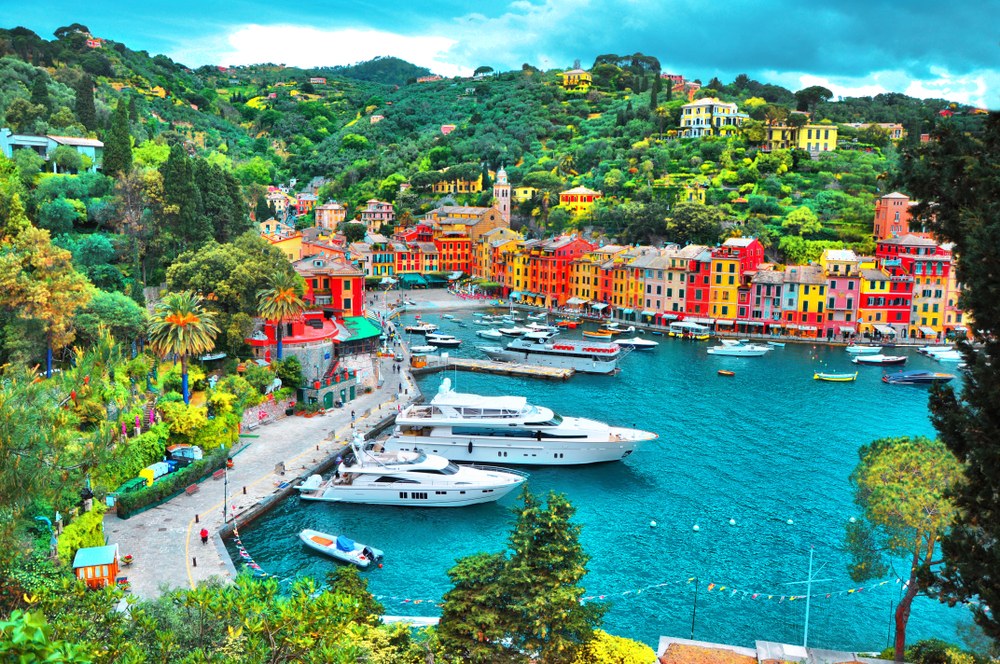 How Much Does Transportation Cost in Italy?
When looking at how much does a trip to Italy cost, something you will want to keep in mind is how you will be getting around once you are in Italy.
As with many European countries, Italy has a lot of options for transportation. You can rent a car, take a train or bus, or even hire a private driver.
With so many options, it all comes down to how much you want to spend and what your preferences are. If you do not mind public transportation, this could be a way to not break the bank. But if you hate driving in new places it may be an area where you want to spend more money.
We are going to break it down according to budget, but feel free to choose according to preference as well! This is your trip, you are in charge. We are just here to help.
Transport in Italy on a Budget
If saving as much money as you can is your primary goal for transportation, we highly recommend using public transportation or renting a manual car.
We also highly recommend figuring out which one you want to do as soon as possible because, like flights, booking transportation always costs less money if you do it in advance.
While there are automatic vehicles that you can rent in Italy, manual vehicles are so much less expensive! If you do not know how to drive stick-shift, either find a friend to teach you or bring that friend with you so that they can drive. It will save you some serious cash!
Buses are also a great option. While Italy has a decent train system, you can actually save some money by taking a bus instead. We did this a lot on our first trip!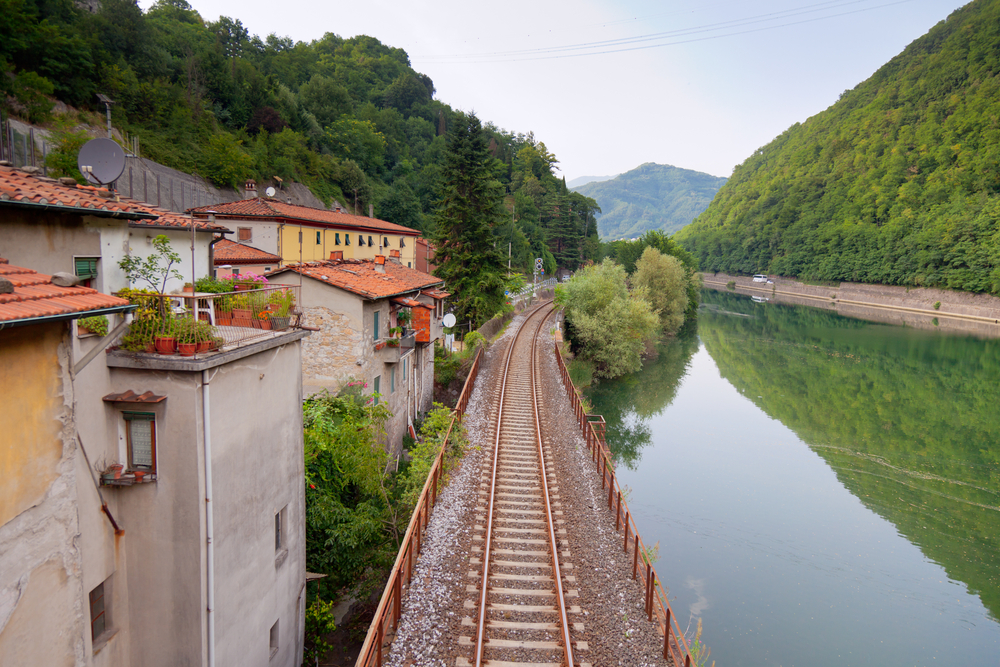 Mid-Range Transport in Italy
Mid-range options are all about taking that next step up from the basics. If you would like to have a little more freedom with your transportation options but do not want to dump all of your money into it, this section is for you.
A good mid-range transport options to lower your trip to Italy cost is renting an automatic vehicle. While it costs more than a manual vehicle, you also do not have to worry about driving stick-shift in a foreign country.
Another great mid-range option is taking a train. Trains are fun because they have the option of purchasing a higher class ticket. That is right, you can ride the train in style!
If you are spending any time in Venice you should also absolutely consider doing a gondola ride. They are not as expensive as you might think, and such a fun way to see the city!
Luxury Transport in Italy
Is there anything more lux than hiring a private driver? We know someone who does this every time she goes to Italy. If you have the money for it, it is one of the best ways to get around!
If you are fancy but do not need your own private driver to prove it, you can also purchase first-class train tickets. This gives you an opportunity to travel in comfort with more privacy than you would otherwise be allotted.
Another great option is hiring a private guide. Doing so is a great way to get an insider's view of and approach to all the amazing places you are going. It also keeps you from getting lost or missing any stops along the way!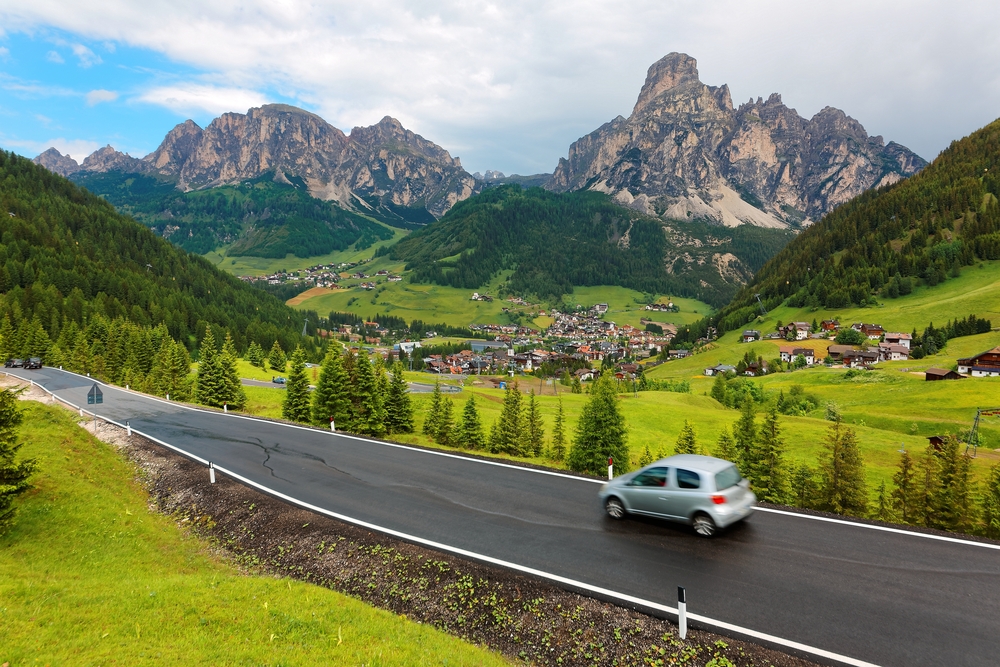 How Much Does Lodging Cost in Italy?
Italy has so many great lodging options in every price range! You can stay in old, historic buildings, new modern hotels, or even in people's guesthouses!
Budget is not synonymous with value, and Italy does a terrific job of proving that with all of the lodging options. However much money you have to devote to where you spend the night, you are sure to find some options you love.
We certainly have. Lodging is a great way to affect your trip to Italy cost. Below you will find a couple of examples of the great lodging you can find for each budget.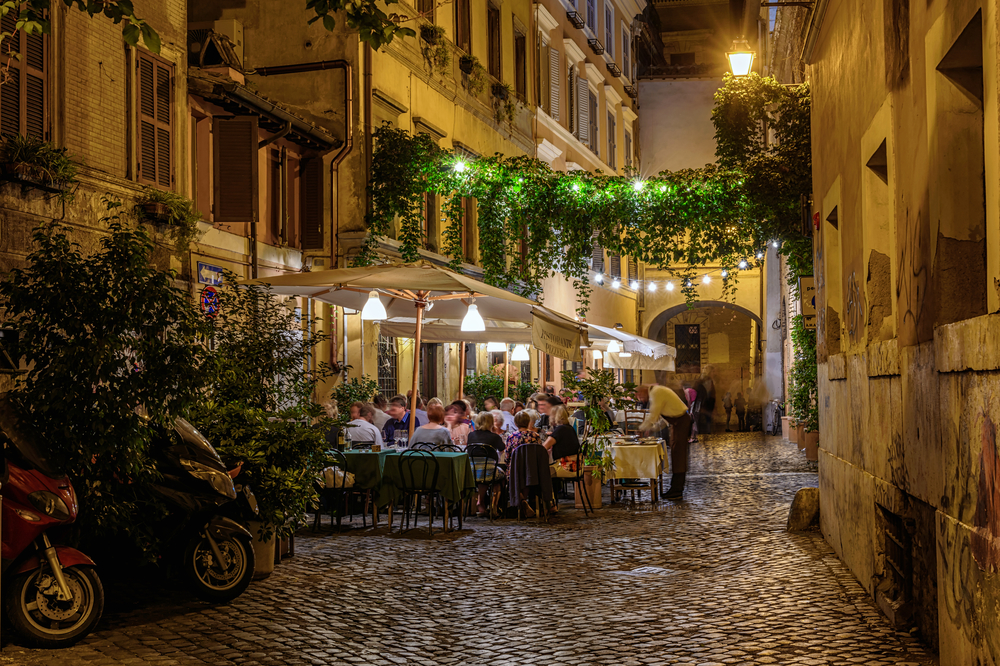 Budget Lodging in Italy
Something we love about the budget lodging experience in Italy is how much it acquaints you with your surroundings and the culture. You cannot really help it when you are camping or staying in a hostel or shared Air BnB.
A really fun budget option is renting a camper van! Combining your lodging with your transportation is a great way to be able to see all the sights without worrying about where you will stay the night.
Here are our recommendations for where to stay on a budget in Italy:
Hotel Diana in Venice
We love Venice, and we love Hotel Diana. It is a great budget option because it is so close to some of the best things in Venice.
Hotel Diana is located in the neighborhood of San Marco, which is a popular tourist spot because of its proximity to shops and attractions.
The hotel itself is a 15th-century building (hello beautiful architecture). Here you will find the likes of free wi-fi, air conditioning, and a continental breakfast.
Not half bad for a budget hotel, are we right? We are. Definitely check Hotel Diana out for a great budget option in one of the most beautiful cities on earth.
Check Rates: Booking.com
Hotel Re Testa in Rome
Lodging can get a bit pricey in Rome, but if you are willing to stay just a little outside the city, Hotel Re Testa is an affordable, wonderful option. Just like with flight prices, being willing to do a little extra travel is a great way to lower your trip to Italy cost.
Located in the neighborhood of Testaccio, it is more on the outskirts of the city. You can get from here to Rome decently easily, and Testaccio has charms of its own. These include Rome's largest open-air market!
Hotel Re Testa is close to some authentic local restaurants too, making it a great opportunity to experience some culture. It also features a heated terrace, which is perfect if you are visiting Italy during the off-season.
Check prices: Booking.com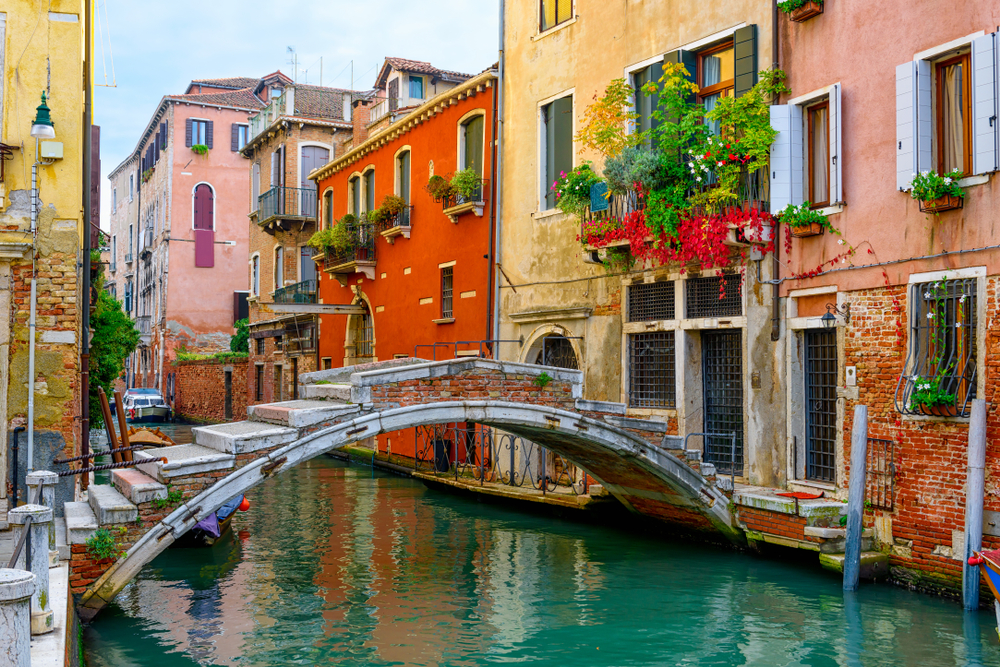 Mid-Range Lodging in Italy
Having more of a mid-range budget will place you in lodgings such as guest houses, private Air BnBs, and some decent hotels. You will have the benefit of not having to rough it as much while still being able to get a great feel for your surroundings.
It is not hard to get some quality lodging with a mid-range budget. While it might not be on the same level as a private resort, it is absolutely everything that you need in order to enjoy your time in Italy. We love these mid-range options:
Relais Monti in Rome
We love Relais Monti because it is so conveniently located. Right next to public transportation (which is a great option for mid-range budgeting!) you will easily be able to get wherever you want to go.
And if you are in Rome, chances are that one of the places you will want to go to is the Basilica of Santa Maria Maggiore. Great news! Relais Monty is only 1300 feet away!
The coliseum is also very close by at about 2300 feet away. Stay here and you will be able to do all kinds of sightseeing!
Check prices: Booking.com
The Frame Hotel in Florence
Florence is one of the largest cities in Italy's region of Tuscany. Filled with history, art, and tradition, it is no wonder why thousands upon thousands of tourists flock to this location every year.
Given its popularity, you might think it difficult to find reasonable lodging in Florence. That is where the Frame Hotel comes in.
This historic building once housed the one and only Mona Lisa by Leonardo Da Vinci. It is also located very close to the Florence Cathedral, a beloved attraction in this ancient city.
Stay at the Frame Hotel and you will enjoy being so close to so many famous sites at such a fantastic price.
Check Rates: Booking.com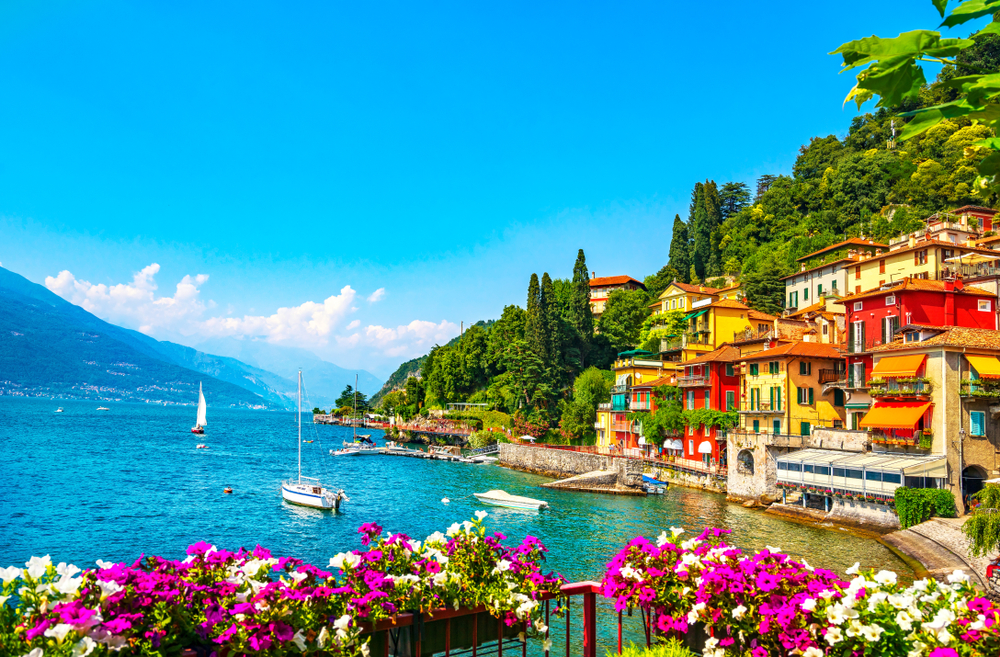 Lux Lodging in Italy
Luxury hotels are a special kind of extravagant, and Italy has a true talent for them. You will love all the amenities and commodities available to you when you stay at a luxury hotel.
Staying at a luxury hotel gives you a leg up on private guides and tours, plus the ultimate relaxation to start and end each day with. You cannot go wrong with these lux hotels:
The Unique in Milan
Milan is a charming city with plenty to do, making it a natural choice for lodging. Brera is an upscale neighborhood inside Milan with some seriously classy housing.
The Unique is an excellent example of this. Milan is the fashion, design, and luxury capital of Italy, and The Unique has taken this to heart with its tasteful decorations and arrangements.
Stay here and you will feel like modern royalty. All of the rooms are spacious and come with slippers and bathrobes. Some even have their own private balconies.
If you are not worried about your trip to Italy cost, definitely consider staying at The Unique.
Check Rates: Booking.com
Vaticano Luxury Guesthouse in Rome
One of the most popular places to stay in Rome, the Vaticano Luxury Guesthouse has earned its reputation. They utilize some of the best customer service in the city to make sure you have everything you need.
Located in the residential neighborhood of Prati, the Vaticano Luxury Guesthouse is a phenomenal way to experience some local culture with some luxury waiting for you back at your lodging.
Stay here and you will be within walking distance of the Vatican's museum. You will also be close to the Vatican itself, along with St Peter's Basilica and St Peter's Square.
Not only that, but they offer a free shuttle service to make getting to and from the airport a dream.
Check prices: Booking.com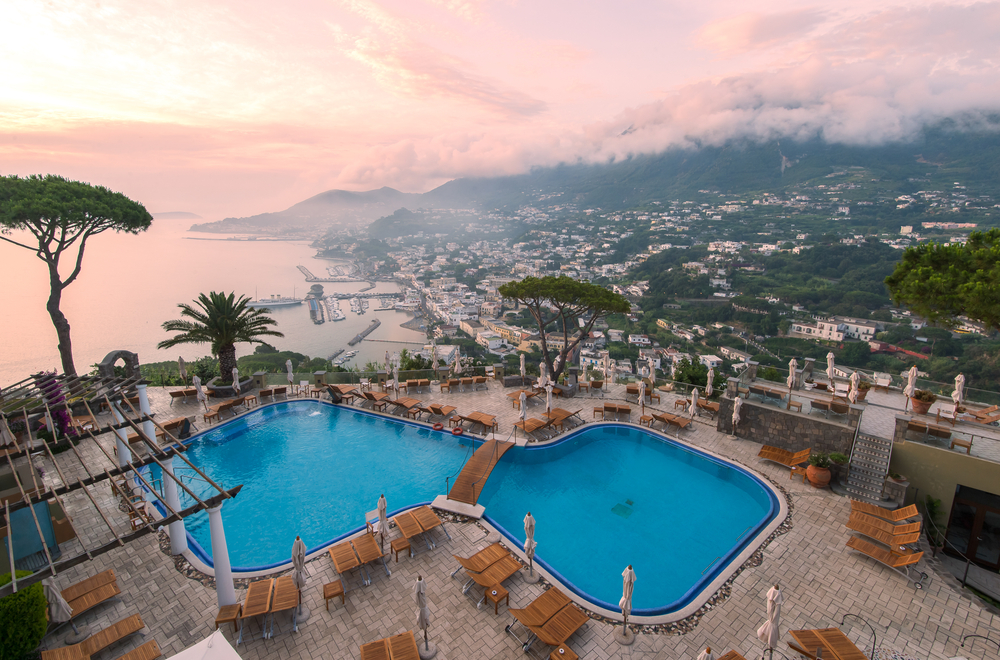 What Do Activities Cost in Italy?
Whether you are going to Italy to roam the Tuscan countryside, explore the ancient ruins of Rome, or sunbathe in Cinque Terre, there are plenty of things to do for a wide range of budgets. Italy is a vast country full of all kinds of activities and adventures.
When planning according to budget, it is important to figure out your priorities. What sites are the most important to you to see? What is it about Italy that made you want to travel there in the first place?
Once you have your priorities set, you are ready to plan according to your budget.
Low-Budget Activity Planning
In order to keep your trip to Italy cost down, we recommend picking 1-2 paid things to do and then doing free things the whole rest of the trip. This is what we did on our first trip to Italy.
We chose the Vatican as our one paid activity, and that was it. During the rest of our trip, we spent our time exploring the cities and taking everything in.
There is a lot to take in while traveling in Italy, and tons of free things to do. Many cities offer free or very low-cost walking tours, or you can look it up beforehand and go on your own walking tour. Get Your Guide is a great resource for finding low-cost guides.
You will also find that there are also tons of free hikes and many free beaches in Italy. It will take some planning ahead, but you can absolutely have an amazing trip to Italy without dumping a fortune into it.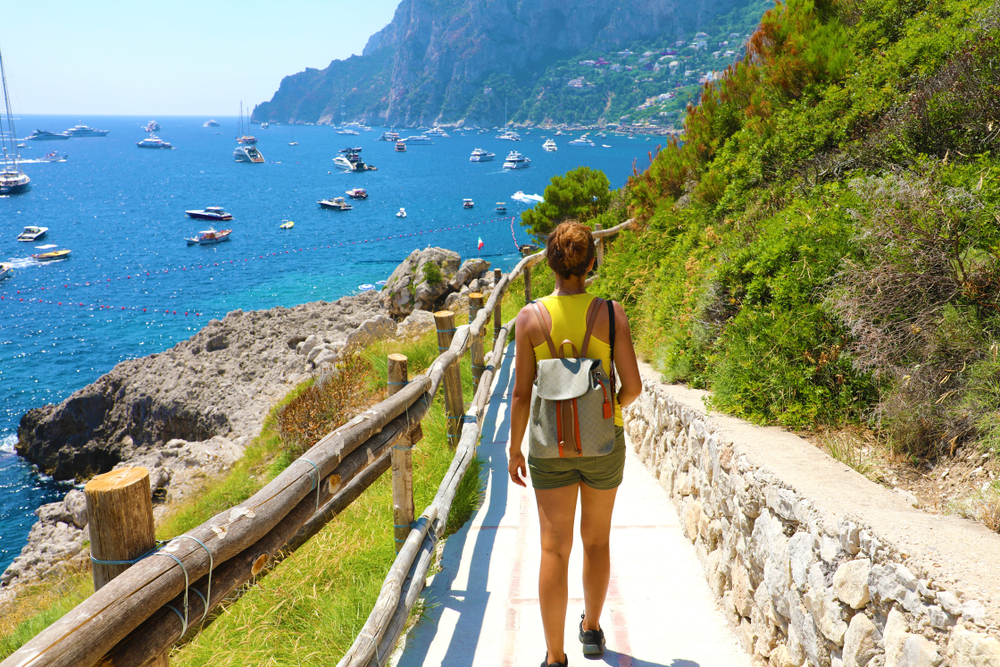 Mid-Range Activity Planning
As always, in order to cut down on your trip to Italy cost and do the most things, book in advance. Italy offers a lot of tours, and you will save some serious money if you figure out what you want to do before you go. You can use Get Your Guide for this too.
Also, consider doing things like gondola rides or tours with other people–if you can split the original price between multiple people it will be even better! Another option is to choose a guide package that has multiple different sites and attractions included.
One thing that you can be sure of is that you do not have to spend a ton of money to have a ton of fun. Tours are a great way to see and do a lot of things at a reasonable price.
Luxury Activity Planning
If you are not as worried about your trip to Italy cost as you are about having a great time, your options are limitless. Check out any of the guides and packages at Get Your Guide and you will find some truly amazing adventures.
Private group tours will help you avoid the crowds, while early or exclusive entrance will give you an unrivaled experience. This applies to gondola rides as well.
Another exciting activity is private cooking classes! Italy is renowned for its food, and you can try your own hand at it. And what better souvenir to bring home than a new set of skills?
If cooking is not your thing but eating is, you should definitely check out some of the rooftop restaurants and dining options. There is not much that beats the experience of dining at the top of a city like Rome, Venice, Florence, or Milan.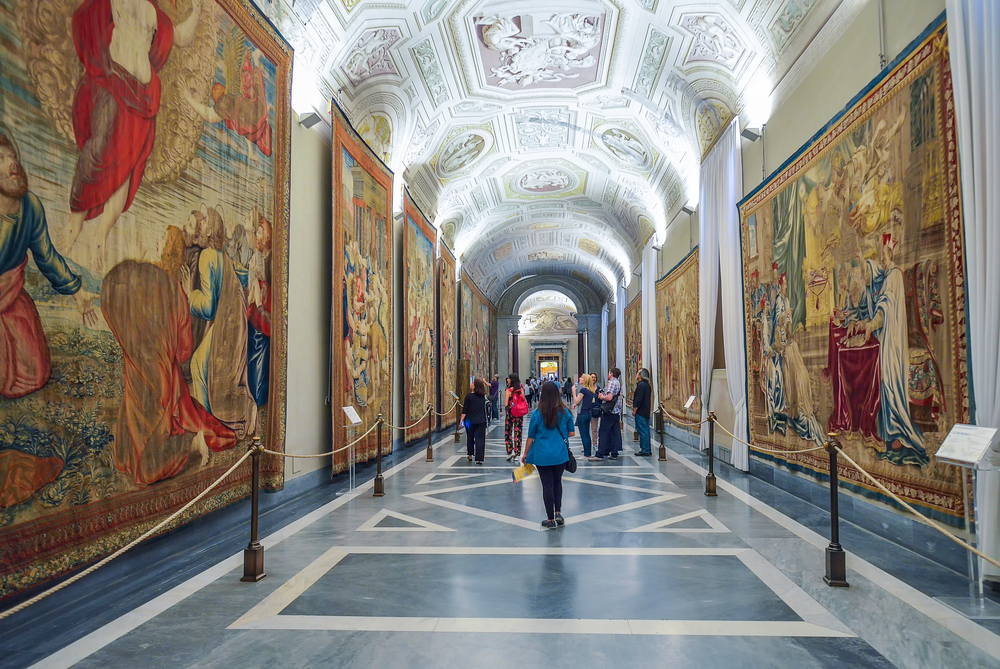 How Much Does Food Cost in Italy?
There are so many things to consider when planning for a trip, believe us, we know. How much food will cost is an important factor in your total trip to Italy cost.
Fortunately, there are a lot of strategies to use to moderate how much you are spending on food. If you are not planning on eating out for every meal of the trip, it is actually totally possible for food to be one of the least expensive things.
We will break this one down budget by budget for you too, with the strategies we used in each budget range.
Low-Cost Food Options
Our number one tip for keeping your food cost low while traveling? Go grocery shopping. Bring your own bag (it will not take up too much room in your luggage we promise!) and go to the market.
Grocery shopping in Italy can be so inexpensive! If you are willing to bring it back to your hotel or Air BnB to cook, you can make some great meals for cheap.
Another great option is doing takeaway pizza and pasta. Yes, we are suggesting to use leftovers! You can get a ton of food with takeaway, which means you can get at least two meals for the price of one.
It is okay to eat out a couple of times with a minimal budget, but you definitely should not rely on this for your primary food source. Pick one or two places that you would really like to eat out at during your time in Italy, and cook the rest of your food yourself. This will absolutely save you a ton of money.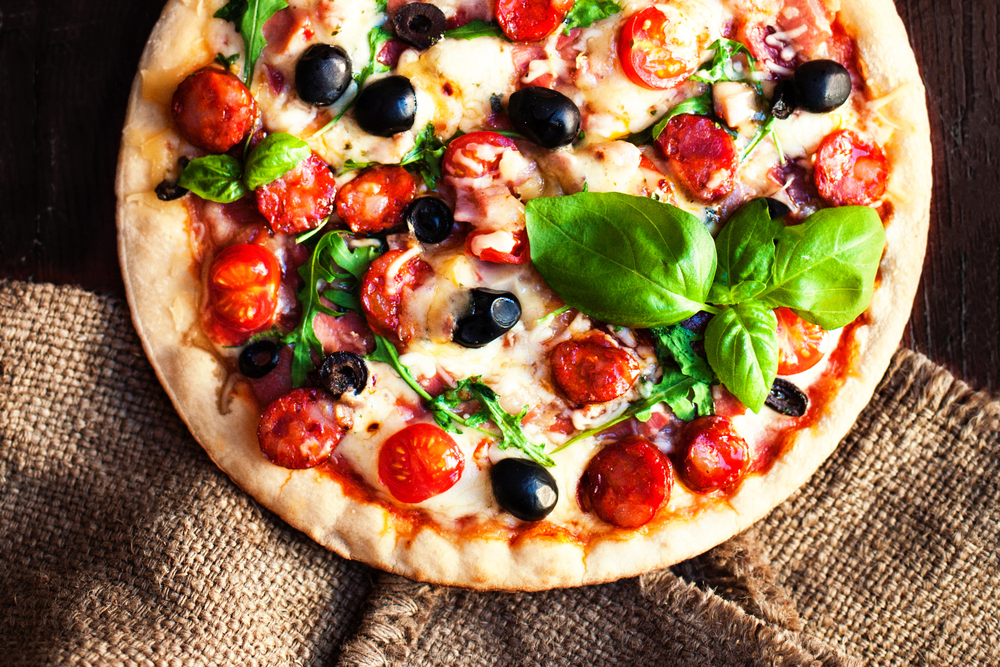 Mid-Range Food Options
Go local for the best dining experience that will not break the bank. Local restaurants and eateries provide some of the most authentic food but do not charge five-star restaurant prices for it.
What is more, the portion sizes are usually more generous at local eateries than at fancy diners. It is one of those weird ironies in the world–the fancier your food is, the more you pay and the less you get of it.
So do yourself a favor and go for substance over looks. Another recommendation to keep your budget on track is to make and pack your own lunches.
You are never more likely to overspend on food than when you are starving and do not have a lot of options. If you bring your food with you, it makes it much easier to stay on track and leave your spending money for other things.
Luxury Food Options
Sometimes the greatest experience you can have in a foreign country is taking advantage of all the fine dining. There is just something about eating on the terraces of Cinque Terre or on a rooftop in Florence that cannot be denied.
Private dining is another fantastic option if you are not worried about how much money you have to spend. Italy can get overcrowded with tourists, especially if you are visiting during the height of travel season. Private dining gives you the opportunity to get away from all the crowds and truly relax.
Wherever you choose to spend your time while in Italy, you will have endless options for fine and private dining.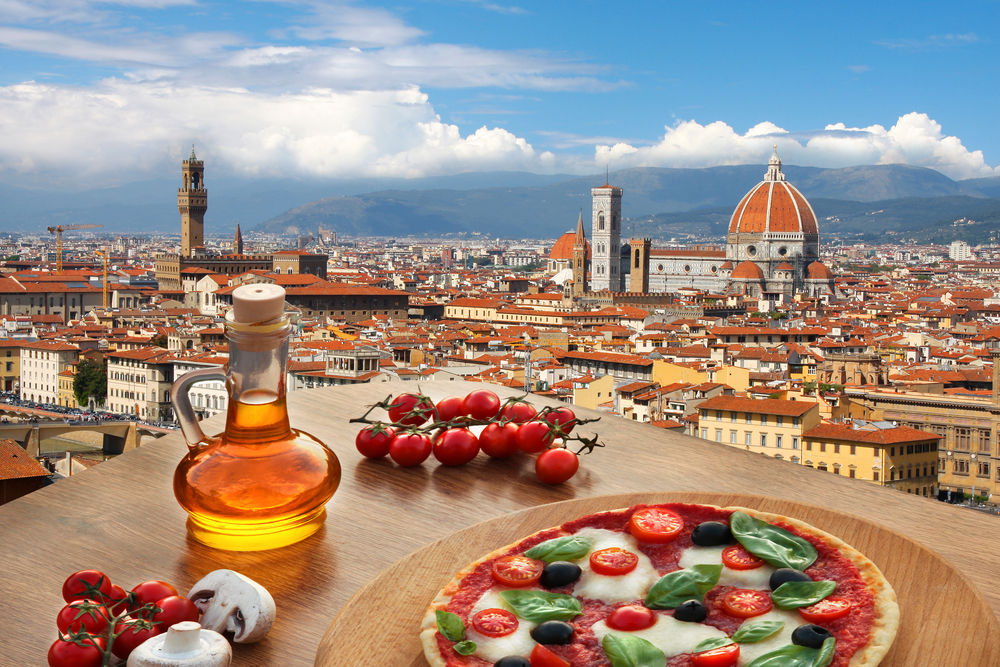 Which Regions Should I Visit Based on My Trip to Italy Budget?
As with any country, Italy is not the same across the board. Some areas cost more or less than others. Using the tips and tricks we have mentioned so far, you will be able to shape your trip to Italy wherever you go.
But you can take your strategizing to the next level by planning where to spend the bulk of your time. Rather than staying for days in the most expensive areas, you might plan day trips to them instead. This is a great way to reduce your trip to Italy cost without having to miss out.
Low-Cost Regions
Southern Italy is the most inexpensive region. It includes Naples and Sicily, which used to be their own countries and have plenty of amazing historical sites and activities.
The Dolomites might not seem like they would be terribly inexpensive, but you can absolutely travel this area for cheap if you do it strategically. Many of the attractions are free, it is just the lodging that can get expensive. We even have a Northern Italy itinerary that includes this region!
So do not use the lodging! There are many camping sites and areas in the vicinity. If you camp and backpack your way through, traveling through the Dolomites just might be one of the least expensive things you do!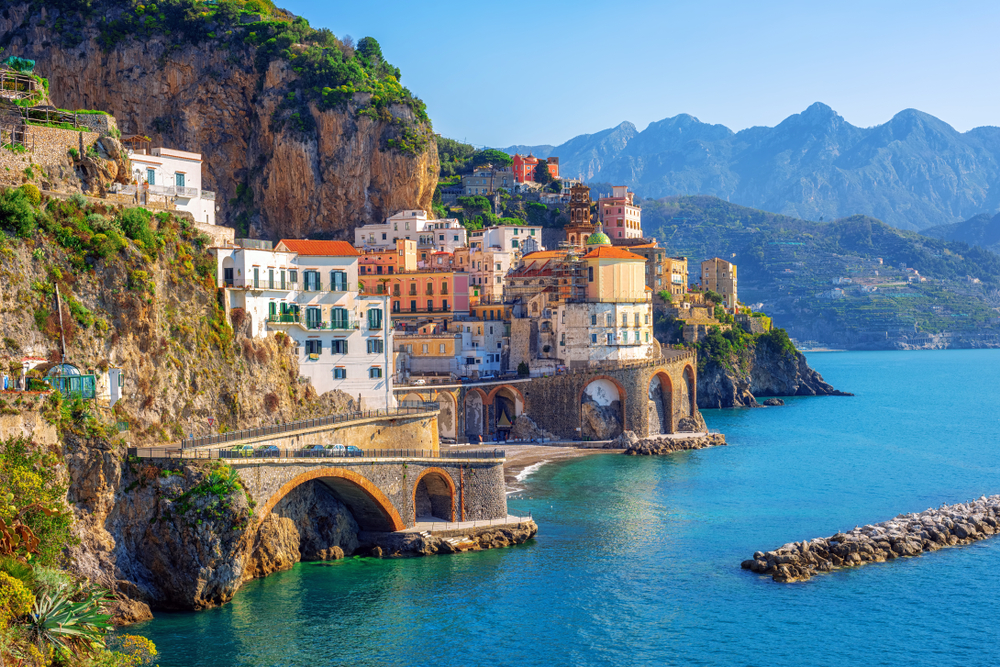 Mid-Range Regions
You will easily be able to see all of the classics if you are traveling in Italy with a mid-range budget. Rome, Venice, Tuscany, Cinque Terre… All the classics. You can easily do our 10 Days In Italy Itinerary on a mid-range budget!
A mid-range budget might not get you the trip to Italy that the Queen of England would take, but it will definitely give you several things to write home about. The Duomo in Florence, gondola rides in Venice, and Colosseum of Rome will all make great picture opportunities!
Your trip to Italy on a mid-range budget will have no regrets. All you have to do is figure out where you want to go, book it in advance, and then do it!
Lux Regions
For the lux Italy trip of your dreams, you will want to check out Lake Como, Portofino, the Dolomites, Capri, and the Amalfi Coast. You can easily do our 2 Week Italy Itinerary on a luxury budget!
While these are some of Italy's most expensive regions, they are also some of the most unique and amazing. Take your time as you relax in and explore some of the most beautiful places on earth.
Keep in mind that just because you can check out each of these places does not mean that you have to. Having a flexible budget gives you a lot of wiggle room to take your time and have some leisure. Sometimes the most lux thing you can do is pause to rest and recuperate.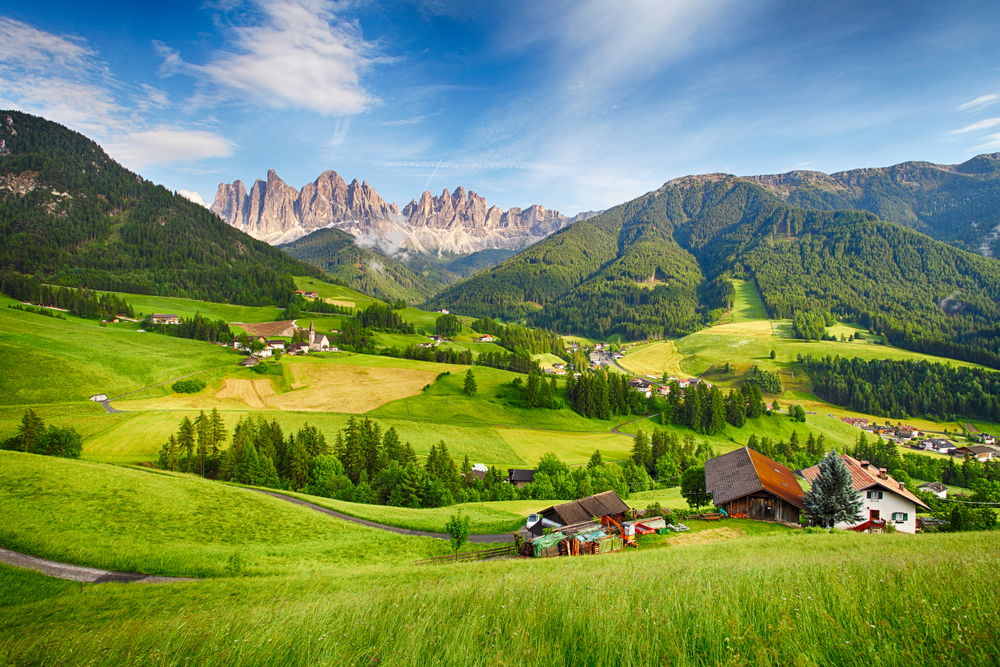 What do Tours Cost in Italy?
The final thing we recommend considering when figuring out your trip to Italy cost is how much to spend on tours. By saving money on food and lodging, you will be able to spend some on a variety of tours available to you throughout the country.
Tours can actually be a money-saving thing in and of themselves. They give you the opportunity to explore the city without needing a guide the whole way.
Going on tours can also give you a more in-depth look at and experience of whatever city you are in. For some tours, you will be part of a group, but others are more of a pre-planned, self-guided experience.
Whatever your preference, you are sure to find something in your price range.
Low-Cost Tours: $15-$40
Rome: Colosseum, Roman Forum, Palatine Hill
If you are coming to Italy to see some of its famous historical ruins and landmarks, the Rome: Colosseum, Roman Forum, Palatine Hill guide package is fantastic.
Venice: Ghost Tour to Rialto and San Marco Square
Did you get goosebumps reading that title? Because we did. The Venice: Ghost Tour to Rialto and San Marco Square gives you a phenomenal night-time view of this romantic city.
Milan Cathedral and Rooftop Ticket
The phrase to describe this experience would be "views for days." The Milan Cathedral and Rooftop Ticket gives you all-access to all of the famous cathedral areas. This includes the rooftop!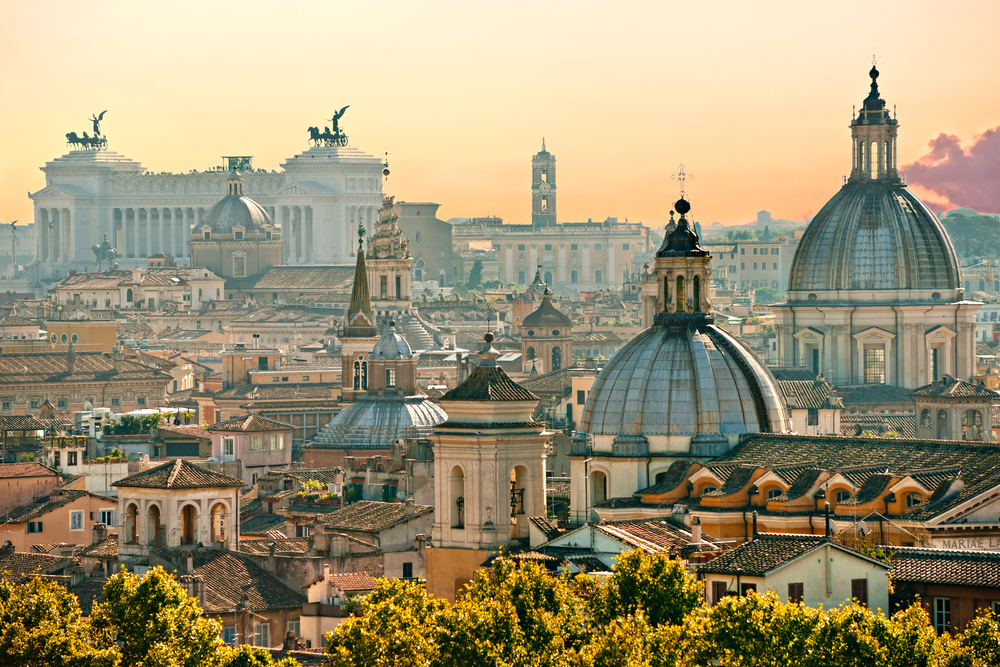 Mid-Range Tours: $40-$100
Rome: Castel Gandolfo Kayak and Swimming Lake Tour
Could anything be more awesome than a kayak tour outside of Rome? Check out the Rome: Castel Gandolfo Kayak and Swimming Lake Tour to refresh your kayak game and have one of the coolest experiences of your life.
From Florence: Small-Group Wine Tasting Tour to Tuscany
Is there anything more Italian than wine-tasting in Tuscany? We think not. For the ultimate wine-tasting experience, consider the From Florence: Small-Group Wine Tasting Tour to Tuscany.
Amalfi Coast Tour-All Inclusive from Naples
The Amalfi Coast is one of Italy's gems, and you can experience it all with the Amalfi Coast Tour-All Inclusive from Naples.
Lux Tours: $100+
From Rome: Castelgandolfo & Pontifical Villas
If a private, English speaking driver taking you all around the Pontifical Villas sounds like a great time, then the From Rome: Castelgandolfo & Pontifical Villas tour is for you. It is six hours long and it comes with lunch!
Venice: Venetian Lagoon Tour and Galleon Dinner
For an exciting dinner and overall experience, you will love the Venice: Venetian Lagoon Tour and Galleon Dinner. This three-hour tour takes you through the Venetian Lagoon.
Milan: Private Tour and Sforza Castle Skip-the-Line Ticket
Want to feel like royalty? Do the Milan: Private Tour and Sforza Castle Skip-the-Line Ticket and you are sure to.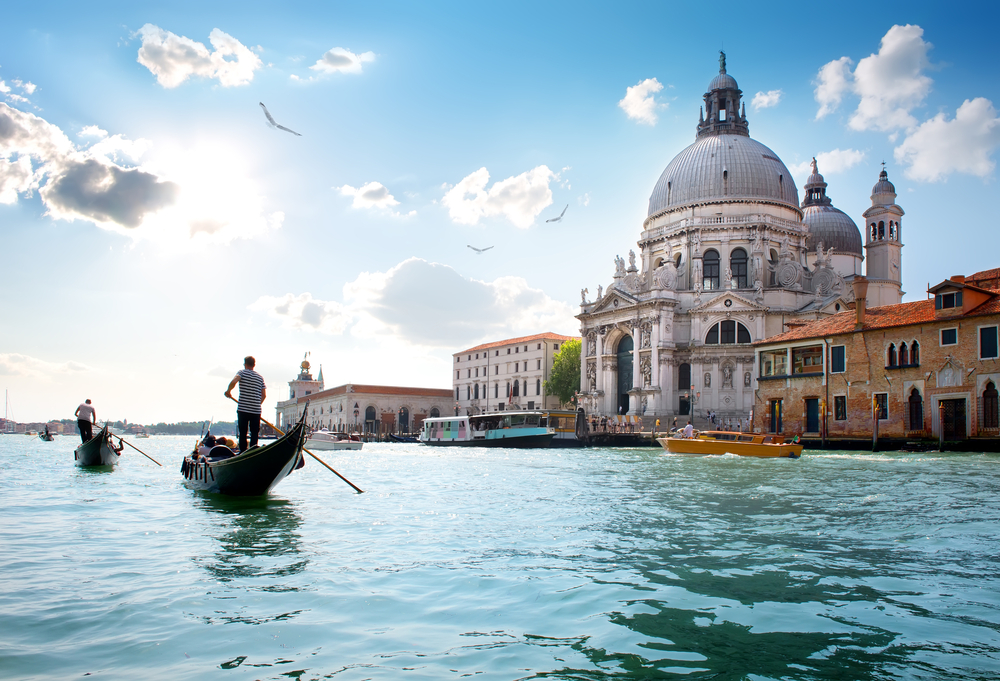 Alright folks! That is everything you should need to help you figure out where to save and where to spend your money during your trip to Italy! Let us know if you have any great money-saving tips and tricks of your own, and have a great trip!