If you are looking for some of the best Airbnbs in Cancun, Mexico, for the perfect honeymoon or just a great seaside vacation, then this article is for you! Cancun is a sun-filled, party destination high on many travelers' bucket lists. If you love a good, relaxing, and beach-themed getaway, then Cancun is probably for you! This is a place where you can allow your troubles to melt away. Make sure to use our Mexico packing list so that you have everything you need for your Cancun getaway.
Cancun is found on Mexico's Yucatan Peninsula and is known for its many resorts. Booking an Airbnb in Cancun gives you better bang for your buck. Many of the Airbnb options here are found within larger apartment and condo complexes that give you access to private pools and other amenities.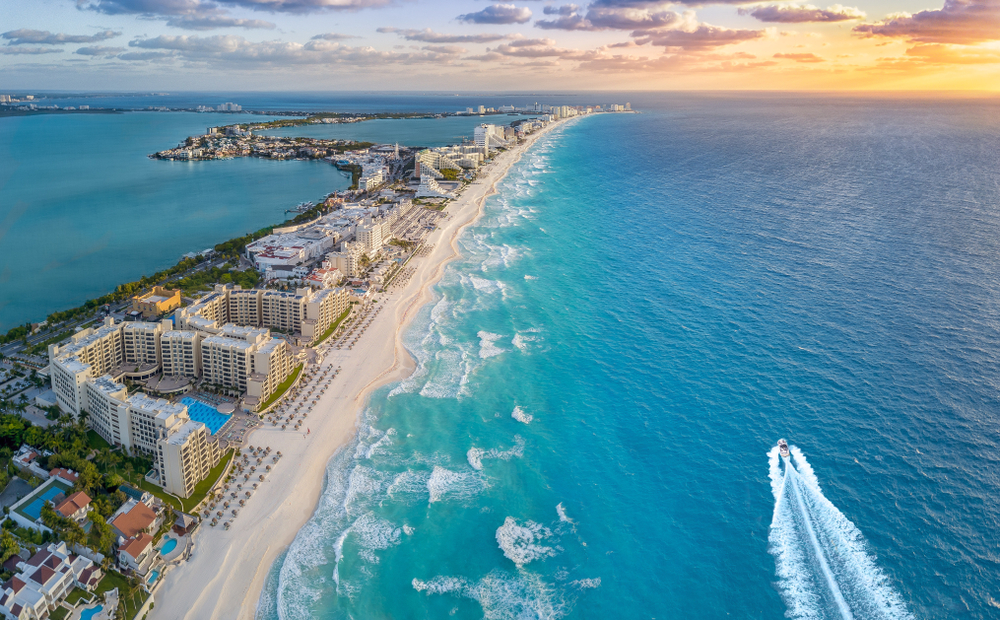 14 Best Airbnbs In Cancun (Apartments, Private Pools, and More!)
Emma Residence
The first of our Cancun Airbnbs is a beautiful residence that can fit 14 guests, making it perfect for large families or friend groups! Your whole crew will surely love this Cancun VRBO's huge terrace with a BBQ, private pool, and direct access to the beach.
In addition to direct beach access, this property is right across the street from a new large shopping mall. The views of the Caribbean Sea from this vacation rental are absolutely unbeatable. The hosts even provide 2 kayaks so that you can conveniently explore the beautiful sea.
This home has 4 bedrooms, 4.5 bathrooms, air conditioning, smart TVs, a washer and dryer. Really it has all the amenities you will need for an amazing stay. If you are looking for airbnbs in Mexico with a private pool this one should be a the top of your list!
Click Here To Check Rates On VRBO!
Affordable Oceanfront
Looking for cheap airbnbs in Cancun? This tranquil and affordable oceanfront VRBO in Cancun is a perfect getaway for 2 guests! When you stay at this Cancun vacation rental you have access to the beach, all 4 pools on the property, and outdoor dining areas.
This property has an amazing view of Isla Mujeres and is within walking distance of the ferry that leaves to that tropical paradise island. It is also within walking distance to convenience and grocery stores so you can relax and not worry about driving on your car-free vacation. Your group is sure to have a blast here! You can easily walk to many fun places or the bus terminal is nearby, too, if you want to venture farther.
Click Here To Check Rates On VRBO!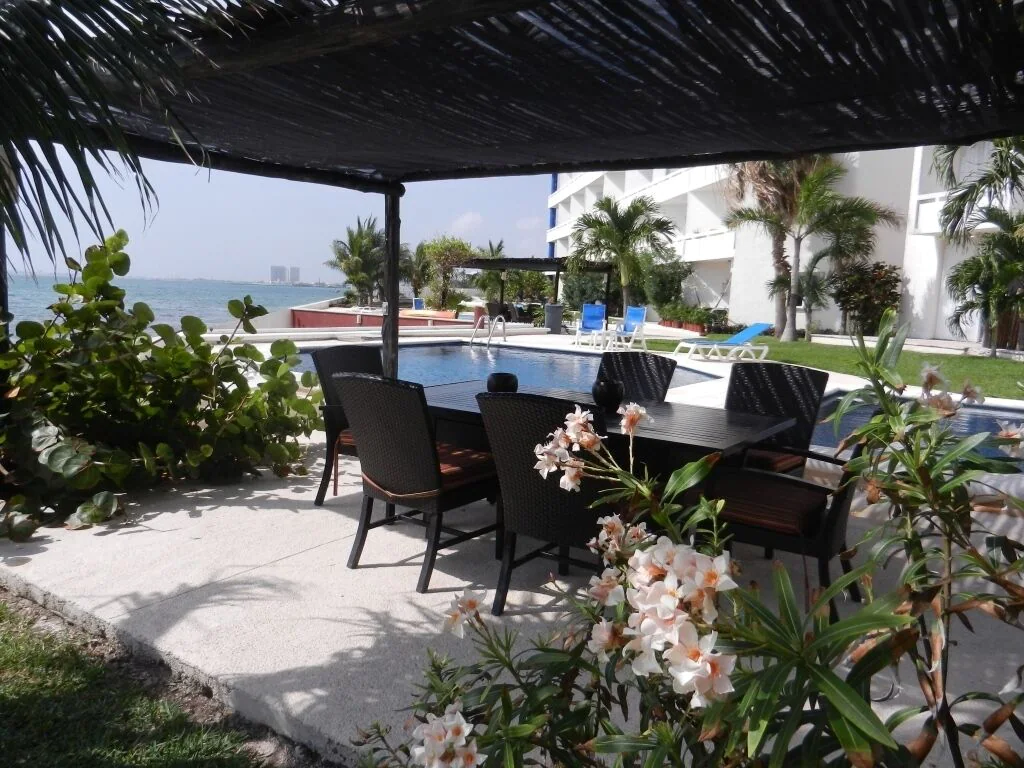 Hopelchen Beach Getaway
Experience the ultimate beachfront airbnbs in Cancun while staying in the laid-back fishing village of Puerto Juarez with at this Hopelchen Condo. Located just 3 miles north of downtown Cancun, this family-friendly condo offers everything you need for a truly relaxing Mexican vacation. With special rates by the month, families, retirees, and friend groups alike will love this private, gated, and secure condo with 24-hour guard service.
Enjoy spectacular beachfront ocean views of Isla Mujeres Island and Bay from the comfort of your own hammock. Hopelchen Condo features a large oceanside swimming pool and patio, palapa huts for shade, and private access to the beach. This is the perfect place to stay if you're looking for airbnbs near Cancun that are low key and mellow.
Click Here To Check Rates On VRBO!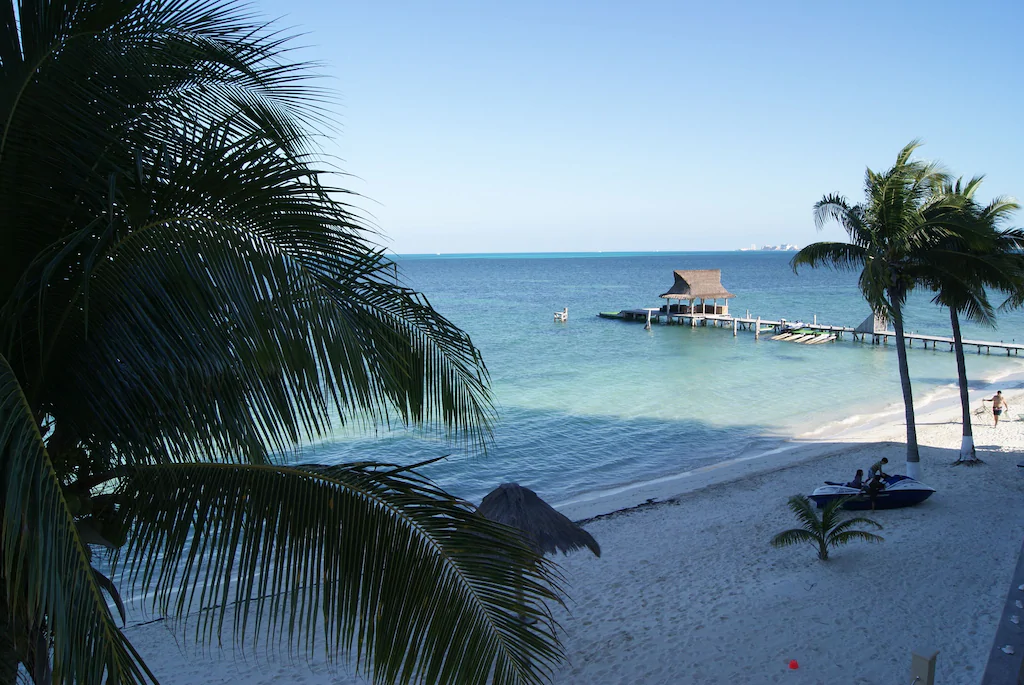 Amazing Studio by the Beach
This is a cute, little studio with great amenities. Get ready to soak in direct views of the Caribbean Sea. Located just a few steps from one of the most beautiful beaches in Cancun. If you visit between June and August you can see the arrival of Caguamas turtles laying eggs on this beach, how magical is that?
This studio has 2 beds and can accommodate 4 guests. Perfect for a small group getaway! The kitchenette provides a convenient way to stretch your budget with a few home-cooked meals on your stay. This perfect studio is located in the Hotel Zone, with all the nearby amenities and resorts that entails. If you're looking for where to stay in Cancun, it doesn't get better than this!
Click Here To Check Rates On VRBO!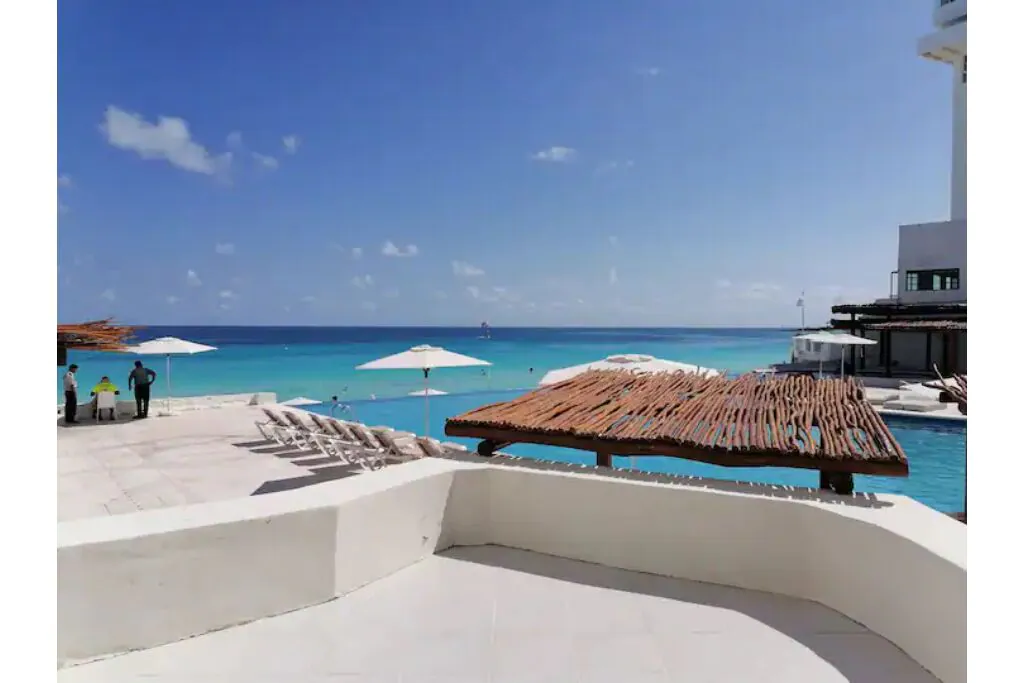 Lagoon View Apartment
The Lagoon View Apartment is located in an idyllic building surrounded by palm trees. While it has a secluded, natural feel, it is located right in the exclusive hotel zone of Cancun. Relax in the big green garden while you bird watch or take a cooling dip in the infinity pool.
The inside of the apartment is just as cute as the outside. It is modern with bohemian details that make it feel very chic. Up to four people can stay here. There are two bedrooms and 2 bathrooms, which means that all the guests will have plenty of privacy and space. So pack your bags and get ready to take in some unbelievable lagoon sunsets!
Click Here To Check Rates On VRBO!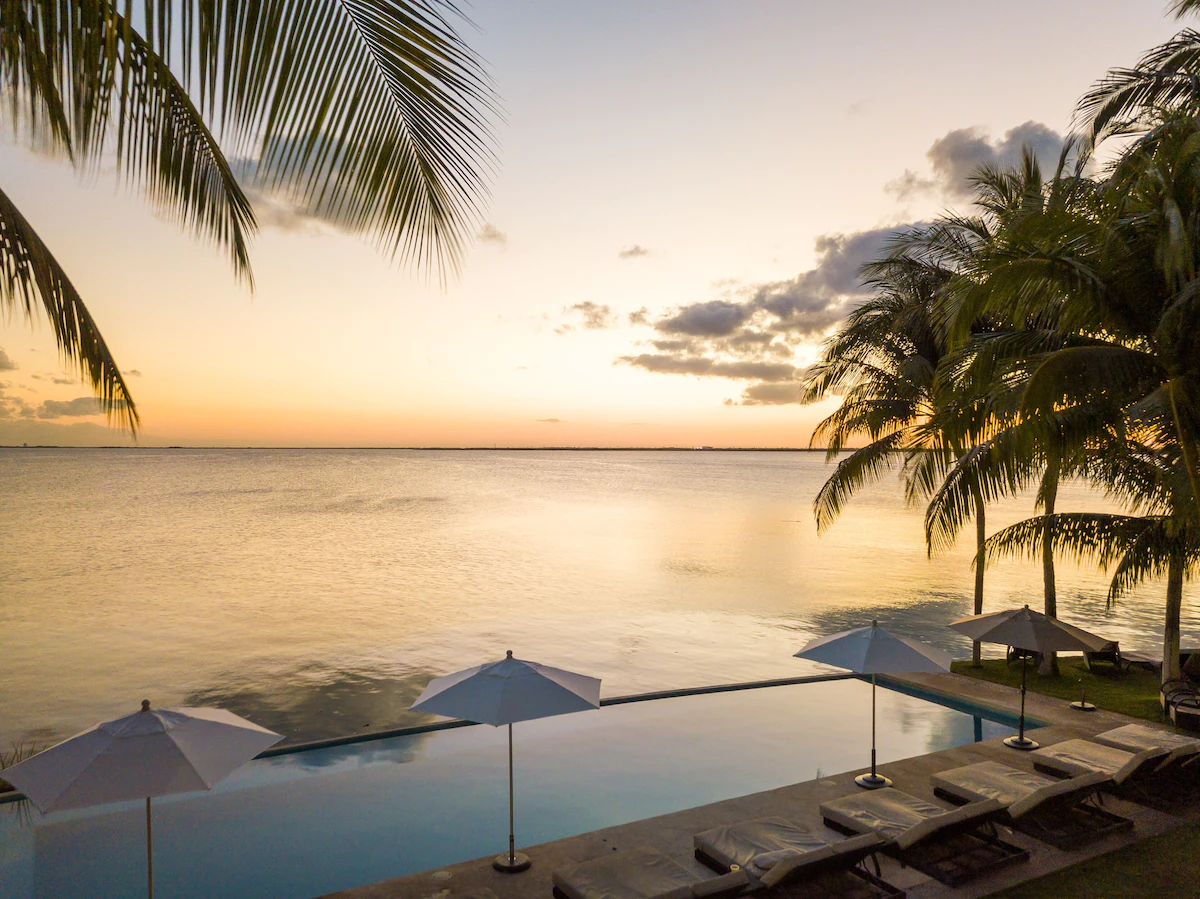 Ocean View Studio
No list of best Cancun airbnbs would be complete without a rooftop pool option! If amazing views are a must when booking your accommodations, then consider this studio with an ocean view! The large windows provide the perfect viewpoint over the jungle to the incredibly blue water as it laps against the sand. Being able to simply walk right to the famous Playa Tortuga beach in a couple of minutes is one of the best feelings!
This studio is big enough for 2 guests. It has a kitchenette mini-fridge, microwave, coffee maker, toaster, and blender. The real perk of this Cancun VRBO is the beautiful rooftop pool and bar. When you aren't sunning yourself on one of the rooftop sunbeds, you will want to taste-test each of the restaurants in the Zona Hotelera neighborhood. If you want a stress-free place to stay in Cancun, then this is it!
Click Here To Check Rates On VRBO!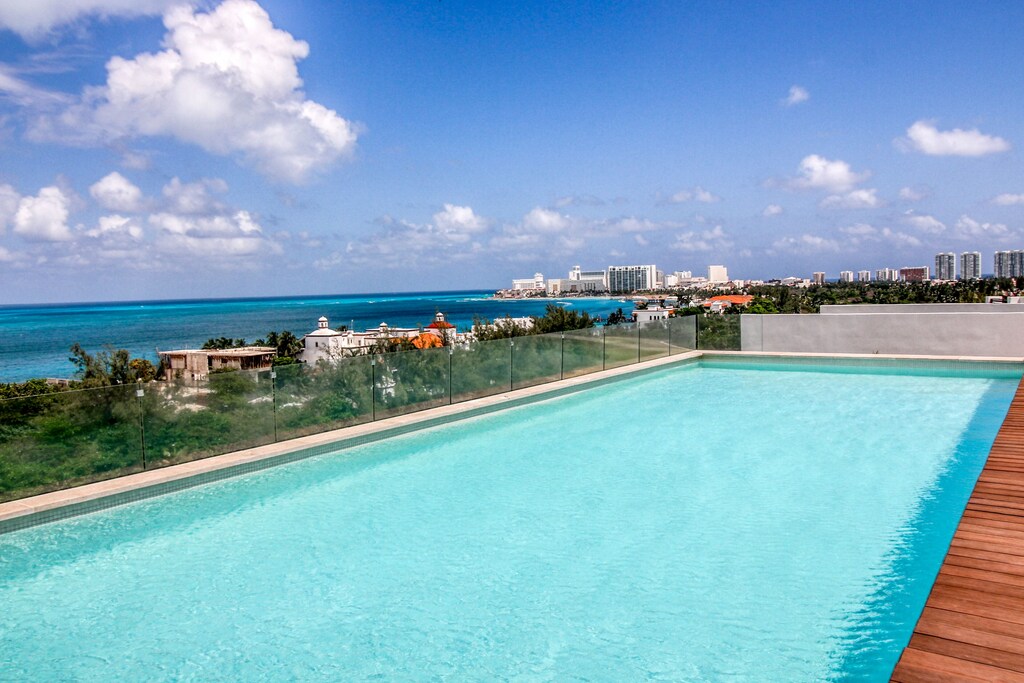 The Quarry
If you want to feel like royalty on your Cancun vacation, then you should book The Quarry, a gorgeous sub-penthouse. Sleek and modern, this apartment is a paradise with walls made of windows that let in a ton of natural sunlight while also giving you amazing, panoramic views of the ocean. You will not want to leave after you check-in!
Made to be the perfect honeymoon resort, the Quarry features a king-sized, ultra-plush bed and a fantastic bathroom with a rain shower and a tub with a view of the ocean. The technology in the apartment is noteworthy as well. There is a 4K HD TV with streaming services, an Amazon Alexa, and a water filtration system. The building includes two pools, a restaurant, and a beach club. One of the best things here is the open-air balcony with loungers, a BBQ grill, and a hammock. And yes, the bathtub is out there, too!
Click Here To Check Rates On VRBO!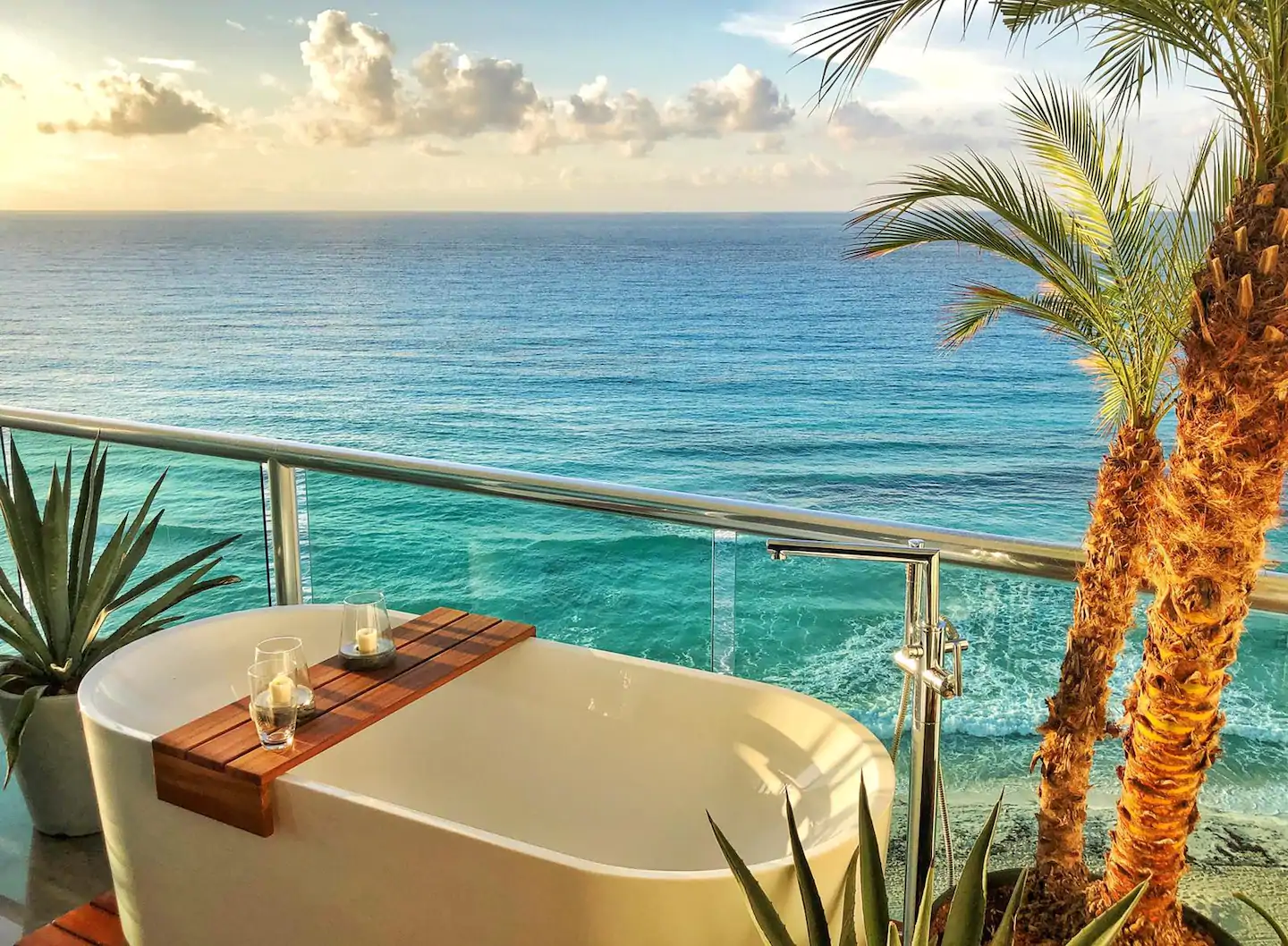 Jungle Bungalow
Are you a nature lover looking for places to stay in Cancun? Escape to the jungle and immerse yourself in nature with this wonderful bungalow rental located just 7km from the airport. This cozy and affordable accommodation offers a tranquil retreat away from the bustling city and crowded beaches.
This epic jungalow has a beautiful pool surrounded by lush jungle and wildlife. Located only a 15-minute walk from the nearest town, so you can easily get into town for some delicious local produce and groceries. This Cancun vacation rental has a gorgeous semi outdoor fully kitchen perfect for whipping up some delicious tropical-inspired cuisine. The bungalow can accommodate 3 guests. It has one bedroom and one bathroom.
Click Here To Check Rates On VRBO!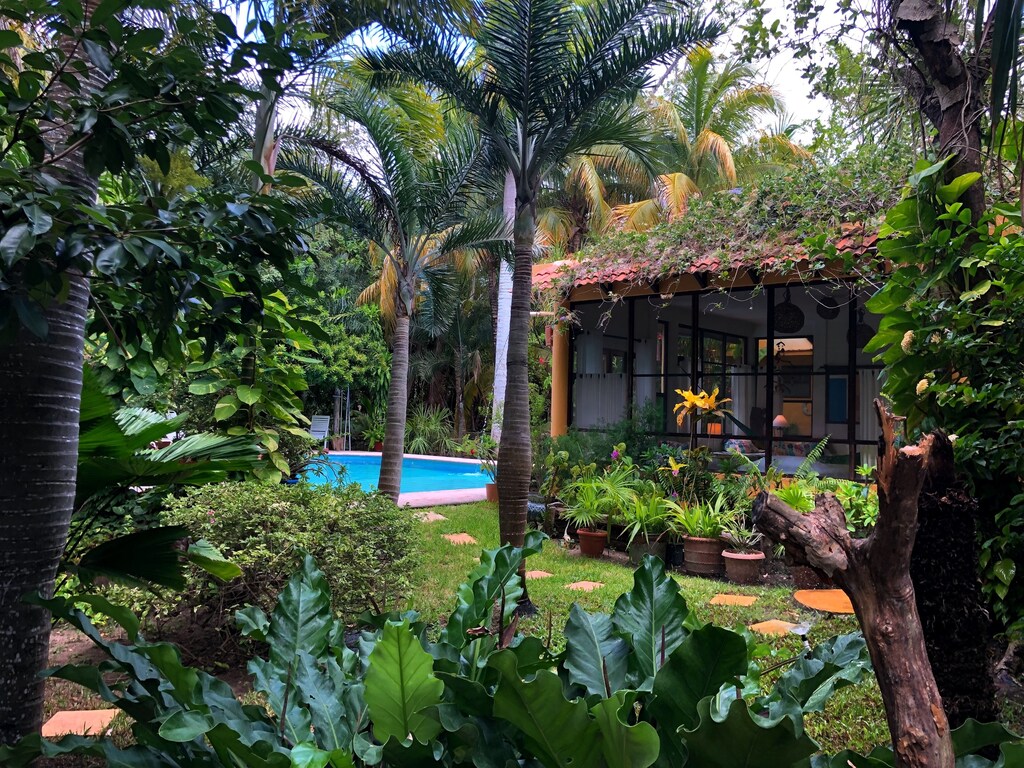 Villa Martin Penthouse
Experience the ultimate luxury beachfront getaway in Cancun's Hotel Zone with this stunning 2-bedroom vacation rental. Located just 1 mile from La Isla Shopping, this property offers the perfect combination of convenience and tranquility.
With 2 bedrooms, this vacation rental can comfortably accommodate friend groups or small families. Each bedroom is thoughtfully furnished to ensure maximum comfort and relaxation. Whether you're lounging by the pool, soaking in the hot tub, or enjoying the stunning ocean views from the private terrace, this property offers a truly unforgettable experience. When you are looking for Cancun airbnbs in the hotel zone, make sure this one is on your list!
Click Here To Check Rates On VRBO!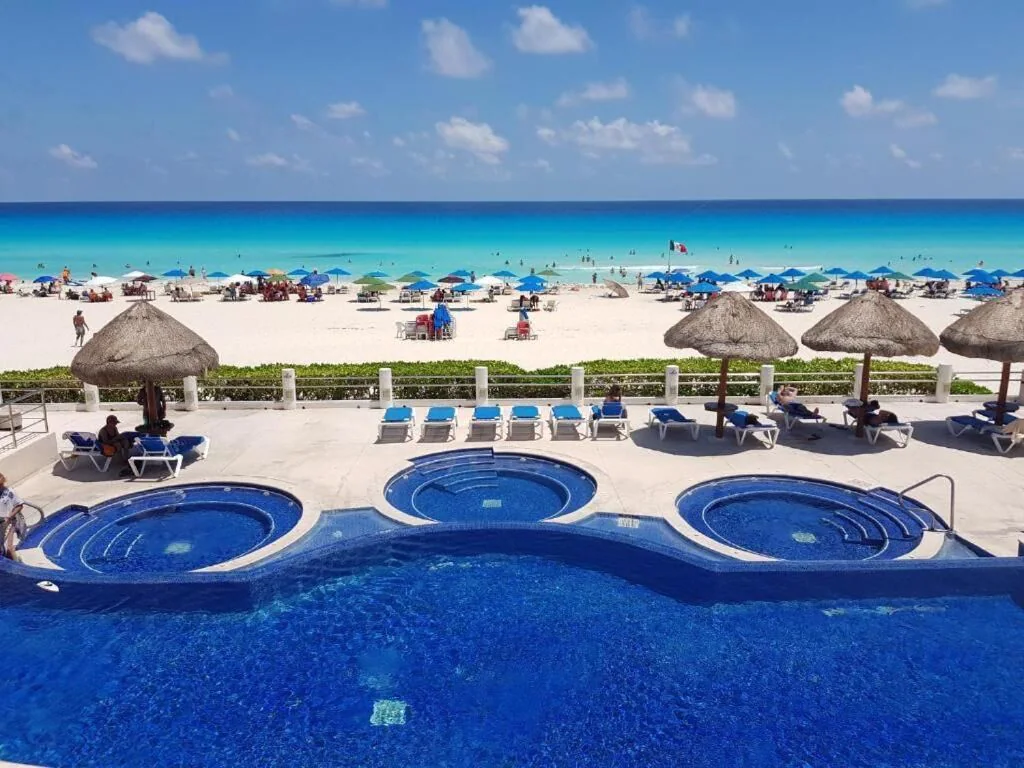 Camila Residence- Private Pool
Does your list of must-haves for a fantastic vacation include airbnbs in Cancun with a private pool? Well then come indulge in a luxurious beachfront vacation with this stunning 4-bedroom villa located in Cancun's Hotel Zone. This entry on our list of the best vacation rentals in Cancun boasts a range of amenities including a private plunge pool with a waterfall and air conditioning. The condominium complex offers 24-hour security, 2 larger pools, tennis courts, basketball courts, and lush tropical gardens.
With 4 bedrooms and 4 bathrooms, this vacation rental can comfortably accommodate up to 8 guests. The spacious living area and fully equipped kitchen provide the perfect space for entertaining and enjoying meals with family and friends. You have got to check out the listing photos of the epic outdoor space and private pool that is part of this condominium.
Click Here To Check Rates On VRBO!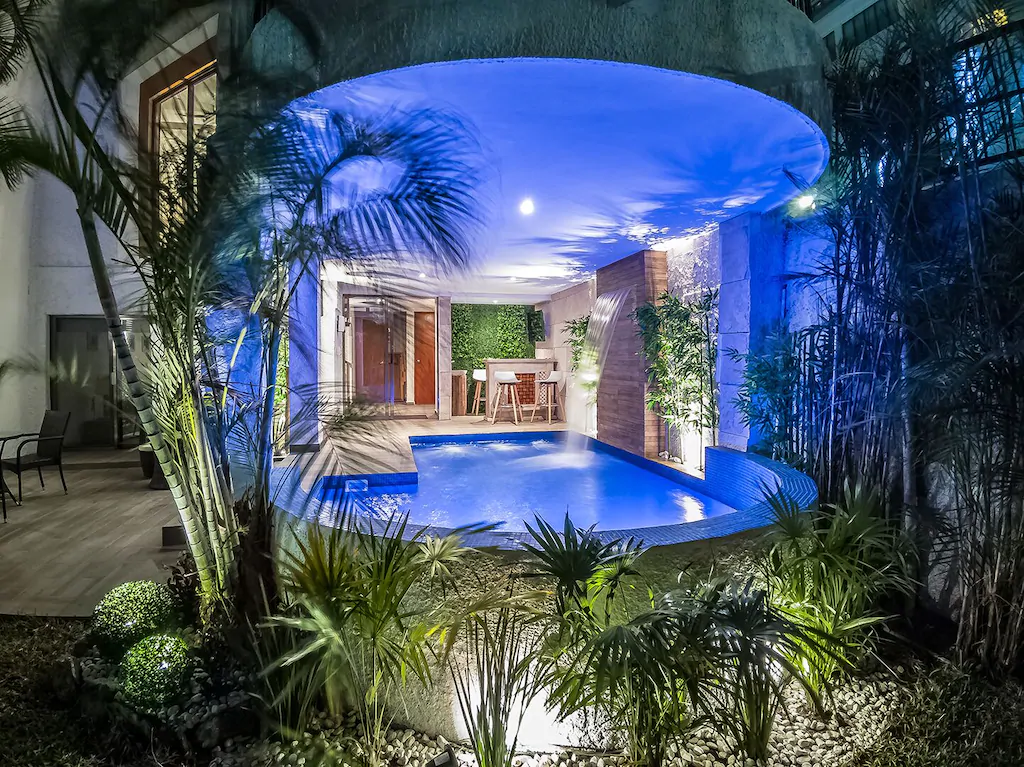 Trendy Apartment
We will end this list of the best Airbnbs in Cancun, Mexico, with a very pretty and trendy apartment full of green houseplants. The balcony has a hammock that will make you feel as if you are relaxing in a lush garden. There might not be ocean views here, but the trees are pretty, too. If you want views of the city, head up to the building's rooftop terrace.
Walk through the beautiful neighborhood and feel like a local as you explore and discover cute cafes and restaurants. The bus station is nearby or a rental car will get you anywhere you want to go. If you ever come back to Cancun, you will want to stay here again!
Click Here To Check Rates On Airbnb!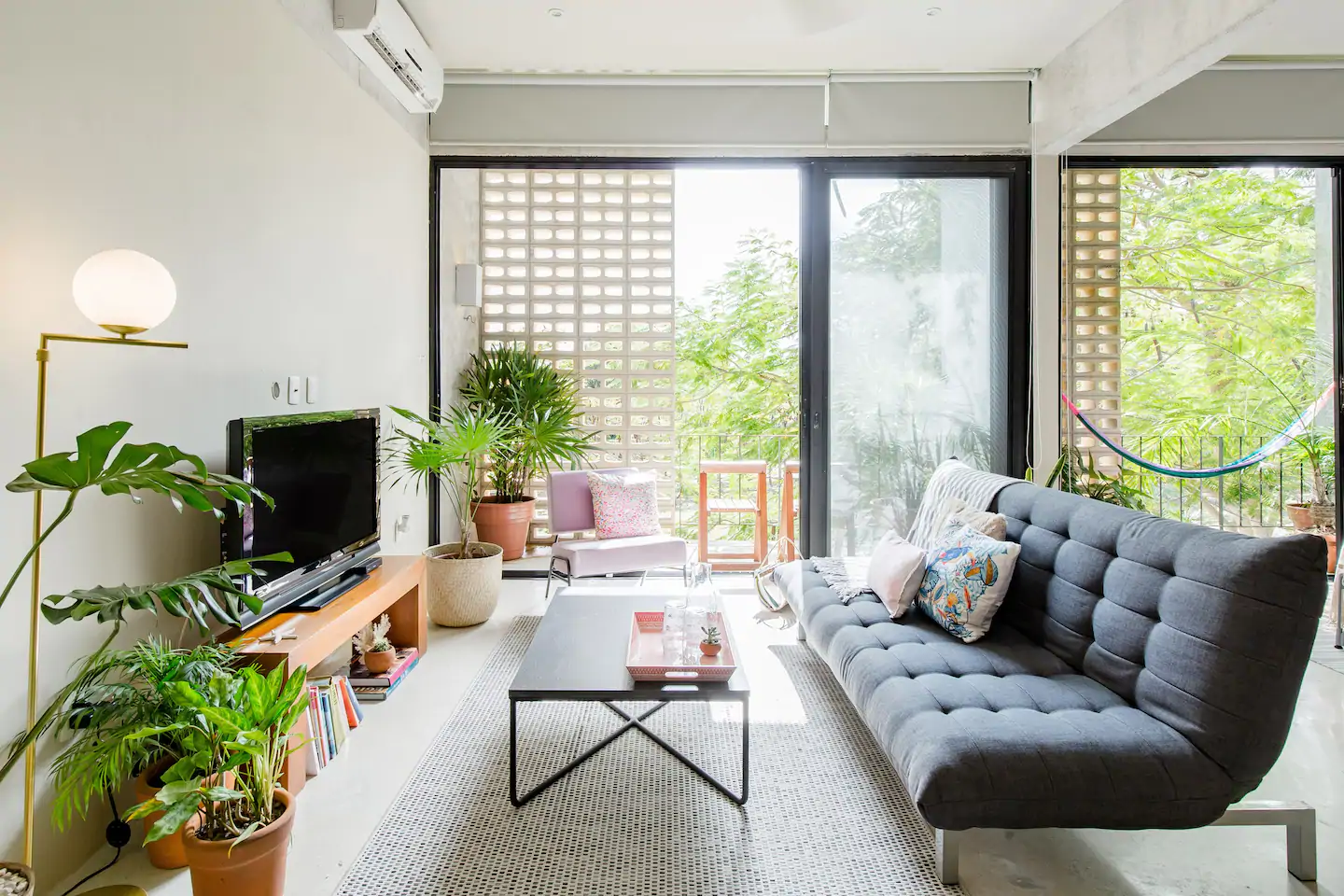 Luxury Apartment 102
This next entry on our lost is another luxury airbnb in Cancun! This beautiful, two-story home is modern and homey, with lots of open space to make your own. There is one king bed, so this is the perfect couple's retreat. The property includes everything you need to have the best Mexican vacation, including a rooftop pool, a gym, and an entertainment room.
This awesome place is also in a great location near many shops, restaurants, and beaches. If you like staying in places where you can easily walk to your destinations, this might be the choice for you. If you do have a rental car though, you can park it in the private garage. The ferry is nearby as well.
Click Here To Check Rates On Airbnb!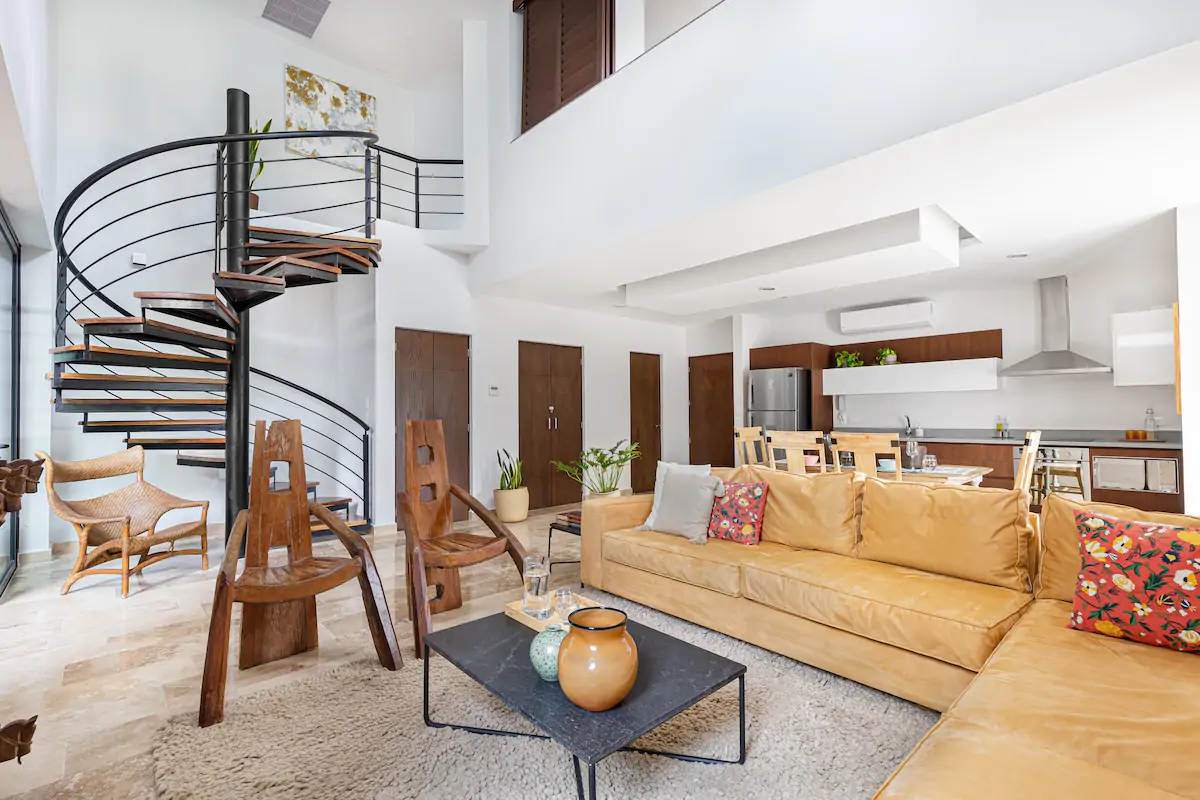 Designer Apartment
This is another beautiful apartment in Cancun perfect for making your vacation dreams come true! Ideal for two to three people, this apartment will be memorable for its natural light, bright colors, and perfect interior design. On the balcony, you will find a couple of chairs and a hammock to relax in. The rooftop terrace provides stunning views of the city.
This Cancun stay is within walking distance to the beach as well as many restaurants, bars, and markets. Because of this great location, this apartment makes a great home base during your Cancun vacation. If you have a rental car, there is also off-street, covered parking available.
Click Here To Check Rates On Airbnb!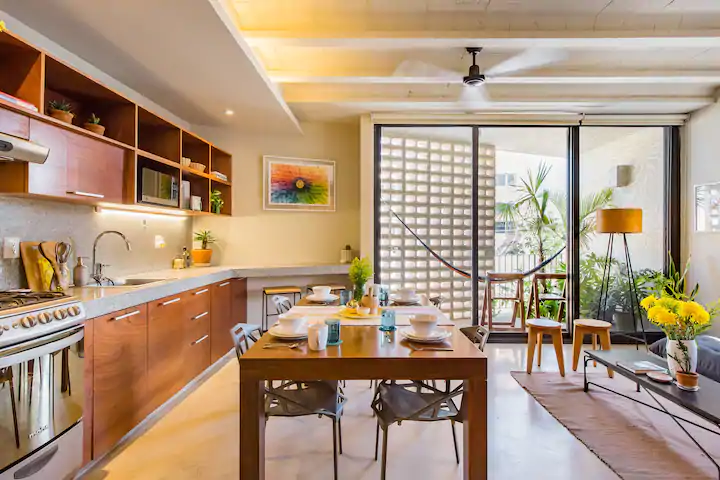 1804 Loft Near Isla Mujeres Ferry
While found in a historic 1804 loft, this next Airbnb has been renovated into an ultra-modern home. This is a great place to stay in Cancun for a couple's retreat as it is relatively small but super cozy. The loft bedroom will give you an intimate place to cuddle up each night. There is also a small balcony with a hammock to relax in and enjoy the sea breeze.
If you have been looking or airbnbs in downtown Cancun your search is over! This loft is near the city center, a quick walk to many markets, restaurants, and cafes. It is also near public transportation, including the bus to the beach and the Isla Mujeres ferry. When you are not out enjoying Cancun, you can relax at the loft with the rain shower, Netflix, and cooling AC. Or head up to the rooftop garden which features a pool.
Click Here To Check Rates On Airbnb!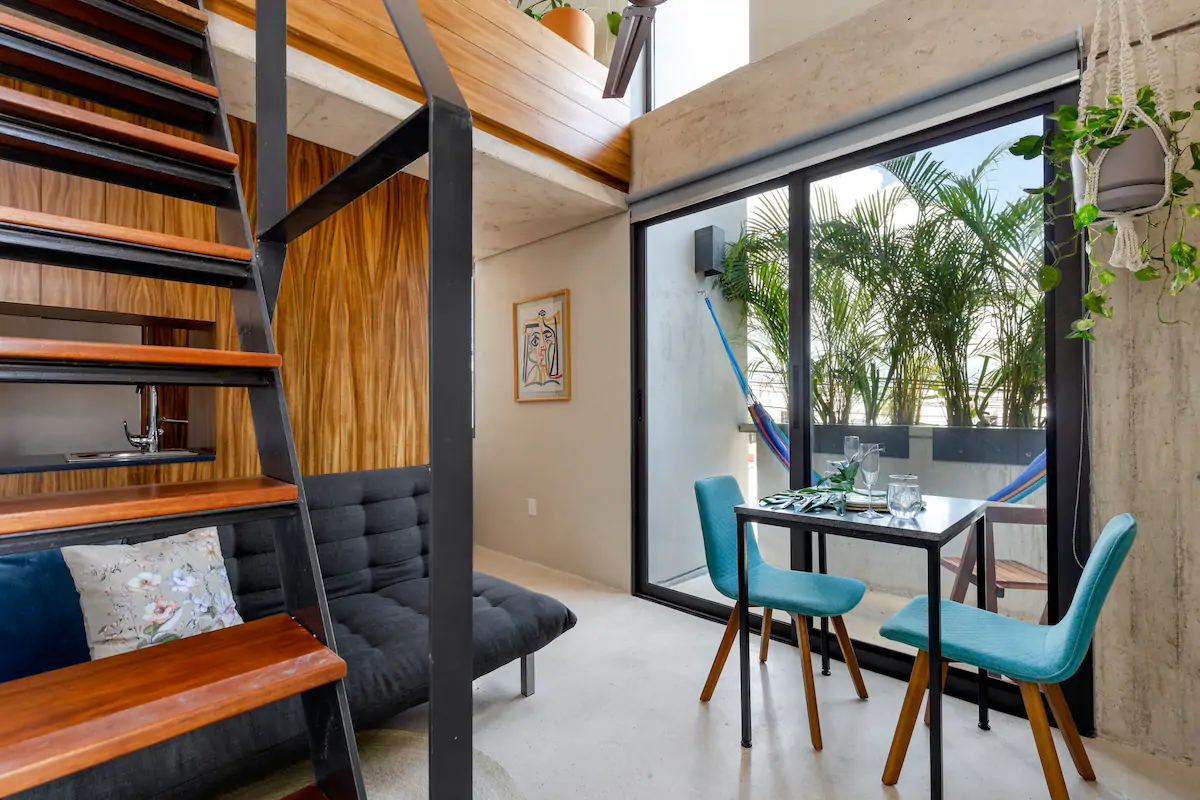 Cancun is a wonderful, tropical vacation you will not soon forget! A huge part of making sure you have a fantastic trip is to insure you have great accommodations and that is where Airbnb comes in. There are so many great Airbnbs in Cancun, you will have a hard time narrowing it down. From ocean views to rooftop pools, these Cancun stays have everything you need to have a fantastic time! If you want to extend your trip and explore further in Mexico, here are more tips about accommodation.